HIKIZOME
At ISSEY MIYAKE KYOTO, Discover The Art Of A Traditional Japanese Textile Brush-Dyeing Technique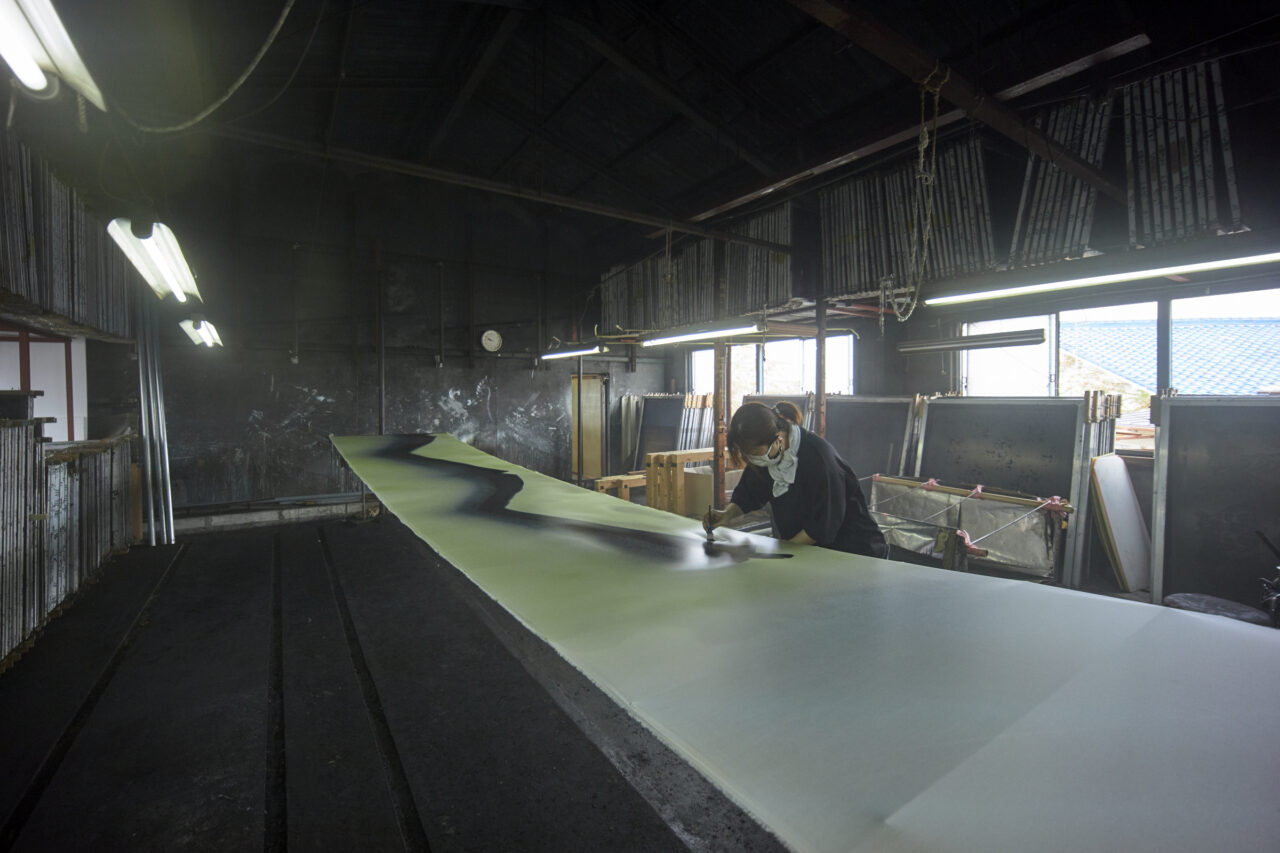 In a quiet and quaint residential area in central Kyoto sits an unassuming two-floored studio specialising in traditional handcrafted dyeing textile techniques for some of the worlds best fashion houses. It is precisely here where some of the featured garments in ISSEY MIYAKE's SS22 collection were created and dyed by hand meticulously by artisans utilising the hikizome technique.
Nothing is comparable to the true craftsmanship of an object made by the human hand, where decades of skill and knowledge passed down through generations are led by tradition to form together to create original and one-of-a-kind pieces. In Kyoto, find an abundance of highly-skilled artisans in textile production derived from the city's renowned history in kimono and obi production. One such technique hikizome, or "brush-dyeing" (also known as hand-drawn dyeing) is a method of using a brush to dye textiles that are directly applied by hand. The brush simply glides over the fabric with human motion and then air sprayed to effortlessly blend the dyes and dry naturally. The results present various patterns and prints that can be likened to an abstract impressionist painting — blurred and unwavering yet perfectly even — with their markings furthermore determined not by stroke but by choice of material. It's exactly the dye's resulting phenomena that makes the technique so visually arresting.

The technique is derived from its name, with hiki meaning "to pull" and zome "to dye". In Kyoto, the word hiki is also often referred to the use of a brush. With such remarkable history, it's no surprise that for ISSEY MIYAKE designer Satoshi Kondo's latest SPRING SUMMER 2022 collection titled A Voyage In Descent,, he utilised the technique for a series of garments created at the small Kyoto textile studio. Established in 1975 and now twenty years in its current location, the workshop enthrallingly wears its years. Situated on the second floor, the space is filled with inks, brushes, screen frames and a timber structure with rotating rolls for drying fabrics, yet the team is comprised of just a mere three staff — including one member in the screenprinting facility on ground floor.
Owner Kiyoshi Nishida has been running the dyeing studio for almost fifty years now, and appointed artisan Hiroko Fujii to create the painted textiles for Kondo's collection. With a personal passion for drawing, Fujii notes that her own grandmother was a Kyoto artisan of suminagashi, a traditional Japanese dye marbling technique commonly used for kimono textiles. The beauty of a hand-dyed textile holds a timelessness formed over enduring hours and skill. For the collection, Fujii hand-dyed over 2300 metres of fabric, taking over four months to complete by working on several sections at a time, each at 12 metres in length. The SILENCE series of dresse, pant, jacket, skirt and top, was comprised of two unique prints were made by hikizome inspired by the theme of the beauty and emotion found through the underwater landscape — from diving into immediate tranquility to being overwhelmed by the bewildering visually-rich discoveries found in it's depths. The two resulting patterns were named Yuragi and Nagare: Yuragi, meaning "to swell or surge" presents a textile pattern of independent and uncontrollable strokes in dark midnight navy with hints of violet gleams over a soft, light yellow base. Whilst the second textile Nagare, meaning "to flow", presents elongated strokes of cobalt blue leading to gradients of indigo and cerulean over a lemon backdrop. Nishida notes, "What's fascinating and special about hikizome is that the fabric takes on a lot of dye, so the backside of the fabric dyes as much as the front side. This is different from techniques where the fabric doesn't dye all the way through. By dyeing on both sides, hikizome adds much more depth to the colours." He continues… "Hikizome, through dyeing by drawing freehand, the fabric feels like it is imbued with life, or something dynamic and lively."
Yet the stunning prints are the result of over ten initial prototypes that explored varying materials with the final fabric selected as cupra rayon — its textural quality likened to silk allowed for fluidity and a stunning, gravitational flow. Fujii noted, "How a bleed develops depends on the fabric material. With cupra rayon, the bleed tends to only go in one direction: the longitudinal direction." Nishida agreed, "The material was a perfect match for the hikizome dyeing process." 
Currently on view at KURA in ISSEY MIYAKE KYOTO, the gallery space's latest exhibition HIKIZOME: Hand-drawn Dyeing presents a deep dive into the techniques' process through a display of the original textiles and a film presenting a look into the Kyoto artisans workshop and process.
Japanese craftsmanship at its finest.