The Art of Omakase
Experience this Newly-Opened, Michelin-starred Japanese Restaurant in Mayfair by Renowned Chef Takuya Watanabe
Receiving a Michelin star after only 4-months of opening, this new 16-seater omakase restaurant in London is turning heads for a reason. 
Set in the back streets of Mayfair, Taku Mayfair is at first glance unassuming, it is private and discreet. Led by Japanese chef Takuya (Taku) Watanabe, Taku-San is formerly of Jin in Paris (founder and chef patron), which became the first sushi omakase restaurant in Paris to be awarded a Michelin star ten years ago and to which he has retained to this date in the consecutive 10 years. Now in London, Taku-San presents his omakase dining experience, using the finest ingredients in the omakase way, which in Japanese translates to 'I'll leave it up to the chef!'.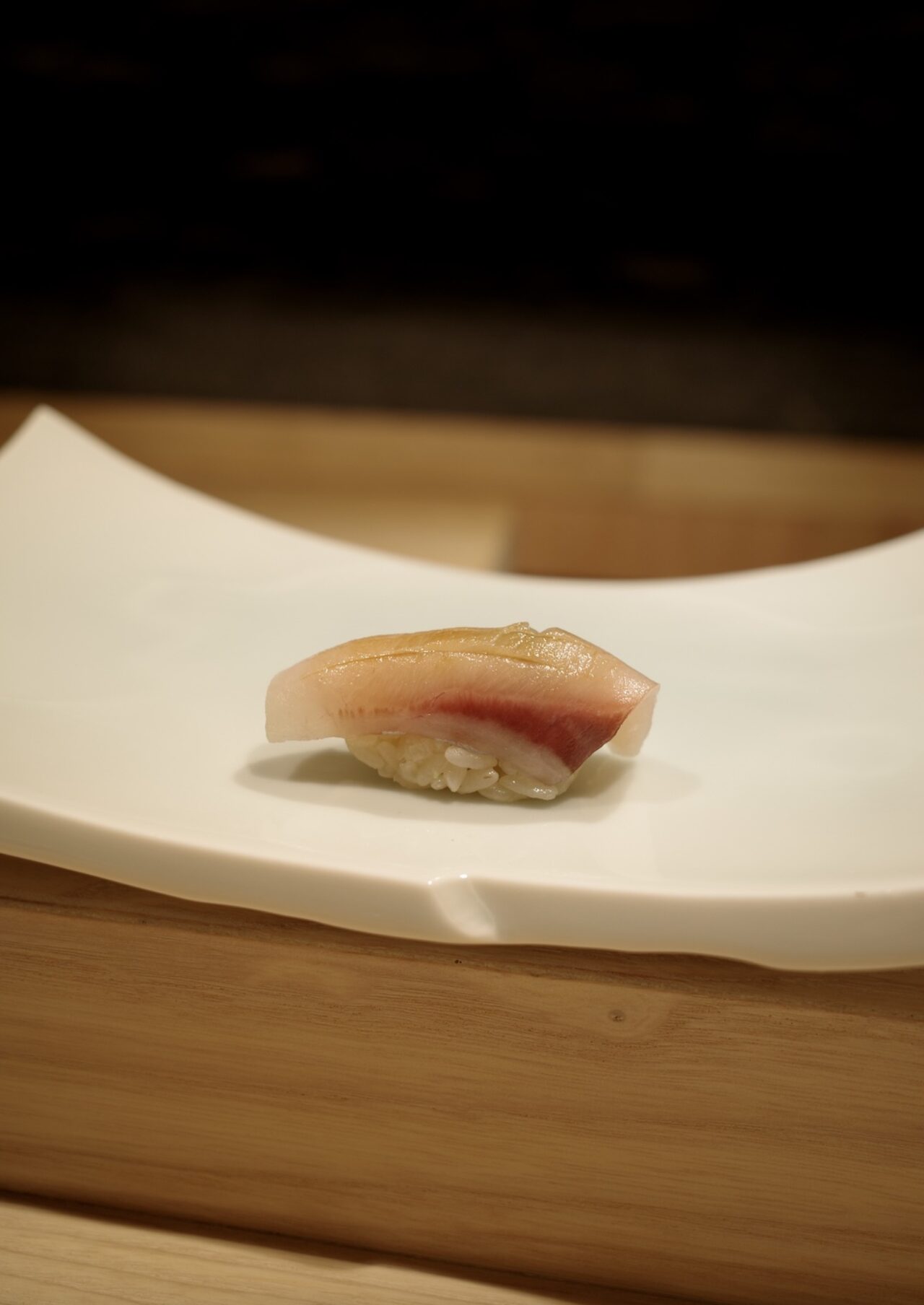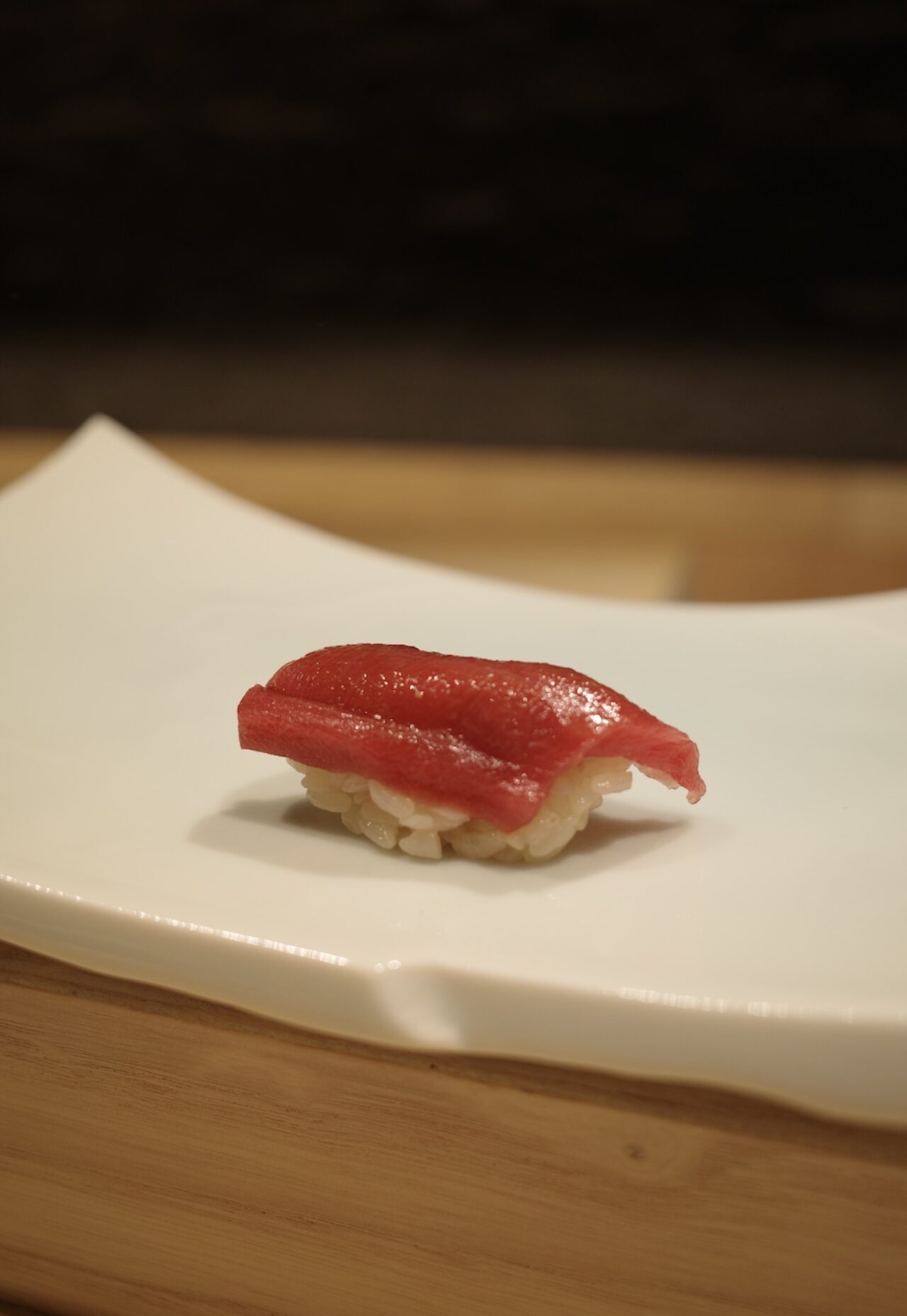 Chef Taku is a master of his craft, creating a daily changing menu for diners that alters their perception of the art of dining. Here, diners observe Taku and his team construct masterpieces with refined details, finding the balance between intervention and restraint. All focus is on the food, be it by the chefs or diners, the immaculately prepared ingredients require – and deserve – our utmost attention. Sourced from the most premium suppliers, as close to the UK as possible, the ingredients in their purest form are what makes Taku a standout. 
There's more here than meets the eye. Sushi here is crafted with chef Taku's perfect rice, made up by an original recipe – a perfected ratio of vinegar and salt composition – that is unique to him. Swiftly made and presented to diners' hands, sushi is meant to be eaten in this order, ensuring the warmth by the sushi craftsman's hands keeps the structure and temperature of the sushi in its most ideal form for the diner to experience in the best way possible. Not surprisingly, chef Taku also makes his own blend of soy sauce. You won't find this for dipping however, soy sauce has been lightly brushed on where needed.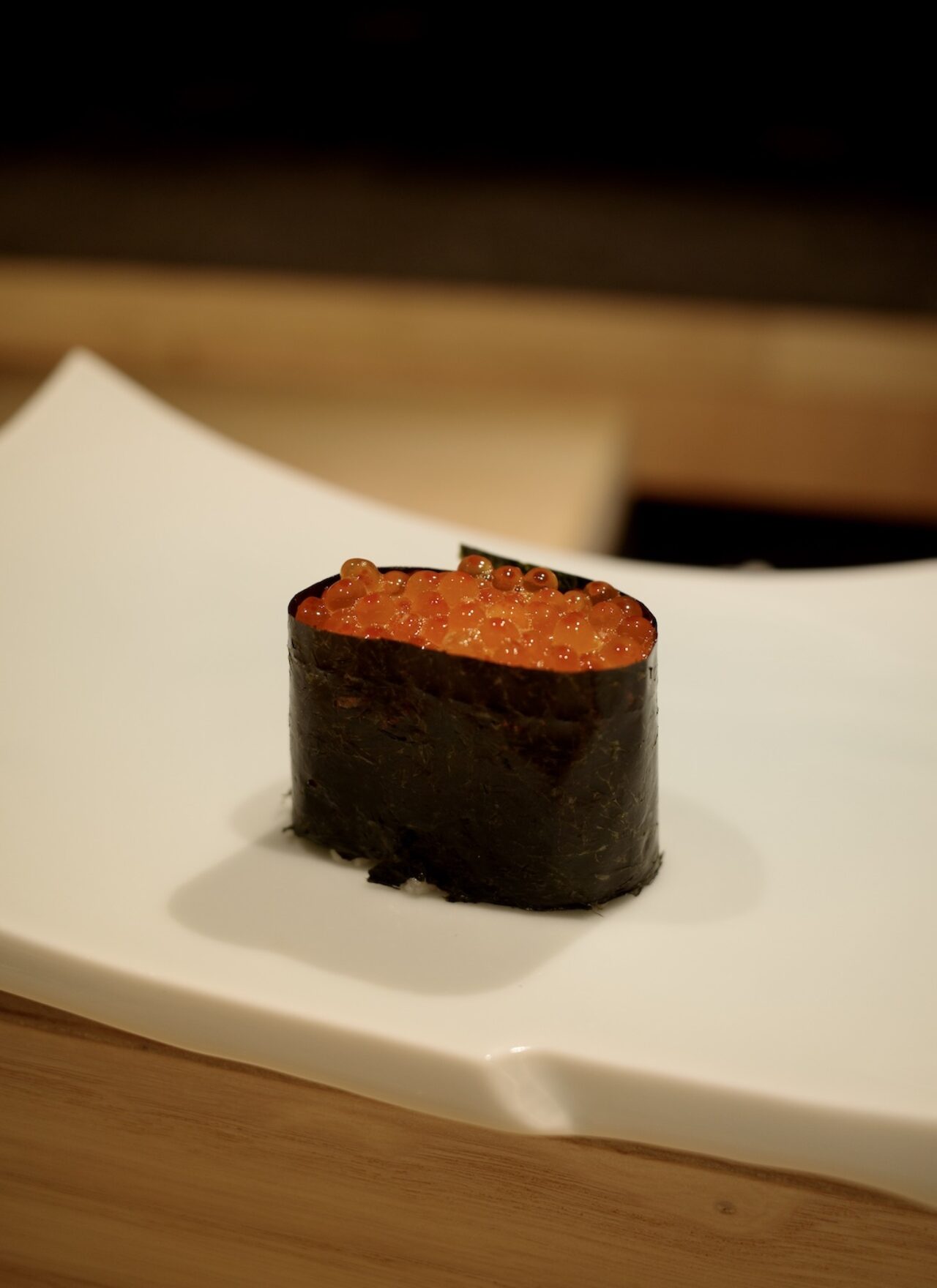 Working in the traditional 'edomae' sushi style, chef Taku began his training at 19 years of age. The 'edomae' sushi style was developed in the Edo period (1603 to 1868, Edo also being the former name to Tokyo) and involves curing ingredients in salt or vinegar, to bring out stronger umami flavours from crafted ingredients. 
Throughout my dining at Taku Mayfair, there's a chef I notice with a style unlike anyone other chef there. Obviously of a younger generation than that of Taku-San, his style of working seems effortless and has an obviously natural ability for precision behind the counter. Evoking my curiosity, I later share the impression the young chef left on my experience, and am informed he is the Head Chef, Long Ng. Working with Chef Taku for nearly 3 years, he is positioned as his protégé and right hand. Long's vast experience in 2 and 3 Michelin-starred restaurants – both in Paris and Tokyo – ensure his expertise in his profession. Beginning his career as a fishmonger at Atariya in London, Long evolved to working with high end Michelin-starred restaurants in Tokyo and as Chef de Partie under chef Taku at Jin in Paris. One of the leaders of the next generation of Japanese cuisine chefs, he has a strong trajectory ahead. 
Together with chef Taku and chef Long, the Taku Mayfair team create a distinctive and memorable experience through their years of experience working with the best.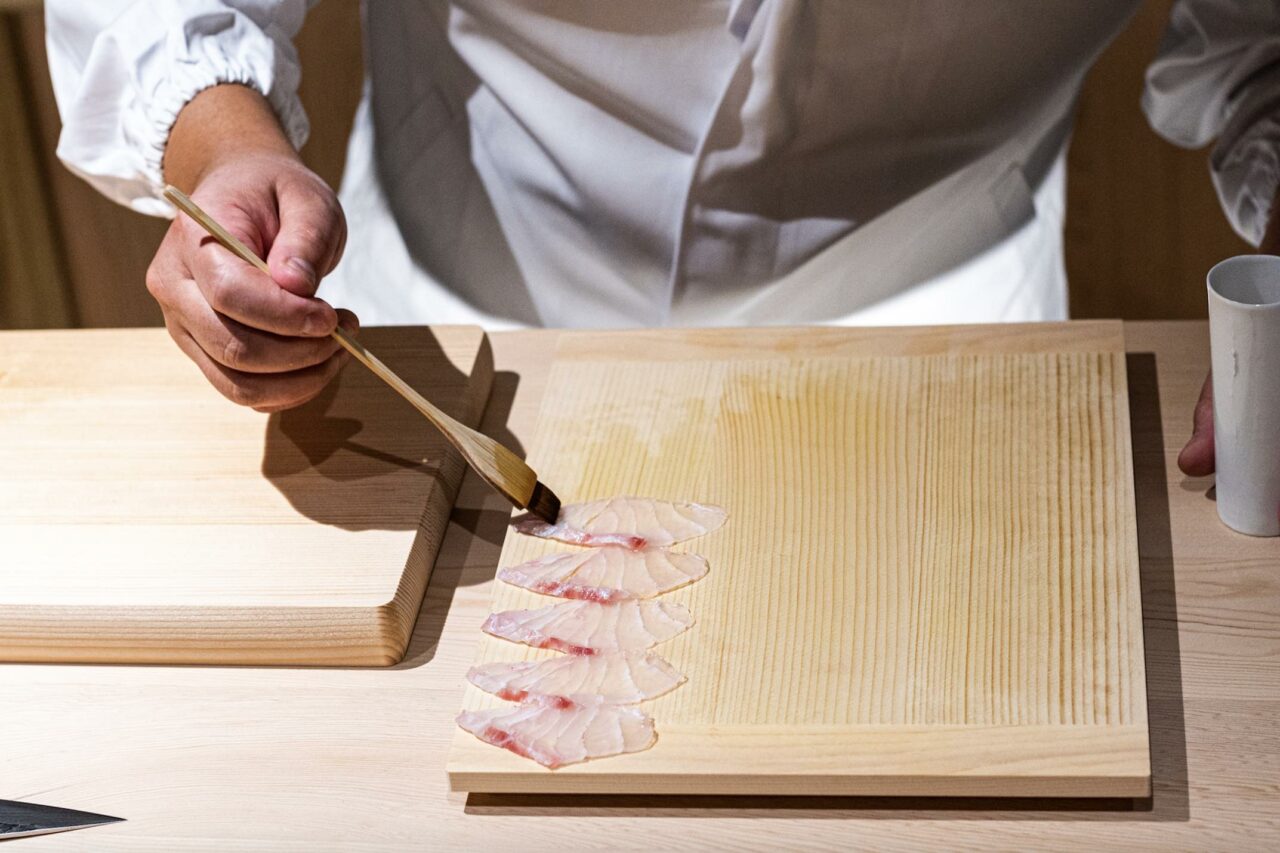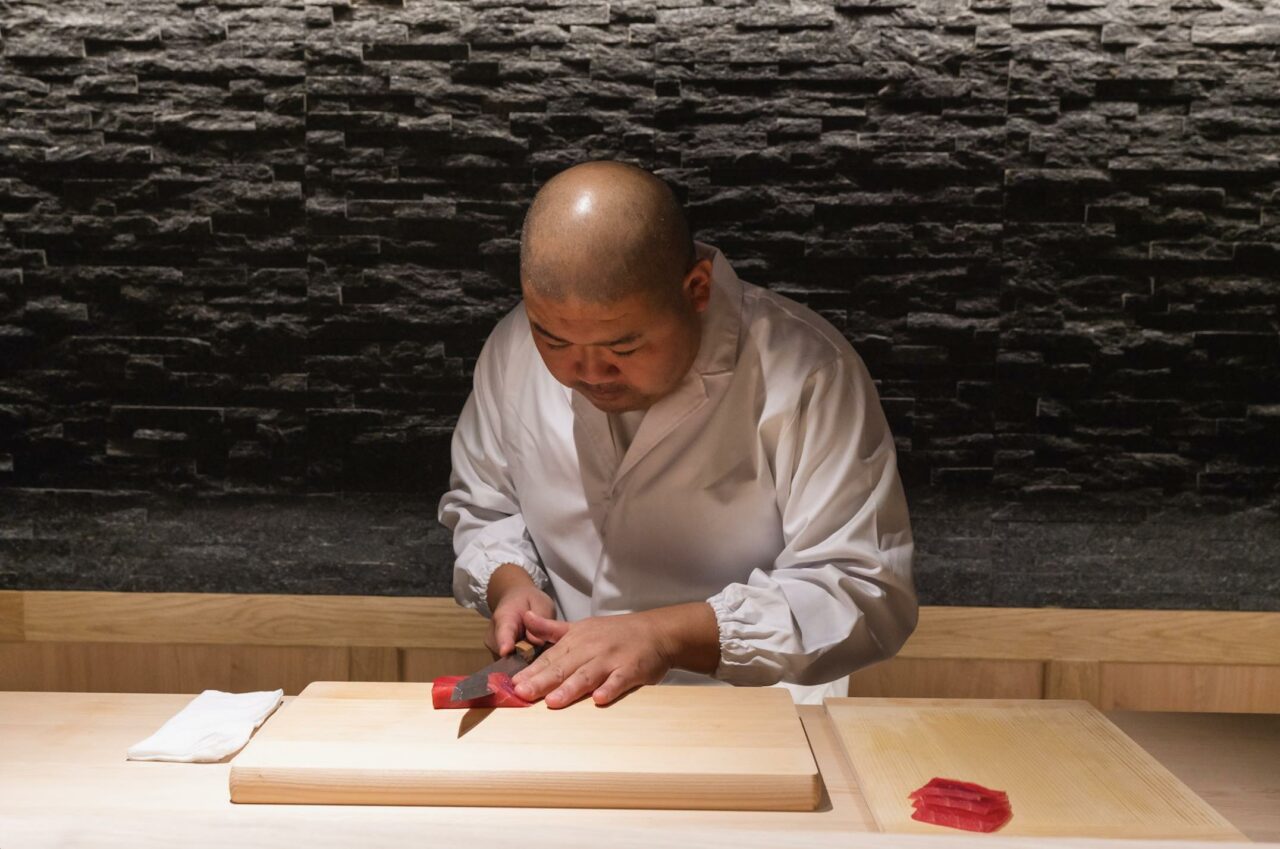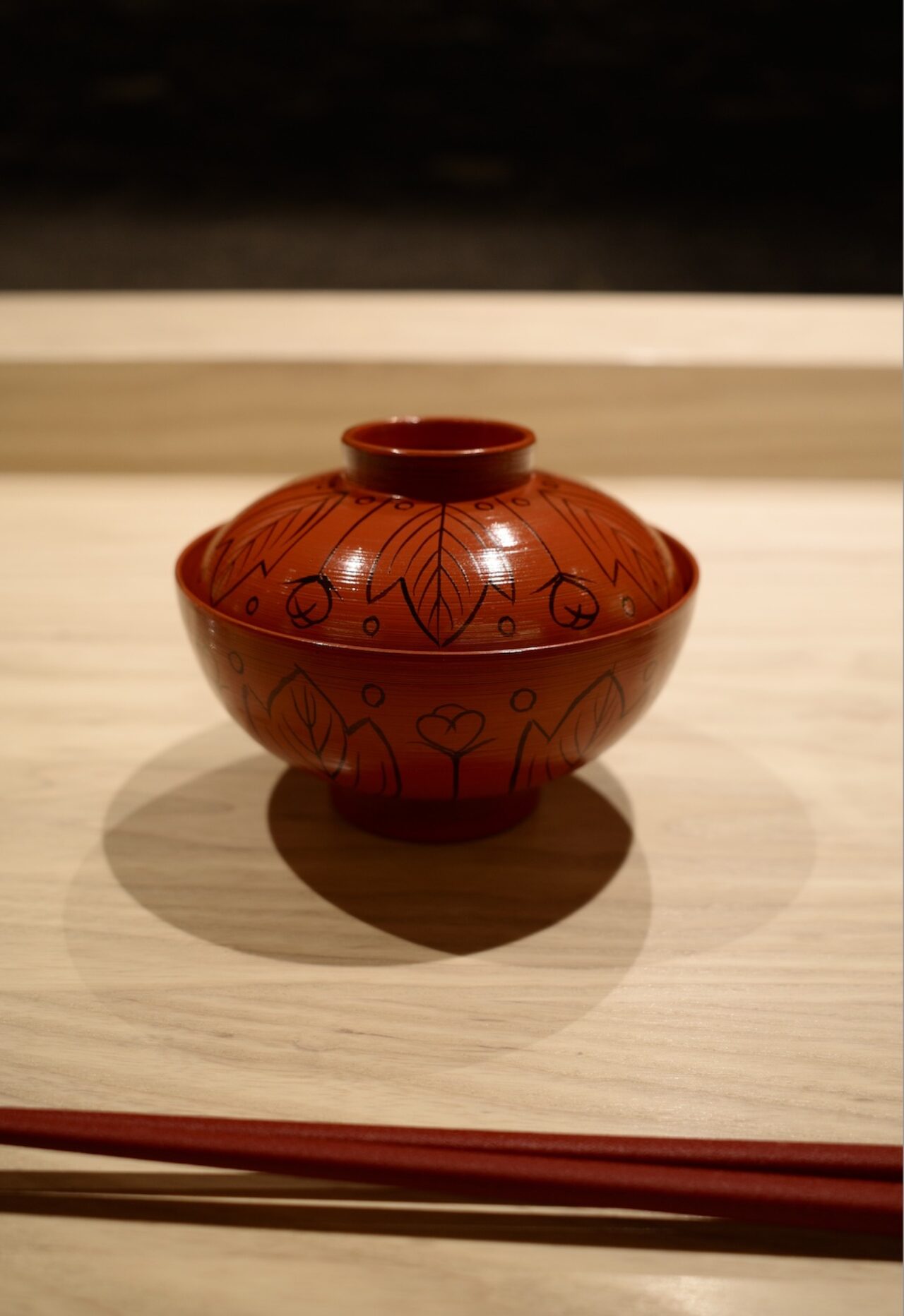 Tableware and glassware are all incredibly original and elevate the 20-course omakase even more, subconsciously influencing and directing the experience. They are all custom made, from the chopsticks to chopstick plates, and Taku Mayfair continues to reinvent the dining experience each time the menu changes, by also introducing new custom tableware to suit. 
Starting with a broth made from mussels in an elegant pure white ceramic glass, a crystalline sheen glosses over the broth as the nutrients glisten in front of diners as the tone is set at Taku. Created by cooking whole mussel and the shell together, cooking sake is added to elevate the flavours even more. At first sip, I become immersed in the ethos of Taku.
Next, and presented in a yin-ying balance, a finely chopped fatty toro (from Spain) and caviar are an ideal partnership of subtly salty flavours that melt on the tongue. As the first dish with a generous offering, the smooth toro tartare blends harmoniously with the textured caviar.  
From here, tableware continues to surprise. On a handcrafted ceramic square plate, finely-sliced seabream is brushed with white soy. Its form is almost transparent, light in texture as the thin flesh dissolves in the mouth.
A slice of deep red yellowtail tuna sashimi is served in a deep red lacquer bowl, marinated with soy and topped with ginger, leek and wild garlic. It's refreshing and the thick slices are satisfying. Another lacquer bowl is used for the next dish, this time with a traditional hand-painted design with black ink, accompanied by matching red chopsticks. Inside, a French abalone risotto combined with green asparagus and morels is presented. 
In a curved white ceramic bowl, smoked trout from Hampshire and cauliflower puree topped with sudachi jelly is found, with sudachi (Japanese citrus which is smaller, round with a sour flavour) and flowers from Somerset.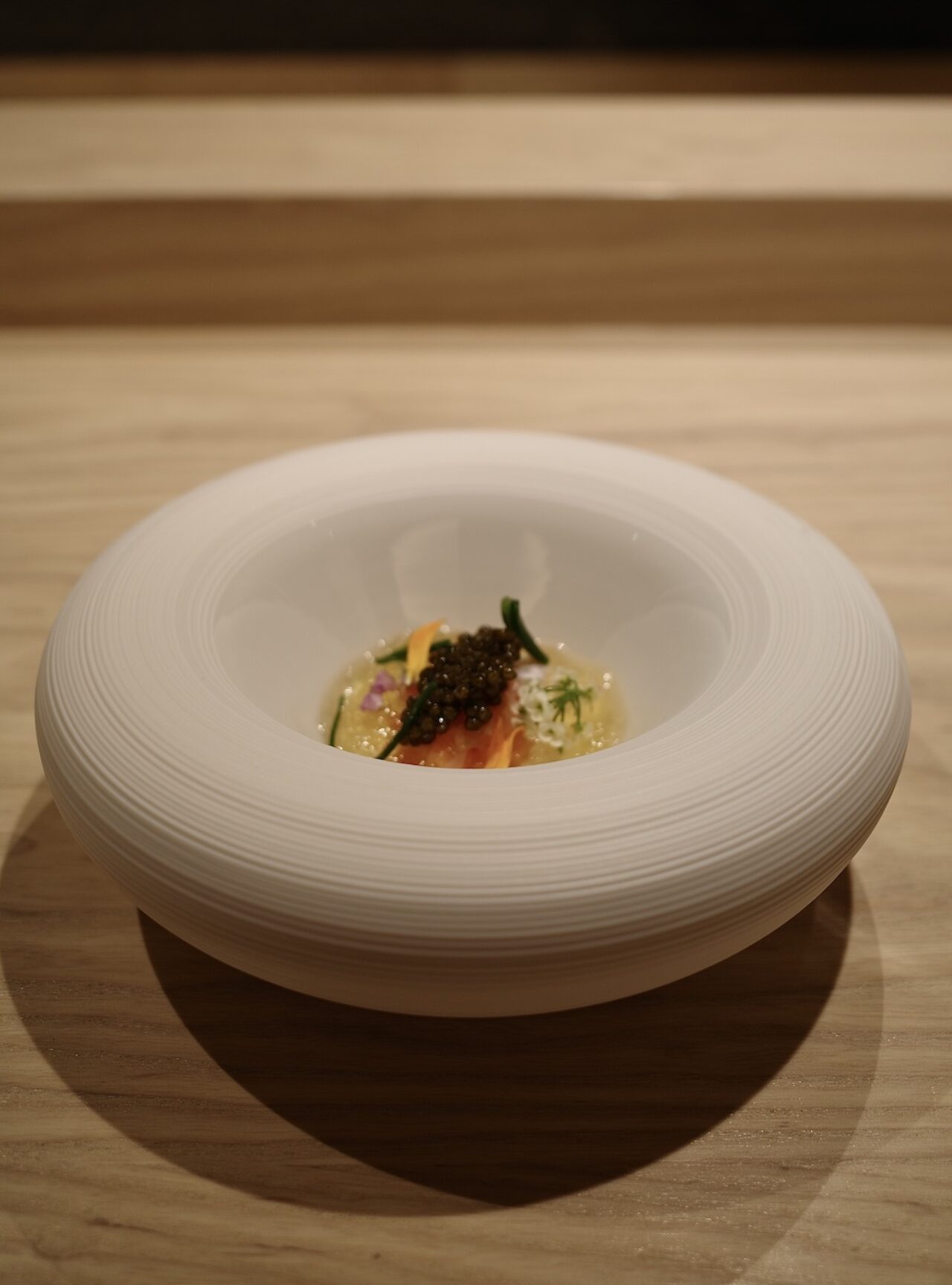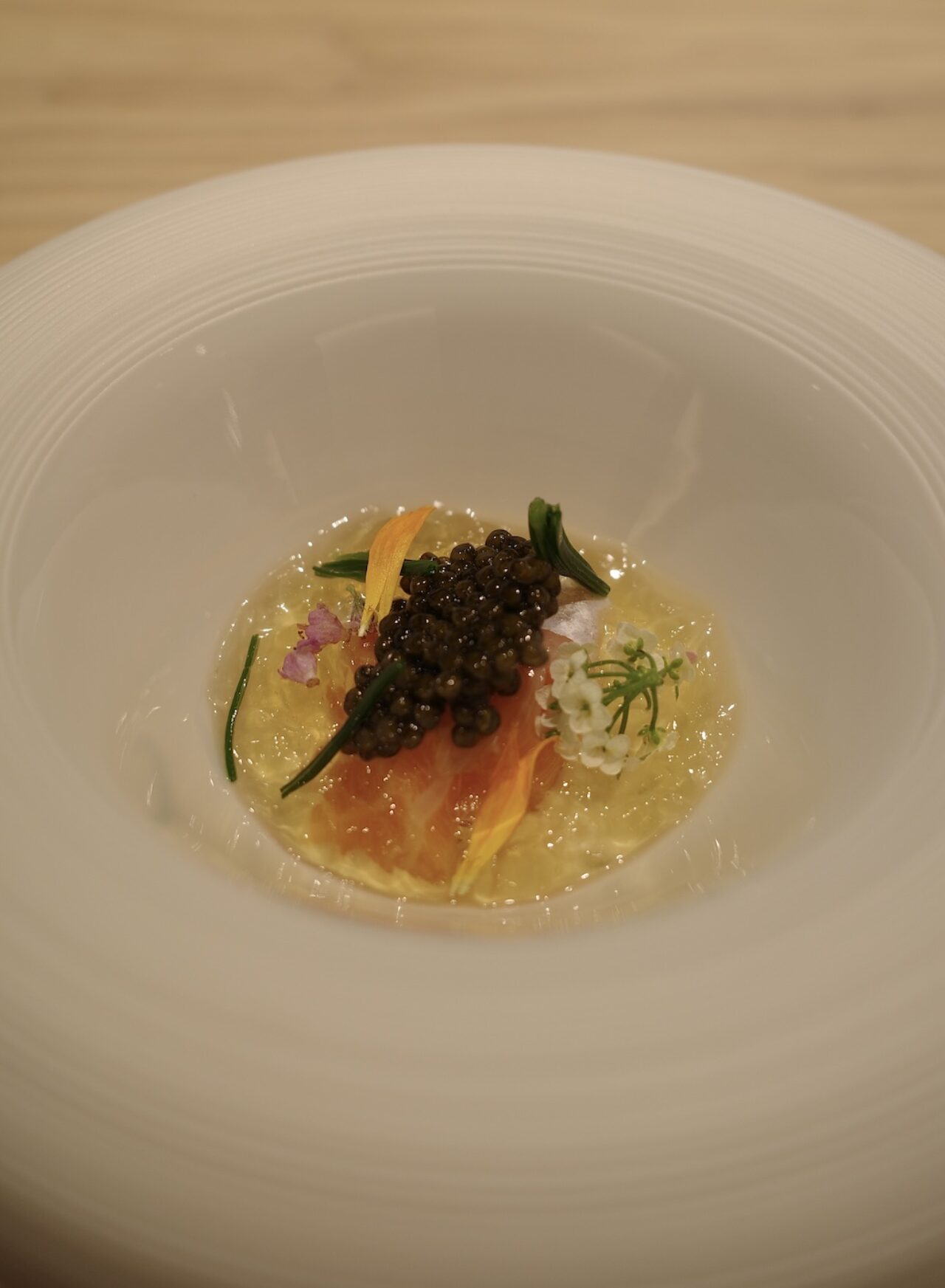 Handmade nigiri by Taku's team follows, with pickled ginger presented in textured hand-painted clam-shaped pottery. 
Turbot, squid, scallop, lobster and Yellowtail tuna nigiri are individually handmade by the chef, followed one after the other in succession with around a 5 minute pause in between. The instructions to diners are to eat the nigiri within a 30 second timeframe from when the sushi departs the chefs hands onto the circular stone plating or directly into diners' grasp. 
At intermission, somen noodles with turbot bone broth are topped with fried turbot and Japanese herbs. Next, various nigiri – tuna, chu toro, o toro, trout and mackerel is served in a fast-paced order, ideal in cut and form. Lobster soup follows, with a Toro Taku handroll shortly after. 
For dessert, there is a series of petit four to enjoy one by one. Firstly, a strawberry daifuku with mochi and vanilla foam is presented in the curved ceramic bowl, its textures surprise and delight. In a smaller hand-painted bowl, a deconstructed lemon pie jelly refreshes the tastebuds, ending with a monolithic matcha terrine and parcel-like miso financier with pecan nut. 
An absolute highlight of dining at Taku Mayfair is exploring their sake list by sommelier Bowie Tsang. With no decisions to make for the omakase dining (the chef literally does it for you), the sake and wine list is a challenge. From Junmai Ginjo to Junmai Daiginjo, the best sake from Japan has been selected. Senkin Nature Junmai was a distinct favourite for me, an extremely natural sake made in wooden vats with and just rice, koji-rice, and water—no extra additives. Made using the age-old Kimoto method, no cultured yeast is added as it uses the naturally occurring wild yeast in the atmosphere.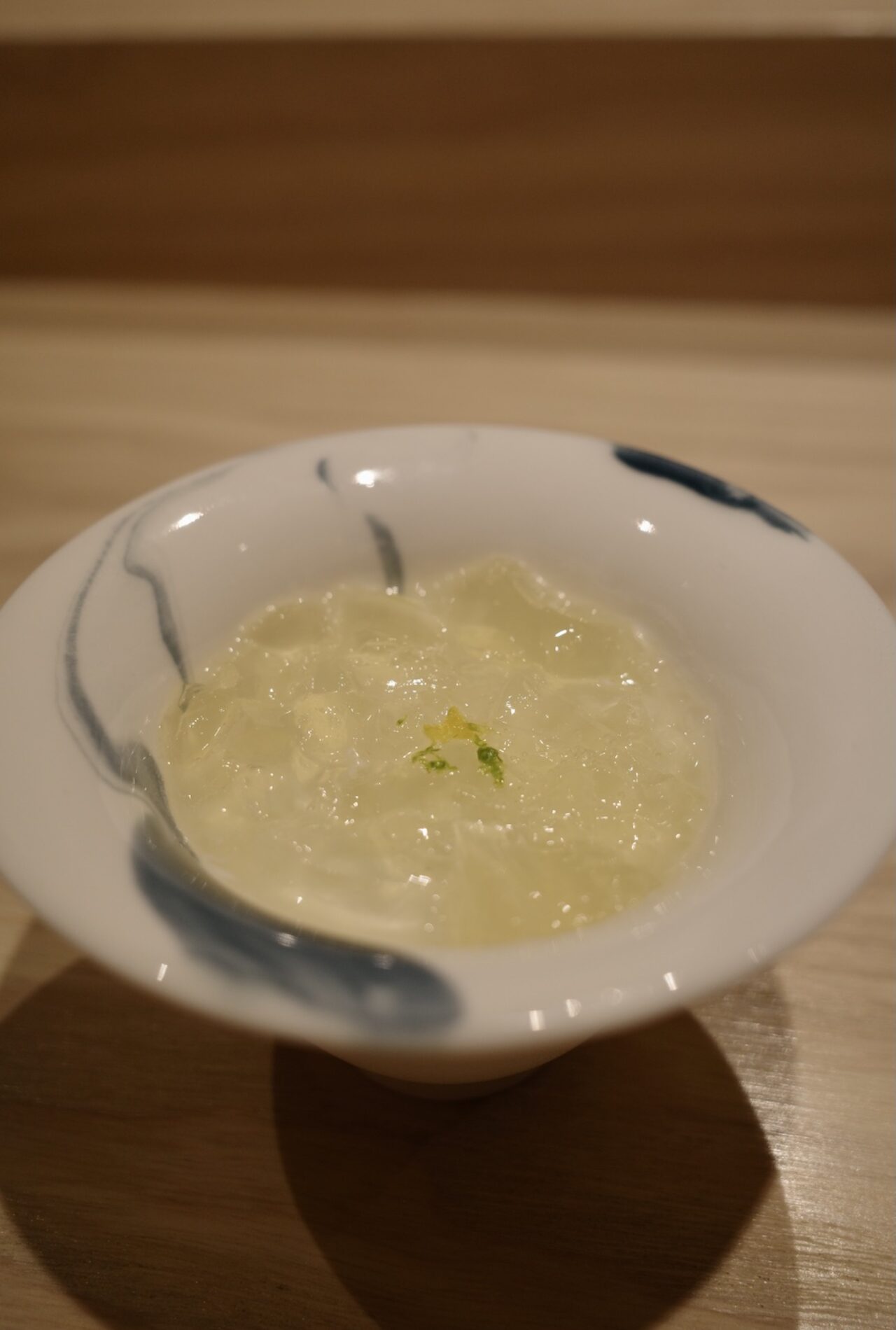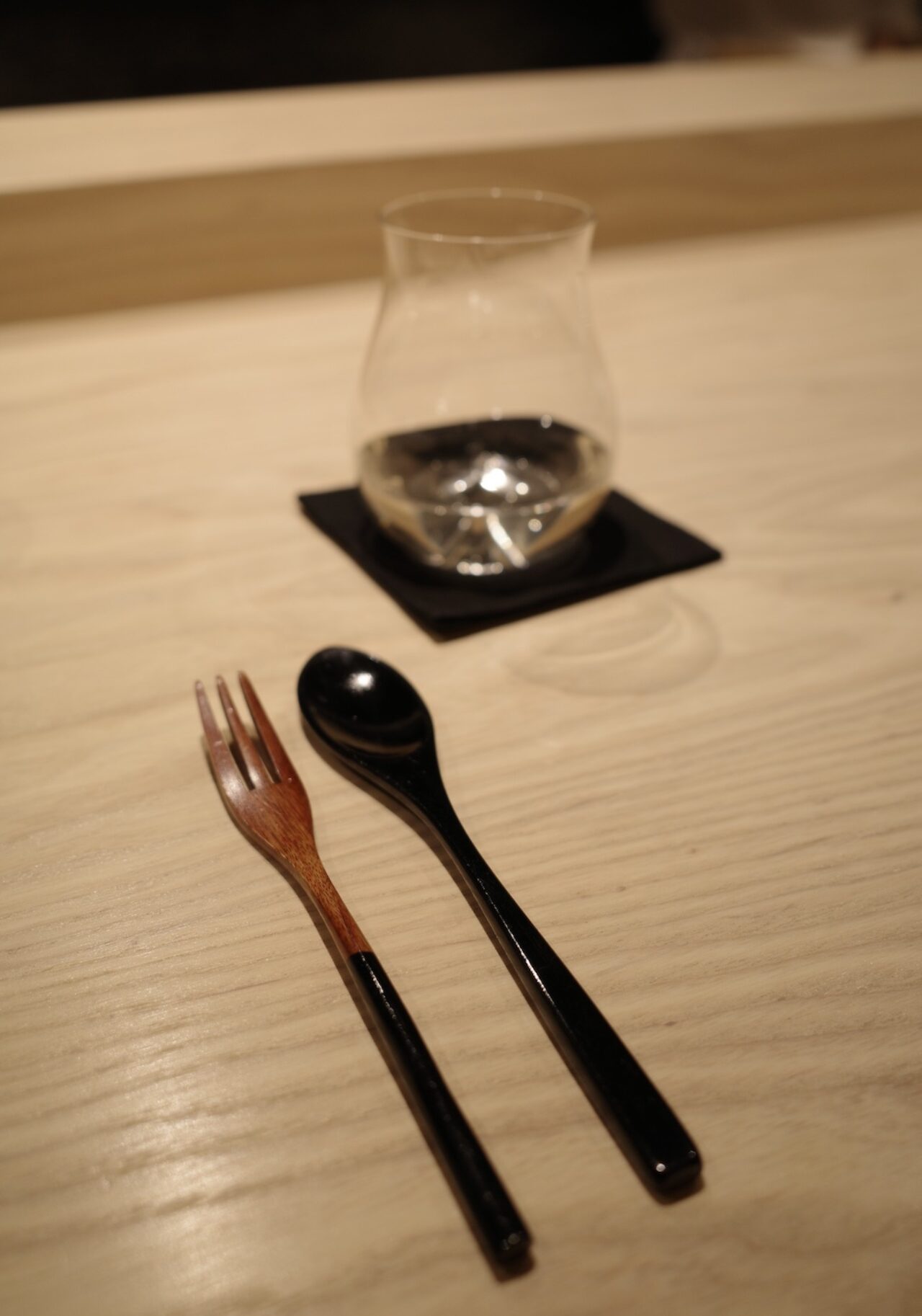 Following the traditional way of presenting an omakase sushi experience, chef Taku's approach is a welcome addition to the London culinary scene. With outstanding ingredients, chef Taku champions some of the freshest ingredients in the British Isles and surrounding areas. 
Taku Mayfair is the result of friends coming together. Meeting through a dining experience at Jin in Paris and then building a natural friendship, London-based restaurateur brothers Geoff and Lucas Leong (whose family is behind Leong's Legend and Dumplings Legend in Chinatown and the Zen group) proposed a collaborative new venture with chef Taku in London. The result feels authentic and well-executed from the interior design to the immersive dining experience once inside. Natural stone and timbers compliment the minimal interiors, aimed to highlight the food first and foremost. The interiors have been produced by a friend Leong's together with chef Taku who designed the sushi bar height, intimacy level and the stone features.
The interiors are as one would find in Japan at any key sushi restaurant: walking through the linen noren upon entry (a handmade custom design by chef Taku's friend in Japan), and sitting at the long wooden bar in front of the chef as they present the best for their customer. The wooden bar is made from fine English Oak to pay homage to using local U.K. ingredients, also as a symbol of being the pinnacle of omakase representation in the U.K. 
Be sure to book Taku Mayfair in advance, as its popularity has meant a reservation is often hard to come by. Their booking system opens three months in advance, so be quick. The experience is more than worth it and remains with you long, long after visiting.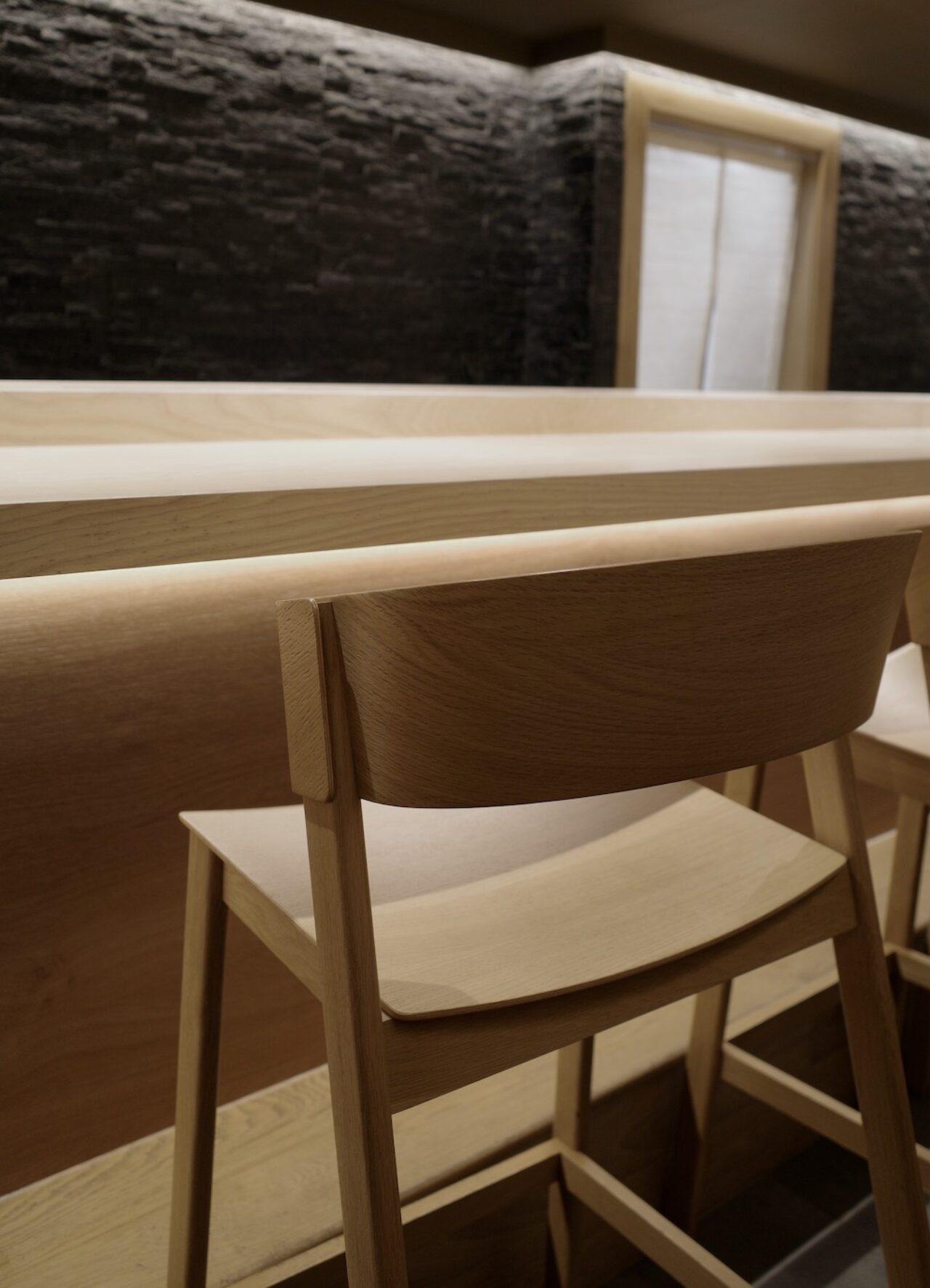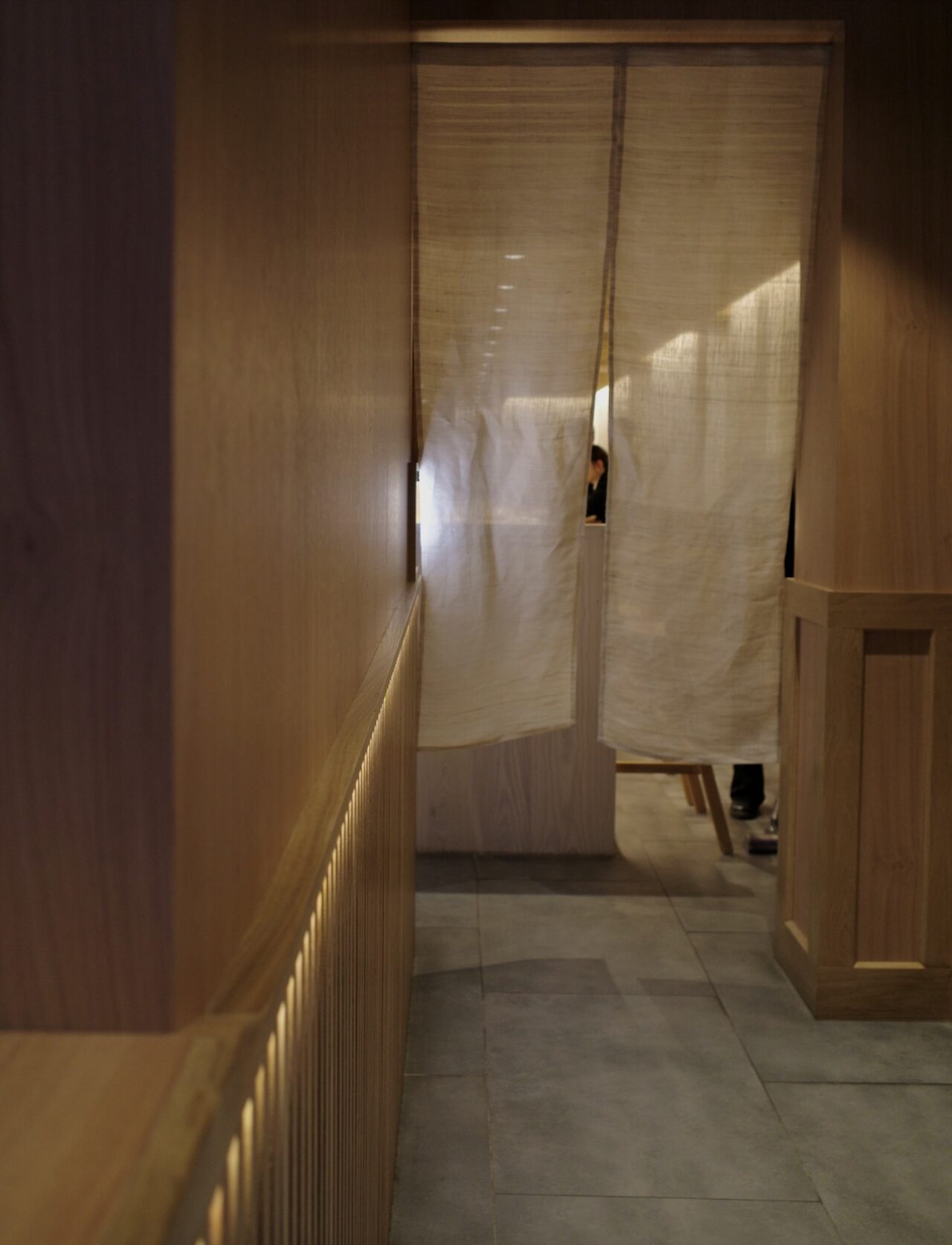 Text: Champ Editor-in-Chief Monique Kawecki
Images: As credited, Champ Magazine© and courtesy Taku Mayfair