About
Ala CHAMP; is an international arts and design website and print magazine, based in London and Tokyo, with a key focus on curiosity and investigations into creativity and cultural insight.
Online
We are an online resource for global art and design news – a new form of curated communication amongst the over-abundance of information we receive today. What is necessary? Is it truly innovative, bringing something new to progress the conversation and actions thereafter? Each of our carefully composed articles inform and inspire with modern journalism and in-depth interviews with industry leaders, artists and engineers alike.
Our creative disciplines are transcending boundaries to now influence and inspire the other. The result; a new progression for the future.
At Ala CHAMP, we aim to connect art and design as a new global language and understanding to lead the way for new views on society. Democractic and non-hierarchal, our content curation is simplified to what we think Champ readers can positively benefit from knowing. Through psycheography, the dynamics between each are explored through critical thought and original imagery by correspondents worldwide in Tokyo, London, Seoul, Melbourne, Shenzhen, Berlin, New York, Stockholm, Miami, Gdansk, Sydney, Copenhagen, Amsterdam, Paris, Los Angeles, Moscow, Seoul, Singapore, Milan and Hong Kong.
∆ Website design by digital coder; Thomas Tkatchenko.
Print
Ala CHAMP Magazine print is created with four key principles: purpose (create a document which archives and reflects the current zeitgeist, showcasing it for years to come), responsibility (print a considered format and size, ensuring there is a minimum amount of paper wastage during production and select papers for their lightweight qualities for a readers ease when travelling or transporting the magazine), longevity (ensure the print process is to the highest standard, with strong perfect binding) and originality (non-conformist to graphic design 'rules', complimenting uncompromising content and innovative features only).
The magazine is printed in Hong Kong and distributed worldwide to numerous hand-picked stockists through our boutique distributors: New Distribution House (USA and Canada), Antenne Books (Europe), MagNation (Australia and NZ) and Champ (Asia).
Since issue 1, we have bi-lingual languages published. From French and English, to Japanese and English, the magazine encouraged a global inclusivity regardless of your nationality. We're still working on a global language that is inclusive for all!
Exploring the possibilities of print, issue 10 was made with a variation of four paper stocks, embossed gold foil text and two cover options with additional gloss cover. The magazine is a perfect travel companion, to be re-read and collected, capturing key movements in contemporary culture worldwide. With an emphasis on considered production, no other publication is as diverse in content or rebellious in design.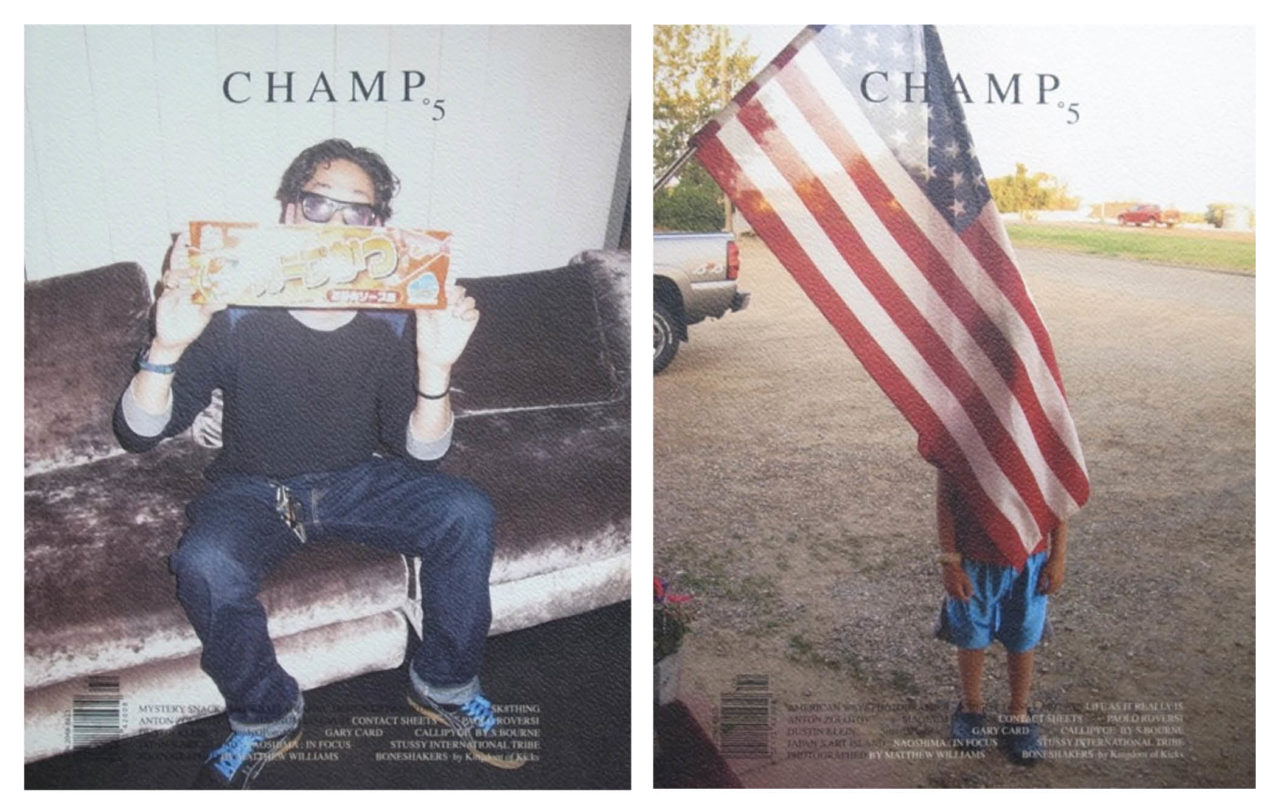 CLUB NIGHTS
Connecting with others, and connecting others to others is what we enjoy most. Our club night, CHAMP SOCIAL, happened organically and would pop up in various cities worldwide. CHAMP SOCIAL connected our network from architecture, design and science fields with friends in fashion, art and creative industries. Each night you'd meet someone new!
LONDON
CHAMP SOCIAL stemmed from a conversation to combine music, nightlife and the Champ community. The best things often happen after midnight! Through the suggestion of Champ fam Tremaine, a monthly club night was established by Champ writer Hadarrah and London editor Monique. The Champ network would DJ and it would always be an introduction to new people – early sets from NTS Radio's founder Femi, to then-Boiler Room's Skinny, Virgil aka Flat White… Acyde would be a constant, and he was always the hands-down favourite…
In London we would hold gallery opening after-parties and FRIEZE Art Week after-parties, and the venues would swing from upstairs at The Box, to downstairs at La Bodega Negra, Le Baron at Scotch, then just Scotch after Le Baron closed, and Momo's downstairs. Shout-out to Chris (Burrows), Albert and Lauren (MomxDad) who were the magicians behind-the-scenes at the venues, their skills are totally underrated and so pivotal to nightlife culture.
PARIS
During Paris Fashion Week each season we would team up with Charaf and Stephane's Le Pompon. It was always a family affair, and each fashion week we would all get the Champ fam from London, Tokyo and Paris together at Hotel Amour for dinner beforehand, since Stephane's store Pigalle was just around the corner. We had a few parties at Le Baron there, but Le Pompon was the best for Champ Magazine, it had soul.
TOKYO
In Tokyo, a hidden gem was Mama Luli's Hotel Pearl [the top floor of a Naka spot which only her international club family knew about], whereby we'd arrange a club night to follow after a family dinner. For the dinners and parties, again we would connect our Champ fam from fashion, architecture, music and design fields, ensuring the cross-pollination of interests and fields could occur over insightful dinner conversations before the dancing began. Genuine connections have been made to this day, and the Champ fam continue to flourish in their fields of work.
As with our earliest ventures which always began organically, we never archived anything – it was about doing. Here's some of the club night fliers we could find, capturing the growth of Champ Magazine and it's wonderful global family.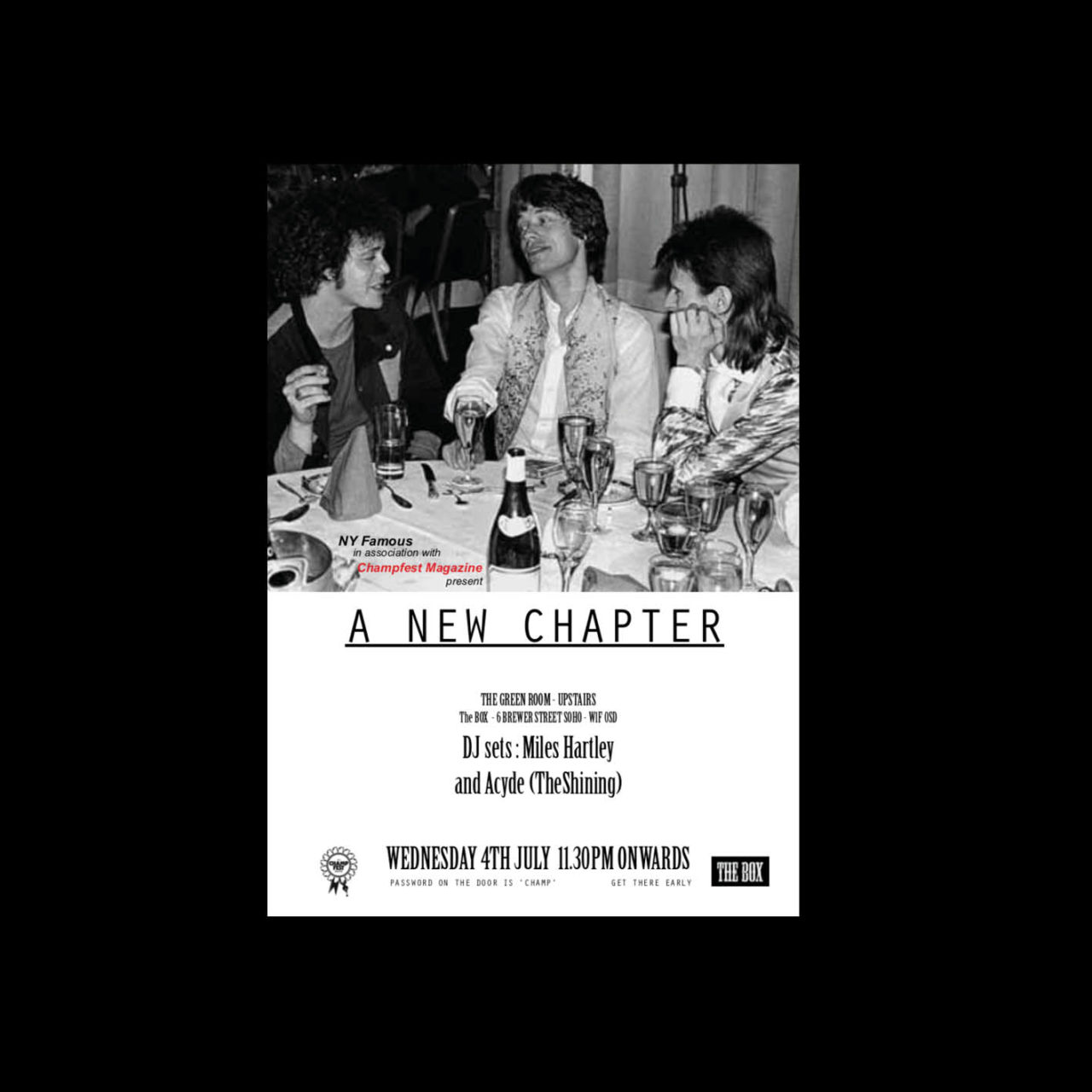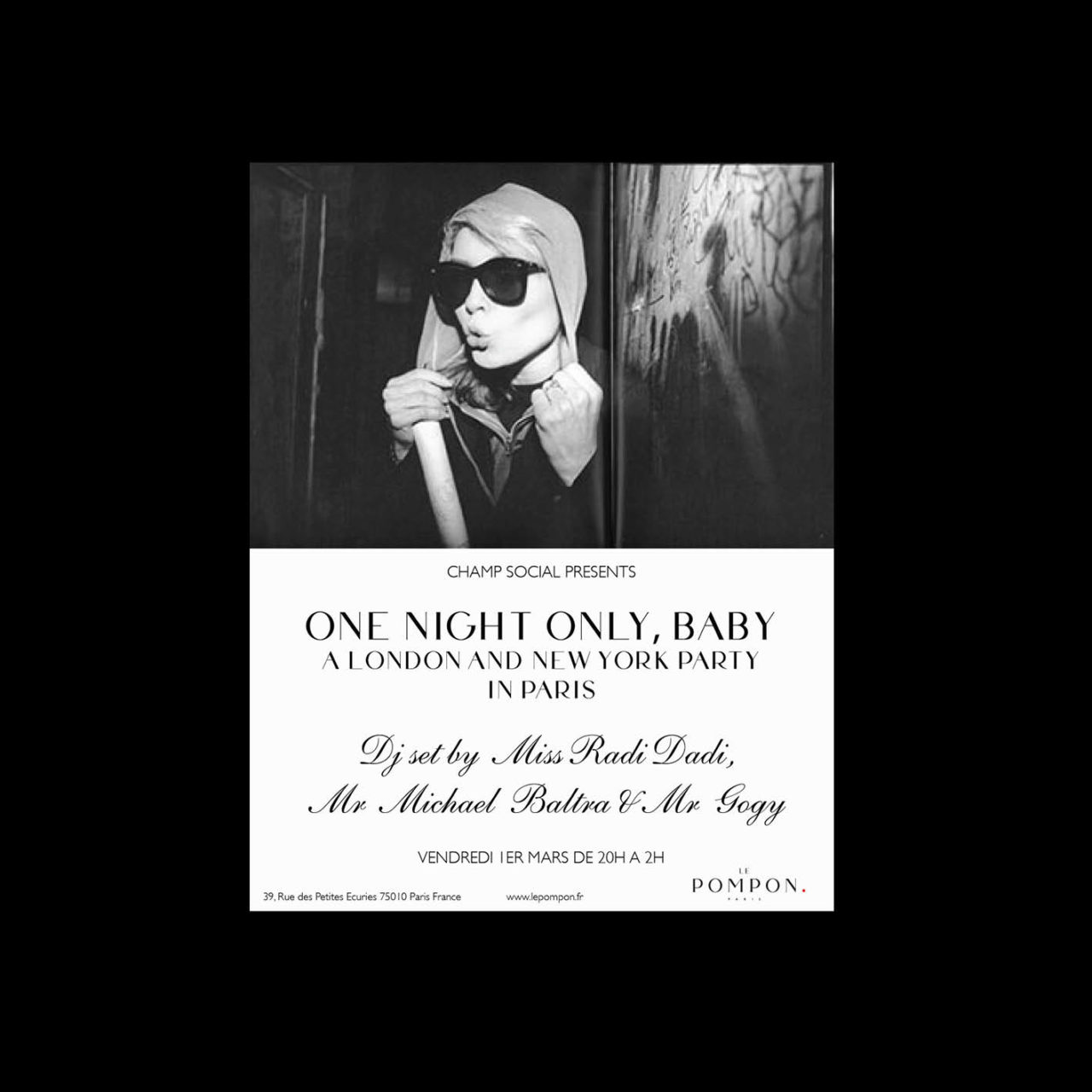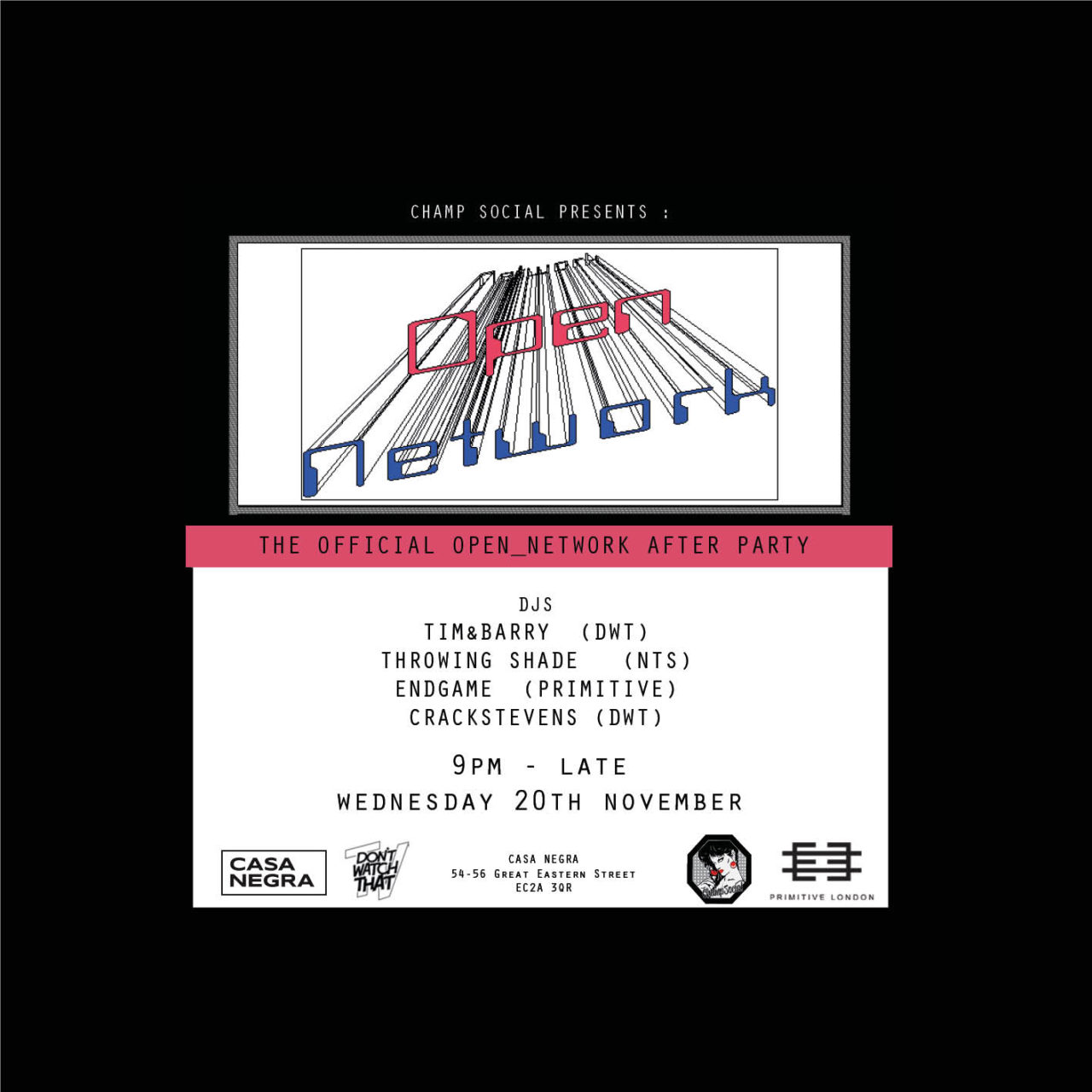 EVENTS
Our events were always for unconventional reasons held in unconventional locations. The first was in a warehouse off of Brick Lane in East London, where we had chef Douglas McMaster create vegetarian salads served in cabbage 'bowls'. Later we would hold dinner parties at remarkable places like the Wapping Project Bankside in London and Hotel Pearl in Tokyo.
We'd also arrange private viewings and curator walk-throughs of key exhibitions such as Lee Ufan's 'From Point, From Line, From Wind' exhibition at Pace Gallery in London, or Louise Bourgeois' incredible 'Cells' series presented at everyone's favourite Louisiana in Copenhagen.
Panel talks at Zaha Hadid Gallery and Shoreditch House featured the Champ network sharing insight and experiences, where we'd always ensure everyone was welcome. Sometimes the invites would be in the form of group emails, text messages or proper fliers as seen below!