Melbourne Design Week 2023
We Select the Top 6 Design Projects that Champion Materiality
Melbourne, one of Australia's largest cities, has always nurtured and championed the design industry and community. Held every year in May, the Melbourne Design Week continues to expand through the growing appreciation and understanding of design, especially as it is ever-present in daily life.
This Melbourne Design Week, multiple events were held around the city and in the Melbourne Design Fair's new location at the Melbourne Convention and Exhibition Centre. Curated by the National Gallery of Victoria (NGV) and delivered in collaboration with the Melbourne Art Foundation, the fair aimed to highlight the immense value design works should be recognised for. Here, we found multiple designer-maker works respecting material and process, almost all in limited edition quantities.
With exhibition areas highlighting the artisans at Gallery Sally Dan-Cuthbert, JamFactory, Canberra Glassworks, Design Tasmania, Origine, Sophie Gannon Gallery and more. Broached Commissions created an installation to provoke thought, while OIGALL PROJECTS created a type of 'lived-in apartment' style display.
Elsewhere in the city, warehouses and old inner-city silos were activated, while the timeless Villa Alba presented an forward-thinking group show.
The Champ team picks the Top 6 projects that were launched or presented by Australian designers and designer-makers during Melbourne Design Week.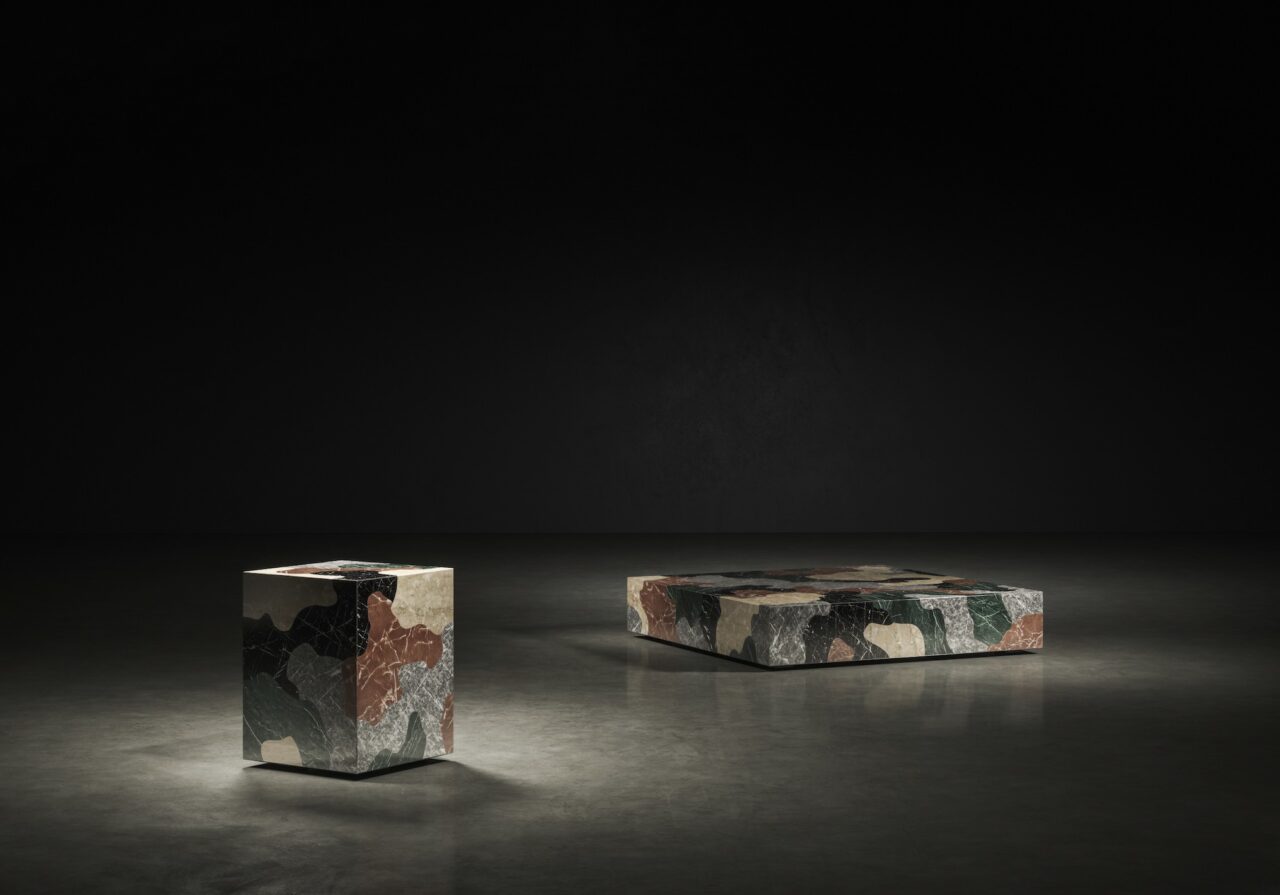 Alexander Lotersztain 'Metamorphic' Collection
Highlighting the beauty of natural marble, Alexander Lotersztain has created a camouflage pattern with the stones through an intricate water jet cut process.
The Argentinian-Australian designer – based in Brisbane – wanted to focus on the natural beauty of the stone selected for the very limited edition tables in the 'Metamorphic' collection. Presented at the Melbourne Design Fair with a pure-white backdrop, the tables are a celebration of nature's beauty, and it's process – as informed by the collection's name 'Metamorphic' which described the process of rock as it transformed through heat and time to create the beautiful colours and patterns in marble.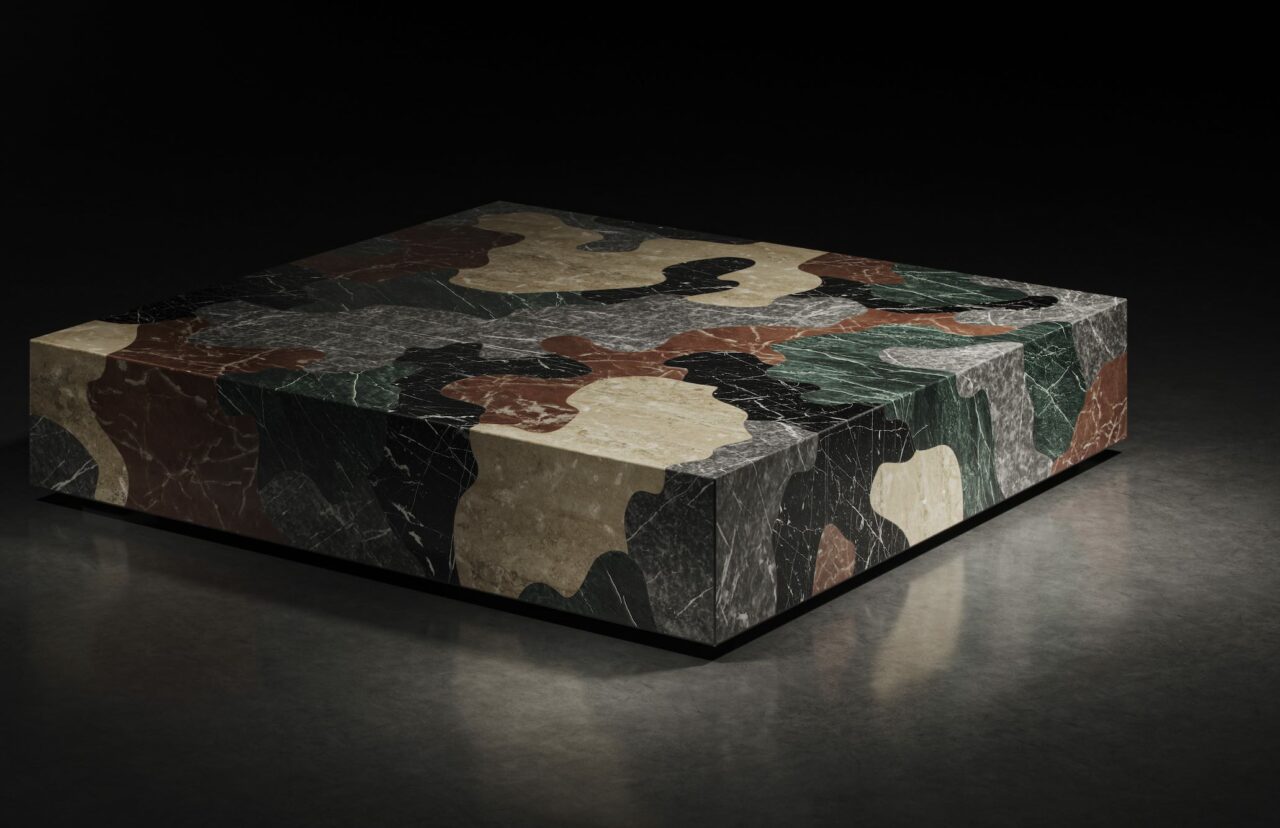 Olive Gill-Hille 'Bound' Series
Ebonised salvaged jarrah timber has been bound with black leather strapping and sculpted by Perth-based artist-designer-maker Olive Gill-Hille as a reflection on women's bodies bound in daily life.
The deep tone of the ebonised jarrah demands attention as the sculptural forms of each work evoke thought. Handmade by the Olive in her studio, she champions women in her work, their perspectives and lived experience.
Represented by Gallery Sally Dan-Cuthbert in Sydney, the Bound series was launched at Sally's stand at the Melbourne Design Fair.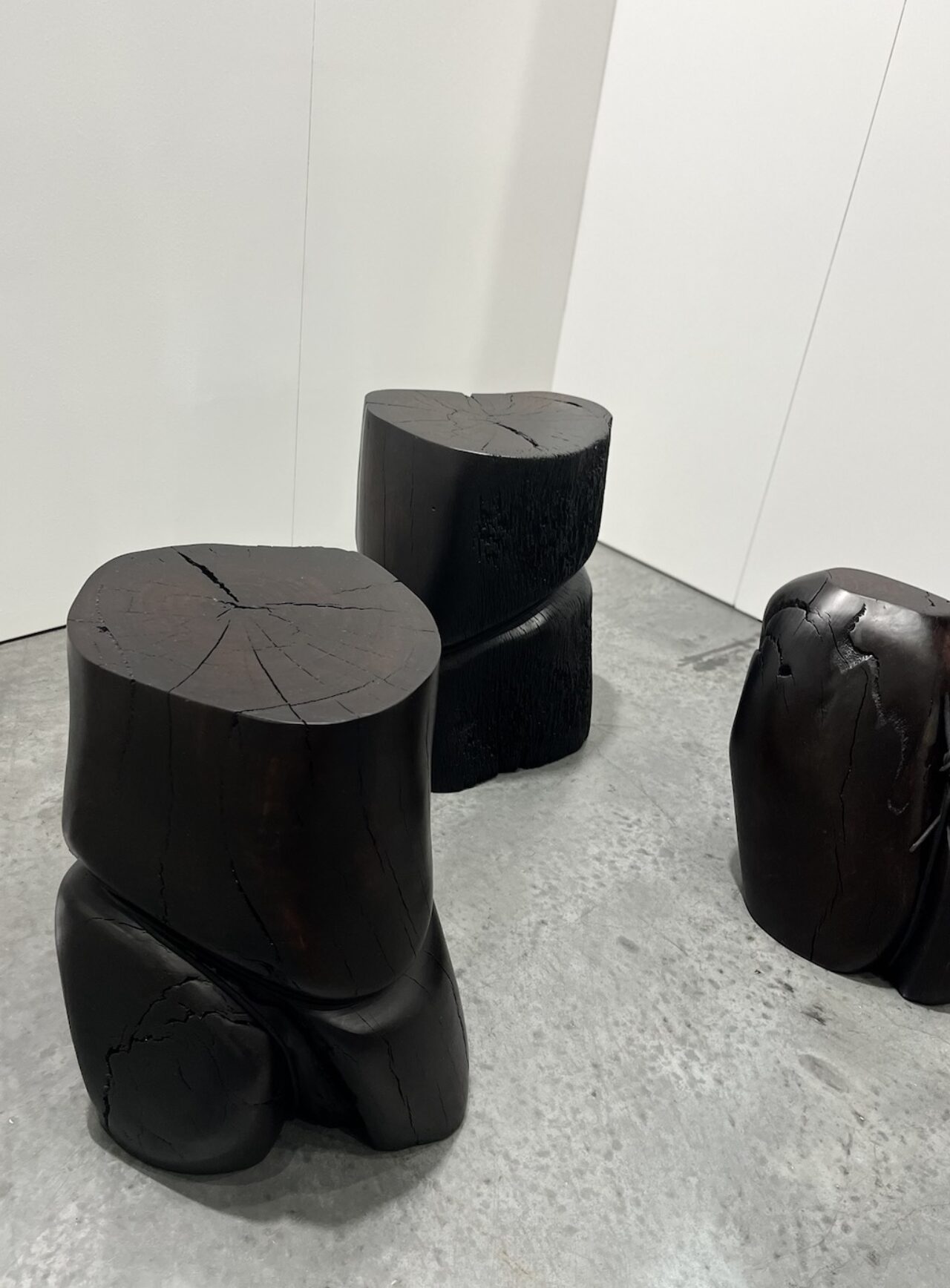 Elliot Bastianon Copper Collection
Made entirely out of copper and welded together by Canberra-based designer-maker Elliot Bastianon, this new collection of seating is intended to age naturally with its patina changing with the times.
Instantly recognisable is the metallic growth on specific parts of the copper seating, created by Elliot's electroplating process. Surprisingly and colourful growths appear celebrating the wonder of this industrial process. This is a new work Elliot launched at the Melbourne Design Fair.
Object Density 'Materiality' 
Presenting naturally-dyed anodised aluminium, Object Density's experimentation creates beautiful results to the raw material. Using natural colour dye such as green from Eucalyptus leaves, Object Density's have explored this natural process to create striking results.
Living and working in Eindhoven, the now Sydney-based studio by life-work partners Nicola Charlesworth and Kim Stanek creates objects of use, drawing upon research and cultural heritage to communicate values and sustainability. Their aluminium works are exhibited at Villa Alba during Melbourne Design Week.
Tom Fereday and Charlie White 'Versa'
Exploring the turning of end-of-life materials and the challenge of their perceived value, Sydney-based designer-maker Tom Fereday and collaborator Charlie White are highlighting this growing concern and asking viewers to rethink existing perspectives.
Foam, glass, ceramic, aluminium and leather were all repurposed in ingenious designs – both practical and aesthetically-pleasing. The collection is on show at a warehouse space on 2 Wreckyn St, North Melbourne.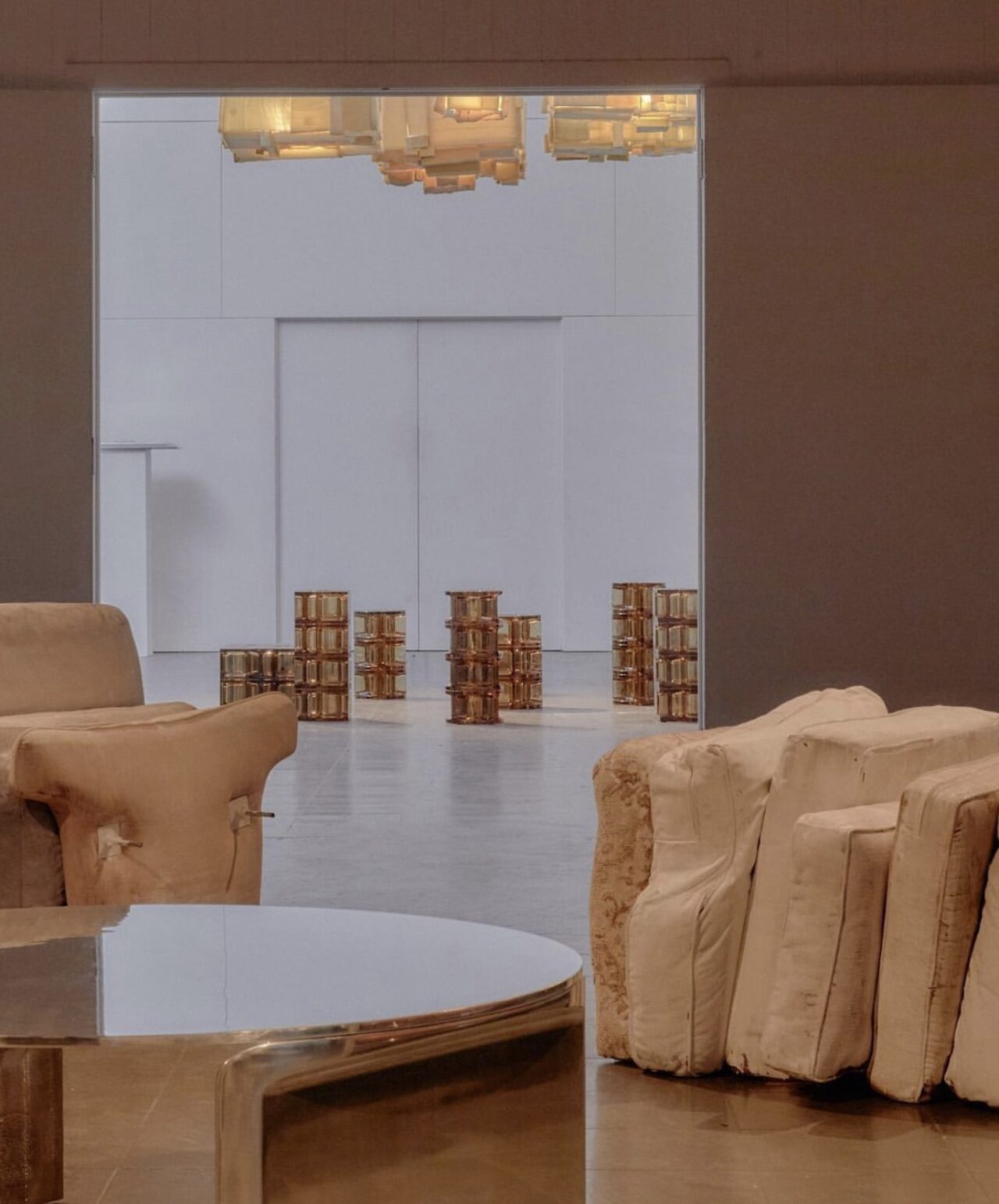 Saturday Yard Work 'Melancholy'
Presenting works during the Melbourne Design Week for the first time, Sydney-based designer Nathan Martin and his design brand Saturday Yard Work aims to find a medium between sculpture, craft and functional objects.
Experimenting with material and process, he has created a series of vessels which are made through a lost foam casting process in aluminium.
Exhibited at the Workshop 01 space (old BMW Workshop at the rear of 156 City Road), the work is part of a group show by Misc Objet and New Assemblage.
Melbourne Design Week 
Multiple locations across Melbourne during May 18- 21 with some exhibitions presented until May 28, 2023
Images: © Champ Magazine and as credited