URBAN RECHARGE IN THE HEART OF TOKYO
Keiji Ashizawa and Norm Architects Design this new Hotel Overlooking Yoyogi Park
Set over 7 floors in a transformed building next to Yoyogi Park, this hotel designed by Keiji Ashizawa Design and Norm Architects presents Japanese and Scandinavian design in unity.
Now open to visitors, TRUNK(HOTEL) hospitality group celebrates its third location in Tokyo, with the new opening of TRUNK(HOTEL) YOYOGI PARK. 
With 20 guest rooms and 5 suites, the hotel feels intimate and private, nestled in a quiet, local part of Tokyo next to Yoyogi Park. Popular Fuglen cafe is next door, and the Monocle store is just around the corner. There's a more local feeling here at this TRUNK(HOTEL), especially compared to its sister hotel in Harajuku which is social and always abuzz with a diverse clientele – both locals and international. In contrast, at TRUNK(HOTEL) YOYOGI PARK, a restful respite can be had.
Guest reception is behind a discreet door slightly obscured by tree foliage, and once guests enter they find a dimly-lit seating area for the check-in process. The intended low-lighting continues in the hallways to rooms, where a signature fragrance (of custom blended natural essential oils) fills the air. As guests open the door to their rooms, the bright light from the floor-to-ceiling windows greets them upon entry.
Ashizawa intended for guests to experience this stark difference, especially highlighting the natural light-filled rooms and scene of evergreen foliage on balconies and outside in Yoyogi Park. Ashizawa and his team also selected balcony trees and plants to celebrate an array of green hues, ensuring they are different tones of green to that available in Yoyogi Park across the road, in an effort to present a visual difference for the hotel. Clever move.
DESIGN
With architecture and design by Keiji Ashizawa Design, Copenhagen-based Norm Architects were brought on to support the interior design over the 5-floor hotel. They are long-term collaborators of Ashizawa's, and share a language of simplicity and functionality. 
With a respect for natural materials, both design studios have an immense attention to detail that is identifiable in all of their projects. Ashizawa San particularly has a strong understanding for Japanese materiality, exactly what makes his projects so special – guests feel good in his designed spaces. A neutral colour palate paired with softening greenery creates serenity of mind and wellbeing within the hustle and bustle of the city. 
"There is a respect regarding the use of natural materials in design and architecture, a fondness of muted colour palettes, and a humble approach to expressivity through genuine craftsmanship. Where other design traditions can be sensuous, expressive, and playful, there is a down-to-earth seriousness in the Japanese and Scandinavian cultures originating in design thinking that was based upon accommodating practical needs and a desire to find the core essence of any given project" shares Frederik Alexander Werner, Designer & Partner, Norm Architects.
Ashizawa works with undoubtedly the best manufacturers in Japan, and those brands are found within the hotel and restaurant. Championing Japanese manufacturing, these choices by Ashizawa ensure the longevity of the hotel interiors, in terms of wear and relevance. Carpets have been manufactured in collaboration with Hotta Carpet from Osaka, designed by Norm, inspired by the rhythms found in traditional Japanese architecture and the facade of the hotel itself.
Bespoke furniture has been produced in partnership with Karimoku and Ariake Collection, both long-term collaborators of Ashizawa's. Japanese copper-plate artist Eiko Miki was commissioned to produce the unique copper lights found around the hotel. Original artwork is also found in hotel rooms, including bespoke pieces produced in collaboration with Atelier Yamanami – a social enterprise in Shiga that houses people with disabilities and encourages them to channel their creativity into artistic outlets.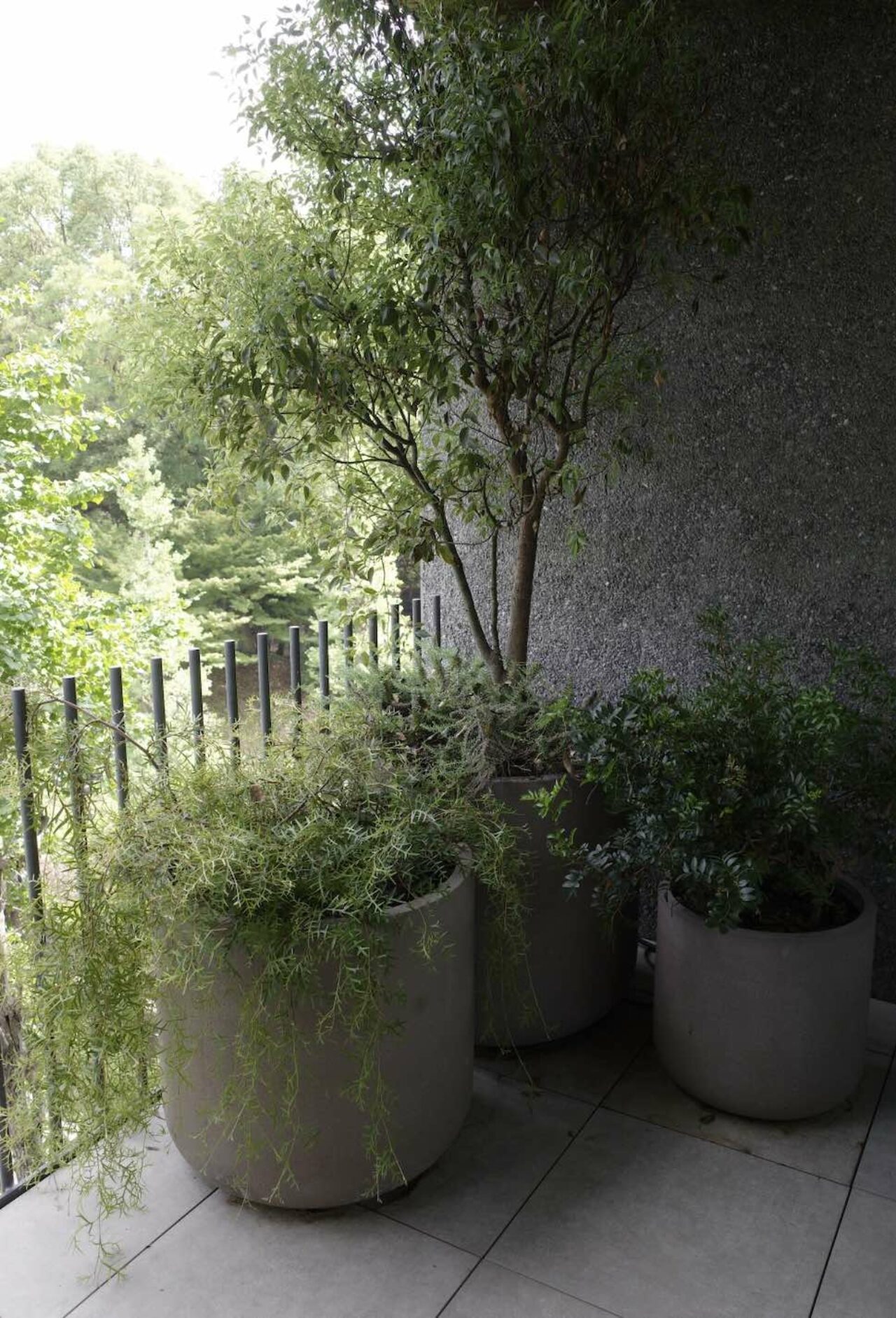 THE ROOMS
With 20 guest rooms and 5 suites, the hotel is compact yet packs a punch. Standard rooms are 22 m², each with their own balcony, whilst suites offer double the space at 45 m², with a balcony also twice the size. At the very top of the hotel, find the Owner's Suite, at 65 m² and breath-taking views of Tokyo and Yoyogi Park.
The mini bar is stocked with consciously curated snacks and beverages – Cricket Protein Bar anyone? We had two. And that TRUNK-branded sake? It's Junmai, of course. It has the most well-curated mini bar we have seen in an hotel worldwide in months, bravo team TRUNK.
Hotel amenities are TRUNK-branded but made in Japan (from organic ingredients), whilst eco-friendly flip flips are provided for guests to use for their time by the pool. Bath robes are lusciously cosy, whilst pyjamas are made in Japan from organic cotton – they were heavenly. Also considering their location next to the park, two outdoor spray bottles are provided for guests in mini sizes for their stay: natural anti-bite and anti-itch. Not that it will necessarily be needed however, but being close to the wonderful ecosystem of Yoyogi Park the hotel ensure guests are equipped just incase.
Outside on room balconies, the serenity of the area can be experienced. A very quiet part of Tokyo, only local traffic can be heard in the distance, while butterflies and cicada come to visit the balcony flora. Slanted balcony ceilings amplify natural daylight and highlight the transitions of the sun.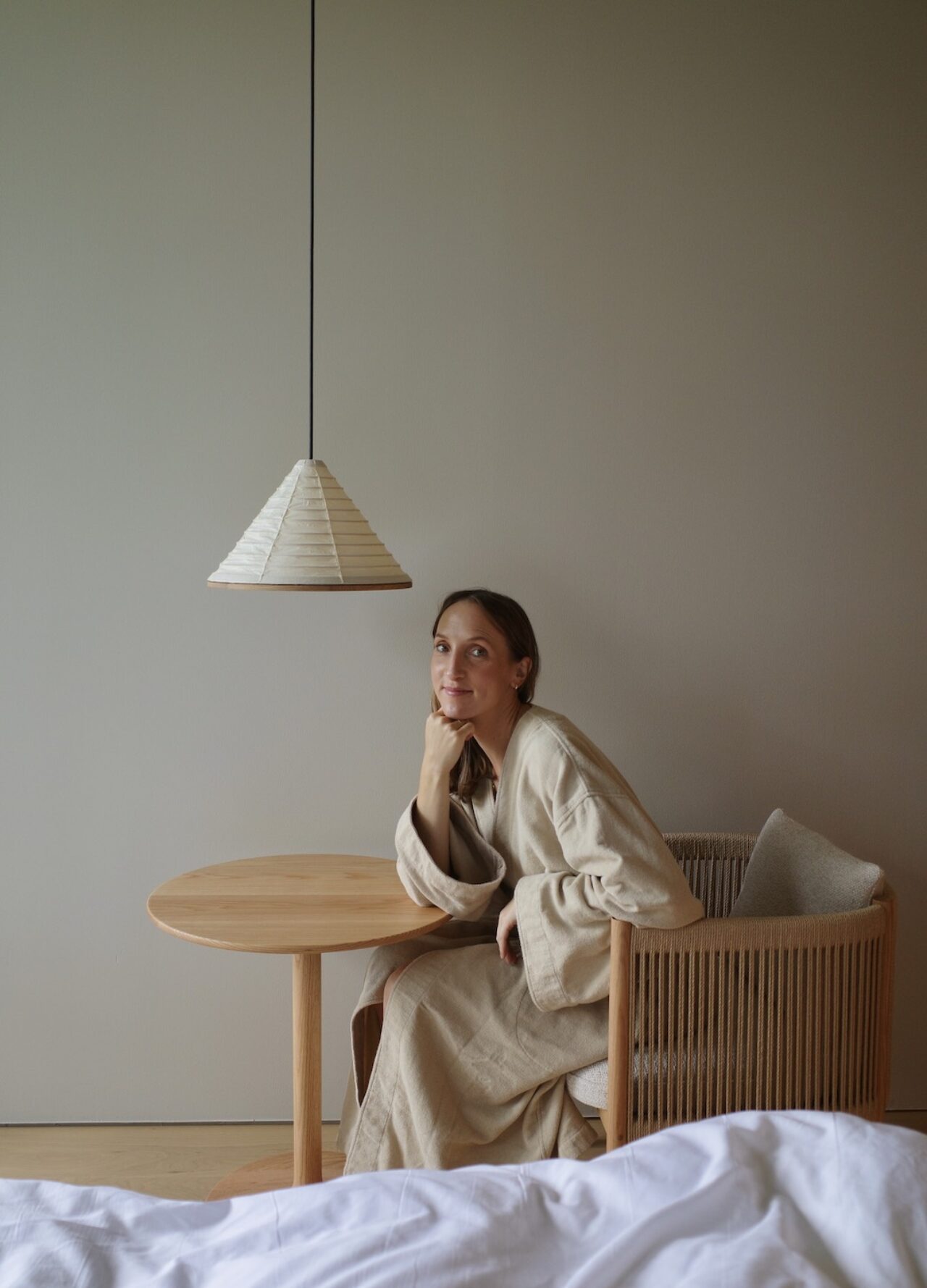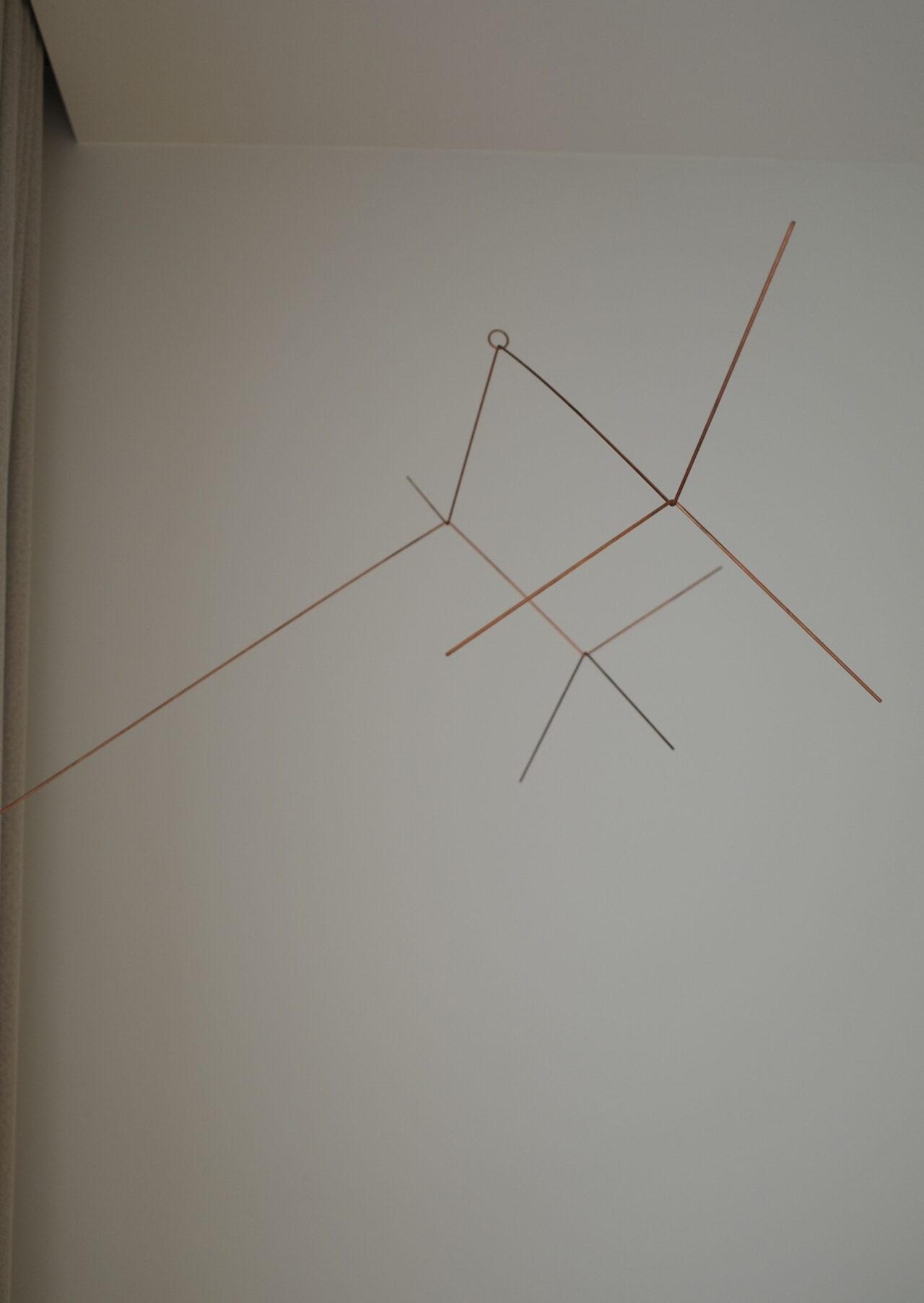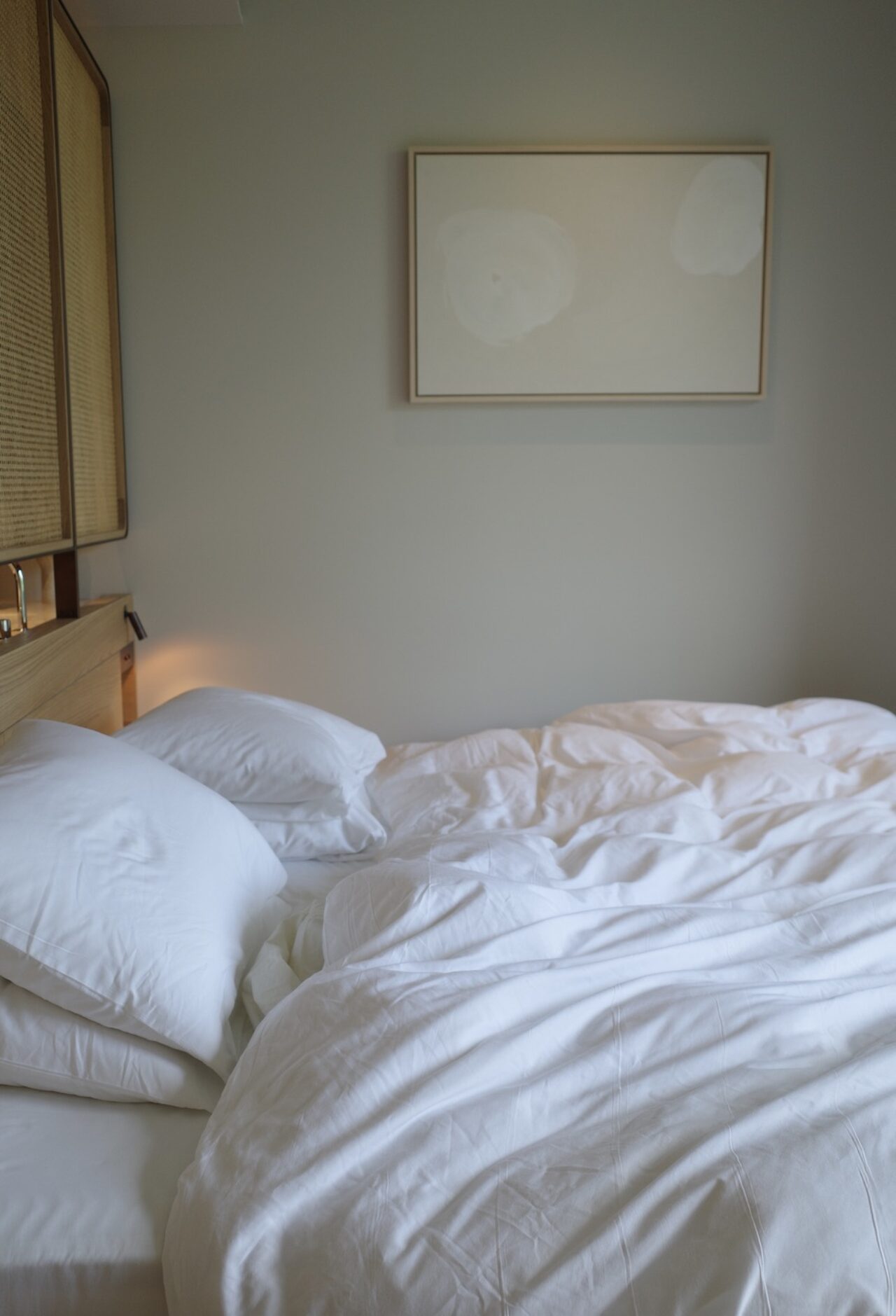 DINING
The in-house restaurant, PIZZERIA e TRATTORIA L'OMBELICO, is open to hotel guests and the public alike, offering an all-day menu. Located on the ground floor of the hotel, it seats sixty-seven with counter top and twenty outdoor, open-air seating (also dog friendly!) available.
Supervised by the award-winning chef who is also the owner of several Italian restaurants in Tokyo (including Trattoria e Pizzeria L'ARTE in Sangenjay), the restaurant serves Italian cuisine through a Japanese lens, with pizzas fired in a handcrafted copper-clad oven.
At the rooftop lounge, the TRUNK(POOL CLUB) is available exclusively to hotel guests. It presents all-day dining, with breakfast starting from 7am. The seafood bar with a global selection of a variety of oysters and shellfish opens in the afternoon until evening, accompanied by cocktails late into the night.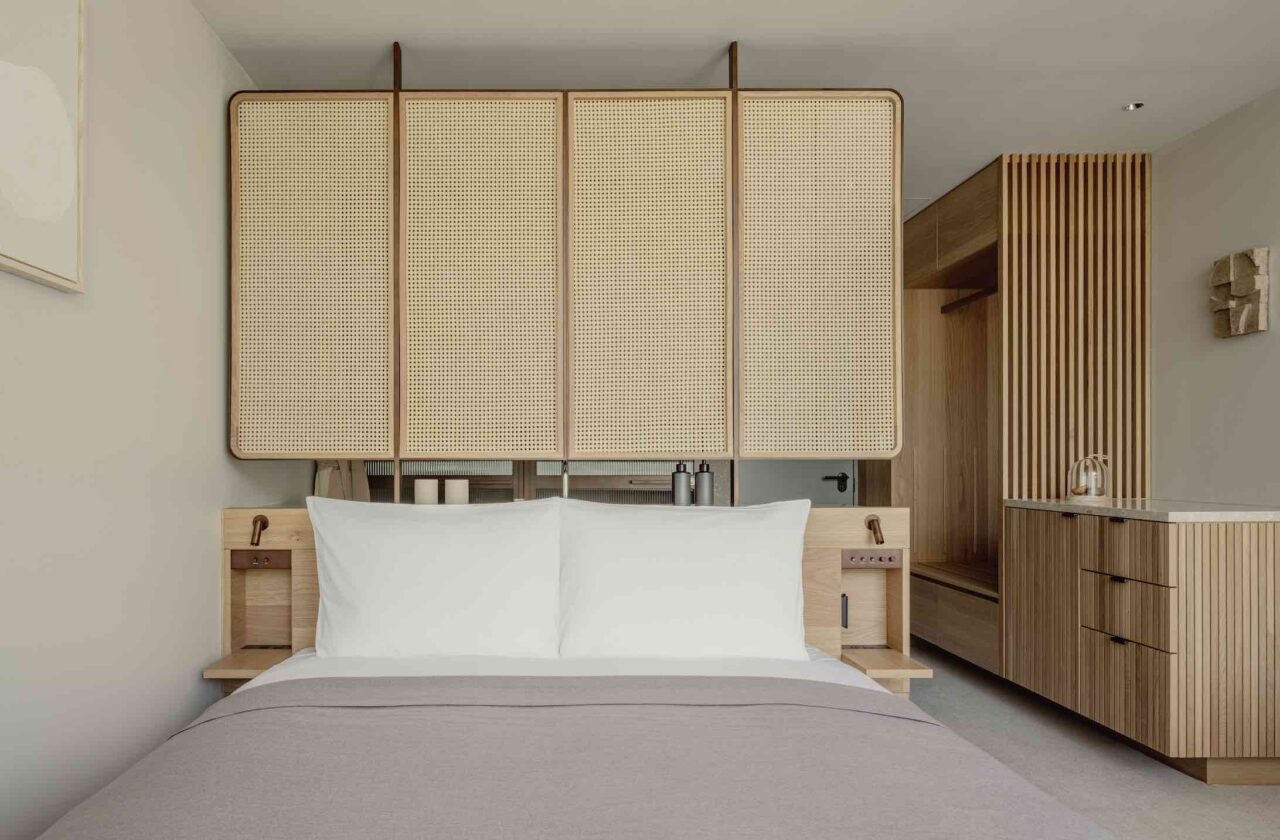 TRUNK(POOL CLUB) & THE "BIG GYM"
The rooftop pool and lounge is the hotel's living room, where guests come to meet, relax and unwind outside of their hotel rooms. Only available to hotel guests, it's a perfect area to grab lunch, a cocktail or some of the freshly shucked oysters in their seafood bar. Morning breakfast is also served inside the lounge for guests.
The infinity pool horizon lies parallel to the treetops of Yoyogi Park, creating a very unique view in Tokyo. To see an unobstructed view of the blue Tokyo sky above Yoyogi Park, at six floors high it is a refreshing and cleansing experience. Next to the pool lies the jacuzzi and a seated outdoor firepit.
And the gym? It's not situated inside the hotel however, it is outside.. in Yoyogi Park. Described as the "Big Gym" it is across the road from the hotel, where guests can exercise in the 54.1 hectares of one of the largest parks in Tokyo.
FINAL VERDICT
Since opening, the hotel has been 'the place to be' for creative guests. International creatives chillout in the lounge at breakfast, or in the restaurant downstairs which is open to the public. Some of Tokyo's top designers are locals in the area, and they've been also coming to check-out the new hotel and restaurant in their hood. 
The hotel offering is premium and intimate, with guest room prices reflecting this (starting at 60,000 yen (incl. taxes and service charge) for Standard rooms, ranging to 230,000 JPY for the Owner's Suite). 
All in all, the hotel offers a restful and relaxing respite in the heart of Tokyo, powered by the nature it resides beside and the natural interior design that is influenced by it. 
For more design and travel destinations in Japan, click here.
Images: Courtesy TRUNK(HOTEL) Yoyogi Park and Champ Magazine©
Text: Monique Kawecki