HOSHINOYA KYOTO
A Secluded Luxury Ryokan in the Kyoto Mountainside Where The Journey Begins by Boat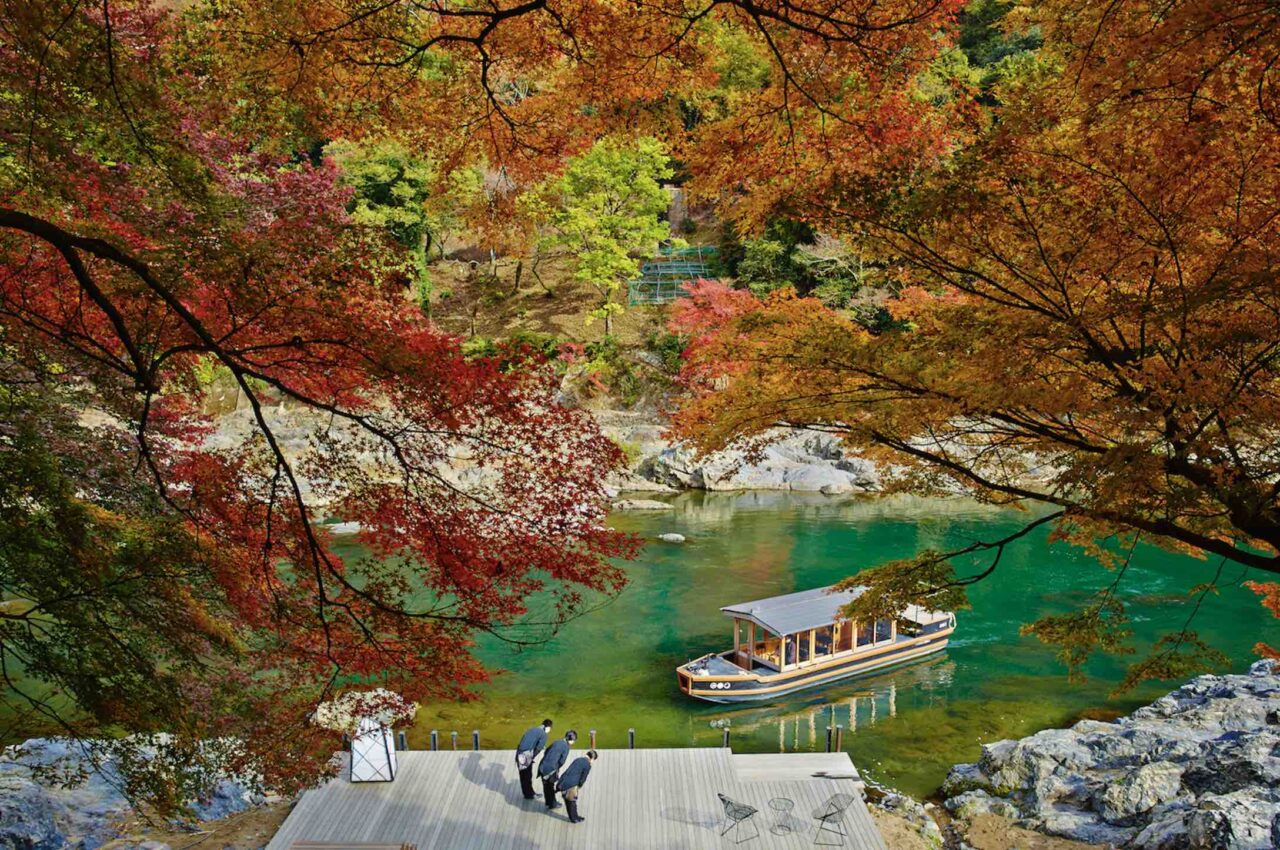 In West of Central Kyoto lies the picturesque mountainscape of Arashiyama, long described by historical authors and revered haiku poets for its undisturbed and unparalleled scenes of nature.
Arriving to HOSHINOYA Kyoto is unlike arriving to any other hotel visit. Arriving by private boat along a secluded arm of the Oi River, you immediately transcend into the world of the luxury ryokan epitomising the beauty of nature's individual seasons and the highest form of Japanese hospitality, omotenashi. 
The uninterrupted haven is a former Heian nobles' retreat, with stunning views overlooking the river's blue and green shades as they change across the seasons. Restored and modernised, the centuries old ryokan continues to share the magic of its pristine and idyllic setting.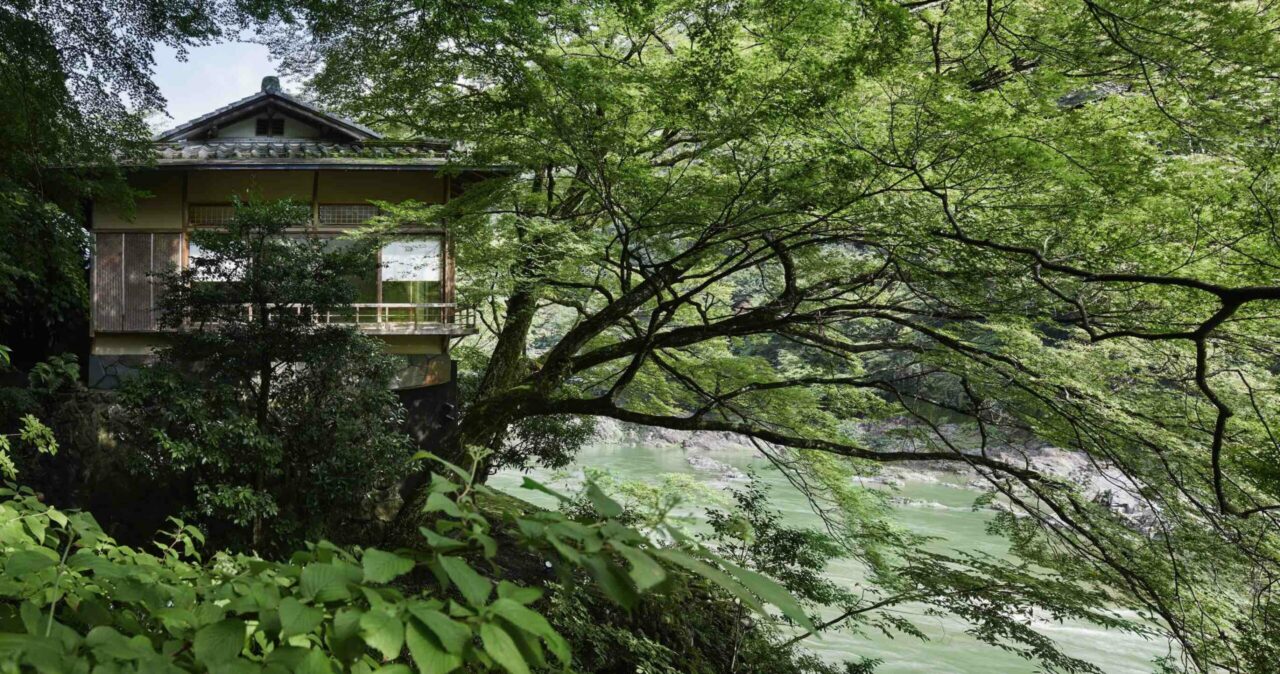 Walking through the premises, the luscious flora and thriving green moss is evident, indicating the highest purity of air quality. A small waterfall cascades down the side of the hill, as traditional Japanese music is played to greet guests by a musician at the entrance.
The traditional Japanese architectural design of the ryokan have been preserved and modern details have been added, along with interiors highlighting the finest Japanese craftsmanship (tatami floors, washi lanterns, bamboo furniture, ikebana flower arrangements and woodblock print wallpaper).
At this riverside hotel, elements of a classic ryokan stay can be experienced (from the deep, hinoki wood soaking tub to delicate double washi paper screens and textured, earthen walls) yet with all of the modern comforts integrated (stone-top bathrooms, heating, air conditioner). There are 25 different rooms, designed by acclaimed architect Rie Azuma, each set with stunning views overlooking the river and further sublimely complimented with the delicate sound of its flowing water.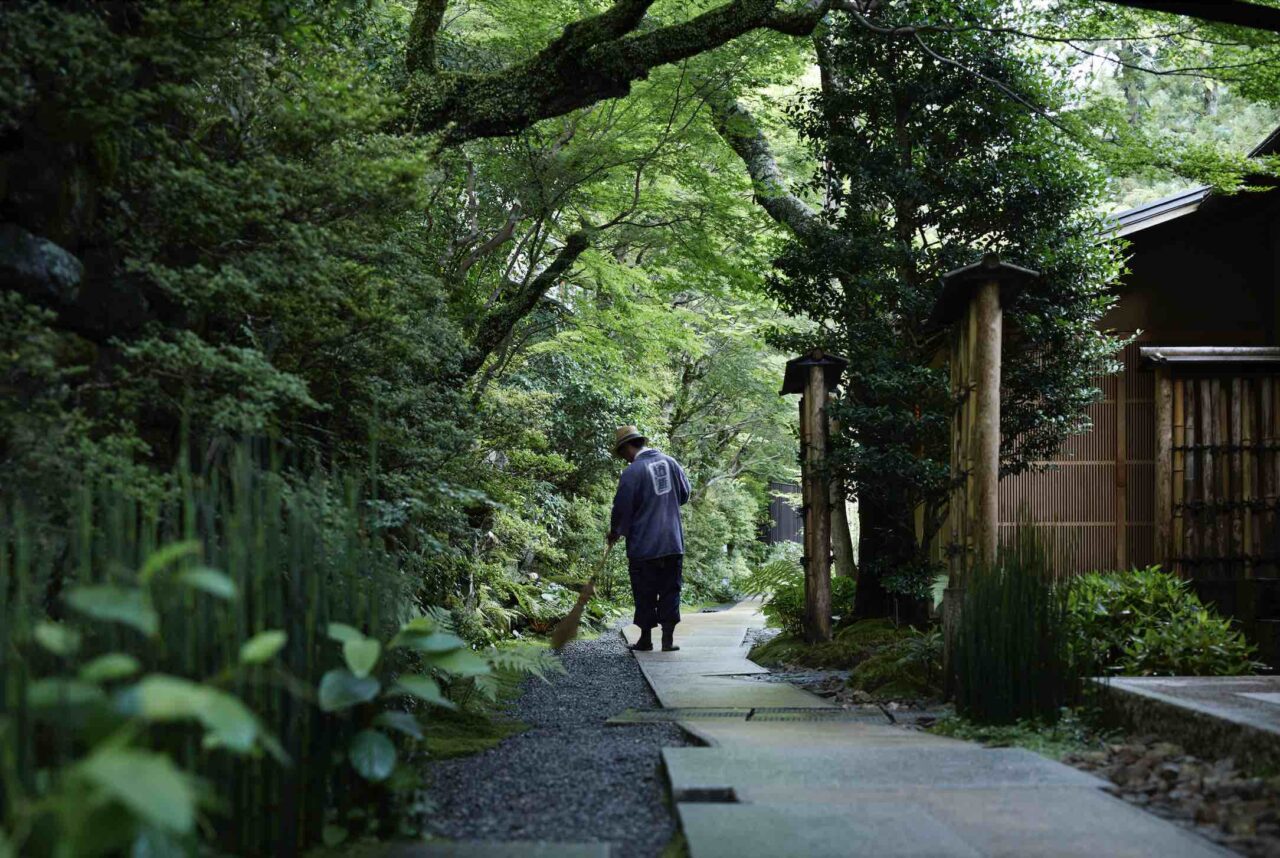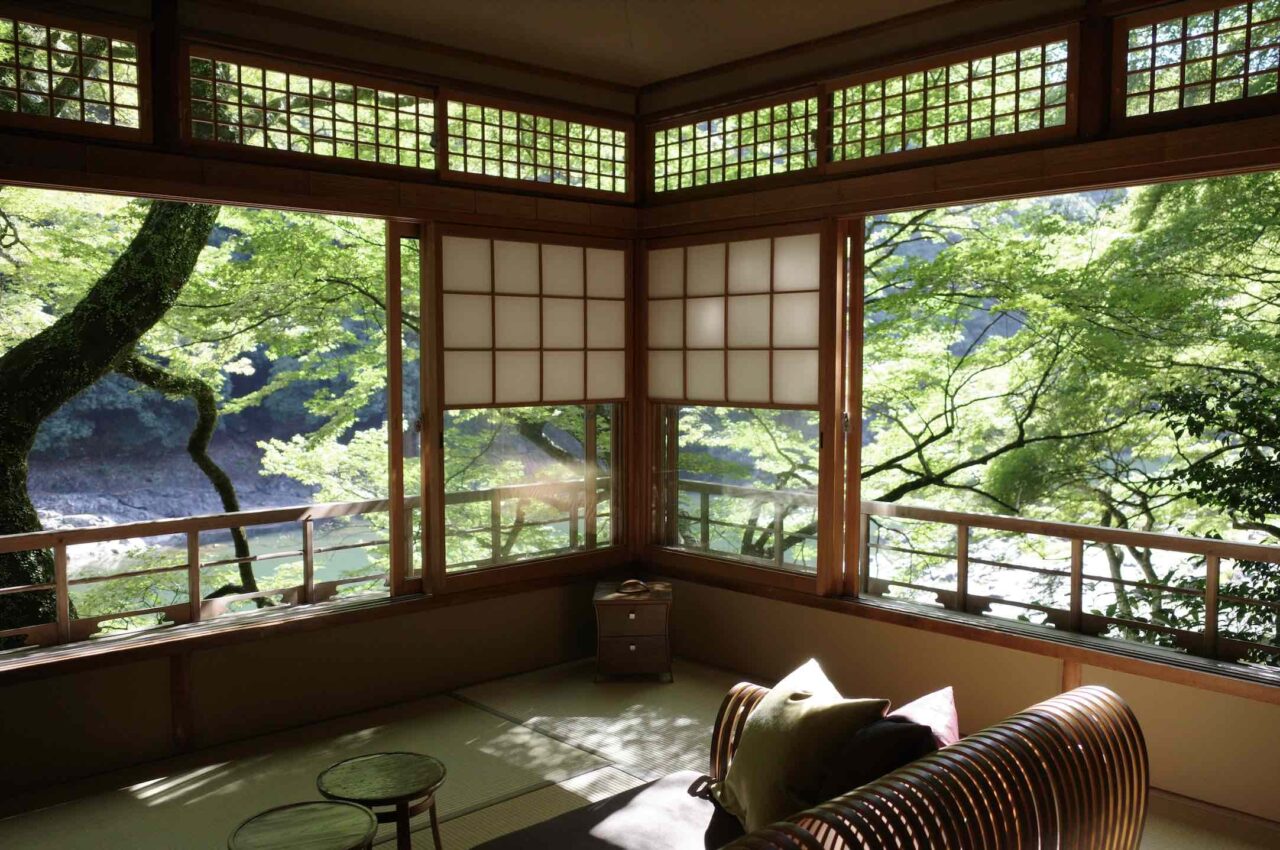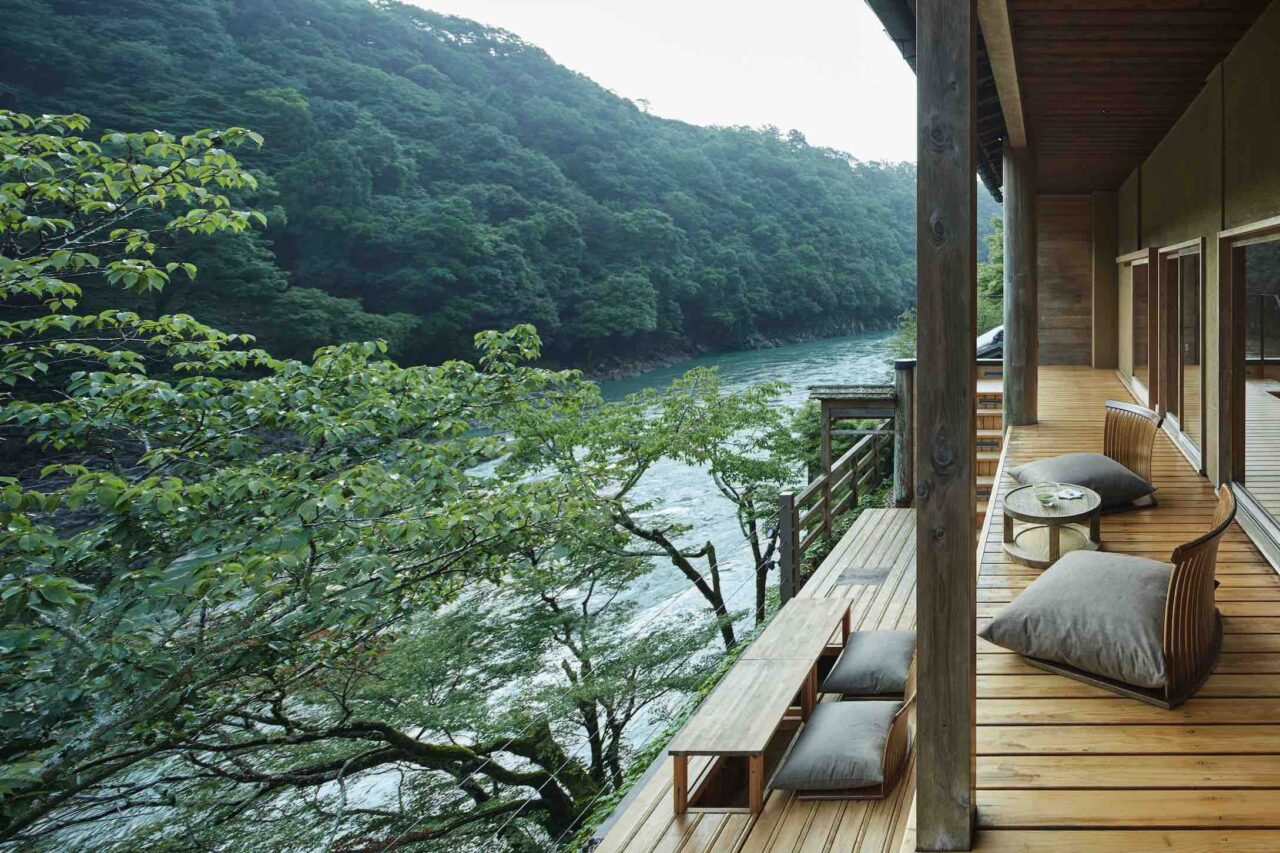 On the premises, there is a Floating Tea Room overlooking the river where guests can make their own matcha from a portable tea set. Have you ever whisked your own fresh green matcha tea, positioned high on a mountainside and witnessing the morning sunrise, or the call of the afternoon birds, or at times, the silence and calm of nature? It is a delight.
Next to the Library and Lounge where coffee, tea and savoury and sweet snacks are available around-the-clock for guests, the area features a modest reception desk, acting as a central hub for any queries or requests. Nearby, the Kura building (old storehouse) offers guests respite and more areas of quiet solitude for reading or writing. Zen meditation and morning stretching is available for all guests to enjoy in group exercises and for any specific wellness program requests, guests are able to have them specially booked (acupuncture, shiatsu massage), just as the 'Japanese Cultural Experiences' (please see our additional notes below).
At HOSHINOYA Kyoto, there is an on-site restaurant that serves dinner for guests, specifically kaiseki-ryōri (Japanese haute cuisine or fine dining). Led by Executive Chef Toshiharu Takahashi, his creativity equally matches his expertise. He also uses the best Kyōyasai – produce specifically from the Kyoto prefecture. Using seasonal ingredients at the height of their peak seasonality, Takahashi-san also includes seasonal flora for dish adornments (such as the oversized lotus leaf acting as a bowl). Dinner here at HOSHINOYA Kyoto is equally a spectacle as it is a highly-refined and exquisite journey.
One of the true highlights at HOSHINOYA Kyoto is undoubtedly having breakfast served in-room. Within such a beautiful interior, in the privacy of your own space and with an extraordinary view just outside of your window, there is no question why not to fully enjoy your room over the course of an equally-spectacular meal. The traditional, Japanese-style breakfast of small dishes and a bubbling hot-pot is the perfect start to any day. HOSHINOYA's staff prepare the breakfast setting at a guests desired time, and Executive Chef Toshiharu Takahashi notably includes vegetables with the most nutritional value for guests.
There are so many details not to miss at HOSHINOYA Kyoto, just by observing, it can be a nourishing experience. From the maple trees blowing in the wind, the birds of prey flying above the mountains and the local boats passing down the river, nature's symphony is in full swing.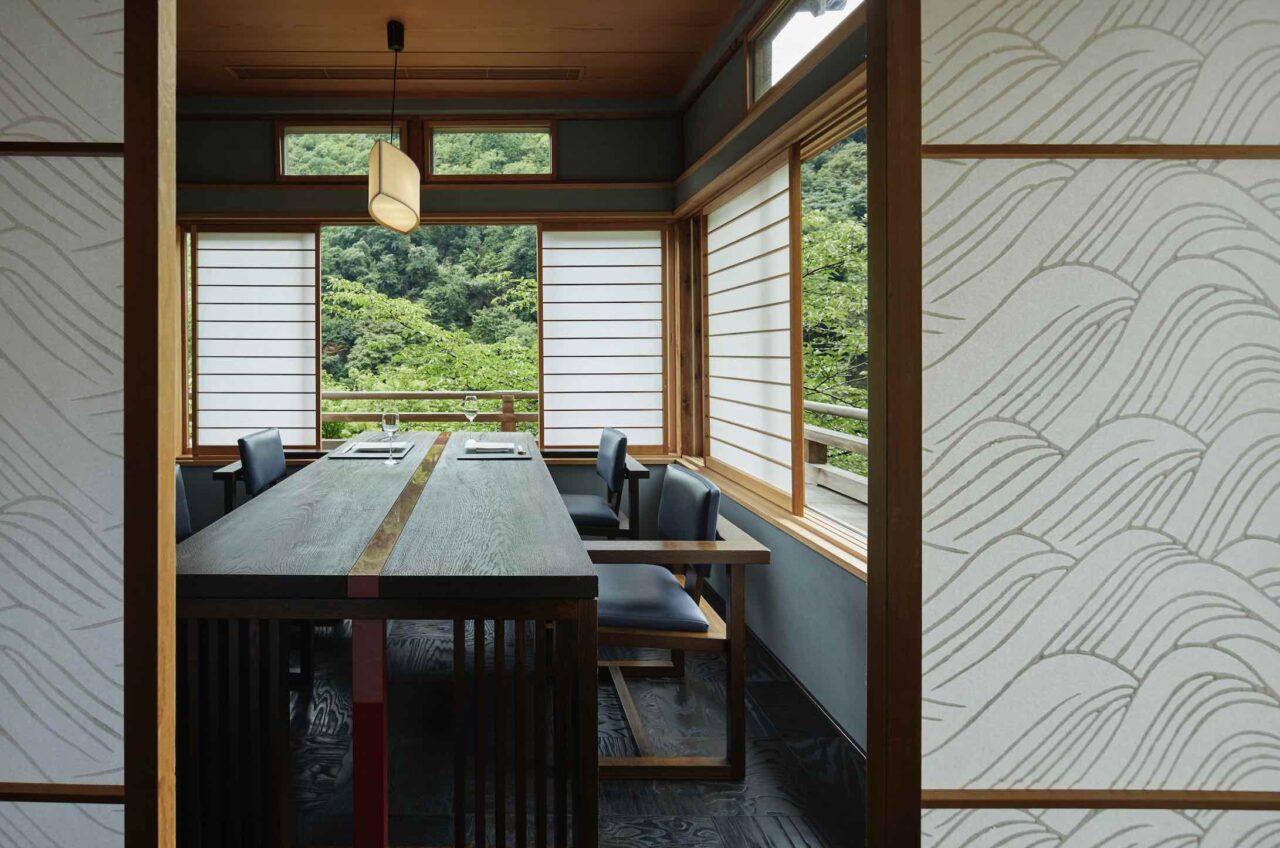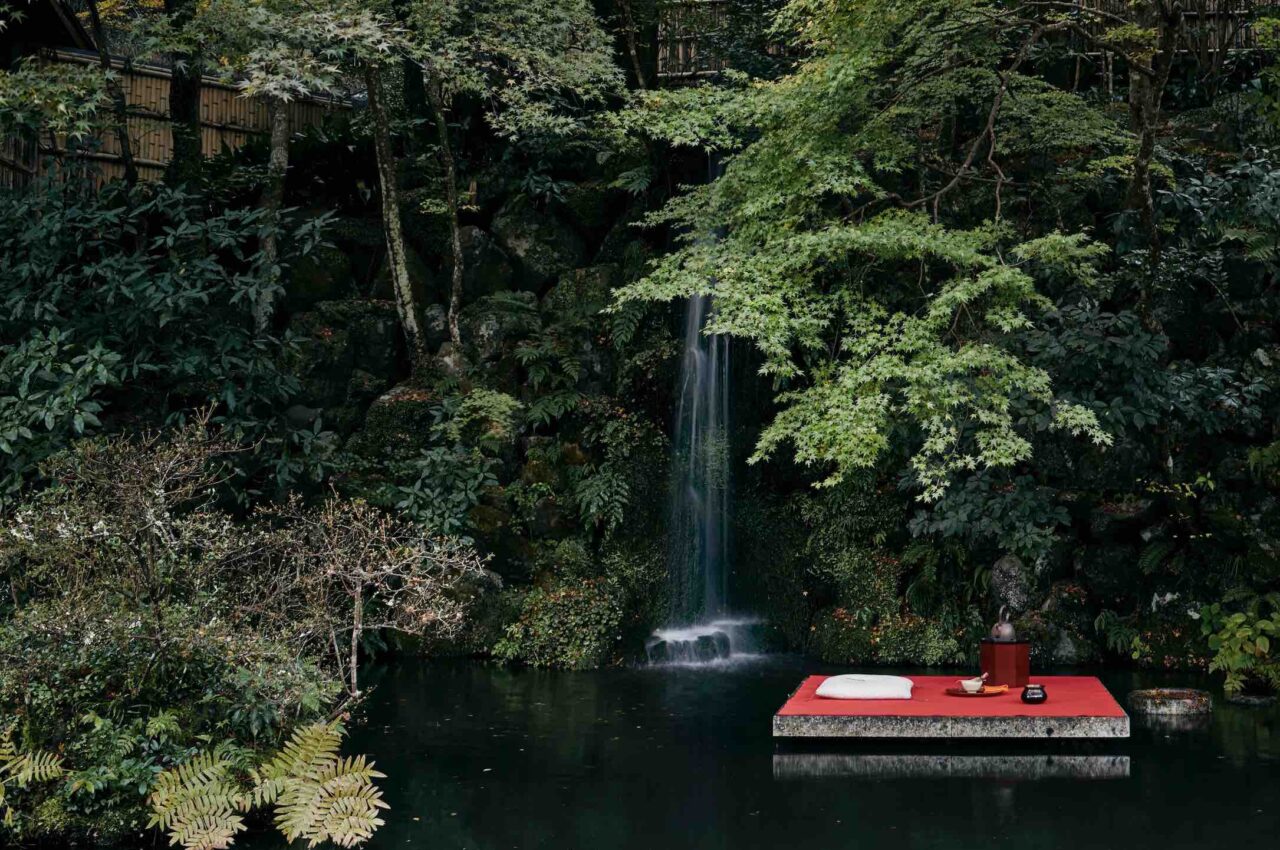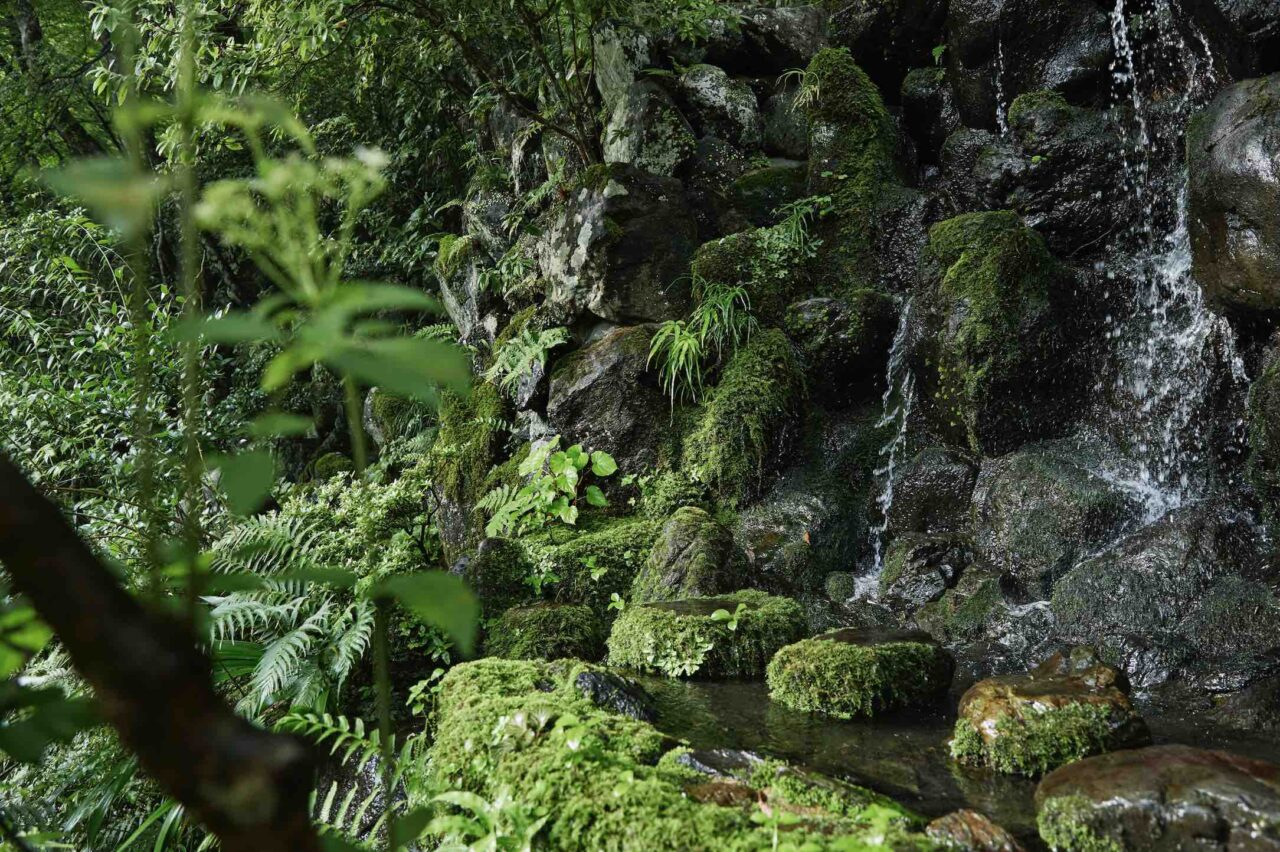 ROOMS
There are 25 rooms split into 4 different pavilion (suite) types at HOSHINOYA Kyoto and each have their own characteristics.
We stayed in the largest of the Tsukihashi suites, the pavilions with the most expansive views of the Oi River and Mt. Ogura outside.
Many of the custom furnishings can only be found in HOSHINOYA hotels, such as custom sofas (their handcrafted bamboo sofa design can be split into two chairs when required, especially for in-room breakfast dining). This custom sofa's design has been created to consider the same height as the Japanese way of sitting.
Traditional karakami wallpaper is another highlight in rooms, made with one of the the few artisans left in Kyoto. Featuring delicate gold patterns that change throughout the day, the wallpaper brings even more authenticity to the stay. All lighting is by renowned Japanese lighting company Miura Shomei.
Carefully handcrafted cups from bamboo are found in bathrooms, as are hinoki wood buckets. As an extra unique additional to the stay, bright yellow lemons are left with a small towel and thermometer, so guests can indulge in a warm 'lemon bath' infusing the air with citrus.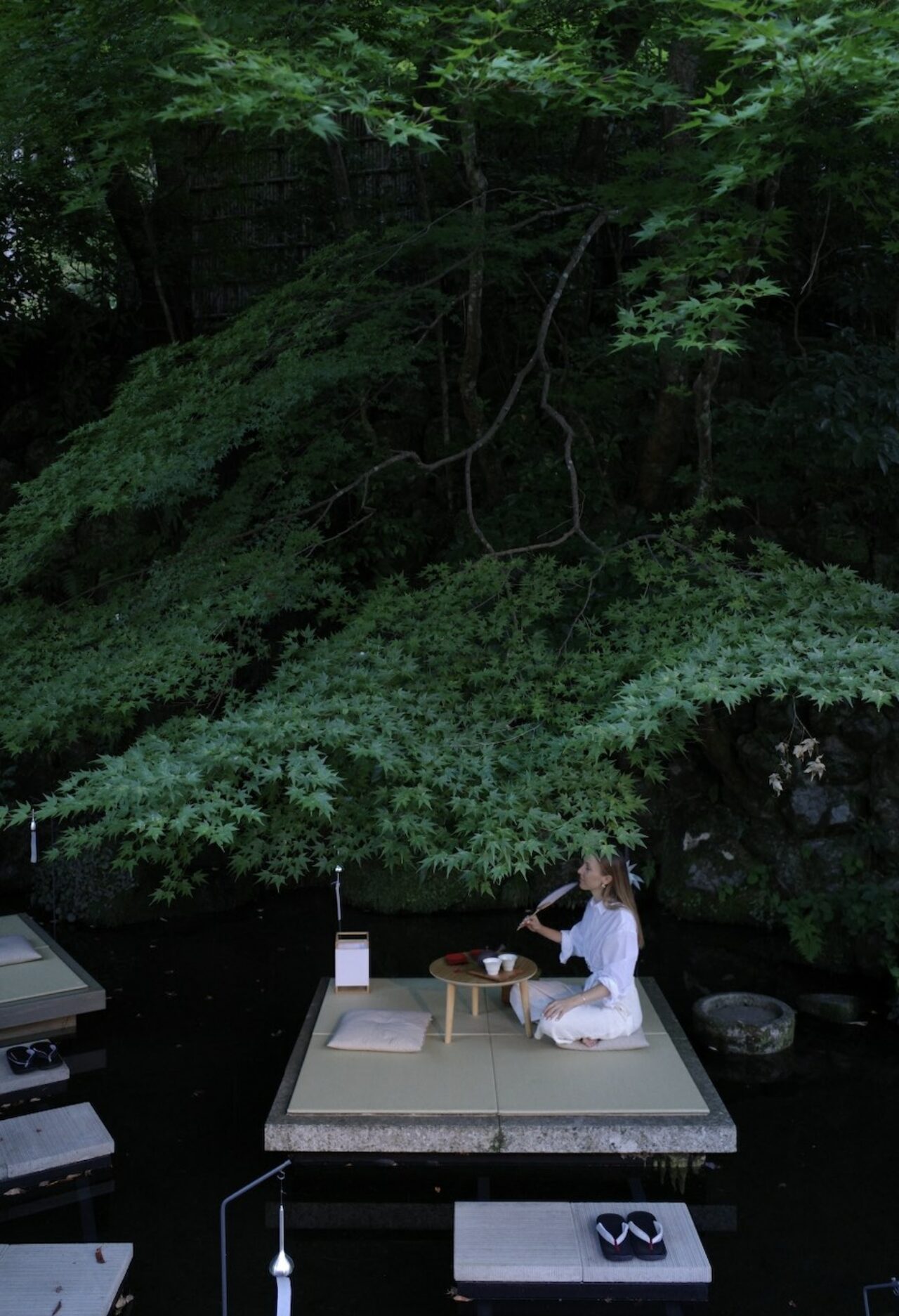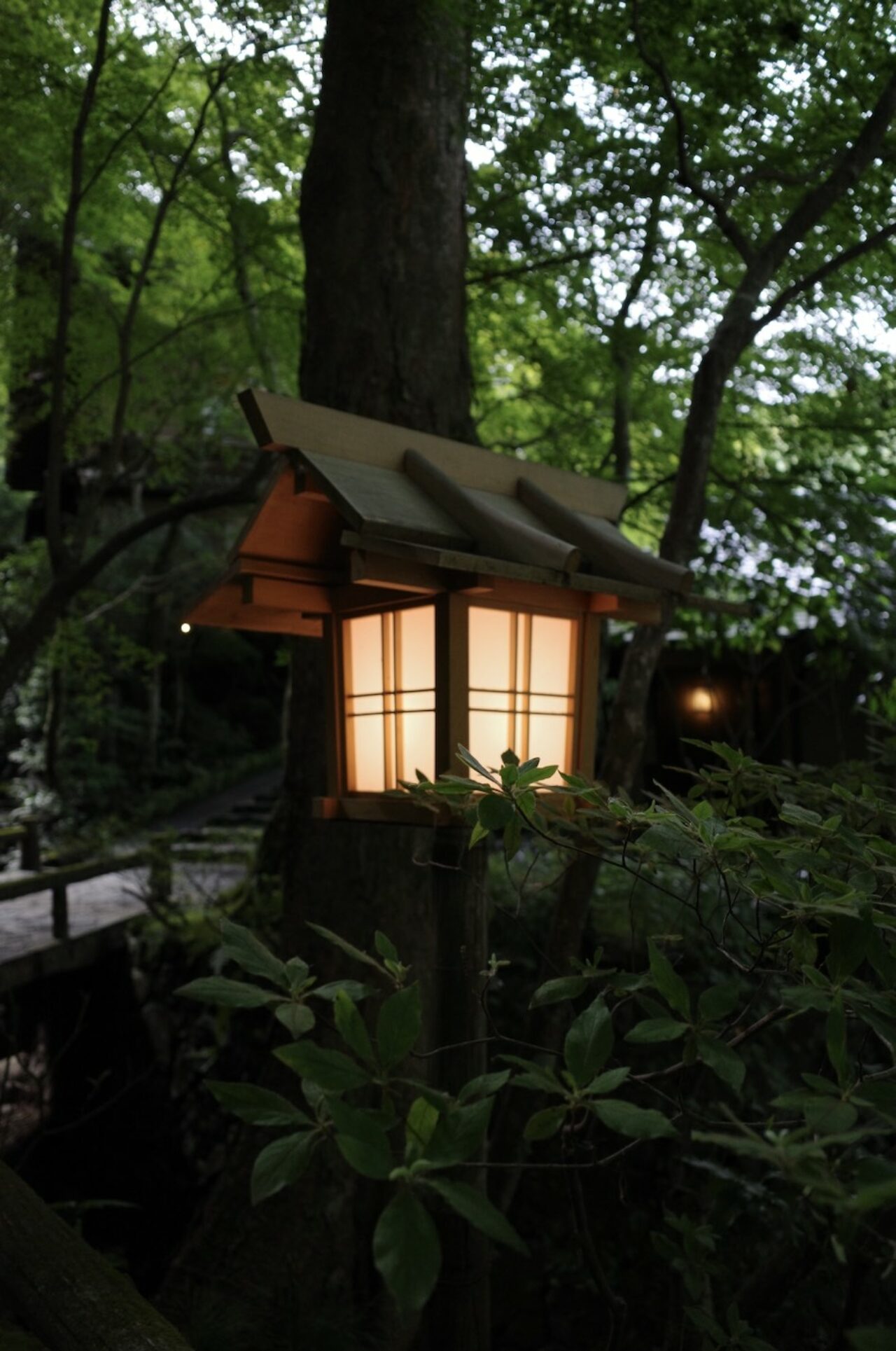 DINING
Here, kaiseki-ryōri (Japanese haute cuisine) is led by Executive Chef Toshiharu Takahashi.
Creating a multi-course dinner with refined dishes which are masterpieces in their own way, Takahashi-san champions seasonal ingredients to their utmost. As mentioned, his creativity equally matches his expertise. Using the best Kyōyasai (produce specifically from the Kyoto prefecture), they are used as not only ingredients but in purposeful, inventive ways. 
On our visit, an oversized lotus leaf acted as a bowl for the Hassun course, with lotus flower leaves presented inside amongst small dishes. The seasonal freshwater ayu sweet fish was served in a handcrafted bamboo basket. This fish is crispy, oily yet delightful, and it's eaten whole.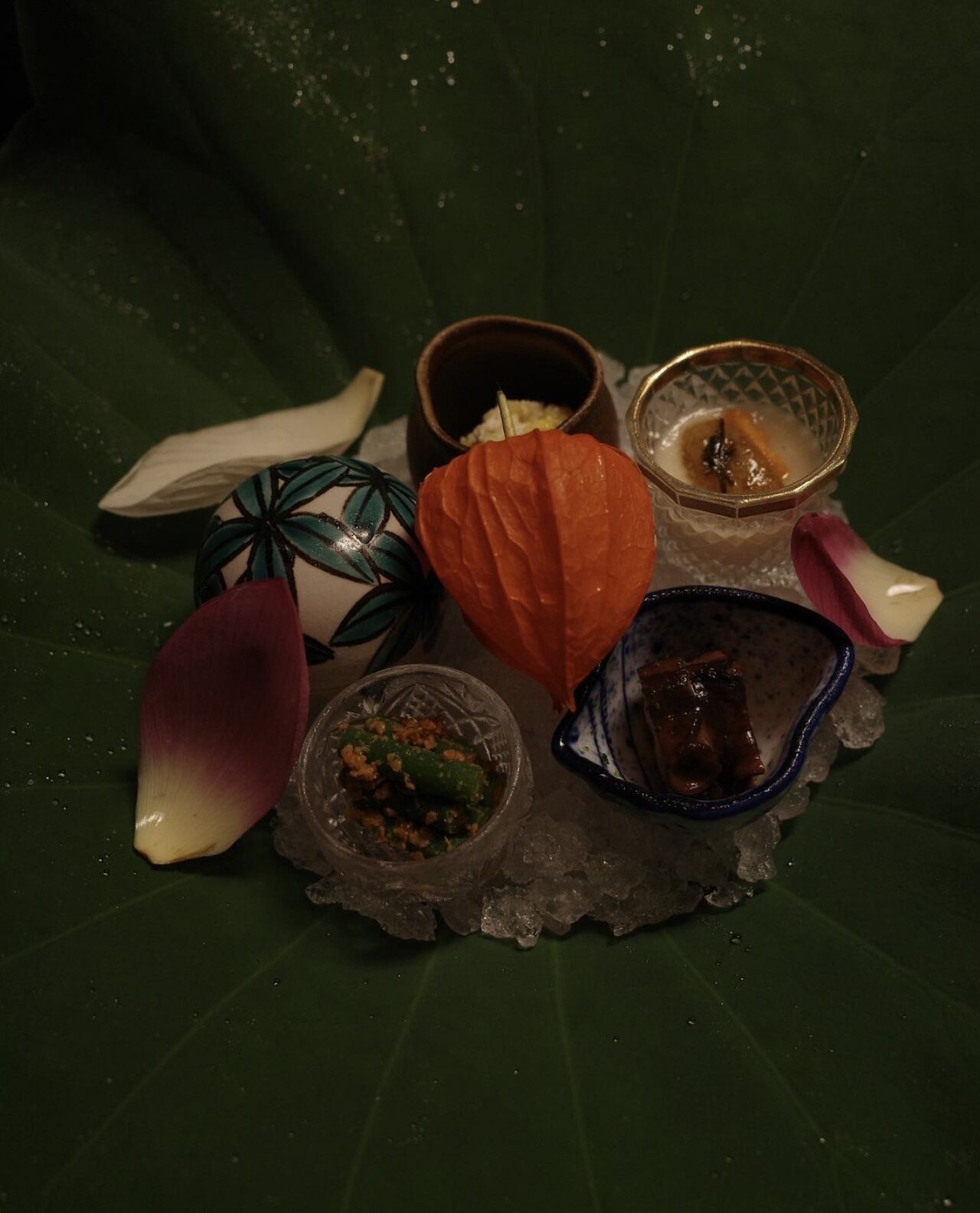 Seasonal ingredients are used when they are at their freshest, with Takahashi-san selecting them specifically for their nutritional value for guests (for instance, the Tanba shimeji mushroom has more beneficial minerals than a normal mushroom).
Breakfast is served in rooms, traditionally Japanese-style of intricate, small dishes and a bubbling hot-pot. Tofu is made in-house, and some vegetables are fermented to ensure The hotel team set up the breakfast at a guests desired time, and pack-up everything at a desired time as quickly and efficiently as the breakfast magically appeared.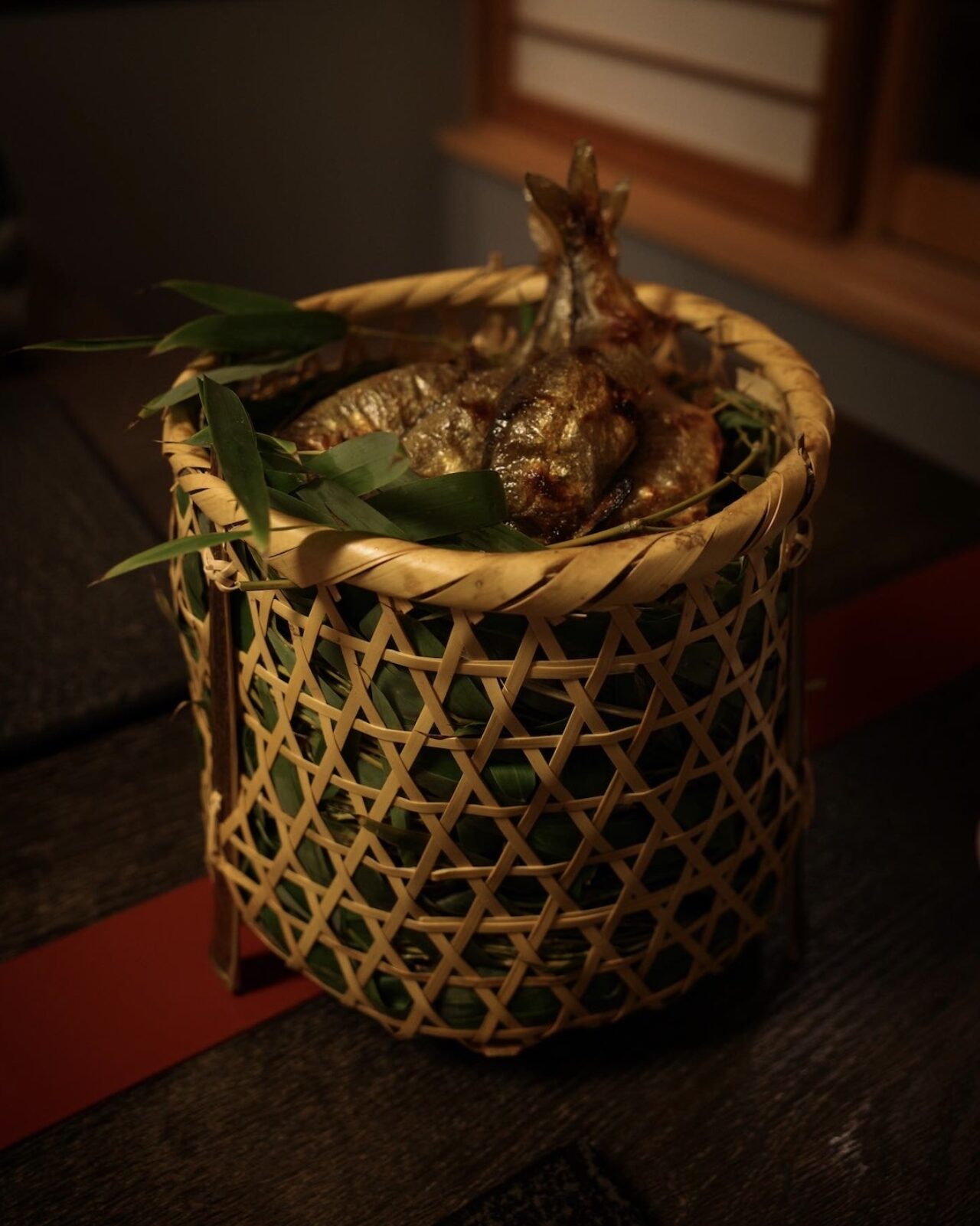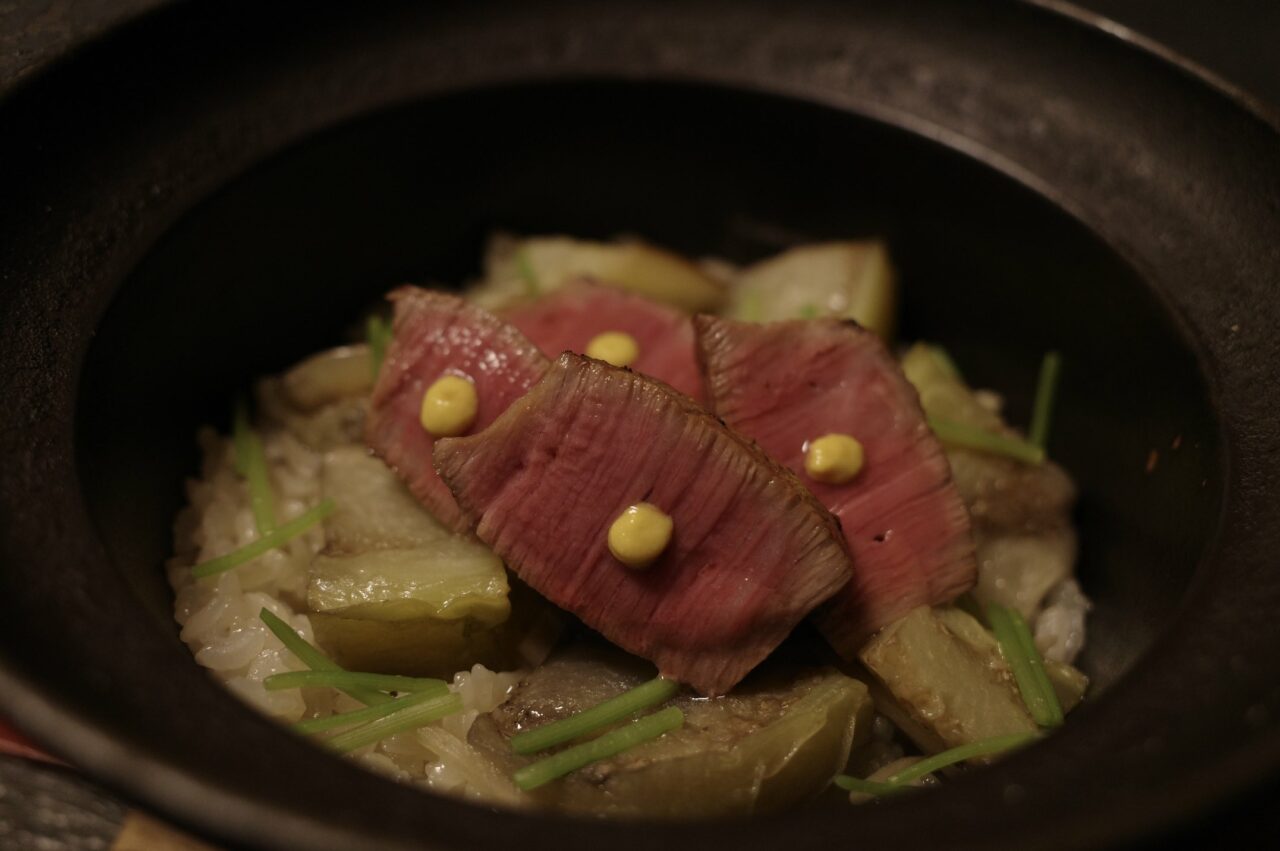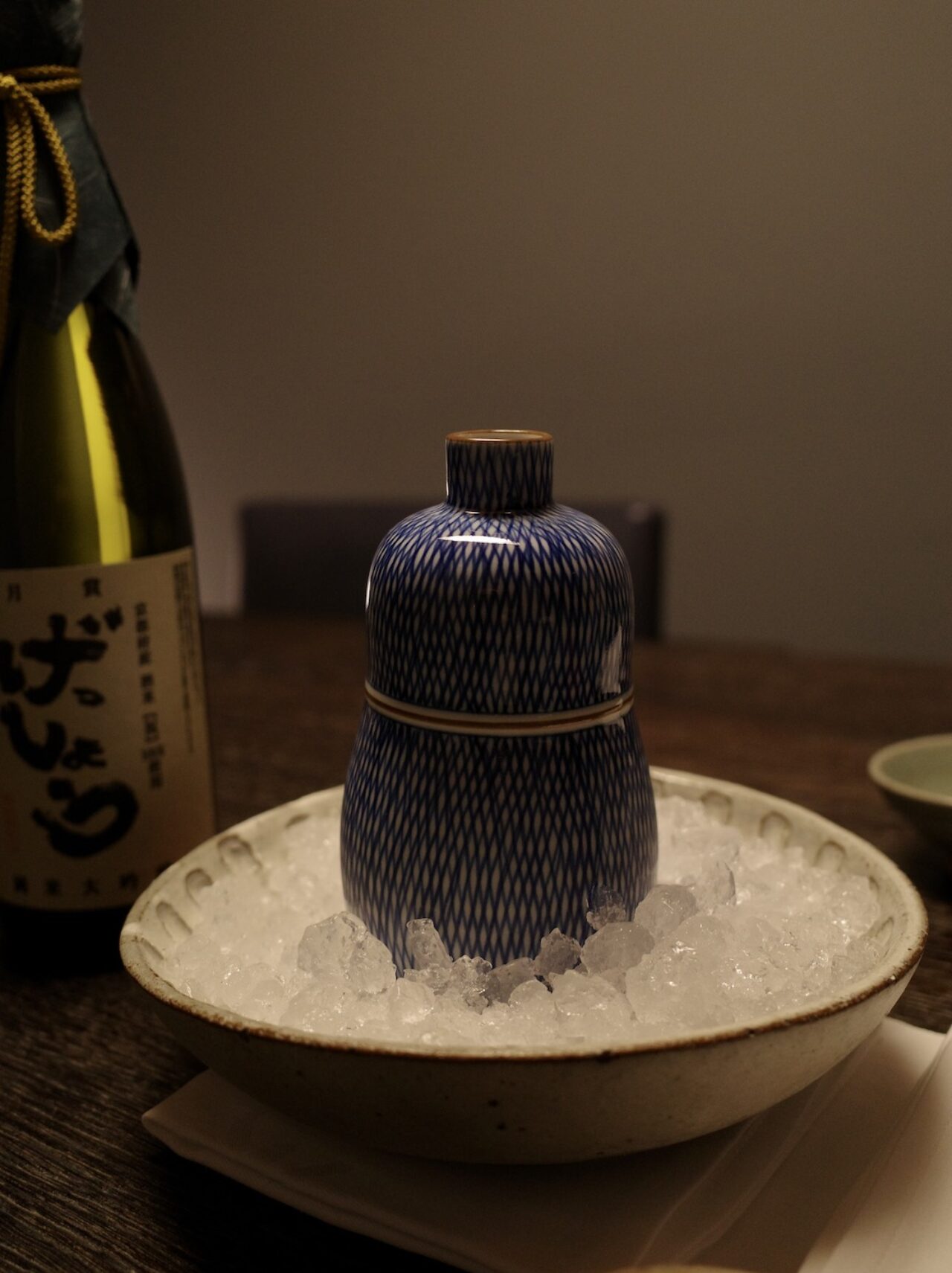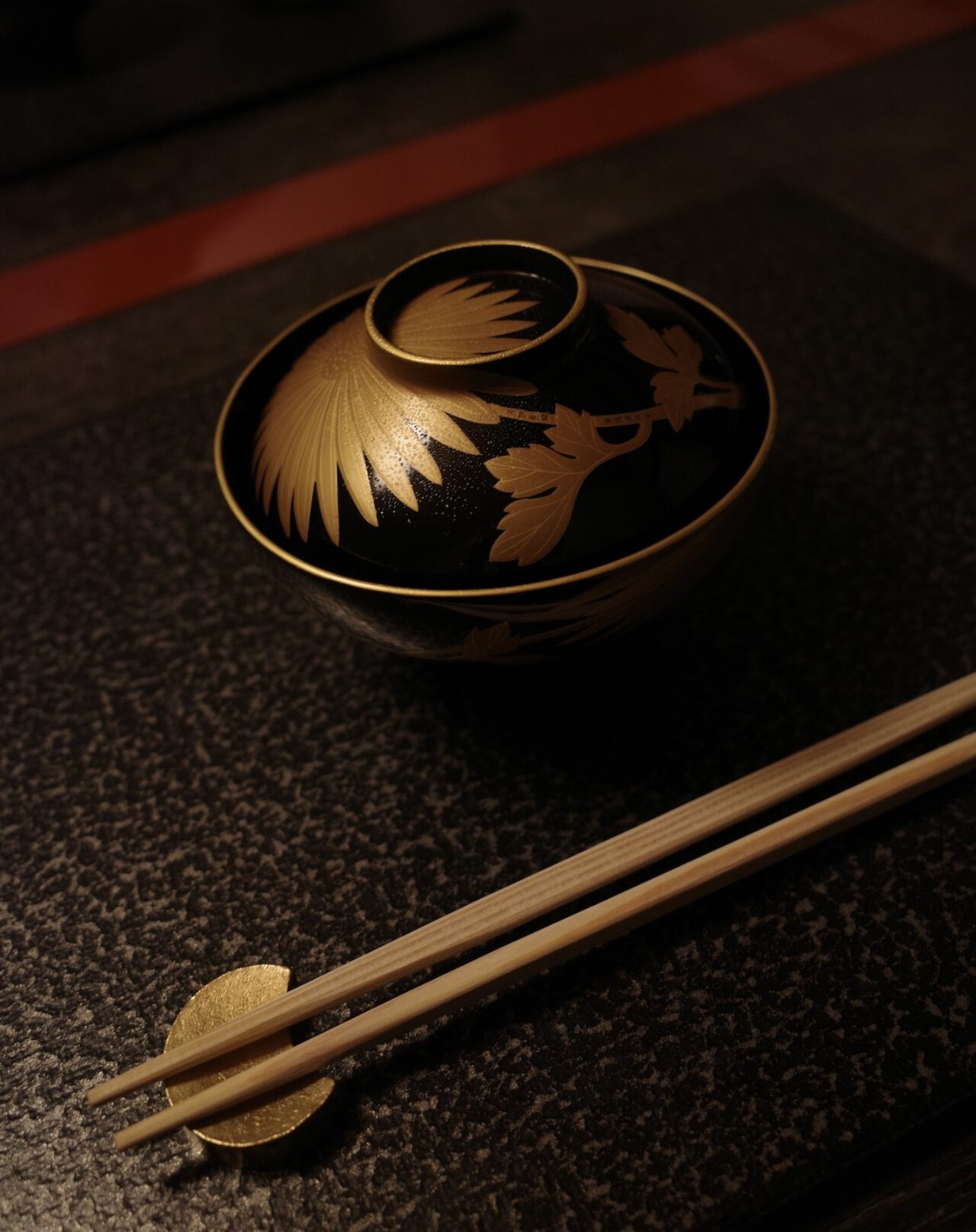 THE HIDDEN GARDEN
Next to a 400 year old tree, the 'Hidden Garden' at HOSHINOYA Kyoto is a zen and tranquil space amongst the soundscape of the Ōi river and surrounding cicada, birds and insects. 
Using repurposed kawara oxidised tiles to create a river pattern amongst rocks which have been cut and polished above to reflect the surrounding trees and landscape, the 'Hidden Garden' allows visitors to stand within the stone garden (kare-san-sui) rather than looking from afar.
Landscape designer Hiroki Hasegawa created the garden in collaboration with HOSHINOYA, and it's truly a remarkable space to relax, meditate in, and contemplate the poetic passage of time.
AUTHENTIC JAPANESE CULTURAL EXPERIENCES
Also arranged by Hoshino Resorts, the Authentic Japanese Cultural Experiences they offer guests are equally as luxurious as the hotels themselves. At an additional cost, guests can choose from multiple experiences:
Monko: Introduction to Incense Ceremony
Monko, or incense appreciation, is a surprisingly incredible traditional Japanese form of art to learn. The 'performance' is steeped in history, from its formation and evolution, to materials and tools. At this Experience, HOSHINOYA Kyoto teach guests with the authentic monko tools, processes and only use the highest grade of fragrant wood available. 
The art of listening to incense is a remarkable concept, one guests learn and can forever change their thoughts and appreciation for the scents around them. An understanding of incense appreciation is deepened, from its historical beginnings in the 6th century, to how the culture is imbedded in the lives of Japanese culture today. 
Private Yakata Boat "Hisui"
Available to book year-round, the private Yakata boat is a must-experience for anyone staying at HOSHINOYA Kyoto.
Pick the time of day for your booking in advance: in the morning there is a stillness as the sun begins to reflect its presence in the water. During colder months, misty mornings can be breath-taking, and some guests may prefer rainy days where they can cosy up on the boat and listen to the rainfall on the boat's translucent roof. The surrounding environment is best experienced this way; in Winter the snow covers trees while in Summer the sun highlights the green and blue tones in the water magically.
The boat has been made to highlight the finest craftsmanship of Kyoto, constructed with Kitayama cedar and cypress woods, with the roof itself is fitted with a special glass that can change visibility from opaque to transparent, efficiently changing the experience seasonally. Guests can enjoy their own sado tea ceremony by whisking their own matcha green tea made from high-quality Uji tea producers Rishouen and paired with seasonal Japanese confectionery from 200-year-old Kyoto sweets manufacturer Oimatsu on board.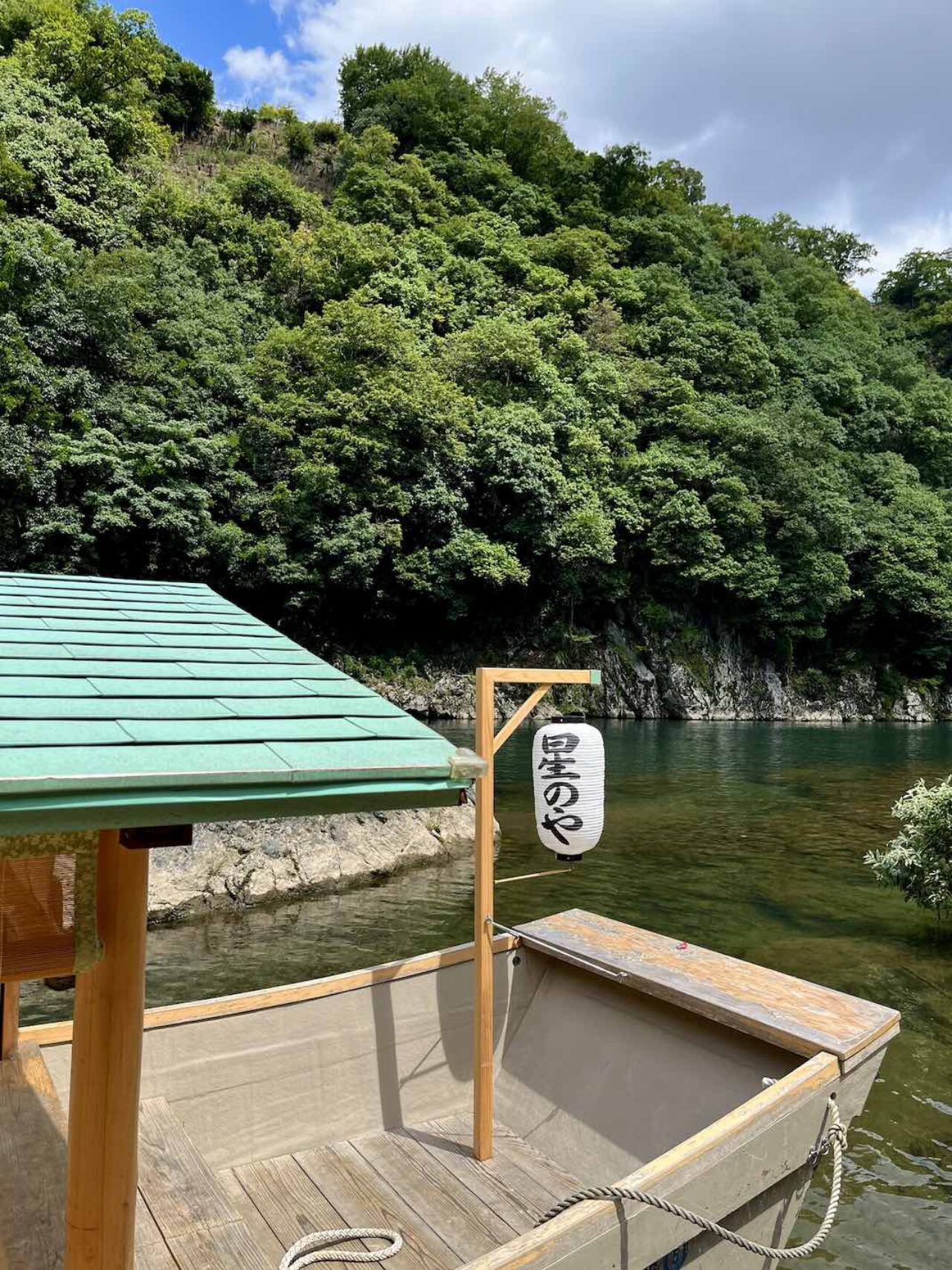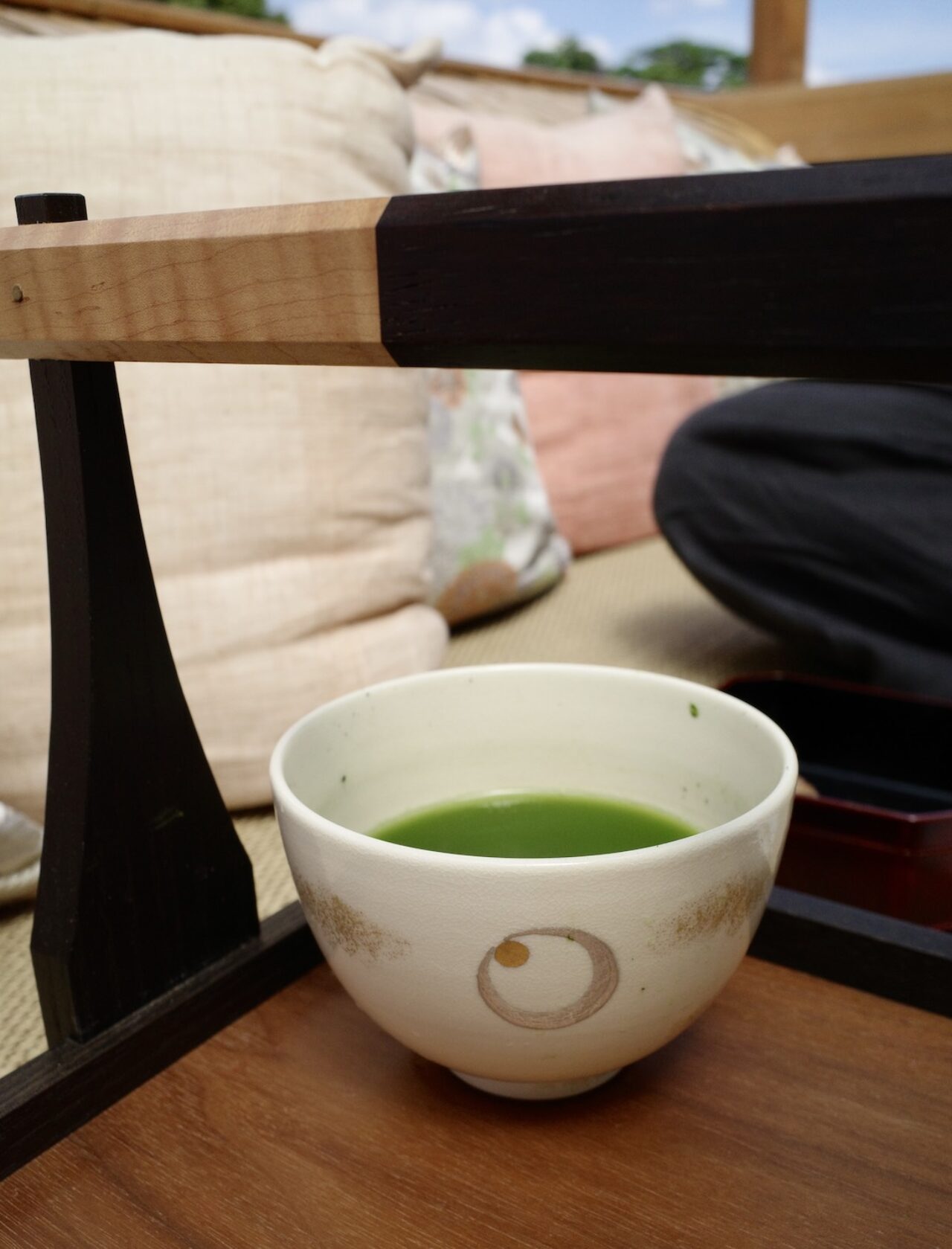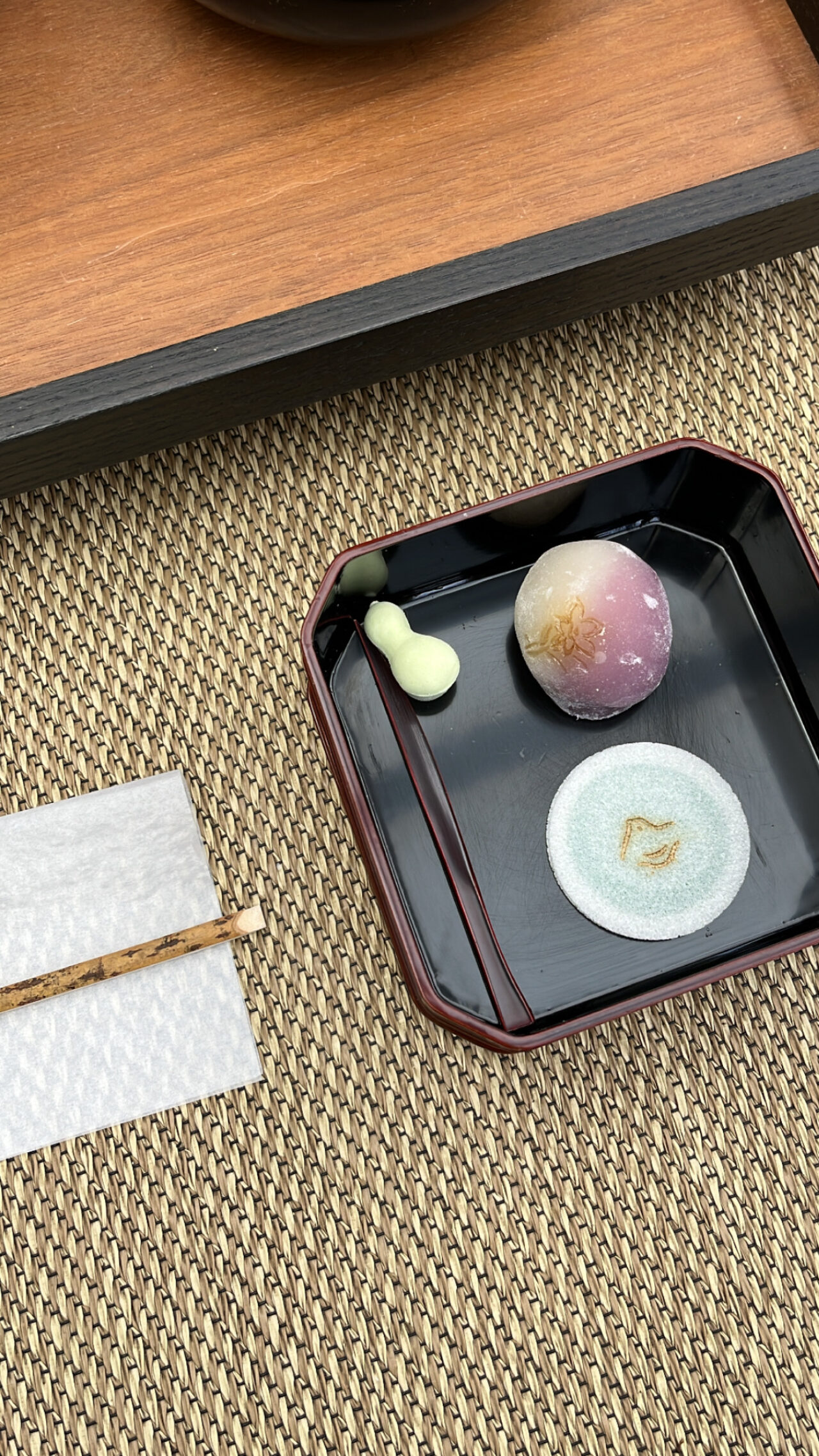 THE VERDICT
At HOSHINOYA Kyoto, guests too can live as the noble family once did, now served by the hotel group's attentive and friendly staff. The century-old property continues to inspire, especially as HOSHINOYA Kyoto ensure it sits in harmony with the natural landscape.
Luxury through and through, HOSHINOYA group and their staff present the best example of omotenashi (Japanese hospitality). There is no detail they miss, and their staff go above and beyond for guests. The luxury hotel group always aim to embody their context (the true characteristic of land, history and culture) in their projects, making sure they are immersive and one-of-a-kind. This has been the continued manifesto for Hoshino Resorts CEO Yoshiharu Hoshino, as they continue to inspire through their multiple hotel projects across Japan.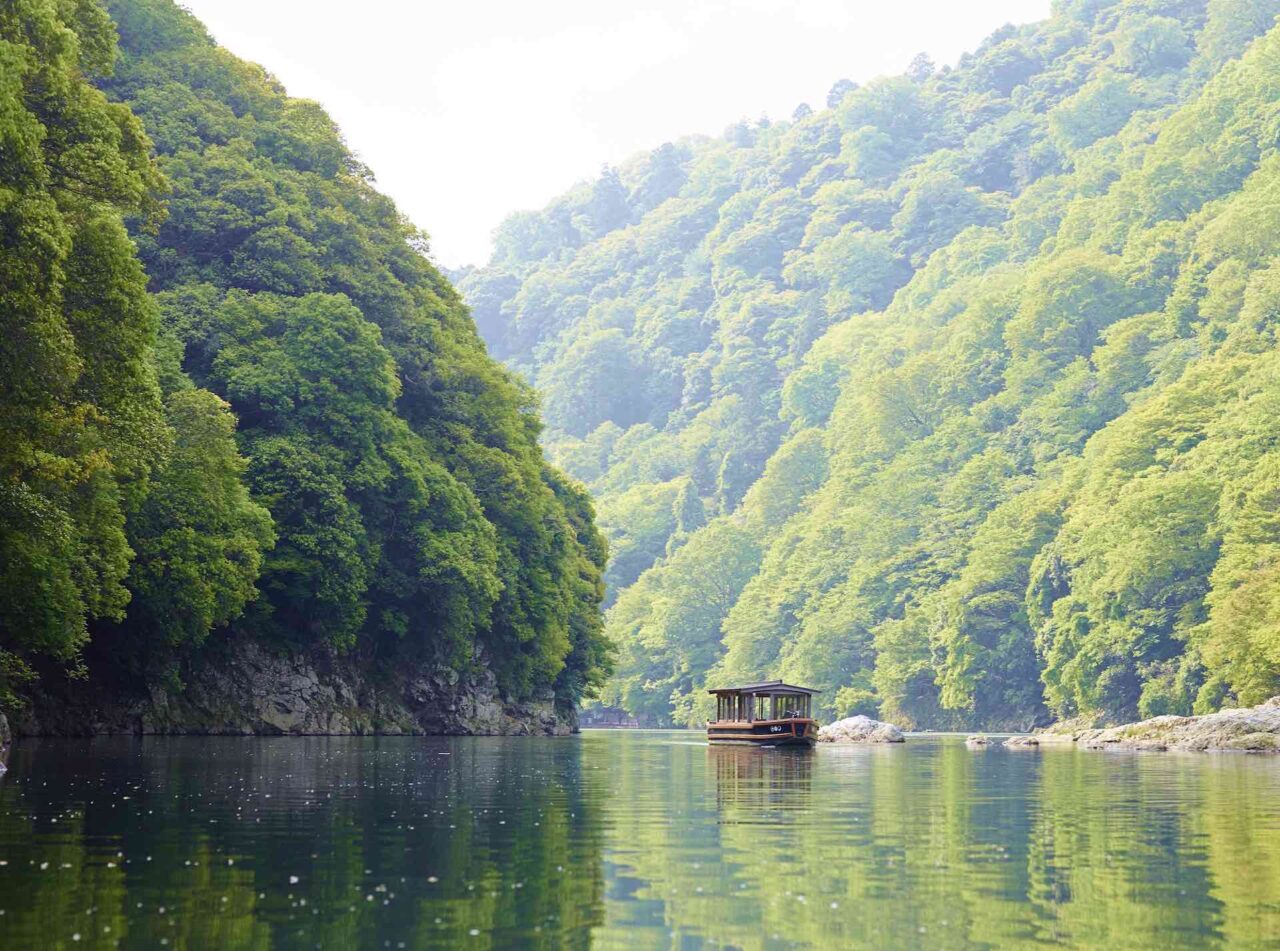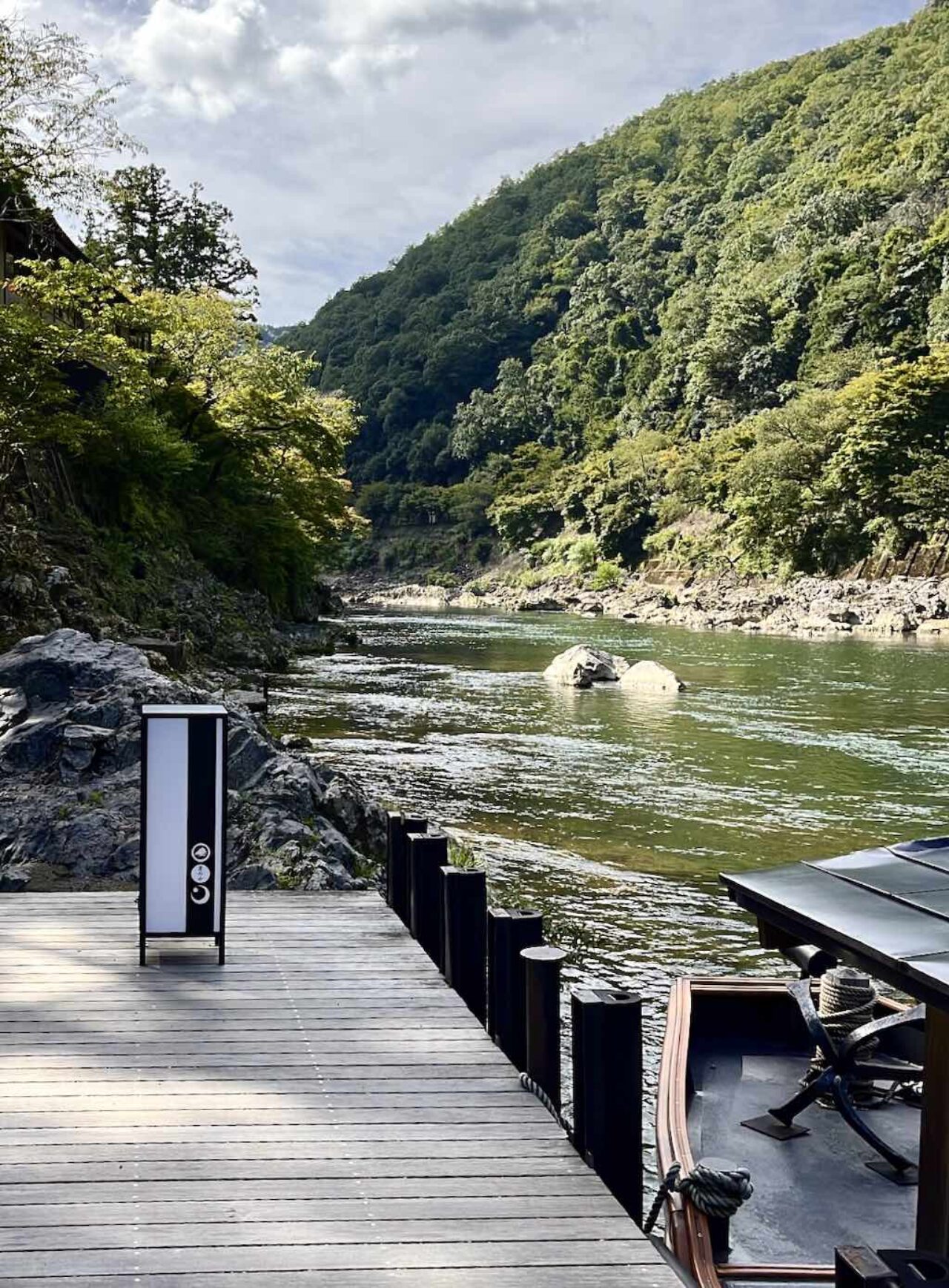 HOSHINOYA Kyoto
11-2 Arashiyama Genrokuzancho,
Nishikyo Ward, Kyoto, 616-0007, Japan
Text: Monique Kawecki
Images: As credited, Hoshino Resorts Inc & © Champ Magazine