Lee Ufan, 15th Anniversary Of The National Art Center, Tokyo
A Major Retrospective in Tokyo: The Beauty of Reduction, Repetition and An Ongoing Dialogue of Presence
For all you think you may know about the artist Lee Ufan's work, think again. Commonly known as a founding member of the renowned Mono-ha art movement, artist Lee Ufan's work that spans over half a century now, is nothing short of layered with depth within its visual minimalism.
Currently on view at The National Art Center, Tokyo, find a major retrospective of the artist presenting his expanse of works from his wide-ranging career beginning in the 1960's to brand new, unseen works. From early representative works such as paintings (pink fluorescent paint on canvas) Landscape I, II, III (1968/2015), to his more known, ongoing Relatum works (stone, steel and glass), and furthermore extending to recent works that have tended to be increasingly site-specific, as exemplified by Relatum – Dwelling (B) (2017/2022) (also found at the La Tourette monastery in France) comprised of stone tiles both carefully laid across the floor and piled together as sculptures. Visitors are able to walk across the installation, creating the sound of crackling stone, and magnifying the experience of being within the artwork itself.
Renowned as a leading figure in Mono-ha (translated as "School of Things", one of the most significant art movements in postwar Japan, founded during the late '60s), Lee's work presents an undeniable beauty in reduction, repetition and the ongoing dialogue of presence – all with a thread of correlation between each piece utilising raw materials. His exploration of the relationship between an viewer and object, object and object, object and space, are always present. Lee's involvement as an integral member of Mono-ha also included extensive writings, his essay From Object to Being was awarded the Bijutsu Shuppan-sha Art Criticism Prize in 1969, and his book The Art of Encounter, became the theoretical pillar for Mono-ha.
The current major exhibition in Tokyo (the largest retrospective of the artist since 2005, at the Yokohama Museum of Art in Japan) assembles his most important works yet presents the full trajectory of his artistic career, some including his earliest pre-Mono-ha pieces. Even for those familiar with Lee's work, it is a rare chance to see his early works recreated for the exhibition. One work on display titled Relatum (formerly System A) (1969/2022) steel and cotton, can also be traced back to 1969 in Relatum (stone and cotton) presented at a solo exhibition in Tokyo's Tamura Gallery in 1970. In addition, Relatum (formerly Things and Words) comprised of three pages of white bare canvas placed on the floor, previously shown in 1969.
Being to physically experience Lee's works in person is transformative. His sculpture series Relatum — which reimagined the concept of sculpture — hold an incredible presence in their scale and composition. One such being the outdoor installation Relatum – The Arch (2014/2022) featuring an arching elliptical curve of stainless steel positioned by two natural stones. Underneath, visitors are able to walk over the second stainless steel plate on the ground, creating a whole new immersive line of perspective and experience.
Through the final exhibition rooms, visitors are transported to Lee's From Point and From Line, heralding a rhythmic repetition yet sense of control and restraint, compared to the expressive rough brush stroke paintings of the series; From Winds, With Winds, Correspondence. These earlier iconic works created from the late 70's with mineral pigment and glue on canvas, provide a significant contrast to his more recent Dialogue (2020) and Response (2021/2022) paintings created with acrylic – their smooth texture emphasising their vibrational ripples.
Yet it is the site-specific painting Dialogue – Wall Painting (2022) that perhaps perfectly encapsulates Lee's artistic trajectory to date. Created especially for the show and directly painted by Lee on the National Art Center's last room wall, it's a spectacular finale for the retrospective, allowing visitors to fully grasp the scope of one of the world's leading contemporary artists of our time.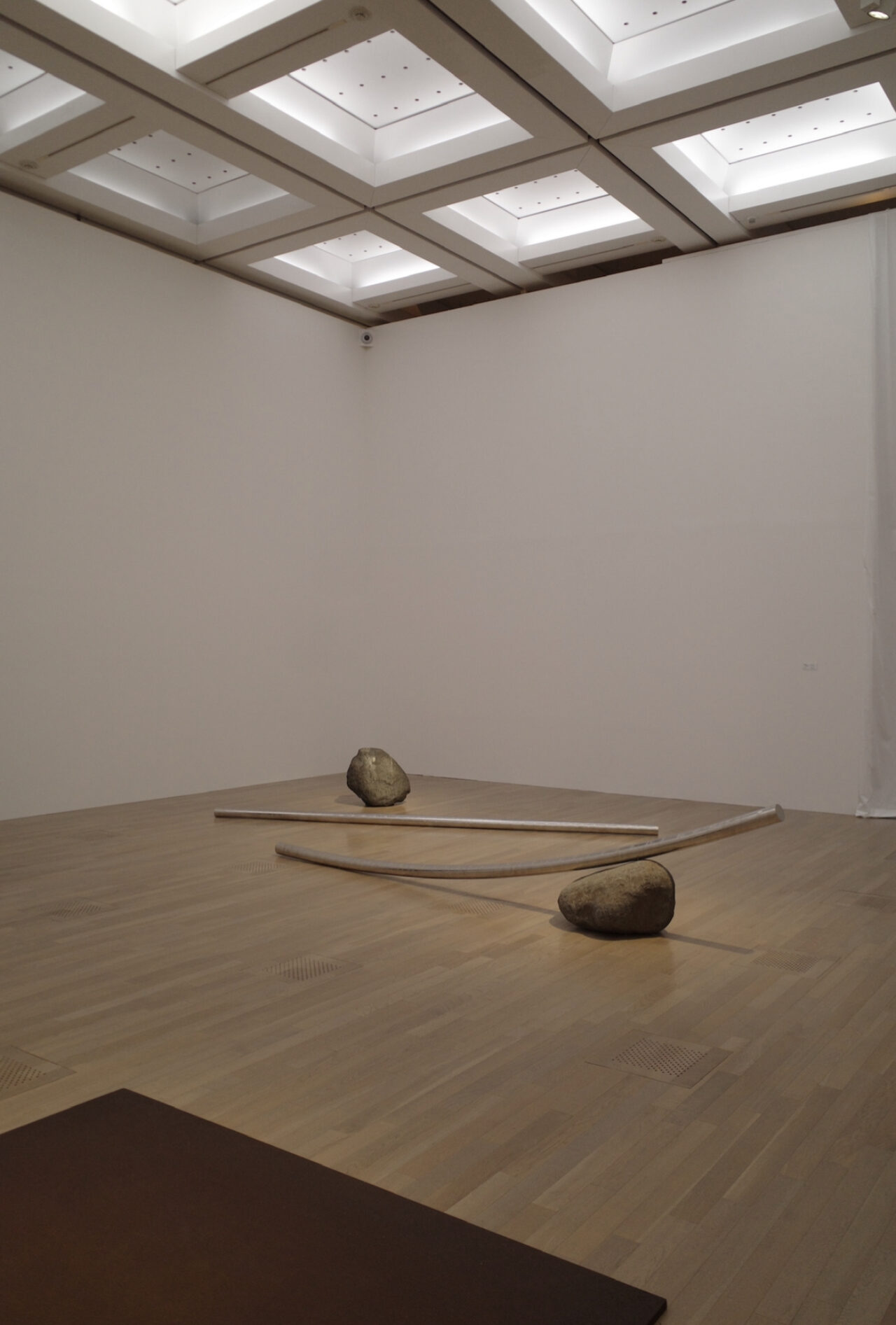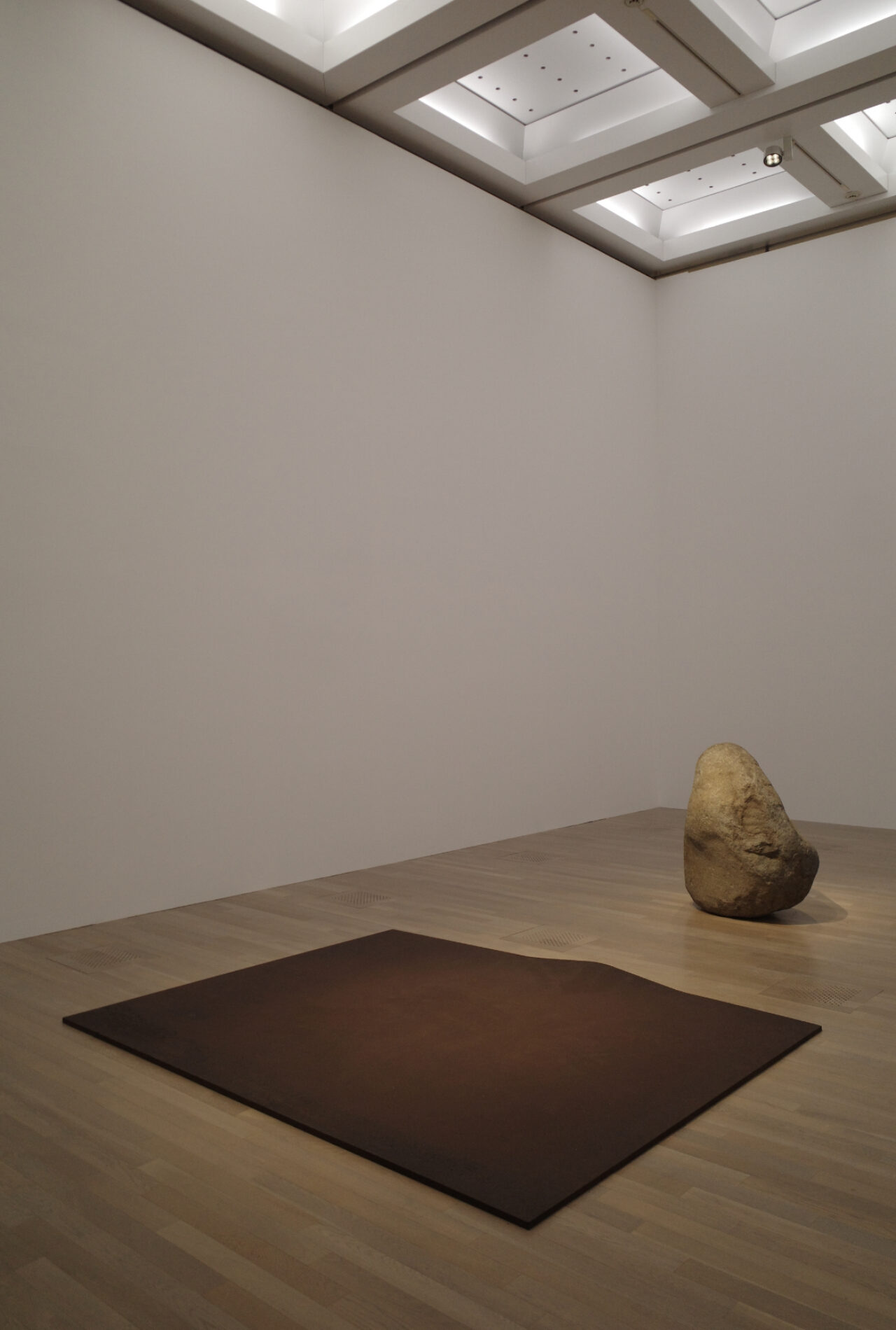 Even if the self is finite,
the infinite appears in our relation to the world around.
Artistic expression is a revelation of an infinite dimension.