KERRY HOTEL HONG KONG
An Andre Fu-designed relaxed luxury hotel & incomparable views of the Victoria Harbour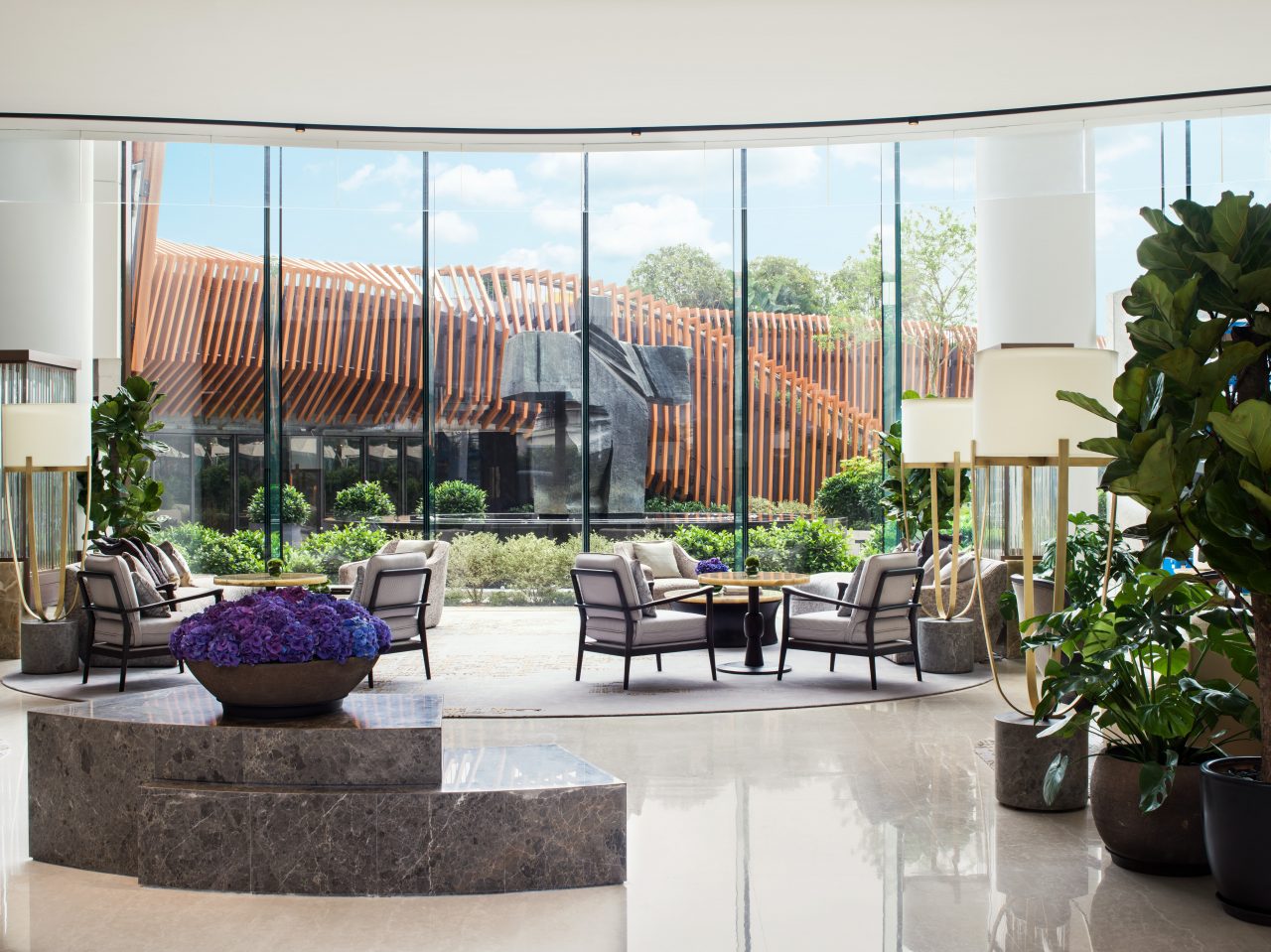 Designed by Hong Kong interior designer and trained architect Andre Fu, the Kerry Hotel by Shangri-La group is the most recent addition to Hong Kong's growing landscape.
Standing at 16 stories high with 546 rooms, the Kerry Hotel champions it's stellar location and sprawling views of the diverse Victoria Harbour, impressively showcasing the most outdoor space with al fresco dining in the whole of Hong Kong.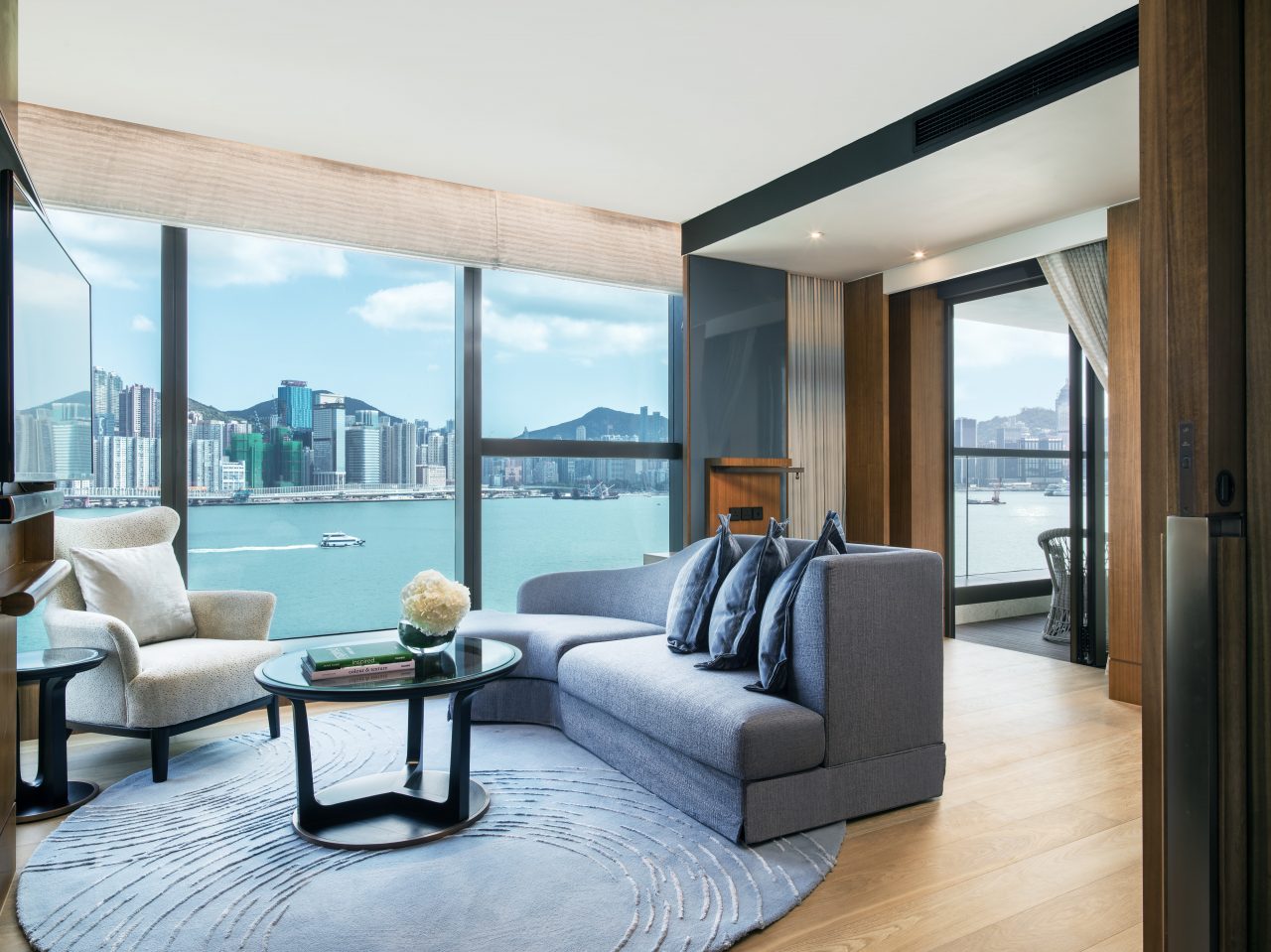 The views from both the hotel rooms and outdoor swimming pool and dining spaces are truly exceptional. The original Hong Kong airport (now Ferry Harbour) can be seen alongside Chai Wan across to IFC in Central as Kerry Hotel is in fact now positioned on land that was reclaimed 6 years ago, reflecting the growth and changes of Kowloon which predominately used to be sea.
Here, the design focus was an abundance in nature and greenery making it an escape from city life. There is an emphasis on the quiet attention to detail by architect Fu that makes Kerry Hotel 'comfortable contemporary luxury'. From the Turkish Onyx marble detailing on door handles, to bespoke furniture design created by Fu himself.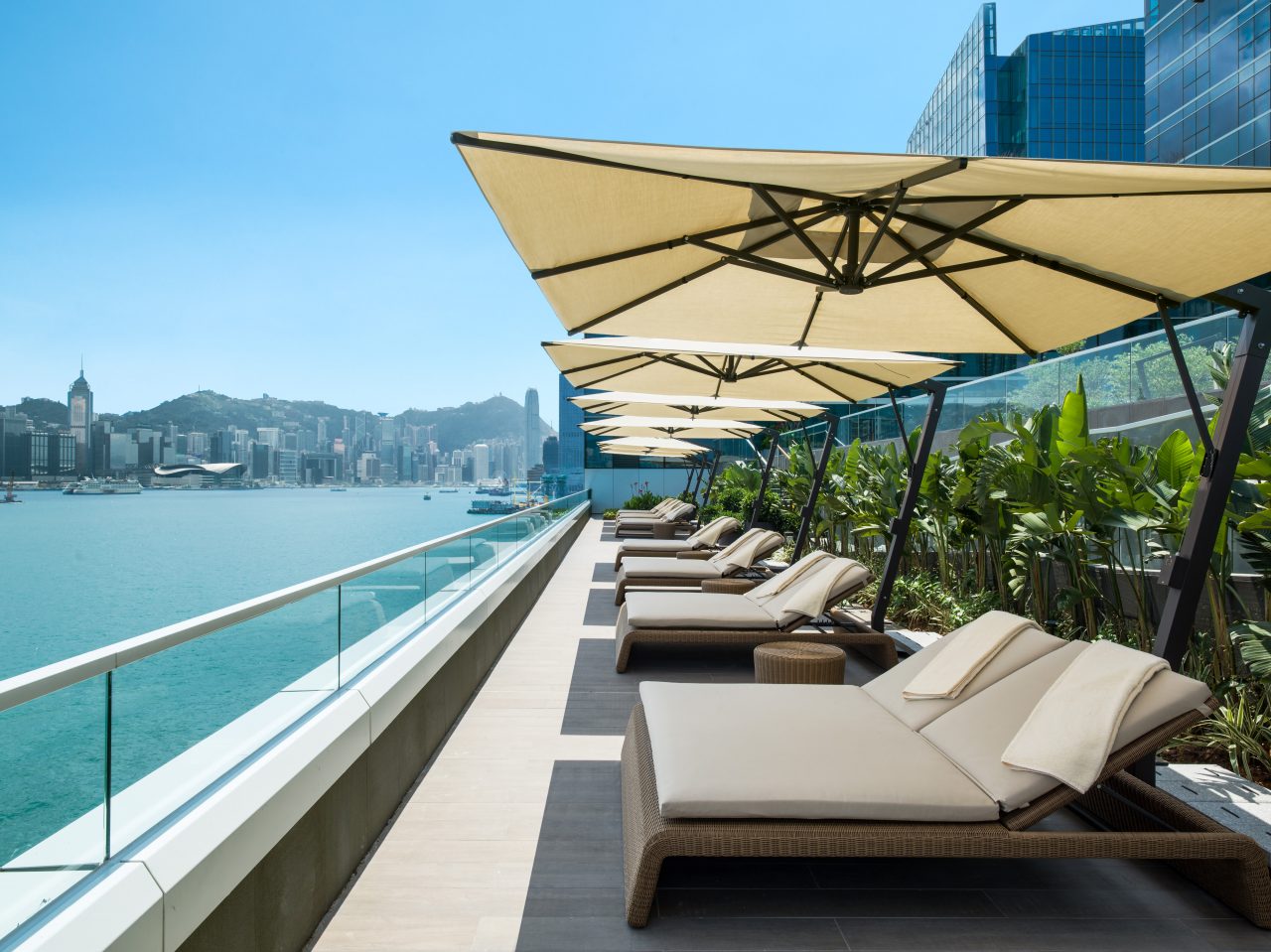 Especially-commissioned artworks scatter the hotel interior, outdoor areas and guests rooms. The curation comes from Shangri-La's team of in-house curators from the company art archive. One key sculpture that features throughout the hotel is by Taiwanese artist Ju Ming, originally trained in woodcarving, his artworks at the Kerry Hotel are made from Green Bronze, traditionally used in ancient sculptures and part of his Tai Chi series. The works provide a pensive moment to reflect and appreciate the given moment.
Navigating the hotel is effortless, with a central set of elevators taking you to the 'Big Bay Cafe' Buffet Dining floor located on level 3, or the swimming pool, gym and sauna overlooking the entire Victoria Harbour. How many hotels can offer a 'Home Away From Home' and an exercise gym with a postcard view? Exceptional. The lobby entrance showcases a sprawling lounge area and a striking Italian Marble central staircase, with the hotel's signature scent 'A Walk In The Woods' (Italian citrus fruits, Calabrian Bergamot, Mediterranean lemon) filling the space.

The hotel's own restaurant Hung Tong, is the perfect place to dine not only for it's excellent menu (created by award-winning Head Chef Ken Yu) but for it's interior design too; a nod to the areas heritage with red brick replicas that once were key structures at Hung Hom Bay in 19th Century. Key dishes on the menu; Braised Abalone with Black Mushrooms and Vegetables, Barbecued Prime Iberico Pork with Maple Syrup, Sautéed Prawn with Pine Nuts and Asparagus in Black Bean Sauce and the Deep-fried and Braised Tofu with Prawn and Minced Pork.
For dessert, an exceptional nod to Hong Kong's classics with Chilled Mango Sago Cream with Pomelo and the Osmanthus Jelly with Coconut Milk.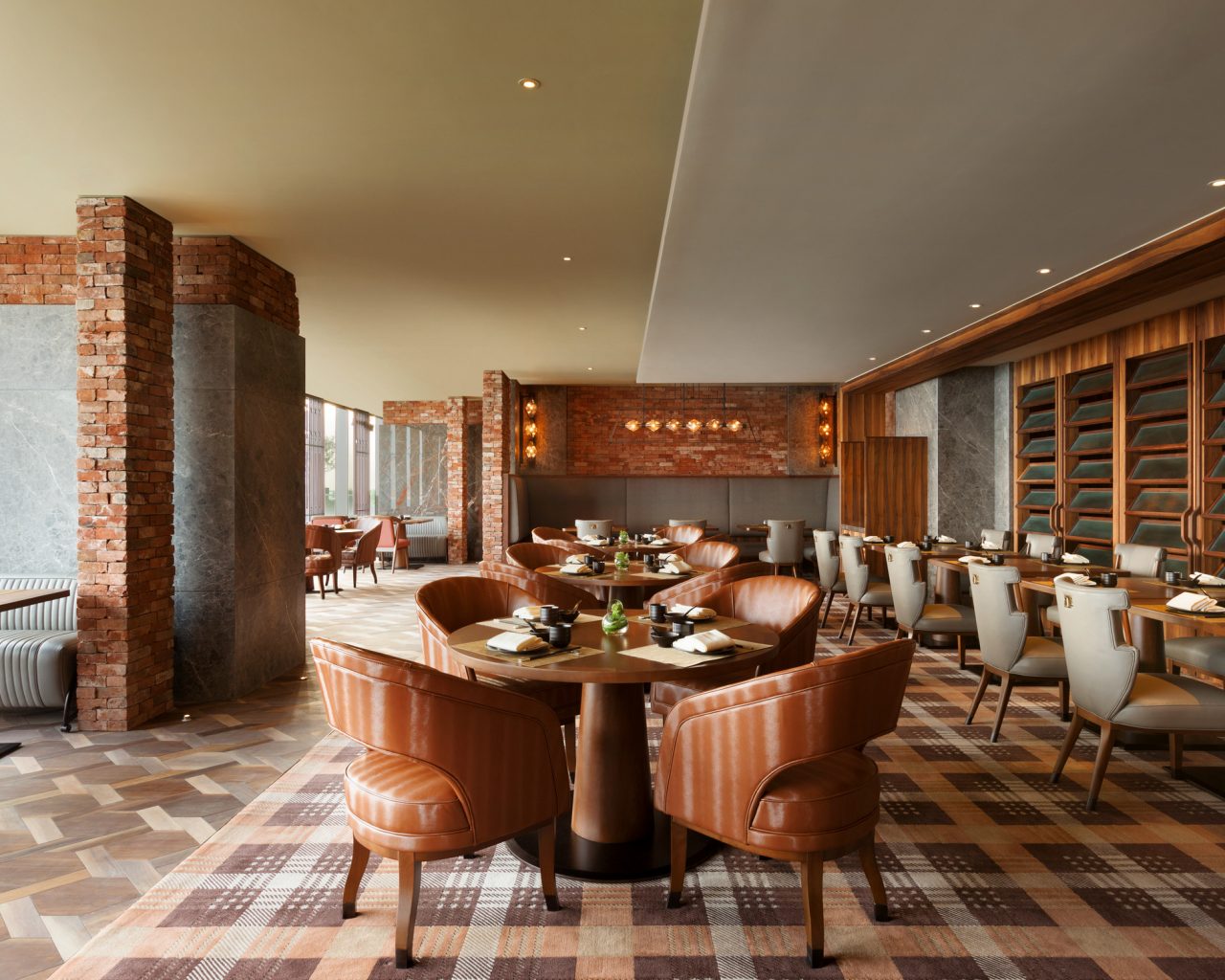 At night, enter the hotels' lively in-house bar Red Sugar and tunnel-like entrance with an encompassing neon artwork by revered Hong Kong artist Adrien Wong. Head mixologist Joe prepares his own special blend of liquor and liqueurs aged in barrels for 2-8 weeks. His 'Vieux Carré' was aged for 3 weeks in a 21-22 degree temperature room, and exuded a balanced aroma and sweetness, served with a whole cube of ice in served on a slice of wood to reflect the aged wood barrel.
It's important to note that the Kerry Hotel is positioned amongst other retailers in a locally-invited complex, particularly a tech-enabled food hall open to the neighbouring community. This year they will also welcome a co-working space 'Kafnu' on the hotels' first floor, not only inviting local creatives but a space for visiting guests to work in also.
This article comes in cross-collaboration with our friends at Melting Butter.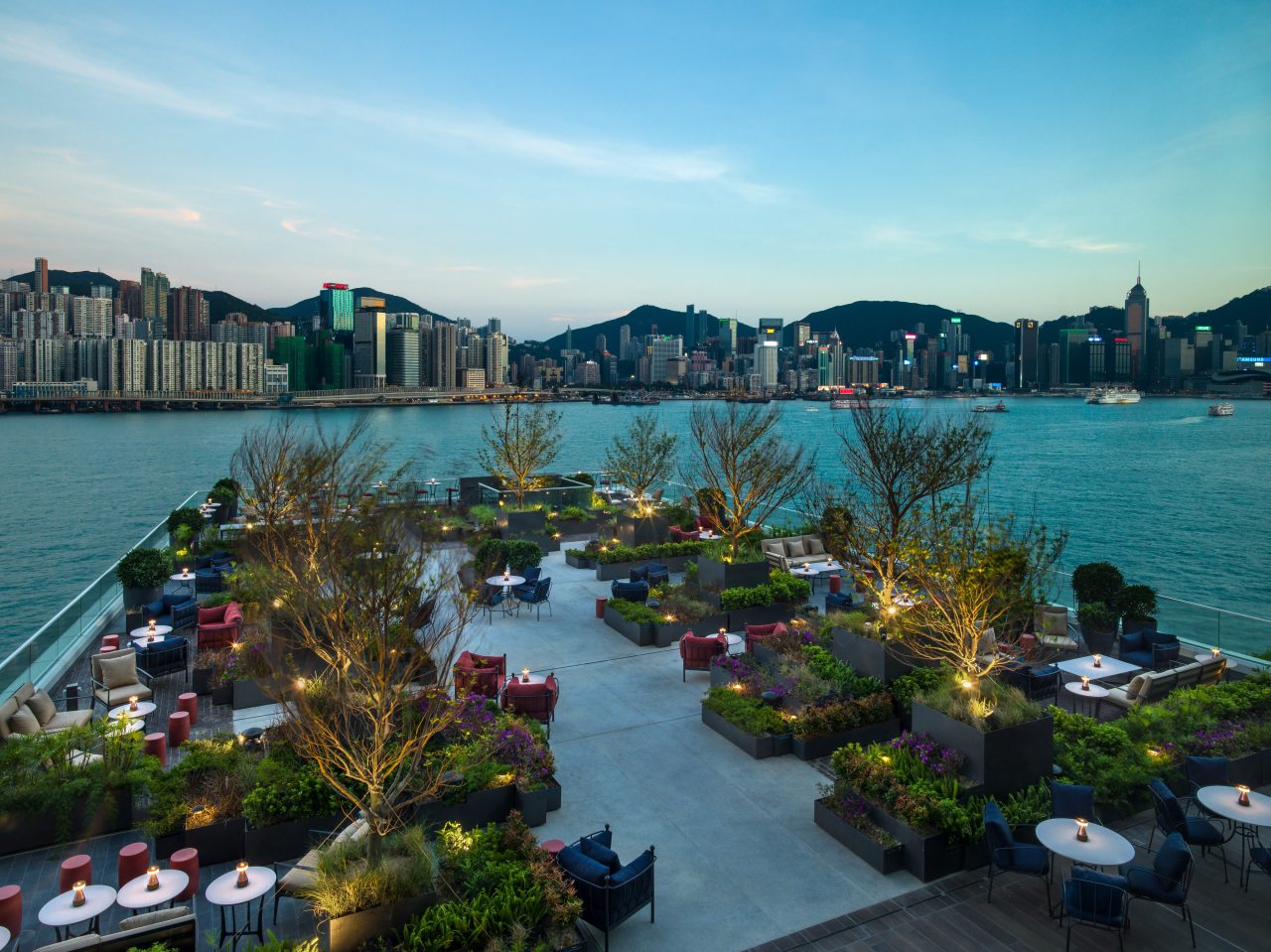 KERRY HOTEL
38 Hung Luen Road,
Hung Hom Bay,
Kowloon, Hong Kong