BIRD IN HAND
The Desired Lifestyle. A South Australian Winery Blending Art, Travel & Local Produce With Their Passion for Winemaking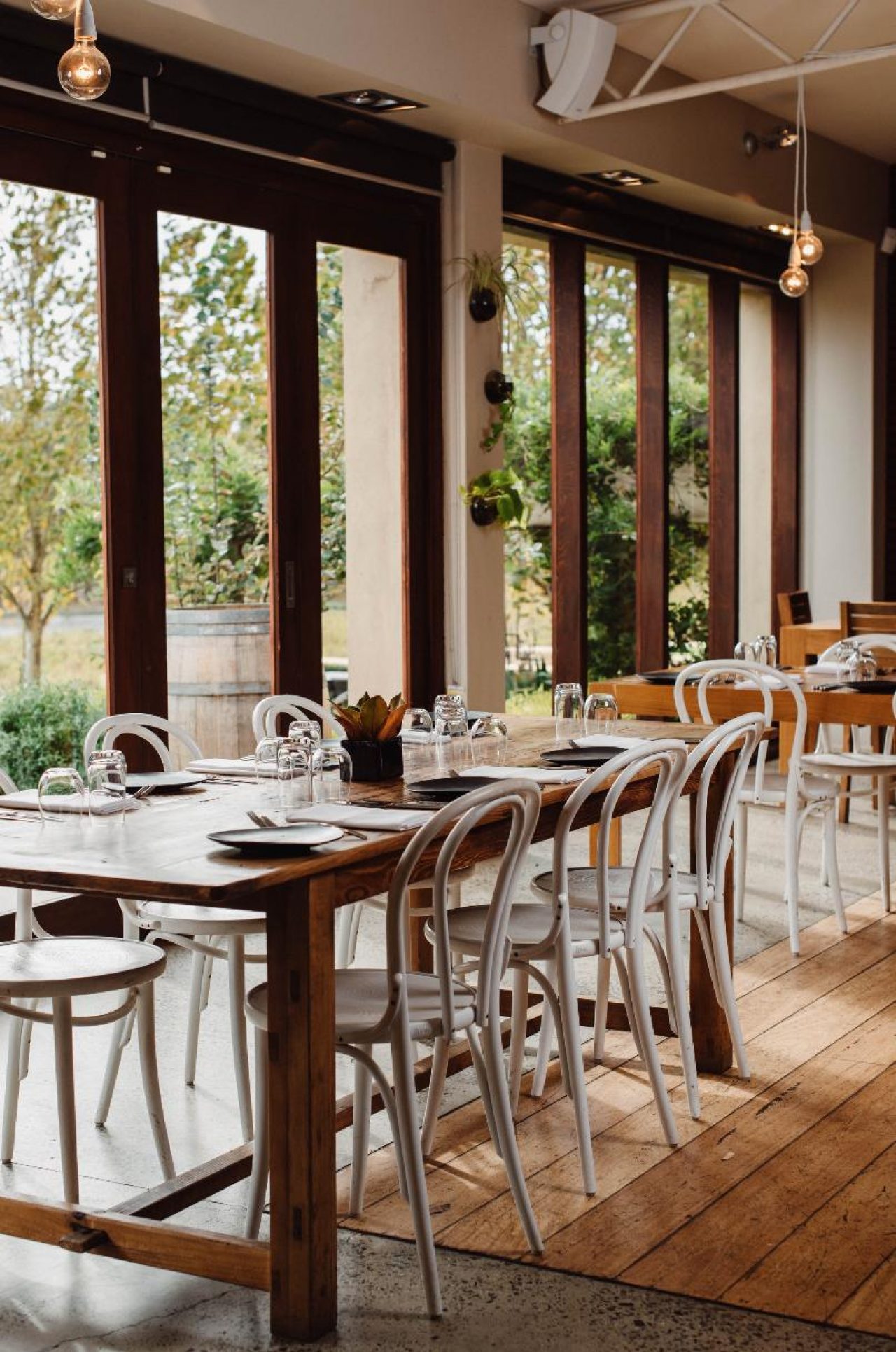 There's no doubt the fine art of winemaking, and its enjoyment, has been perfected by winemakers Bird In Hand.
Located in the stunning Adelaide Hills, the winemakers have preceded their nationally-renowned reputation with a solid international following of loyal connoisseurs.
South Australian wines are well-known to be some of the best wines you'll ever taste worldwide, due mostly because of their positioning in an accommodating and stable geographic climate where vines can flourish, and the expertise of the craftsmen working with the land they reside on. Especially in the winemaking regions of the Adelaide Hills, Barossa Valley and McLaren Vale, rainfall and reliable natural water supplies ensure a consistent harvest each season. Each region's climate ensures different grape varieties can find their own individuality, and these elements paired with a winemakers own philosophy ensure unique wines are produced with a lot of personality. 
THE WINERY
Named after the Bird in Hand gold mine which operated on the land in the 1800s, the Bird in Hand winery prospers from rich red soil on the estate surrounded by beautiful Australian gum trees. Founded by South Australian Andrew Nugent whose grandparents were farmers, his pathway began at agricultural college later going on to work on vineyards and olive groves as an apprentice. It was in 1997 when Nugent and his father bought a run-down dairy farm in the Adelaide Hills with 80 acres of land, and where the Bird in Hand legacy began. "What I love about winemaking is the aspirational side. The combination of agriculture, science and art – the ability to be creative while pursuing quality and excellence" states Nugent.
It's a family business, with Nugent's wife overseeing the garden supplying their restaurant and brother Justin handling marketing and exports. Nugent and his family have invested time, energy and passion for over two decades, with Bird in Hand now one of the leading wineries worldwide. With an international network of like-minded individuals in the creative community, Bird in Hand hold events in Sydney, New York and even the Hamptons. 
Art, design, travel and hospitality are intrinsically linked, with Nugent relentlessly conveying this in all of Bird in Hand's output. There is an outdoor area in their Adelaide Hills premises which hosts various live music concerts and Summer events. The Bird in Hand collaborations with fashion designers such as Australian Dion Lee and British Henry Holland see Bird in Hand bottles becoming collectables, with the brand additionally reaching new audiences. We originally came across Bird in Hand because of their partnership with the Serpentine Galleries, and with key placements like this, it's an ideal way for the brand to stand out amongst the multitude of other wine brands on offer. Bird in Hand's genuine interest in the various worlds of art and culture seamlessly collide with their own, and it translates to their international network of partners, collaborators and culturally-aware consumers.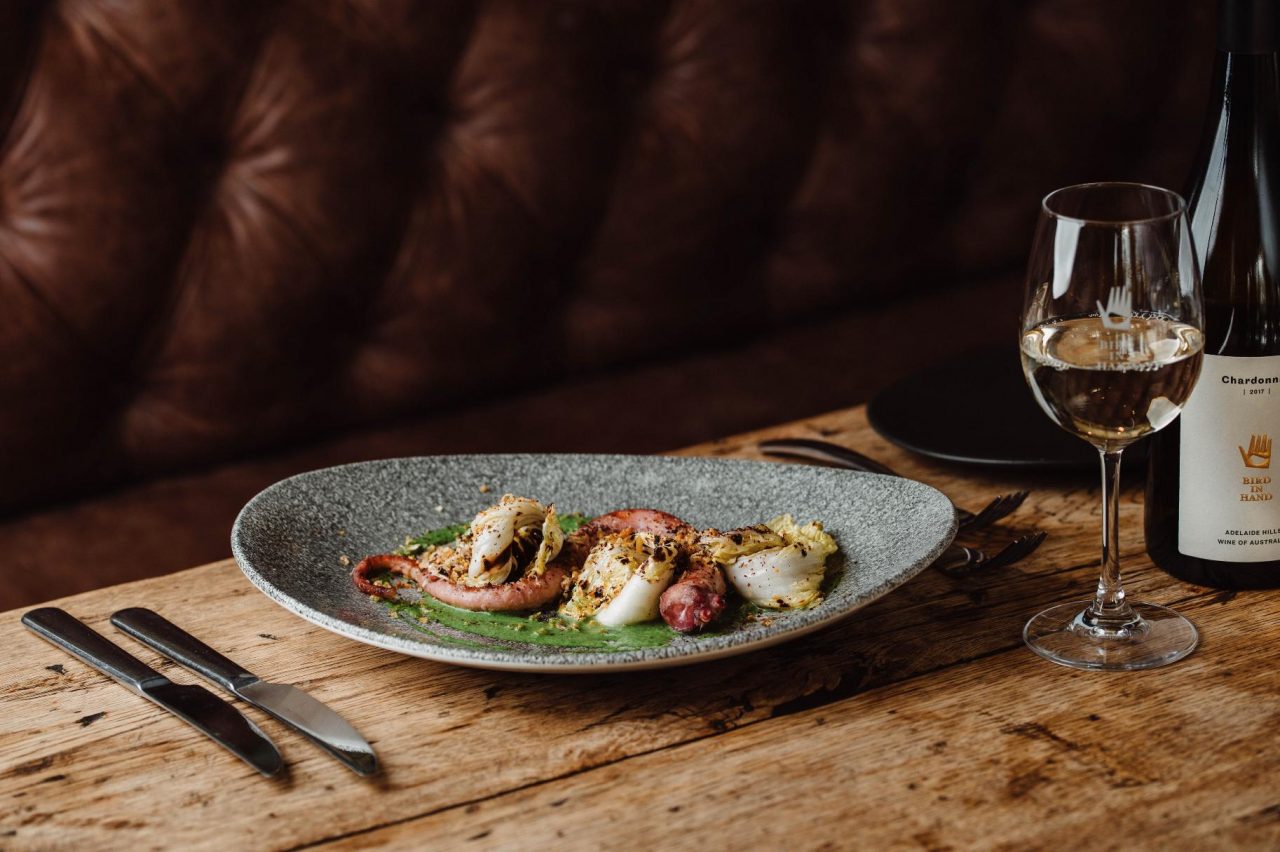 THE GALLERY RESTAURANT
With a farm-to-table approach, the menu at The Gallery represents the best of local, South Australian produce. Marbled tomatoes, eggplant and zucchini – which we dined with on during our 'Joy Flight' 6 course meal – were hand-picked that morning from the garden just outside the restaurant window.
The English-style garden is overseen by Susie, Andrew Nugent's wife, a passionate gardener supplying the restaurant with freshly-picked produce. Gathered in the morning and presented on plates at lunchtime and dinner, it's impossible to experience fresher ingredients. These too, like the vineyards, benefit from their location and surrounding environment. Chickens lay fresh eggs, whilst fruits and vegetables – such as apple, pear, quince and fig – are blessed by the sun encouraging immense flavour and colour. 
In The Gallery there are two experiences on offer, the Joy Flight (6 courses) and the Chefs Flight (4 courses of a share-style menu). Each represents the seasons and changing landscape of the Adelaide Hills, with ingredients masterfully perfected in inventive dishes. Freshly-baked sourdough is presented upon arrival with olives and the Bird In Hand Olive Oil. Even still and sparking water choices from Cape Grim, Tasmania are available. The inventive menu ensures there is something for everyone. 
For the Joy Flight, we enjoyed the Summer 2019 menu, celebrating seafood dishes such as scallops and yuzu jam and Coorong mullet with chimichuri, leek zucchini and pickled octopus (their signature dish). Each dish comes with a special wine pairing, served to seamlessly -which indeed it did- compliment each dish, working hand-in-hand together for an experience awakening all of the senses.
A stand-out dish for us was the Kingfish sashimi ponzu with pickled onion, togarashi and toasted nori. Not only an example of how internationally-minded the chefs are (using a traditional Japanese seven-spice mix) but how well these ingredients translated to an Australian experience. On first bite of the sashimi it is like taking a dip in the ocean – the cool, salty sea water a pleasant experience blended with the fleshy, soft texture of the fish – then surprisingly getting stung by a jellyfish (when the spices kick in abruptly) to find yourself seeking an aid in the Bird in Hand 2018 Riesling as you rest back on the shore. We only suggest that this dish and wine paring be served individually, highlighting it as an experience to enjoy on its own before the other dishes. 
The Bird in Hand Honeysuckle Riesling is another standout wine, paired with their intermediate dish of lemon and honeysuckle Riesling sorbet to cleanse the palate. Cleverly put together, the Honeysuckle Riesling sorbet is topped with a sprinkle of matcha and frieze-dried mandarin which effortlessly melts in the mouth. The selected details at The Gallery are key to the restaurant experience.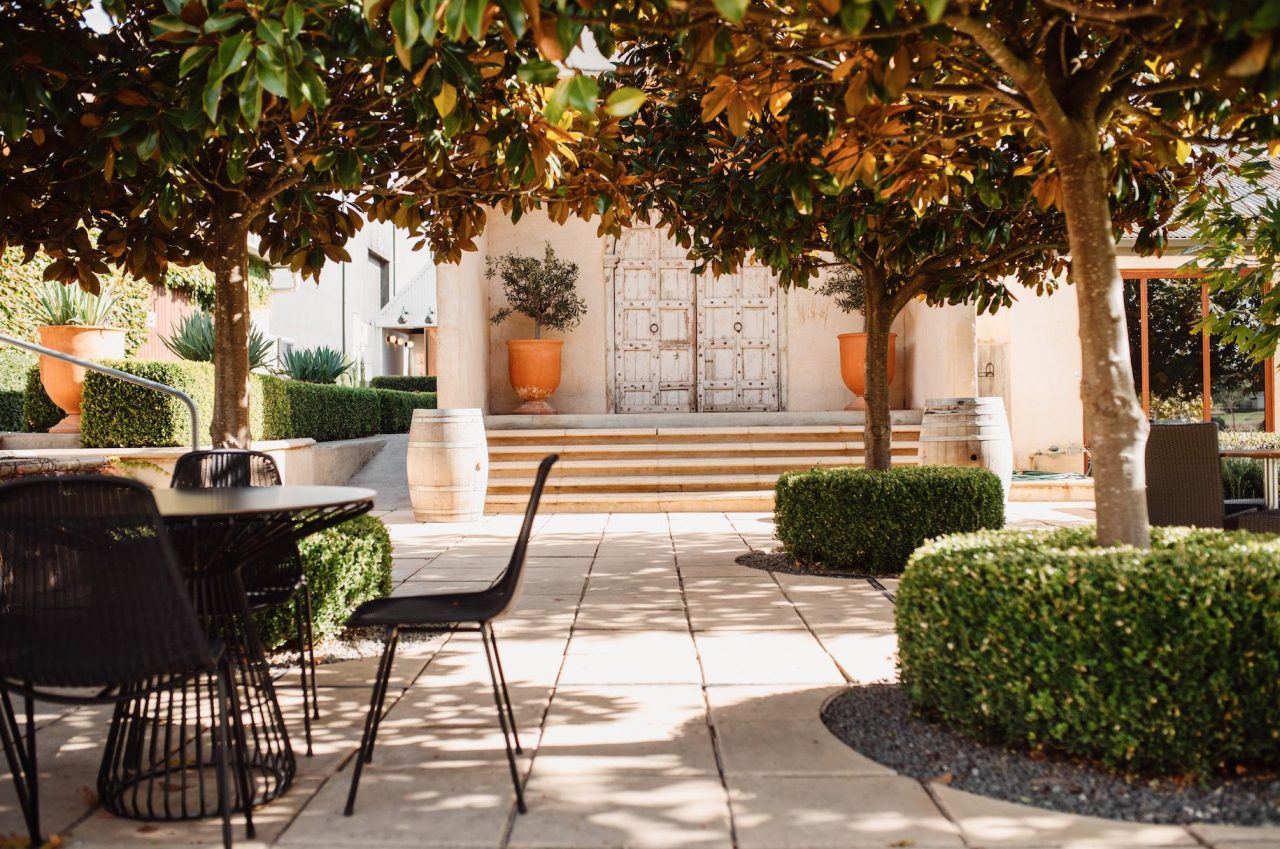 CELLAR DOOR
When visiting the Bird in Hand Cellar Door, guests experience more than just a wine tasting. Staff are just as passionate as the Nugent family, educated on every element of the winemaking process. Wines can be tasted not only in the Cellar Door, but also in the Barrel Hall, the outdoor courtyard overlooking the vineyards or in The Gallery restaurant next door. Tutored tastings are available, with guests able to experience wines you can't drink anywhere else. This includes late releases and carefully-cellared museum selections. 
Bird in Hand's respect for tradition is paired with a modern approach: red grapes are fermented in wooden French wine barrels, whilst their white grapes are distilled in steel ensuring a crisp, smooth taste. Pinot Noir, Shiraz, Sauvignon Blanc and Chardonnay grapes are planted in their vineyards, and overseen by head winemaker Kym Milne. With a vast array of expertise, South Australian-born Milne cut his teeth working and consulting with wineries worldwide in New Zealand, the UK and South Africa before returning back to Adelaide.
Whilst exploring the Barrel Hall next to the Cellar Door, we overheard Nugent introducing the 1955 FJ Holden on show. Set next to the Bird in Hand barrels and the 'Last Supper' artwork by Australian artist James Cochrane (commissioned by Bird in Hand, depicting Da Vinci's Last Supper, with men replaced by women) the FJ Holden was a symbol of great Aussie production with the American GM Motors establishing bases around Australia. With a factory in Adelaide, local production encouraged sales and the FJ Holden is now an unmistakable Australian icon. Proudly displayed in the Barrel Hall, it's obvious South Australia's history is important to Nugent.
ART COLLECTION
On the drive up to the vineyard, a kinetic artwork by artist Rudi Jass greets visitors from a distance. Upon arrival, their rusting steel facades are evident with their textures and tones complimenting their surrounding environment. 
On the winery grounds, commissioned works by Bird in Hand can be found strategically placed to surprise and delight. The 'Circle of Love' sculpture by New York-based artist Paul Gerben is amongst Bird in Hand's collection as is the steel sculpture by Greg Johns overlooking the winery lake. Melbourne-based artist Lucas Grogan's site-specific mural adorns a building facade which is also home to two-centuries old restored Moroccan doors. Culture and history are everywhere on the premises. Nugent explains, "From family, farming and science, to art and creativity, everything links together. Artisan winemaking provides us the seamless connections through the artistic genres, culminating in the experience of making people happy".
From an old dairy farm to a world-class winery housing international and Australian art, hard work and dedication has paid off for Bird in Hand. They've set the bar high for neighbouring wineries but ultimately their internationally-focused communications it benefits everyone, placing South Australian wines at the very forefront of a culture celebrating craftsmanship and a lifestyle based on enjoyment and good taste.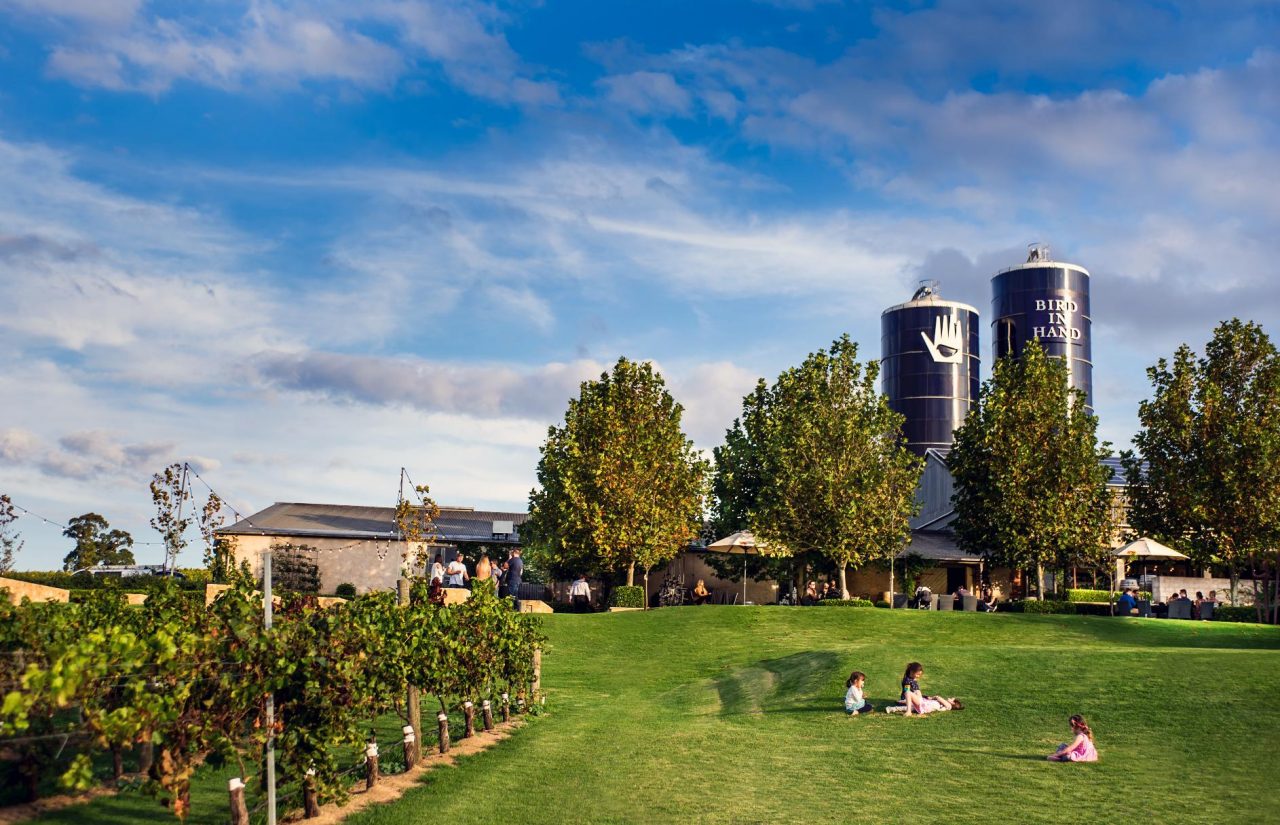 150 Pfeiffer Road, 
Woodside, Adelaide Hills,
South Australia 5244
AUSTRALIA
The Cellar Door is open daily
Monday to Friday: 10am – 5pm
Weekends & Public Holidays: 11am – 5pm
The Gallery is open daily
Booking is essential
#champ_adelaide