ISSEY MIYAKE Autumn Winter 2022/23
Designer Satoshi Kondo Embraces The Beauty Of Untamed Nature In 'Sow It and Let It Grow'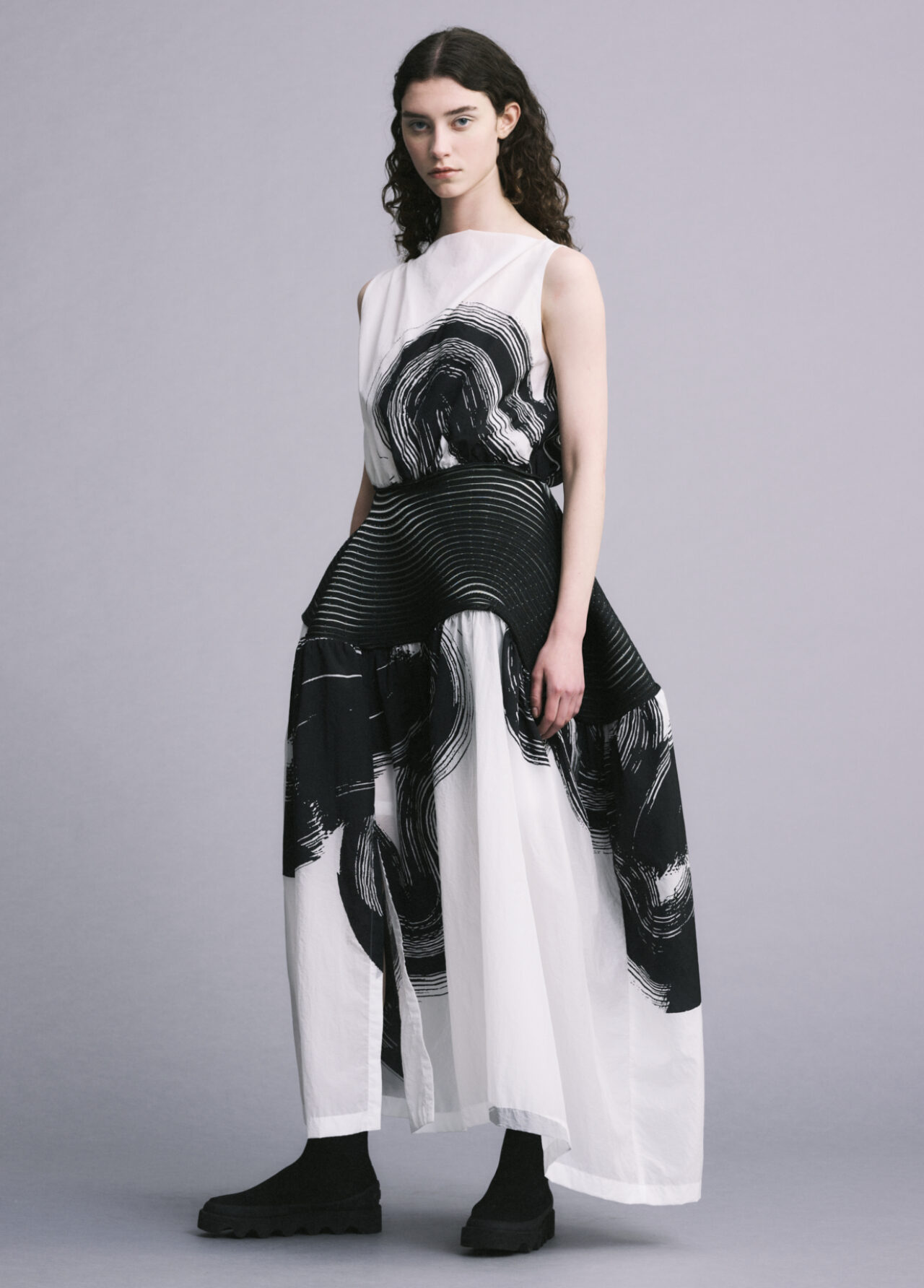 Entering the ISSEY MIYAKE office and descending down to their lower showroom area, a sense of suspense builds and pensive silence awaits. 
Designer Satoshi Kondo holds an eager yet warm charm as I enter the expansive space they've organised to view the latest collection. Ever-impervious, it's Kondo's air of reservation that lends to his unimposing artistry. His gracious sense of design, extensive depth in conceptual approach, stunning silhouettes and clever innovation are what make his collections an incomparable joy. The collection is beautifully presented across the space — some knitted garments meticulously positioned on the floor and the rest on hangers. I'm guided to a seat in anticipation of the collection film's preview screening. With a meditative pause, the film begins.
For ISSEY MIYAKE's Autumn Winter 2022/23 collection entitled Sow It and Let It Grow, designer Kondo found inspiration from the untamed and primitive beauty of nature in plants and vegetables — that irrepressible growth and unstoppable force that is not often seen — delving into the conceptual physiology and natural progression from root to seed to growth to bloom. Kondo explains, "I was interested in capturing the wild and primitive nature you find in plants and vegetables." 
In situ, Kondo presents source imagery that includes gorgeously winding and tangled roots of an undistinguishable plant. Imperfect and rebellious. It's exactly this wild, curling form that inspired the collection's RHIZOME series of seamless knits with various sleeves resembling a freedom of growth in every direction. The knitted garments' made from woollen yarn hold an emphasis on their weightlessness and multi-functionality — a sleeve can become a scarf, a garment can become a hat — the possibilities are unrestrained, just as their inspired "roots". Designed as one size, they are intended for unisex wear — representing the unconstrained wear for gender, size, use.
Beginning with a dark colour palette referencing the wild force of roots in their early beginnings underneath the soil, the collection tones begin to grow progressively vivid and spirited — and nonetheless sourced directly from nature's palette. Kondo's design team made extensive colour research, creating a palette from boiling the juice of various vegetables and fruits. Find pink inspired by beetroot, to shamrock green from avocado, to stark tangerine from oranges, and bright chartreuse from kiwis. The collection extends to the WINDING series that references a new interpretation of a piece of cloth, to the MEANDER series that utilises a curved topography for voluminous dresses created through gradient thickness increases to make stronger, desired curves. The collection's SLICE series, presents a jacket, dress and trouser combination with pupil-like tie-dyed circles over a white fabric base — the prints in fact hand-painted utilising the traditional Kyoto dyeing technique of hikizōme — presenting an abstract cross-section of a sliced fruit. If one would be able to visualise the adjectives juicy or succulent on clothing, this would be it.
The collection's PODS series presents a stunning amalgamation of pleats and shibori-zōme, the traditional art of tie-dyeing. Fusing the predetermined technical precision of pleating with the unpredictable phenomena of tie-dyeing, the garments are bold and striking. The pleated garments with part-dyed collars and ribbed hems are designed in the form of three connecting circles —  their bulbous bodies providing beautiful, rotund forms. Kondo explains the unsuspecting inspiration that led to the design,  "As I was having lunch at a restaurant nearby the office, I looked around and noticed a handful of garlic suspended in the chef's kitchen. Their striking and rotund forms caught my attention, inspiring the bulbous silhouettes of the POD garments."
Yet with this Autumn Winter 2022/23 collection, there's an emphasis on the exploration of the concept of a knit — some pieces appear woven but are in fact knitted — furthermore utilising recycled polyester. A gorgeous series of coats and jackets in the GROW series first feel akin to boiled wool, but are in fact a condensed knit. The technique includes loosely knit fibres, milled and pressed, and condensed to create a soft, fairly lightweight textile. Ever-playful and expressive, these bold and bright prints I'm told reflect an abstraction of Stem, Roots, Sprout and Seed.
As always, Kondo's ISSEY MIYAKE all-identifying woman is strong and stoic, sporting a powerful confidence that is only complimented by the armour she wears. The collection's length of coats and dresses perfectly frame the ankles and complimented footwear — chic and minimalist flat-soled and heeled leather boots that Kondo explains were "inspired by the boots worn by Japanese farmers!" The agricultural theme even extends to accessories, with jewellery featuring embedded black and white sesames, to interwoven leather handbags that expanded resembling a vegetable carry basket case. With ISSEY MIYAKE AW22/23, Kondo takes us back to the origin of things, capturing the beauty of wild and primitive nature, and taking us on the journey too.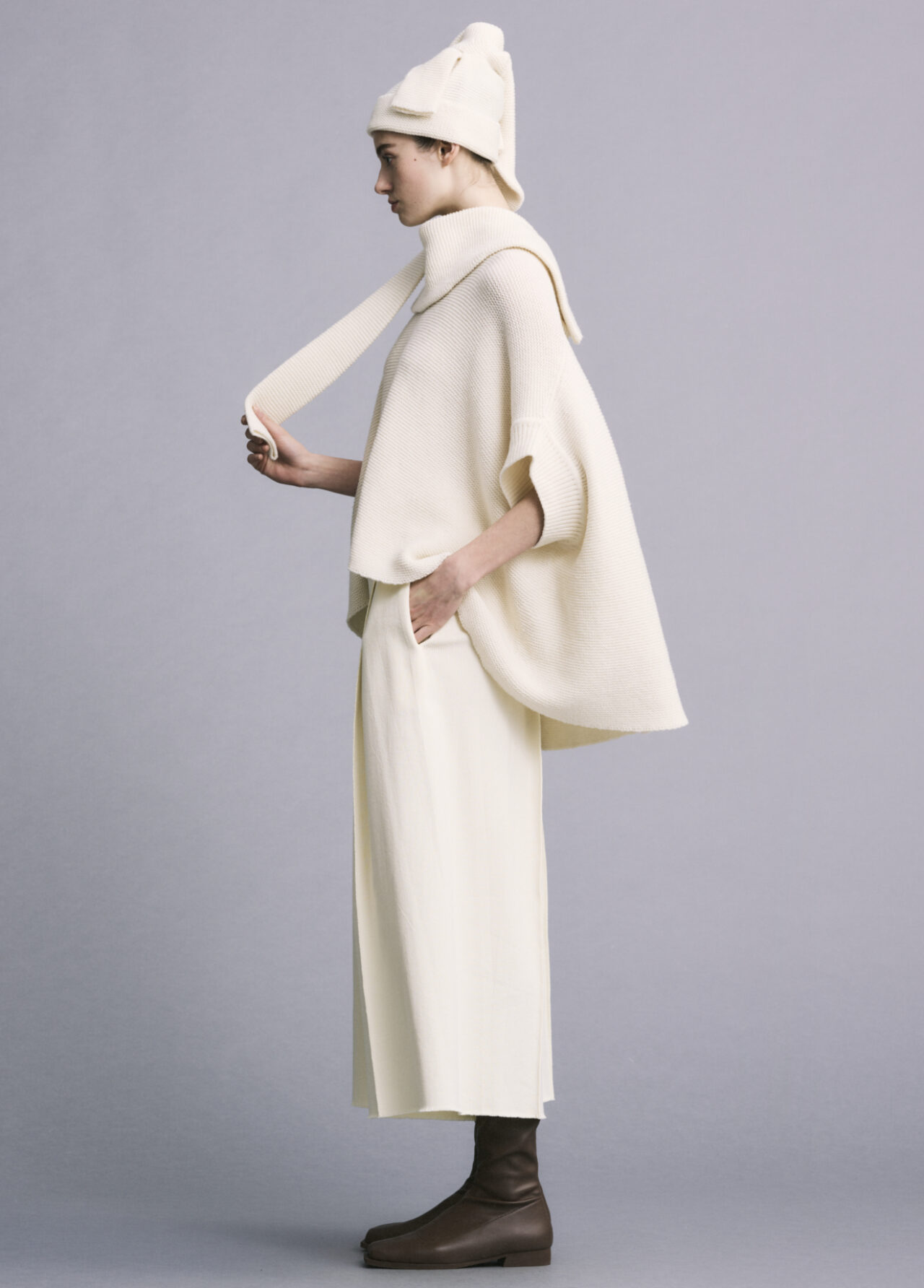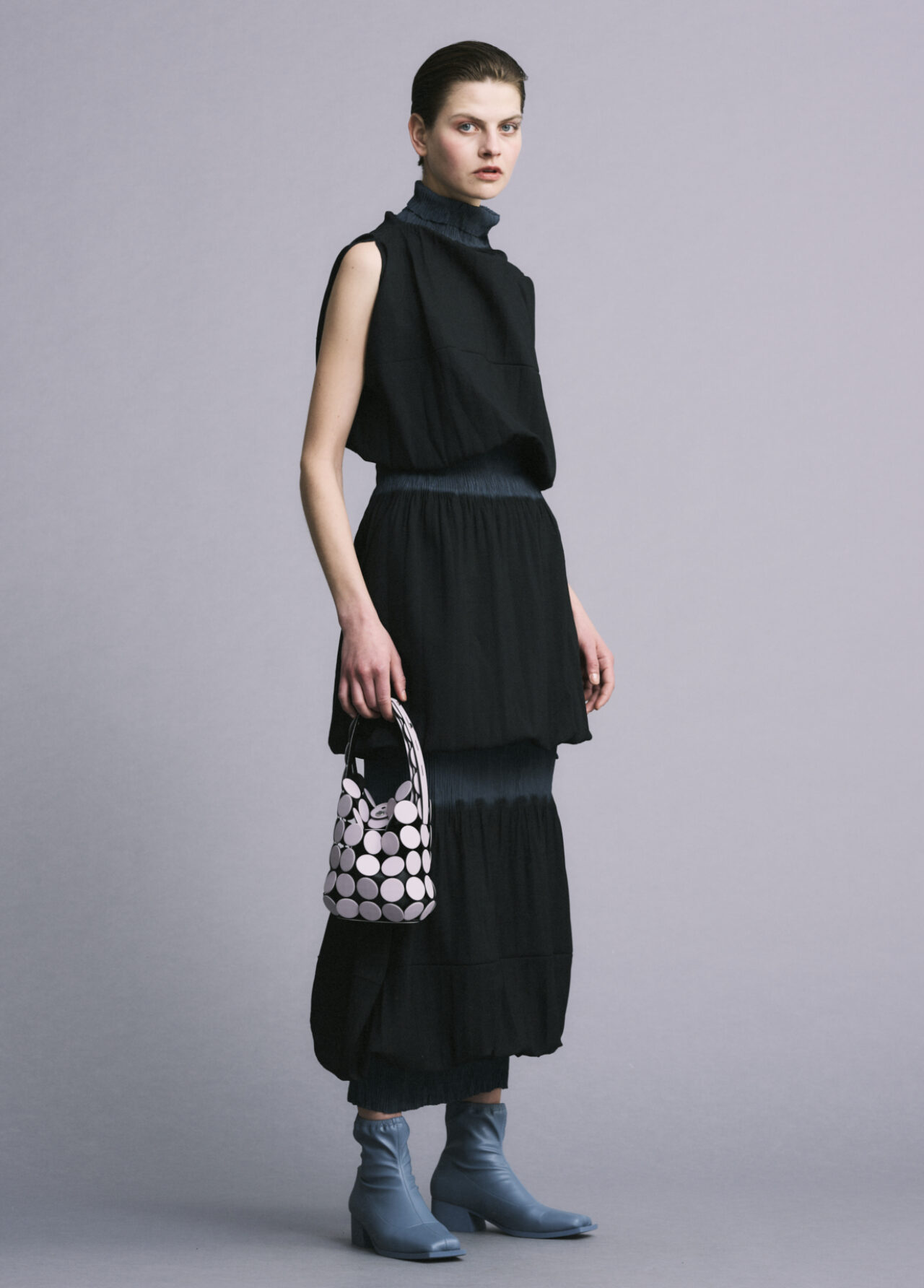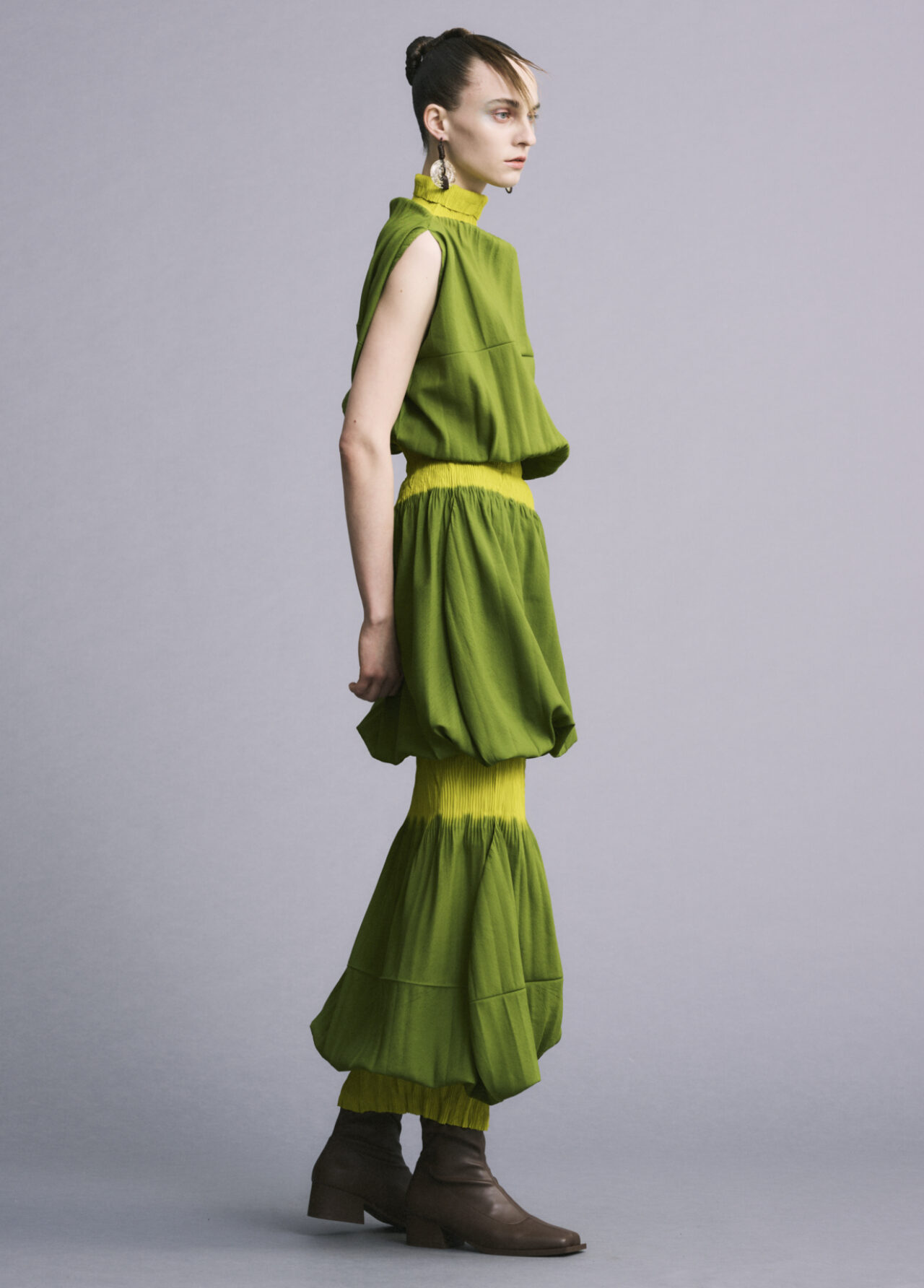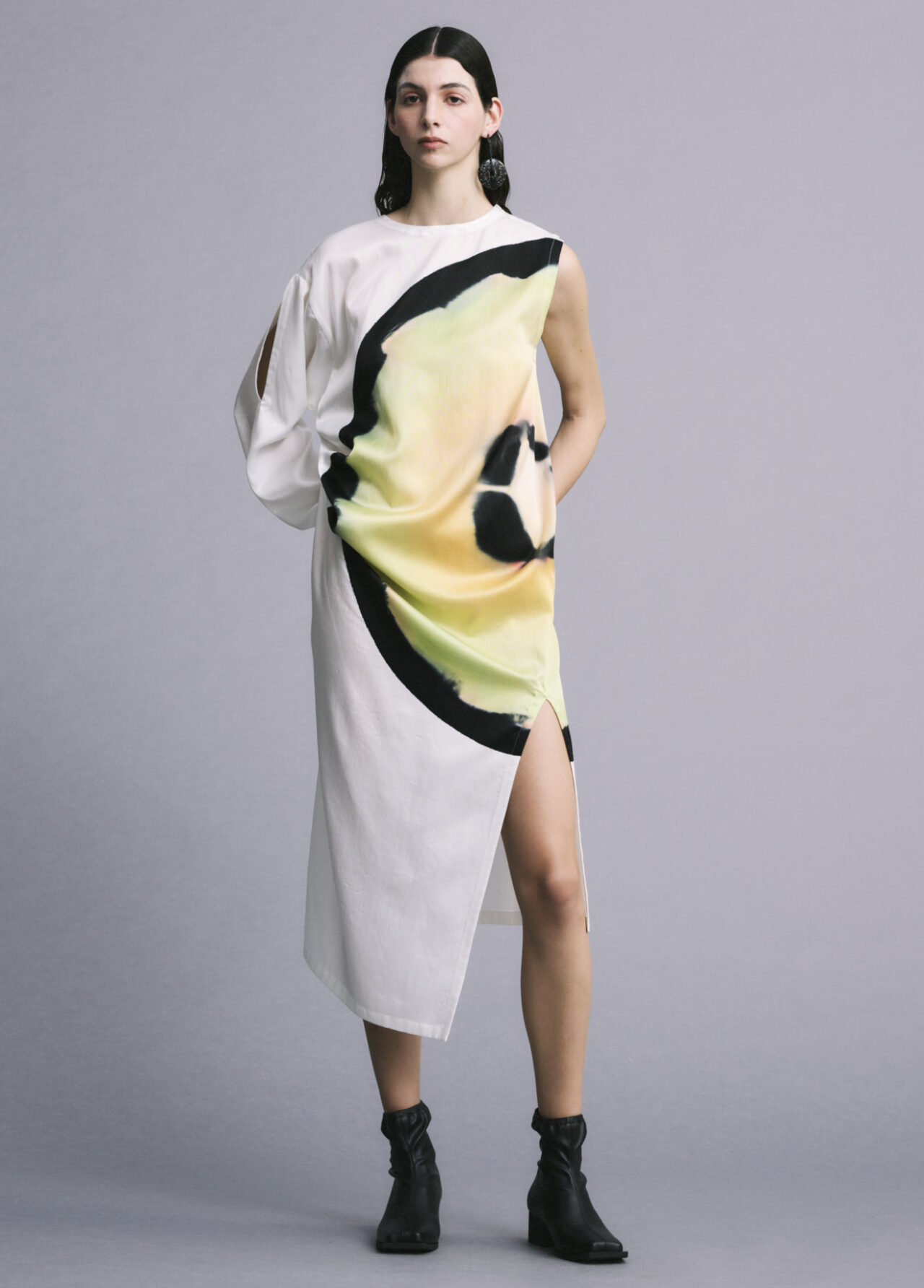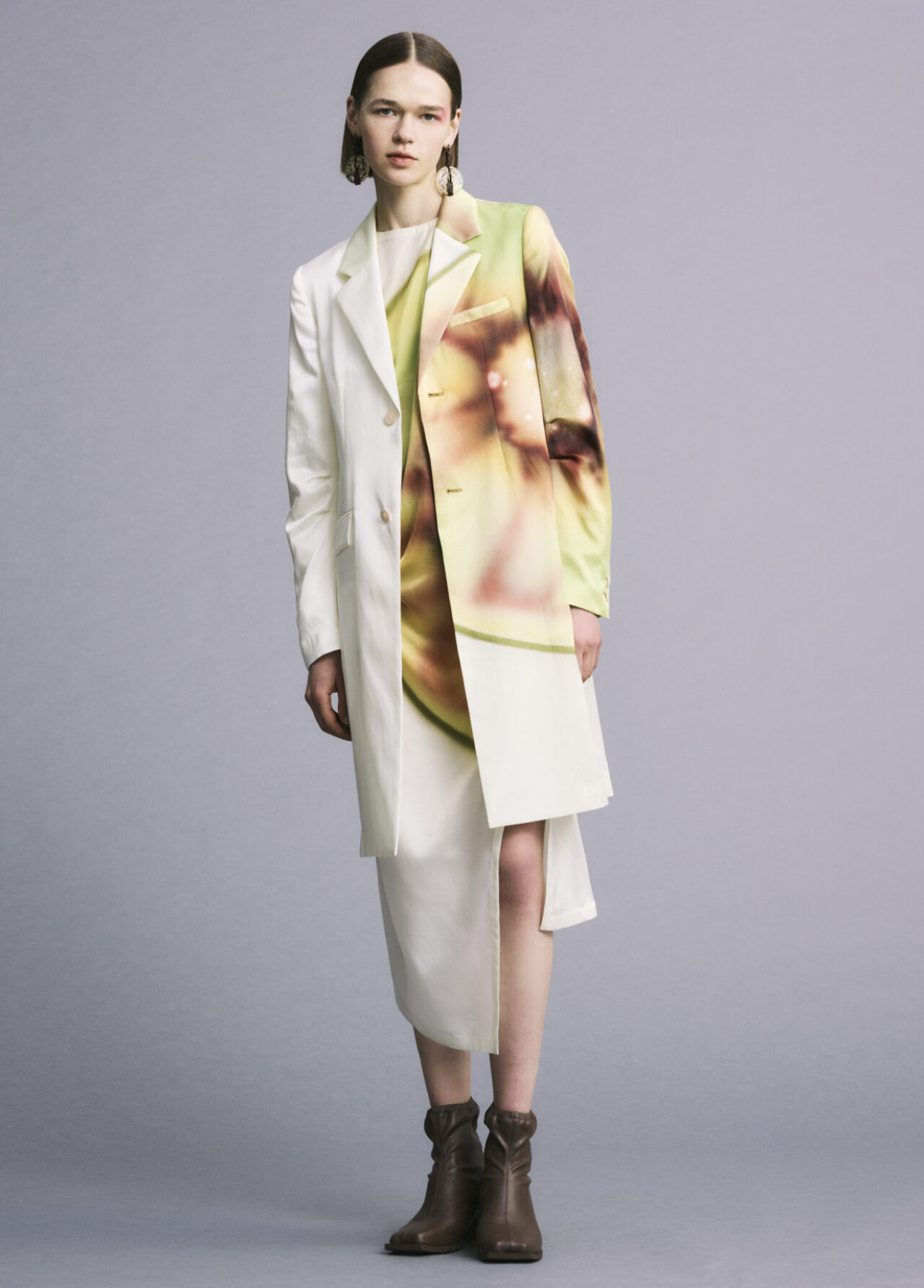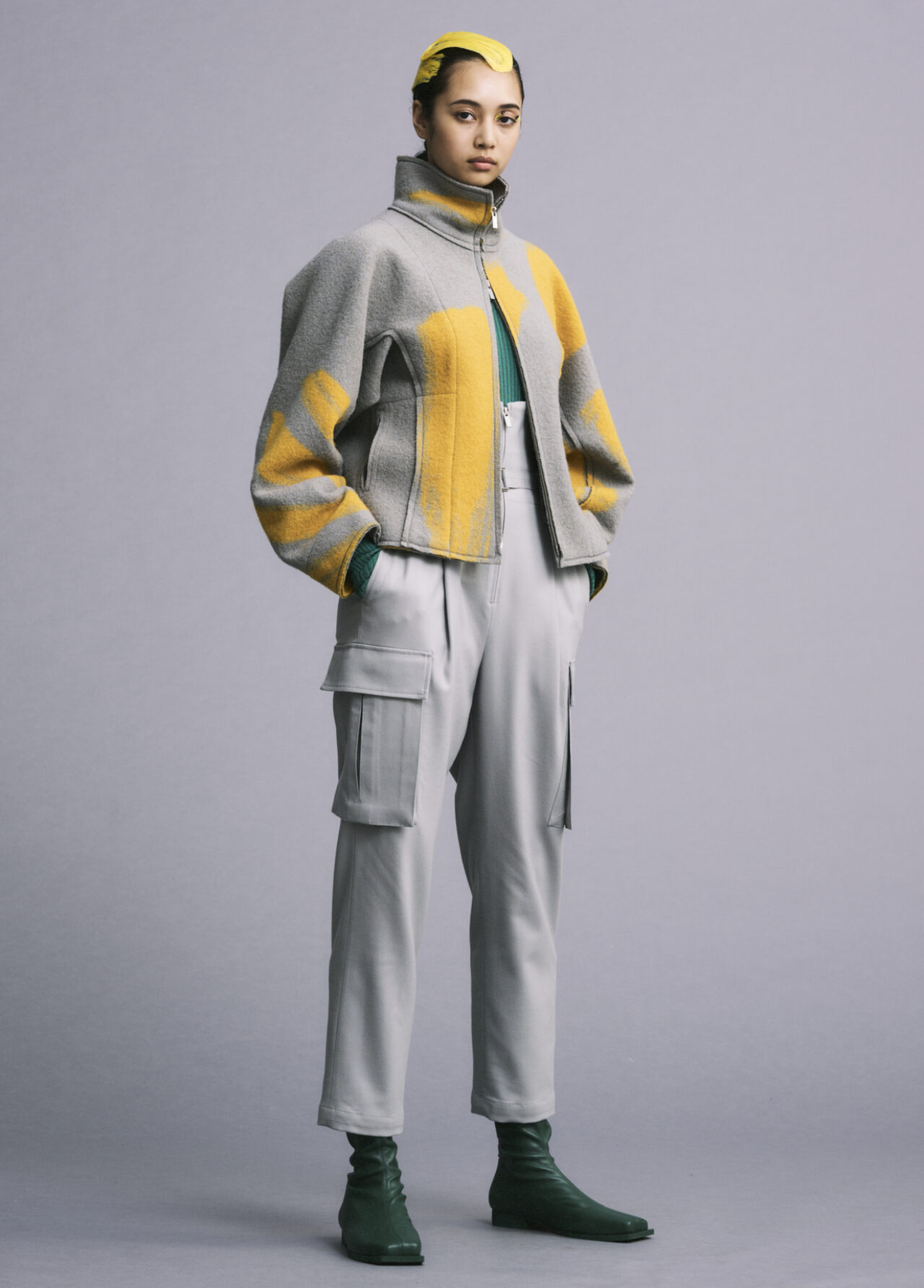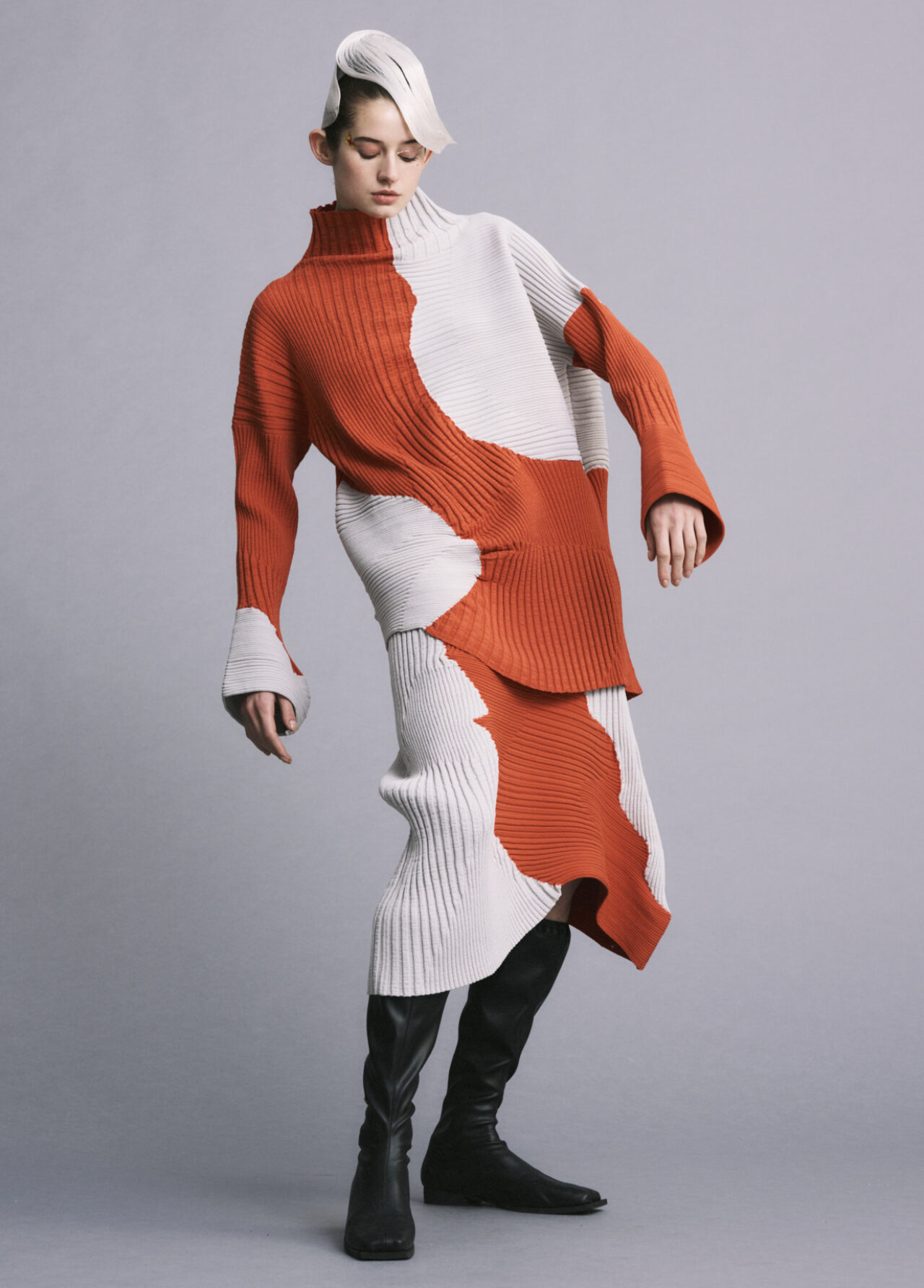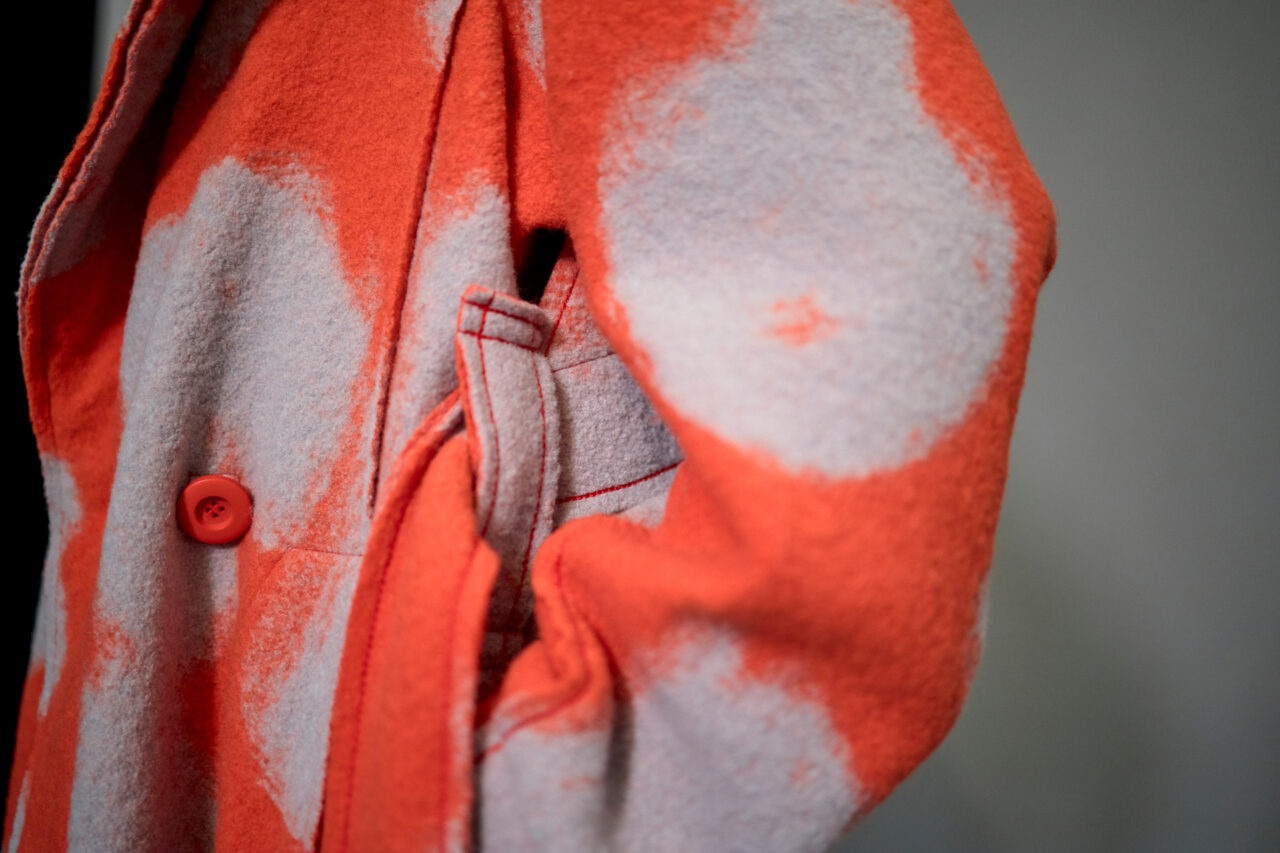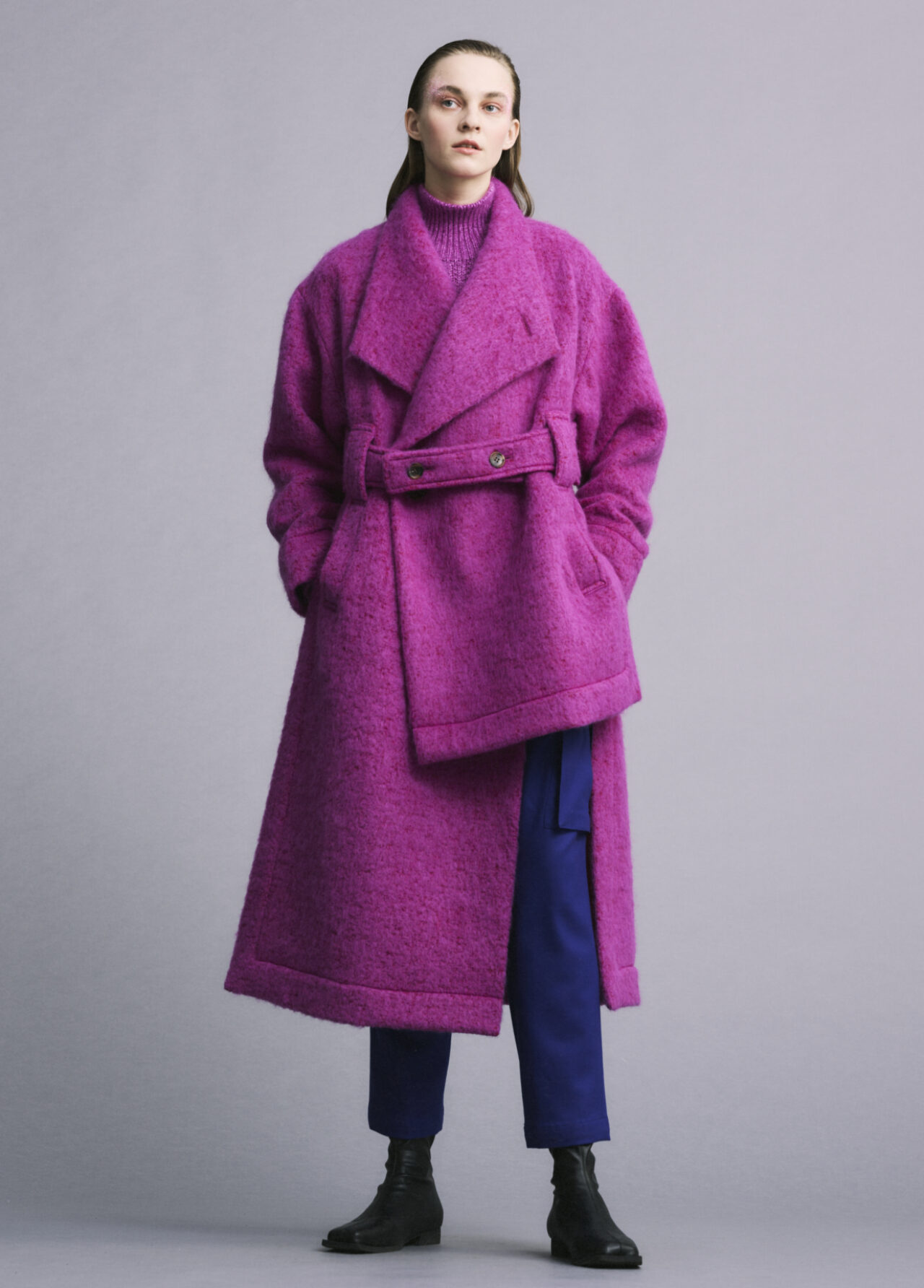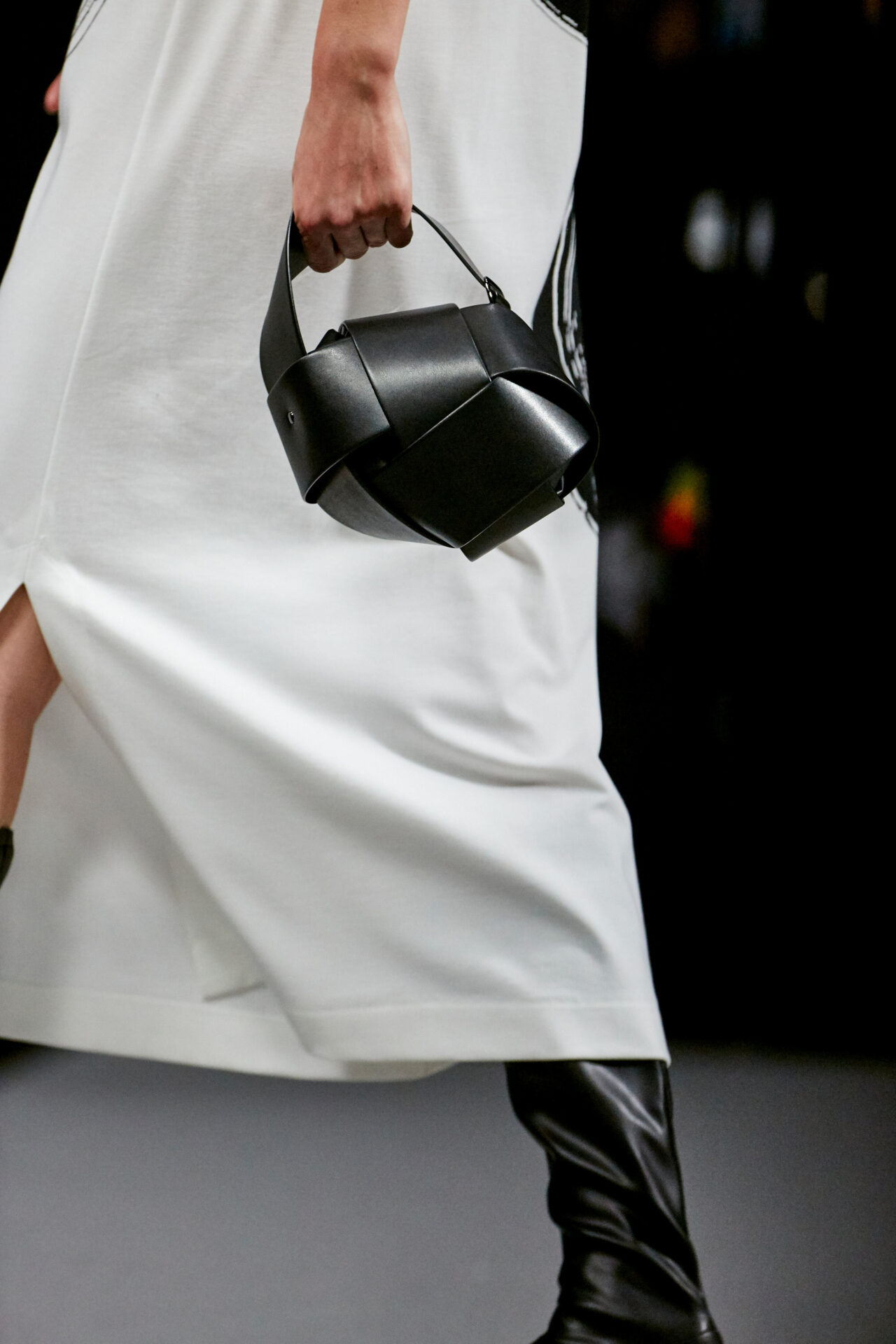 Words: Joanna Kawecki
Images Courtesy: ISSEY MIYAKE