ELLE AZHDARI
The Persian-Swedish Rising Pastry Artist Who Is Out Of This World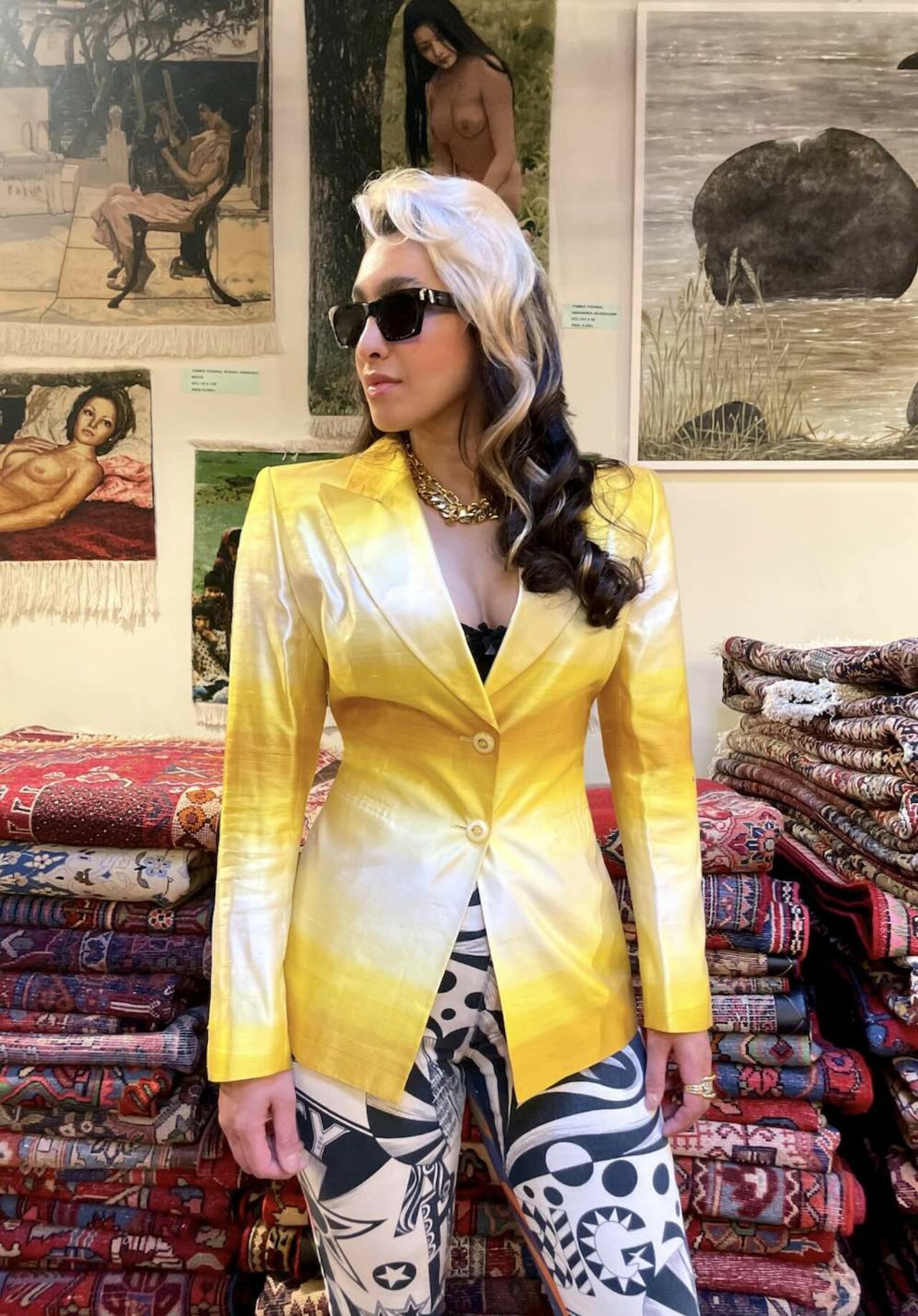 Creative director, fashion designer, creative consultant, and now, pastry artist extraordinaire, Elle Azhdari can apply her innovative ideas to anything. Enter her world of colour, shape and texture, where anything out-of-this-universe goes.
Of Persian descent, Elle grew up in Stockholm, Sweden, where there were more than multiple cultural differences. This enabled her to rise above adversity, no matter where she lived. From her formative years in London to New York and back, Elle worked in the creative industry for over a decade where she applied her skills to almost every field. Her brand consulting saw her create campaigns, pop-ups, brand launches and parties, and her fashion brand The Fan became a Vogue and model favourite, spotted at every fashion week.
All those experiences have led her to the patisserie world, where the pastry artist has crafted her own cakes made with explosive colour and form that reflect her unbound energy, style and open perspective. Why be someone else when you can be yourself? Elle's unique personality comes through in her work: she only surrounds herself with the best (ingredients), her cake forms are sharp, witty yet don't take themselves too seriously, and they are not only a pleasure to have but also a feast for the eyes. They're original, you won't come across cake designs such as these anywhere else.
From starting as a pastry intern at Stockholm's renowned Frantzen, to now working solely on private commissions for artists such as Carsten Höller, the city's best galleries (Millesgården Museum, Loyal Gallery) and custom brand projects (such as Swarovski), Elle's work has taken full flight.
Currently based in Stockholm, we speak to the pastry artist about her Persian culture, creative burnout and the courage to try anything your heart desires.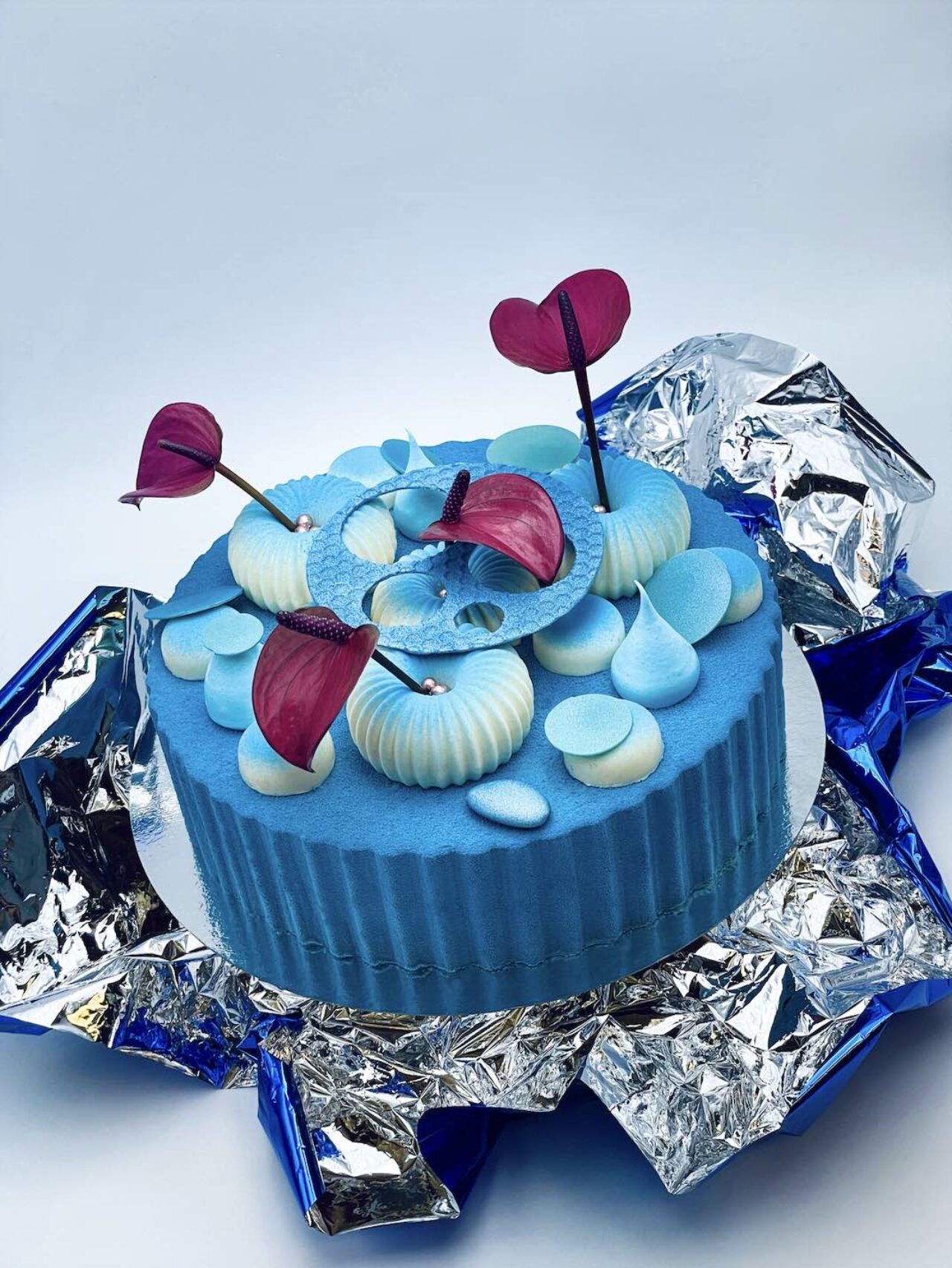 Your parents migrated from Iran to Sweden where you grew up. Can you tell us about your upbringing and how it has influenced you?
My family and I are political refugees. We fled Shiraz, Iran in the late 80s and ended up in Stockholm, Sweden.
Arriving in a foreign country at the age of 6 without speaking the language or understanding the contrasting culture and climate was very weird to say the least. But I guess as a kid you adapt quickly. I have lived longer abroad than I have lived in Sweden, so I think my influences are really mixed. Growing up in Sweden in the 90s was strange. Right wing politics was on the rise and I consistently felt out of place. Playing basketball and being fully engrossed in music, film and literature was my escapism as well as my sanctuary.
Tell us about your upbringing in Sweden, how has it shaped you as a person?
I lived in Sweden between the ages 6-18. And then I moved abroad. I think my Persian culture and heritage has shaped me more as a person. My parents were really adamant about preserving our Persian culture. Because I consistently felt out of place, I tried lots of curricular activities growing up – volleyball, football, film club, book club, cooking club, art club and even the Scouts for 2 years haha. But I stuck with basketball for 11 years. In retrospect, I was just a very curious kid, and still am. The one thing I will always cherish about growing up in Sweden was the ability to roam freely in nature. Place me on a remote island and I can make it work.
How has your Persian heritage come up creatively in your work? 
I think my Persian heritage comes up a lot in my work, but indirectly – it's the bold excessive flair, strong colours, shiny metallics, richness, that va-va-voom you know? But then it's usually combined with a dash of Swedish minimalist design.
I grew up with poetry (Persians are BIG on poetry), tons of flowers, plants and eccentric objects thanks to my mother who has an incredible eye. So I learned to appreciate beauty from very early on.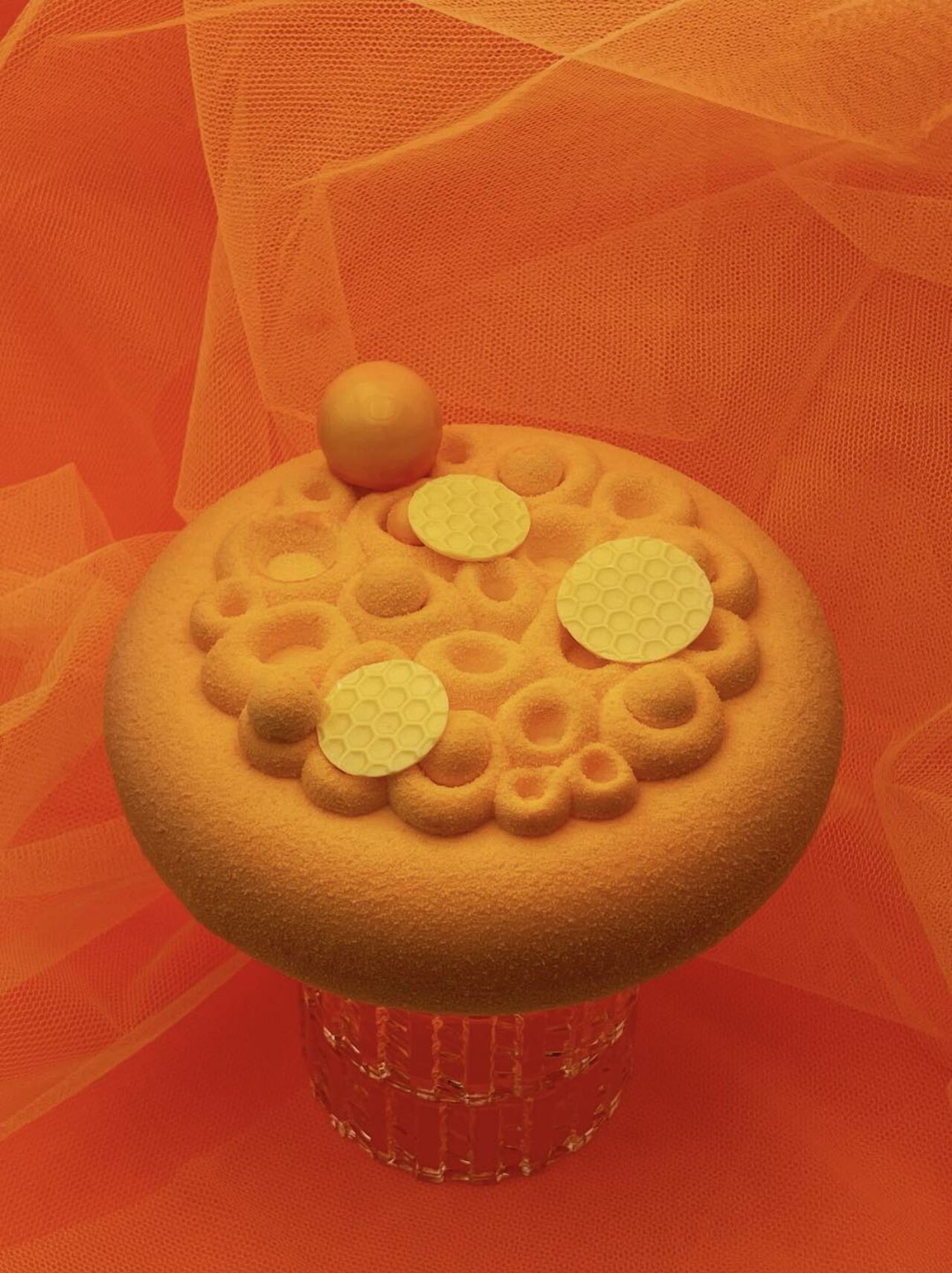 Your edible creations are so otherworldly, tell us more about your designs, art or other interests.
Life without colour would be so dull, I wouldn't know where to start.
I like unusual combinations and dislike restrictions, maybe that's why some would describe it as otherworldly…it's difficult to pinpoint, it just pops up in my mind. Meditation definitely contributes and I spend hours just visualising and looking at trees. We get alot of trees in Stockholm. I never sketch things out.
I'm currently working on creating a detailed sensory experience to really reflect my passions, travels and (cultural & visual) references…it's that 360 approach creeping up again…it's coming up this fall. Flowers and plants are another interest of mine, in my bedroom alone I have 32 plants haha. And I'm at the cinema at least once a week.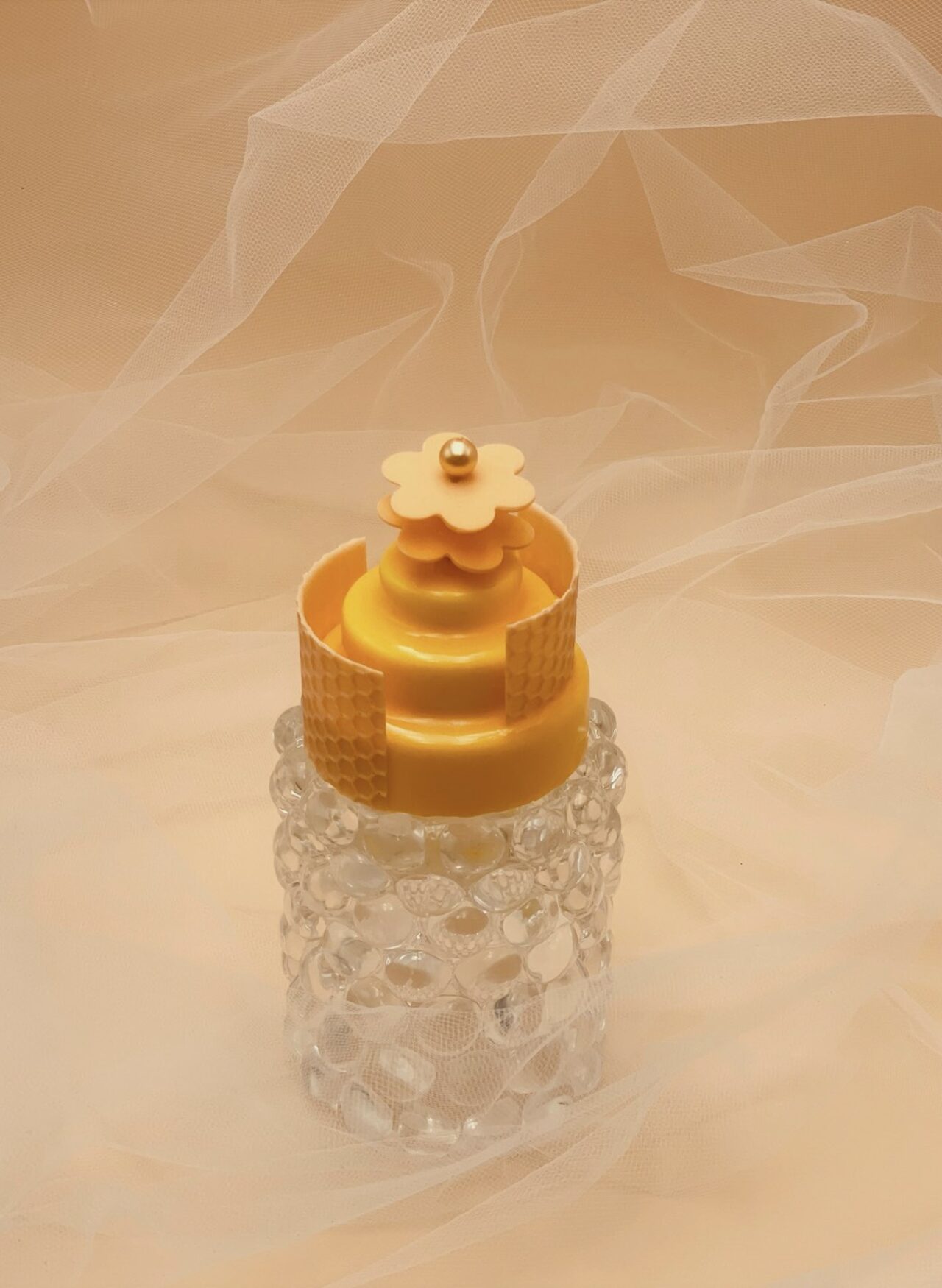 Moving to London for university at UAL, tell us about your move and what your studies were like there?
After graduating high school in Sweden, I moved to Spain for a year because I was obsessed with learning Spanish. Then I decided to move to London to study Fashion Photography at University of The Arts London. For once I didn't feel out of place. My class was full of international students and it was highly competitive. I get off on that so it was fun most of the time. It really taught me the importance of research, to think conceptually and to know my references. I forged great friendships that I still have to this day, and Soho was my stomping ground as my Uni was located just off Bond Street. The late photographer Matt Irwin was in my class. We would have a good laugh. Whilst he became a fashion photographer I chose to focus on art direction. I found I could merge my interests better that way. I ended up living in London and briefly in New York for the next 17 years.
You've worked in so many different creative fields, from accessories- and fashion design to creative direction and production, can you tell us more about your pathway to where you are now?
Yeah, my curiosity and creativity has definitely led me down many paths and creative endeavours. After a complete burn-out I ended up back in Sweden in 2018. I took 1 1/2 years off from everything. When I felt it was time to get back out there, I decided to do something entirely different. I wanted to learn a brand new skill and start working with my hands, away from the computer screen. It's the best decision I have made.
I was never a big baker or anything like that growing up. It was actually my mother who suggested I look up pastry design and pastry chef as a trade. I guess she saw something I couldn't at the time.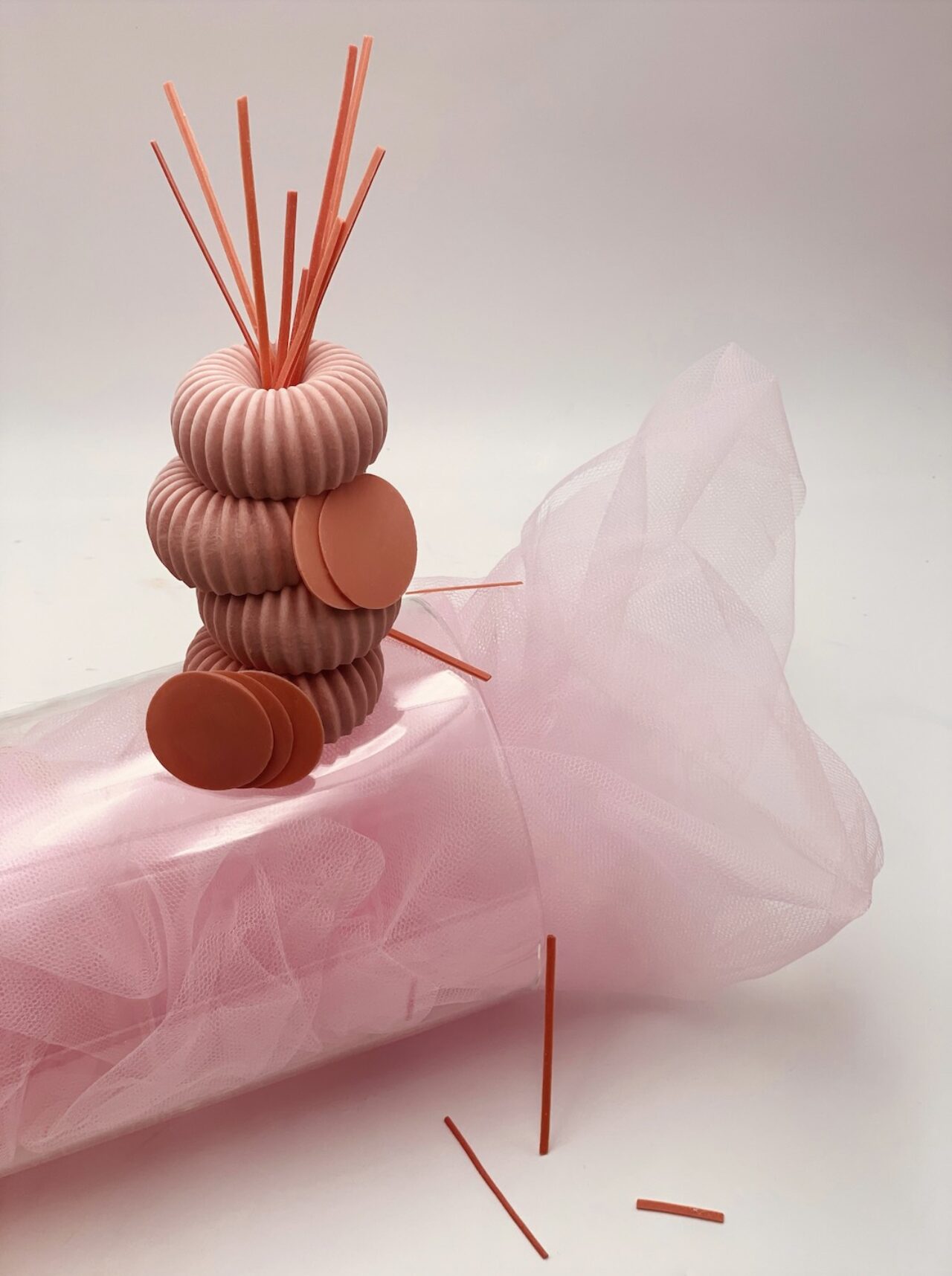 In Stockholm you studied at the best pastry school in the city and later apprenticed under Daniel Roos. What was this experience like and what did you learn there?
I did my year-long pastry chef training under renowned pastry chef Daniel Roos in Stockholm. He's made the Nobel Prize dinner desserts 6 years in a row and plenty more. Having had him as a mentor is an experience I highly value. It was fun, demanding and educational. I learned everything from desserts and the art of plating, bespoke cakes, wedding cakes, chocolate, some traditional Swedish pastries, bread and buns. Long hours and short breaks, but I was fully engrossed and loved it. I also did a short internship at 3 Michelin Star restaurant Franzen in Stockholm which was interesting to say the very least!
Now, you're creating cakes by commission, especially curated and created for each order. How do you come up with concepts for each cake? What are the different things you consider and in which order: aesthetic, taste, ingredients.
Yeah, it's fun! It's all intuition. My cakes consist of 5-7 different layers and each layer is carefully considered. I plan and prepare the flavour combinations in advance, but the aesthetic aspect of it is entirely based on my mood/intuition. My most prized possessions are my blast chiller and spray gun.
As far as the flavour combinations go, I pay great attention to detail and consider the texture, chewiness, momentary taste as well as the after taste. I prefer tangy to sweet, crisp AND smooth must be included, I like it to pop in the mouth so pop rocks can make an appearance. I like my cakes to be effervescent. I use quality ingredients as it really makes such a difference flavour wise and I like to use liquor, herb and tea infusions in my creations. Persian araks are amazing to use!
I also prefer unique flavour combinations than your regular raspberry, chocolate and vanilla flavours. I've recently started to incorporate adaptogens in my cakes to balance out all that sugar. Sometimes I use sugar alcohols, which is a great alternative for diabetics.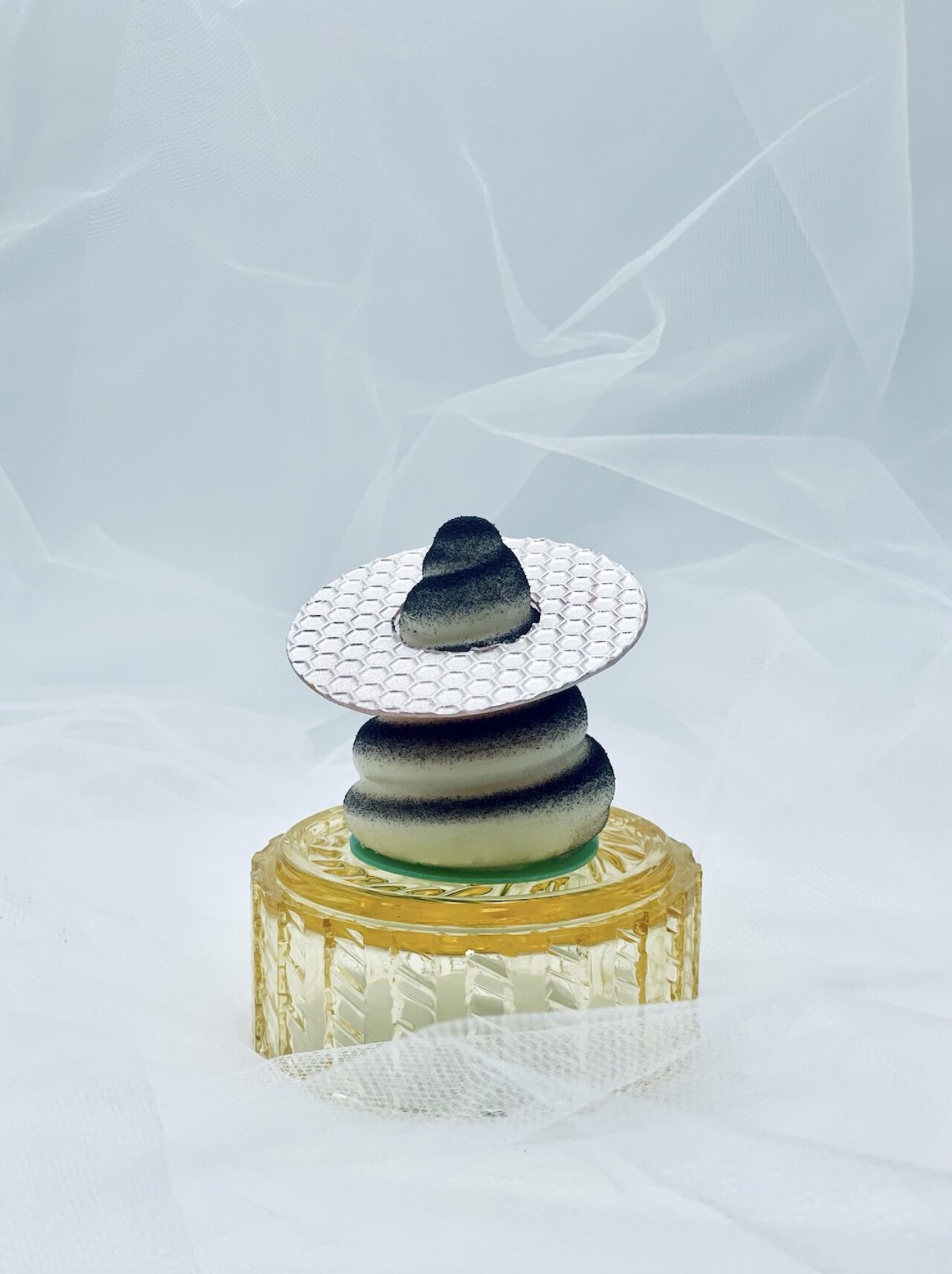 What did you learn in your work in the creative industry in London and New York that you have applied to your work now? What have been some pivotal moments for you?
Oh, so much. A great understanding of creative direction, having that 360 approach to creativity – that it all needs to be harmonious and detailed in sync. Presentation for me is an important aspect, I think about what manner/environment I'd like to present my pastry art to make it a heightened experience.
Creating pastry art is a lot like creating a collection…you choose and develop a direction/an idea and you expand on that through colour, form, texture, shape etc. The pastry art installation I did for Loyal gallery in Stockholm was a fun project – the artist Constance Tenvik's paintings were reflected in the pastry art and installation. That's the 360 approach I'm talking about.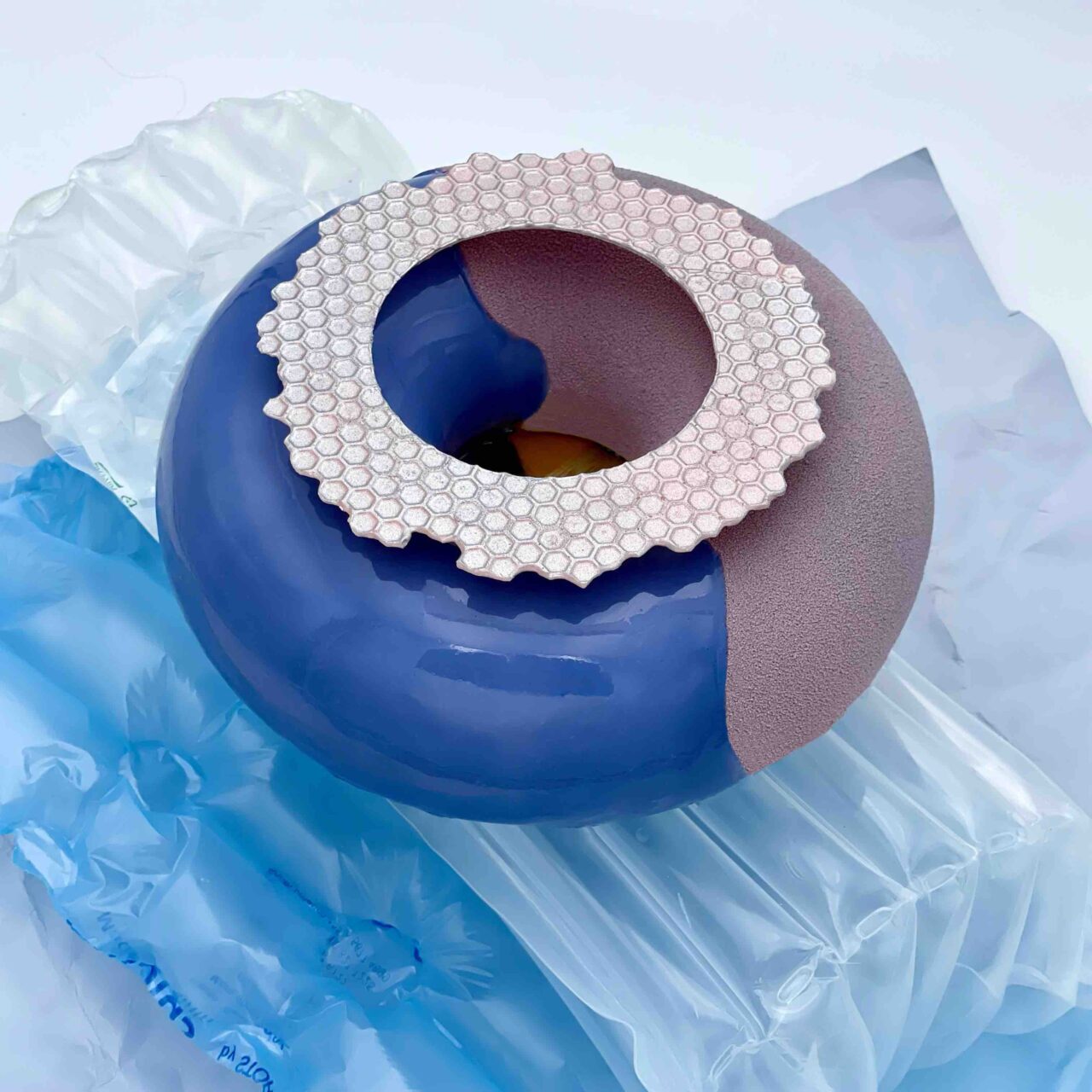 Do you have any advice for others looking to change their careers or pathways?

Don't overthink it. If it doesn't work out you can always go back to what you were doing previously. Be patient, Rome wasn't built in a day, but they were laying bricks every hour. You know you're on the right path when you're enjoying the long hours learning your new craft. Find yourself a highly professional, demanding, but fair and encouraging mentor.
Can you expand on the notion to have an encouraging mentor? Are there any other forms of self-learning that have guided you and your work?
I think it depends what kind of craft you want to learn of course. When it comes to learning pastry design, I personally think having a mentor is key. Not to say you're not going to learn plenty through trial and error, but a mentor will save you time, money and mistakes. They'll also share so many hacks with you that only come with years of experience. Otherwise, Instagram/Tik Tok/Youtube are great self-learning tools too, but I think it's a bit deceiving cos these creators make it look SO EASY (it's usually not). Coming from a design background, I already have so much with me so my references are already so different in comparison to other chefs/creators. I think anyone can become technically good if they practice enough. For me, creativity and fearlessness is key to creating captivating pastry art.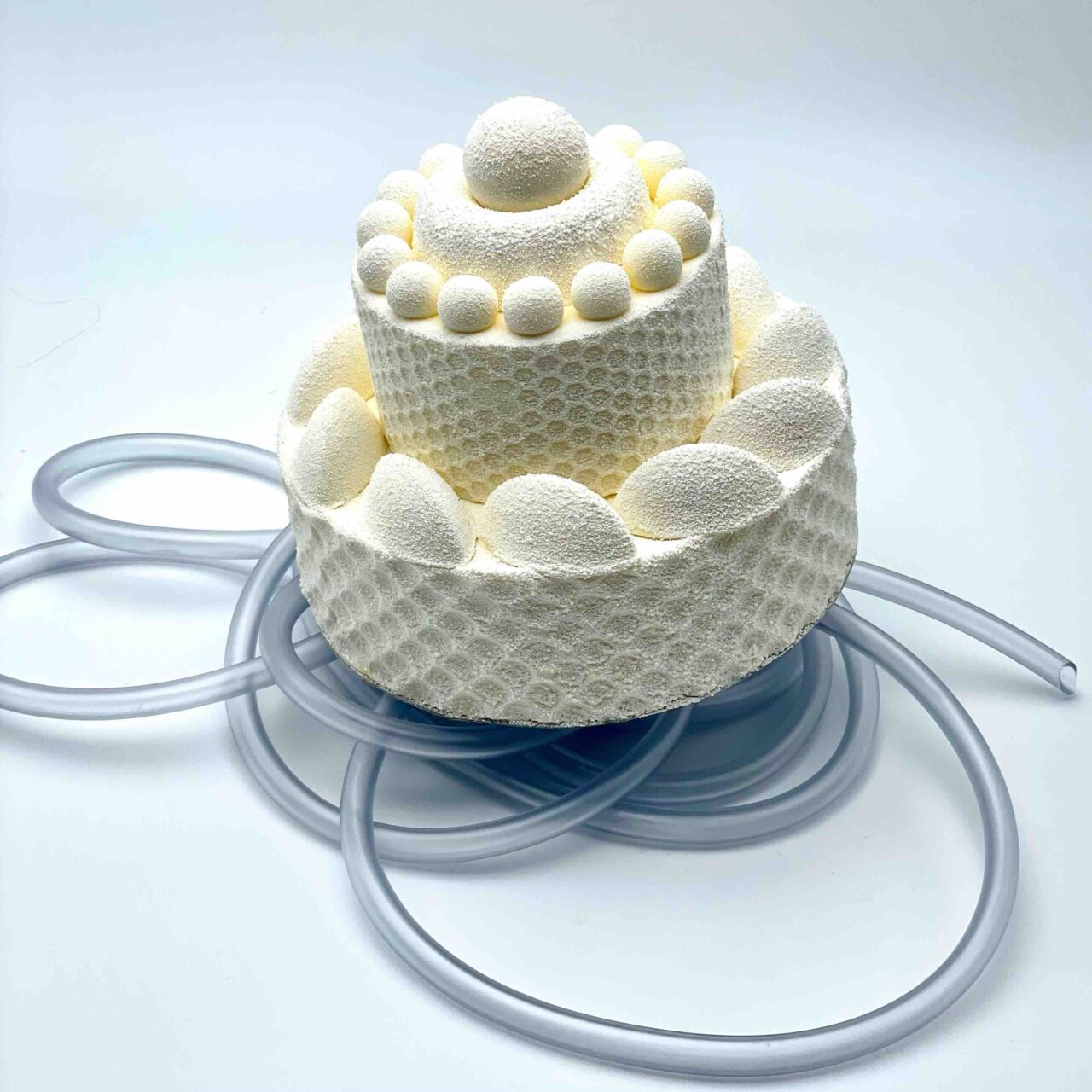 What specific art, design or food movements are you drawn to, what piques your curiosity most?
It changes all the time pending on what mood I'm in. I don't research or look into food trends, I tend to stay away from that altogether as I find myself copying unconsciously!
I turn to film, music, art, design and popular culture instead. Memphis is a recurring theme in my work – as is Bauhaus, Art Deco, Dadaism, Futurism and Pop Art at large. I also find inspiration in pound shops and odd discount stores, love them. I turn to cooking/plants/flower books to research interesting flavour combinations. Or I go to various specialty stores and have lengthy conversations with the staff about their stock etc. You learn so much through conversation.
Where do you see yourself in 3 years time?
A pastry artist and creator within the art and fashion industries. Ideally without a definite base.
Images: Photography and Set Design by Elle Azhdari 
Portrait: Photography by Mathieu Wothke
Elle wears blazer by vintage Escada courtesy of Sarah Niklasson Archive, trousers by Gianni Versace, bra by Agent Provocateur, sunglasses by Saint Laurent, necklaces by All Blues, rings models own.