NICHOLAS DALEY AW18 'RED CLAY' COLLECTION AND PRESENTATION
The British Menswear Designer Brought A Jazz Super Group Together For His AW18 Presentation
Presenting for the second time with the British Fashion Council's NEWGEN program, Nicholas Daley opted to show his AW18 collection outside of the 180 The Strand location. The presentation, held in the Swiss Church in central London, made full use of the the liberal church and its pivotal assets (natural light and orchestrated acoustics). Titled after the seminal 70s soul-jazz fusion album by Freddie Hubbard, Daley's AW18 collection 'RED CLAY' communicates the alternate history of tweed and its assimilation into jazz culture. It's an interesting angle to undertake, as we all know that throughout the years jazz and the personal style of the musicians have gone hand in hand. With the focus on tweed's role in this juxtaposition, Daley began his creative process by looking at two contrasting images: one of a Shetland farmer wearing a tweed baker boy hat, and another photograph captured 100 years later of Miles Davis wearing the same style of hat. Daley is constantly exploring his Scottish (and Jamaican) heritage in his collections, so this link provides great insight into his first explorations for the 'Red Clay' collection. Citing not only Miles Davis but John Coltrane as direct influences, Blue Note record covers also informed the colour ways in the collection. Infact quite literally, Daley worked the Blue Note cover colours directly into knitwear patterns by Scottish knitwear company William Lockie – reminding guests of his endless passion to work with British manufacturers on each collection. Stated best by Daley: "Red Clay brings together my appreciation of craftsmanship both musically and creatively, highlighting the intertwining relationship between music and fashion".
Music has played an organic yet pivotal role in Daley's work from the very beginning, most evidently coming to prominence in his Central Saint Martins graduate collection (titled 'Culture Clash' Daley had the legendary Don Letts walk the SS15 show). It's a point of difference that Daley holds consistently in his creative output, also releasing a mixtape with a different musician each season, previously commissioning Rhythm Section's Bradley Zero and NTS Radio and Ninja Tune's Nabihah Iqbal fka Throwing Shade to make mixes. Additionally, friends and musicians are casted each season for Daley's lookbooks and, most recently, presentations during London Fashion Week.
This season Daley took it one step further: compiling a jazz 'super group' for his fashion week presentation whom also wore the AW18 collection instead of models. Working with London's best contemporary jazz musicians – Yussef Dayes on drums, Mansur Brown on guitar, Alfa Mist on keys and Shabaka Hutchings on saxophone – the presentation was unconventional and extraordinary. The four musicians performed a rare live session together, with spontaniety a key to their unique score. In addition to all the musicians wearing full AW18 looks, Dayes and Hutchings both wore baker boy hats made in collaboration with renowned British milliner Christys' and shoes by acclaimed Northampton shoemakers George Cox. These key pieces presented in the live music format visually explained the collections theme and Daley's underlying ethos. Poet James Massiah also performed with the musicians, reciting spoken word to the beat and sounds of the 'Red Clay' performance. He looked particularly dapper in the bespoke herringbone tweed coat Daley had made with the Lovat mill in Scotland. Long-term collaborator Nabihah Iqbal wore a custom 'Red Clay' outfit in her size, as she joined Judah Afriyie on the DJ decks playing jazz vinyl records in between sets. Also co-hosting during the presentation, Iqbal and Afriyie's energy simply set the tone for the overall presentation. The mood however, was set by Kuumba incense (from Japan, whom Daley has worked with now also for a second season) as their powerful signature scents filled the room.
With Daley's interests driving his story-telling in each collection, they are rich with originality and emotion. Jazz, tweed and their connections to one another have never been explored to this extent, and through Daley's in-depth research and innovative presentation of his findings, we see a collection which is equally as intelligent and modern as it is perfectly crafted.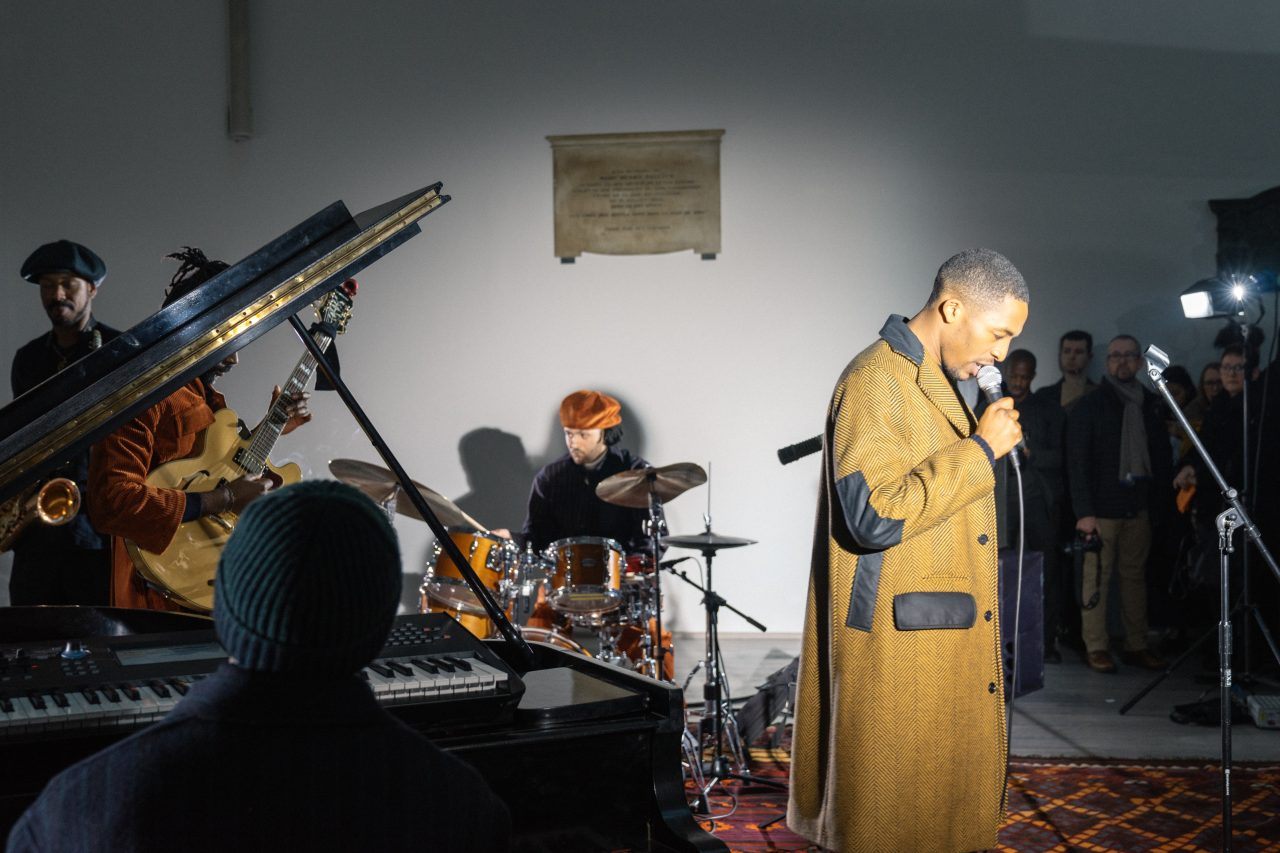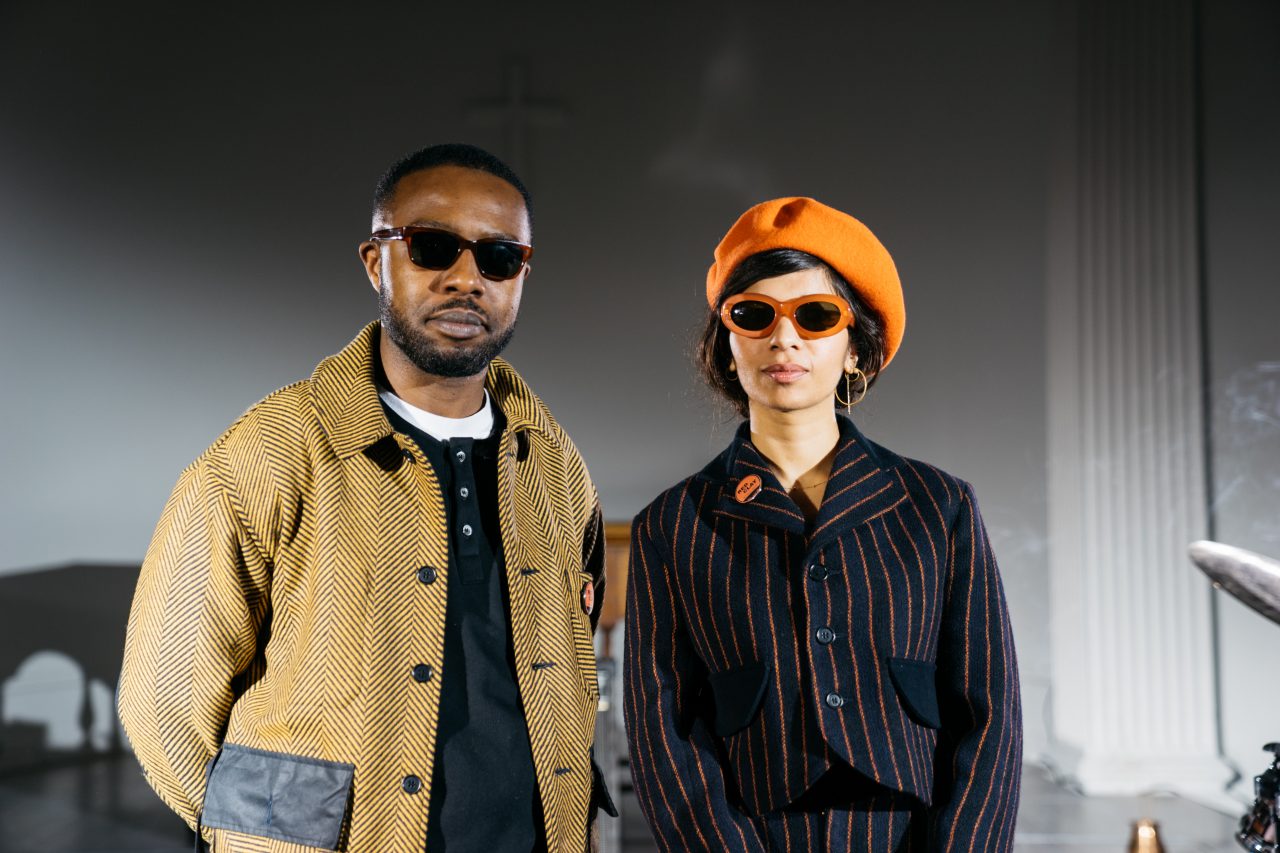 Writer: Monique Kawecki
Photography: Ollie Adegboye and Mishael Phillip