GROUNDTRUTH GLOBAL
With Their Focus on the Future, this Sustainability and Tech-led Brand is Setting a Blueprint for the Industry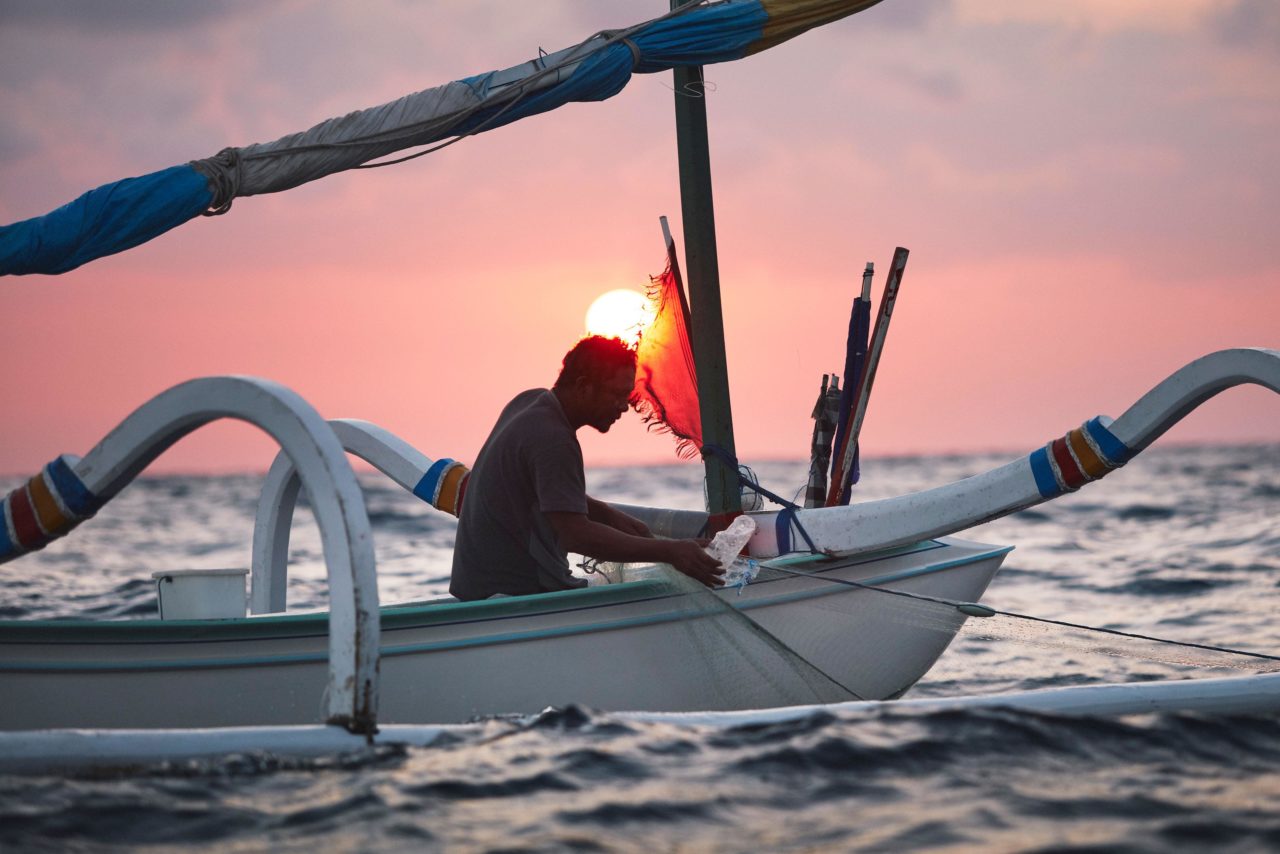 Through directly witnessing the growing impact of plastic pollution on our oceans and environment, three British sisters are merging sustainability, innovation and design in their start-up with groundbreaking solutions.
GROUNDTRUTH GLOBAL by name epitomises its mission. A technical bag and accessories brand with an accompanying design and materials innovation studio, GROUNDTRUTH's ethos highlights the immense potential of consumer products to do good for the planet. It's mission is to be completely climate positive, and it's almost there. 
With GROUNDTRUTH founded in 2017 by sisters Georgia, Nina and Sophia Scott, their background in environmental filmmaking and textile development has provided them with the expertise to build a brand as an agent of change. Ten years ago they began their documentary film company Groundtruth Productions, requiring them to live in and amongst conflict zones and people affected by conflict on the borders of Syria, Eastern Congo and Bosnia for their work. Recently delving into the habitat of the Sumatran rainforests for their latest project, their aim has always been to tell honest stories through their film work. This commitment transpires into their approach with GROUNDTRUTH, ensuring transparency drives their mission for a real approach to production and complete sustainability.
Their first collection of design-led bags and accessories was birthed from the need to create tools for their work – reliable and durable backpacks and carry-all's that could function in both extreme high-risk environments to boardrooms meetings in London, Hong Kong or New York. However they didn't want to contribute to causing the already ever-growing negative impact on the environment. So, they set about their four-year mission to research, develop and produce a fully-sustainable collection and sustainably-operating company.
Well, they did it. Driven by purpose, textile developer Nina Scott got involved and together the sisters spent over two years developing their hero fabric made from 100% recycled PET collected from the oceans. All together the three sisters designed their technical and fully-sustainable RIKR collection through multiple trials – on and off the field – to reach their final designs. Not content with only operating with a bluesign® manufacturing, the sister's also embarked on a partnership with Wildlife Works, offsetting their entire production and travel carbon emissions. GROUNDTRUTH customers can also opt to offset their carbon at checkout, something few brands offer. 
Their journey to creating an ethical supply chain and a transparent brand with a circular design mission has set a blueprint for other companies, and they're only just getting started.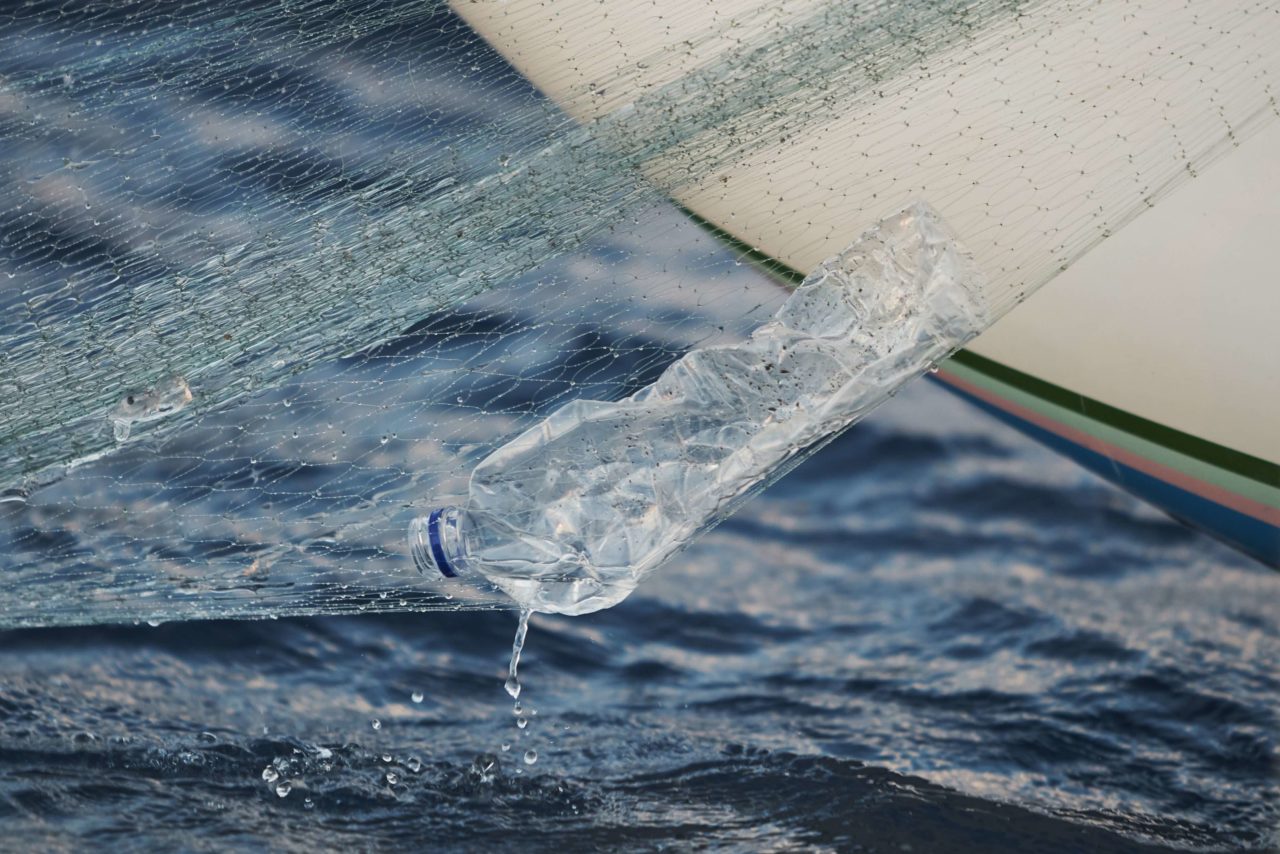 Years of research is personified in their debut RIKR collection. All details had to be from recycled post-consumer waste (plastic, nylon and aluminium), no exceptions, with their intricate designs reflecting the principles of good design. Dieter Rams would be proud, every part of their design has a purpose.
Minimal in appearance, their RIKR collection is, dare we say, perfectly designed. Developing their own 100% recycled PET textile, titled GT-RK-001, this innovative jacquard with a subtle geometric pattern was years in the making and understandably now found throughout the collection.
Their modular products are all a mix of recycled-PET ripstop, nylon and Hypalon with a ballistic 1200D and triple-layer airmesh, with all binding, thread and elastic also made from recycled materials. Even their YKK Natulon zips are recycled! Their production operates under a no-waste policy, with all offcuts from their manufacturing creating their smaller product designs such as card holders and travel wallets, and not only can they be recycled back into their original materials, but the Scott sisters are building a structure for pre-loved GROUNDTRUTH products where customers can return old products  to be donated to local communities and disadvantaged school children to use. They're designed for a lifetime of wear, with the Scott sisters' championing circularity and their commitment for the protection of the planet.
Cue in polar explorer Robert Swan OBE, the first person in history to walk both the South and North poles. 
Sharing a collective goal for protecting the planet, the Scott sisters worked with British environmentalist Robert Swan as an ambassador for the GROUNDTRUTH RIKR range. Through a true collaborative partnership, the sisters designed sleeping bag covers for Robert and his team on their next exploration of the Antarctic, testing the GT-RK-001 fabric to the extremes of the harsh landscape. It was a first in history, for tools such as this to be made completely out of recycled materials, and in Rob's words "if it can work in Antarctica, it can work anywhere on Earth". 
Their collaborative efforts continue, as GROUNDTRUTH highlight Robert's 2041 Foundation, working towards raising awareness of the climate agreement lifting in Antarctica in  21 years time. When this agreement lifts, it will leave the South pole vulnerable to oil drilling and pillaging of multiple  resources. An unforgiving landscape with a fragile ecosystem at risk, the 2041 Foundation's work is urgent, raising red flags to the looming potential catastrophe. For now, Robert's continuous research ventures to both the Arctic and Antarctica from his earliest treks in 1985 provide constant updates in real time – melting glaciers continued to dissolve as we feel the repercussions across the world. Only through continued efforts highlighting this urgent problem can we see a change in policies that can help slow down climate change.
GROUNDTRUTH's focus is on the future. Through developing innovative materials, exploring new sustainable concepts and implementing their progressive ideas, the Scott sisters ensures their work encourages other start-ups to do the same, in design fields and beyond. Designers and manufacturers all have a responsibility when using the world's resources, especially as the climate crisis progresses. Opting to work only with responsible collaborators, GROUNDTRUTH's partnership with bluesign approved manufacturers ensure the highest standards for workers and the environment. From a recycling plant in Jakarta to their factory in Indonesia, GROUNDTRUTH's work highlights that transparency is key. 
Their ethics are one of their most valuable assets, and their innovative solutions-based work is already making big changes. On a global scale.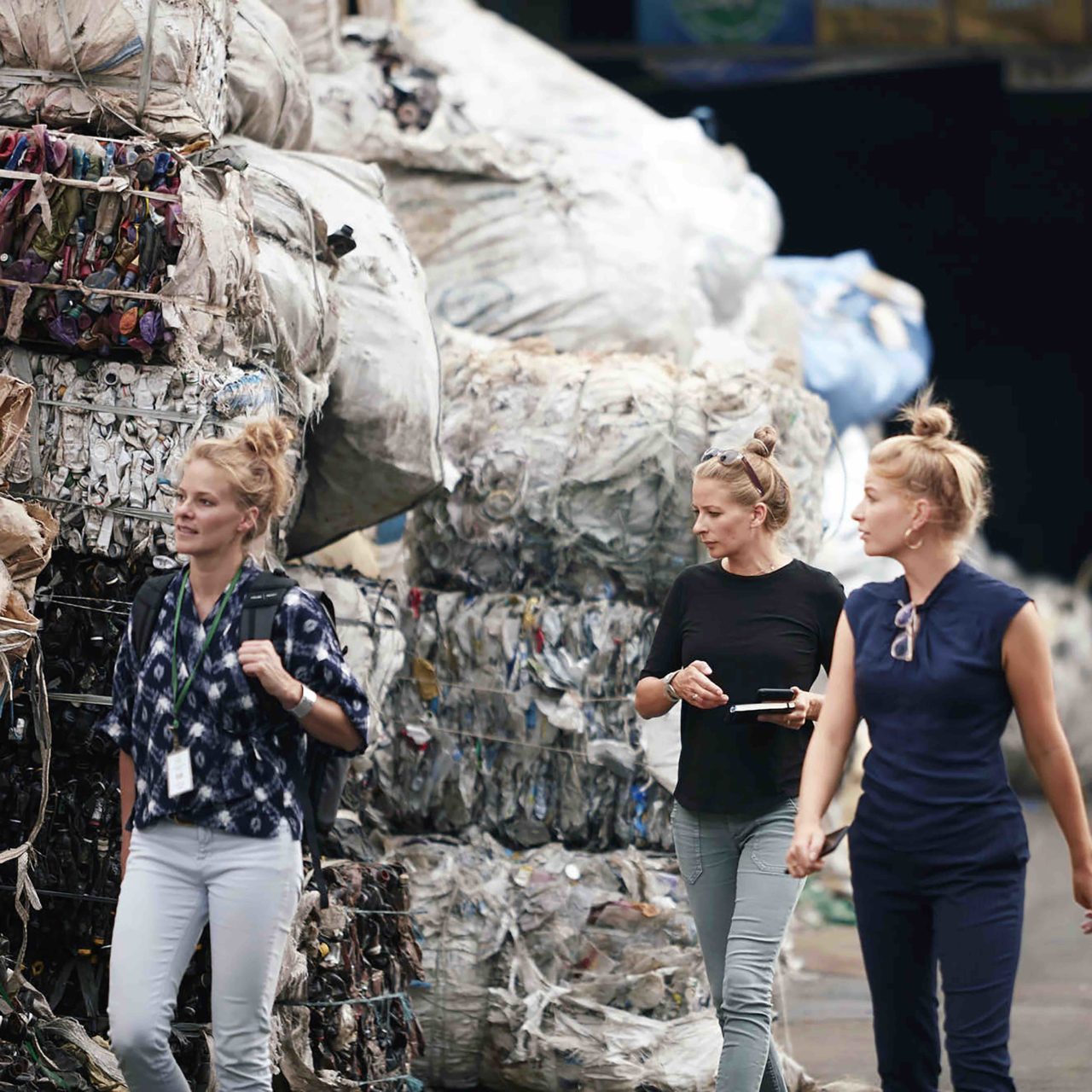 Hi Sophia, Georgia and Nina, it's a pleasure to speak with you.
Firstly, can you tell us more about your initial concept for GROUNDTRUTH and how it began?
S | GROUNDTRUTH was born out in the field where Georgia and I as filmmakers, always on the move, never had the right backpack that we could use to carry our kit in. We needed a bag that could transit with us, from filming in dense jungles in central Africa to meetings in fancy NY offices. Not wanting to add more rubbish and pollution to the planet, in 2017, we began to look into the best recycled materials for bag manufacturing. Having spent the past decade filming on sprawling rubbish dumps full of plastic across Africa and Asia and filming fishermen along the Indonesian coastline pulling up plastic bottles with their fishing nets and seeing strangled turtles struggling for breath, we felt compelled to clean some of this mess up.
G | I'm not sure I believe in destiny, but I have always had a feeling that we were on a certain path with a defined direction. Throughout the years of making films with Groundtruth Productions, we developed a strong desire to create change. We have witnessed very difficult situations, spending time over years with people living in refugee camps whose lives had been ripped apart by force. I remember reading an article a couple of years back where it stated that in our near future the amount of people fleeing climate change will surpass the amount of people fleeing war. This sent a chill down my spine. Our planet is changing and it is changing in an unnatural way. With GROUNDTRUTH, we have a purpose, a goal and a plan to achieve a better world.
Three sisters working together, can you tell us about each of your roles at the company?
S | Apart from my main focus on PR and marketing, a lot of my work is focused on building our network for the GROUNDTRUTH community and bringing the right investors on board together with Georgia. I usually talk on panels about our journey and as a filmmaker spent the last 15 years running around with a camera in some pretty crazy places, so testing our bag designs from the start has been integral. I am at my most comfortable with my camera gear on the ground investigating a story. I used our first prototype of the RIKR 24L backpack whilst filming in Antarctica with Georgia where we were filming for a part of a National Geographic documentary. So bringing real practical experience to our design concepts and then working on functions and testing them is something I love. We work very well together and I think the three of us compliment each other and drive each other forward to be the best that we can be. For me GROUNDTRUTH is not just about selling bags, I hope to help bring about radical change in how people think about our planet and how and what we consume, so long term goal is to make GROUNDTRUTH stand out, communicating our values across the globe.
N | Back in 2017 when Georgia and Sophia approached me to come and join them on this journey making unique, sustainable and technical travel gear – it was a complete no brainer for me to jump onboard and help achieve this incredible dream. My experience lies in artisan textiles and product development and management. I have always had a research-driven approach, focusing on sustainable products, innovative fabrics and design. Collaboration is where my passion lies, working together to find solutions for sustainable manufacturing. I work closely with our development team at both the fabric and product manufacturers. My research into emerging technologies and sustainability within the textile industry as well as my design philosophy is important to me and to GROUNDTRUTH. I also manage our instagram, it's important to have a strong visual identity so that our message and ethos can come across.
G | Over the years I have gathered a hybrid skill set. Learning as I go, discovering new tools and absorbing the lessons that I learn. I see the big picture ahead and then focus on how this picture can be built. With a strong determination to overcome any challenge and to get the job done, no matter how difficult the situation is, I remain focused. I love to find the balance between working on the creative part of GROUNDTRUTH in design, marketing materials and branding but also the finer details of our operations and management.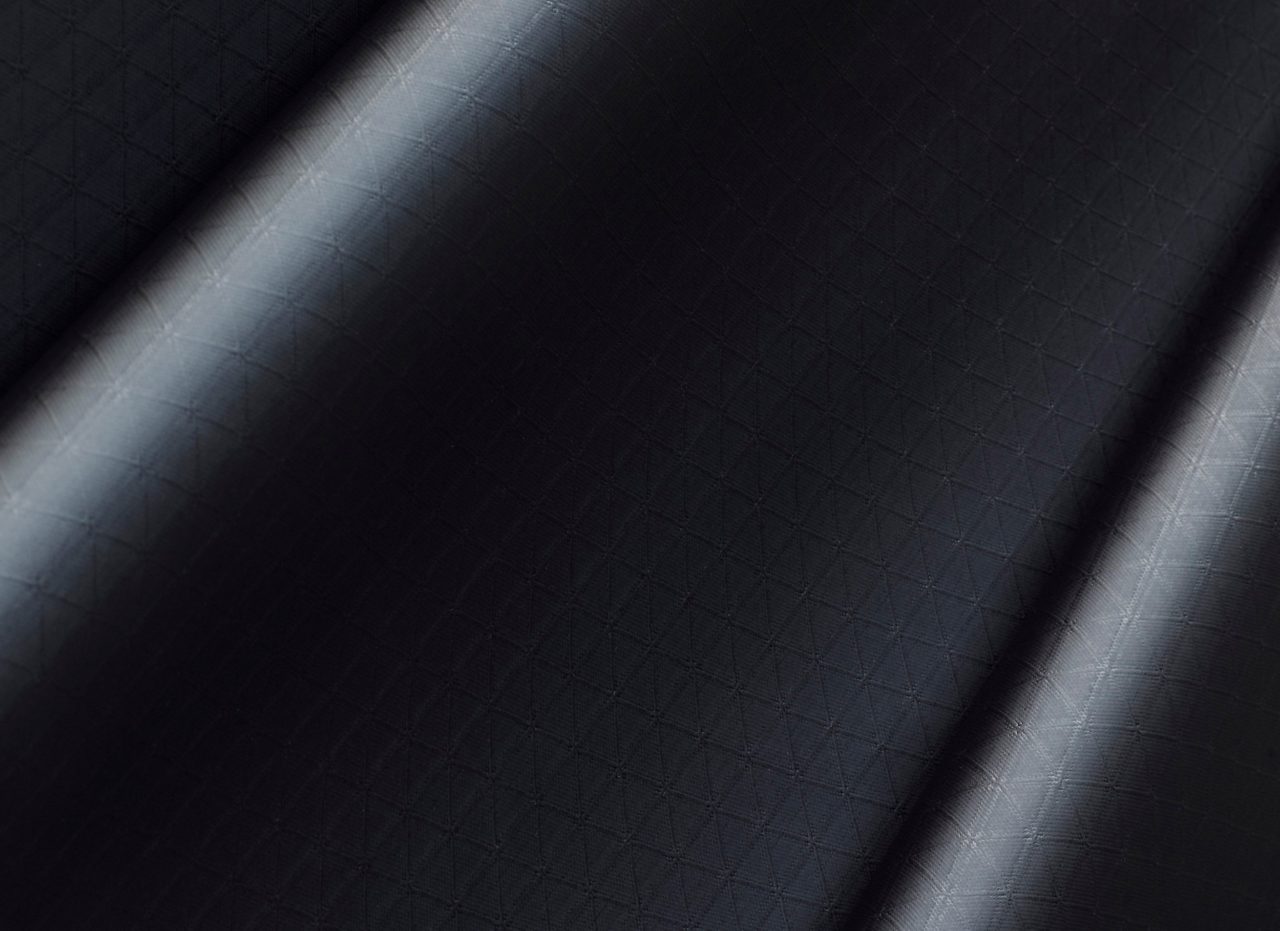 Creating your own bespoke jacquard from recycled materials, now patented, can you tell us your journey through sourcing this innovative material?
N | When we were researching which type of material would be best for such extreme conditions as Antarctica, we came across Dimension Polyant X-PAC VX21 sail cloth – This fabric is unique as it is constructed of  3 layers, nylon 420D fabric, diamond grid of X-Ply polyester yarn for tensile strength, polyester backing fabric 211g/m2 over 1000mm hydrostatic head.
We contacted Dimension Polyant to see if it was possible to replace the virgin with recycled yarn and it was, but unfortunately they only manufactured the fabric in the US which meant our carbon footprint would be affected and the MOQ was quite large for us. With these dilemmas we started to think about making our own fabric. It inspired us, it made us think outside the box and not settle for something that was common and seen everywhere. This is what sparked us to explore developing our own fabric design.
We were already working with a Dutch fabric supplier so we asked if they could experiment with this 3-layered system for us. After visiting them a few times in China and having had two fabric prototypes, they told us it was not possible as they did not have the correct machine for the outcome we wanted. At this point we also did not like the fact that 1 fabric would be made over a few different factories.
This was when we found the perfect partner, a fabric supplier that Patagonia also uses. So we started from scratch again but this time with the acknowledgment that we would need to change the construction of the fabric as most fabric suppliers did not have this laminating machine. We liked the idea of having a triangle pattern to the fabric, so instead of the normal square shaped ripstop we asked if they could do a triangle shape, with a ballistic weave for extra durability. (Ballistic is when you twist the yarn at the same time as weaving it: this makes it very hard to tear and cut the finished fabric). The coating was an issue due to thickness and we also wanted a bio coating but this was not ready in time for launching the RIKR range. We are currently working with a Swiss company on developing a waterproof bio coating. But once we got the thickness of the TPU coating correct we could start the prototyping process.
The total process took around 2 years before we felt happy with the final outcome. Now we have a full range of super durable, technical and sustainable travel gear. Each material has been chosen for its quality and performance, ensuring that our products are as refined and resilient as much as they are sustainable. We are constantly exploring new technologies and materials to incorporate into our range, so we remain at the forefront of innovation.
Can you tell us more about your supply chain and what makes it so responsible and individual in its own way?
G | I really believe that the most important step when creating a business is to establish a strong unbreakable foundation right from the outset. We need to ensure that this house we are building can stand for many years to come. Within this industry, the supply chain is an essential part of the foundations. It's where we decided whether we wanted to be truly green and ethical or if we wanted to be a profit focused company. I am sure we have many lessons still to learn, and that is a beautiful aspect of being founders of a startup, but I feel confident that we have done the groundwork and set out a formula to maintain these high standards of transparency and truthfulness for GROUNDTRUTH. 
N | Before venturing into the start of GROUNDTRUTH we knew we needed to witness with our own eyes and document the entire supply chain. We started by looking for the product manufacturer, and visited 6 factories in total in 3 countries before finding the right partner for us. We finally found a bluesign® family run manufacturer with the same ethos as us on the outskirts of Jakarta. Our material partner we chose is also part of the bluesign® system manufacturing fabric made from recycled plastic in Taiwan. Bluesign® is a Swiss system that looks into the environmental conditions of manufacturing and ensures best practice. The less factories you have the more you can keep track of every element, from workers rights to the environmental impact that it has. 
Our factory owner, Pac Salim is a great GROUNDTRUTH supporter and we push each other to be more sustainable. We share with each other new innovative fabrics and different sustainable solutions, from cassava bag packaging to solar panels on the factory roofs – we even went to a trade show with him to view the best and new solar panels for his factory. We could not achieve everything that we wanted to without the incredible people we have partnered up with, collaboration is how we can make the world a better place.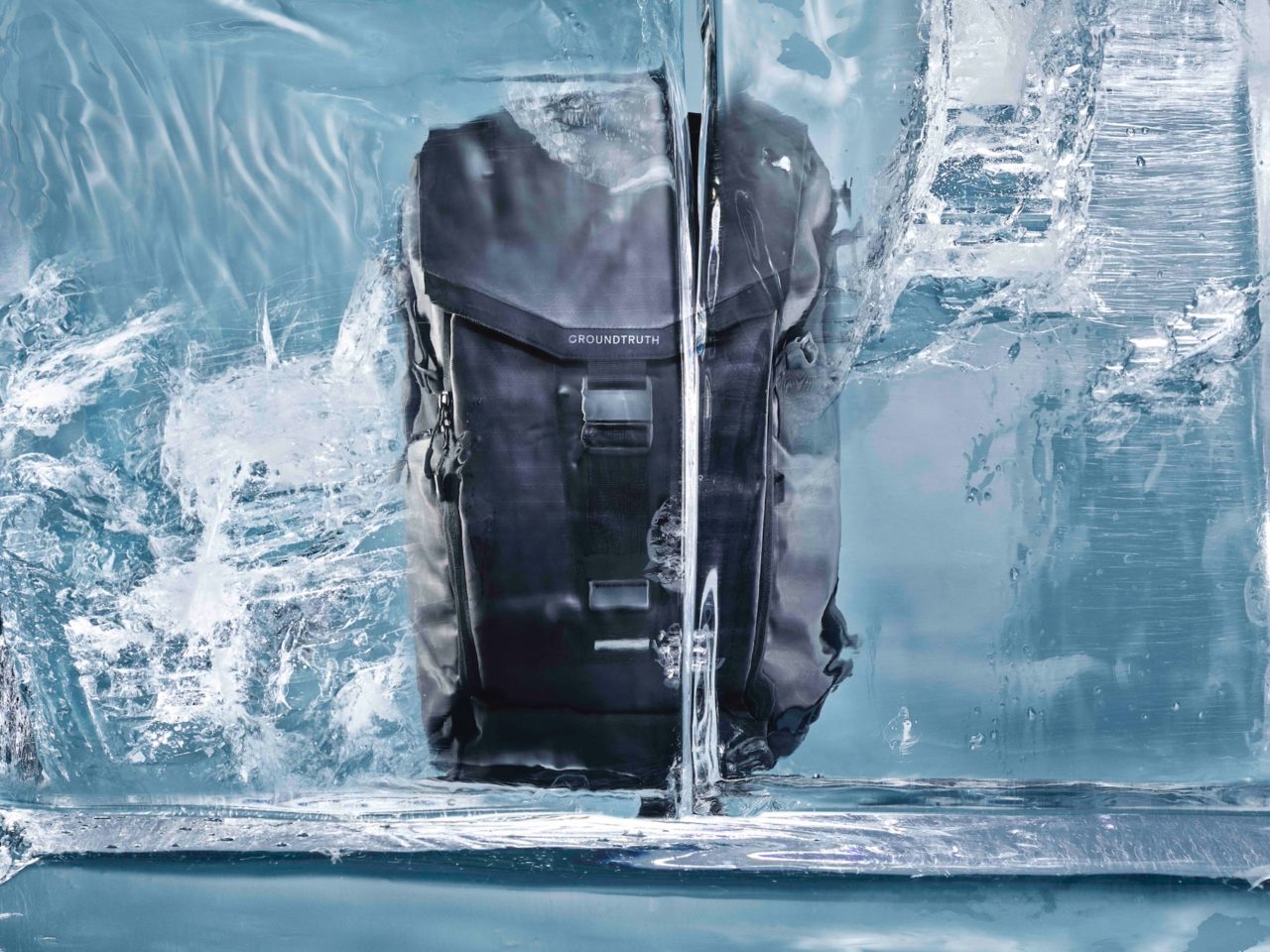 You've partnered with explorer Robert Swan, who has tried and tested GROUNDTRUTH's durability in both Norway and Antarctica. Can you tell us more about his work with you and the RIKR ambassador?
S | Georgia and I met Rob at a fancy lunch at the top of the Gherkin building in central London back in 2017 when we were at the start of our bag journey – we had been invited to attend this closed door motivational talk about the environment by our first investor who had funded some of Rob's South Pole expeditions in the past. Rob was an inspirational all-consuming character and I remember him talking to me about his 100 year old mother and never giving up a battle – "bring it on" he said. He interrogated Georgia and I about the materials we were going to use to make the bags, we were at the time looking to use recycled plastic but had not decided to make the whole bag from it. He told us if you are going to do something you need to do it 100% – a year later we are on board his expedition ship setting sail to Antarctica with his 2041 Foundation working to raise awareness about the preservation of the North and South pole – we are filming Rob testing our first prototype with recycled material. Another 1.5 years later and here we are, with a range of bags made entirely from recycled PET.
Made for both men and women, tell us something about the RIKR range we might not yet know.
N | We made 12 prototypes of the 24L RIKR backpack before finalizing the design, we found out the normal amount is about 3! But our factory recognised that by using new recycled fabrics we have to field test them in different environments, to ensure they work and are durable. I think we learned a lot from this first run of designing, and now know for the next range we need to keep in mind how many prototypes we make.
S | The word RIKR means strong/mighty in ancient Nordic, we wanted to find a word that captures the spirit of this tough and durable range that has been field tested in Iceland, Norway, the Arctic and Antarctic by Rob Swan on his expeditions.
Coming from a filmmaking background, how has it been for you navigating the fashion industry and its structure?
G | The experience and knowledge we gained as filmmakers has been a real asset throughout the last 3 years of building GROUNDTRUTH. We use the skills we developed out in the field as documentary filmmakers in every aspect of our work. As a team we are used to working in new environments and in unknown situations. For us we have never seen culture or even language to be a barrier and I think this has been a great skill to have when researching, developing and building our current supply chain.
I really believe in the power of the moving image to inspire people to act and believe that transparency and investigation is key for the fashion industry. Recognising that this industry is the second most polluting in the world, we set ourselves radically high standards from the start. We learn as we go and research every step.
S | When we first launched in Sep 2019, we participated in the London Fashion Week – 5 years earlier I would never have imagined myself at the stylish London Fashion Week at 180 the Strand. Having been running around the African bush my whole 20's I was used to old jeans and dirty boots – but a week after launching GROUNDTRUTH Global in September 2019 Georgia, Nina and I found ourselves in a crowded booth full of fashionistas.
I think we have entered the fashion industry at a really interesting time, even before COVID-19 there has been so much emphasis on sustainable supply chains, designing products out of waste and knowing the people behind your garments. I really believe in working towards positive change and that's how we approach the fashion industry –  I don't believe anything is set in stone – fast fashion with cheap products that don't last is not something we feel is sustainable or has a place in 2020 moving forward. I respect the fashion industry for taking key steps towards being greener and I think COVID-19 has accelerated that.
How much has changed in the past 5 years in terms of citizens' attitudes towards the environment?
N | We feel the tide has certainly changed and people of all ages and from all around the world are more aware than ever that the climate crisis needs full attention and action is needed now. Thanks to incredible individuals like Greta Thunberg and Al Gore, people are being educated on the truth of the situation that the politics and governments just shy away from. There can be no change without education and collaboration. We all need to travel, buy and live in a more responsible way.
G | When things happen like the current COVID-19 pandemic, a strong positive that may come about as a direct result is the increase in awareness of our natural habitat and the understanding of the importance of preserving it. We need powerful lights from all angles – industries, countries, individuals and leaders – to shine on climate change, making it impossible to ignore or deny. 
Working towards being a completely carbon neutral company, what steps are you taking to get there?
G | We have already removed over 480,000 plastic bottles from landfill, waterways and our oceans. However we know that is not enough. Being environmentally friendly is about not adding to the huge amounts of pollution that is currently being generated everyday. In 2019 over 32.5 billion metric tons of CO2 was emitted by countries around the world. The COVID-19 pandemic has slowed this down, but this is only temporary. It's everyone's responsibility to reduce their footprint, from large companies to individuals.
We offset our entire carbon footprint, by measuring the emissions of everything from our materials to production to travel. We also reduce our impact by working only with recycled materials and working with our manufacturers who use solar power and use less water, amongst other efforts. The question is how can we have a zero carbon footprint – something we are working on everyday. This planet has provided us a beautiful home with the most extraordinary biodiversity and natural source – it is time we all show it some respect.
N | We have teamed up with Wildlife Works to fully offset our travel and electricity usage through the Mai Ndombe REDD+ project based in the Democratic Republic of the Congo (DRC). This project protects over 740,000 acres of the world's second-largest intact rainforest and is home to an array of biodiversity, including endangered forest elephants. The rainforest also helps to regulate the planet's temperatures and helps to clean our air.
In our efforts to become completely carbon neutral, we offset all of our travel and energy we use for the production of our bags. To minimise the impact of this we are offsetting 113 tonnes of CO2 by buying carbon credits from the Mai Ndombe project. Your purchase of any GROUNDTRUTH product directly supports this vital project.
S | To know how much CO2 we emitted from the start of this company we added up all our miles traveled over the last 3 years to develop, test and make the bags, its roughly 300,000 miles! We then asked our factory director if we could see the energy bill for the month that our bags were made – he thought we were crazy but nonetheless sat down with us and meticulously went through energy bill – we gave the numbers to Wildlife Works who apply a formula to calculate exactly how much CO2 we need to clean up. I think it's important to measure things and then understand the consequences and be accountable. To date we have offset nearly 200 tons of CO2 emitted by GROUNDTRUTH and we revisit and recalculate every year.
During your travels for your filmmaking, were there any key eye-opening or life-changing moments for you? 
G | There have been so many moments over the years that are now ingrained in my memory and being. From looking into the eyes of a man who has no hope left in his soul, to a teenage girl as she tells us of her abuse at the hands of her war broken father, to walking over a river of flowing trash on its way to infiltrate our oceans. People and the environment are linked on every level – and I see it as one. I hope that through GROUNDTRUTH we can work long term on helping people and our planet. We are definitely not just about making bags, it is bigger than that. 
S | In 2008 I was filming in rural Africa at a clinic for undernourished children. Some of the babies were so malnourished due to poverty and drought that they did not survive. I felt totally helpless and frustrated that just pointing my camera and capturing this suffering was not helping or creating meaningful tangible change. Looking at predictions of future drought and floods increasing globally due to climate change I really felt driven to look at the root causes and try to be part of sustainable solutions.
When Georgia and I were filming our first prototype in Antarctica in 2018 with Robert Swan I think what really hit me was stepping onto the Antarctic continent for the first time – our boots stepped onto slush and not the pristine snow and ice that would have been usual for that time for year, Rob's eyes filled up with tears and he said "this is not right, the Earth is screaming out for us to listen" – the effects of climate change are everywhere. These two experiences stand out to me as – one was a very human, real life and death situation of innocent children, the other witnessing our planet melting on a massive scale. Filming has taught me to look both at the macro and micro level, of both people and planet and how we are all linked.
Where do you see the brand in 5 years time? 
S | We are determined to show that it's possible, with persistence and collaboration, to run, and I hope grow, a profitable business but without harming the planet, by encouraging people to purchase more carefully, to consider all the processes that are part of manufacturing and shipping and really to think more holistically about the companies we engage with, in any sector.
We see GROUNDTRUTH being a leading brand in pioneering sustainable and innovative materials and designing beautiful contemporary products, offering customers conscious bag ranges highling important environmental stories. We hope to be a catalyst for change, offering people a community of like-minded people, cross pollinating different sectors – we want to bring people from all walks of life together, to brainstorm, be inspired, to collaborate and learn.
G | I see GROUNDTRUTH in 5 years to be known as a trusted global hub of innovation, creation, research and design.  I hope we can become a leading example of how companies can run business in a greener and fairer way, and I hope the path we are currently carving is a path to fulfilling our purpose of creating positive change.
∆