FUTURE PAST
Kanazawa Designer Ryosuke Harashima Merges The Past With The Present
Held in the Tadao Ando-designed building Ishikawa NISHIDA KITARO Museum of Philosophy, Kanazawa-based Japanese contemporary designer Ryosuke Harashima presents his first solo design exhibition titled FUTURE PAST. By merging found Japanese antiquities with contemporary design finishes, his new works reflect functionality and a timeless, classic aesthetic in his cabinets, benches and even a new lantern in collaboration with one of Kyoto's oldest lantern craftsmen. Harashima's design inspiration comes from crossing East and West cultures, leading to an amalgamation of craftsmanship and traditional culture in his designs. We speak with him on balancing antiquity with modernity, the preservation of history through design, and his most recent projects currently on view at FUTURE PAST.
Please share a bit more about the exhibition title name:
I feel a mysterious "modern" charm and fascination with Japanese antique tools made almost 100 years ago. For me, things which make me feel as contemporary or modern are things which come from the past or imagine the future. The title "FUTURE PAST" expresses my thoughts on things which come from the past and pass to the future — beyond the now.
デザイナーの原嶋亮輔です。金沢という多くのものづくりや伝統文化に触れ合える土地を拠点に活動しています。また日本の文化だけではなく、西洋の文化も自身のインスピレーションとしてミックスカルチャーなものづくりを心がけています。
展覧会タイトルについて:
100年以上前の古民具にこそ不思議と"モダンな"魅力を感じます。自分にとってモダンであるとか、コンテンポラリーであるという感覚は、自分がいる現代に作られたものに触れる時よりも、古民具のような過去のものや、未来を想像させるものに出会ったときに感じることができます。"FUTURE PAST"というタイトルには、自分が生きる時代だけでは生み出すことのできない過去に触れ、ずっと先の未来に受け継がれるものづくりを追求したいという思いを込めています。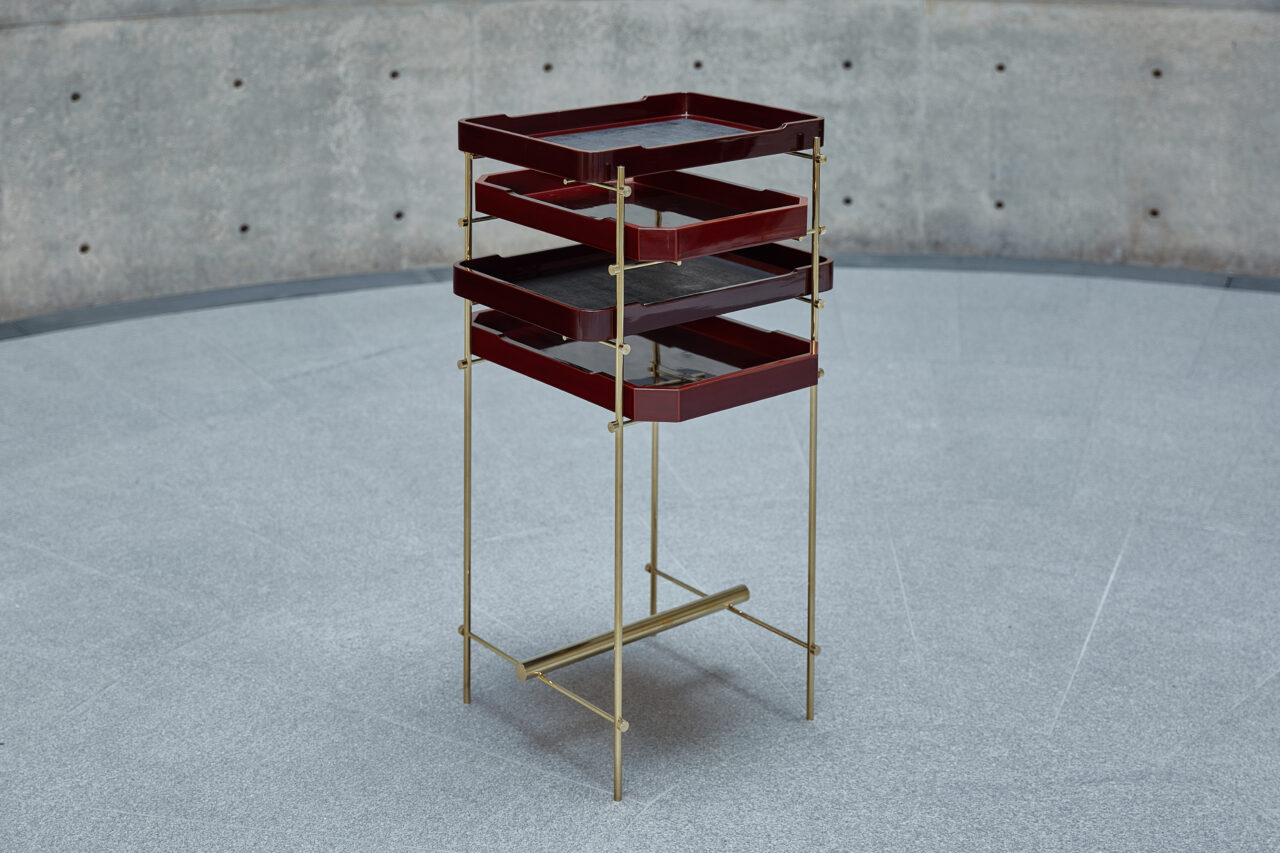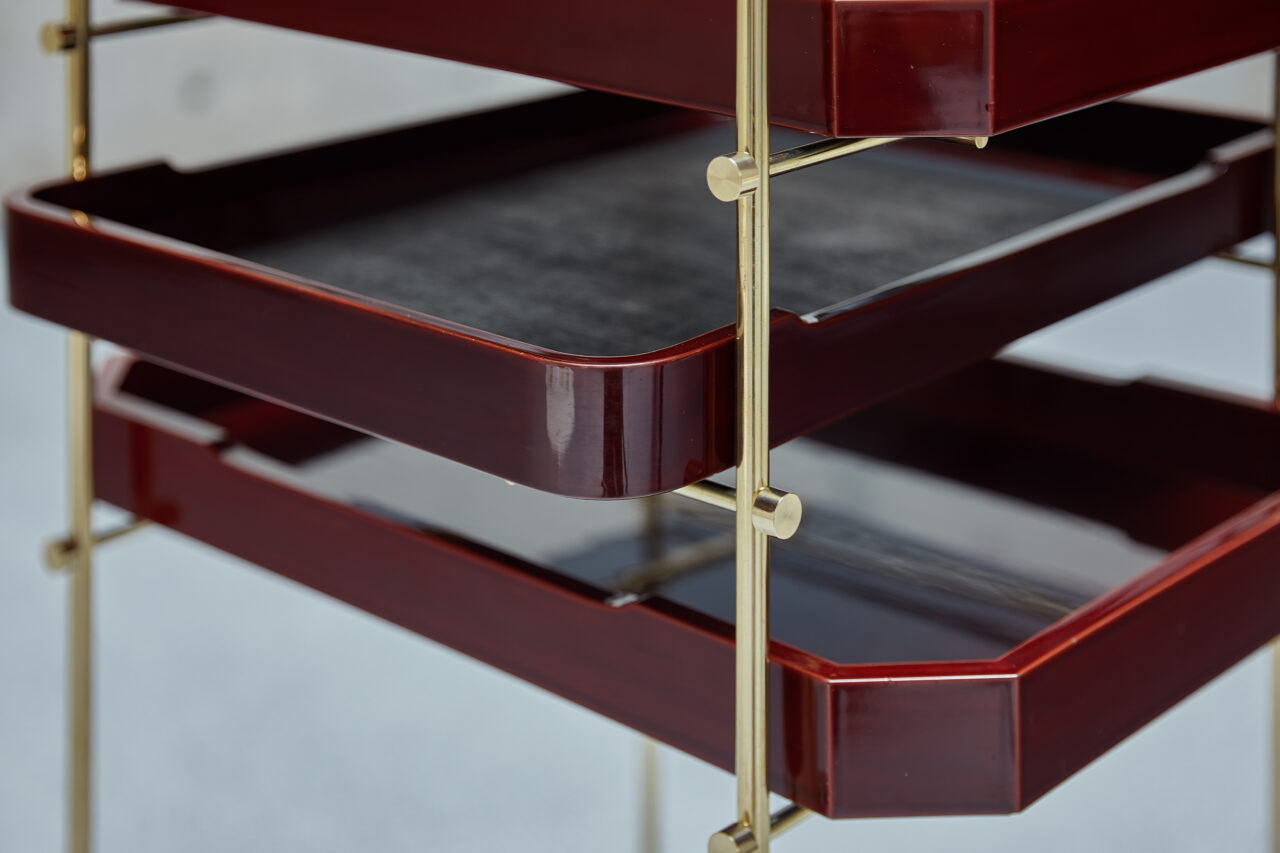 Held in a Tadao Ando-designed building, why did you decide to present your works here?
I am often conscious to create a contrast as my own expression method. That makes us more sensitive toward things and the environment. As my works are based on Japanese old folk tools, I thought to exhibit them in a more Western or a more minimalistic space as contrast. This time, I found the building felt that it was suitable as a minimal and modern space.  In that sense, I decided to use the exhibition hall because I thought that the minimalist and modern atmosphere was a good space to enhance the contrast with these works.
なぜこの場所を決めたのですか?
ものづくりをする時に、コントラストのある表現手法をよく意識します。"古さと新しさ"、"和と洋"などの対比を作品や空間に共存させることで、より互いの要素が強調されそれぞれをより敏感に感じ取ることができると考えます。私の作品は古民具という日本的な要素が強いので、それを見せる空間として、対極の西洋的な空間であったり、よりミニマルな空間での展示を考えました。そう意味で今回は、ミニマルでモダンな雰囲気が作品とのコントラストを高める良い空間だと思って展示会場に決めました。
How do you find the antique pieces, and what qualifies for your decision to use them for your designs?
Mainly at antique shops here in Kanazawa, but I also want to find the pieces at markets or an old house where I can visit. Choosing old folk implements is almost intuitive rather than having clear criteria, I don't have a clear rule to select the pieces as it is more based on inspiration. I check their age and condition, cleanness and functionality but these are not the most important reasons. However, one thing I can say is I always feel something contemporary in the selected pieces, not just antiquity. It also attracts me if the pieces were designed in fascinating detail which I could never draw myself, and inspires me to want to use it.
これらのアイテムをどのように見つけますか?
大抵はよく行く金沢の古道具屋で見つけていますが、今後は蚤の市や古民家に出向いて探すようなこともしていきたいです。古民具を選ぶのは明確な基準があるというよりは、ほぼ直感です。もちろん古民具の古さや状態の良さまたは道具として使えるかどうかなどの確認もしますが、それよりもそこにモダンな雰囲気を感じられるかが大切な要素です。あとは、自分では描かないような魅力的な線で作られた古民具を見た時にもそれを使いたいと思うことがあります。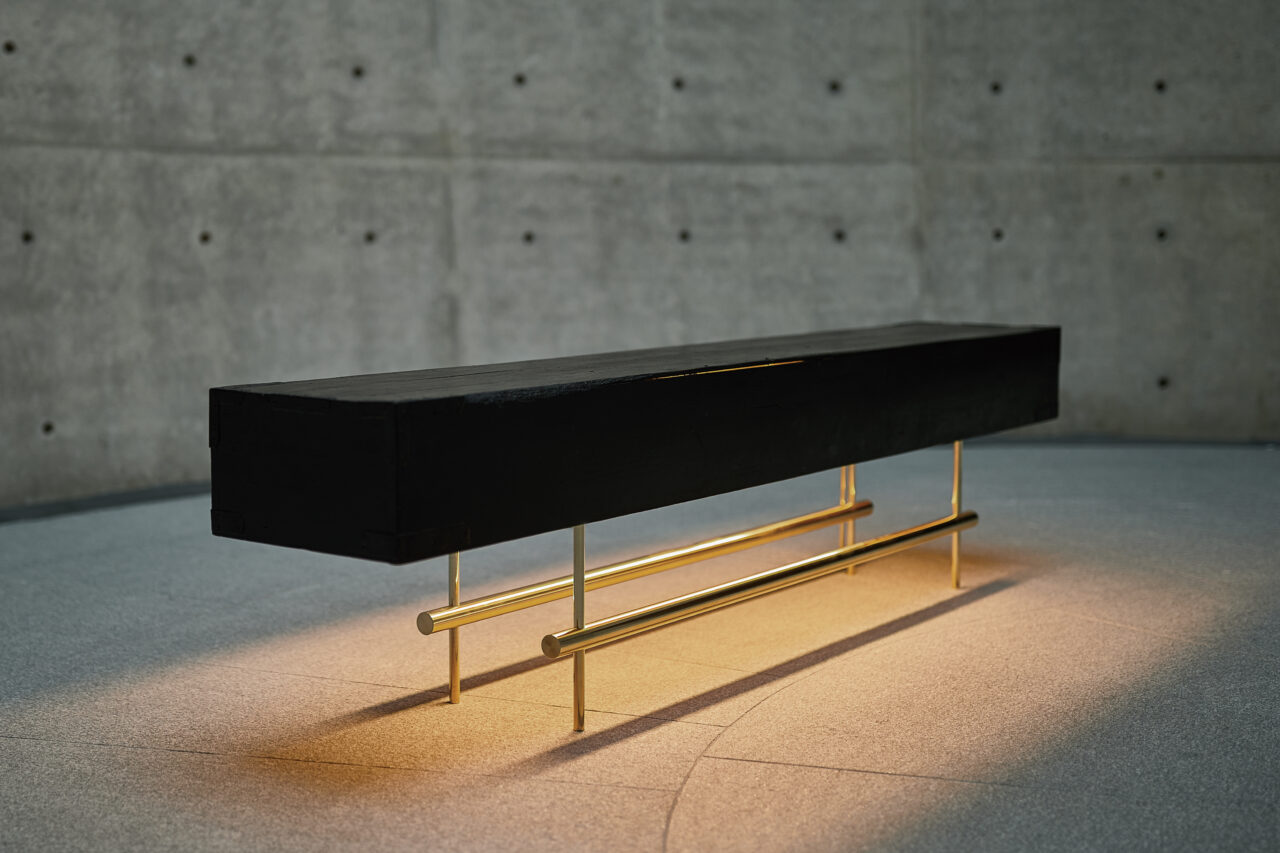 When creating your works, how do balance creating modernity and a contemporary silhouette?
To put it simply, I think of giving these antique items "new legs", and allowing them stand up. Most Japanese folk tools were used on the floor or they were look down in usual because of the Japanese culture of tatami living style. They were used in places where the line of sight was low or overlooked. By providing new height, the antique tools change the impression differently. Also I think the figures which stand by themselves show a more independently and modern attitude and existence.
現代性と現代的なスタイルのバランスをどのように取っていますか?
簡単にいうと、古民具に「脚」をつけて"立たせる"ということをよく考えます。古民具は日本の畳文化の床に座る生活で使われることが大抵なので、目線の低い位置にあったり、見下ろされる場所で使われていたものたちです。そういった道具を、目線の高い位置で見せるだけで印象が変わるということがあります。また、高さを生み出すためにシンプルな脚の構造体を組み合わせることでより自立した存在としてモダンな雰囲気を醸し出すのだと思います。
Please share a bit more about your new works with Kyoto based lantern makers Kojima Shouten:
I first visited them for another project, and soon fell in love with a lantern wooden mould I found at that time and asked them to collaborate using the same mould. The shape of the mould fits the design that I originally wanted to make, and I've asked to make a slightly arranged version of it. The Japanese traditional lantern is not an antique but also they are made today, but the mould is from old years and I thought it fits the concept of STILLIFE.
プロジェクトについて、京提灯 小嶋商店と共有してください。
別のプロジェクトの依頼で彼らを訪ねたのが最初です。その時に見つけた提灯の木型に惚れ込み、その木型を使ったコラボレーションをお願いしました。その木型は、もともと表現したいと思っていた提灯照明のアイデアに見合った形で、細部を少しだけアレンジして作ってもらいました。 京提灯は骨董品ではなく、今でも作り続けられている伝統工芸品ではありますが、その木型は古くからあるものとしてSTILLIFEのコンセプトにも合っていると思いました。
To you, what is "good design"?
Something that can refine your own daily way of life.
「優れたデザイン」とは何ですか?
それが身近にあることで、自分自身のあり方とその生活を洗練させてくれるもの.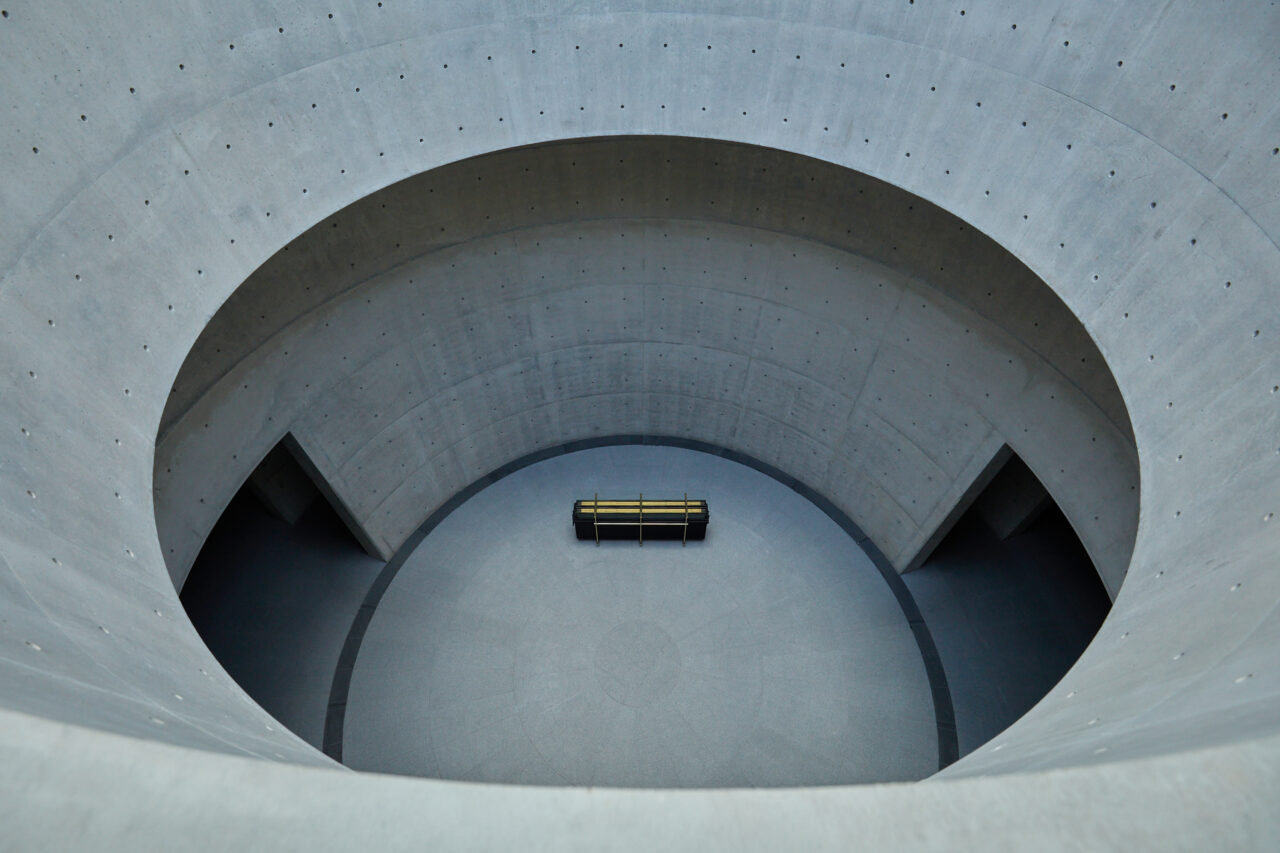 What is something a designer must always value?
When I was a student at design school, my teacher said, "Designers seem to make something meaningful, but end up producing garbage." I don't think it was just a pessimistic meaning about just producing garbage, but I do think that we as designers must always consider what meaningful things we are producing, as well as what we may be wasting.
デザイナーが常に大切にしなければならないことは何ですか?
私がデザイン学校の学生だったとき、恩師が「デザイナーは何か意味のあるものを作っていうようで、結局ゴミを生み出しているのだ。」ということをおしゃっていました。それは決して悲観的な意味だけで言っていたのではないと思います。 私たちデザイナーは常に、どんな意味のあるものを生み出しているのかと同時に、それによって何か無駄にしているのもの・ことがあるのかも意識しなればならないと考えるべきだと思います。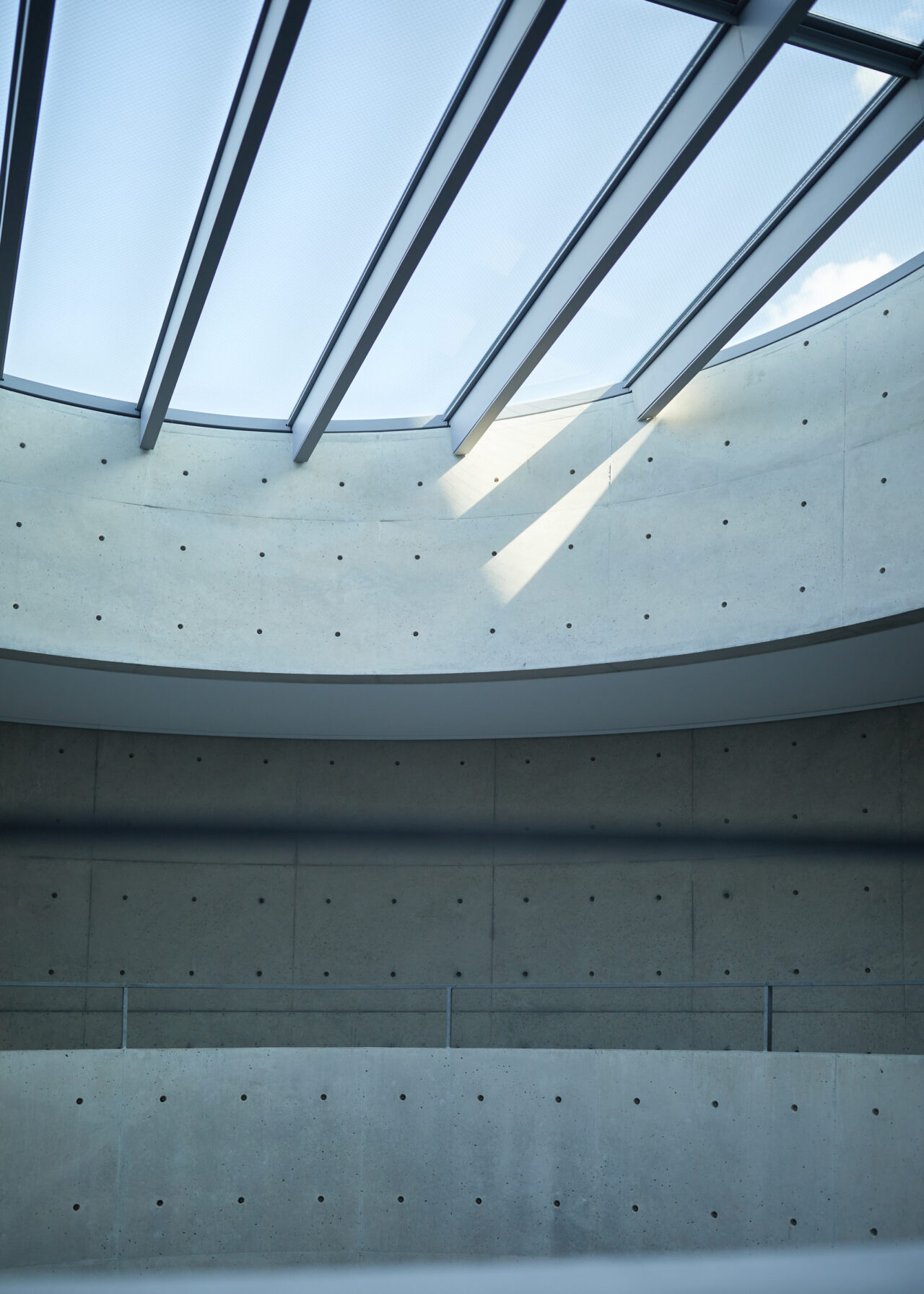 RYOSUKE HARASHIMA
FUTURE PAST
Ishikawa NISHIDA KITARO Museum of Philosophy
30 October – 6 November 2020
場所: 西田幾多郎記念哲学館
会期: 10/30(金) – 11/6(金)