BOTANICAL PAVILION
Japanese architect Kengo Kuma & Australian Artist Geoff Nees Create An Interlocking Timber Portal for NGV Triennale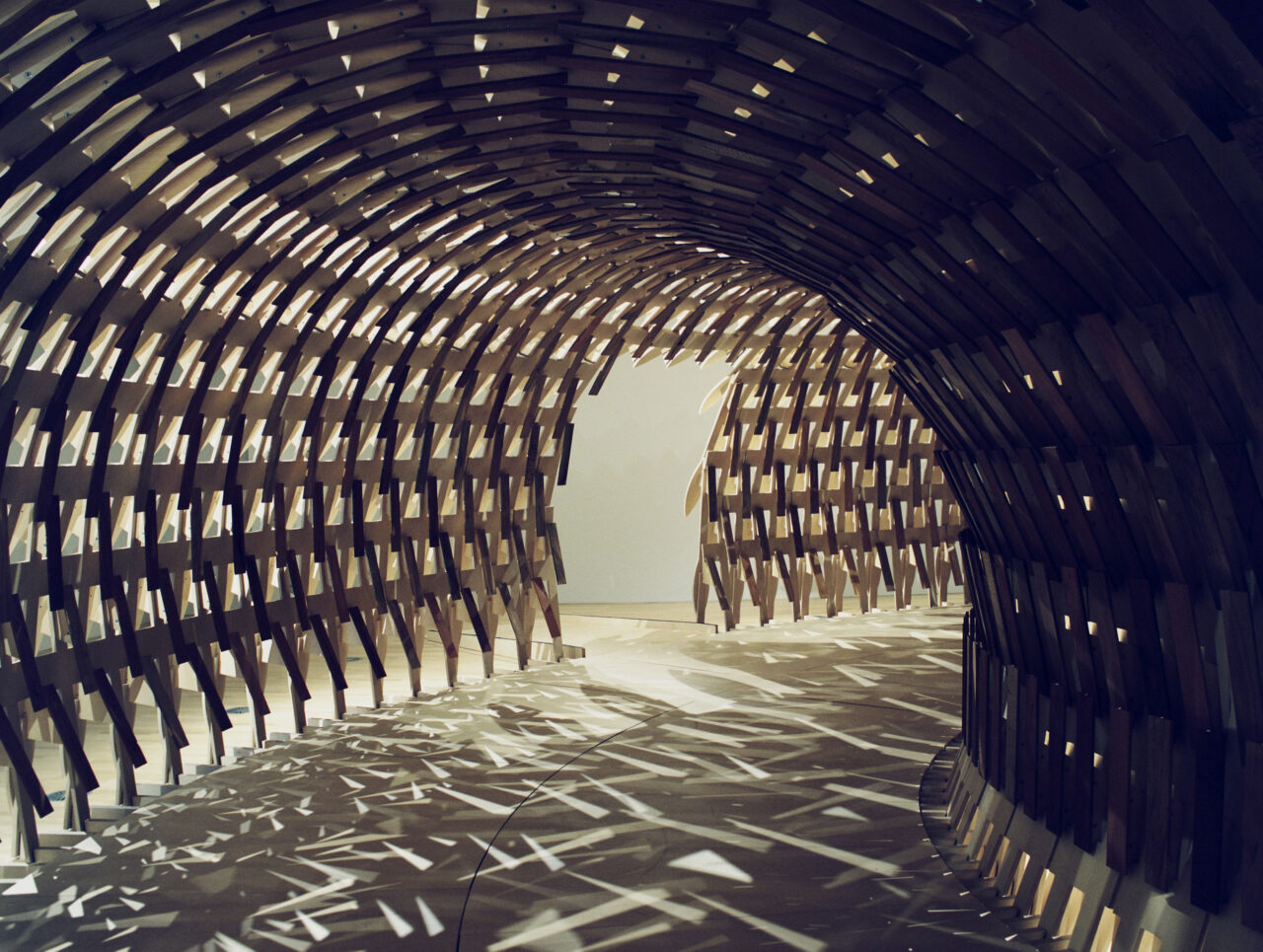 Japanese architect Kengo Kuma's work can be easily indentified through his timber fragmentation frequented in his structures or facades found across the world. Here in Melbourne for the National Gallery Victoria's Triennale, the renowned Japanese architect partners with Australian artist Geoff Nees to create a circular, tunnel-like structure titled; Botanical Pavilion, 2020. The impressive structure references traditional Japanese wooden architecture, and is comprised of interlocking timber joinery akin to puzzle pieces and known as tsugite, with a complex simplicity that relies on tension and gravity.
Kuma's architecture is inherently environmentally and socially conscious, such as his National Olympic Stadium in Tokyo (2020) that utilised timber from Japan's north to south prefectures in its design. For Botanical Pavilion, Kuma utilised various timber collected from fallen or discarded trees during the Millennium Drought (1996–2010) in Melbourne's Royal Botanic Gardens. Furthermore, the structure reflects the diversity of the Garden's plant species: "Some of the trees used within predate European colonisation, while others signal the evolution of the gardens as a site of scientific research and botanical classification. Importantly, the botanical species used for Botanical Pavilion are colour coded, rather than following any taxonomic order. By prioritising natural phenomena over scientific order, the designers call into question the reductive nature of science during the colonial era – a mindset at odds with many Indigenous cultural beliefs and knowledge systems."
Another familiar design element found in the structure is it's ryoji-like walkway, designed to create a moment of cleansing contemplation before reaching the destination. Originating from the pathway to a Japanese chaya teahouse, this concept can also be found in Kuma's entrance design at Nezu Museum in Tokyo. Yet here at NGV, his walkway is the perfectly poignant portal to South Korean artist Lee Ufan's painting Dialogue, 2017.