Phoebe English
Unique Construction and Rare Techniques Creating New Dimensions
Photography - Julia Grassi
Writer - Tish Weinstock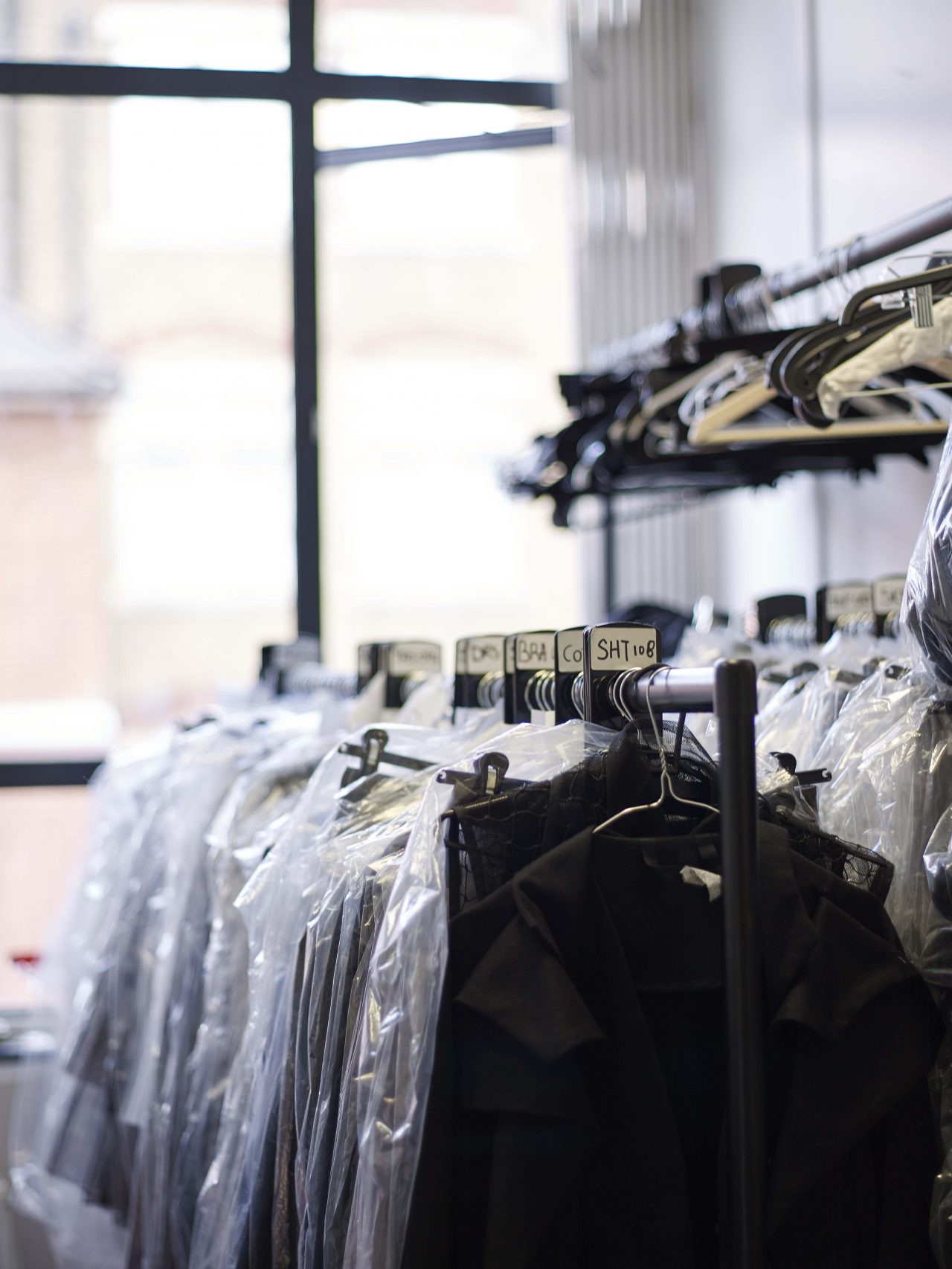 Porcelain-skinned, raven-haired, willowy and ethereal, Phoebe English is like something out of some wonderfully gothic fairytale. Something which is heavily reflected in the sumptuous clothes she creates. Born two minutes from Shakespeare's birthplace, and to an entire family of artists, creativity has always been in her blood. However, it wasn't until she completed an MA in knitwear at Central Saint Martin's, that Phoebe truly found her footing.
In 2011, she was awarded the prestigious L'Oreal Professional Creative Award for her MA collection, after which she promptly set up her own label. Fast-forward to today and Phoebe is famed for her dramatic palette of coal and squid ink black, and her intricate layering of muslin, net, latex and rubber. With numerous collaborations with Dover Street Market already under her belt, and many more to come, Phoebe is shaping up to be one of the most exciting young labels on the London Fashion Week circuit.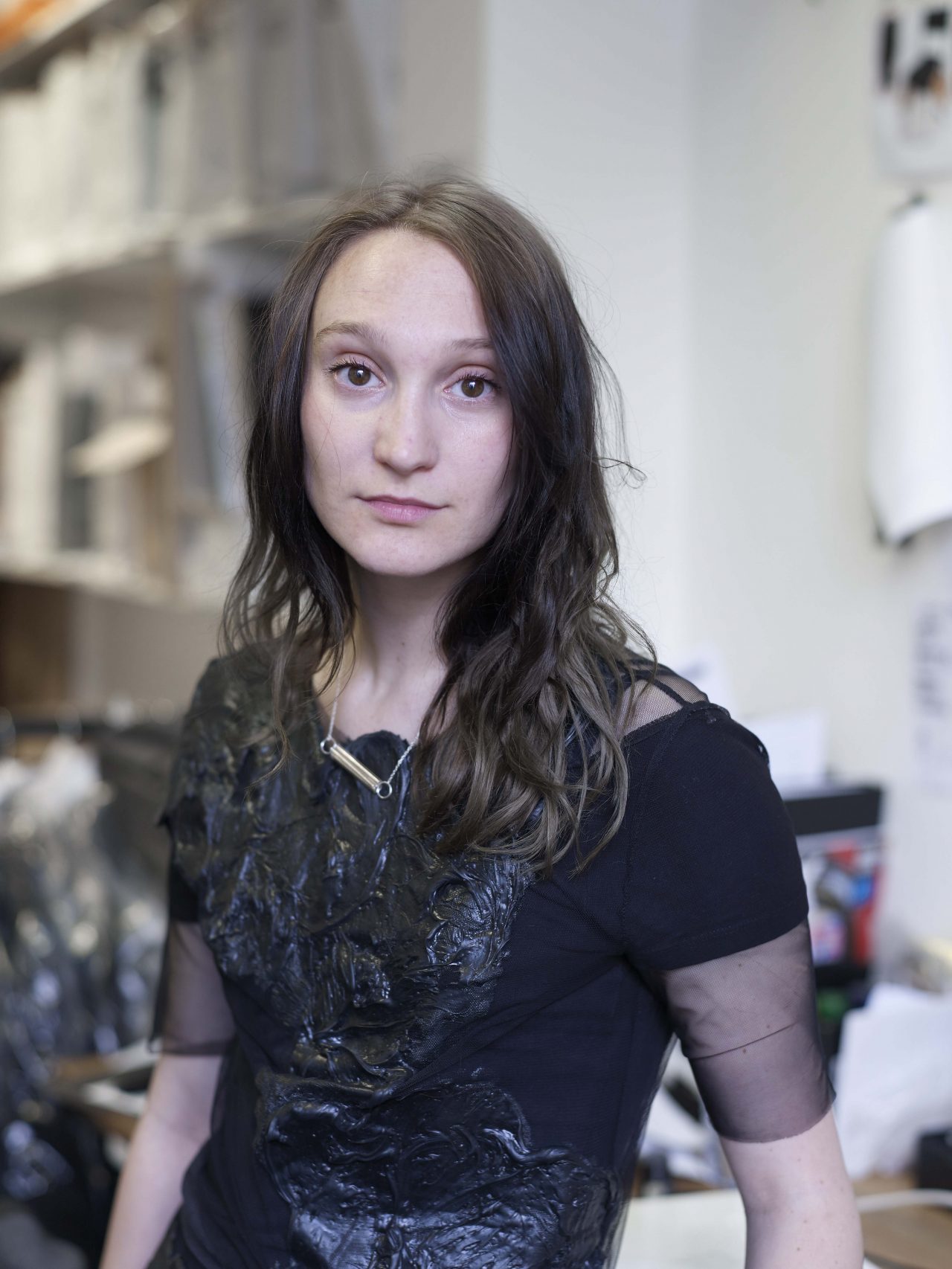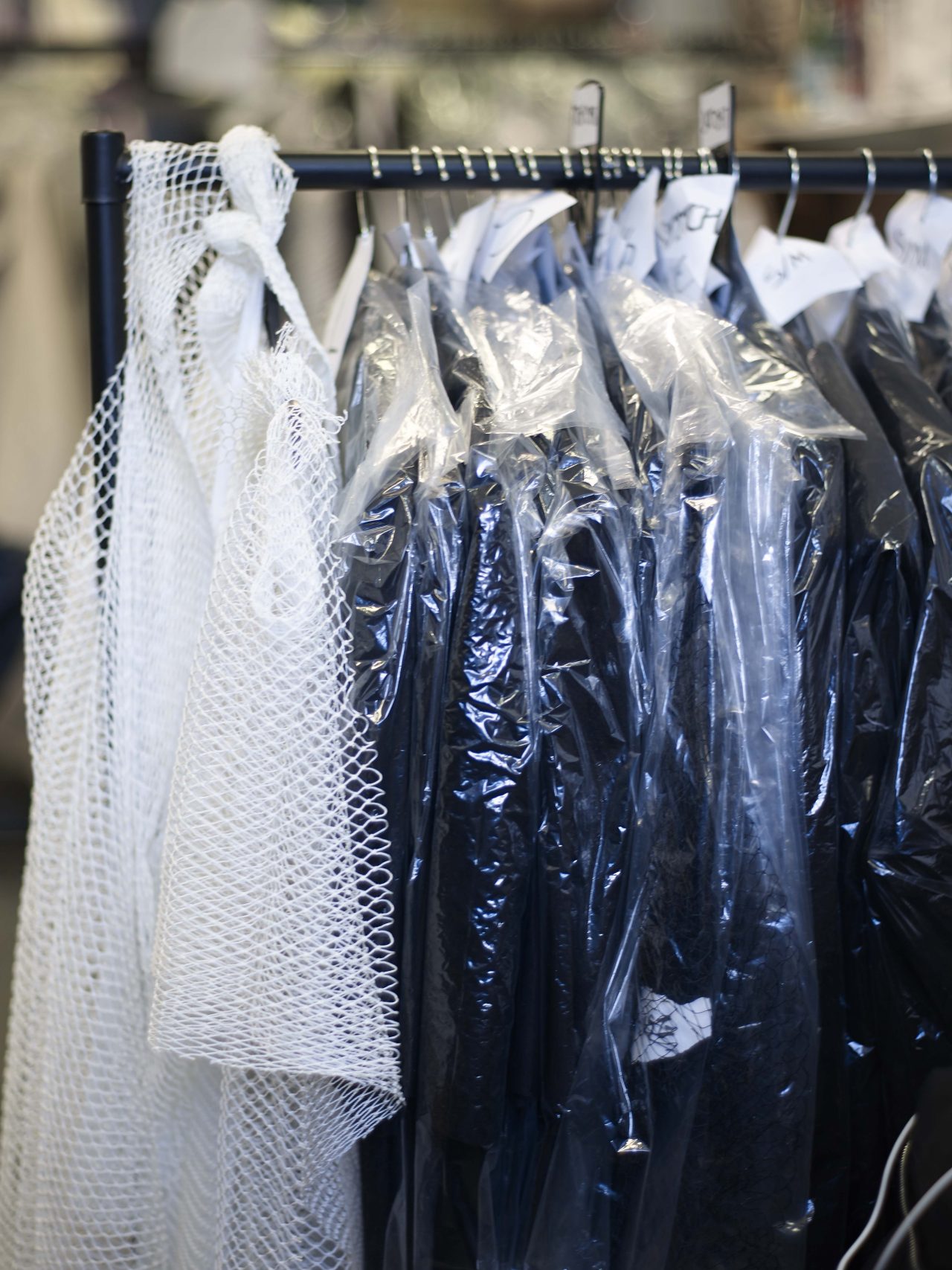 Did you always know you wanted to be a designer?
No, I wanted to be an actress; I'm probably only doing this because I didn't make the cut for drama school! I think I applied to at least 10 so I probably wasn't very good at it. I was a failed actress before I had even started!
Growing up which designers did you admire most?
Seeing the corsetiere of Mr Pearl was a very important moment. Being shown some costumes he made for my aunt was really a seminal moment, I think I didn't sleep for days afterwards. They were just so beautiful, I had never ever seen something that beautiful; I was quite literally blown over.
What is your earliest memory of putting an outfit together?
I have quite a few of these, I remember being really particular about the clothes I wore as a child and really noticing collar details and weird stuff like that before I could probably even walk – quite strange really.
You did your MA under the watchful eye of Louise Wilson, what was the most important thing she ever taught you? 
There were so many things but the best thing was to simplify.
How did it feel when you won the L'Oreal Professional Creative Award for your MA collection? Completely odd and surreal, even now I'm totally thrown by it.
What made you want to start your own label as opposed to working for a design house? It's not something I set out for, no big plan, it's just something that has ended up happening, I've sort of had to grow and change along the way to cope with it.
How would you describe your overall aesthetic?
Relaxed, uptight, laboured, instant, loose, tight, soft, shiny – a play of visual communications.
Your work is very material led, where do you think this preoccupation with materiality comes from?
From my knitwear background I guess, I'm not a silhouette driven designer; it always begins with the small possibilities of the fibre. There's also a dark, gothic element to your work, where does that interest come from? Probably my mother, who only wore black clothes for my entire childhood and who still has an entirely black kitchen, we ate from black plates most days.
What inspires you?
Small impulses and notions which pop into my mind when I'm least expecting them.
What relationship do you want to establish between your clothes and their wearer?

An interpretive one, each person should have the possibility of interpreting them in a different way, they need to look different and be interpreted individually by each person who wears them, other- wise I haven't done my job properly. It's about a freedom of style, not a dictatorship of a particular 'look'. There is also an element of work the wearer needs to put in, a bit of imagination, layering etc.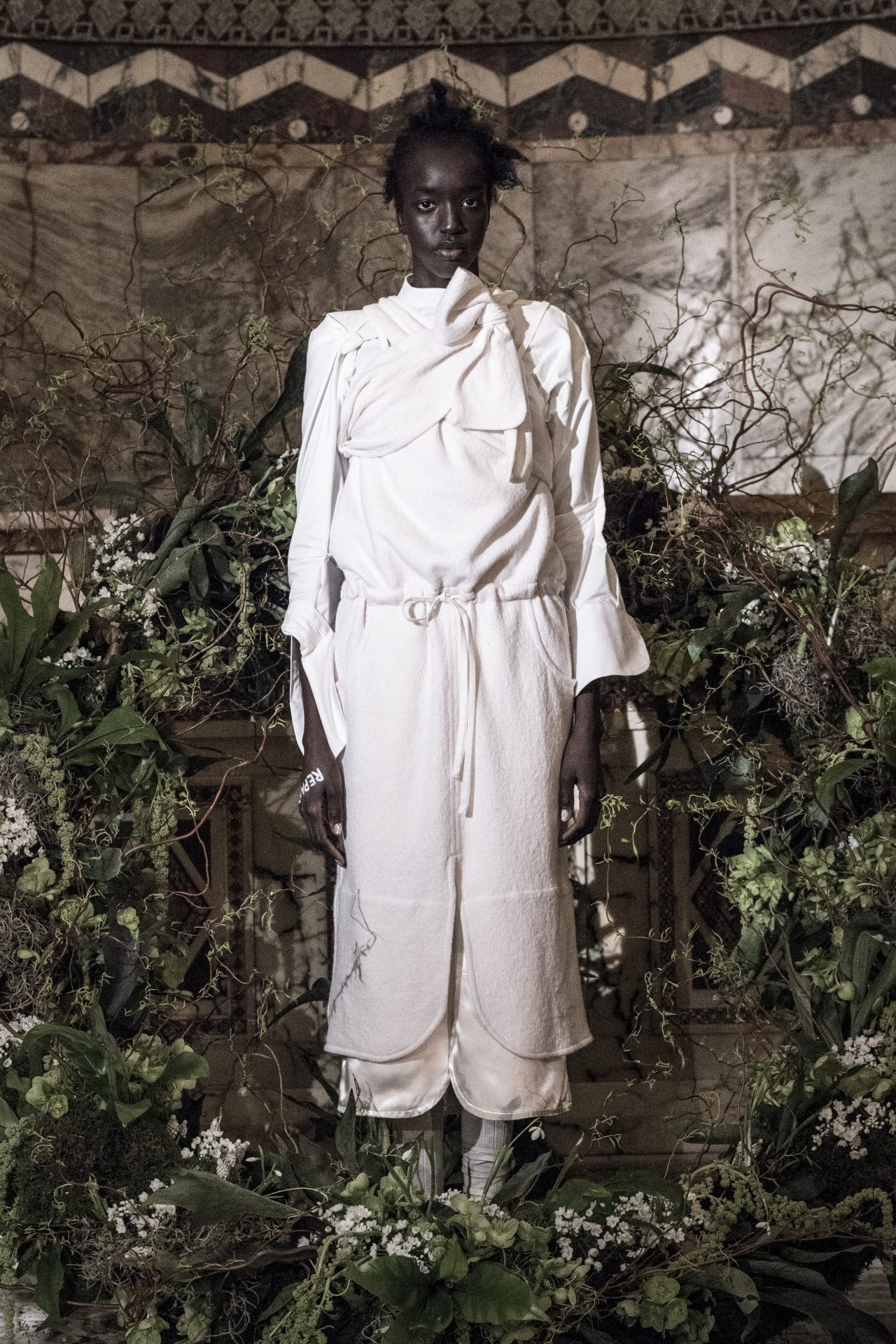 Earlier this year you were named in the Art and Style Category of Forbes' '30 Under 30' list, how did that feel?
I didn't quite understand it at first, I had no idea what it meant, but now I realize it's a really special thing and how lucky I am to have been listed – the studio can sometimes be an insular place!
You've done lots of installations for Dover Street Market over the years, why is it important to you to do these installations as opposed to just showcasing the clothes?
The installations just naturally started to happen really. We made one for the DSM window, which I was really pleased with, and then we made another and another and, actually, now it really is a key part of what I do and what we have done. I think we have ended up doing so many because I feel really at home with the process of making them, my parents are both artists so I grew up within the midst of installing something of some sort, almost all of the time. It feels like home to do them.
There are a lot of young designers hoping to make it in the industry, all of whom have gone down more or less the same path – NEWGEN, Fashion East etc. – they're all on social media and attend all the fashion parties, but you seem to be carving yourself out an identity through an entirely different route – stag- ing exhibitions, installations and working very closely with DSM and Comme des Garcons – was this a conscious choice?
It definitely wasn't planned in that way at all, I wasn't really very sure of myself at the start, I felt very shy about my work and shy about promoting it at parties or even wearing it took a huge amount of courage, so I guess this sort of backstage route happened because of that. I would rather be just getting on making the work than prancing around blabbing about it all the time.
As someone who relies on artisanal skill and views individual garments as works of art, how do you feel about fashion in the digital age?
I'm a big fan of fashion within a digital realm; I think it is a completely fantastic way to communicate to people. It's such a powerful tool, so much of fashion is beyond just London and it is so important that there is something that helps you get your work out there beyond it.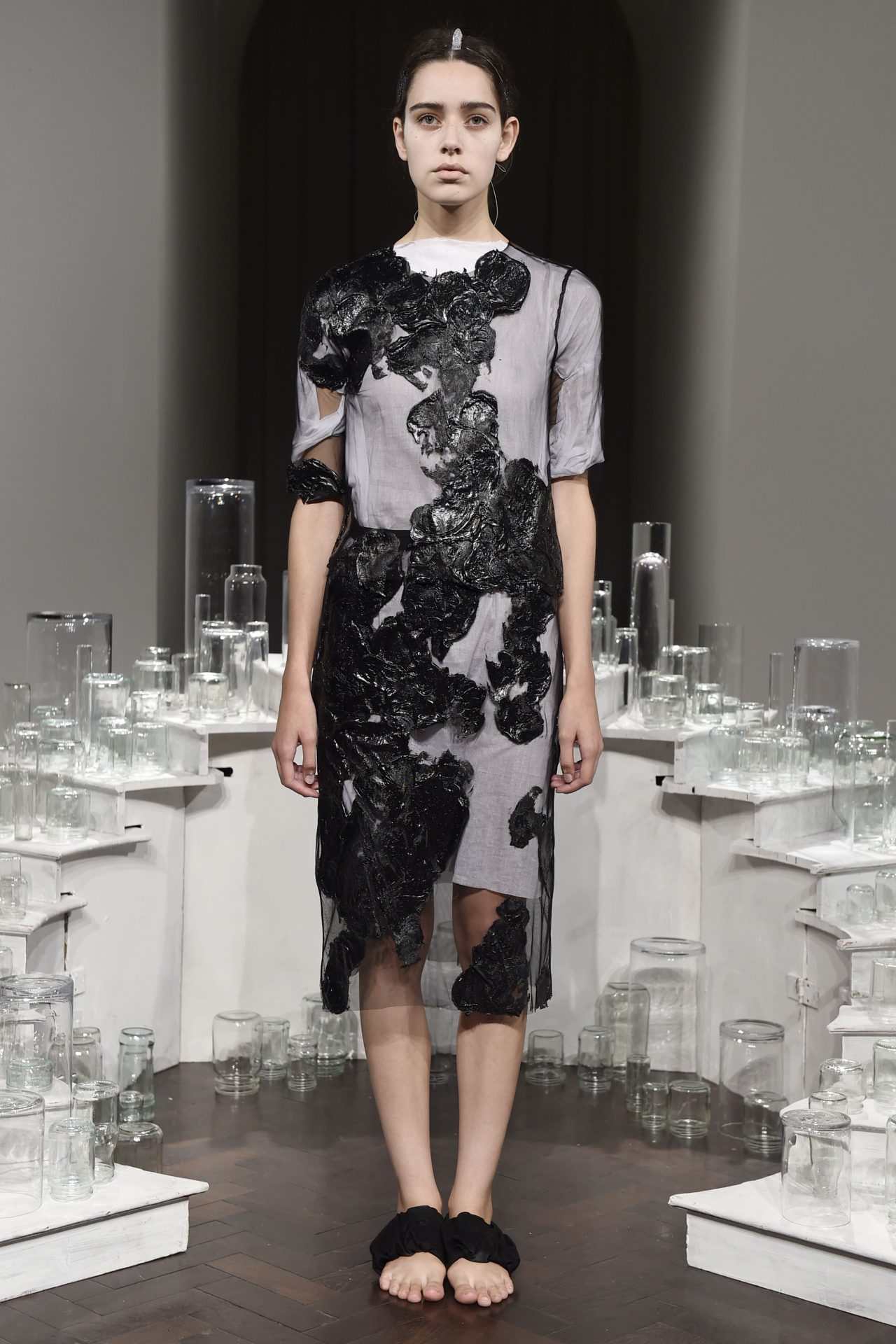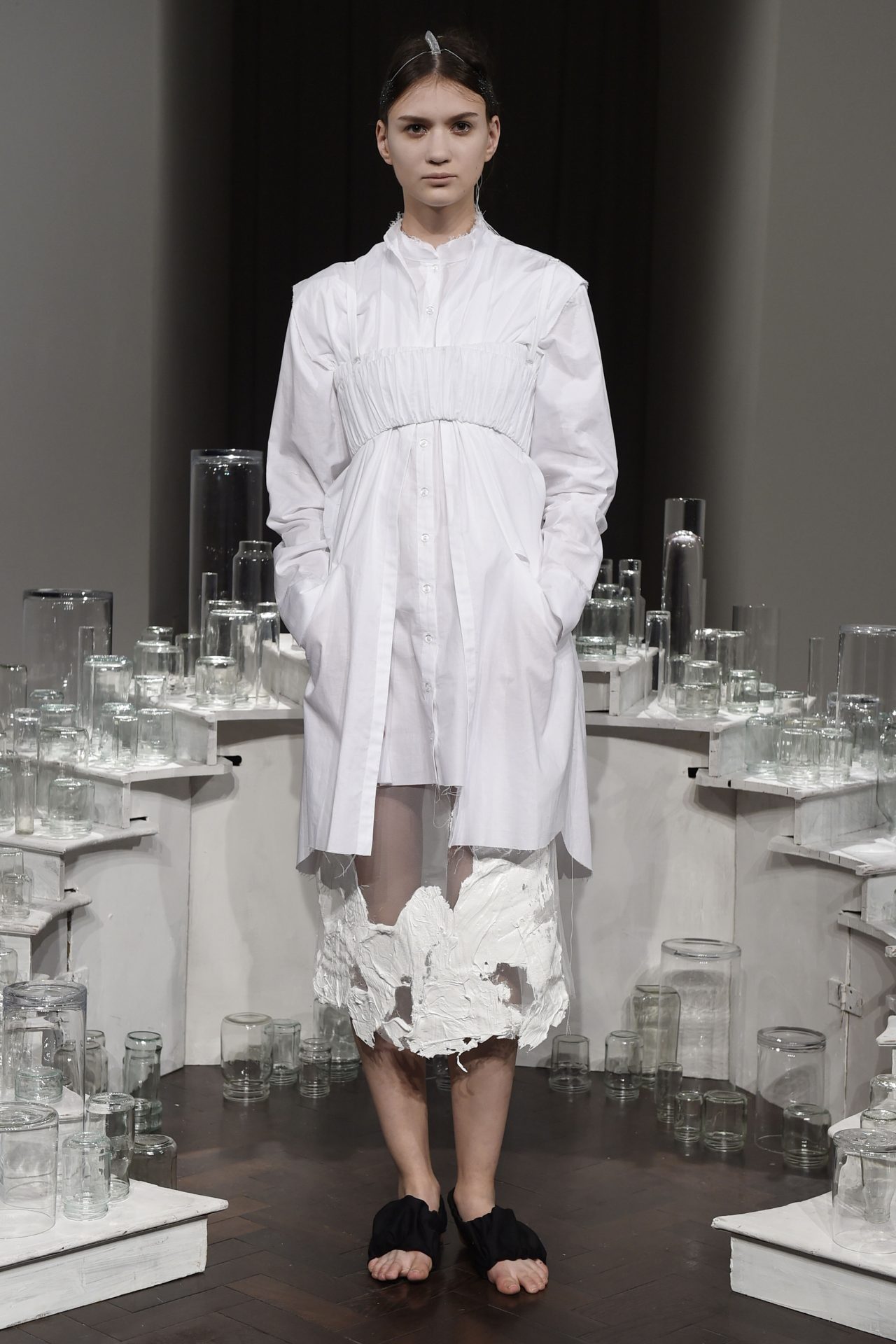 You recently staged the exhibition, Floating, Falling, Drowning, Flying: An Introspective of Process, what was idea behind it?
The idea was for it to be totally the opposite of a fashion exhibition. Absolutely no dresses on mannequins, it is just about the 'ideas' of fashion, all the workings out, all the making, all the thinking and planning displayed for people to see, all the scabby bits of paper and working thoughts that are never exposed or even referred in the final glossy fashion magazine shoots.
What are you working on at the moment?
The Wool Mark Prize collection, a small amount of menswear, developments to the CORE line,
a photographic book with Polly Brown, moving our studio for the last two years from Hackney to a new studio in New Cross, perking up our webshop, special secret projects, spring/summer 16 and beyond…
What are your dreams for the future?
Balance. I would love to work with ceramics and also with glass. I don't make very many plans for the future; I prefer to see how the journey goes along. I would, in my wildest dreams, like to one day design an opera or a dance, as I would love to be able to play more directly with communicating a narrative through design.