ARABESCHI DI LATTE
Francesca Sarti, founder of the innovative food design studio Arabeschi di Latte, explains her next project for the UNBUILT Symposium (during the 2017 London Festival of Architecture) and the ever-continuing topic of the sliding of time.
Writer - Monique Kawecki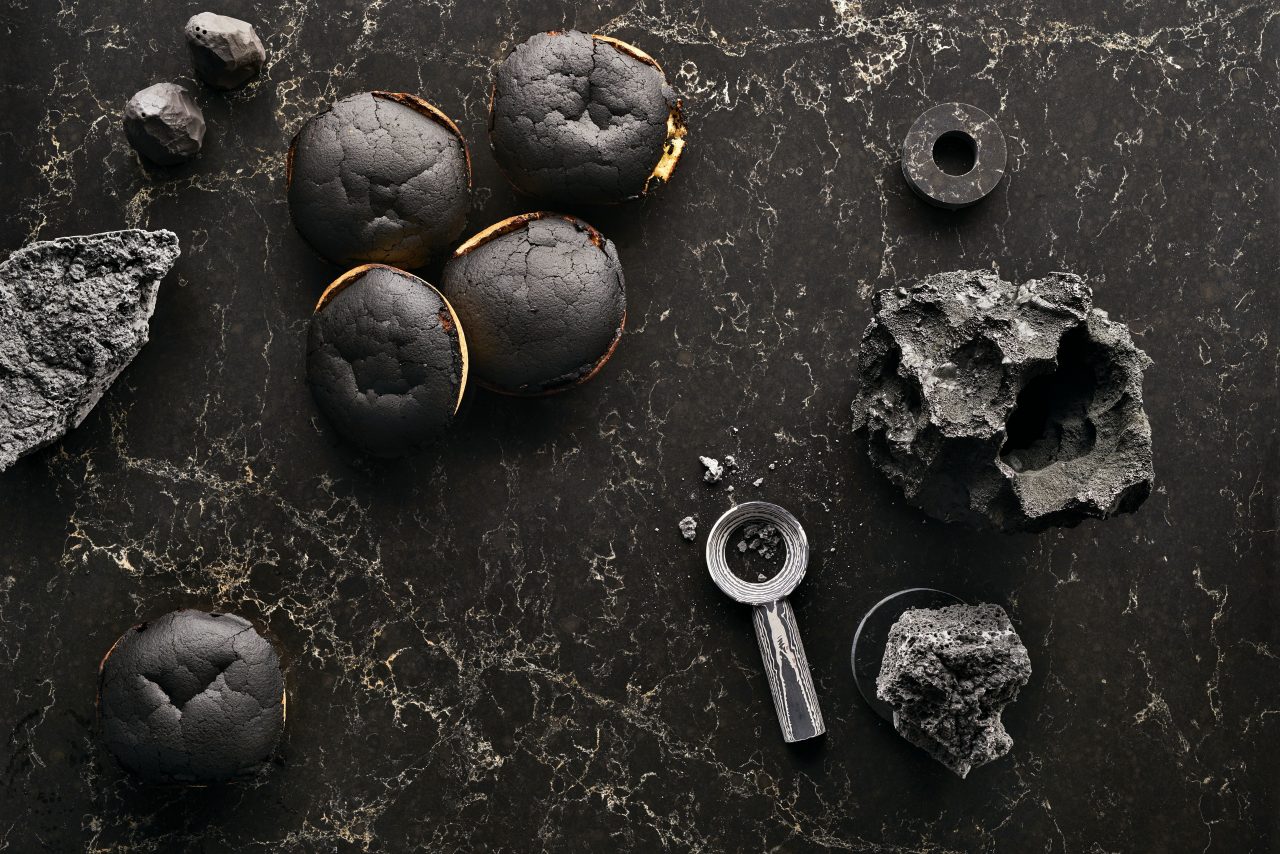 In a way an interdisciplinary studio is gifted with a mix of contrasting ingredients to create a new type of originality in their work. An innovative approach can be  birthed from this mix, paired with the multi-layered background of the individual at the forefront leading the studio – in this case, architect Francesca Sarti.
Based out of London, Italian-born Francesca Sarti leads the world renowned food design studio Arabeschi di Latte. It is Sarti's attitude which drives the interdisciplinary studio, with her curiosity challenging the existing structures of food preparation, presentation and experience. Once you have attended an Arabeschi di Latte event, you'll be left looking at ingredients and their possibilities in a completely new way. There is no limit, Arabeschi di Latte's events stem from special dinners and installations to pop-up cafe's, performances and workshops worldwide (at art museums such as MAXXI in Rome or fashion events for Fendi, Kenzo or Marni).
Established in the design community and held in high esteem, Arabeschi di Latte bring an originality to design and fashion events alike. A consistent thread created with elements from architecture, art, design and food run through Arabeschi di Latte's work, and it is these same ingredients found in our daily lives which evoke the senses and connect emotionally to Arabeschi di Latte's guests and clients.
For the UNBUILT Symposium, arranged by Melodie Leung (Zaha Hadid Architects associate) and The London Festival of Architecture (celebrating architecture through events city-wide in the month of June), Arabeschi di Latte have created a bespoke brunch menu.
Champ speaks to Sarti before the event about her work to this point, and what there is to be experienced at the Unbuilt Brunch.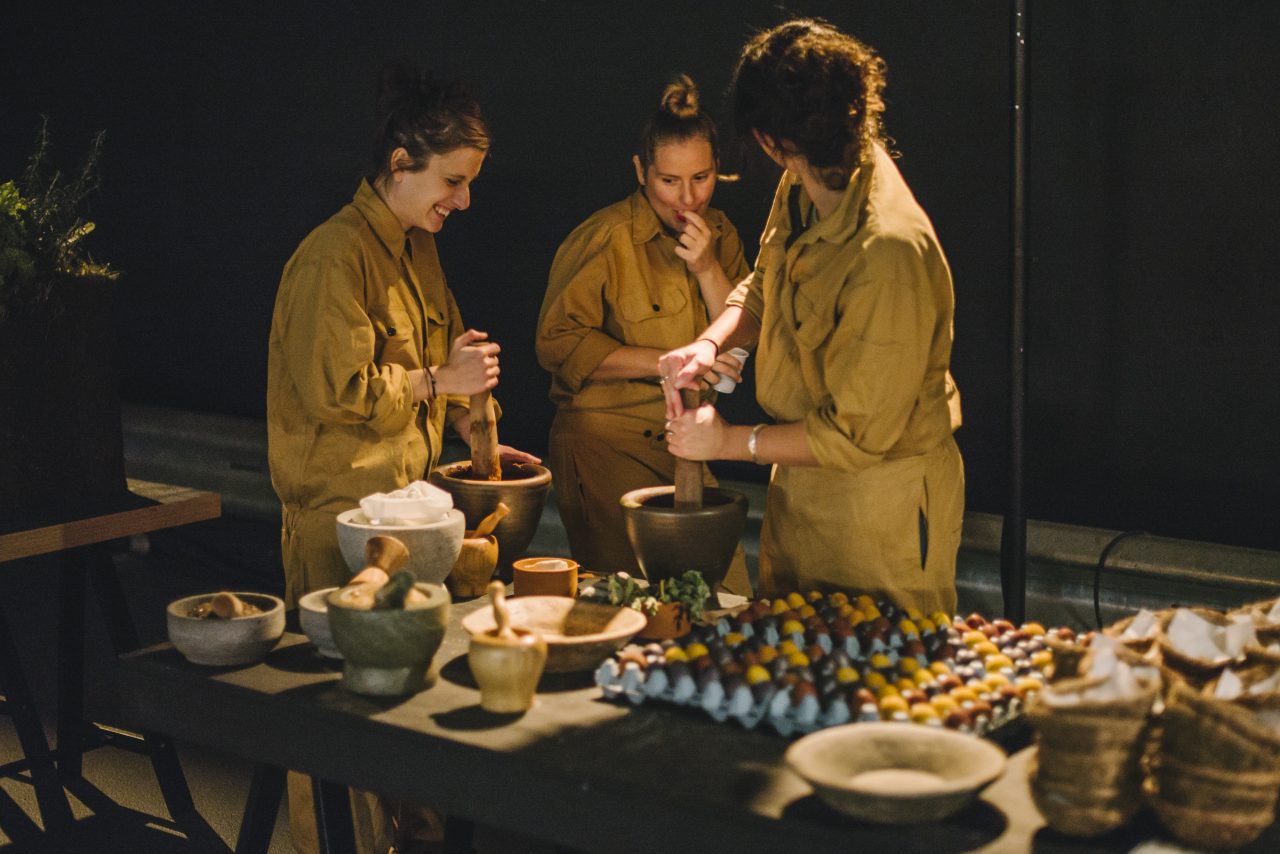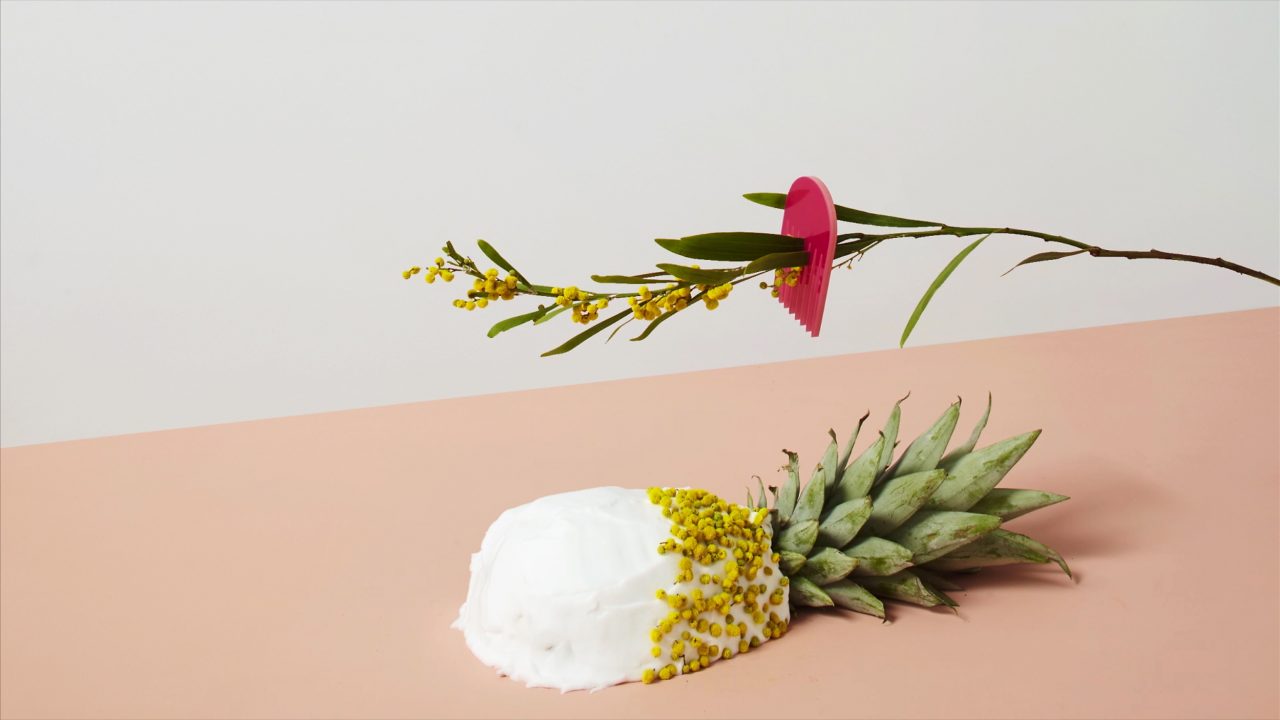 Originally from Italy, it would be obvious to say you were born with a passion for food! Where else may you say your interest stemmed from? 
As most of Italians I have always been obsessed with food, but more then the culinary side, it has been the convivial side, the relational power of food that has always attracted me. This came mostly from the encounter with relational art and the researches I have made for my graduation thesis around food kiosks and how they are important for the daily life of a city.
Tell us a bit about your background, what field of work were your parents in, and what kind of environment did you grow up in?
I grew up in Florence. None of my parents works in the creative field (my dad is a pediatrician and my mum a teacher), but they have always been passionate about design and art. Our house has always been open for dinners and parties with a mixed crowd of interesting people. When I was a kid I use to love to stay awake till late to listen them chatting or helping them to set up the table and create special centerpieces.
I think this environment helped me to decide to study architecture but with the intention to preserv my multidisciplinary attitude. While studying I was working in a contemporary art gallery, I was assisting the critic Pier Luigi Tazzi, I opened a window space to support young artists, I studied history of fashion, I have created a laboratory for research with one of my teacher, I have organized events and trips, I have worked as graphic design and in 2001 I founded Arabeschi di latte !
I like to say that I'm an architect with a multidisciplinary attitude and a special passion for food and conviviality
Your studio is always exploring the boundaries between food and design. Would you say this is mainly created through a focus on the aesthetic when presentation is often not challenged other than aiming for beauty?
Visual beauty is important, but the conceptual meaning is essential. Sometimes it is not visible to you, you just need to go beyond the surface.
Aesthetically some presentations could be considered to contain architectural influences (such as 'The Dark Trophy, from 'Fire' in your book with Caesarstone, 'A Material Menu'). These also use the Earth's minerals and stones, as do architectural structures. How far does your interest in different fields stem, and influence your work or way of thinking?
I think it is what it enrich it most.
When designing dining experiences, where do you begin? Is it with the client, what is in season or the space?
The starting point can be different: an ingredient, a tradition, a client's brief, a color, a smell, but spaces are probably the most important for me. I consider food as a tool to read spaces, to activate them.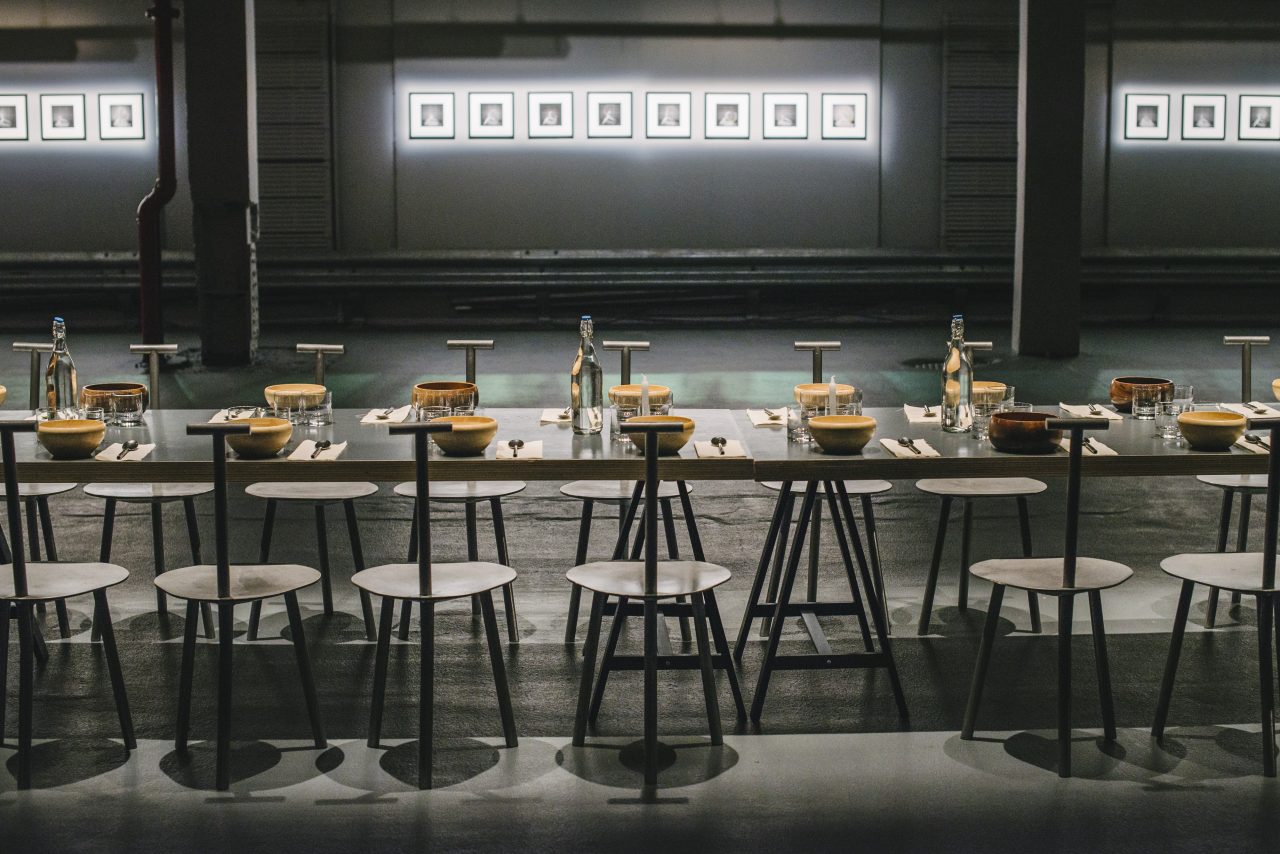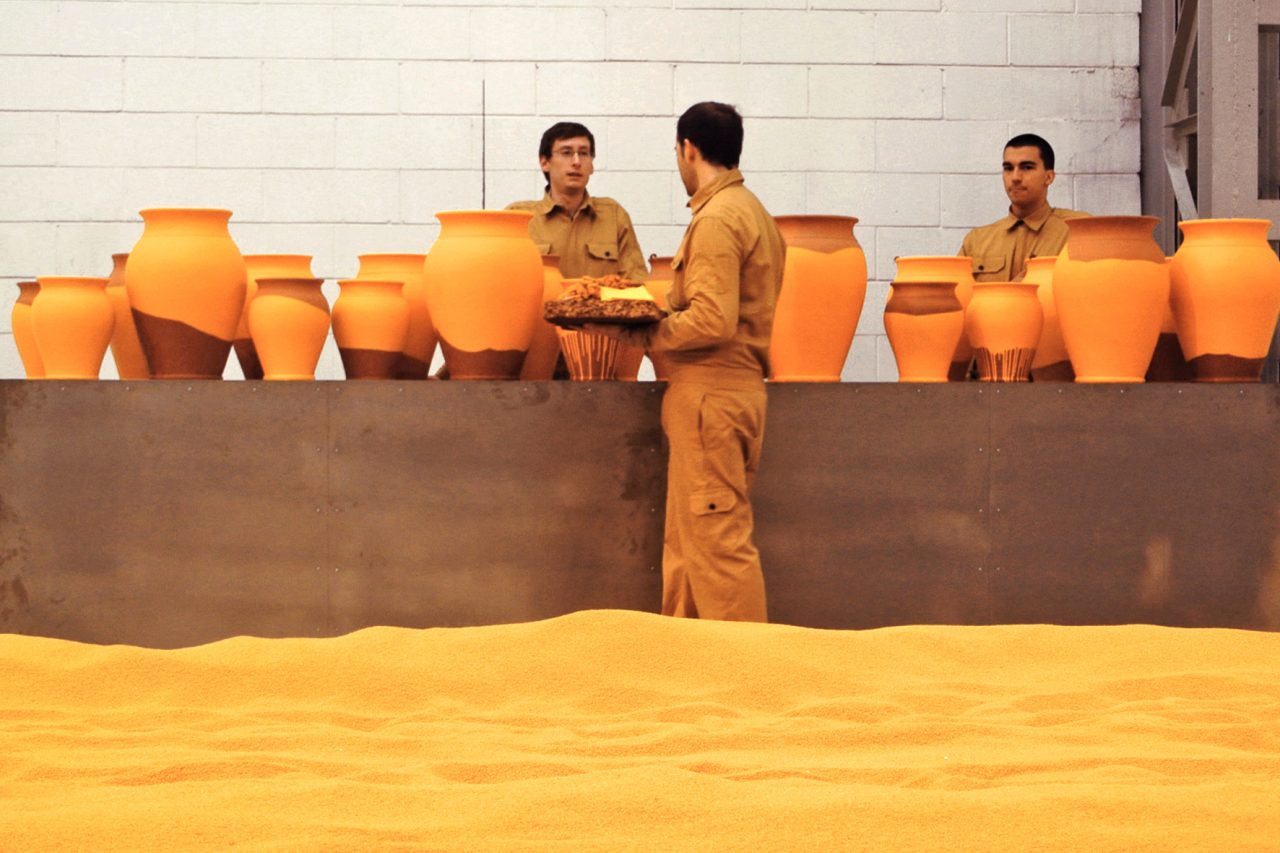 What are some of the most interesting, rare or difficult ingredients you have worked with before?
I love the acacia flowers fritter, they are so poetic. Unfortunately they are available in Italy for such a short period of time that to be able use them I always have to hope someone ask me for a project in that small frame and in  a location no too far from an acacia tree!
You have worked for and with the Toogood sisters on numerous occasions – such as their Toogood Unisex Outerwear. Can you tell us more about the process of collaboration and execution? 
Working with Faye and Erica is so inspiring that projects comes out so easily…so naturally…a quick chat and images are floating around.
Based in London, how big is your design studio team?
Inspite working internationally the everyday working team is small but there is a larger network of people who has been working with Arabeschi since a long time: artisans, chefs, researchers, tailors …
For the Unbuilt Brunch, can you give us a bit of a sneak peek to what you have prepared?
It will be a brunch celebrating the suggestive relation of food with the sliding time.
Moments, hours, days, weeks, years or even just few seconds can define food singularity. Ripening takes days, boiling or toasting takes minutes while roasting can take up to hours, fermenting might takes months.
Time every so often reshapes, transforms, affects or alters food appearance and structure, without necessarily changing its own core and character.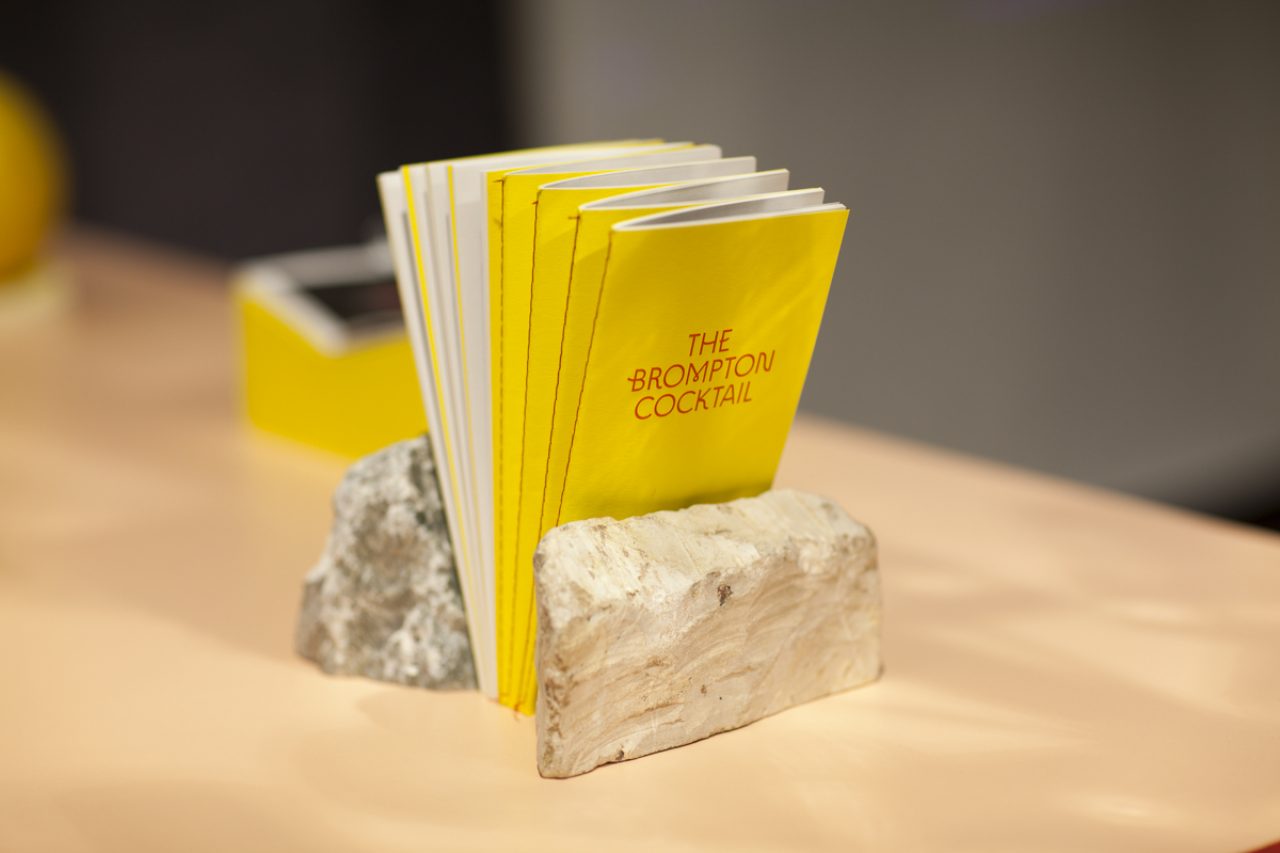 The UNBUILT Symposium is being held on Sunday the 18th of June at the Ace Hotel London. The event is now sold out, but will be shared live via Champ Instagram and Facebook LIVE feeds.
For more information: www.acehotel.com/calendar/london/exhibition-unbuilt