TWO BUNCH PALMS
In Harmony With The Environment, This Desert Resort Celebrates Its Surrounding Natural Resources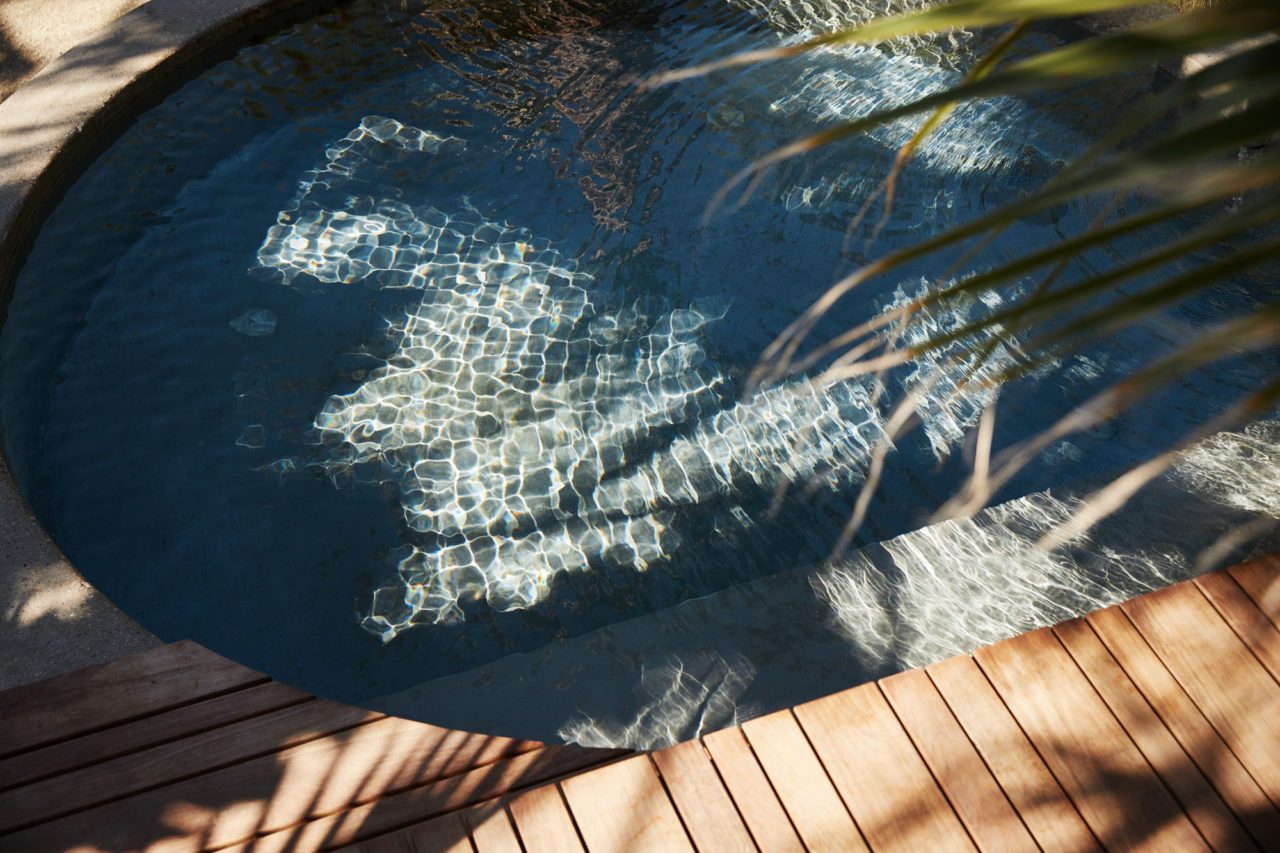 Two Bunch Palms is the first carbon-neutral resort in America, combining natural resources and natural therapies for an unforgettable spa experience encouraging guests to "replenish, reconnect, and revive". Home to precious mineral springs in the Desert Hot Springs area of California, Two Bunch Palms' waters which have been flowing for 600 years below the surface. Found amidst 72 acres of desert landscape, the waters not only provide a natural water source with multiple health benefits but its supply is completely sustainable.
The resort works in harmony with its environment, taking a holistic approach to conservation. Locally grown produce supplies the restaurant, juice bar and cocktail bar, and the resort only generates electricity from 100% renewable sources. Irrigating with recycled water and using biodegradable cleaning products are just some other examples of how Two Bunch Palms respect and protect their ecosystem. With multiple natural mineral water spas, pools and wellness sessions (meditation, yoga or floating sound bath), relaxation is key.
Champ team architect Paul Cournet and designer Sabine Marcelis explore Two Bunch Palms and zen out.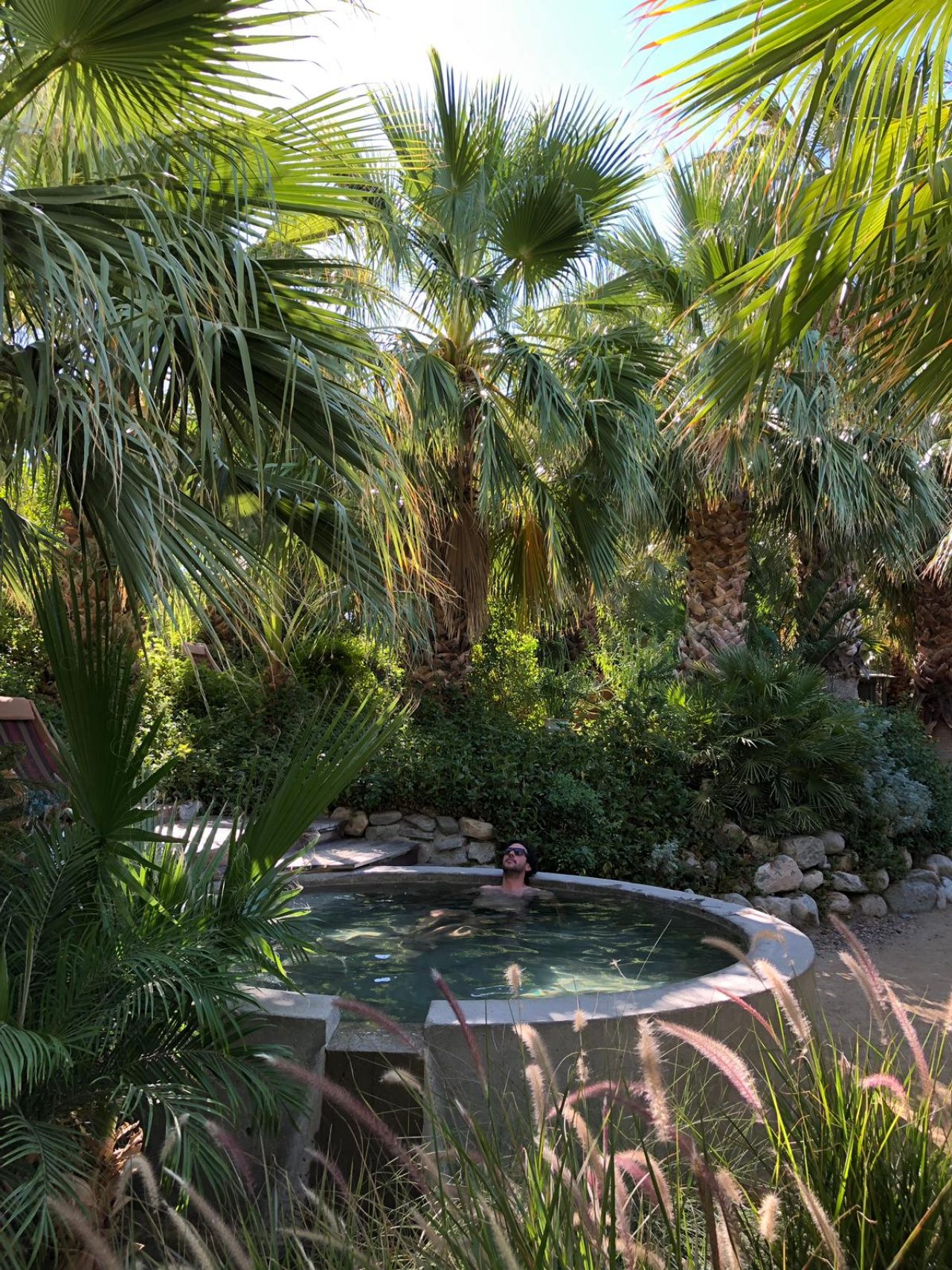 THE ARCHITECTURE AND ROOMS
There is an overall feeling of calm when you enter the property at Two Beach Palms. Although there are 70 rooms available at the resort – many of which were booked while we were there – the place felt very private and non-crowded. The suites were built in 1940 but were fully renovated in 2013 with energy-efficient components and sustainable materials including natural woods, slate and stone. 
During the day we went out to explore the local Palm Springs architecture, but in all honesty this was the first time on a trip where we wanted to go back and spend time in the hotel just as much as we wanted to explore the local scenery.
Staying in the 'Capone' room, the layout is extremely spacious with beautiful wooden furnishings. We particularly liked the zellige tiles in muted tones in the shower. Upon arrival we were greeted with a variety of delicious organic, vegan beauty products in the room. Products are available for purchase in the message spa too, if you want to take them away with you!
FARM-TO-TABLE RESTAURANT
The Two Beach Palms resort encompasses a farm-to-table restaurant, Essense, with a menu focused on nourishing dishes created from fresh, local and seasonal ingredients. Custom juices are available all day as are artisanal cocktails in the evening. A the restaurant we tried the Bison (for the first time in our lives) which was delicious and we knew it was responsibly-sourced.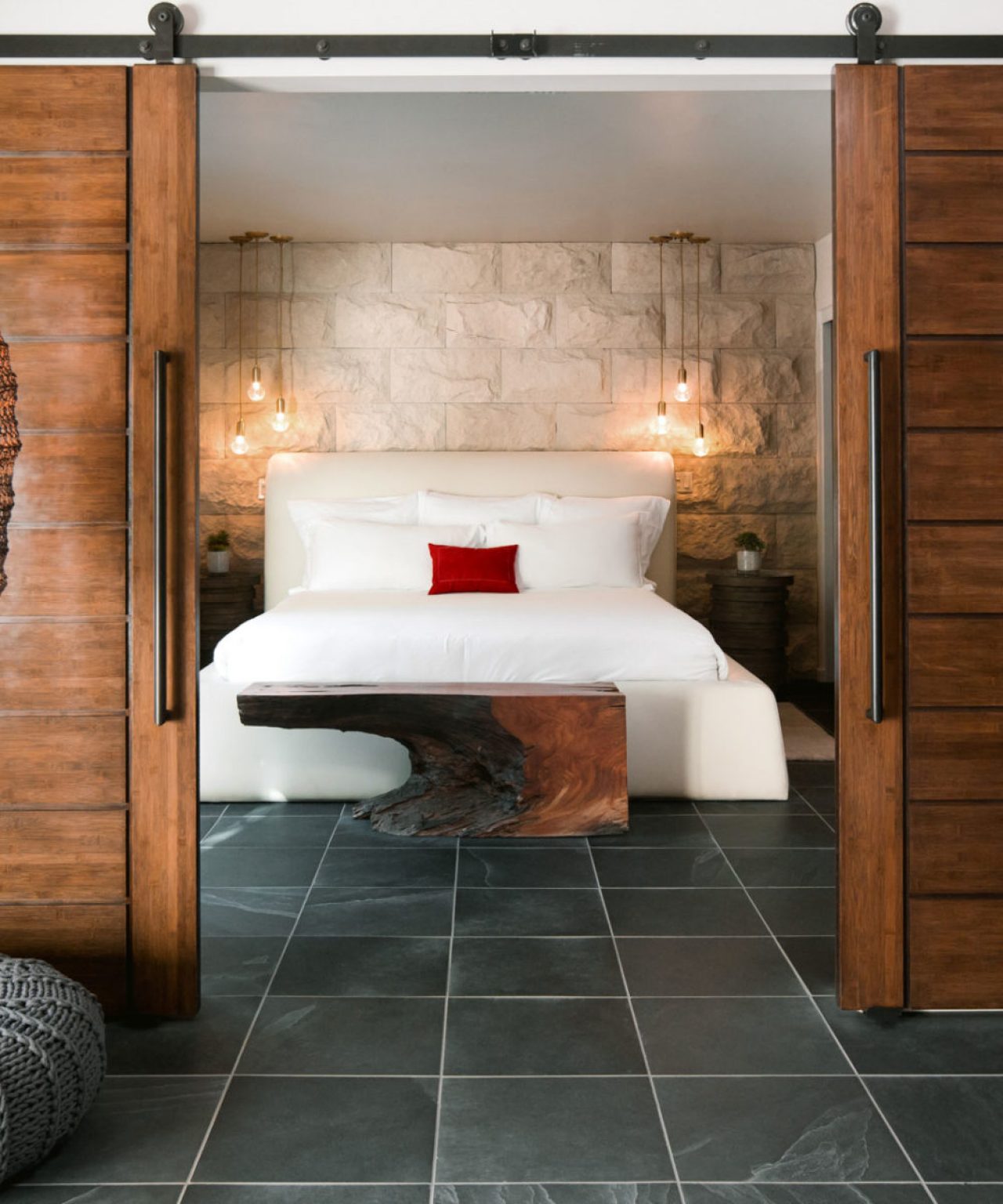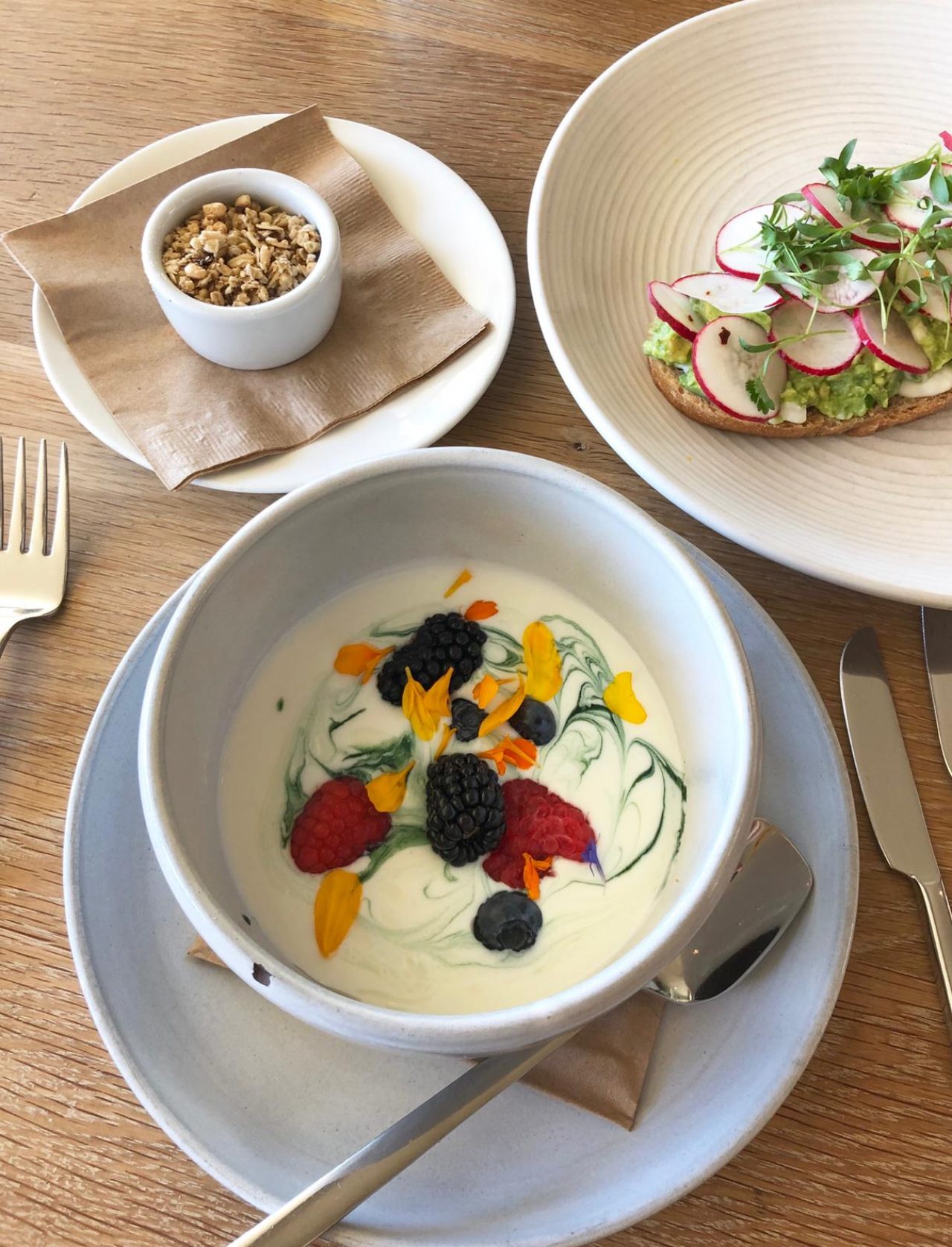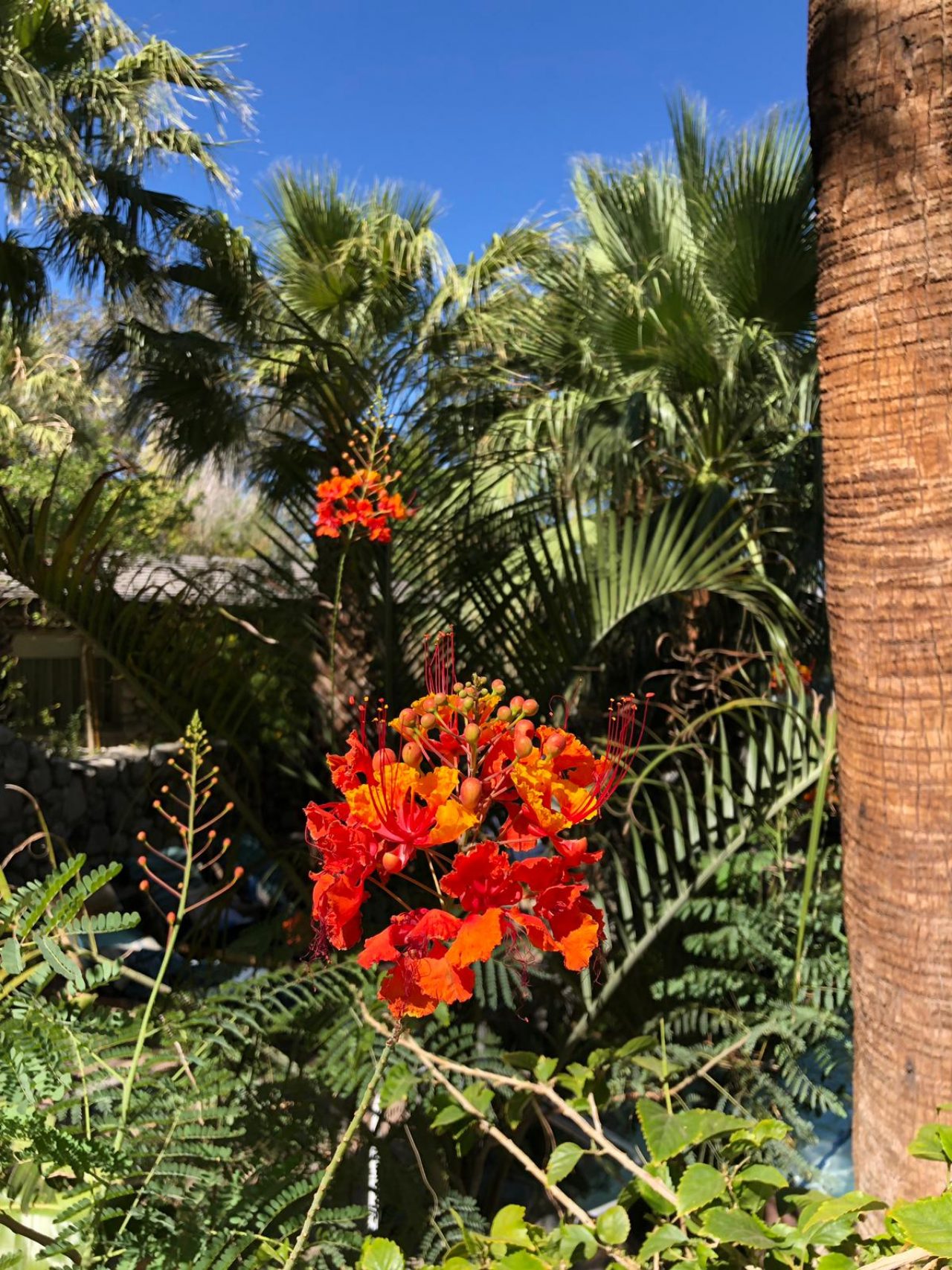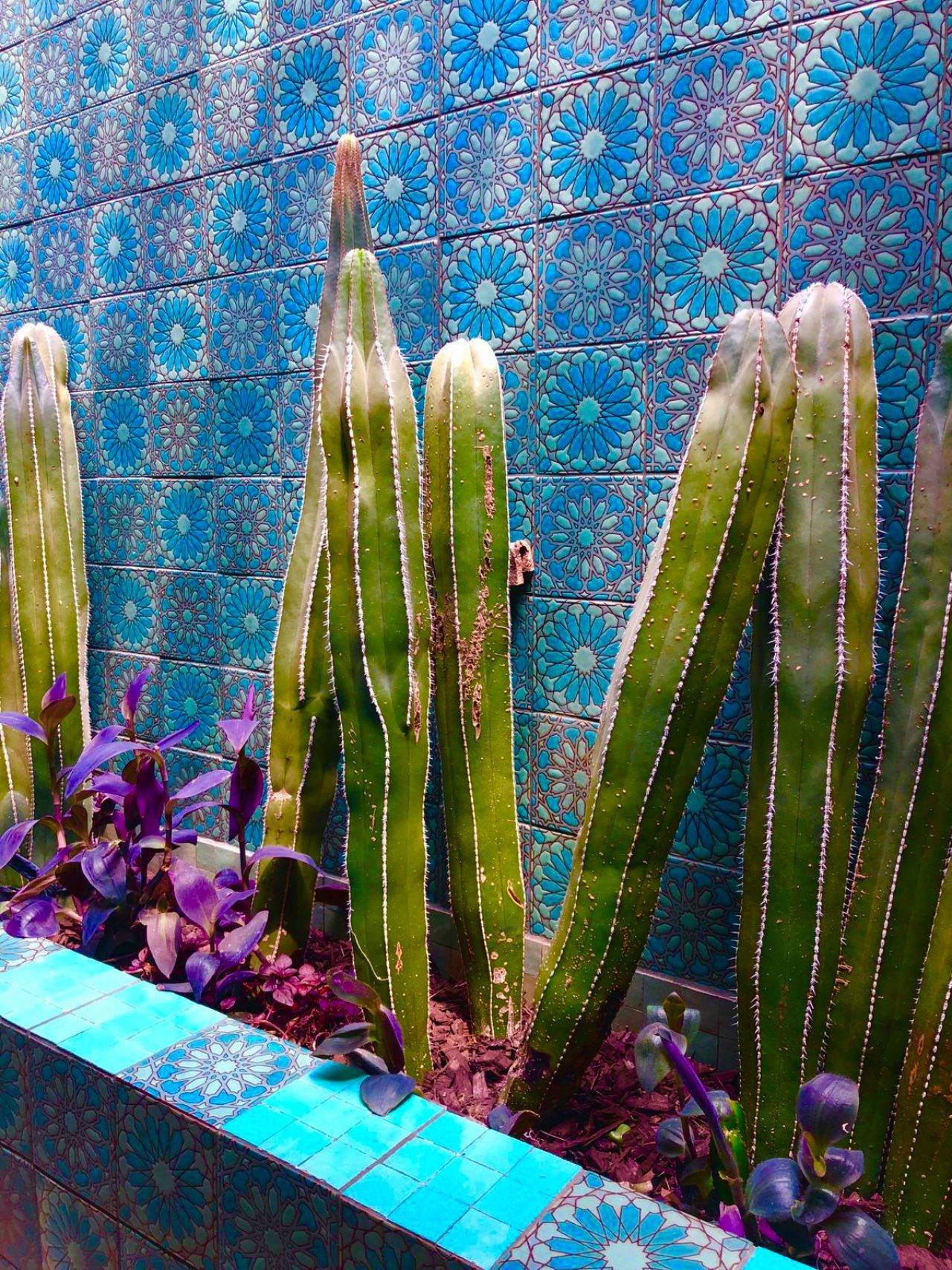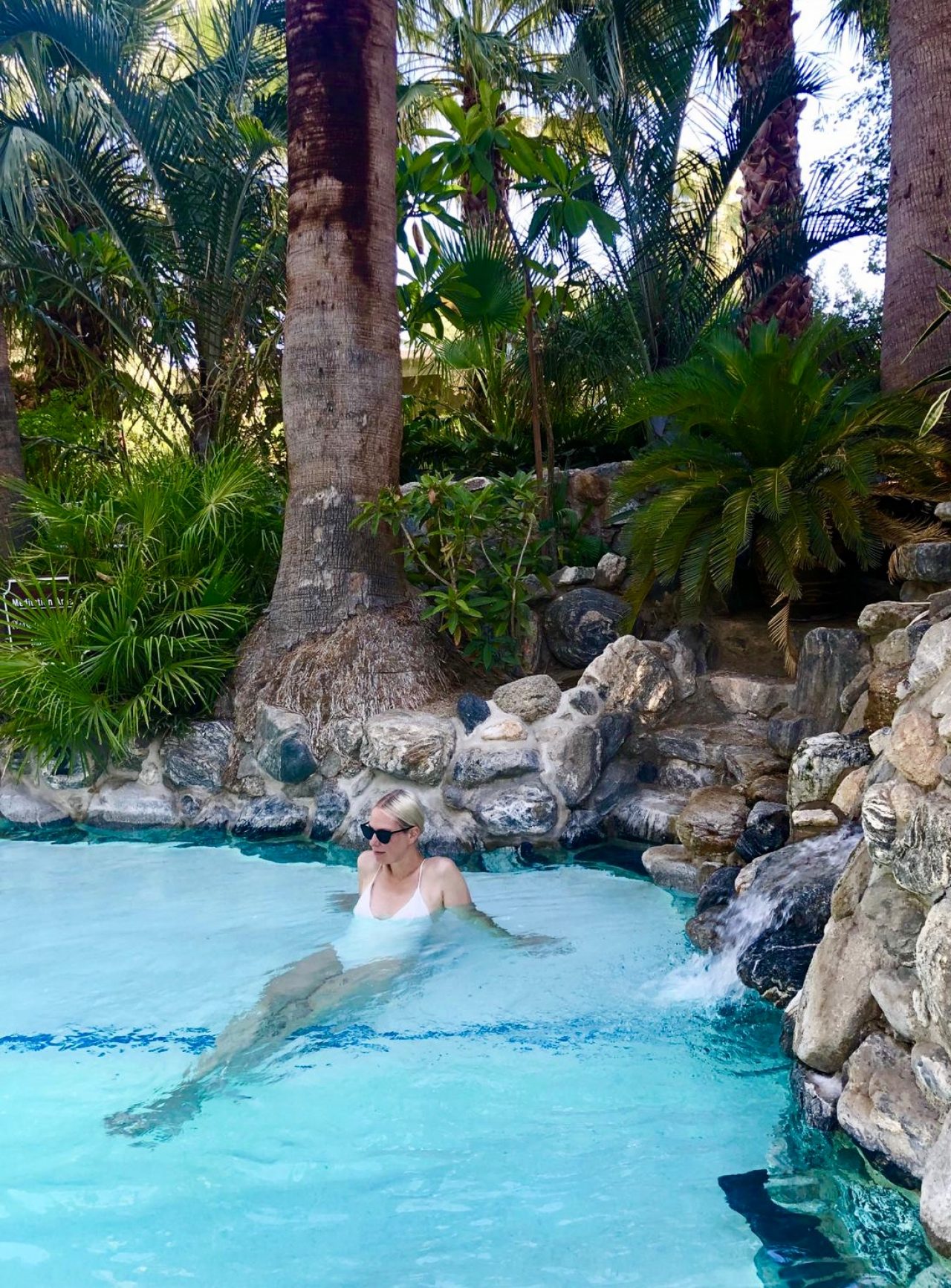 NATURAL MINERAL SPRINGS
Home to precious mineral springs that flow from nearby Miracle Hill straight down to the spas, the waters have been flowing for 600 years under the surface! This sustainable water source has multiple health benefits, as the water is low in sulphur and rich in lithium.
Providing a calming and soothing feel. In our room (the 'Capone' room) we had a beautiful private tub as well as access to all the other natural tubs, which each provided a different scenery and experience. The private tub is made from cedar wood, the scent pleasantly filled the air. Nothing beats it!
Guests really feel in the middle of nature at Two Bunch Palms. Wild animals like exotic birds, turtles, rabbits, fish and ducks live and roam on the premises, you can see them daily. During our stay, a family of racoons came out every night in the gardens!
SPAS AND SOUND BATHS
Two Bunch Palms offer a variety of free yoga sessions for guests taking place in a yoga dome, which we started the day with. The resort offers a variety of 50 weekly programs from fitness and movement classes, to meditation and sound bath sessions. There is also a tennis court and fitness centre on site. This month professional surfer Kassia Meador leads the floating sound bath sessions which "allow the brain to reach a state where it emits theta waves".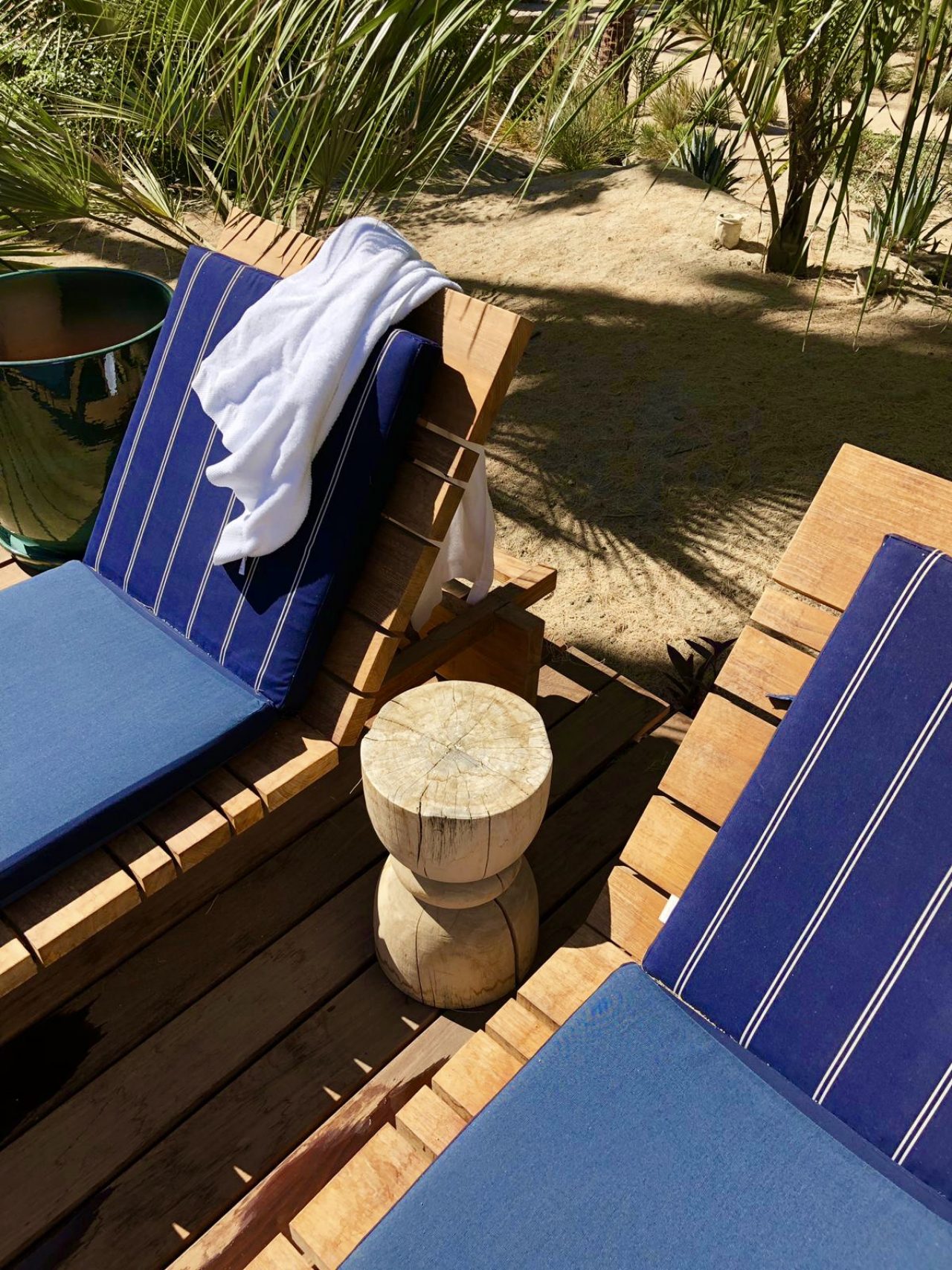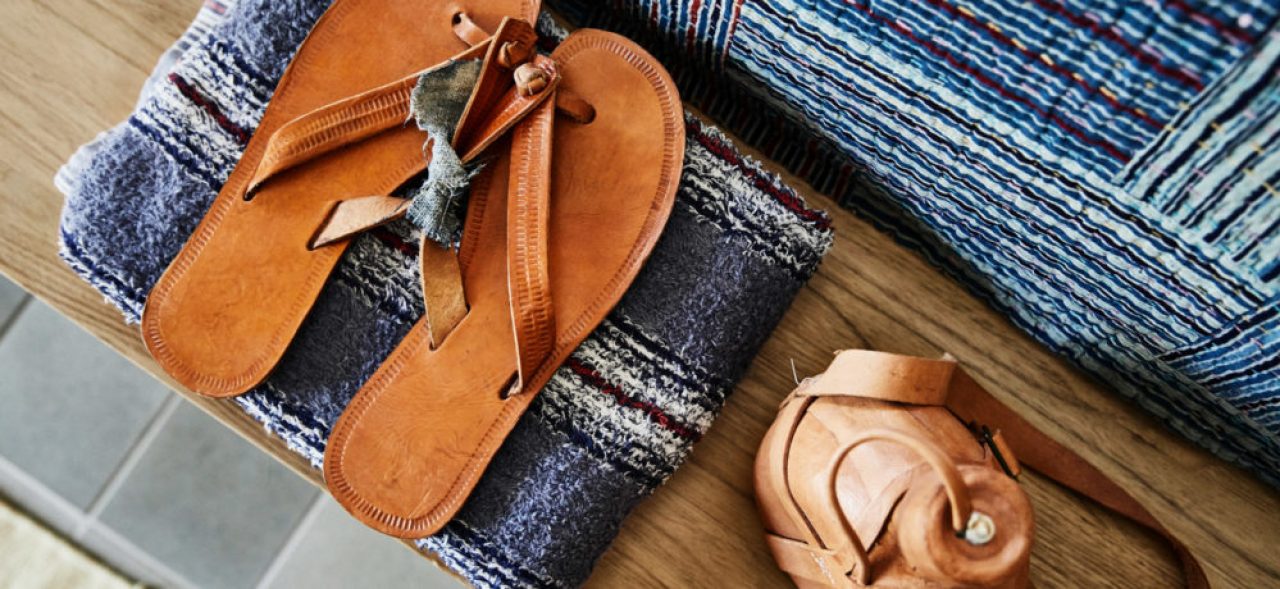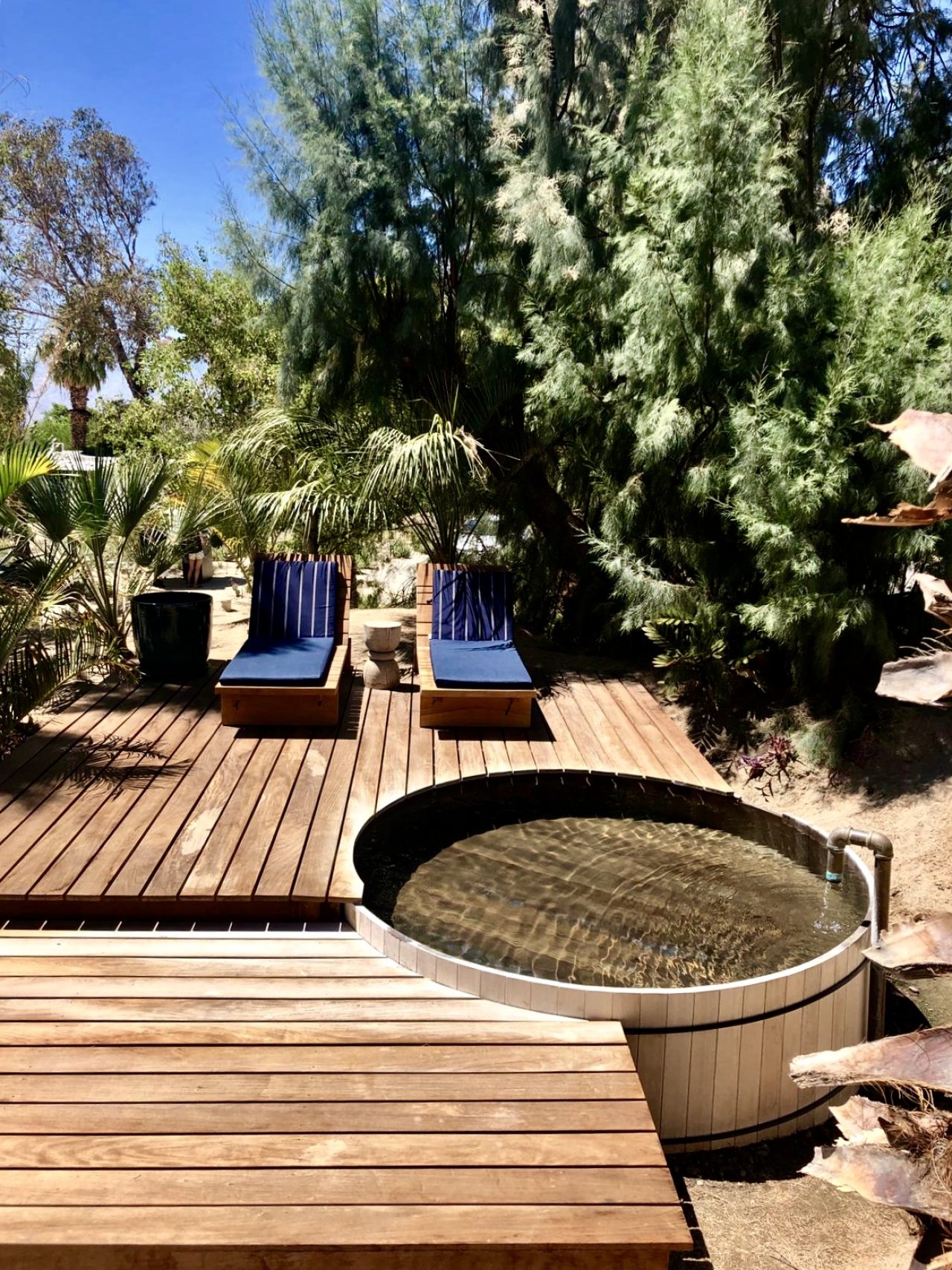 CARBON-NEUTRAL
Two Bunch Palms have installed a solar field to counteract their output and ensure they are completely carbon-neutral, making them the first carbon-neutral resort in America. Their business model is indeed a blueprint for others worldwide. In our consumerist environment each business has the power to make responsible choices, and Two Bunch Palms lead by example.
PRICES
During peak season – around August – prices start at £300. Book in advance, and don't forget the additional resort fee.
FINAL WORD
Practising what they preach, health and wellness is achieved at Two Bunch Palms through a responsibility to the environment. Guests wholeheartedly benefit from this whilst at Two Bunch Palms, and the resort's ethos is intended to stay with guests long after their visit.
∆
67425 Two Bunch Palms Trail, Desert Hot Springs, California, 92240, USA
Visited by Champ team architect Paul Cournet and designer Sabine Marcelis
#champ_palmsprings