DISHOOM
An Authentic Modernised Bombay Café-Inspired Restaurant In Kings Cross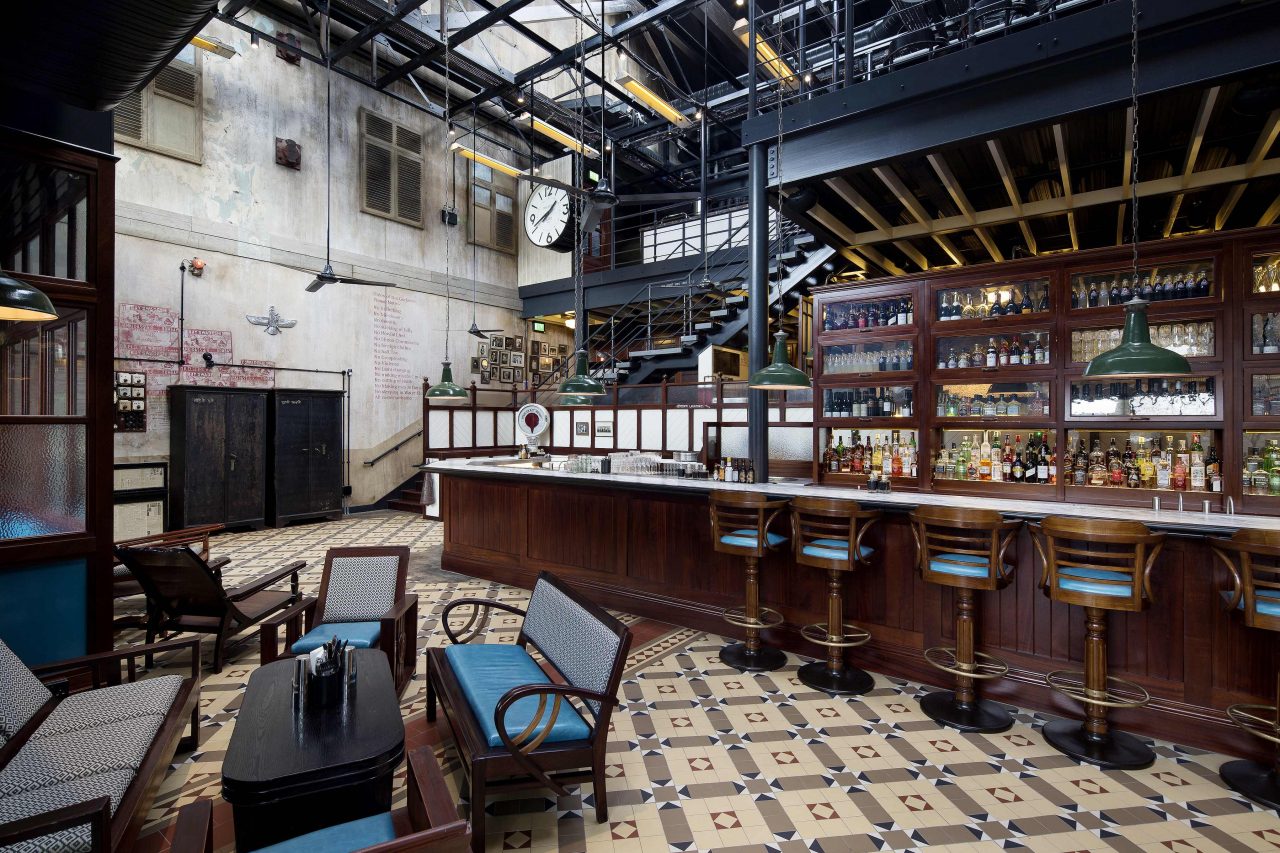 Enter the world of Dishoom. Even when the weather is spectacular outside, all is forgotten as you enter the world of Dishoom: Bombay Café. Now helming six locations across London, their Kings Cross restaurant remains their latest addition just alongside Central Saint Martins and Kings Cross Station.
Here, with a capacity of over 200 seats, Dishoom Kings Cross creates a feeling of a bustling and quiet havoc of classic Bombay dining. The interior is low-lit and amber glow-hued, with low-hanging emerald green industrial enamel lighting. Over the larger open spaces of the restaurant, large brass chandeliers take centre stage against a backdrop of brick walls with aged hand signage.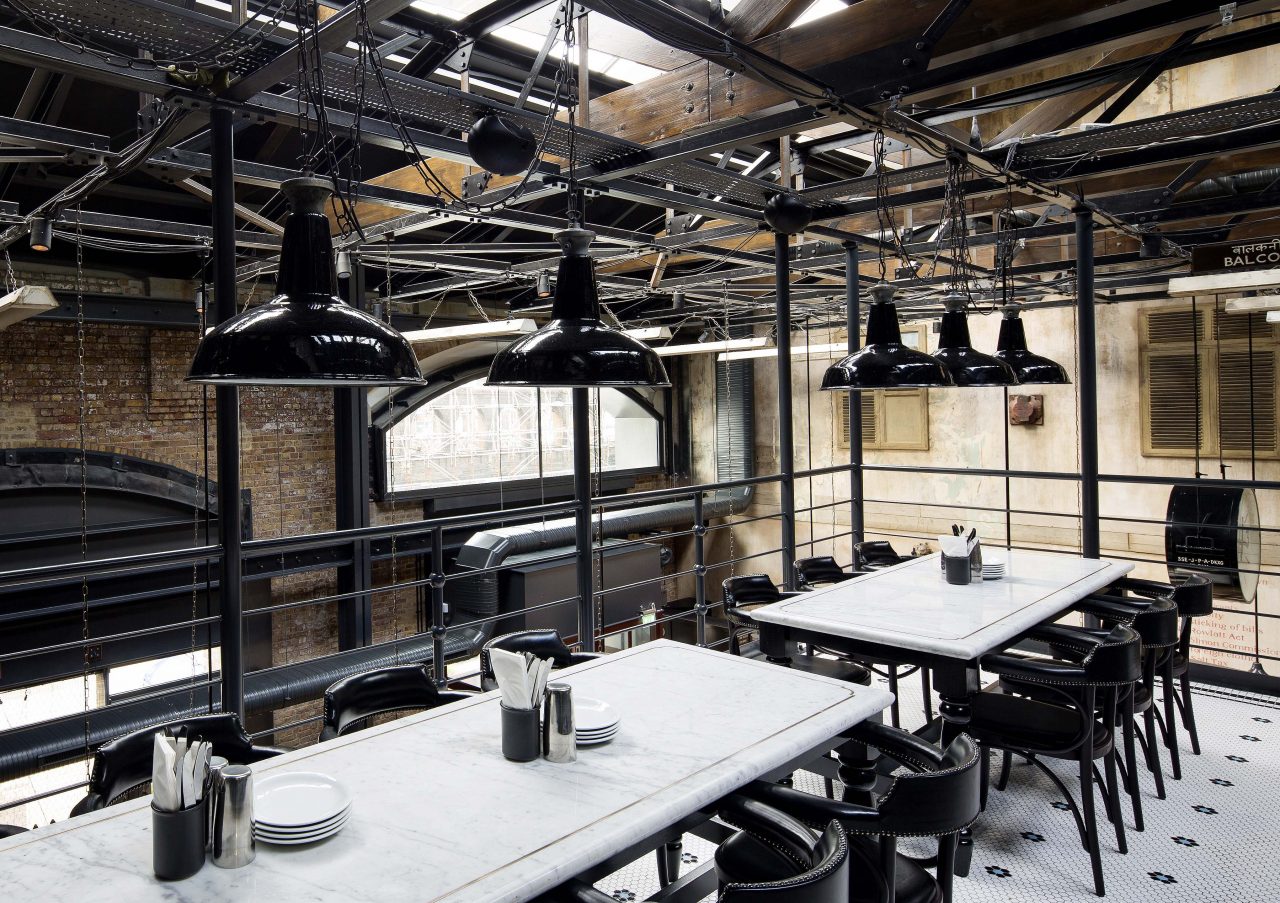 Every element has been considered to ensure Bombay café likeness and authenticity. From the menu to the interior and design details; from the English and Indian handwritten signage. Four levels occupy the Kings Cross location, with the basement occupying a dimly lit bar and group dining tables that highlight the Prohibition-era in Bombay. Find the restaurant toilets here also, made in an all-wood traditional era style.
The entrance features authentic railway cabinets and an looming clock, an original timepiece previously found in Bombay rail stations. The ground and first floor occupy additional dining groups and counter bar seating, which allow for more light from the large glass windows shaded by traditional Indian thin cotton and bamboo roll-up shade curtains.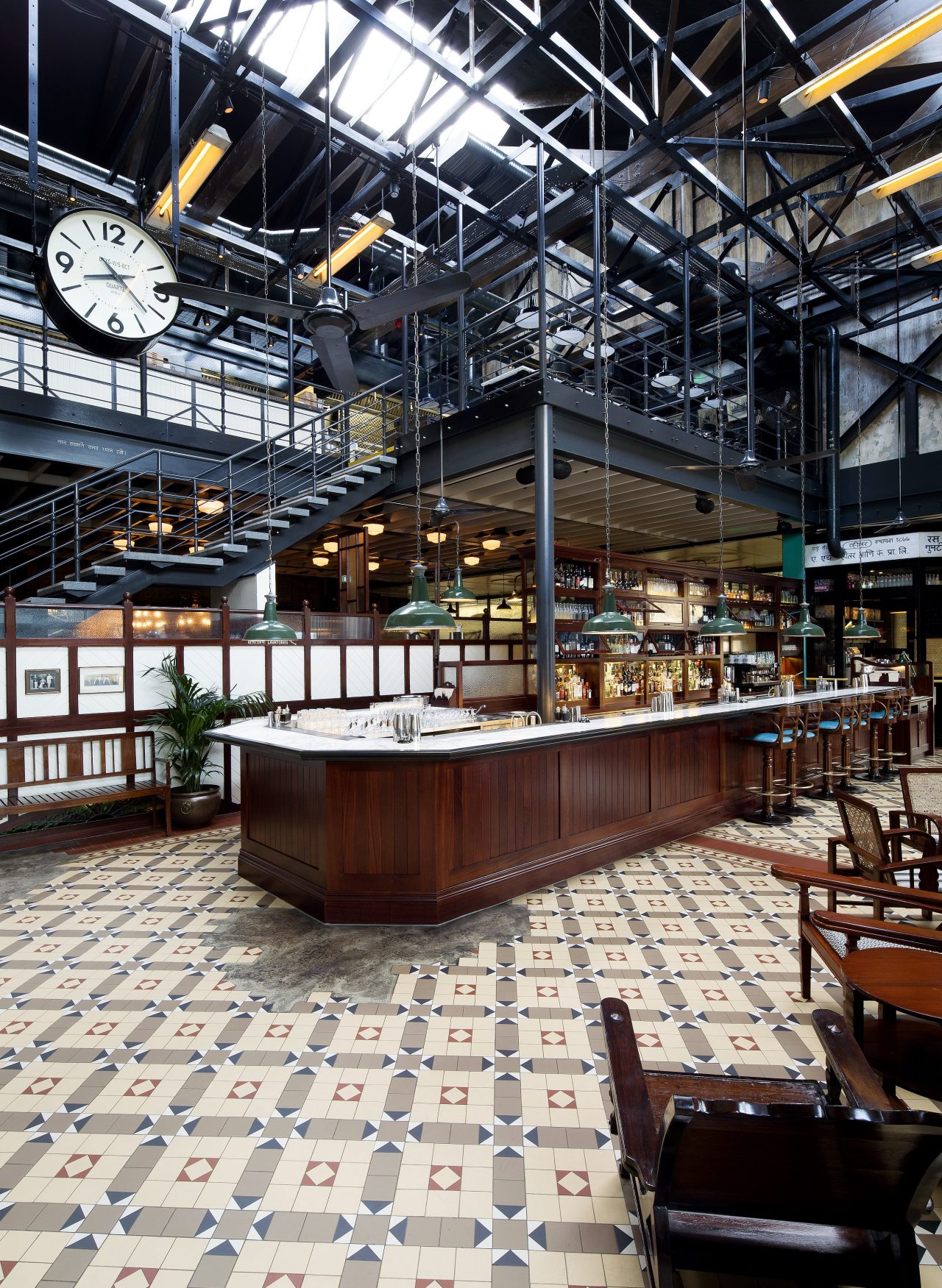 Framed portraits and photography adorn the walls, with images of Dishoom founders' family members to famed Indian literary novelists or pivotal cultural figures and activists such as Mahatma Gandhi. There's a taste of history throughout Dishoom, with a large emblazoned "Indian Uninvited Guest Simon Go Back" written in a washed-out wooden board referring to 1928 boycott of the Simon Commission (Indian Statutory Commission) in India under the lead of Sir John Simon, and the first all-India struggle after the non-cooperation movement of the early twenties.
Starting with a fresh orange juice and Dishoom's House Chai "made in the proper way" (and kept in a large thermos offering unlimited servings) it is clear to see and understand their cult following for their in-house authentic home-made chai teas.
One of the best starters to a meal at Dishoom includes a small plate of Far Far, explained as "a sort of carnival of snackery" which are lightly salty, tubular light crackers in colours of yellow, red and orange and brighten up the seating immediately. Sharing plates vary from Dishoom Calamari to Prawn Koliwada (fresh and perfectly-spiced).

Dishoom's Awadhi Lamb Biryani, cooked in traditional 'dum pukht' style (sealed clay pot cooked at a low temperature) is a stand-out of sumptuous Welsh beef cubes forged amongst perfectly cooked basmati rice. Dishoom's Signature House Black Daal (cooked for over 24 hours) is a perfect accompaniment for dry dishes with it's rich and balanced sauce.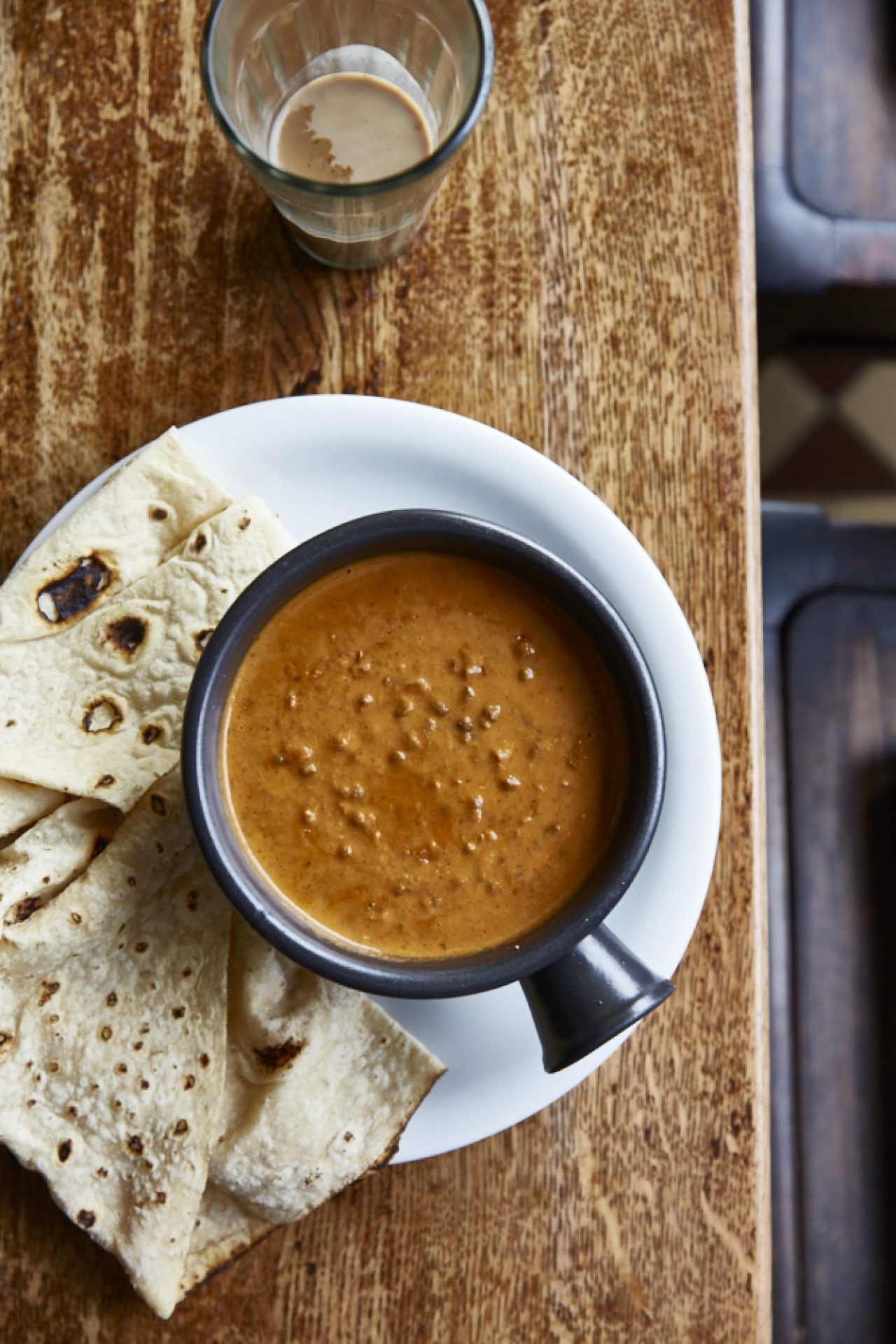 For dessert, Dishoom's Puddings include Gulab Jamun (chestnut-brown dumplings, served warm with citrus fruit and ice cream) or Memsahib's Mess (fresh cream, crushed meringue, strawberries, rose syrup and gulkand) what the Memsahibs of Malabar Hill used to serve at their exclusive dinner parties. In 19th century India, British Memsahibs were the wives of officials, military officers, missionaries, and merchants in Malabar Hill, an upmarket residential neighbourhood in South Mumbai, Maharashtra.
A particularly curious and refreshing dessert option is Mango Kulfi On a Stick, and is as simple as it sounds; a traditional Indian frozen dessert of boiled milk, sugar, saffron, pista and cardamom presented on a wooden stick and served in a glass. Why not pair it with Dishoom's sparkling Pudding Wine (Luigi Tacchino Moscato D'Asti Nv, Piedmont) that is fruity and light, the perfect accompaniment.
One other dessert we couldn't miss, was Dishoom's Velvette Fogg; an unbelievable in-between option of dessert and liqueur that balances chai ice cream served in a glass of coffee liqueur and vodka. Simply divine. End with a fresh mint tea to cleanse the palate.
One of the strongest points of Dishoom Kings Cross is it's friendly and affable staff, making the whole experience very welcoming. It is possible to stay for hours here and really forget the passing of time.
DISHOOM Kings Cross 
5 Stable St,
Kings Cross,
London N1C 4AB
#champ_london
Written by: Nick Daley