The Robey
A Historic Art Deco Building Transformed Into One Of The Most Beautiful Design And Lifestyle Hotels In Chicago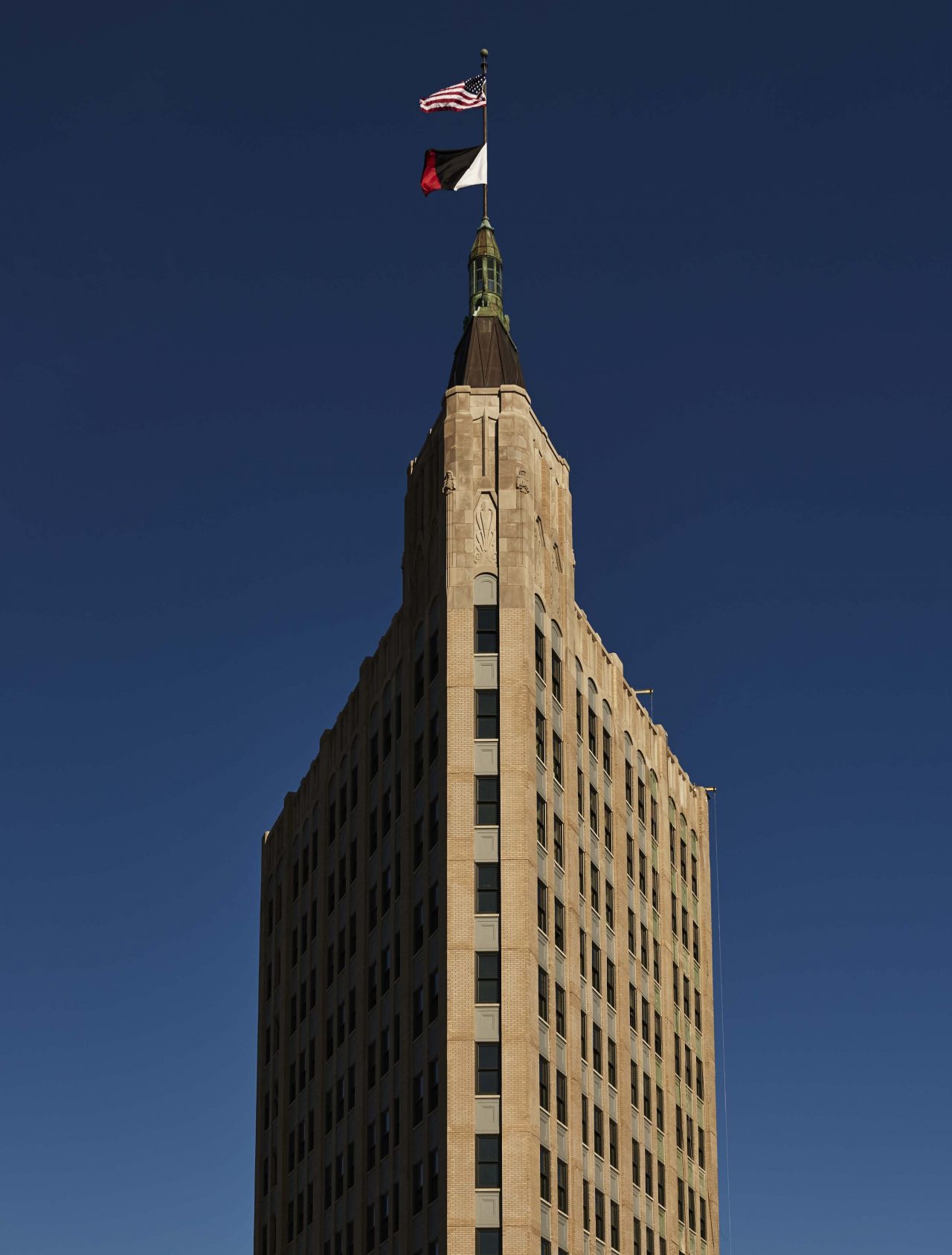 A historic Art Deco building transformed into one of the most beautiful design and lifestyle hotels in Chicago. The Robey is a one of a kind, conveniently located in the middle of two of the Windy City's most happening areas. Champ Editor in Chief Monique Kawecki explores the design hotel with a curious history.
Surrounded by new bars, restaurants, artist studios and right next to the L train (which takes guests straight to Downtown in minutes, or directly to O'Hare International Airport in 45) the Wicker Park and Bucktown areas couldn't be better for The Robey clientele. 
Light-filled rooms each have stunning city views (or skyline views if you are in the top suites), hardwood floors, with desired Le Labo amenities, Egyptian cotton for bedding and Surface magazines for guests on side tables. There are 89 in total, set over 13 floors, and each is designed completely differently, still adhering to the minimal and functional design aesthetic. The vision for the ahead-of-its-time overall modern interiors originally stems from The Robey owners Carlos Conturier and Moisés Micha of Grupo Habita. They've executed it perfectly. Nicholas Schuybroek Architects and Marc Merkx Interiors were responsible for the tower interior design and layout, and they enlisted the work of Parisian architecture and design studio Ciguë and Studio Delordinaire (based Paris and Montreal) to also contribute their unique skills.
The Robey is in infact two buildings combined: The Northwest Tower, built in 1929 with a 'flatiron' appearance originally intended for office use, and the Hollander Fireproof Warehouse, built in 1905 after the Great Fire in Chicago as a solution to safely store furniture or other goods. Hand-poured concrete pillars are exposed and celebrated in the Hollander, as is the Art Deco found in the Northwest. Combined together with Grupo Habita's vision, The Robey's design language is completely unique, naturally merging with the dense existing history of Chicago.
The Robey's name stems back to 1895 when what now is known as Damen Avenue was named Robey (it was changed to Damen in 1927). The team celebrate the hotel's history with blueprints of original designs framed throughout the building, and although they don't shout about it, their restoration project is a great example for similar projects attempting this in other parts of the world. This is the second hotel in North America for Grupo Habita (where they partnered also with Don Wilson of local company Convexity), with their first being in New York: the renowned Hôtel Americano celebrated for its individual design and refreshing approach (this however, is not Grupo Habita's first foray into the hospitality industry, the duo have founded numerous highly regarded hotels in Mexico). 
180 degree views of the city from The Robey are better than from anywhere else in the city: you can see various multi-purpose buildings, the train line, the 6-way intersection below, all the beautiful and diverse tones of the real Chicago. This is best experienced from the top floor bar, The Up Room, with sleek interiors matching innovative cocktails.
A few floors down on the 6th floor is the Cabana Club, which has an outdoor pool on the terrace, has a kitchen that serves flavoursome American dishes, and is also open to the public. Guests can mingle with the locals over drinks, food and views until midnight. Down further on the 2nd floor, The Lounge is where guests can get some work done (free WiFi) lounging and listening to whichever vinyl DJ is scheduled for that day (there is even a chic meeting room for private events). On the ground floor Café Robey serves modern American cuisine: fresh, light and delicious. Also on the ground floor, The Robey Hall is open to book for meetings, talks and events. There is a permanent coffee machine available here, and there is also has a convenient separate door for guests especially for private events.
The Robey creatively blends Chicago then and Chicago now, staying fluid in its approach. Although it has a Brooklyn or Shoreditch feel to it, don't let that deter you too much, this is still ambitious and aspiring – yet gritty as hell – Chicago. 
We break down the best parts of the hotel below for you: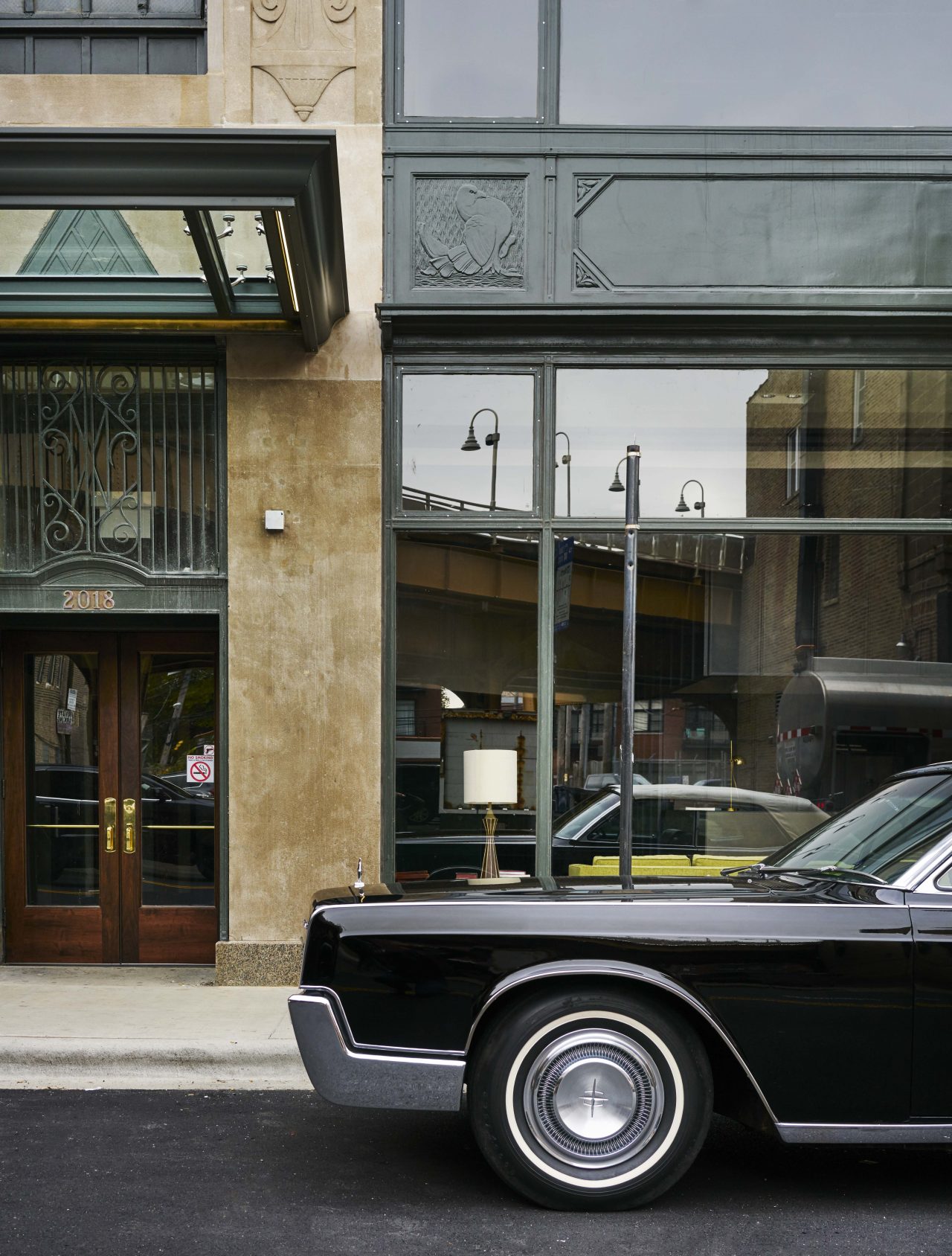 THE DESIGN
A contemporary elegance unmatched. The Robey's design is a unique recipe for modernism and classicism combined. Hotel owners Carlos Conturier and Moisés Micha of Grupo Habita interest in design is evident (we are told they have a strong love of art, too, and were in town for Chicago's EXPO art fair also). They worked with Nicolas Schuybroek Architects and Marc Merckx worked on the overall layout and interiors, also commissioning French studios Ciguë and Studio Delordinaire on the interior details (Delordinaire oversaw the interiors in the Hollander Fireproof Warehouse building).
Original terrazzo table-tops are found throughout the hotel's bars and restaurant, and along with brass detailing and soft-toned fabrics set against the original limestone and hand-poured concrete, it's a simply winning combination.
The graphic identity of The Robey is evident as soon as you make a booking on their website. Executed by New York-based designer Javas Lehn Studio, they created an entirely new visual and verbal identity for the hotel. Developing a unique logotype based on original sketches of the Robey Street sign, they even incorporated specific proportions from typefaces of the mid-1920s to create a custom typeface: Robey Sans.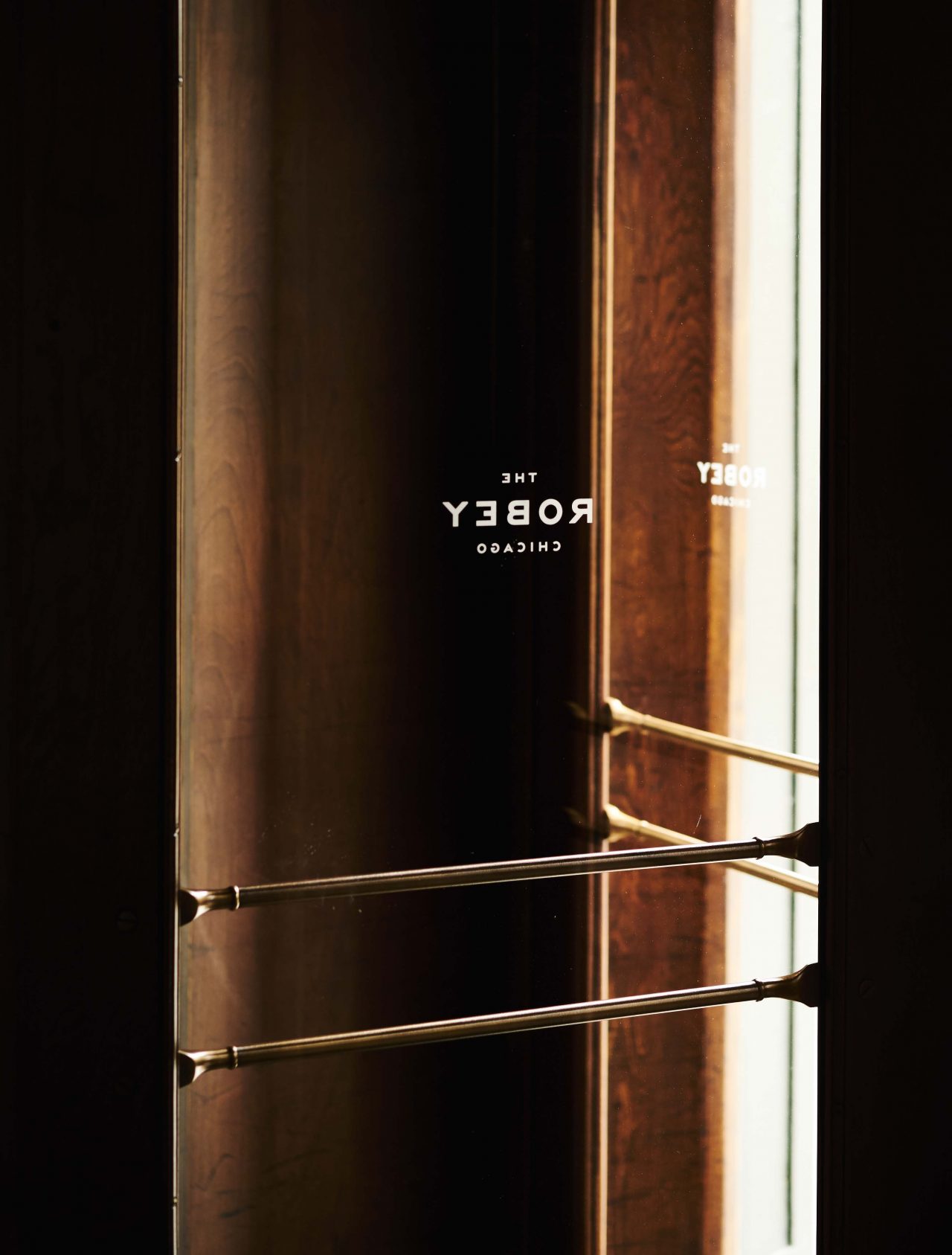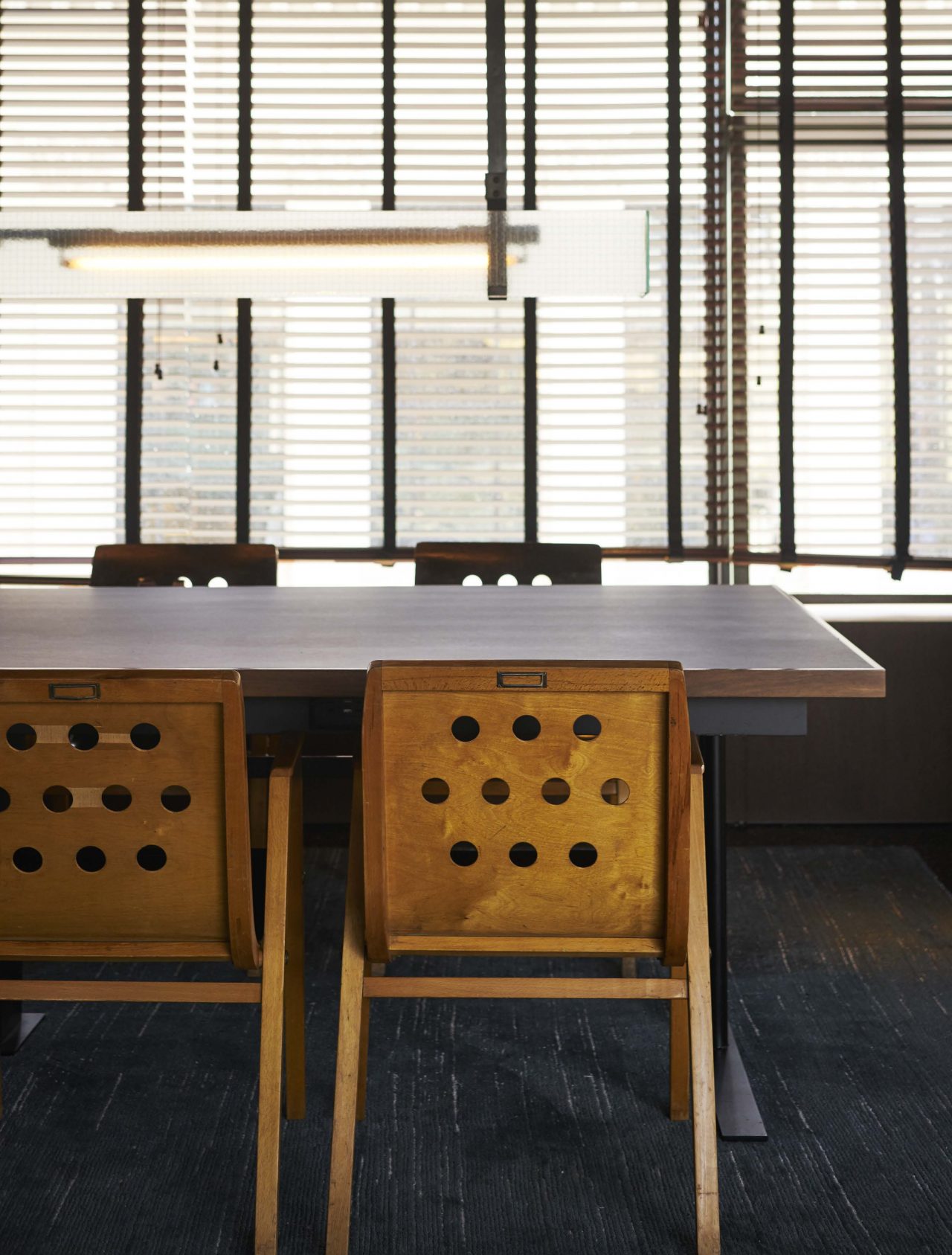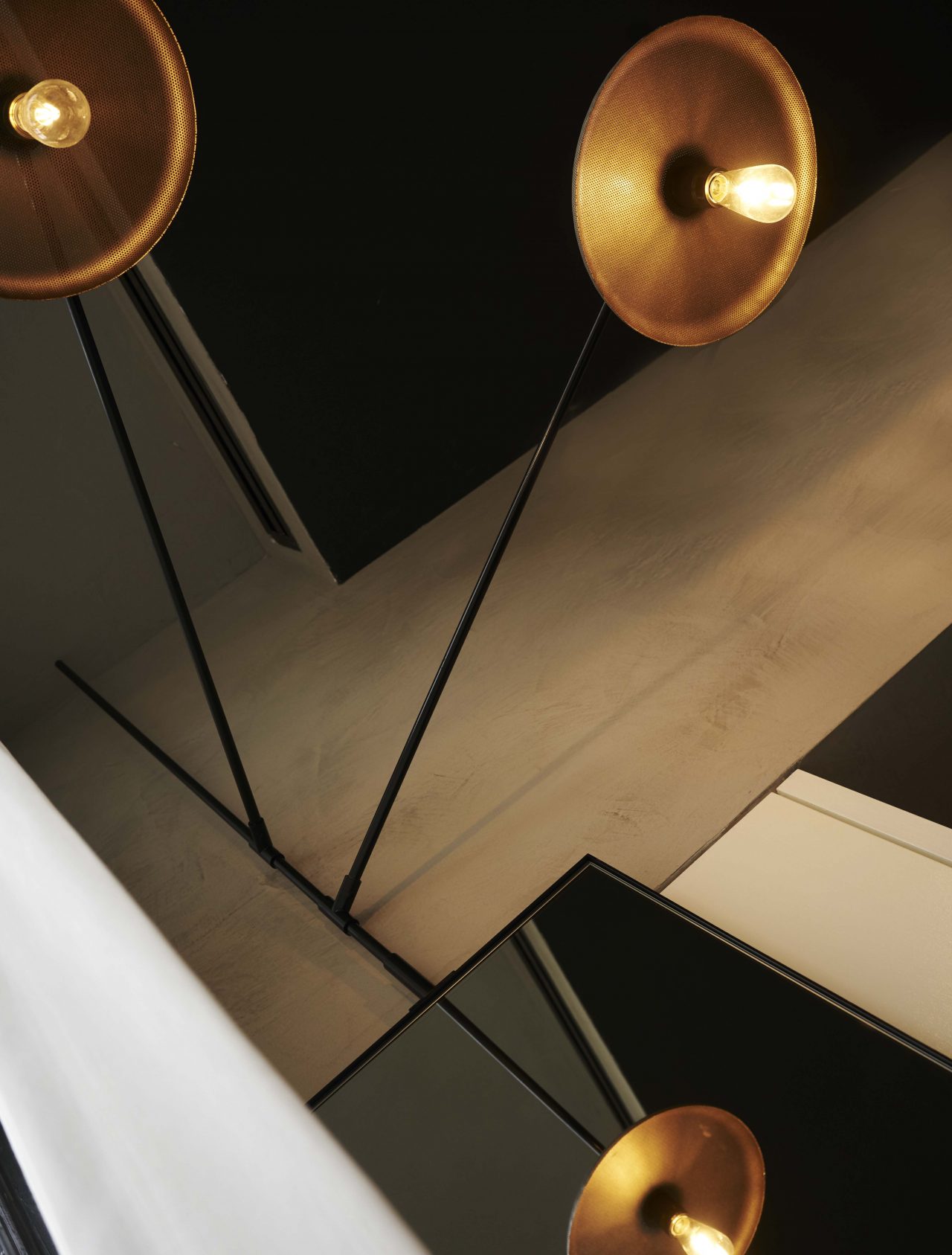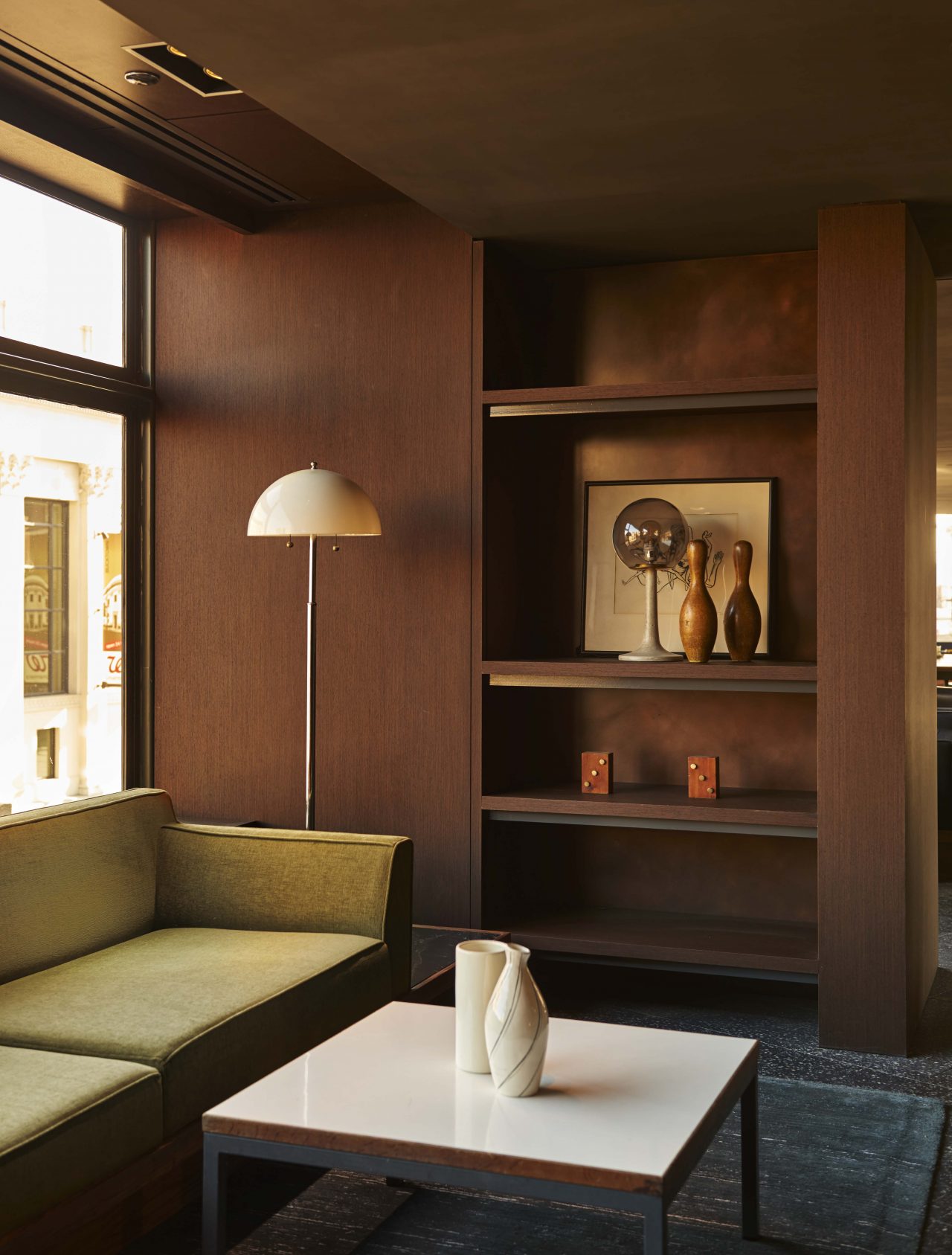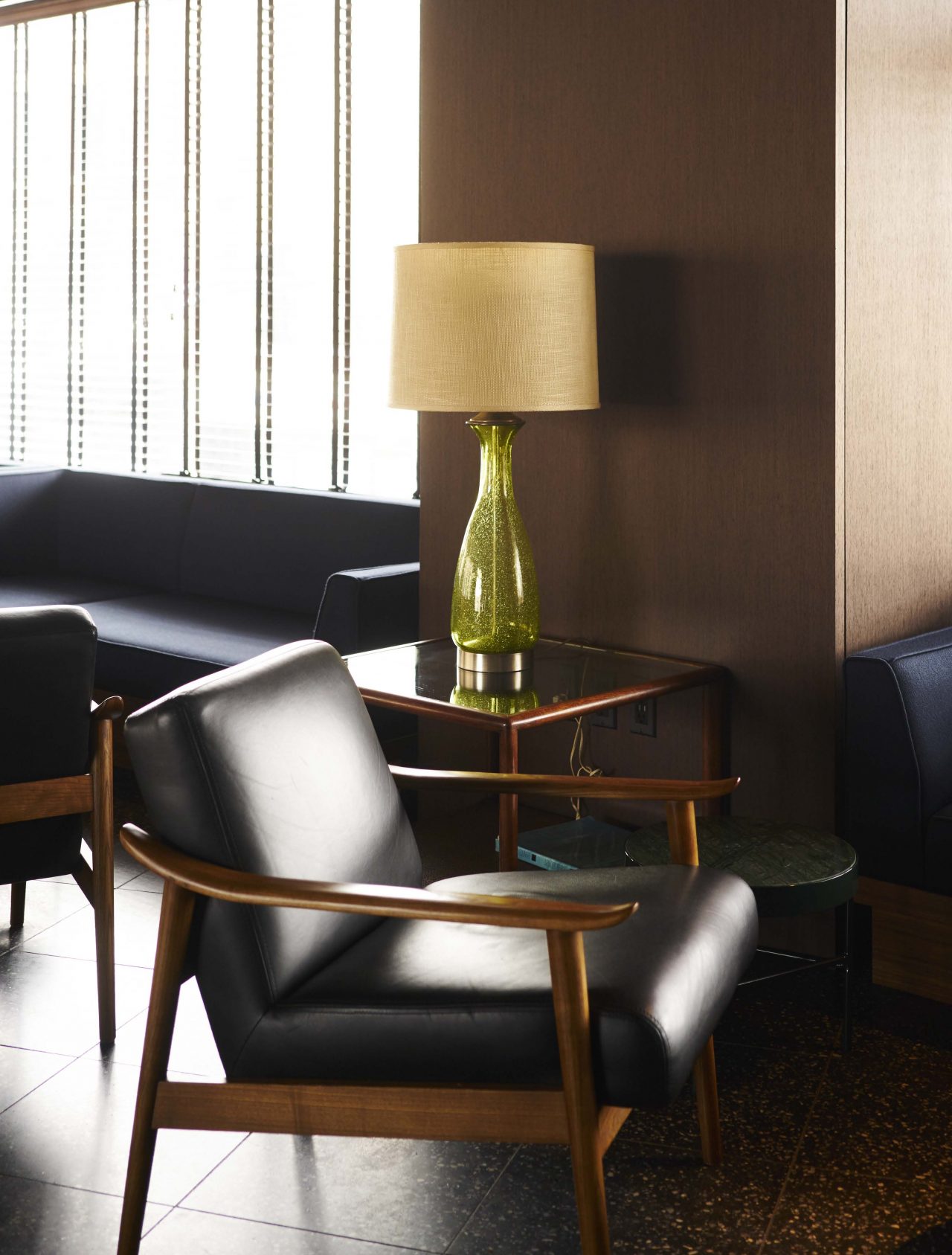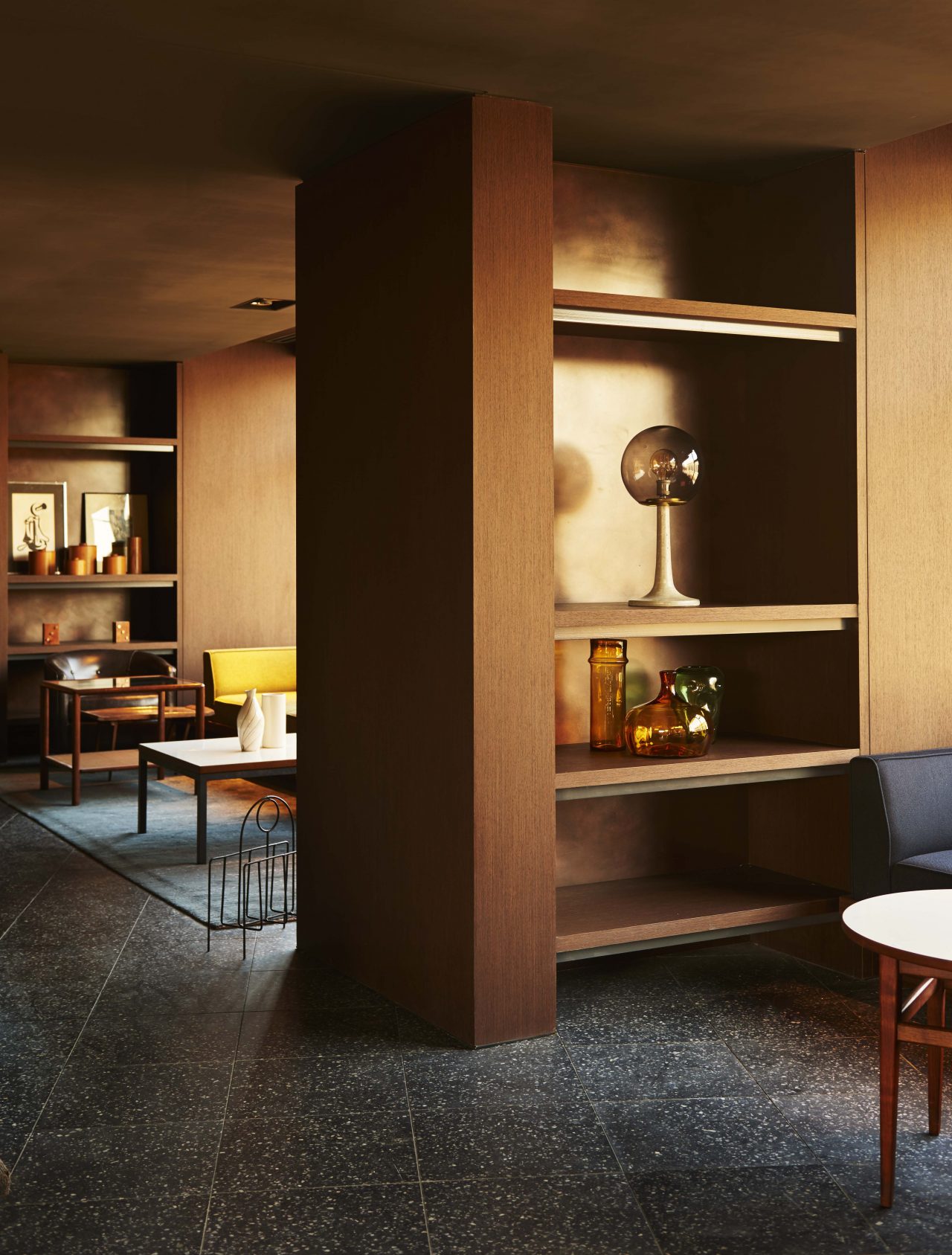 THE ROOMS, IT'S ALL IN THE DETAILS
They say that no two rooms are alike, intentionally, but their signature comforts and practicalities remain the same.
Le Labo toiletries, the considered selection of in-room snacks (locally-brewed beer, waters, chocolate, and a trail mix for the health-conscious busy traveller). An unsuspected yet convenient plus is that there is a set fee for the in-room extras, at $18 you can grab-and-go or have them replenished each day.
Beds are queens and king size, with simplicity a key to the comfort. You'll find Egyptian cotton bedding and pillows with just the perfect amount of bounce. Woolrich rugs are found on every bed, alongside The Robey-branded earplugs (and chemical-free makeup remover sachets in the bathroom). Books and new magazines are available for guests (such as the new Surface magazine, also a partner of Design Hotels), flat screen TV and blue-tooth enabled soundsystem (surprised it wasn't Sonos..!).
This is all in the Tower Rooms, where you can choose from the Landmark Queen, Urban King, Corner Room and Panorama Suite (on the 13th floor). The Annex Rooms have more of an industrial feel and are set up loft-style. Here you can find two double beds in one room. Bathroom and showers are separate, and this works really well with guests of 4 in the loft. 
Prices start from $175 to $445 depending on time of year.
GYM AND THE EXTRAS
There's no in-house gym but something even better. Just a few doors down, the hotel partners with the chic Bucktown Athletic Club. There you find a wide range of equipment, more than you'll find in even the most equipped hotel, and this is precisely the way to supply for your guests. It has three floors of state-of-the-art fitness equipment. Yoga classes are also available, you'll need to inquire with the hotel for the full schedule. Also, house bikes are able to be loaned, depending on seasonal availability,
The Robey has also partnered with all of its neighbours in its ever-changing neighbourhood. Rapha, Adidas Originals, Fjallraven, Spa Soak, Salt Fitness and more all offer discounts (Adidas Originals 20% off for instance) and it is a small but useful benefit to staying in the area.
To our delight, there is a coffee service served in the lobby from 5-10am, and then later lemonade and homemade cake at 4-8pm. That's what we were greeted with when we checked in, and it does provide a warm welcome.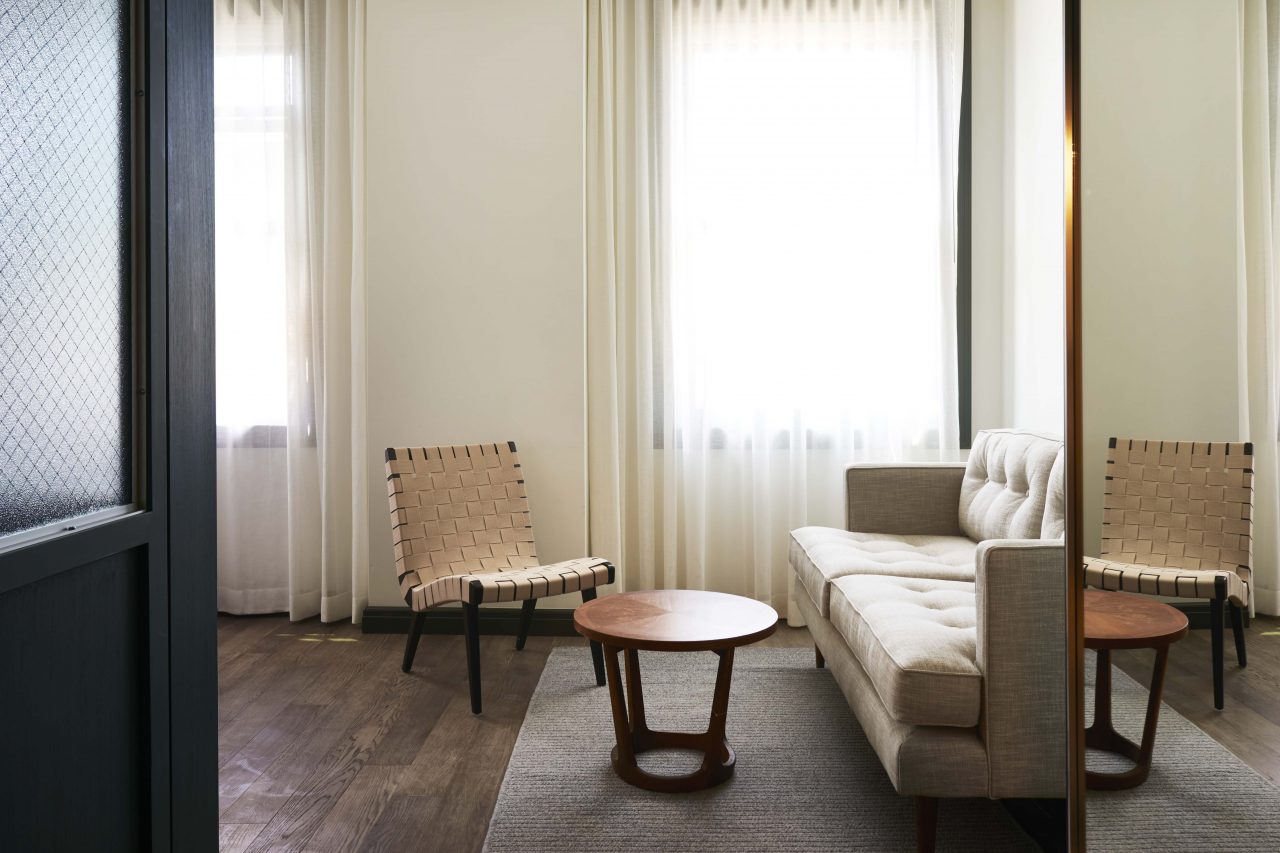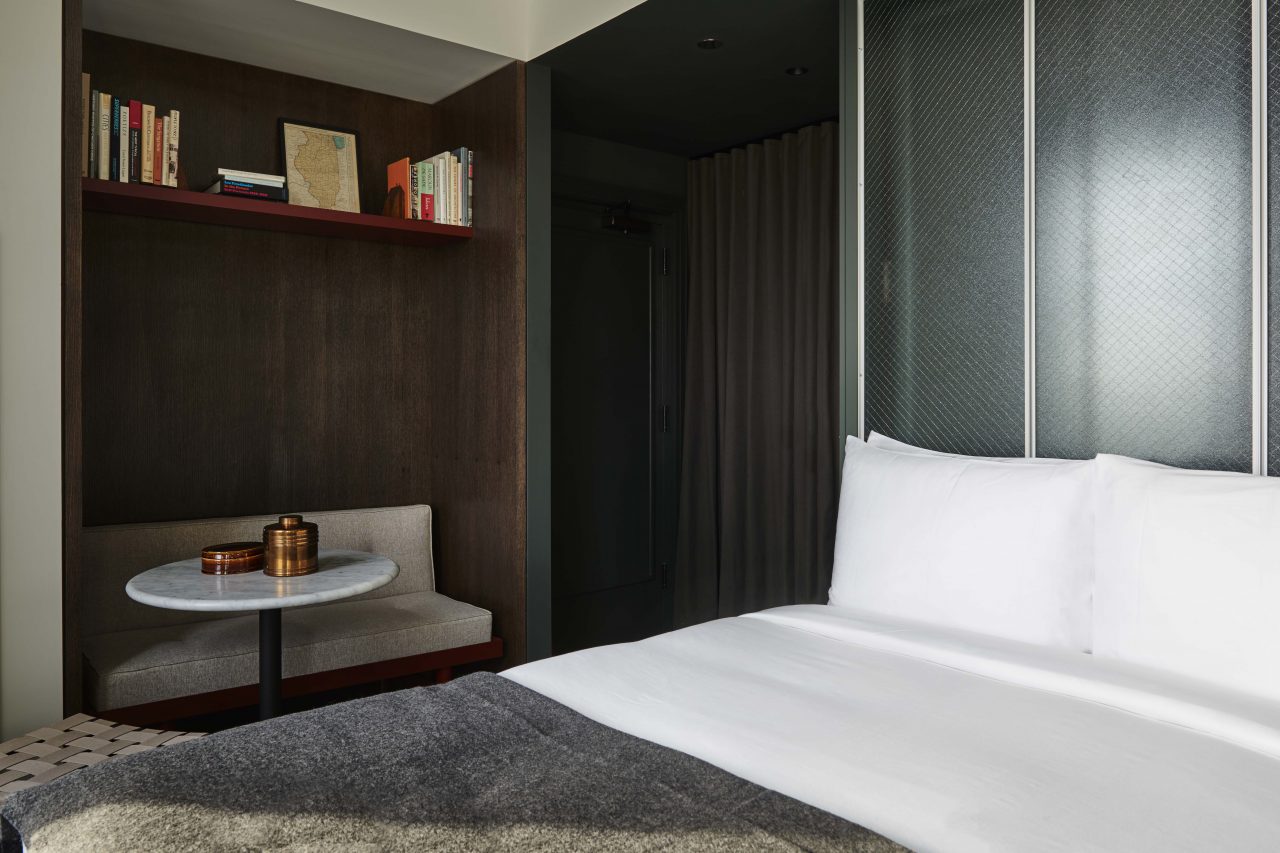 THE STAFF
We were a late booking, due to a hectic schedule, and even at 7pm that evening via telephone, Will the manager booked us in. Living in the neighbourhood before The Robey opened, Will has seen the area change significantly. He's young too, savvy and in-the-know. Which is what makes his presence at The Robey so invaluable: he knows what's up and the diverse clientele at The Robey – be it young or old – expect that.
When we checked in at 8pm in the lobby, we met with Caésar and AG the night staff, who were extremely knowledgeable and passionate about the hotel. It was genuine, too; it's hard to not want to work in an efficient and well-designed environment, and it's evident that every staff member enjoys their time there.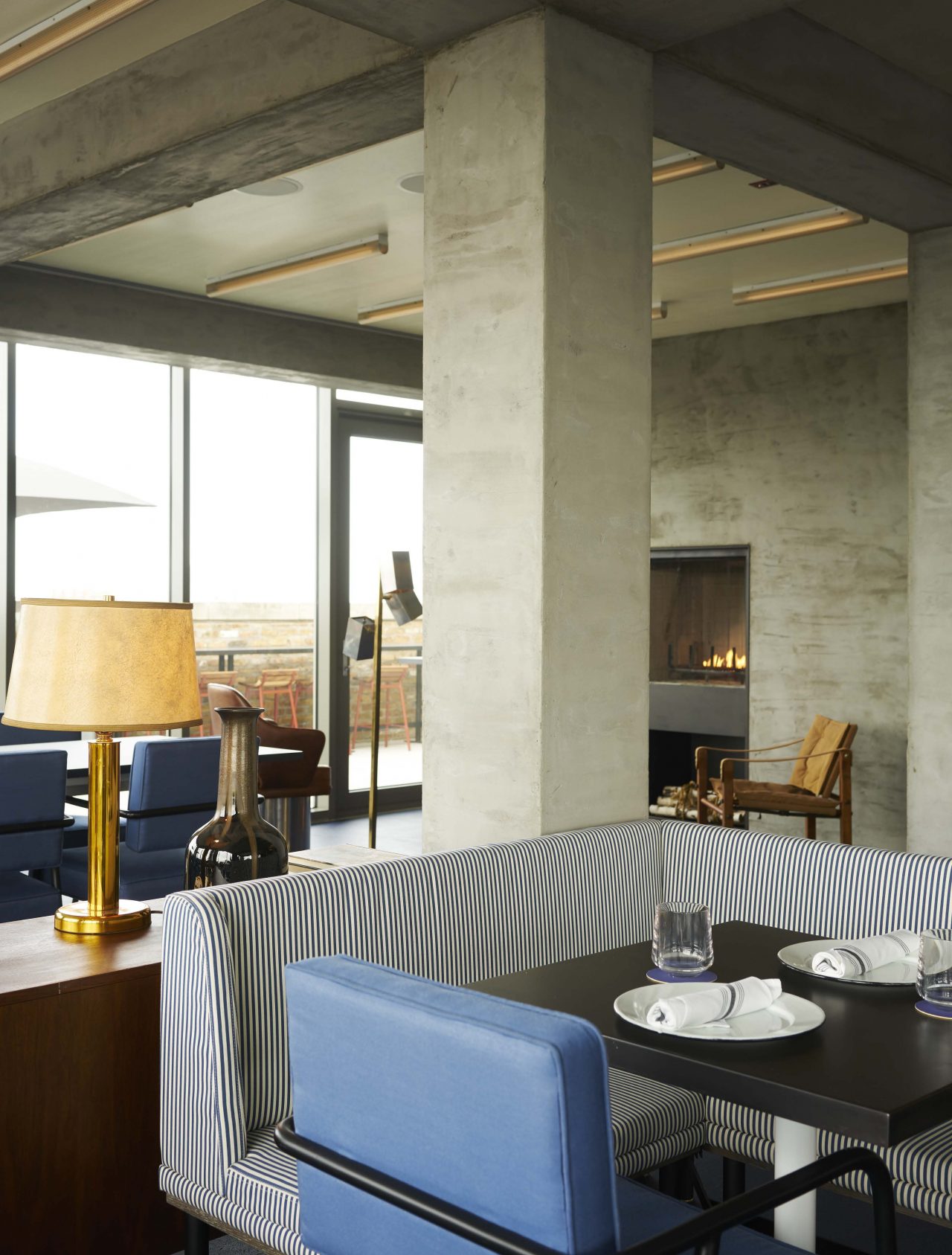 THE CLIENTELLE
Part of the Design Hotels group (SPG which was recently acquired by Marriott Hotels) and their partnership scheme, they offer additional benefits for Design Hotel members. The Robey have a huge amount of repeat clients, those that have been won over by their charm and unique hospitality. They really know the recipe for success.
The hotel draws a lot of entrepreneurs and creatives, but their reach is so widespread that their clientele is extremely diverse.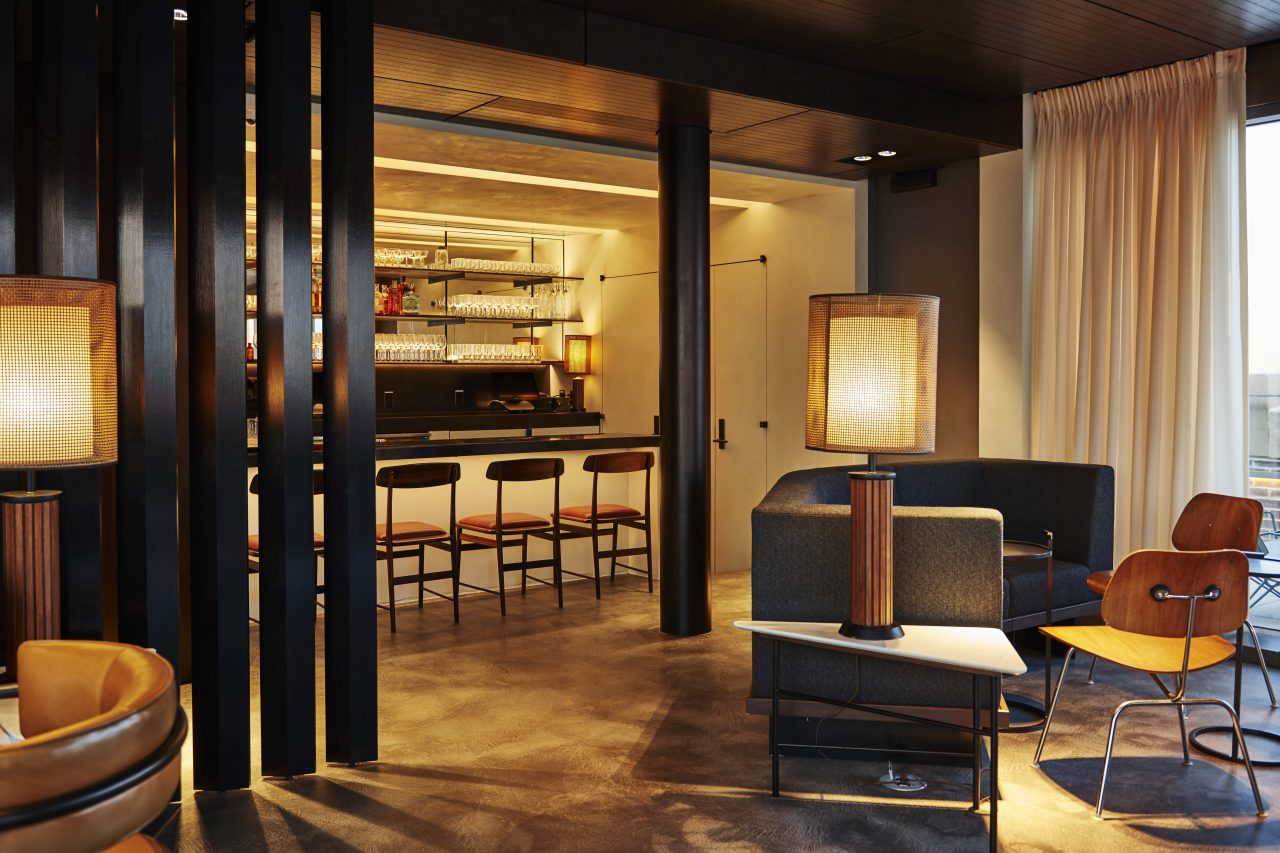 THE AREA
Located on the edge of both Buckstown and Wicker Park areas, the hotel is on the '6 corners' with one corner being Milwaukee Avenue, you can explore the area walking down about 1/2 a mile where new boutique shops and cafes (Worm Hole for good coffee) are abundant. The area is now very sought-after (with properties selling in the millions).
Across the road is Estelle's: a new music hotspot which is open til 5am some nights, and a few doors down is Subterranean: a music joint with improv and freestyle on Tuesdays and reggae on Thursdays. Their curation and freedom is what makes this the place to be, with numerous Robey staff we spoke to frequenting the Sub. All within walking distance, there is also bar TAPSTER which has its own beer garden and guests can pour their own beer from the wall, Big Star the home-style taco joint, CHOP which is a restaurant, sandwich joint and bar, ETA bar and restaurant, The Republic which has a great oyster bar, and finally Small Cheval which apparently has "the best burger you'll ever have" according to staff member Caésar.
The area also has a huge art community, with an arts school just down the road. The school has an Open House every other week, and you can buy from artists directly on these evenings.
The Robey is conveniently located right next to the L Train (Blue Line). This line goes straight to Downtown (the city centre of Chicago) and to O'Hare International Airport (it takes about 45 minutes and comes every 10 minutes). A taxi to the airport is about $80 plus tips.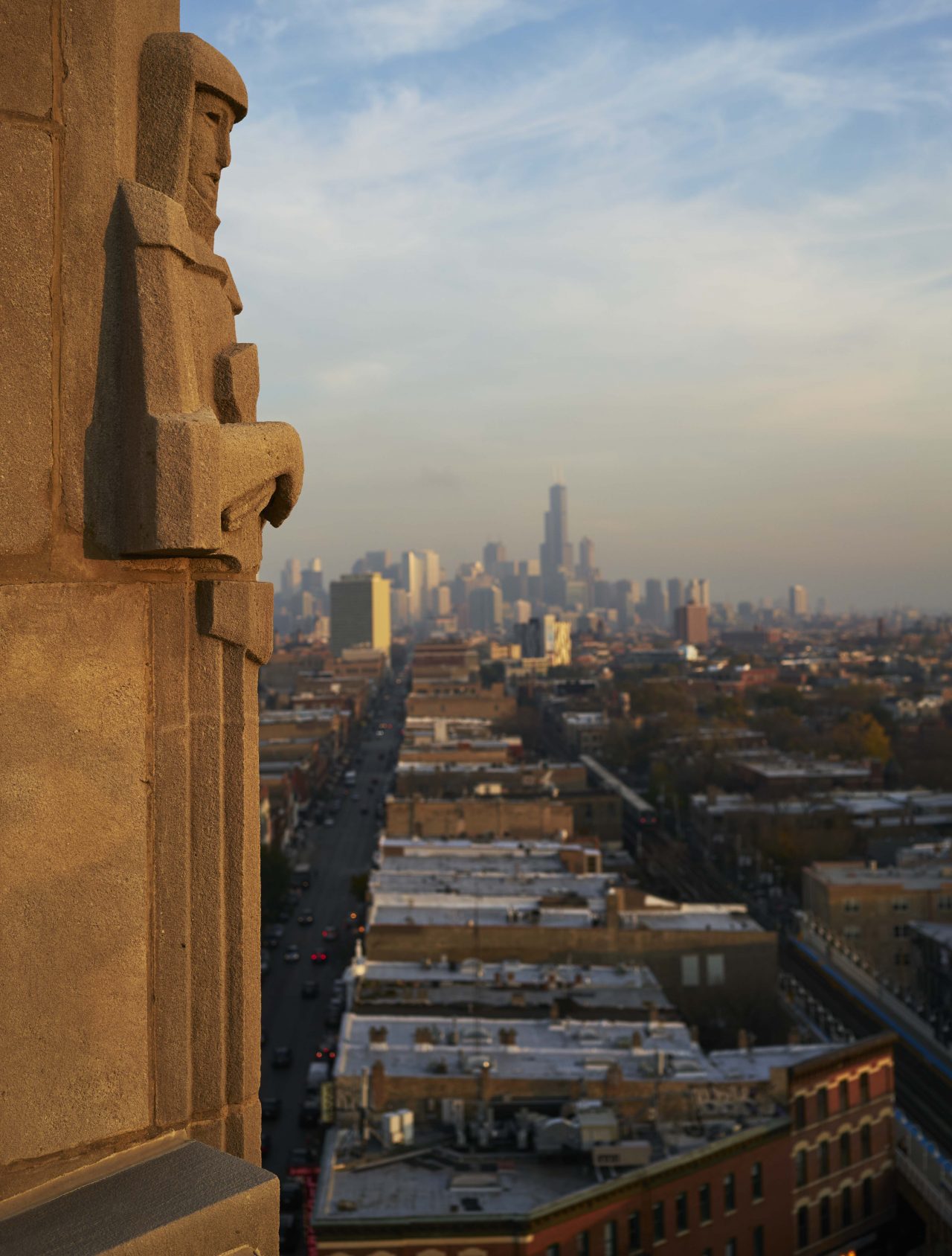 2018 W North Ave, Chicago, IL 60647
Visited and reviewed by London-based Champ Editor-in-Chief Monique Kawecki