Santa Maria Nouvella
A 600-year-old Perfume Store In The Heart of Florence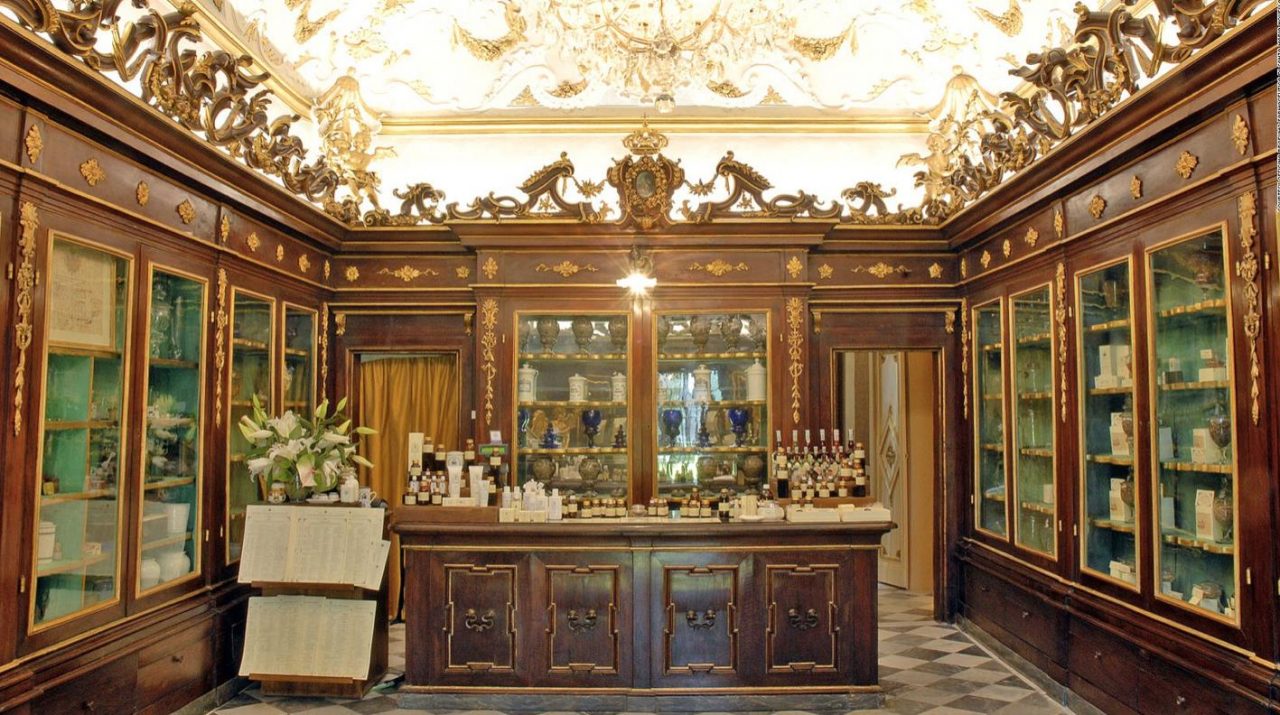 Walk quickly and you might miss it. Hidden behind an unassuming facade on a semi-busy street, full of passers-by and local traffic, in the heart of the breath-taking city of Florence lies one of the city's most renowned businesses.
A perfume store by description, Santa Maria Nouvella is so much more than one would expect. As guests enter Officina Profumo-Farmaceutica di Santa Maria Novella through its heavy wooden doors, pleasant floral scents act as an invitation to further explore the remarkable building. Amongst a list of the world's oldest pharmacy or cosmetic shops, originating over 600 years ago, Officina Profumo-Farmaceutica di Santa Maria Novella is a natural treasure.
Santa Maria Nouvella's history begins in the 13th century when Dominican friars arrived in Florence and converted the church of Santa Maria Novella into a monastery in 1221. The friars made their own apothecary and started cultivating medicinal herbs and dispensing oitments and remedies to members of the convent. In the mid-14th century, the infamous Black Death arrived in Europe and wiped out almost 70% of Florence's population, and it was then that monks' work and research proved even more useful. They created a special rose water distillate to use as an antiseptic to disinfect homes. To this day the Acqua di Rose is one of the company's best-selling products (full disclosure: we use this as a toner every day, it's remarkable).
In the 16th century Santa Maria Nouvella came to further prominence when it created a scent for a future queen. Commissioned by 14-year-old Caterina di Medici, daughter of the most powerful family at the time, to commemorate her marriage to Henry II. The friars created a special perfume for her named Acqua Della Regina (Water of the Queen). The perfume of bergamot and spices is still available to this day for all (now titled the 'Acqua di Santa Maria Novella').
Production of Santa Maria Nouvella's fine products is now in the north of Florence, but remains only 3km away. Previously everything was created on the premises, but to this day, almost all of the flowers and herbs used in their production are still supplied by the pharmacys own garden. Incredible craftsmanship and years of research, service and dedication cannot be compared. Santa Maria Nouvella's products are the finest in the industry.
Santa Maria Nouvella premises are more than historical. Steeped in history and perfectly preserved, the building is a time capsule through 13th century Florence to our current time. Original frescoes still adorn the library walls, and tours of their historical building are able to booked in advance. There is more to be expected from 'hidden Florence' and its incredible history, luckily Santa Maria Nouvella holds the key and proudly shares it with the world.
∆