TRUNK HOTEL
In Tokyo, Find The Most Conscious Boutique Hotel And Local Lounge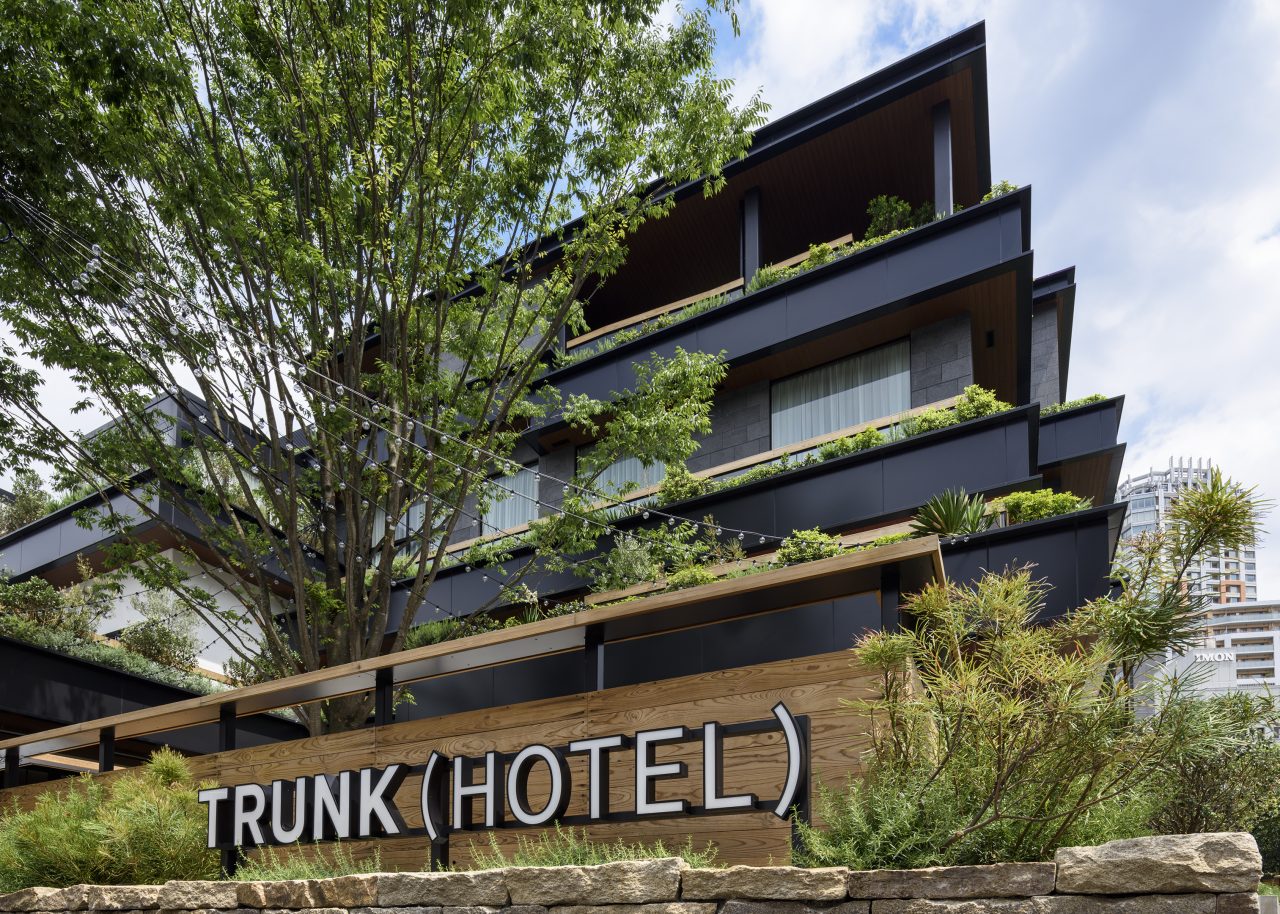 Where do we begin? Every element of Trunk Hotel has been carefully considered in their foundations; from materials, ingredients, products, community, experience – while all being condensed into the contemporary concept of "socialising" in their space.
Walking into Trunk Hotel's dimly-lit lounge area and passing through to their hotel reception desk, it's hard not to feel as though from surface-level it could be any other boutique replica hotel. In fact, Trunk Hotel is completely the opposite. We could not speak more highly about their space, and sincerely believe it is without a doubt one of the world's best hotel concepts.
Upon paying closer attention, the difference is all in the details – from their dedication to quality in design, to championing local producers and craftsmen, and most importantly, their concept of leading with an environmentally-conscious philosophy found in the details across their entire site. The hotel follows it's key elements of; Environment, Local Producers, Diversity, Health and Culture. The latter seen in their extensive pop-up events, diverse lounge and themed cocktail menu, to their DJ nights and events that extend to headlining foreign guests that are equally delighted to contribute to their intimate space.
Designed by Masahiro and Mao Harada of Mount Fuji Architects, the hotel structure is impressively stoic with a demanding front entrance. Yet the grandeur is easily unnoticeable due to the abundance of greenery incorporated into the design.  The architects focussed on natural materials such as stones, iron and wood and the layered design for the building was inspired by the area's hilly and sloped surrounding streets. Adjoining, find Trunk Store, their in-house convenience store-inspired space offering original goods and foods. Designed by Tokyo-based Torafu Architects, the minimalistic design reflects the modern age and need of convenience.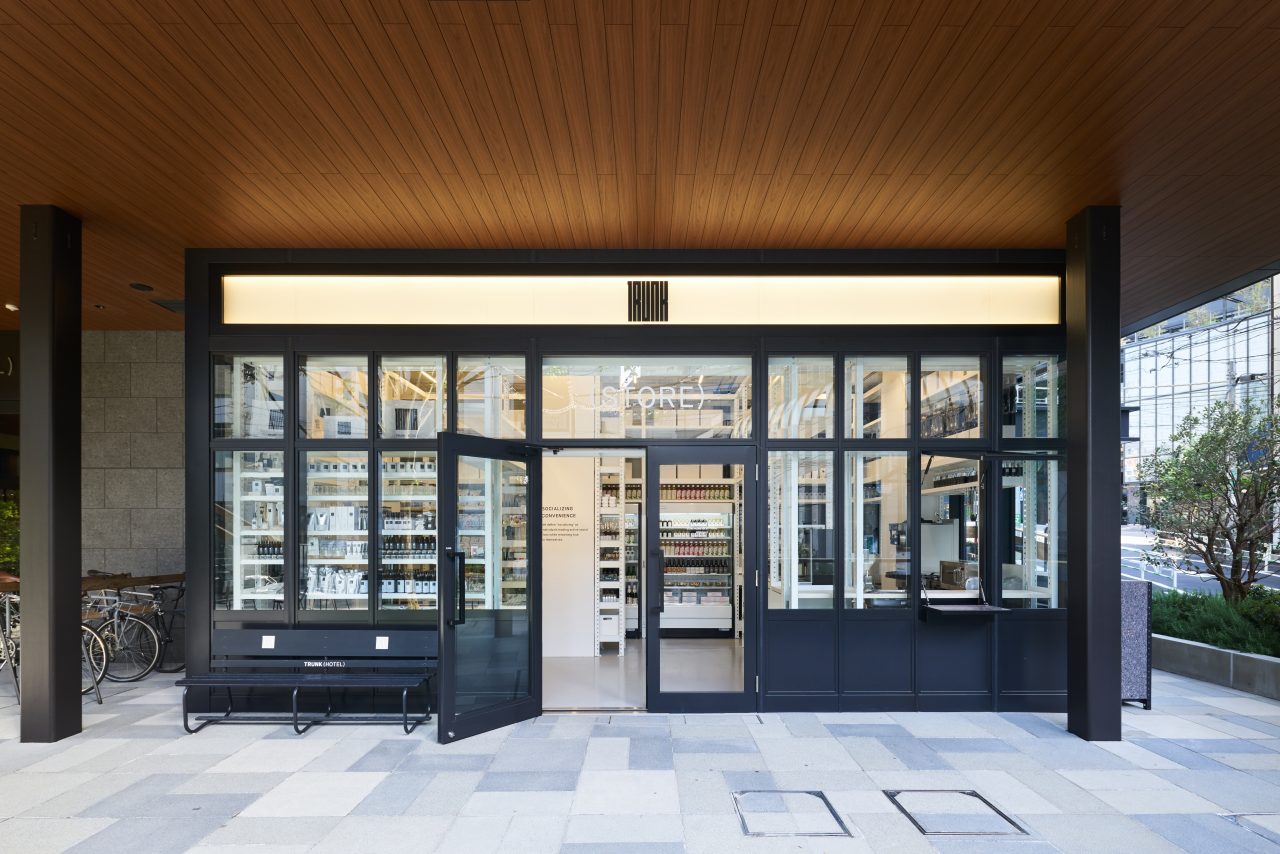 For the hotel's interior design, TRUNK collaborated with Norito Takahashi of Jamo Associates who focussed on utilising reclaimed materials. Find recycled timber in the Trunk Lounge and hotel guest rooms, with recycled Ecoma wood in the bathrooms. At Trunk Lounge, the bar counter stools have been created from recycled wine corks, while the large Lounge table was reimagined from thinning lumber.  TRUNK's in-house design team 'Trunk Atelier' led the curation of all products and furniture – featuring the entire lounge seating created by renowned Osaka-based furniture maker Truck Furniture. Here it seems to be about experience, with ongoing projects and events seen in their multi-functional pop-up event space and function halls. The Trunk Lounge sees an ever-changing schedule of DJs and musicians, with each carefully curated to ensure local connection in support for the rich, cultural history with collaborative events range from fashion branded events to art exhibitions.
With 15 guest rooms held over 3 upper floors, the rooms vary in 7 different size types, from a Standard Room at 20m2 with or without an additional 5m2 balcony, to an apartment-like Terrace Suite at 140m2 with a generous 70m2 terrace. In the rooms, every detail being taken into consideration, with in-room products including a hair comb by Fourdeuces & Co made from post-plastic raw material (made from mixing fine paper powder with plastic raw material), to the original glass tumblers made in collaboration with Ryuhyo-glass, up-cycled from fluoroscent light bulbs recycled as raw material. In each room also find a personal handbook detailing the surrounding locals sightseeing recommendations, even with suggested "Experiences" including hanging out with Sumo Wrestlers, to a Premium Fujiyama Tour.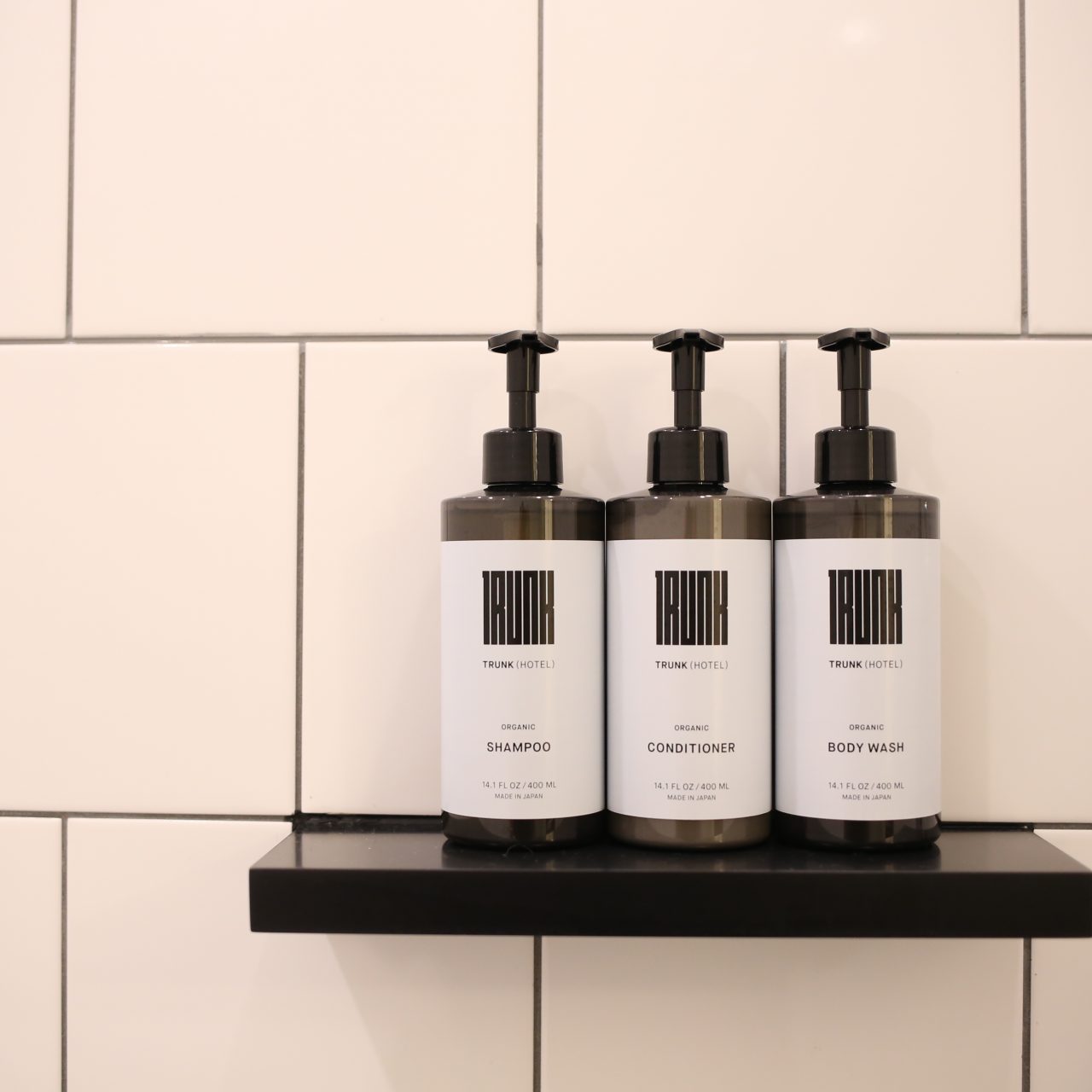 Trunk Hotel was created by owner Yoshitaka Nojiri, who grew up in Shibuya himself and was inspired to reenergise the area with the hotels new culturally-aware and socially-conscious concept. Not only does the hotel emphasise and encourage the concept of "socialising" throughout it's spaces, but champions an ethically-made, locally-produced and environmentally-conscious lifestyle that is soon becoming a leading (and much-applauded) trend. Whilst building the core foundations of the hotel, the company dug into the history of Shibuya and community. Supporting local producers for all their offered amenities and goods, to local bakeries and breweries. Whilst the hotel lacks in spa facilities or swimming pool, it is possible to reserve a yoga class on the rooftop, or rent the hotel bicycles made available for guests, impressively refreshed from being previously abandoned bikes – an ongoing waste dilemma in Japan. Everything on site has taken locality into consideration. As the zelkova tree species is particularly common to the Shibuya area, and symbolic to the locale – find a large Zelkova tree located in Trunk's outdoor patio area, sourced from Tochigi Prefecture in Japan – helmed by landscape design team Buzz, based in Ebisu, Tokyo.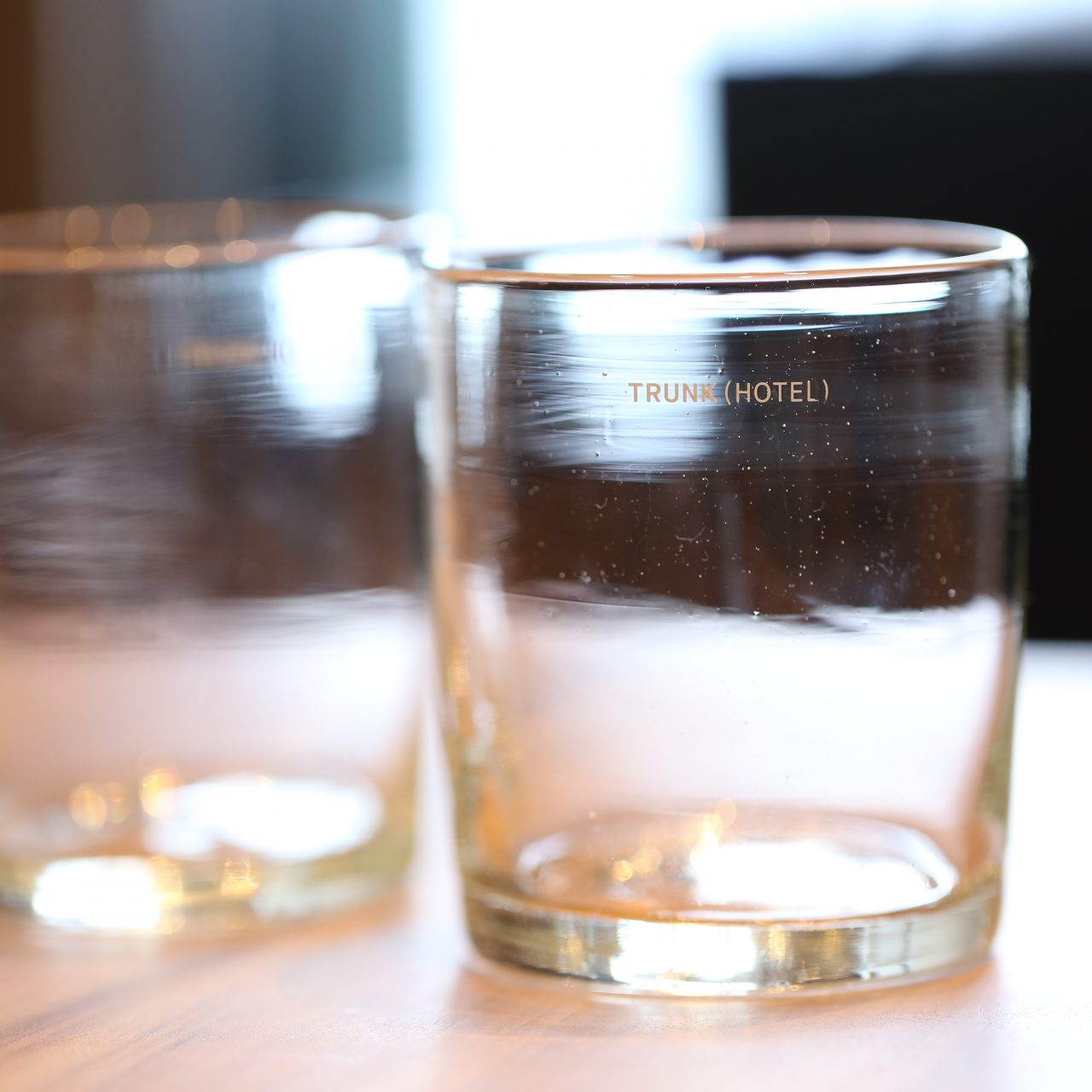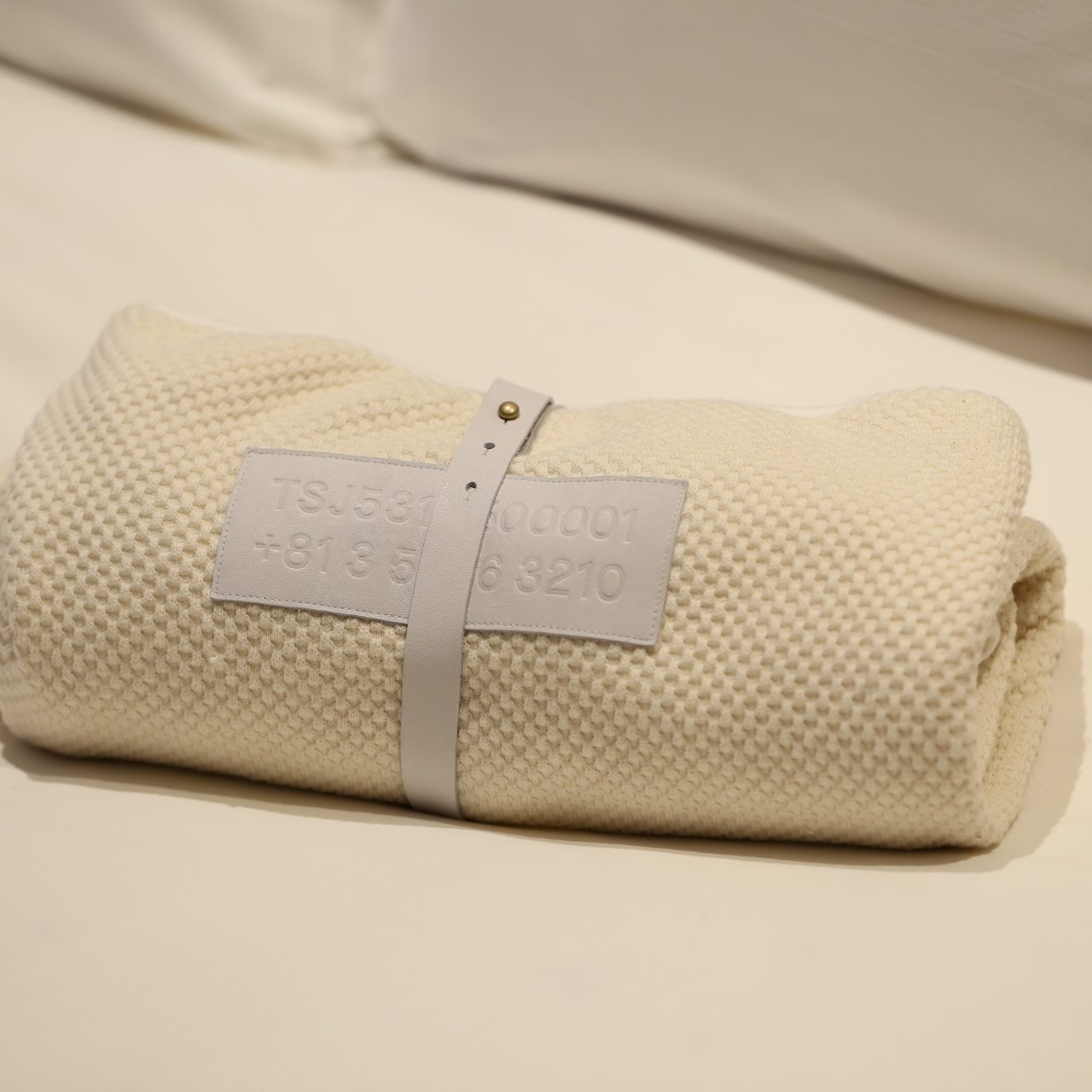 Even if you're not a guest at the hotel, the Trunk Lounge is a relaxed destination with an excellent bar and cocktail menu in its social environment. Find coffee served in up-cycled porcelain mugs, with an impressive craft tea selection from Gen Gen An from Saga Prefecture. The bar is led by award-winning mixologist Ryuichi Saito, the menu is impressively noteworthy. Find a unique selection of local handcrafted spirits also on offer, including Roku Gin from Osaka, Ki No Bi gin from Kyoto, to Akayane gin from Kagoshima, or Ogasawara rum. One of the recent cocktail menus titled Tiki Tiki Reborn, that were served in recycled spirit glass bottles spliced in half to make a new use as a glass. From the menu we tried The Walking Dead cocktail (Plymouth gin, Cointreau, Lillet Blanc, Lemon, Orange, Passionfruit) with edible flower garnish. The bar staff have also initiated a complete ban of plastic straws, serving pasta-made straws instead.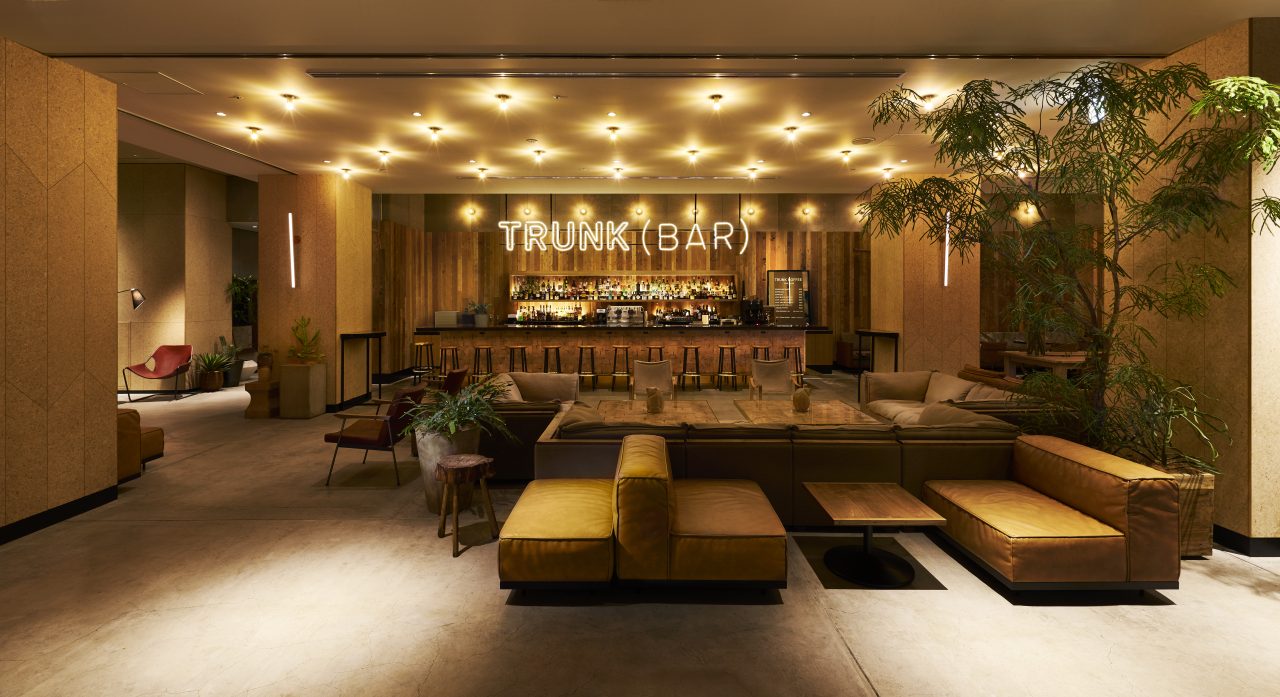 As the hotel's guests include a majority of both local and foreign visitors eager to connect with the neighbourhood energy, the dining areas and food reflect contemporary values of quality, nutrition and seasonality, produced by Masato Sekiguchi of Think Green Produce.
Trunk Kitchen's menu includes a mix of Japanese and Western cuisine – find organic, local and seasonal ingredients, led by head chef Masashi Okamoto in the 80 seat restaurant with a stellar menu throughout the day. For breakfast choose from Japanese, American, or Vegan breakfast set menus helmed from the traditional idea of "One Soup and Three Dishes". For the American serving, find scrambled eggs, granola and greek yoghurt, beef hamburger steak, veggie potage, green salad and bread – all to enjoy in either the indoor restaurant area or the outdoor patio, amongst the hotel's luscious green scenery.
Nearby, find their casual 47-seat restaurant Trunk (Kushi) created in collaboration with Yuji Higuchi of popular dining locale Sumibi Yakiniku Yuji in Shibuya. Kushiyaki is known a Shibuya's soul food – grilled and skewered meat and vegetables – with a history that dates back to after the war where the Shibuya area was more commonly frequented as a black market, and the most popular meal was served on skewers for efficiency and it's robustness.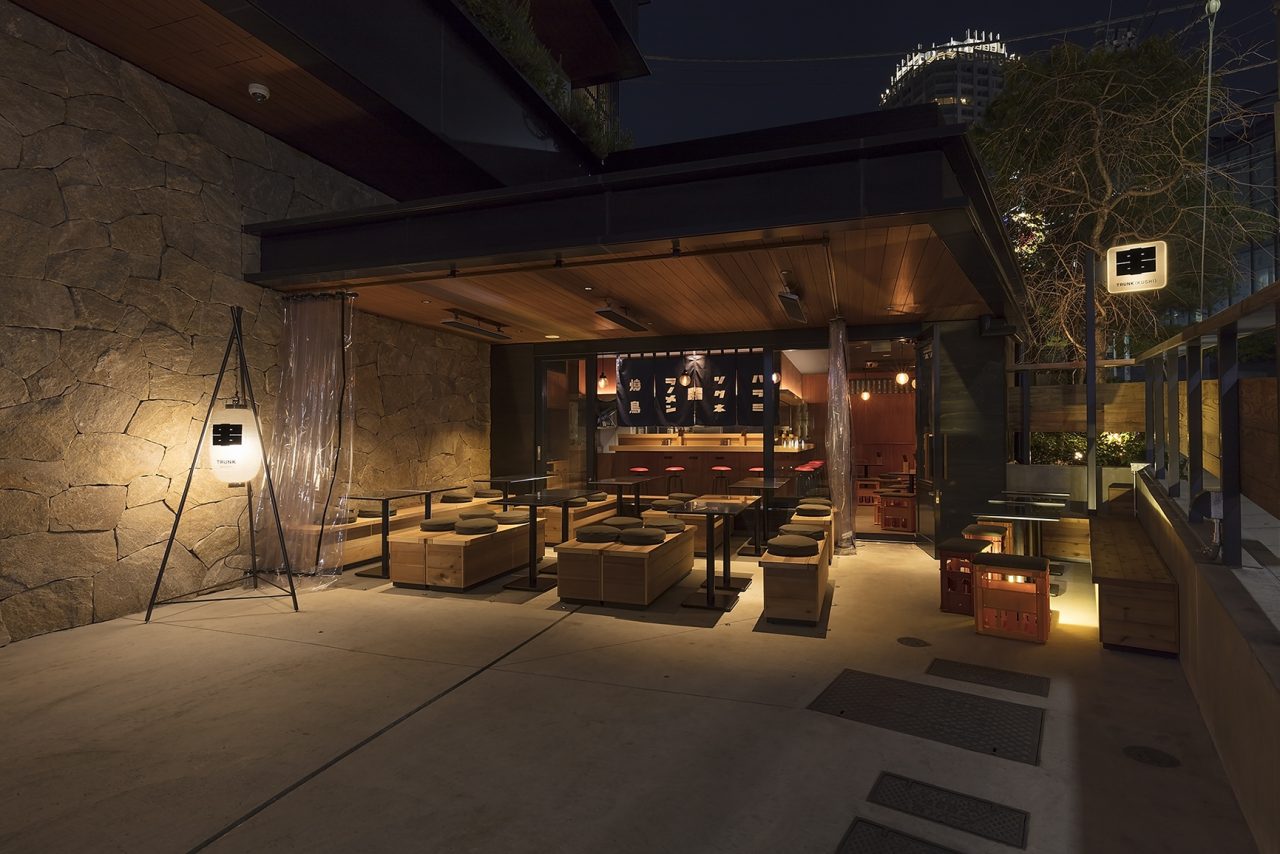 The founders developed Trunk Hotel's concept and architecture design over three years, with building completed after one year. Located in one of the most desirable areas in central Tokyo, the hotel finds itself the closest hotel in proximity to the upcoming 2020 Tokyo Olympics. However as a company, their cultural consciousness extends to charities, working with various charities and disadvantaged groups on collaborations and events in the hotel to donating proceeds from original products. Their in-house water produced with Mother Water, donates a portion of sales to organisations conducting forest conservation such as More Trees, a charity known for it's most famed ambassador Ryuichi Sakamoto. Even their annual business sales are dedicated to donate 5,000,000 Japanese Yen from annual sales to charitable organisations following their ethos of a "life-sized social purpose." What haven't they considered. They truly make social responsibility a complete norm and set a stellar precedent for all businesses in this 21st century.
In the future TRUNK do anticipate rolling out more hotels across Tokyo under their company brand and concept, yet retaining the research and connection to each site's history and heritage. After-all, across the capital of Tokyo, the cultures and communities are diverse – why can't a hotel stay make you feel like a local.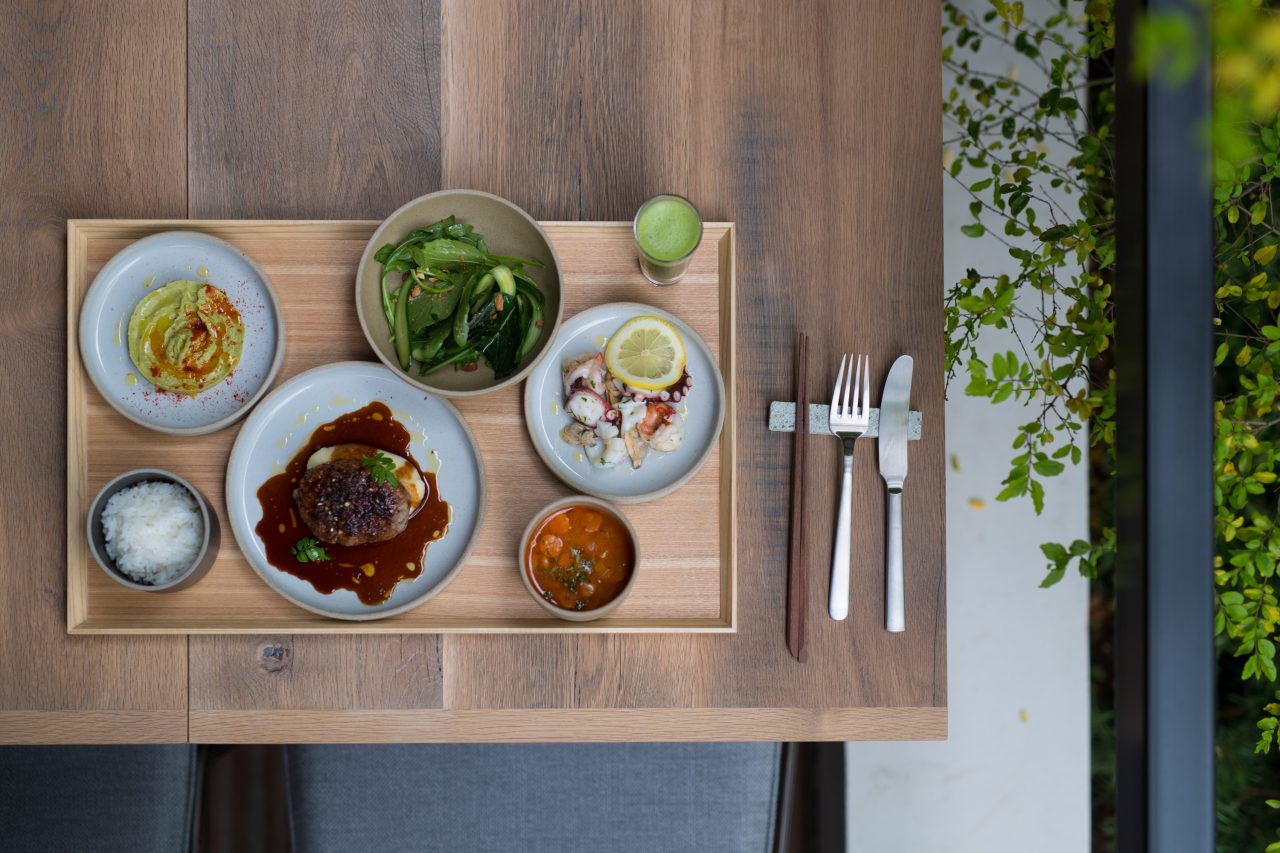 TRUNK HOTEL
5-31 Jingumae, Shibuya-ku 150-0001
Tokyo, Japan