TRUNK (HOTEL)
This Boutique Hotel is a Microcosm of Creativity in the Heart of Tokyo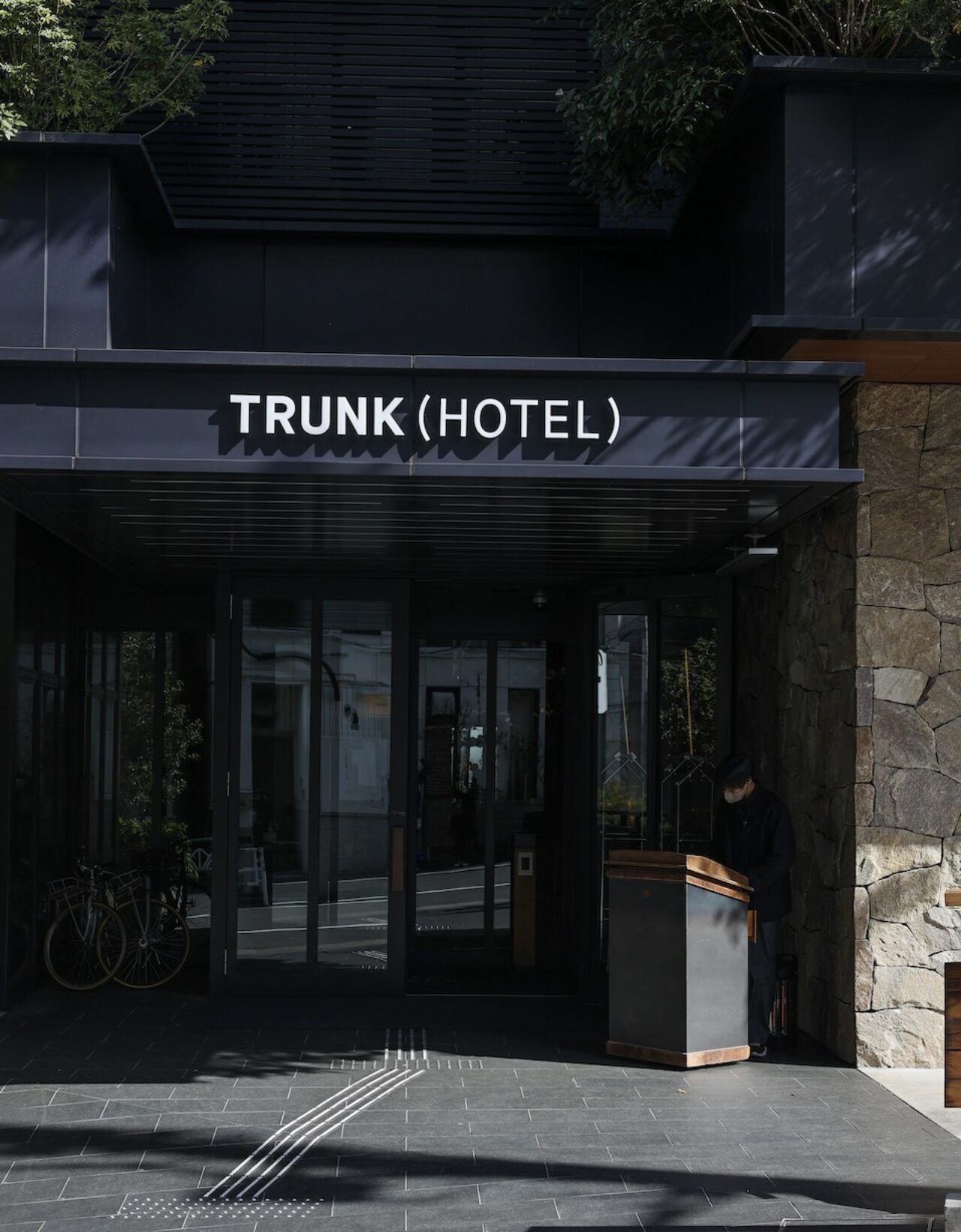 A concept boutique hotel with multiple surprises, TRUNK (HOTEL) is a microcosm for Tokyo's creative scene, attracting the same global clientele for short and longterm stays.
Positioned in between Shibuya and Harajuku, this boutique hotel with 15 concept rooms available, also has two restaurants on site, a bar and lounge, a retail space, conference rooms and even a chapel.
This is not your average boutique hotel. TRUNK has considered everything about its operations – from materials, ingredients, products, community, experience – while all being condensed into the contemporary concept of "socialising" in their space.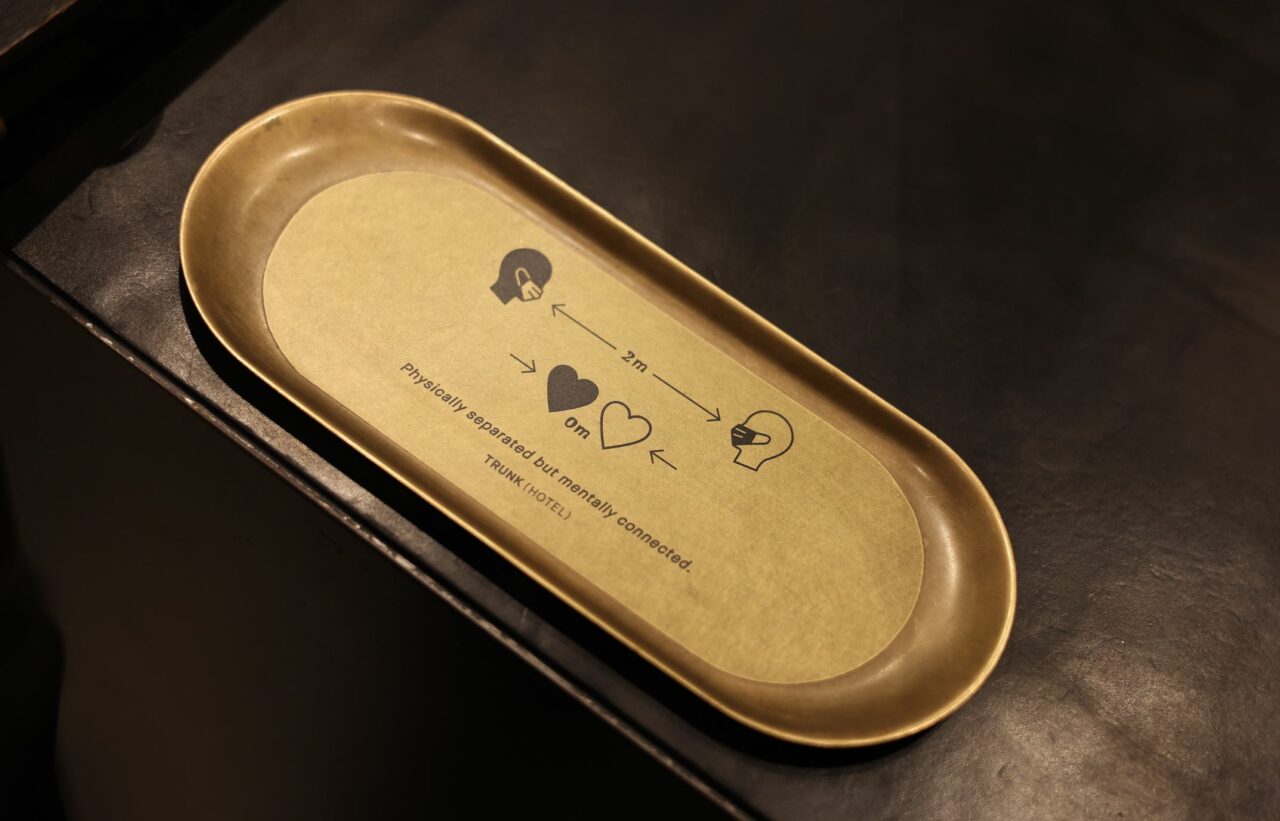 There are only 15 rooms available to book, but each offers more than expected.
Held over three floors, guest rooms vary with 7 different size types: from the Standard Room at 20m2 (available with or without a balcony), to the largest space available to book, an apartment-like Terrace Suite at 140m2 with a generous 70m2 terrace. Suites with loft offerings also include a bar area, plus vinyl record player and a wall film projector to entertain guests with (they can even stay overnight in The Living Suite which can host up to 4 people).
Rooms seem to be centred around socialising, a very unique aspect of TRUNK's concept. If spending time with others in your own personal in-room bar isn't appealing, the lounge bar area downstairs is always a vibrant mix of Tokyo locals and international visitors alike.
In each room find a personal handbook detailing the surrounding locals sightseeing recommendations, with suggested Experiences such as a 'Traditional Architecture and Design Tour', or 'Contemporary Architecture and Design Tour' available for guests.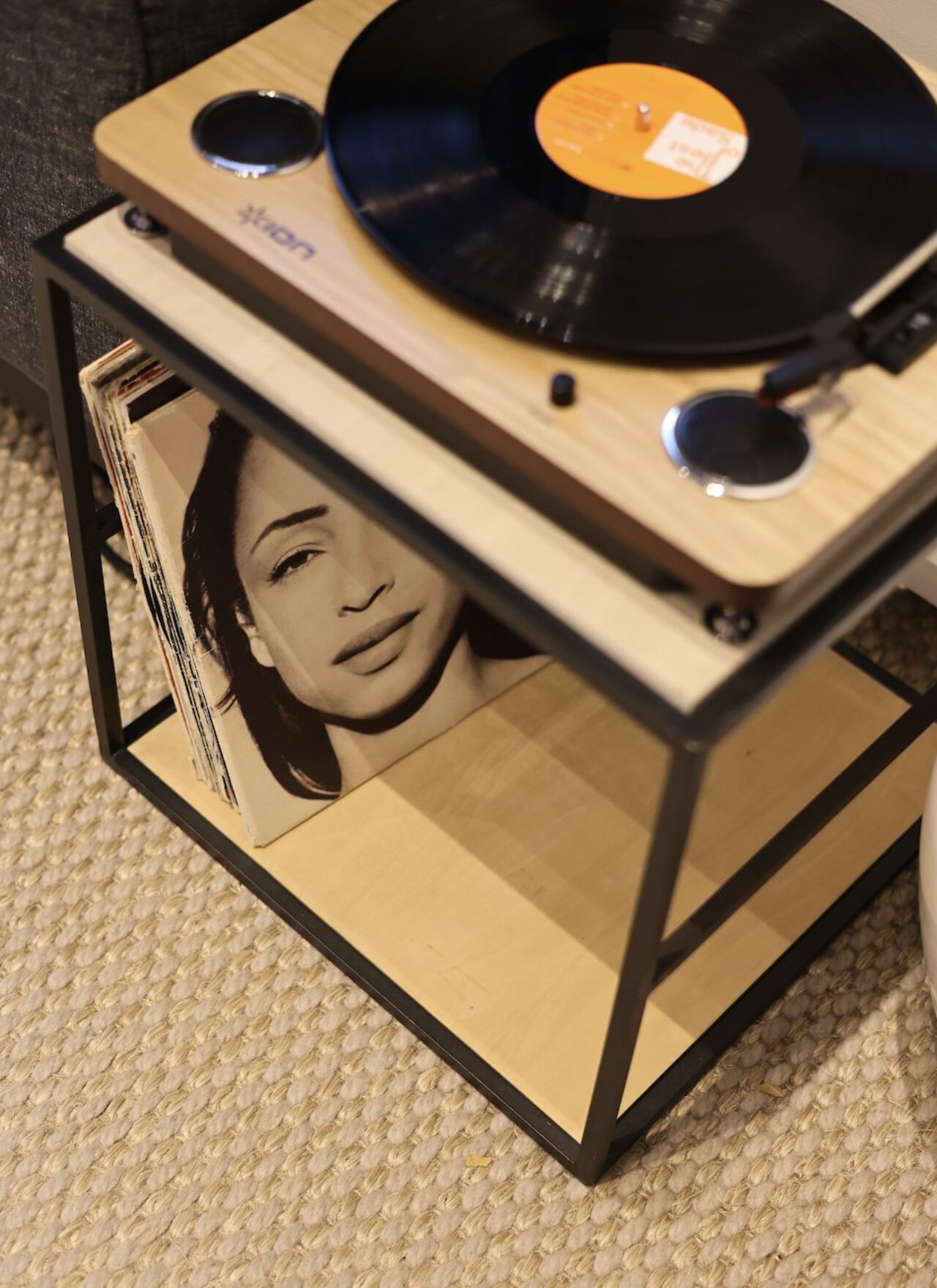 Designed by Masahiro and Mao Harada of Mount Fuji Architects, the hotel structure is impressively stoic with a demanding front entrance. Yet the grandeur is easily unnoticeable due to the abundance of greenery incorporated into the design.
The architects focussed on natural materials such as stones, iron and wood and the layered design for the building was inspired by the area's hilly and sloped surrounding streets.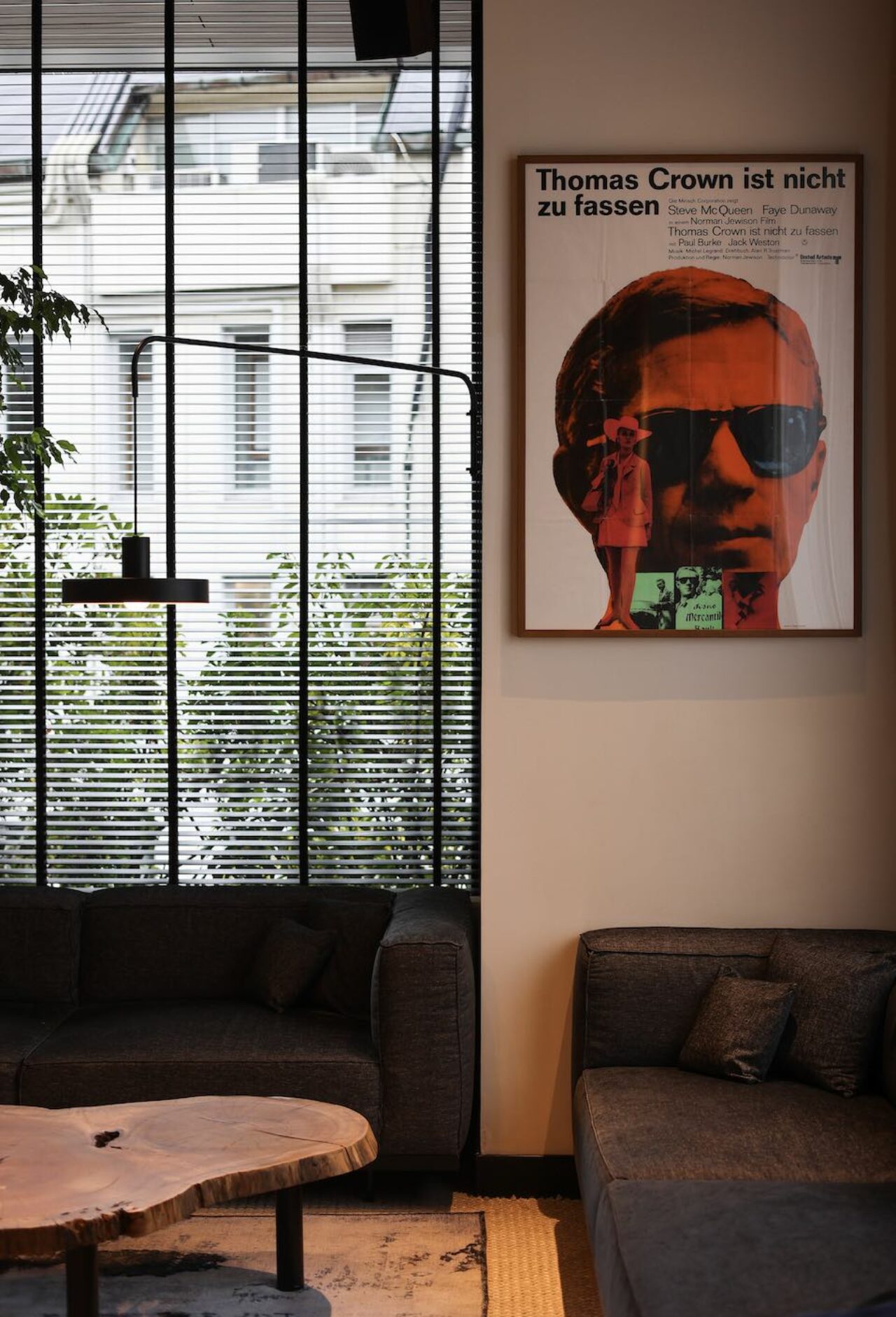 Upon paying closer attention, the difference is all in the details – from their dedication to quality in design, to championing local producers and craftsmen, and most importantly, their concept of leading with an environmentally-conscious philosophy found in the details across their entire site.
The hotel follows its key elements of environment, local producers, diversity, health and culture. The latter seen in their extensive pop-up events, diverse lounge and themed cocktail menu, to their DJ nights and events that extend to headlining foreign guests that are equally delighted to contribute to their intimate space.
For the hotel's interior design, TRUNK collaborated with Norito Takahashi of Jamo Associates who focussed on utilising reclaimed materials. Find recycled timber in the TRUNK Lounge and hotel guest rooms, with recycled Ecoma wood in the bathrooms. At TRUNK Lounge, the bar counter stools have been created from recycled wine corks, while the large lounge table was reimagined from thinning lumber.
TRUNK's in-house design team 'TRUNK Atelier' led the curation of all products and furniture – featuring the entire lounge seating created by renowned Osaka-based furniture maker Truck Furniture.
TRUNK (HOTEL) was created by owner Yoshitaka Nojiri – who grew up in Shibuya himself – was inspired to reenergise the area with the hotels new culturally-aware and socially-conscious concept.
Not only does the hotel emphasise and encourage the concept of "socialising" throughout its spaces, but champions an ethically-made, locally-produced and environmentally-conscious lifestyle that is soon becoming a leading (and much-applauded) trend. Whilst building the core foundations of the hotel, the company dug into the history of Shibuya and community, aiming to support local producers for all their offered amenities and goods, to local bakeries and breweries.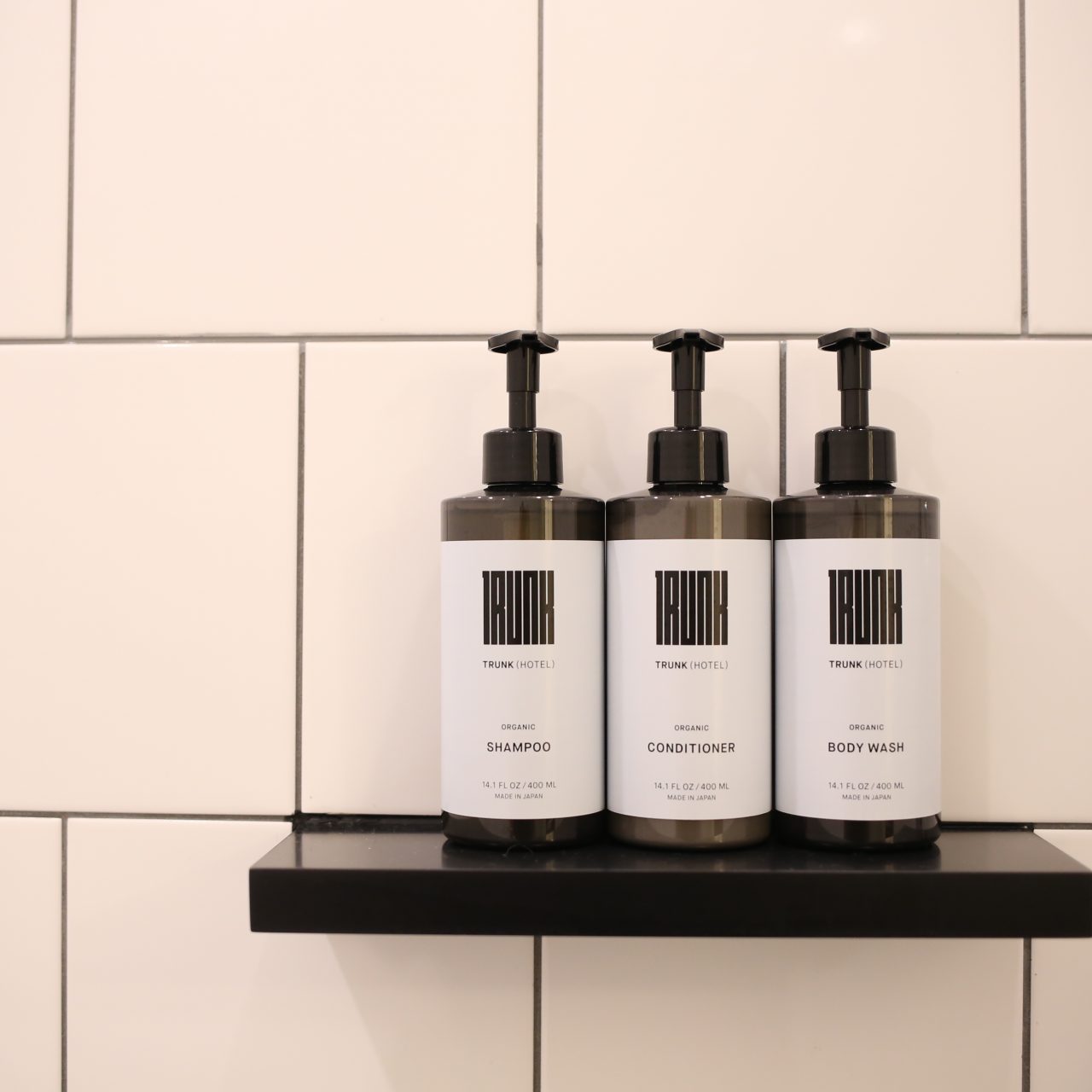 Even if you're not a guest at the hotel, the TRUNK Lounge is a relaxed destination with an excellent bar and cocktail menu in its social environment.
With quick wifi throughout the hotel, in the daytime find Tokyo's creatives tapping away on MacBooks, whilst at night, find everyone mixing together at the bar or at one of the numerous launch party events the hotel hosts, encouraging interaction and discovery between all visitors. An ever-changing schedule of DJs and musicians are scheduled during the evenings, each carefully curated to ensure local connection.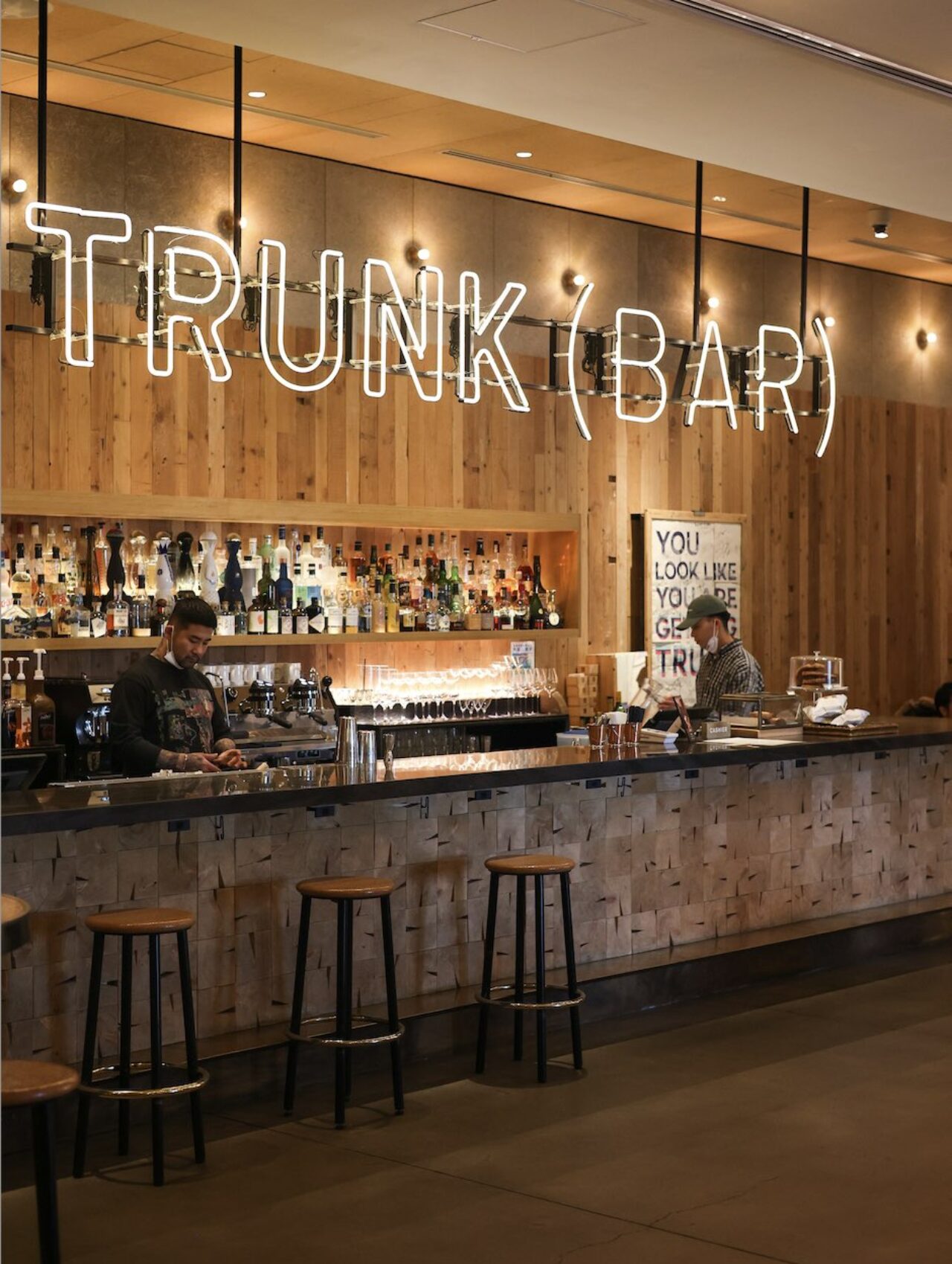 Creative installations are always found on the ground floor, ever-changing with the seasons.
On our visit, the 'INDIGO TREE' installation by indigo dye brand Takarajima Senkou had been installed, communicating the poetic process of natural dye on handmade washi paper.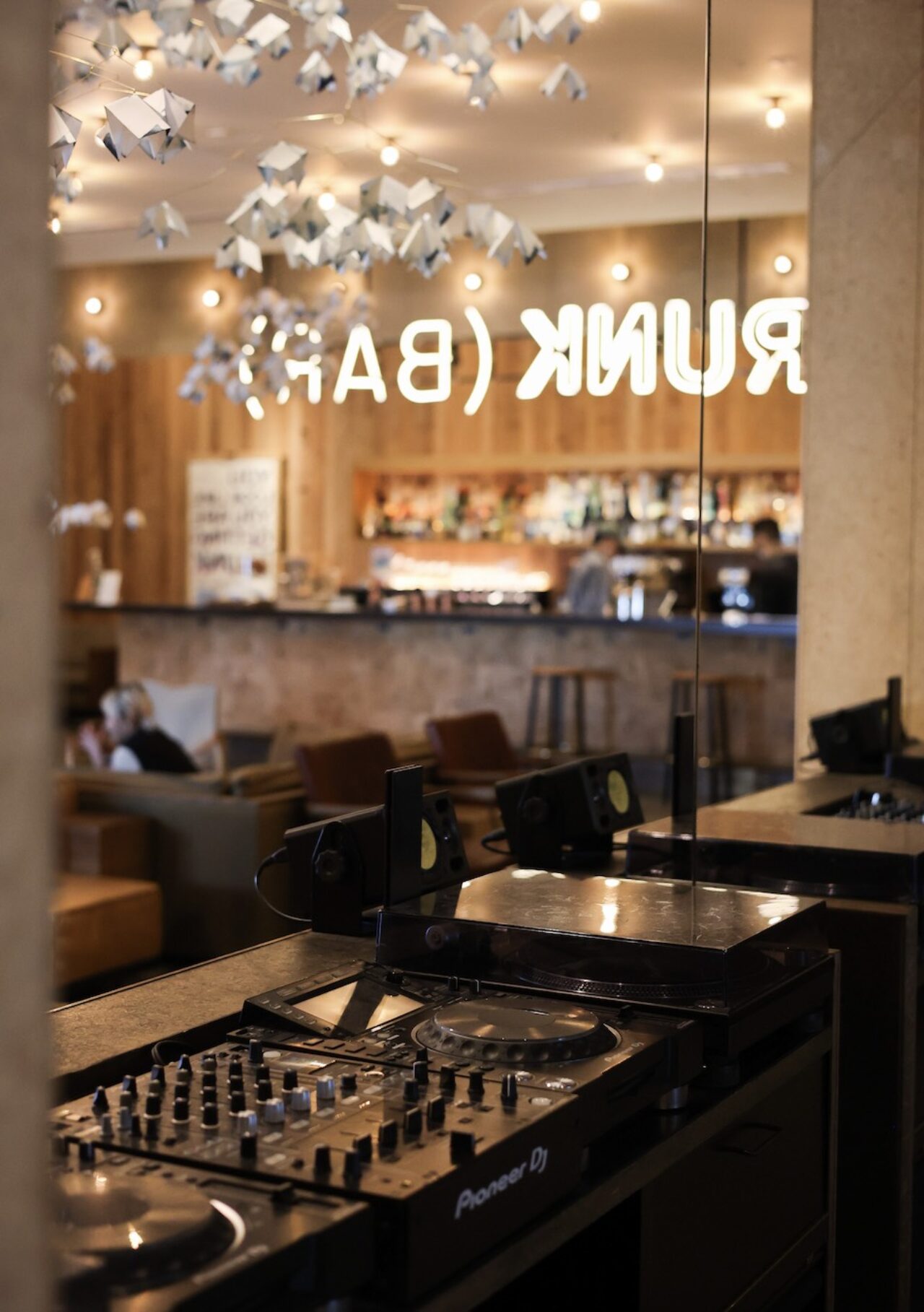 Adjoining, find TRUNK (STORE), their in-house convenience store-inspired space offering original goods and foods.
Designed by Tokyo-based Torafu Architects, the minimalistic design reflects the modern age and need of convenience. With a range of products on offer, there are quick 'conveniences' all available such as locally-sourced juices and snacks, in addition to more gift-like purchases (merchandise of the hotel). The curation is considered, highlighted clearly in the white, minimalist space.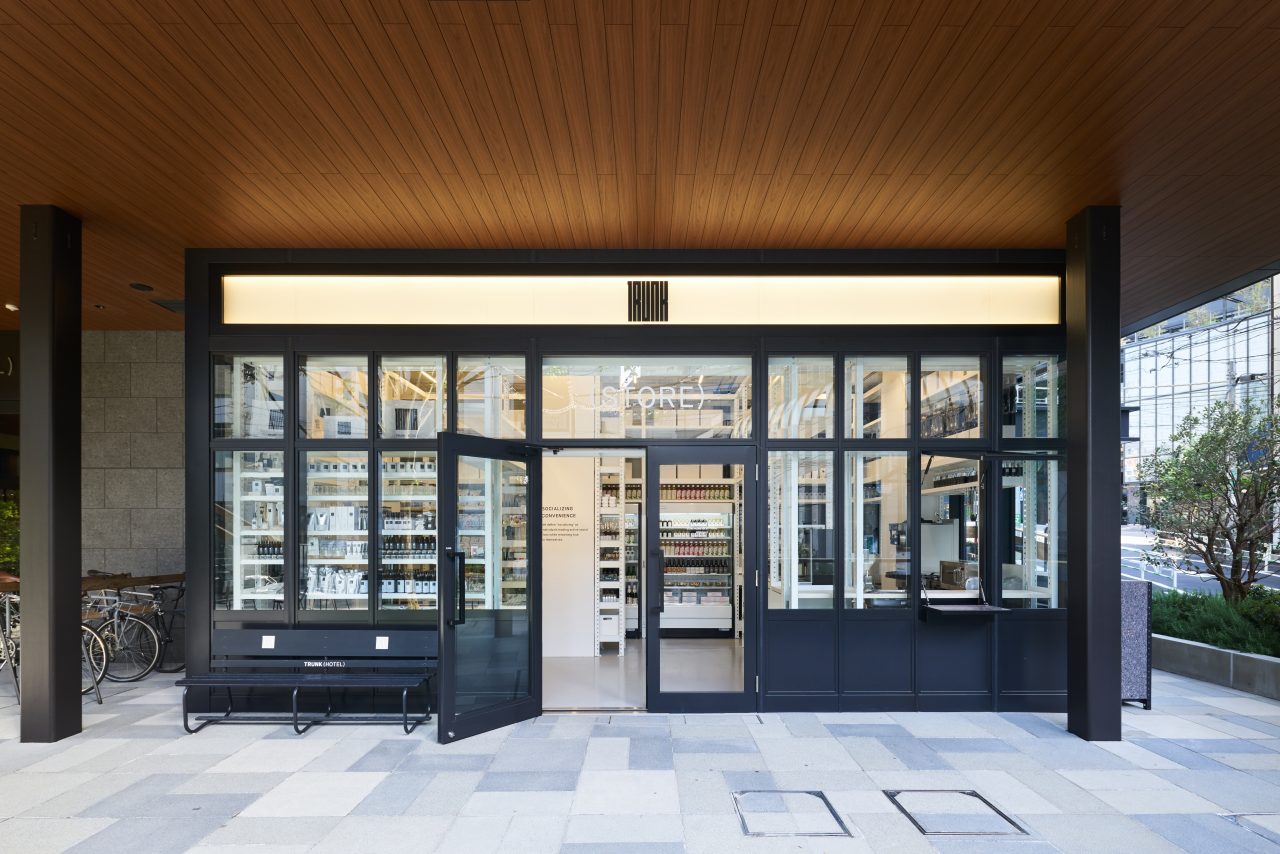 Although the hotel lacks in spa facilities or swimming pool, it offers hotel bicycles for guests to loan without a fee.
These bikes are renovated and restored from being previously abandoned bikes, an ongoing waste dilemma in Japan.
Nearby, find the hotel's casual 47-seat restaurant TRUNK (KUSHI) created in collaboration with Yuji Higuchi of popular dining locale Sumibi Yakiniku Yuji in Shibuya.
Kushiyaki is known a Shibuya's soul food – grilled and skewered meat and vegetables – with a history that dates back to after the war where the Shibuya area was more commonly frequented as a black market, and the most popular meal was served on skewers for efficiency and it's robustness.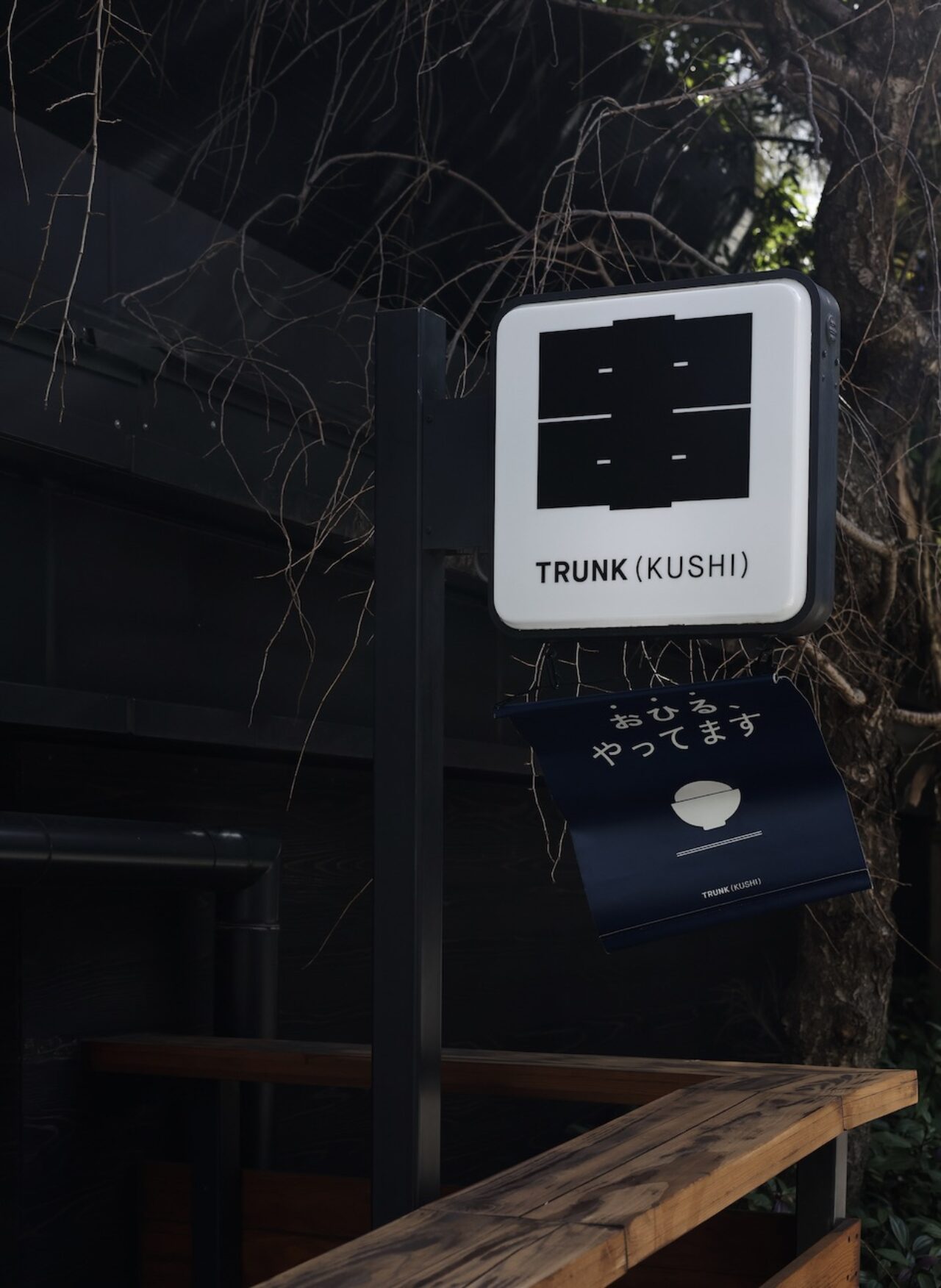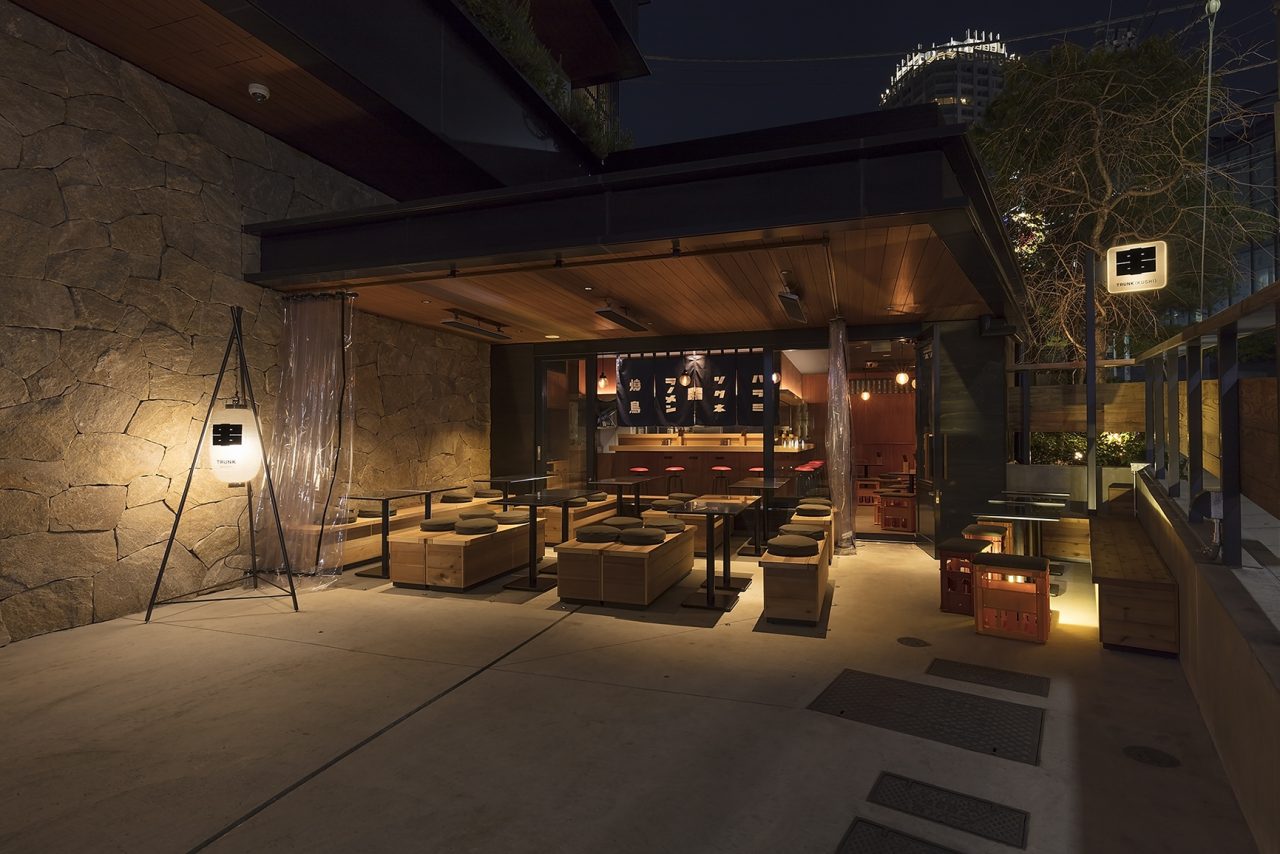 Found on the ground floor of the hotel, TRUNK (KITCHEN)'s menu includes a mix of Japanese and Western cuisine – find organic, local and seasonal ingredients, led by head chef Masashi Okamoto in the 80 seat restaurant with a stellar menu throughout the day.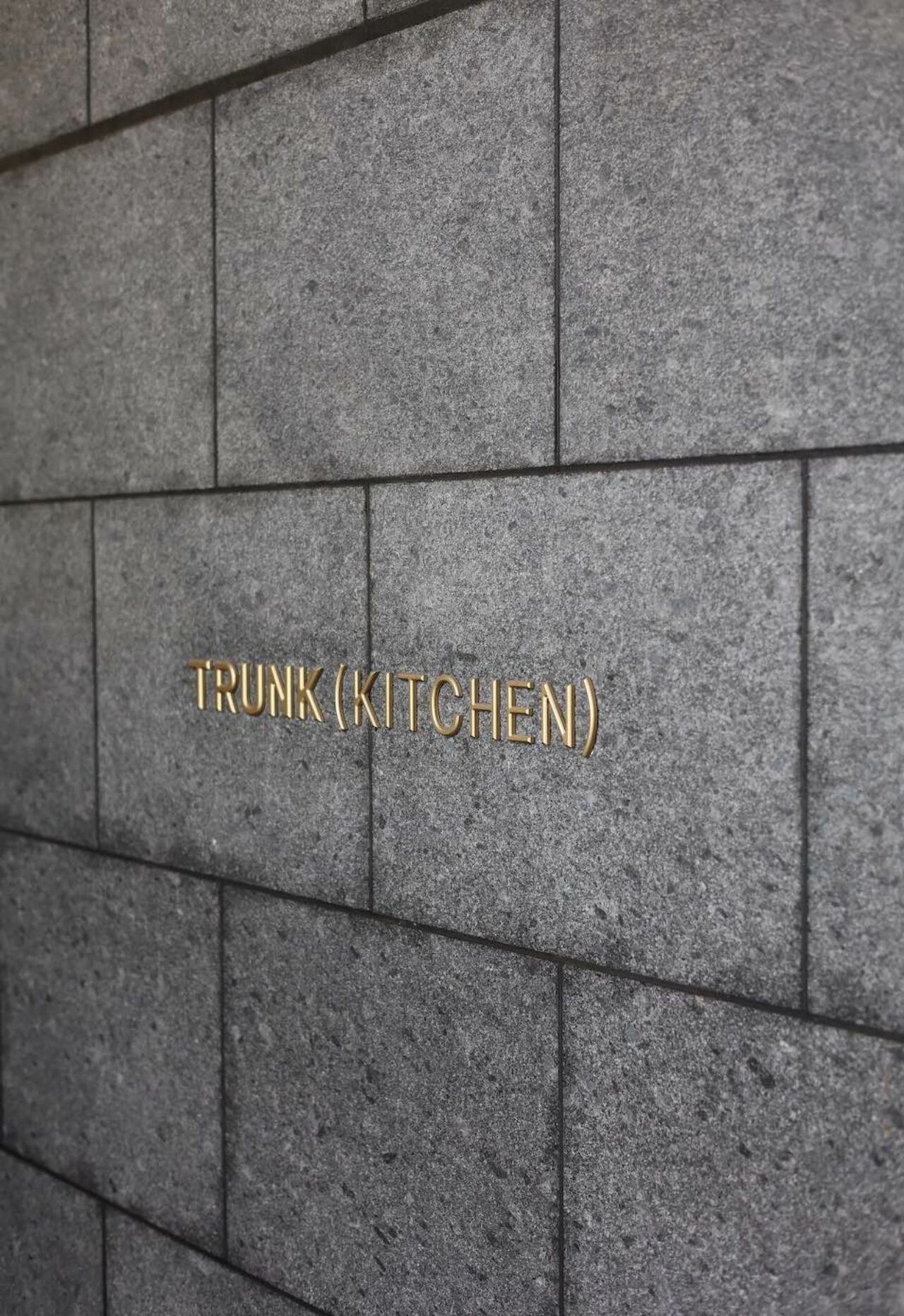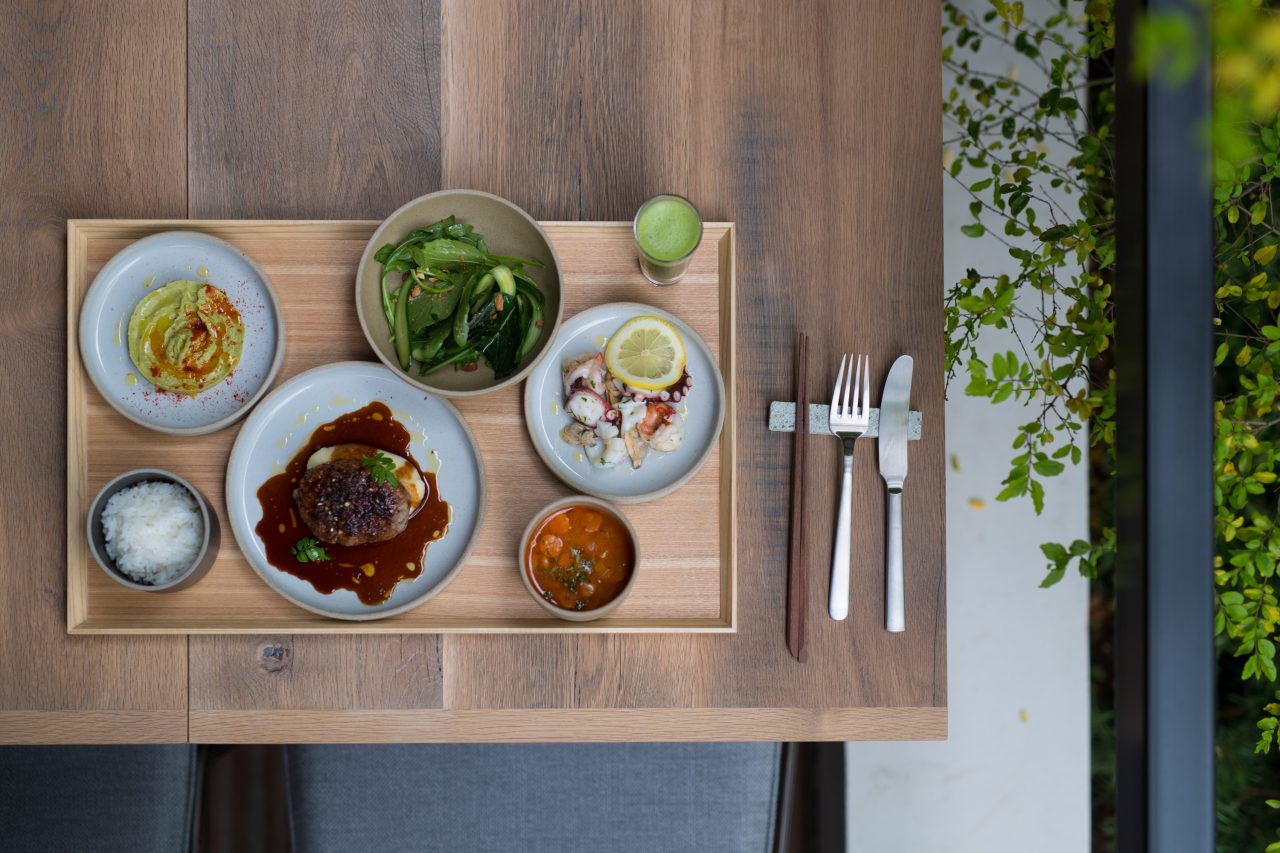 Everything on site has taken locality into consideration.
As the Zelkova tree species is particularly common to the Shibuya area, and symbolic to the locale – find a large Zelkova tree located in TRUNK's outdoor patio area, sourced from Tochigi Prefecture in Japan – helmed by landscape design team Buzz, based in Ebisu, Tokyo.
Based in a brilliant location between Harajuku and Shibuya, the ease of walking to the best boutiques and restaurants is a great part of the appeal of the hotel.
Design and community are at the heart of TRUNK however, and with these combined elements, it's easy to feel like you're living like a local.