SAKURAI JAPANESE TEA EXPERIENCE
A Modern Tea Room In Tokyo Championing The Craftsmanship of Japanese Tea
Located on the 5th floor of the monumental Fumihiko Maki-designed Spiral Building in Tokyo's Omotesando district, lies an unassuming tea room and retail front dedicated to the craft of Japanese tea: Sakurai Japanese Tea Experience. Here, owner Shinya Sakurai has created a world within it's own, championing the intricate complexities and craftsmanship of Japanese teas.
After studying for 14 years to become a Tea Master, Shinya Sakurai opened Sakurai Japanese Tea Experience which continues the Japanese tradition of the tea ceremony preparations, the way of tea (cha-no-yu, 茶の湯) in a contemporary context. Here, find both a standing and sit-down counter area, alongside a petite yet dense retail space – open from 11am to 11pm at night on weekdays (and 8pm on weekends) where a drop-by tea, or sit-down tea tasting course to an afternoon tea-infused liqueur can all be enjoyed. Even in the meditative-like space, it is simply only about the education and appreciation of the humble Japanese tea leaf.
Here, find over 30 teas from across Japan, from rare to highest-grade varieties that are hand-roasted on-site (1kg to 6kg daily) including shaded green teas such as gyokuro (grown under shade and not in direct sunshine, ensuring a soft and delicate aroma). Each type of tea offered in the space is hand-selected individually from Sakurai's own visitations to local farms, ensuring originality and as he explains, "the right taste."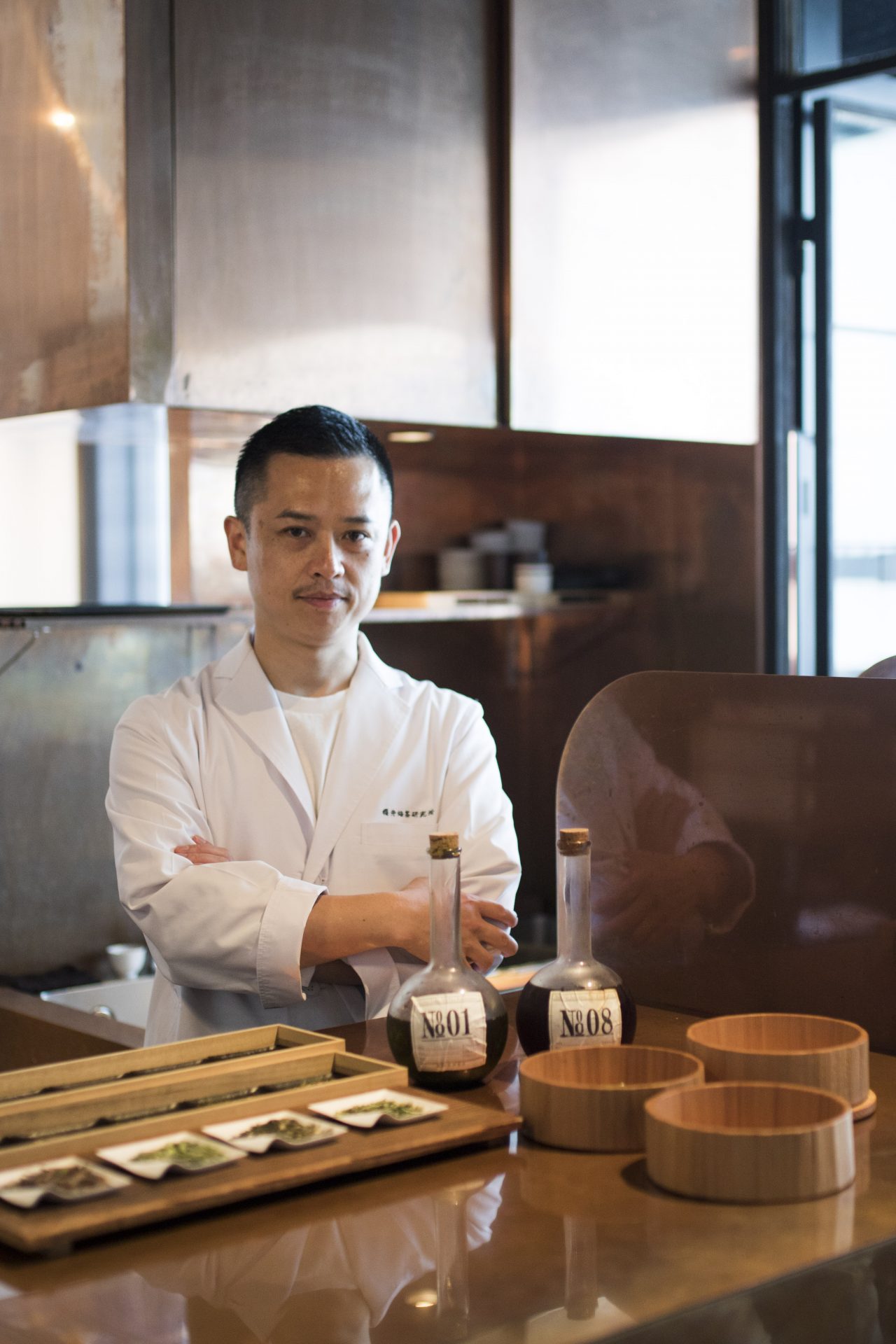 Sakura Tea Experience was founded by Shinya Sakurai after he had spent time working and learning at wagashi atelier Higashiya in Nakameguro, where he soon established a strong bond and connection with owner and designer Shinichiro Ogata. When the time came to open his own space, Ogata obliged involvement and created the Sakurai Japanese Tea Experience's interior, visual identity and packaging by his design firm SIMPLICITY. The tea store's first base was in fact originally located in the quiet backstreets of Nishi-Azabu before it found itself in it's current location in the Spiral building. The Nishi-Azabu location was an even more of a hidden destination, and is often still remembered in it's earlier pensive locale. Now, find Sakurai Japanese Tea Experience on the 5th floor of the Spiral Building, alongside Mina Perhonen's retail store and restaurant.
Sakurai Japanese Tea Experience is one of five spaces under the SABOE association and philosophy, established by Shinichiro Ogata in 2016. Alongside Higashiya Nakameguro, Higashiya GINZA, Yakumo Saryo and Yorozu – all founded by Ogata – with an "aim to connect with the world and contribute to the expansion of tea." SABOE extends to the support of Japanese tea producers, creation of products, event production and even branding and consulting services that raise the awareness of Japanese tea.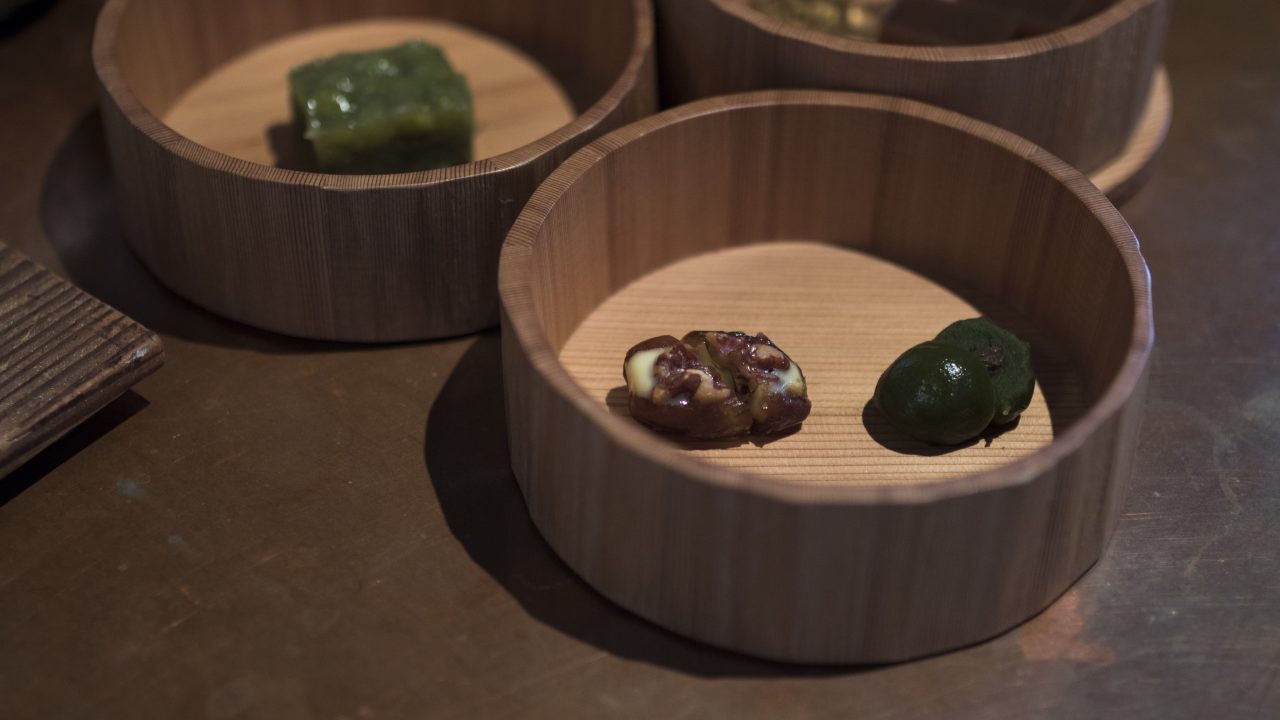 Walking in, Sakurai Tea Experience's small retail area by the entrance presents you with the large selection of teas on offer, alongside traditional utensils and a sectioned glass space where the roasting is conducted daily by Sakurai himself. Upon entering in further, you are met with the sit-down tea room space where Sakurai or any of his staff meticulously prepare a freshly-whisked Japanese matcha tea, or a precisely-timed gyokuro tea, alongside a selection of seasonal wagashi (traditional Japanese hand-crafted sweets).
Sakurai Tea Experience follows a Japanese tea room interior design concept of wood, fire, soil (tsuji), copper and water. Not only is it's design a reflection of minimalism and attention to detail, but a modern interpretation of the Japanese way of tea. Dominant in copper and wood, the whole interior reflects a warm, auburn atmosphere. In the corner you'll notice a never-ending flow of water from a copper tap, symbolising a cleansing of the space. Also found is a second door, traditionally-designed for tea rooms and known as a "crawling door" due to it's half-size entrance, the Nijiri-guchi door often led directly to the tea room (cha-shi-tsu, 茶室).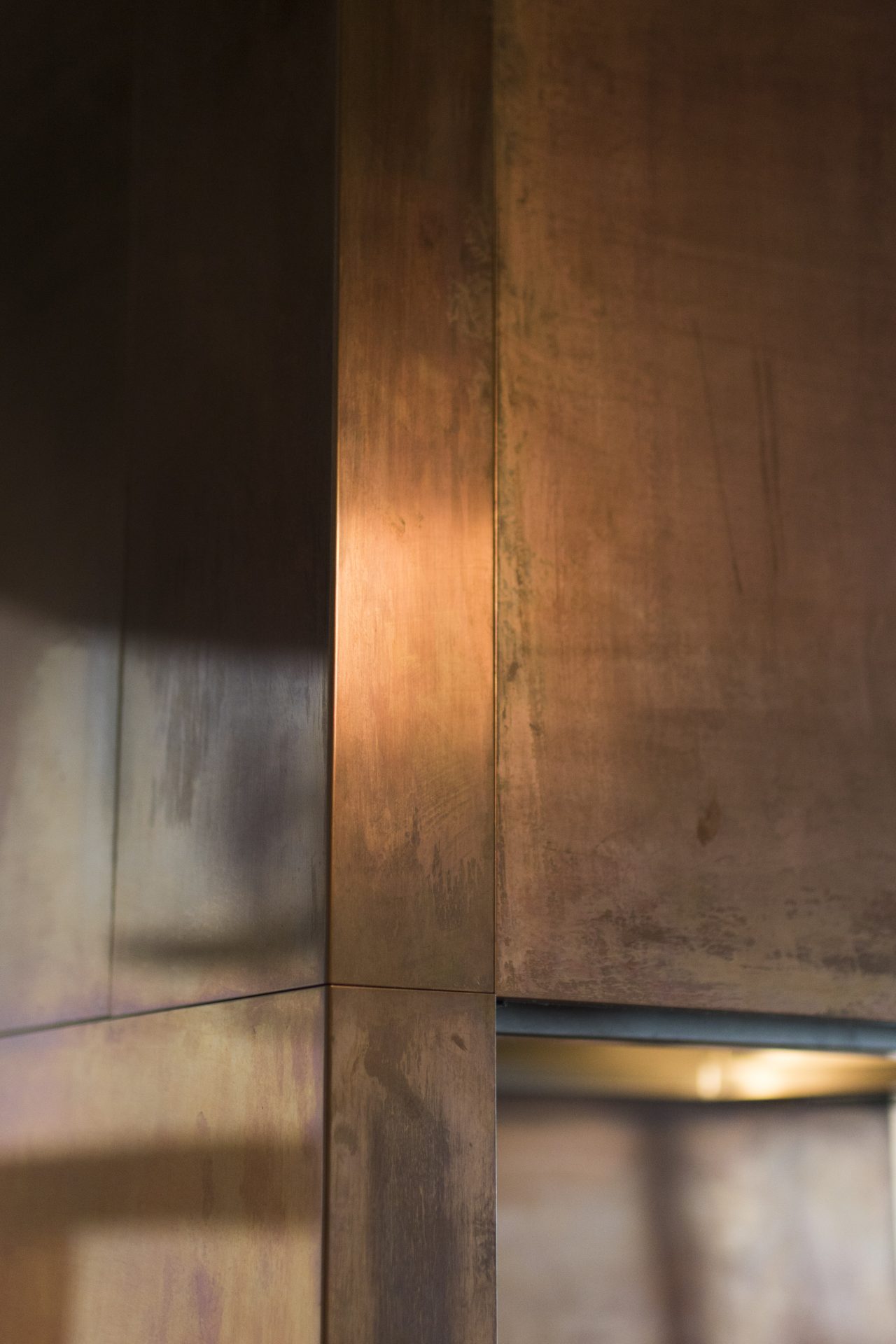 Shinya Sakurai mentions that his own studies are endless, as he continues to master his craft. Find rare Japanese tea and wagashi tomes alongside the counter that remain a source of inspiration and education. Even as a customer, this is an extraordinary place to both enjoy and learn more about Japanese tea and traditions, in contemporary context.