SAHSYA KANETANAKA
Hiroshi Sugimoto's Mathematics-Driven Artistic Concept For An Architectural Structure - A Restaurant In The Heart Of Tokyo
Tokyo restaurant and cafe Sahsya Kanetanaka has every detail considered, that it's almost an artwork in itself. From it's spectacular stone-walled entrance with poignant metal-drop sculpture, to a refined seasonal menu accompanied by a contemporary approach in its interior and structural design referencing traditional Japanese construction techniques and aesthetics of minimalism and simplicity.
Notably, the design and artworks featured in Sahsya Kanetanaka are created by renowned Japanese contemporary artist Hiroshi Sugimoto. The word Sahsya (茶洒) is in fact derived from a word created by the restaurants overarching company, Kanetanaka, and its President Shingo Okazoe, created with the meaning "to have tea with simple but sophisticated manner."  The appreciation and connection to the craft of Japanese tea at Sahsya Kanetanaka indeed stems from Japan's cultural origins and tradition of Tea Ceremonies.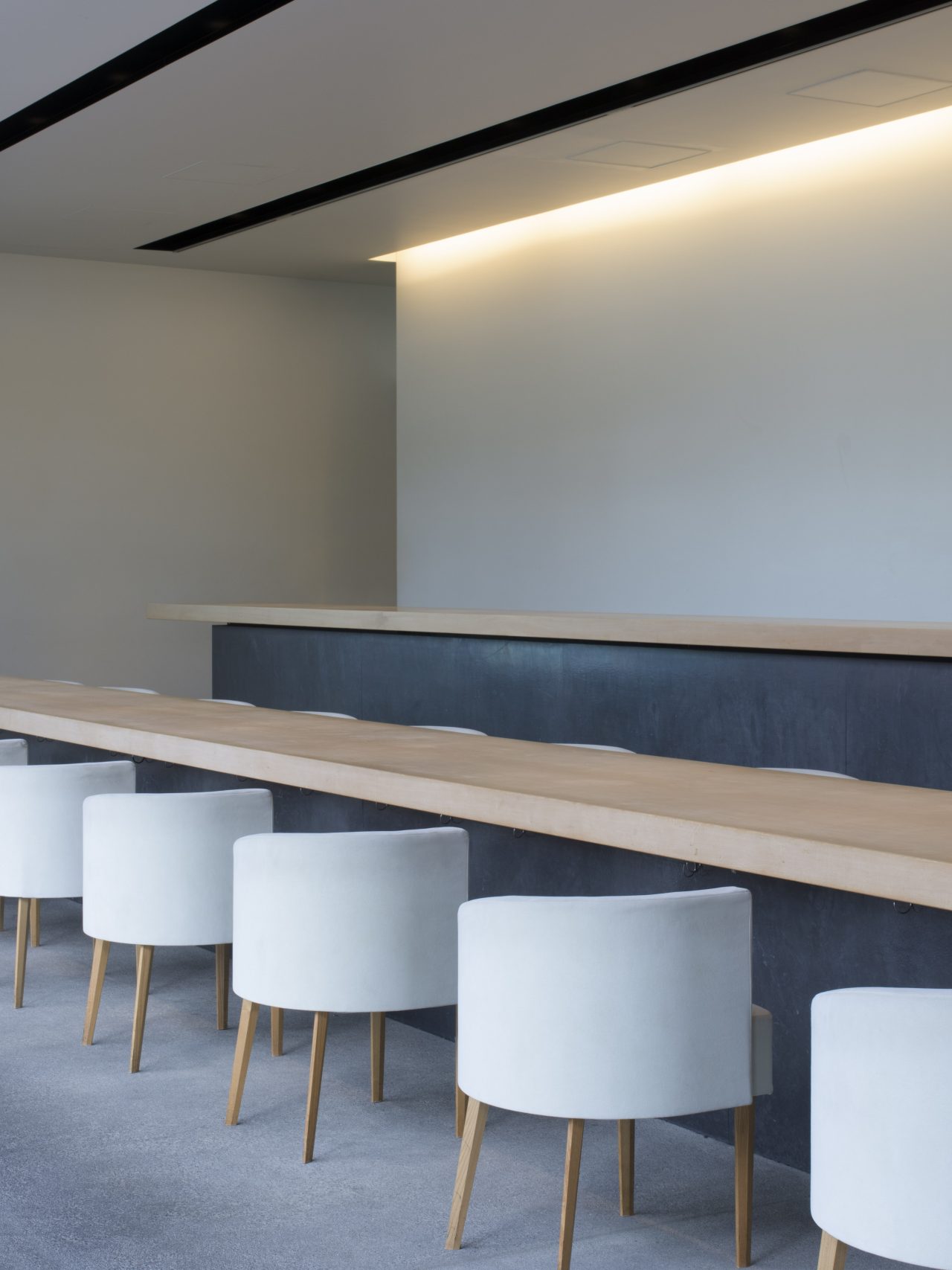 Located in an ultimately unassuming location in one of Tokyo's most busiest shopping locales, find Sahsya Kanetanaka hidden behind the Nespresso and Emporio Armani stores on the ever-bustling Omotesando Street. Up on the 2nd level and out of sight, it is an oasis in itself where it sits humbly and patiently. Bamboo, wood and concrete are the key elements used to execute the space's simplicity in shape and form.
With a seasonal menu led by the company's president Shingo Okazoe, find bento-style set lunches made from local, seasonal ingredients to a variety of traditional Japanese desserts such as warabi mochi with black honey, to katsuragi (葛切り) agar jelly noodles made in-house from high quality flour produced in the Yoshino region, Nara prefecture by traditional Japanese sweets retailer Yoshino Kuzo (吉野葛). While the restaurant does take reservations, it's worth noting the best time to enjoy a freshly-whisked matcha green tea is in the afternoon, during the restaurants most quiet period that allows you to drift into the meditative atmosphere of the space and garden.
Sahsya Kanetanaka was designed by New Material Research Laboratory (NMRL) an architectural and design firm established and founded by Hiroshi Sugimoto together with partner architect Tomoyuki Sakakida in 2008. Featuring two elongated rectangular tables made from Hiba wood sourced from Canada, with seating aligned as outward-facing to the traditional garden outside. A large silver gelatin photograph takes centre place in the minimalistic interior, from Hiroshi Sugimoto's Conceptual Forms series from 2004. In fact, the restaurant's rounded, white and wood chairs also designed by Sugimoto took form from inspiration from the same Conceptual Forms series.
The restaurant's interior concrete floor was inspired by the traditional Japanese architectural technique of tataki (三和土), a type of flooring which traditionally comprised of pounded soil, lime and water and was commonly found at the entrance of a space, yet in modern practices began to incorporate other materials such as cement or concrete. Tataki dates back to over 10,000 years ago as an ancient practice that was established in Japan during the Jomon period. Such historical connections are commonly found in Sugimoto's own artistic practice, and it's only all the more fascinating when incorporated into his architectural endeavours.
Looking outwards towards the restaurant's pensive garden space, it's clear to see the merging of Japanese traditional landscaping aesthetics into modern context. Outside, the floor tiles are a dark stone grey that refer to shikigawara (floor tiles 敷瓦), originally found in traditional minka folk dwellings or in the main halls of zen temples. Dense clusters of green moss are found alongside carefully-placed Teppeiseki stones (flat iron stone and a form of volcanic rock, 鉄平石) that were arranged by using the technique of ashlar masonry, which sees each stone carefully shaped to fit together. The garden's poetic description is just as poetic as the space itself; "It is likened to a solitary island in mid-ocean, floating in the sea of moss."
The garden's spatial structure is characterised by the continuation of the restaurant interior to the outdoor garden – a traditional architectural topology also found in the design of the Katsura Rikyu Imperial Villa and Ryōan-ji zen temple in Kyoto. To create this structural continuation at Sahsya Kanetanaka, the main challenge was how to support a roof with the least number of pillars. Instead of using wood but instead creating a modern steel frame structure, the architects were able to create the 13.8 metre-long continuous opening without any pillars – a brilliant feat to realise the structure concept; "In this space, the garden is a part of the room, and the room is a part of the garden."
To understand the restaurant's artistic concept by Sugimoto, is to dig deeper into his Conceptual Forms series key inspiration: the mathematical formula of Helicoid: minimal surface. Hiroshi Sugimoto explained; "The mathematical models are sculptural renderings with trigonometric functions. Art resides even in things with no artistic intentions."
Sugimoto also further explained; "The study of mathematics is thought to have begun in ancient India and China. The concepts of zero and infinity were not so much discoveries, as human inventions. Endeavors in art are also mere approximations, efforts to render visible unseen realms."
SAHSYA KANETANAKA
2F Oak Omotesando,
3-6-1 Kitaaoyama, Minato-ku
107-0061 | Tokyo, Japan
Images: Ben Hosking for Ala Champ
Words: Joanna Kawecki
————-
Discover more destinations on: @champ_travel
#champ_japan #champ_tokyo