YUEN SHINJUKU
Discover The Nuances of Light & Shadow In This Modern Ryokan in Tokyo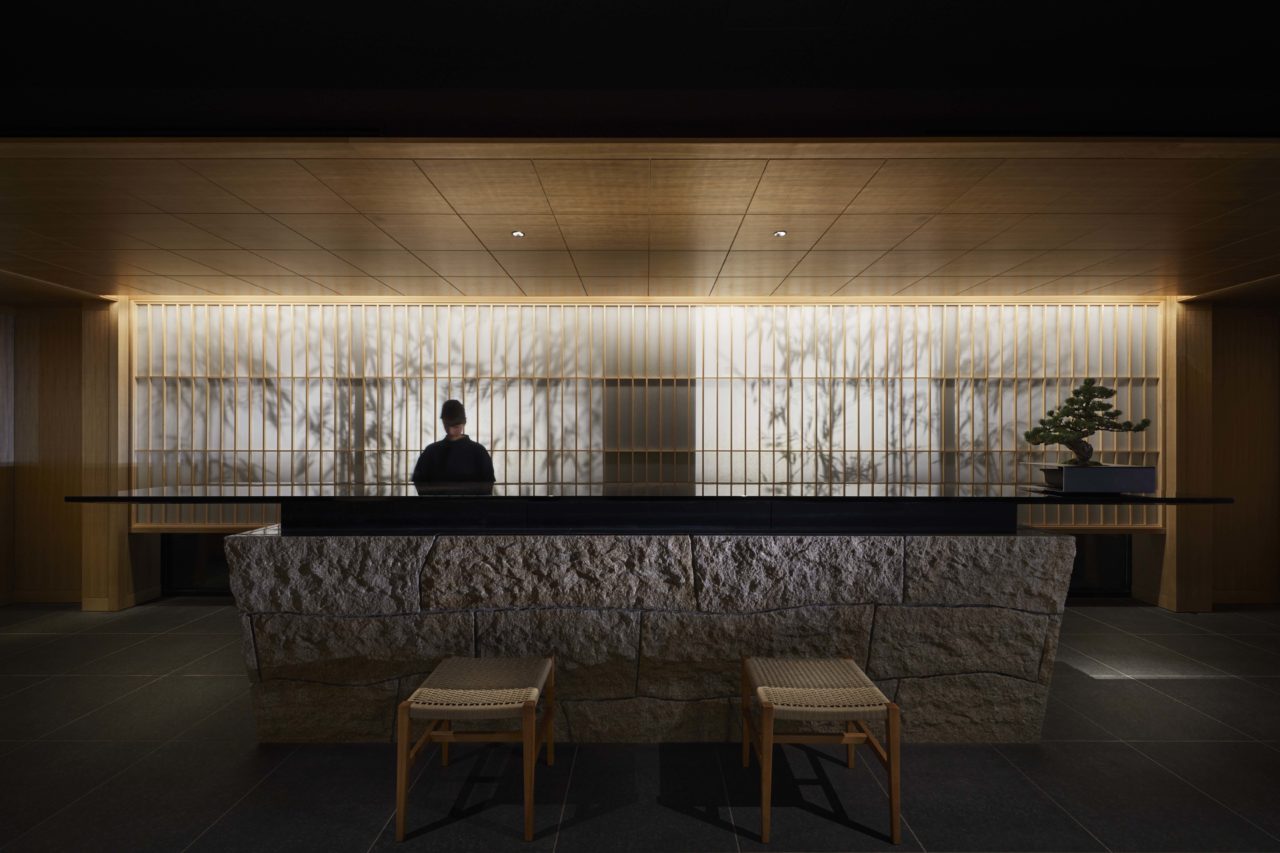 Entering through ONSEN RYOKAN YUEN SHINJUKU's traditional sukiya-mon gate, chōzubachi water bowl and stone-tiled pathway lined with lanterns, it is a surprising welcome amongst the neighbouring high rise buildings in one of Tokyo's most busiest and main city hubs, Shinjuku. Situated to the rear of Shinjuku, tucked behind Hanazono Shrine and Golden Gai, YUEN's presence is found in the quiet, more residential backstreets that holds prime position within walking distance to Shinjuku Gyoen Garden, and even the new National Stadium which can be viewed from the building.  
YUEN, meaning origin or story in Japanese, encapsulates a journey on the nuance of shade through their interior focussed on light and shadow.  Greeted by welcoming staff and soft BGM sounds, even YUEN's entrance offers a unique transition from the outside bustle of the city to a tranquil and calm space so contrasting that you may forget where you have actually arrived. With a steel frame structure over 1,000sqm and 18 stories high holding 193 rooms, the modern ryokan maintains an element of intimacy through its design. It's interior merges a modern offering that offers western-style beds yet combines traditional architecture detailing such as transparent shoji screens to stone tiled floors all in geometric synchronicity. There are small details that speak volumes; aroma by Juttoku incense from Awaji Island, to discerning seasonal flower arrangements by Propellaheart. Navigation throughout the hotel is comfortable, with spaces easily identified by a modern brand identity, logo design and elegant signage led by Tokyo-based design studio Artless Inc. 
YUEN offers seven guest room types, ranging from 12m² to 51m² with expansive views of the city, yet are best viewed from lying in bed or sitting by the window. The particular yukimi-mado design for the room windows was inspired by yukimi shoji that described "sliding screens for seeing the snow". The design took the notion of framing the scenery to offer a unique way of enjoying nature through architectural prowess. Guest rooms extend the interior's aesthetic, remaining minimal and visually-arresting with warm, cream tones contrasted by shades of grey presenting in the dark grey ceiling and grey marle lounge seating. In each room, find tiered timber jubako boxes holding complimentary Sayama green tea and roasted green tea with Japanese sweets and crackers, to bathroom amenities. Inside guest rooms, find cotton yukata robes, ukago bamboo baskets, split-toe tabi socks and sandals worn to the 18th floor onsen bath. Notably, the onsen bath utilised real hot spring water from the Tsutsuji no Yu Hot Spring from the Odakyu Yamano Hotel in Hakone. Post-soak, head to a respite with a view. Overlooking the Shinjuku skyline, relax with a selection of fruit-flavoured ice lollies, complimentary for guests. 
YUEN's in-house restaurant Kakatojo is a stone and timber-clad recluse, with a Japanese cedar sugi ceiling and a central counter made from an entire piece of gingko wood from Fukuoka. The counter area features an ajiro woven timber ceiling, a technique commonly found in traditional Japanese architecture. Kakotojo is named after the noun for the fire-making method using charcoal, literally translated as "down in summer, up in winter". 
Breakfast for guests is served in the restaurant, a Japanese traditional offering that changes seasonally. During our visit, we enjoyed a breakfast set of: Grilled mackerel, vegetables mixes with soy pulp, simmered beef and potato in sweetened soy sauce, miso soup with vegetables and Japanese neck clam, Haenuki rice from Yamagata, sardines, sesame tofu, braised shellfish seasoned with fish stock and Japanese rolled omelette seasoned with fish stock – perfect to enjoy alongside the morning light passing through the garden with maple trees and camellia trees. For dinner, Executive Chef Yu Wakaouji presents a modern offering of traditional Japanese favourites, the restaurant serves a selection of seasonal Japanese cuisine focussed on tempura and teppanyaki, but not limited to, including assorted sashimi to yakitori grilled chicken skewers. Additionally, find special Japanese rarities from neighbouring prefectures on the menu also, such as Kyoto-style miso-marinated grilled sable fish, to Inaniwa udon noodles hailing from Akita, known for their cream tone and hand-stretched and dried process that makes them slightly thinner than regular udon. To pair, find a list of dry sake to plum wine, and even Japanese wine from neighbouring regions.
At night, it's magic. The skyline glimmers filled with lights from the distant Shinjuku skyscrapers and neon signage that fill guest room windows. What better way to end a day in Tokyo, and prepare for the next adventure in Japan's capital.