HOTEL CHINZANSO
Five-Star Classic & Traditional Elegance Where East Meets West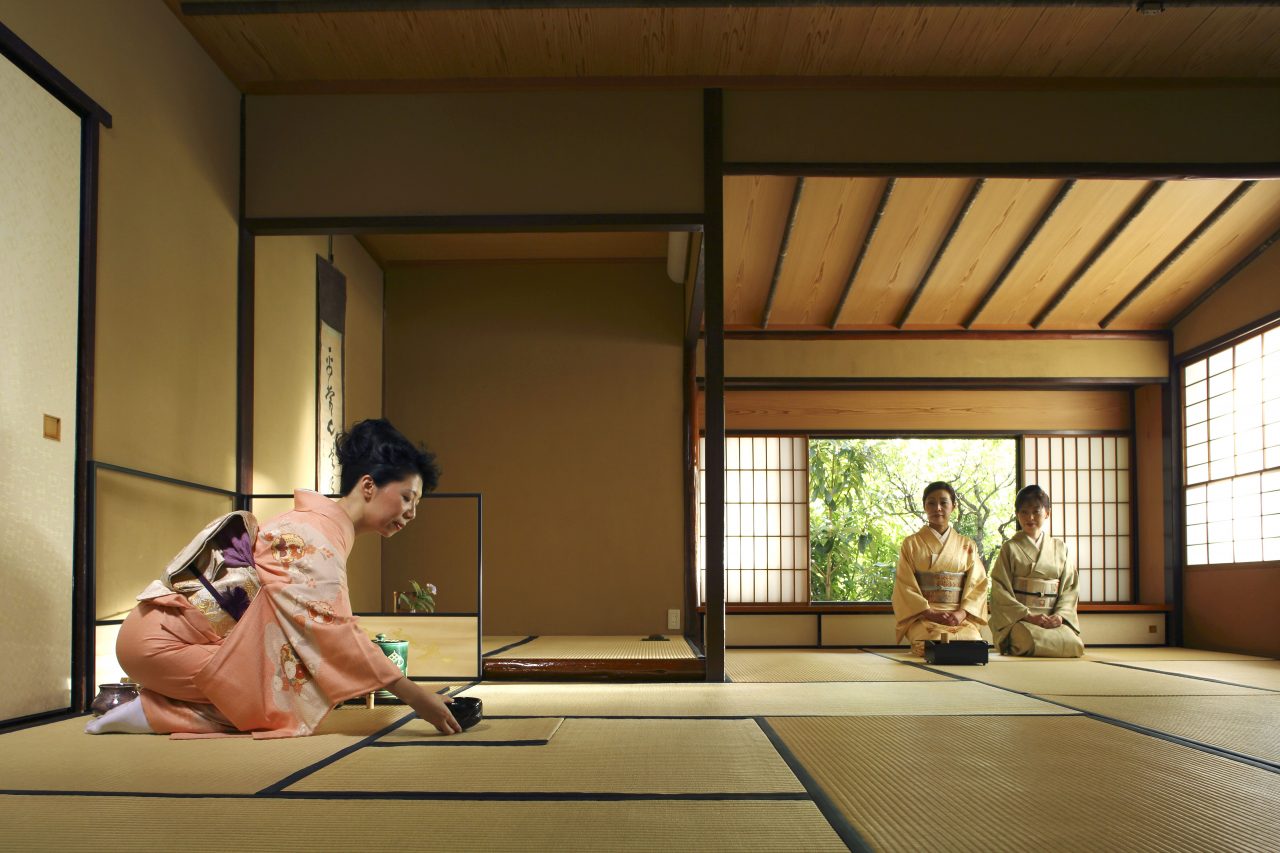 Walking through Hotel Chinzanso's grand entrance, you're taken into a world of classic five-star grandeur and elegance. With a spectacular interior filled with East Asian antiques juxtaposed with western old-school extravagance, find grand glass chandeliers alongside silk-upholstered chairs and lounges stationed in the hotel lobby paired with an impressive entirely all-green marbled interior.
While Hotel Chinzanso Tokyo opened in 1952, it's recent expansion in 2012 saw it's merge with the former Frank Nicholson-designed Four Seasons Hotel building in the same vicinity. In January 2013, both neighbouring buildings officially joining to become a consolidated Hotel Chinzanso. The new Hotel Chinzanso interior remains original from when it first opened as Four Seasons, intending to unite an antique art elegance of the East and West. Find original 16th century Chinese ceramic vases and East Asian antiques, with new additions of paintings by famed Japanese artist Noriko Tamura.
Combining over 60 years history, the hotel is popular amongst both travellers interested in Tokyo's rich history, whilst also accommodating weddings – being one of the most popular wedding destinations in Tokyo.  The garden is maintained so well it is hardly believable that it can be found in the heart of Tokyo. Indeed an urban oasis. Such is it's impressive 17 acre site reflecting each of Japan's seasons, that it truly resembles Kyoto. Since the Nambokucho Period (1300's), the area was known for it's wild camellias and was even found in woodblock print master Utagawa Hiroshima's "100 Famous Views of Edo" print. The garden was first designed by Aritomo Yamagata and landscaped by Katsugoro Iwamoto, and is now maintained by head gardener Akira Okayasu for over 30 years.
Hotel Chinzanso's symbol or icon is the camellia flower, due to more than 100 types of the species found in the garden alone. Also found are a number of important cultural monuments, such as the Three-Story-Pagoda, to sacred tree Goshinboku (a 500 year-old chinquapin tree at 20 metres high and 4.5m circumference), to Kokosei Well (an ancient well producing alkaline subterranean water originating from Mt Chichibu, rich in calcium and minerals that served as pivotal in saving many lives after the Great Kanto Earthquake in 1923.)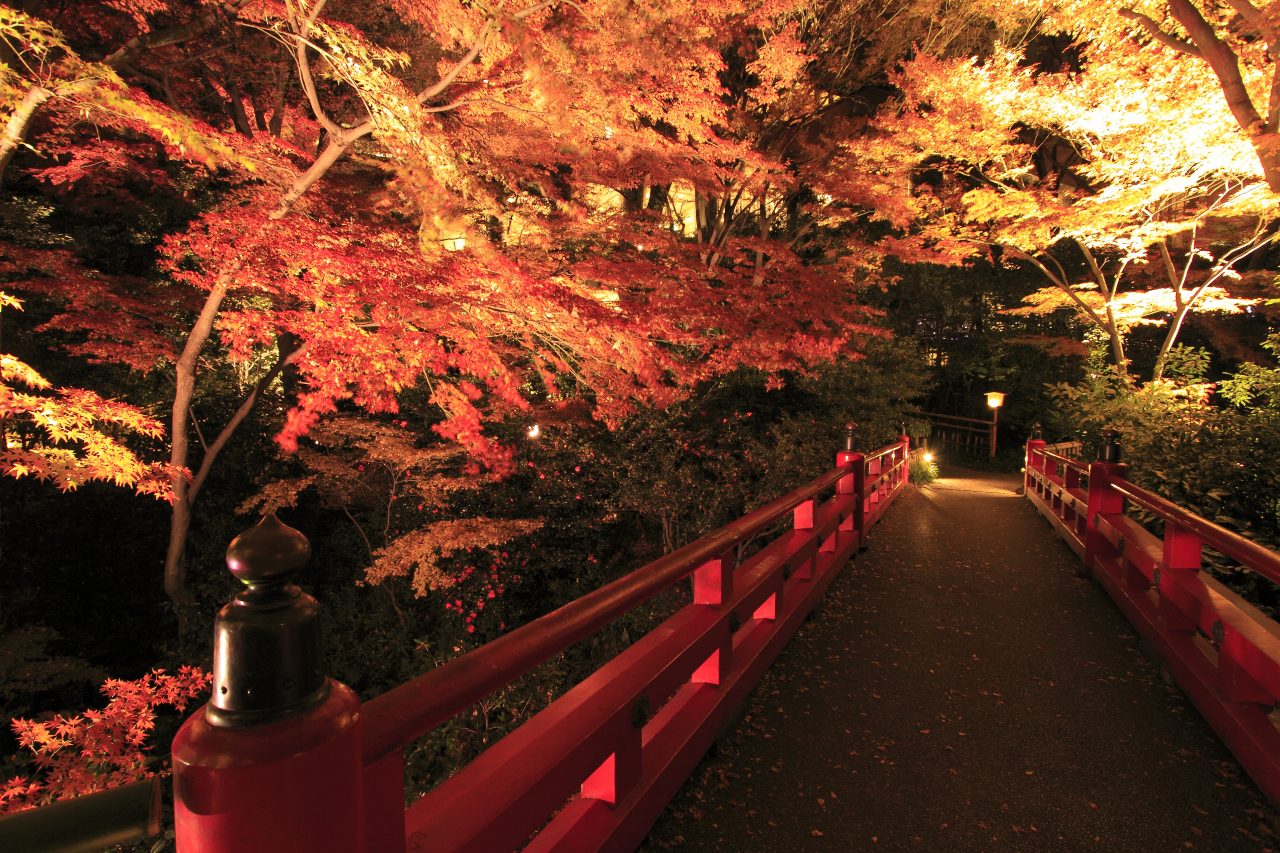 One thing to note at Hotel Chinzanso is the attentive and friendly staff. From the front reception concierge's to the pool and spa facilities members, you are instantly welcomed at any point, most notably with a friendly smile. Guest rooms are generous in size and spacious, and although they feature hanging artworks, they remain minimal in decoration (even TV's are hidden in wooden cabinets as to ensure a visually pleasing room). Due to the building's unique architecture, each room features a spectacular corner view (either city, or garden). The camellia flower as a symbol is found in the guest bathroom ceramics, whilst in-room amenities are provided by L'Occitane, an alignment for their use of natural ingredients and pure oils that resonate with Hotel Chinzanso's own all-natural philosophy.
Down by the second floor, find YU The Spa, with an on-site natural hot spring and indoor swimming pool with jacuzzi, wet and dry sauna. The spring water is notably refreshed daily, sourced from the Kohakuen Onsen in Ito Prefecture (owned by the same company, Fujita Kanto).
The hotel breakfast allows for a Japanese and Western option. The Japanese breakfast is served in Miyuki restaurant, presenting a traditional Japanese-style breakfast with a variety of small meat, fish and vegetables servings with rice and miso soup. The Western breakfast is a choice of eggs, bacon and sausage with bread and pastries, including coffee and freshly-squeezed orange juice. Although both present completely different offerings, we preferred the Japanese due the exceptional interior design of Miyuki restaurant, with staff in kimonos and a glorious view over the adjacent Chinzanso garden.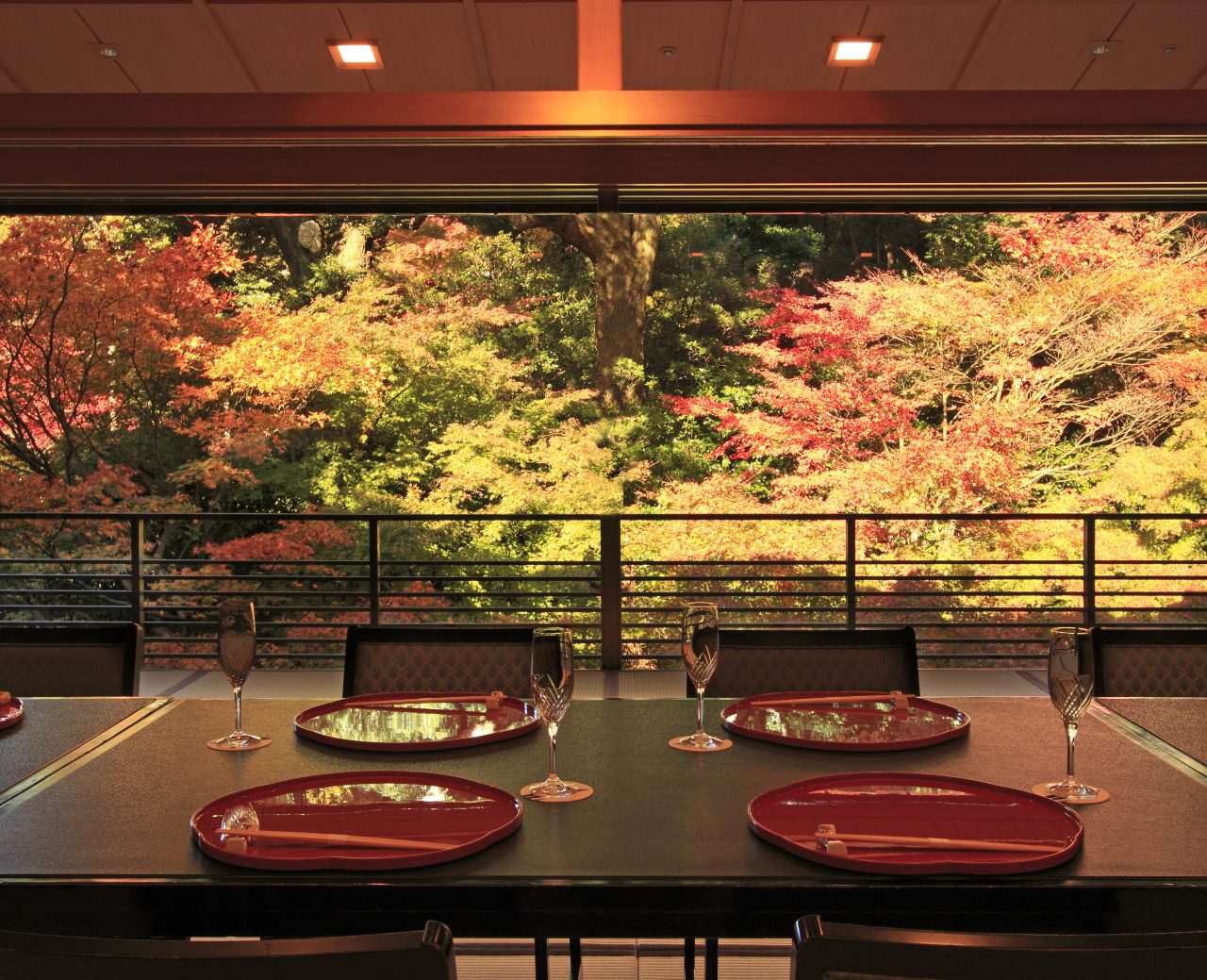 Out of the nine restaurants found on Chinzanso's grounds, we dined at Mucha-an, a quaint traditional soba restaurant located deep in the forestry of the garden. With staff elegantly dressed in kimonos, the atmosphere is nothing short of magic. The interior reflects a sukiya-like traditional wooden interior, with large wooden columns and beams supporting the restaurant. The surrounding garden has been created in traditional style, with evening fireflies abundantly gracing nearby the window.
We opted for their 7-course soba kaiseki dining menu; Ryoufu, paired with a 3-sake sampling tray (Daiginjyo Yukimanman, Junmai Ginjyo Dewasansan, Sannen Taikosyu Karesansui.)
With a soba kaiseki course, expect an experience in textures, colours and taste. Incredibly here you really can find a slice of Kyoto here amongst Chinzanso Garden, situated surprisingly in the heart of Tokyo. Starting with five kinds of appetisers; including Steamed Pike Conger, Saury stewed in soy sauce and syrup and Pumpkin tofu with mustard and goji berry. Each dish is presented in various colourful and variously shaped handmade petite ceramics. The sake pairings are perfect; smooth and light, presented in impressive hand-blown glass cups. Next, a serving of seasonal sashimi (sea bass and squid) followed by grilled salmon with thick edamame miso paste served on a giant leaf houba tree leaf.
For dessert, minimalism is key. Find sliced golden kiwis with fresh dark-red cherries, and a hand moulded sweet (neri-gashi) from Kyoto. Detail-rich, it features a green leaf-shaped with a gold-flaked azuki bean on top representing a firefly, and ending with a soba-cha tea.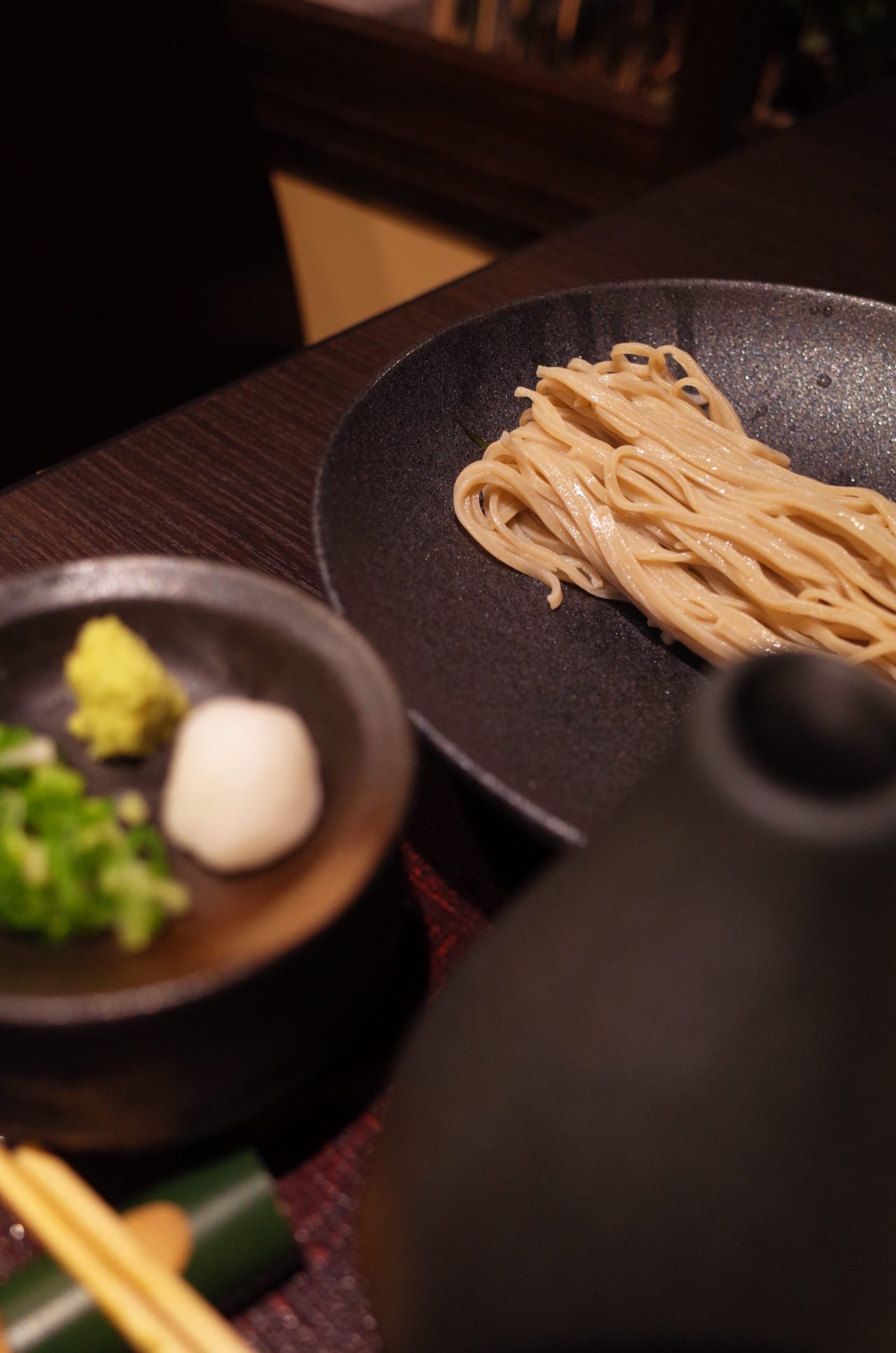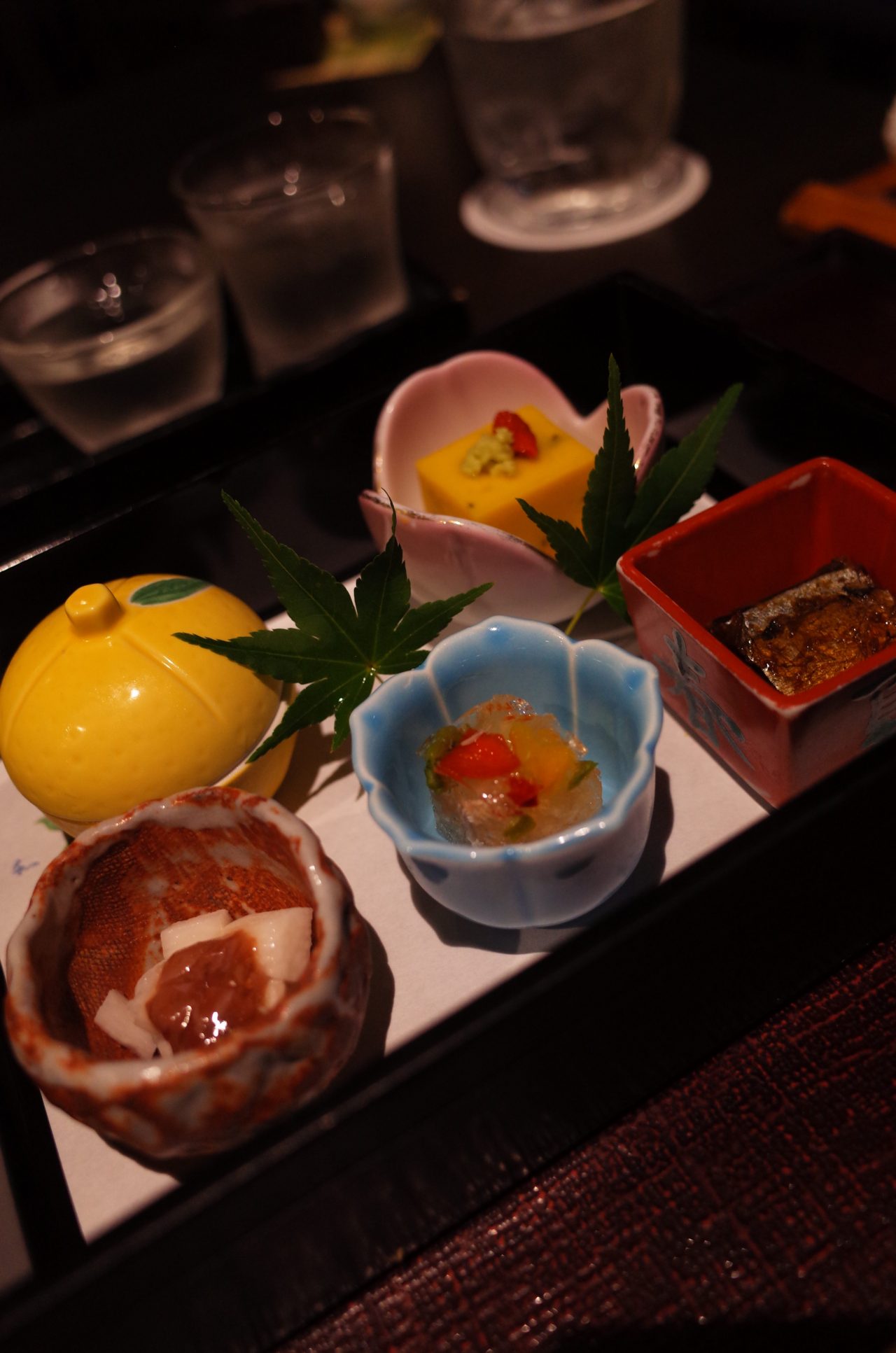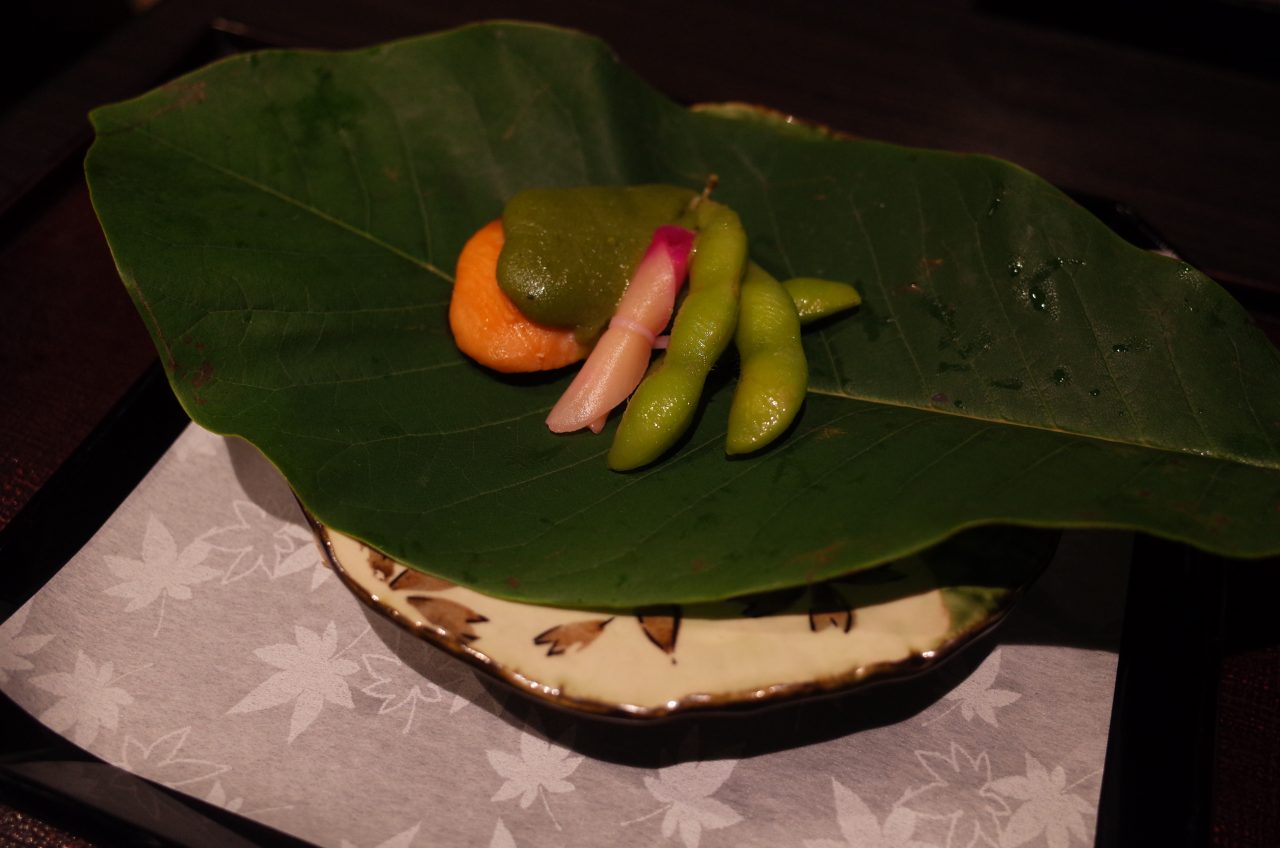 Not only is Hotel Chinzanso an excellent example of traditional Japan, it's modern amenities ensure it's the perfect destination. Although retaining the hotel's classic elegance, there are details of modernity found in their approach to sustainability: replacing plastic straws with paper straw alternatives. Support of the next generation and their education is also key for the Hotel, with events offered for neighbourhood children focussed on ecology and sustaining the natural environment through an annual event of a firefly release ceremony, now celebrating their 16th year.
Not only if the hotel a destination in itself, it's eighbouring gardens Higo-Hosokawa, and Kodansha Noma Memorial Museum are also worth a visit. Along the Edogawabashi River, Hotel Chinzanso is worth the visit for a sense of traditional Japan in the heart of Tokyo.