Craftsmanship and Omotenashi at Its Finest
Unequivocally Tokyo's Most Extraordinary Luxury Urban Ryokan Experience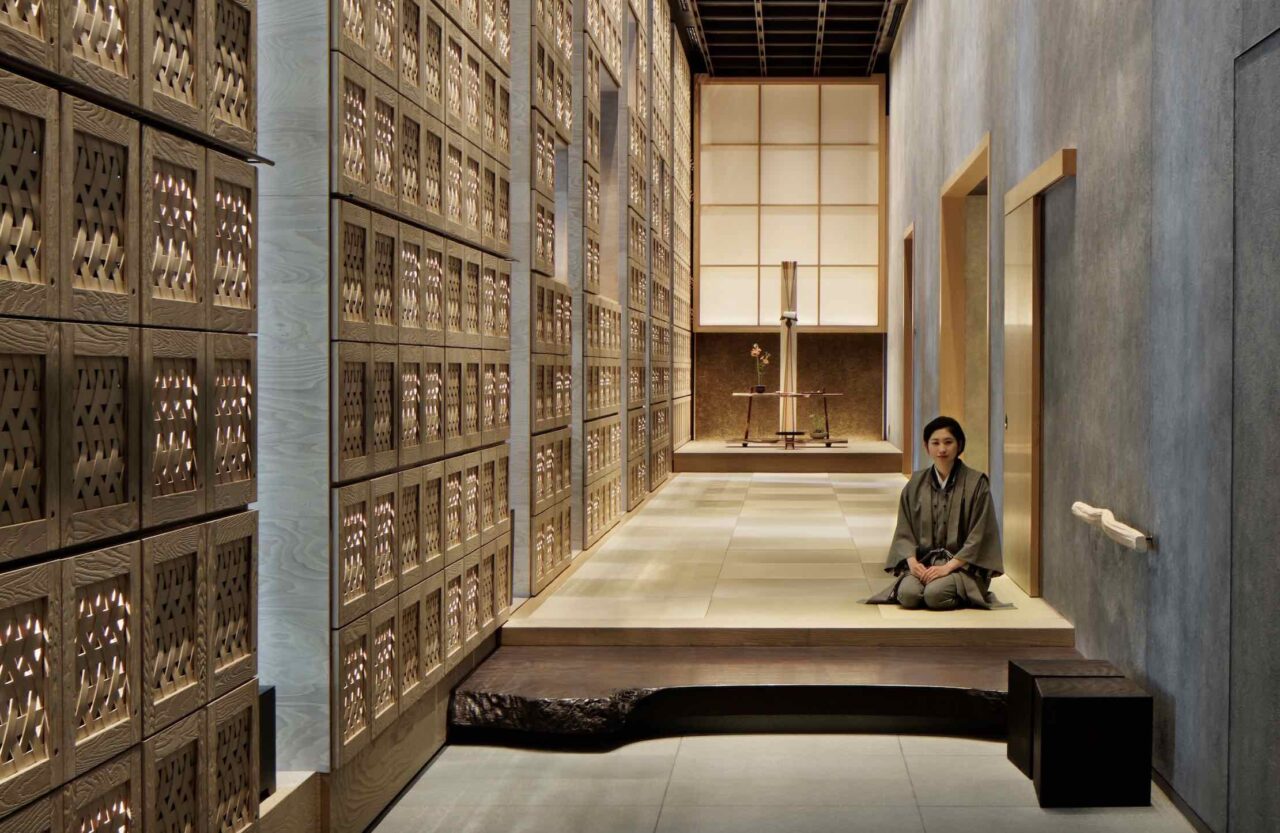 Best described as a luxury urban ryokan or modernised traditional Japanese inn, this  hotel in Tokyo is simply, unequivocally extraordinary.
There is no comparison to the outstanding service, stellar interior design and welcoming atmosphere that transports guests to another world — one where utmost consideration in every detail, gesture, moment, has been carefully curated and created at this contemporary Japanese ryokan respectfully executing utmost highest consideration of Japanese hospitality known as omotenashi, through their own sense of kodawari, in pursuit of perfection.
Open in 2016, HOSHINOYA Tokyo — part of the esteemed Hoshino Resorts brand — is an urban oasis located right in the heart of the Japanese capital. Situated in Tokyo's Otemachi district, find it nestled within steel sky-risers neighbouring central Tokyo Station yet also within a stone's throw of the expansive Imperial Palace grounds. As a modern Japanese ryokan, it is unlike your usual hotel experience. As with a traditional Japanese inn, guests can comfortably wear their provided in-room garments throughout the entire space — to the onsen hot spring bath located on the building's highest floor, to the exquisite in-house restaurant located on the below-ground level.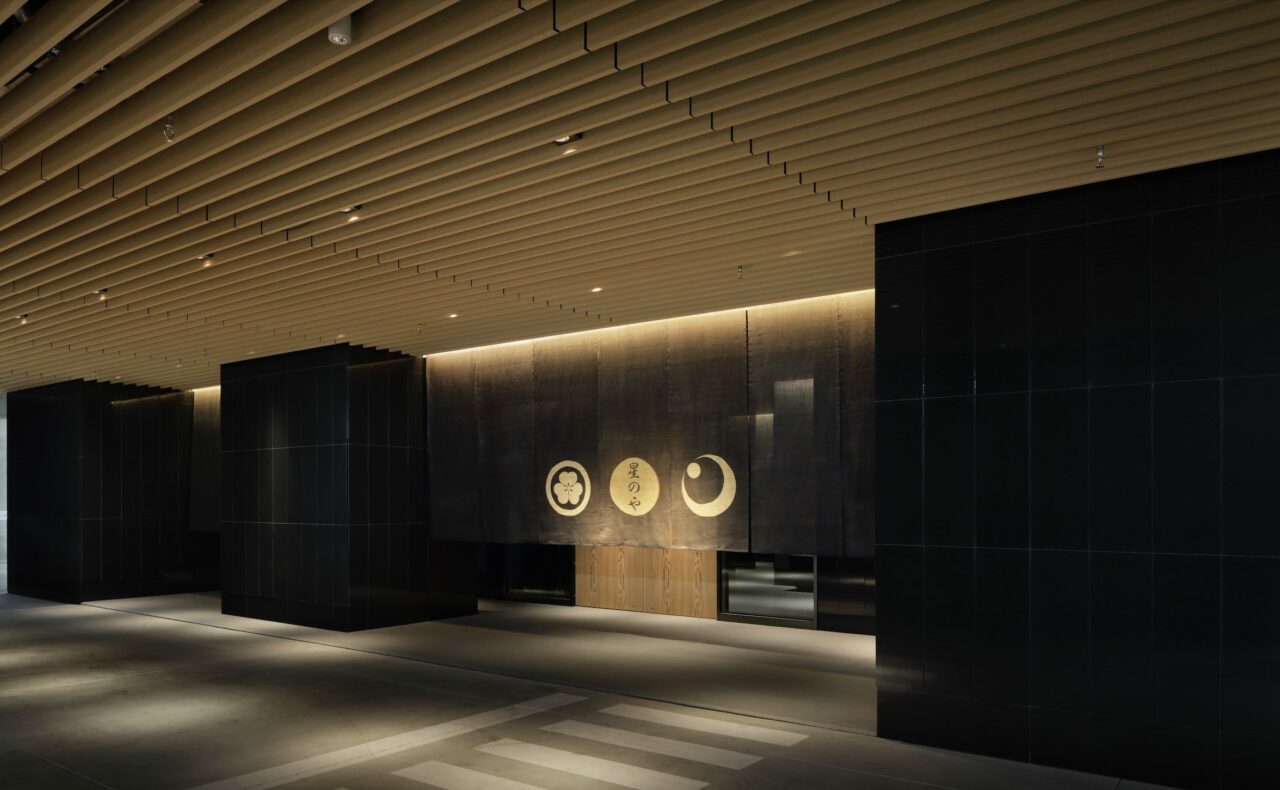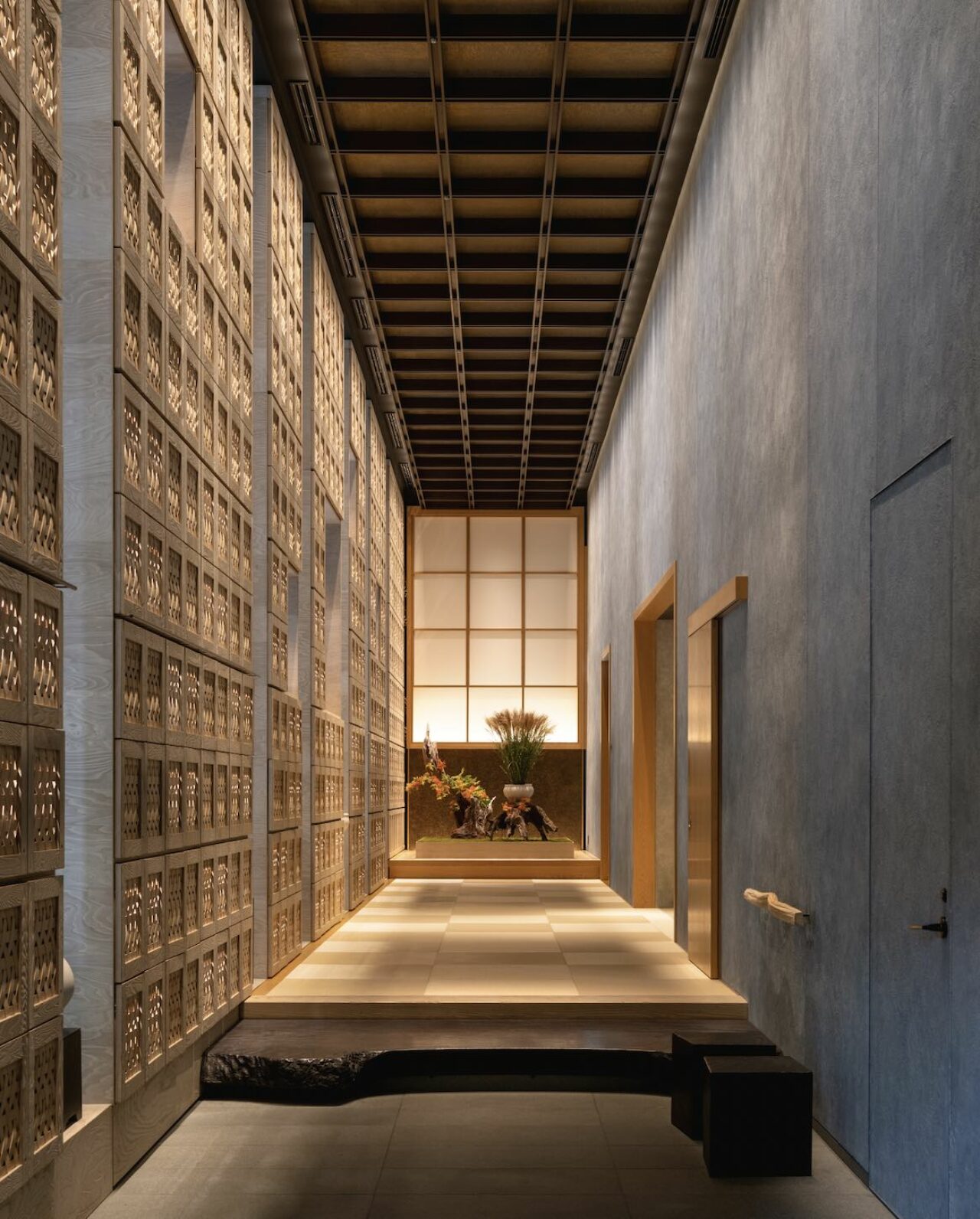 Entering the slightly covert building that is HOSHINOYA Tokyo is exclusively guest-only. Upon arrival, guests remove their shoes by the entrance genkan and walk through the expansive entrance foyer with a monumental flower arrangement setting the tone for a visually-arresting and transportative stay right from the start. The large flower arrangement display changes once a month, reflecting the transience and diversity of Japan's seasons.
HOSHINOYA Tokyo's staff wear a uniform of modestly stylish gray marle, referencing Edo period traditional garments. Look closely and you'll notice a vibrant print hidden on the inside of the textile. 300 years ago, aristocrats were only permitted to wear decorative textiles leaving commoners to secretly weave prints into the inside of their own garments. This same subtle nuance is embedded into the building facade's design led by architect Rie Azuma, creating an elegant lattice asa-no-ha six-sided geometric pattern referencing the hemp leaf and the unity of family and gathering. Taking note of every considered detail, even the exterior entrance features stunning arare koboshi-laid traditional stonework designed by Landscape designer Hiroki Hasegawa of Studio Onsite, one of HOSHINOYA's ongoing collaborators creating a new visual language for the brand that blends tradition with innovation. The intricate stonework is so precise that only the most experienced craftsmen can construct a maximum of 30cm sq per day.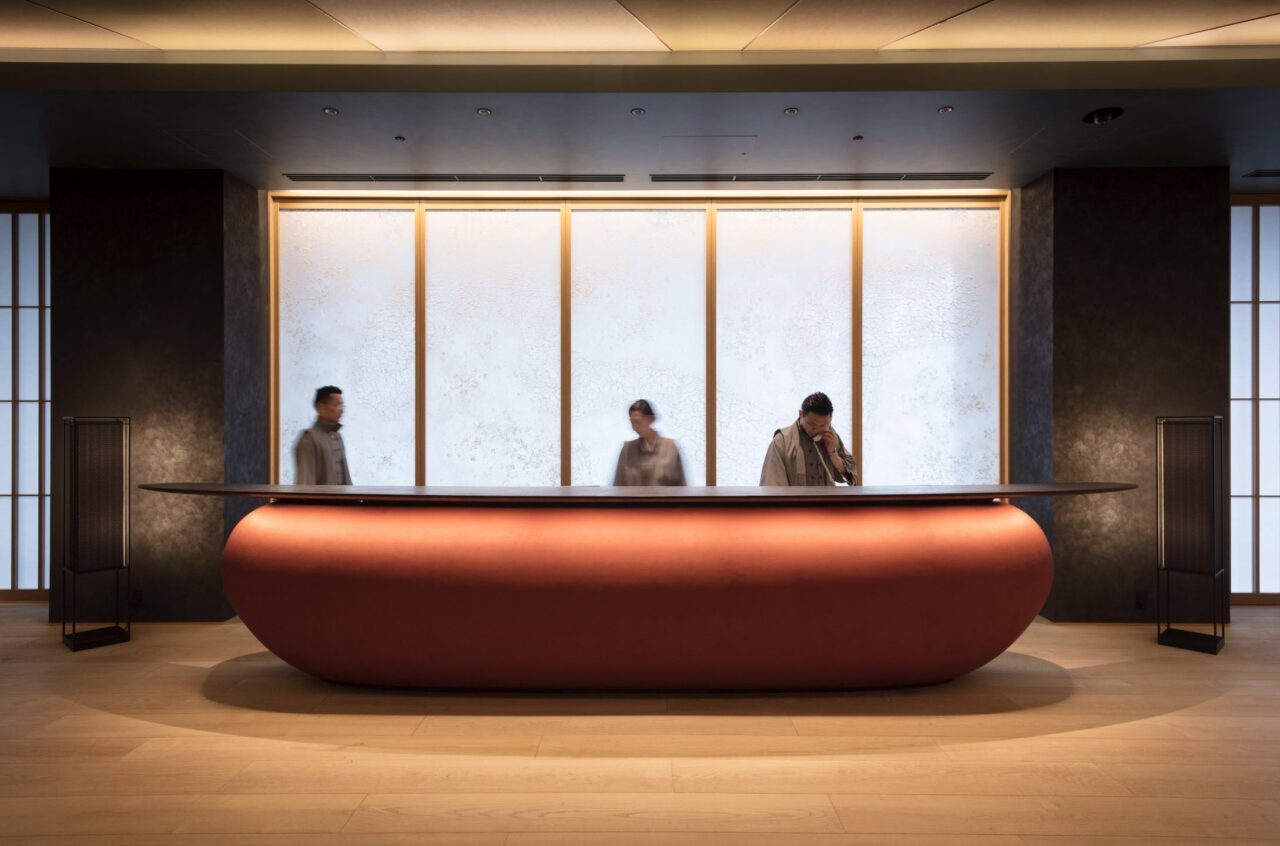 INTERIOR DESIGN
The entire interior of HOSHINOYA Tokyo is a compelling journey and dance of light and shadow, masterminded by architect Rie Azuma. From the entrance's looming 5.6metre-high entrance reflecting Gotonjo Temple ceilings, to the chestnut wood-clad Reception floor, or the atmospheric dining space entrance nestled on the base floor with extraordinary stonework and earthen tsuchi-kabe walls. Take note of each detail and be mesmerised, such as the lounge area's ceiling constructed akin to origami (the Japanese art of folding paper), to stunning sculptural objects found throughout the hotel including a magnanimous Kakougan (Granite) stone from Setouchi positioned by the entrance or a simply spellbinding glass sculpture by artist Toshio Iezumi by the spa and onsen entrance.
One of the countless elements that makes HOSHINOYA Tokyo so exquisite is the way they shape an exceptional ambience throughout the entire building. All five senses are enhanced and amplified. Starting from their tatami-covered floors in almost all spaces — guest rooms, corridors, common spaces and even the elevators — allowing you to truly feel at home.
GUEST ROOMS
Beauty is in all the details throughout the entire 17 floors of the hotel, and needless-to-say in the expansive private guest rooms that allow peace of mind through their demure and tranquil minimalist design. Architect Rie Azuma has masterfully interwoven natural materials such as Japanese cypress from Aomori for seating and traditional washi paper for screens to filter ephemeral elements of light and shadow that create varying visualscapes throughout each hour of the day. With three different guest room types, Yuri, Sakura (41-49sqm) and Kiku (83sqm), that accommodate couples to families, with each featuring a large, Japanese-style bath.
Breakfast is prepared in-room, where guests can seamlessly enjoy a traditional Japanese breakfast comprised of rice, fish and fermented side dishes, or a western breakfast omelet with an original Hoshinoya sauce reimagined by chef Hamada as his original take on demi-glace. It's a perfect opportunity to enjoy an extended morning in the privacy of your own room, whilst furthermore remaining in the chic, supplied modernised room wear designed by esteemed Kimono designer Jotaro Saito.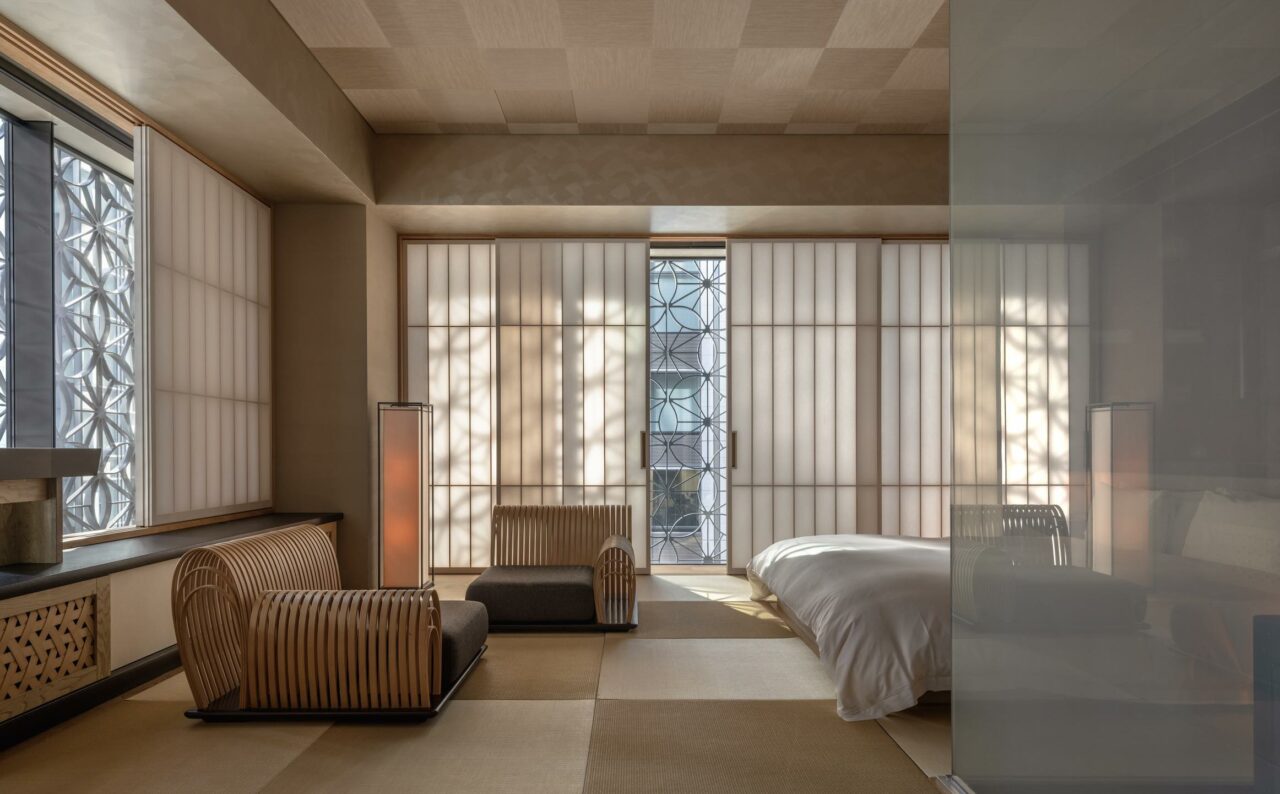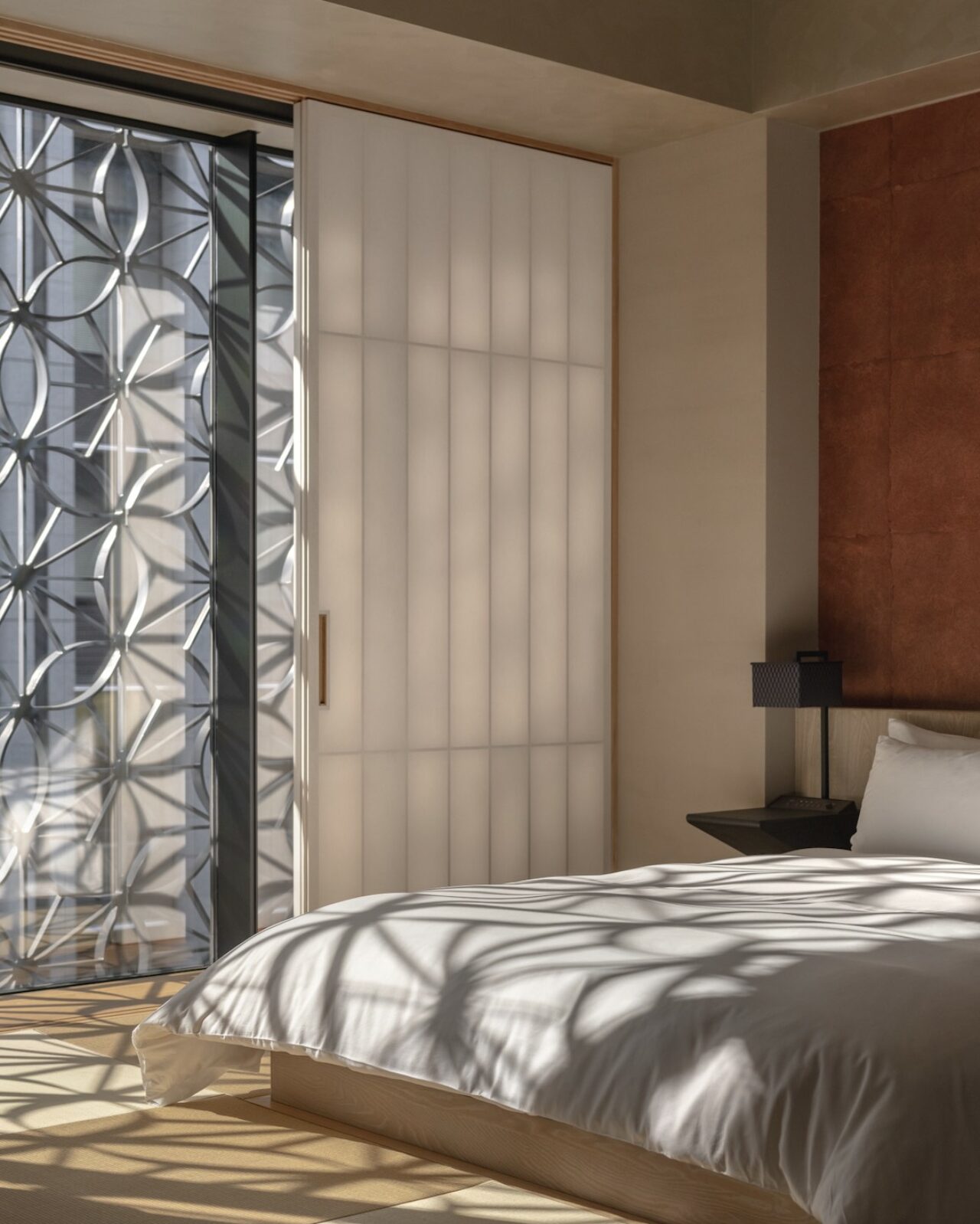 ONSEN & SPA
It is rare to find real, mineral-rich hot springs in central Tokyo. Yet at HOSHINOYA Tokyo, the water is sourced from 1500m underground and led to the hotel's 17th floor. Find the sophisticated interior of the washrooms in a dark and intimate palette, with the expansive baths also featuring an open-air area accessed by a passage akin to a roji pathway allowing one to cleanse mentally and spiritually before they enter the space. The hot spring outdoor bath is unparalleled. During the day, relax by contemplating the subtle passing of time as clouds float by, to evenings with a star-illuminated sky whilst marvlling in the unknown expanse of the universe. Also located on the 17th floor lies HOSHINOYA Tokyo's spa, a sanctuary of calm and wellness.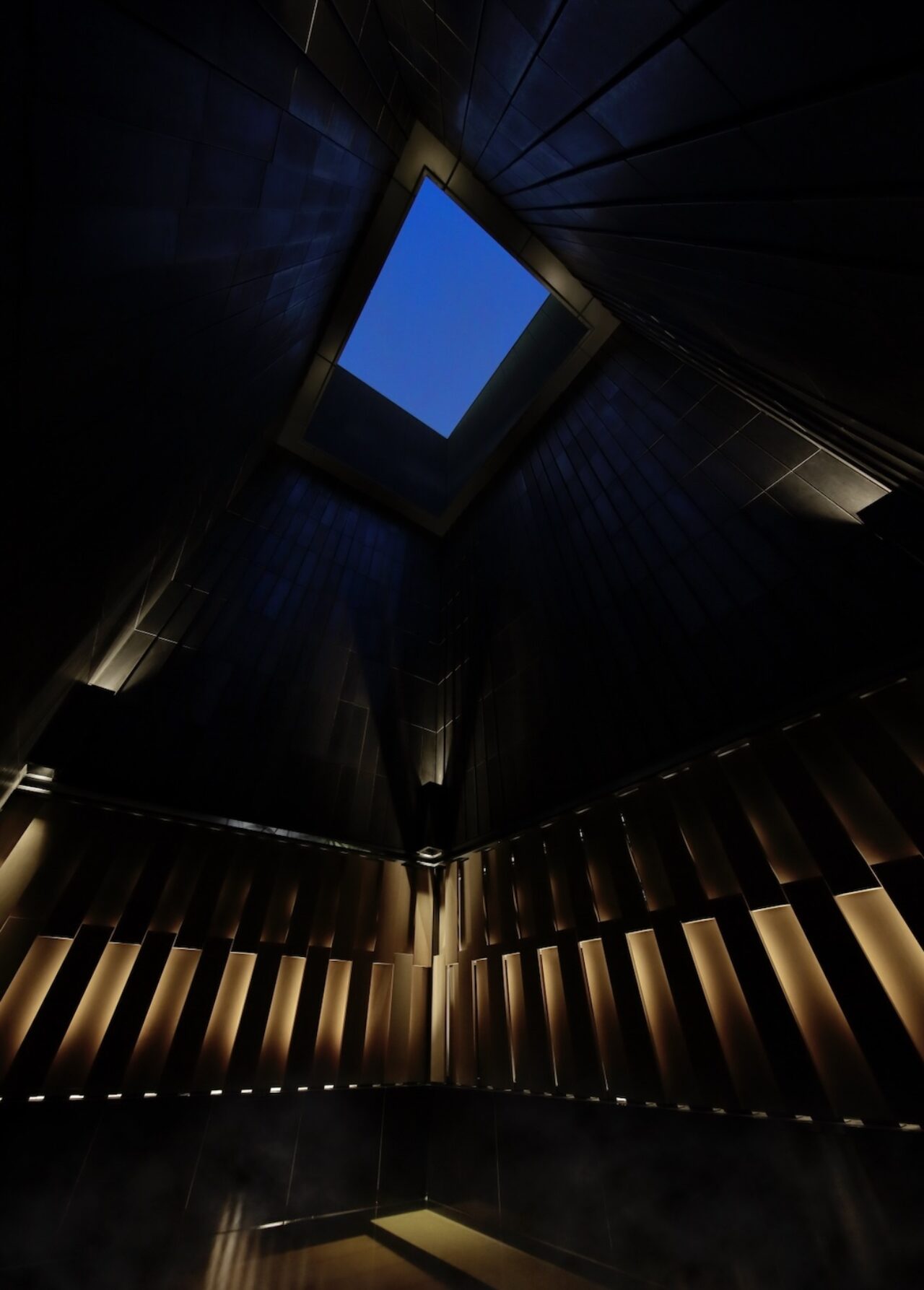 DINING
Situated below-ground level, find HOSHINOYA Tokyo's basement dining area abundant in natural stone and dimly-lit, creating a sophisticated and refined atmosphere akin to one in which famed author Junichiro Tanizaki could only masterfully describe if given the chance. Comprised of six private tatami-floored dining rooms and four booth tables, the entire floor is solely dedicated to guest dining and a refined experience. Light and shadow are but mere poetry inside, where kumiko wooden lattice screens and tsuchi-kabe rammed-earth walls (textured by hand by experienced craftsmen) that segment spaces alongside displayed sculptural ceramic objects by artists such as Kozo Takeuchi and Masaru Kikuchi to sublime, hand-cut light-refracting Hanashyo edo kiriko glass works.
Referred to as 'Nippon Cuisine', HOSHINOYA Tokyo's award-winning Executive Chef Noriyuki Hamada crafts an astounding dining experience that showcases the best of Japan's seasonal ingredients through meticulous French techniques. Focussing on a core menu around the ancient Japanese staple of fish, his approach to each dish is reflected in his enduring, close relationships with carefully curated local farmers and top producers across Japan. Hamada pursues excellence from not only the final form but leads with an ethos of sourcing ingredients borne in utmost natural environments and care. His approach includes a close understanding and respect for each ingredient, referred to as sozai wo mamoru (to protect the integrity of the ingredient) and how best to showcase its utmost value.
From an appetiser encapsulating the entire course presented on unique stones representing the five essential tastes in Japanese cuisine (sour, salty, bitter, spicy, sweet) to bamboo charcoal bread, a seasonal saba Spanish Mackerel pickled with framboise vinegar, tomato-extract gelatin and rose-wine boiled plum sauce, to an Iwagaki oyster from Tokushima with beef and Bernaise sauce — each dish is an interplay of French cuisine and the Japanese terroir.
For dessert, a playful ice candy dessert with from konatsu citrus from Kochi and lime leaf from Ehime topped with hanahojiso petite purple shiso flowers, and an extraordinary petite Génoise cake with a dollop of milk ice cream and sliced peaches covered with a thin layer of white peach and hibiscus jelly, softly dusted with evaporated peach. Utterly divine.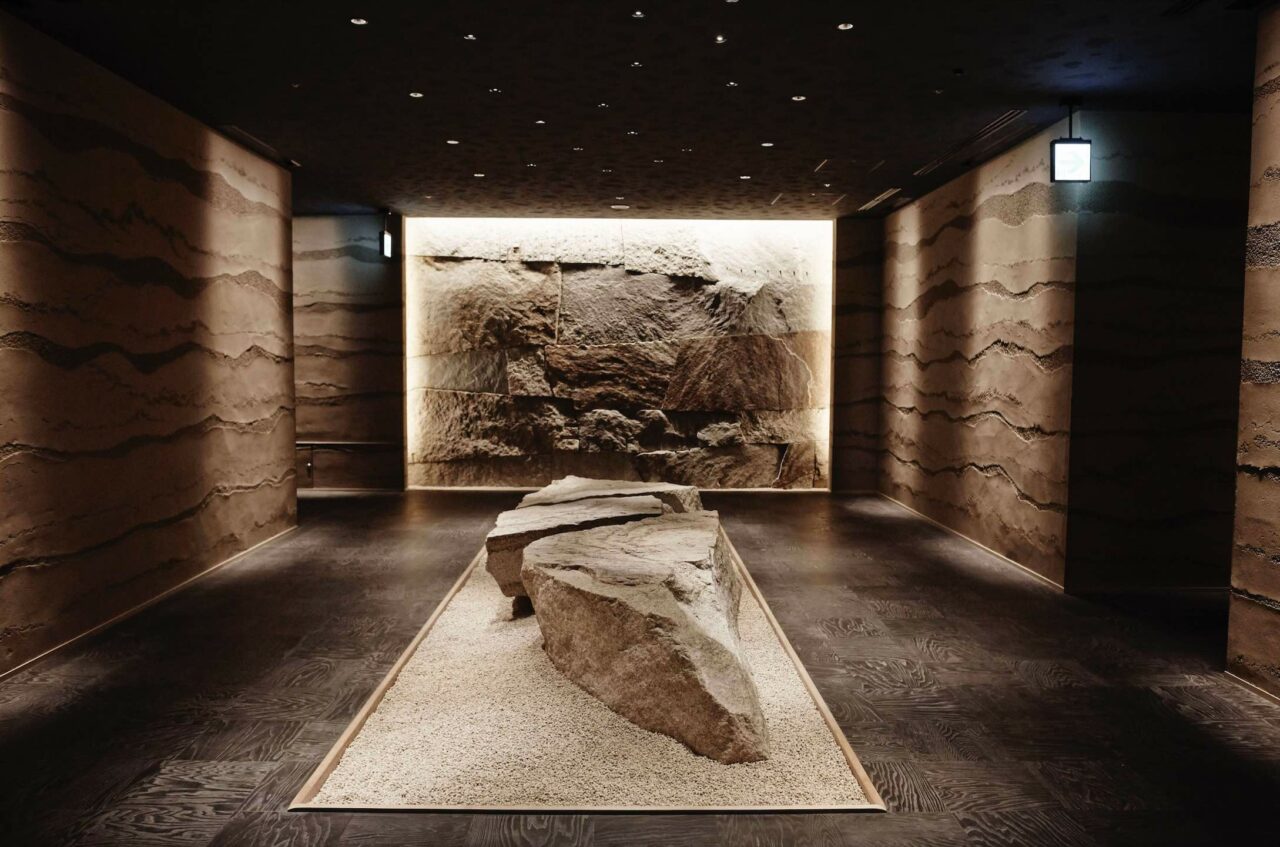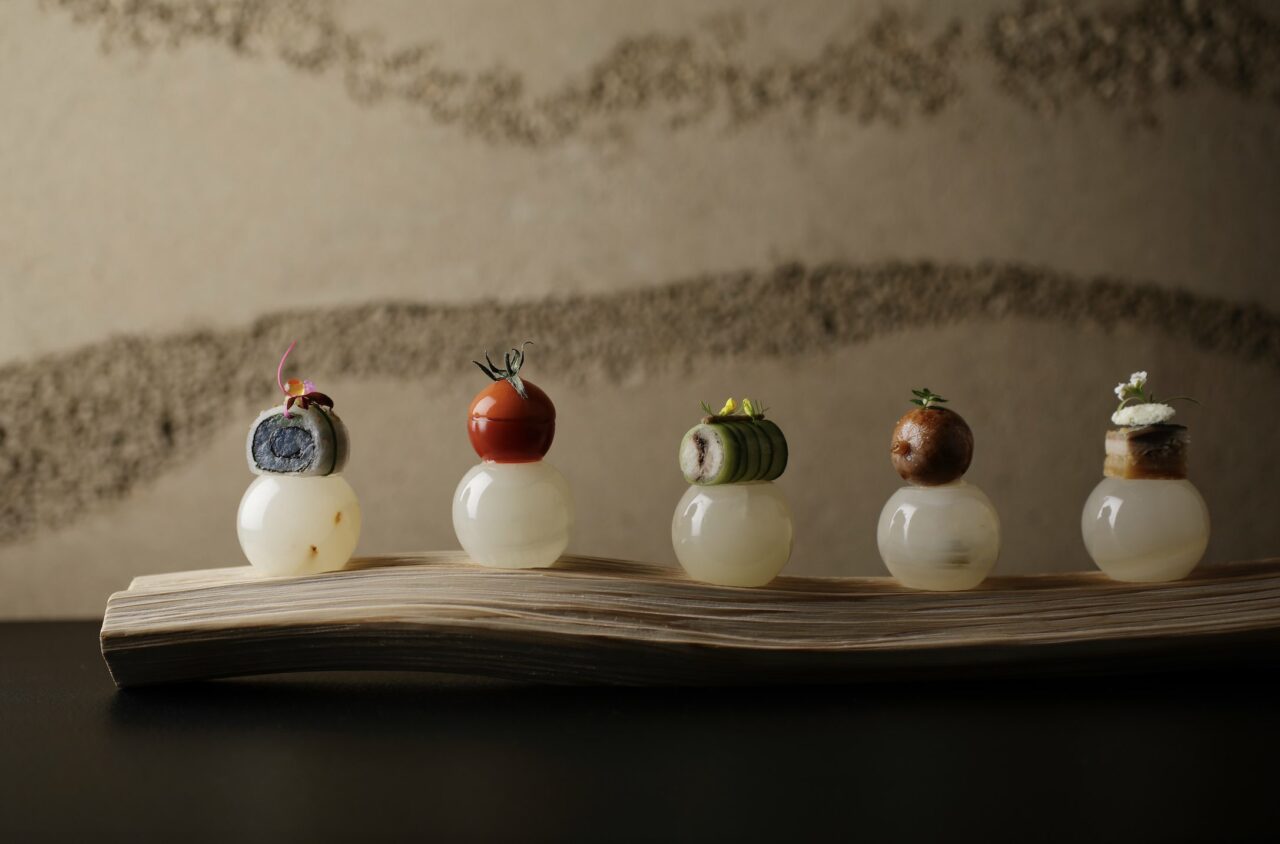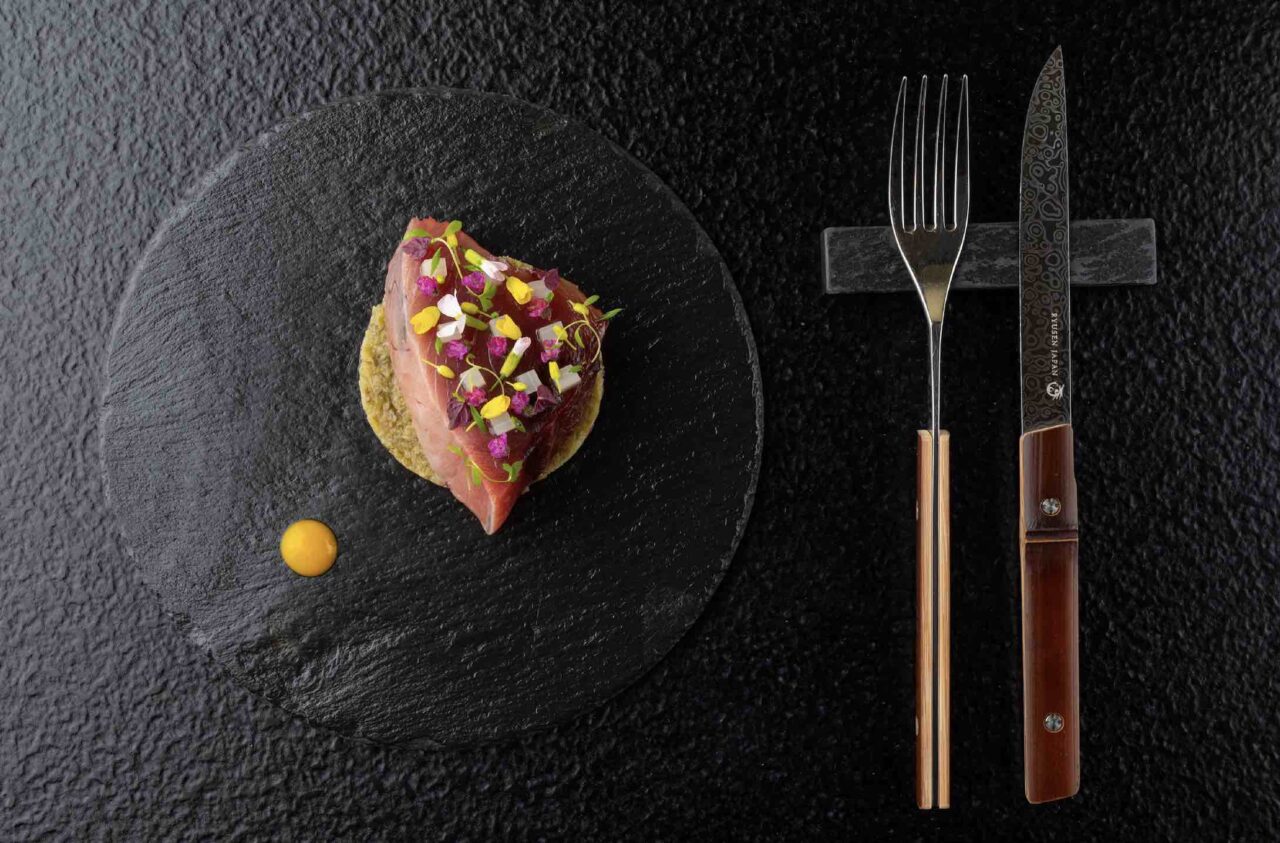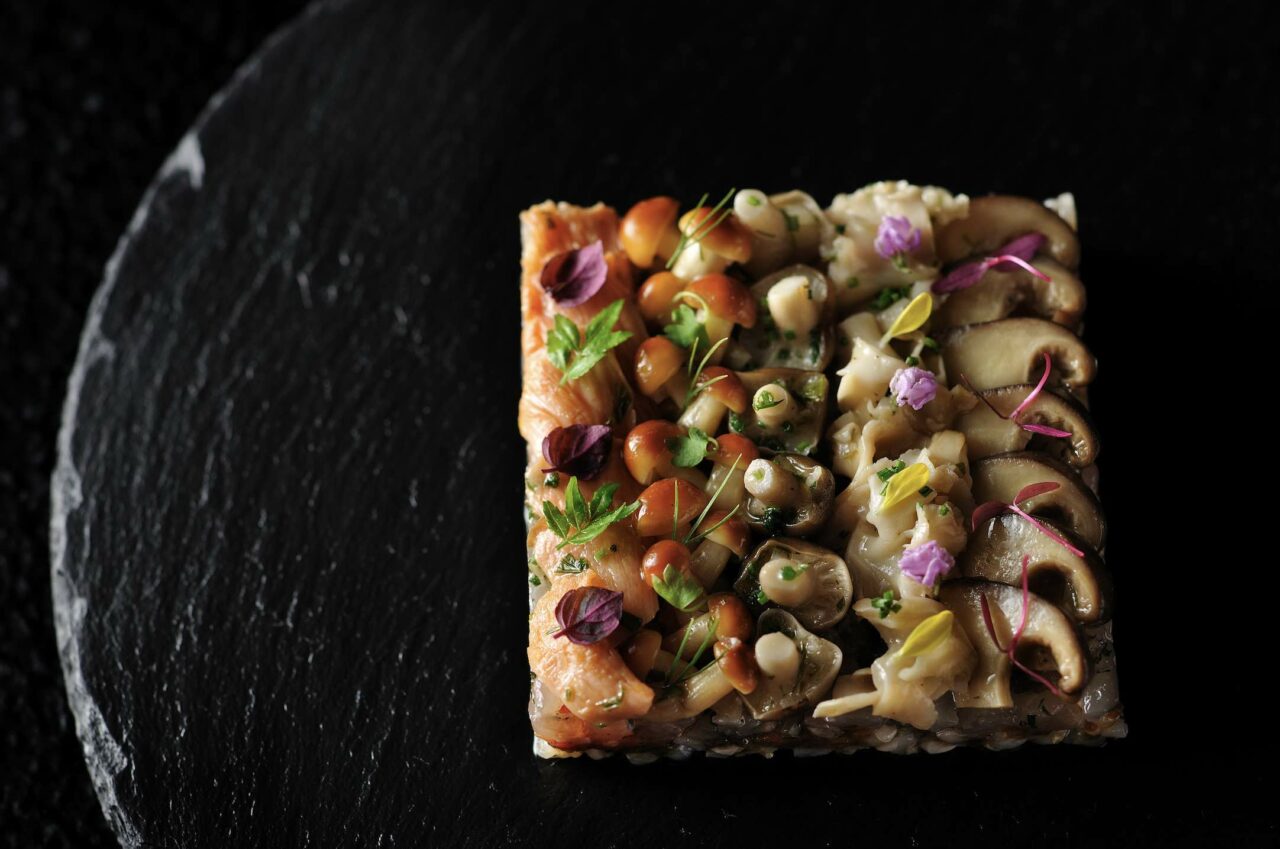 EXPERIENCE
What differentiates HOSHINOYA from other hotels in Japan, is its excellent program of activities that connects guests to traditional Japanese culture through performances and workshops that delve into Japanese custom, craftsmanship and ancient arts. Working with the nuances of seasonality, find a plethora of inclusive activities freely accessible for guests without reservation that accommodate families with children to couples and solo travelers alike. From Chigirie-making (stencil cut paper artwork), to Evening Sake Tastings Summer sakes with autumn bites such as mitarashi dango (sweet rice balls shaped as the moon and often served during festivals) or Autumn Moon Viewing Walks known as tsukimi sanpo with snacks and refreshing drinks are provided throughout the tour.
By late evenings, a single gagaku (Japanese Imperial court music) performer transports guests to the Heian period with a traditional Japanese flute, heralding a classical music that was often heard at festivals or Shinto shrines. Gagaku literally translated as 'elegant music', is the oldest surviving music in Japan first established around 1,200 years ago.
Guests also have the additional option to privately book a rickshaw ride around the neighbourhood with an experienced driver detailing the rich history of the area, or their own private Tea Ceremony lesson with a trained professional teaching and detailing the extensive wonder of the rituals and gestures interwoven in sado (the way of tea).
An off-site activity that is unparalleled, is the (very early) Morning 'Kenjutsu' Exercise, which places you on the helipad rooftop of a neighbouring skyscraper 160-metres above ground, learning the Japanese art of swordsmanship. Beginning at 6:45am, witness the expanse of the city from a birds eye perspective hundreds of floors above and learn the foundation of the sword technique that originated with the samurai class and feudal Japan — now remaining as one of the four central martial arts known as bujutsu of pre-modern Japan.
Before you leave, don't forget some omiyage local souvenirs. By the front lobby and reception, a wall of goods are available to purchase that have been especially curated by HOSHINOYA. Selected for their utmost quality, find sencha Japanese green tea from Moriuchi Tea Farm in Shizuoka, to matcha powders and Hojicha roasted teas from Yoshida Mae Chaen in Kyoto, to nori seaweed snacks from Yamamoto Nori a legendary supplier in Nihonbashi since 1849.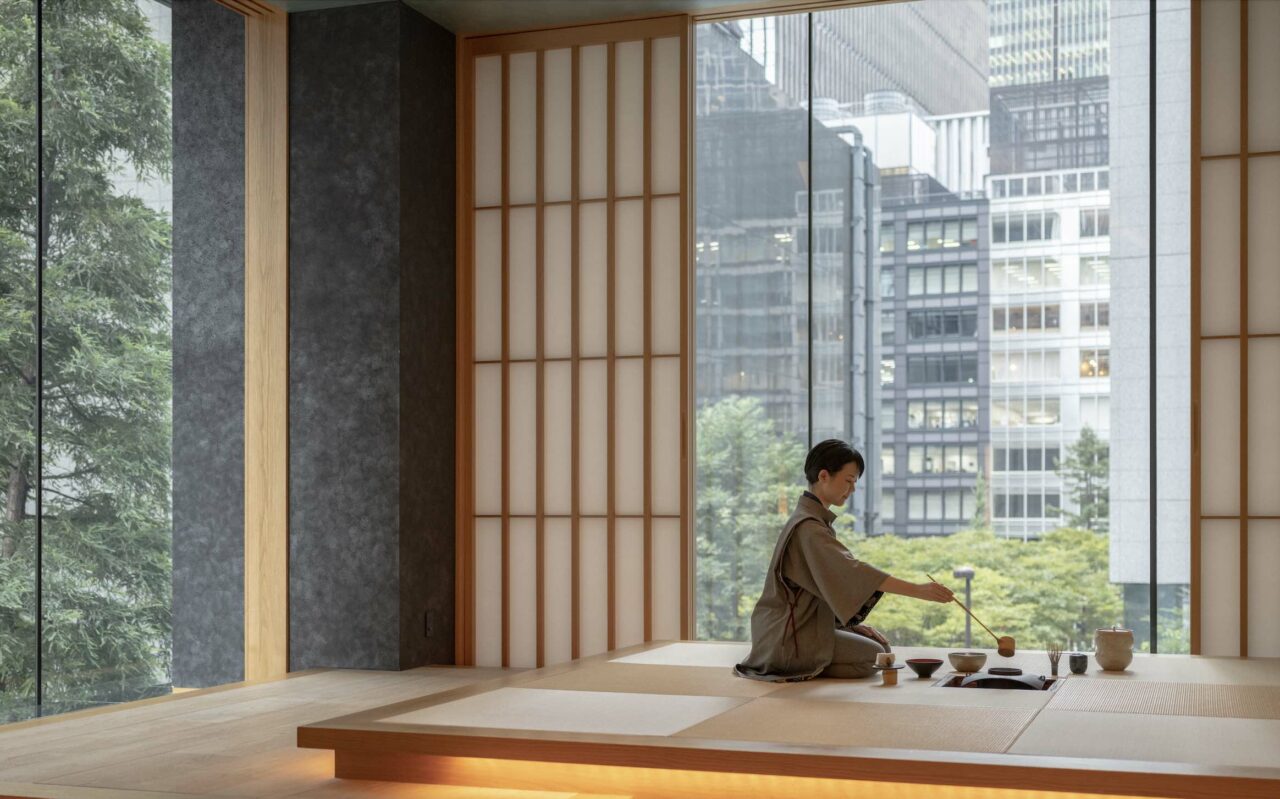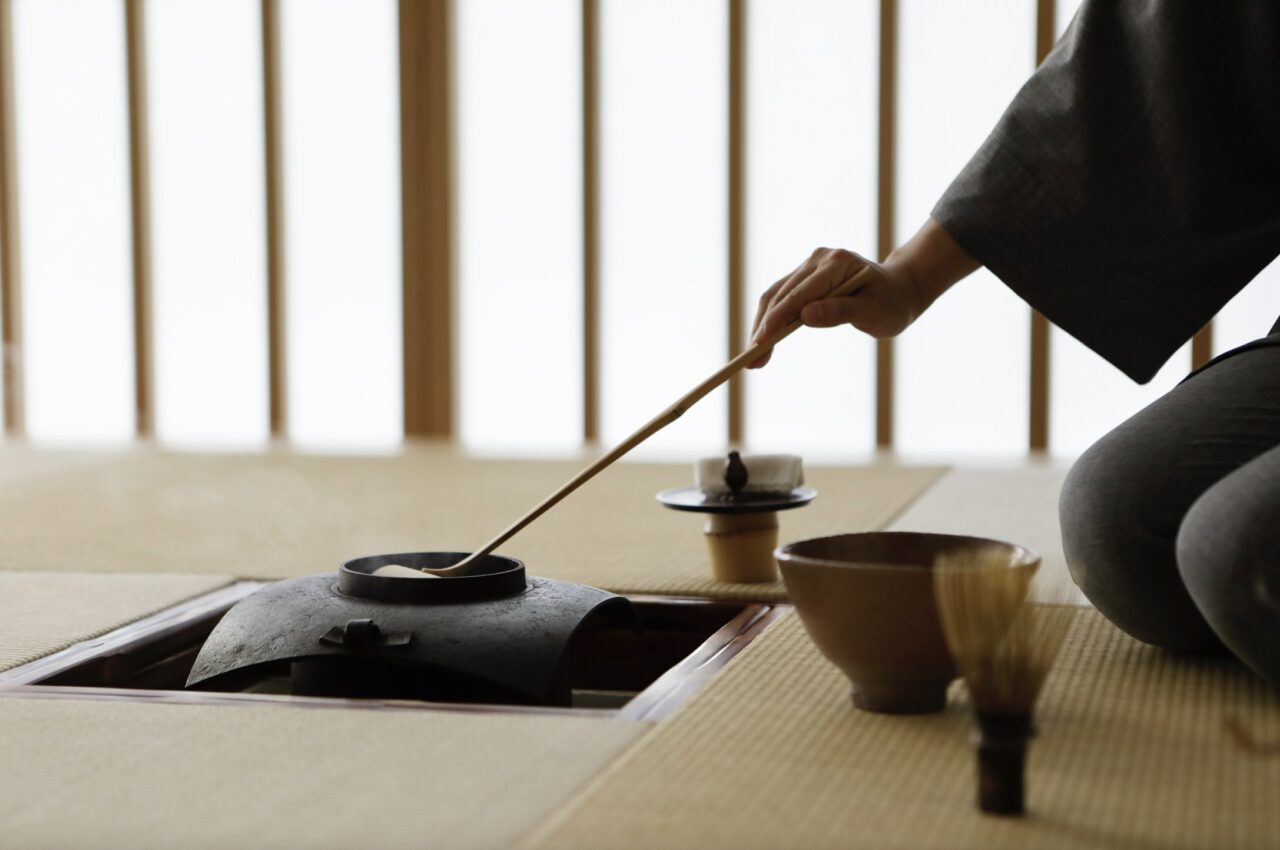 THE VERDICT
Timeless in their designed spaces and their ethos informed by creating "a manifestation of an imaginary Tokyo where the ryokan culture has continually evolved instead of fading away", it is without a doubt that HOSHINOYA Tokyo is Japan's most luxurious urban ryokan — an incredible experience that will last a lifetime.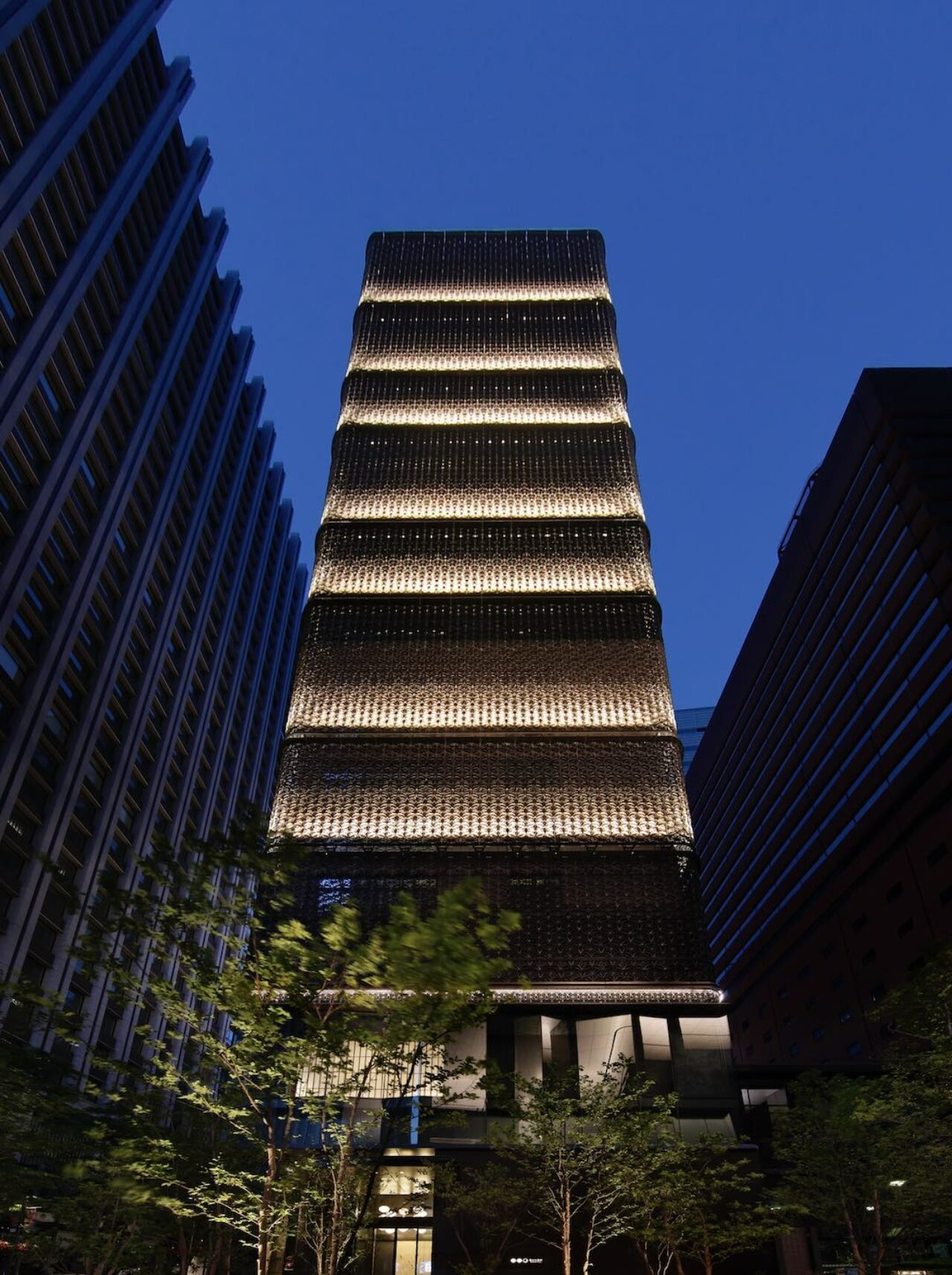 Text: Joanna Kawecki
Images: Hoshino Resorts Inc. and Champ Magazine