COFFEEHOUSE NISHIYA
Where The Charm of A Japanese Coffeehouse And An Italian Classic Bar Unite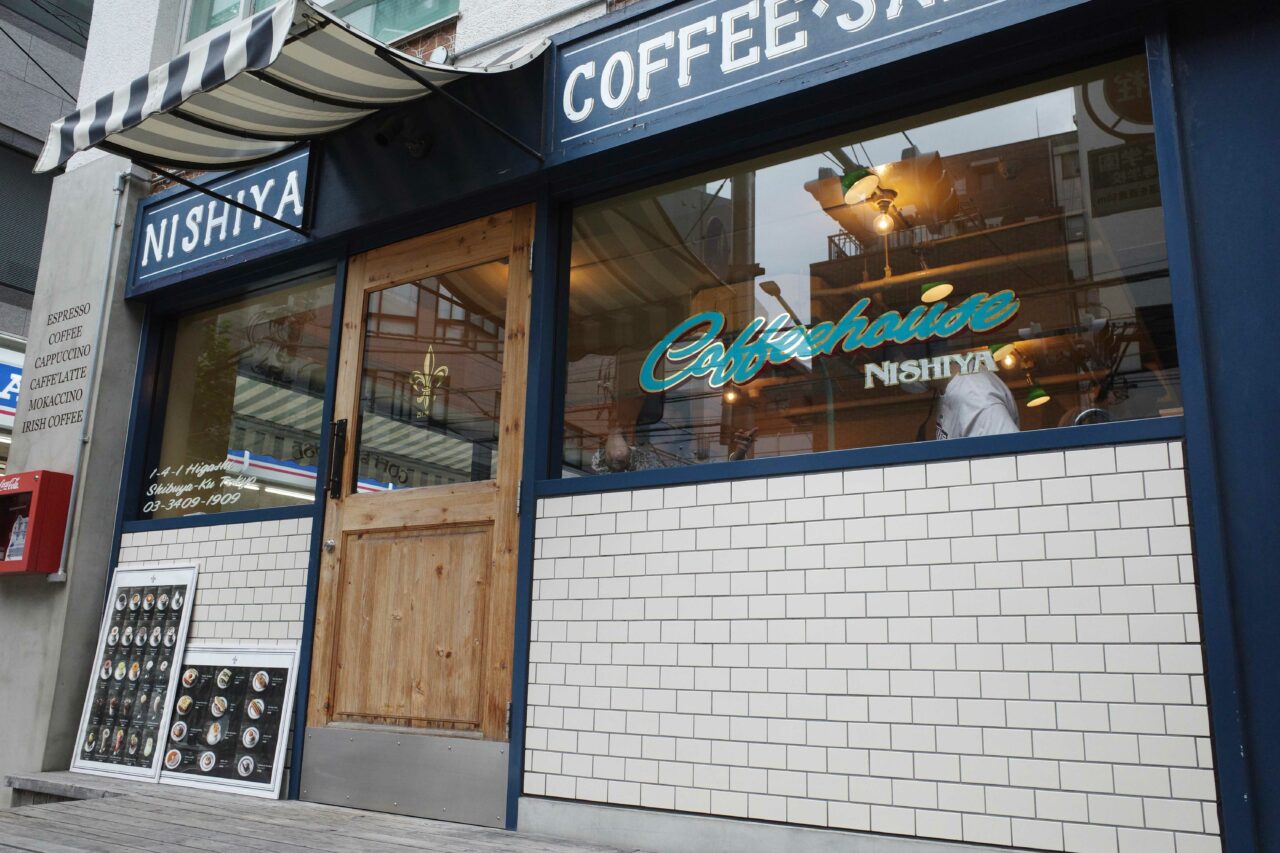 With gold-detailed handwritten signage bolding signifying the cafe's presence in an unassuming local thoroughfare positioned between Shibuya and Ebisu, COFFEEHOUSE NISHIYA is a surprisingly charming local cafe that exudes a contemporary classicism. Inspired by traditional Japanese kissaten and Italian standing bars, owner Kyohei Nishiya opened the cafe in 2013 after a friend had mentioned the available site to him. 
At Coffeehouse Nishiya, customer service is utmost number one. Here, the attentive staff will bend over backwards with the details; opening the front door for you and ensuring you have a glass of water at all times — all with a jovial and warm spirit. Here they take the art of hospitality respectfully seriously. Owner Nishiya explains, "Making coffee is not difficult to make and it doesn't take long. Getting customers' trust is more difficult and time-consuming."
It is a favourite drop-in for locals and a calm respite for visitors, offering an extensive beverage list, sandwiches and cakes during lunch. Drinks include the usual suspects and an impressive additional offering such as Espresso shakerato, Irish coffee to a classic coffee float or a Frozen Blood Orange. Of the edibles, find croque monsieur to croque madame (with a fried egg on top) and a variety of egg sandwiches. Coffeehouse Nishiya's premium pudding is a local favourite, served impeccably each time. Albeit a small space, this is where the intimacy of the coffeemaker and drinker unite. Nishiya notes the interior's concept, "I was influenced by the Italian bar. A bar run by a family in the city, not the Grand Bar in the square. It is important that the size of the customer overlooking the counter is not too wide or too narrow."
Designed by Hiroaki Yano of Kanmei Office, a designer who specializes in bar and counter design, the cafe's tall stools and high counter tabletops allow for an elevated feeling certainly akin to Italian standing coffee bars, with the outdoor patio area providing a fresh breeze and al fresco atmosphere. The dark wooden interior and soft lighting creates a world in its own, where the large glass windows provide a perfect window for watching the world outside go by. Although it is not located on a main road, the adjacent street still receives plenty of traffic, where taxi drivers, builders, salarymen and local creatives go about their day. 
Finally, we ask the coffee connoisseur and hospitality specialist what the best way is to enjoy a coffee. Owner Nishiya explains; "Keep your smartphone in your bag and have a coffee while talking to the staff and the customers next door. It is also best enjoyed if you are with someone you like."