W OSAKA
Inside The New Tadao Ando-Designed First Japan Outpost For W Hotels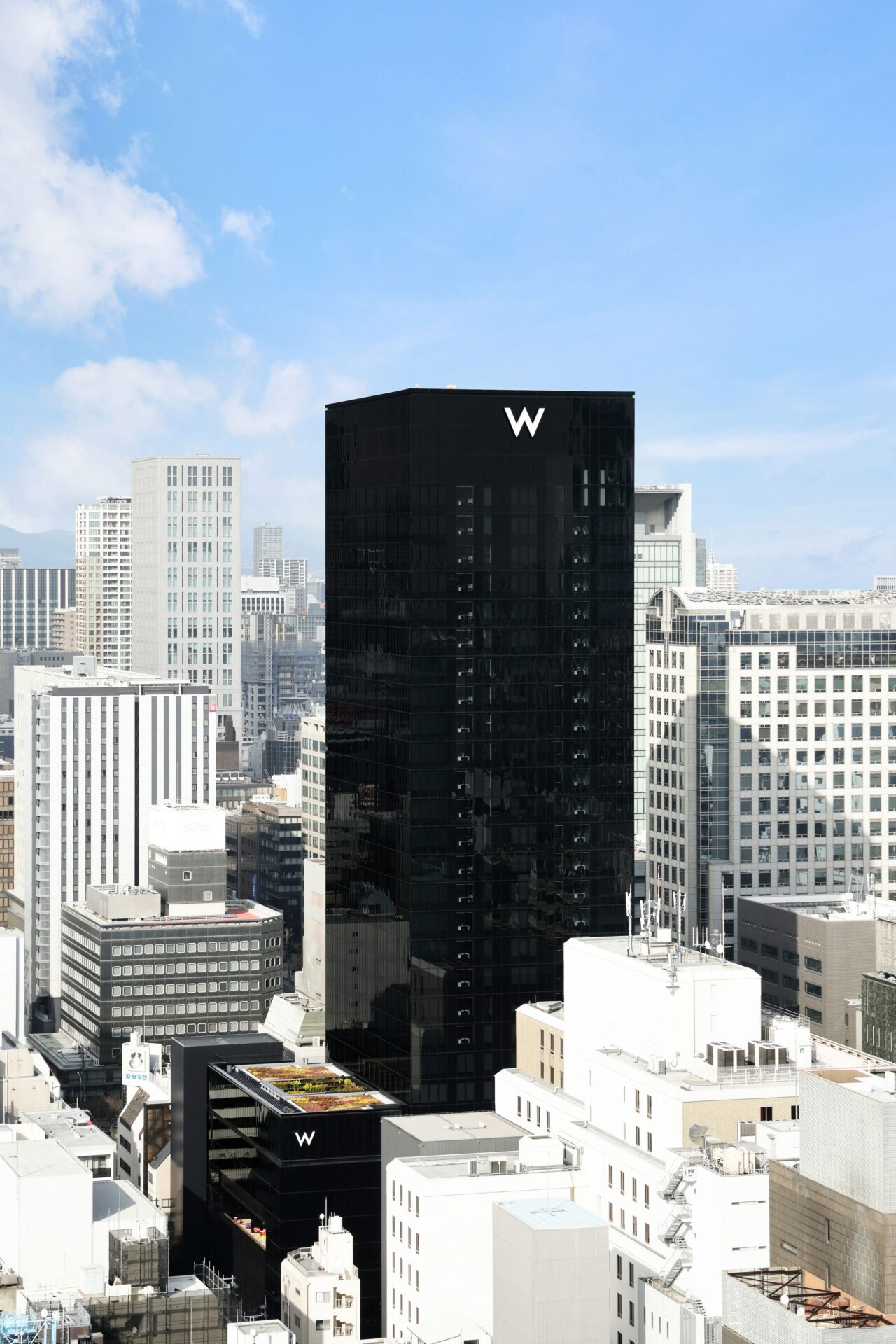 From the exterior, W Osaka presents a mysterious, darkly-clad monolithic structure — notably designed by Japanese architect Tadao Ando — yet once inside, discover a world of exuberance through vivid colour and bold design that meets with luxury and utmost considered hospitality.
As the debut hotel in Japan for W Hotels, it's a perfect match for the vibrant and jovial culture of Osaka. Situated along the famed Midosuji Boulevard and nestled in the Namba district surrounded by high-end stores such as ISSEY MIYAKE SEMBA and TESLA, the hotel is also a stone's through away from Dotonburi, known as the heart of the city's nightlife and restaurant area.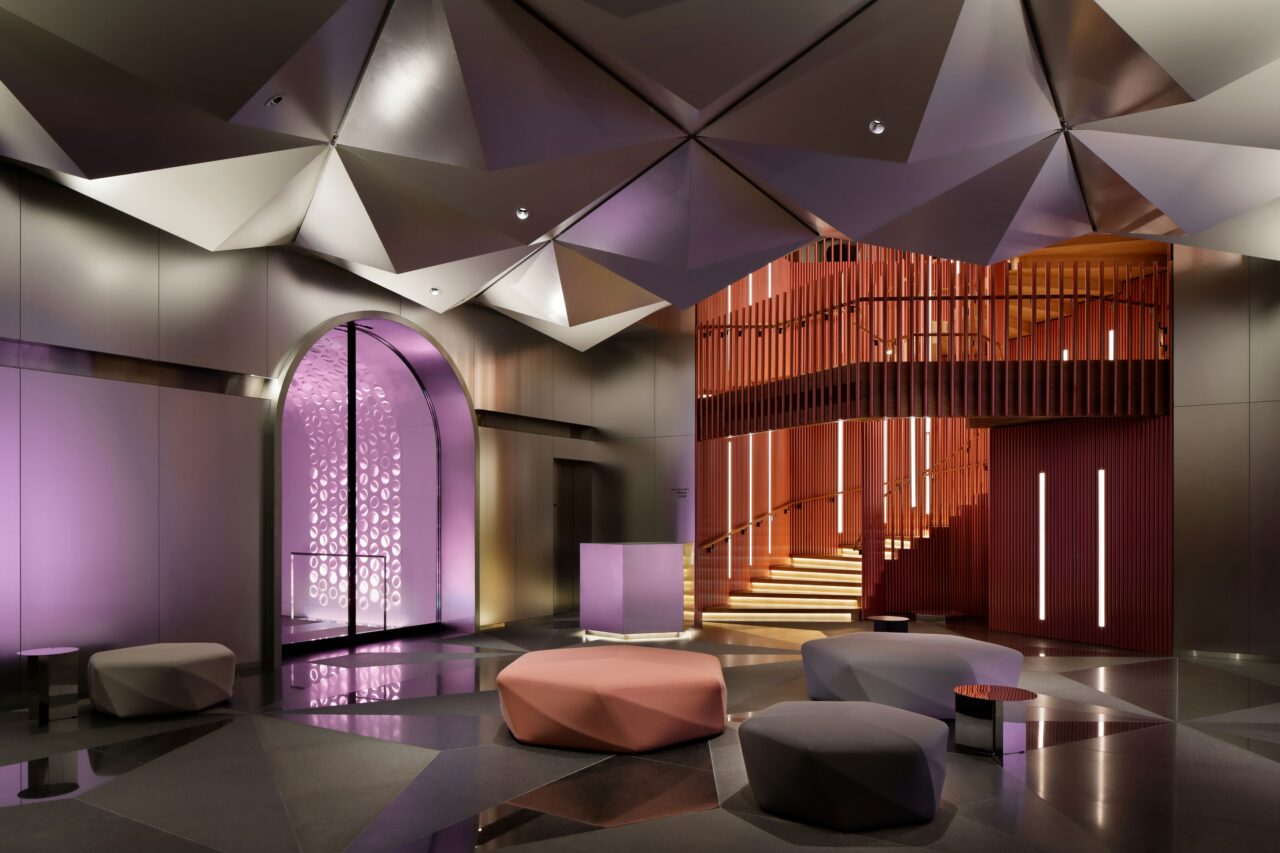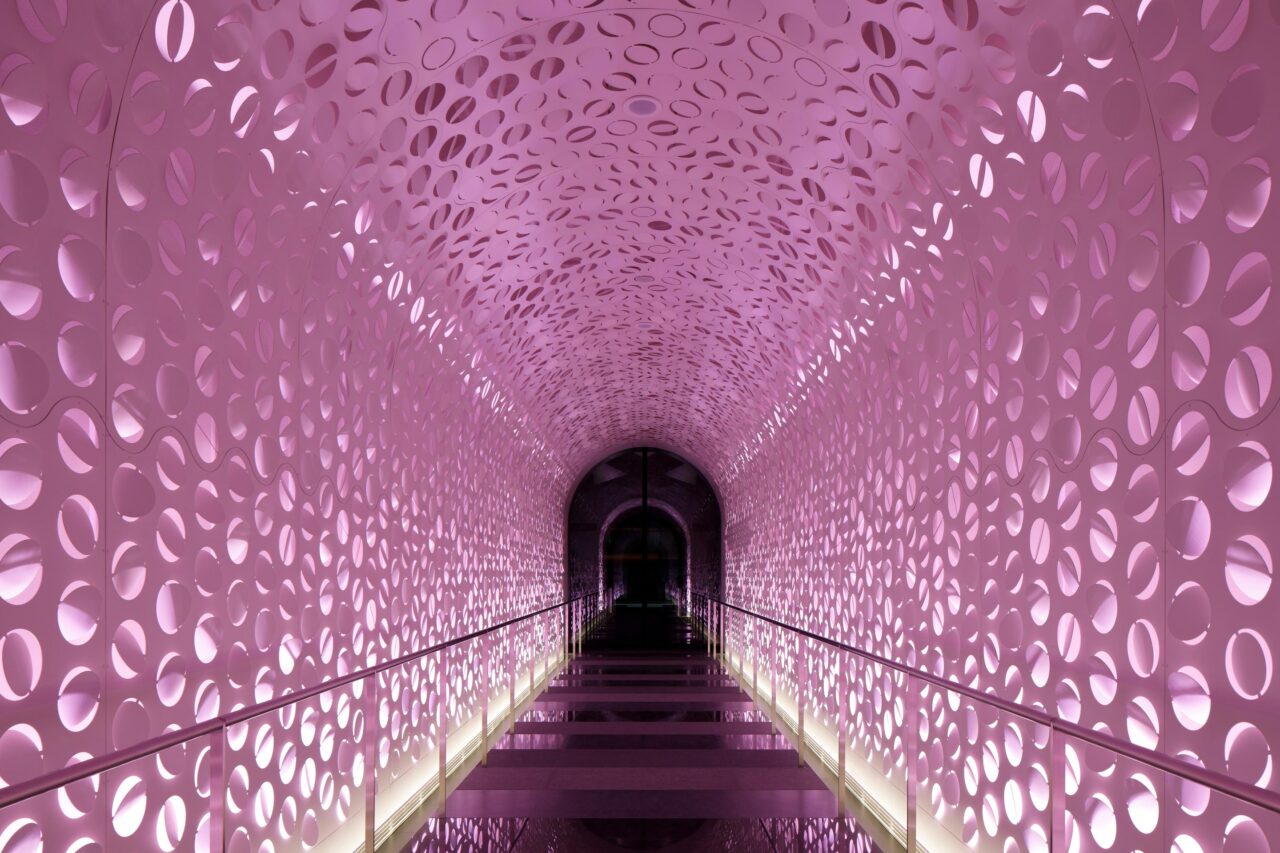 Yet it is here at W Osaka that you will also find a a true heart of Osaka. The hotel's "wow" experience begins through a vivid entrance tunnel with origami and kirigami-inspired detailing that features over 3000 laser-cut steel circles folded randomly, to the arrival lobby area in rich colours of deep indigo and magenta paired with vertical beams of neon light.
Whilst the interior design is visually quite boisterous, the diversity of facilities and swift navigation between spaces make it a considered and effortless experience — just as a luxury hotel should be. Over 27 floors, the striking building holds 337 guest rooms, a fitness centre, swimming pool, spa treatment area, and six in-house restaurants. From the counter-grilled Teppanyaki MYDO, sushi restaurant Ukiyo, pastry bar Mix Up (in collaboration with Pierre Hermé) to light-filled bistro affair OH.LALA led by Michelin-star chef Yusuke Takada from La Cime, Osaka-based high-end restaurant ranked 8th amongst Asia's 50 Best Restaurants in 2021.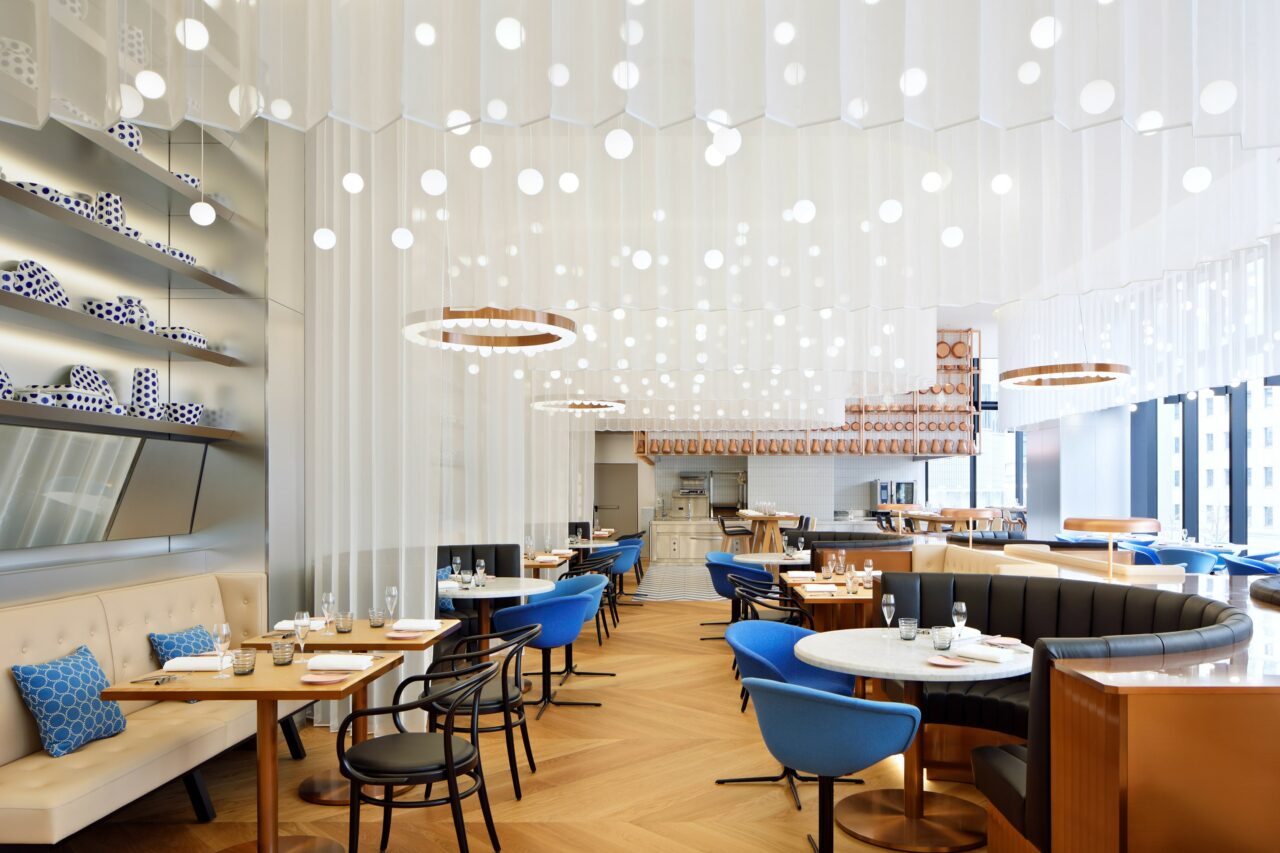 W Osaka is infused with artworks and design details by local creatives to the deep culture of Osaka, offering you an exceptional stay without necessarily requiring to even leave the building.
From a visual backdrop by local artist Lok Jansen found in W Osaka's secret sushi restaurant Ukiyo, to a rotating platform stage in the main bar that presents a design as an ode to the traditional Japanese stand-up comedy style manzai that holds its origins in Osaka, allowing you to belt out any joke or tune.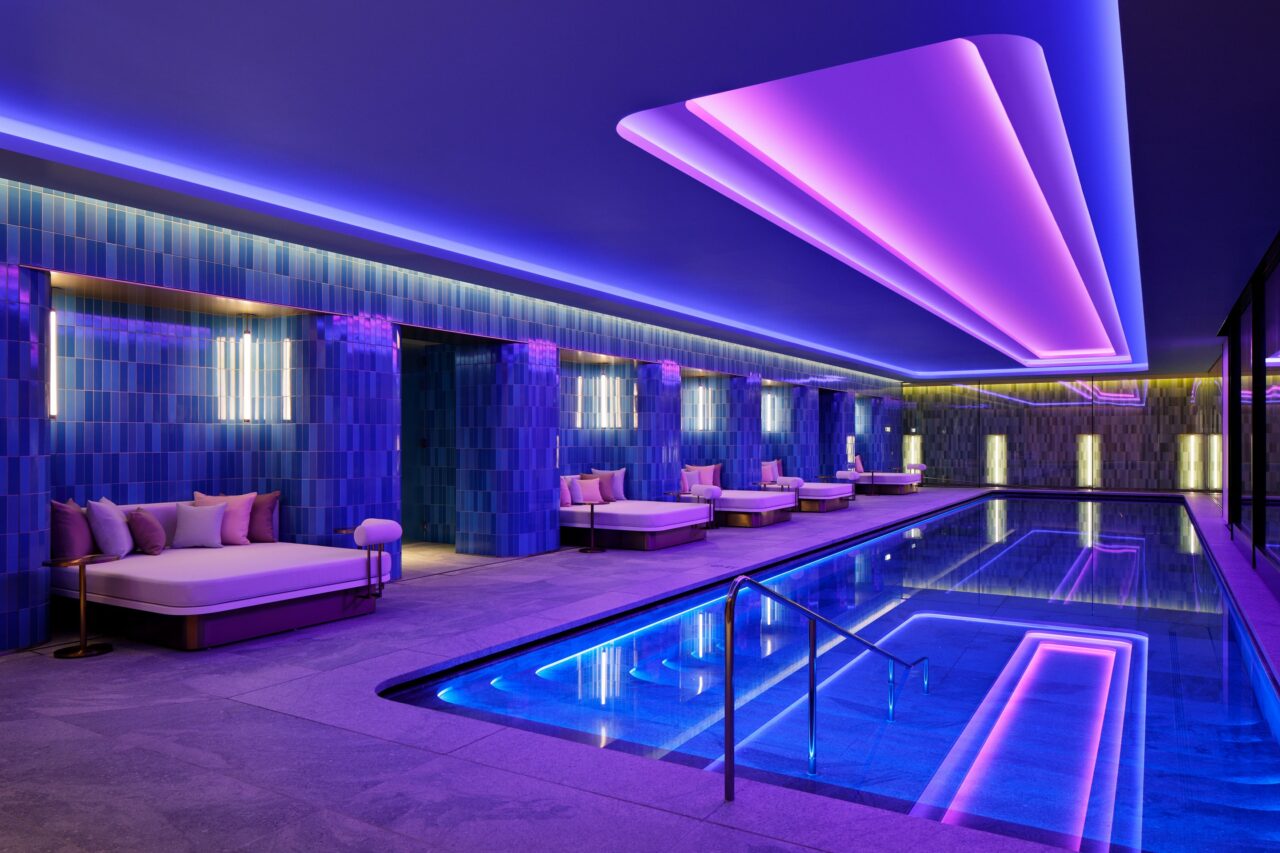 Throughout the hotel, the theme of W Hotel's roots in nightlight culture and unapologetic sense of freedom is found throughout its interior design led by Amsterdam-based studio concrete.
From its iconic disco-ball "W" signage, to it's stainless steel cocktail shakers found as a bar counter display feature to its use in spa treatments at AWAY SPA, where a vodka and yuzu cocktail mix — shaken not stirred — is applied for your foot massage.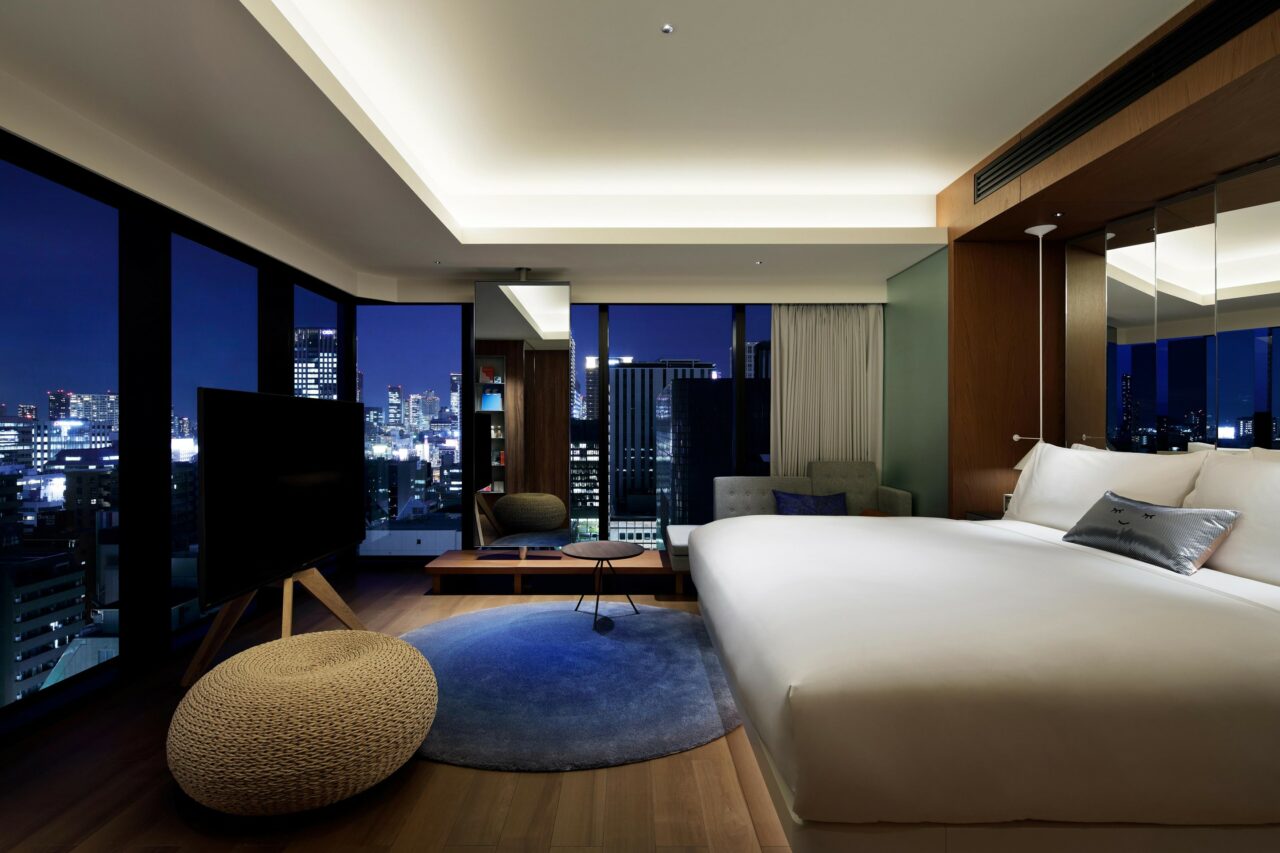 Guest rooms are sophisticated and minimalist in design with playful details, with each providing an undeniably exceptional view of the entire city. The Wonderful King Room on the 26th floor, presents a spectacular view over the Osaka city skyline that truly pinpoints just how tall the hotel itself is.
Facing the morning sunrise, the incredible morning hues of orange and red slowly rise up over the city — a perfect view to enjoy with a W Osaka freshly-squeezed and bottled pink grapefruit or satsuma mandarin juice found in the mini bar fridge. It's simply spectacular.
The guest room interiors are modest in colour allowing for details to shine — find a surprising splash of illustrated graphics in the private closet space, to cups and cutlery in an oxidised rainbow tone.
The convenience of numerous well-hidden charging points allow for an effortless workspace or visual recharge whilst the ceiling-height window panorama shines. Whilst guest room mini bars aren't complimentary, they are fully stocked with both international and local sweets and spirits. Find ROKU GIN and MONKEY 47, to a 125ml locally pre-mixed Twisted Negroni from award-winning Osaka mixologist LAIBA.
In the bathroom, a spacious rainfall shower surrounded by black granite panels allows for a truly sensual experience. A stand-alone white ceramic bath is surprisingly large — enough for two to generously fit. Find amenities by MOMO, including a facial cleanser and body cream by Skin Regimen — a brand found across as W Hotels worldwide.
The humour in W Hotel's branding is playful and cheeky, and detailed throughout guest rooms. From "Plan B", emblazoned on a spare roll of toilet paper, to "So Vain" written on the bathroom vanity kit, encouraging you to enjoy an effortless and spirited stay.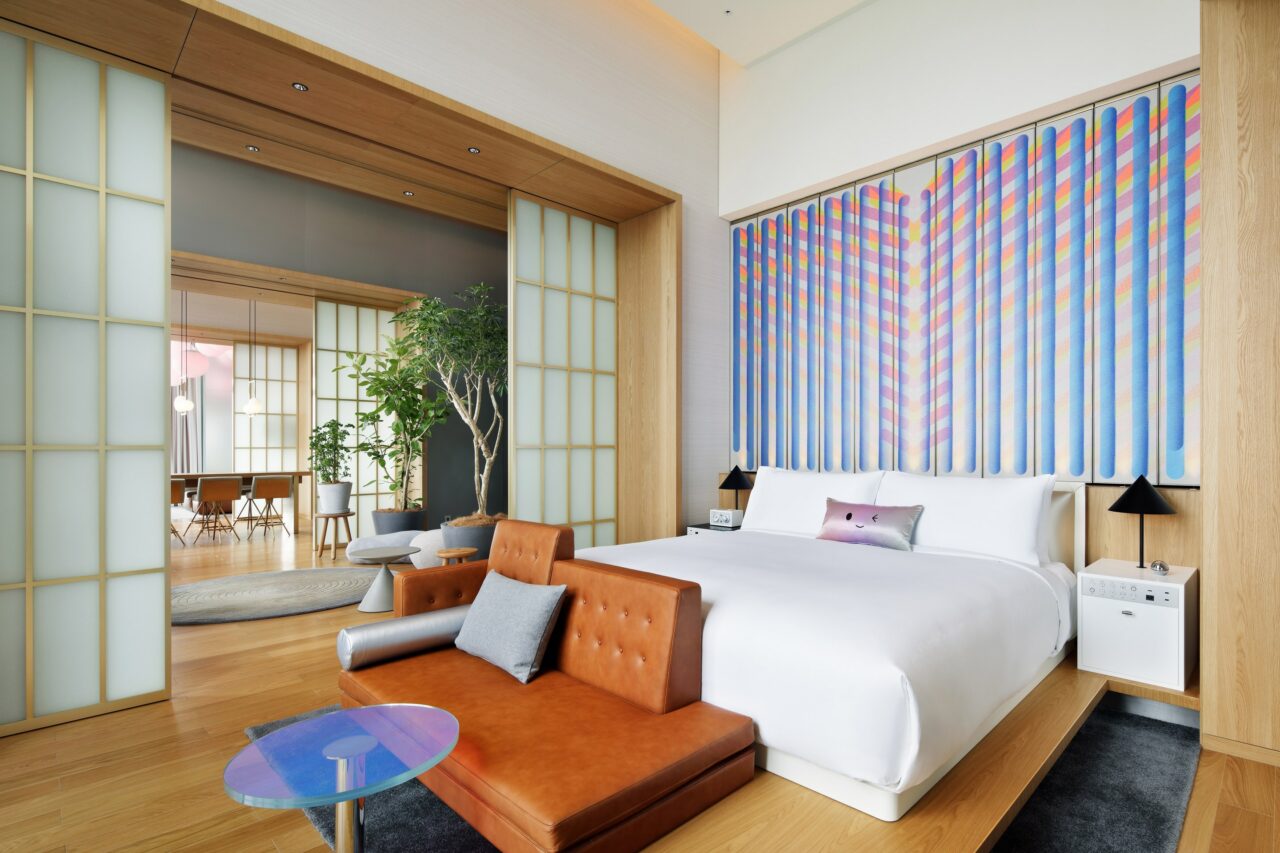 It certainly is all in the details. W Osaka's bathrobes are a chic, pitch black tone — supremely soft and a dream to wear — and feature matching black slippers.
The brilliance of the hotel interior design is notable in its configuration of access from guest rooms via elevators to AWAY SPA, pool and fitness FIT area where you can wear your robe easily at all times. Whilst the hotel pool is a monumentally neon-lit and instagram-friendly affair, hotel's WET BAR also a convenient distance away.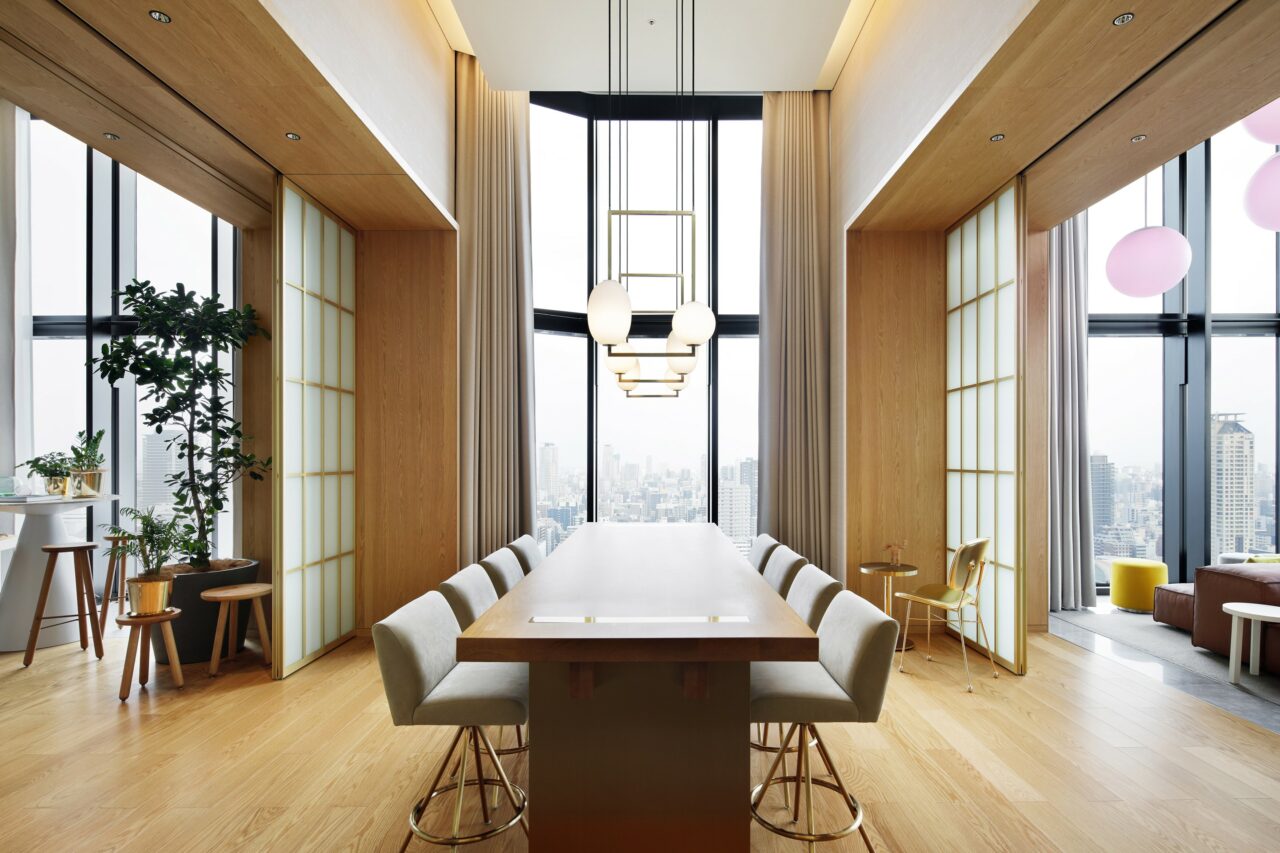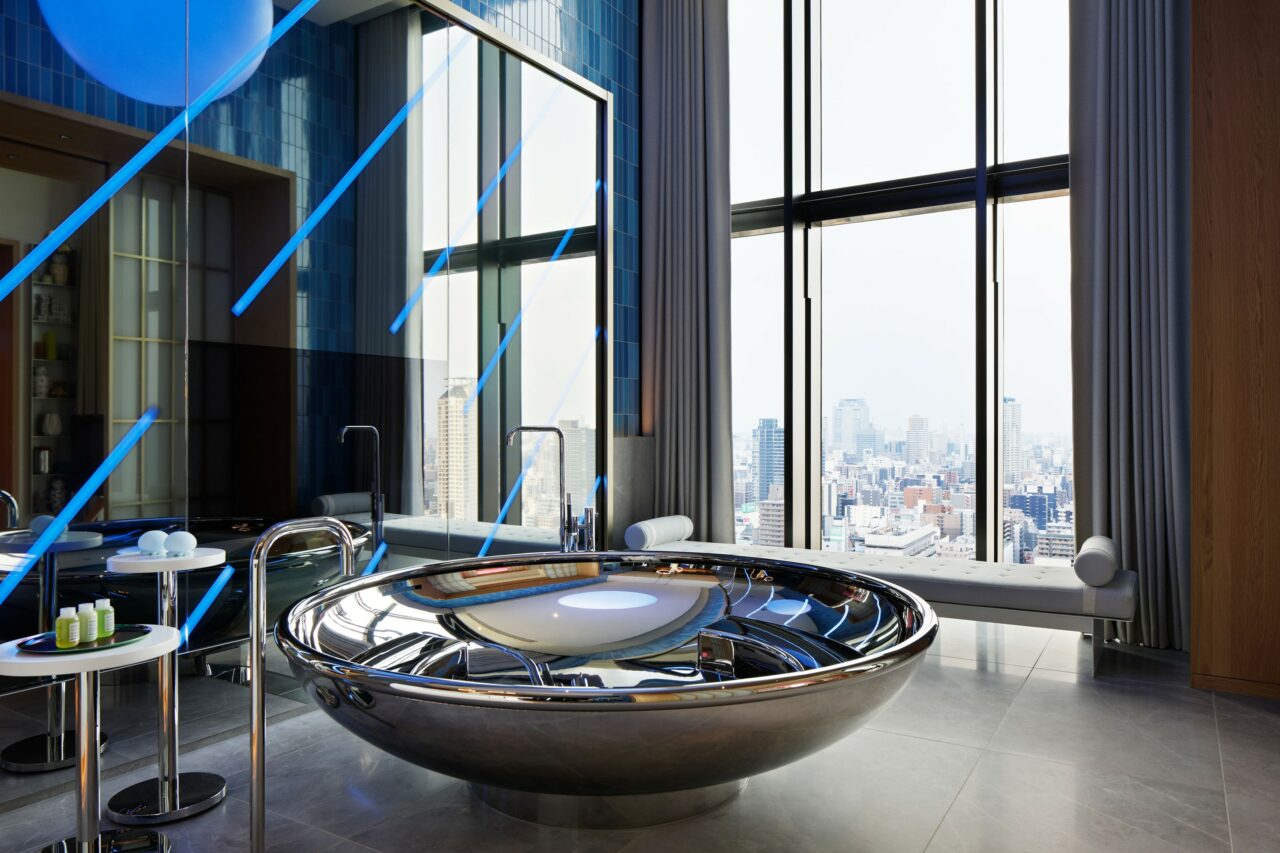 On the same floor, the AWAY SPA is a pensive recluse offering relaxation and rejuvenation across facials, full body massages and hair and scalp treatments.
With a glazed tile hallway and timber detailed interior, find hand-blown glass lighting providing an organic feel. During our visit, specialist Kazumi — who had studied naturopathy in Australia — provided a perfectly pressured full body massage that concluded with a sparkling water and collagen cocktail in the spa's relaxation lounge.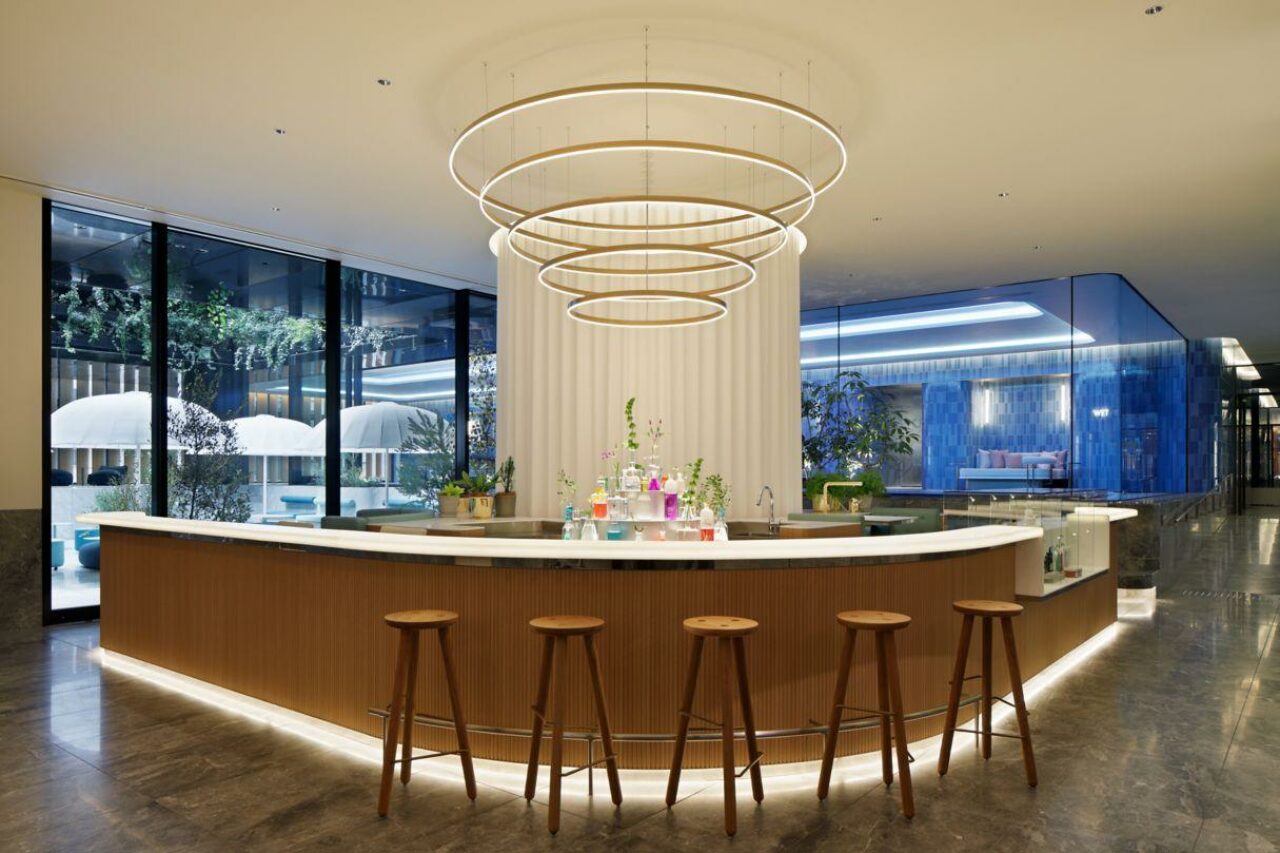 At W Osaka's teppanyaki grill restaurant Teppanyaki MYDO, the artwork of Osaka-born legendary artist Seitaro Kuroda covers almost every surface of the entire restaurant. Kuroda-san, who now resides in West Japan, spent five whole days at the site to complete the original, site-specific drawings. The result is a truly exceptional space that exudes joy and a youthful spirit, paired by the chic interior design of Osaka-born interior designer Yasumichi Morita of GLAMOROUS.
Presenting three main dining spaces, of particular note is the restaurant's spectacular entrance wall created from wine bottle bottoms illuminated by LED lighting, in reference to a French wine cellar.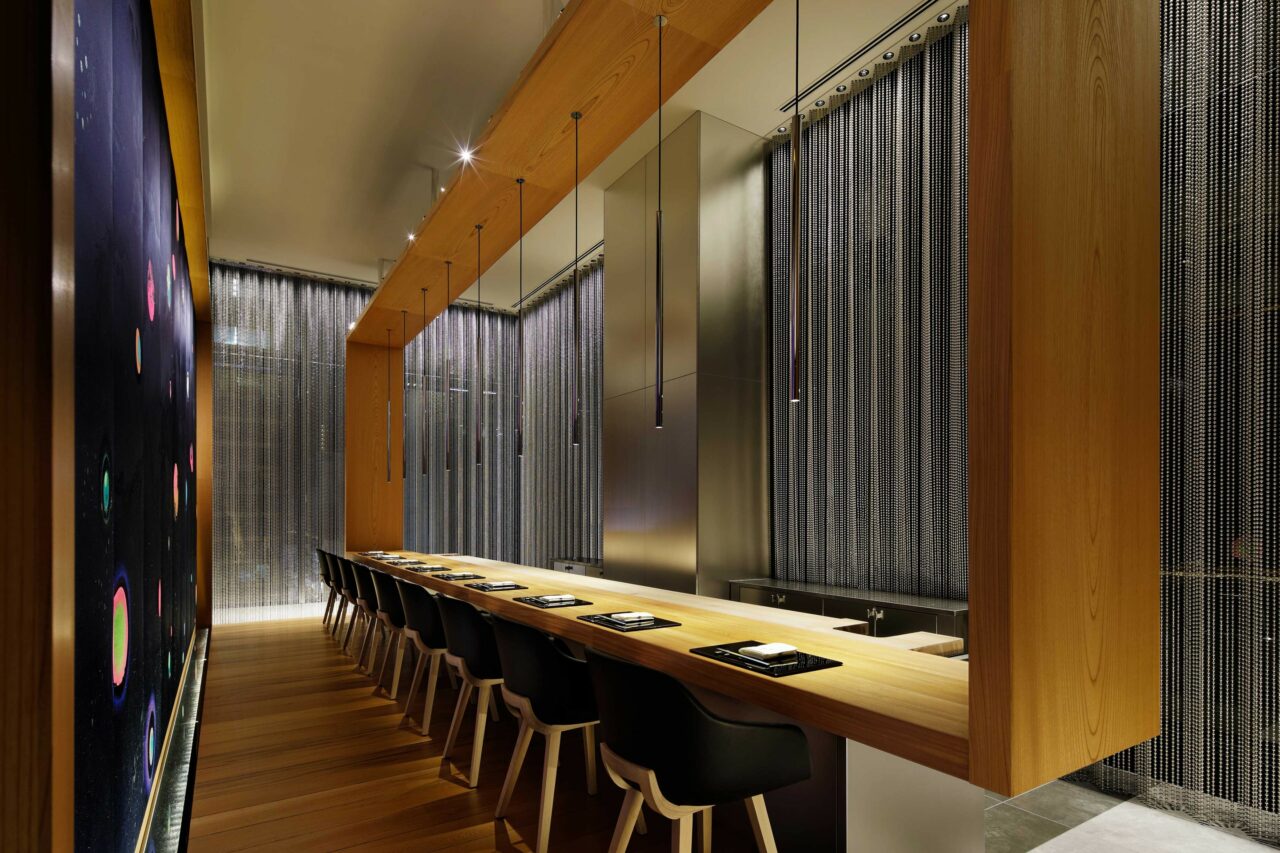 Teppanyaki MYDO's lunch menu offers Quick Set seven-course lunches titled "Mecha" and "Tabeyo" including either Japanese kuroge wagyu beef and foie gras hamburger steak or a steak of Uruguay beef. To a "Fun A La Carte" menu that features an Osaka classic — Dorayaki with truffle cream — that is not to be missed.
With its pancake freshly-cooked right in front of you, find it an ode to Osaka's vibrant street food culture. Yet it is their stand-out nine-course lunch menu "Okini", where young chef Touya Kyougoku looked after us during our visit and elegantly grilled each course in perfect timing right before our eyes, as if it was its own performance.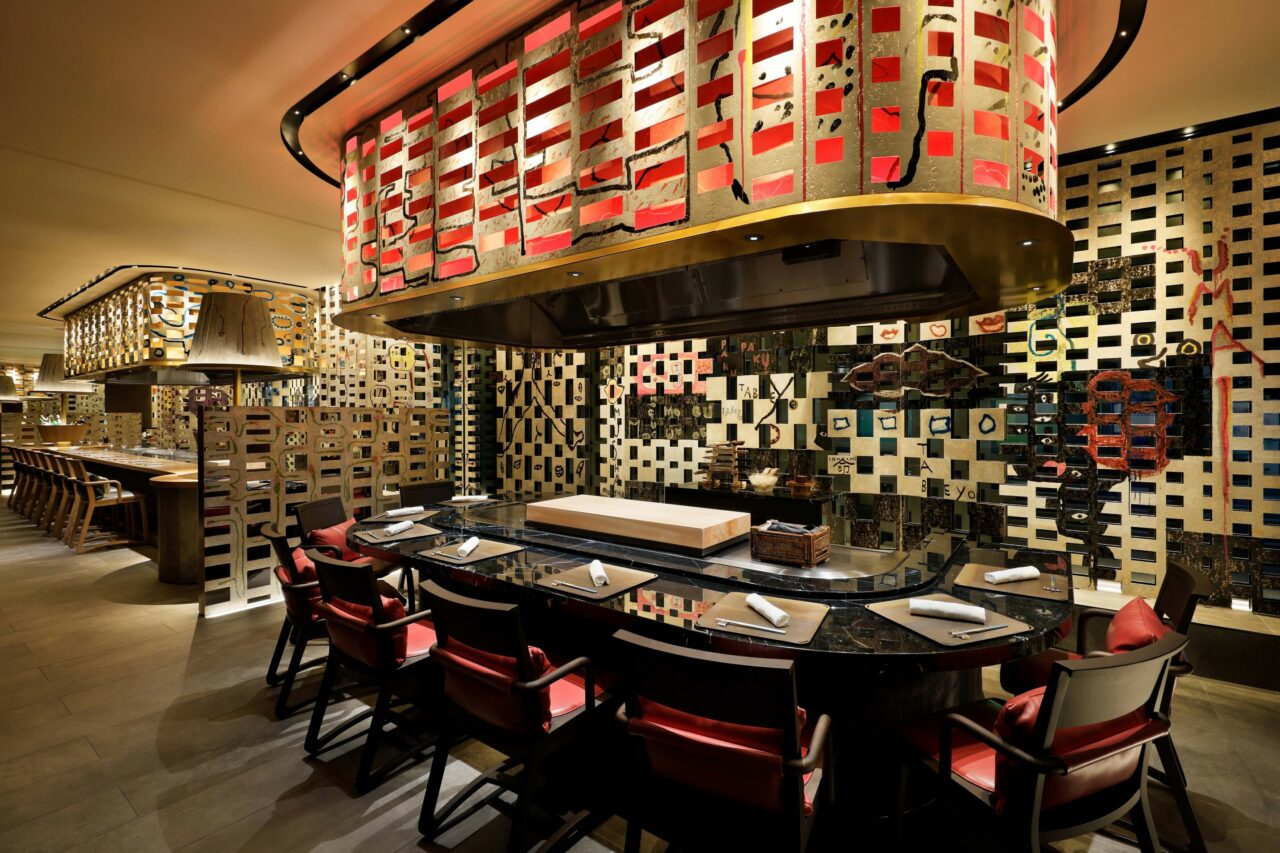 Featuring seasonal dishes such as a starter of Scallop, Caciocavallo, Hokkaido Salmon Roe to Corn Beef Tortilla grilled fresh on the hot plate in front of you, the Okini menu also includes seasonal, seared Spanish Mackerel with Hollandaise sauce, and Shizuoka Beef with wasabi salt to a brule style pudding that is needless to say, baked right on the grill before you and in your hands in a matter of seconds.
Whilst the hotel is certainly inclined for those who enjoy extreme colour and entertainment in their lives, yet is also suitable for those after a pure, luxury hotel stay with a twist — a Twisted Negroni — that is.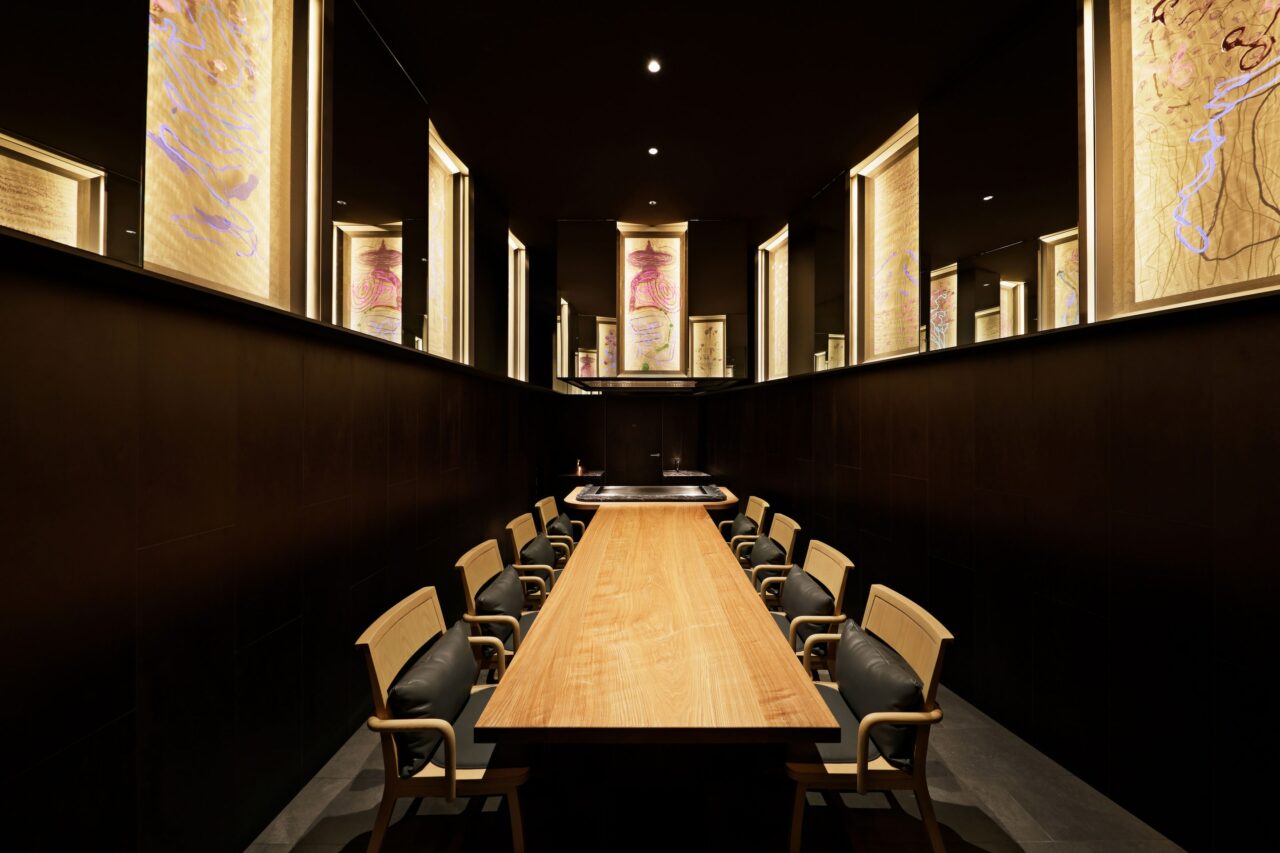 W OSAKA
4-1-3 Minami Semba, Chuo-Ku
Osaka 542-0081
JAPAN