HOTEL STRATA NAHA
A Contemporary Oasis In The Heart of Okinawa's Capital
With a warm breeze traversing across from the East China waters, Okinawa's positioning allows for its tropical climate to be an ultimate destination across all seasons. Whilst on the main island and in the capital of Naha, HOTEL STRATA NAHA is a modern gem that abashes any preconceptions of staying in the city when compared with the Japanese prefecture's pure blue surrounding waters. Due to its central location conveniently by the monorail line, it is also within walking distance to the city's key areas such as Kokusai Dori, yet also designed as a stylish recluse that allows you to endlessly lounge by its Ryukyu-inspired garden and 14-metre pool.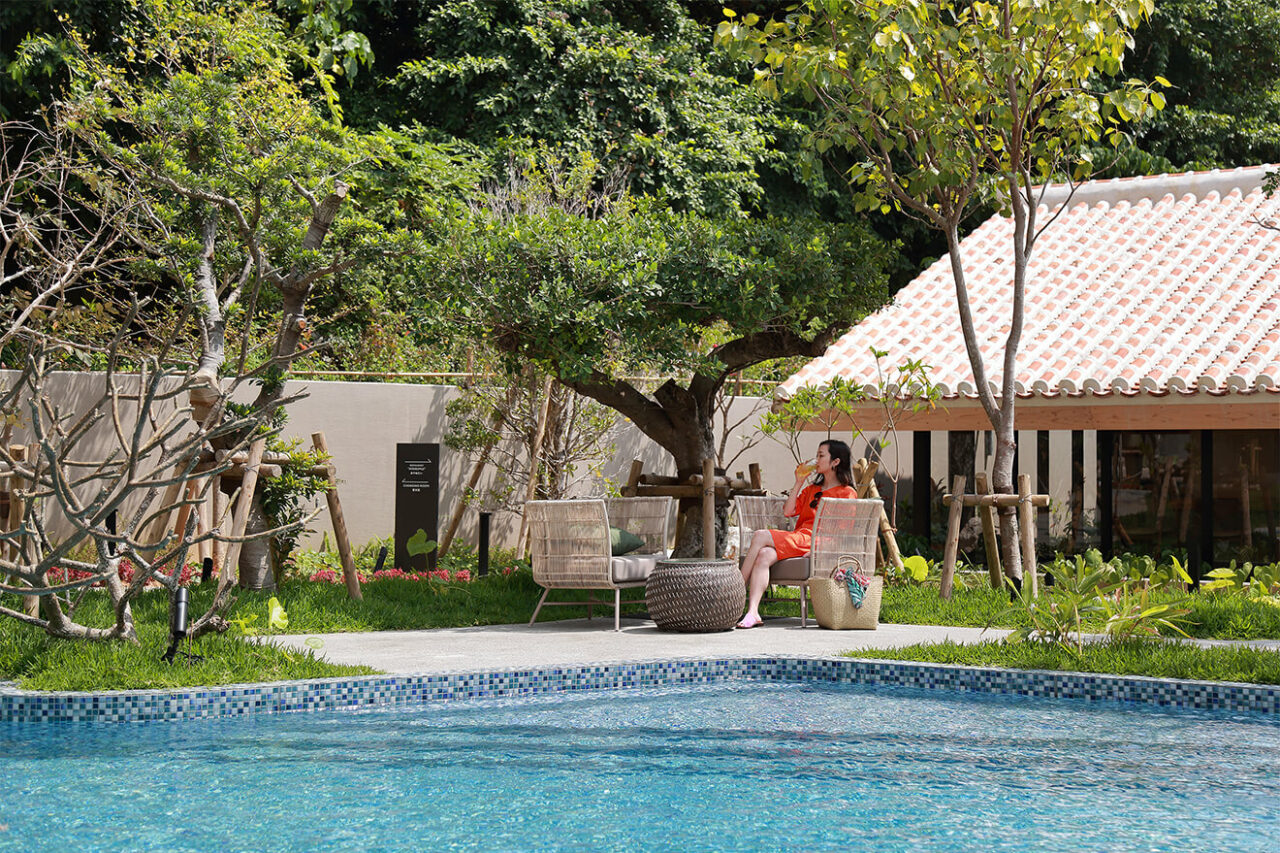 HOTEL STRATA NAHA encapsulates this tropic ambience with a stellar contemporary design. From the entrance walkway's luscious greenery and tropical plants setting the tone, the hotel's building itself features organic, natural tones that compliment the tropical atmosphere. With ten guest room types ranging from a 16-19sqm Compact Room or 23-25sqm Garden Terrace Twin to the spectacular Panorama Suite, hailing an unforgettable city view with 5.2-metre floor-to-ceiling glass windows — ensuring each guest room is diverse and an experience in itself. One such also being the extraordinary Strata Suite — an expansive 65-67sqm open plan space that includes a Ryukyuan tatami-floored lounge area, small timber bar and dining and high table, with a monumental ceramic rotenburo bath, perfect for observing the vast cityscape. With each element of design highly considered, find a traditional himpun by the Suite front entrance — a partition wall between the gate and the main building commonly built only in traditional Ryukyuan houses.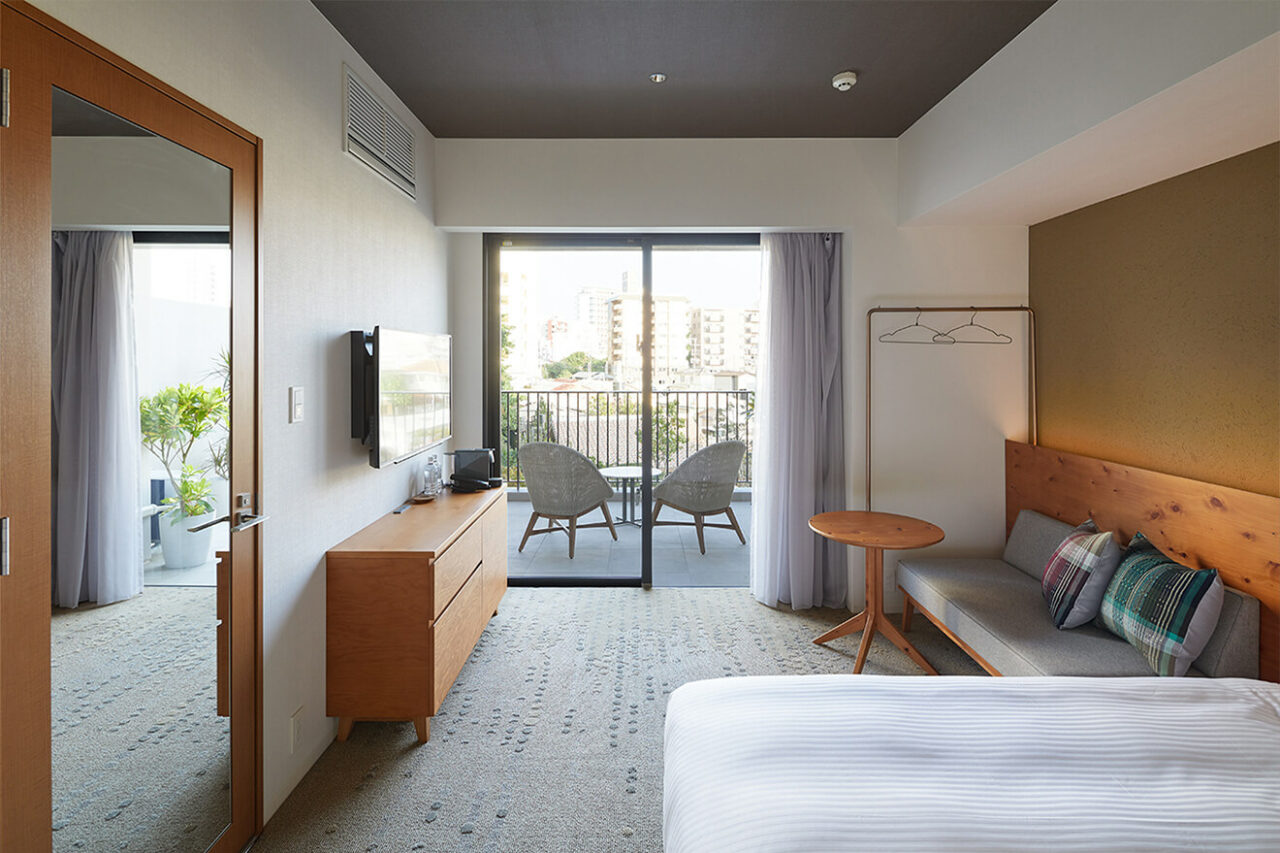 HOTEL STRATA NAHA's entire design concept is based around its rich history. Situated on the former Chokoutei road, a one kilometer inter-island causeway in Naha built in 1451. As Naha used to be an island and there was no bridge to connect the island to shore, the importance of the road allowed it to be the primary road linking Shuri and Naha from 1451 until the Meiji era. Once being referred to by a Chinese poet as being akin to a rainbow, the site was even captured by Hokusai Katsushika, the legendary Ukiyo-e woodblock artist in his series of prints called the "Eight Views of Ryukyu."
The hotel's name, Strata, is in reference to its site foundations, the "layers or series of layers of rock in the ground" that it is positioned upon, inspiring its interior design from the same concept. Find the hotel's 15 floors painted in each colour according to sediment also viewable from the facade. Meanwhile, the buildings striking exterior facade was adapted from a Shuri textile pattern only worn by samurai warriors — the same Shuri Ori textile also being found utilised on lounge pillows, crafted by hand by the Shuri Ori Union in Naha. Further inside the hotel, find a plethora of items created in collaboration with Okinawa's craftspersons. From Ryukyuan glass, to traditional Bingata stencil artworks by one of the three remaining Ryukyu-era bingata families to in-room original works by a young, contemporary bingata artist based in Naha. Look even closer and find the hotel's textured carpet pattern reflecting the beautiful complexity of Ryukyuan tsuchi soil.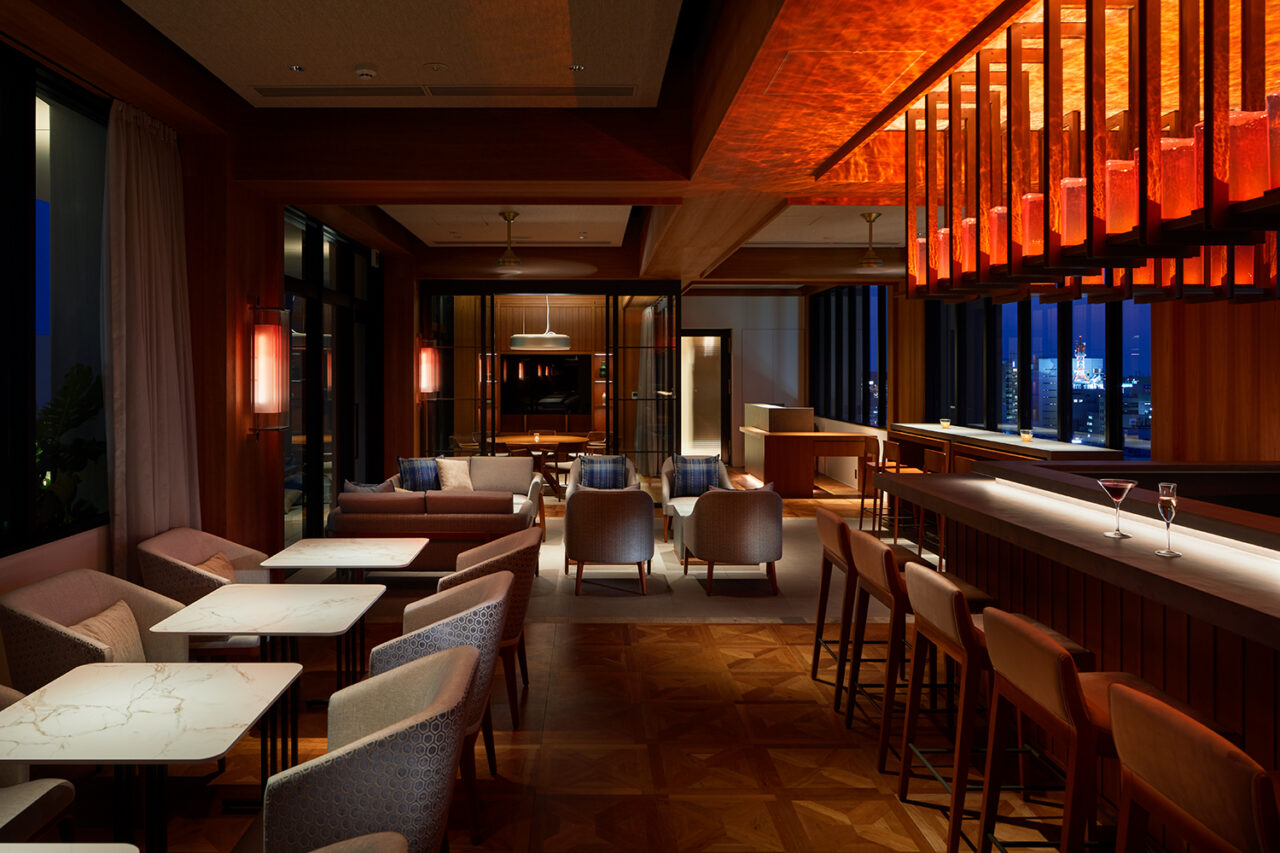 High up on the 15th floor, the hotel bar Bar Sky Salon presents an exceptional view overlooking the entirety of Naha city, open to both hotel guests and visitors. The ground floor Cafe Strata is a light-filled lounge and table area accommodating the seasonal breakfast and operating as a public cafe and restaurant from lunch. With a gorgeous design that incorporates Ryukyuan sekaidan limestone and Yakushima sugi cedar, the cafe is a stunning affair. For those opting for a special dining experience, HOTEL STRATA NAHA's on-site restaurant Moss Okinawa led by Executive Chef Akihiro Masuyama, is nestled outside alongside the garden and pool, in a stunning traditional building covered by rare, traditional pre-WW2 kawara roof tiles and a steep, pointed original form inspired by a traditional ascending Yachimun ceramics kiln. 
With HOTEL STRATA NAHA's central positioning in the city, it's stellar design and local artworks and crafts pieces create a unique connection to the area's Ryukyuan history and current culture. Our favourite — the guest rooms overlooking the neighboring forest and garden pool with a balcony allow the blissful sound of the morning birds — a reminder of Okinawa's abundant nature even in the heart of the city.