HOTEL ANTEROOM NAHA
Championing Contemporary Art With Oceanfront Harbour Views
Positioned just a stone's throw from Tomari Port facing nothing but open waters and passing ships, the unique location of HOTEL ANTEROOM NAHA makes it truly one of a kind stays within the Okinawan capital.
Abundant in art, the hotel champions contemporary art seldom found on the tropical capital, yet creates an art-led atmosphere abundant with site-specific artworks and seasonal exhibitions. Starting from the building's white facade designed from an enlarged scale of sculptor Kohei Nawa's artwork — the original canvas found inside the hotel by the elevators — to the entrance's gallery space known as GALLERY9.5 NAHA. Right from the get-go, guests are immersed in local artworks by emerging and established artists not commonly exhibited in Naha — providing a platform for new "communication and interaction". The artist-led concept and curation is truly exceptional, setting the tone for the light-filled, modern interior and atmosphere at HOTEL ANTEROOM NAHA.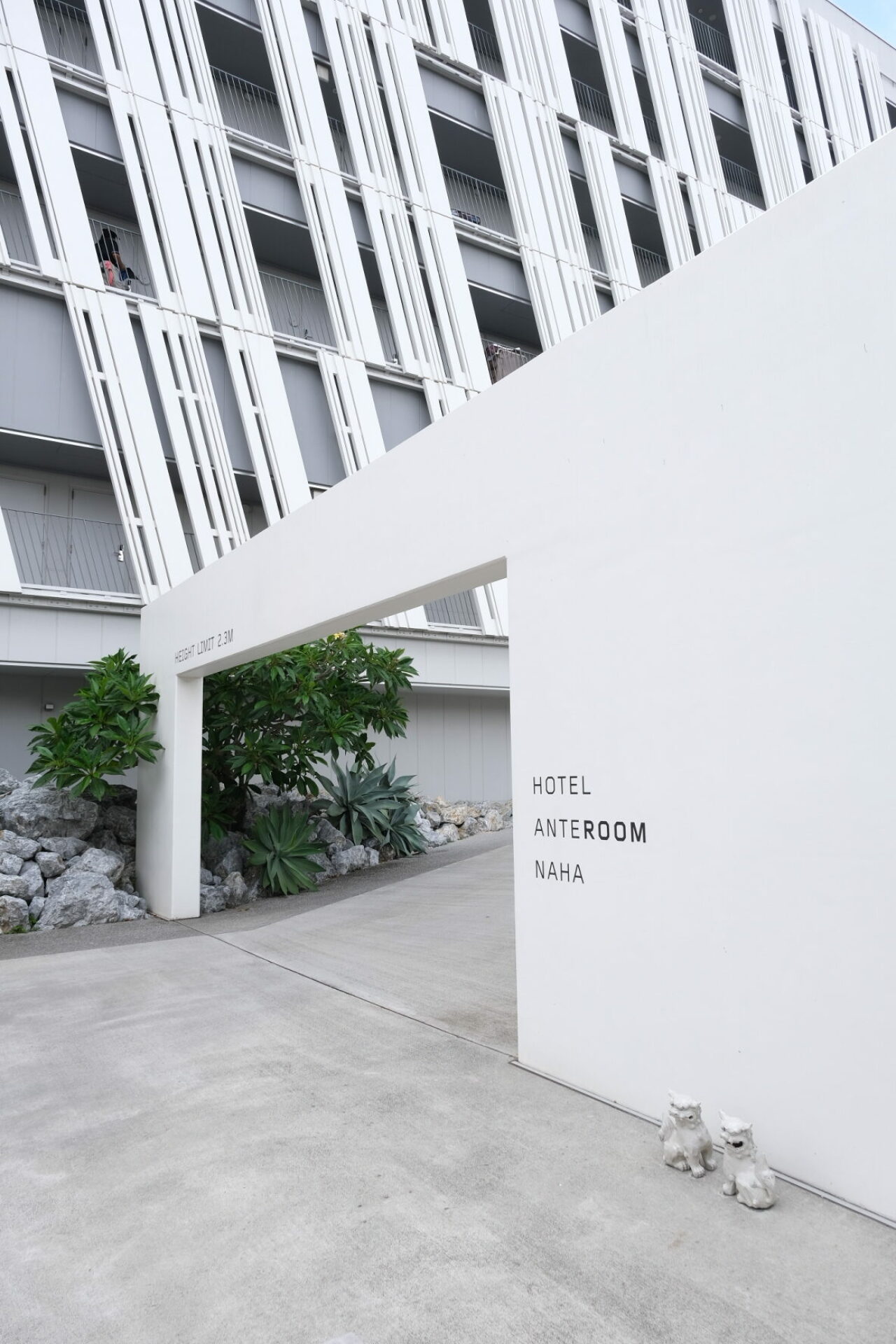 Positioned on a corner lot that faces the ocean, HOTEL ANTEROOM NAHA's guest rooms hold astounding ocean views and are generous in size. Ranging from 25sqm for Twin or Double Rooms to Deluxe Suites at 57sqm with tatami floors, to the spacious Anteroom Suite at 69sqm featuring two balconies and a large U-shaped sofa — perfect for lounging and relaxing as if in your own home. Following the artist-led theme, find five guest rooms featuring original artworks inside. Staying in the Concept Suite (Room 301) designed by revered Aichi-born artist Toru Kamiya is a real highlight — find his vibrantly-coloured gradation works created with acrylic paint incorporated into the space that perfectly match the interior's light timber, concrete and industrial grey detailing. The artwork's invisible brush strokes and matte surfaces absorb and reverberate the abundant light within the room, heightening colour fields throughout various times of the day — perfect to enjoy in the Suite's two balconies, or within the large rotenburo ceramic bath. HOTEL ANTEROOM NAHA's Artist Rooms and Concept Suites are truly exceptional, allowing guests to experience living with extraordinary artworks during their stay.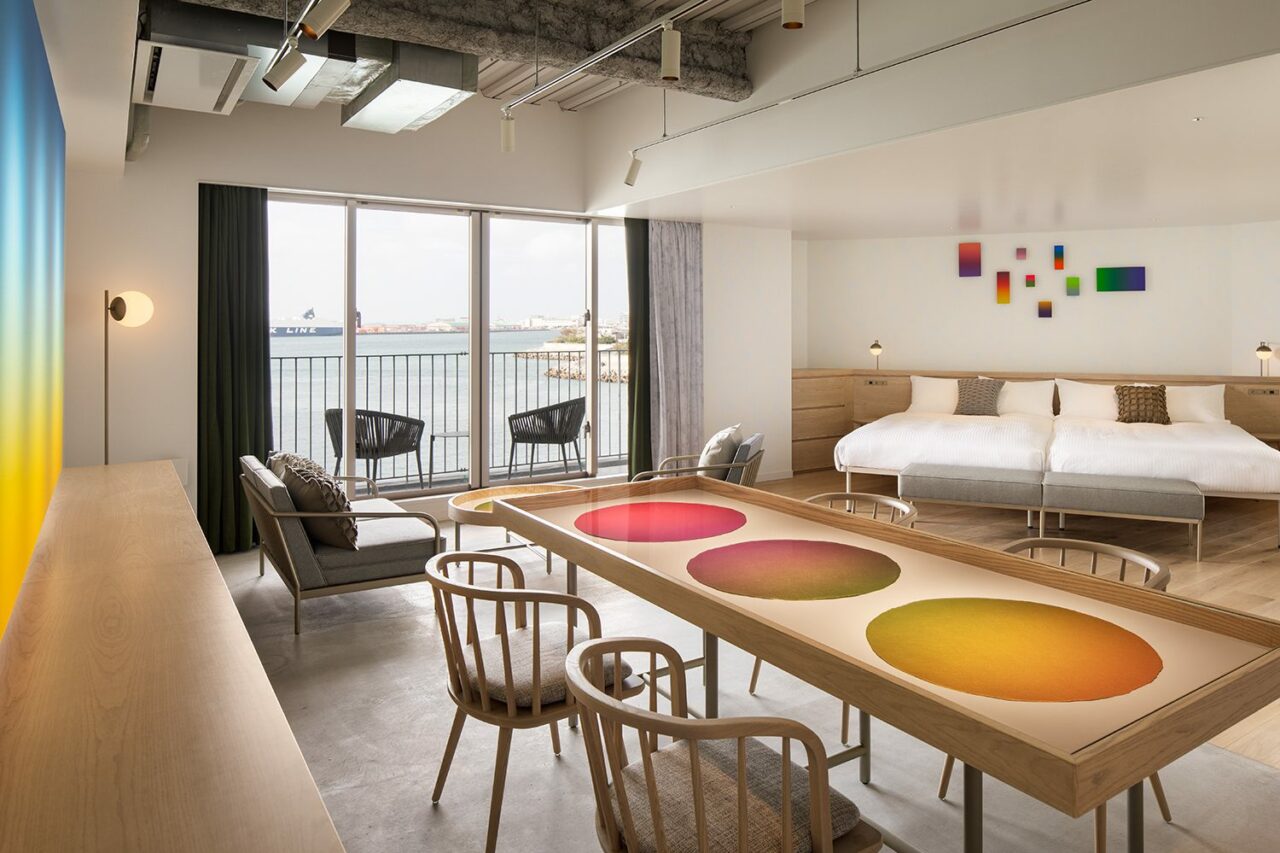 Sustainability is also at the core of the hotel, where plastic water bottles are nowhere to be found — instead, guests are provided with in-room carafes to re-fill with filtered water at ease. It is absolutely fantastic HOTEL ANTEROOM NAHA leading this brilliant solution as a step towards the elimination of unnecessary plastics. In bathrooms, no wasteful amenities are found — instead, guests are able to collect toothbrushes or Butterfly Pea teabags as personally required from the downstairs reception area — whilst skincare by New York-founded Malin + Goetz (selected for their quality, natural ingredients) inside guest room bathrooms are refilled daily by housekeepers, further eliminating wasteful single-use bottles.
When not inside the gorgeous guest rooms, the hotel's communal spaces such as the gallery, cafe, rooftop, or outdoor patio, each accommodate the site's plentiful sunshine encapsulating an island feel. The on-site restaurant 'ANTEROOM MEALS' led by Executive Chef Jun Shinzato, accommodates breakfast overlooking the inland port, whilst from lunchtime, opening for lunch, afternoon tea or dinner to the outside public. Vibrant and lively — serving fresh seafood from the neighbouring port — it is a favourite for locals too.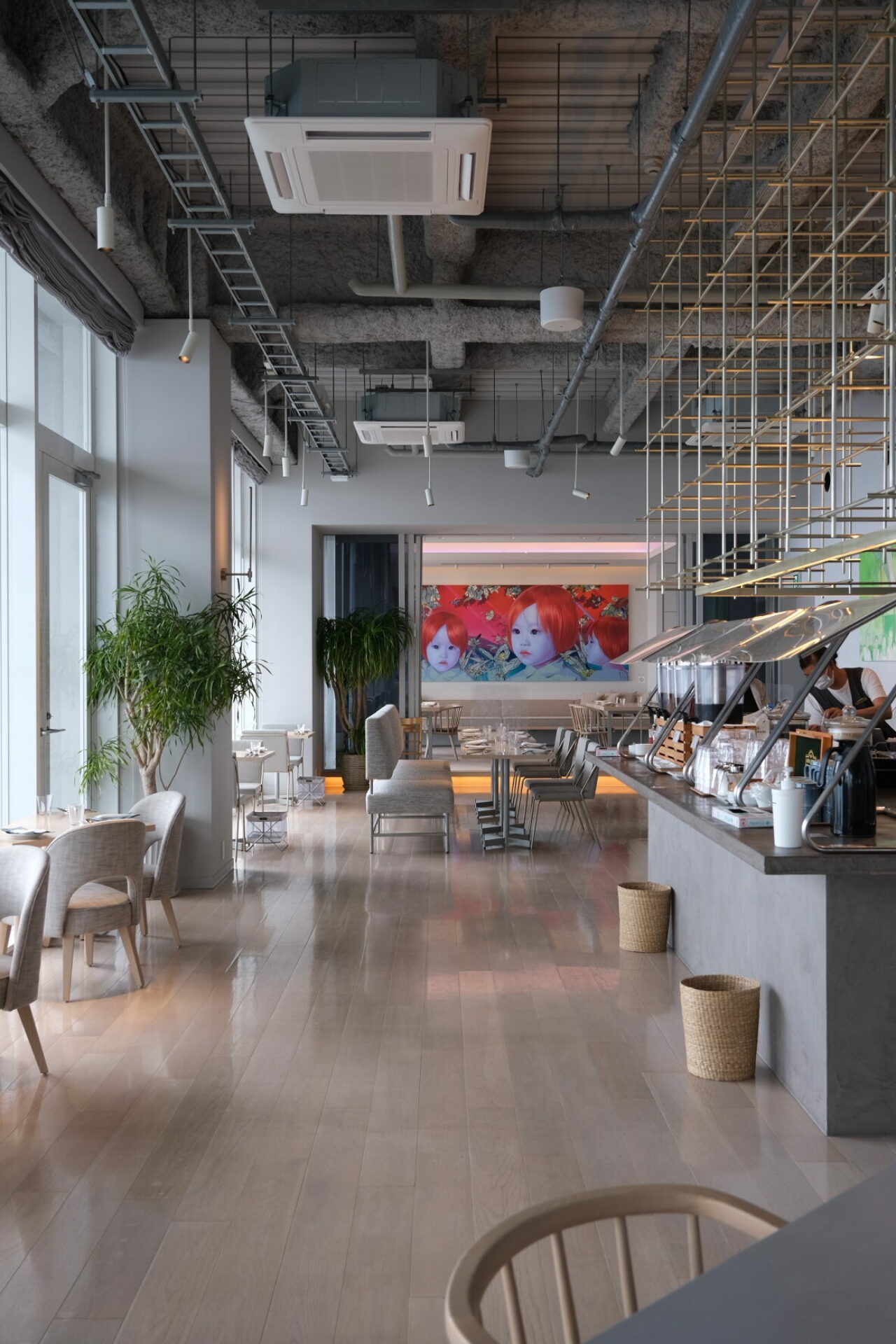 Whilst Okinawa is more commonly known for its rich cultural history, HOTEL ANTEROOM NAHA offers an artistic lens that allows guests to immerse themselves in contemporary art, both by emerging and established Okinawan local artists and Japanese creators. With a stellar contemporary interior and unique positioning, it is a must-stay whilst visiting the capital of Naha.
Text: Joanna Kawecki
Images: Courtesy HOTEL ANTEROOM NAHA & © Champ Magazine