TUNNEL OF LIGHT
Beijing's MAD Architects Transform A Disused Tunnel In Japan's Mountainous Region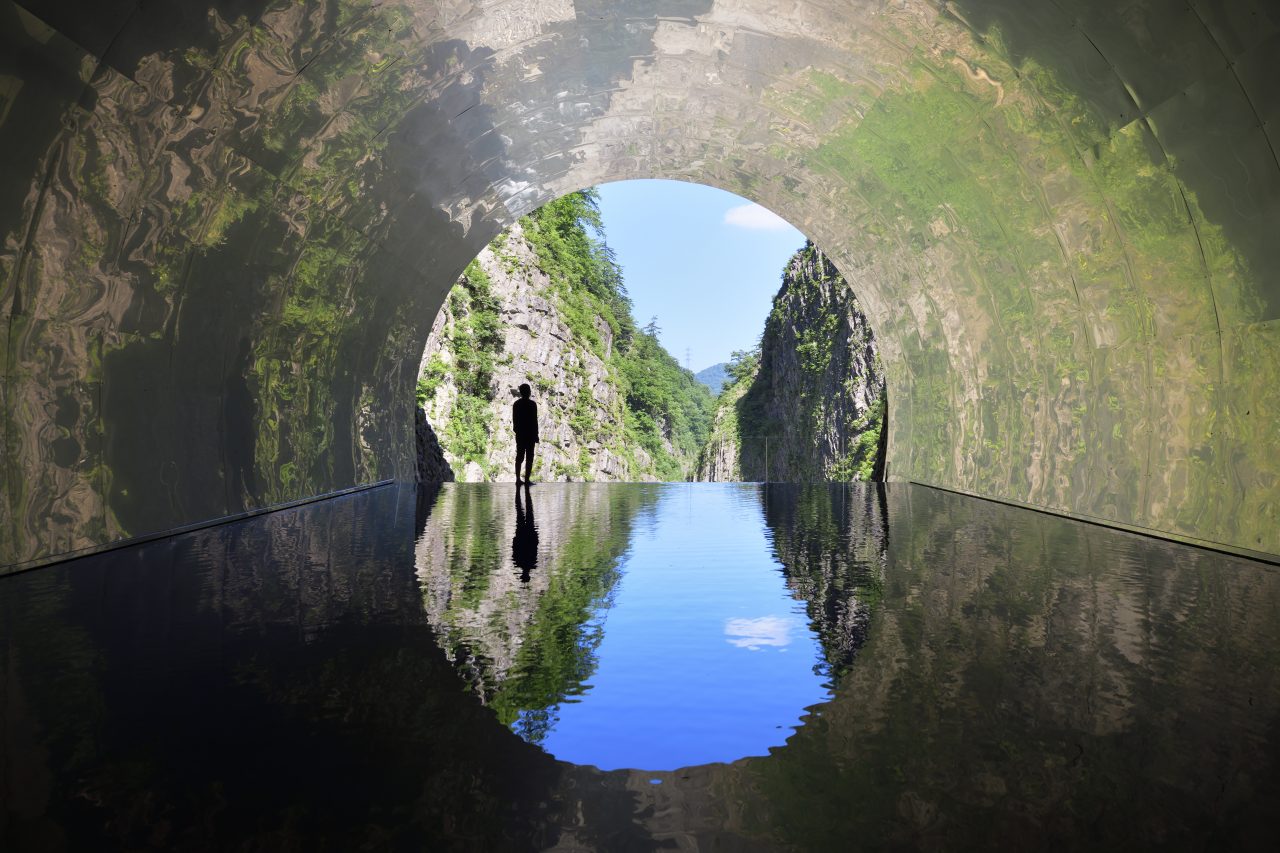 Beijing-based architect firm MAD Architects have restored and reimagined the historic Kiyotsu Gorge Tunnel in Japan's North, as part of the 2018 Echigo-Tsumari Triennale. The revival of the tunnel nearby the Kiyotsu Gorge, sees additional new art spaces alongside a cafe and footspa area, complimentary to the area's abundance of natural hot springs.
Located in the Tokamachi area in the southern region of Niigata Prefecture in Japan's north, the area is known for it's spectacular mountains, rice terraces and mesmerising snow-covered winters. The restored tunnel reaches 750-metres in length, and was created to revive and increase local tourism in the depopulating and ageing population in the area – an ongoing issue throughout regional Japan.
Inspired by the Five Elements of Nature (wood, earth, metal, fire and water) the tunnel sees MAD's artist restoration segmented into various sections, starting with a public open area and cafe. The cafe, a triangular-shaped wooden structure, is found nestled amongst the mountains and sitting along the Kiyotsu Gorge. The first installation Periscope, located on the second floor, finds a cone-shaped area for public foot bath use, with a ceiling encircled by mirrors that reflect the mountainous exterior view.
In the case, MAD have retained the original character of the concrete structure, and included additional mirrors or lighting (as seen in their tunnel spaces Expressions Of Colours, The Drop) to transform the experience of travelling through the space. The final and most captivating space is the tunnel's exit, titled Light Cave, which sees a pool of water reflecting an infinity-like drop of both the interior tunnel and outside mountains.
The Echigo-Tsumari Triennale has not only invited MAD Architects, led by Ma Yansong, to transform one of their existing spaces but includes a number of other leading architects and artists to revive over 200 spaces for the event including Atelier Bow-Wow, Christian Boltanski, Jenny Holzer, MVRDV and Chiharu Shiota to name a few.  The Triennale runs from 29 July and until 17 September.