Architecture Deeply Interconnected With Nature
SANAA's Ryue Nishizawa Weaves Architectural Flow At This Retreat in Karuizawa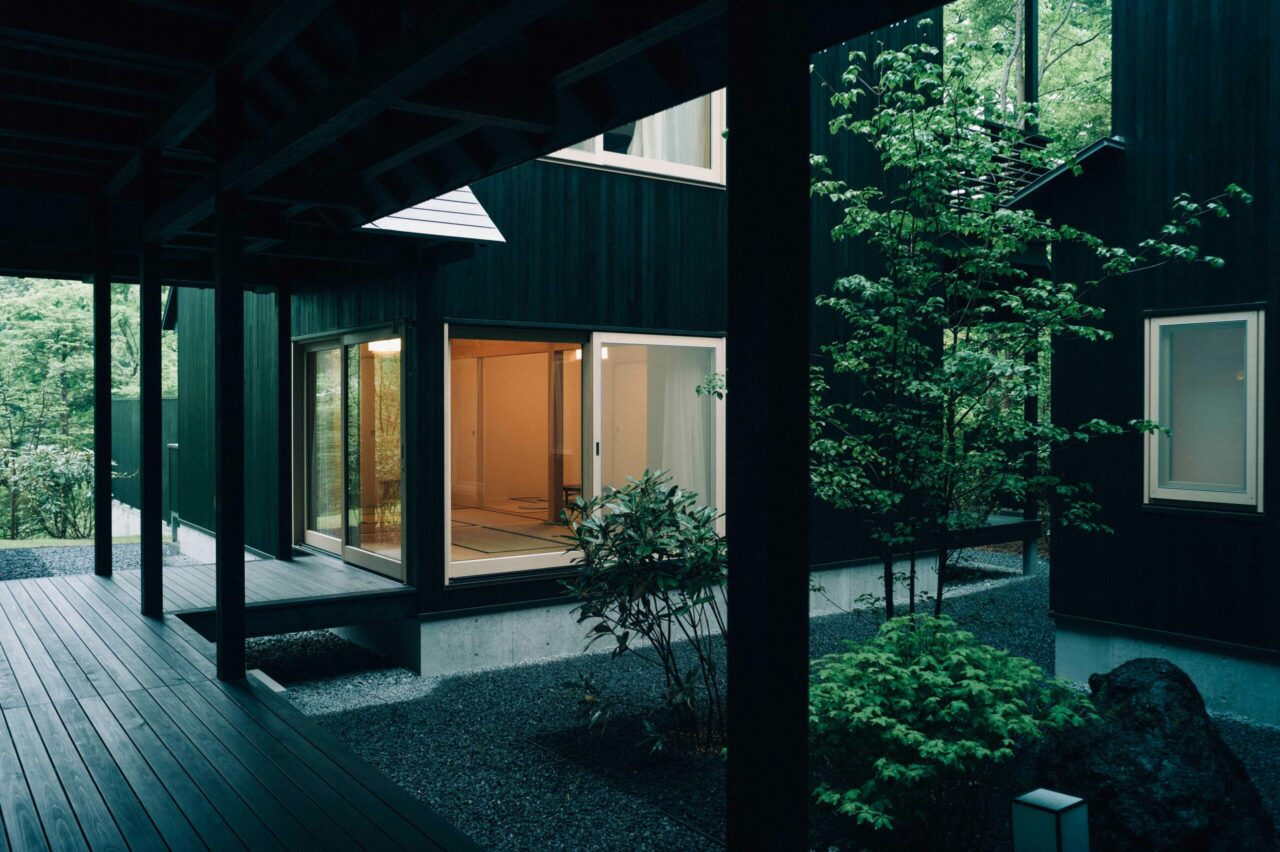 Karuizawa, a beloved holiday destination due to its convenience just one hour outside of Tokyo, is becoming quite the design and architecture hotspot as a nature-abundant retreat from the city's hustle and bustle.
Located just a short drive from Karuizawa's main station, find Shishi-Iwa House, a 'collection of architect-designed retreats surrounded by nature' embodying stellar contemporary art, Japanese architecture and seasonal, locally-sourced cuisine.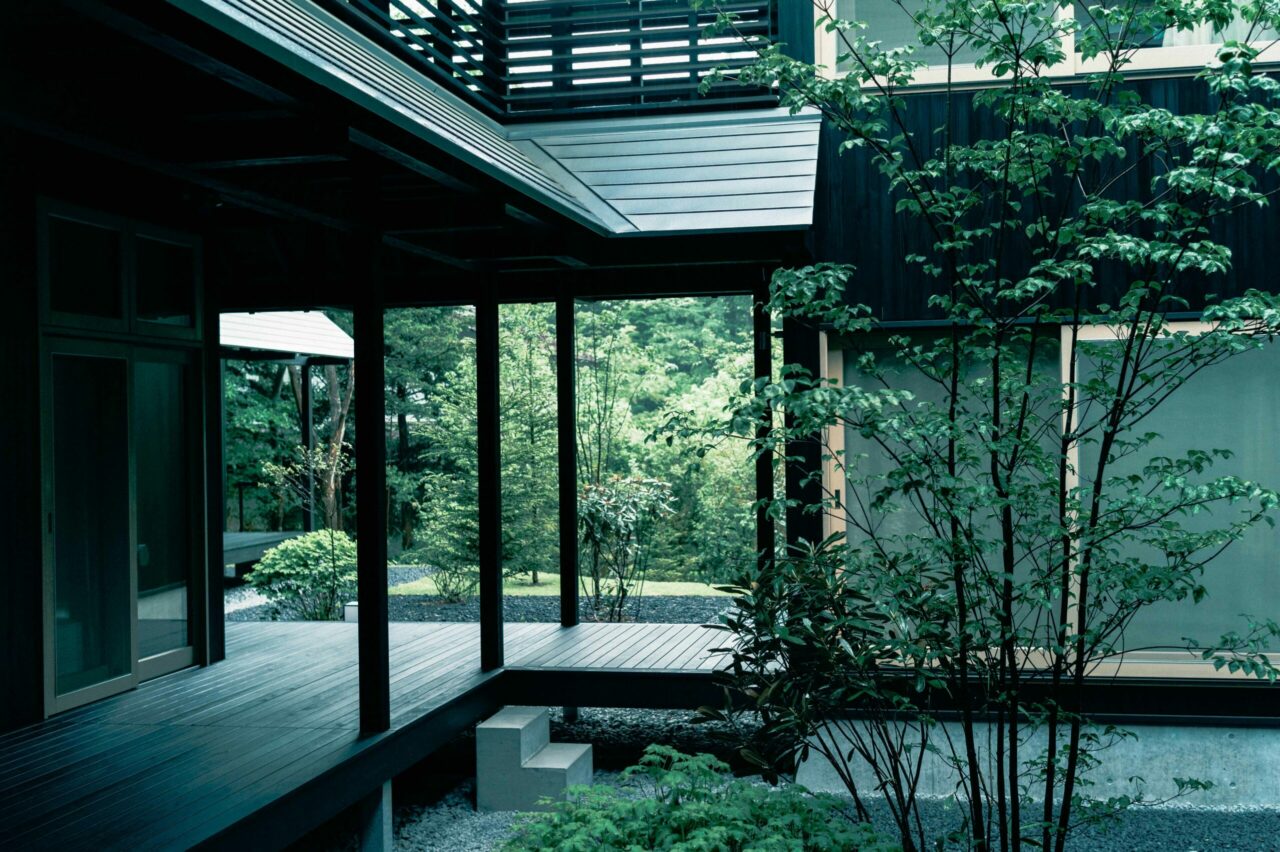 Shishi-Iwa House's three properties are architectural gems in themselves. Equally as adaptive to their site landscapes and unique in design and experience. Their first building (complete in 2018) and second building (in 2022) were designed by Pritzker Prize-winning architect Shigeru Ban, as two excellent timber structures that truly respond to their surrounding environment. So much so, that Ban's first building known as Shishi-Iwa House 01 was designed as an elongated, curved form constructed around the site's existing trees. Ban noted his approach; 'Nature is the design concept.' Housing guest rooms and a communal lounge space, Shishi-Iwa House 01's guest rooms all overlook dense forest trees making it truly feel remote and reclusive. Shishi-Iwa House 02 houses the hotel's main reception area, central restaurant 'Shola' and whiskey bar on the second floor, whilst compact guest rooms are found on the ground floor.
Modest in atmosphere yet utterly impressive, the hotel now welcomes an additional new third building — Shishi-Iwa House 03 designed by fellow Pritzker Prize laureate, architect Ryue Nishizawa. As an all-timber double-storey structure, Nishizawa designed SHH03 based on individual guest rooms connected by corridors and garden spaces that intersect and connect together creating one harmonious form. Nishizawa explains, 'I imagine it as a multi-function space where you can relax and move anywhere. It can be said to be a dynamic space whose function and atmosphere change from time and time.'
The building's black, burnt cedar exterior draws you in to a surprisingly bright, white interior for guest rooms — some with western bedding and some with ryokan-style futon bedding on soft, tatami floors. Guests can find privacy in their individual rooms or take solace in the open-aired corridor engawa pergola areas, private Hinoki wood bathhouse or tatami-floored meditation room. 'There is a series of flows: street, garden, entrance, corridor, room, garden.' Nishizawa adds, 'Since it is a network of separate buildings, the architecture becomes the collection of the buildings: but in experience, we aim for a state where the collection of flows becomes the architecture.'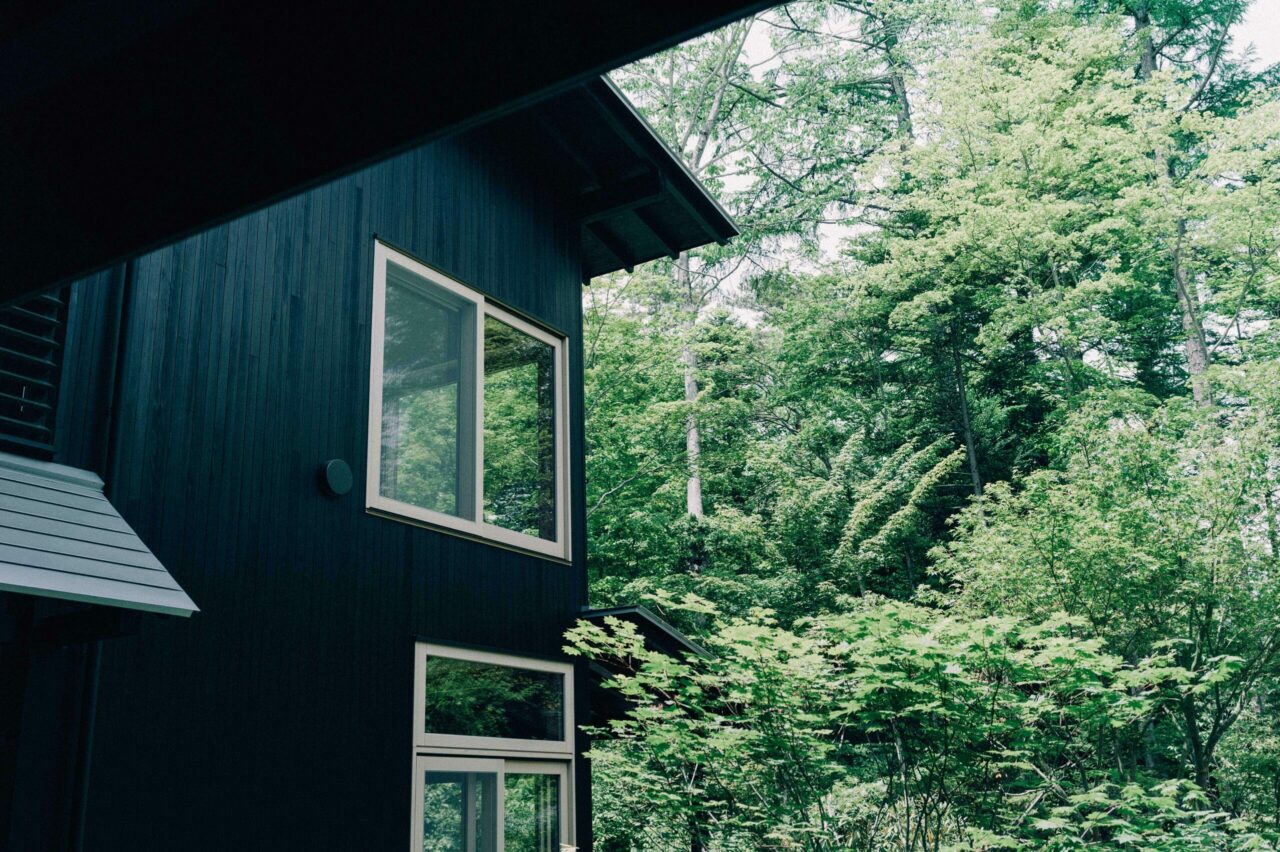 At Shishi-Iwa House's main restaurant Shola — open to guests from all three buildings and outside visitors — head chef Masashi Okamoto's nine-course evening menu encapsulates his deep relationships with local farmers and purveyors. Championing the best regional produce, he creates an exceptional culinary journey that transports you through Nagano's diverse mountains and plains presented through unforgettable flavours and textures. Each dish is served on exquisite contemporary ceramics ('1616 / Arita Japan' designed by Teruhiro Yanagihara) and paired with an excellent curation of regional wines from Nagano, Tochigi and Yamagata. Find locally-produced nihonshu sake such as Beau Michelle from Tomono Shuzo (Nagano) to Iwa5 from Shiraiwa Shuzo (Toyama), to vart Chardonnay, Riesling from Vinvie, Nagano and Abbey's Vines 2020 100% Cabernet Franc from Nagano — brilliantly selected by sommelier Yusuke Mori.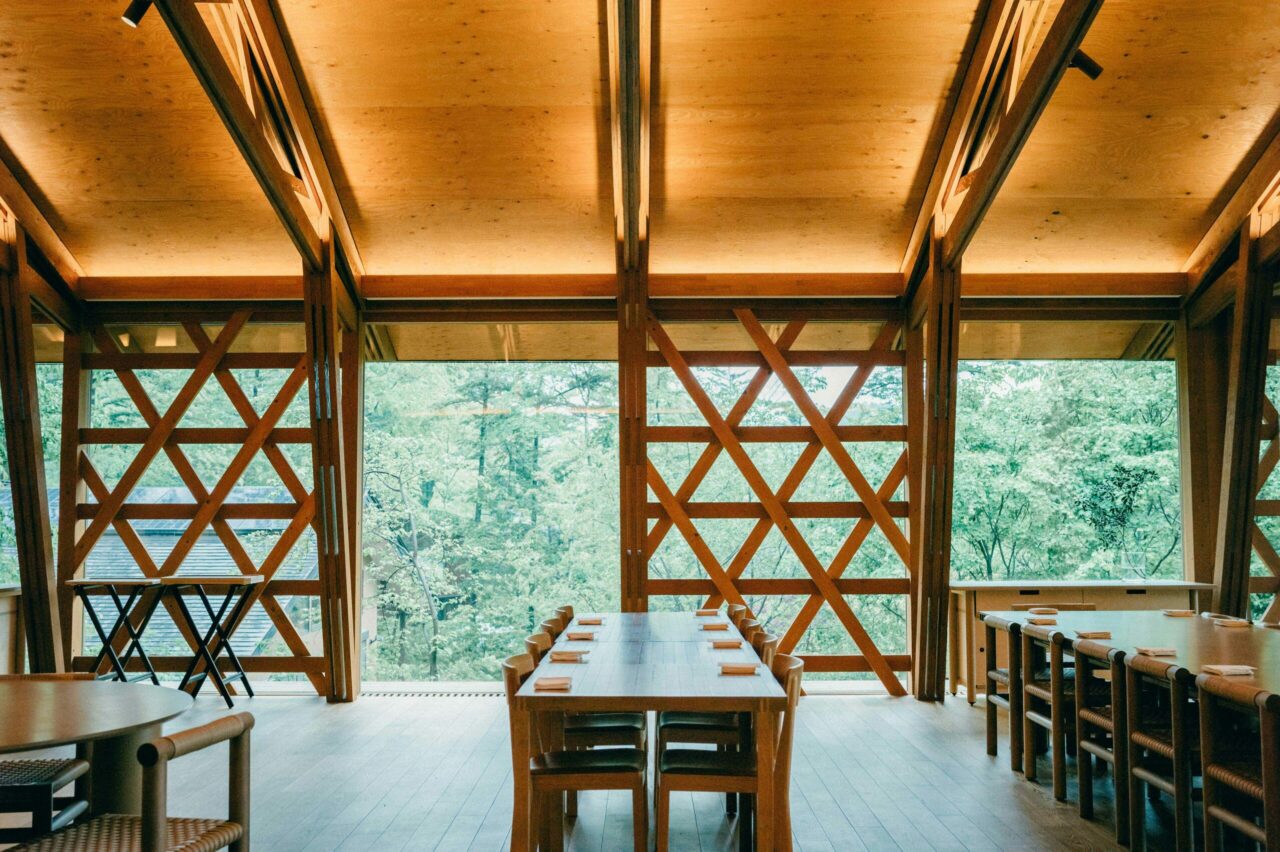 Chef Okamato's dishes are delightful in the way they simply utilise the excellence of the produce of the surrounding area. Our dinner started with two amuse-bouche; one tart with locally-farmed chicken thigh pate with carrot flakes and mustard seeds. The second with local butter and sake lees from Sawanohana Tomono Shuzou in Nagano — incredibly soft and balanced. Out of the many unforgettable dishes was the shinkiku crown daisy with Saku City-grown Koshihikari rice and buckwheat combined together a la risotto. The Shinshu Salmon dish featured Kodama Farm trout, broccoli purée, colrabi, and foam sauce extracted from the salmon bone. The venison dish presented the succulent, roasted meat on rice husks and Douglas Fir (sourced from the hotel garden) and later served with blueberry and vegetable bullion. Absolutely delicious. Okamoto's dessert finale included seasonal caramelised and burnt apricot with vanilla Chantilly cream and apricot sauce on sponge cake with basil sauce. Sublime. Talking with chef Okamoto after service, he notes Danish restaurant Kadeau as one of his global inspirations. Yet it's clear his main muse runs more closely — the local produce and producers, noting the time it takes to gain trust from farmers and producers that he works with. Is there anything he'd like to explore, I ask: 'Wild duck,' he adds, 'if it's possible!'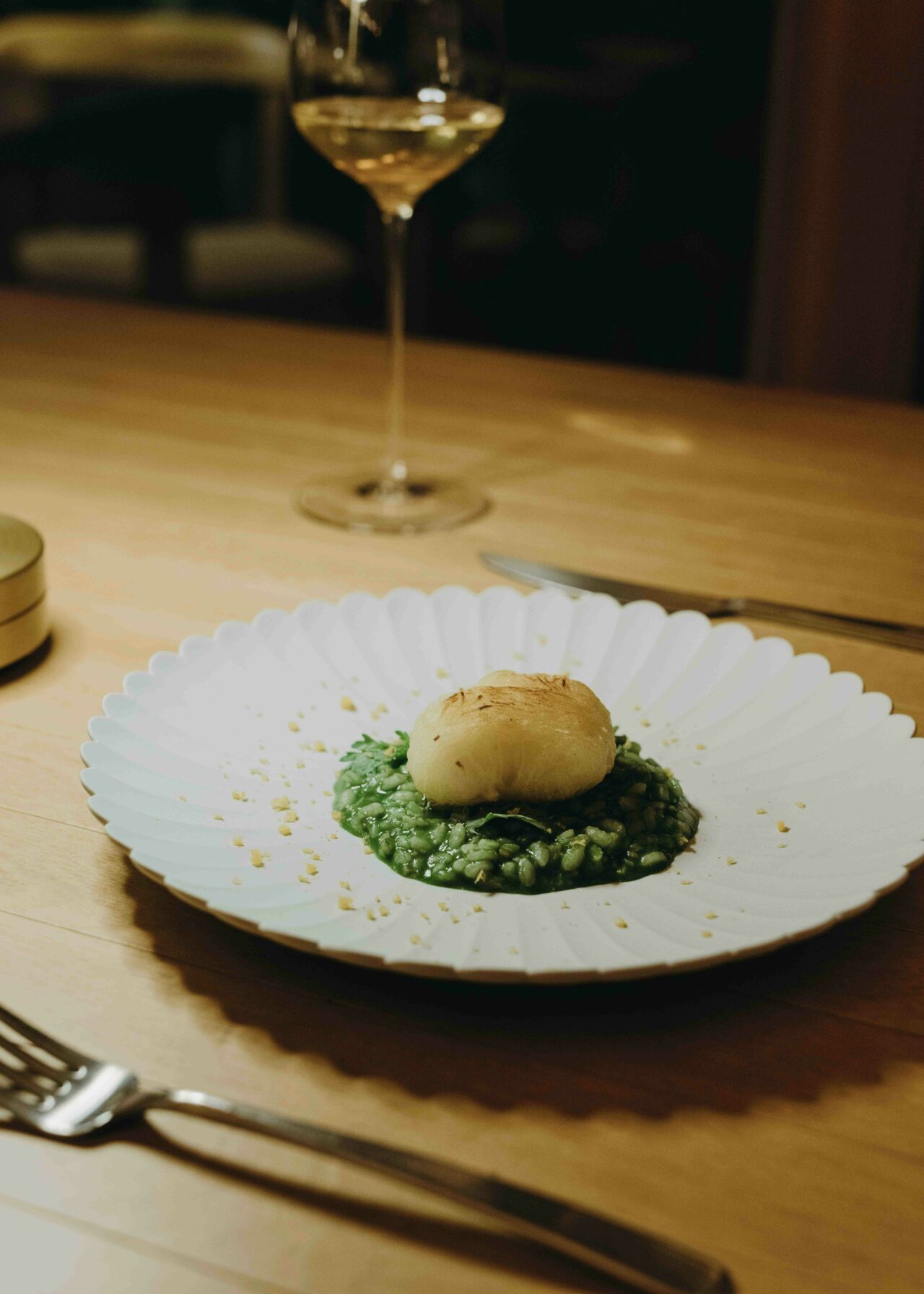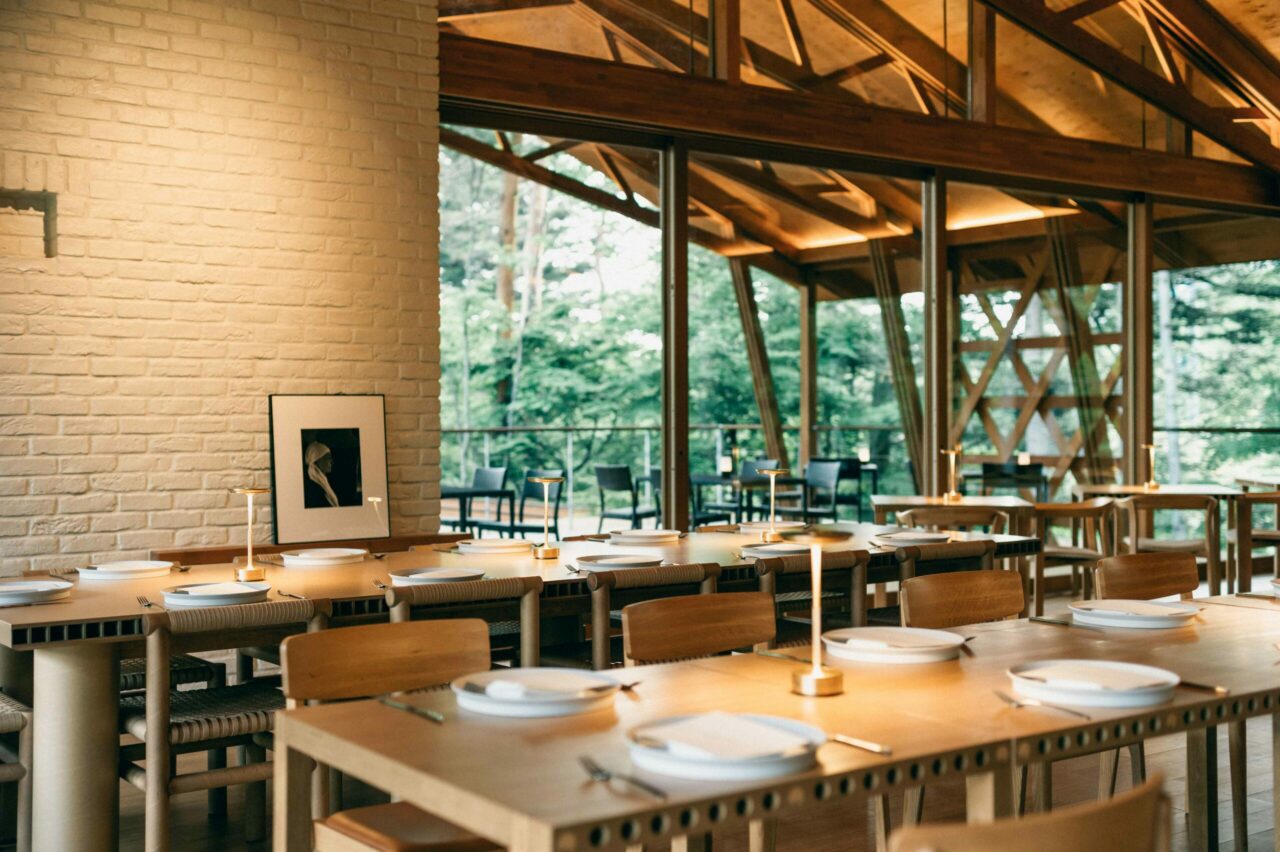 Shishi-Iwa House's proximity to one of the areas best local hikes and waterfalls Sengataki, allows guests to immerse themselves in local nature. Other on-site activities include traditional tea ceremony experience or a hojicha roasted tea session, to off-site tours of a local bee farm or generations-old sake breweries. 
The whole Shishi-Iwa House team provide exceptional omotenashi and stellar hospitality — their diverse experience of formerly working at key boutique design hotels in Japan (or for example Head of Guest Service Junko Oyamada previous work as editor of a leading architecture magazine) provide unparalleled expertise. Just like any great captain steering a ship, General Manager Daichi Ogihara embodies Shishi-Iwa House's sense of community and creative ethos making each guest feel comfortably akin to home. 
For those looking to experience the unrivalled beauty and harmony of nature and architecture, find its essence distilled at Shishi-Iwa House in Karuizawa.
For SSH No.1 and No.2
2147-768 Nagakura, Karuizawa-machi,
Kitasaku-gun, Nagano, 389-0001 Japan
For SSH No.3 
2147-40 Nagakura, Karuizawa-machi,
Kitasaku-gun, Nagano, 389-0001 Japan
Text: Joanna Kawecki
Images: Kazumasa Harada & Joanna Kawecki