MOGANA
Unique To The Rest: A Kyoto Boutique Hotel with Sleek, Design Minimalism And Contemporary Charm
In one of Kyoto's quaint backstreets, find the unassuming entrance to MOGANA. A true boutique design hotel gem in Kyoto — the former Japanese capital — that takes notes from traditional and contemporary Japan and modern European design. Upon the front entrance, a small garden presents a stunning bonsai as a modern and contemporary welcome to what will be a well-considered and spectacularly designed space. Here, anticipate a sleek and highly-considered design-led space, perfect for any overnight getaway in Kyoto.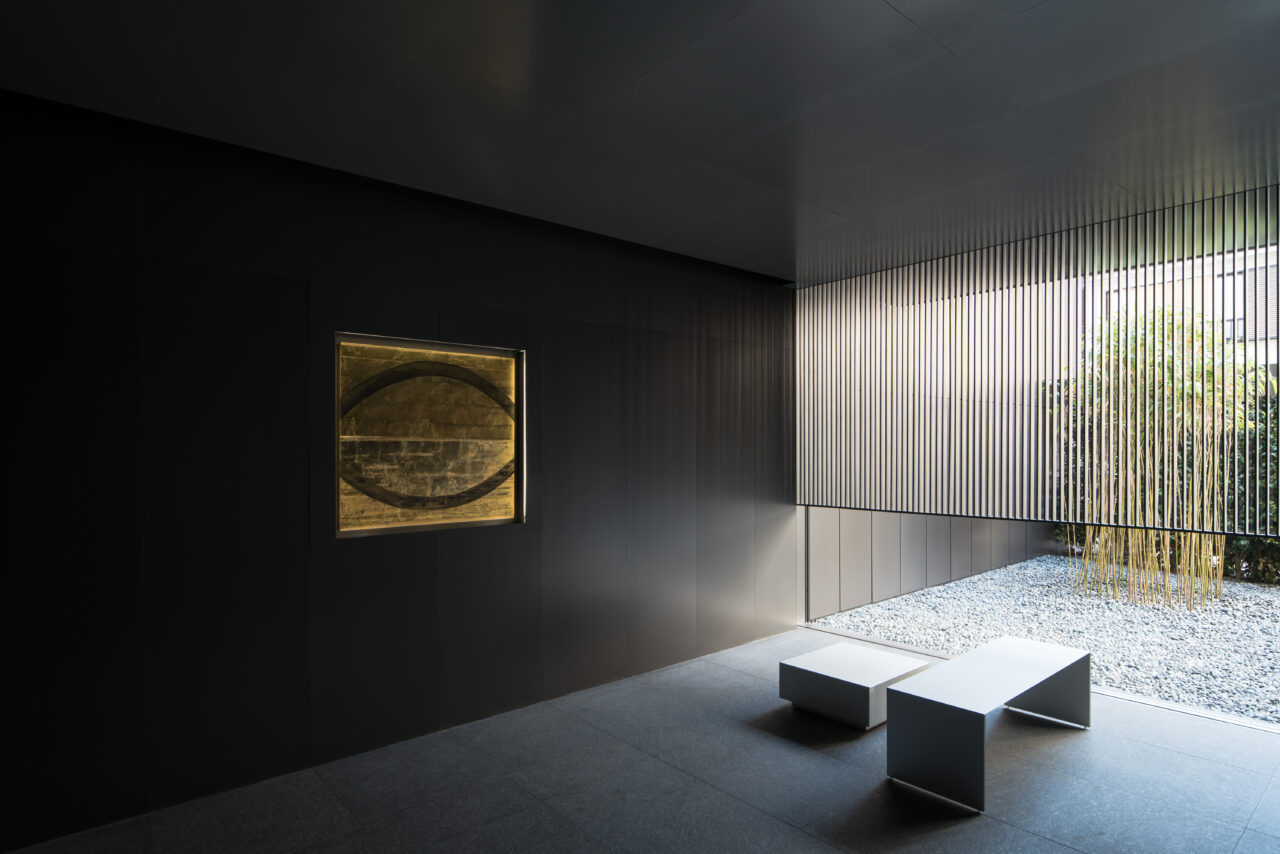 Pushing past the entrance's weighted steel door, the grey and monotone interior feels almost akin to someone's home. Located in the heart of Kyoto, the site previously had a small river running nearby, both inspiring the tea ceremony culture and the natural dye craftsmen. Found on the site of a former Nishijin-ori factory (西陣織, Nishijin fabric), the traditional textile produced in the area (Nishijin (西陣) district of Kamigyō-ku in Kyoto, Japan.) Here, find a nod to the site's heritage with a subtle and complimentary merging into the 21st century. Yet the building itself finds itself with a remarkable architectural heritage as an "unagi no nedoko" (small in width but large in depth) architectural style, restored by the architect that maintained this unique feature with a 38-metre ground floor passageway illuminated with light and sound, inviting guests deeper into the hotel.
MOGANA's name is derived from the ancient Japanese word meaning "what if", a suggestive and endearing notion of how would wants to travel. It is a journey that has all elements considered and prepared for your ultimate stay. Designed by architect Takashi Yamaguchi — a former architect at Tadao Ando Architects — the hotel is a minimalist and monochromatic affair that finds the balance of light and shadow carefully articulated with various textures that include an extraordinary steel mesh tatami walkway, to luxurious black granite in guest bathrooms. Set over 7 floors, find and the Meditation Room on the ground floor, and The Bar on the 2nd floor exclusively for guests featuring a 24 karat gold ceiling and single Ezo pine bonsai positioned on the counter presenting a truly sleek space.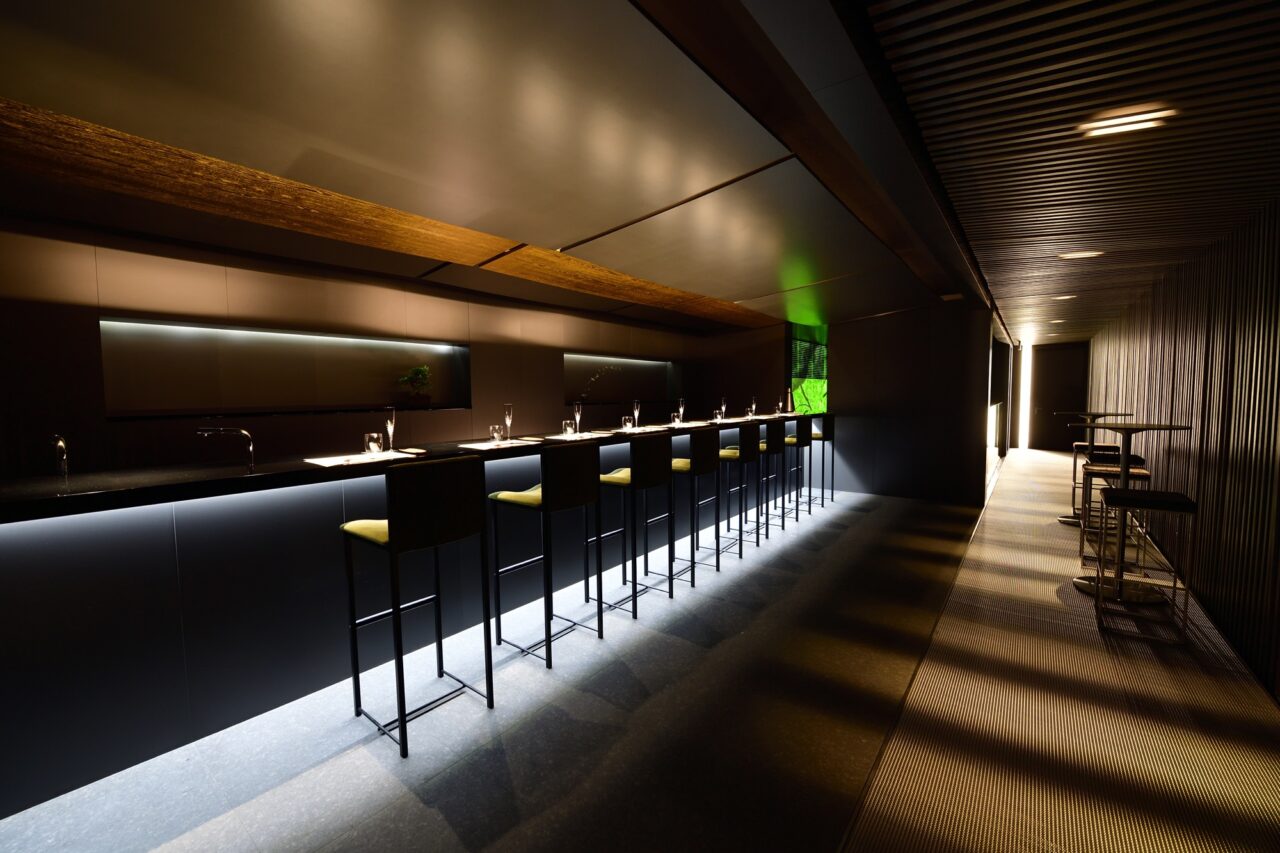 Staff are also suitably dressed in ISSEY MIYAKE — the hotel's unofficial uniform — complimenting the minimalist and sleek forms throughout the hotel. In addition to the hotel's steel-led interior, are floral arrangements and bonsai maintained by Hirugao, offering a warm and earthy touch of both modern and traditional Japan. The soft and delicate hotel fragrance was developed by Izumi Kan, a scent artist from Awaji Island — notably where the wife of MOGANA's owner was also born. Knowing this, it's a delight to find the touches of Awaji Island throughout the hotel, perfectly complimenting it's modern Kyoto charm.
Boutique in size and concept, MOGANA holds an intimate total of just 23 rooms across six room types ranging from Standard, Deluxe, Deluxe with Balcony, Black, White and Garden, all uniquely designed complementary to the hotel's theme of minimalism. Each room type holds a unique characteristic that defines it from the other. A particular favourite of ours was the Mogana White room, located on the hotel's 7th floor with a large, square window presenting shakkei, the "borrowed scenery" and exceptional view of the internal vertical green wall. It is a light-filled affair in this spacious 50sqm guest room, where an akari floor lantern and living bonsai allow for a truly poignant space.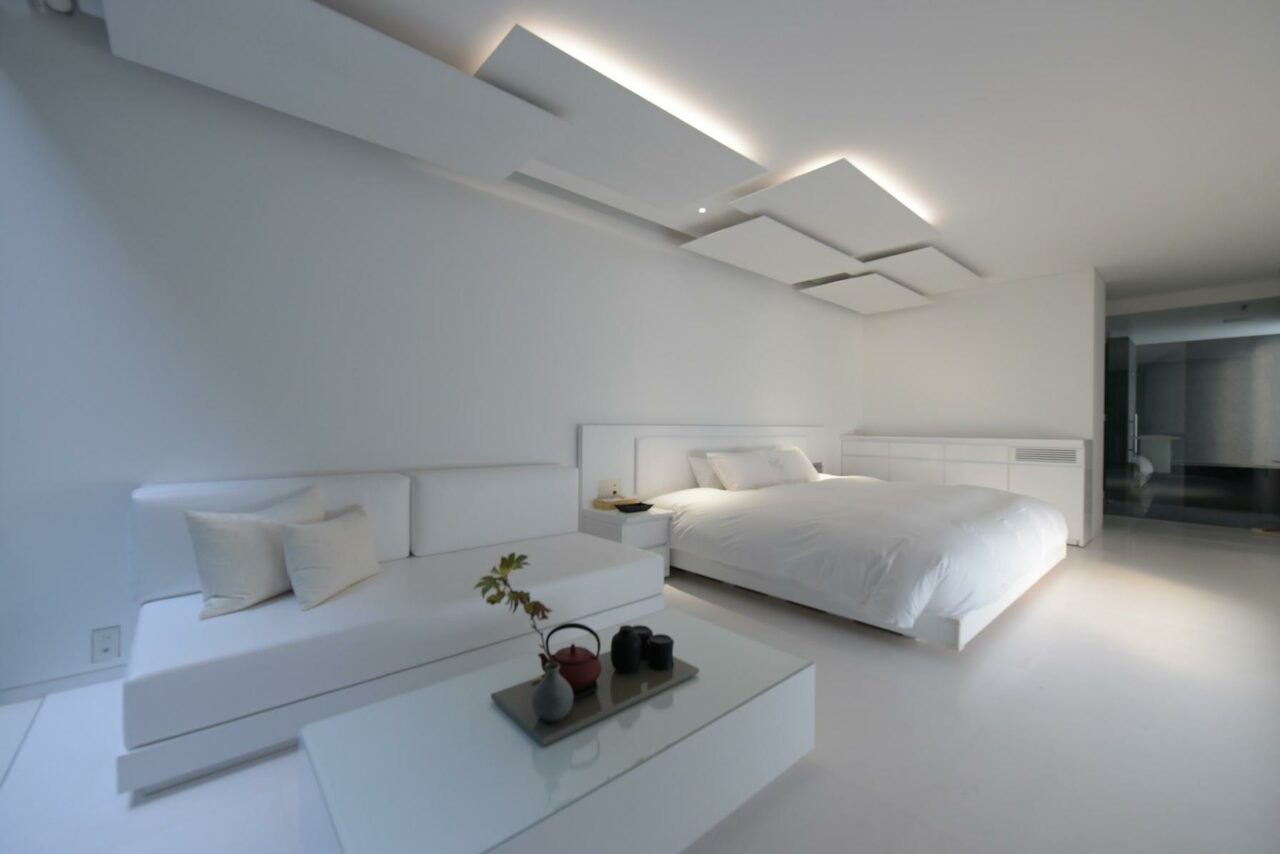 Each guest room includes Nanbu ironware (cast iron from Iwate prefecture) for guests to enjoy complimentary Koyama-En green tea, or coffee by Amano Roasters who created a Kyoto Kitayama special blend. Yet one of MOGANA's most unique elements that ensure it's luxury-led hospitality, is its in-room dining. It's an unassuming classic charm that really allows you to not only enjoy your room and privacy, but a delicious meal in either your best wear or pyjamas in the restaurant-worthy setting. From breakfast, to a la carte offerings that include soba dishes from the famed Kyoto restaurant Honke Owariya.
As guest rooms are based on enjoying minimalism and stillness, there are no televisions yet it is possible to borrow a projector. Find interior details including earthen walls (tsuchikabe) and timber floors, with some bathroom floor tiling in Zimbabwe stone. Guest rooms are fitted with modern furniture crafted by master manufacturers and craftsmen from the neighbouring Kagawa and Okayama prefectures. Pairs of Osaka-crafted traditional zori sandals by MATOU are provided for guests to use throughout the hotel, a perfect way to visit the library and collect a handful of design and art publications to enjoy. Bathroom amenities come exclusively from Paris-based beauty company Shigeta, with MOGANA currently the only hotel in Japan to hold the brand.
With breakfast delivered directly to your room, it is a stunning with a diverse range of fresh and local vegetables in stunning Awabi-ware (ceramics from Awaji Island in Hyogo Prefecture) with the majority of ingredients also from the famed island known as "the region of food". MOGANA's breakfast titled FUKIYOSE reflects the Japanese word expressing "the scenes of the season all gathered in one" and enhancing the go-kan five senses through each dish. With a main plate of marinated zucchini, grilled vegetables, pomme frites, boiled okra, lotus root chips, chicken with balsamic sauce and herb grilled salmon, the side dishes included shakshusha, seasonal fruit and smoothie, and bread by Yoshida Pan Kobo. A true feast for a king or queen.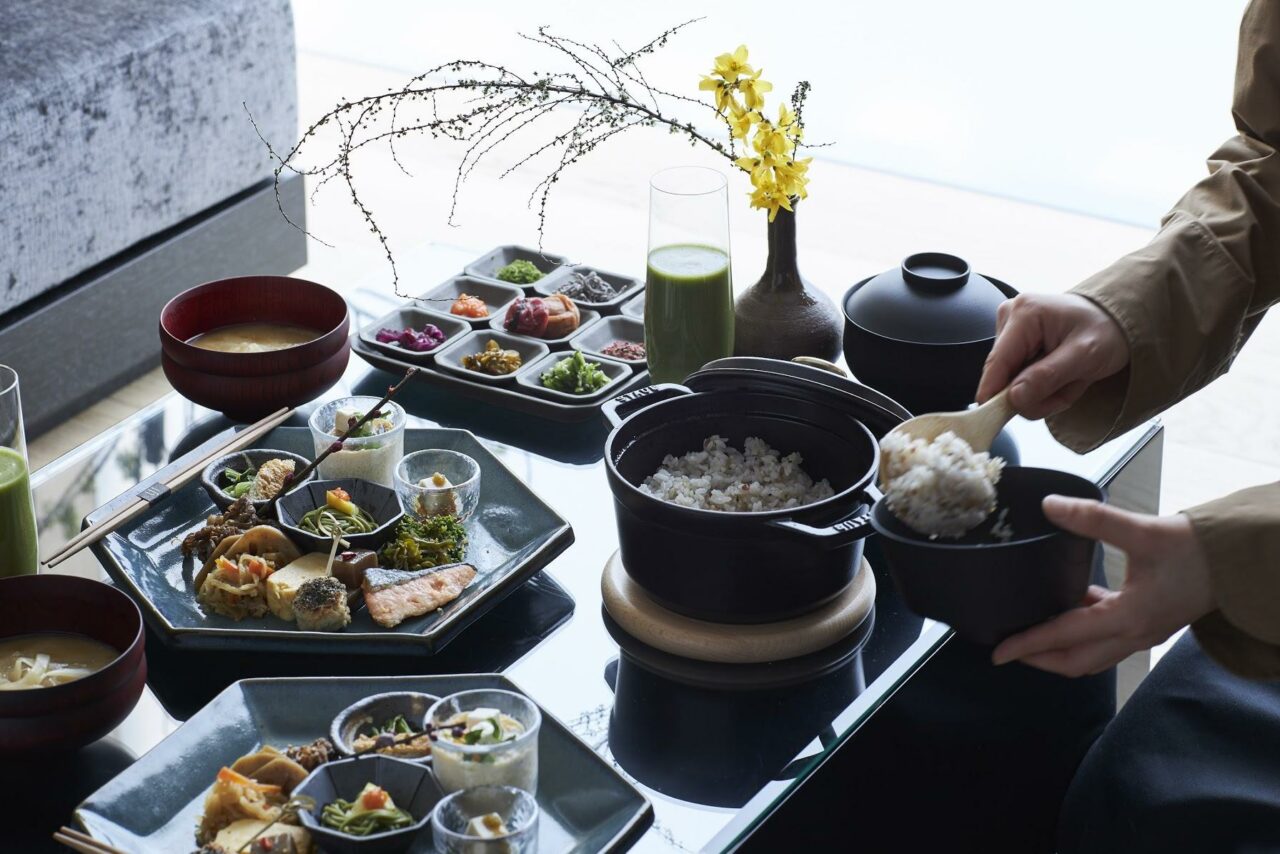 If the famed Junichiro Tanizaki, author of In Praise of Shadows, would stay in Kyoto today, it would certainly be at MOGANA. Stylist in design and considered in hospitality with ultimate omotenashi, MOGANA ensures a truly memorable stay.