FUFU KYOTO
An Intimate Luxury Hotel that Entwines Traditional Japanese Dining, Architecture and Hospitality with Modern Elegance
Located in a central yet quiet, residential pocket of Kyoto near Nanzenji Temple, FUFU Kyoto offers the finest dining and hospitality experience in an intimate resort setting.
This highly curated luxury hotel with on-site restaurant, bar and garden presents the best of Japanese craftsmanship, produce and omotenashi – renowned Japanese hospitality – with a modern and updated approach, encompassed by profound grace and elegance. From check in to departure, the service at FUFU Kyoto is of the highest quality.
Opened in 2021, the Kyoto hotel is a new addition to the growing FUFU brand of small luxury ryokans that includes FUFU Atami, FUFU Nikko to FUFU Nara (designed by Kengo Kuma) that encompass the beauty of a modernized traditional Japanese ryokan stay, emphasized by dining and relaxation.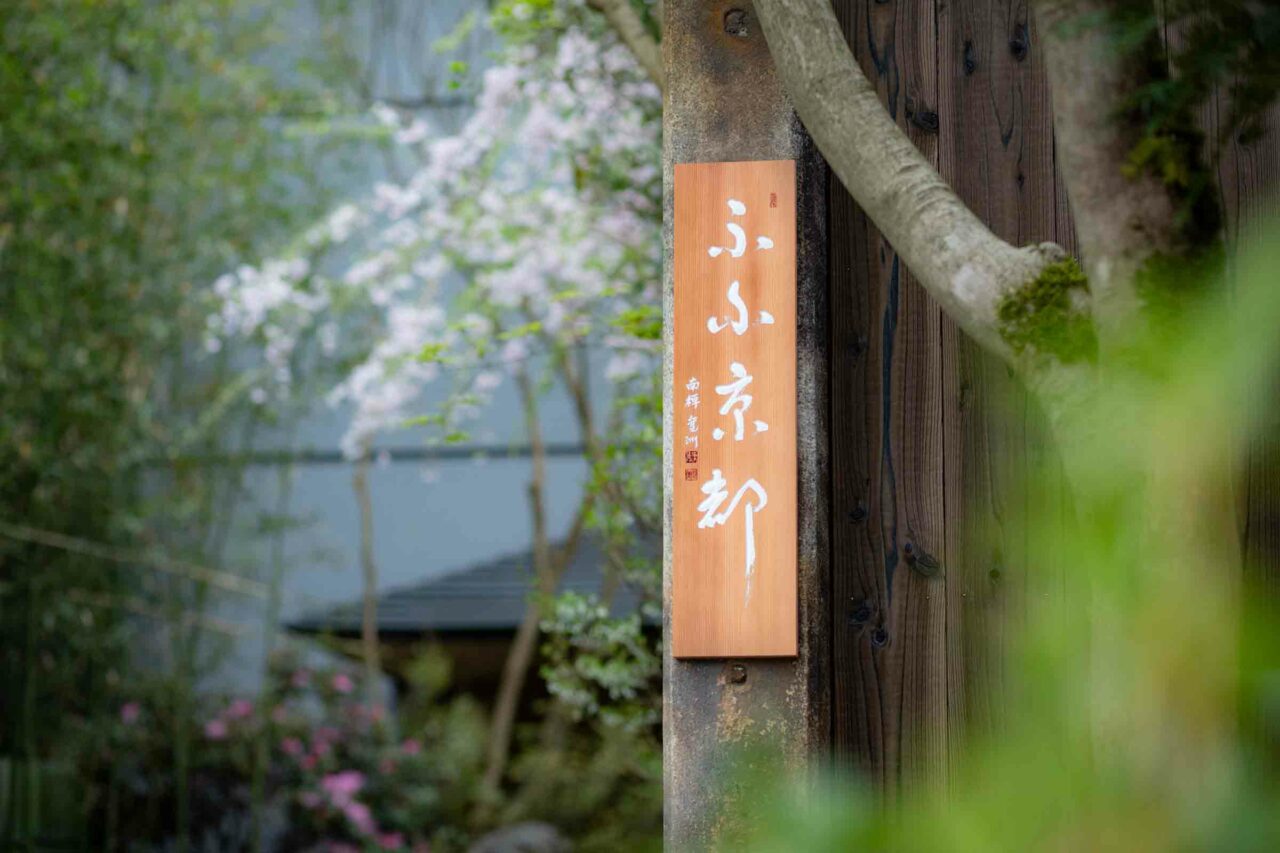 THE LOCATION
Positioned next to the historic Lake Biwa Canal, a stones throw from the Kyoto Museum of Art, the hotel is a short walk away from renowned Kyoto temples, restaurants and museums. 
A calm and zen respite, FUFU Kyoto is modestly nestled within its surrounding, so much so that it's not easily noticed. As a small luxury ryokan, it holds a rare sense of intimacy and privacy starting from its private driveway led through abundant greenery and the hotel's on-site garden and small lake accessed by charming stepping stones. 
These diverse spaces are what make FUFU Kyoto a unique addition to the respectfully well-established and traditional neighbourhood.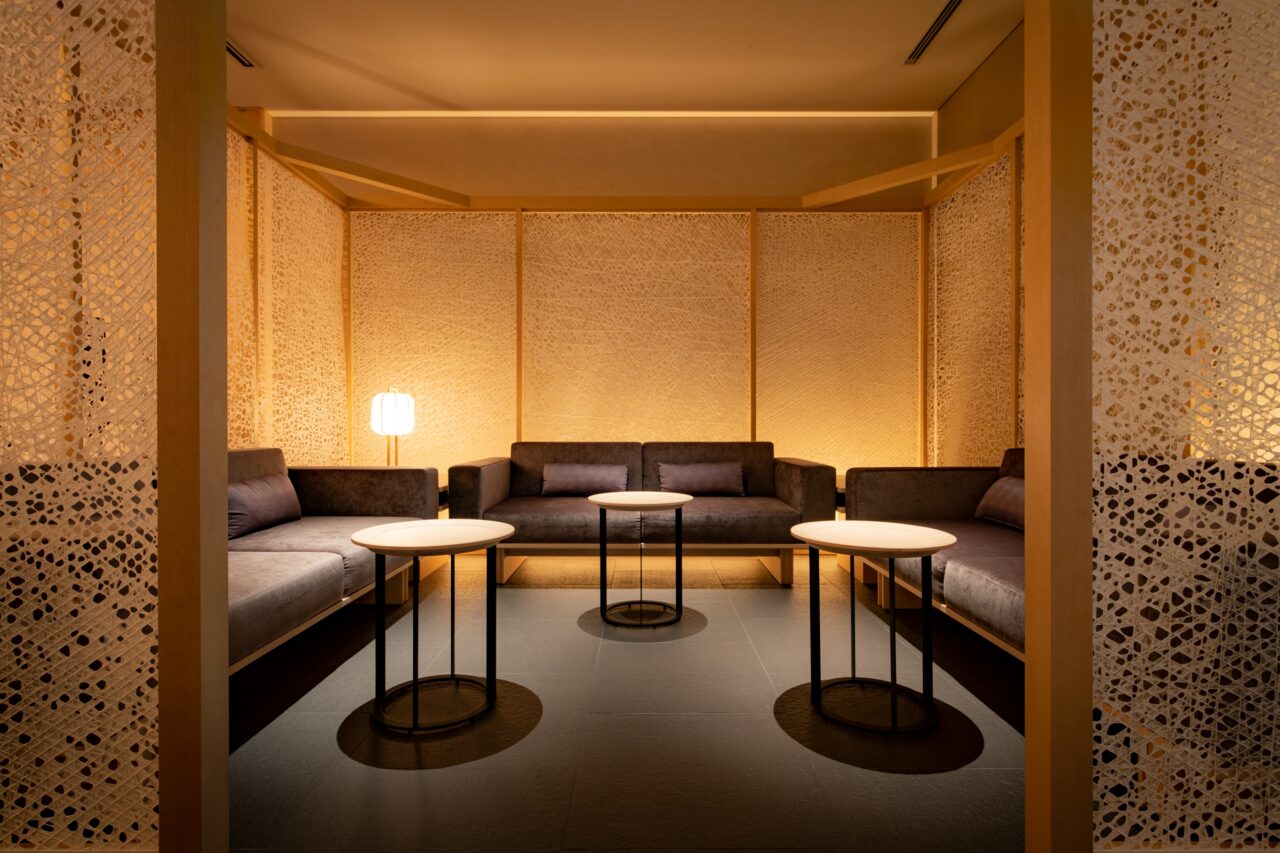 DESIGN
With a modern and minimalist design led by natural tones, the light-filled interior was led by Tokyo-based design firm Saiun Design, who produced the interior merging traditional Japanese aesthetics with contemporary style. Take for instance the front reception area, featuring an abundance of timber and washi paper-covered sectioned private areas, where guests check-in and are welcomed with a seasonal beverage.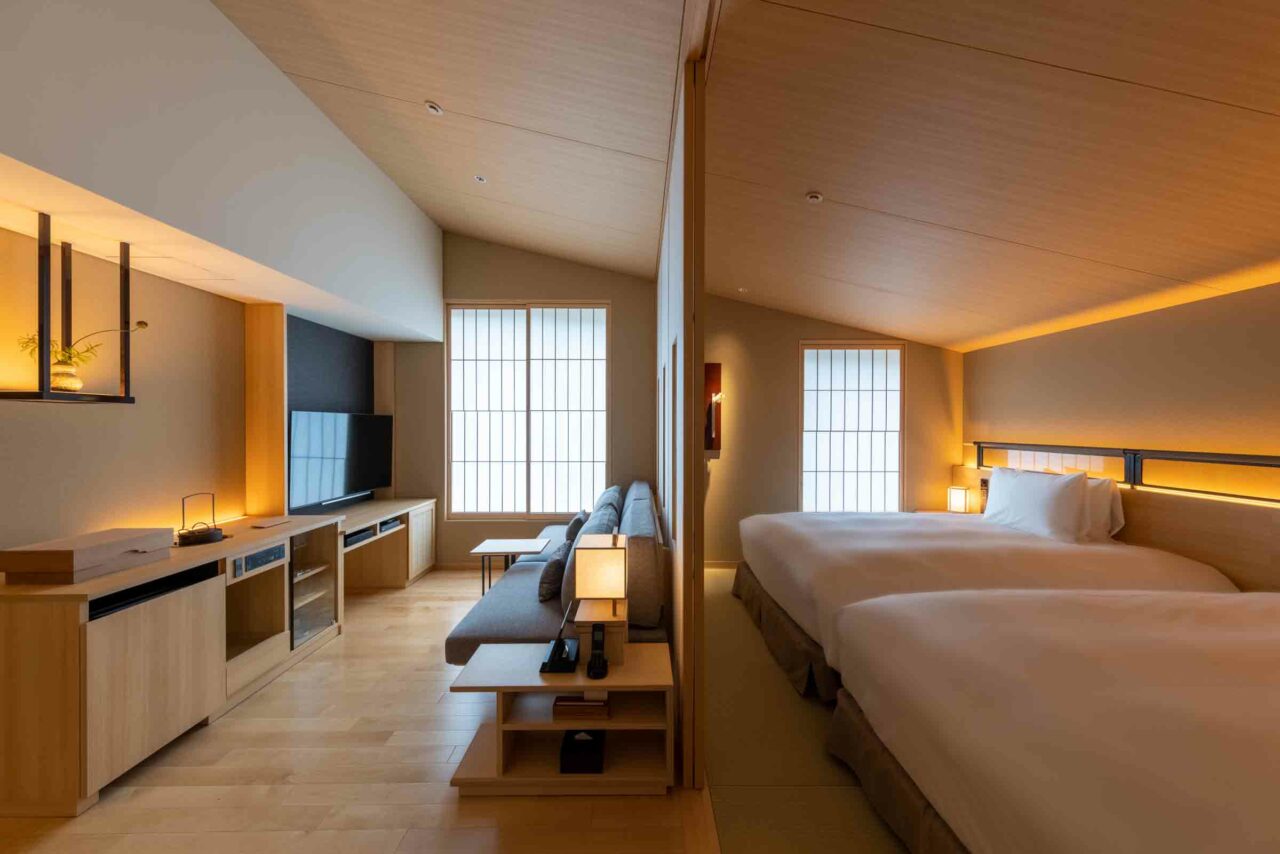 Over 4 floors, FUFU Kyoto includes 40 guest rooms ranging in six different room types varying from 45sqm for a Comfort Twin-Bed Suite to a Luxury Premium Suite at 91sqm overlooking the Daimonji-yama and surrounding mountains.
Corridors are painted black, with spotlights highlighting an Ikebana of a single Yamabuki flower in the hallway. As we approach our room, we see its name – Kawakiri – named after Japanese traditional trump card. At FUFU Kyoto, each room has an individual name and meaning.
On arrival gentle music plays in the room, and Matcha sweet bun awaits guests to accompany Sencha (a type of Japanese green tea) from Uji, Japan's most famous region for green tea.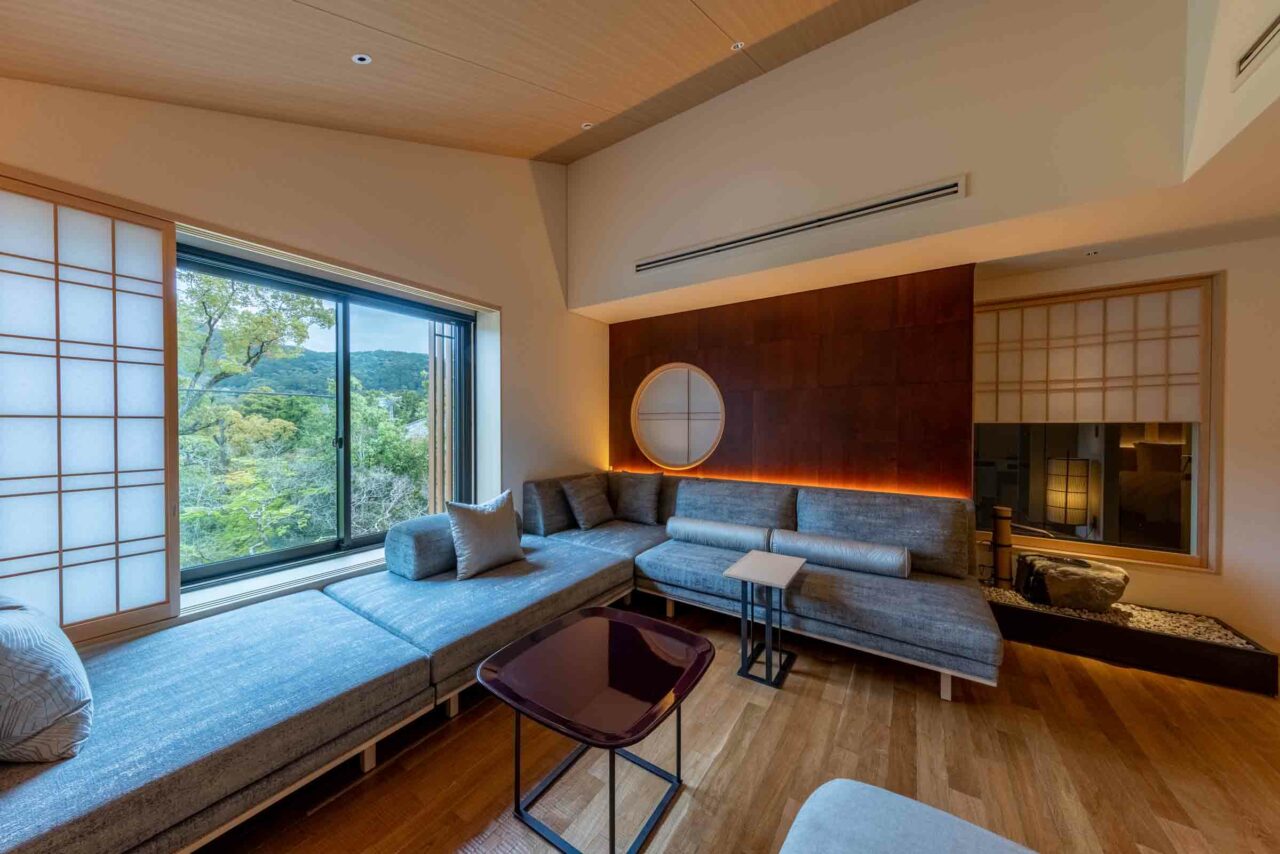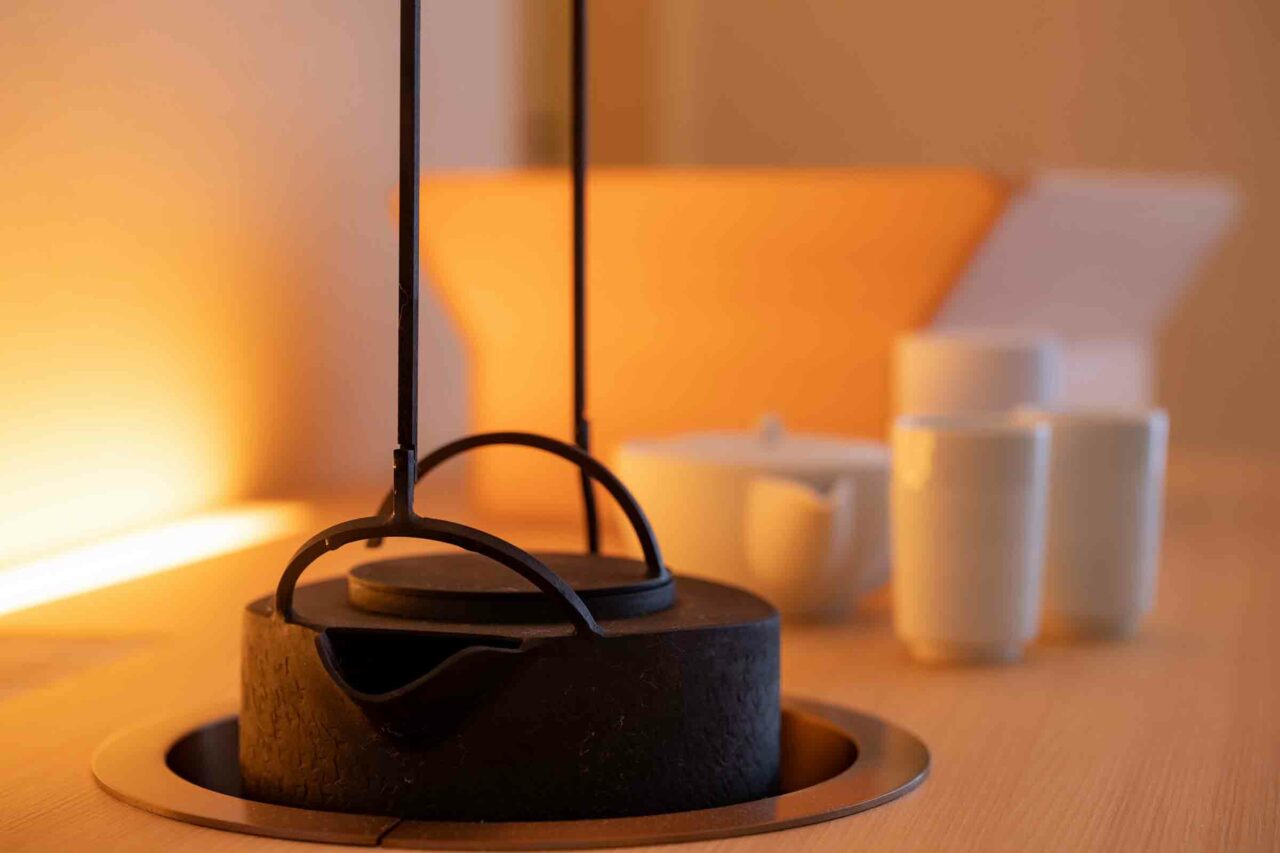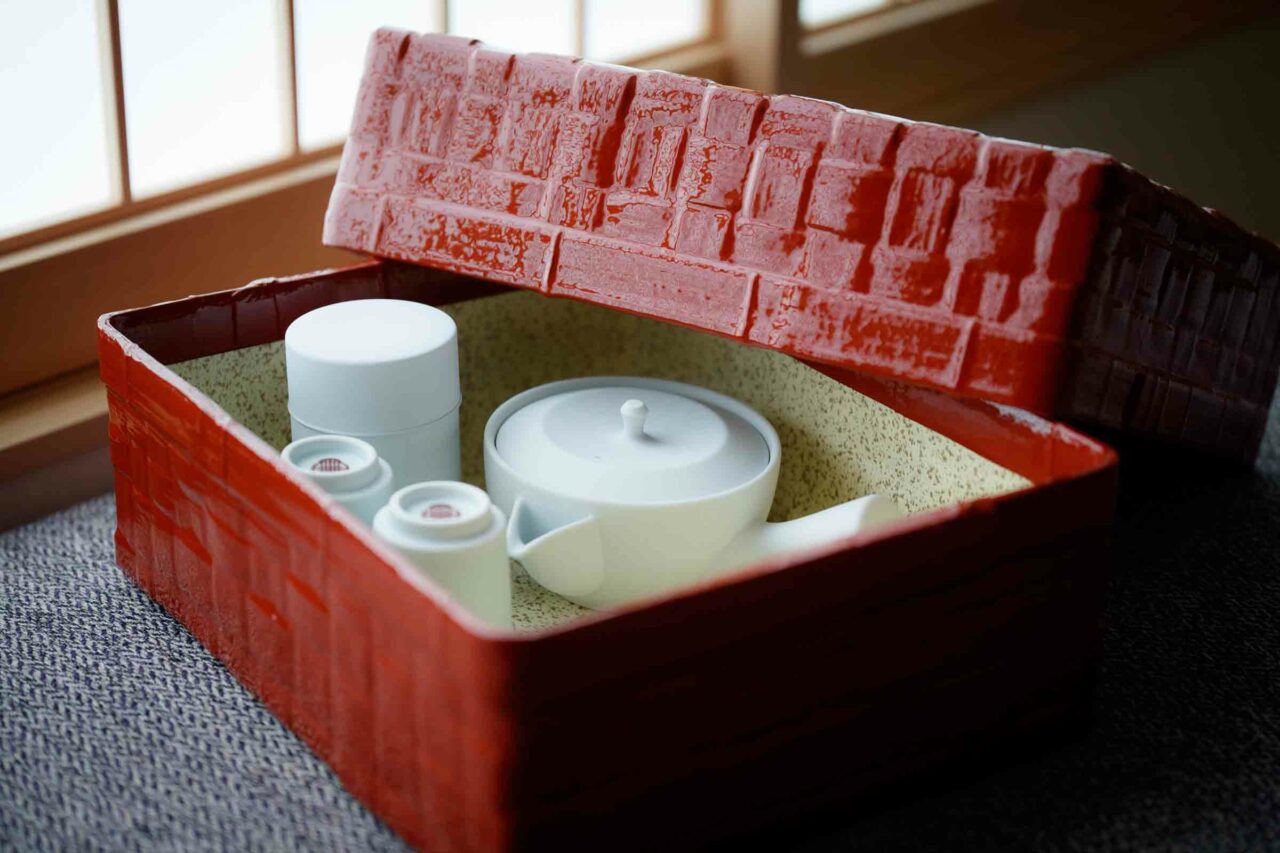 IN-ROOM HOT SPRING
Each room at FUFU Kyoto has an in-room hot spring, this natural water is filled into a cypress bath in the traditional Japanese tradition. In the privacy of your room it's possible to rest and relax at any time of the day or night.
Specifically, Hinoki is used for the baths, the finest cypress in Japan, crafted into circular or square bathtubs (we indulged in a generously large square tub in our Comfort Suite room).
Hot spring water is renowned for its numerous health benefits. Coming from water sources deep underground, they are purified naturally and contain minerals which are beneficial to skin and body. The water here is derived from the Nose Art Lake Onsen, which is slightly alkalized and hypotonic, perfect for easing muscle pain, any problems with a digestive tract, stress and hypertension. Relaxing in an onsen is a long-standing Japanese tradition for a reason.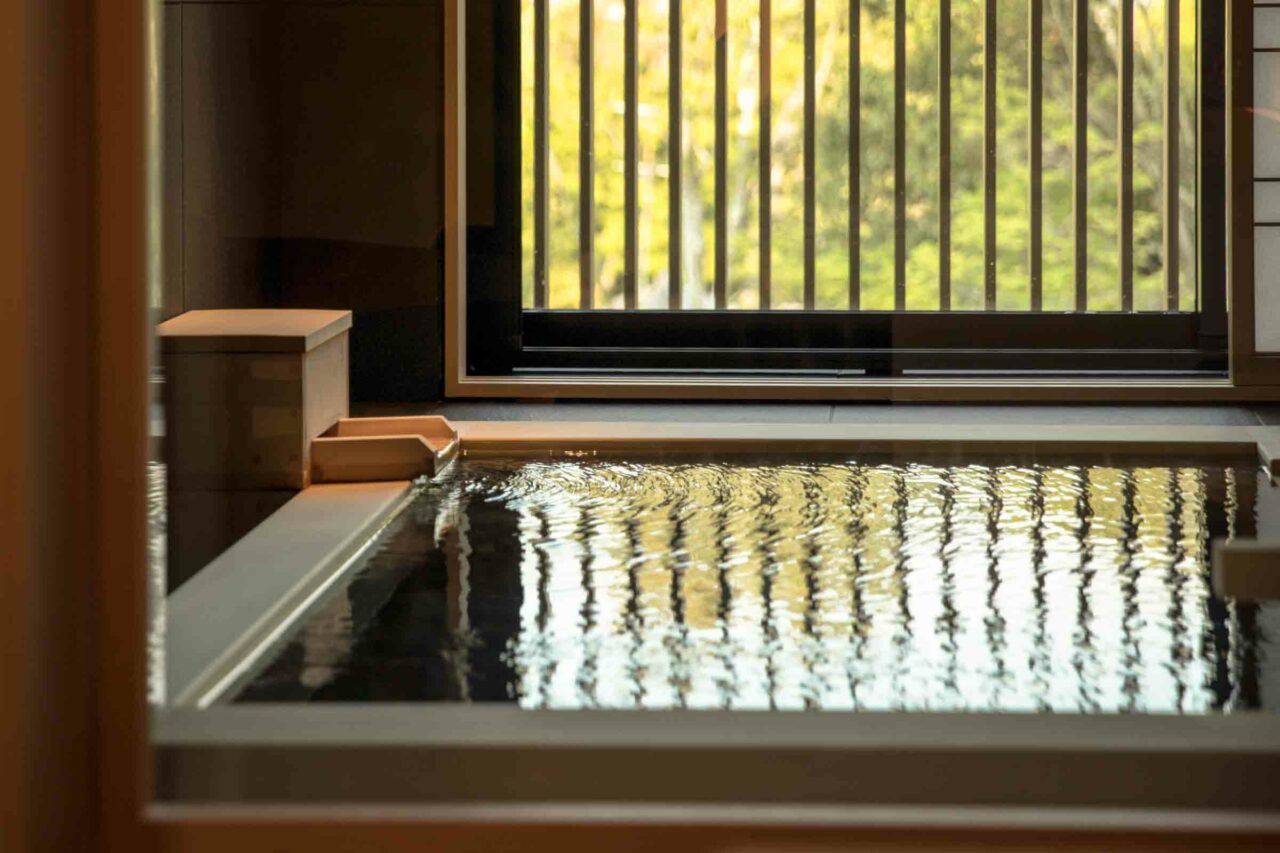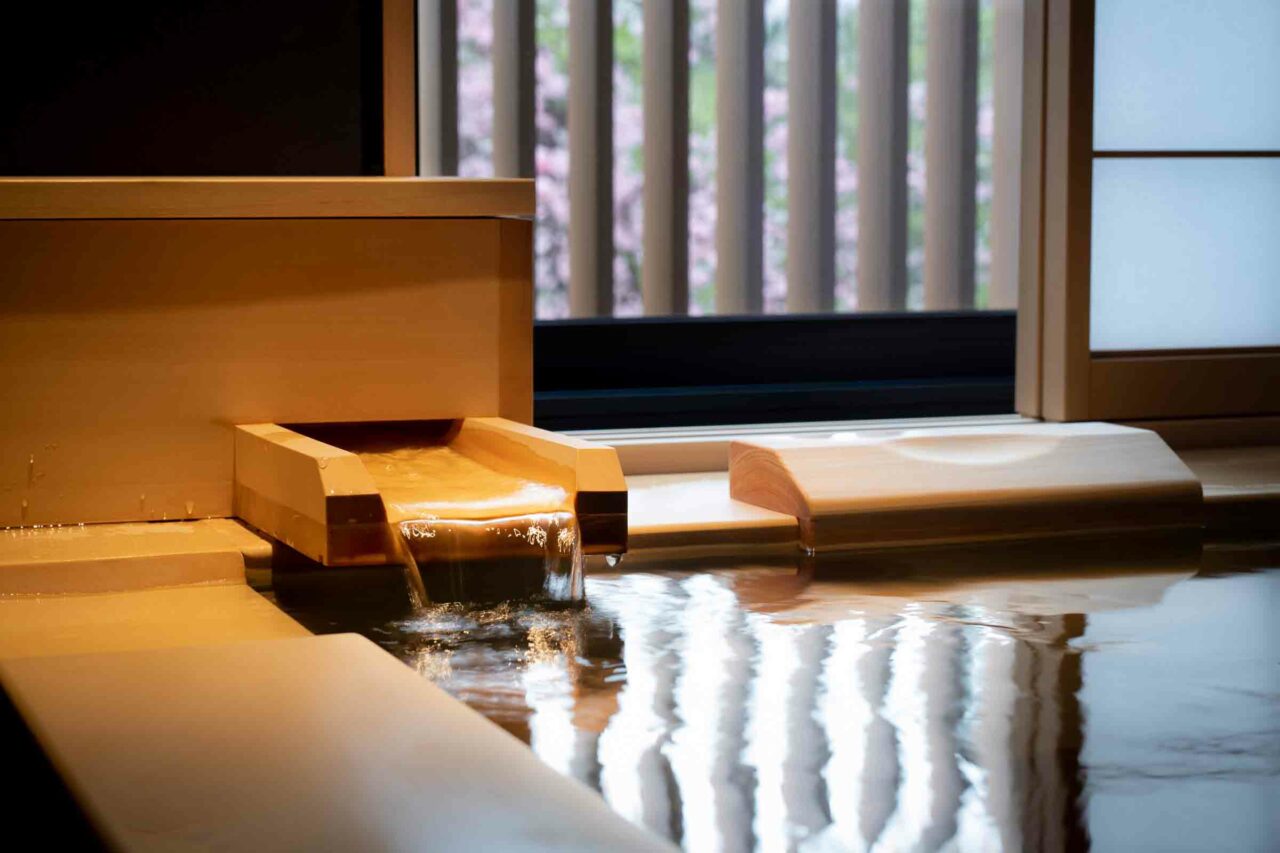 YAEHITOE JAPANESE HOUSE BAR
Before dinner, we made a short detour through the hotel garden, down a stone pathway alongside a pond with shimmering water, lit up by lanterns and reflections from the moon. We were headed to YaeHitoe, the hotel's Japanese house bar, a wooden pavilion structure created with traditional Japanese architecture. 
A single red lantern guides visitors to the entrance of the small square building, it's red glow against the wooden facade of the square pavilion creating anticipation and intrigue. As we enter, Sommelier Mai Horie greets us, as she explains her passionate curation of Japanese saké, their own FUFU produced whiskey and various cocktails and liquors. Her knowledge and expertise guides our choice, as we opt for a glass of Jurakudai Junmai-Daiginyo Yamadanishiki [Sakaki Shuzo] / Kamigyo-Ku. Dry and fruity, Horie-San explains this saké goes perfectly with Japanese dining, also her very own favourite.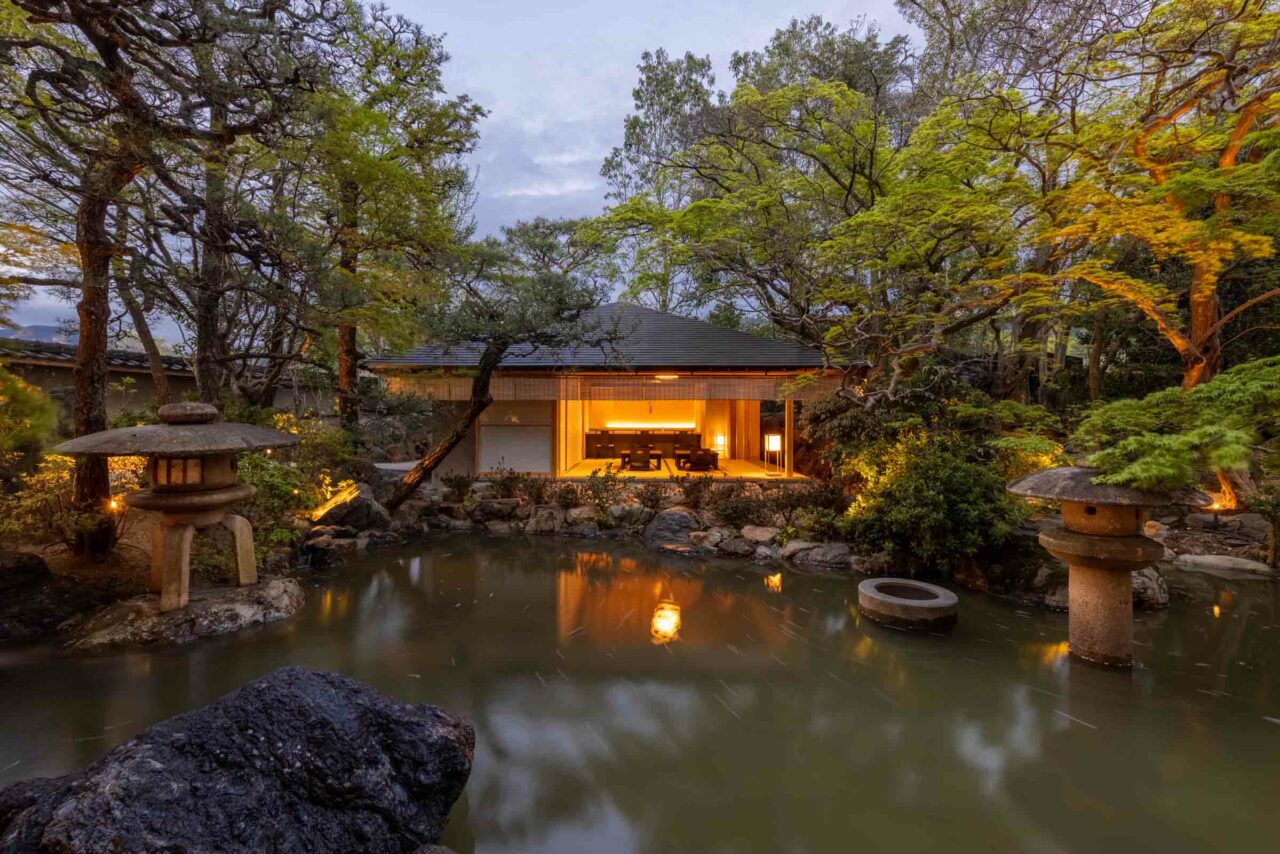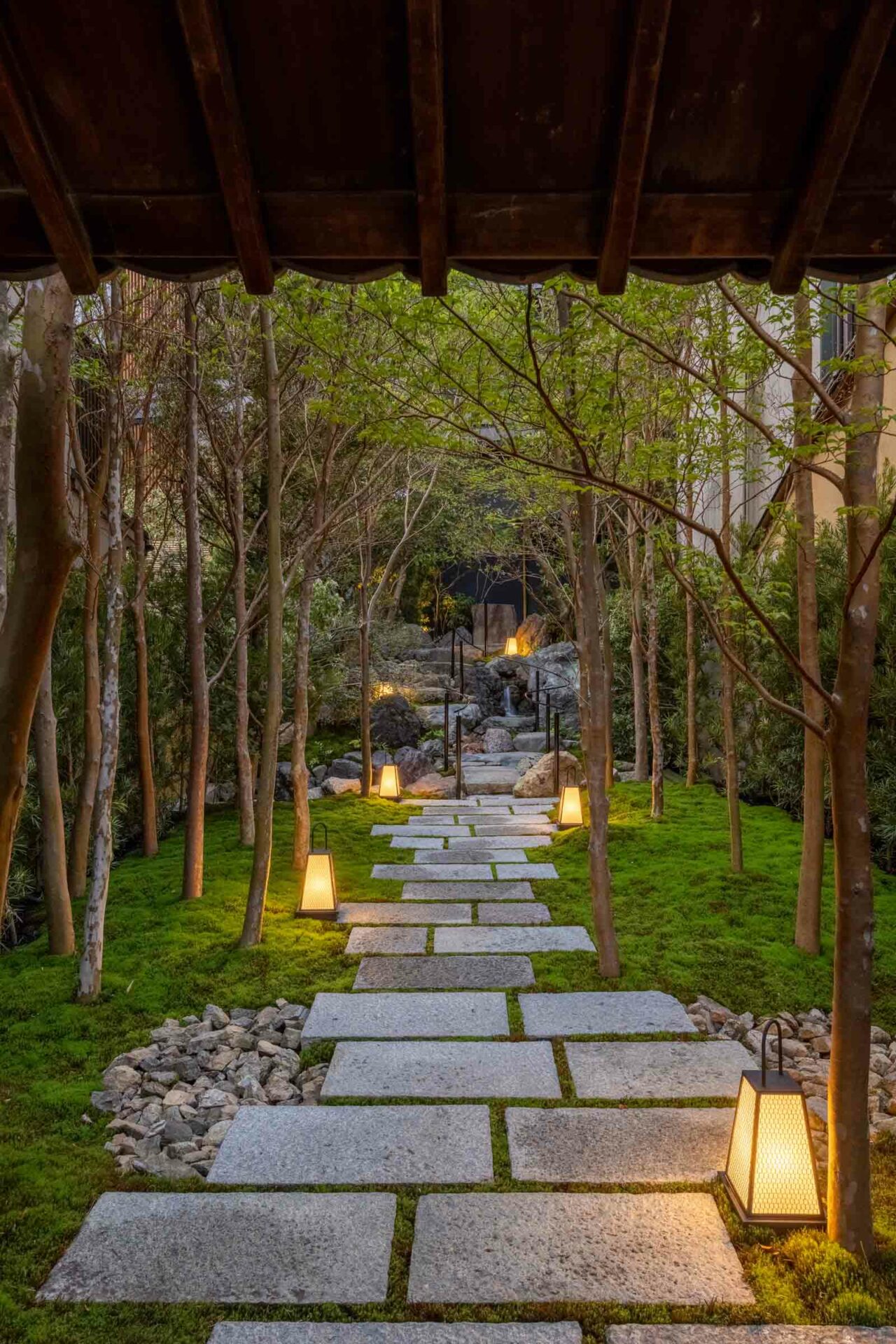 FUFU's own whiskey is a three Scotch whiskey blend, they're very serious about producing good whiskey here. It's aged in American French oak barrel and because of this, a smoky and strong cask flavour is created. We try a quick sample before dinner, it's just as described.
Kyoto-based winemakers Tanba are found on the wine list, as are global producers such as Rockford Wines from our hometown of South Australia (in the renowned Barossa Valley area).
The bar is surrounded by Japanese maple and pine trees which were inherited from the garden before FUFU Kyoto was opened, and their presence creates a wonderful view from the wooden pavilion. The scene changes as the seasons do, creating a moving painting. The bar is open until late, check times daily.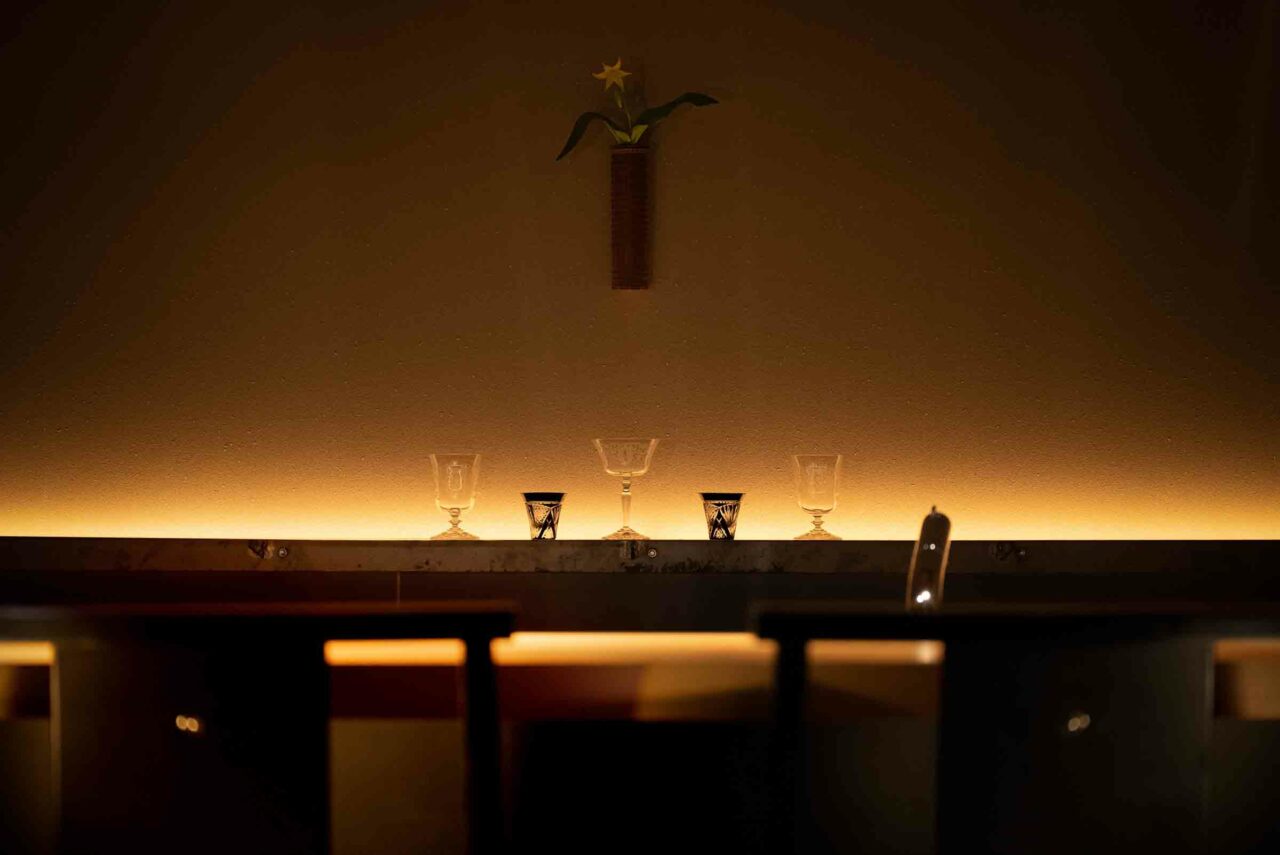 RESTAURANT IOTO 
The on-site restaurant IOTO is an intimate space designed with timber lattice partitioning, a nod to Kyoto's narrow alleyways. The name explains the inviting and warm feeling the restaurant is aiming to create, paired with utmost elegance and sophistication. 
For dinner, expect an exceptional Kaiseki dining course in line as with any of FUFU's restaurants. This is one of the key elements at any FUFU hotel. Overlooking the spectacular garden at FUFU Kyoto, the menu leads with a menu championing peak seasonality and locality with each dish, utilising Kyōyasai, Kyoto-sourced produce and ingredients to heighten all the senses when dining. Kyōyasai is the term for heirloom vegetables originating in Japan's Kyoto Prefecture. They are unique in shape, have vivid colours and it's stated more minerals, fibres and vitamins than many other vegetables.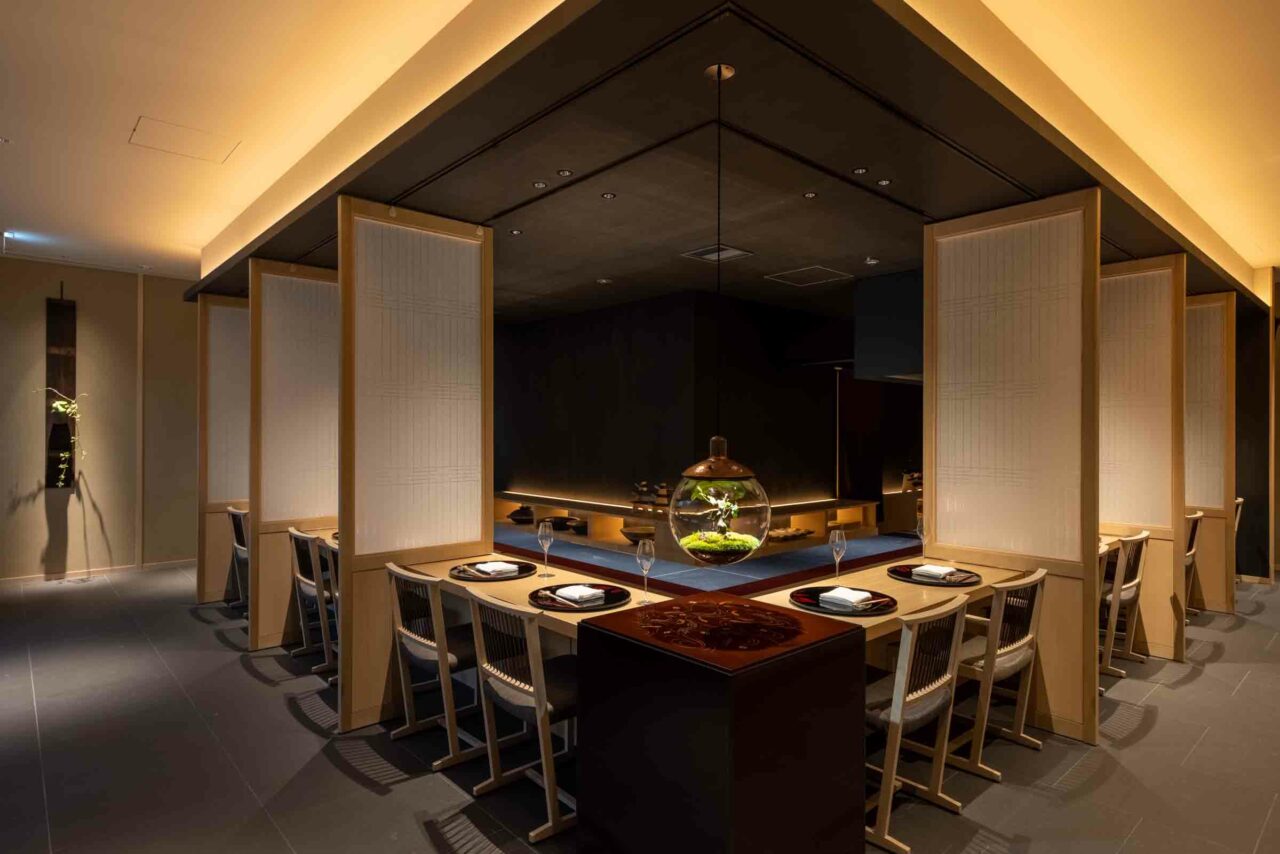 The 8-course Kaiseki is a wonderful seasonal journey through Kyoto via the senses. For our dining experience's drinks pairing, we selected the Kyoto Pairing Selection, highlighting the best artisans from Kyoto (such as Tanba wine, producing wine in the city). Starting with a Kyoto Saga Mizuo-YUZU Sparkling Cocktail, we admire the details of our surrounding space. The tones matching the tableware – specially-selected ceramics – soon to come out. 
The appetiser, Kyo No Megumi, highlights a range of small dishes (grilled eel, anchovy butter-fried prawn, Kyoto tomato, Yamashina aubergine, Japanese pumpkin) with four sauces: Uji Matcha sauce, Pepper vinegar miso, Carrot dressing and Japanese pepper and sesame sauce. Next in the Kaiseki dinner, OWAN. The Japanese soup with Jew's mallow, sweetcorn and scallop dumpling, wax gourd and yuzu is a delight. The textures combines create a very rounded dish. 
OTSUKARI follows: sashimi and grilled seafood. Here we try specially-selected fish such as pike conger and squaretail, tuna and swordtail squid with Tsukuri-joyu soy sauce and Japanese plum shoyu. The flavours are delicate, a pleasure to eat. 
The seasonal platter (FUCHIDAKA) follows in the Kaiseki order, followed by charcoal grilled cuisine (SUMI) of grilled seabass seasoned with Japanese pepper. The signature dish of FUFU is to play with fire, so the grilled seabass really shines.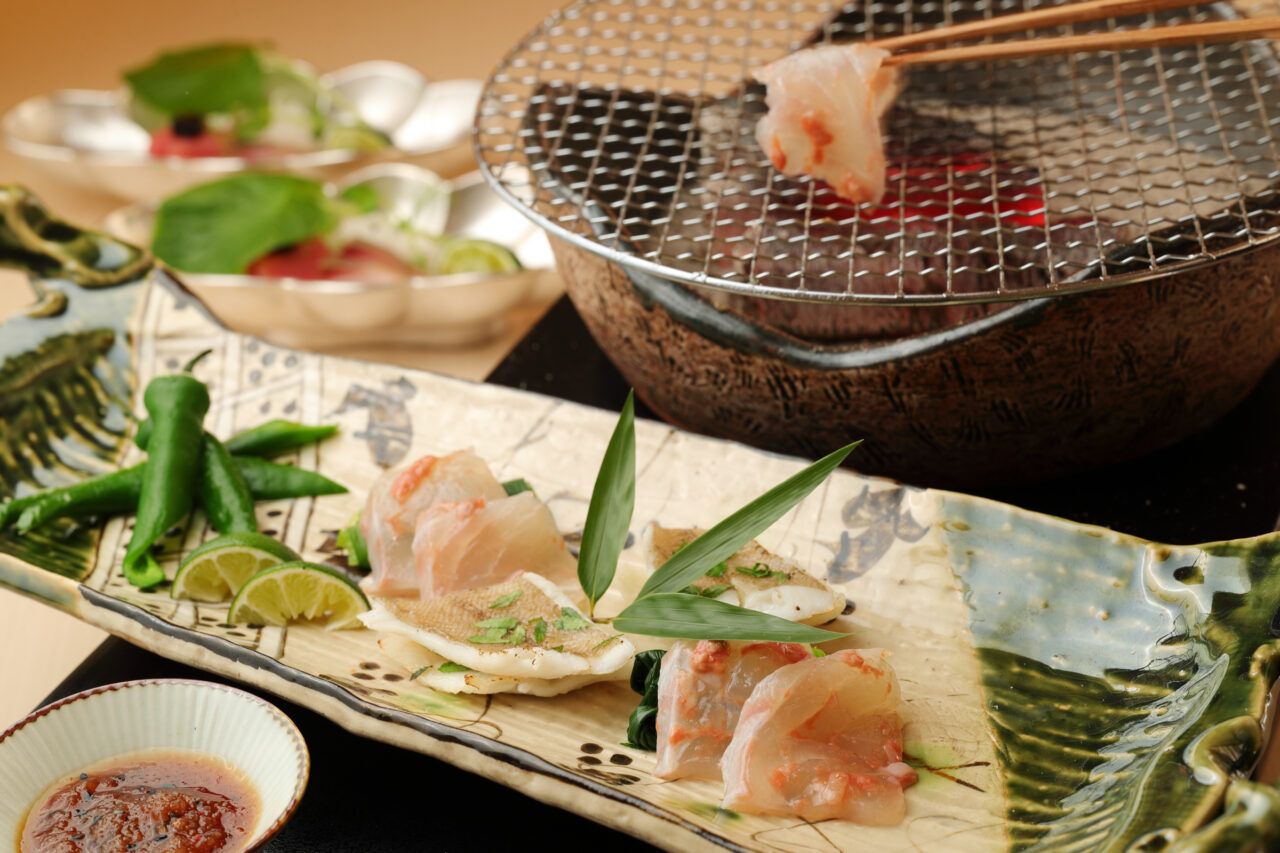 The NABE hotpot of Japanese Black Wagyu beef with gluten cake, onion and watercress is next, served in a traditionally-made thick clay pot. FUFU's original seven spice seasoning is optional, which we try, and it really lifts the dish to new levels.
The SHOKUJI dish of rice, soup and pickles is an unexpected treat. The rice is steamed to perfection, adding asparagus and bay scallop into its combination. The aka-miso soup with Japanese Nameko mushroom and onion blends all flavours into unison. Simple, perfect.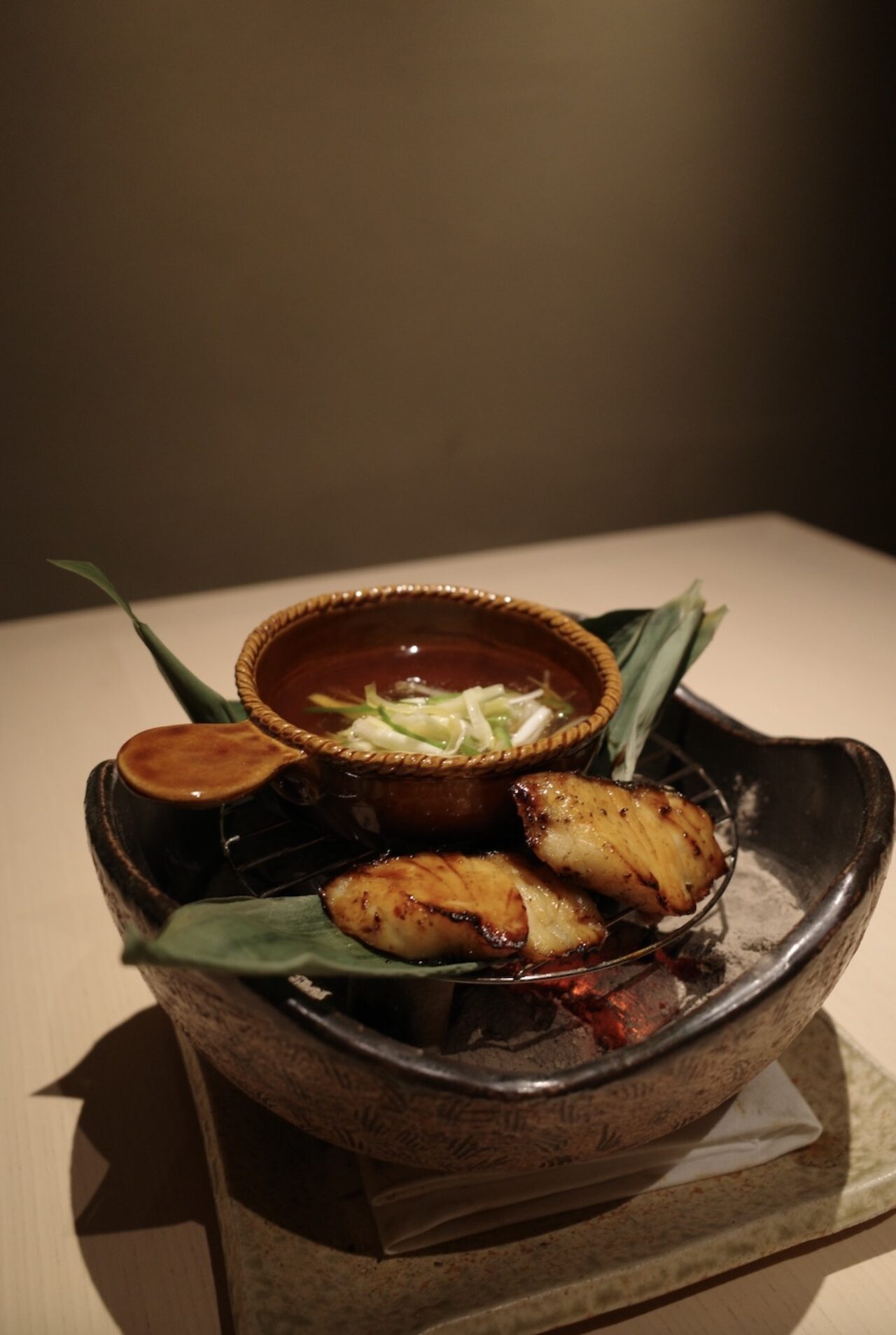 Dessert (MIZUGASHI) ends our dining experience with content. Cointreau ice with Warabi mochi (seasonal, our favourite) Soy milk pudding and melon is a brilliant combination, refreshing and uplifting. 
Kyoto-based Tanba winery is the highlighted producer for the rest of our wine pairings. We try the 2019 Pinot Blanc, followed by the 2021 Pinot Gris, ending with the 2016 Tannat. Other wine pairings are available, such as the 'Seasonal Pairing' introducing not only Japanese producers but the best from Burgundy, France – in addition to wine able to be ordered by the glass.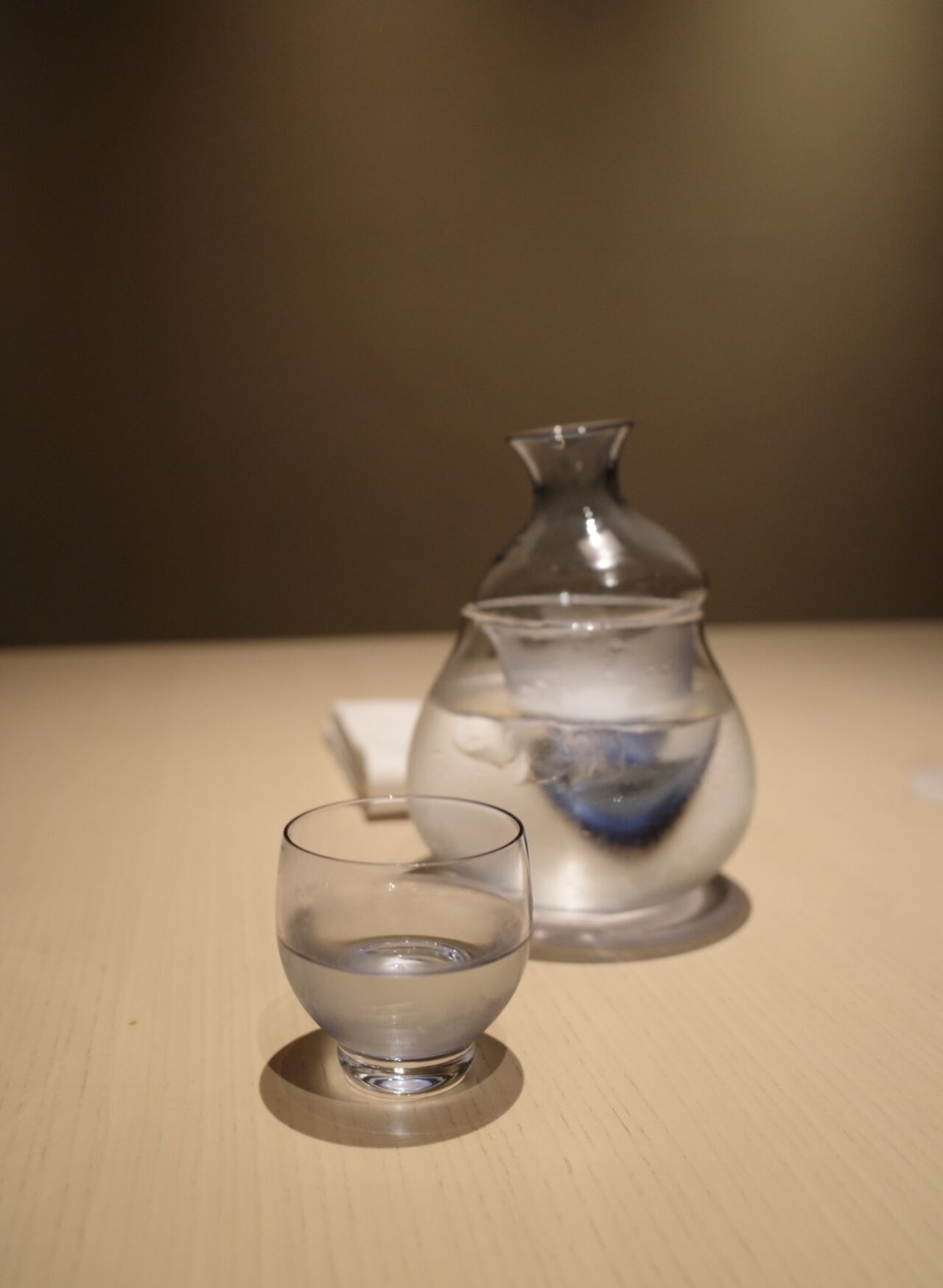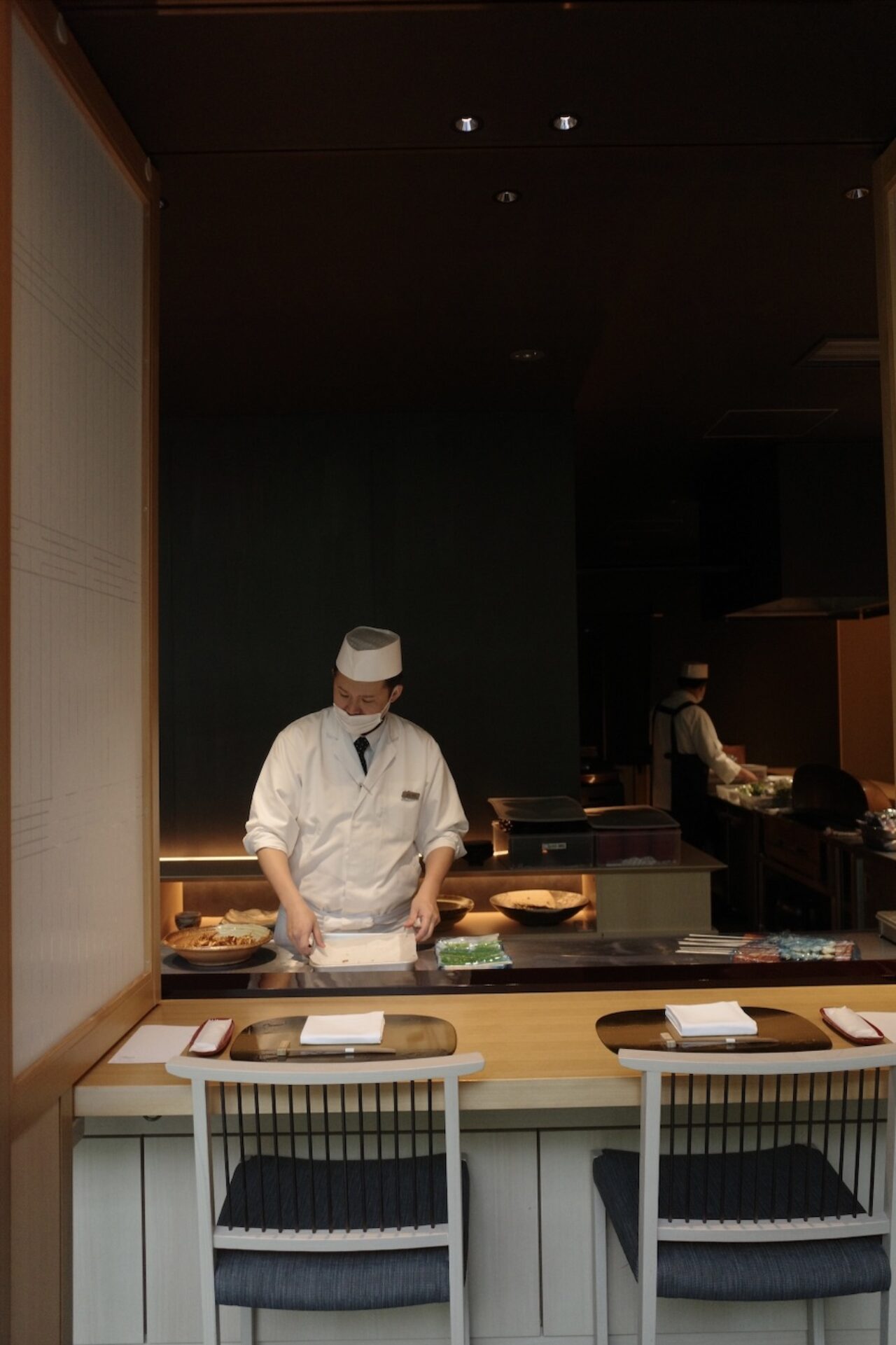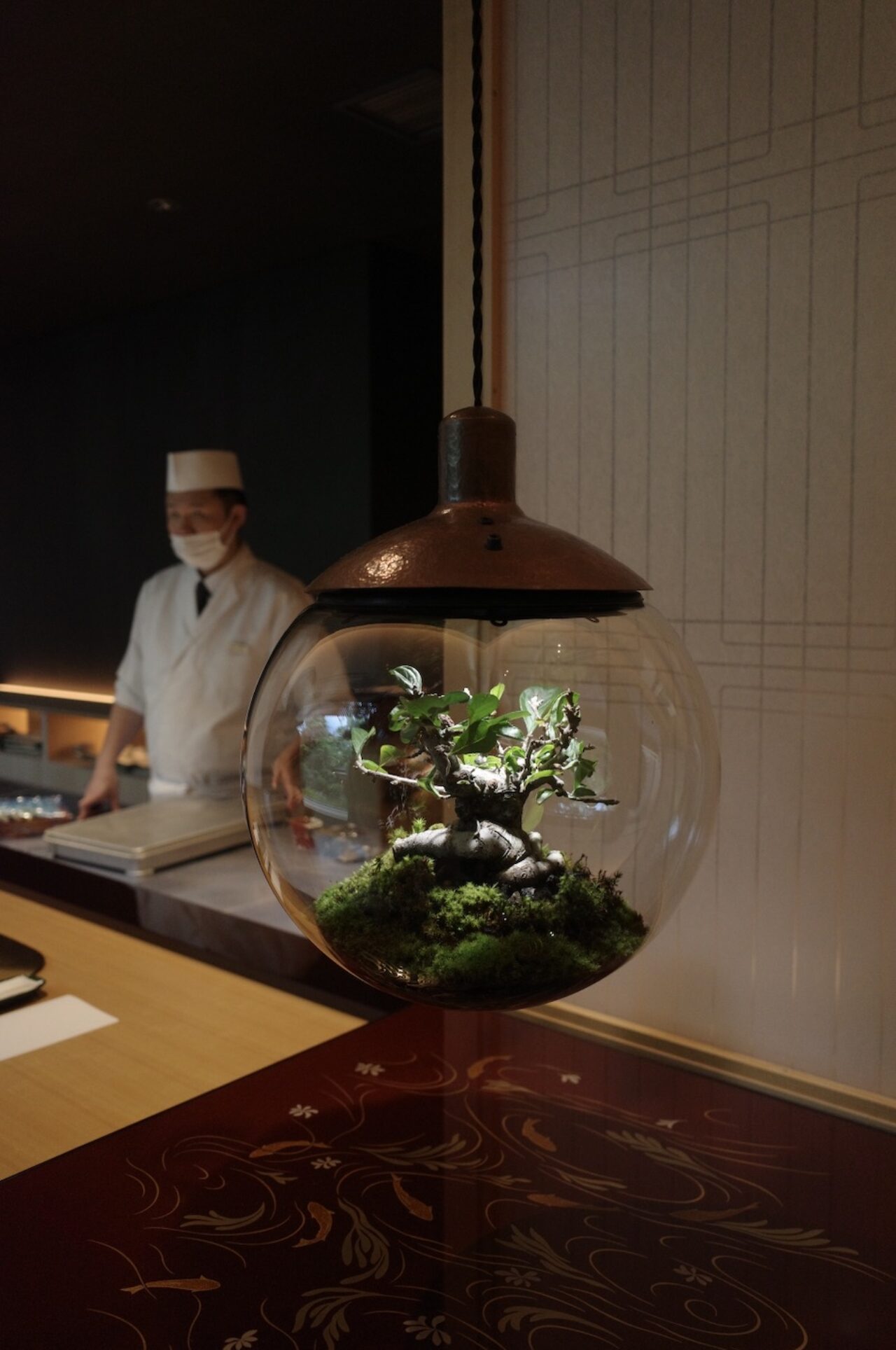 IOTO can seat up to 10 people and can accommodate any age. The restaurant's design is what makes the experience intimate, with bamboo partitioning creating privacy and personal space for each diner.
At the chef's table, a stunning bonsai sits peacefully alone, another reference to Japan's beautiful art forms. It's a feature piece for the restaurant, and makes quite an impression. Being indoors, the upkeep of the bonsai isn't easy, with a bonsai specialist coming every 2 weeks to maintain the sculpture.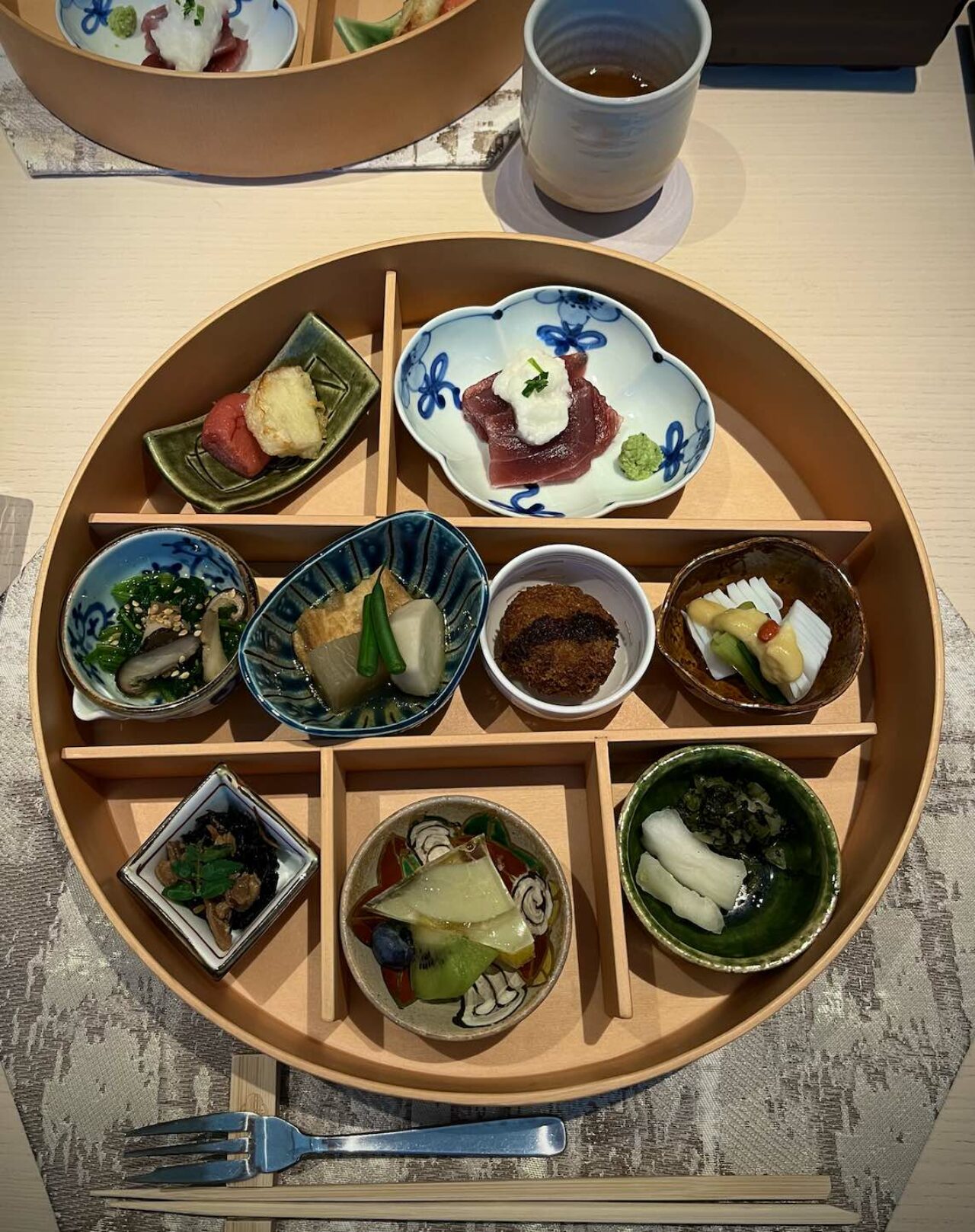 BREAKFAST 
Breakfast, designed by IOTO Head Chef Haruhiko Hoshino, is intended to being good luck and fortune for FUFU guests.
For breakfast, guests enjoy "Fukuezen' a circular, traditionally lacquered box with various dishes. The menu is constructed in four parts, Kuchitori (cold platter), Onnomono (warm dish), Antojiro (soup) and Shokuji (rice), and the four tiers are a wonderful journey through local Kyōyasai produce yet again. 
The Kuchitori is comprised of multiple small dishes in a stunning bento box custom to FUFU. Combinations such as 'tuna sashimi served with yam, seaweed and wasabi', 'simmered tuna with black seaweed salad' and 'Japanese plum-infused perilla leaf flavoured fish cake' are not only delicious, but equally as colourful and pleasing to the eye. We particularly loved the 'marinated deep fried sea bass', and seasonal 'grilled vegetables' full of flavour, kept pure and texture-heavy. 
Next is the warm dish, Onnomono: 'grilled halibut with Japanese rolled omelet made with dashi'. Typical rice of Kyoto, Koshihikari, is served with Japanese miso paste in a traditional Japanese dark glazed clay pot. This is the Shokuji section or rice. Simple. Fluffy. Perfect. 
The Antojiru section of soup made up of beancurd, tofu, konjac, burdock root, pork, lotus root, daikon radish, karashi mustard and ponzu sauce. Creamy and golden, this nutrient-rich dish, served in a thick ceramic bowl, was a personal highlight for us. Simply divine. The combination of ingredients created a treat for the senses, with the diversity of produce creating a very unique soup, rounding out the breakfast experience. 
THE VERDICT 
We will be back! Everything about FUFU Kyoto is quintessentially Kyoto, but extremely unique at the same time. 
The hotel interiors merging traditional Japanese aesthetics with contemporary style – by Saiun Design – are what make the hotel so interesting and comfortable to stay at. 
The intimate, quiet area of the hotel's location, along with its preserved heritage features such as maple trees and garden, create an authentic feeling of Kyoto. Combined with FUFU's unmatchable hospitality, the experience here makes such an impression on guests, it is something that stays with guests long after they have left the hotel. Us included, we are still thinking about every considered detail of the hotel and its warm, welcoming staff.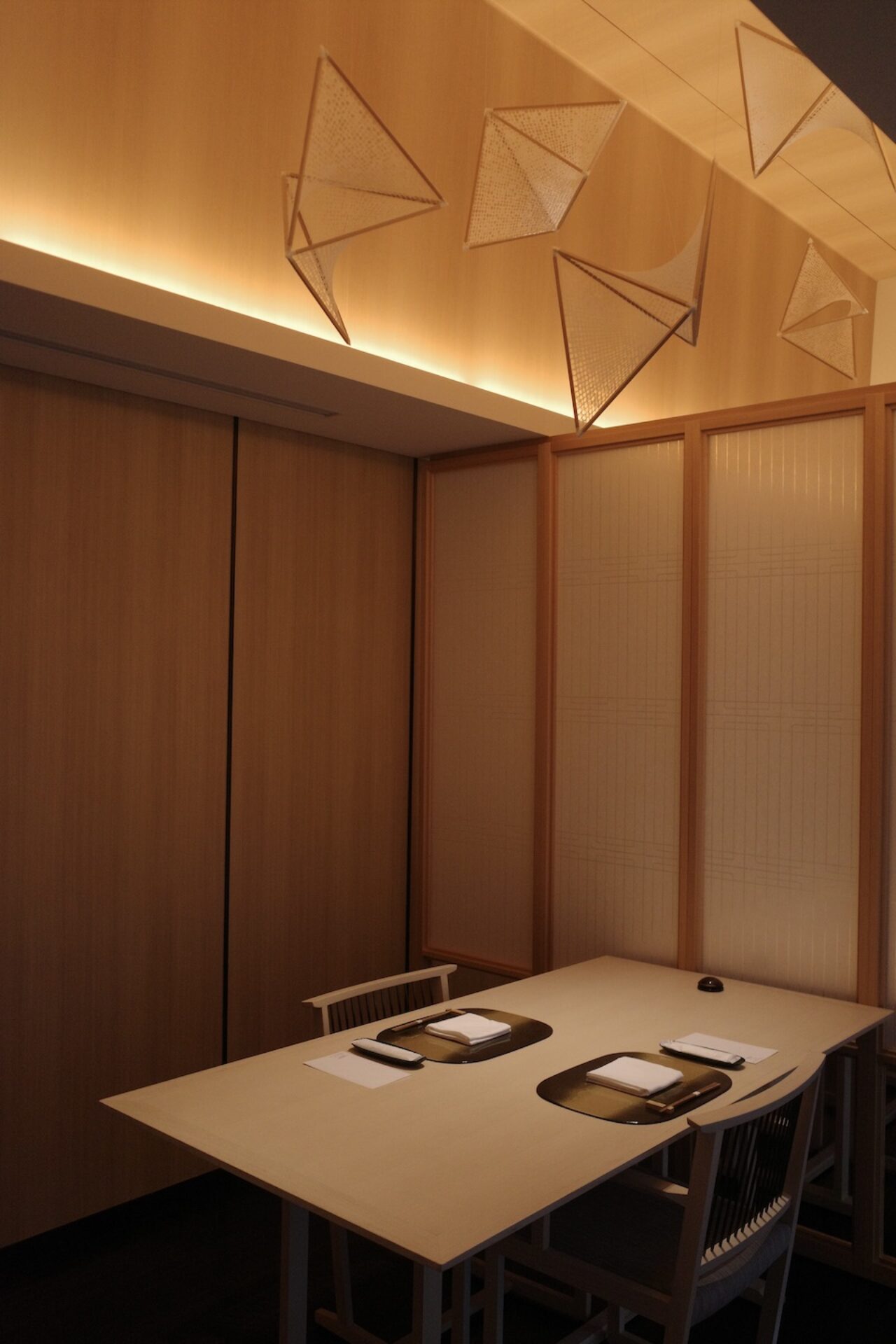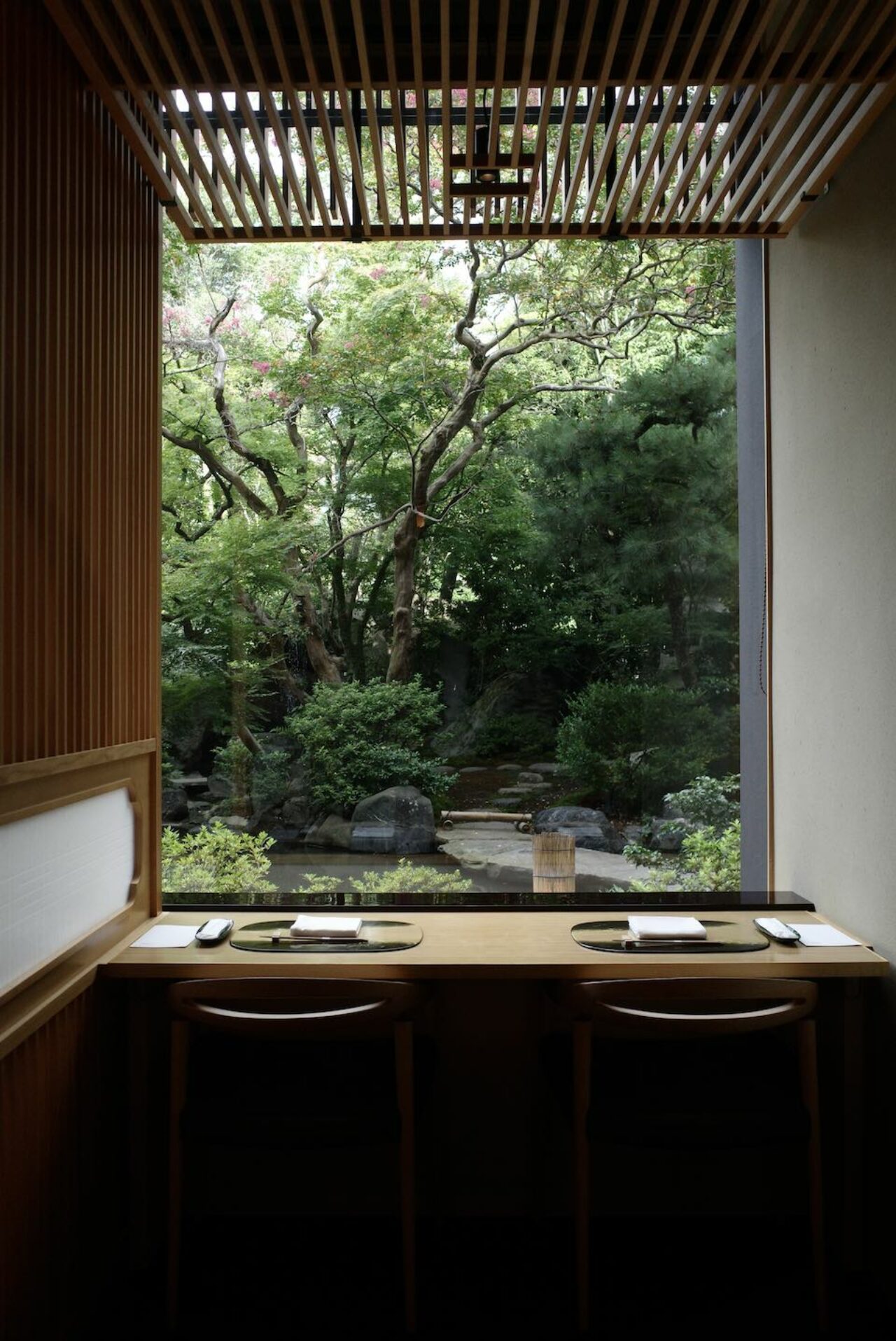 FUFU KYOTO
41 Nanzenji kusagawa-cho,
Kyoto Sakyo-ku, Kyoto, 606-8437
Text: Monique Kawecki
Images: As credited, FUFU Kyoto and Champ Magazine©