KUMU KANAZAWA
Architect Yusuke Seki Transforms A Former Office Building Into A Design-led Boutique Hotel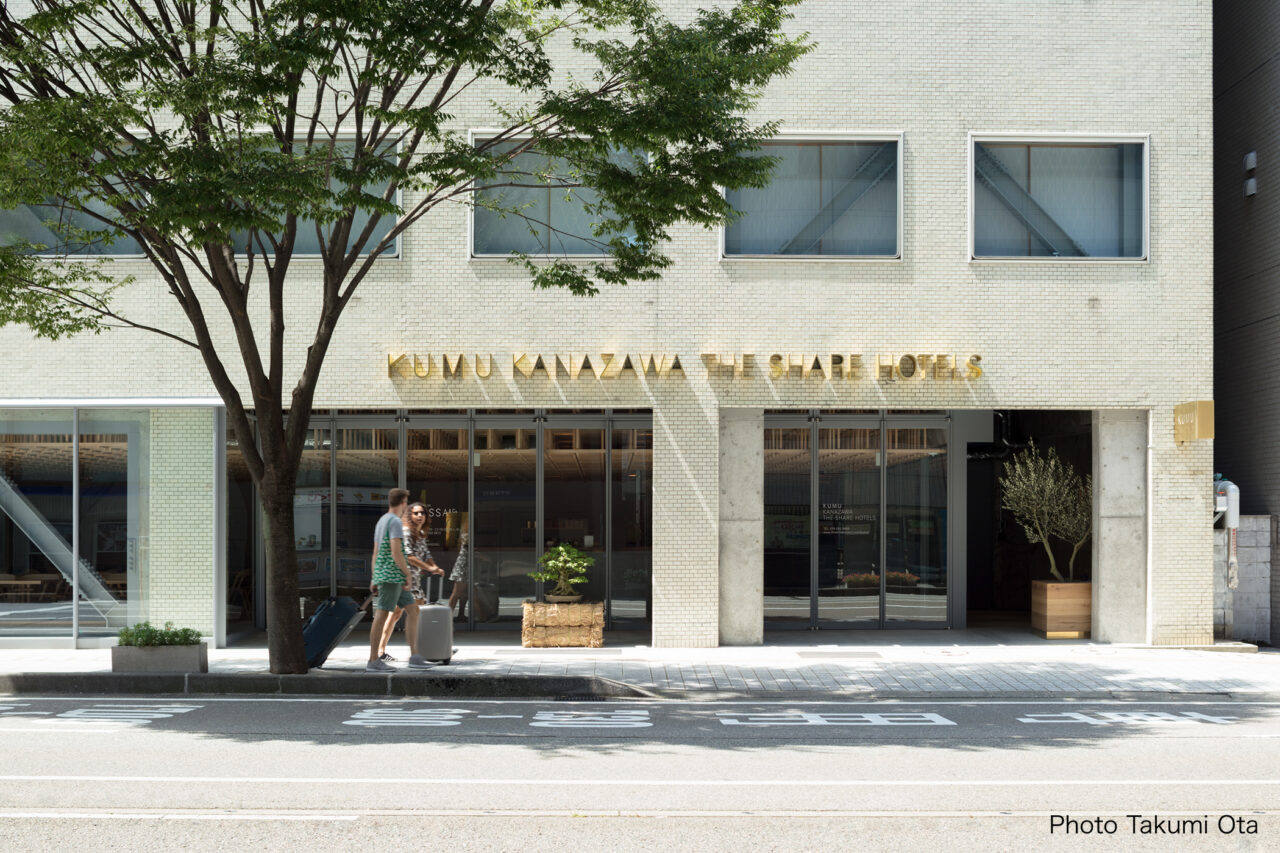 In Kanazawa, find a design-led boutique hotel that is one of the cities best destinations led by its stellar interior, local charm and excellent positioning. KUMU KANAZAWA, part of exciting The Share Hotels Group, leads with an unassuming design excellence that merges contemporary design with local connectivity. As a former office building, architect Yusuke Seki renovated the former office building with a modern grid-led timber interior complimented by its existing structural concrete pillars and tiled corners, adding a charm and originality to the space. 
KUMU, a Japanese term filled with numerous nuances, can express to join (組む), to draw out (汲む), or to pour (酌む) relates to the connections between people and places, empathy, and the spirit of hospitality. Such diverse moments can be found throughout the hotel, starting at the entrance with KUMU's small gallery / retail space showcasing locally-made items and exhibiting works of local artists. It's a petite area, but one that is unique to the city and only found at KUMU. The adjacent reception area allows you to not only check-in, but converse with KUMU's knowledgeable staff who are more than happy to advise you on the city's best eats, galleries and museums. Their friendliness is a genuine depth of kindness that allows you to feel at home and allow you to experience the best of the local haunts in Kanazawa. Equally stylish, the indigo-dyed staff are adorned in uniforms led from designer Daigo Adachi, a Kanazawa-based textile designer.
In the same ground floor entrance foyer, find KUMU's main dining area that houses a tea salon Kissa & Co that can be likened to a modern cha-shitsu, specialising in tea. Find local tea varieties such as Kaga twig-roasted tea by GEN GEN AN accompanied by Japanese wagashi sweets by Kanazawa-based TARO. For breakfast in the same dining area, find a stellar offering championing locality and seasonality with KUMU's Morning Plate Menu— Noto ham (additive free), egg, pickled beans and vegetables, croissant and coffee — a perfect start to any day. 
What is most unique about KUMU KANAZAWA is that the captivating timber interior and latticed roof that welcomes you upon entrance is a stunning continuous theme found throughout each of the hotel's floors and 47 guest rooms, . The connectivity is a reflection of the architects intention to draw upon a local context that joins both locals and guests to one another — finding a communal harmony in interconnected spaces. Take for instance the hotel's Tea Tables located on the 3rd and 5th floors, allowing guests to enjoy a moment to relax with a coffee or tea outside of their room in an art-led interior. On the 7th floor, the hotel's rooftop area accommodates yoga, events and spectacular views of the city — a real rarity for most buildings in Japan.
Architect Yusuke Seki has created guest rooms that are compact yet flexible, and allow you a peaceful rest while exploring the city during the day. The custom-designed furniture explores a juxtaposition of textures featuring a velvet blue seating with timber-lined frames, to guest rooms including tatami flooring and latticed-screen windows. Linen robes and room slippers are offered for guests, with the architect's stellar compact room design including custom suspended cupboards allowing for more floor room space. The hotel's dormitory-designed rooms suit families with young children, while the spacious suites accommodate couples and friends. 
Walking past the unassuming hotel, just look for it's stunning bronze-plated signage and its striking grid-like interior ceiling. Even on a rainy Kanazawa morning, the light spectacularly floods through the interior, so cosy you may not want to leave.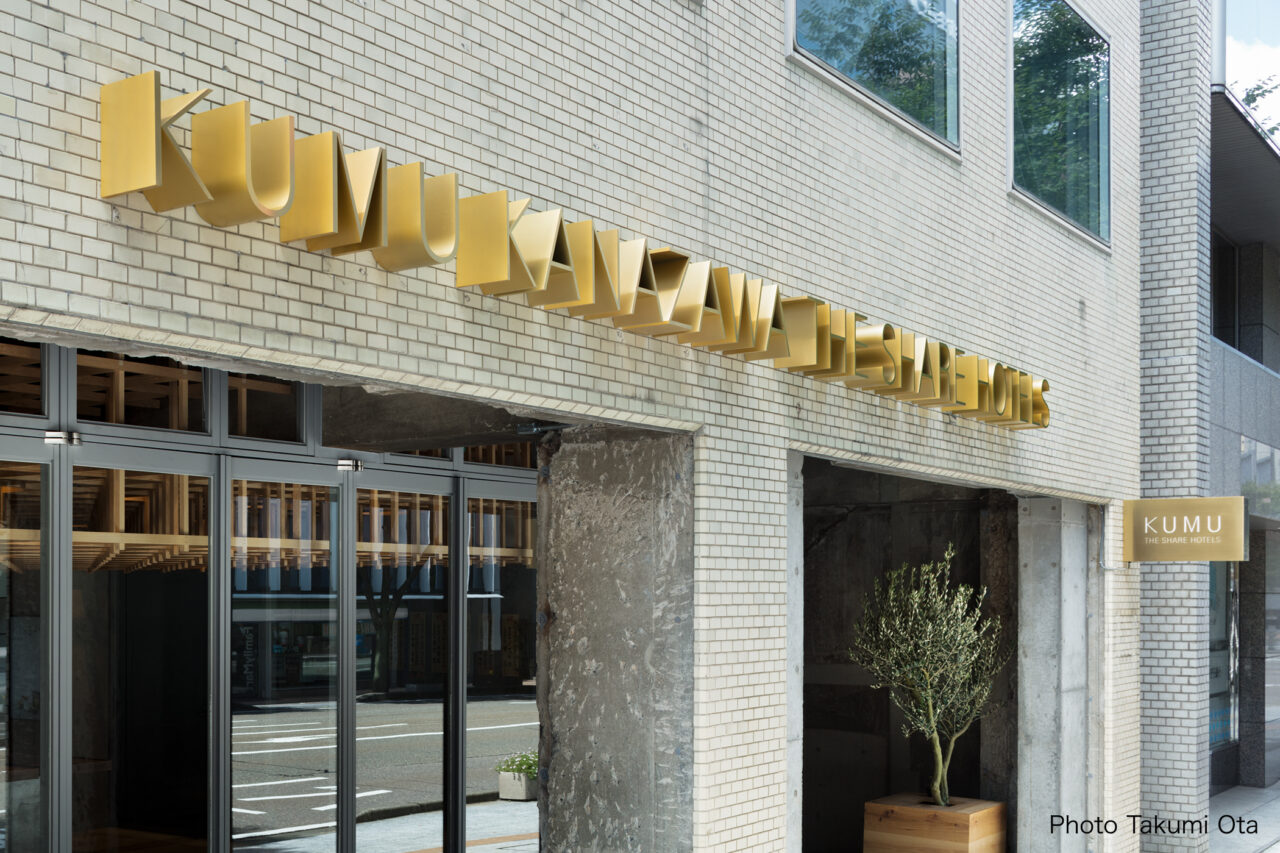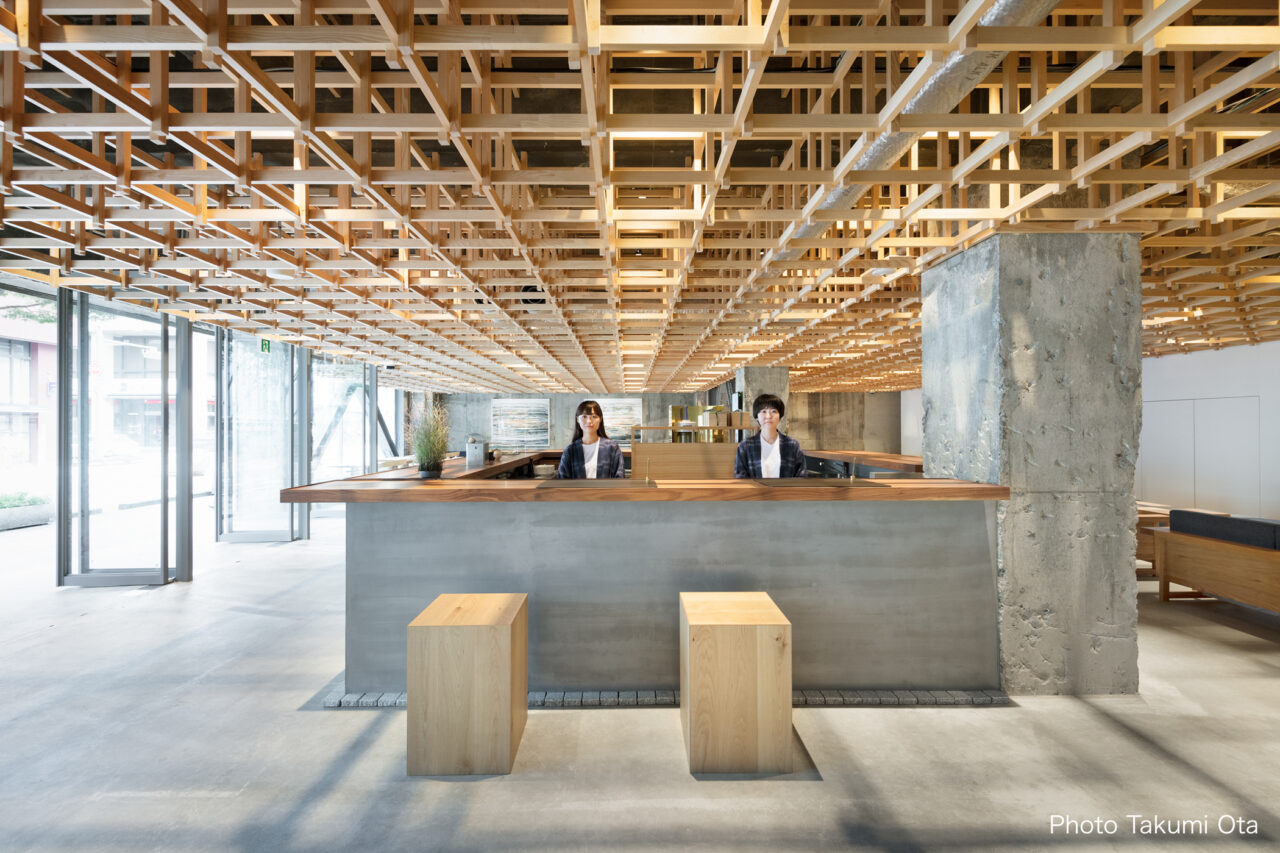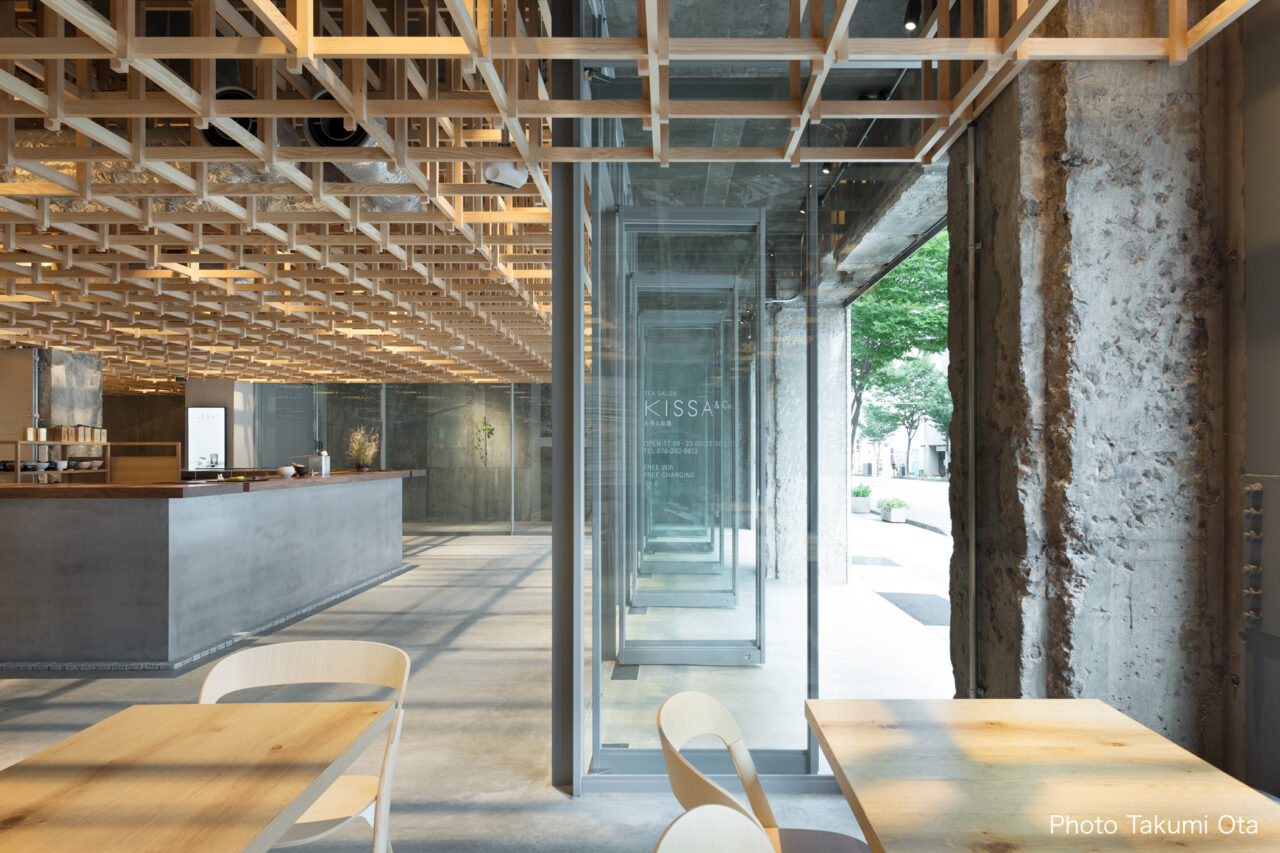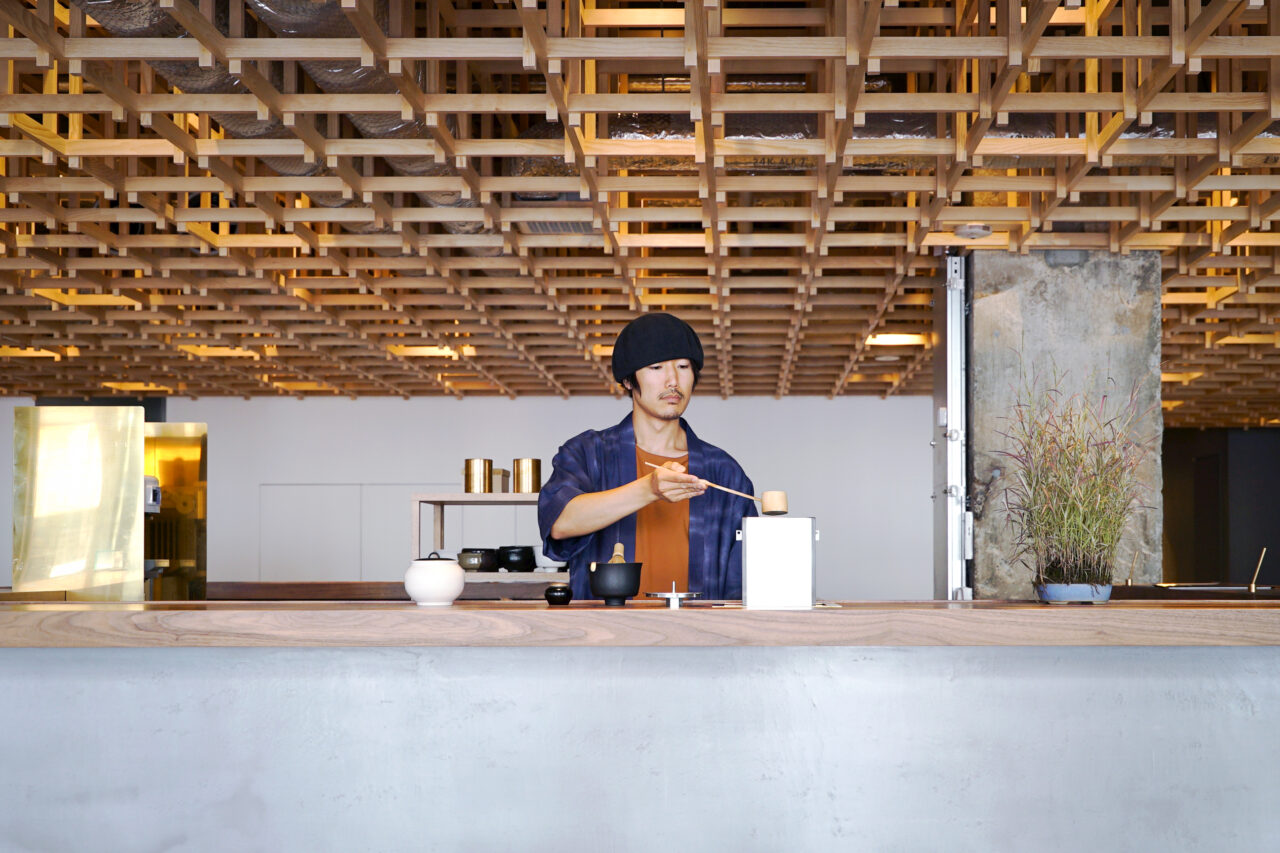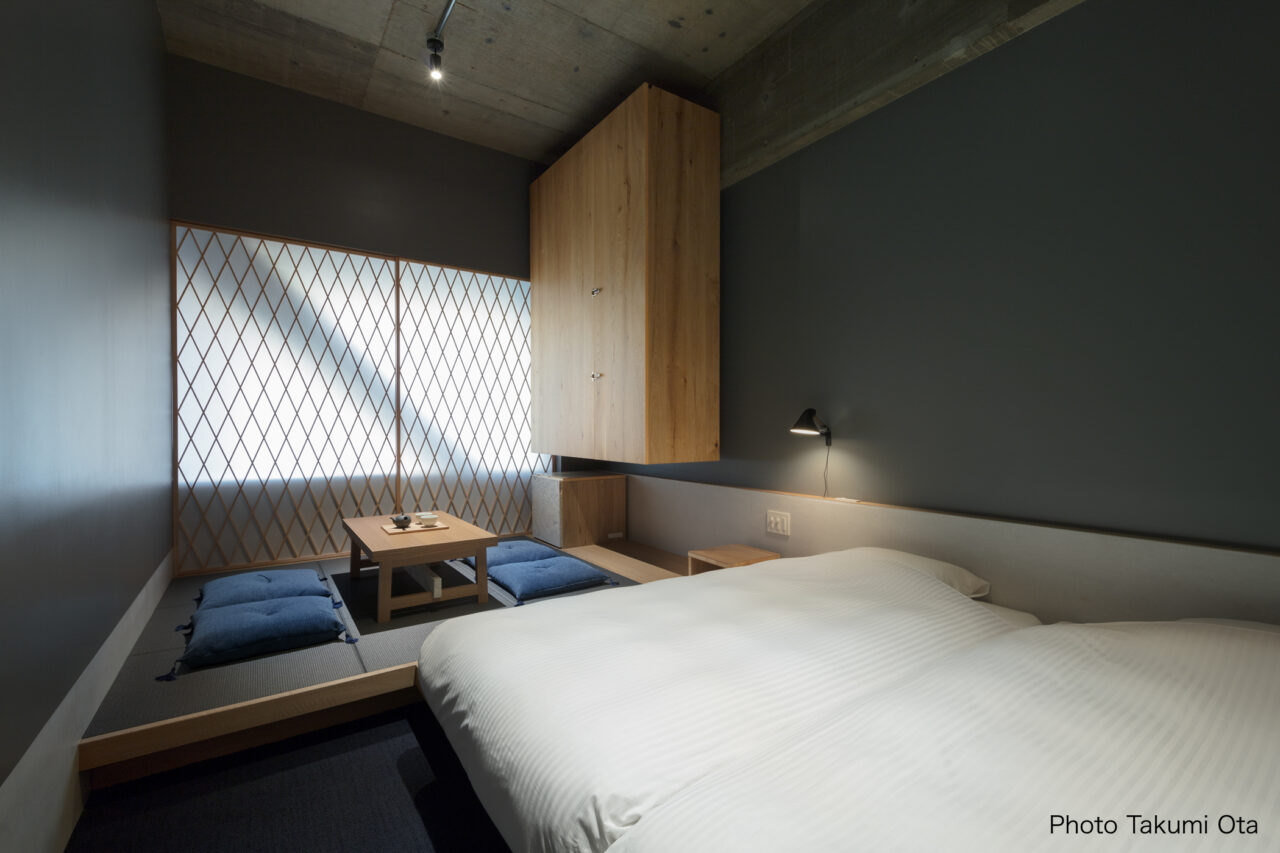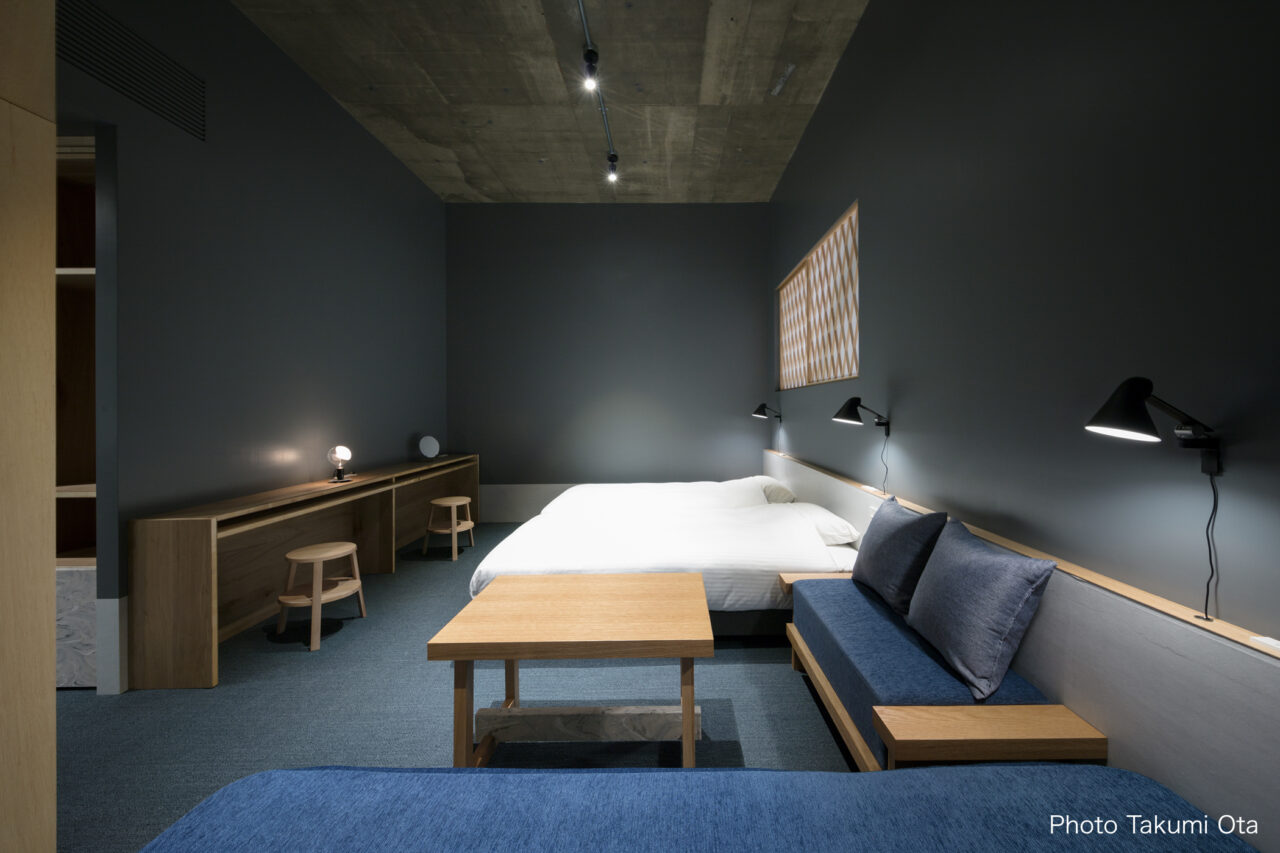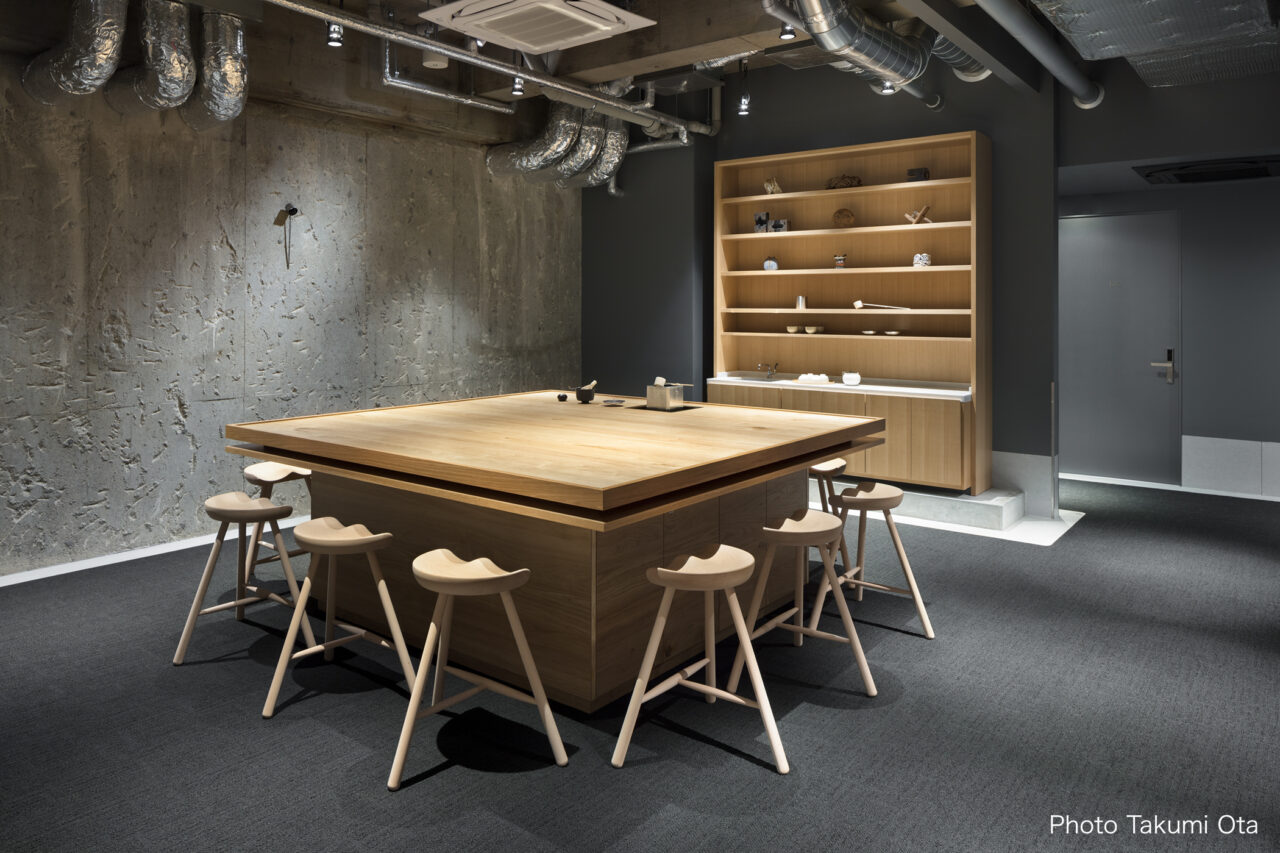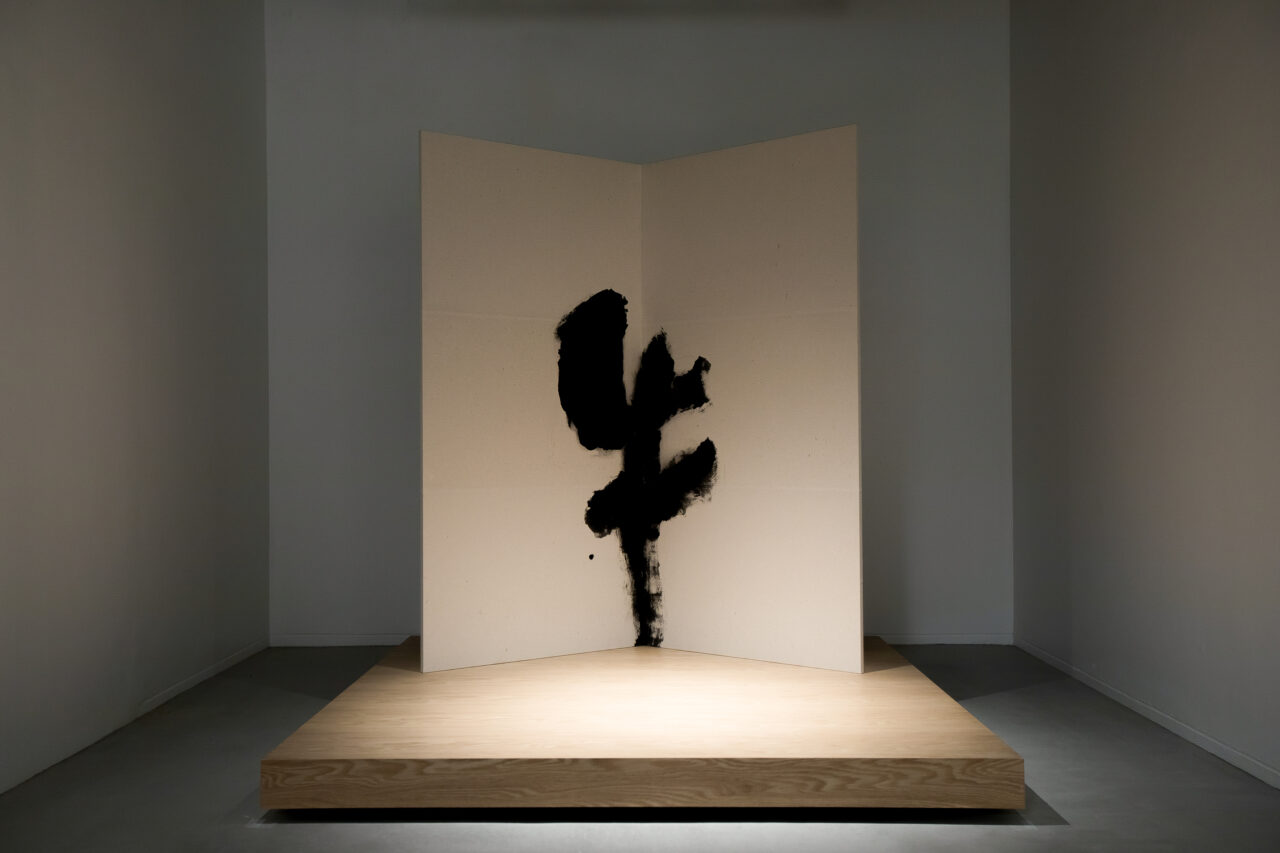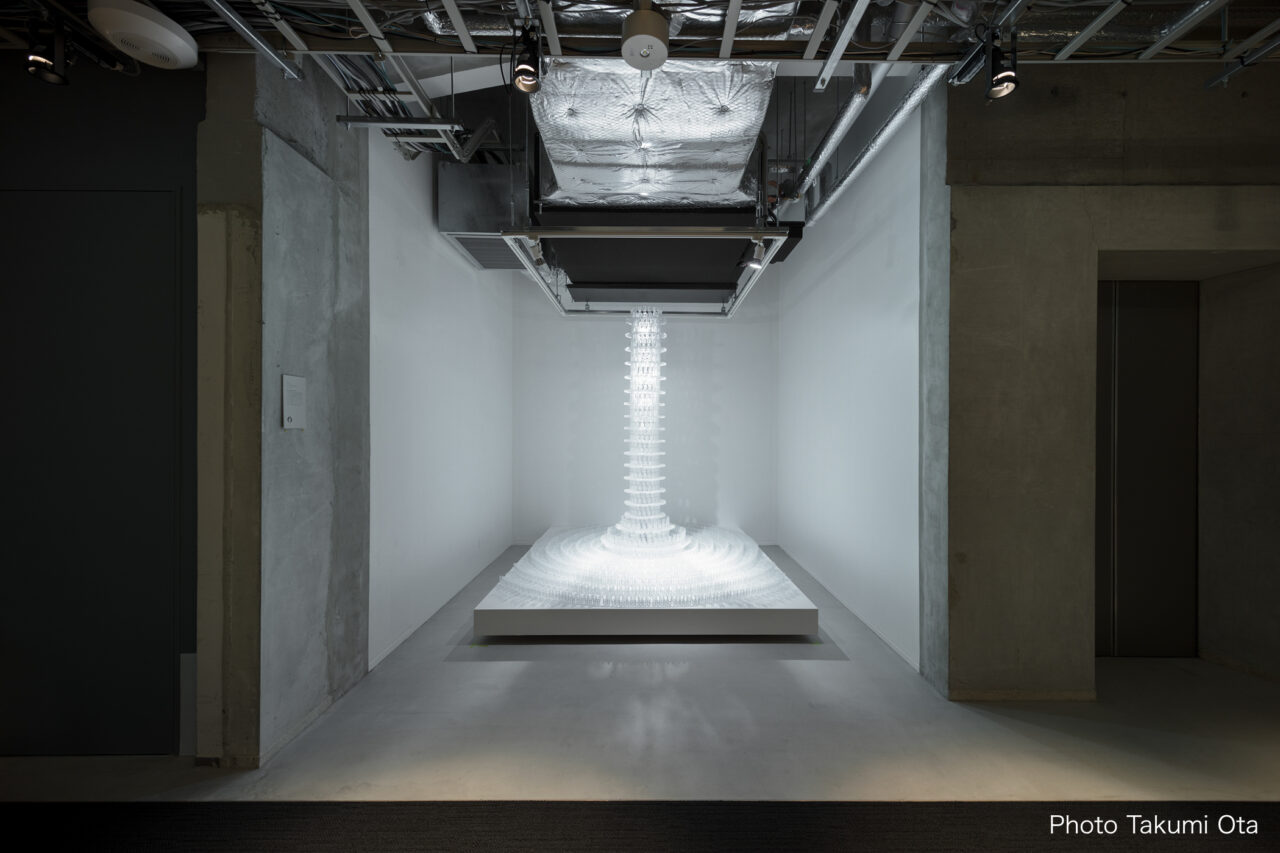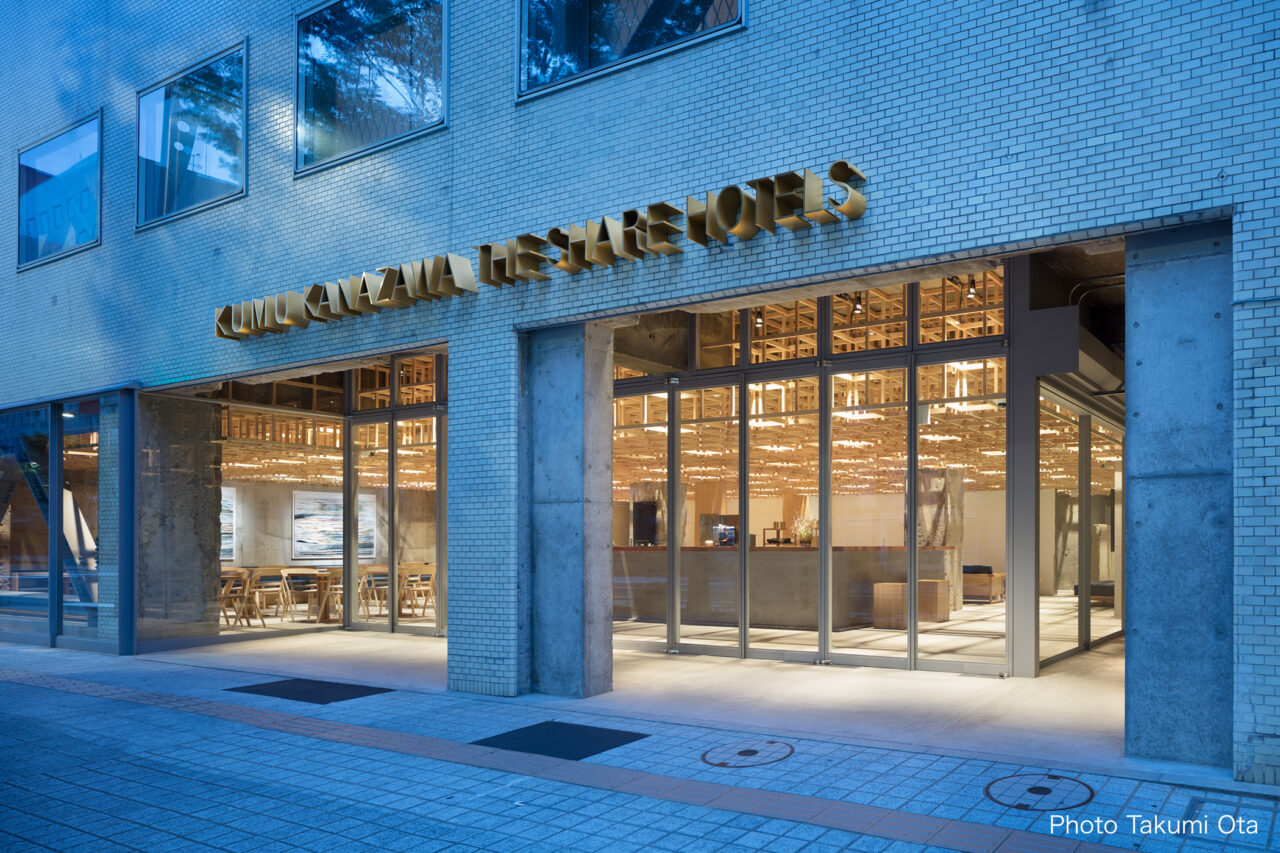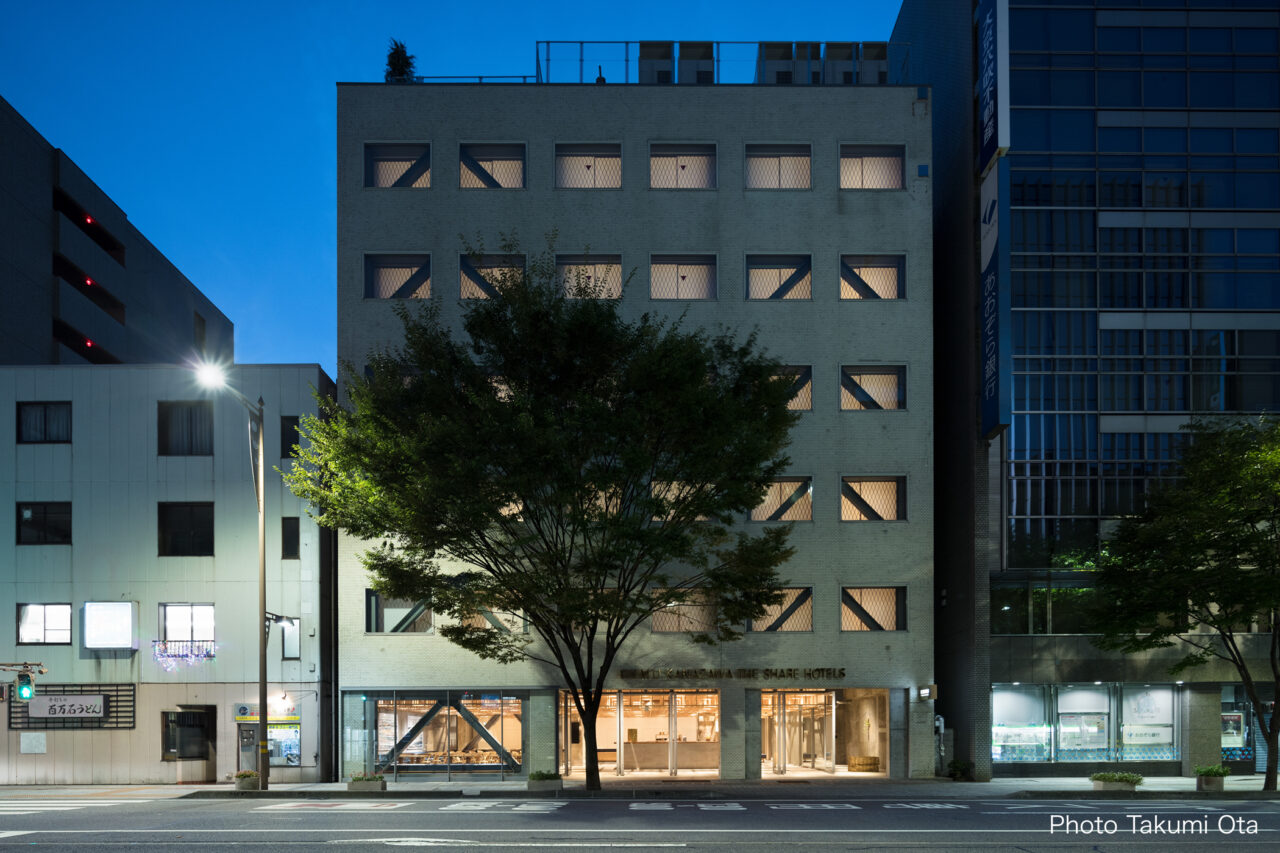 KUMU KANAZAWA
2-40 Kamitsutsumicho, Kanazawa,
Ishikawa 920-0869