KAI SENGOKUHARA
Nature, Art & Regional Craftsmanship At This Luxury Hot Spring Ryokan In Japan's Mountainside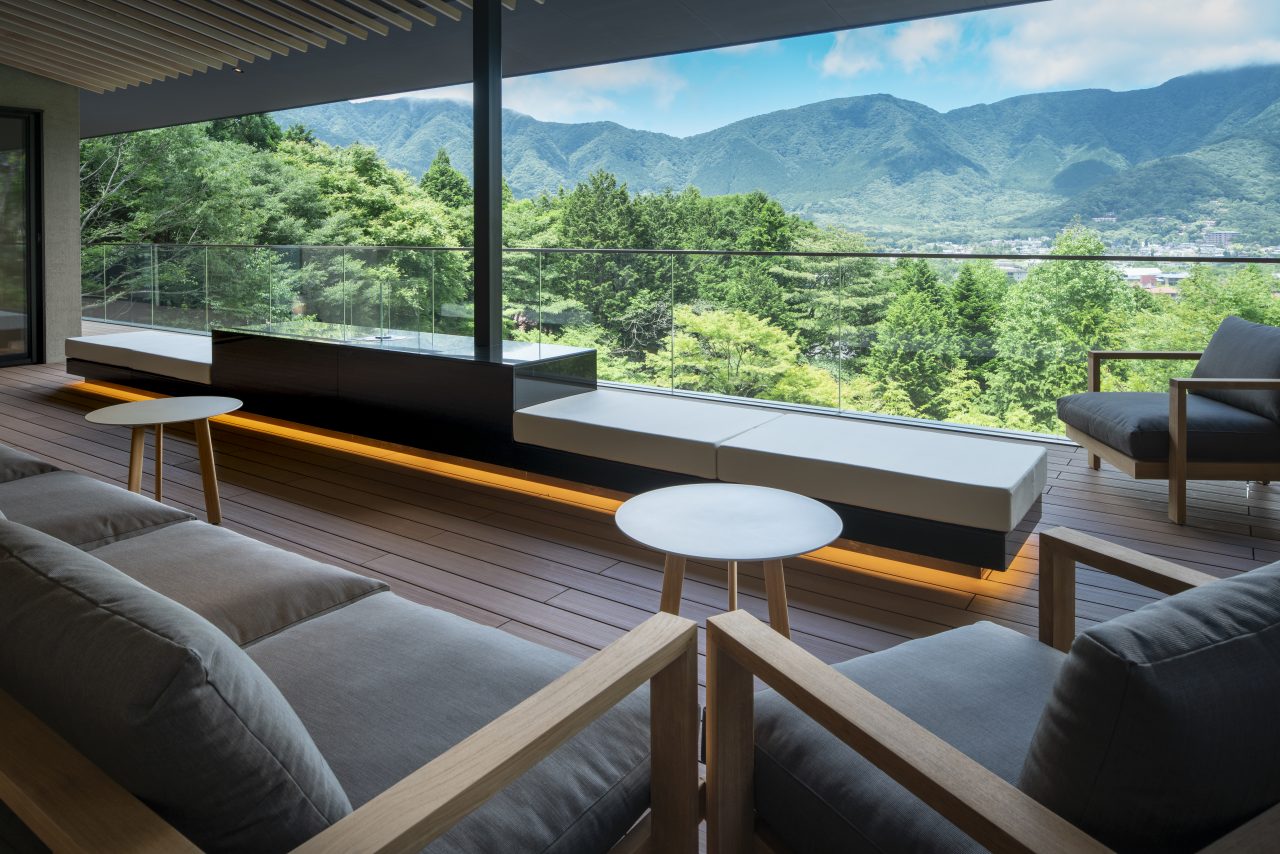 KAI Sengokuhara oozes with an overwhelming sense of tranquility and calm that greets you at the very front entrance. From then, what begins is a spectacular journey into a contemporary hotel stay that places strong emphasis on zen and relaxation.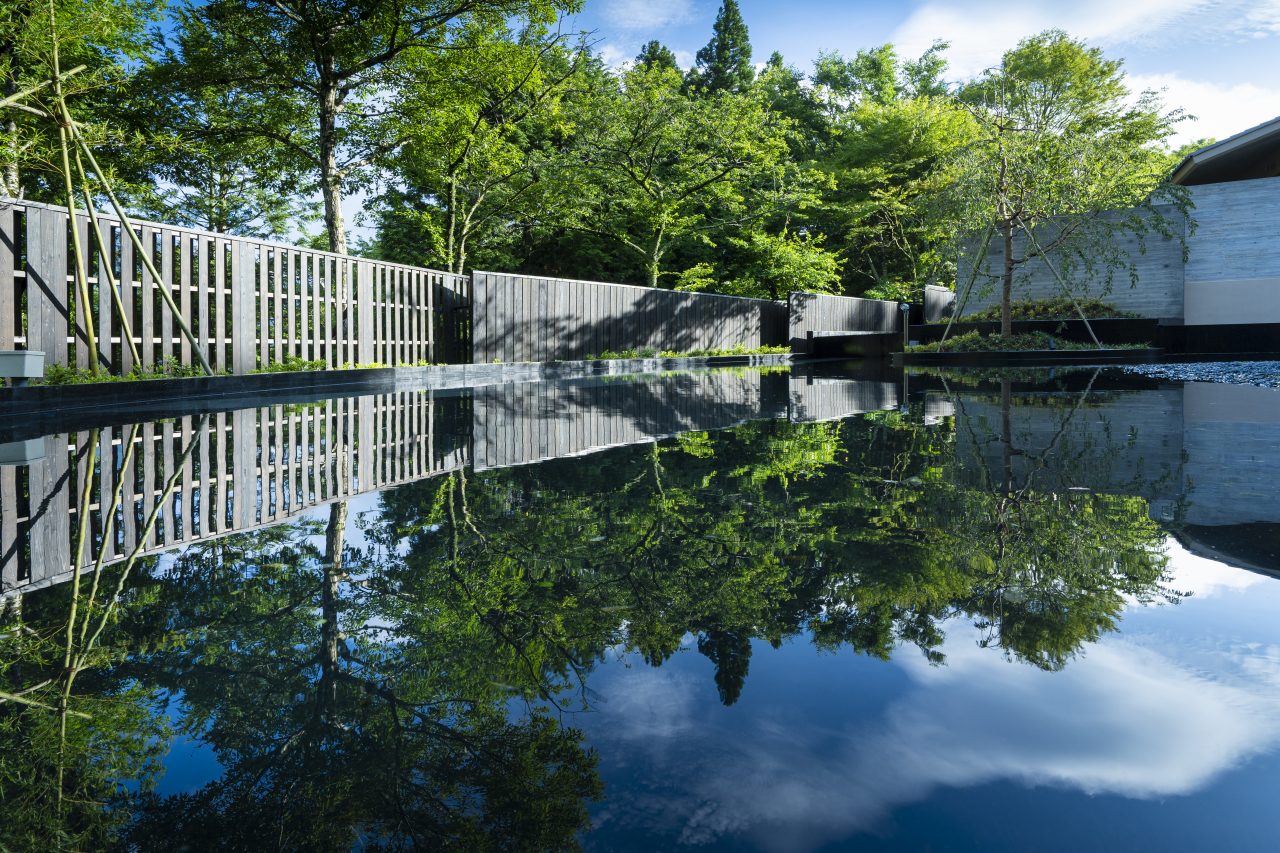 KAI Sengokuhara helms a warm and natural interior, dominant in stone, wood and earth, designed in a modern sense by Hoshino's in-house design team. Heading up an elongated escalator surrounded by golden, wooden panels that allow you to take a moment to adjust your senses – it seems like you truly could be going up into a heavenly space.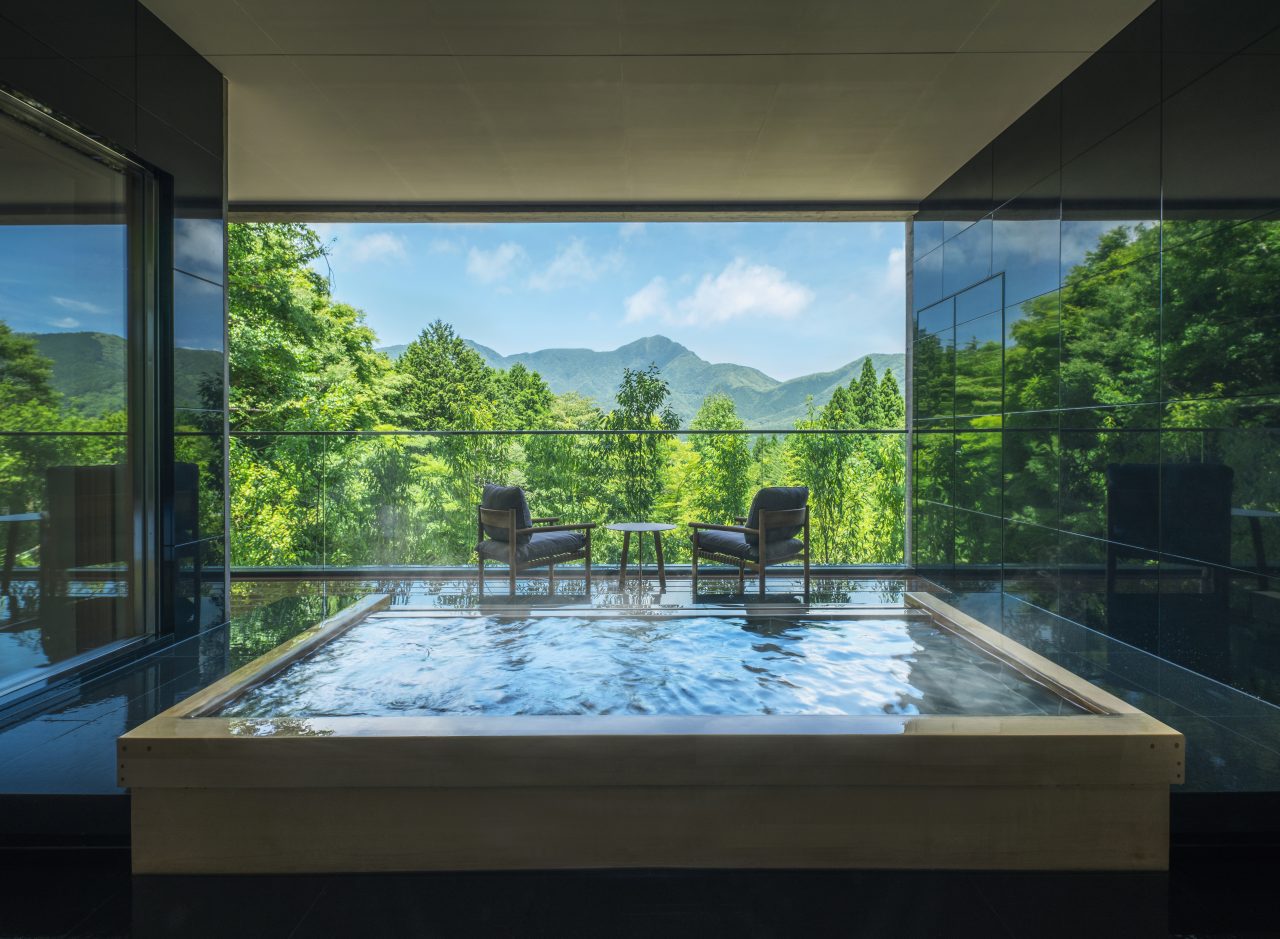 Through an extended walkway through two large, site-specific artworks – the tone is set for the art-focussed hotel. Due to the hotel's proximity to the area's key art galleries and museums, this Hoshino Group hotel is themed with art – found in the original, commissioned artworks in each guest room, to the communal art and book space, with a line of original pigment jars inspired by Pigment store in Tokyo.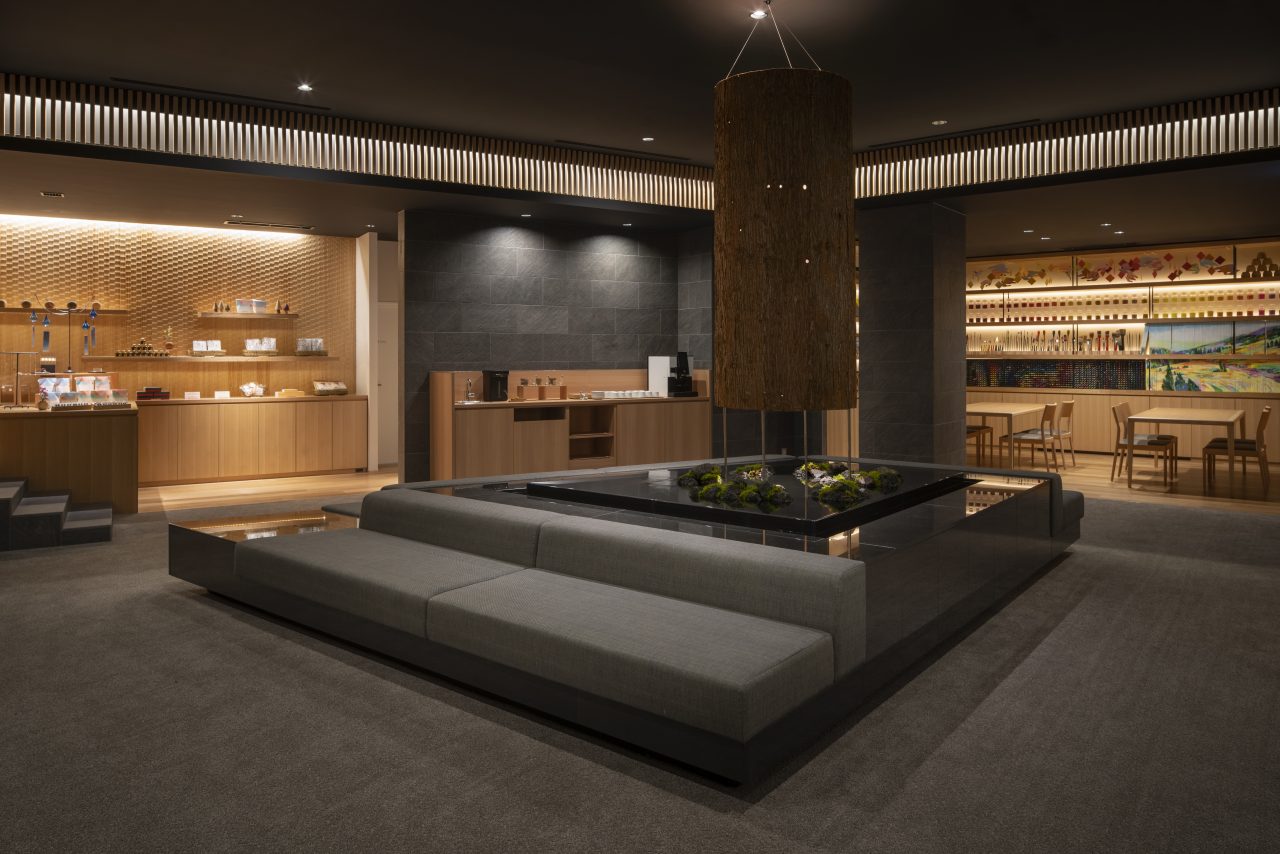 The front reception is kept central on the upper floor, leading to both the guest rooms, restaurant and communal hot springs. As an intimate and dark interior, elements of wood and directed lighting carefully illuminate the space. Here, it's only the soft sound of water running from the central water feature next to a relaxed strum of a harmonic melody playing overhead. This KAI hotel is located in Sengokuhara known for it's hot spring milky water, rich in calcium, acid and sodium making it excellent for the skin. The area is also known for it's abundance of museums and galleries, with Pola Museum of Art, Hakone Venetian Glass Museum and the Lalique Museum Hakone located nearby. Central to the reception and accompanying the hotel giftshop, find a book and art space 'Travel Library', where daily art activities that encourage the expression of art. Free activities include colouring in your own tenugui washcloth, to enjoying the stellar curation of art and photo-books.
KAI Sengokuhara helms an intimate 16 guest rooms across three annex buildings. Each room features original site-specific artwork created by a local and international artists inspired by the surrounding region. In our guest room we find locally-baked goods from Odawara's Yoroizuka Farm, including a yukata robe and leather and wooden geta sandals that can be worn throughout the hotel. The yukata is made from 100% highest quality flax linen, sometimes superior to silk, with excellent breathability in summer and in winter helps to retain body heat – we recommend wearing this during your whole time here.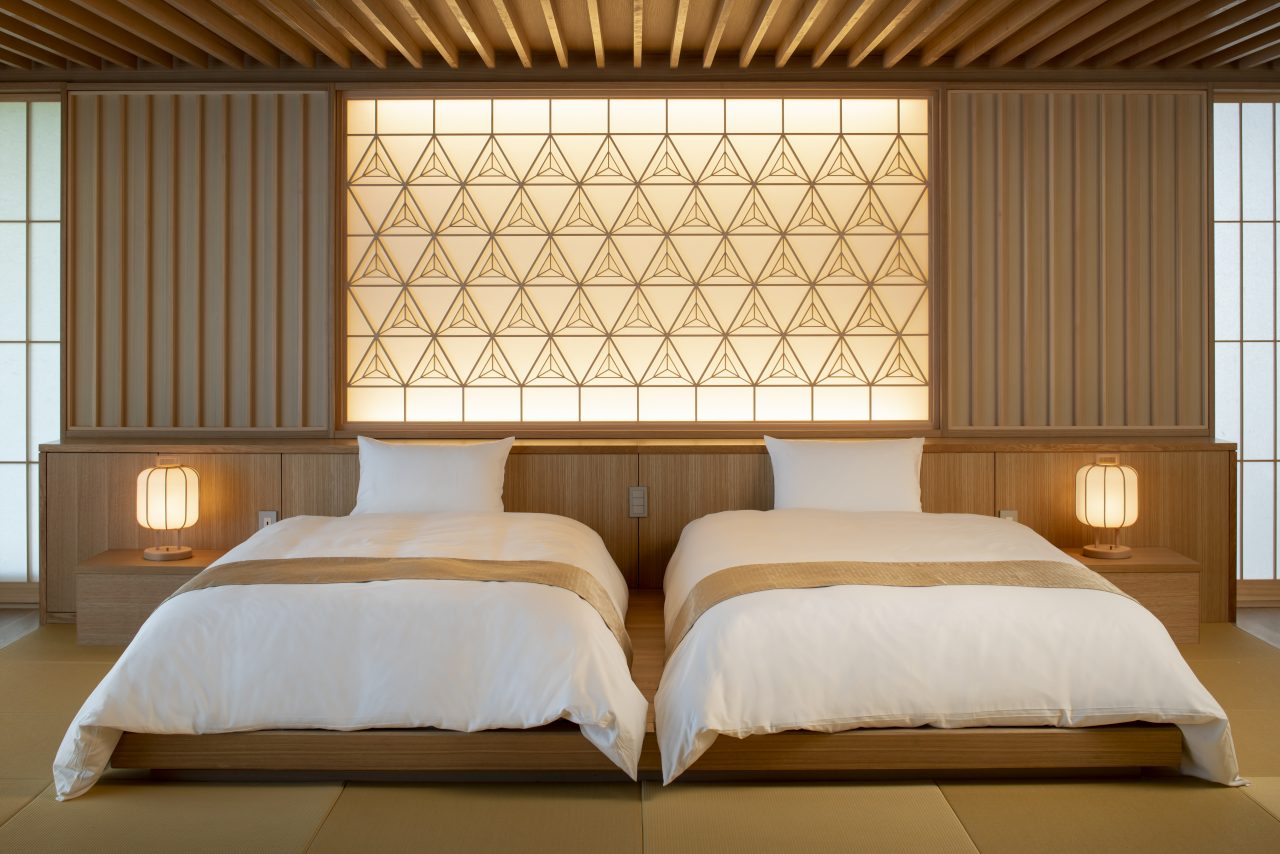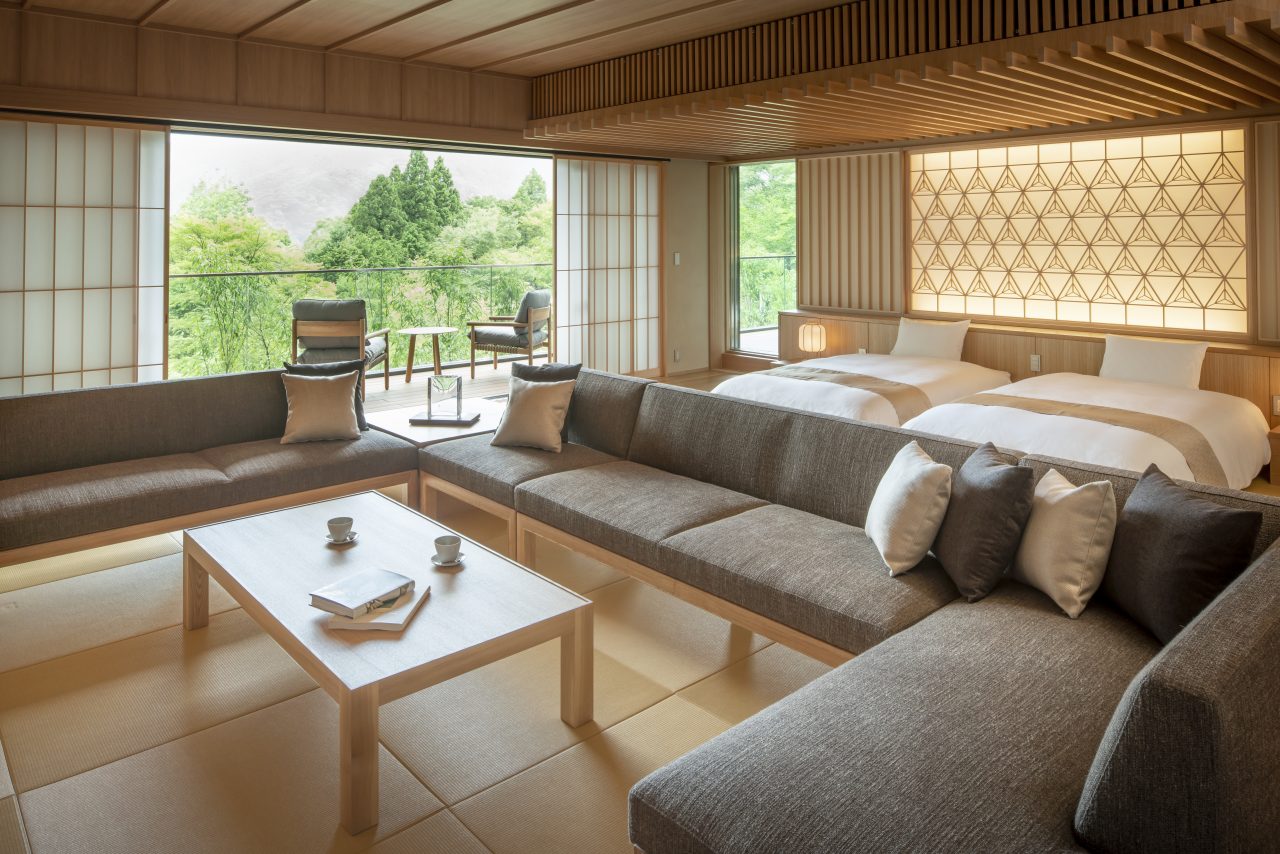 The design of the hotel is impressive, where each of the 16 guest rooms face north towards the adjacent mountainside with a spectacular view. Here, it's possible to view all four seasons and exactly why Hakone remains to be a key holiday destination. Each guest room features a private hot spring bath with the smell of hinoki wood, that is positioned outside on the balcony – perfect for viewing the breathtaking landscape. The water is sourced from the Owakudani volcanic valley and known for its antibacterial properties. If a sense of zen can be found, it would be right here in this moment.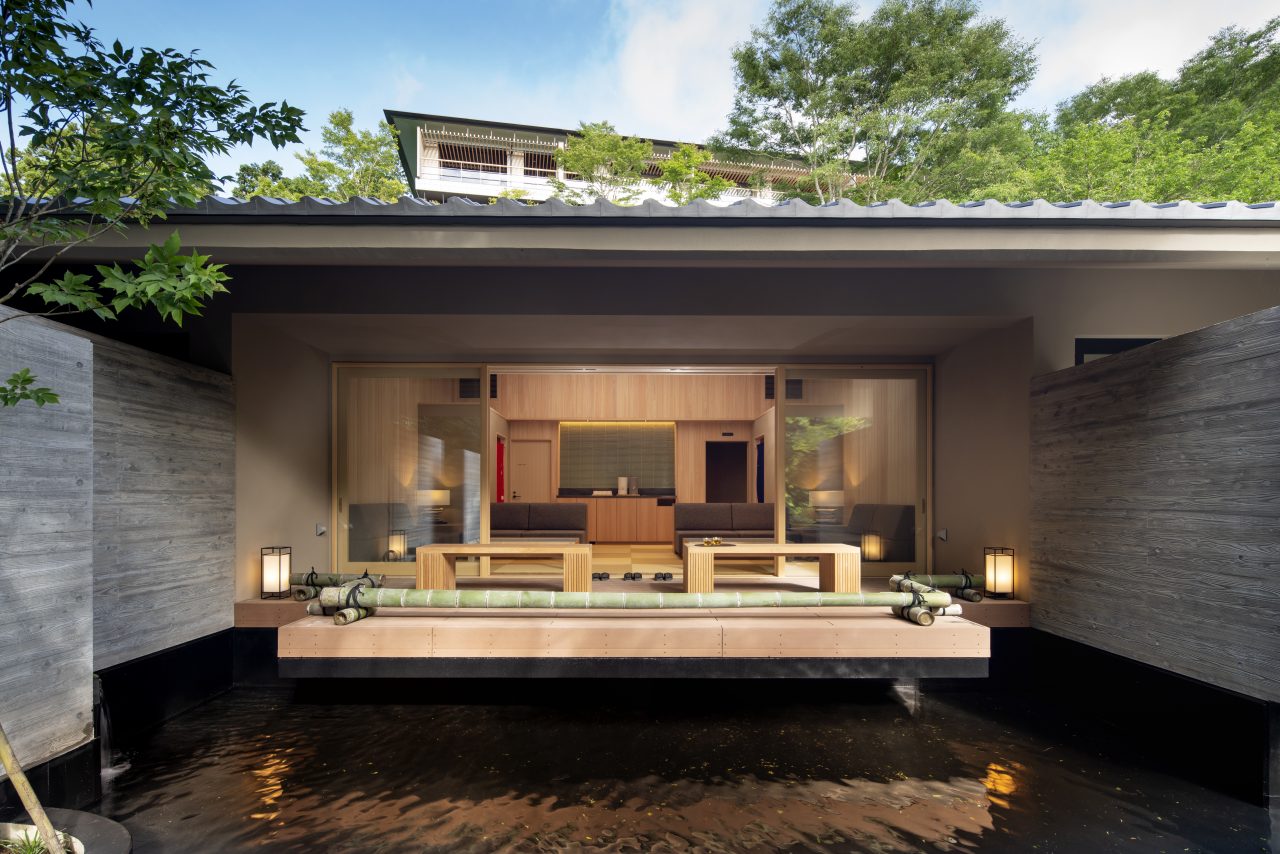 Entering the dining area, where dinner and breakfast is both served, there are 16 individual dining areas carefully segmented by wooden partitioning. Enough to have your own group privacy yet still feel the neighbouring guests to feel a part of the restaurant and hotel. Whilst one side faces the restaurant, the second faces a minimal Japanese garden with petite bamboo reeds alongside a 10-metre-high granite wall.
With a washi paper lantern light overheard, each seasonal dish is impeccably presented and served. The traditional Japanese kaiseki course menu features seasonal and local ingredients. Our sakizuke appetizer began with instant-smoked sale, seasonal fruits and small vegetables with edible flowers. The second dish owan was a seasonal soup with four kinds of mushroom, presented in Japanese pottery and accompanied by a slice of sudachi lime that added a fresh zest. Further stand-out dishes from the 8-course kaiseki menu, included deep-fried shrimp dumplings wrpped in rice flower with green tea salt, to a hot stone grill for self-grilled abalone, shrimp, scallop, beef and duck. The dessert presented a playful take on on ice-cream and waffles with Brown Sugar Waffle and Brown Sugar Syrup with Soy Bean Milk Icecream. For our meal, we paired it with Hoshino's original sparkling sake. Cloudy and very smooth with a robust body, we must say that it is one of the best sparkling sake we have ever had.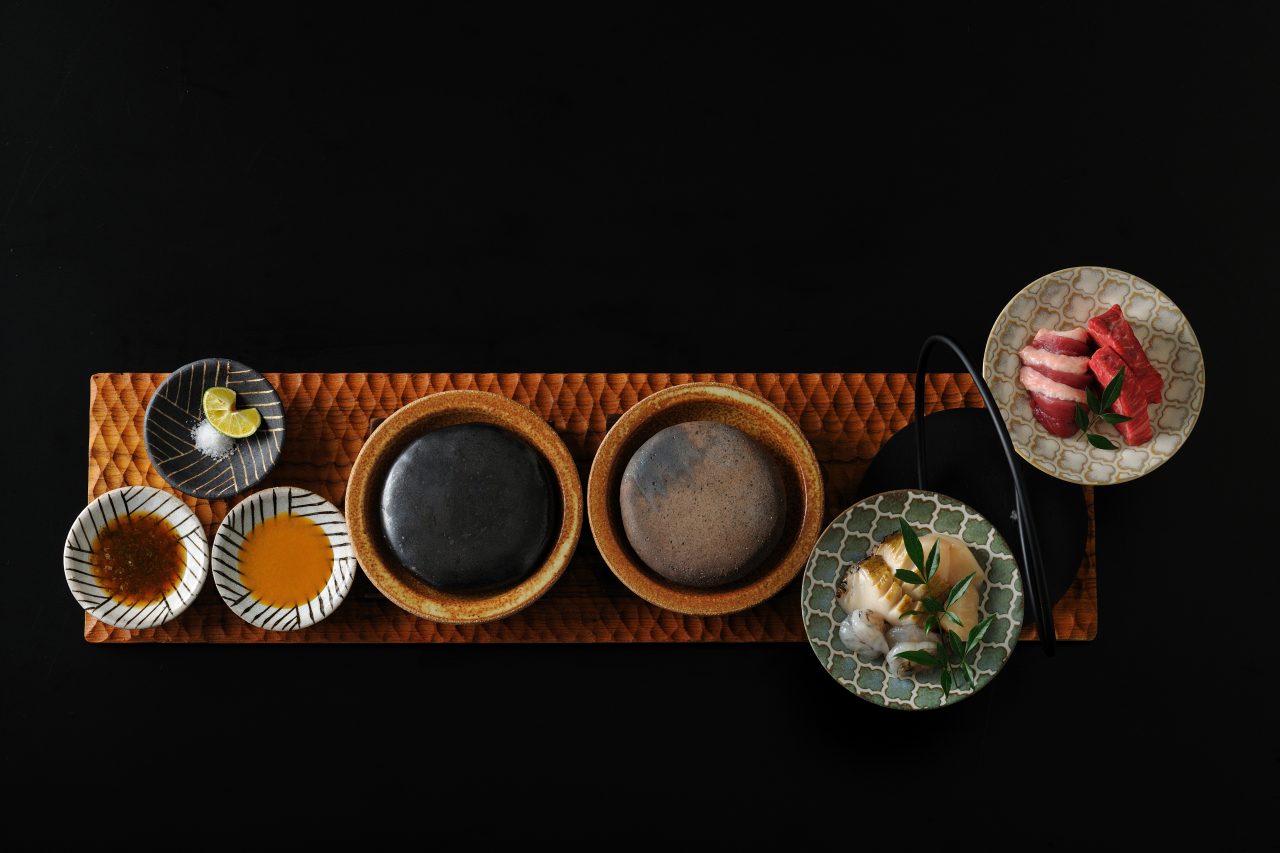 Surprisingly, KAI Sengokuhara's Female Head Chef Akari Sashi is just 22-years-old, who holds an already-impressive career with Hoshino Group working previously in KAI Atami and KAI Hakone. It was simply a showcase of stellar autumnal-themed presentation and modernised traditional dishes.
For breakfast, a glass of amazake (fermented rice) and passion fruit juice was a refreshingly sweet and smooth start to the morning, with high nutritional value. Next, the table was set with a traditional Japanese breakfast presented with momiji autumn leaves served on what could be Japan's finest ceramics, earthenware and wooden ureshi lacquered bowls and plates. Our hashi chopsticks holder was notably created by Ipada Glass in the neighbouring city Odawara. Along with miso soup and a pancake of Japanese yam, we enjoyed kamaboko fish cakes, spanish mackerel and kin medai red snapper, and three seasonal seasonal pickled dishes – our favourite being the peanuts and mustard with red miso wrapped in shiso leaf – divine.
KAI Sengokuhara in it's secluded locale is certainly luxurious indulgence without interruption – balancing the perfect integration of art and nature whilst championing regional craftsmanship.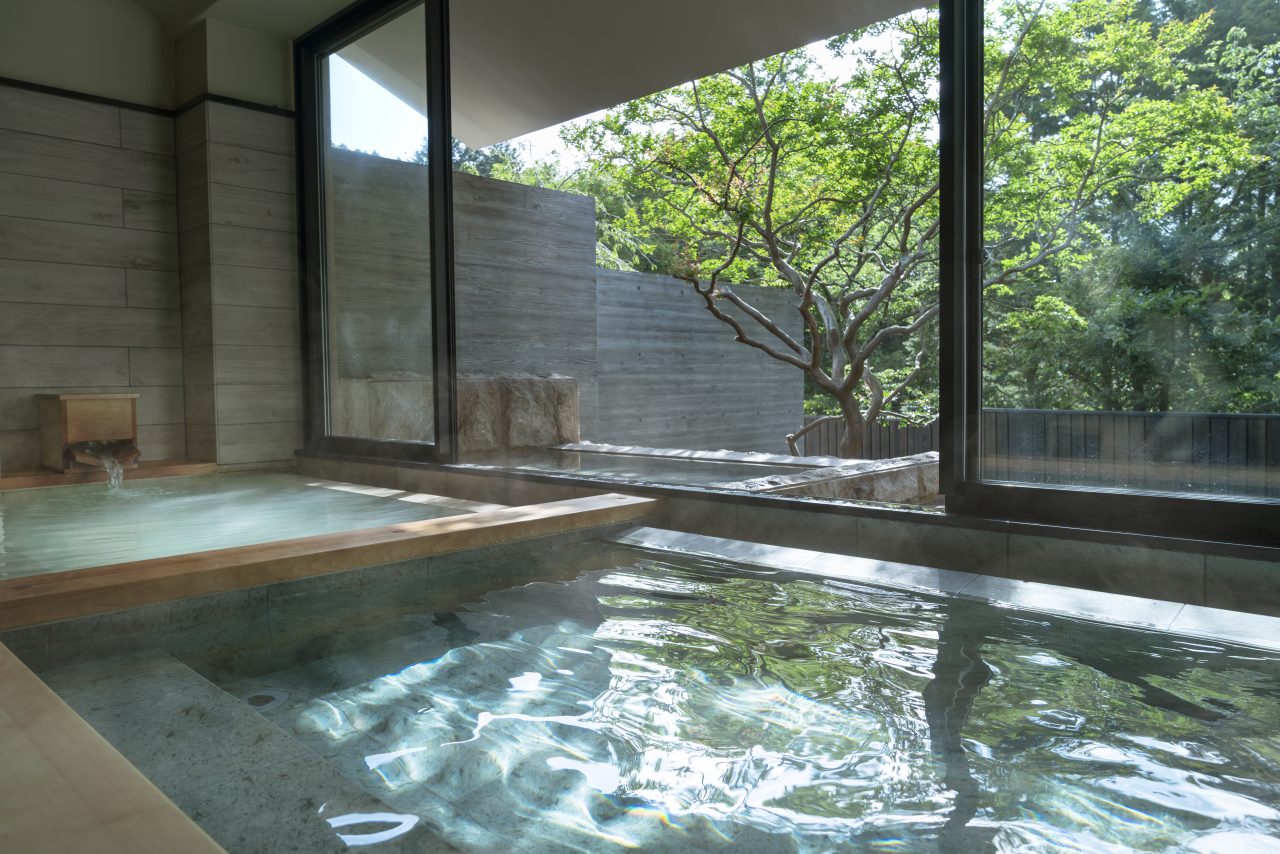 KAI Sengokuhara 
Sengokuhara 817-359,
Hakone, Ashigarashimo District,
Kanagawa Prefecture 250-0631
Japan