PARKHOTEL MONDSCHEIN
A Rich Cultural History Combined with a Refined Design Aesthetic at this Modern Luxe Hotel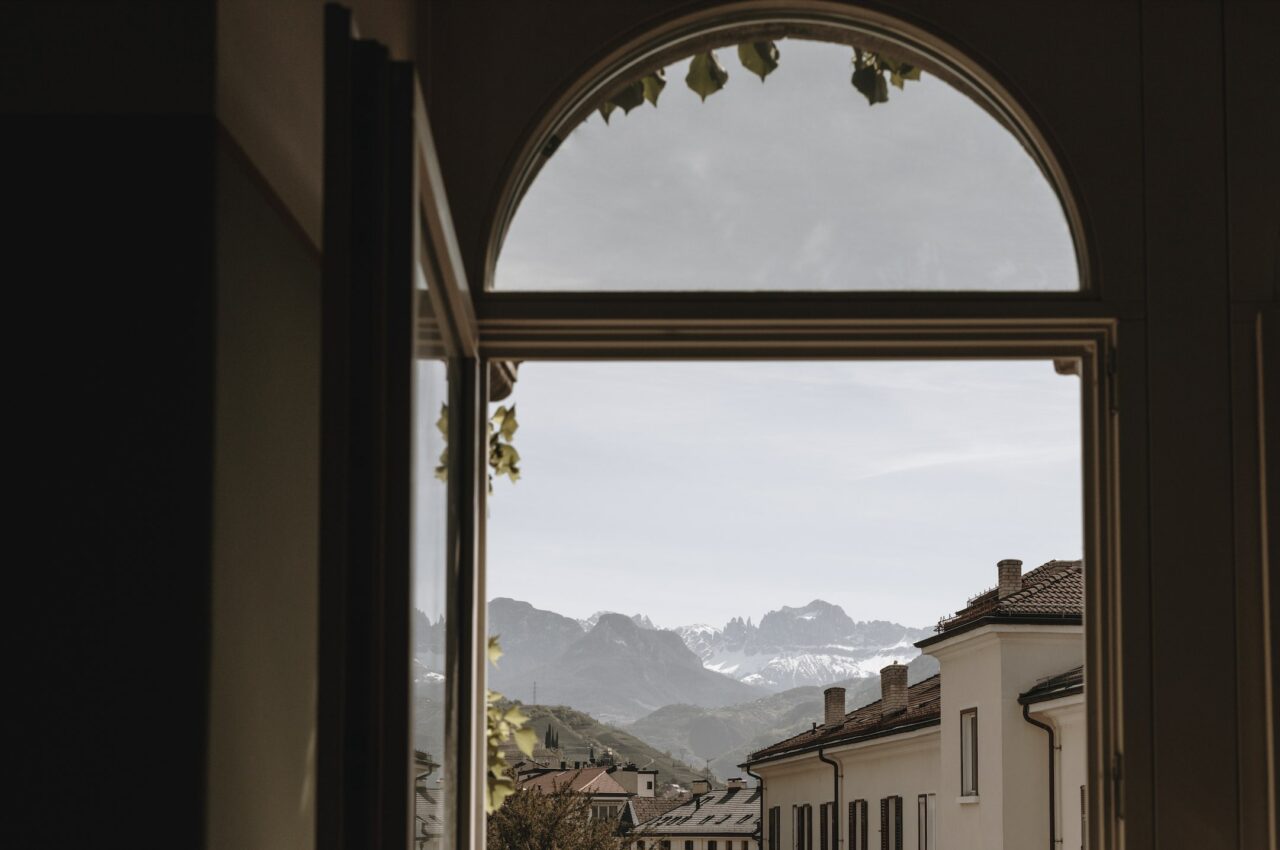 Nestled amongst the dramatic Dolomites mountains in South Tyrol, Parkhotel Mondschein is found in the heart of picturesque Bolzano.
Bolzano is the capital of South Tyrol, and a key hub for mountaineers and tourists alike. A small town with cobbled streets that are easily walkable, Bolzano is a mix of Austrian-Italian influences which make the town charming and diverse, in multiple aspects: dining, architecture, culture and local lives. In Winter, the snow-covered Dolomites attract those lusting for the ski season, whilst during the rest of the year mountain climbing and hiking is a common pastime. 
Newly-opened, the Parkhotel Mondschein is a breath of fresh air for Bolzano.
A rich cultural history combined with a refined design aesthetic by its new hoteliers, means the Parkhotel Mondschein offers modern luxe to the everyday traveller.
Founded by Moritz and Klaus Dissertori of ALTO Group, this is one of four hotels in their portfolio where they combine their tasteful style and eye for design. Created with the same approach of restoring the old and creating something wonderfully new, their other hotels 1447 Reichhalter (opened in 2018, it has 8 rooms), Villa Arnica (opened in 2020, with 10 suites) and Hotel Schwarzschmied (68 rooms) also exemplify their design DNA. Each are unique to context and their existing buildings, reinvigorated with the Dissertori's design vision. They respect the original history of each building, highlighting its existing beauty and combining it with their modern touch. 
The building was also originally a hotel, in which the Dissertori brothers bought and operated before renovating and transforming it into something new with their vision. They also kept all the original staff of the first hotel, keeping the key elements of hospitality and history intact. 
The Parkhotel Mondschein's renovation was led by the motto 'breathe new life into what already exists, adapt to the requirements and spirit of the time'. It indeed retains the charm of its historic past, whilst fully accommodating the modern hotel guest.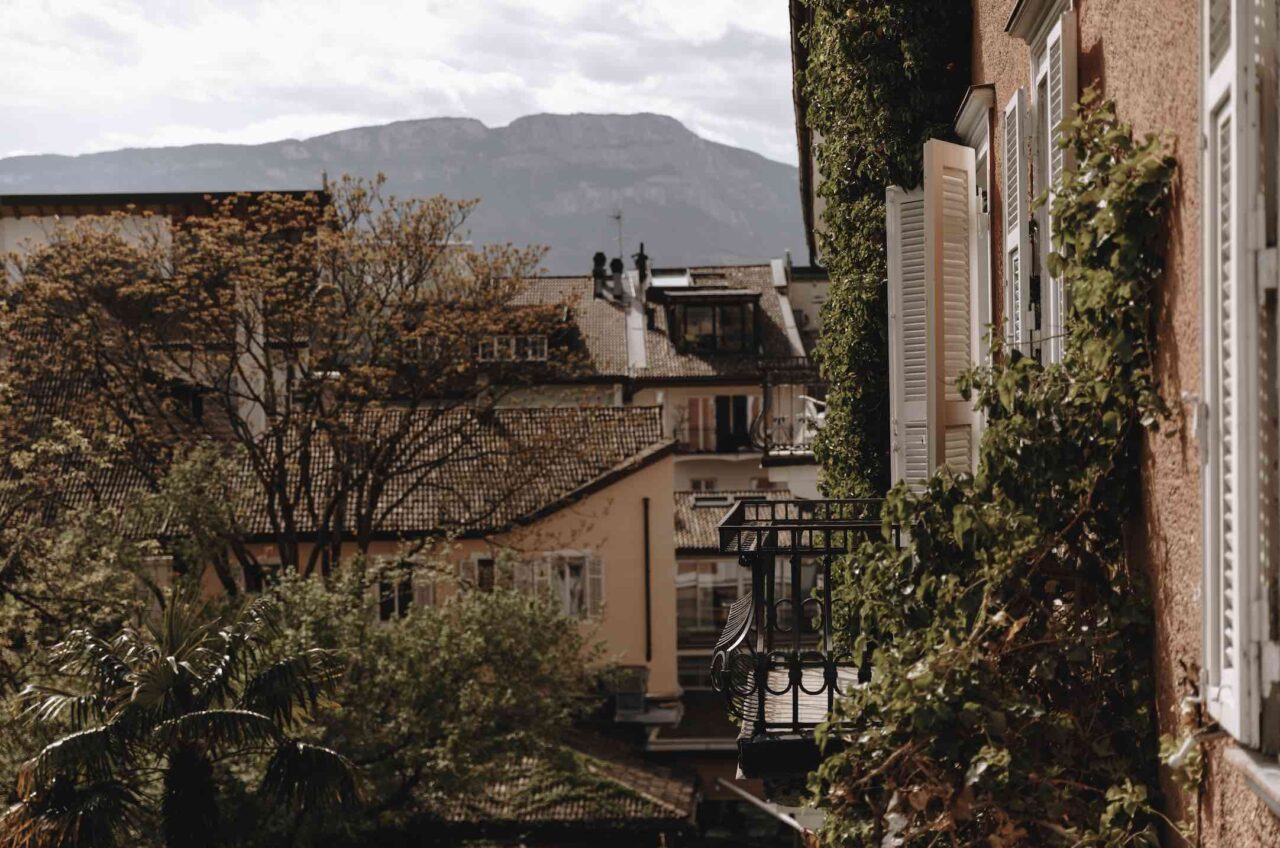 Very in touch with the design, cultural and culinary scene, the brothers know what hotel guests need and want to experience, and it's this combination which creates the ALTO Group's winning formula.
Coming from a hospitality family who ran a spa hotel in South Tyrol, the brothers grew up in this same hotel in their hometown of Lana. Since opening their first hotel under ALTO Group, they have been bringing their international experience and experience to an area they are passionate about, Lana, and the greater area of South Tyrol.
Upon our visit, we were greeted by Moritz who generously offered recommendations for the area as we strolled through the hotel with him. His passion is evident as he highlights every architectural detail on site, and proudly describes the ALTO Group's future plans.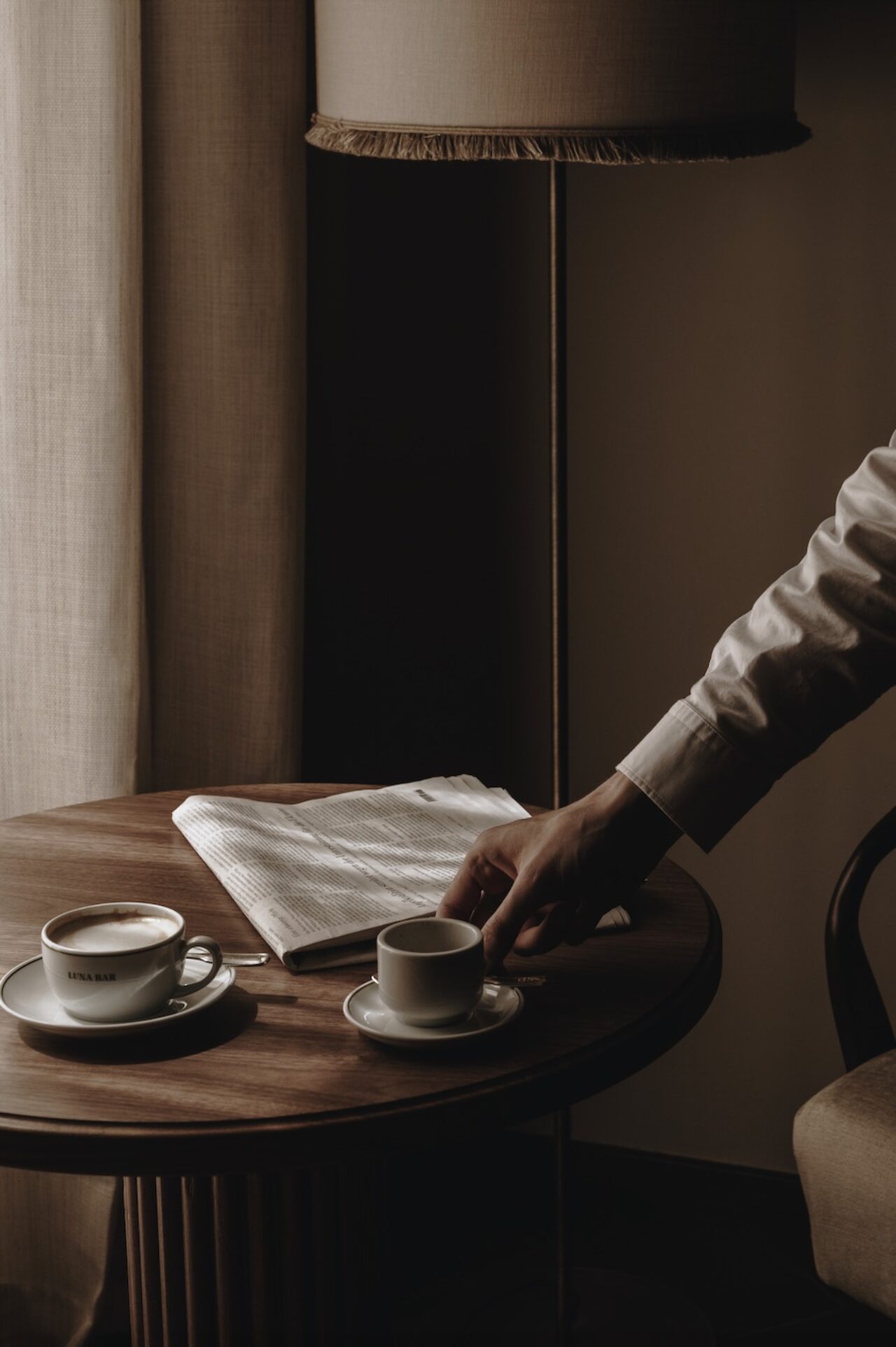 THE DESIGN
The Parkhotel Mondschein building was built in 1890, meaning it is heritage-listed. It has nods to many architectural styles, such as Belle Époque and its medieval annex was built in 1320. It's full of history. The renovation of the hotel was undertaken by Christina Biasi-von Berg at the helm with creative direction by planning studio Biquadra.
'Cinematic Italian' is the theme that guides the interior design. Warm tones reflect the mountains nearby, and create ambience throughout the hotel. The use of natural materials in rich, dark woods – both vintage or new – create a modern luxe feel. Furniture for the hotel has been sourced from three places: hand-selected from vintage markets, custom-made by a carpenter or was already pre-existing in the hotel.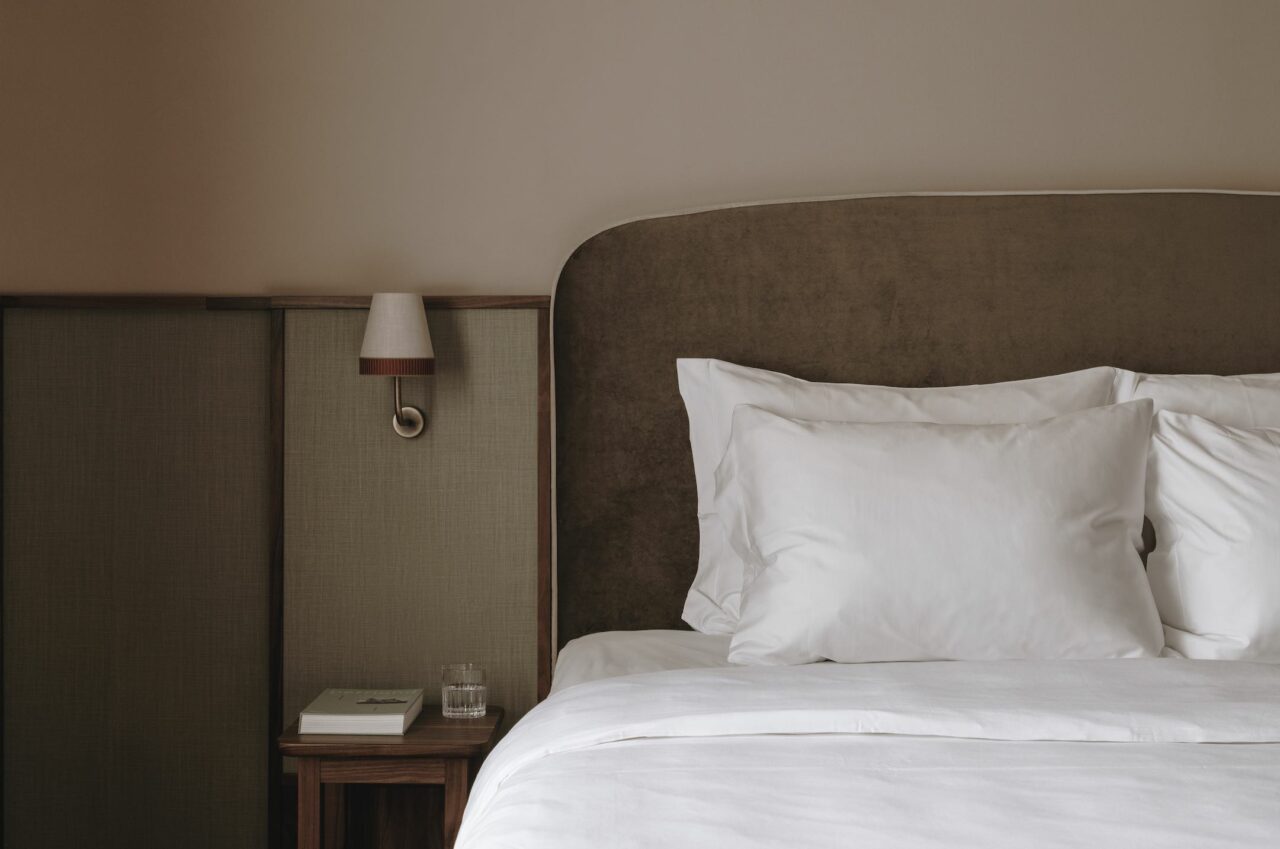 Deep green ivy grows up the side of the hotel amongst its peach and white facade onto balconies overlooking the courtyard garden. Inside, wide corridors and high ceilings result in the hotel feeling extra spacious, and its clear to see what the Dissertori brothers also found special about the building. Ornate carpentry and herringbone parquet (discovered during the renovation) adds to the charm of the hotel.
Two artists were invited to the hotel for an Artist Residency last year, and what they produced during their residency can be found throughout the hotel. Paintings by Irene Fernández Arcas and photography by Karla Hiraldo Voleau bring even more of a modern and electric edge to the hotel's interiors and feeling.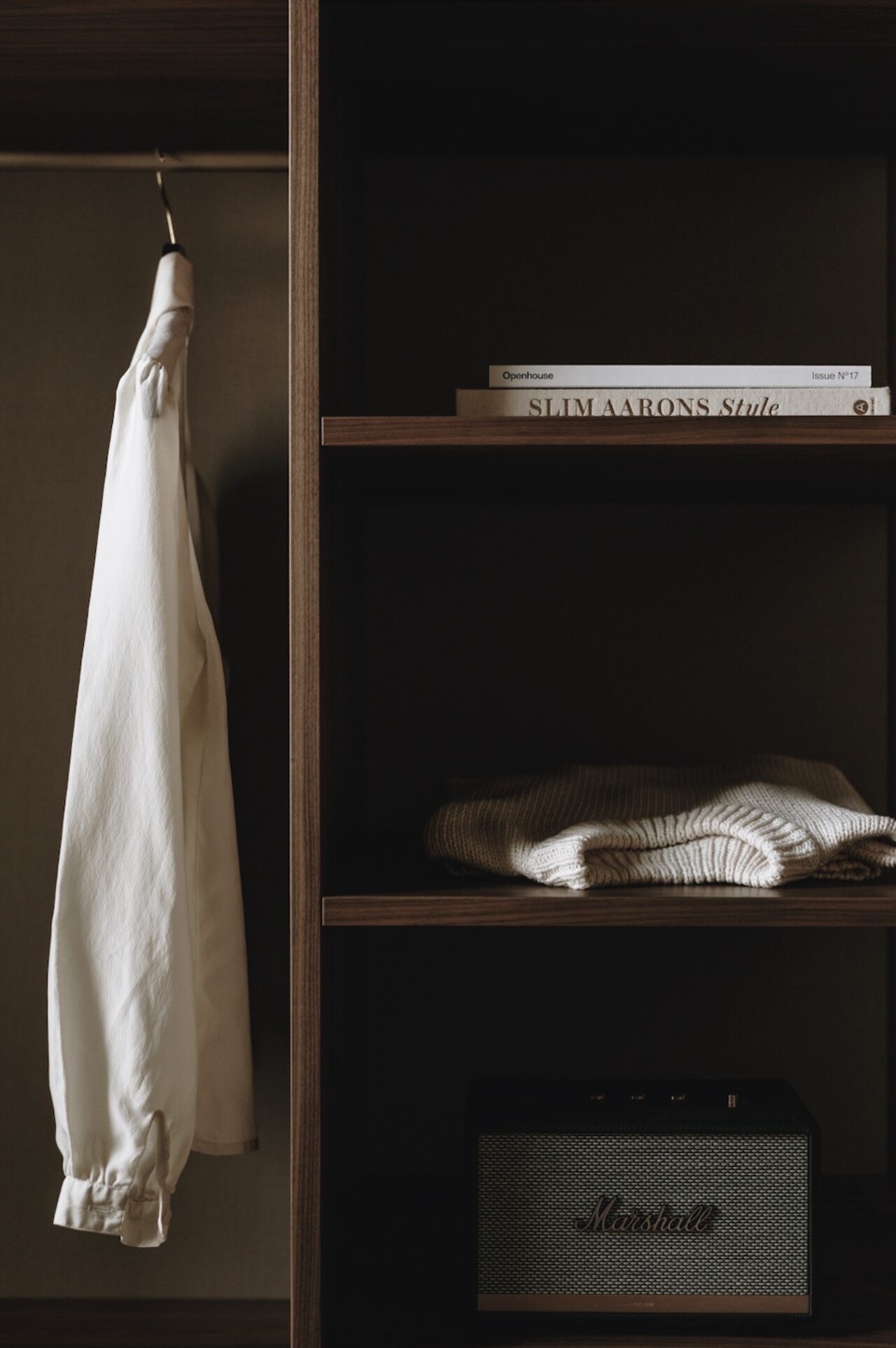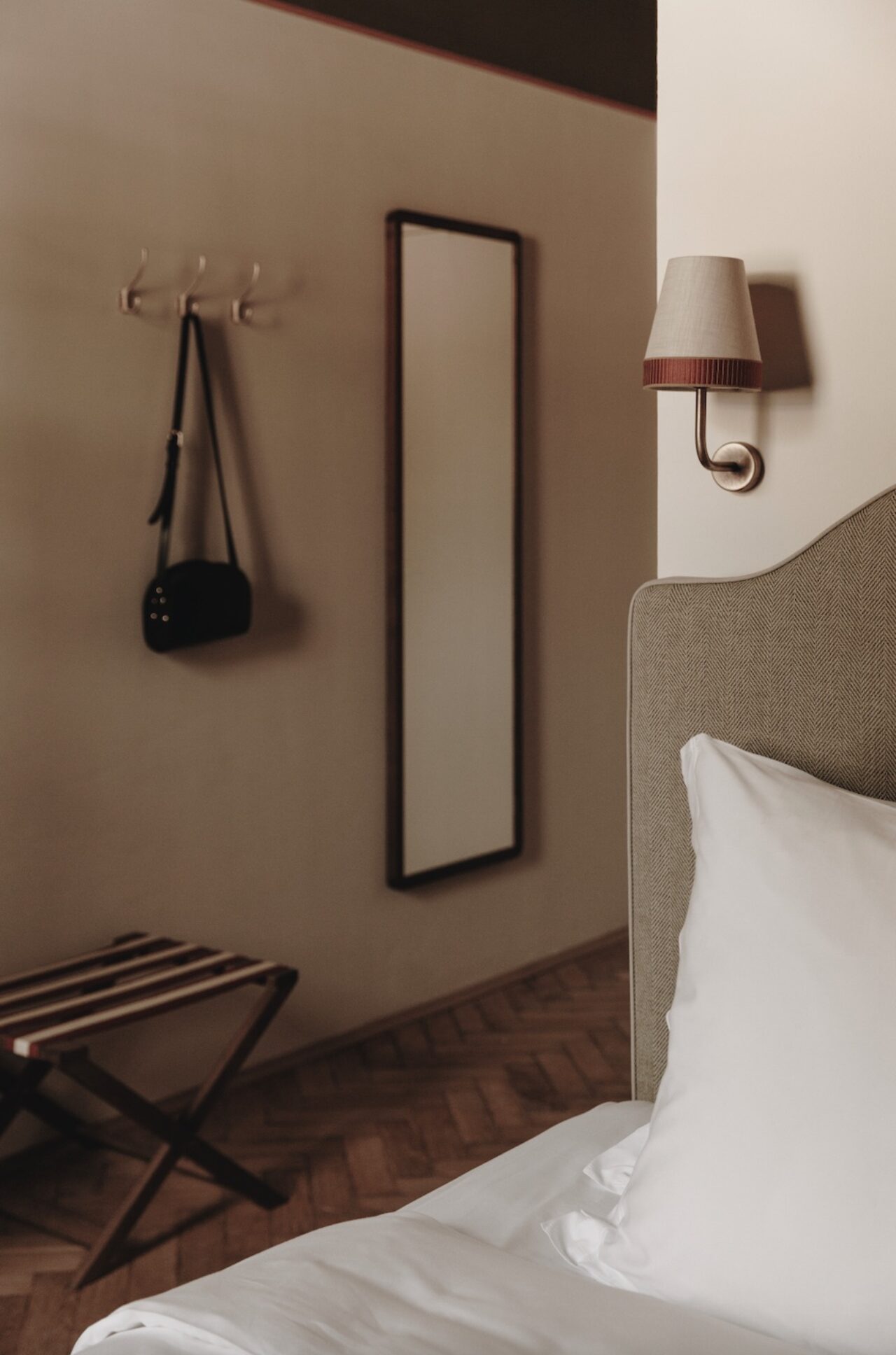 THE ROOMS
There are 63 rooms and 13 suites available at Parkhotel Mondschein, and each are slightly different. There are 7 different room types, from 'Simple' and 'Petite' rooms to 'Grand Suite', there is something for everyone. 
Interior furnishings have been carefully selected for quality to ensure longevity in this new renovation: dark wooden furniture paired with parquet flooring, juxtaposed with classic white lampshades and pristine white bathrooms. 
Extremely. Comfortable. Beds. Our rest in the 'Suite' couldn't have been better.
A lot of care and consideration has been taken to ensure the highest quality of comfort is achieved. The bed was so large that even with the multiple pillows (of different styles 'hard', 'soft') on offer, it felt spacious and generous.
Organic toiletries from Susanne Kaufmann are in every room (body wash, shampoo only) and the most cosy and chic bathrobes from AKOG™ x Parkhotel Mondschein are available to use by every guest.
Showers are divine, water pressure extremely brilliant for an old build, white surroundings contrasting against the checkered tiled floor.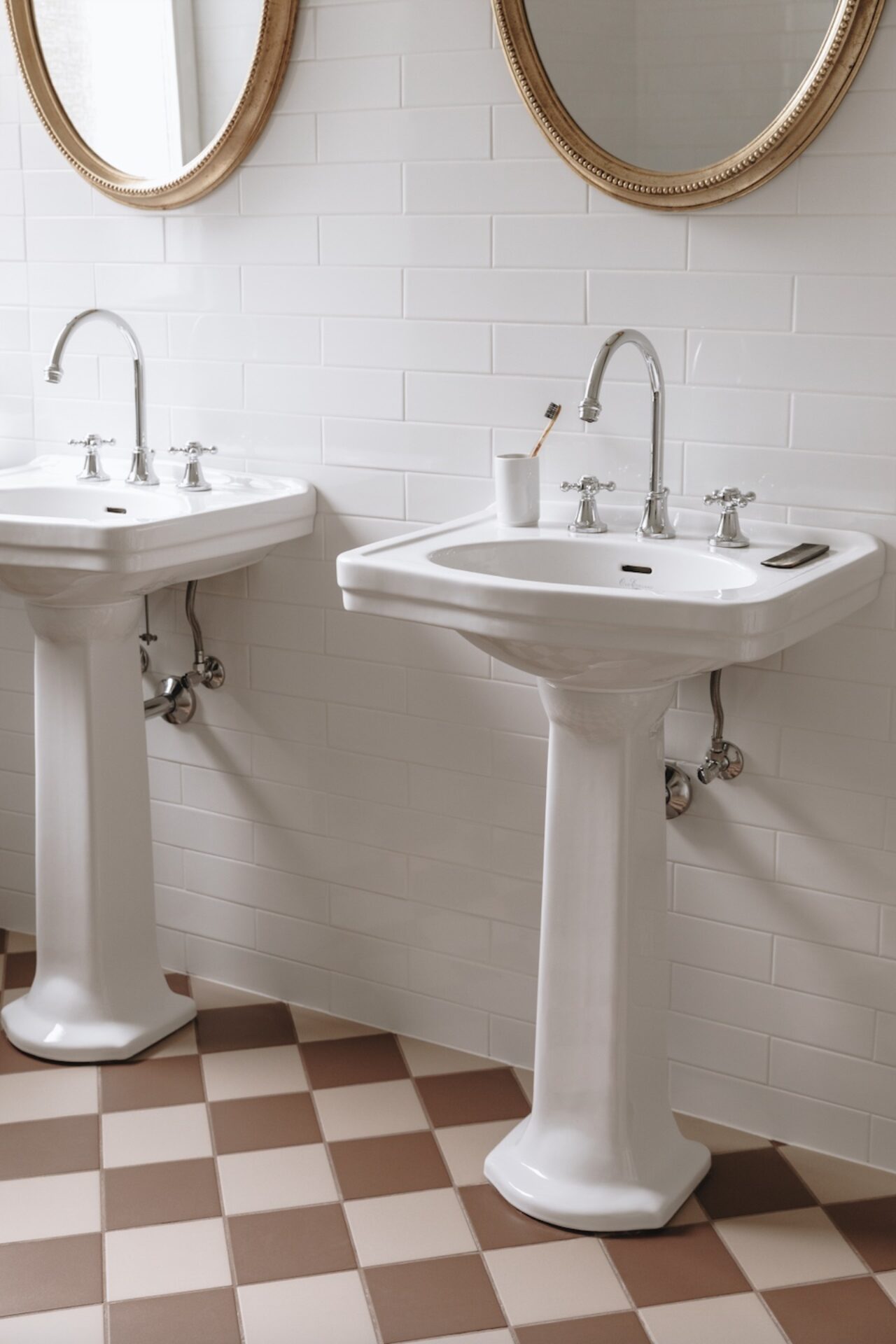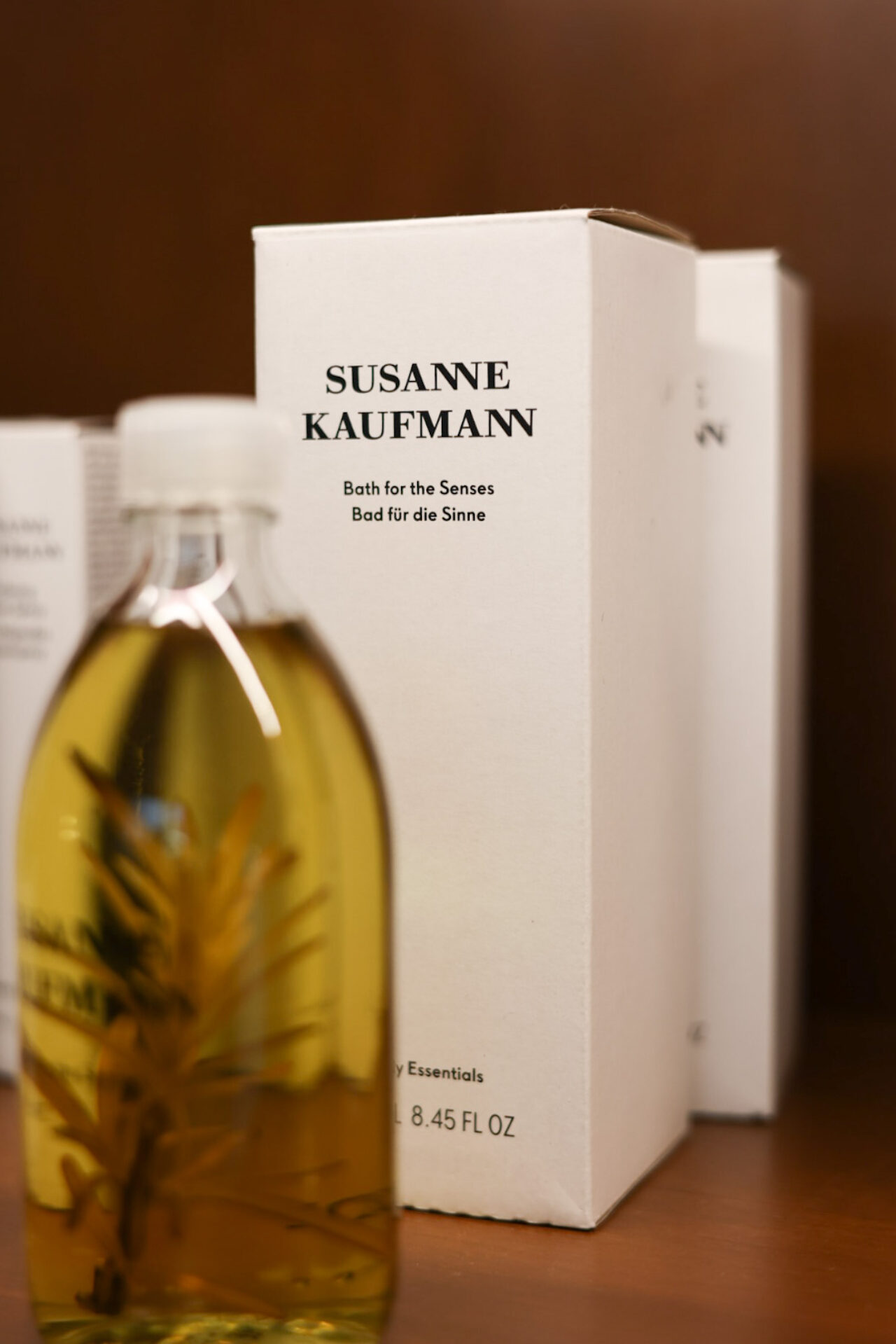 Our room specifically included a record player and Marshall speakers with key records available to play: Black Focus by Yussef Kamaal, Miles Davis Kind of Blue and The Beatles Abbey Road. Could it get any better? Their selection reflects their ethos: tasteful classics juxtaposed with the edgy new.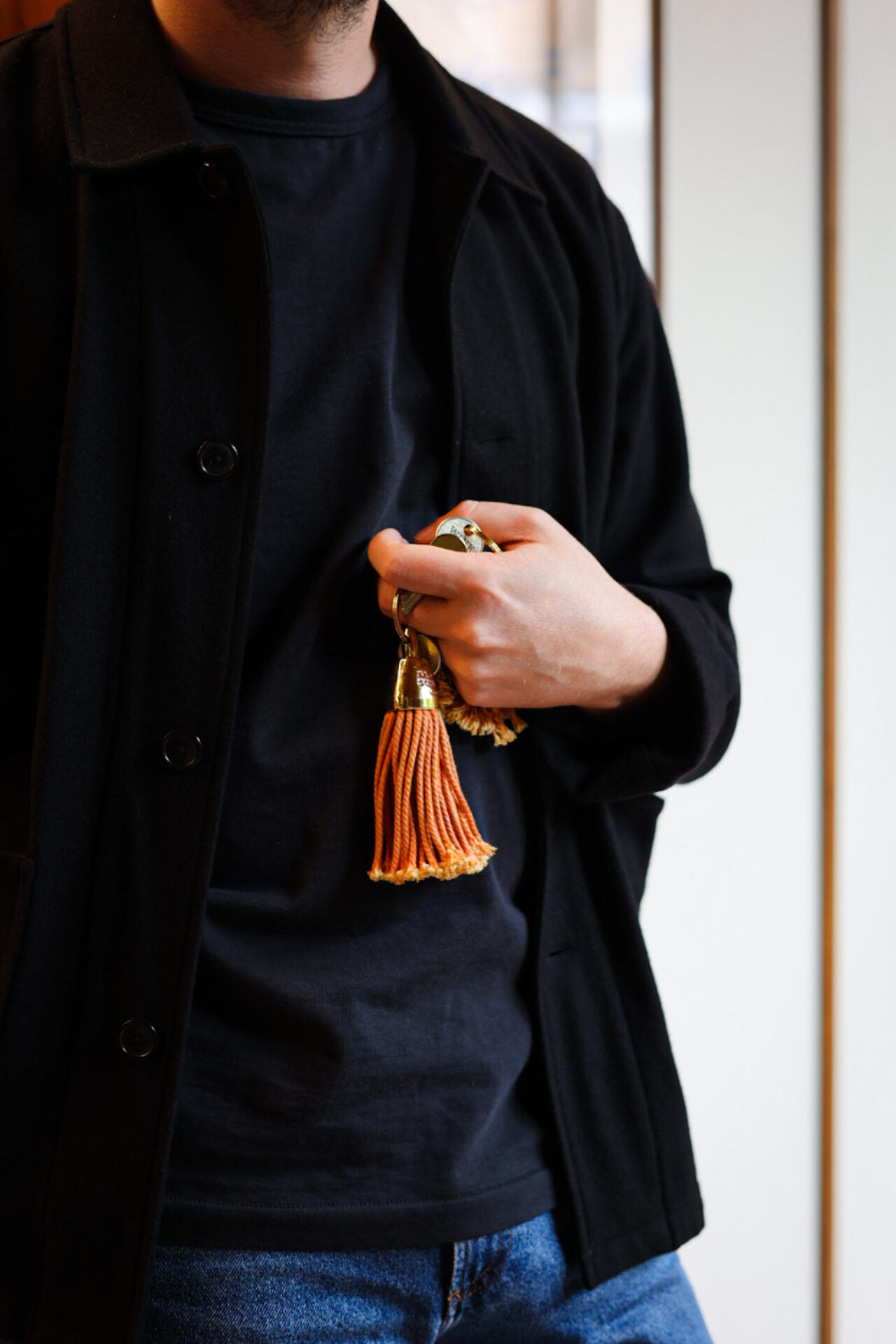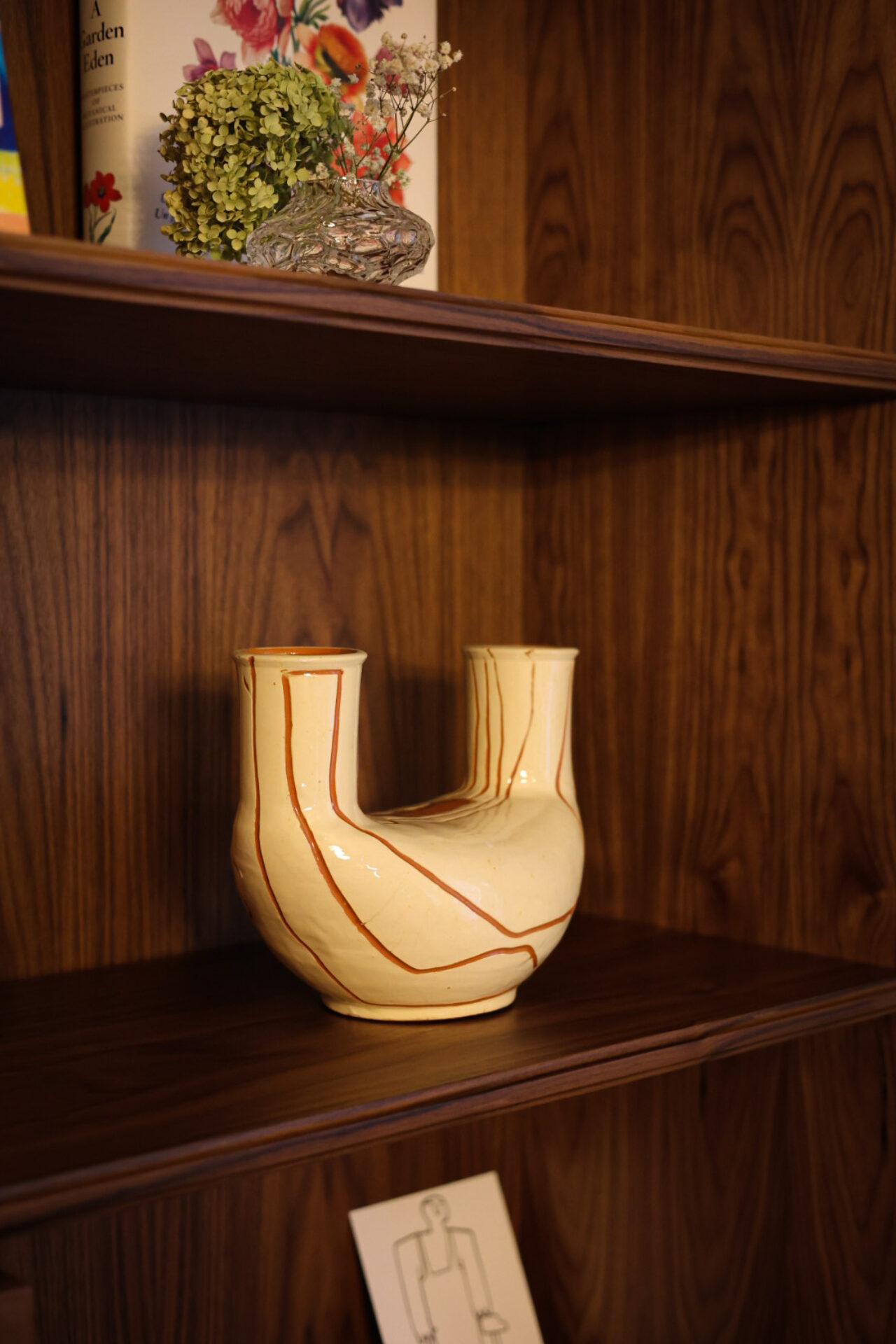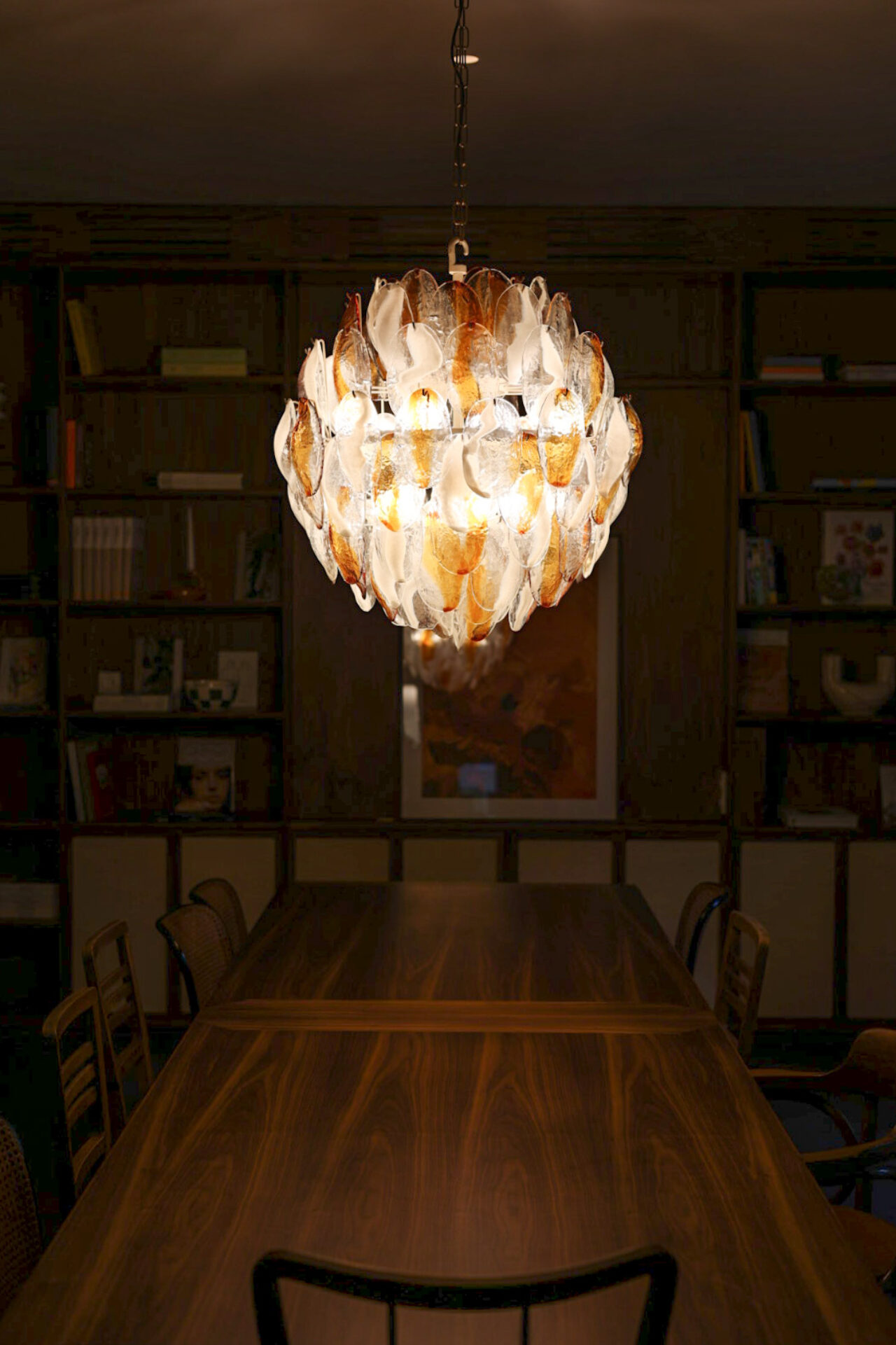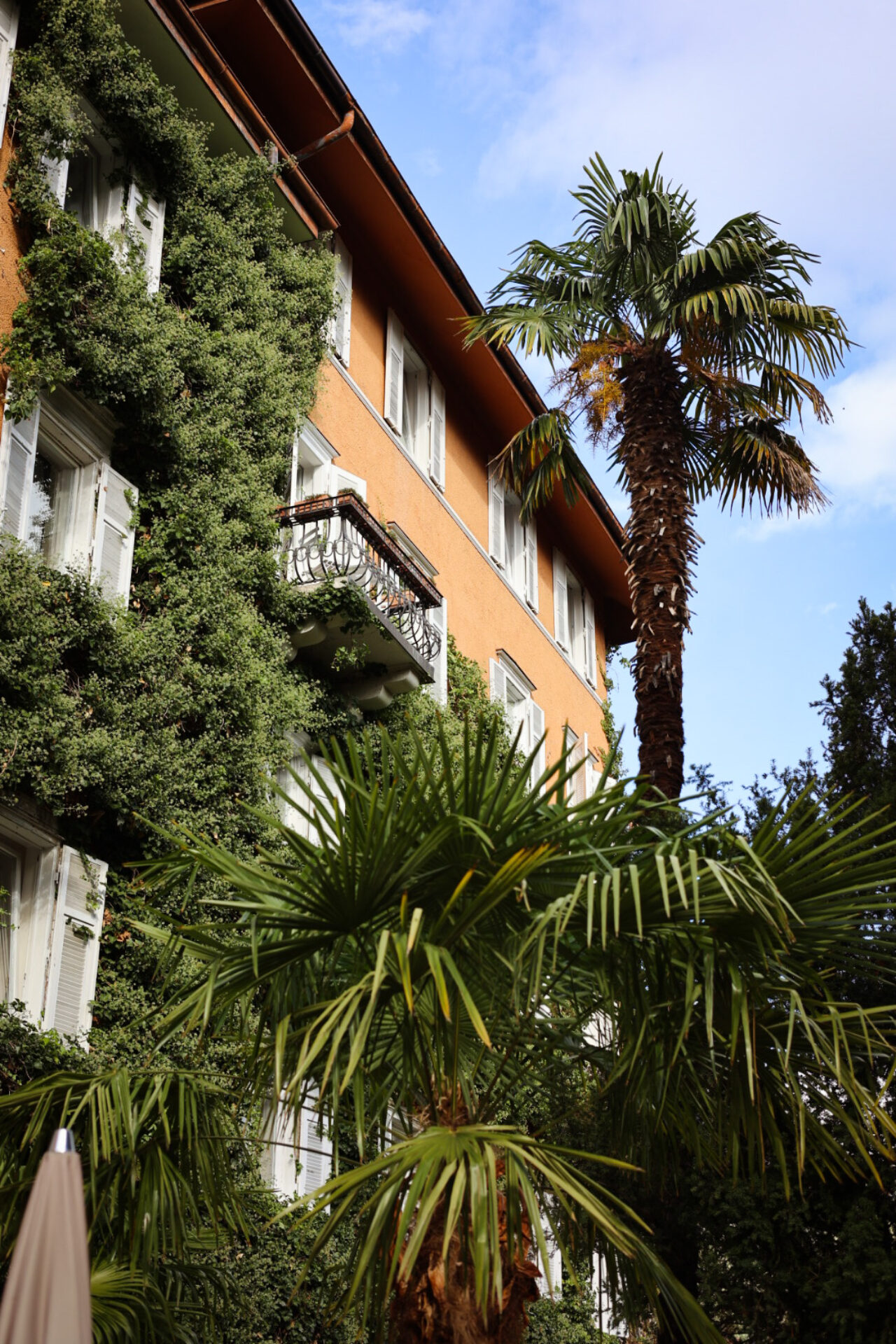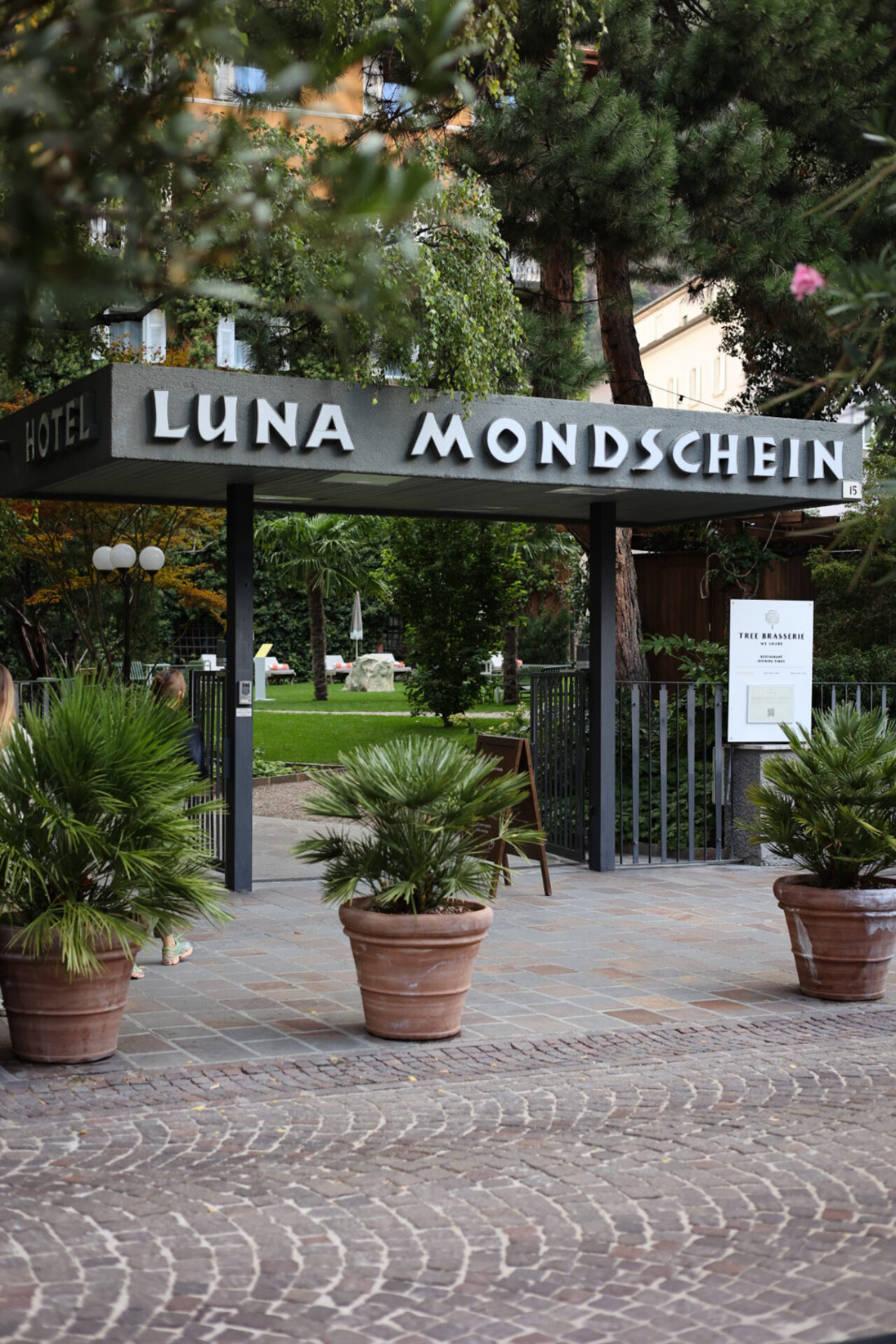 LUNA BAR
Situated within the hotel, Luna bar also stems into the hotel's terraced garden. Wonderful landscaping and practical seating ensures a coffee or lunch outside is enjoyable for hotel guests and locals alike.
BREAKFAST
A beautiful curated menu of local produce is available, along with excellent organic fair-trade coffee, tea and green juice. Granola bowls, porridge, pastries, classic pancakes and more are available along with fresh fruit, homemade jams and mountain honey. Pastries come from the bakery next door, and everything else is sourced from local producers in the region.
We personally prefer ala cart to a buffet, it is indeed less wasteful, and with such a wonderfully curated menu, it is even more enjoyable. Breakfast is available from 7am to 11am, and can come included in room packages or purchased separately.
DAY MENU & BAR
Snacks, smoothies and coffee are available during the day. Some small sandwiches also. Again, perfectly handcrafted in house, respecting the ingredients they use. Prices are fair and dining here is more than convenient as you sit in the garden gazing at the landscape.
Cocktails and local wine are well made and sourced, accompanying an array of spirits on the menu. The bar team have ensured to include a great selection of South Tyrolean natural wines. The bar is open until midnight.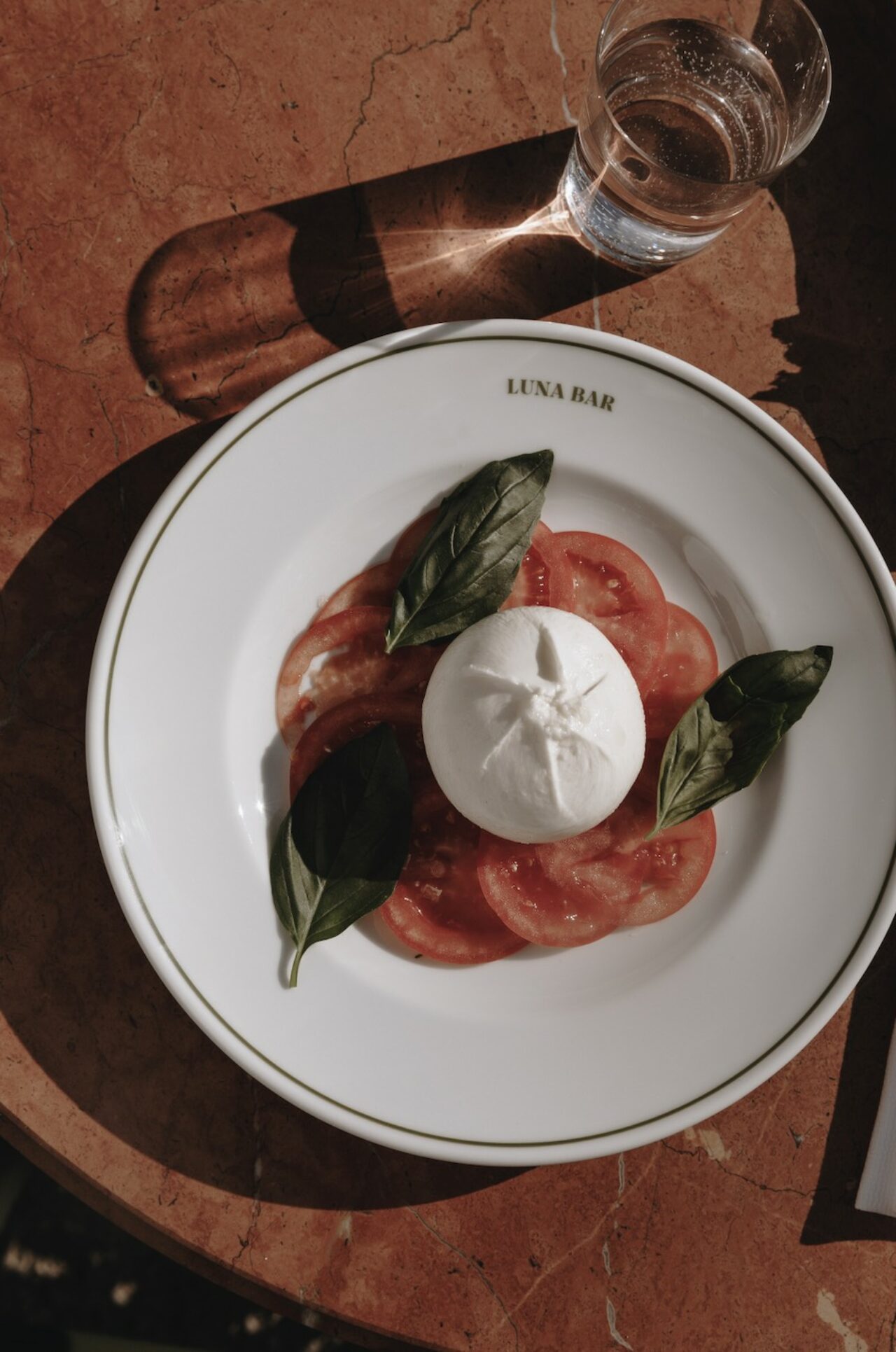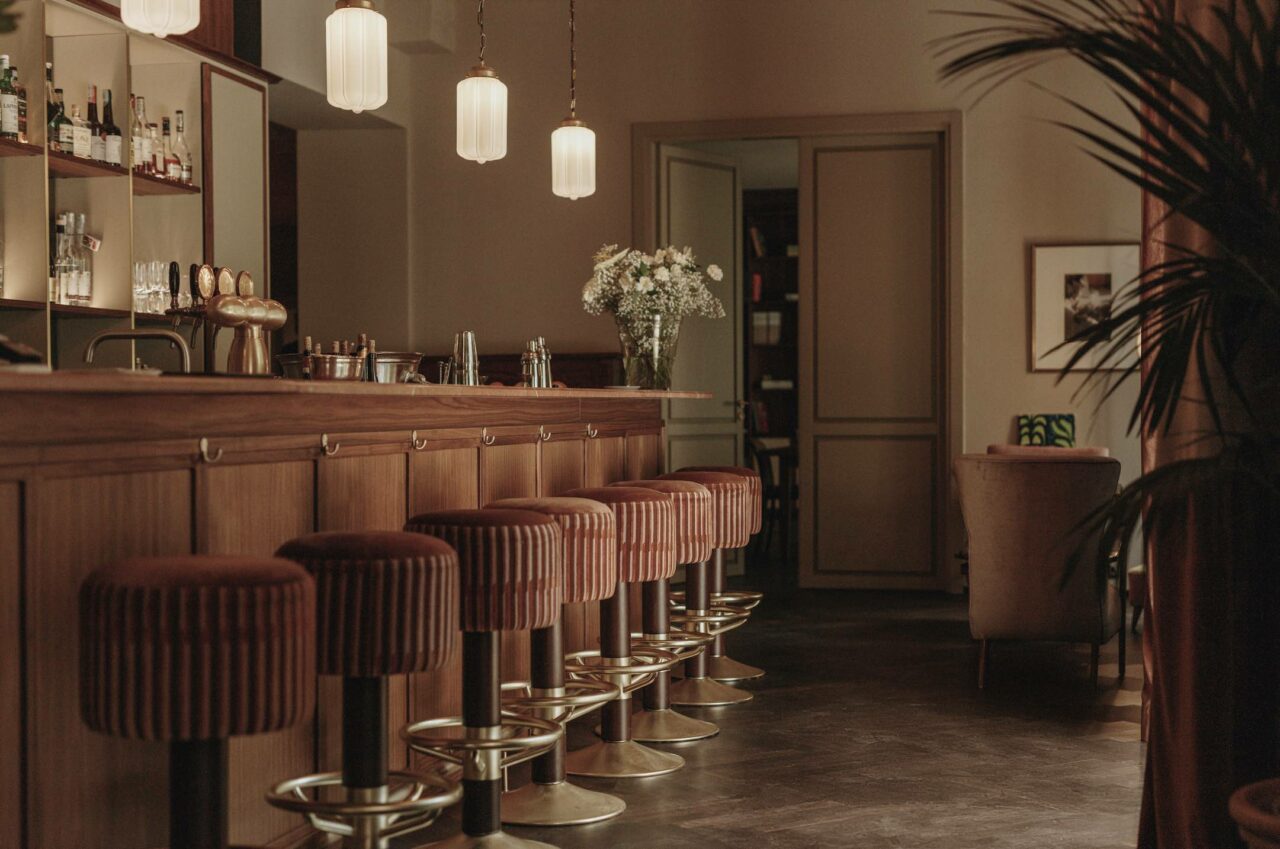 DINNER SERIES
The Dissertori brothers are always coming up with new ways to bring energy to the hotel and surrounding area, and their à Table Dinner Series is no exception.
à Table invites new chefs to their premises, ultimately bringing new excitement to the town of Bolzano and South Tyrol. Visitors are able to wine and dine with chefs from around the globe, as they work with local produce from the area (specifically selected by them). They recently hosted chef Nancy Singleton of Hachisu in Japan, who presented an authentic Japanese menu of seasonal dishes with sake or wine accompaniment, featuring essential Japanese ingredients brought from Japan, and fresh vegetables, fish and meats from local farmers.
Different cultures have the chance to utilise the remarkable ingredients found grown by farmers in the pristine mountains in the Dolomites.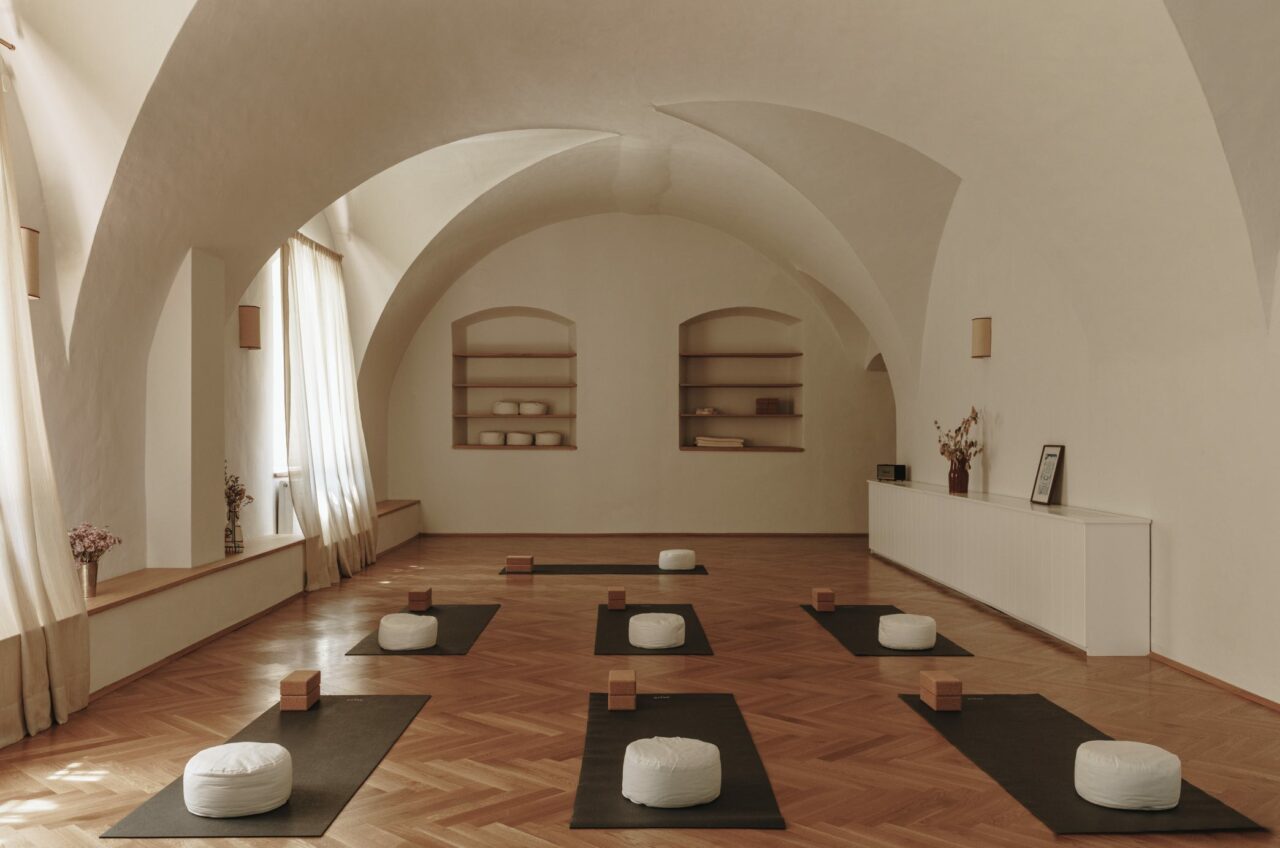 THE FACILITIES
The on-site yoga studio ARISE is found in one of the most beautiful rooms in the hotel.
Stunning Gothic architecture frames and adorns the ceiling, as guests stretch and move around the space. There is an ever-changing rota of yoga teachers on board, to ensure diversity and variety in the wellness offering.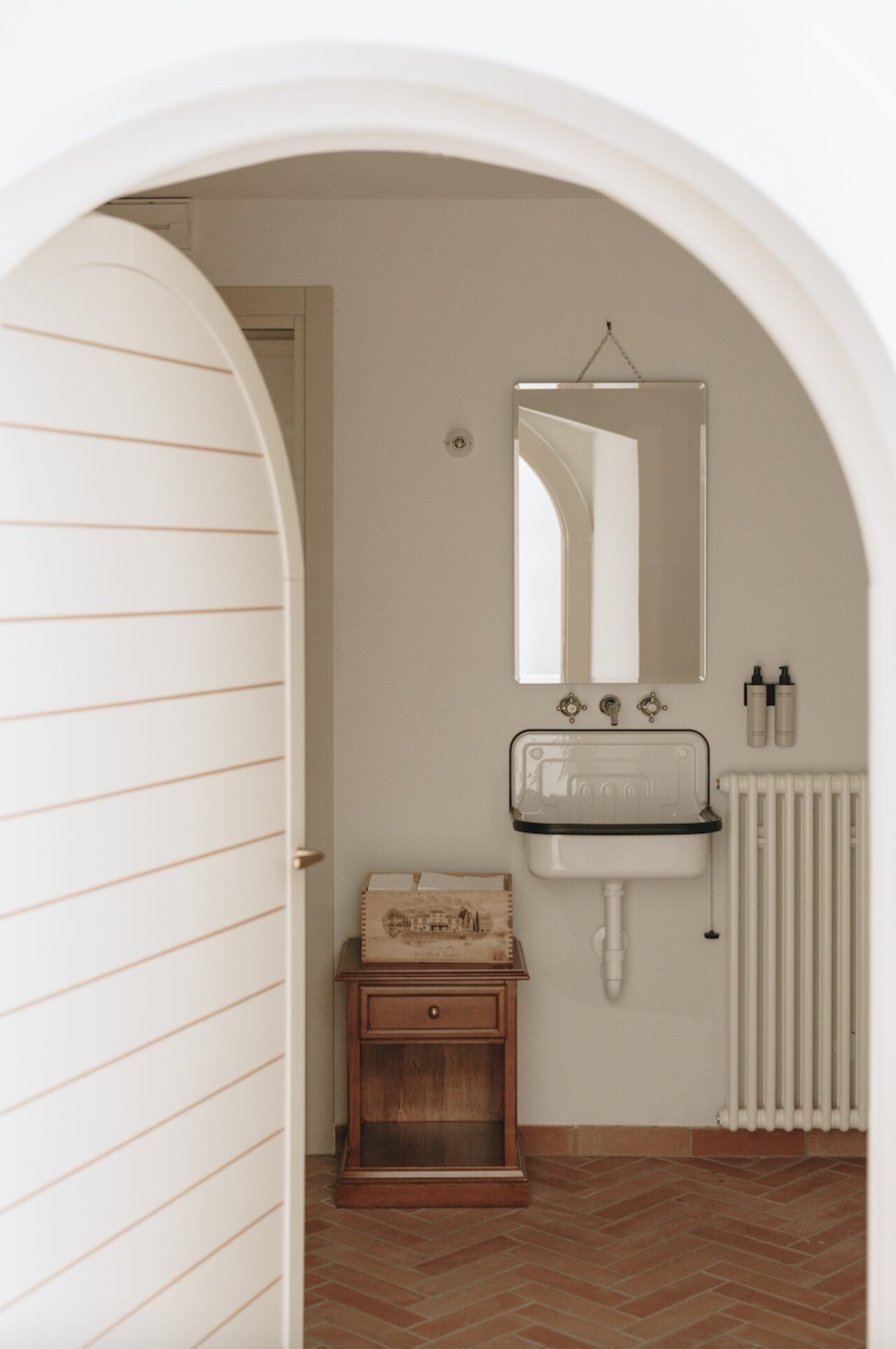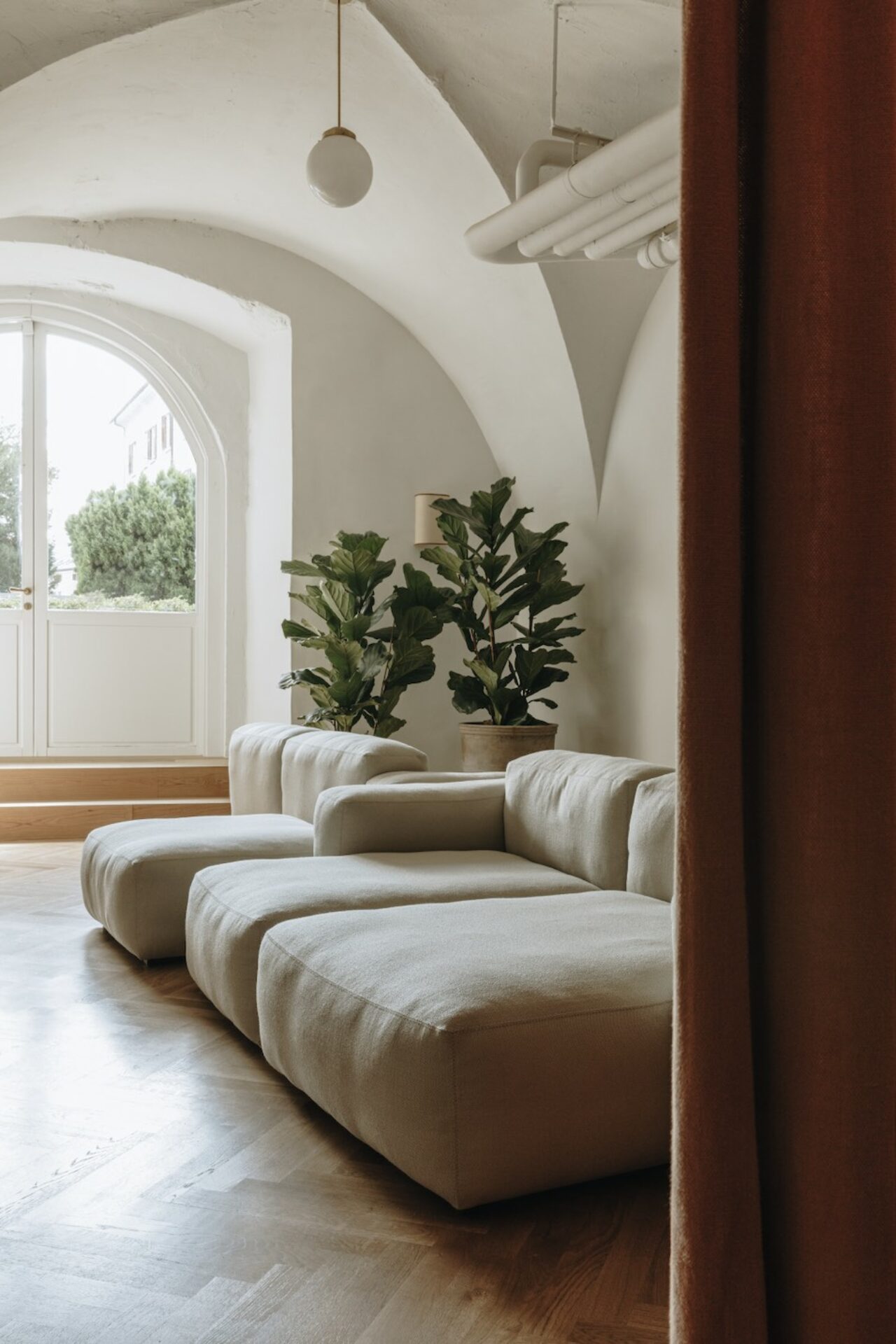 There is a gym with key equipment (the boxing bag is vintage!) and a sauna along with a relaxation room with mint water and couches to lounge on after a long sauna session. Here, Susanne Kaufmann products (such as shampoo, body wash) are also provided for guests.
THE VERDICT
We're extremely excited about what the Dissertori brothers are creating with their ALTO Group projects. We can't wait to visit each of their hotels, to see how they reimagine each one in their specific formula of respecting the old and celebrating the new.
The Dissertori brothers continue to look for new properties, the hoteliers' approach to business is not only sustainable but conscious too – working with locals and locals businesses, they are enriching their surrounding area whilst introducing it in the most authentic way to visitors.
A recipe for success, and a brilliant night's stay.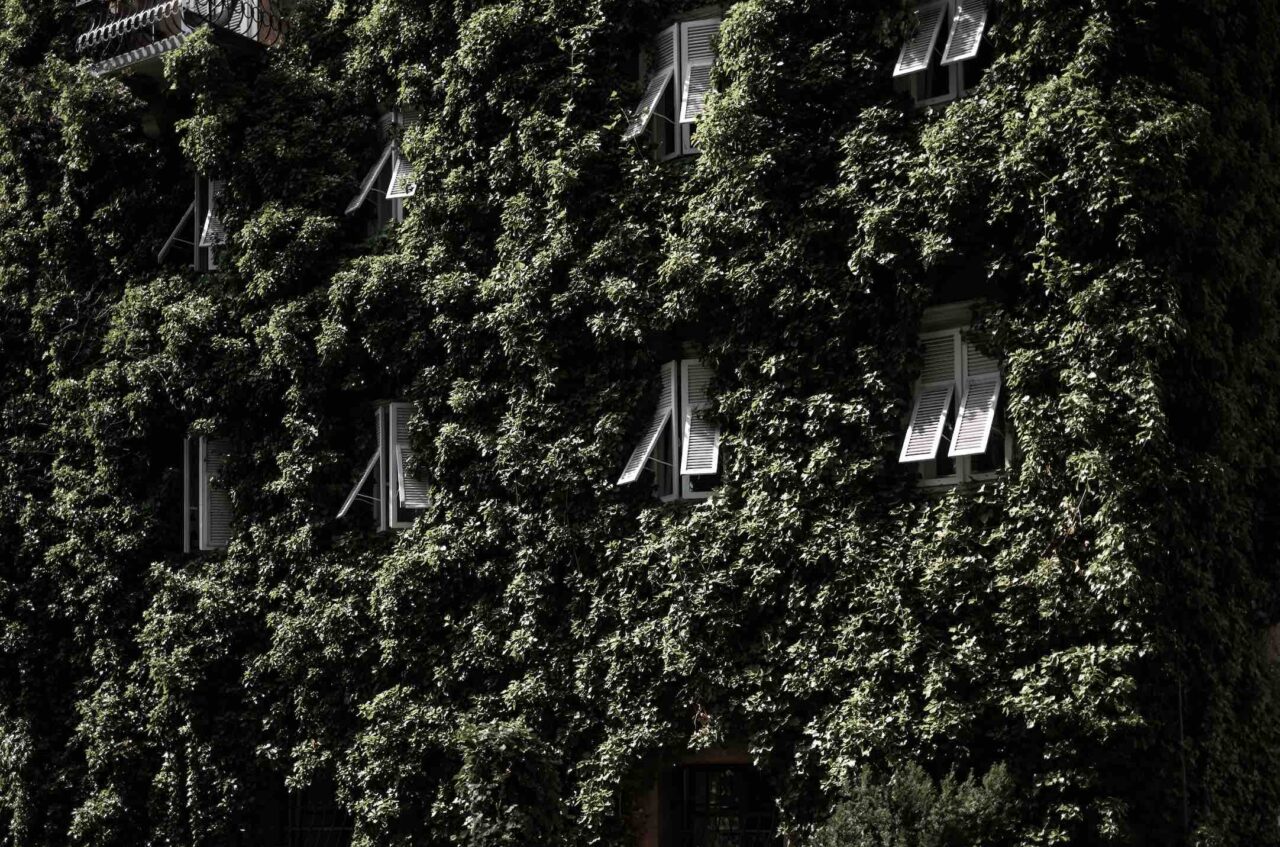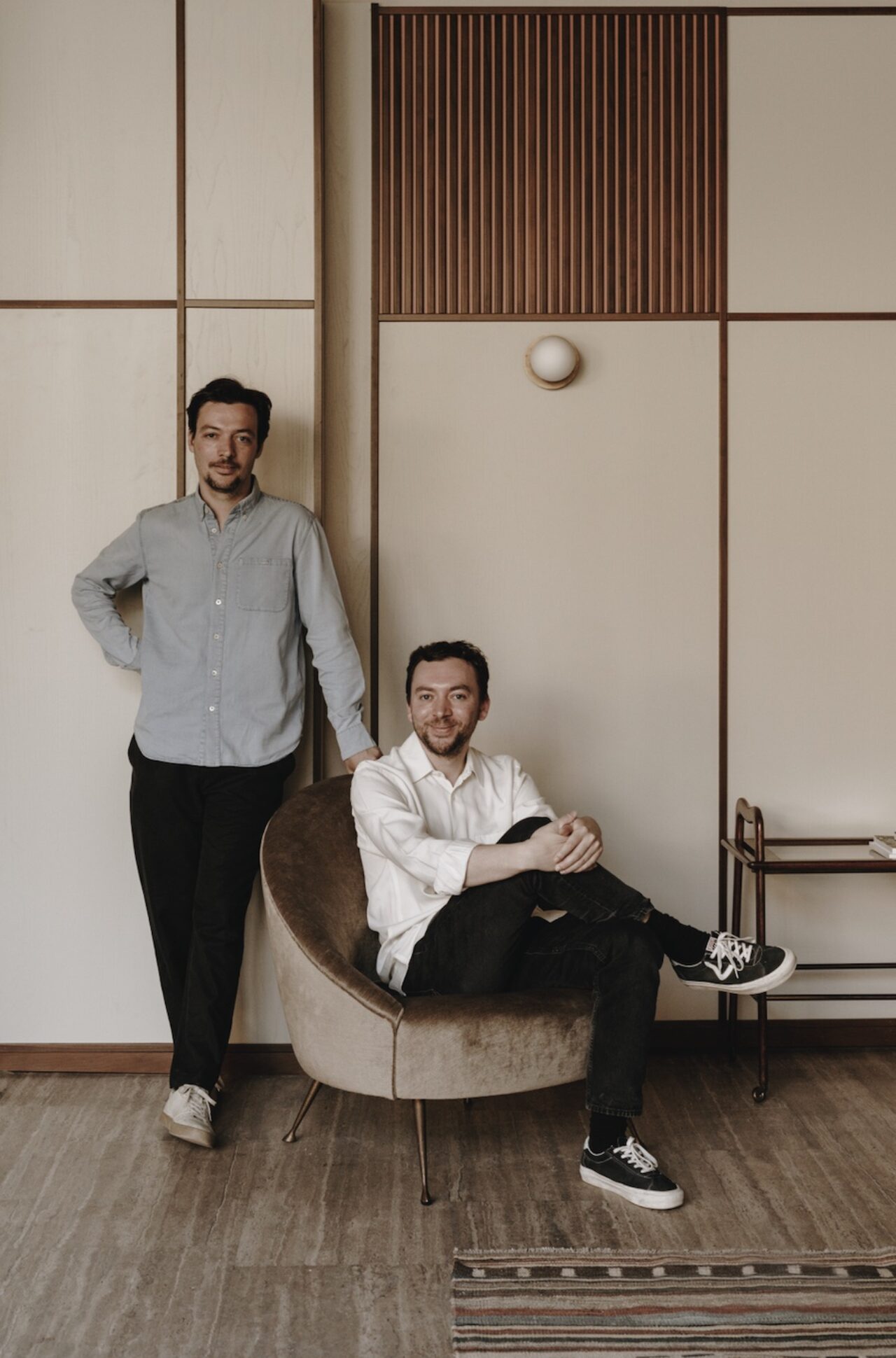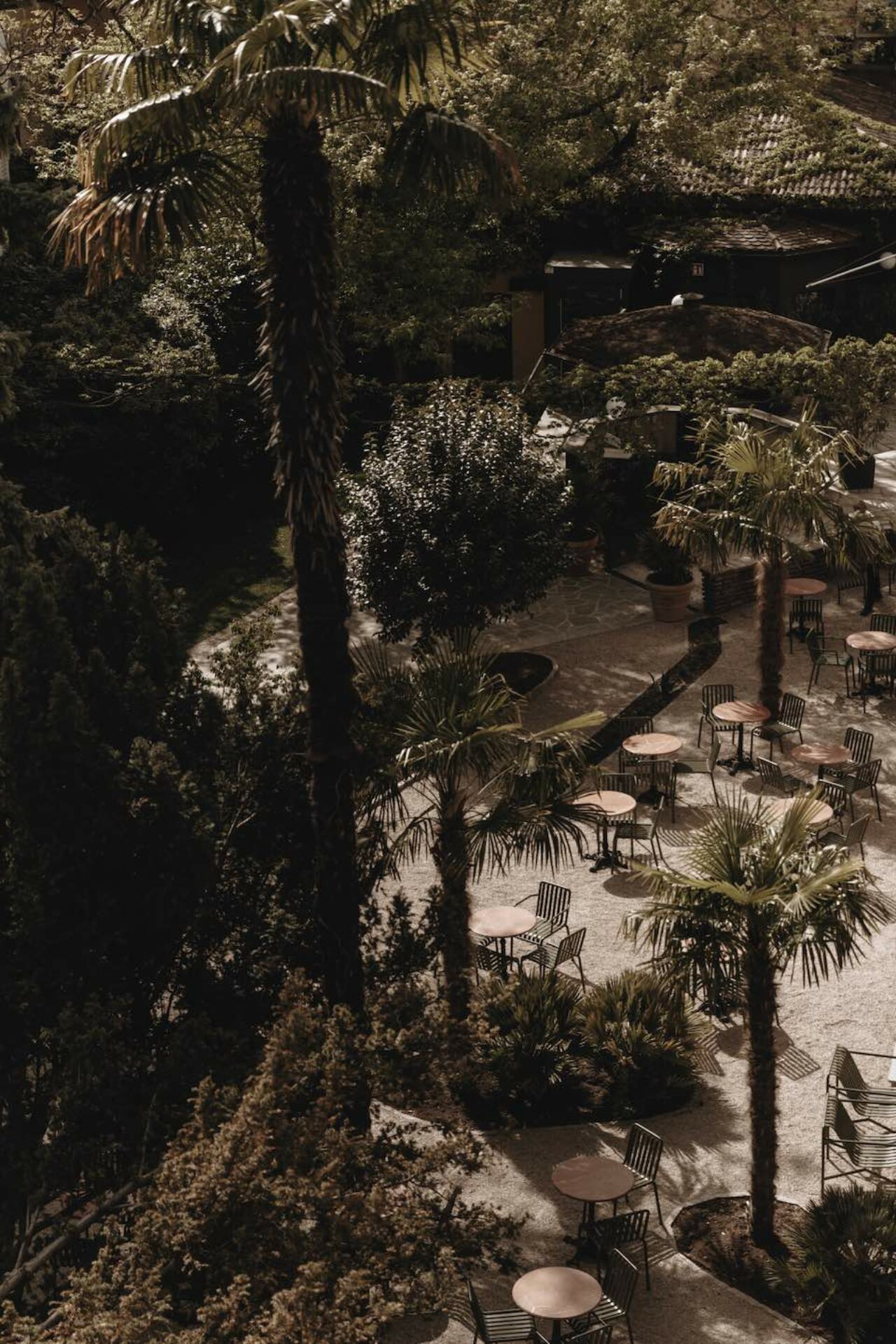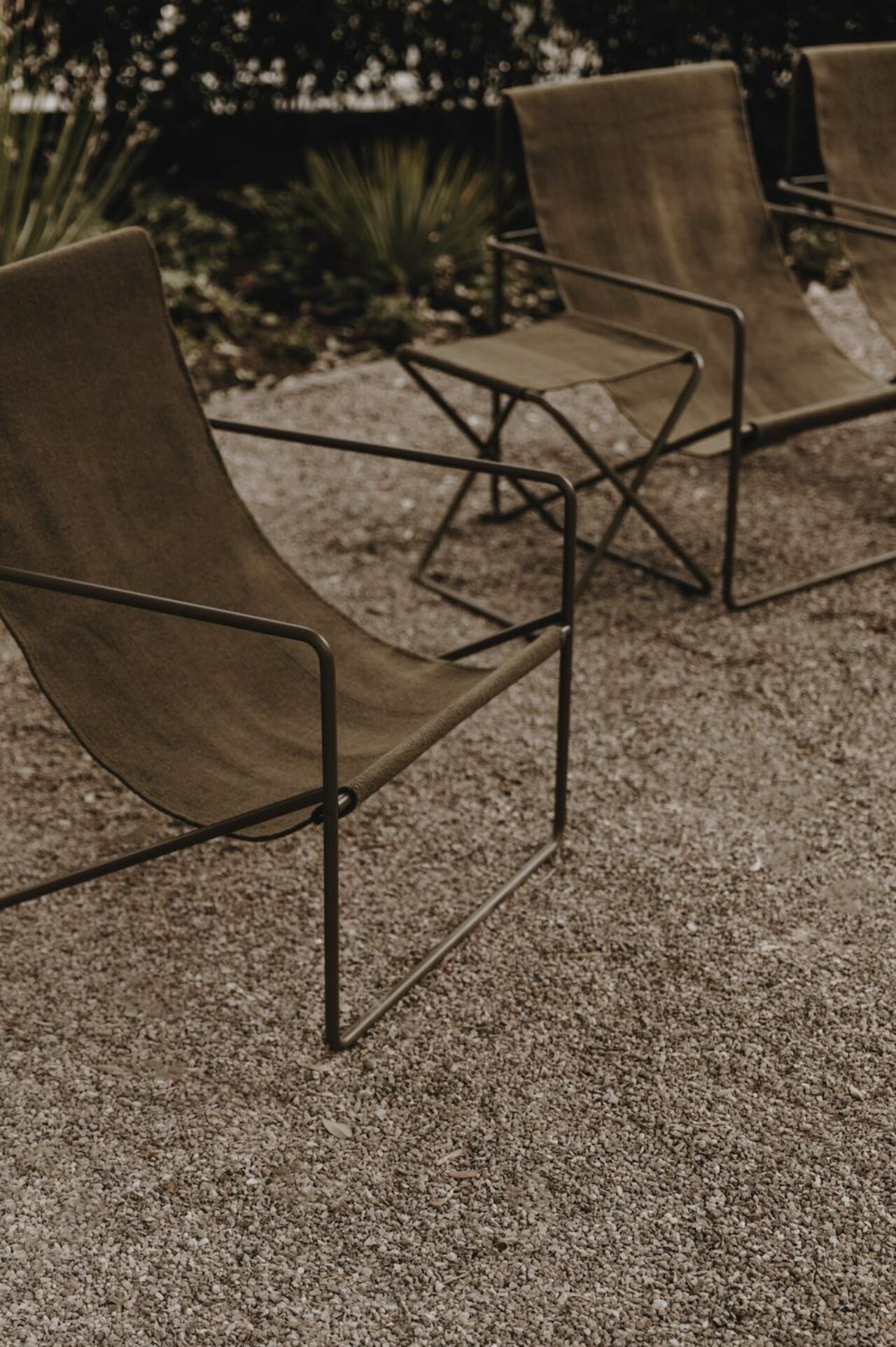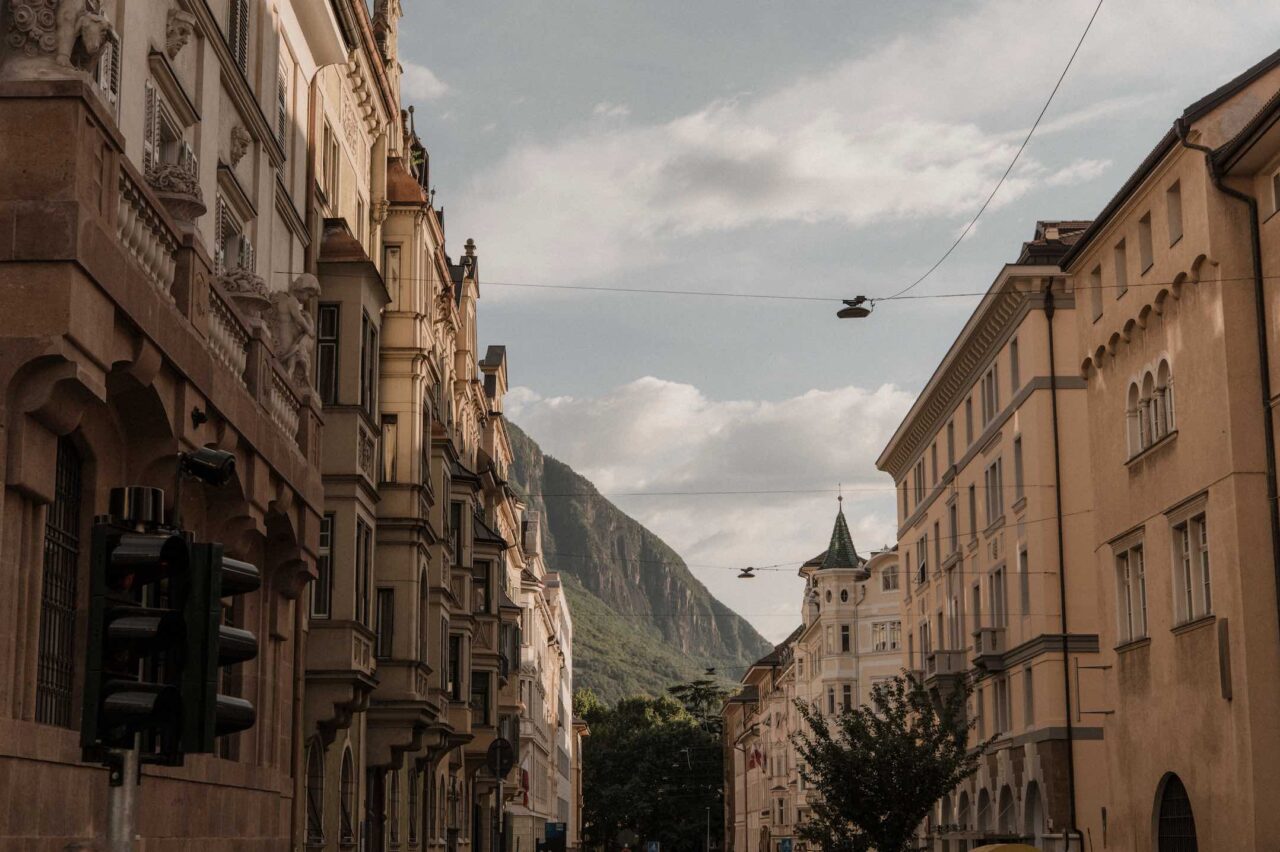 Text: Monique Kawecki
Images: As credited, Parkhotel Mondschein and Champ Magazine©