G-ROUGH
A Design Hotel With Edge, Experience an Authentic and Modern Rome Life
A perfect location and idyllic surroundings for travellers to visiting the Eternal City of Rome. G-Rough showcases an unconventional concept hotel nestled in the historic Piazza di Pasquino.
This 17th century-old building, renovated in the late 19th century, lies a stone's throw away from one of Rome's most famous landmarks Piazza Navona. Fast forward to the 21st century, and we see the building transformed yet again, this time through a purely artistic endeavour. For those wanting to experience an authentic yet modern way of Rome life, this is the place to stay. 
Through his passion for the arts, founder and owner Gabriele Salini has repurposed and reinvigorated the centuries-old building through his individual style, taste and personality. With his sister an artist, his intrigue was piqued and Salini began collecting. 
Salini, it turns out, is at the core of the hotel's energy. Describing himself as a "nostalgic contemporary", Salini has made his passion project an incredibly successful boutique hotel. A pivotal member of the Design Hotels curation, G-Rough suits the boutique hotel group extremely well. A new generation of hoteliers are quietly entering the industry on their own terms, filling voids that were indeed waiting to be filled. Especially in Rome (and Puglia, where Salini has just opened Palazzo Daniele). Salini knows what's missing and goes for it.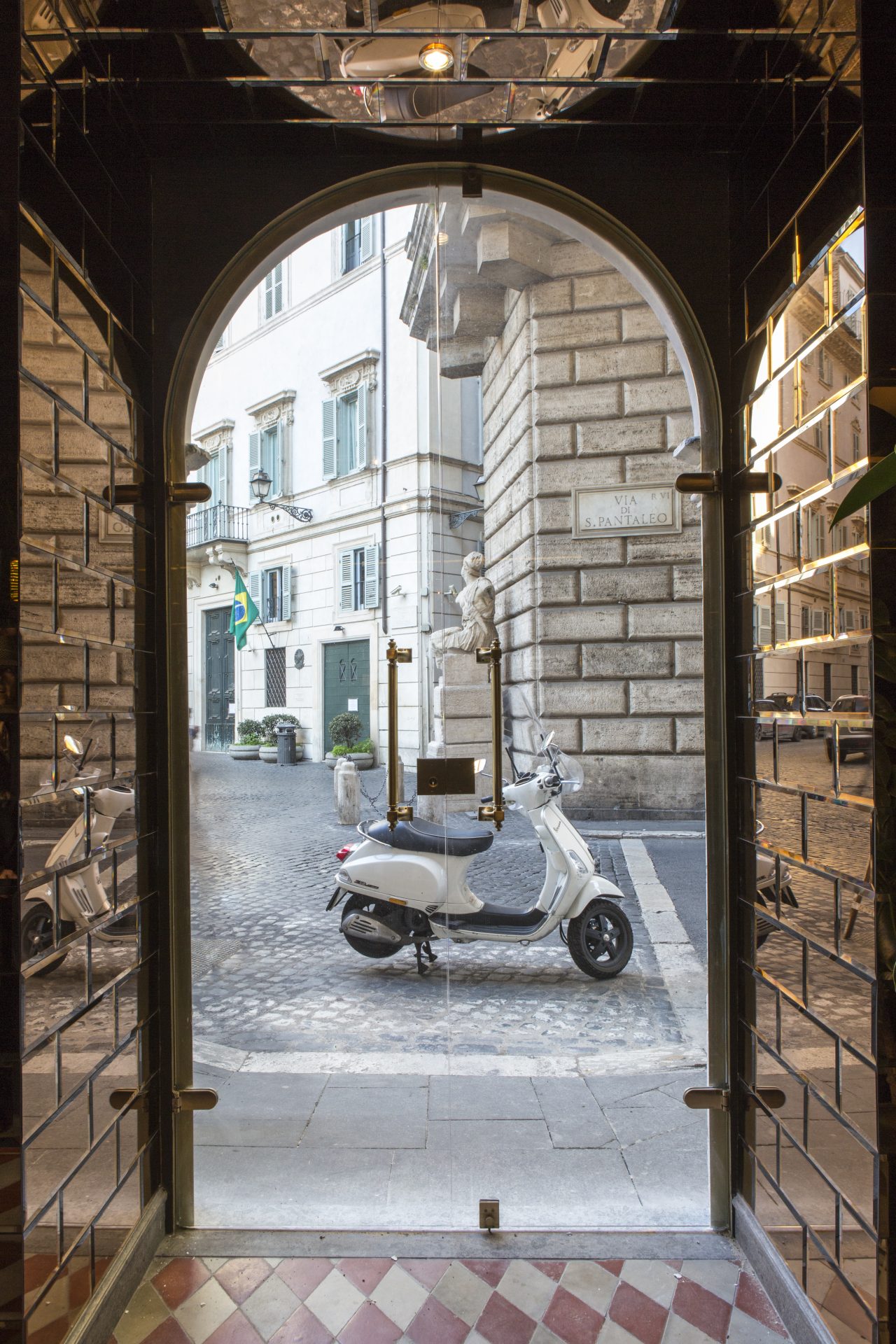 THE HISTORY: A 17TH CENTURY BUILDING
The building has existed in Salini's family for generations. Previously utilising the entire building as his home, the 7th-generation Roman decided to share the historic build, along with his love of the area, with others. Through his passion for art, design and his city, Salini knew he wanted to intertwine all of the elements to create an experience not yet offered in the city. Genuinely and wholeheartedly. 
Inviting artists to draw, paint and create site-specific artworks on the walls was the first step to the building's transformation. "We asked some of our friends, artists and creators, to get involved. So that's why some of them lived in this place, one month we opened the whole building, to the public, to visit the result of this residency. Some of them were painting on the walls, some of them were realising site-specific works." 
Salini even published a book on the conceptual approach, "an experiment to create something very unconventional and original in terms of communication. It's not the classic hotel catalogue, it's more of an artistic book." 
He explains the details to us over a Campari spritz in the G-Rough reception slash bar, "We asked photographer Achilles Philipino to come during the artistic takeovers, one night the party [and then the] 6 to 9 month renovation of the building. In these different moments, Achilles took different shots. We collected them at the end and created this artistic photo book, [in a] non-chronological way. If you have a look at this book, you have an idea of the function of art here. Where the artist is part of the creative process, and the scripture of the transformation."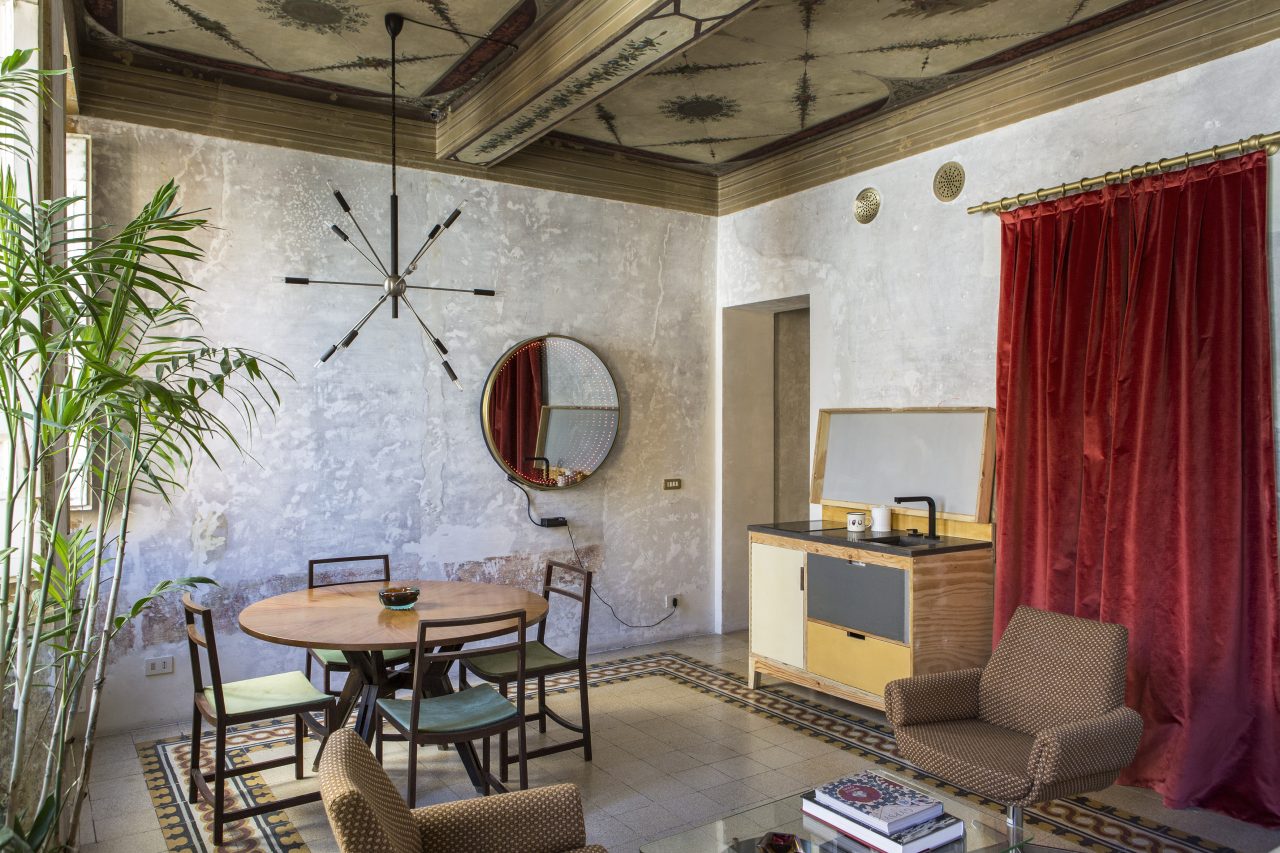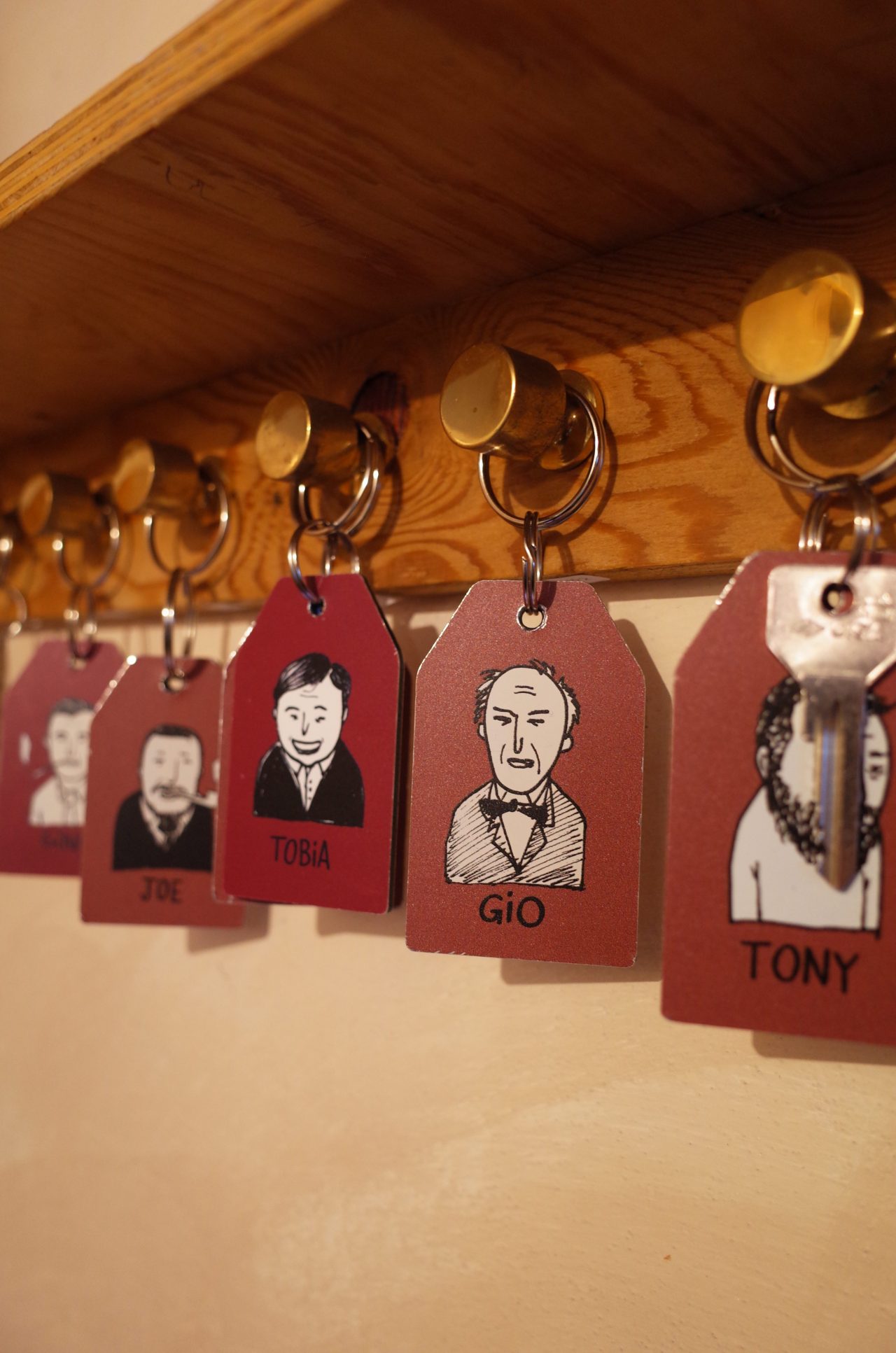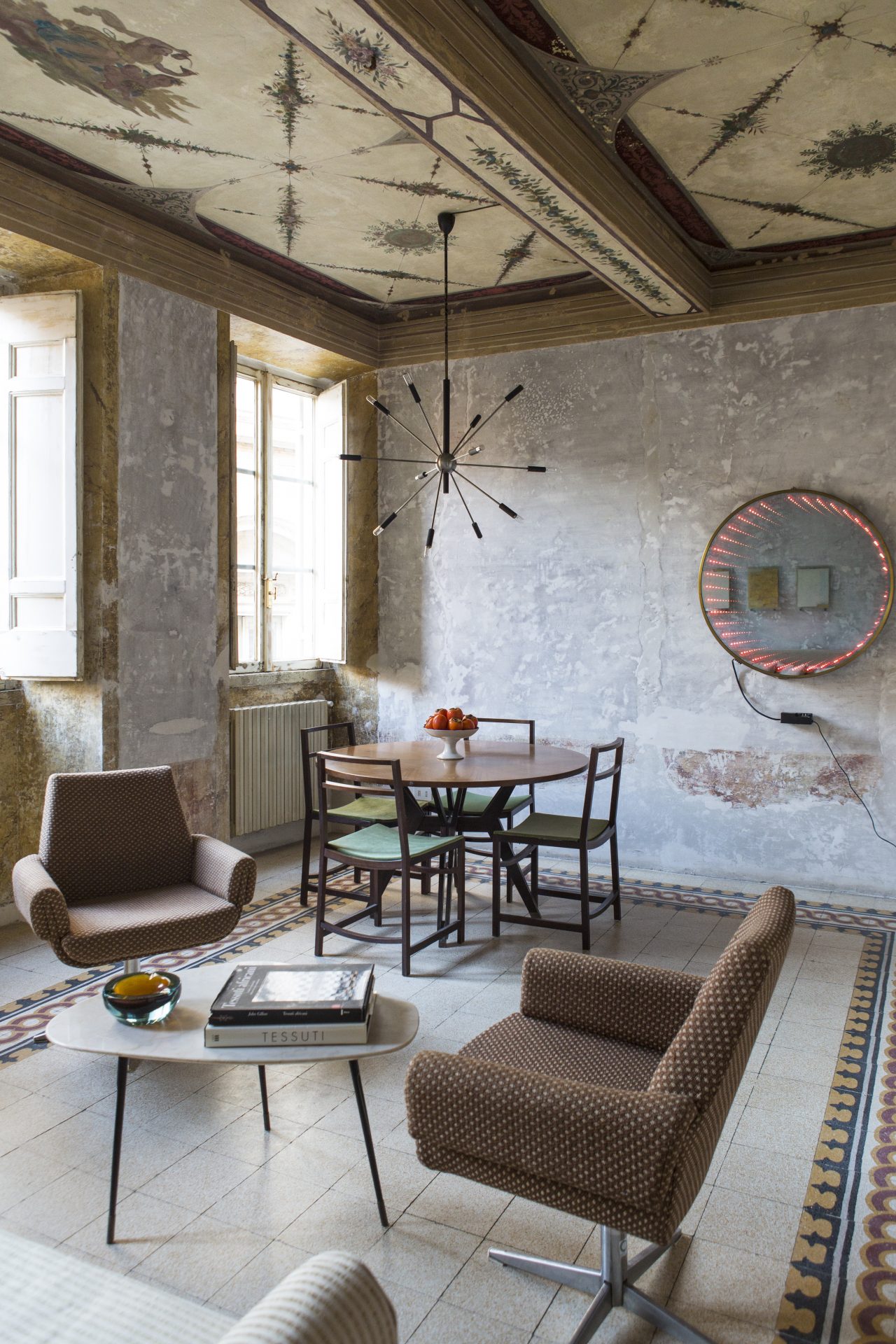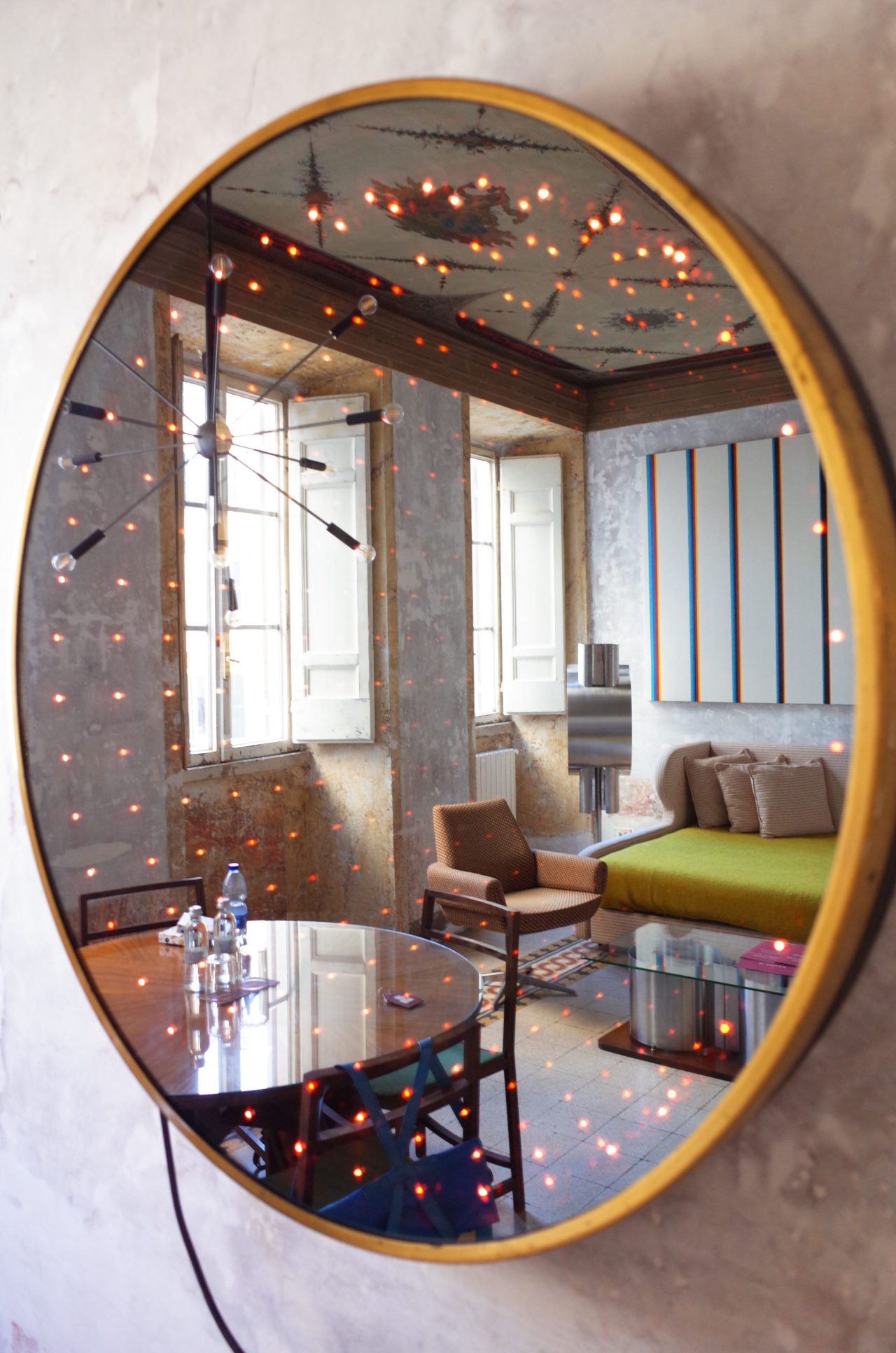 THE HOTEL ROOMS AND DESIGN
The entire hotel bares the imprint of the hotelier's taste. "Execute your vision to its entirety" states Salini. Artist-designed wallpaper amongst works which evoke curiosity and humour are what bring G-Rough to life. Original ceilings are left untouched in the whole building, with frescos respectfully left and celebrated also, but the hotels white walls sing with Rome's modern imprint of a new design attitude.
Guests will find the most beautiful Italian design from the 30s to the 60s in each room. Italian designer Gino Sarfatti's Sputnik chandelier can be found, as can Giò Ponti chairs amongst key vintage finds. An Ico Parisi round table is found amongst interiors, as are Joe Colombo lamps. Intertwined together with the original artist site-specific works (by artists such as Pietro Ruffo), stripped-back rooms reveal 17th-century Rome all the way to now, the 21st-century.
Cleverly, all rooms have names not numbers, titled with iconic designers from the past. For instance, 'Gino' for Gino Sarfatti, 'Joe' for Joe Colombo, 'Tobia' for Tobia Scarpa or 'Osvaldo' for Osvaldo Borsani. There are only 10 rooms in the whole hotel, 2 on each floor.
Everything one needs in terms of amenities, it is supplied. G-Rough specific towelled slippers in the hotel's signature deep red colour are presented for guests, as is Marvis 'Cinnamon Mint' toothpaste and toothbrushes, hair brushes, vanity set etc. Cosy bathrobes can only be kept upon purchase however!
Bathroom amenities are by NYC-based Malin + Goetz' who are also a company doing things differently in their field.  The Malin + Goetz 'rum' scent for body wash and hand soup is a fitting scent for the hotel.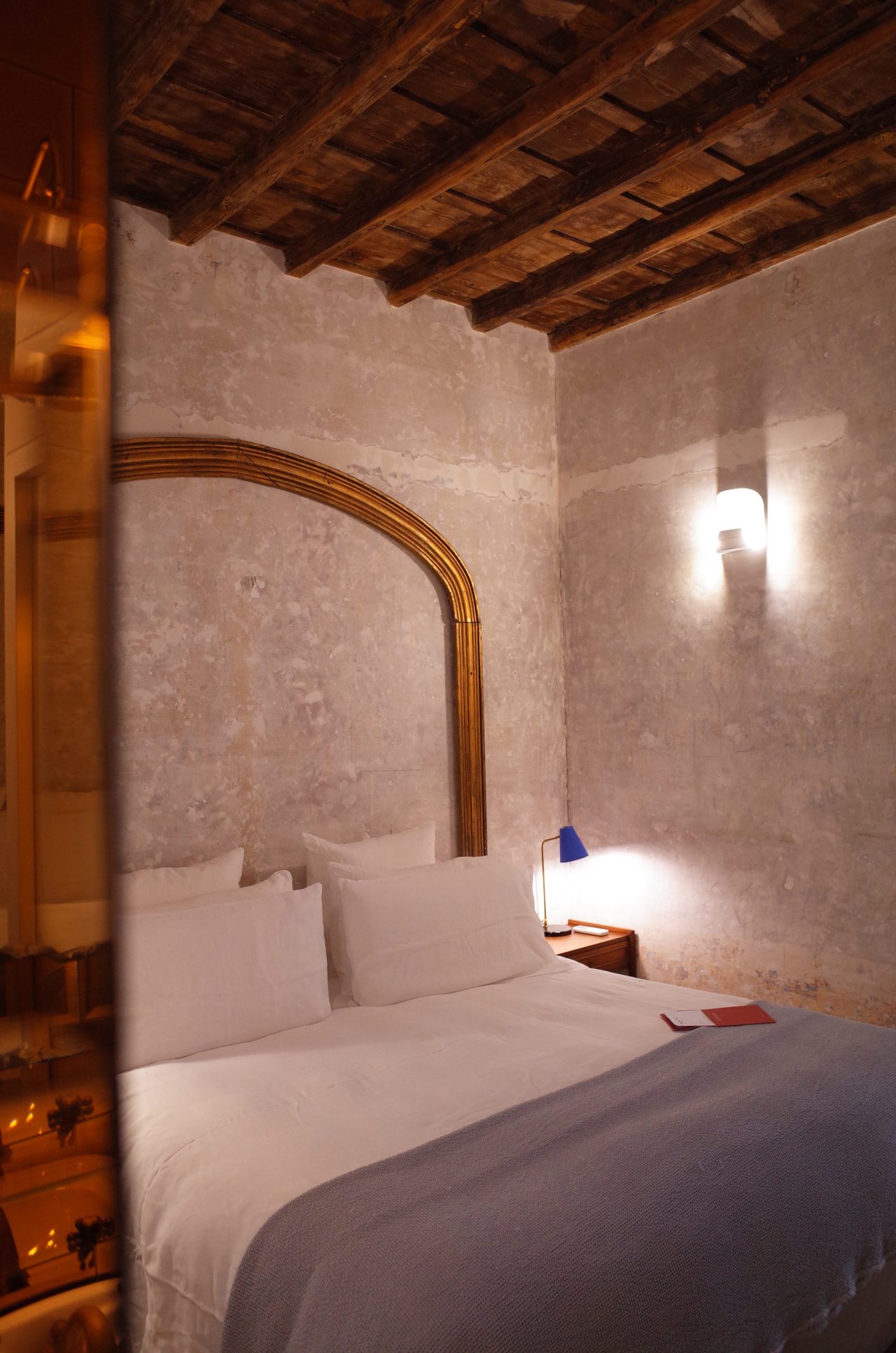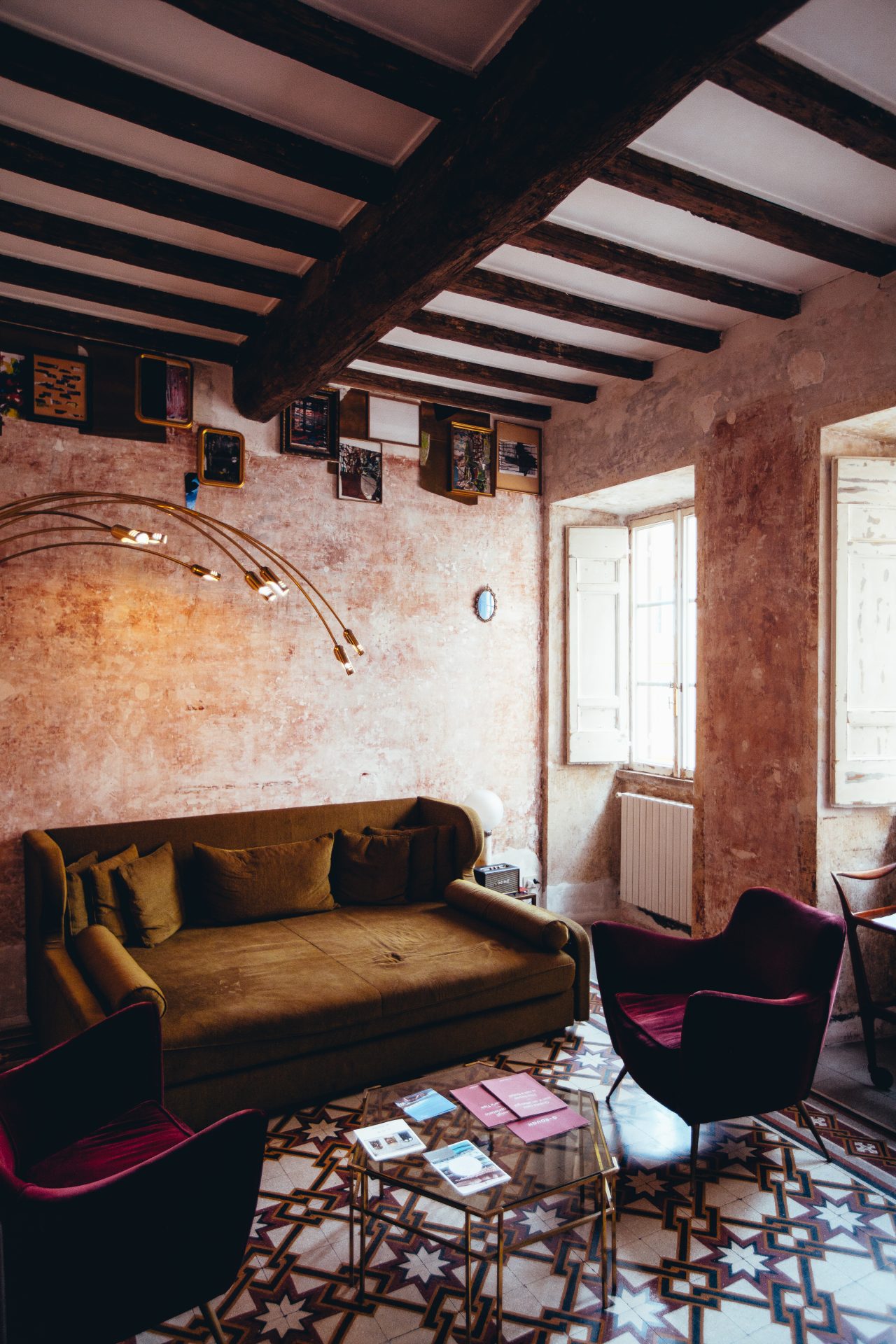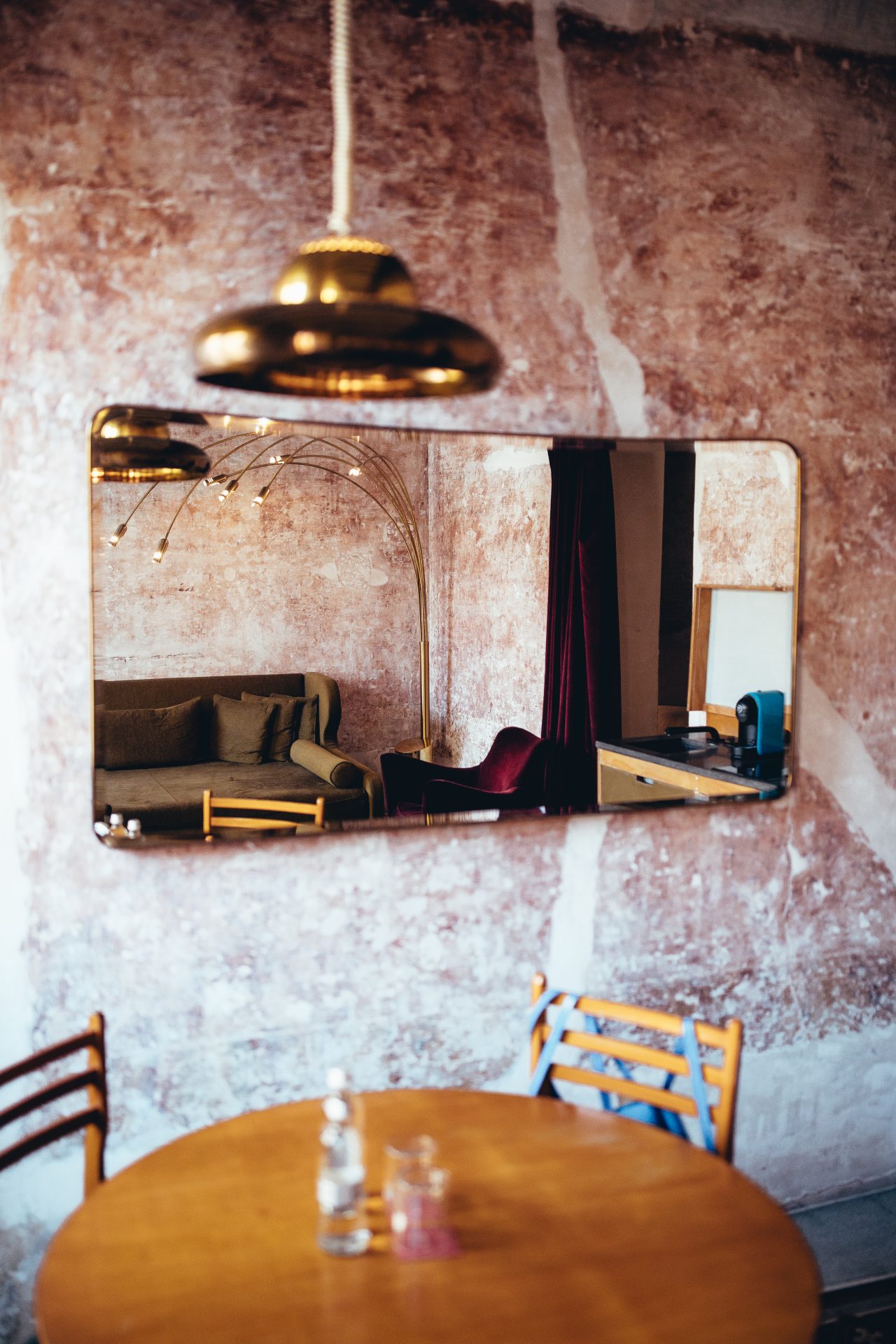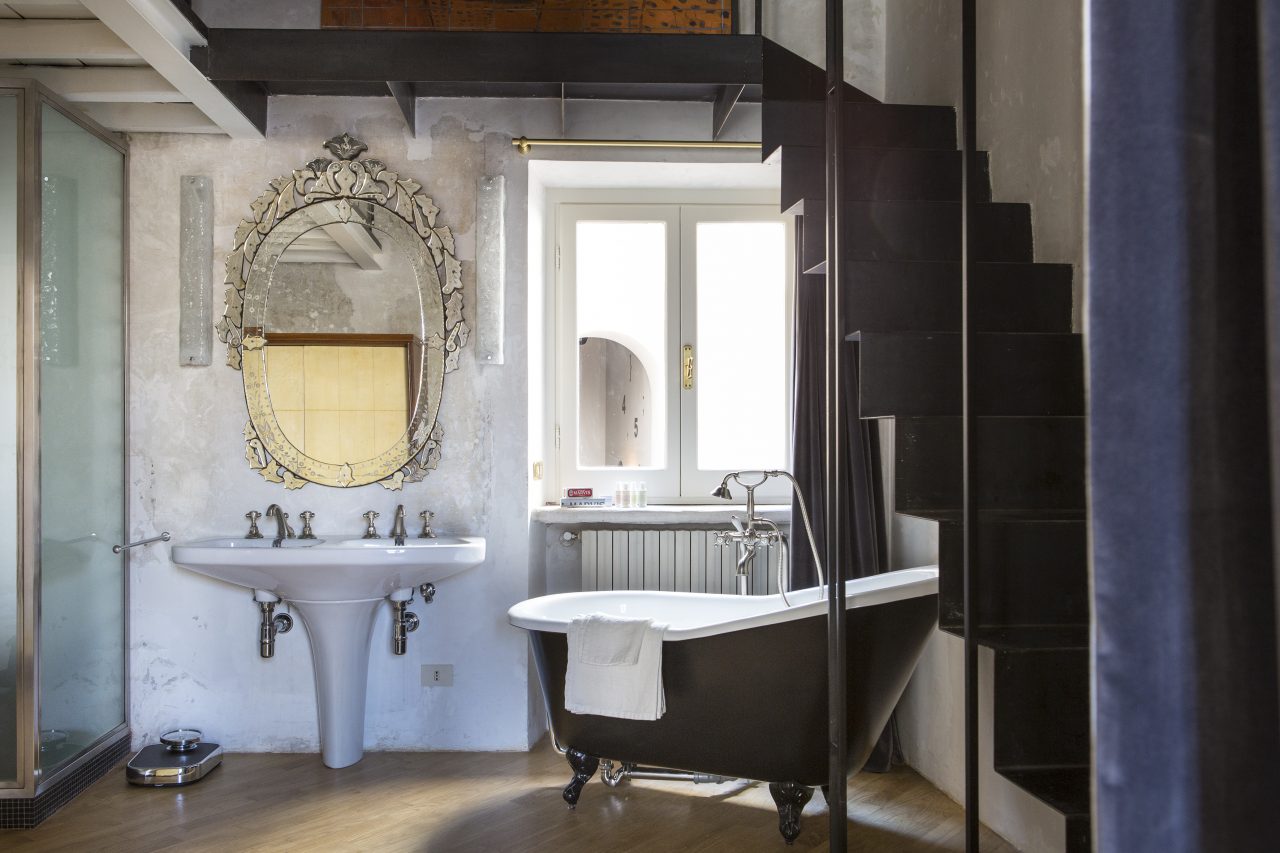 BREAKFAST, LUNCH AND DINNER
An organic continental breakfast is presented for guests with all the options one would expect. Ingredients are selected well (we are in Italy ofcourse), and topped up throughout the morning by staff. If you arrive to breakfast at 10am (like we did..), a full breakfast is possible. The G-Rough team are incredibly relaxed and don't rush guests. To note, breakfast can also be served in rooms.
At the front of the hotel, the bar slash reception area serves a selection of cheese and salami platters by leading local deli Rosciolo to accompany wine and cocktails. Open from 5.30pm until midnight, the bar is a perfect location to mingle with hotel guests and locals alike.
For dinner, the Piazza outside has numerous restaurants to dine at. Everything is conveniently a stones throw away in Rome…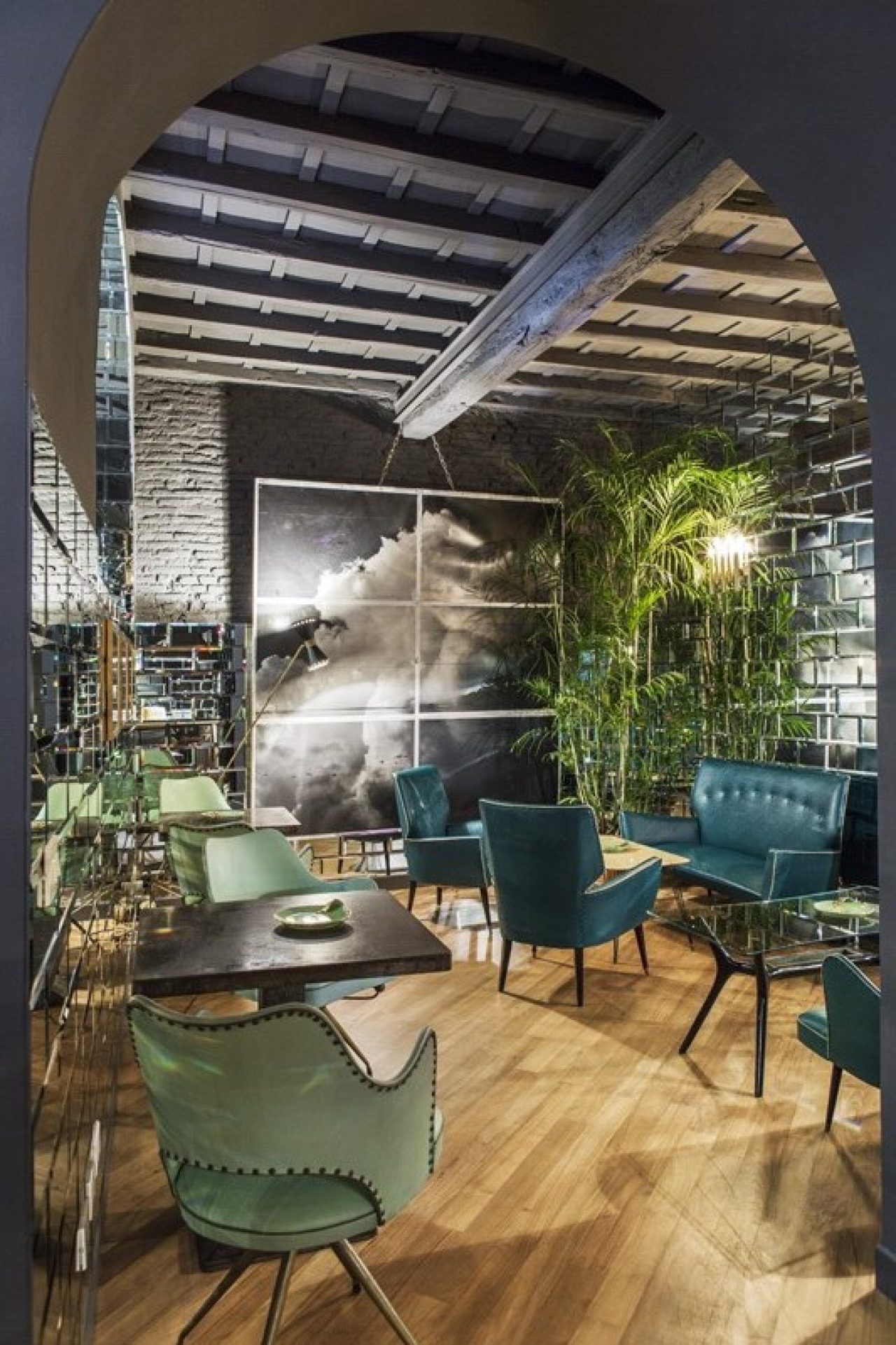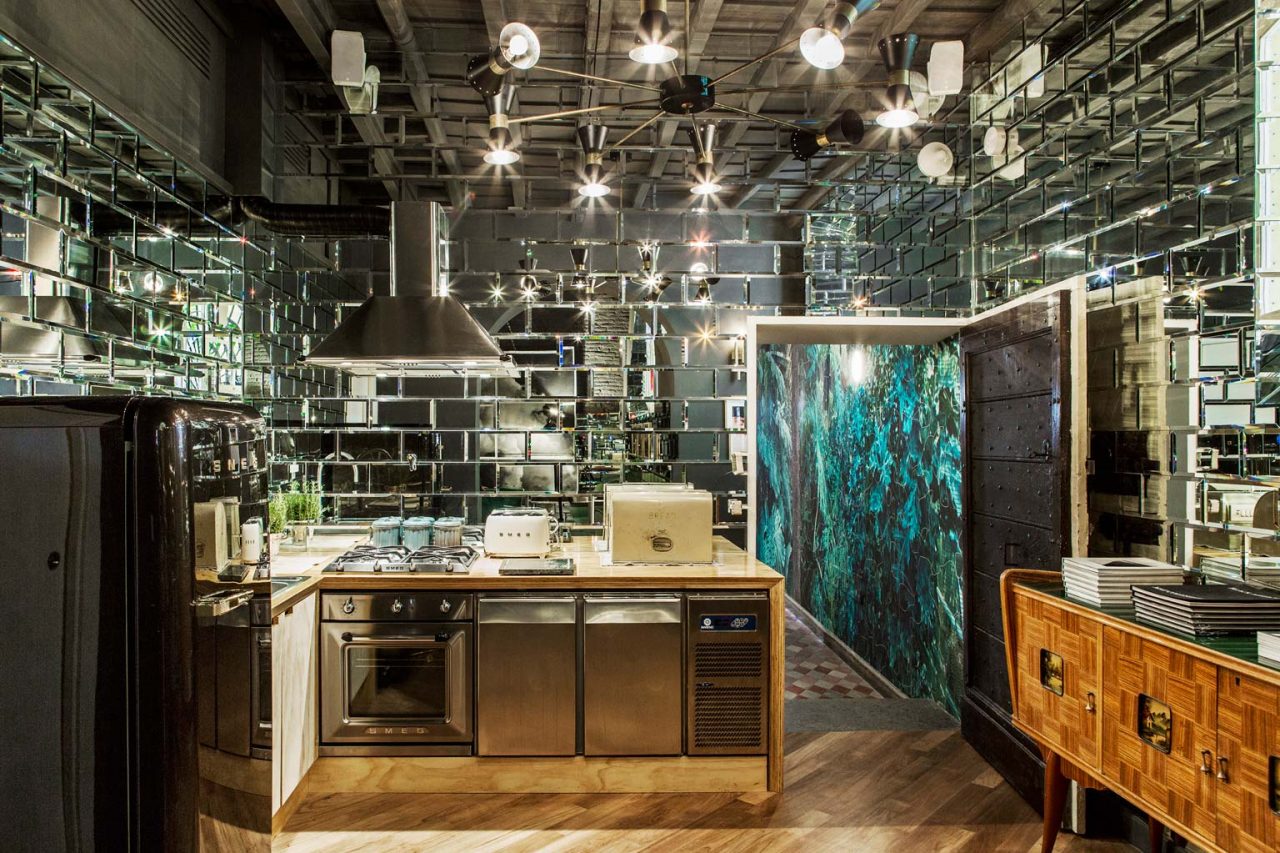 FINAL WORD
Speedy wifi (and free of charge) in this 17th century building is incredibly impressive. As are the interiors and individuality of the hotel, as soon as guests step through the front door. Even a small gesture such as a welcome drink ("any cocktail you desire!") sets the tone for the hotel.
G-Rough is especially appealing to the young professional, you'll find entrepreneurs or designers hanging out in the lobby slash bar as funk and soul music plays. The hotel's 'guide to Rome' created by Salini shows how passionate he is about the city, and also ensures G-Rough guests know the best spots to visit.
Entry-level suites start at €336, and the intimate service is what guests pay for; the experience cannot be compared to other hotels. At only 4 years old, G-Rough is the place to stay if one mixes both business and pleasure.
∆
Piazza di Pasquino 69/70
00186 Rome, Italy
Visited and reviewed by Champ Editor-in-Chief Monique Kawecki
#Champ_Rome