Fondazione Prada
Everything To Know About The Extraordinary Space in Milan; From It's Design by OMA to A Stellar Art Collection
May 2015 saw the highly-anticipated Fondazione Prada in Milan finally open to a flurry of visual and verbal communication, writes Champ Editor Monique Kawecki. Conversations and anticipation began in the lead up to its opening, which later found various journalists, directors and designers flocking to the site in the industrial area of Milan, Largo Isarco.
The unveiling of the permanent space opened a new avenue for the Fondazione's continual support and exhibition of art, film and architecture. Set up by directors Miuccia Prada and husband Patrizio Bertelli 20 years ago, the Fondazione Prada is one of the most ground-breaking private art institutions worldwide with their new purpose-built site solidifying their vision. An integral element of the Fondazione Prada is the duo's personal collection of art, which is exhibited for visitors to enjoy in an extremely effective aesthetic context: over 19,000 square metres of space allows works to be experienced with a complete narrative. It is indeed a cultural institution. Along with exhibiting the Fondazione's vast art collection, site-specific works especially commissioned highlight the architecture and core philosophy of the Fondazione.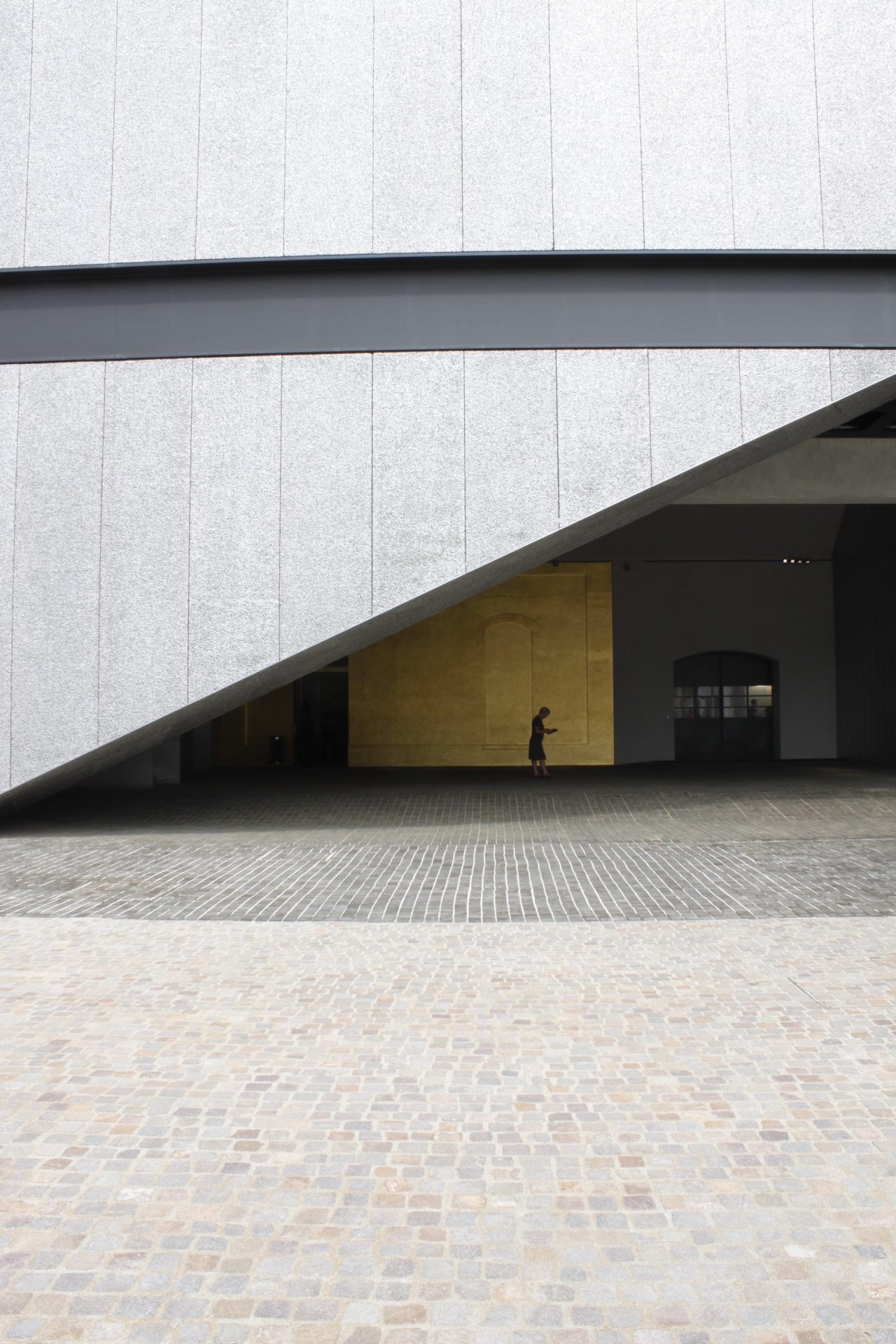 Fondazione Prada have been active in the art world since 1993 when they first started presenting solo shows in Milan. Twenty-four solo shows have been presented in Milan in addition to various international touring exhibitions, philosophy symposiums, multidisciplinary conferences, architectural projects and film festivals. Remarkable and game-changing artists and architects such as Dan Flavin, Mariko Mori, Walter de Maria, Steve McQueen, John Baldessari and Herzog & de Meuron are all a part of the Fondazione Prada's history set in stone. Especially-conceived projects are what the Fondazione Prada do best. Carsten Höller's 'Double Club' in London in 2008 was executed to the highest standard because the Fondazione Prada was at the helm of production, and even now, visitors continually revisit their memorable experience there with high regard.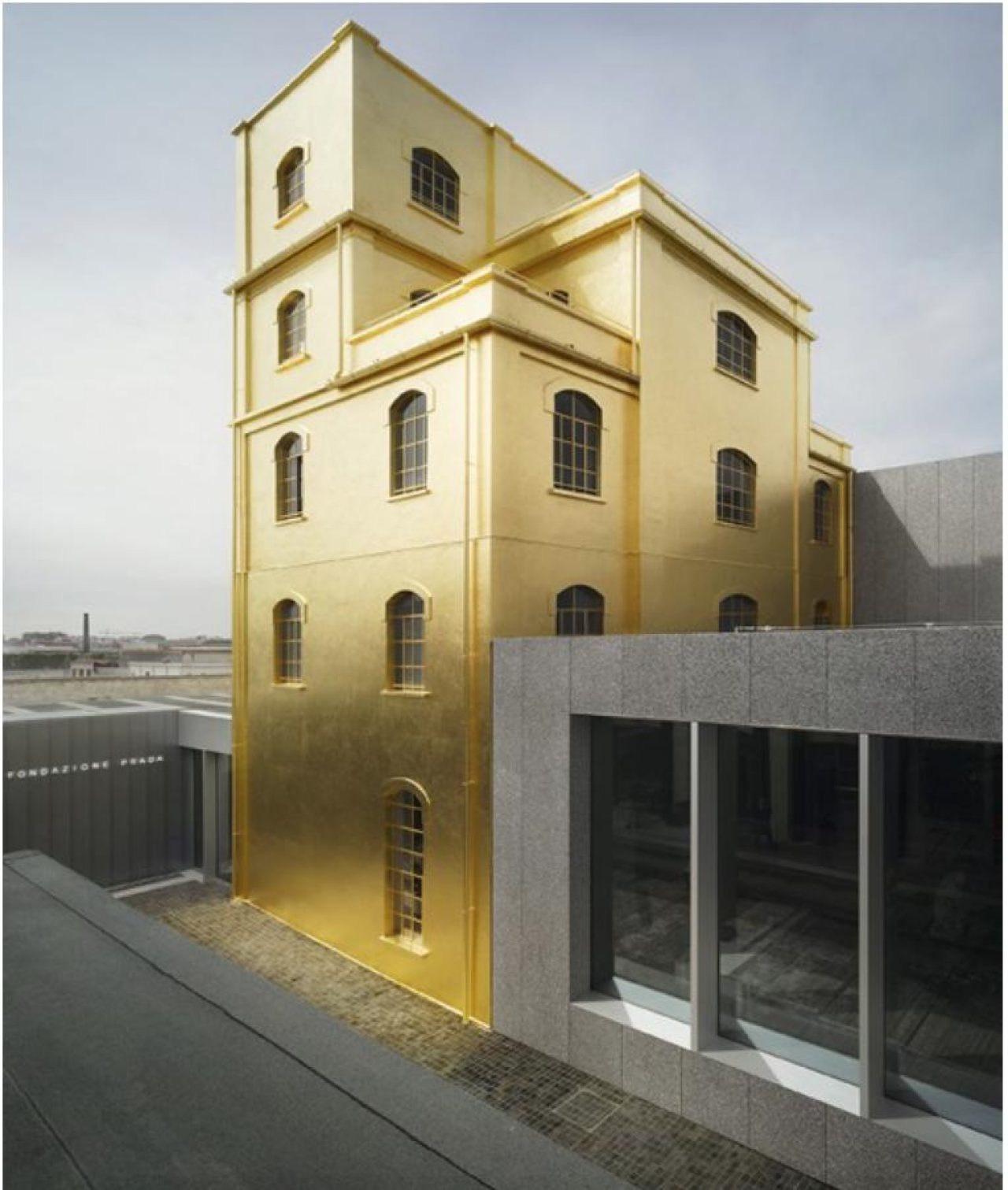 The Fondazione Prada is situated in a former industrial complex in the area of Largo Isarco in Milan. The 100 year-old factory served as a former distillery (Società Italiana Spiriti) and found a new realisation through the eyes of Dutch architect Rem Koolhaas and his OMA firm members: Chris van Duijn and Federico Pompignoli leading the team. Another longterm friend of Miuccia Prada's, Koolhaas has worked with Prada for over 15 years on projects stemming from Prada flagship stores in New York to the renowned 'Prada Transformer' Pavilion in Seoul in 2009. Here in Largo Isarco, Koolhaas envisioned the old architecture to coexist with the new additional design, a harmony of preservation and creation. The action comes from a desire to retain history, and Koolhaas is the first to say he is not interested in tearing down old buildings that are still usable.
The site is comprised of seven existing structures (warehouses, laboratories, brewing silos from the former distillery) with the addition of two new structures (a cinema building and another museum). The third is a 9-storey high tower currently completing construction. One of the existing buildings that has been re-appropriated is The Haunted House, a building that greets all visitors and viewers, first and foremost, visually. It has been covered in a layer of 24-carat gold leaf: a job that took a small team of women 3 months to finish. A paper-thin coating of gold leaf, 4kg to be exact, was intended to showcase how a simple design addition could completely transform a building. Koolhaas himself admits that gold is in fact quite a cheap cladding material in comparison to marble and even some paints but aesthetically, it is more than striking, and when sunlight hits the exterior it is almost blinding. The golden-clad Haunted House top can be seen from about a mile away, a sure sign of anticipation and excitement for any visitors arrival. Composed almost in juxtaposition, the adjoining Podium building exterior is made up of a striking foamed aluminium. The design is continued inside the building, which housed a previous 'Serial Classic' exhibition, a focus on modern materials in traditional sculpture.
The central building on the grounds lays claim to the Fondazione Prada cinema and multi-purpose space. Open-air screenings are possible with an extension built within. The next door building 'Cisterna' is a former grain silo, which holds strengths such as particularly high ceilings and numerous windows inviting in (and reflecting) light on artworks within. 
Certainly not left unattended, the immaculate details of signage, railings, door-handles, steps and windows all combine to make a powerful statement in design. Here the devil is in the details. Handrails are slick: designed as if cut out of the aluminiun walls, and although functional, they are almost unseen albeit small lighting found within.  Previous Prada seasonal colour palettes can be found in many of the interiors, such as the lime velour seating in the Haunted House (creating a simple yet elegant seating in high contrast to the bright grey concrete walls), or works in the collection itself.  The 70s mustardy-lime velour in Walter de Maria's 'Silver Portrait of Dorian Gray, 1965′ work, can be seen as inspiration to the interiors of the recently opened Miu Miu Aoyama (Tokyo) store. 
Without a doubt, contemporary design details and traditional architectural structures are challenged to create a revolutionary new space.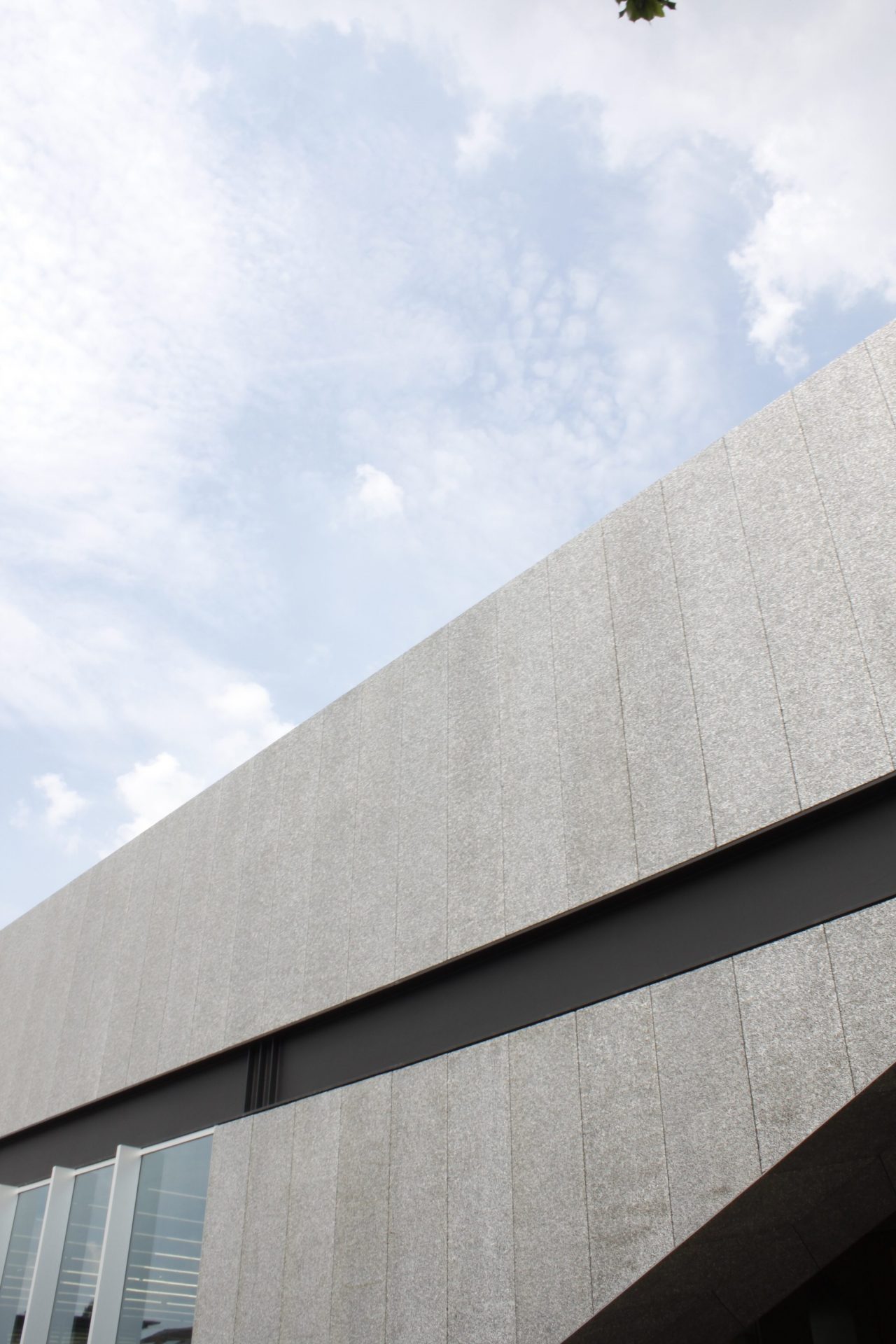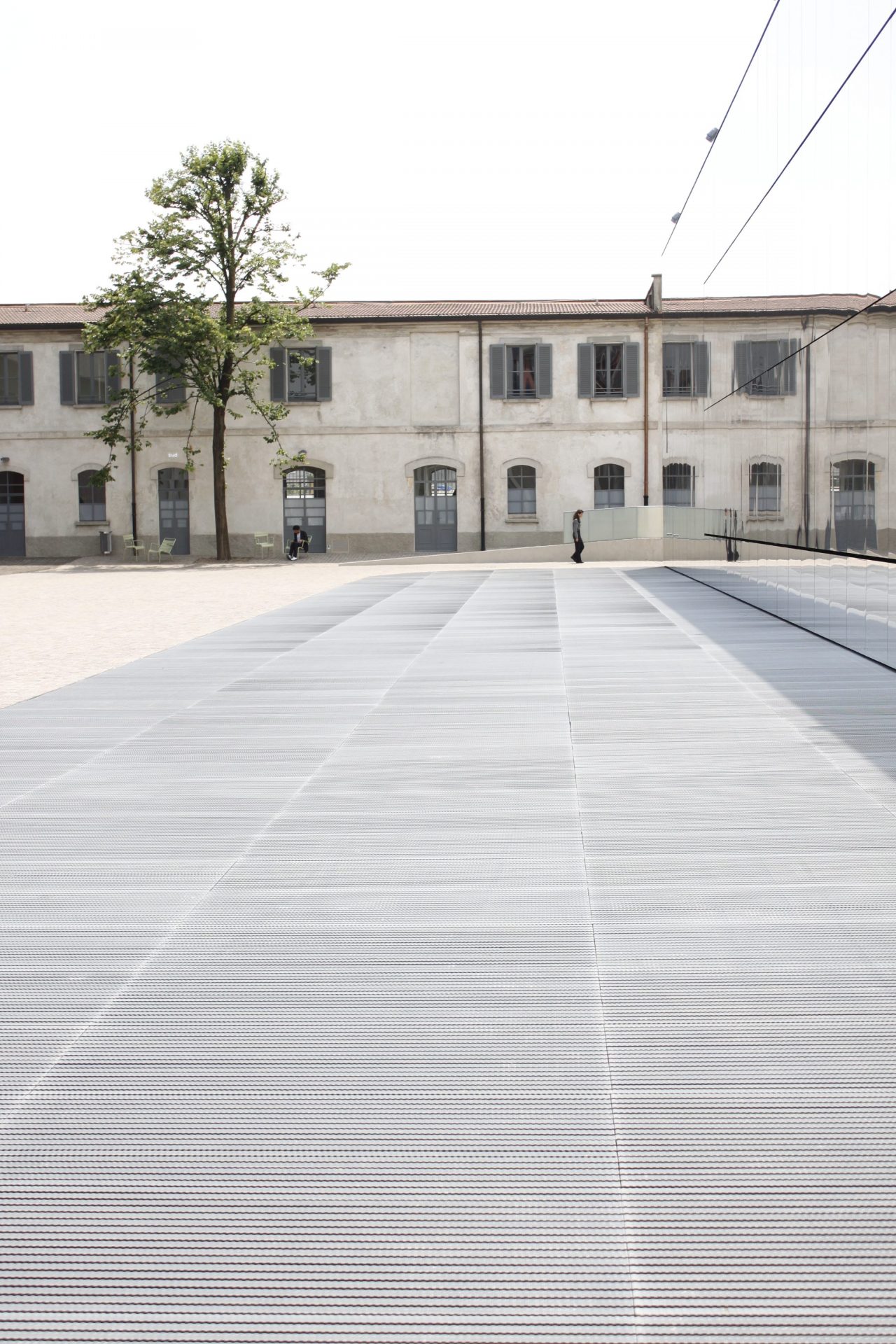 An eye-opening insight into the artistic interests of Miuccia Prada and Patrizio Bertelli, their Collezione Prada is extremely considered and personal. Here works are housed, exhibited and communicated through appropriate means due to size and a mutual understanding between artist and curator. Project Director Astrid Welter curates many of the exhibitions throughout the buildings of the Fondazione Prada, intertwining works from the Collezione without loans depending on what is needed. 
Exhibited in the Haunted House, site-specific work by Robert Gober ('Untitled, 1993-2013' and 'Corner Door and Doorframe, 2014-2015') can be found on the top floor, whilst two powerful works by Louise Bourgeois are exhibited on the 1st floor, an important introduction to the entire collection of the Fondazione Prada. The power of the work is subconscious, in the all-consuming way Bourgeois' works often are. Communicating the influence of a woman's work: The intellectually and emotionally complex works found related by almost all through a personal and familiar subject matter. Here Bourgeois and Gober's works are placed together in contrast and comparison.
Part of the Prada collection, Damien Hirst's 'Lost Love, 2000′, Pino Pascali's '1 metro cub di terra, 1967' and Eva Hesse's 'Case II, 1968′ can be found in the 'Trittico' display devised by the Thought Council (Shumon Basar, Nicholas Cullinan and Cedric Libert) in the 'Cisterna' building. With a room each, there is no denying that full attention is given to the individual works. It is a luxury many other museums do not have.
In the Deposito building, which was once a laboratory, galleria Sud hosts Am Introduction: an intense exhibition project. Conceived through dialogue between Miuccia Prada and Germano Celant, a study of the passion for art is explored through the Collezione Prada works. Featuring more than 70 works by Jeff Koons, Yves Klein, Donald Judd and Barnett Newman. A series of artist cars by Sarah Lucas, Elmgreen & Dragset and Carsten Holler are found exhibited in appropriate proportion in the farthest main room. 
Artist Thomas Demand has installed a permanent work; 'Processo grotessco' in the an underground space, whereby a perfect location for his cavernous-themed work can be found. Demand has recreated his installation inspired by a subterranean chamber in Majorca with documents and source materials alongside showcasing creative process and providing more depth to the subject matter. Unexpected and a challenge to various senses, this permanent work is exhibited in prime context.
Artists such as John Baldessari, Michelangelo Pistoletto and Lucio Fontana are found in the group exhibition 'In Part' curated by Nicholas Cullinan. Exhibited works are derived from the Collezione Prada and loans from various international museums or private collectors. Light-grey concrete surrounds works such as 'Conversazione, 1962-1974' by Michelangelo Pistoletto and 'Testa di medusa, 194801954' by Lucio Fontana. Their context is refreshing with the experience encouraging a sense of the familiar yet in comparison, different and new.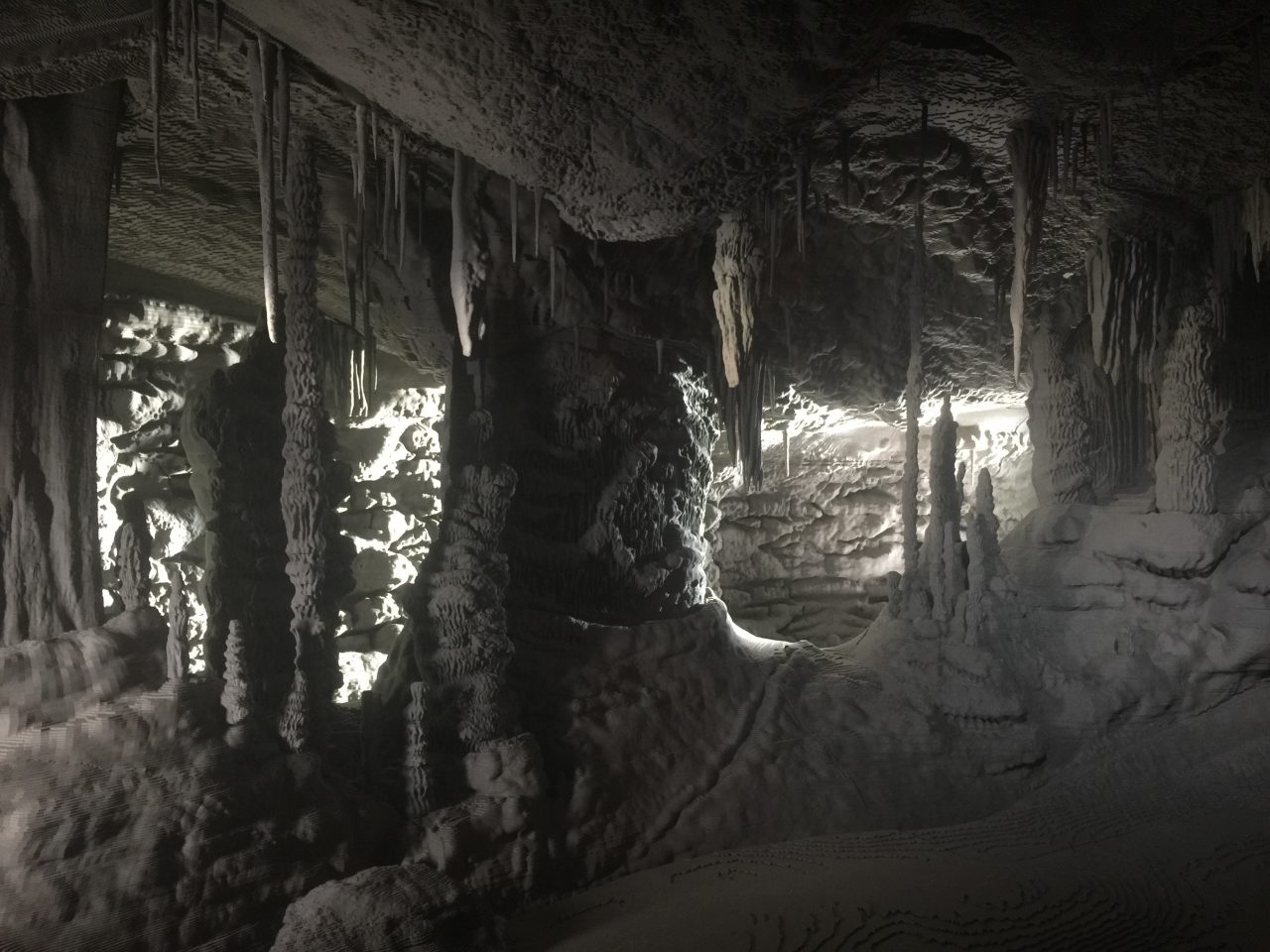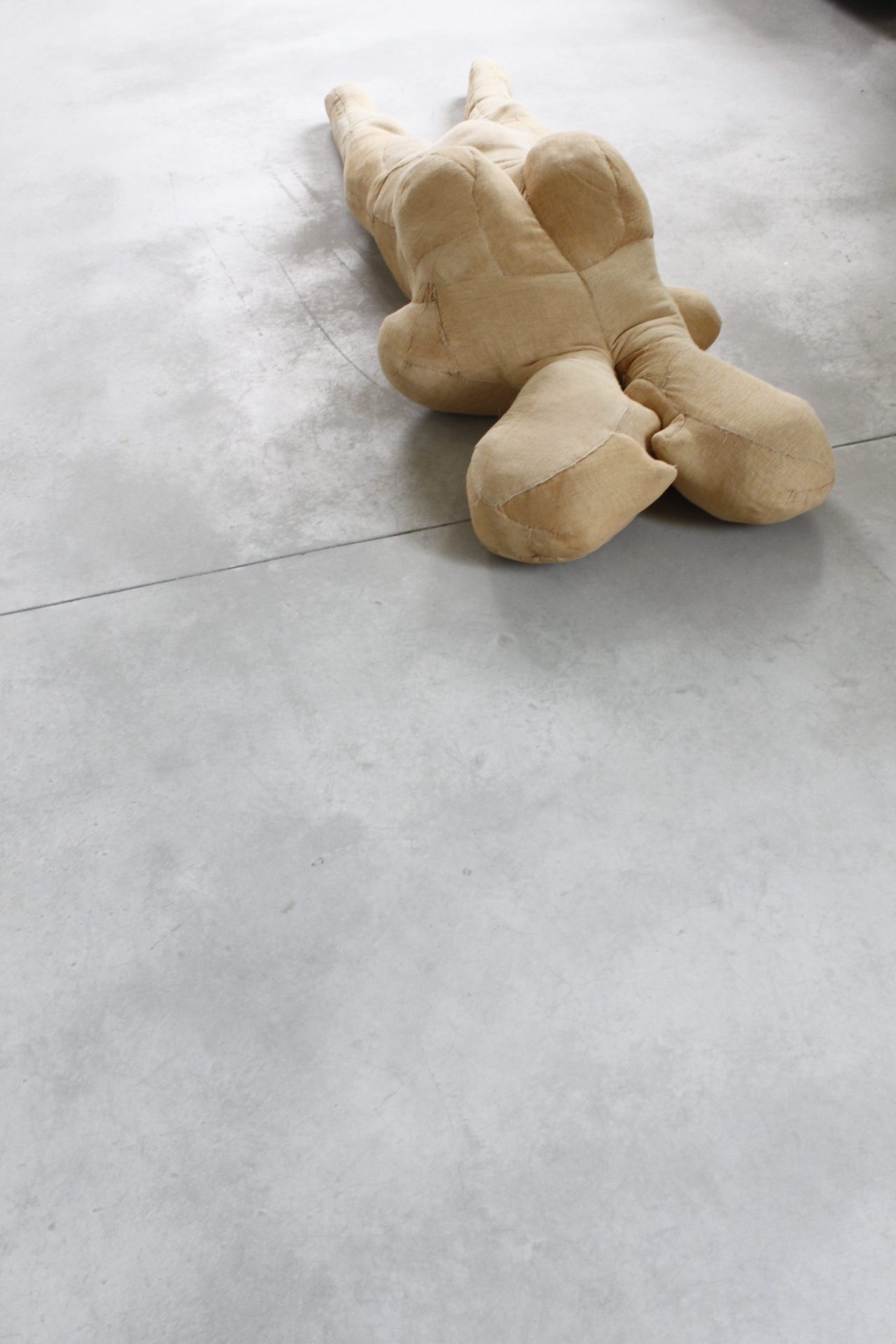 Another long-term friend to founder Miuccia Prada, film director Wes Anderson designed the one-of-a-kind Bar Luce recreating the atmosphere of a typical Milanese cafe with the addition of Anderson quirks. Anderson states, 'there is no ideal angle for this space. It is for real life, and ought to have numerous good spots for eating, drinking, talking, reading, etc. While I do think it would make a pretty good movie set, I think it would be an even better place to write a movie. I tried to make it a bar I would want to spend my own non-fictional afternoons in.'
Solid pastel colour ways work in juxtaposition to alternating bronze and gold details, with veneered wood panels and formica furniture reflecting on past Italian popular culture and design aesthetics. The arched ceiling of the space has been preserved, with patterned details replicated to enforce the interior design direction of the 1950s and 1960s. Again, no detail has been left unattended: the detailing on the Steve Zissou-themed pinball machine, the The Casuals and Bruno Martino classic songs on the retro jukebox to even the bar staff's impeccable black and white uniforms. Even the waiters attitude is what you would expect here – straight yet polite – undeniably Italian in the most charming way possible. Unassumingly the bars bathroom is an experience, with its outside design worthy of photography and a moments glance of appreciation.
Open every day from 9am to 10pm, the bar is a gathering spot for Milanese locals with Friday evenings now a typical destination for the young, fashionable and sociable. Upon first visitation, the feeling that you are in an artwork itself is inevitable. A performance art of sorts, unconventionally attractive waiters attend to guests' wishes in typical Italian manner (direct but never pretentious), whilst the perfectly presented Tiramisu is an accompanying accessory to the perfect cup of espresso. On the menu: panini, panini, panini (with every option delicious and presented with aesthetic perfection)… and a never-ending option of beverages, such as the cliché yet never underestimated classic Spritzer. Bar Luce has embraced the Italian culture of socialising and taking a moment out to enjoy life itself. 
At the Fondazione Prada, a true sense of harmony and balance between art and architecture is found, with each supporting the other. Perhaps it is one of the greatest spaces of our time, but you will have to visit to find out.