Flushing Meadows Hotel & Bar
Munich's Only Design Hotel for the Independent & Savvy Traveller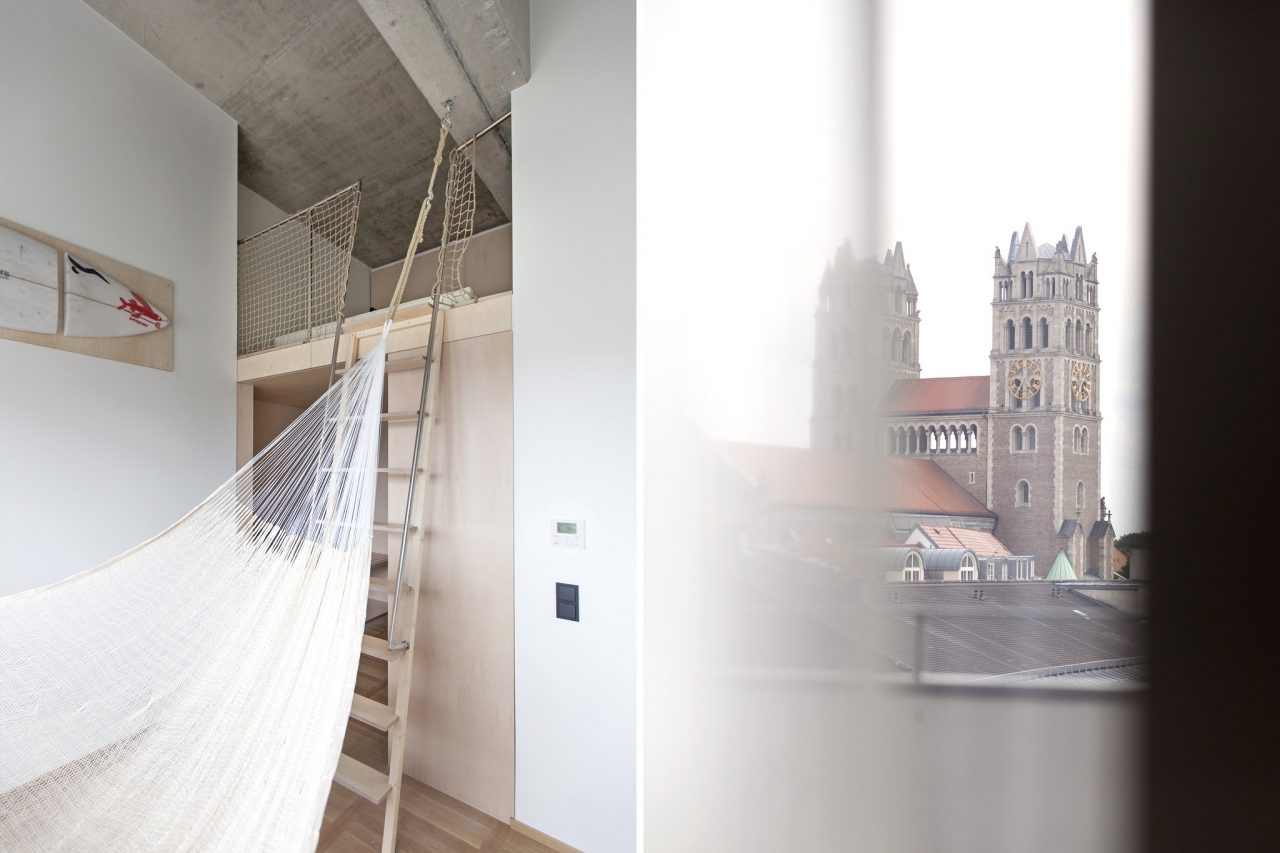 A 16-room design hotel located a short walk from the city centre, Flushing Meadows is the go-to destination when in Munich. 
Flushing Meadows is not your standard kind of hotel, its practical design is a reaction to the building it occupies. The reception area is found on the top floor, and after hours the bar is also used to casually check guests in. It's a casual approach that works for Flushing Meadows, appealing primarily to the independent and savvy traveller. A member of the Design Hotels group, Flushing Meadows highlights this as their strength.
Founded by three friends, Sascha Arnold, Niels Jäger, and Steffen Werner, the hoteliers are bringing a new entrepreneurial energy to the city of Munich (they also own a fresh juice bar, and previously a restaurant). Since they joined forces, the trio are bringing an edge to Munich's contemporary culture. The city has a lot to offer, and Flushing Meadows is the best point for a first introduction to the creative scene beginning to bubble under the surface.
Champ team Romain Camus explores the best of the hotel's design, its adjoining bar and community in the creative district of Munich.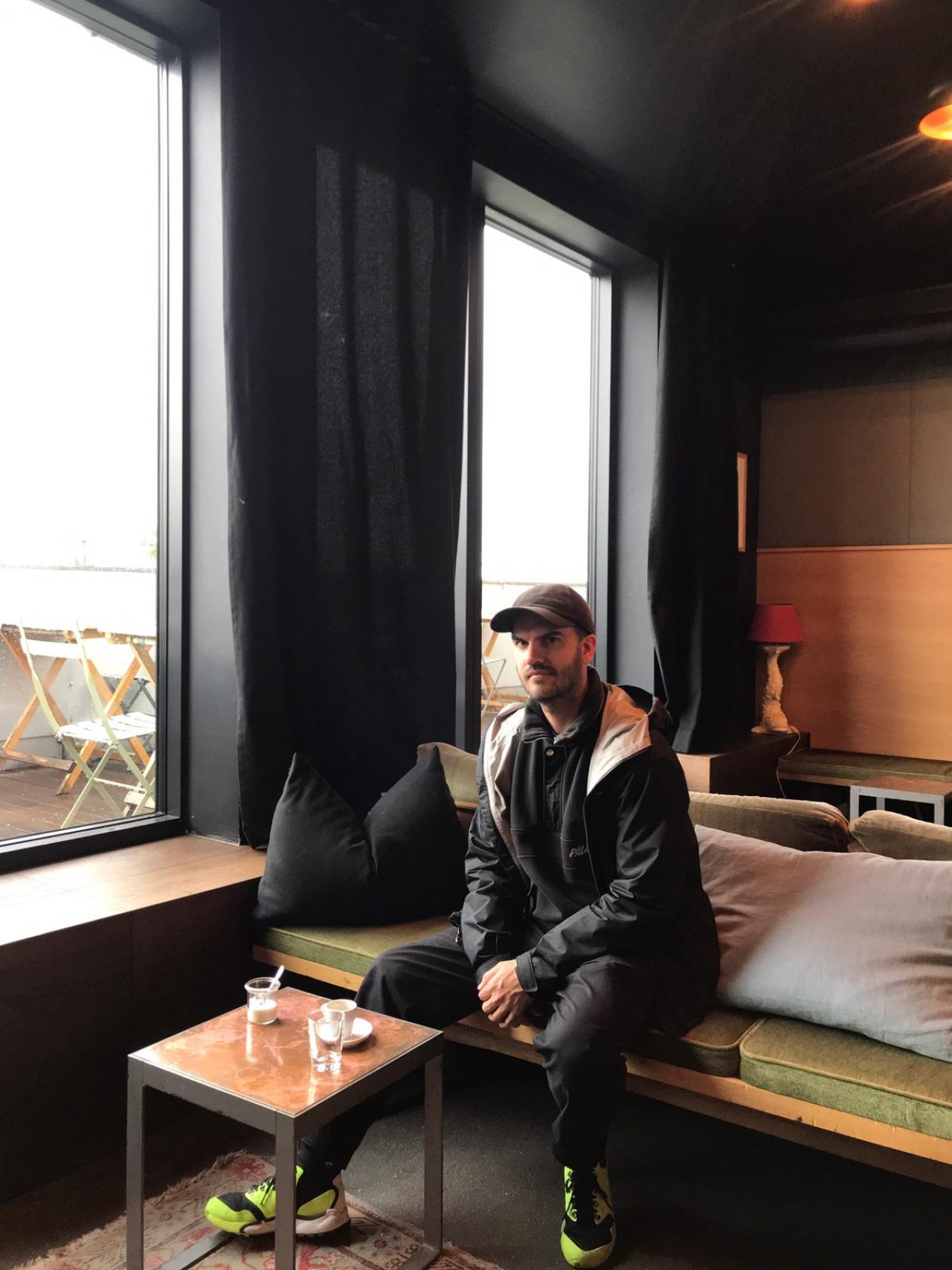 DESIGN
11 loft rooms (out of the 16 in total at the hotel) have been designed by creative leaders in the art, design, film, fashion and music fields. Friends of the Flushing Meadows founders or key visionaries in their fields, individuals such as Helmut Geier aka DJ Hell, Folk fashion brand founder Cathal McAteer, Austrian actress and singer Birgit Minichmayr, musician Michi Beck, pro-surfer Quirin Rohleder and furniture designer Norbert Wangen have all applied their talent to interior design for the hotel.
There are five penthouses at the top of the hotel, providing stunning views of Munich and its architecture. The Flushing Meadows Bar also boasts impressive views of the city's landscape.
THE DETAILS
Rooms start at €190 per night, so book in advance or during off-season to grab a deal. Wifi is included and is quick, with bikes also offered to guests to loan free of charge. Standards such as a safe and iron are in-room, with a laundry service available upon request.
The hotel is meant to be enjoyed to its fullest. Flushing Meadows' flexible style means that you can try for an early check-in upon arrival, and check out is at 12 noon. A small breakfast is offered for guests at €12.50, and there is the juice bar and nearby local spots as alternatives for brunch.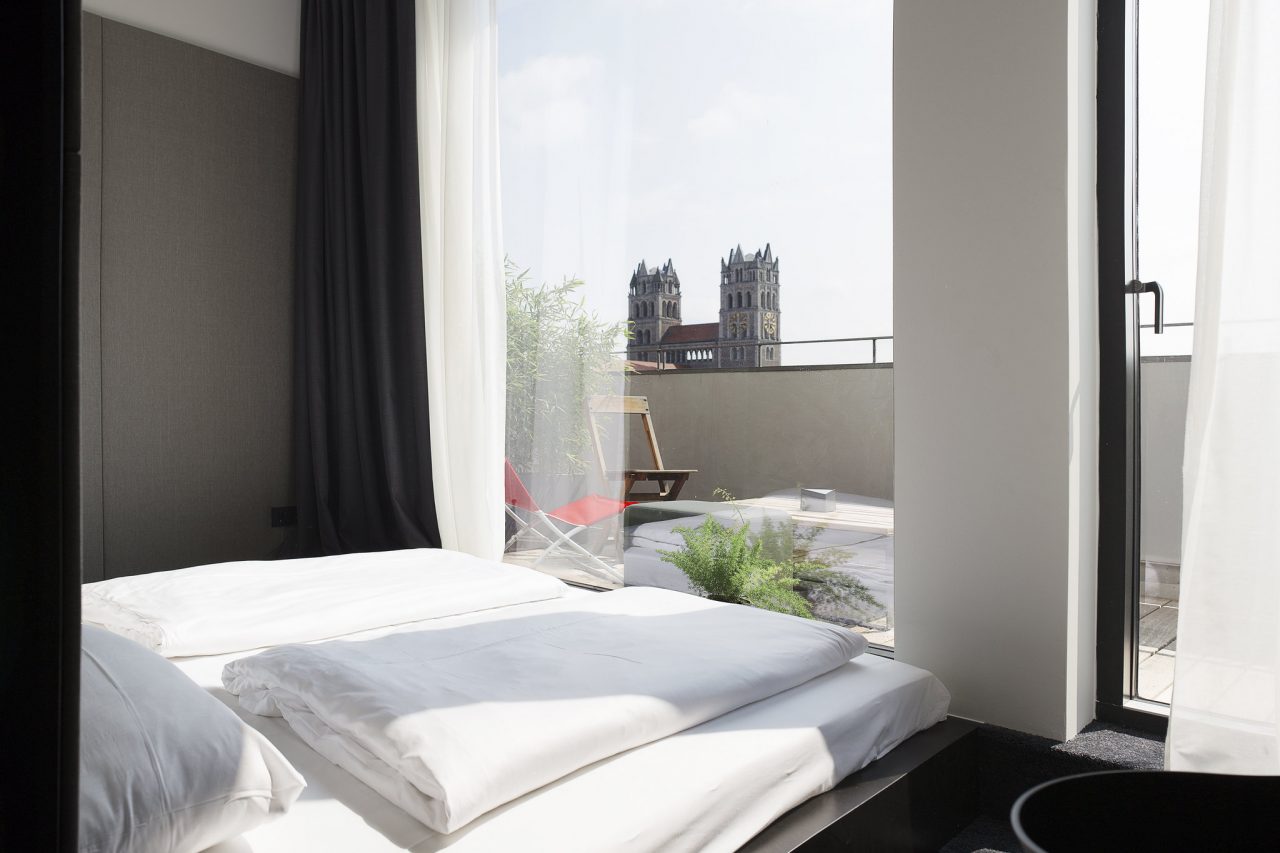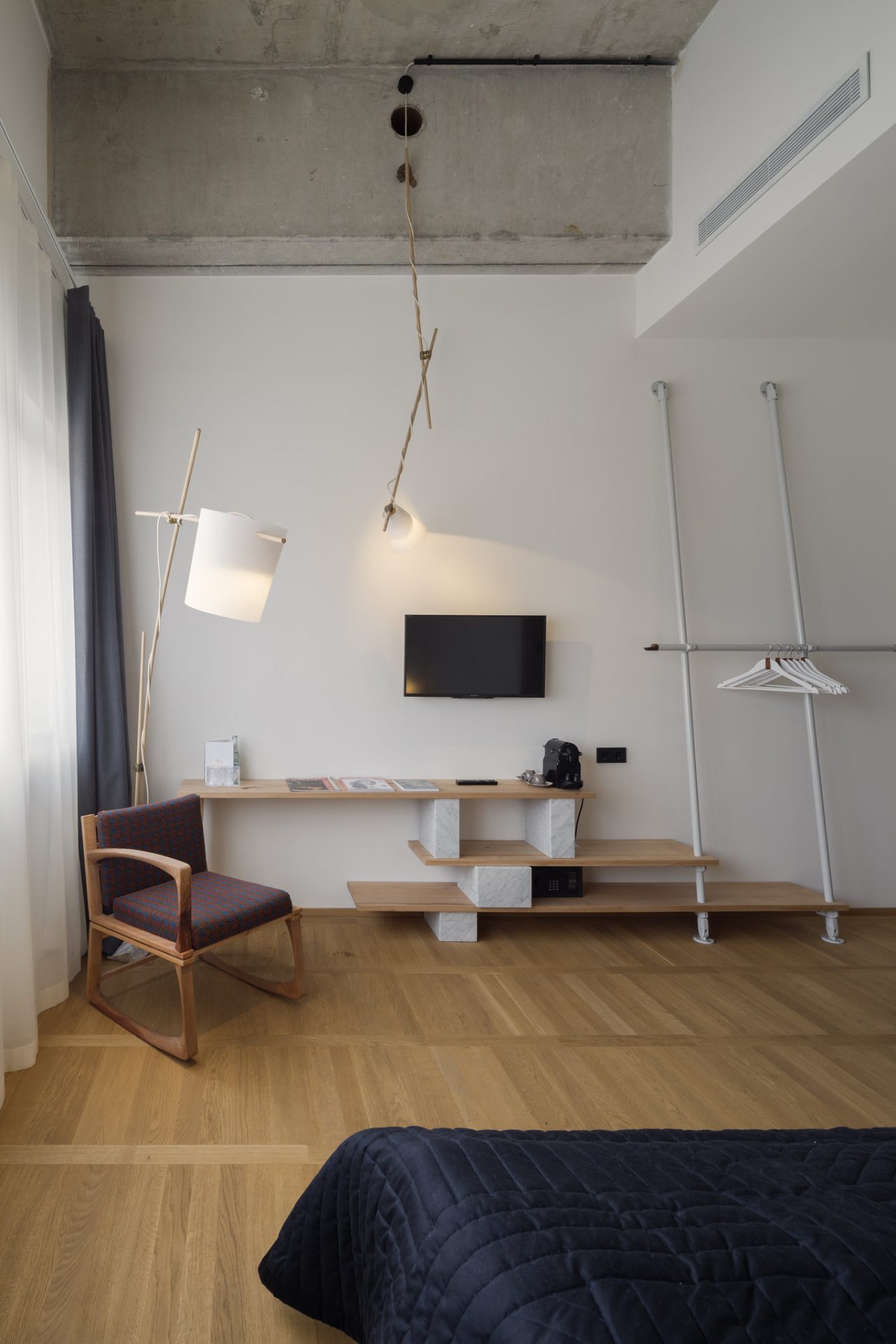 THE ROOMS
If checked-in to a loft room, guests can swiftly enter their rooms without passing the lobby once equipped with their room fob. Privacy is a key attribute to the hotel. My room was facing a local park with buildings in the distance, without any close proximity to prying neighbours.
I personally found the room spacious and well-designed, it is considered and efficient. At first sight the design may seem minimal, yet it's evident that it's based upon practicality. Surprisingly, there is also a spacious walk-in wardrobe where luggage can be discreetly stored away on multiple shelves. There is a safe there for personal possessions.  The bathroom is very well designed, with concrete under-floor heating and sustainable, organic amenities by Berlin-based company Walachei are available for guests. Kitted with high-end Vola bathroom fixtures, the Flushing Meadows team know quality components are of utmost importance. 
As a guest staying for three nights, I was allocated the room designed by renowned German DJ and founder of the electronic music label Gigolo Records group, Helmut Geier aka DJ Hell, created an original design for the room, yet it was still comfortable and not over-bearing. 
Above the bed is the 'Hell's Angels', a static installation of a skeleton trio jamming on electronic drum kit, electric guitar and bass. These life-size medical skeletons painted black are set on the balcony and blend in to the darker-toned interiors. However, the room brings in a lot of sunlight during the day because of its large windows. Offering a panoramic view, they consume the whole width of the room. 
The best experience in the room was actually at night, where a cosy and intimate environment was naturally created through the design details The room is kitted with a turntable and a selection of vinyl records from Gigolo Records. Fischerspooner, Misskittin, Dave Clarke and Jeff Mills were all in the selection. For the highest quality sound, rooms are equipped with wireless BOOM by Ultimate Ears speakers, easily connected to by bluetooth.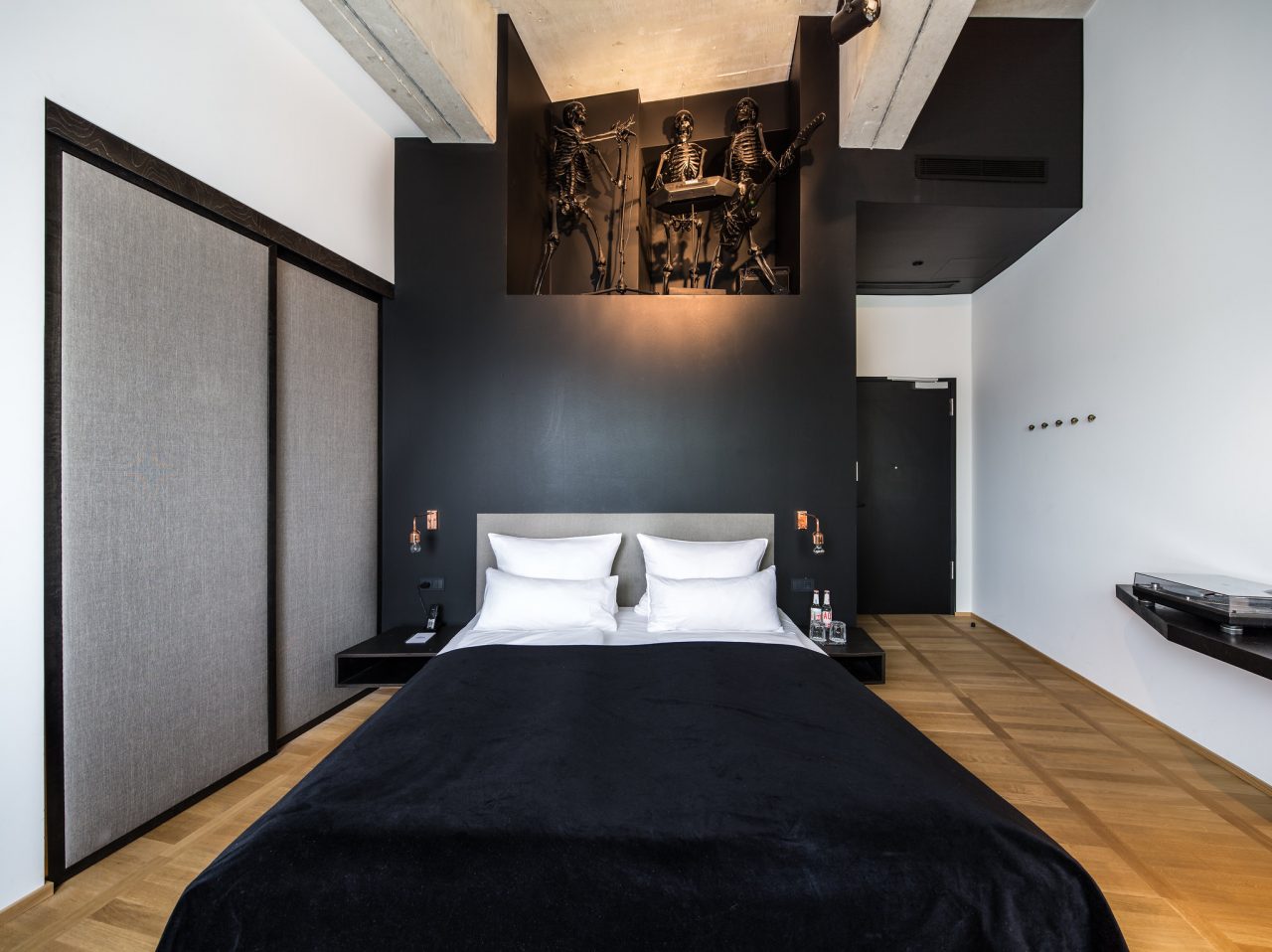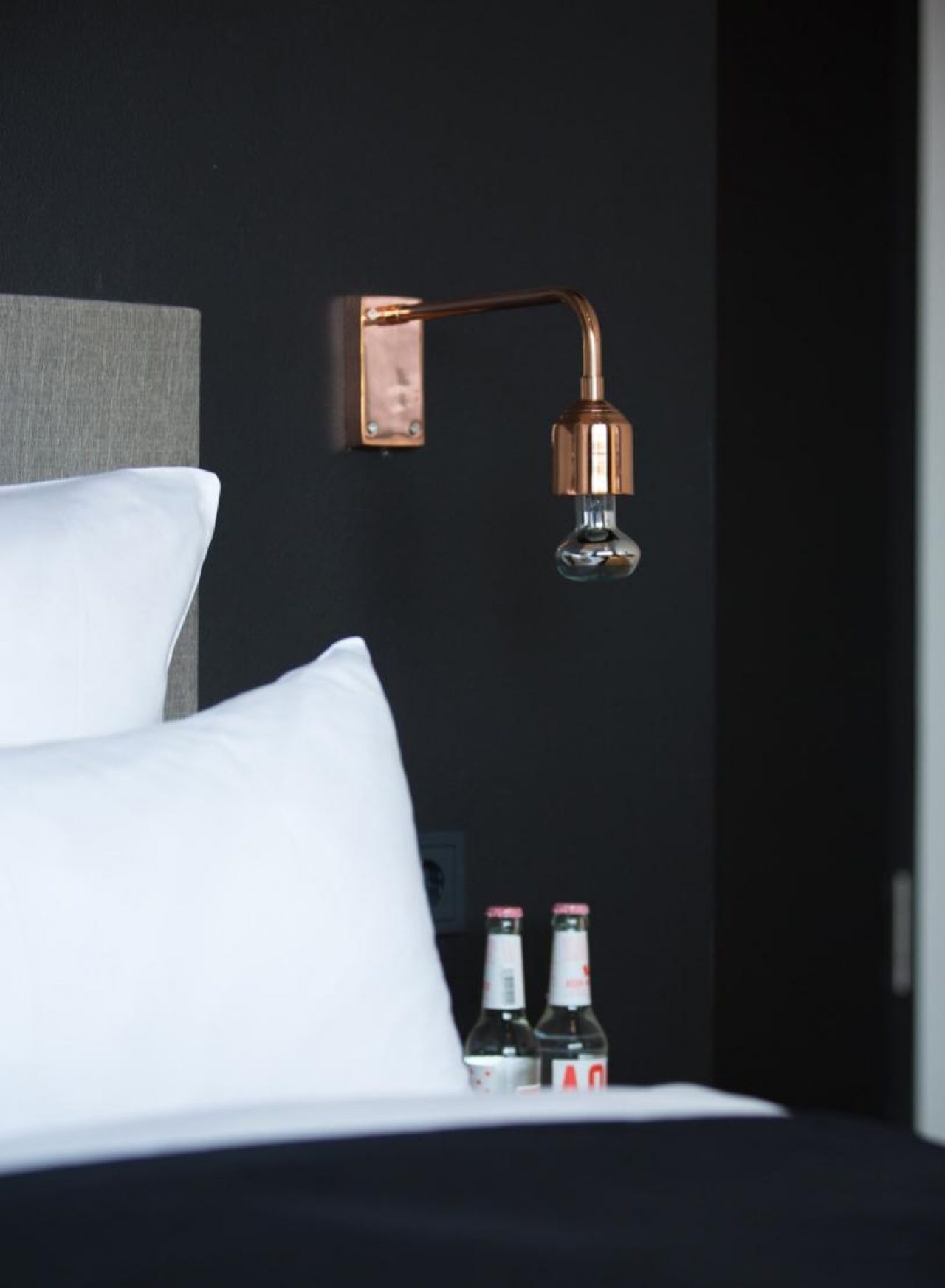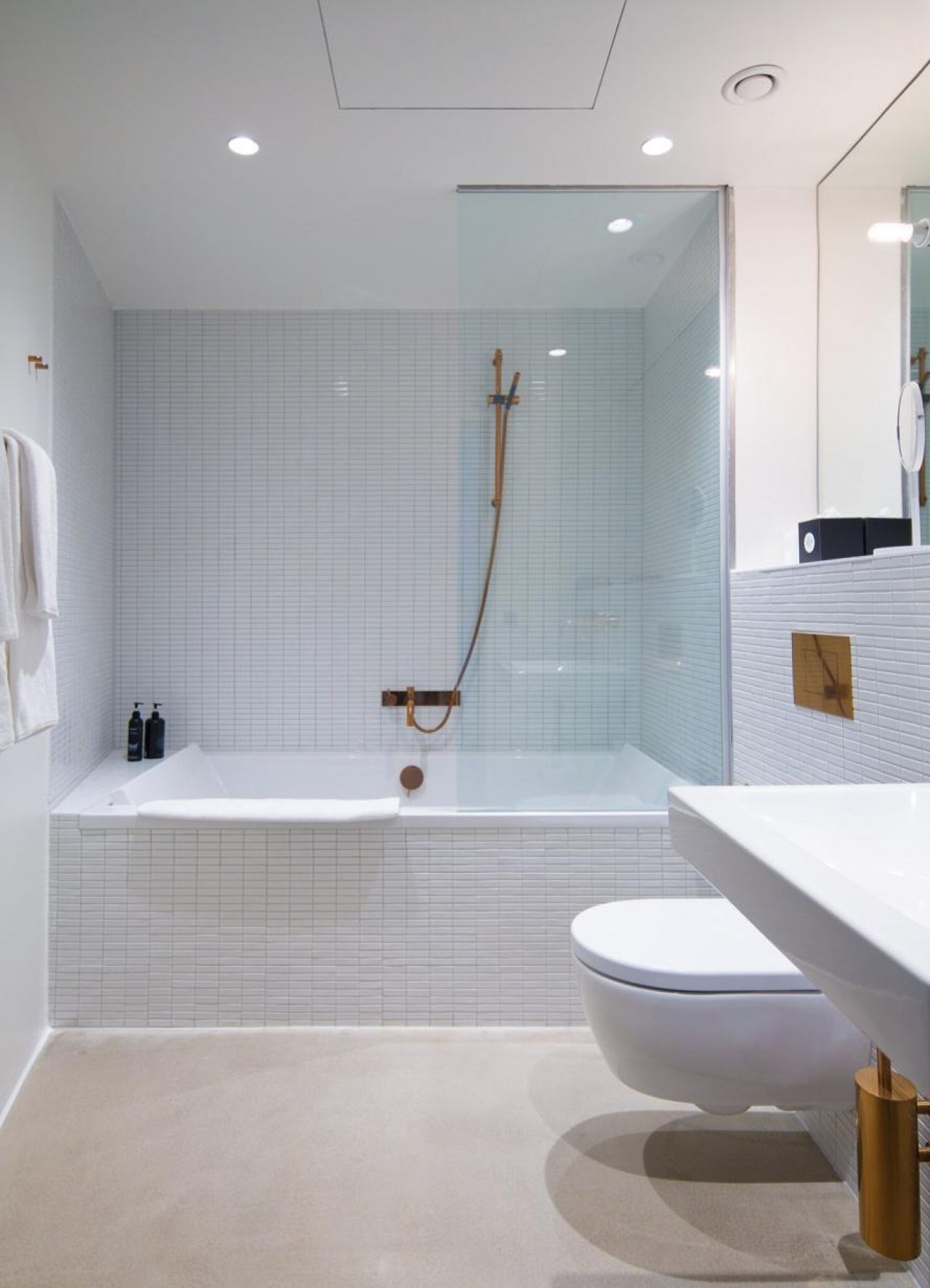 THE BAR
At night the Flushing Meadows Bar comes alive, with hotel guests and locals alike. The hotel founders' network is diverse, and Munich locals come here to connect with other creatives and like-minded guests. The bar features an outdoor terrace which also overlooks the city. Artisanal cocktails are made well here, with local German beers aplenty.
FINAL VERDICT
Flushing Meadows staff are extremely helpful, with the lobby accessible by room phone. After 5pm however the reception is empty with the bar staff accommodating guests' requests. For guests checking in after 5pm staff must be notified in advance due to the bar becoming the official 'reception'. As mentioned it's the hotel's casual approach, and it is efficient, but for guests with specific needs communication will be important.
The hotel and bar is still one of the most interesting spots in Munich, opening only 5 years ago. You'll see us here again on our next visit!
∆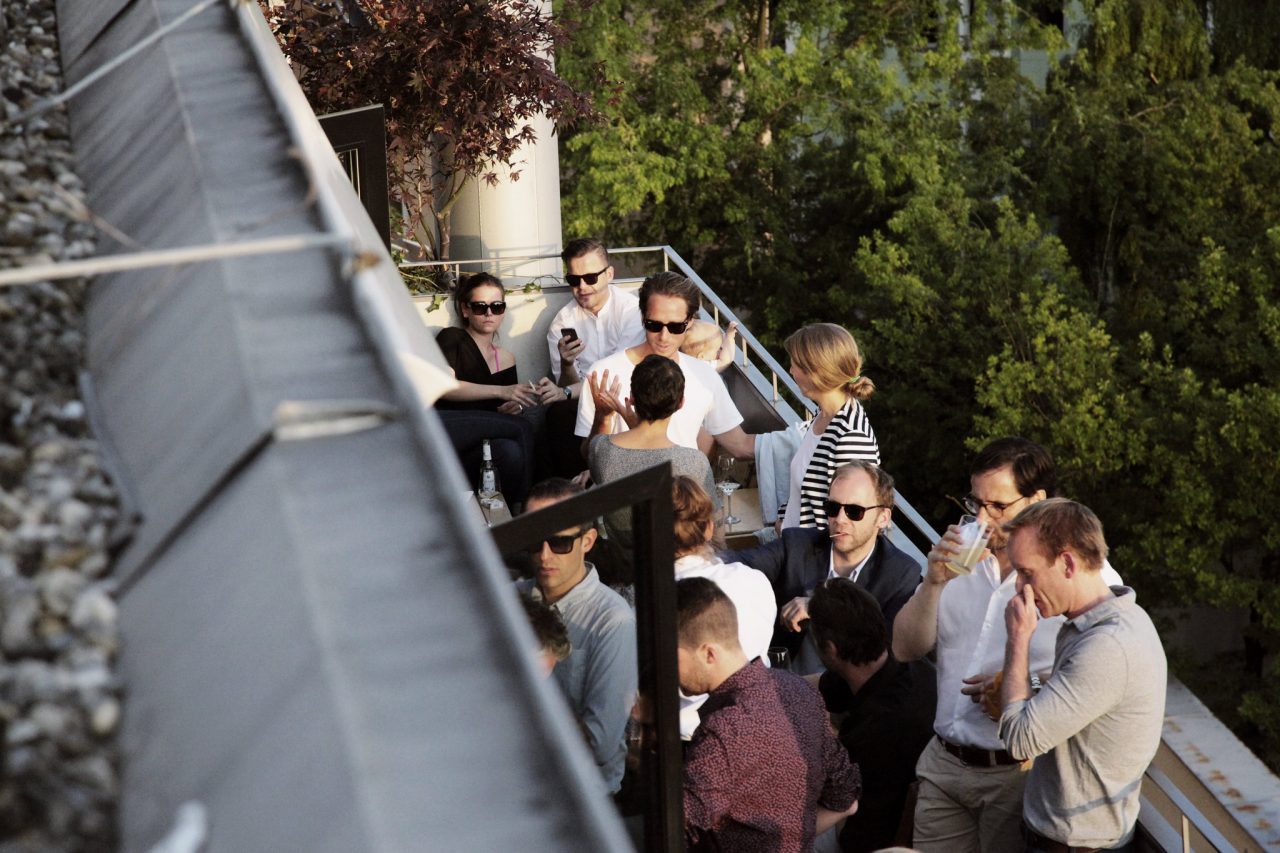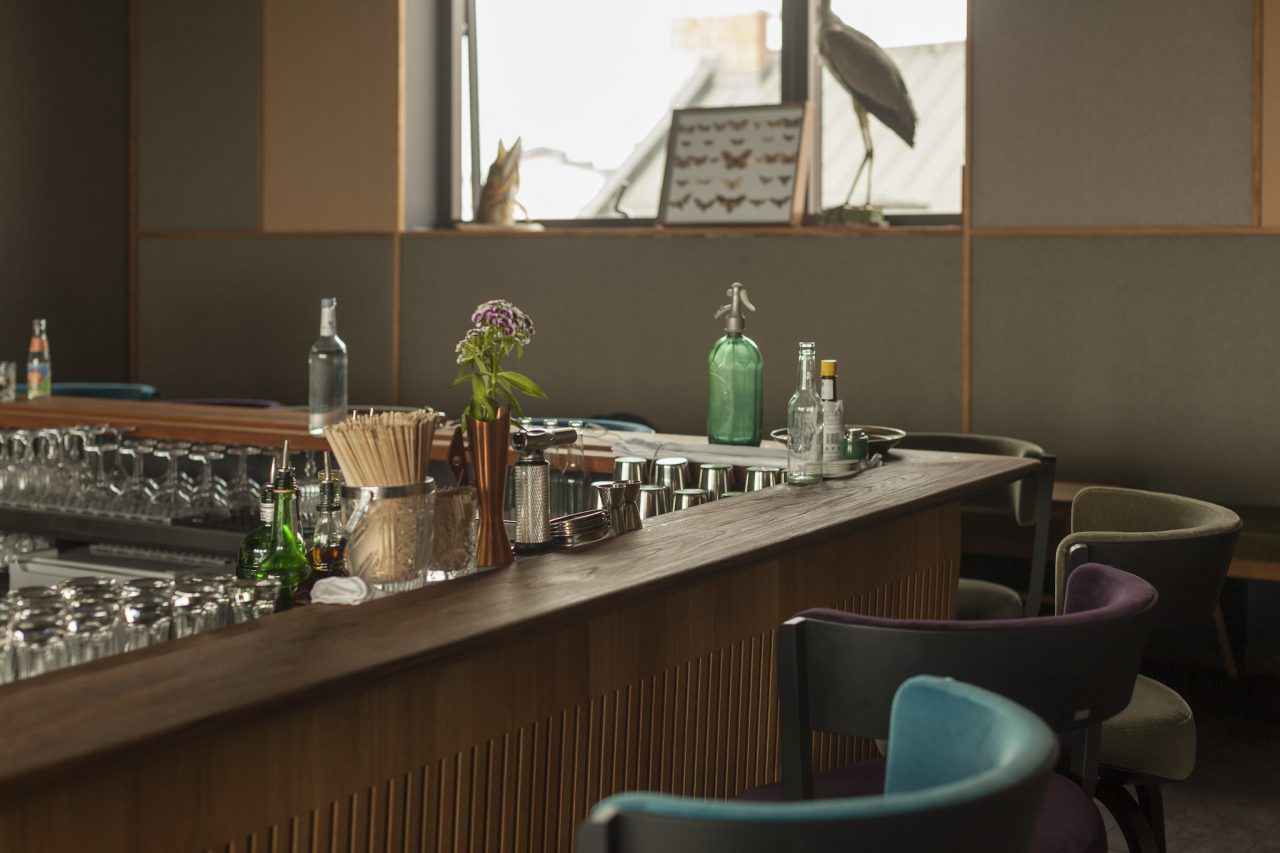 Fraunhoferstraße 32, 80469 München, Germany
Visited and reviewed by Champ team and creative consultant Romain Camus | Images as credited
#champ_munich