Saint Peter
The Sustainable Australian Fish Eatery Leading By Example
Pioneering fine dining restaurant Saint Peter, founded by chef Josh Niland and his wife Julie Niland, showcases the best of Australian seafood and produce in their leading Sydney restaurant.
Described as an Australian Fish Eatery, here the best of Australian seafood is sourced and prepared, ensuring to use every part of the fish. It's more than a 'nose-to-tail' approach. From shell and bones to eyeballs and cheeks, it is Josh Niland's philosophy to utilise everything. His debut book, The Whole Fish Cookbook, received the 2020 James Beard Book of the Year when it launched, and has since been translated into numerous languages (including Hungarian, Spanish and Chinese).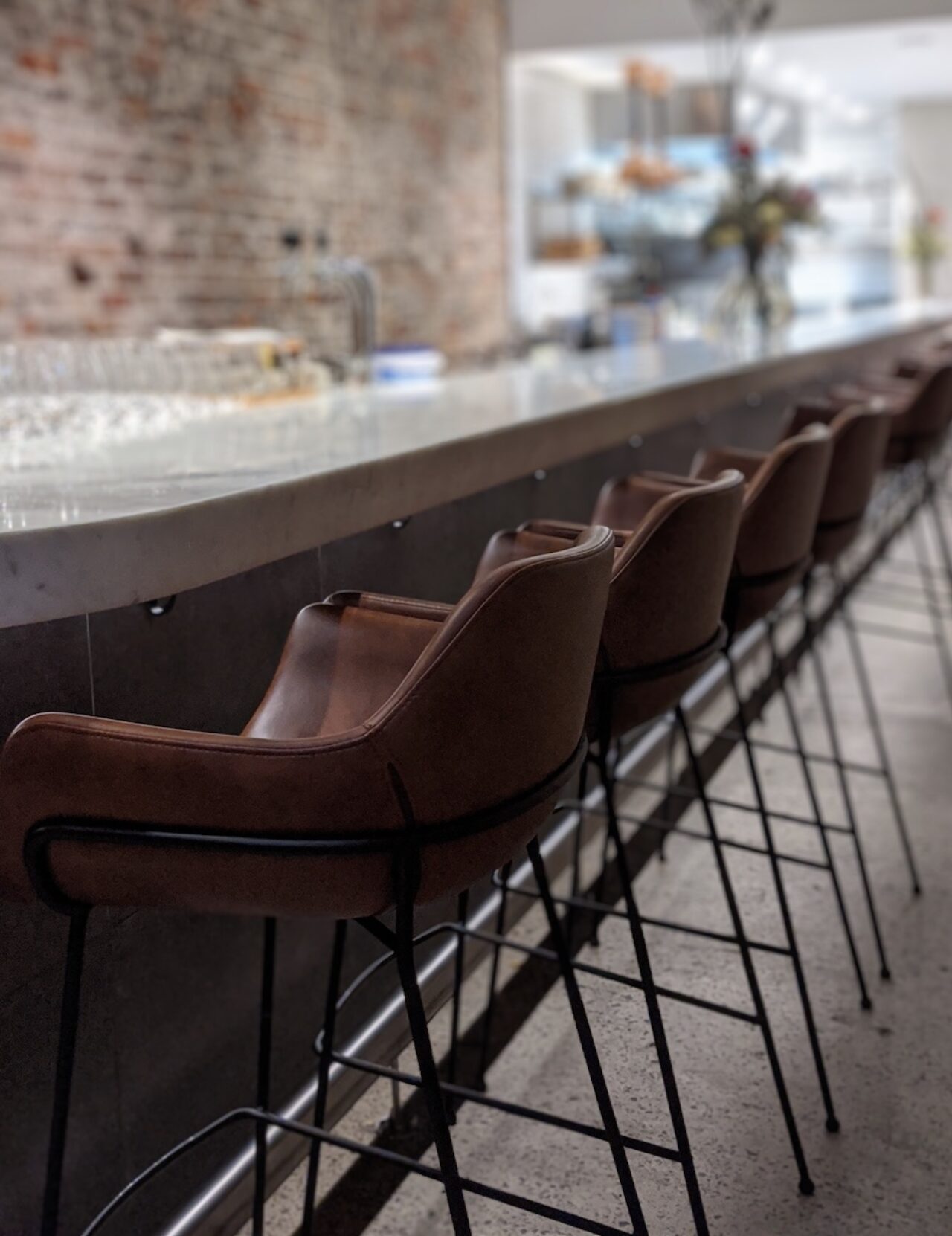 Saint Peter has also received multiple awards for its restaurant operations, this year alone receiving the Innovations award at the 100 Best restaurant Awards in Madrid and most recently at the global La Liste's Game Changer Award in Paris for 2023. Back home in Sydney Saint Peter holds Two Hats from the Sydney Morning Herald's Good Food Guide.
They're more than a restaurant, which maybe is why they describe themselves as a 'fish eatery'.  Pioneering, as they're setting a new blueprint for restaurant operations; ingredients are carefully selected from local suppliers operating respectfully and ethically.  They themselves operate limited hours to ensure staff are not overworked, and they also collaborate with others who share their ethos (such as no-waste bar RE).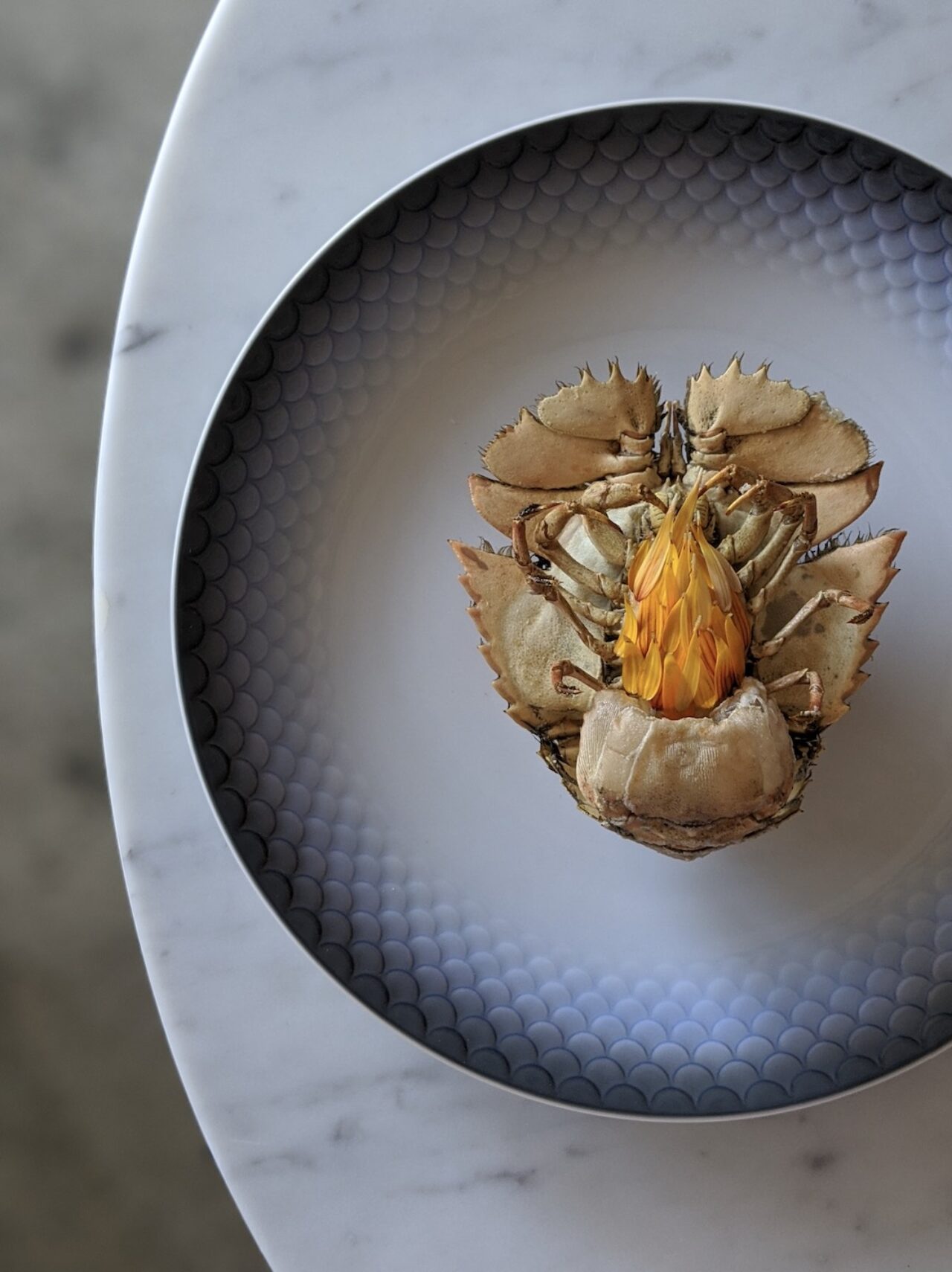 Chef Josh Niland originally opened Saint Peter in 2016 with his wife Julie Niland. Since then they've undergone an interior redesign where every guest now sits counter-style around the action. The move was a clever one and works perfectly in communicating the restaurant's ethos. Now, a limited 22 diners sit at a marble bar and can see first-hand how they operate, adding value and appreciation for all ingredients involved in restaurant dining.
Oysters are shucked, and fish are presented and prepared all in front of diners. This transparency enables a greater appreciation for the process of working with these finite materials and lifeforms we consume, especially from the ocean.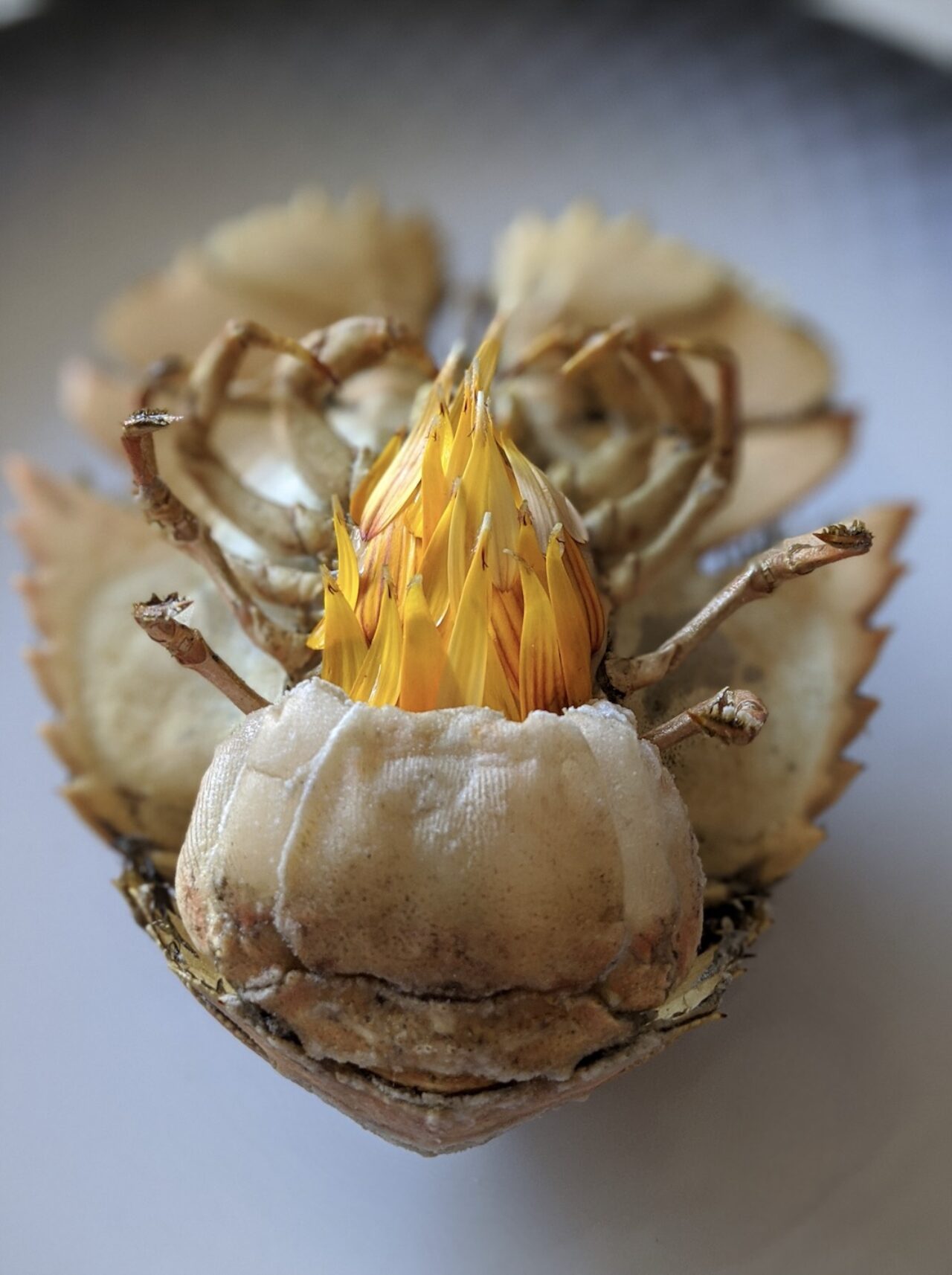 Tones of soft white, deep blues and grey juxtaposed with natural materials make the small space feel light-filled. Cork, wood and leather details bring warmth and a sense of the Australian landscape to the space, and the exposed brick wall transports diners to the Saint Peter world, far away from the bustling high street outside. Based on  Oxford St, a high street in Sydney's trendy district of Paddington, it's quite an achievement to create a slim retail space that feels larger and lighter than it is.
Tableware is specially selected for each dish, elegant tones of blue highlight the natural form of a fish, and contrast nicely with the natural bright yellow of olive oil and brine for instance. Continuing Josh Niland's philosophy of using every part of a fish, even the tableware uses fish bones in the pottery (such as coffee mugs by Sam Gordon).
The first thing to order here is oysters, as they're not just your standard oyster. The Saint Peter team source the best local oysters available, most around 5 years old.  Josh also works with supplier Appellation oysters, a premium grading program selecting the best oysters for that day from 60 different farms on the NSW coast. On our visit, we had Appellation oysters briny, with notes of fresh herbs – always served naked (with the option to add a simple Mignonette dressing) to experience their full flavour. On the menu, there was no way we weren't going to try Steven Feletti's oysters from Bateman's Bay, NSW and Pristine Oysters from Coffin Bay, SA. They were all equally incredible. Butter is served on a scallop shell, and accompanying sourdough slices are ideal to dip in left-over oils and dressings in dishes.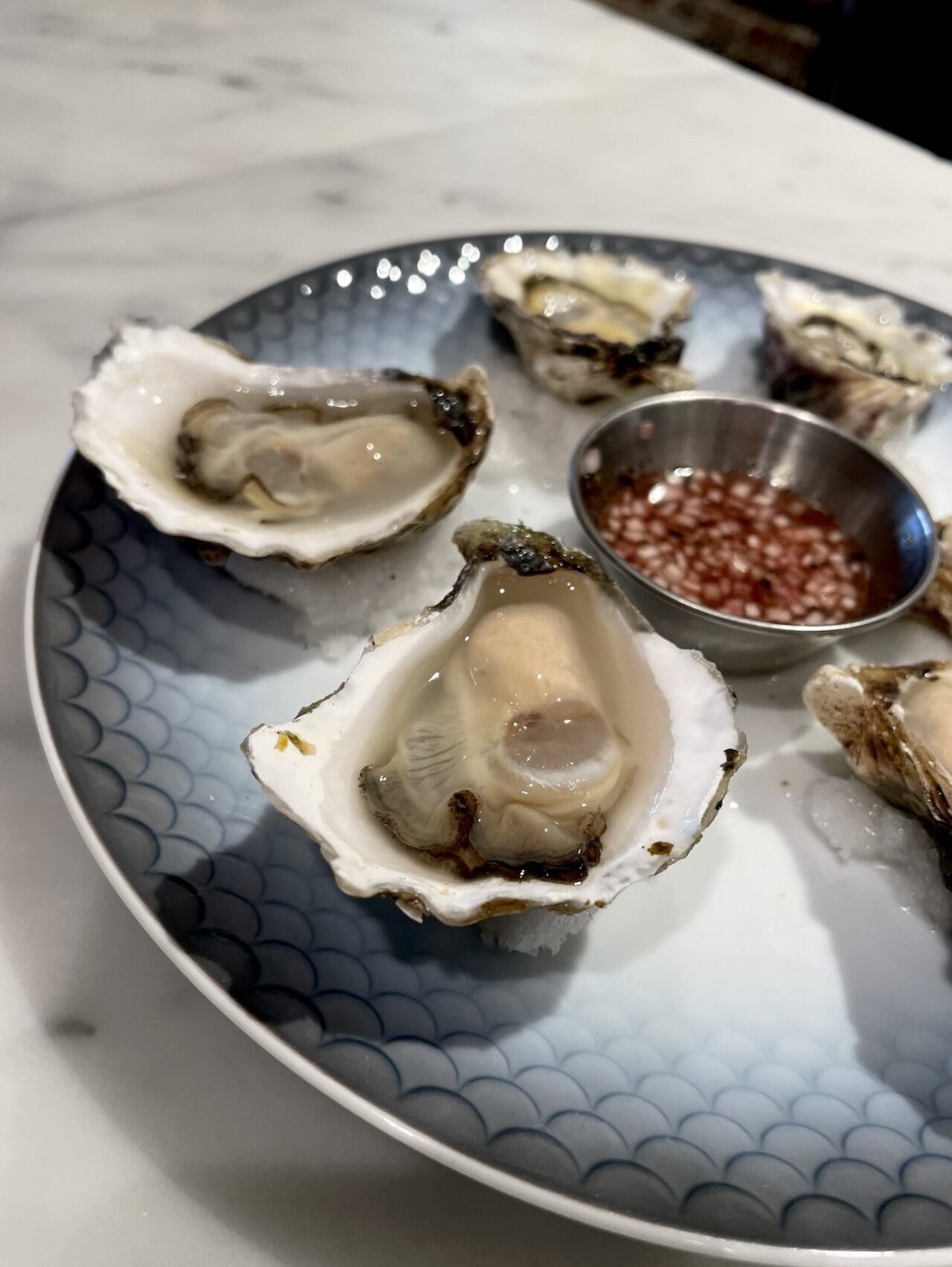 Niland's approach to fish is a philosophy normally associated with meat, his techniques range from doing as little to the raw ingredient and letting it shine, to intensifying the flavour through dry ageing in custom-designed cool rooms. On the menu, find Coal Kissed Nannygai (with Junmai Sake and Sea Lettuce) or Cold Smoked Yellowfin Tuna (in a salad), techniques which either delicately highlight an ingredient's natural flavours or completely reinvent it in a new process. The menu changes daily to reflect that morning's catch.
For dessert, simple Madeleines are prepared on demand – served warm and cooked to perfection. A selection of various kinds of cheese from small makers such as Long Paddock and Blue Prom Country are on offer.
For accompanying drinks, there was no way we weren't going to try the Oyster Shell Martini (North of Eden Oyster Shell Gin, Junmai, Maidenii Dry, Gordal Olive, Kombu Bitters). As a martini aficionado, I was blown away by the precision through simplicity that the Saint Peter team were able to achieve. Everything about it was perfect.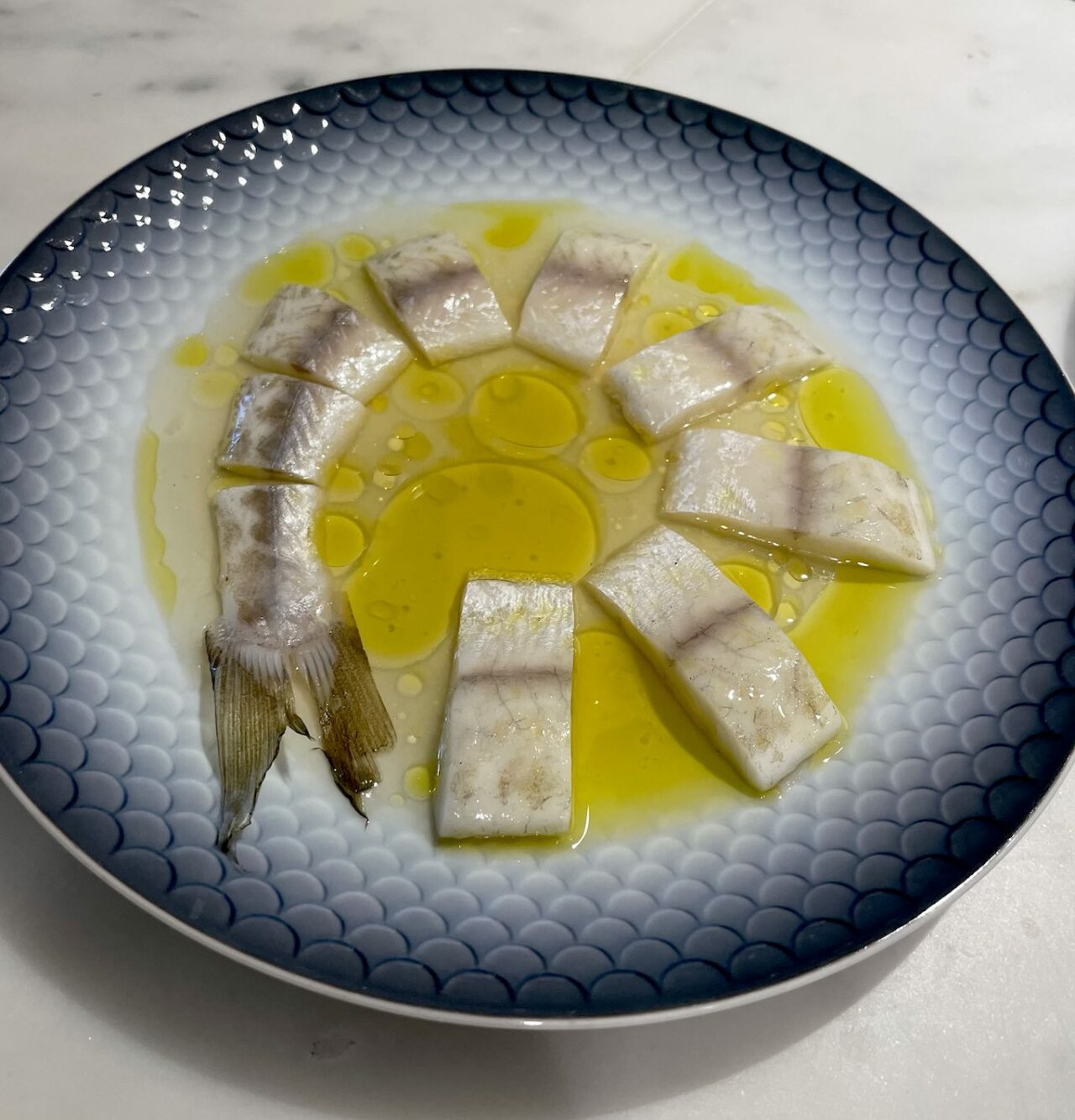 Saint Peter has partnered with no-waste Sydney bar RE on some of the cocktails, such as the Negroni by RE (Strawberry Gum Whey, Gin, Campari, Vermouth) and Charcoal Old Fashioned by RE (The Gospel Solar Rye, Cod Fat Salted Caramel, Burnt Beetroot). All use excess ingredients from the kitchen, continuing the no-waste ethos of RE (by Matthew Whiley).
The wine list is impressive – it consists of the finest winemakers in Australia: Poppelvej (SA), Sailor Seeks Horse (Tasmania) and Gentle Folk (SA). Wines from France and Italy are also available and it's great to be introduced to their curation of these.
The test of a great restaurant is a considered offering of non-alcoholic drinks, and Saint Peter ensures these are just as good as the alcoholic offering (such as the NO-groni, Dark & Stormy and Gin & Tonic, all non-alcoholic).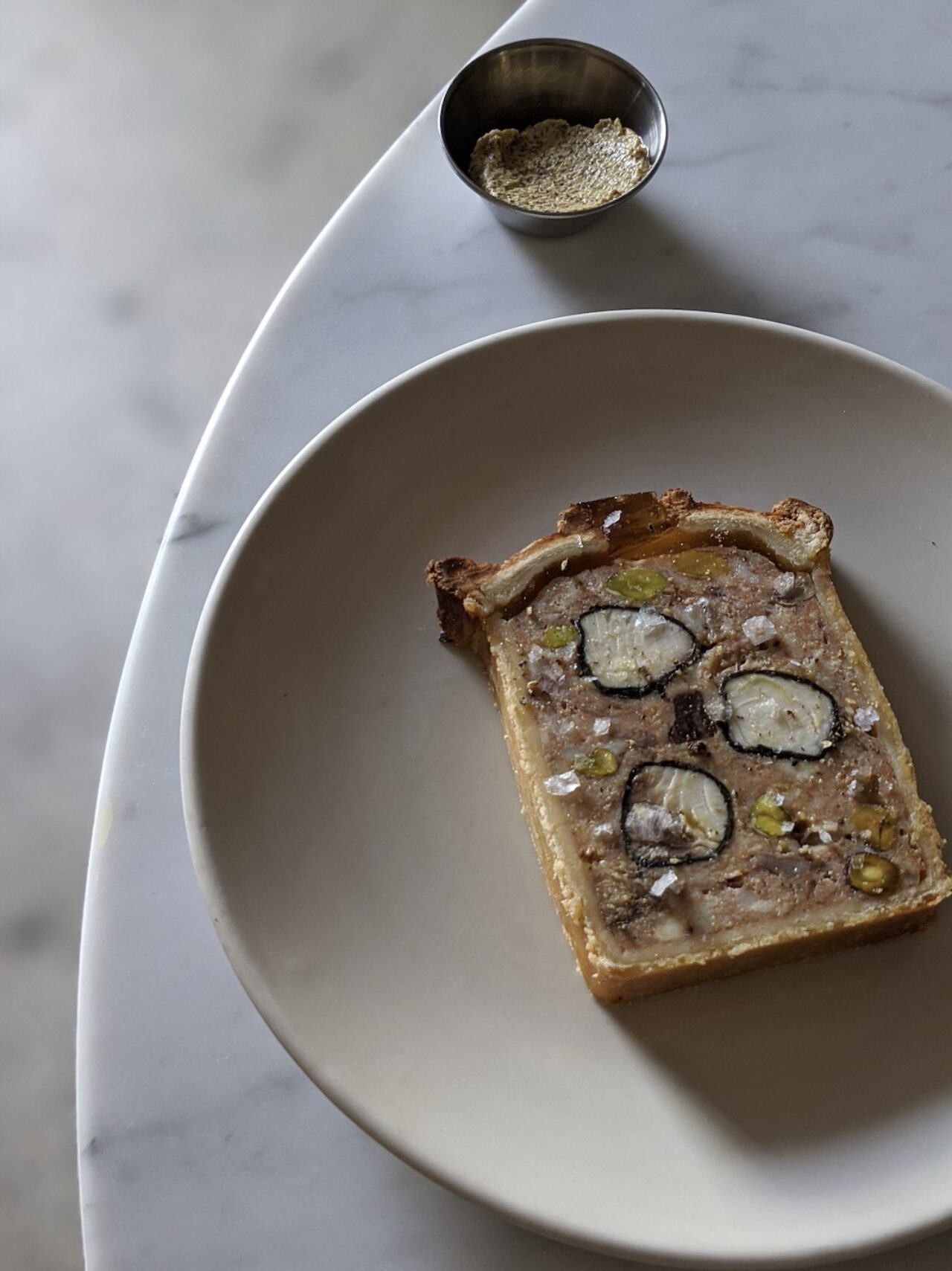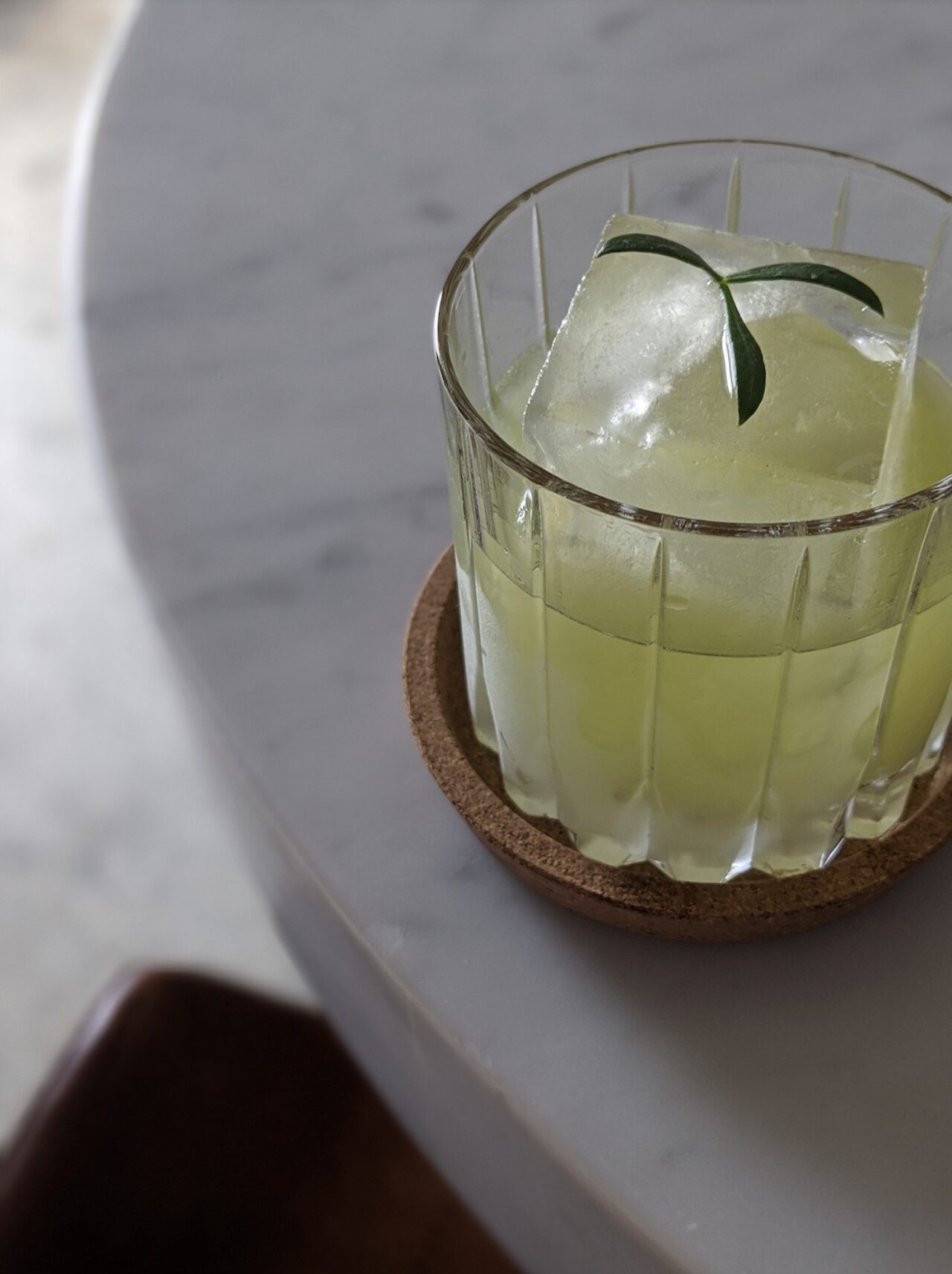 Booking a visit to Saint Peter is required as the restaurant with limited seating is always booked out but if you are flexible with times there is often wiggle room. The Nilands are expanding, however, and in 2023 they'll be moving into new premises just around the corner when they take over the Grand National Hotel.
It's an exciting time for the Nilands and their team, where their ideas can take them further in the much larger space. They've already proved they could innovate during COVID when they set up Mr Niland at home a takeaway service for home dining. You can still buy prepared meals and charcuterie as well as raw fish to cook at home from their two Fish Butchery shops in Paddington and Waterloo. Just like a butcher uses every part of a beast, Josh Niland approaches fish in exactly the same way. Niland's restaurants also expand to petermen in North Sydney, an Australian Fish Restaurant due to open Feb 2023, and Charcoal Fish in Rose Bay, Sydney which is a dine-in and takeaway fish shop serving rotisserie style fish and tuna burgers and daily fresh salads.
More than memorable, the visit to Saint Peter is etched into our subconscious. We think about it every time we prepare seafood at home, especially a whole fish, ensuring to utilise almost every part of it we can (and carefully composting the rest). Even considering shellfish, where we bake and crush the shell to use for soil nutrients.
If it's made an impression on us, imagine how many people have been inspired by Josh Niland's restaurants and his globally accessible Whole Fish Cookbook. His philosophy extends far and wide, and its timing couldn't be better when we are at a point where the world's resources are being depleted at a rapid rate, more so, at a rate that they can't be replenished, especially in our oceans.