BYRDI
This Melbourne Restaurant Experiments and Plays With Our Senses, All the Whilst Celebrating & Utilising Only Australian Ingredients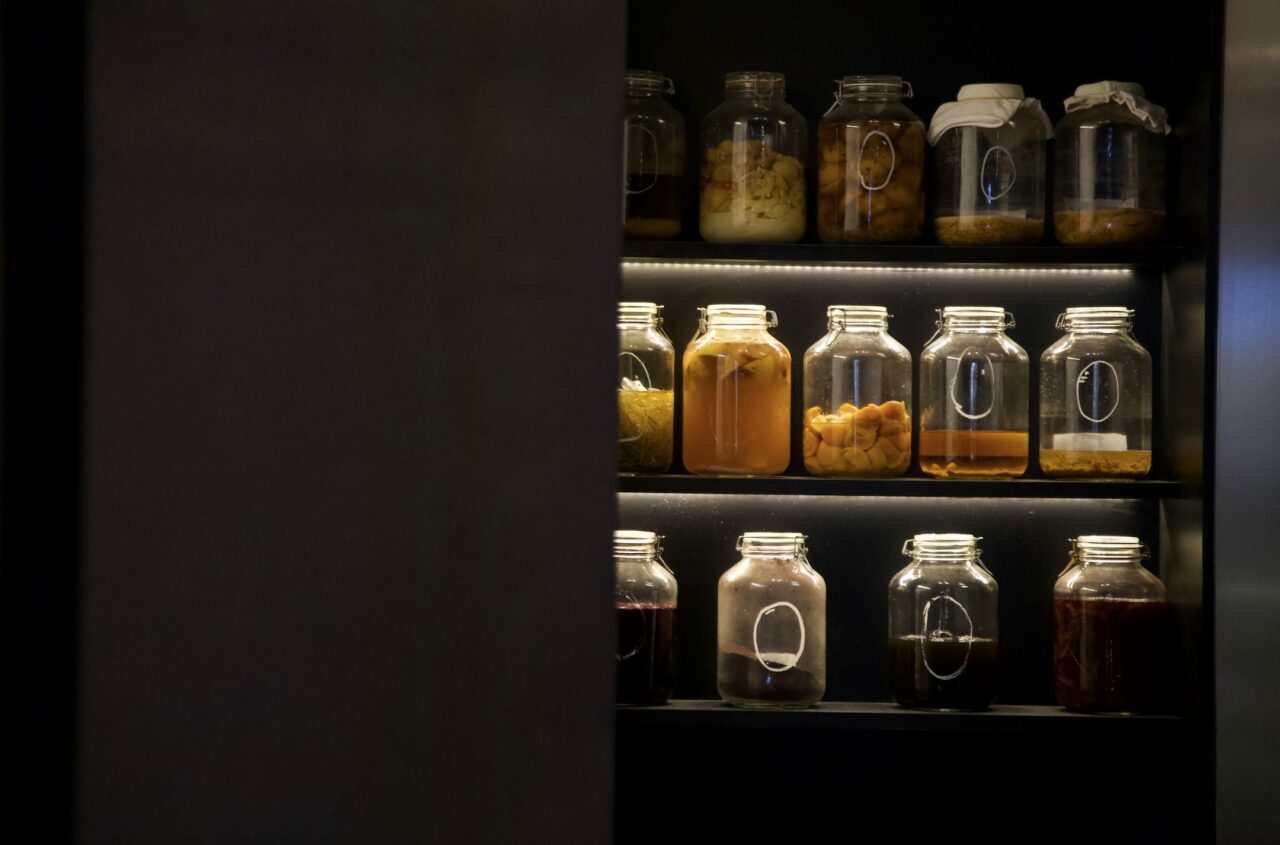 Everyone is clocking off for the day and the streets are buzzing on a Tuesday afternoon, but as you set foot into BYRDI it's an elemental ambience away from the hustle and bustle, something unexpected being unassumingly located inside a commercial retail mall on La Trobe Street in Melbourne's CBD.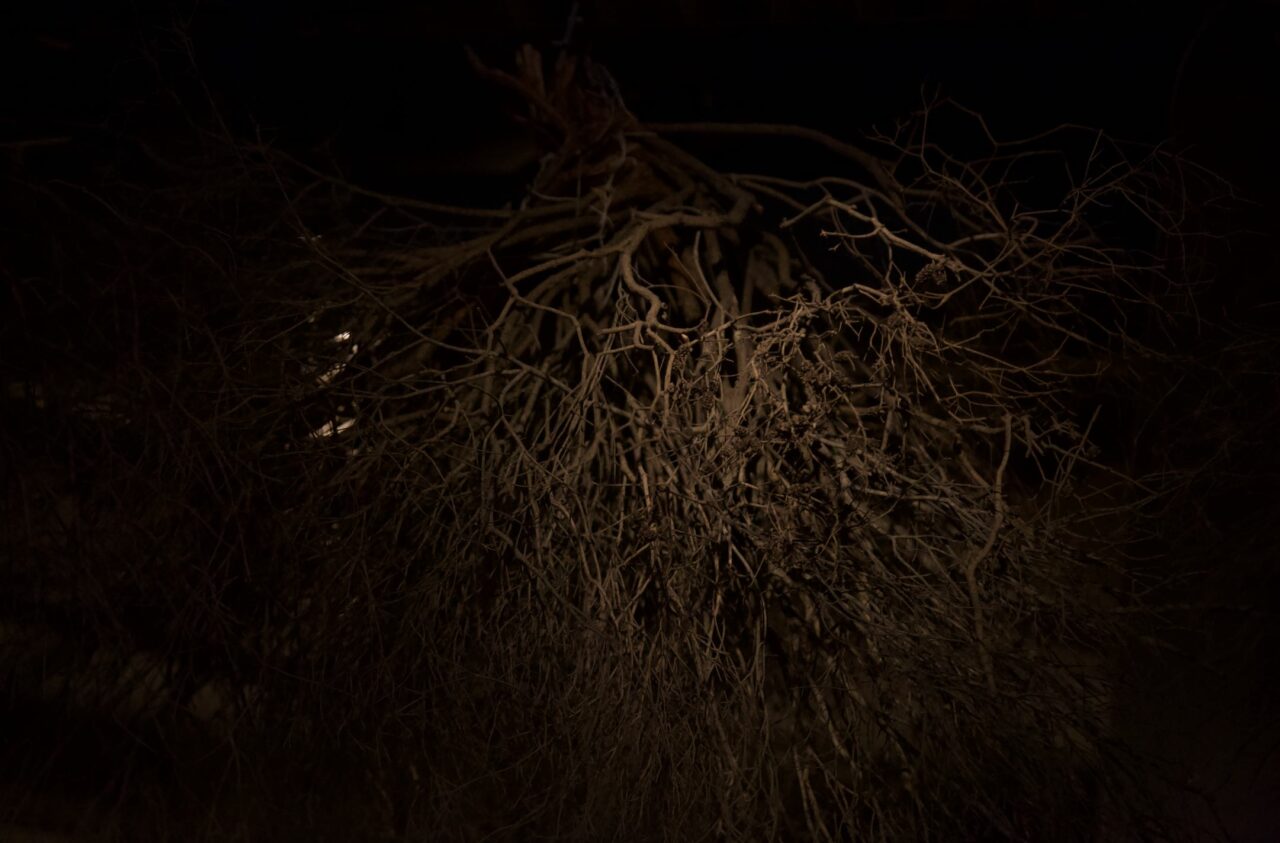 An experimental Australian cocktail bar concept where locality and seasonality informs everything including the food, the drinks and the interior, BYRDI is the brainchild of Luke Whearty and Aki Nishikura that sees the couple return to their home nest from their acclaimed Singapore bar Operation Dagger, and pop ups in Nigeria, Russia and South Africa.
With over 20 years experience between the two, their establishments hold titles for being the world's top bars.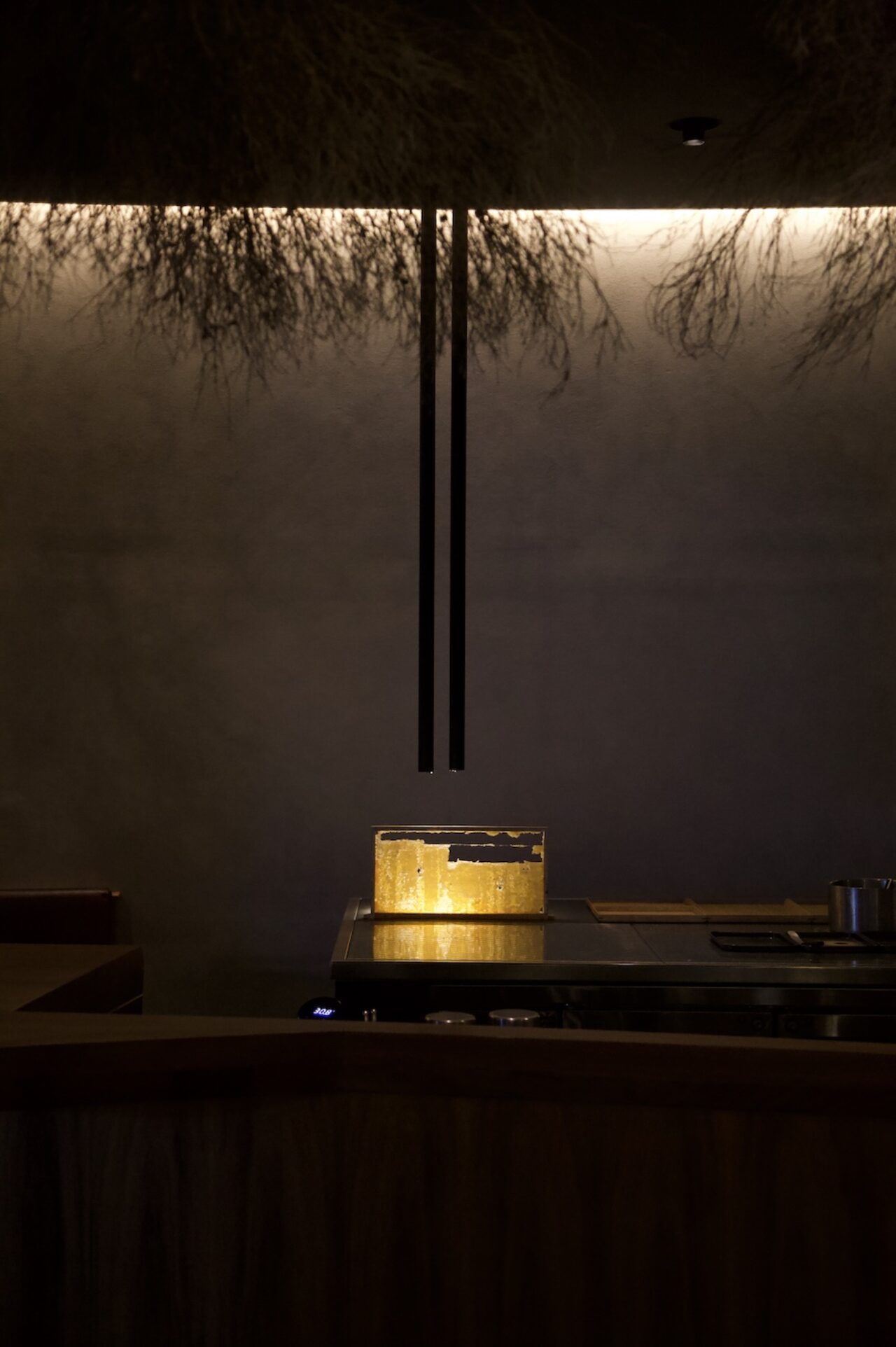 Contemporary yet understated, entering the softly lit bar is earthy, warm and inviting. The space designed by DesignOffice, meticulously selects emotive and tactile textures and shapes with use of particular lighting to create an engaging and atmospheric mood.
Native flora and foliage is delicately adorned in the space, with dried paperbark entwined on the ceiling and elegant flower arrangements displayed throughout – something that would change between seasons. Wall openings also act as windows to the soul of the kitchen, giving a peak of what goes behind the scenes.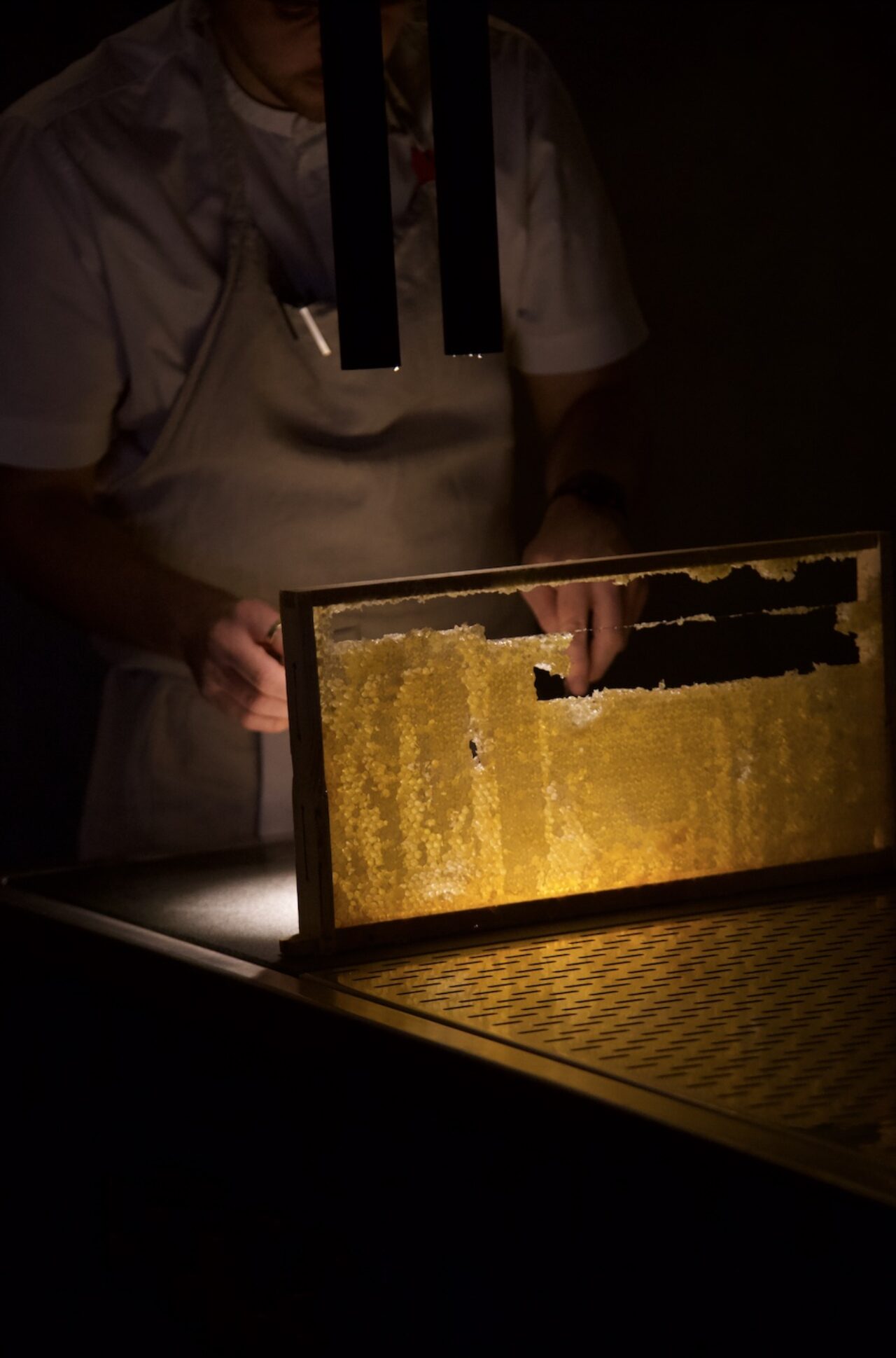 It's apparent upon arrival the setting provides the perfect backdrop to the carefully developed menu by the team that focuses on celebrating Australian produce and working with seasonal offerings or what's been fermented from the season before. Ingredients, all sourced locally are always at the forefront and they're highlighted, from the description on the menu to the visuals on their social media. Conceptually, new cocktails are first revealed on their social channels as a series of abstract still life imagery of its raw ingredients, with the intention for visitors to fully experience the beverage in its final ensemble in person.
On this particular visit, we are seated right at the front of the open plan bar in full view of all the action where mixologists are on exhibition as they prep and construct cocktails.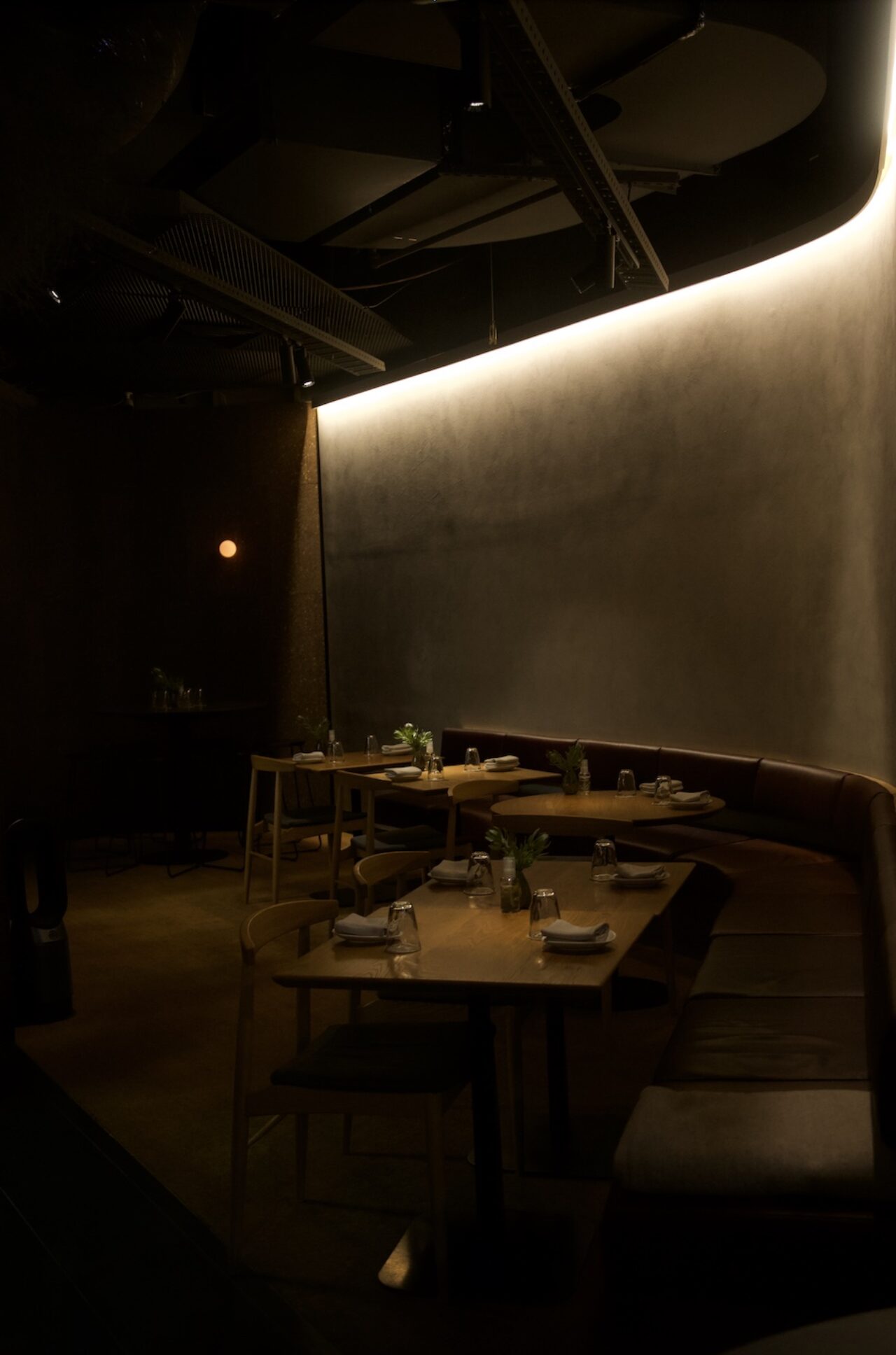 When taken through the menu it's quite straightforward. Drinks and food are structured with the lightest starting at the top and gradually becoming heavier as the list goes down.
Cocktails are detailed by flavours and ingredients rather than the type of spirit, again championing the produce. The menu is constantly evolving as it's influenced by what's domestically in season, so you'll be ensured to be presented with what's fresh and relevant at the time.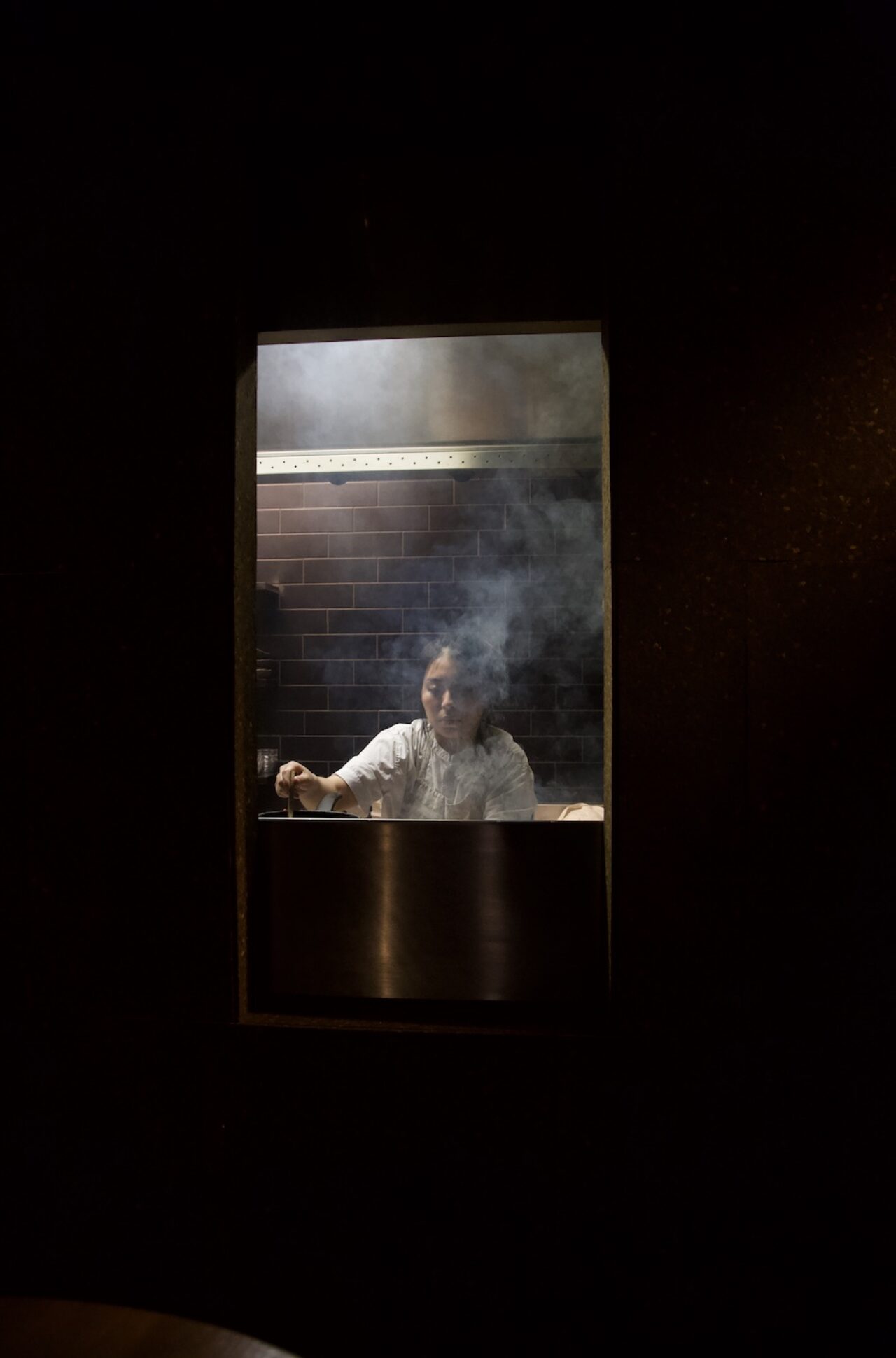 While waiting for the first drink a frozen and burnt yuzu meringue is served as an amuse-bouche. The single small bite that's more common at fine dining restaurants, is a complimentary welcome to animate the senses for what's to come. Instructed to quickly pick up with our fingers and eat it whole, it instantly dissolved in the mouth and sparked the palate.
The Carrot Fanta is the opening cocktail of our evening. Here, alongside brightly distilled passionfruit mountain marigold and lacto fermented orange, whole paris market carrots are utilised in its entirety to create a liquor.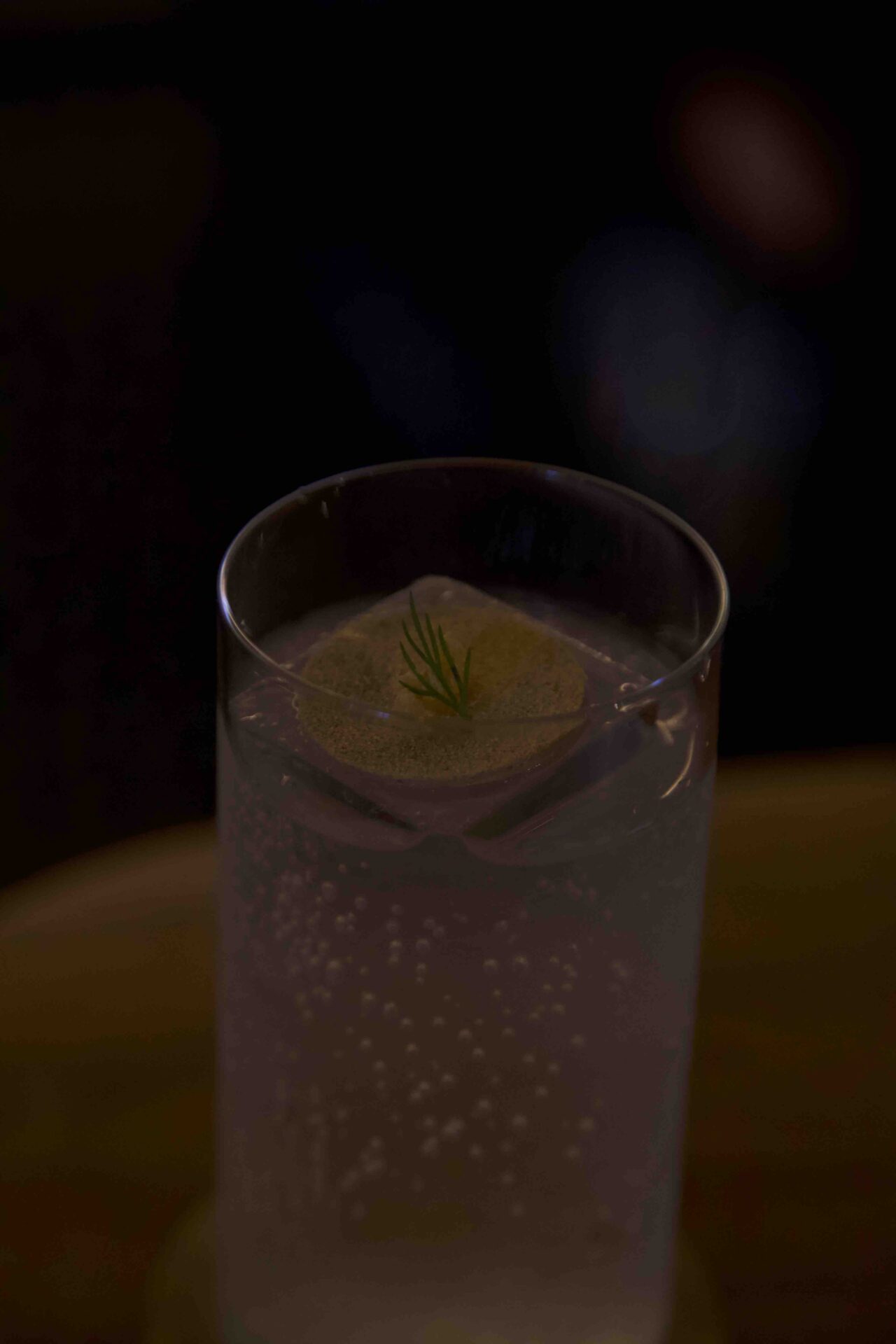 Even the carrot top is used for the edible garnish that's purposefully intended as part of the drink experience. It's recommended as a light starting point and was quite refreshing, slightly citrusy and fizzy, which nicely complimented the savoury dishes lined up.
The Prawn Toast, made with wild caught Australian Prawns and Sesame is thick and crispy and topped with a pepper berry mayo that delivers each fried bite a hint of fruity peppery flavour.
It's rich but well balanced, as is their Yakitori with Free Range Victorian Chicken Thigh, Spring Onion and Tare Cooked Over Fire, that gives the grilled flavour a touch of sweetness.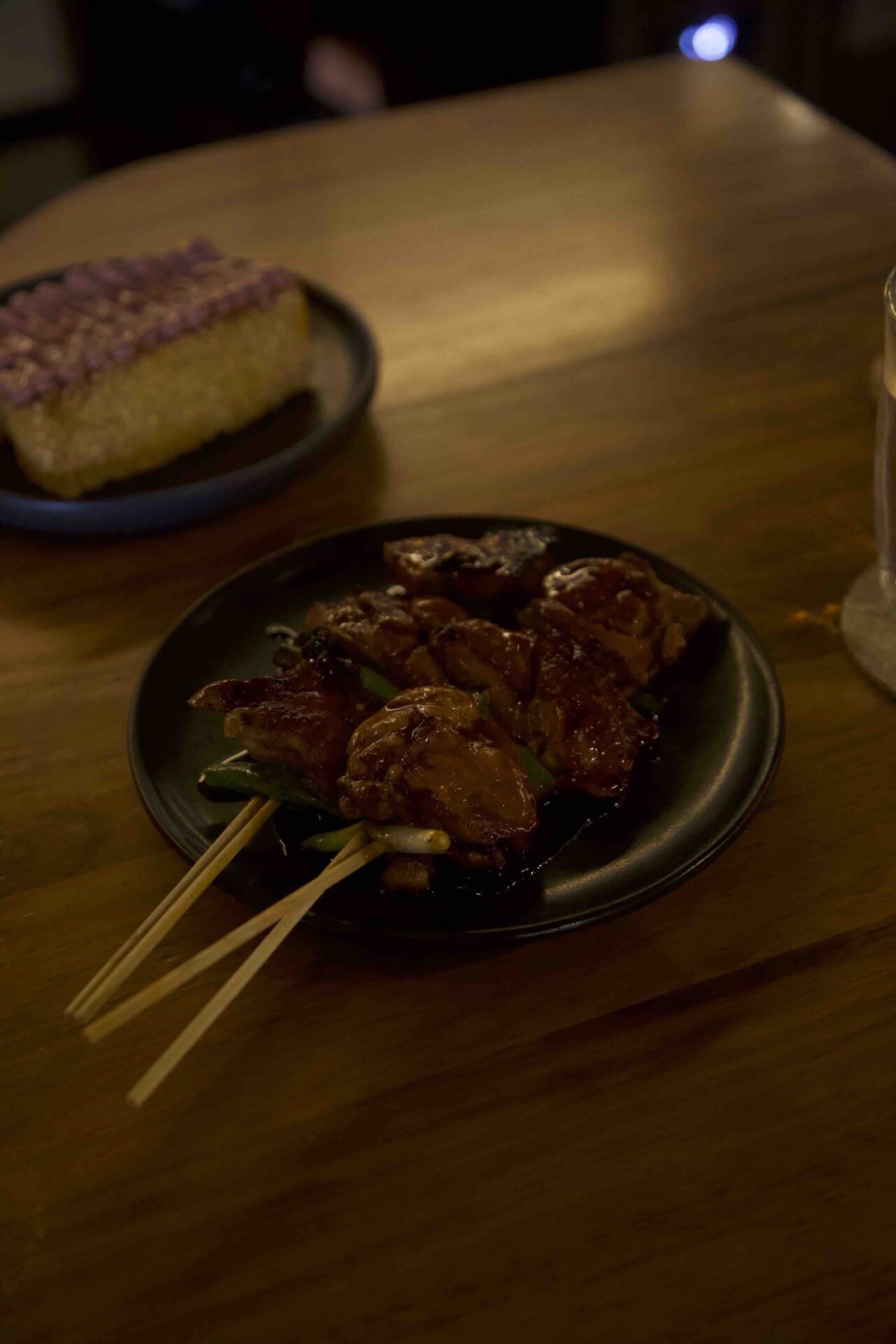 You'll find that there's a lot of care put into creating a sensory experience, with an element of theatrics to it . As we wait in anticipation for the next cocktail titled Snow, clouds of smoke emerge at the bar and something that resembles snow is scooped into a small glass and brought to the table. 
A small spoon is given to consume what looks like real winter snow. Rather than being drunk, the drink is more of an ice cream dessert. Frosty flavours of Victorian Yuzu, Citrus Coconut Ice and Geraldton Wax melts on the tongue. It's fun on the taste buds and easily makes you forget it's in fact a cocktail, just in a different form.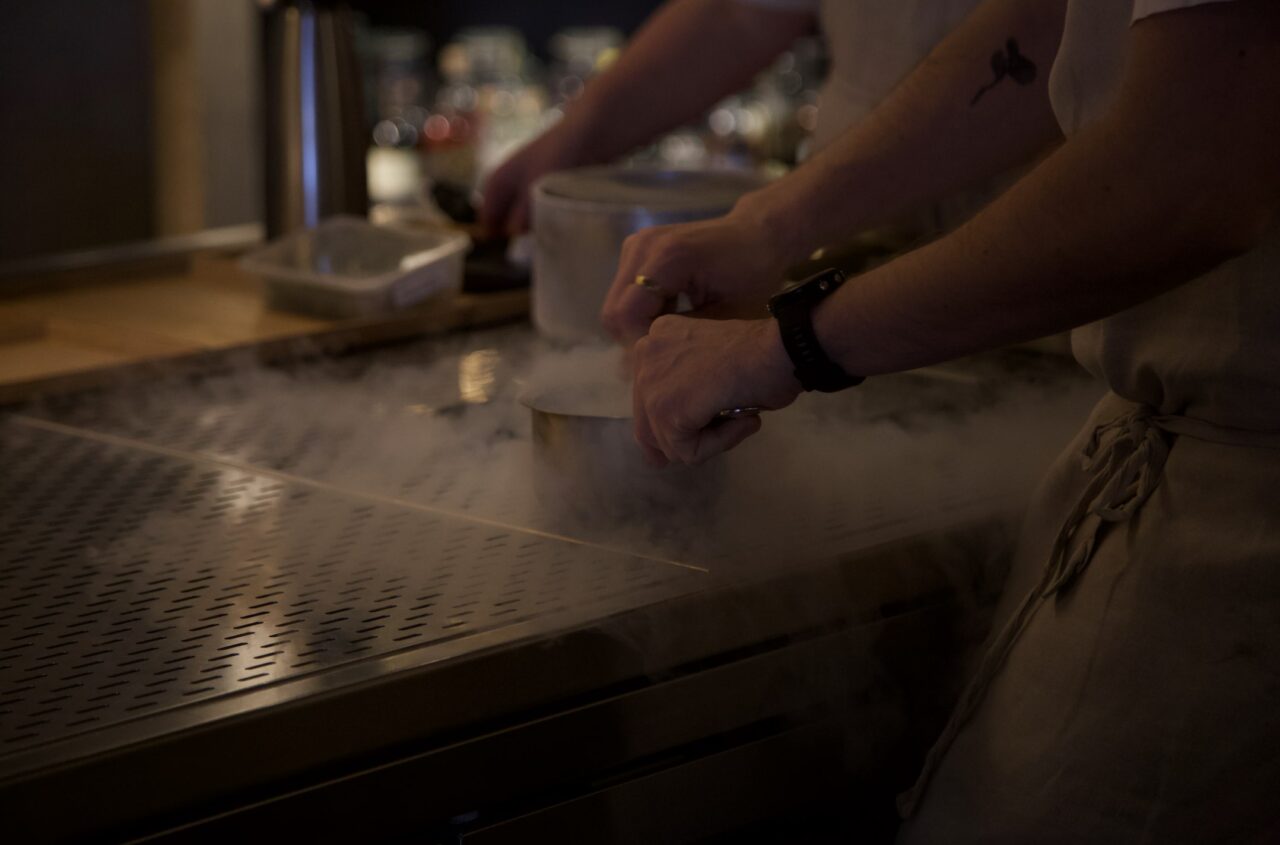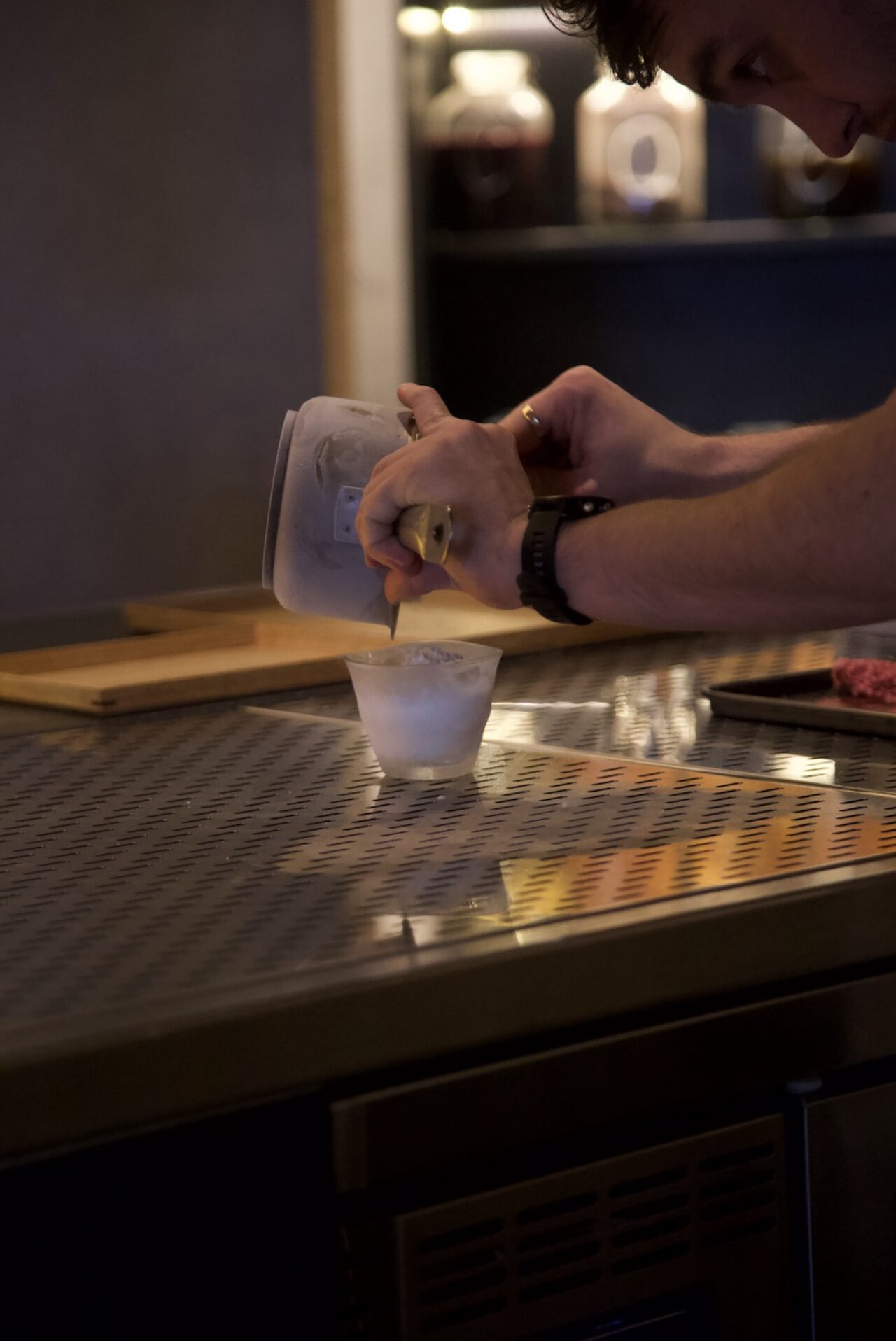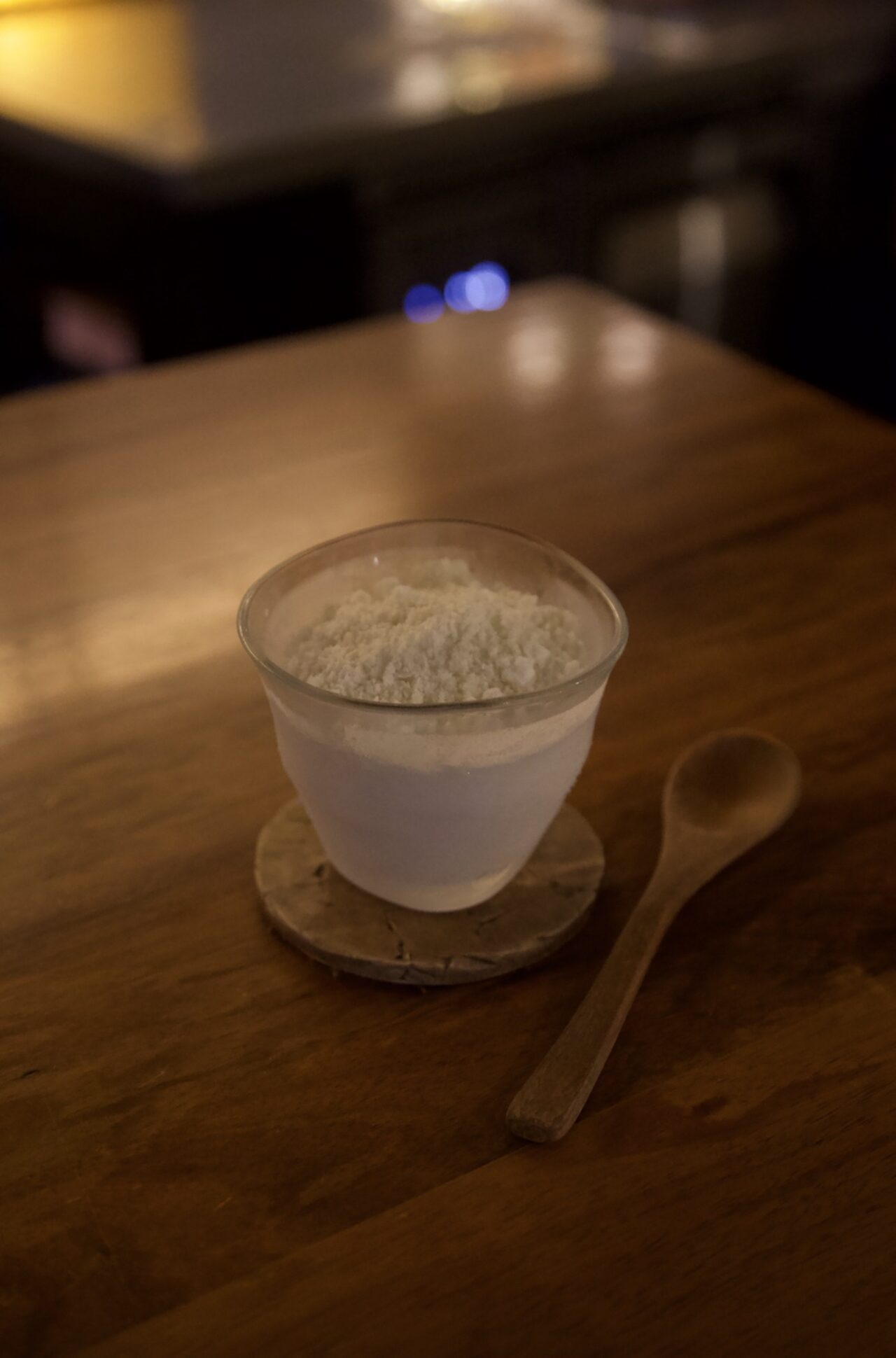 To finish, we're served Cheese, with a piece of Riverine Blue, Honeycomb and Wattleseed lavosh, accompanied by our final cocktail of the evening, Truffle Pie.
The unique beverage is a deeply aromatic truffle infused South Australian brandy with a bit of an extension, being equal parts a drink and a mini flakey pie, made with Manjimup Black Truffle, Baked Yarra Valley Apple, Wattle seed and Short Crust Pastry.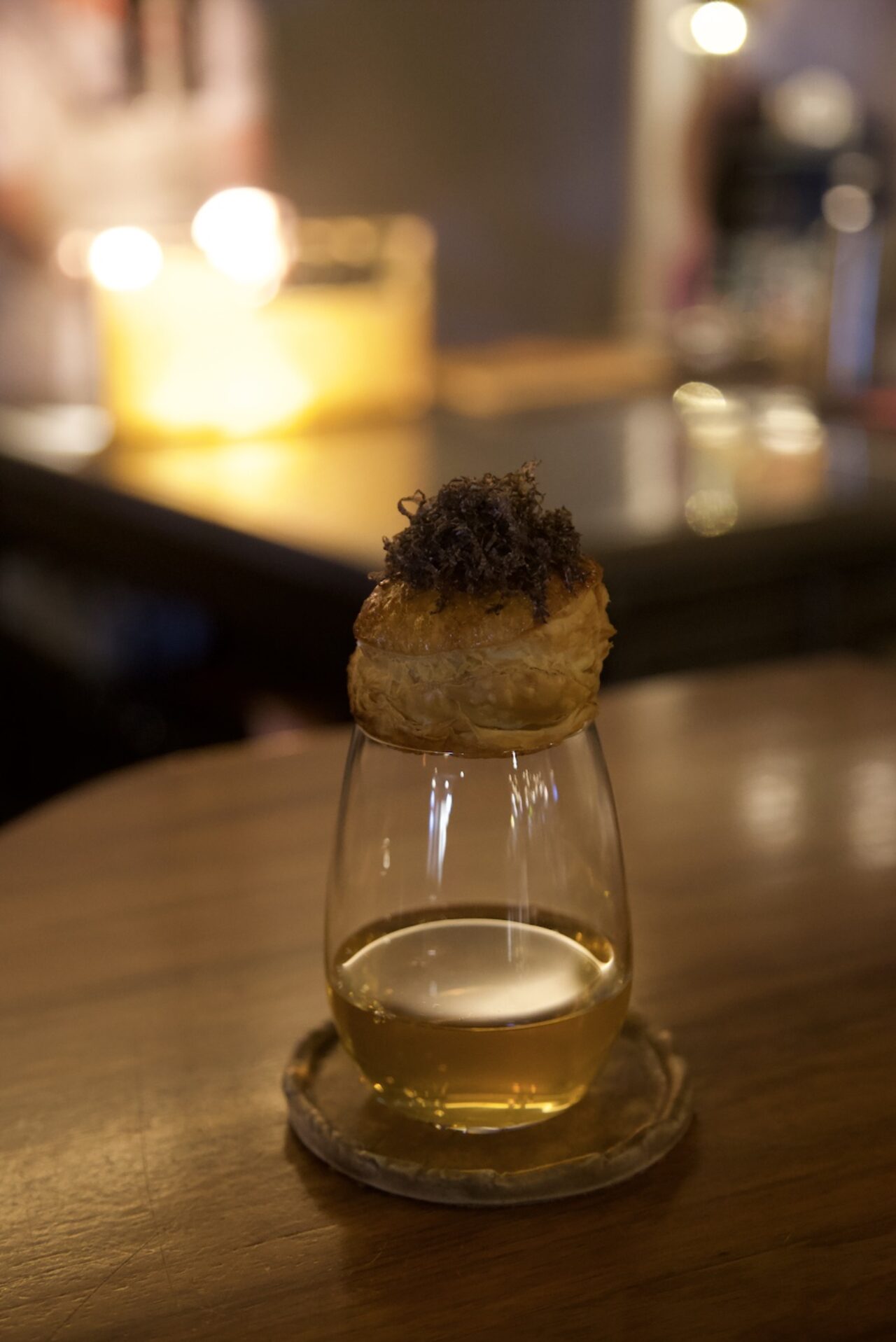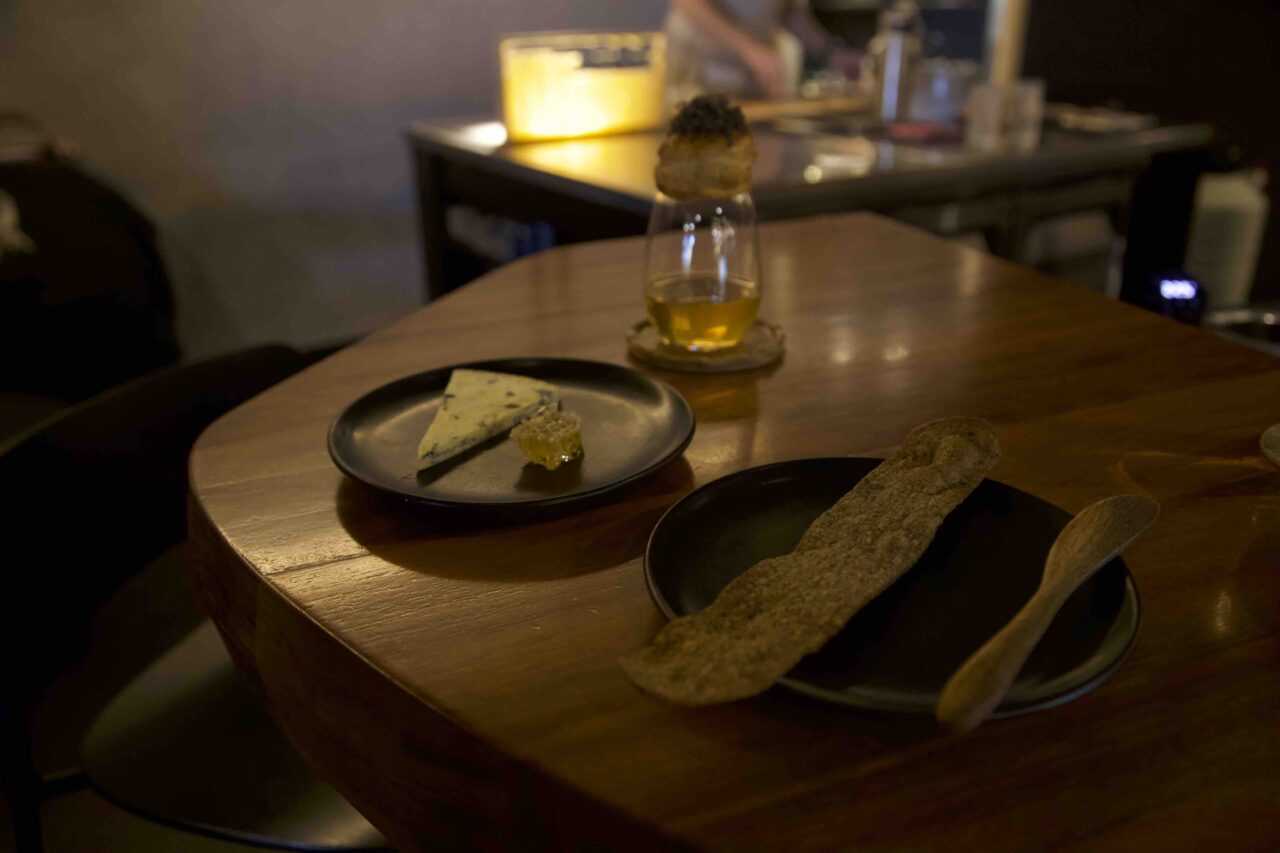 It's truly undeniable BYRDI is here to reimagine, experiment and play with our senses, all whilst inspired by Australian ingredients and offering an environment to take a moment from the daily grind. Even if only for a drink, there's always something intriguing and new to try.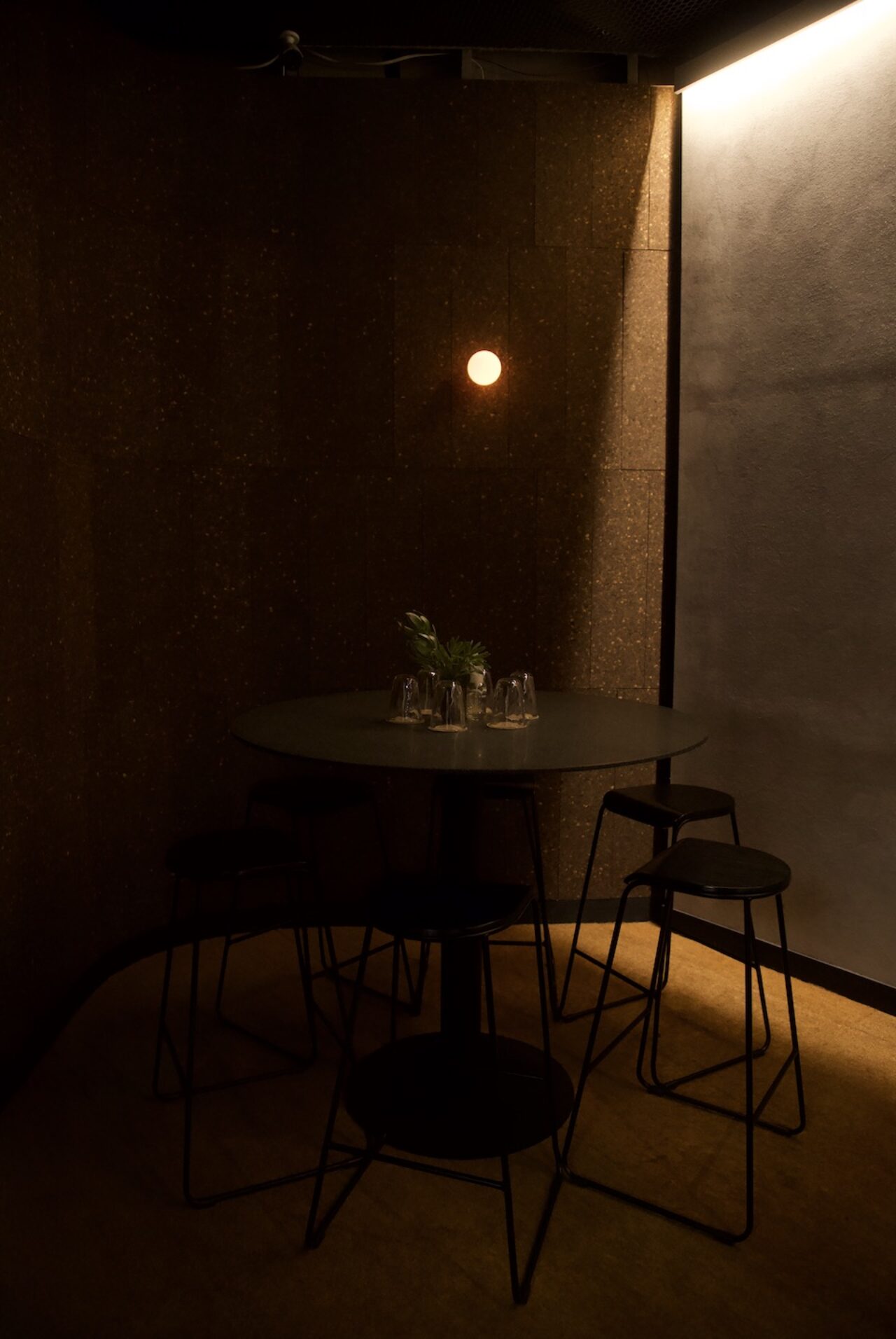 BYRDI
211 La Trobe Street, GD075
Melbourne, 3000
Visited and reviewed by Champ correspondent Darren L.
Images: DL