The Sunseeker
Community is at the Heart of this Design-Led Boutique Motel in Australia's Byron Bay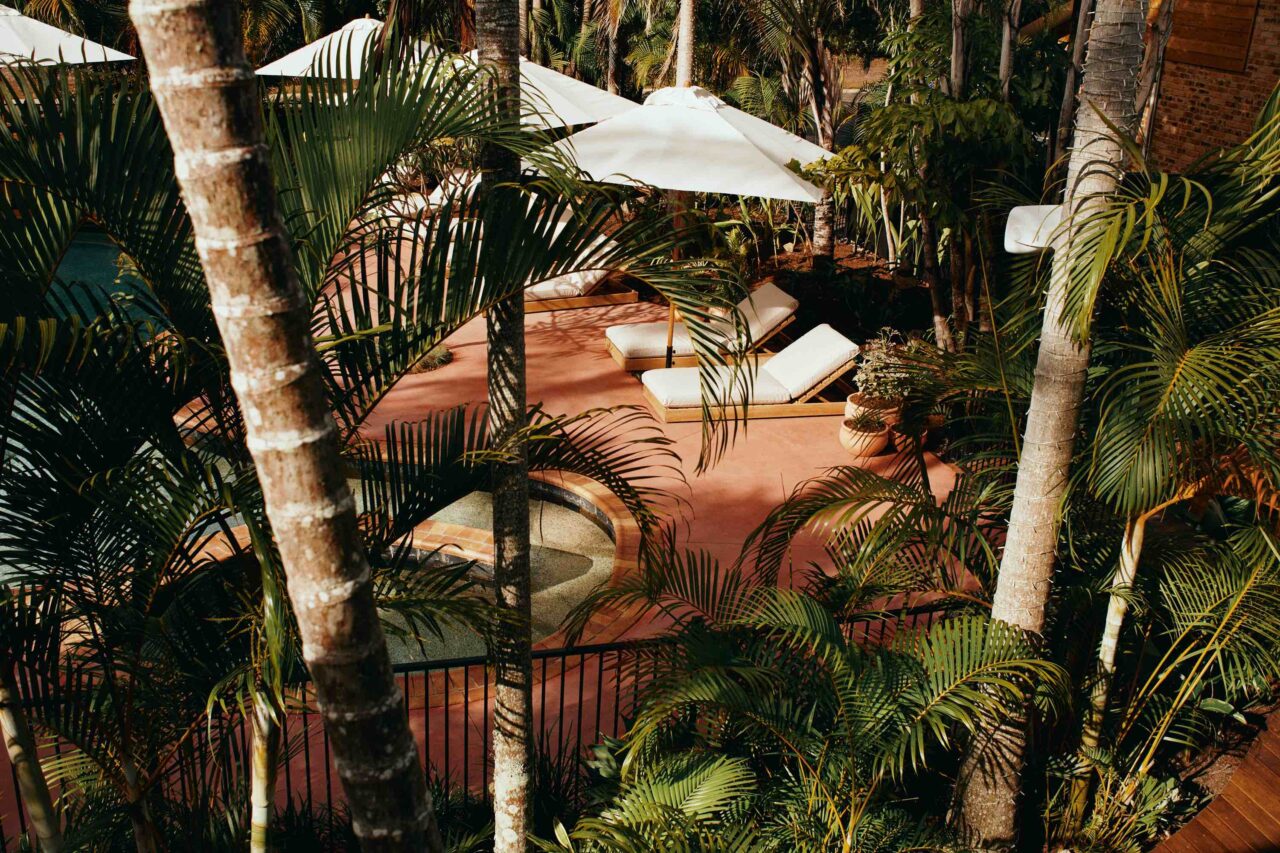 Found conveniently on Bangalow Road, a main road heading straight into Byron Bay's city centre, The Sunseeker seems to tick all the boxes. The newly-opened boutique accommodation has given life to an old motel, reviving old charm with a modern attitude and sustainable approach. Good vibrations lead the way amongst The Sunseeker's stellar interior design, brilliant brand identity, perfect music curation and sustainable hospitality solutions.
Champ editor-in-chief Monique Kawecki explores the community-led boutique motel and speaks to co-owner Jess Frid about the inspirations behind its very unique design.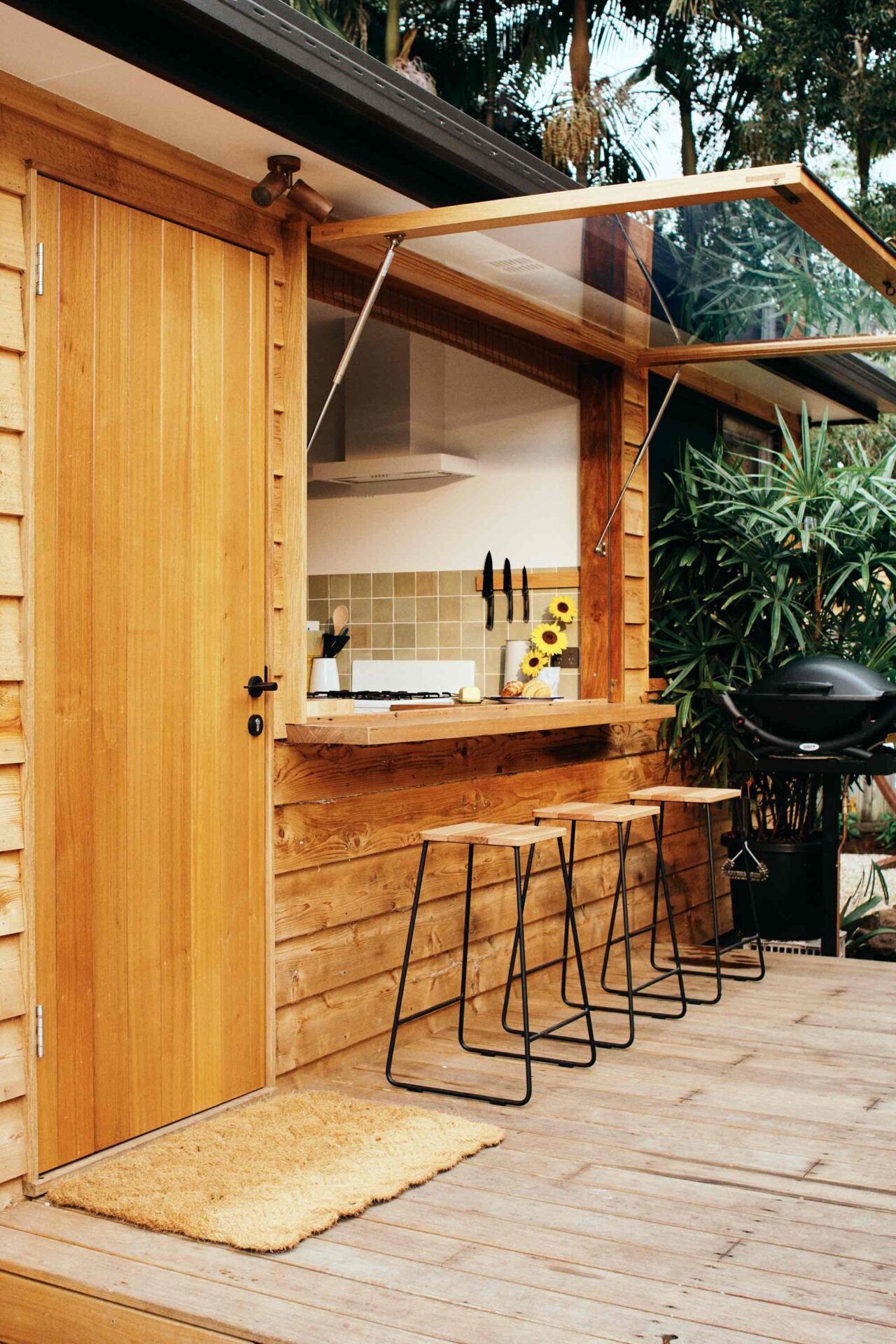 The resurgence of renovated boutique motels along Bundjalung country (Northern Coastal NSW) is evident. The Sunseeker's history as a well-maintained authentic motel in a prime location is key to its strength, in addition to its original name being kept for more than 30 years. 
Led by couple Jess and Dave Frid (from Byron but originally from Melbourne) who are living out their lifelong passion, the first-time hoteliers have done the old motel justice, breathing new life and a new energy into the dream destination. 
It's all about acting local here, with the Frid's enlisting the best of their community to come together for the project. Builders Balanced Earth, local design studio Studio Muse Muse, book curators Good Publishings, local connector Tory Bauer and interior consultant Julia Ashwood were all part of the dream team, with Brisbane-based Five Mile Radius' handiwork on room counter-tops made using recycled concrete (saving 2 and a half thousand kilos of it) embedded with crystals, an idea instigated by owner Dave Frid. 
The design of The Sunseeker is an interior designer's delight. A red palm tree hand-painted by local artist Nate Pickering greets guests as they check in to The Sunseeker. Behind the strikingly beautiful front desk is a hand-dyed blue curtain was custom-made by a local designer. In the main visitor area, the library acts as a central point for guests to mingle and peruse their well-curated book selection. The fireplace here has been made from reclaimed bricks, ready in time for the upcoming Winter where guests can cosy up on vintage design furniture accompanied by the custom scent by French artisanal florist Christian Tortu, made especially for The Sunseeker. 
Rooms and bungalows are found situated around the original motel's pool, with it's newly-poured red concrete surrounds framed by original bright-green luscious palms and plants. Inside rooms, hand-sewn flags by Sarah Harvey are found above beds, whilst the Fearon Brothers' Chub stools are found beside them. Spanish rendered grey walls are contrasted with the hotel's original 1980's slate tiles laid out by Dave himself, keeping the original feeling of the motel. All the mod cons are here though, with air-conditioning and heating a given, a filtered water refill station outside rooms, Leif amenities and our favourite: a mini 'station' in the cabinet for guests to recycle and compost their waste as needed. The mini-bar is also stocked with the best of Australian entrepreneurial businesses (Taylor & Smith x Dier Makr mini pre-mixed cocktails, The Sunseeker x Jilly Wine Co red wine and Coffee Supreme instant coffee). 
The coastal town of Byron attracts creatives and free spirits of all sorts, with the coastal town leading in activism and sustainability initiatives. The Frid's have ensured to incorporate this ethos into every aspect of The Sunseeker. We were delighted to also find the Byron-owned and designed Subpod composting system on the grounds, surrounded by the veggie patches. Guests can help themselves to veggies and herbs which are also used in the nearby pool bar's cocktails. Two Flow Hive beehive's have also been homed on The Sunseeker premises, and by September visitors will be able to take honey straight from the tap, with children learning more about the Earth and its inhabitants through experience. All the aspects of Byron have been instilled here, a surfy, relaxed and community-driven feeling is undeniable.  
But a different type of familiar feeling is found at The Sunseeker, too. Those well acquainted with Chateau Marmont in Los Angeles will find similarities between its old Hollywood feeling created with palm trees and a retro pool paired together with a good dose of nostalgia (by way of the renovation and the existing bones of the motel). As we find out whilst speaking to owner Jess Frid, the Chateau Marmont reference is no coincidence too, as The Sunseeker shares the same music playlist selectors as the infamous LA haunt. 
To connect with the local community who live in the area, The Sunseeker also set up their own coffee van in front of the motel selling coffee and pastries all day. Only fully-biodegradable cups and lids are found here – it is Byron Bay after all and that's the beauty of it. The Sunseeker's blueprint for sustainable hospitality is subtle, but completely relevant. Using local talent and supplies not only makes sense logistically, but enriches the community it is a part of. The Sunseeker is its own retro gem, sure to become a leading mascot in the Australian hospitality scene.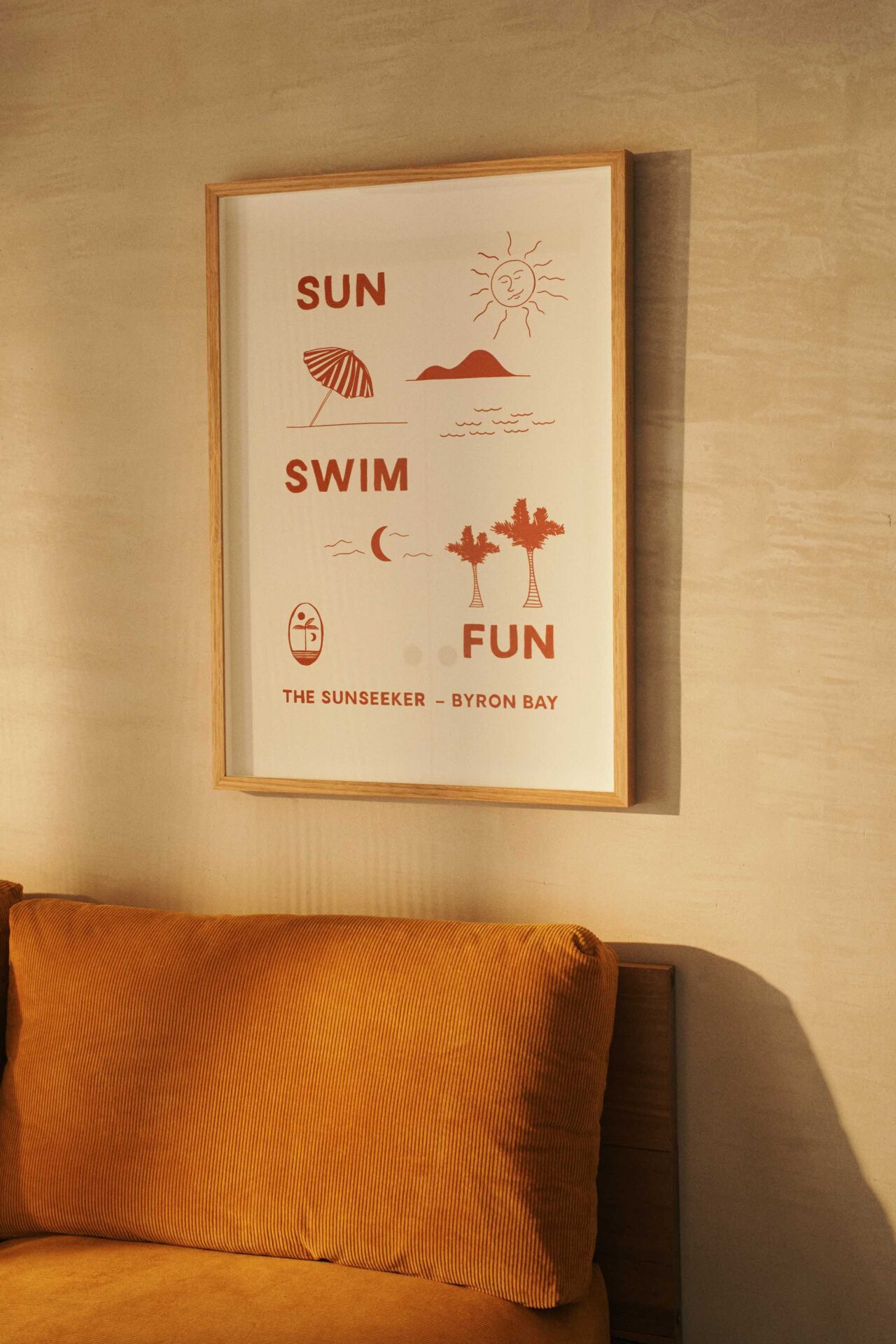 CHAMP MAGAZINE [Monique Kawecki] As first time hoteliers, can you tell us about your journey to get here?
JESS FRID | It's always been a dream to do a hotel. I think any avid traveller has maybe thought about it once or twice and then after a couple of drinks it might not be the best idea…! We're originally from Melbourne, and moved here [to Byron] three years ago with two very young kids, just to create a bit more space in our lives, and spend some more time just being here and being really creative, immersing with community and all of that. Long story short, we were just really ready for a creative endeavour together. We've done a few little things together in the past, but were just feeling really inspired and we've travelled a lot together, and separately alone before we met, so we were just very clear about what we loved about certain places and what we would love in an offering ourselves. Particularly with two young kids, and wanting to travel with our kids, but also be in places that we wanted to be at. Dave has got a pretty long property development background, and I've worked originally in marketing and branding, and then I moved to a non-for-profit for about 6 years working in lots of grassroots foundations. We were just wanting to do something together, and bring it all together! It was just one of those moments in time that happened and exploded, and all the seeds that were planted around the place started to blossom. 
You opened in May 2020 in the midst of the pandemic. What motivated this?
We bought the place in December 2019, and literally took the keys in May in the middle of pandemic which was pretty nerve-racking because it was so unclear on how it was going to unfold. We're very privileged that the building industry was permitted to continue, and also, Byron compared to other places in Australia fared pretty well. Luckily we were able to push on through it all, and create something for people to come [to] for when they were all allowed out again! 
Perfect timing!
Yeah, it was pretty wild in hindsight to think how it all turned out… I like to think things happen for a reason, or maybe it was just very lucky. We're glad it turned out the way it did.
Your 6 months renovation tied in perfectly with Australia's state border openings. 
It was a really beautiful thing, to then have an offering that when borders opened we did have something to offer for people to enjoy and just relax abit after a really tough year.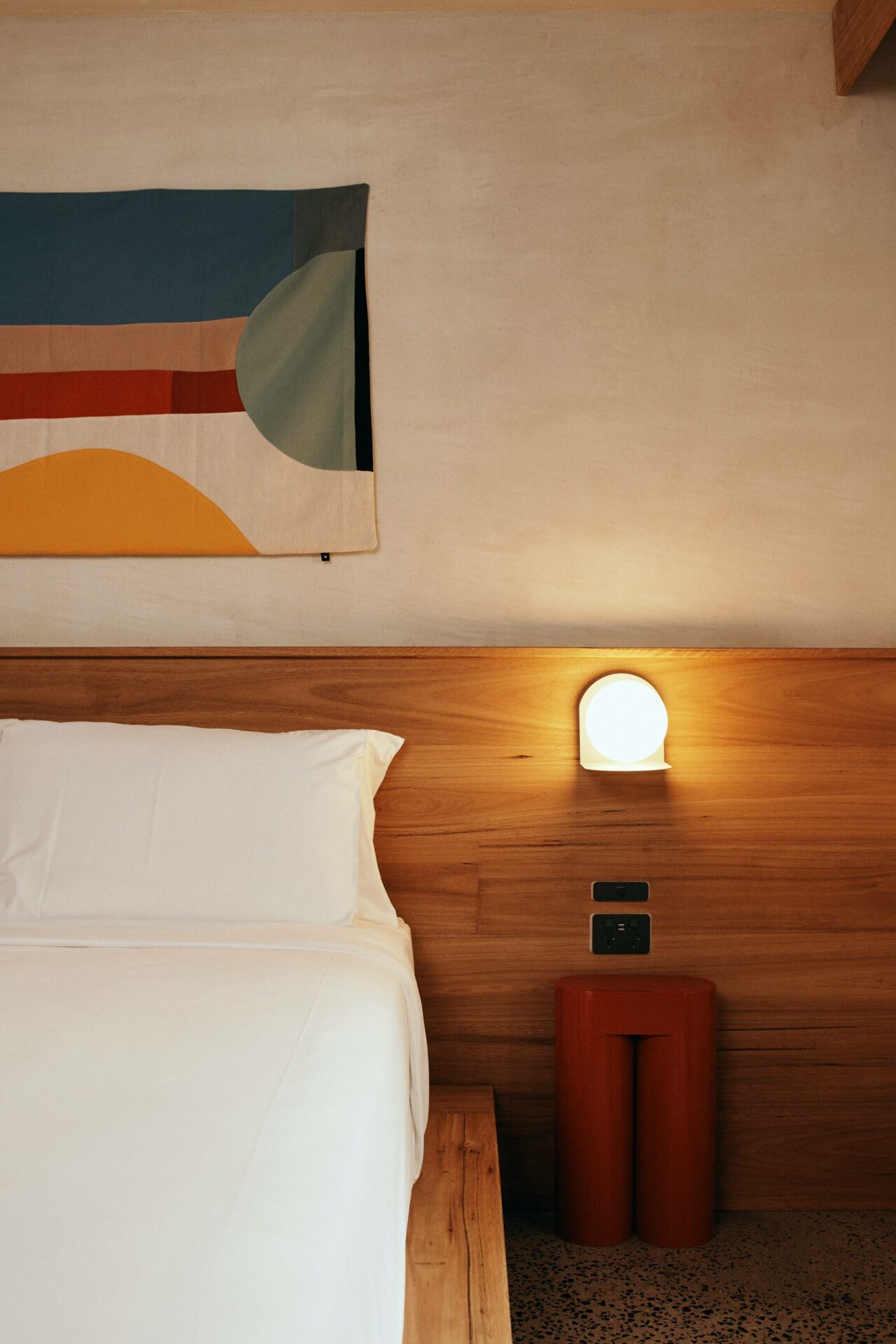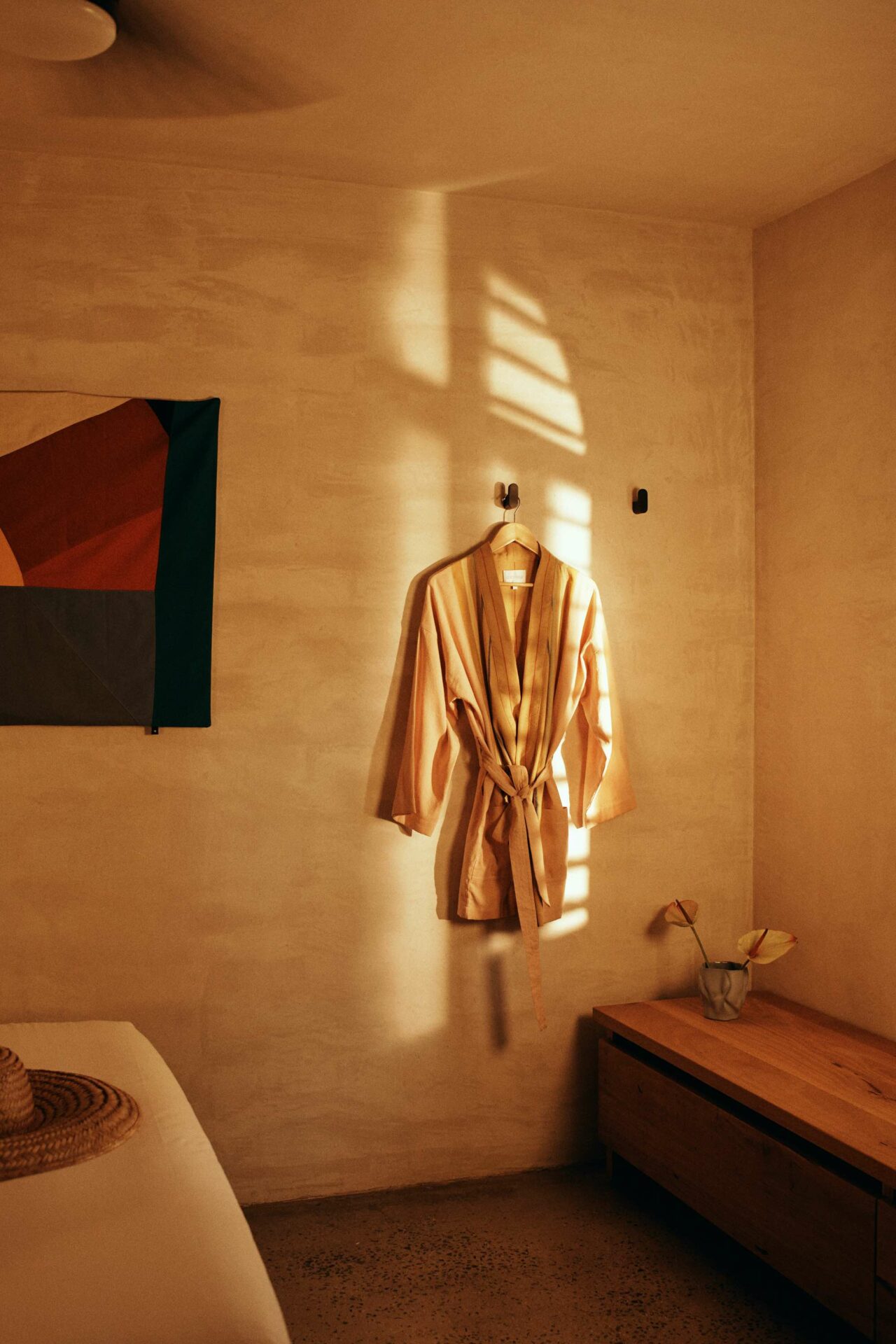 How did you first come across the motel?
We had spoken about a motel many times, and we wanted to have a real sustainability focus in whatever we were doing, and loved the idea of reclaiming an old motel that was good and well but just needed abit of love. We looked around but couldn't find anything, and then the idea sort of sat dormant for a while. Then someone came to us off-market not knowing, and said 'any chance you guys would be interested in a motel' and we said 'yes actually…'. We came and had a look and eventually on Christmas Eve 2019 said 'let's do it'.
When you came to visit the motel, what was it like?
All existing. We haven't knocked down or built any new structures, but we've touched everything. We've just tried to lighten and enhance wherever we can. There's a funny story about whether we would cover the brick or not. We debated it for months and months! We decided that the brick was so quintessential to the design and the era it was built, and the nostalgia of renovating a motel to begin with, so we made the call very firmly that we were going to keep the brick, and make it cool. (*laughs*) 
That's what we set out to do! The reception was quite separate, these rafters were here but were very low, so we've lifted them. The windows were little square windows, so we changed them to round large nautical windows that open. We tried to expand the spaces wherever we could, and then worked very closely with our branding agency, Studio Muse Muse on the look and feel, and what was important to us. Everything sort of flowed from there!
They've done a brilliant job because they did your graphic identity, and your amazingly easy-to-access website. 
Yes they're Byron locals, and they also do a lot of local publications such a Paradiso which is fantastic. The day we met with them the whole project just exploded. From day one we just connected, and the whole thing just started to make sense.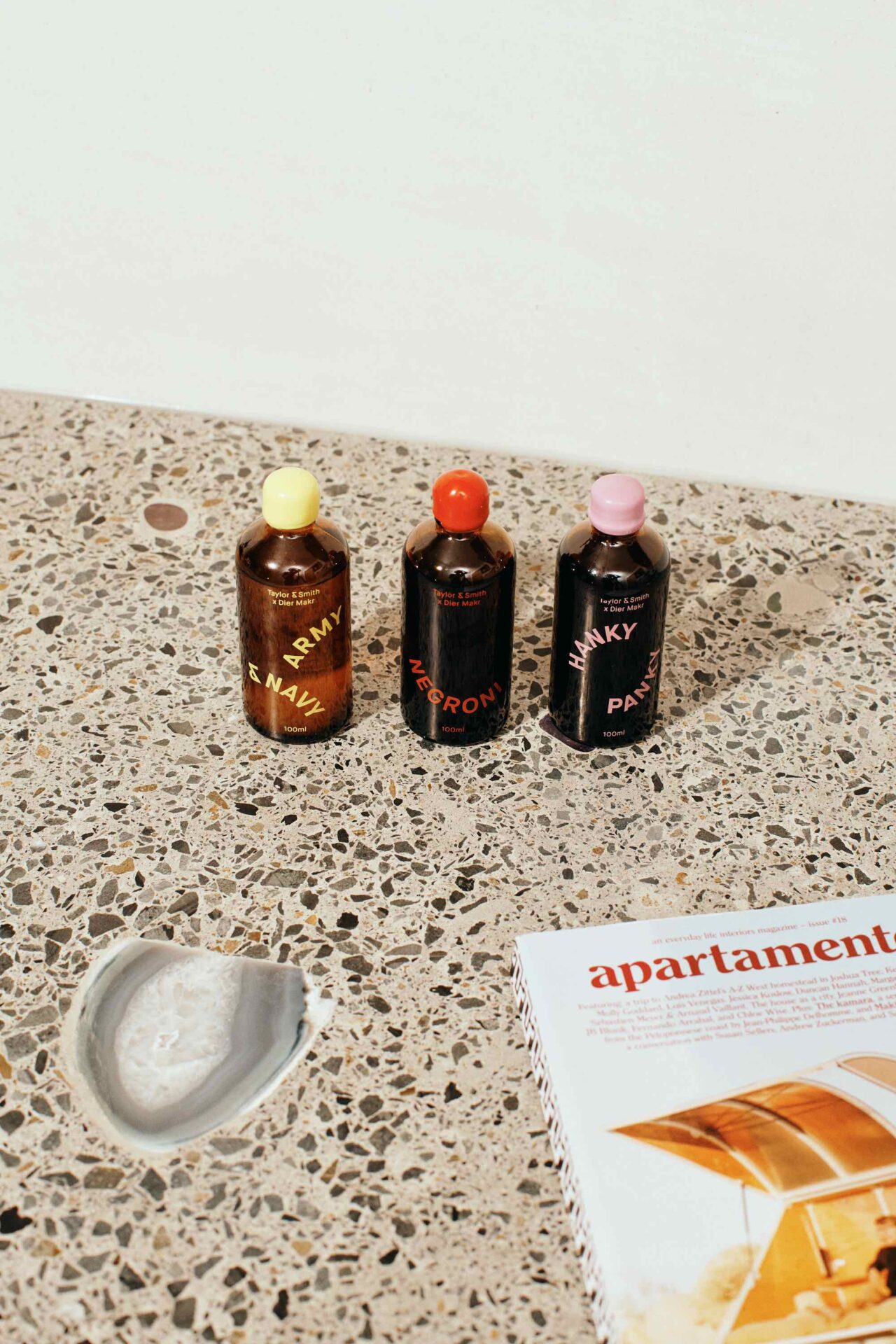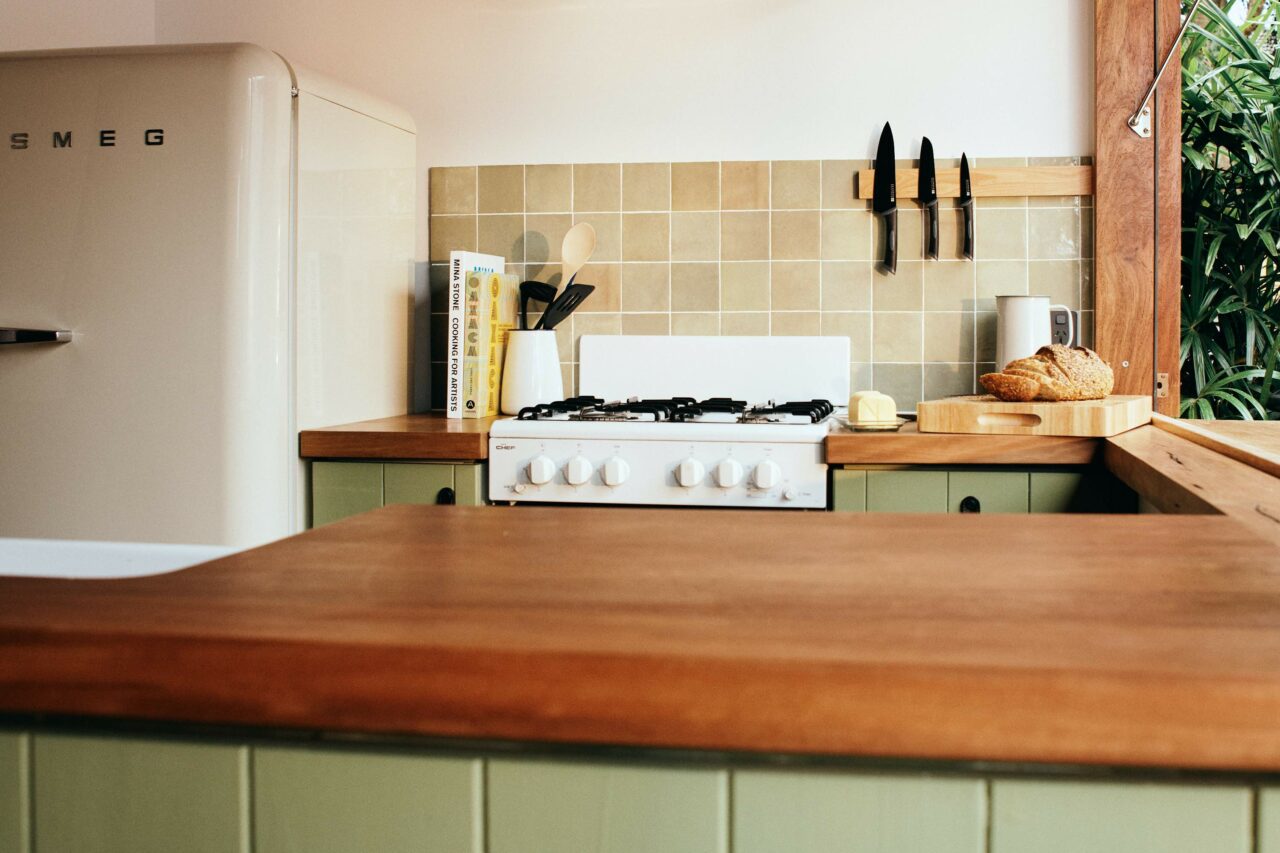 Can you tell us more about your process about renovating the old motel, and how did you select the creatives you worked with?
It was a very organic process, we were really open. Dave and I were really clear on what we wanted to do but it takes many hands. 
The previous owners kept the place in great condition, they really did. It was tired because it hadn't been touched in 30 years in terms of the design, but they kept it in really great shape. And what was really beautiful, was the original-original owners, when the new sign went up [The Sunseeker] came and had a look. They were the guys that put the first sign ever up, and they came in for a cup of tea and gave us their blessings. 
We'd heard about our builders, Balanced Earth, who were sustainable builders who specialise in hempcrete [and reclaimed hardwood]. What we did first was set up a meeting with them, connected with them and they were on board straight away. We got along with those guys beautifully, and that was the foundation of getting going. They are designer-builders. One of the owners Michael Leung is an architect, and a young guy that works for him, Leo DeWitt, formed part of our design team straight away. With them we started mapping out different structures, different layouts of the rooms we could play around with and improves the efficiency of the spaces. Then we came across Tory Bauer very organically, someone mentioned we should meet and have a coffee… we just liked her! She became part of the family very quickly and was instrumental, connected us to lots of people and just became part of the team, we call her 'The Sunseeker's best friend'. That led us to Studio Muse, and everything just blossomed… She was a huge part of the team, she's lived in Byron for a long time, she was incredibly supportive and she's unbelievably creative. She just pushed us in many directions, she was just a real mentor. 
For me it's the people under the radar that really often form the backbone of the project.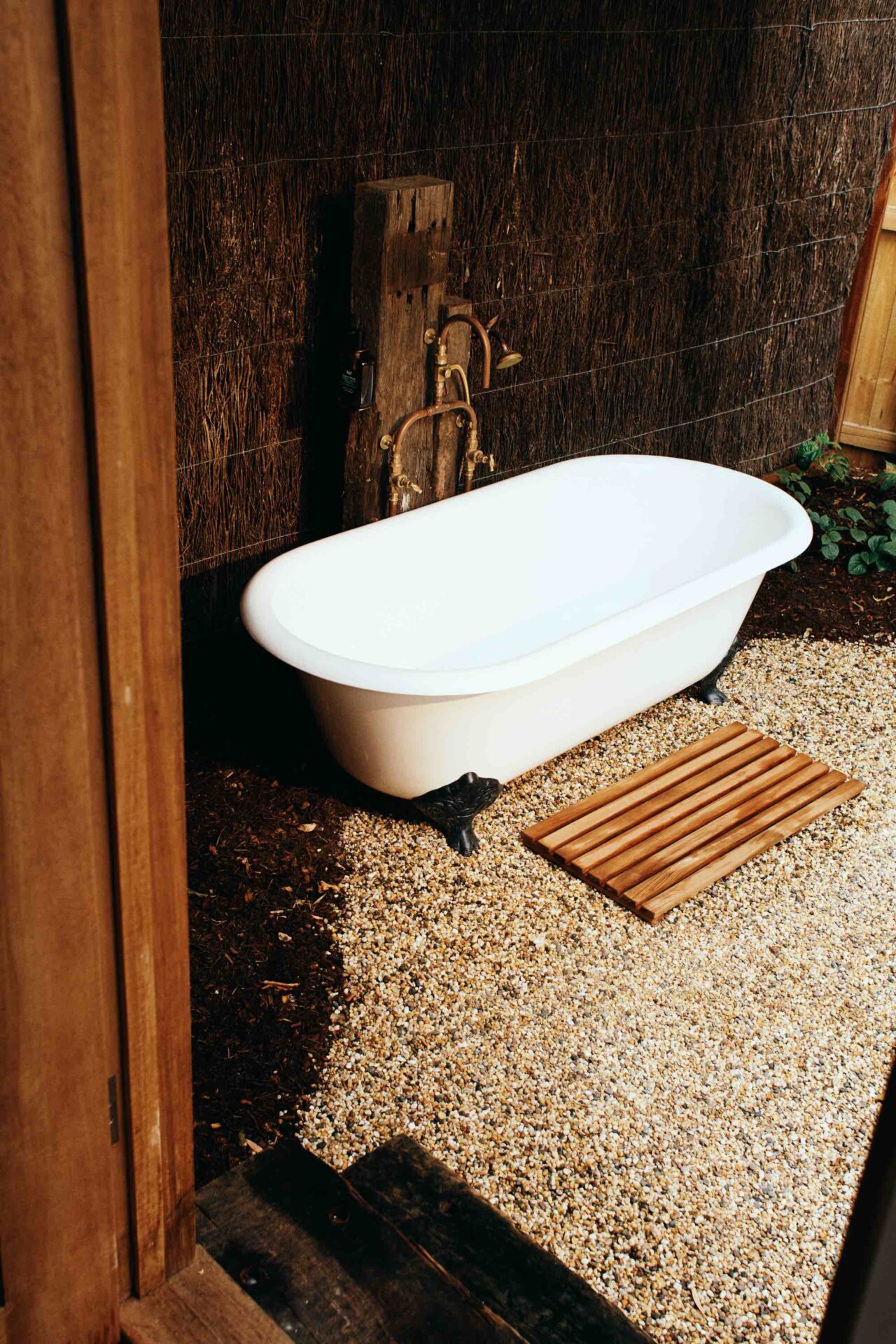 Staying true to yourself and Dave's vision, where did your initial concept come from? You've mentioned Flamingo Estate as an inspiration, or was it just through travelling?
It was a really coming-together of things. In hindsight, it's a funny thing. The vision was always there. And when we look back at all the original briefs, it's kind of remarkable how aligned they are. However, you go on a journey, and there were different things we wanted. Different places that we loved, and different bits we wanted to pull from that. Other things were just on the ground and in the moment that came together. 
There are definitely influences from when we spent a month with the kids in the Northern family-friendly end of Ibiza, and we were just charmed by the simplicity of the offerings and where value was contrary to seeming fancy, I guess! Definitely Flamingo Estate I just love. That gave us a lot of permission to do what we wanted, anything goes, there are no rules! I think that was a huge inspiration for us. I love that you mention Chateau Marmont because it's a favourite place of ours, but don't think that came up much in the conversations, but I love that! Except the guys that did our music, did the music for Chateau Marmont. 
A big thing for us was that every decision was considered. Nothing was quick and easy. Everything was slow and painful, in the best way. Everything had to have a purpose, one way or another. 
The Sunseeker is also very child-friendly. We noticed that there are a lot of young families from Sydney that are here to all enjoy the place together. 
Thank you, thanks for noticing! That was a big thing for us. We've got 2 young kids, we love to go places and be in places that exude quality. For us it seemed like an opportunity… We've only seen big resorts that are child-friendly and then very boutique offerings that are not so kid-friendly. We just felt like there was a big opportunity to tick both boxes. Where we wanted to be, and where kids were welcome too.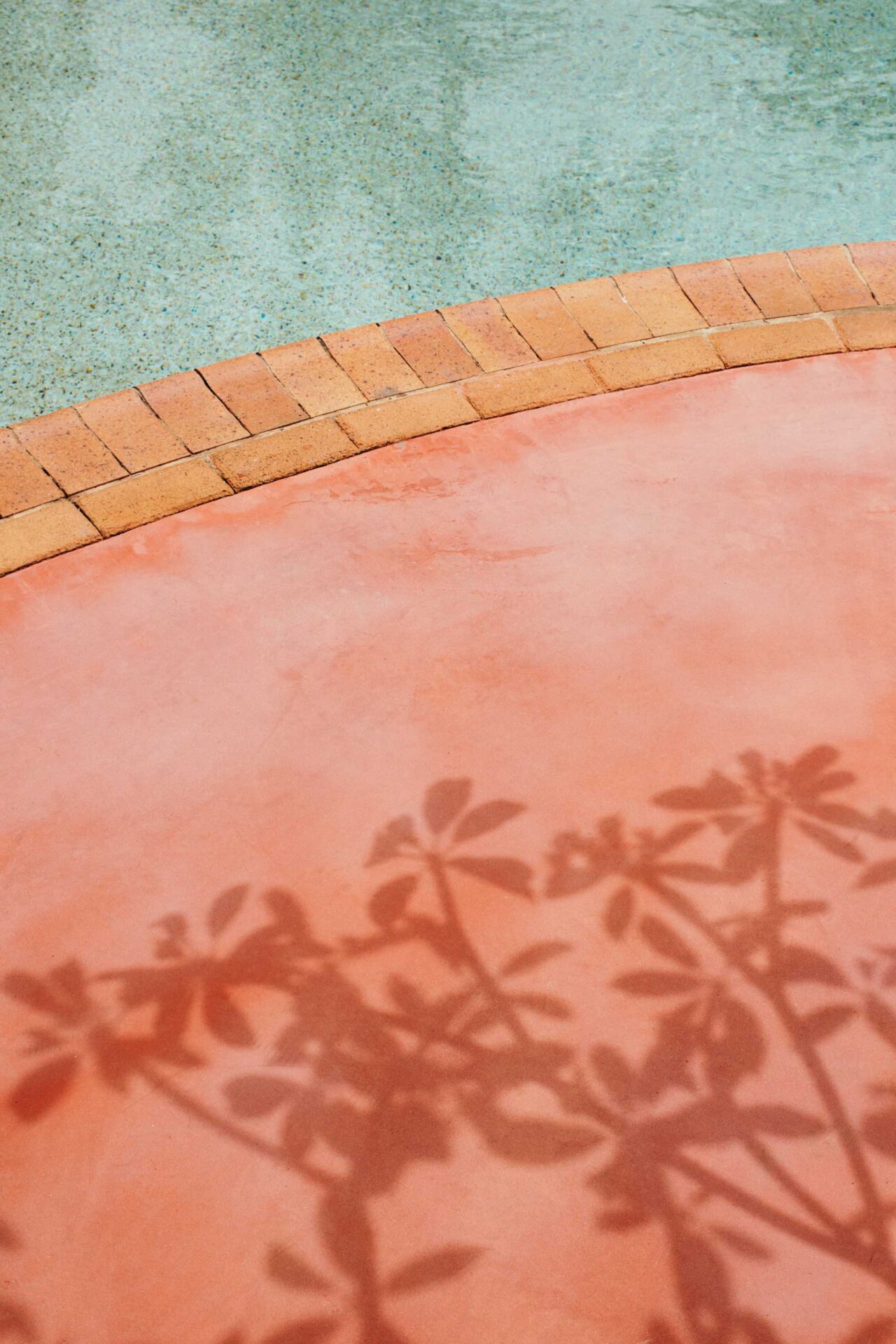 Australia in general has destinations that are very kid-friendly! It's part of the lifestyle, we have a good balance of family and work here.
There was this one story at night in the family-friendly North end of Ibiza. There's big beaches with restaurants on them, but everyone just gets a pizza and spills onto the beach. All the kids mingle together, they're having a great time, parents are having a great time, and that was definitely a great inspiration for us. You've got the bar and the pool, and the bungalows, so kids can stay in if the parents still want to stay out, or they can all mingle together. 
It's works perfectly! It provides a nice atmosphere, the birds, the music, the kids playing outside. It's nice to wake up to here at The Sunseeker. Further to the construction, were there any unexpected challenges during your planning?
Building during a pandemic had its challenges. Especially in a town like Byron that relies on certain things coming from Brisbane or Queensland. That presented certain challenges, or anything coming from overseas… Which was sort of wonderful because it pushed us to be even more local. Besides that, we were really lucky. We had an amazing team, there were lots of challenges but nothing too dramatic. 
There's an amazing existing abundance of vintage furniture and books here already… You can find it all!
Yes.. the books here were curated by Good Publishings. We picked some these that we wanted for The Sunseeker, and they came back with a large list of rare titles. Abit of surf, sustainable building, architecture, culture…! 
Anything of note coming up in The Sunseeker's future?
There are a few more things to come! It's been really consistent here, we're full at the moment, and we're trying to accommodate all year round. Byron's pretty beautiful, there's lots on offer, all the time!
∆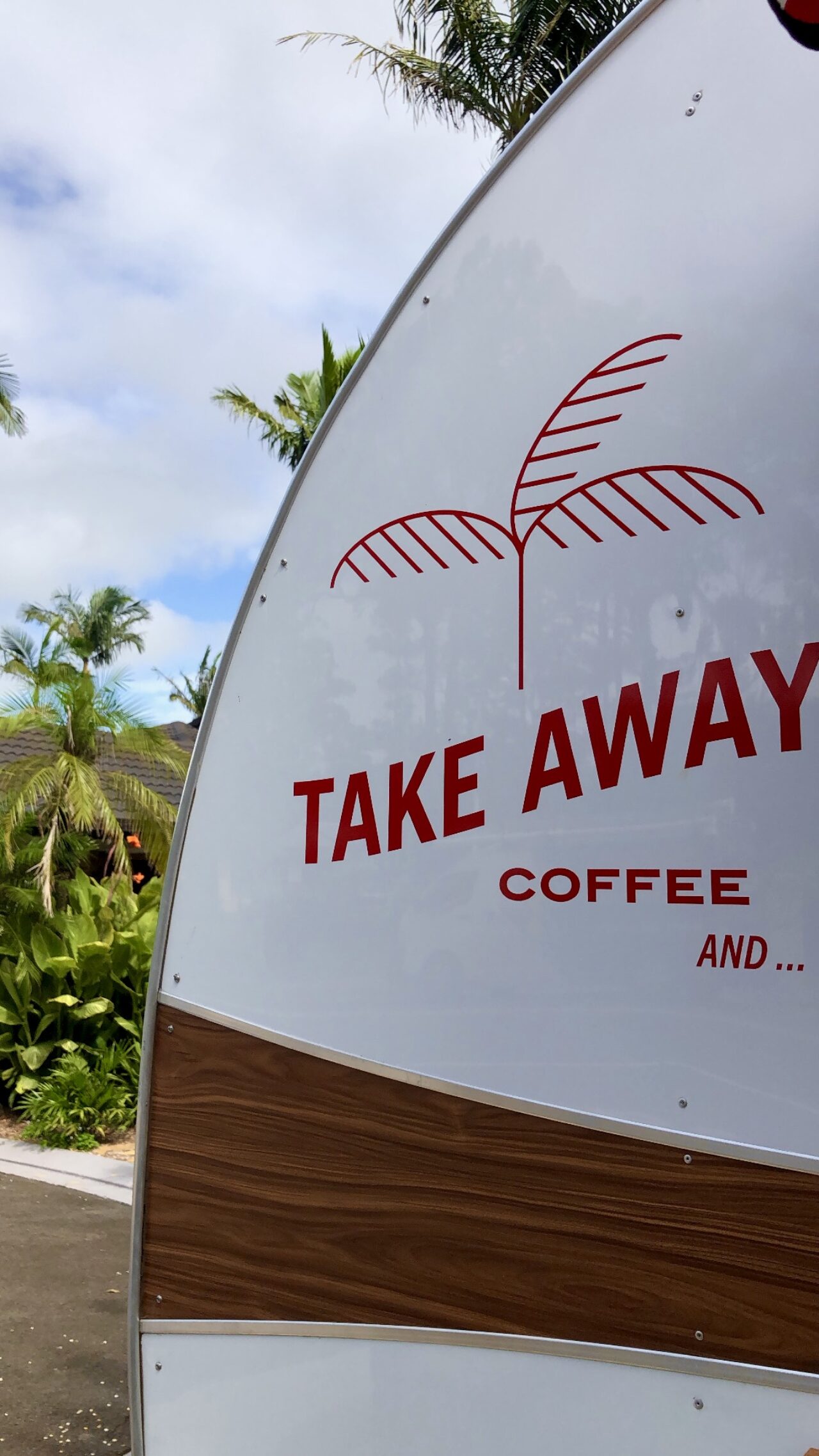 100 Bangalow Road, Byron Bay NSW 2481
#champ_byronbay