FISHBANK
Executive Chef Tony Carroll Makes Waves at the Seafood Restaurant Operating with Sustainability in Mind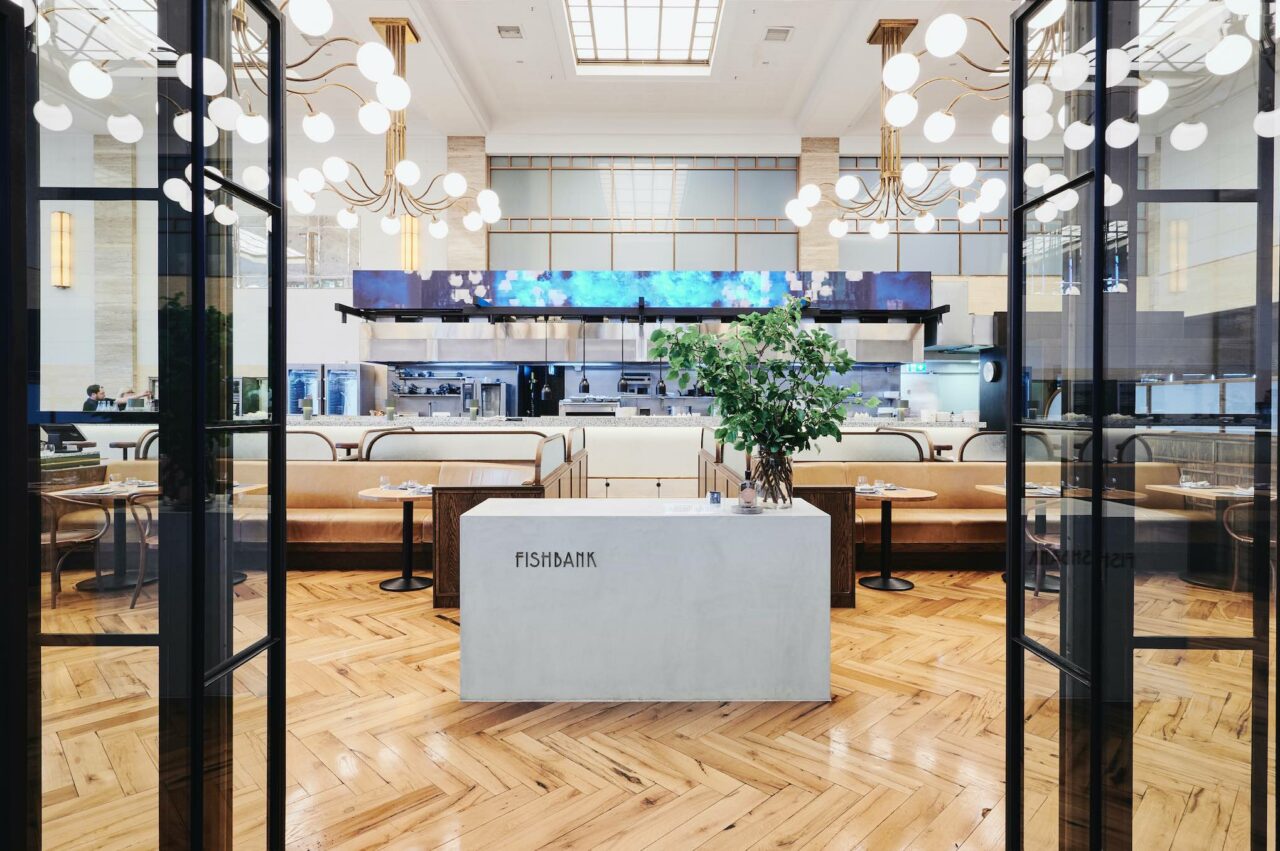 With a goal to make Fishbank the best seafood restaurant in the country, executive chef Tony Carroll is not far off.
Bringing years of experience with him to Fishbank, one of Adelaide's newest restaurants in a heritage-listed building, Carroll has ensured the modern fine dining restaurant is open to all. 
Committed to sustainable operations, Fishbank comply to their fin-to-scale philosophy, whereby every part of the fish is used where possible. With such a diverse range of seafood available in South Australia, Fishbank has seized the opportunity to elevate what is possible with a seafood-focussed restaurant, in an industry where over-harvesting common species is an ever-growing problem, Fishbank prove their dedication to sustainable operations through their inventive dishes, with creativity a key element (more on this later). For a seafood restaurant to dedicate themselves to this philosophy, as a diner it's an incentive to want to support this type of approach. It's not hard, Fishbank do the work, as a diner one needs to only make sure everything ordered is eaten!
All seafood is from Australian waters, delivered whole to the restaurant. Chef Carrol texts directly with fisherman every morning, ordering what is needed for that day. He works directly with them, cutting out of the middle man, more importantly it gives him "control on how the fish is handled, stored and prepared post catch". Carroll explains "the fisherman we use are the same fisherman that supply local markets, wholesalers and Co-ops such as Fair Fish SA. Because we're not buying in bulk, the price is similar to what we pay through wholesalers, but the quality is so much better, as we have control hose critical control points".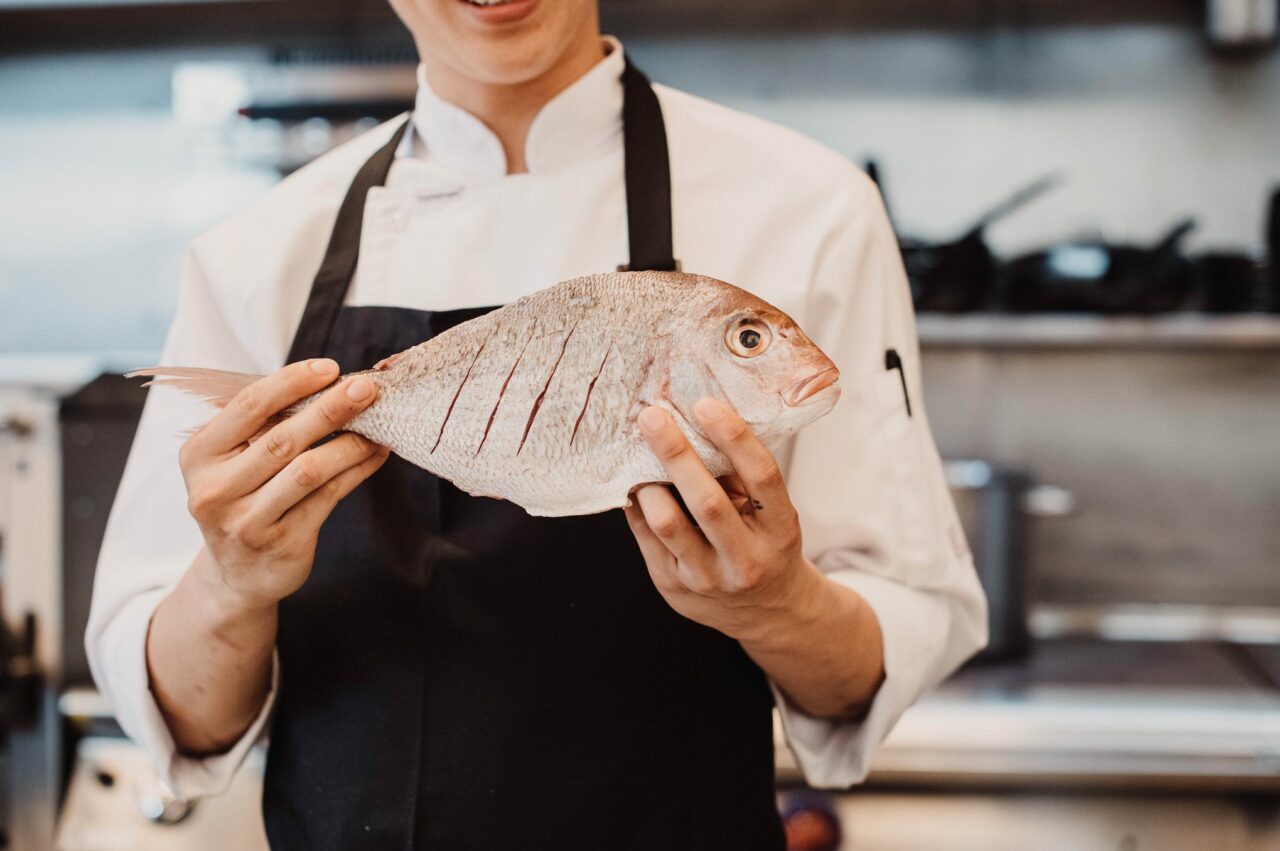 Carroll has a natural ability to bring out the best in seafood. 
At Adelaide's iconic Jolleys Boathouse on the River Torrens (Karrawirra Parri), Carroll remained executive chef at the distinguished restaurant for over 17 years. An Adelaide institution, Jolleys has attracted clientele for over 33 years, and under Carroll's reign for under two decades, even Oprah paid a visit. Inviting Carroll to run the restaurant from the very beginning at Fishbank was a great move by owners Palmer Hospitality's Martin Palmer and Duxton Asset Management's Ed Peter. Operating bar and restaurant 2KW on the rooftop of the same building Fishbank lies in, they saw an opportunity that Carroll was a perfect match for. 
An open plan restaurant and kitchen, raw bar and drinks bar has been incorporated into the design of the 20th Century former Westpac bank building. As guests walk into Fishbank, they are greeted with a unique video installation spanning across a 10m digital screen, showcasing a specially-commissioned 'ocean' film by award-winning British filmmaker Amanda Bluglass. It's an artistic introduction to the heritage space that sets the tone for modernity and innovation. 
The restaurant design is a collaboration between architects and designers Mark Folland, Folland Pranzzo Architects, Claire Kneebone, Mo Hardy and Ali Palmer, an ingenious redesign of the space utilising it to its full potential. Grandeur art deco hanging lights and large floor-to-ceiling windows cannot be altered due to the building's heritage listing, the same going for the bank vaults downstairs reinvented into the most interesting bathrooms in the city. 
At Fishbank diners can feel intimate at their table, whilst equally experience the light and vast spaciousness of the grandoise space.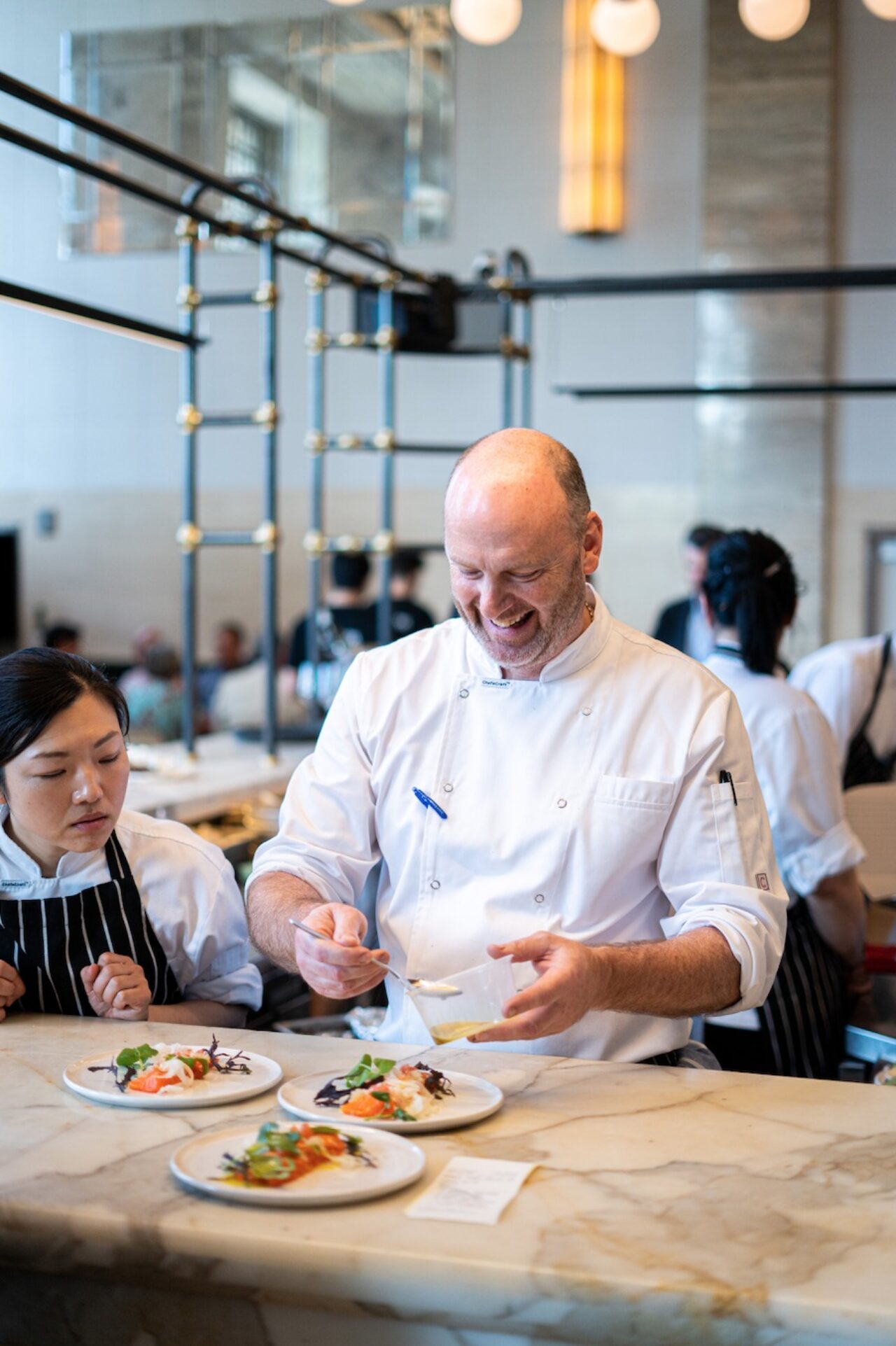 The diverse seafood menu is global, with each dish taking inspiration from different locations in the world. There's something on here for everyone. Native ingredients and championed when possible, such as finger lime in dressings, and local produce is reinvented in internationally-inspired ways such as Fishbank's house-made Lemoncello.
Celebrating local produce such as Goolwa Pipis, Carroll updates the menu constantly to retain newness. This month, Pipis are transformed weekly to both keep diner interest and innovate with the ingredient. Fish and chips are equally available on the menu as are unusual dishes such as Crisp Fried BBQ Skate Wings (with apple and wombok slaw).
We all know tuna, kingfish and salmon, but what about lesser known fish? Surely this is part of Carroll's work to educate diners in how they can consume sustainably. Carroll explains. "Sales of lesser known fish are slower than the hero fish, so we generally do daily specials were we can order less, and not worry about having stock on hand to cover the menu. Another way we utilise our lesser known species is on our very popular Three Raw Tastes of the Sea plate, a Chef selection of raw fish presented 3 ways. We always put one hero fish, such as tuna sashimi, with something that you may not of normally ordered, greasy mackerel tartare or ocean jacket crudo, both amazing fish to eat raw, but with very little individual plate sales. The feedback is usually always positive, with people genuinely supposed how good these species are." Upon our visit we had a usually unpopular fish, the tommy rough (Australian herring) raw, a pleasant trip down memory lane to European dishes of the same sort.
At the raw bar, oysters are held at specific and individual temperatures for their variety, and freshly shucked upon ordering. Here at Fishbank they know how to serve oysters right – freshly shucked with just the right amount of seawater left in shells to keep the vibrancy of individual flavours intact. They taste like you've dived for them yourself, they're that good. Presentation is simple, with oysters served on a bed of cold stones and a small amount of ice, keeping them fresh but operating efficiently (without over-using ice per serve, which is extremely wasteful in presentation only). 
Being in South Australia, it's wonderful to see the range of oyster varieties grown locally here on offer. Pacific oysters from Coffin Bay, Streaky Bay and Kangaroo Island are all available, along with Sydney Rock's from Merimbula. The must try however is the Native Angasi oyster, straight from Kangaroo Island, a variety which was once almost harvested to the bring of extinction in the 1800s. The early 1990s saw oyster farmers around Australia look to bring the species back, slowly but surely. Flat in shape, the Angasi is slightly smaller in size but stronger in flavour – in a good way. They're still quite rare, as they are harder to grow than the Pacific oyster, so this offering at Fishbank is truly a must-try.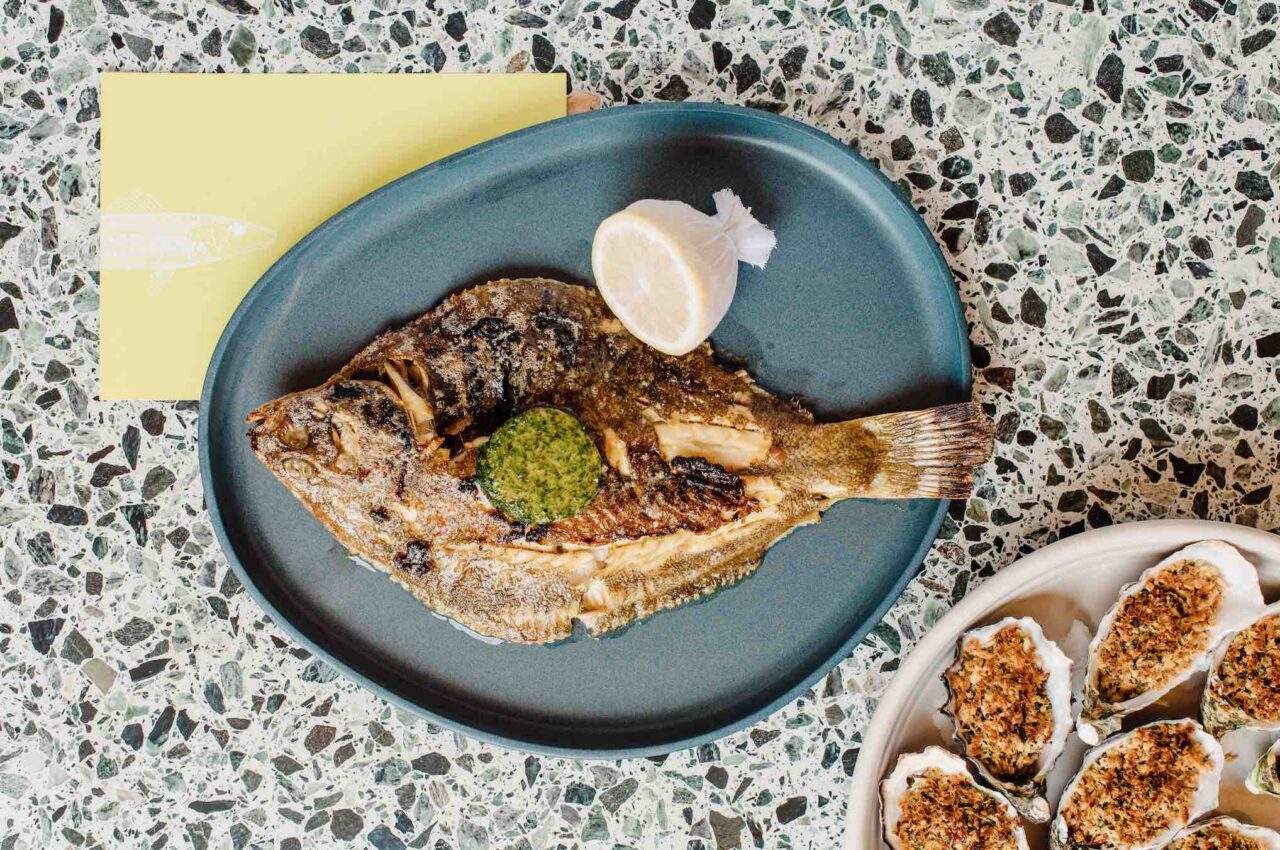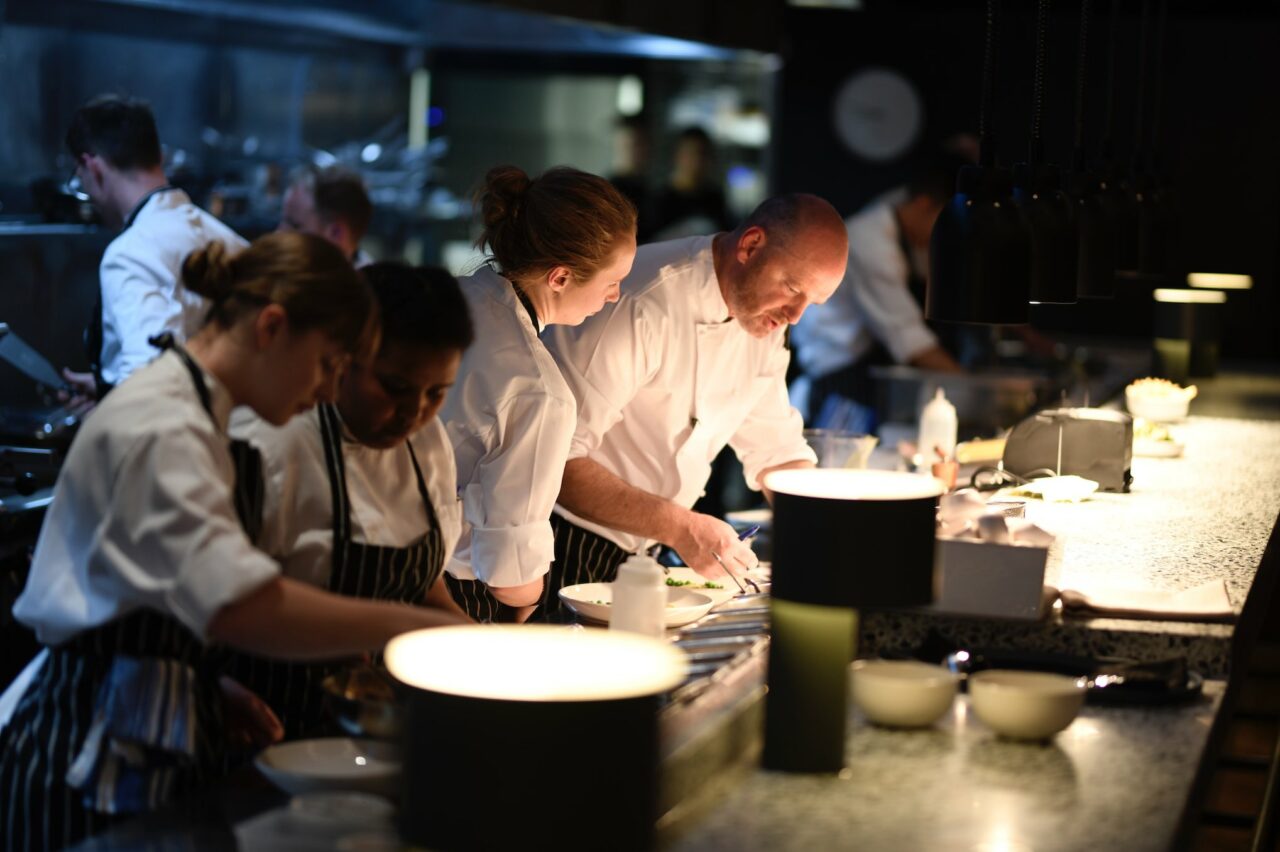 Carroll has also been experimenting with custom dry ageing, utilising unused parts of fish for prosciutto-style cured 'fish'. Similar to ageing a prime cut of beef, this process for fish also enhances flavours and textures of the fish flesh. Available to order during our visit was the moonfish
The confidence to serve this simply on a dish shows Carroll's understanding that less is more – the work has already been done in the ageing process, carefully overseen by the chef, that nothing more needs to be done to elevate it.
On to the drinks. Head Sommelier Henry Bampton's wine list is impressive championing Australian wines with a knowledge of winemakers and their processes that is as expansive as the wine list is. The best of South Australian wine is here, and Bampton's knack for pairing is impressive. Inspired by the restaurant's ocean theme, cocktails are cleverly named with this in mind, with Tsunami (Rum, Rum, Rum, pineapple, coconut, herbs), Anchors-a-Whey (Agave, Whisky, yuzu, kombu, soda, whey) and Now You Sashimi (Gin, mandarin, yuzu, wasabi, pickled ginger) cheekily bringing a grin to all those who order. Both alcoholic and non-alcoholic cocktails are equally as exciting, as is the bar's curation of spirits – you'll find the best of the best here too.
Carroll's goal is to run an entirely sustainable restaurant – right down from the seafood to the staff operations. With 15 chefs under his wing, he looks to ensure chefs maintain a work-life balance for a more sustained way of working in the industry where burnout is commonplace. With 50 staff in total at Fishbank, separate teams have been hired for the morning and afternoon shifts. The result is a place where, brimming with staff, has a seamlessly functioning flow. From the waitstaff's timely coordination of tables, to chef rapid response to orders, the multi-seater restaurant is a smooth-operating ship.
With their stunning interior design, impeccable service and excellent menu (to truly to cater to everyone, there are also non-seafood options (just ask the staff), Fishbank blew us away. We couldn't have asked for a better dining experience in Adelaide on a Friday night, where witnessing the restaurant brimming with diners whilst Carroll's orchestra manoeuvres in the background in harmony, Fishbank is as much fine dining as it is fun.
∆
Ground Level, 2 King William St, Adelaide SA 5000
Open 7 days a week
For more Adelaide destinations, click here.
#champ_adelaide
Reviewed by Monique Kawecki | Champ Editor-in-Chief