PARIS FASHION WEEK MEN'S SS20
These Eight Designers Prove Style Is An Attitude
LOUIS VUITTON by Virgil Abloh
As 'Parisian' as a setting can get, the Île Saint-Louis played host to Virgil Abloh's third collection for Louis Vuitton menswear. Virgil Abloh's appointment to Louis Vuitton has breathed new life into the renowned fashion house.
We've seen his placement has proved beneficial for LVMH group, and those numbers don't include the incredible positive impact he has had on young creators of all different nationalities, worldwide. His influence is immense. These days you'll be hard-pressed to hold a conversation about contemporary culture without referencing something Virgil has had his hand to. 
In touch with the zeitgeist, our digital world indeed consumes the majority of us unconsciously. Virgil sees the importance of checking-in with ourselves, and communicates it through the collection. Emphasising the need for a child-like naivety which can provide positive benefits, Virgil's scenography for the show could be seen as a Parisien Disneyland, bringing out childish enthusiasm from all attendees through the setting. A real crepe stall and icecream cart offered treats, whilst tourist 'souvenirs' of the Eiffel Tower were given out to guests. Seating varied but it was the unusually-high front row benches which resulted in the frow's legs to dangle unexpectedly with child-like ease. 
The casting for the show always holds more to be discovered. First time models and repeat-collaborators of Virgil's showcased the diversity of his output. Héctor Bellerín (a footballer for Arsenal), Lucien Clark (skateboarder and photographer), Keniyan Lonsdale (Australian singer, actor and dancer) and Evan Mock (American skateboarder) all walked a runway for the first time. Musician Dev Hynes walked once again (his first debut for LV AW19), as did model Alton Mason. Rising artist Delfin Finley closed the show, carrying a striking kite-backpack in the Louis Vuitton monogram print. It brought the shows theme and message home, just as Virgil had intended.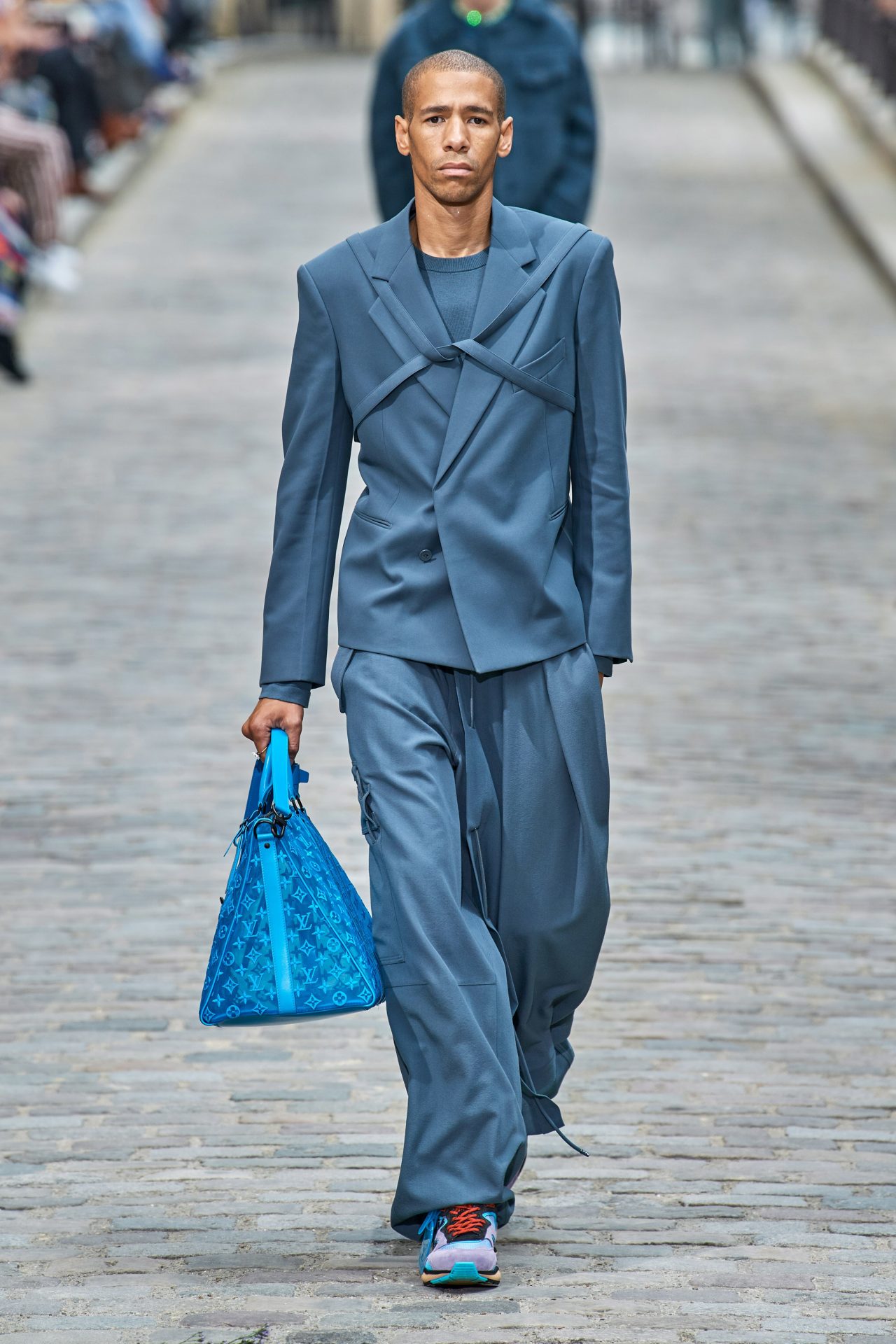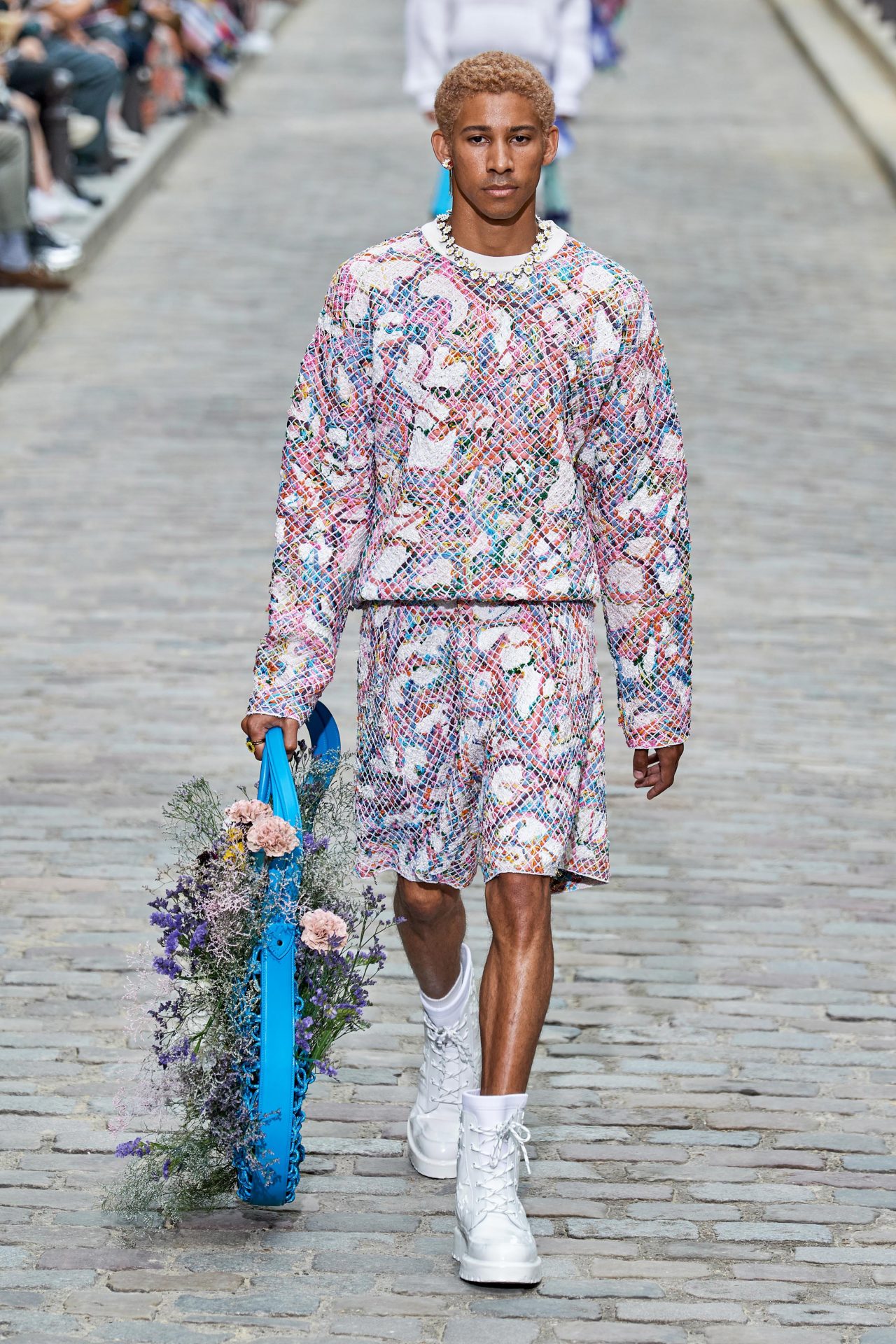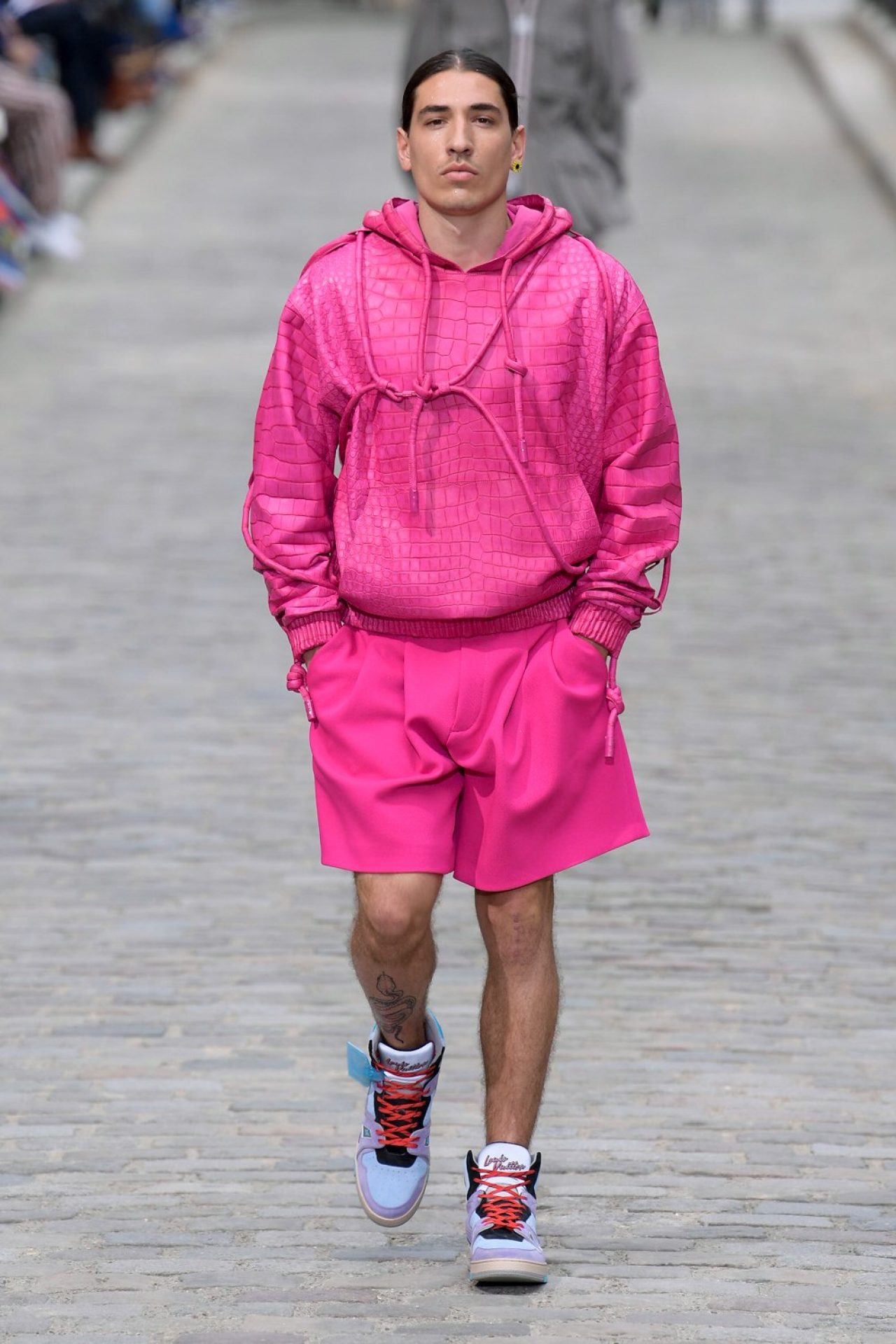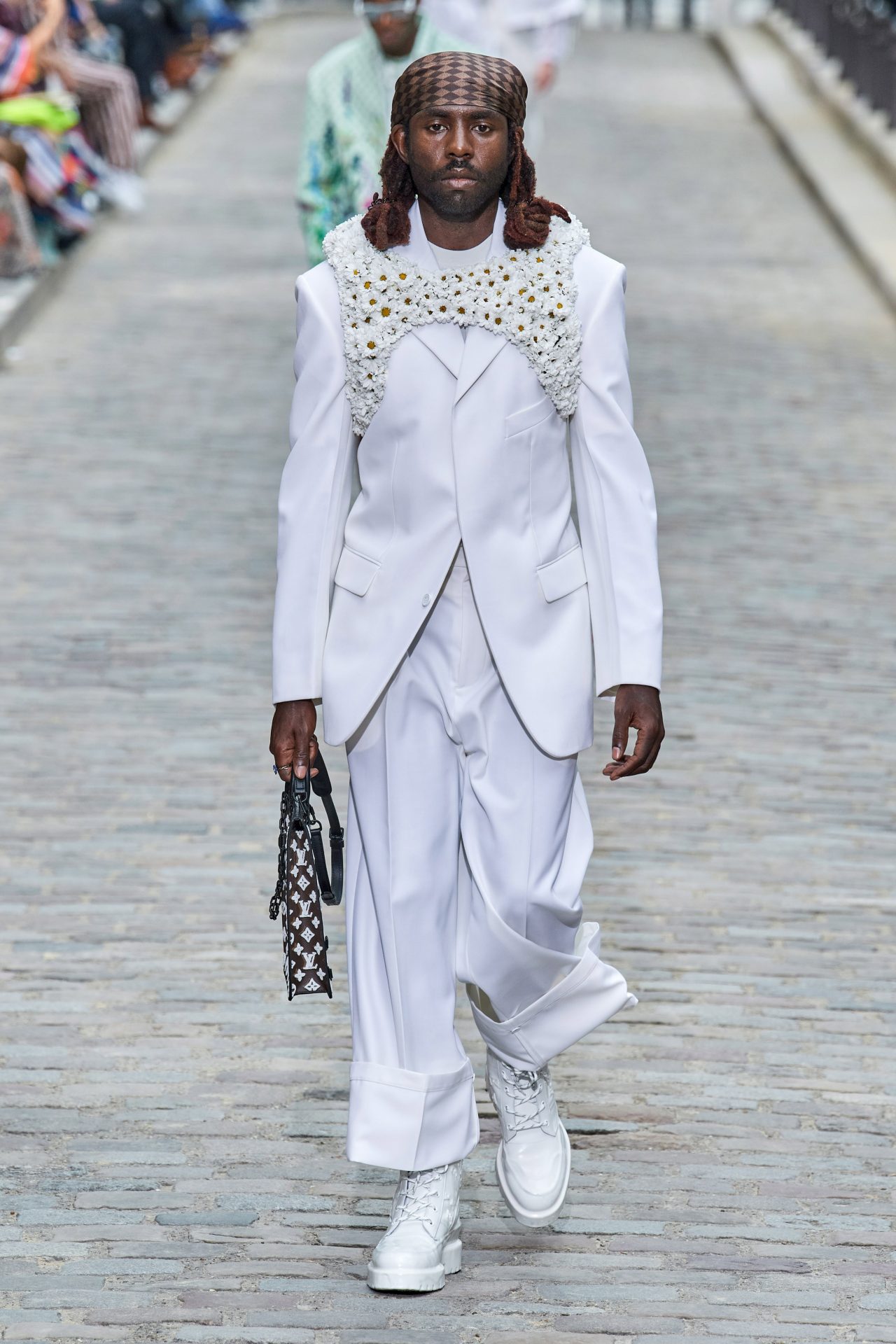 UNDERCOVER by Jun Takahashi 
Japanese label Undercover, led by designer Jun Takahashi, reinstated their predictably-unpredictable approach for Spring/Summer, educating with cultural references and new design techniques. 
The collection took inspiration from 1922 German Expressionist horror film Nosferatu, presenting all-black tailored and tapered, sharp and form-fitting silhouettes. Even in the monochrome collection, it was the detailing that shone: from spiderweb-pleated shirts and blazers, to imagery intricately-bonded into garments, almost as shadows of themselves. What subtle prints were visible, were also accompanied by imagery from artist Cindy Sherman. 
The runway show began late, with doors to the venue (the Arena in Bercy) open more than 20 minutes past its specified time. It was at this exact moment too, that from a pleasant Summer's day an abrupt downpour of rain came. It was as if God has a sense of humour and decided to turn a shower on the fashion industry in all their glory. To their credit, Undercover's guests were by far the best-dressed of the season in terms of diversity of style: punks, goths (yes, seriously!), hypebeasts and more. 
The show's music was solemn and eerie, creating an unsettling tone. Its presence wasn't all that effective in terms of creating a captivating mood, the models walked expressionless down the runway which seemed to drag on without a rhythm to it, only separated into chapters of cultural references embedded into the almost-entirely black collection. Aside from the show, the collection's garments – intricately and innovatively constructed – will stand the test of time. After alls said and done, this is what a designers final underlined point should always be.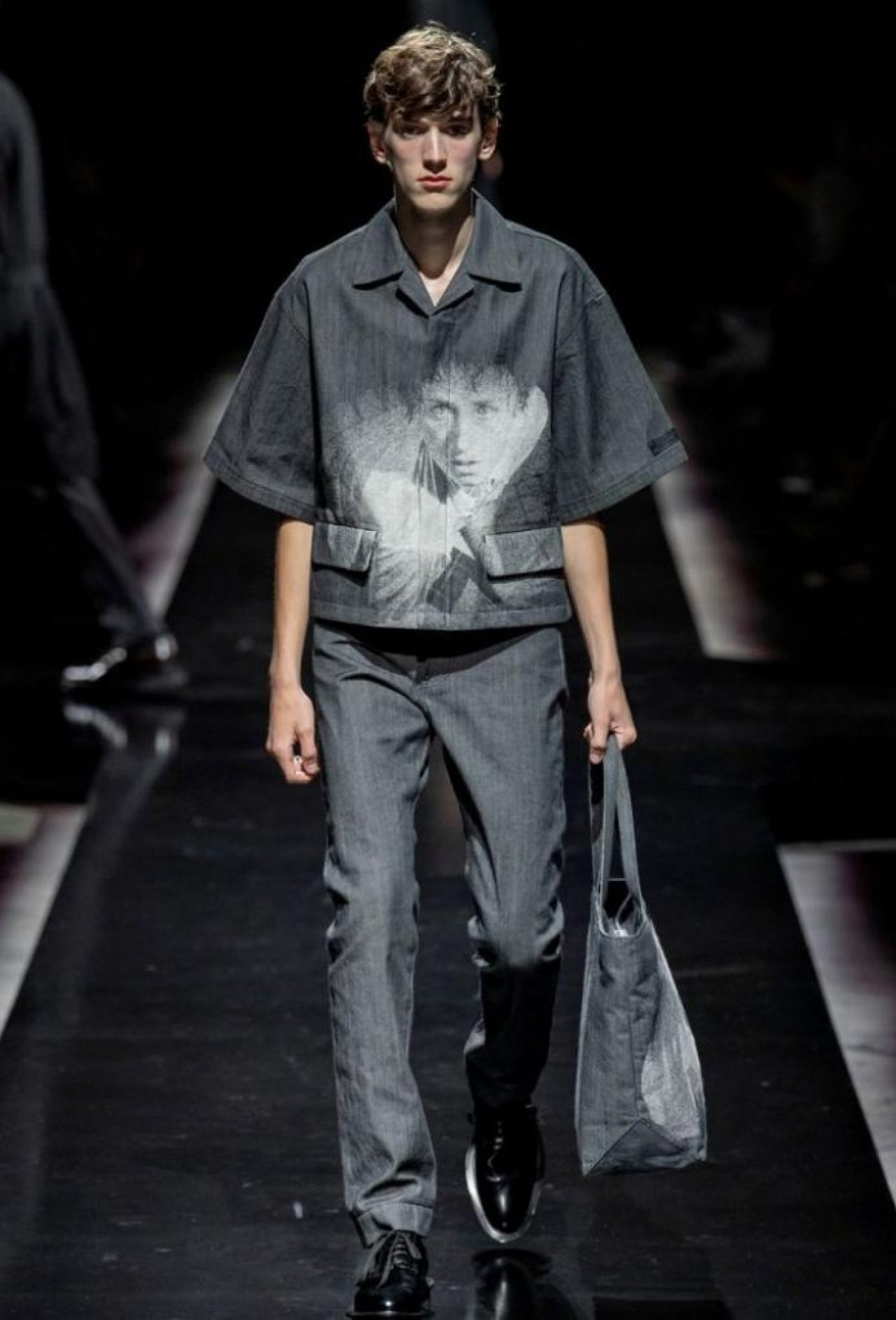 GmbH by Serhat Isik and Benjamin Alexander Huseby
Berliners GmbH showed us 20 20 VISION during their Paris Fashion Week Men's runway show. Held in the Institut National de Jeunes Sourds, the world's first public school for deaf children, the runway overlooked its idyllic garden. 
The show soundtrack was off the hook starting with Warda's Batwanis Beek, brilliant choice to both set the tone of the collection and mood for the show. Throughout the collection the nazar – an eye-shaped amulet believed to protect against the evil eye – was found printed and embroidered. The designers seemed to reinvent the denim trouser too, refreshingly showing designers for men and women in white or 80s blue with a double-zip front or jock-strap-inspired  front. Sustainability was also high on the priority list for the designers, with the designers opting to use only synthetic leathers creating an all-vegan collection. Continuing their collaboration with ASICS, the partnership is an ideal fit. ASICS' underrated status enables it to create with designers also avoiding commercial cool. 
Founders Serhat Isik and Benjamin Alexander Huseby (also a photographer) have an immense creative network around them, and keep their output distilled to the purest form. Their aesthetic holds a distant familiarity yet total individuality when presented through their vision. The designers' location (Berlin) and Pakistani-Norwegian (Huseby) and Turkish-German (Isik) heritage provides a unique perspective on fashion and clothing, creating a subconsciously-diverse viewpoint.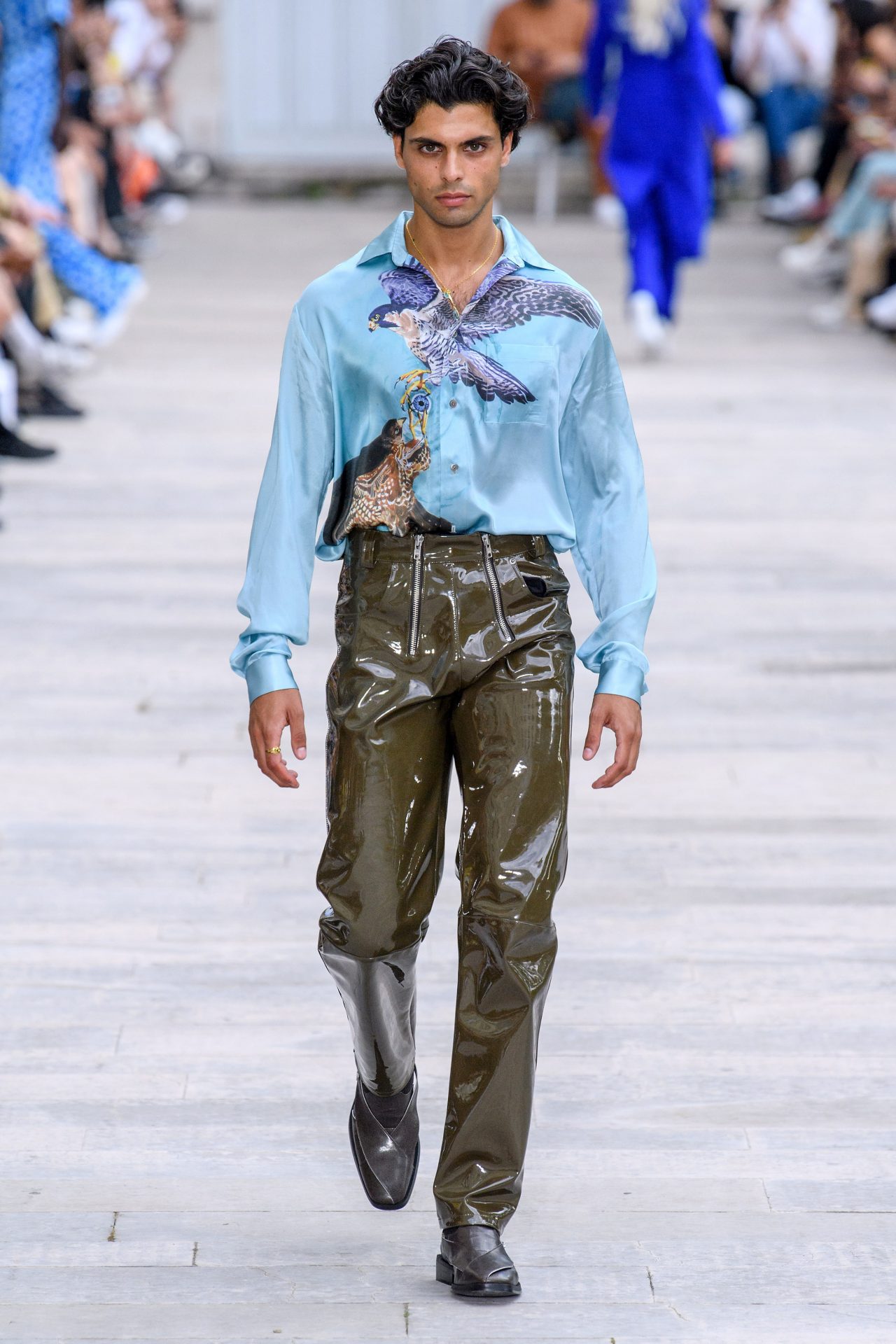 HERON PRESTON
There's no doubt Heron's one of the most personable designers out there, his optimism is infectious. Hence also why he has such a strong network of supporters to make his self-named brand such a success season after season. Spring/Summer 20 proved no different, Heron Preston has continued his utilitarian-style and signature orange throughout the collection whilst making it still feel innovative and original. Collaborating with Levi's this season, re-invented denim pieces were plentiful in the collection – the heritage brand is currently on a strong marketing push, so it makes complete sense for them to partner with Heron to give them the street cred they need.
Looks shown were at an almost-equal ratio of women and menswear. It's no doubt (the future of fashion runway and presentation showing) as the borders between the two styling choices become more fluid. Subconsciously Heron is trailblazing in this regard, along with designers such as ALYX, GmbH, and Off White who also design womenswear including it in their shows this season.  
Paris is still a pivotal pilgrimage each season for the fashion industry, and most importantly journalists who communicate the work, yet with the changing media landscape there's refreshingly more room for new voices. Previously younger brands wouldn't have attempted to show in Paris, they would have cut their teeth in their cities first and not ventured into the epicentre of fashion until invited by its gatekeepers. Stephane Ashpool of Pigalle certainly led the way through breaking this tradition, being one of the first to emerge from a non-fashion-education background (fellow Parisien Charaf Tajer is also now leading in the same way). The New Guards Group designers have certainly broken that mould now too, making way for younger designers to get involved and utilise the ever-expanding network of stylists, buyers, consultants and journalists that attend PFW each season.
Through the effectivity of 'new media', where everyone is a publisher, just like an efficient direct-to-consumer sales strategy, this approach proves effective also in terms of communication. Curated but not as edited by gatekeepers anymore, anyone in the world can now have front-row access to runway shows through the lens of its attendees. Can we remember fashion shows before Instagram? Only a select few – that were there physically – can. More transparent and democratic, the more voices that join the conversation enables a bigger discussion. We've seen by now that there is more than enough room for more people at the table, providing they bring a new dish and conversations with them.
Nowadays it's hard to deny that a celebrity has more of a positive impact for a brand such as Heron's than a veteran menswear-specific journalist may have. Posted in real time and direct-to-audiences, this approach connects with millennial consumers who are versed in consuming information at a faster pace, visually, and in smaller bites. And which brand doesn't want to go direct-to-consumer? Heron's audience isn't necessarily reading Vogue, they're checking Tremaine Emory or Jerry Lorenzo's Instagram for what brand is cool and relevant in their world.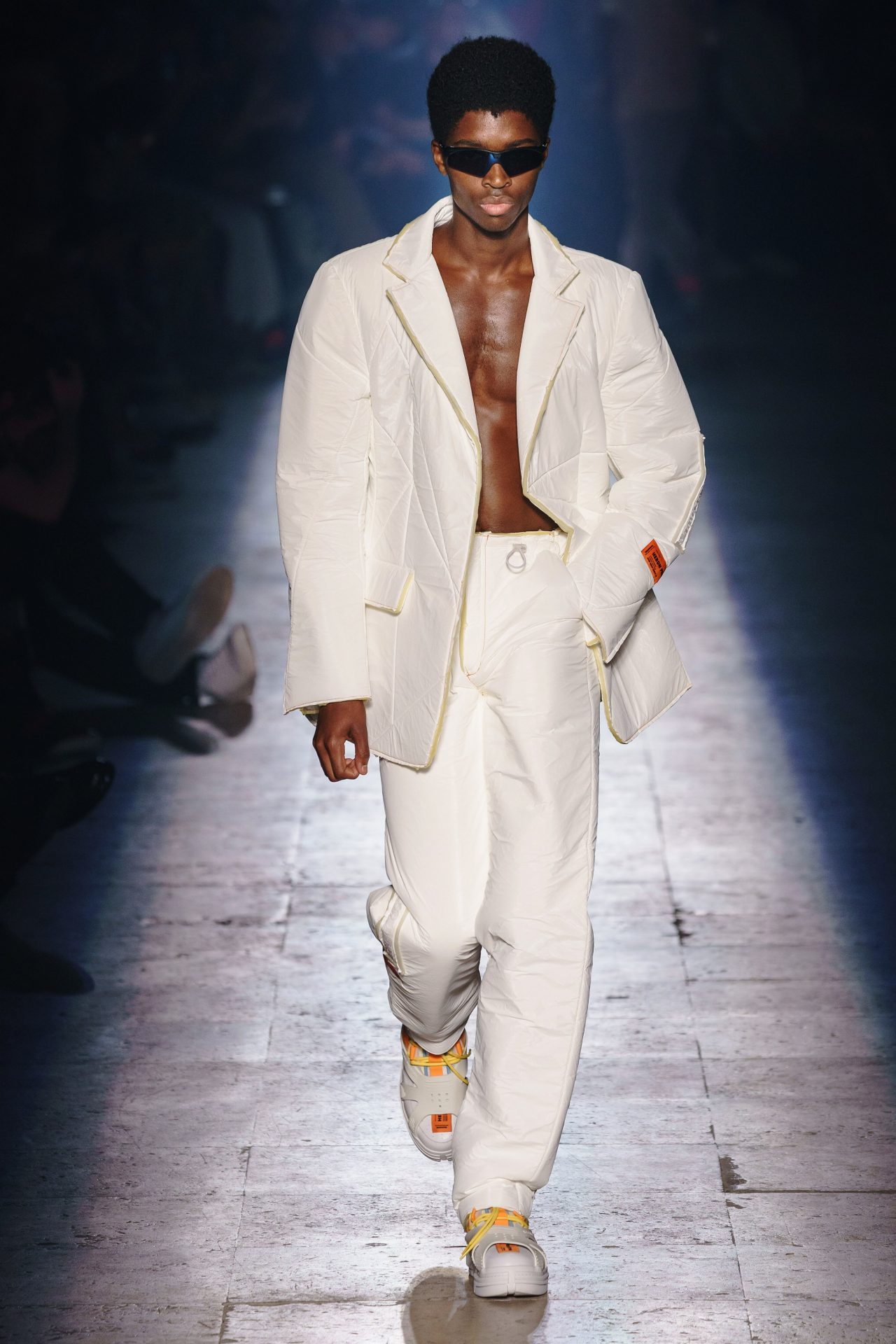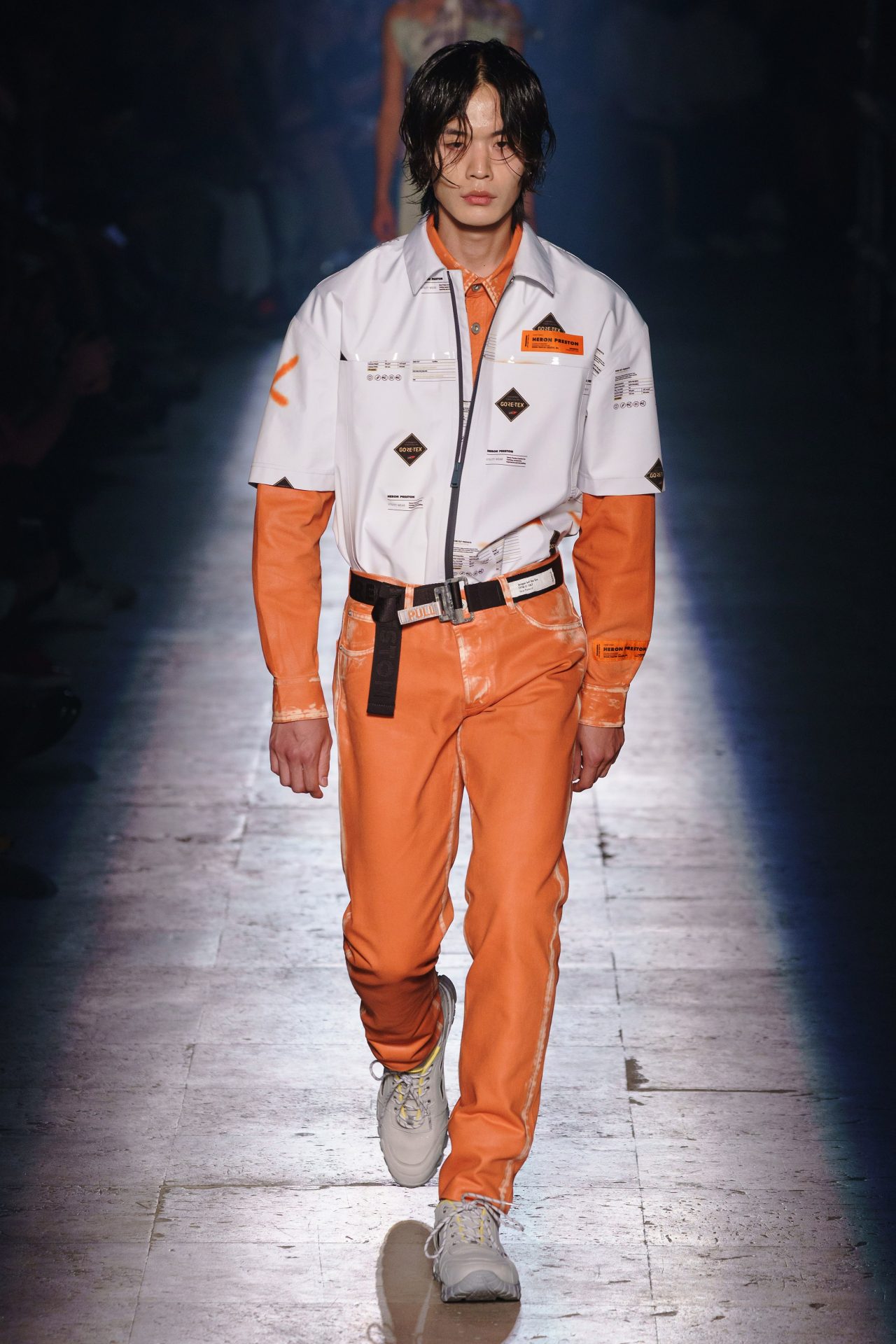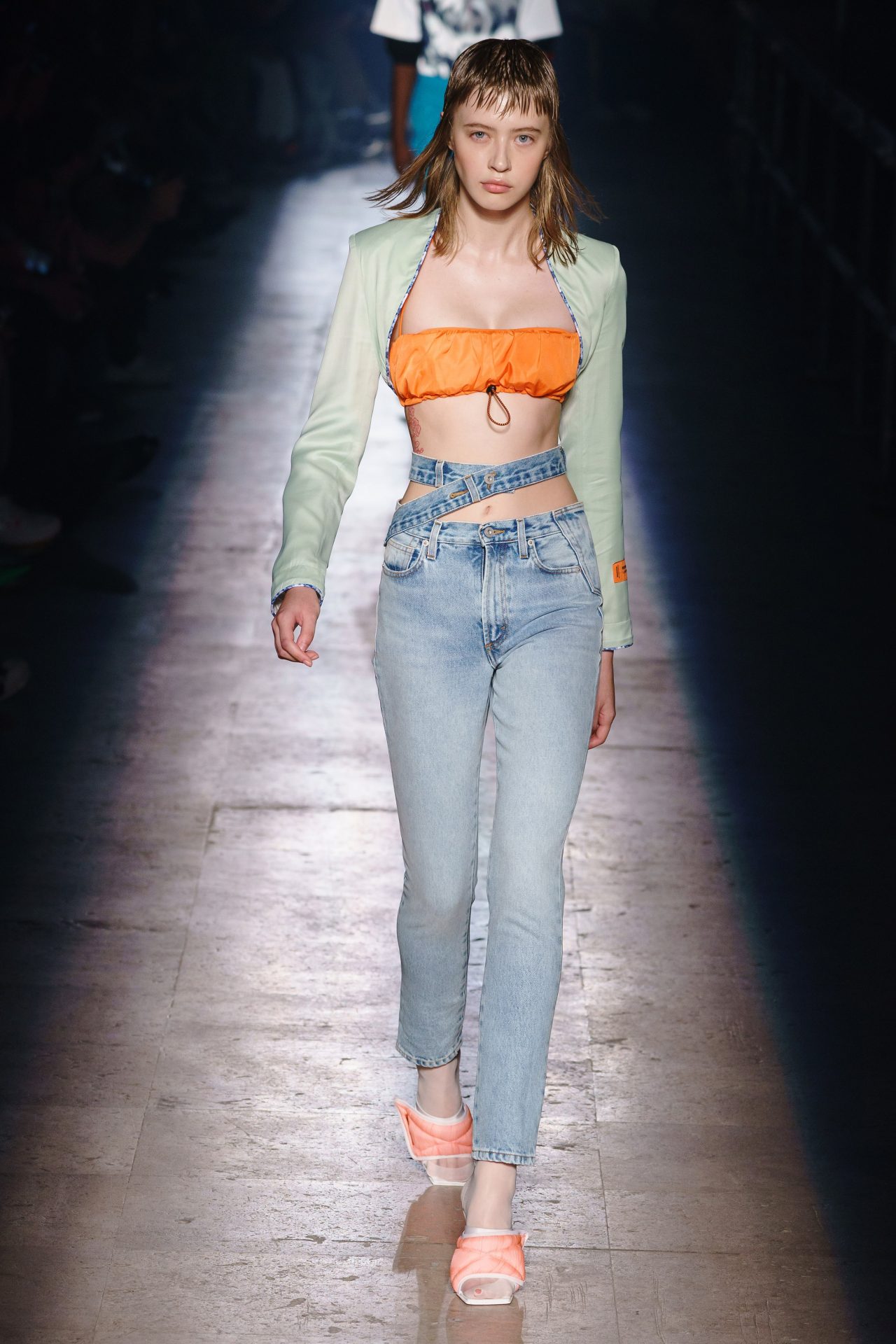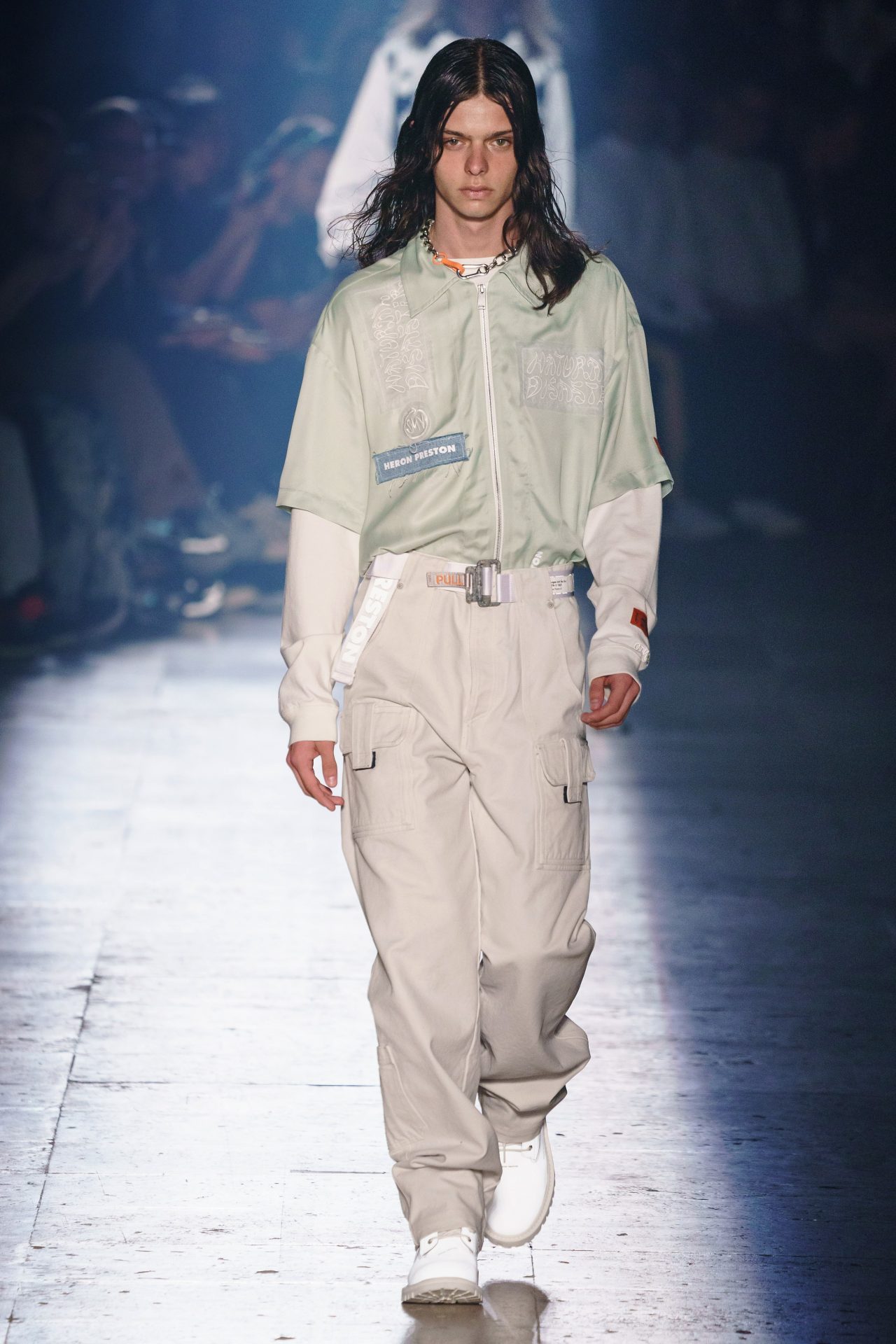 1017 ALYX 9SM by Matthew M Williams
Designer Matthew M Williams is focussed on tailoring this season, with a strong colour palette complimenting tailored polyester suiting especially. Alyx is known for its wide use of black, combined with a technical-garment focus, so this season saw the brand elevate itself once again. The Alyx signature rollercoaster buckle was ever-present and found in multiple looks, and this time the star of the show was the croc-mock leather used for multiple designs. 
With 64 looks, Williams presented both mens and womenswear on the runway – with the designs technically androgynous anyway. The term is more suited to when Williams first began Alyx, but the notion is still just as relevant: it's how you choose to wear the garments, not what category you find them in. 
The highlight of the show was indeed Matthew's wife Jenn Williams walking the show. Bringing a realness to all the seriousness, we were reminded that she is a key force behind the brand, too. Buyers, stylists and journalists all know Jenn, she's the original Alyx woman. Skateboarder Evan Mock also walked the show with his hot-topic (see Frank Ocean's instagram for more) fluorescent pink buzzcut emphasised for the look he was wearing.
Alyx have a quiet focus on responsible innovation: they 3D print seams, and work with leather-dyeing process that use a minimal amount of water. They're a small brand presenting big at Paris Fashion Week, and it's their agility to adapt new processes which makes their brand so fresh. They're tapped into the zeitgeist, or better yet, they're seemingly creating it.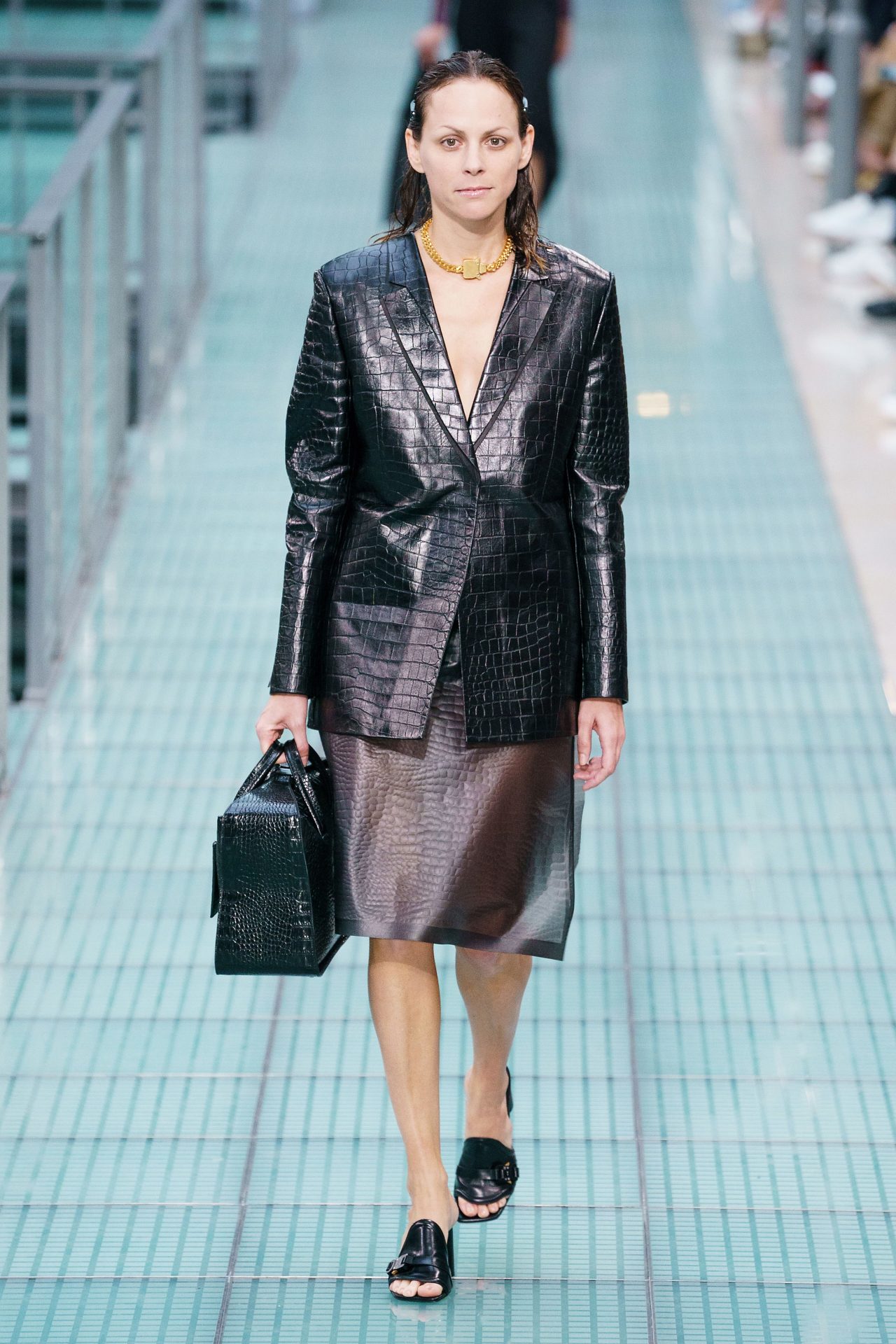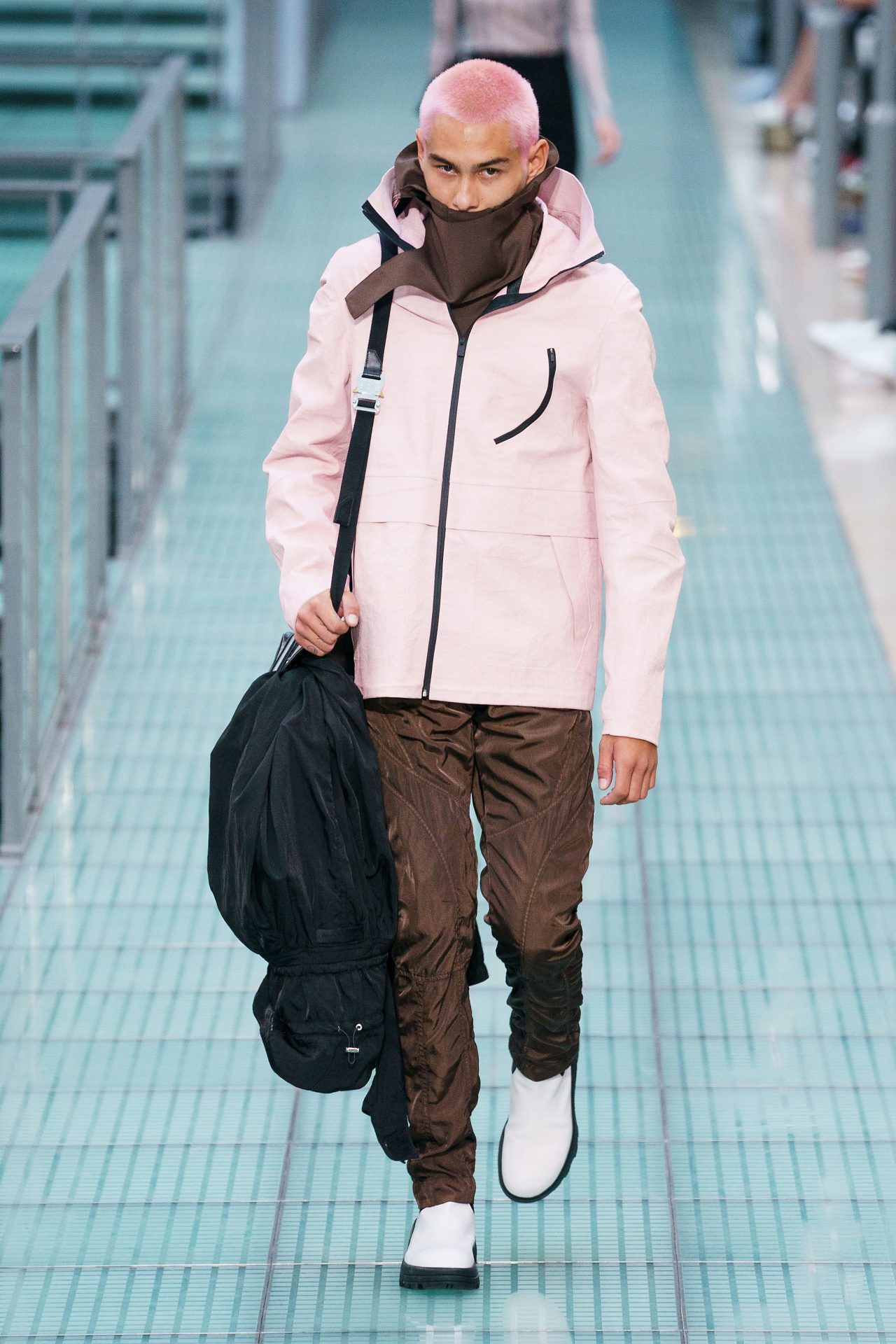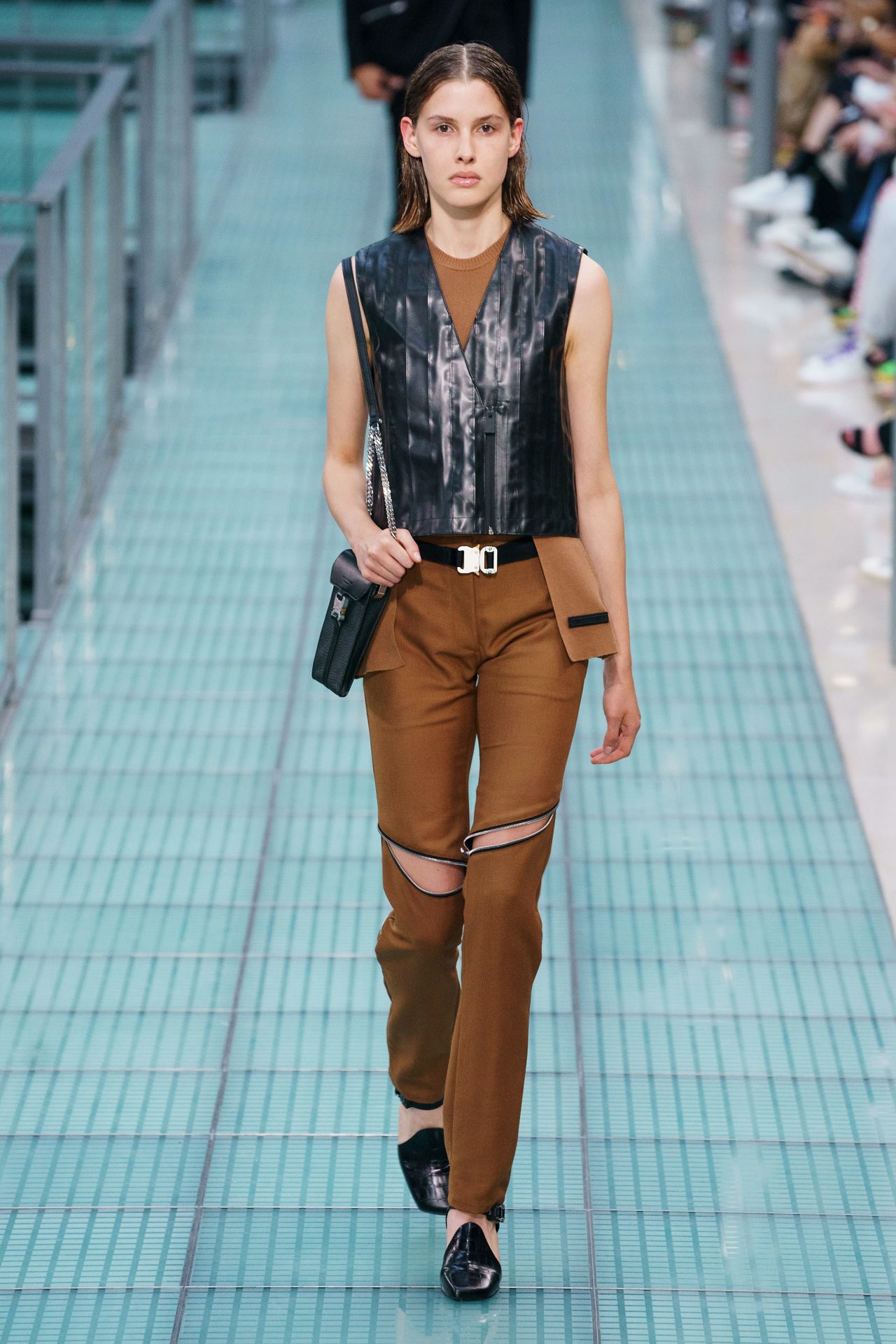 HOMME PLISSÉ ISSEY MIYAKE
Held in the beautiful tranquility of Place des Vosges in Le Marais, the oldest planned square in Paris, Issey Miyake presented their Homme Plissé range amongst the sculpted linden trees.
Built in 1605 by Henry the 4th, the square played host to both journalists and nearby onlookers. Fittingly titled "A Walk In The Park", the show began with dancers first walking through the circular runway, then progressing to choreographed dancing. Masterminded by renowned choreographer Daniel Ezralow, the models enlisted were contemporary dancers – showcasing how the Homme Plissé garments in Miyake's signature pleats could really be utilised.
The contemporary dancers vibed to a soundtrack by Afro Celt Sound System, and later to live musicians on percussion who created a larger-than-life beat to the show. The all-female Afro-Brazilian group, Zalindé, danced and performed keeping the energy high. Later coercing guests to get up and join them to dance, a highlight was seeing the front row attendees whisked off their feet to get them moving!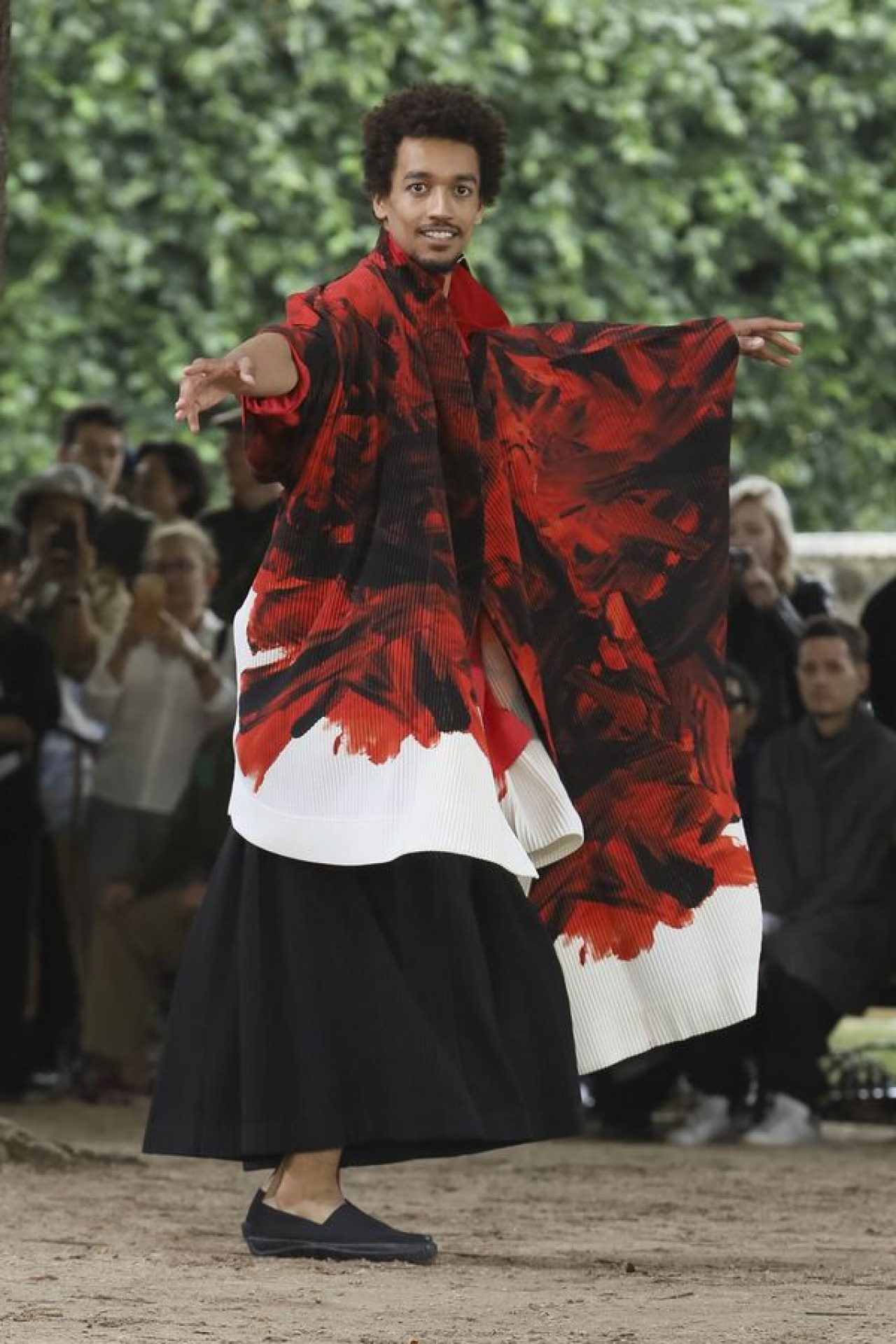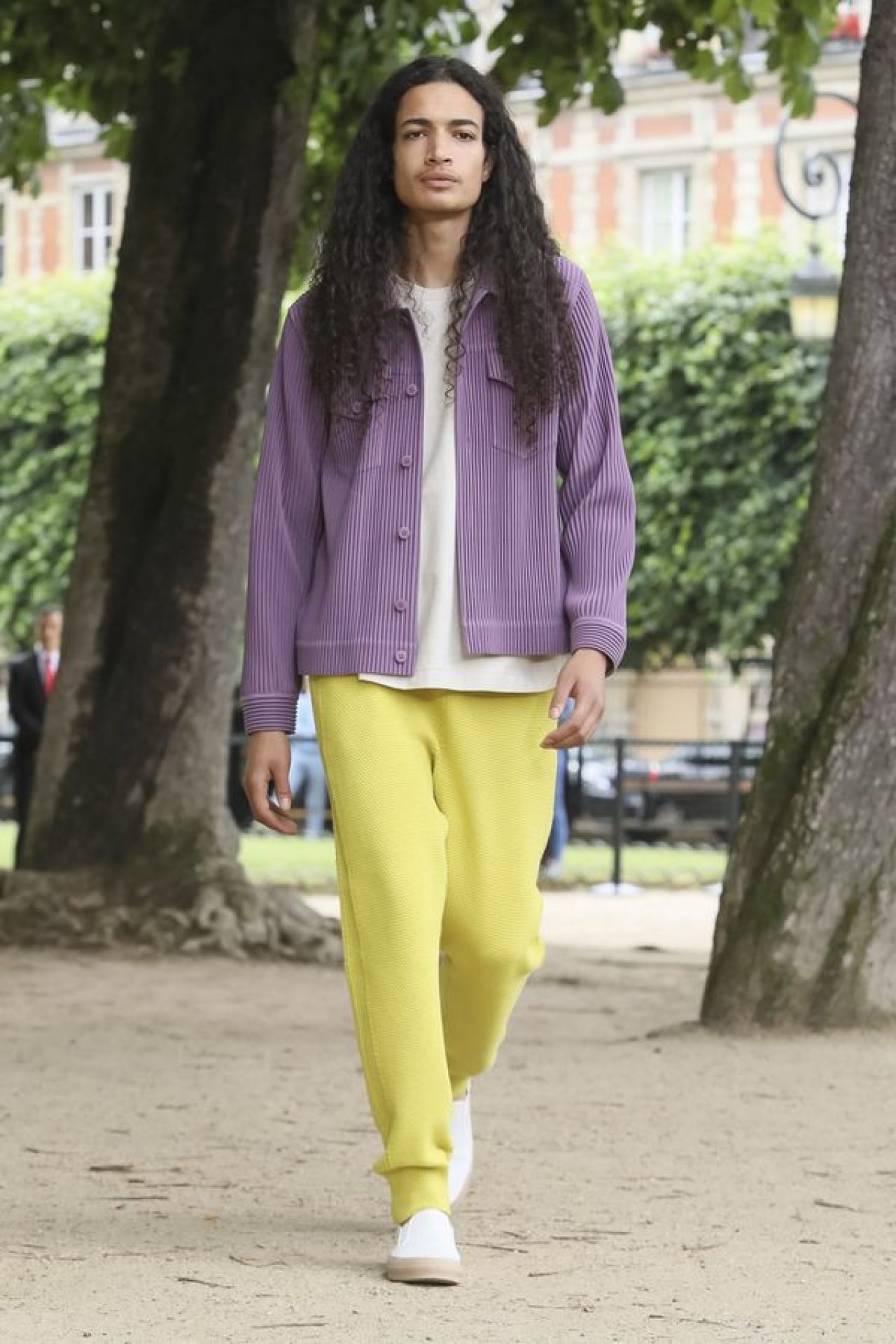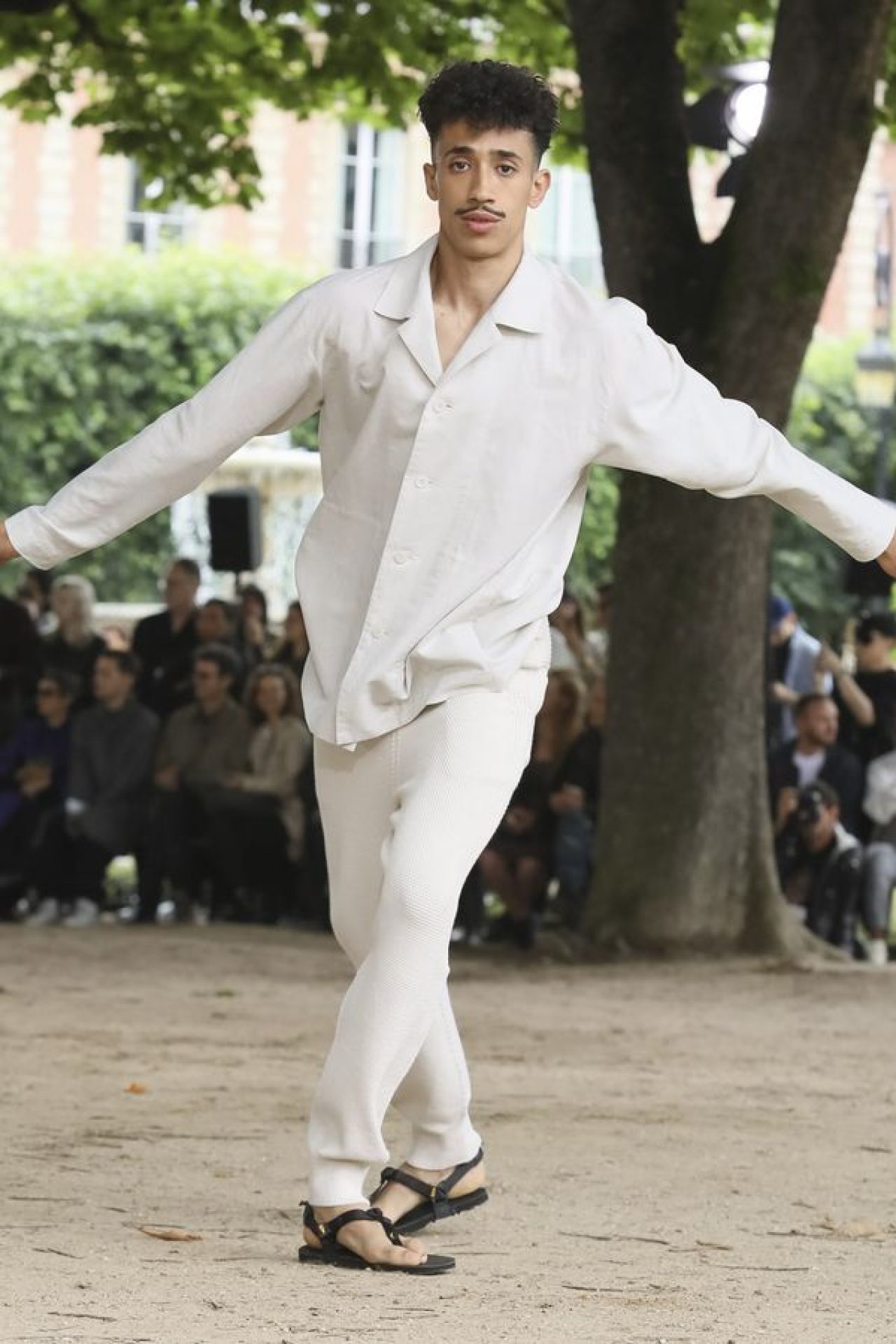 CASABLANCA by Charaf Tajer
Casablanca are newcomers on the fashion circuit, optimising their base in Paris and network of international tastemakers to the fullest. Founded by Charaf Tajer, part of the Pigalle network, the 34-year-old creator is the brains behind renowned Parisien club Le Pompon now turning his hand to fashion design. Like Stephane Ashpool of Pigalle, Charaf hasn't studied at a fashion school, but uses his cultural know-how to spot the gaps in the fashion market and current offering. Charaf has designed the interior of clubs and holds a signature aesthetic to what he does, being of French-Moroccan heritage.
Casablanca are growing rapidly, because what they sell is an attitude. Head to the brand's webstore and the offering is minimal, but check-in to leading e-commerce site SSENSE and they hold a much larger selection.
For the Spring/Summer 20 show, Charaf brought guests to Montmartre where a Casablanca Café also offered Chá Iracema cocktails as refreshments (by none other than Charaf's partner Jeanne Garaude). American musician Swae Lee walked, and Charaf's network were all in attendance: Skepta, Jerry Lorenzo, Miguel, Dev Hynes and Ana Kraš, Kareem "Biggs" Burke and Kerby Jean-Raymond (Pyer Moss).
Time will tell about Casablanca's commitment. To the industry? Let's see. To creativity? Always.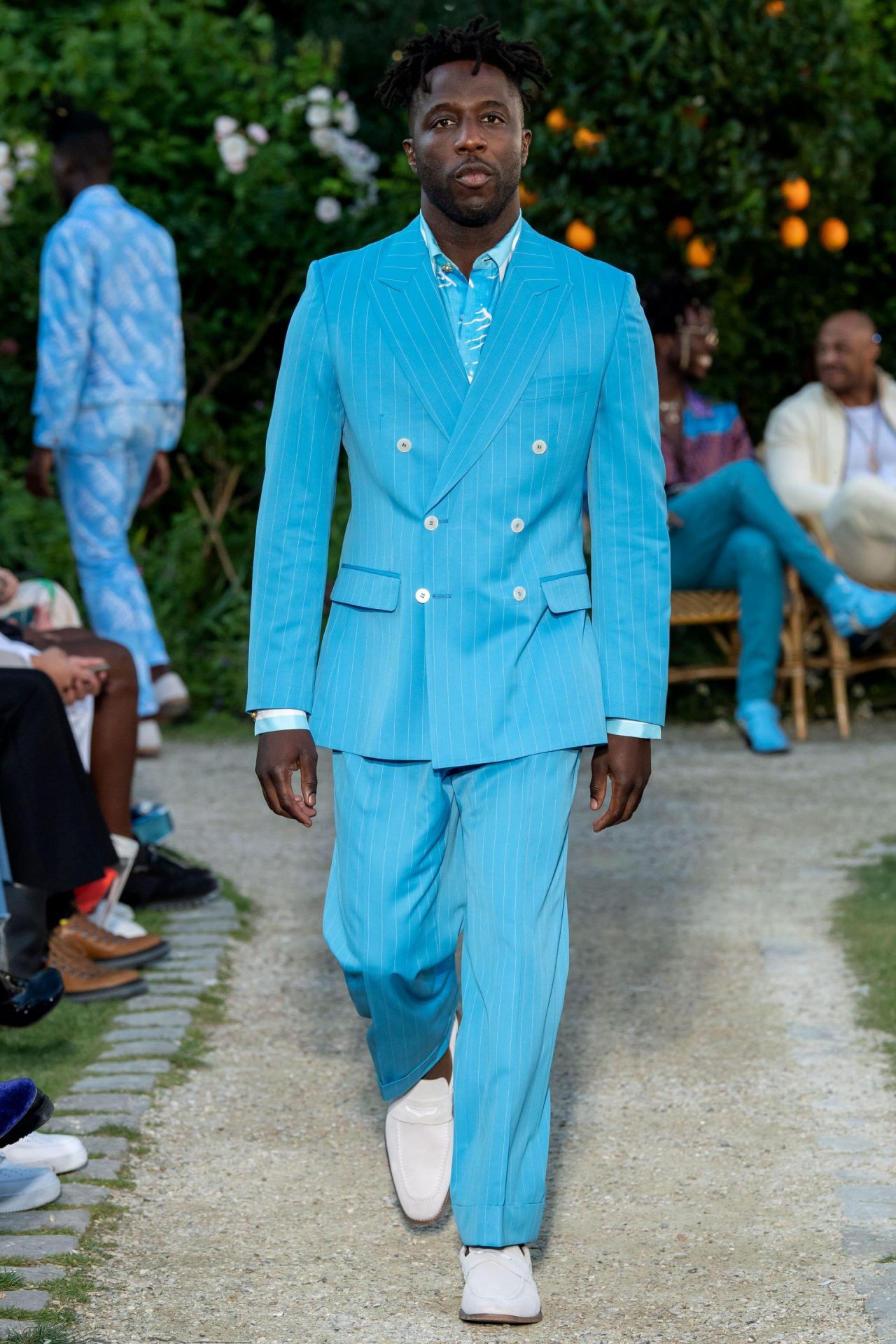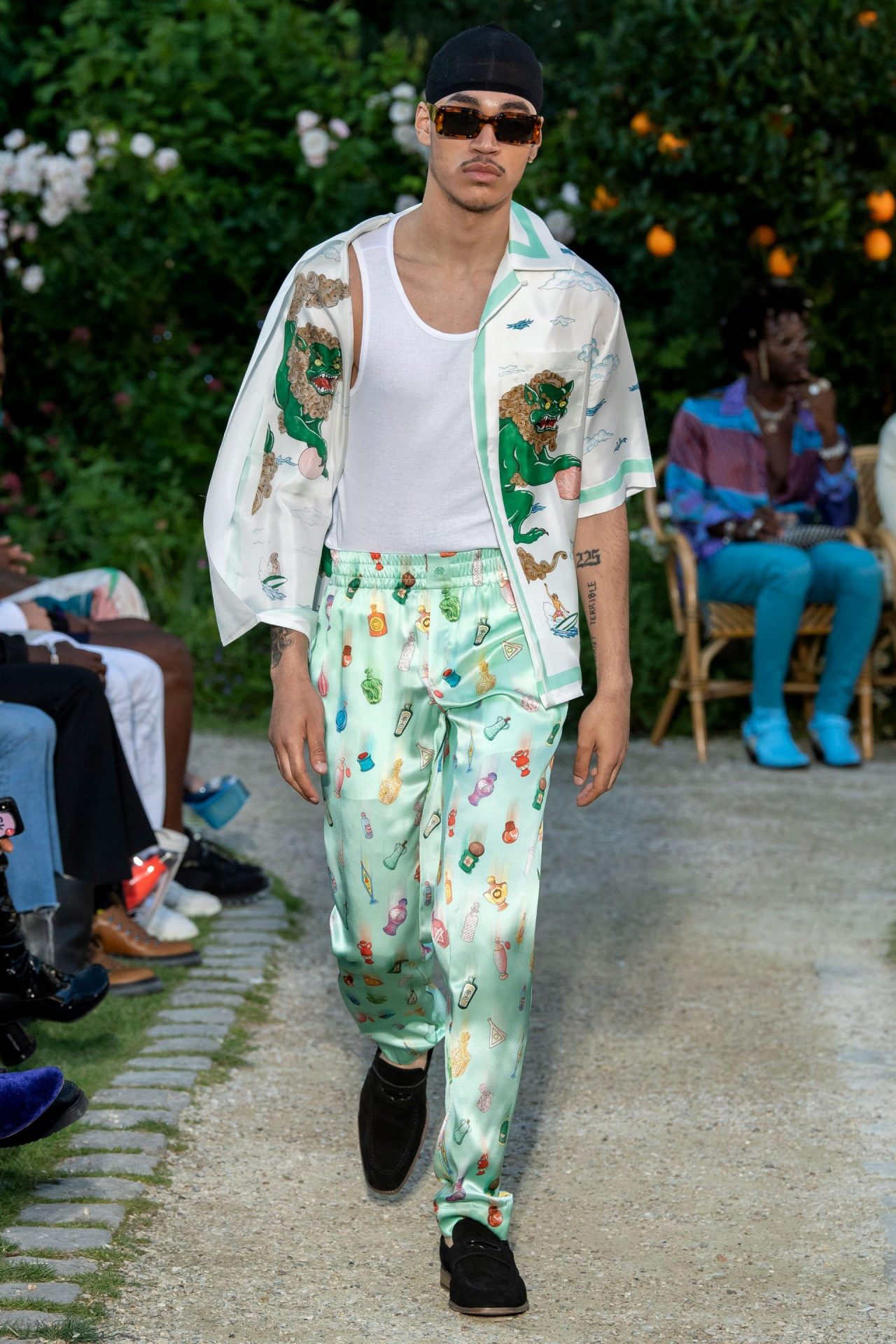 DIOR HOMME by Kim Jones
Kim Jones is an ideal fit for the Dior house. He respects its tradition, yet modernises it completely through his design expertise and active interest in contemporary art and culture. Like a chef or DJ, designer Kim Jones is especially skilled with working with key ingredients or samples. Previously when he was designing Louis Vuitton Men's, Kim looked to the late Christopher Nemeth's iconic identity to collaborate with, and his work at Dior Homme is no different. For his first season as Dior Homme Kim worked with NYC-based artist KAWS, and for AW19 worked with Japanese artist Hajime Sorayama. The collaborations saw Dior reach completely new audiences worldwide through it also. 
This time American artist Daniel Arsham was called upon to re-interpret the brand through his iconic artistry. Known for his 'future relics', Daniel's stamp was on everything from the set design to garments and footwear. Pale pink sand filled the runway and a large DIOR clock (inspired by the one that has been in the Dior atelier whilst Christian Dior was there) presented in his signature 'eroded' design comprising of white plaster and Quartz crystal. DJ Honey Dijon, a long-term close friend, provided the show soundscape. A partnership with Rimowa saw their iconic aluminium shells anodised and miniaturised. Rimowa hard-case backpacks, clutches and cases were held by models as they walked the runway.
Kim continues to work each season with British milliner Stephen Jones and stylist Melanie Ward, and it is Jones' loyalty to his intimate network of key creators worldwide that makes his work stand out from the rest. Jones also brought Yoon Ahn of AMBUSH to Dior Homme with him, where she brings a truly contemporary view to the decades-old fashion house.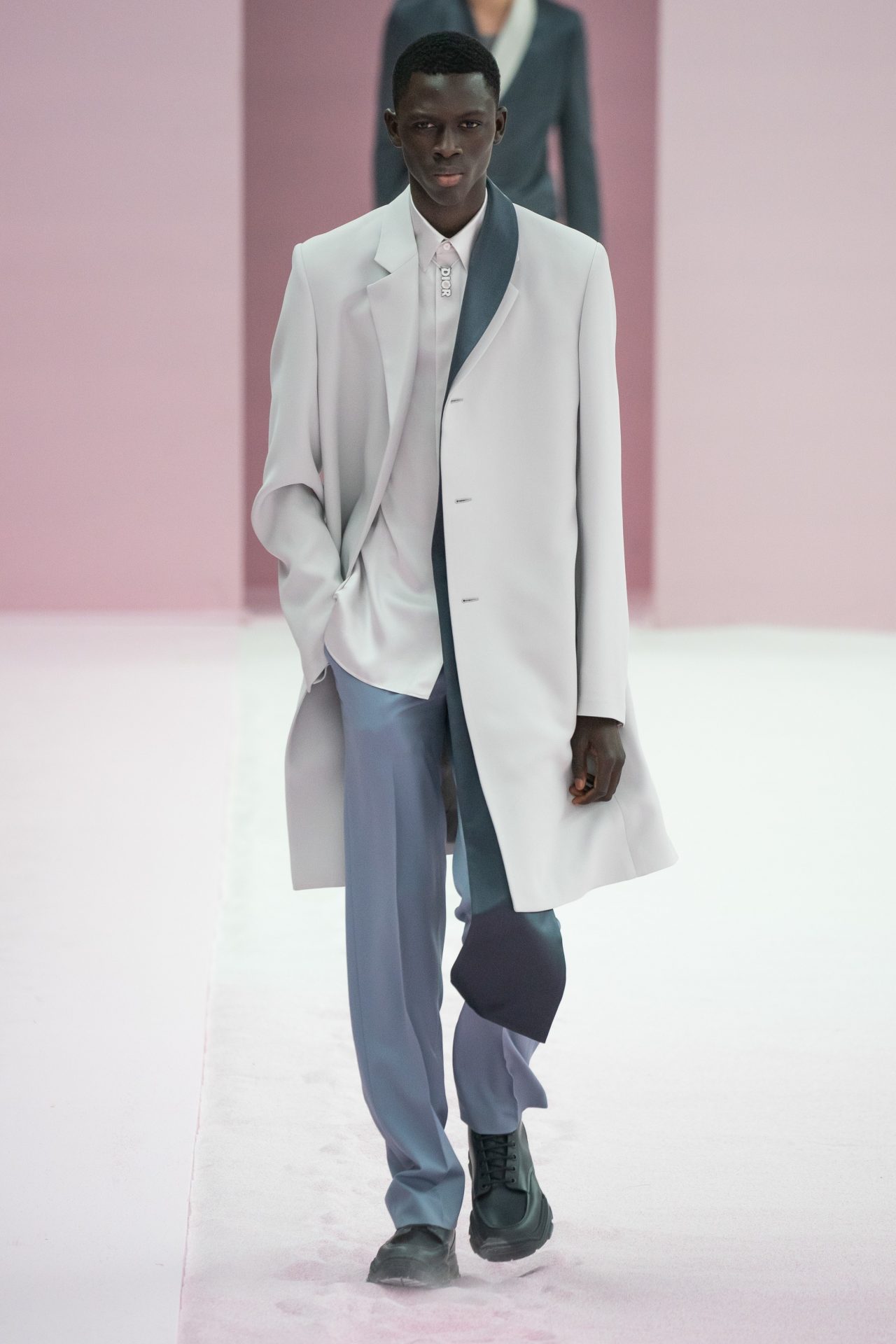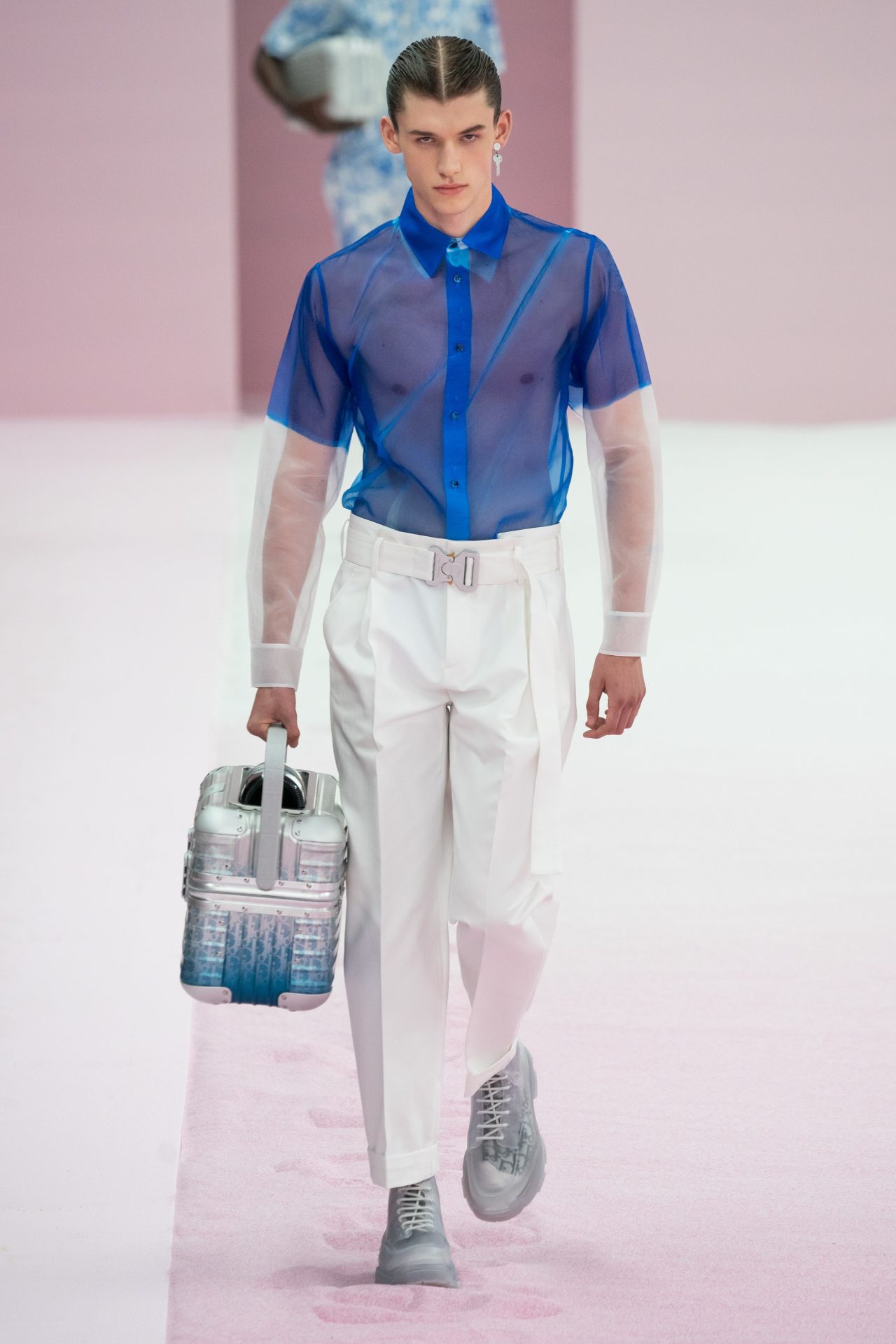 PARIS FASHION WEEK MEN'S Spring/Summer 20
June 18 – 23, 2019
Photos as credited | Written by Editor-in-Chief Monique Kawecki