PARIS FASHION WEEK MENS AW20
Our Top 5 of the Best Collections This Autumn/Winter Season
UNDERCOVER
Japanese designer Jun Takahashi brought pure cinematic excellence to his Undercover Lab's AW20-21 collection, presenting the story of the 'Fallen Man' directed by Takahashi, film director Tetsuya Nagato, photographer Katsuhide Morimoto and choreography by the exceptional Belgian choreographer Damien Jalet, held in the monumental location of the Cirque d'Hiver Bouglione. The influence of legendary Japanese filmmaker Kurosawa was heavily present, with images of actor Toshiro Mifune (and Kurosawa's main collaborator), found emblazoned on garments or referenced in the final arrow scene from Throne of Blood. Heavily layered pieces were reminiscent of Japanese traditional workwear, with modern takes on wooden geta sandals and samurai-like armour pieces reworked with leather and tweed. Models navigated around three performers draped in white creating an enigmatic spirit; Candela Capitan, Christina Guied and Erna Ómarsdóttir  with the collections' central protagonist "Fallen Man" (dancer Tom Weinberger) ending with a tense and dramatic finale. A spectacularly suspenseful soundtrack was led by Ron Morelli and Krikor Kouchian of Lies Records.
As Kurosawa himself once explained; "In a mad world, only the mad are sane."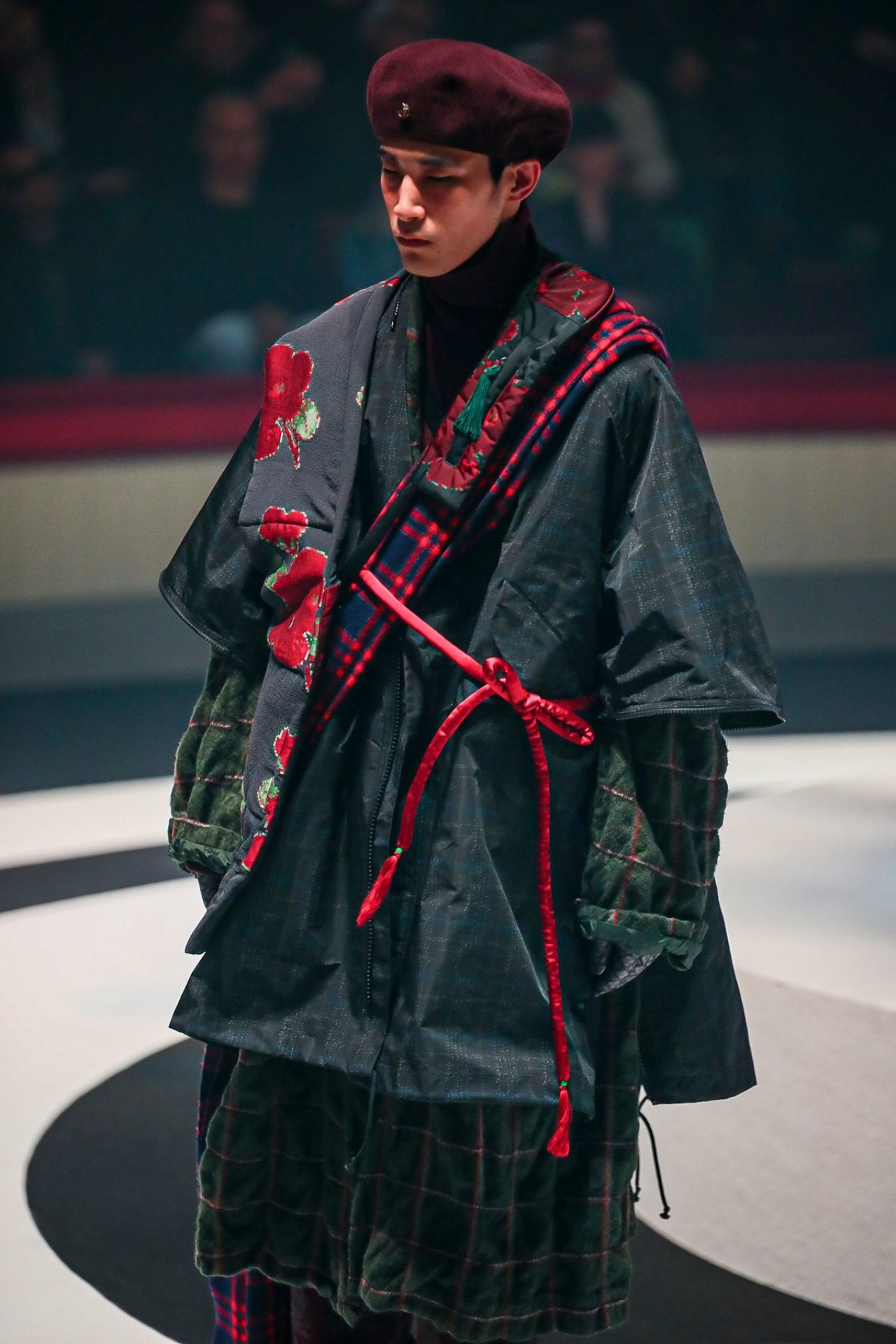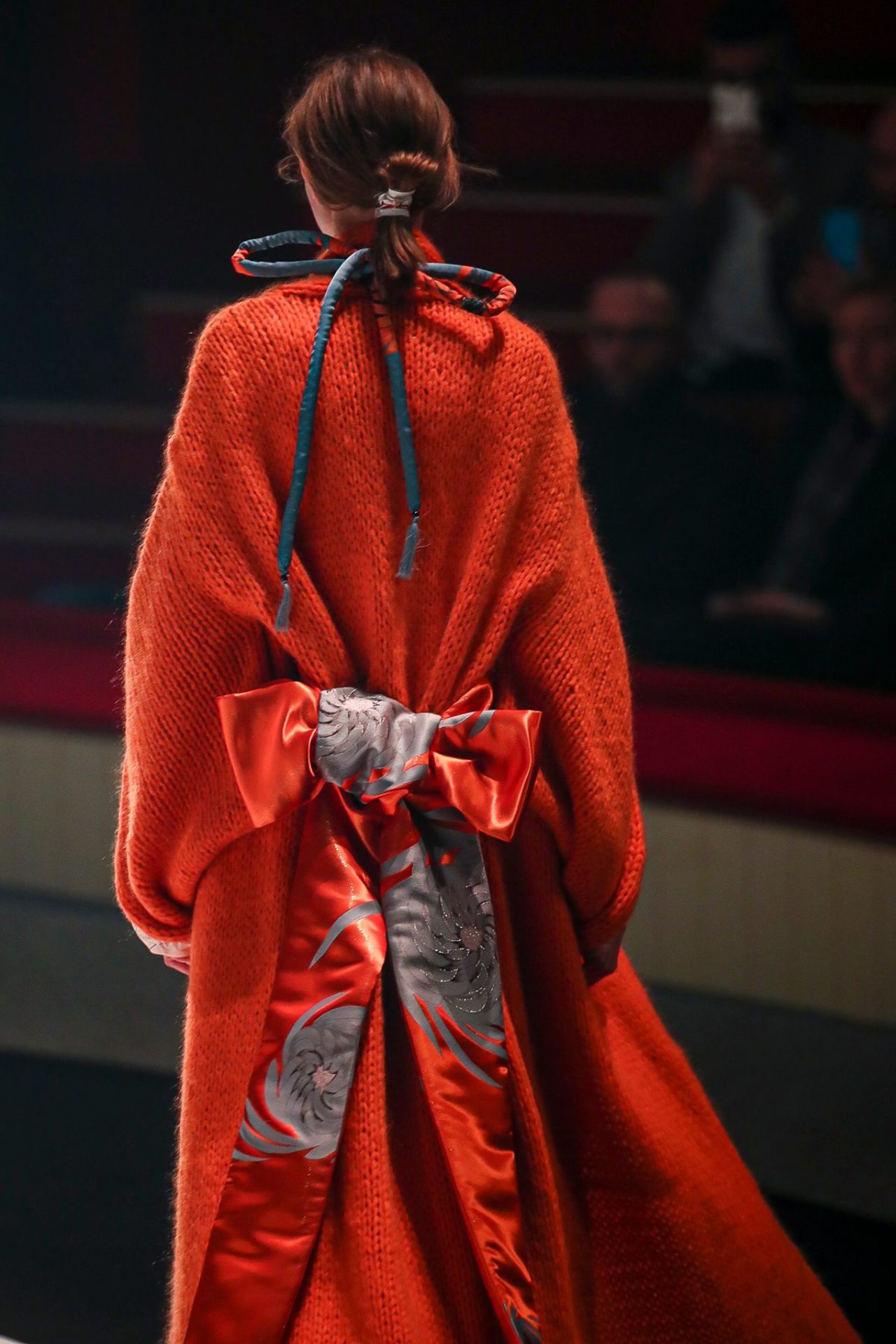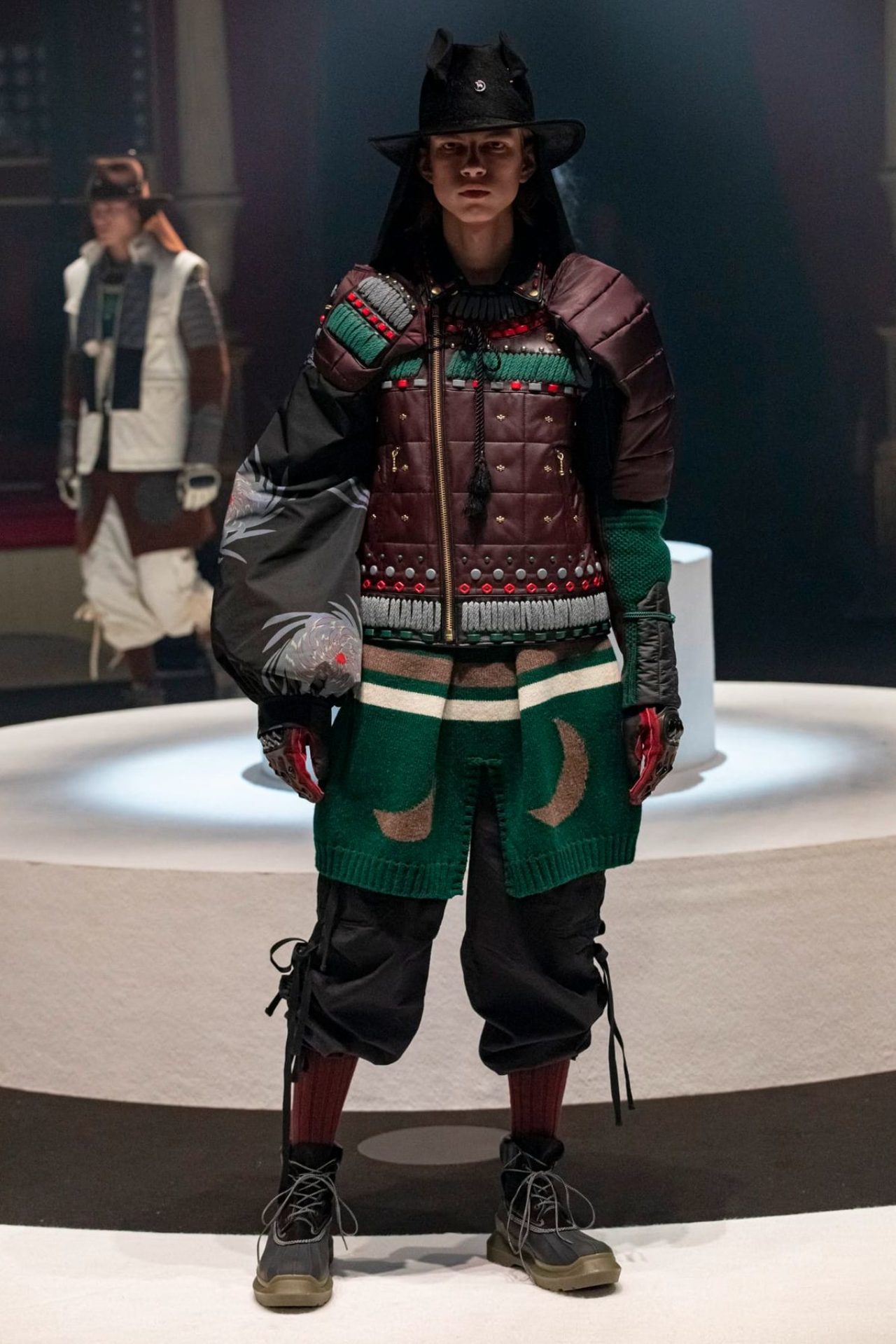 JACQUEMUS
Designer Simon Jacquemus presented his FW20 collection 'L'Année 97' inspired by the year he first designed a skirt, for his mother. A neutral palette drove the collection, with key tones in green, sand and some pink and lavender touches. Sleek silhouettes and exceptional details made for striking looks.
Effortlessly fun. The show opened with the legendary Laetitia Casta, including models Bella Hadid and Gigi Hadid, and was a mix of both mens and women looks. Held at the Paris La Défense Arena in Nanterre, indeed a trek away from the city centre,  Jacquemus continued to prove he can effortlessly draw the crowds and remind the favourite of both mens and women weeks.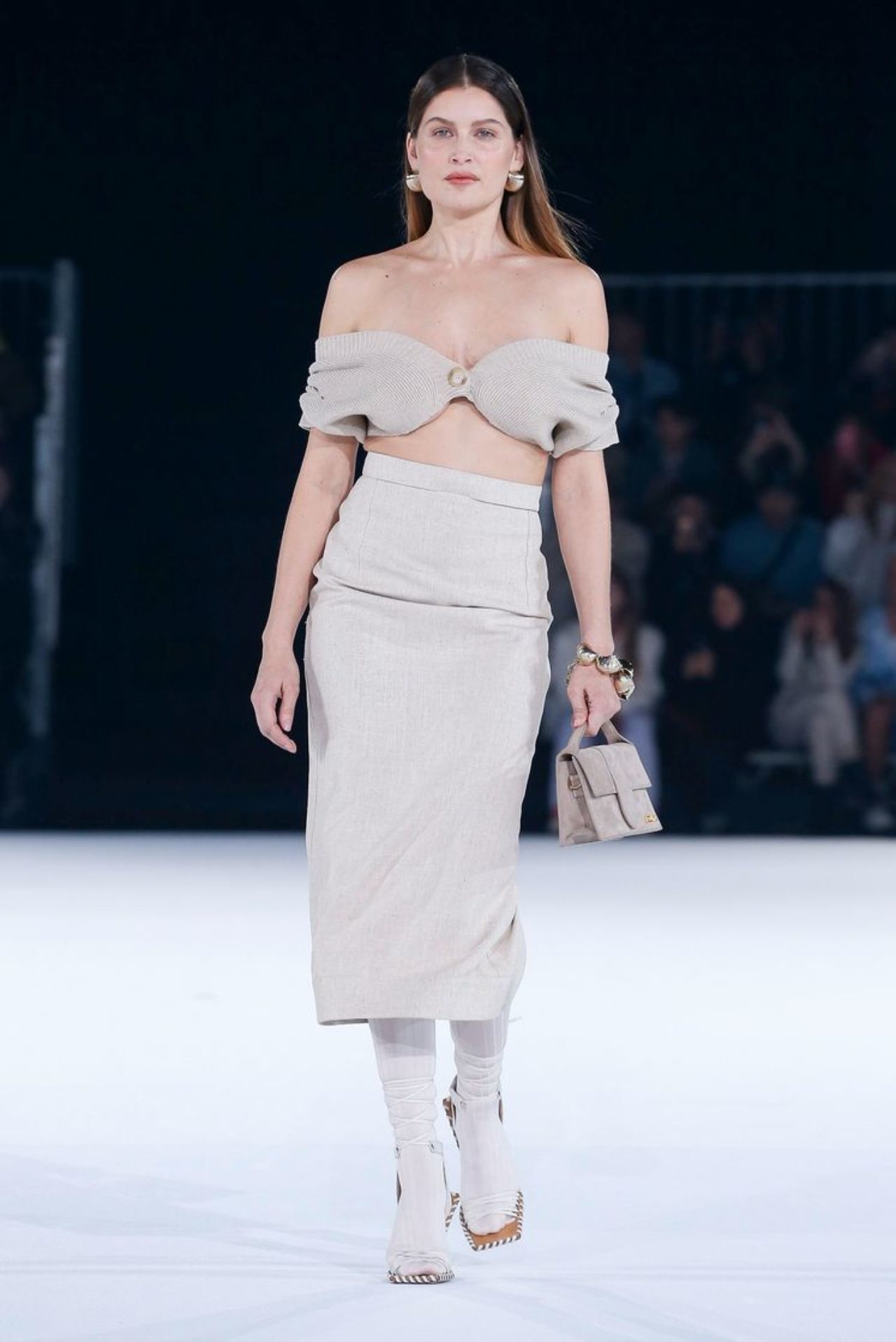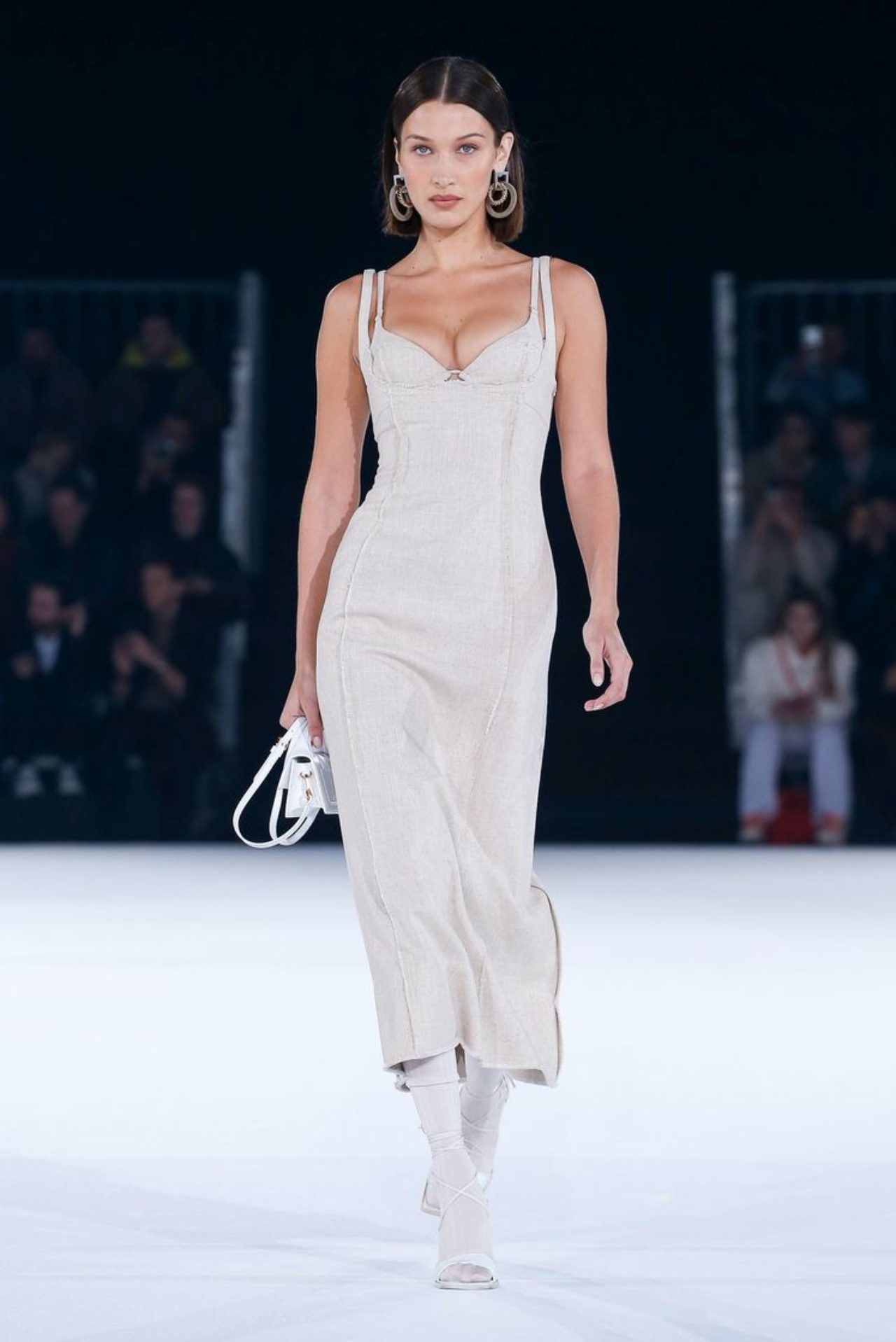 HOMME PLISSÉ ISSEY MIYAKE
Autumn/Winter Homme Plissé Issey Miyake suggests an outfit as improvisation, just like a jam session. Effortless, playful and energetic. The collection was presented with live musicians playing the show and performers effortlessly foraying with liberated spirits in the vibrant pleated garments. Miyake-style suiting was the focus, highlighting its comfortable and flexible properties. With a live orchestra, how can one not feel joyful? Brass, wind, percussion and string instruments strummed to the beat with accompanying hoop acrobatics and dance – further encouraging the audience to participate, and just like the brand itself, offered inclusivity for all.
Choreographed by the renowned Daniel Ezralow, the show was held at the Centre Georges Pompidou.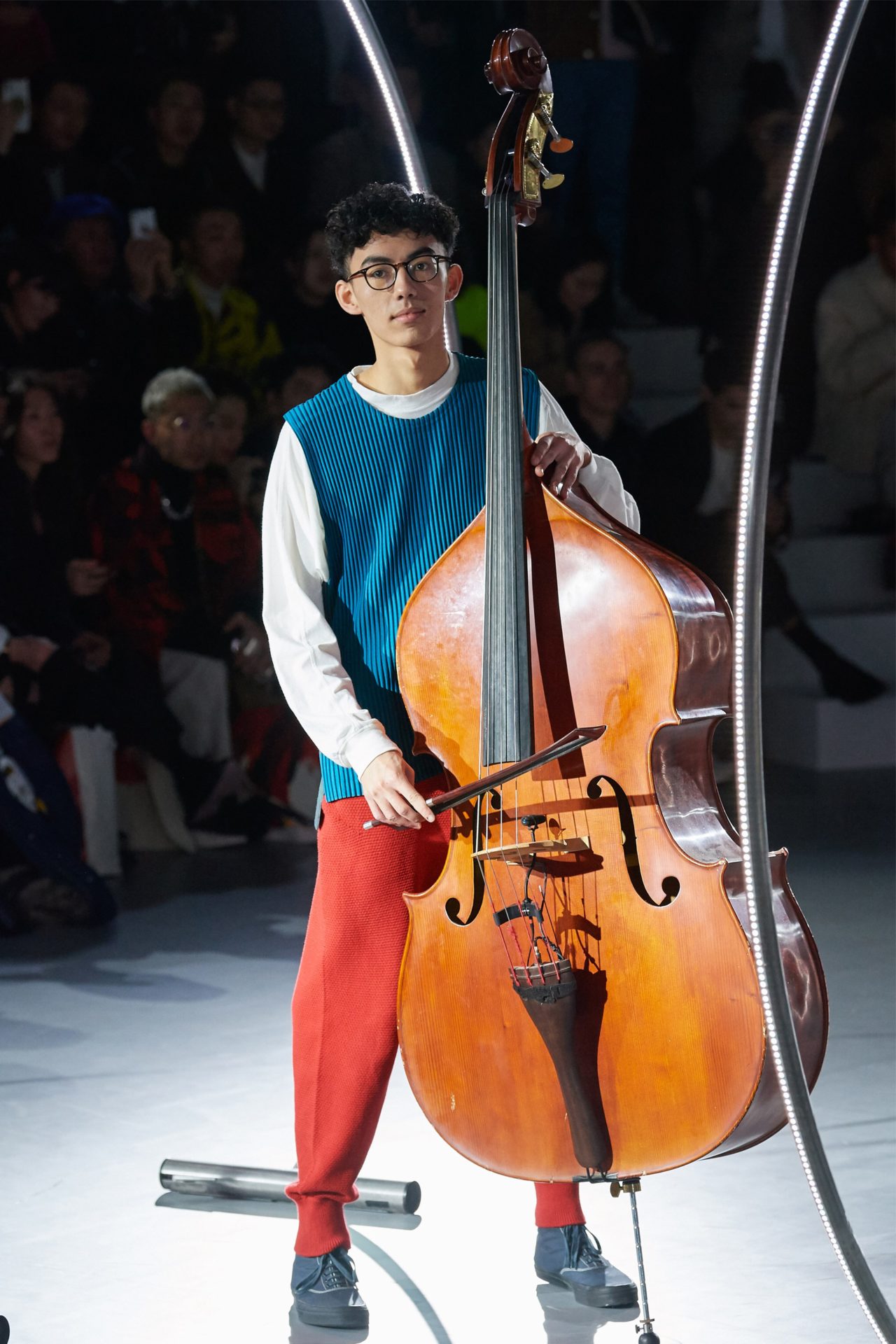 KIKO KOSTADINOV

Debuting his first Paris Fashion Week runway, Kiko Kostadinov's AW20 collection was a spectacular entrance to the Parisian mid-January scheduling with crafted yet abstract geometry-driven silhouettes and contrasting, muted colour ways. The minimal silhouettes offered considered detailing that referenced archery and hunting, with a sleight of sixties feel.
The collection drew a heavy influence of father-daughter artistic duo; American artists Kenneth and Cady Noland. Kenneth, one of the best-known American Color Field painters in the 1950's held a strong "interest in working with flat colors that developed into a fixation with simple shapes like chevrons, stripes, and bullseyes." Kostadinov's AW20 collection references the same exploration and sensitivity to colour and form.
Kostadinov's latest collaborations with Asics Sportstyle and Camper Lab are also found in pure, complimentary form. Brilliant collection as always.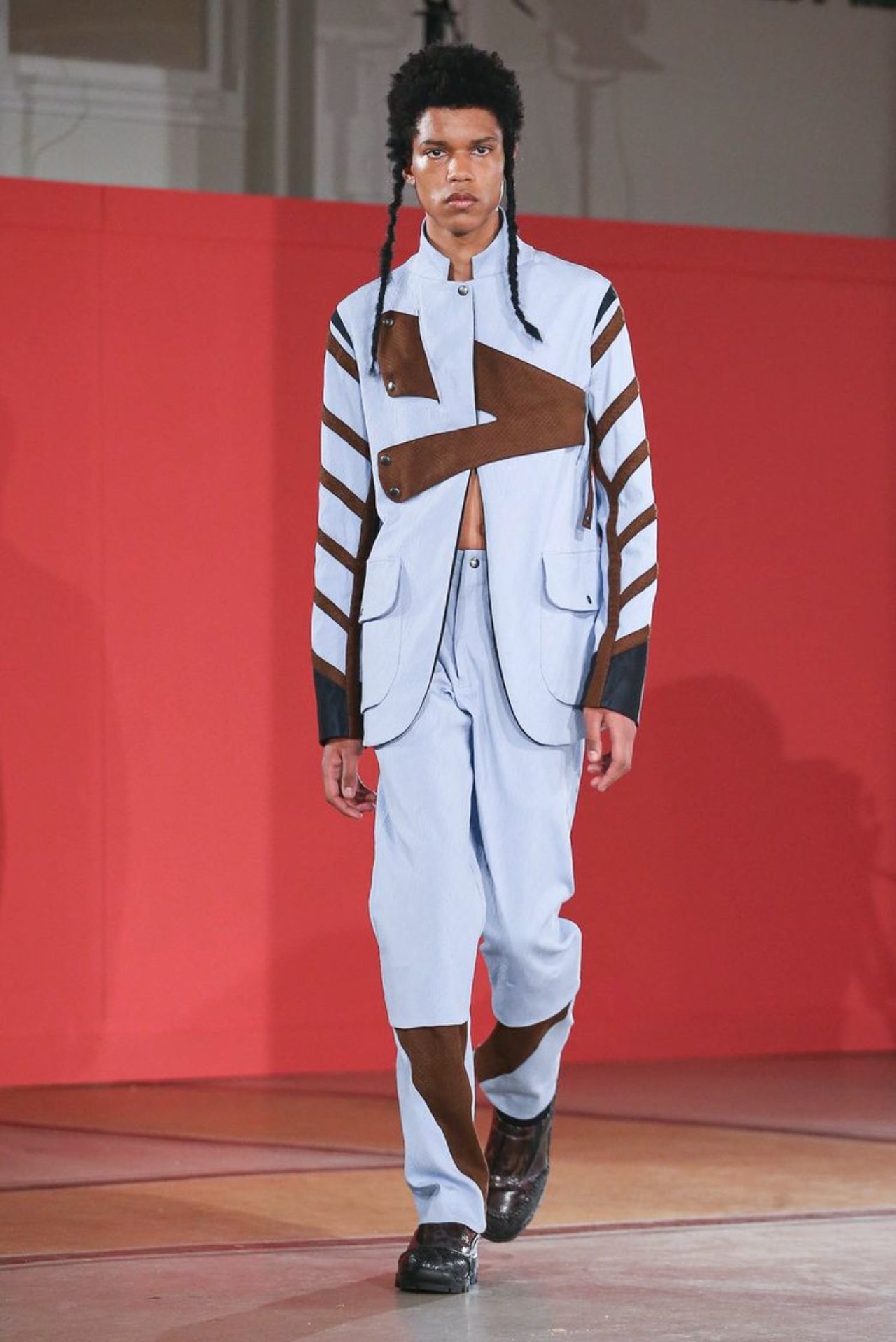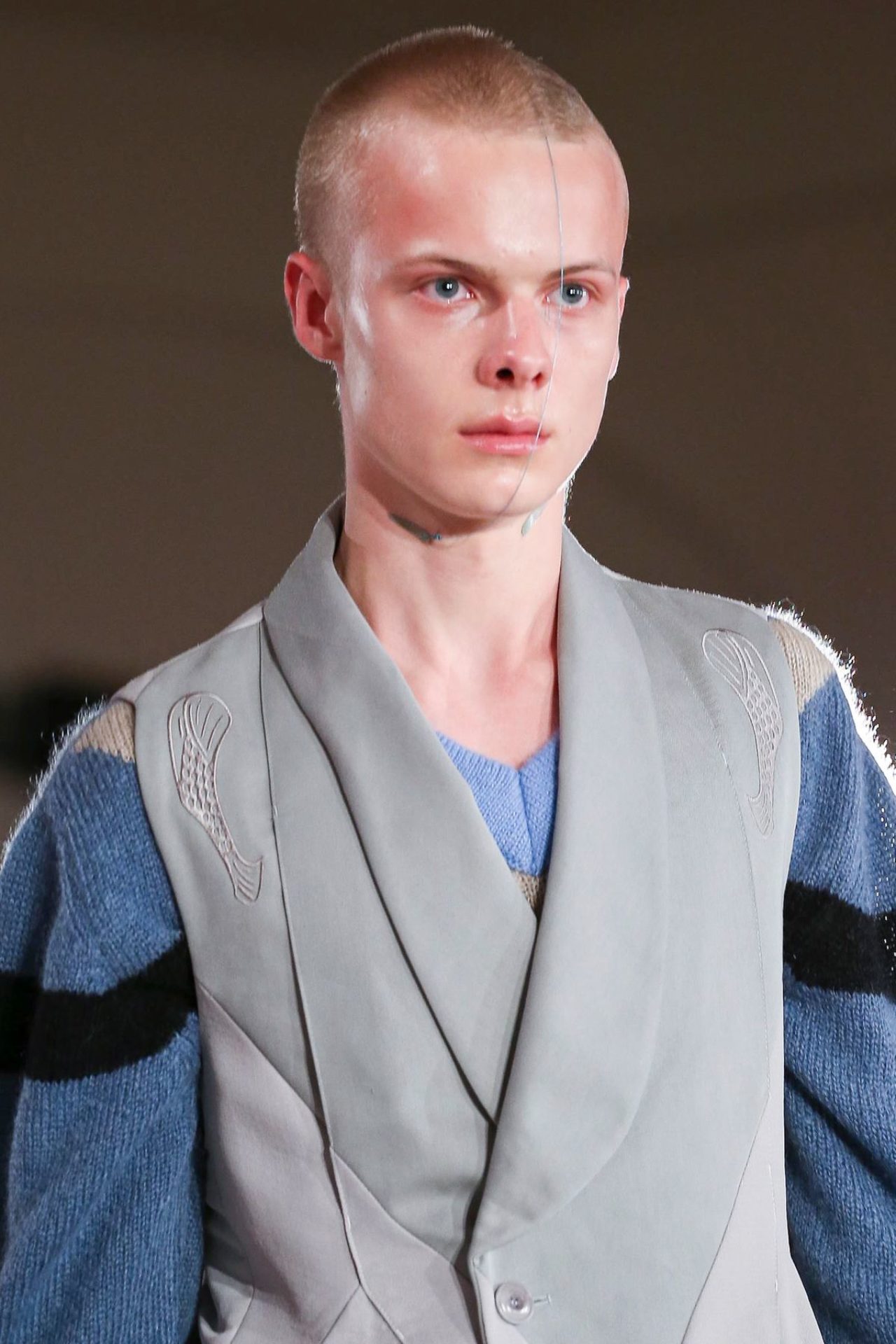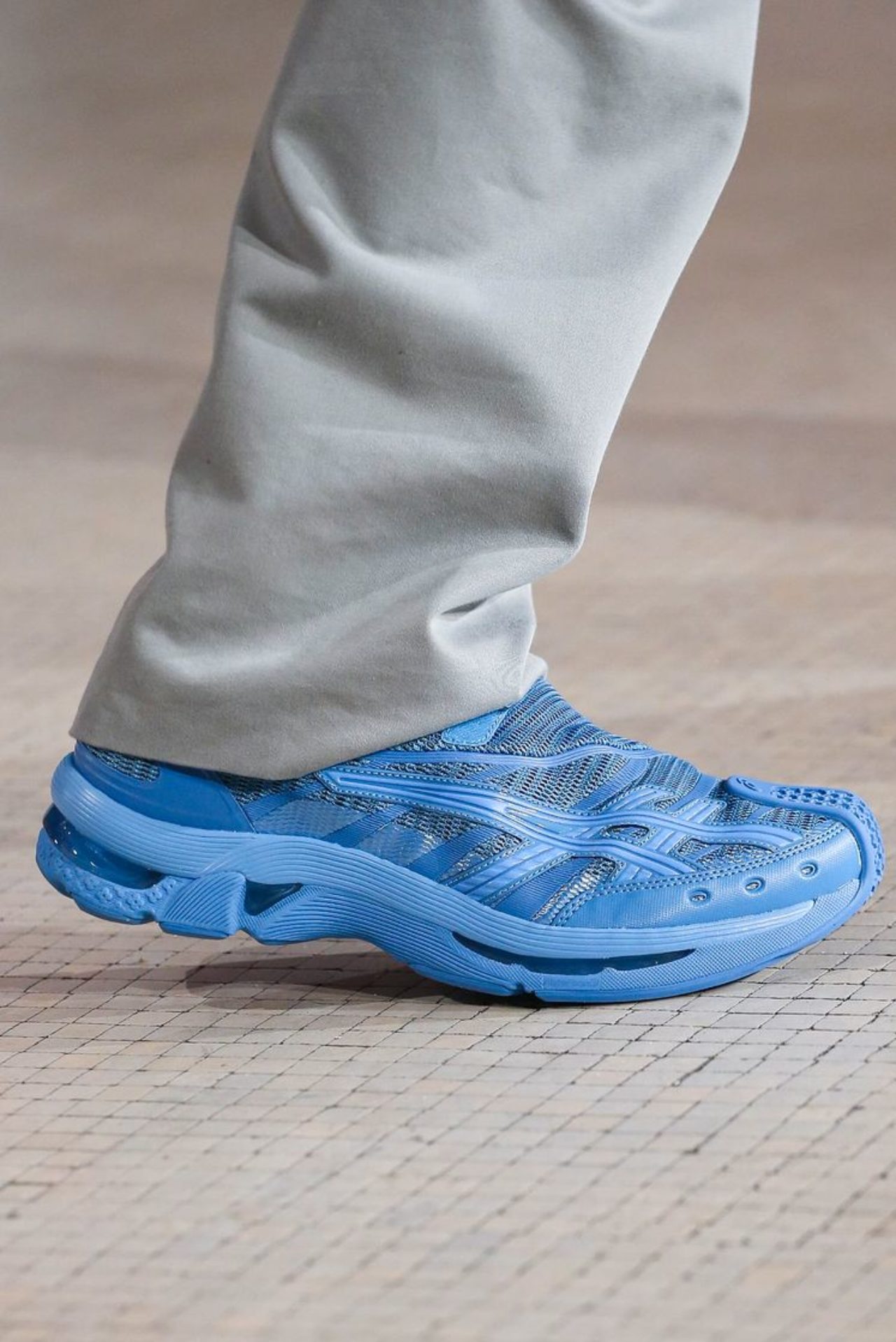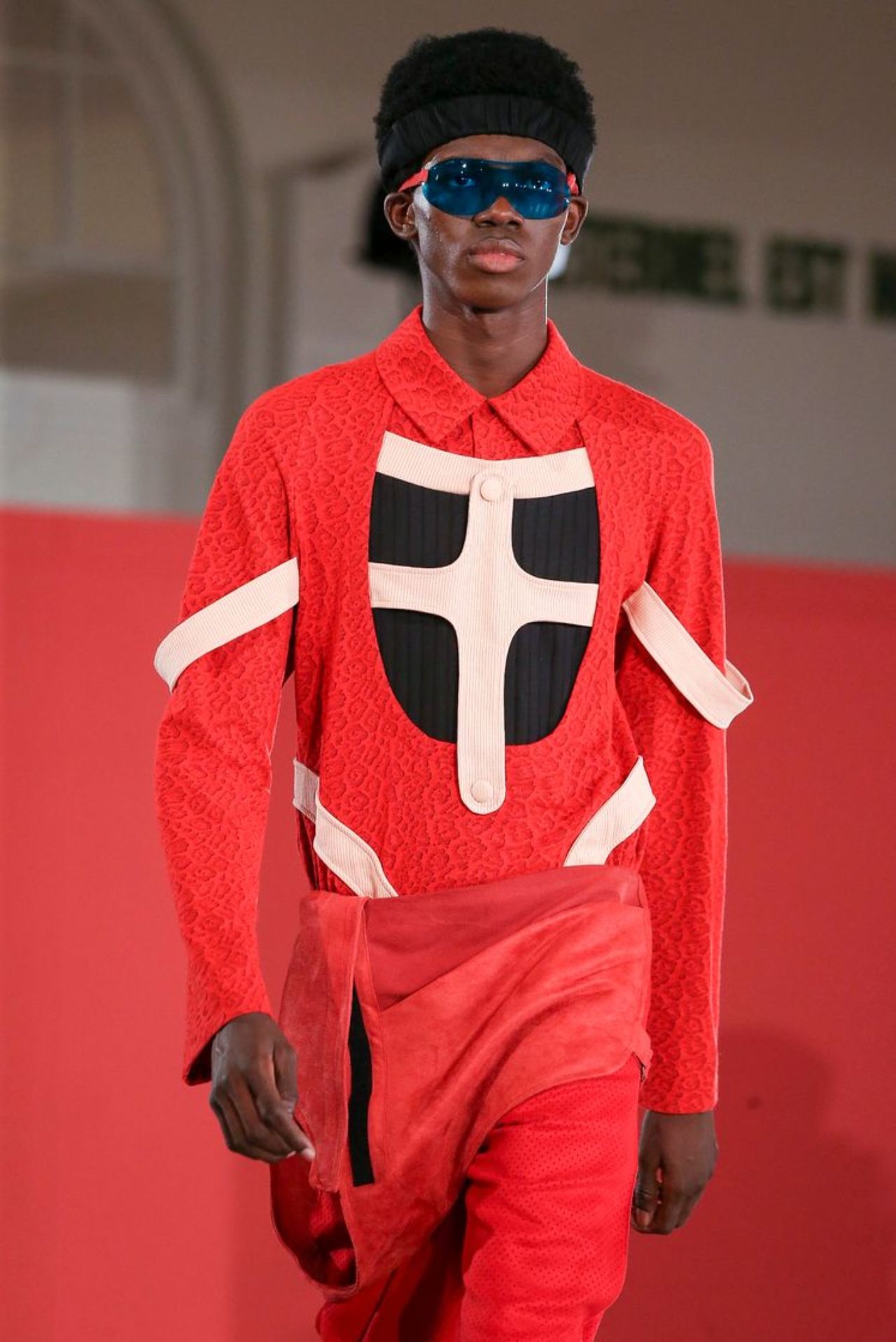 OFF WHITE
Virgil Abloh presents Off-White's Autumn/Winter20 collection 'Tornado Warning' at the monumental location of the Musée du Louvre. Painter Pascal Moehlman's custom work was at the centre of Virgil's collection as his brushstrokes created key visuals found throughout the collection.
Cartier Williams tap danced to a powerful soundtrack ~ featuring Michael Kiwanuka's Solid Ground as a simple yet stunning set design set the mood.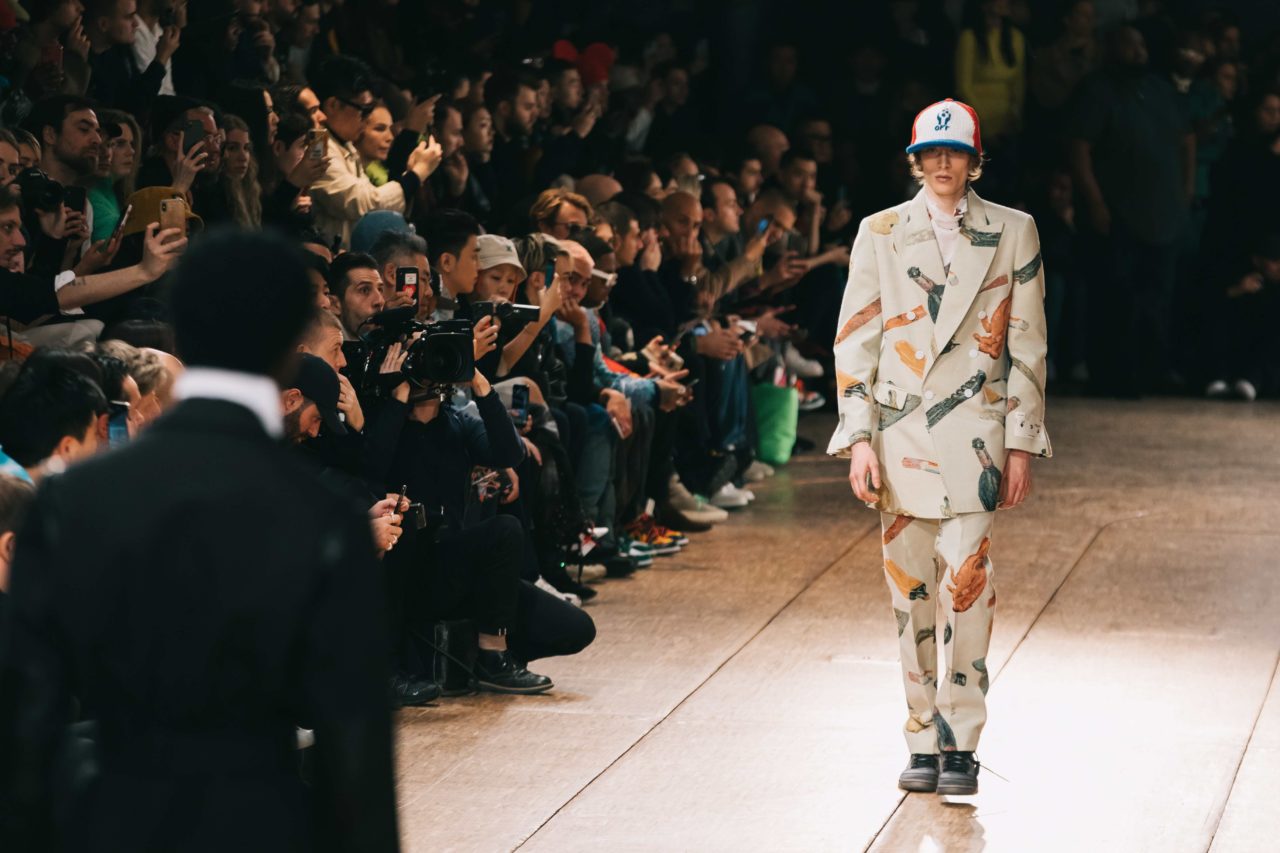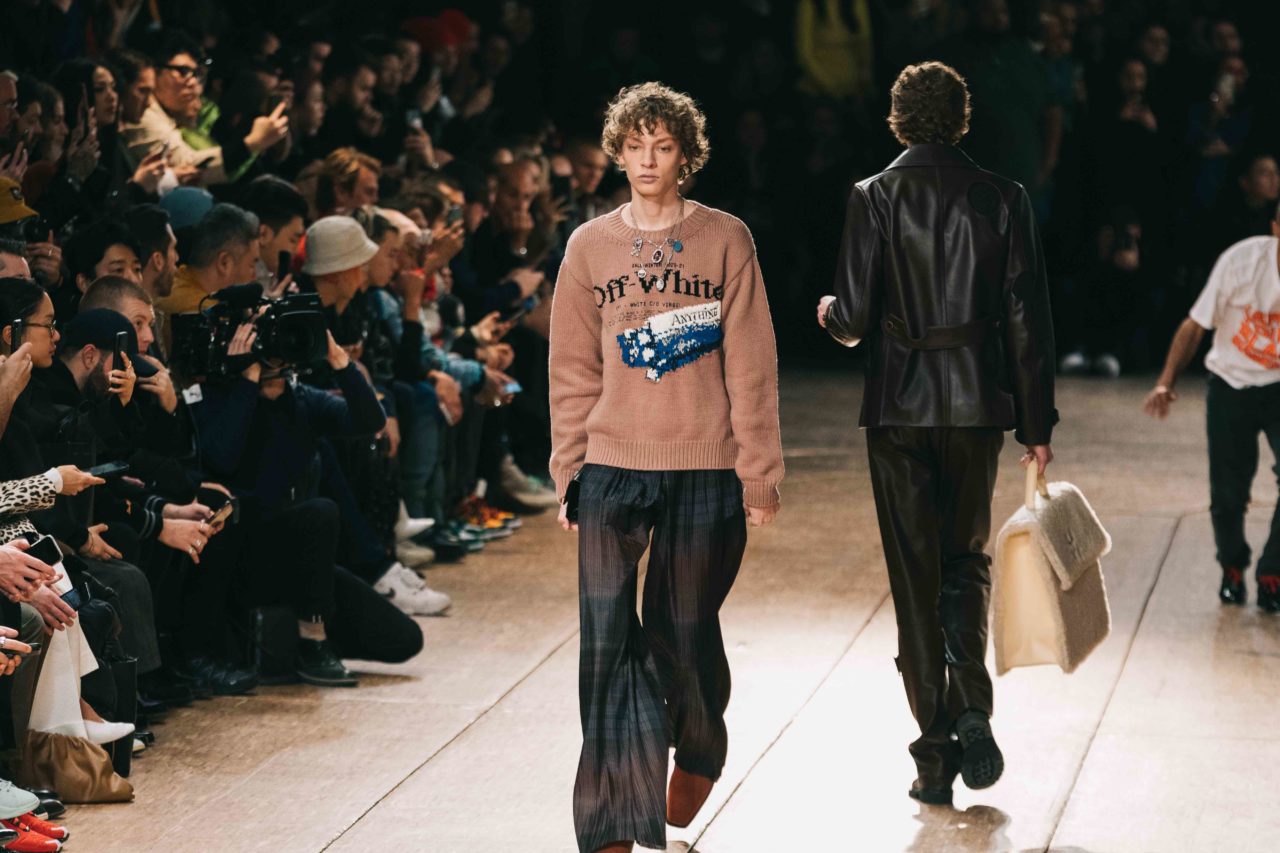 LOUIS VUITTON
For his fourth Louis Vuitton menswear show, artistic director Virgil Abloh exercised his creativity and seemingly unrestricted freedom at the house, and together with creative teams BeGood Studios and PLAYLAB, INC. created a dream-like stage for the Autumn/Winter 20 collection. Presented in the Jardin des Tuileries in a purpose-built rectangular set with printed blue sky and white clouds which clustered to spell 'LV', the title of the collection 'Heaven On Earth' described a concept that may seem to some seem as other-worldly, but indeed possible right here on Earth.
The collection, styled by Christine Centenera, was abundant in ties and tailored suiting. LV show notes stated "the dress codes of an old-world are neutralised, reappropriated, and embraced for a progressive joie de vivre." A uniform for many, here suits are revised and liberated. Coats with intricately-cut patterns were a head-turner, as were the printed clouds on the suiting. Models wore silver cyborgian face pieces by Isamaya Ffrench, a stark contrast to the dream-like set.
The set, the electronic music, the model's face pieces, all seemed to reflect how humanity and technology intersect, with craftsmanship and creativity an inherently human trait that should be celebrated.
For our full review, see here.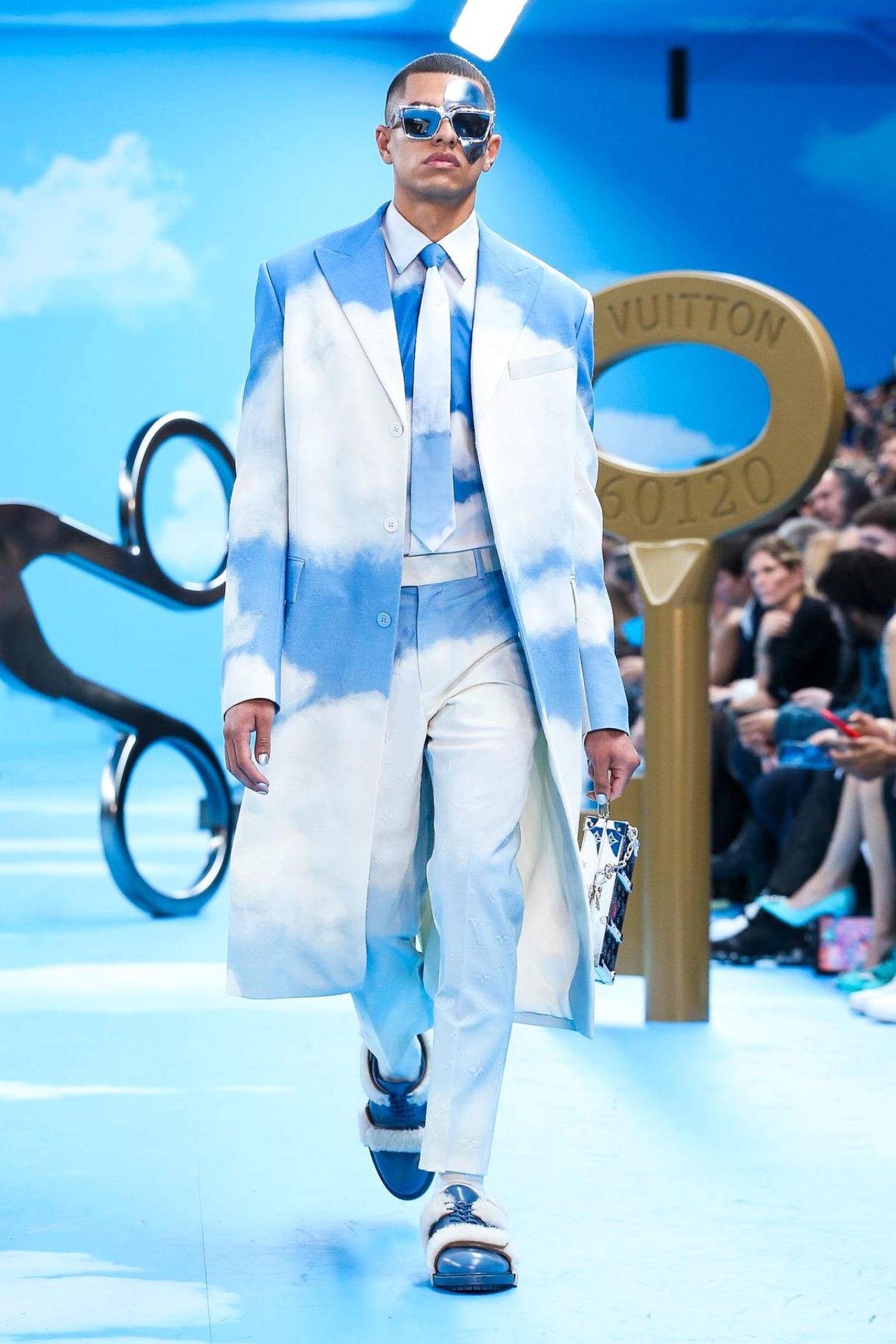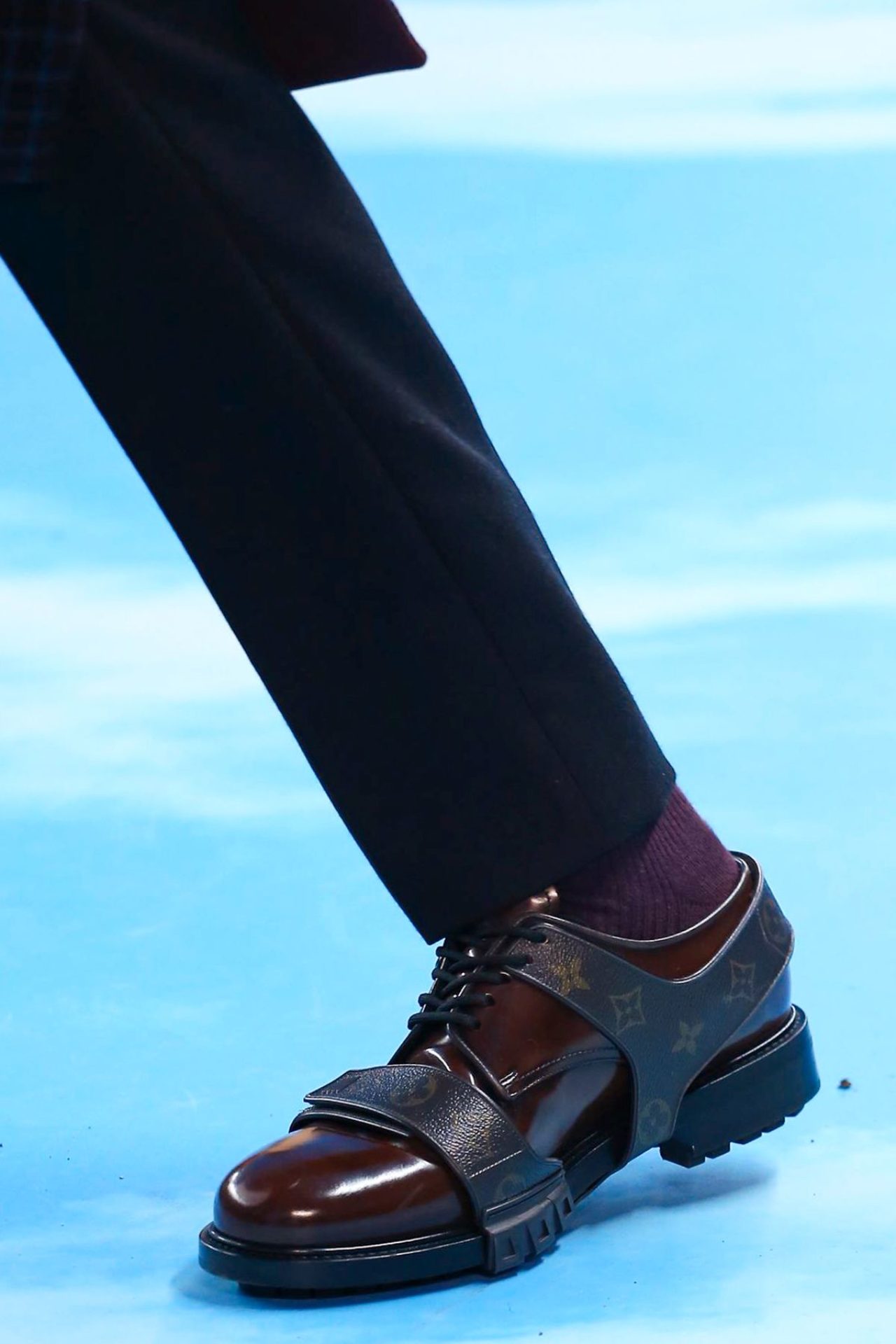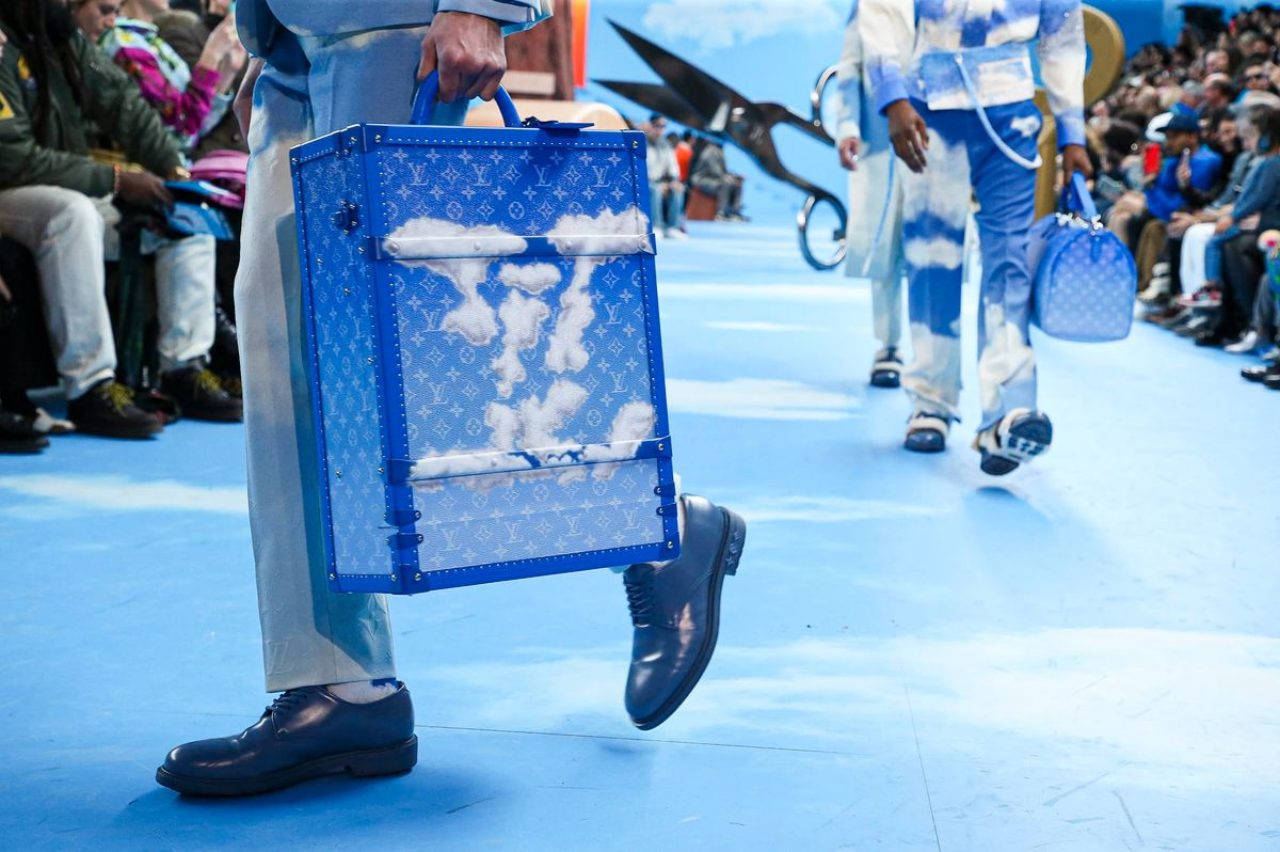 PARIS FASHION WEEK MEN'S Autumn/Winter 20
January 14 – 19, 2020
Photos as credited | Attended by Champ team Maya Sonic, Karl Hab
Words | Champ Editor-in-Chief Joanna Kawecki