MAME KUROGOUCHI Fall Winter 2022
Finding the "Presentness of the Past" in Nagano's Nature And The Rich History of the Jōmon Period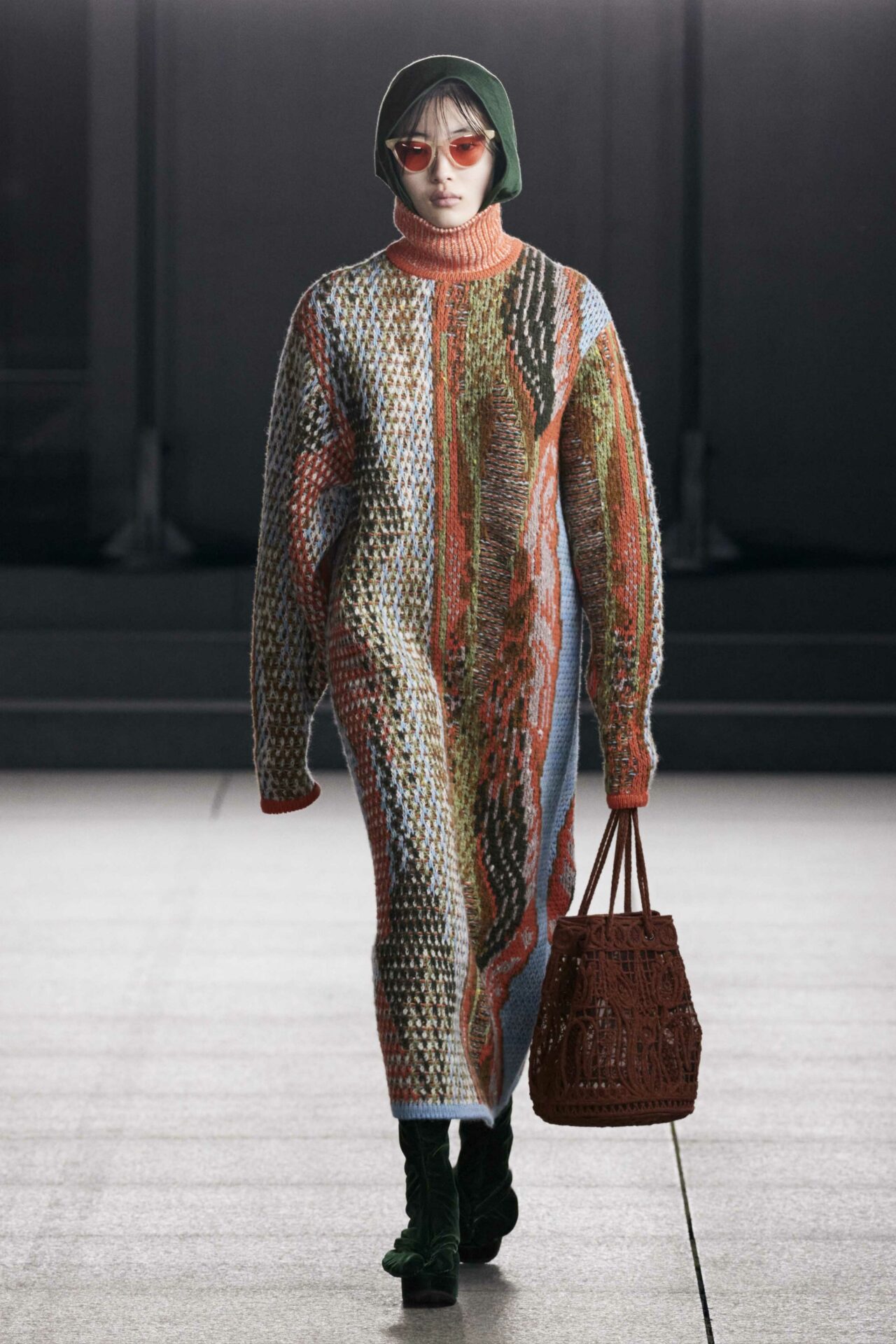 With the unrelenting, unbalanced equilibrium of what formerly encapsulated Fashion Week, many brands continue to reimagine the way they present their collections — local or abroad, physical or digital, intimate or expansive. With this in mind, Japanese designer Mame Kurogouchi opted for a localised runway show held in her homeland of Japan, and no less in it's capital of Tokyo — away from her usual Paris presentations — creating an intimate and private runway held at The Gallery of Horyuji Treasures at the National Tokyo Museum in Ueno. Situated in East Tokyo, Ueno by day is busy and overwhelming with endless historical museums and gardens, yet by evening it draws a silence that offers a reflective pause on the breadth of its depth. It's no surprise that Kurogouchi chose the site for her Fall Winter 2022 runway show presentation — it's sleek, concrete and steel structure serving as the perfectly framed backdrop. Designed by legendary Japanese architect Yoshio Taniguchi — noting the new Hotel Okura to D.T. Suzuki Museum amongst his portfolio — The Gallery of Horyuji Treasures notably features a grand approach to its entrance past a large shallow pool of water. Held during dusk, Kurogouchi's presentation paired the dimly illuminated lights that glistened in the water with the deep, night sky— unusually still and clear that evening — perfectly revealing the glimmering distant night stars. 
Held only for a handful of selected press and stylists, Kurogouchi's Fall Winter 2022 runway presentation began with guests congregating in the foyer of the gallery, where visual references of the collection's inspiration were laid out for view. Sketches, photographs, material swatches, textile samples to books exposing particular pages and held down by natural stones from the region — indeed acting as Kurogouchi's own artifacts for the future. Titled Land, Kurogouchi's FW22 collection presented a connection to her birthplace in Nagano prefecture — key influence for this collection, late autumn — and its mountainous landscape and abundance of nature offering endless inspiration in colour, textures and history. 
Noting the "presentness of the past" in the collection notes, Kurogouchi's FW22 also delved into the history of Japan's ancient civilisation of the Jōmon period. One sketchbook exposed drawings of vessels and sculptures dating back to 15,000 BC, yet in fact were Kurogouchi's own watercolour sketches drawn by hand. The curved, sculptural forms with intricate patterned detailing were found extrapolated onto the runway with cord-embroidered velour-like garments including dresses, tops and vests created in a rich terracotta brown to a deep, forest green. 
The continuous thread found in Kurogouchi's designs is her dedication to Japanese craftsmanship, with her garments reflecting perhaps the highest luxury in fashion: locally-made, at times handmade, and often with expertise from decades-old manufacturers. One such being a collaborative producer based in Tochigi, that welcomed her unusual challenge to re-create the visualisation of a forest floor through beading — something they had never done before yet alone ever considered. The three-dimensional embroidery found on dress collars to wrist and sleeve detailing aimed to  "mimic the texture of moss laying on the snow melted ground". The result is nothing short of spectacular, capturing the various species of moss, bryophytes and tiny flowers in extraordinary artistic resemblance. 
A stand-out was also a handful of knit sweaters and a jumper dress that featured Nagano's seasonal scenes emblazoned — or rather, embedded — as wearable landscapes. From the orange and bright greens of early autumn, to the snowy white and pristine blues of an early winter. Accessories also included sculptural glass jewellery "resembling fragments excavated from the depths of the earth", to a felt cloche hat by legendary hat maker Kijima Takayuki, and a modernised traditional platform sandal by young Kyoto-based shoemaker Hakimono Sekizuka — furthermore a fellow contemporary in the next generation of Japanese creators championing traditional techniques and skills passed down through generations.
Yet it is also Kurogouchi's ongoing list of talented collaborators that continue to weave a stellar thread through her brand's creative DNA. From photographer Yuichiro Noda, to director Tomokazu Yamada, or show sound producer Seiho — she crafts a spectacular world rich in conceptual depth, specialist production and creative artistry that speak volumes for each garment. Kurogouchi's designs are undeniably future classics, meticulously cultivated akin to her inspired predecessors 10,000 years before.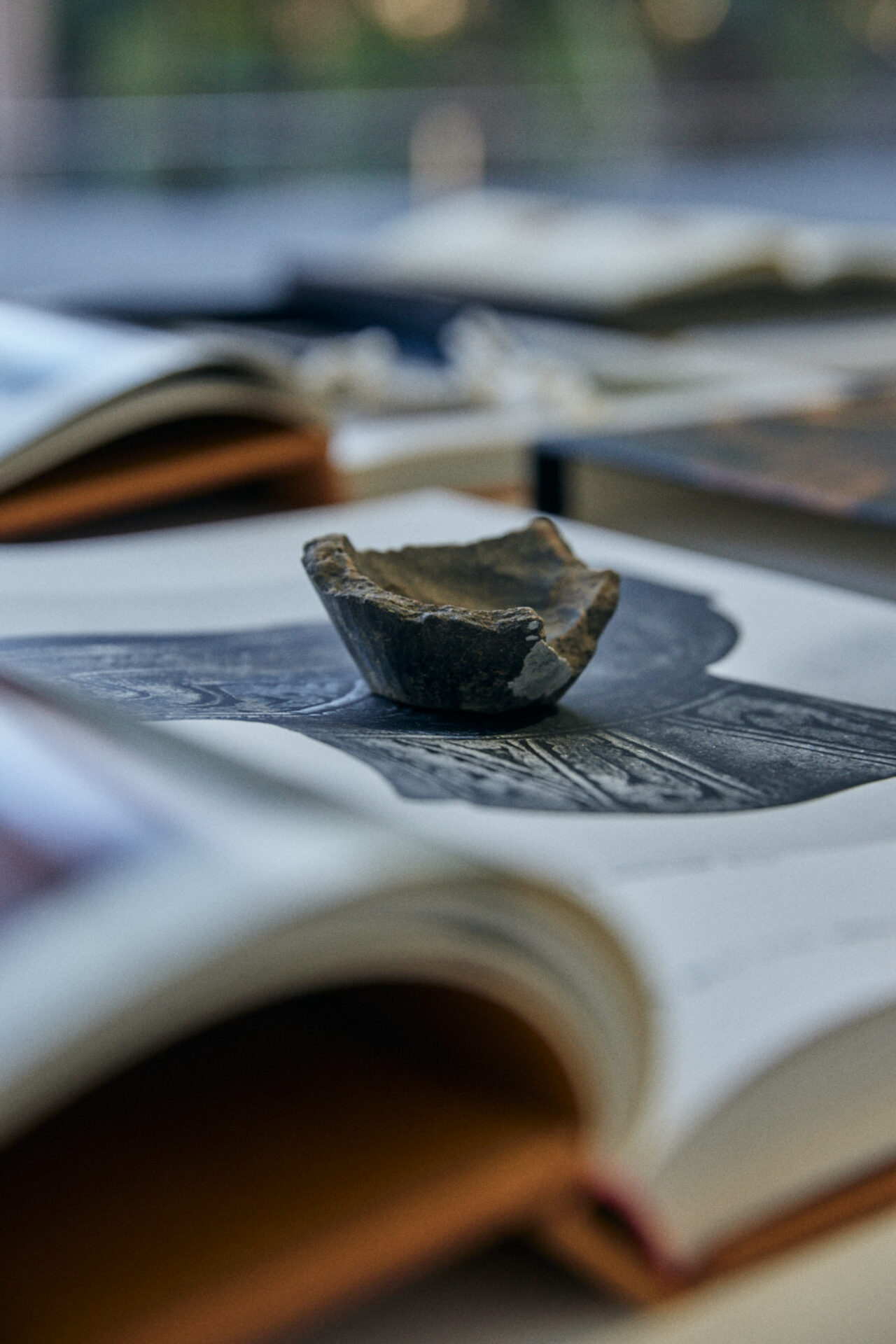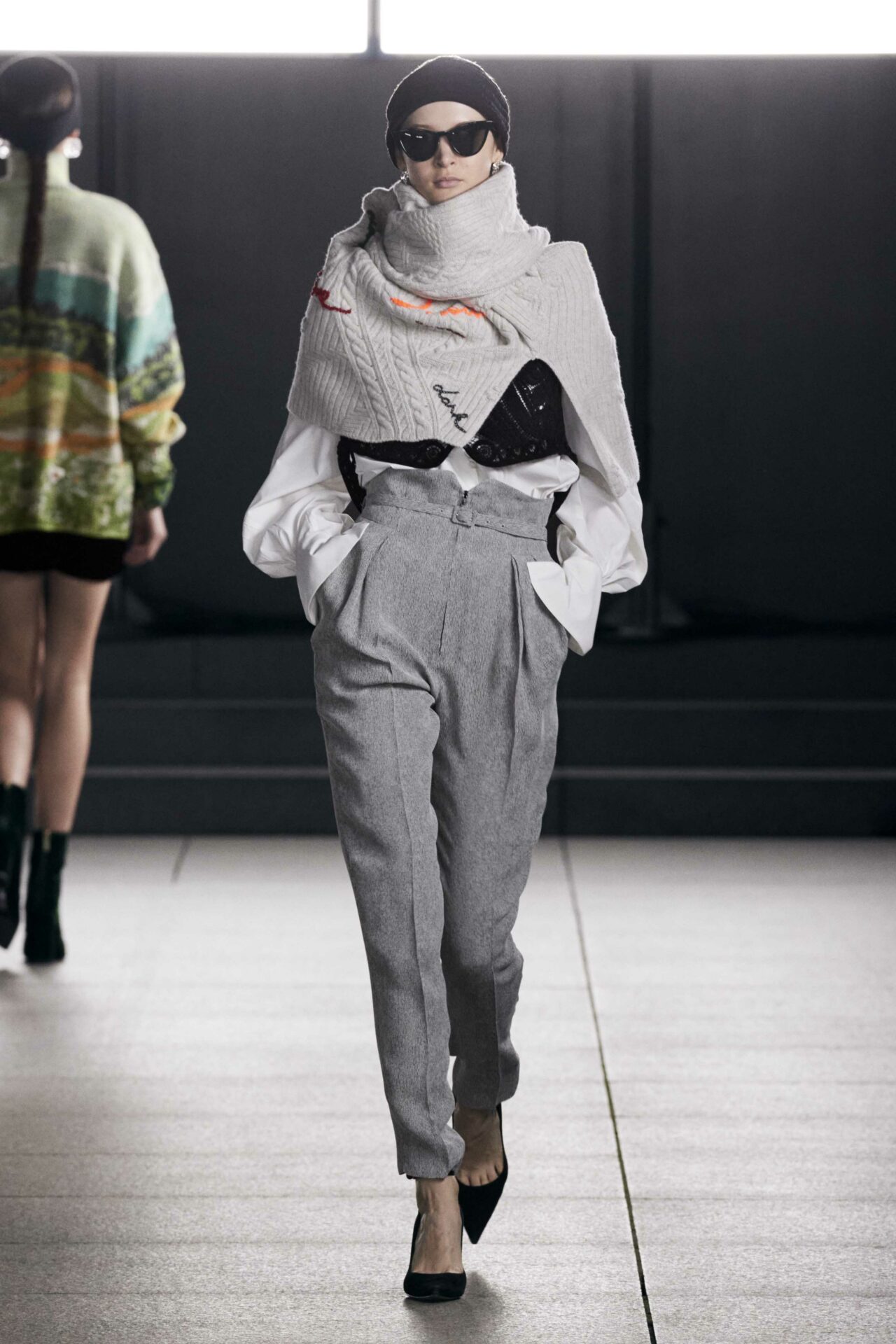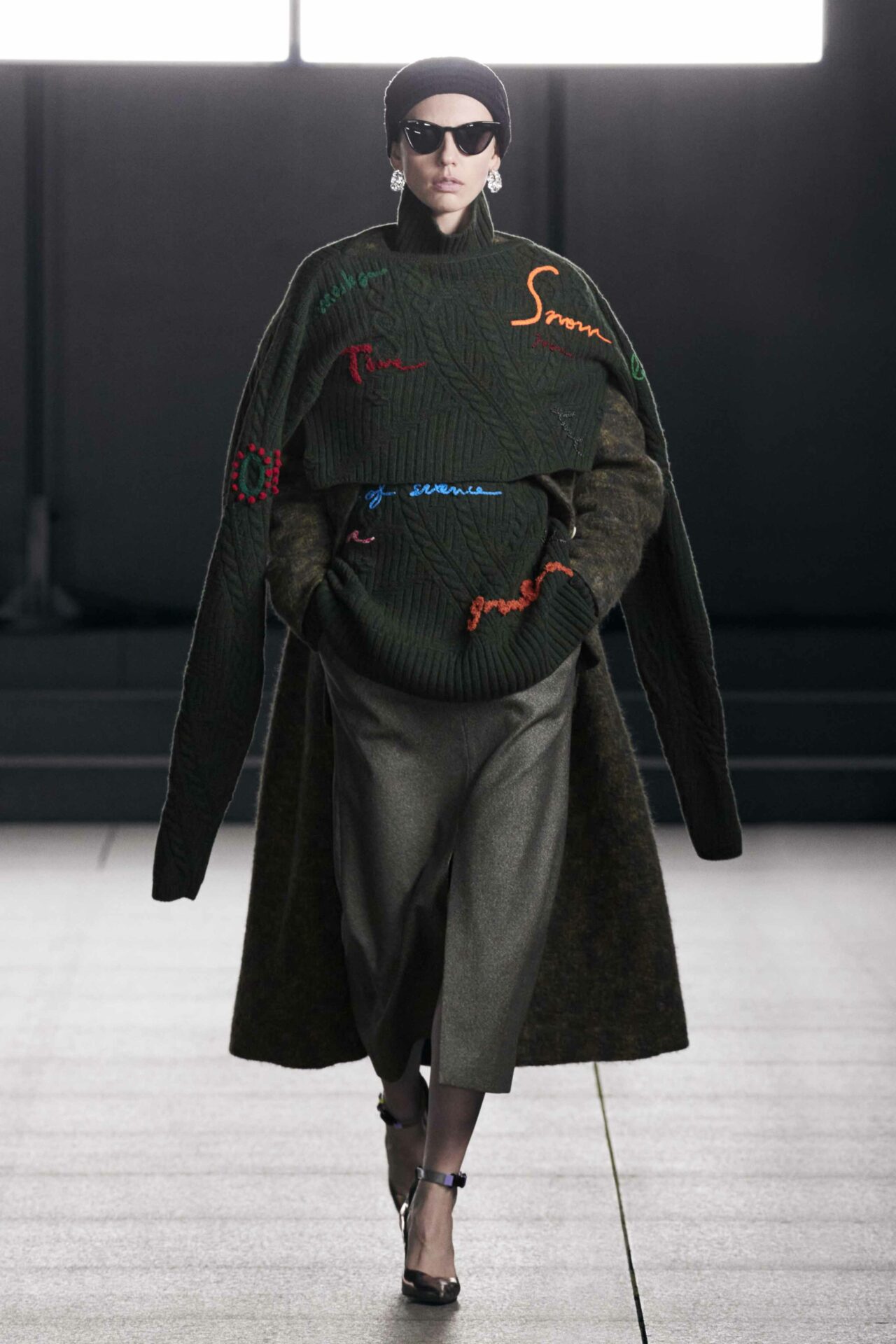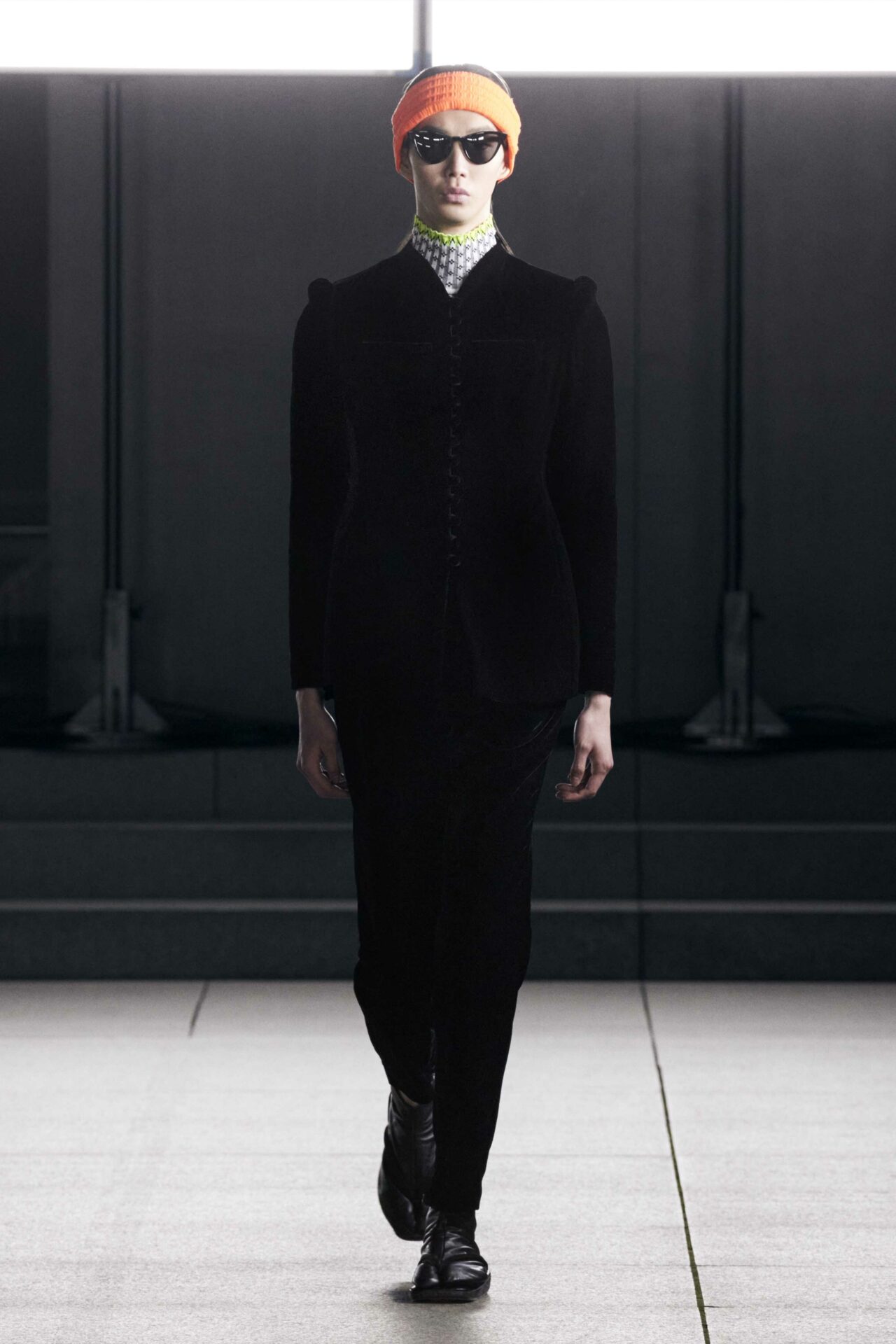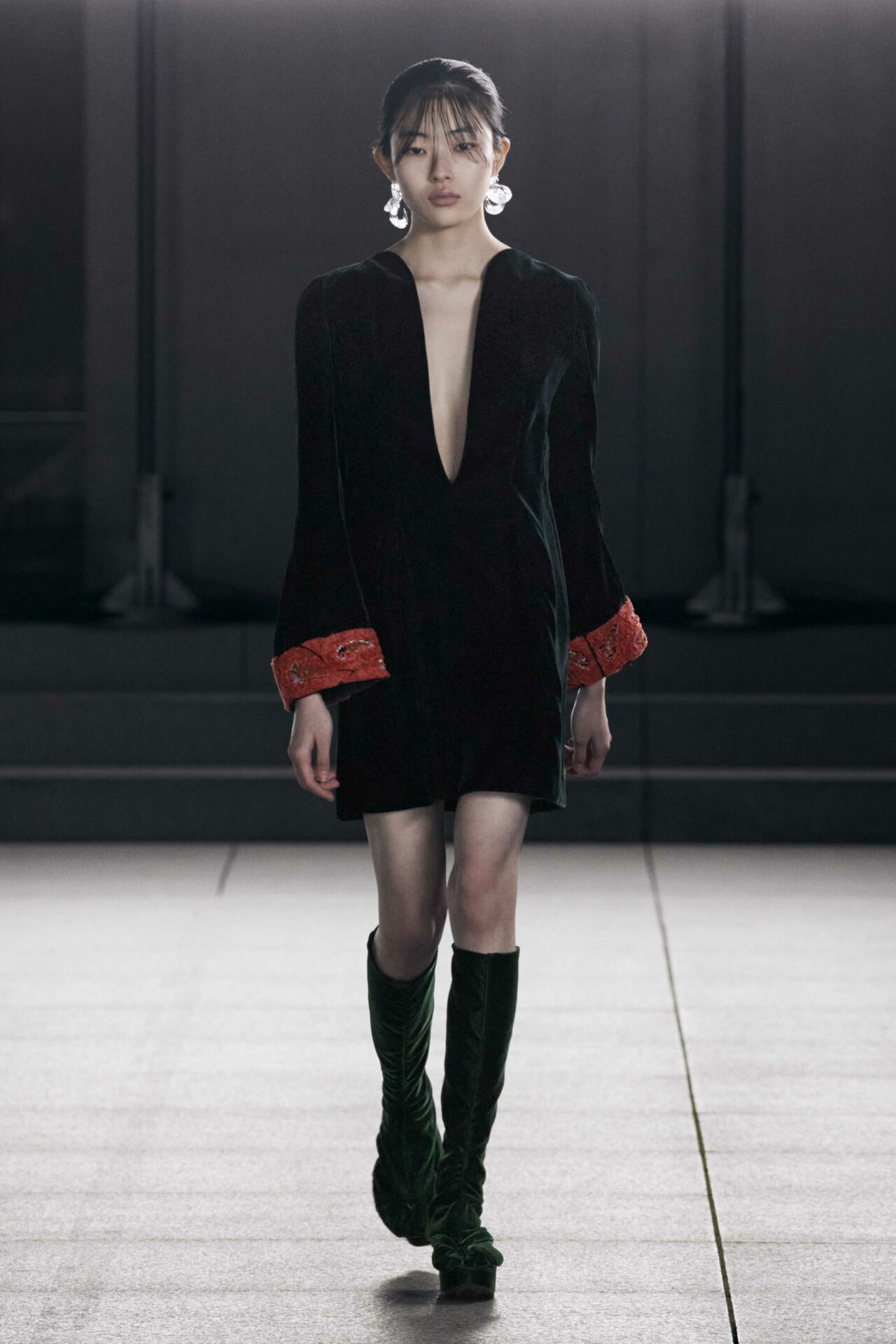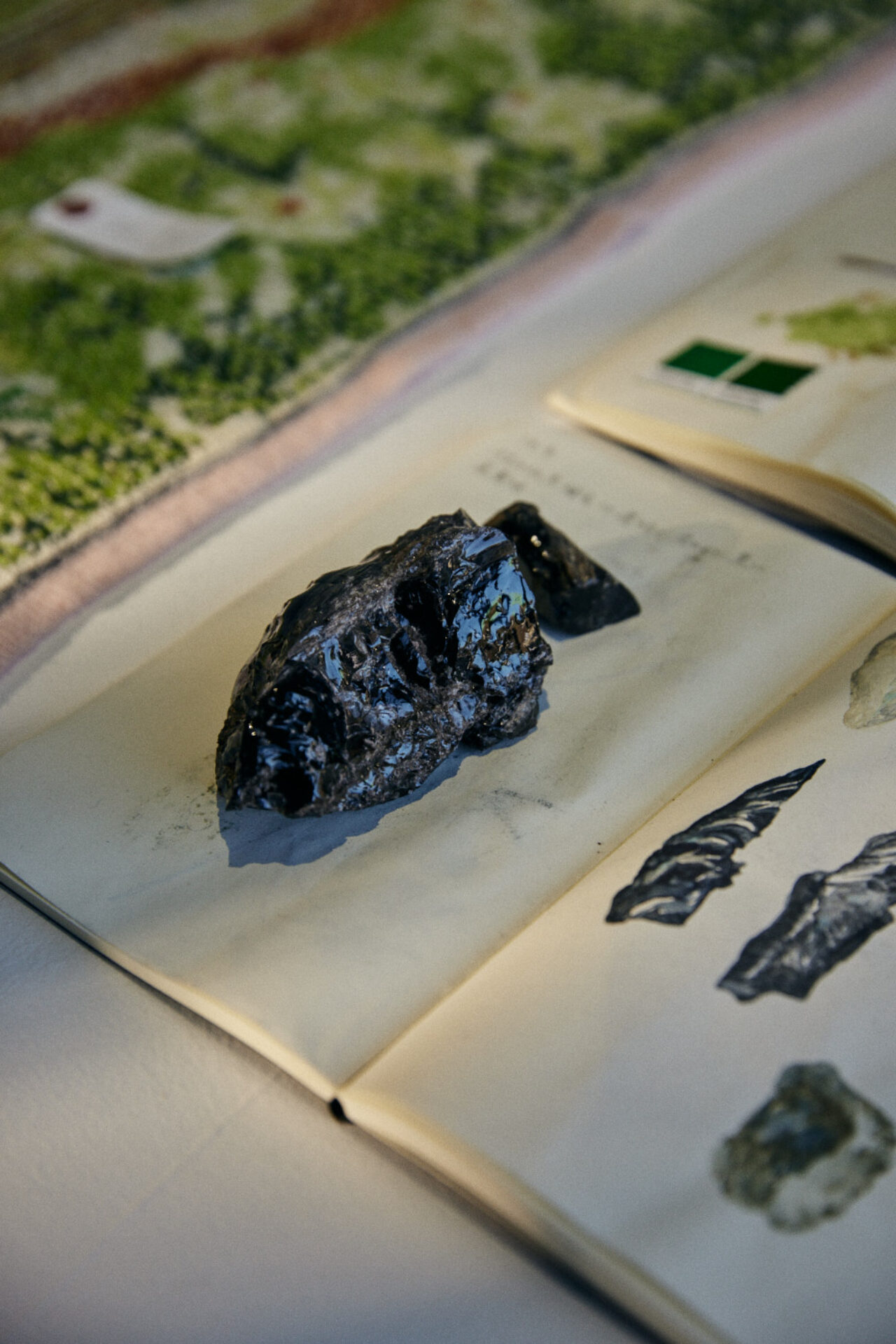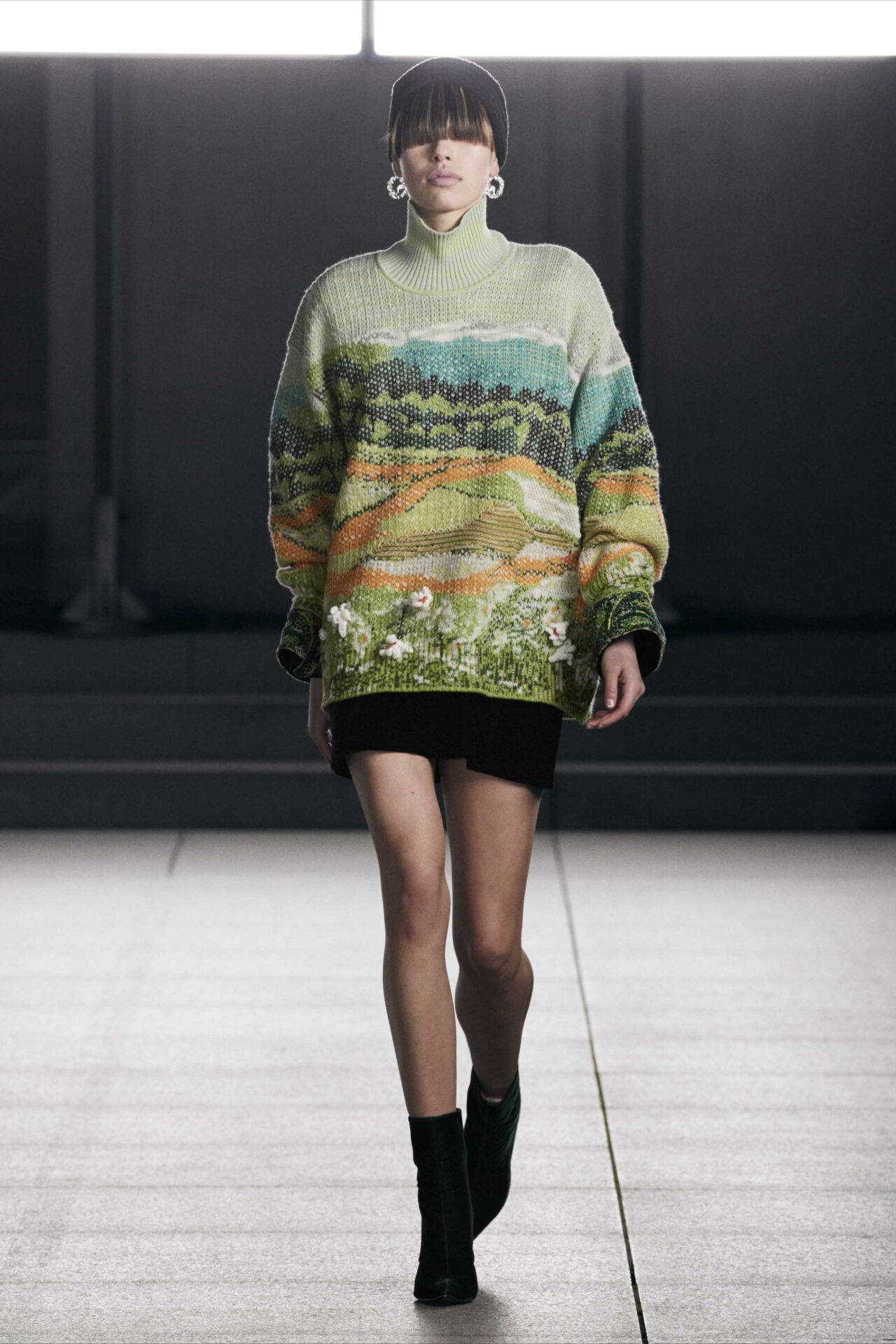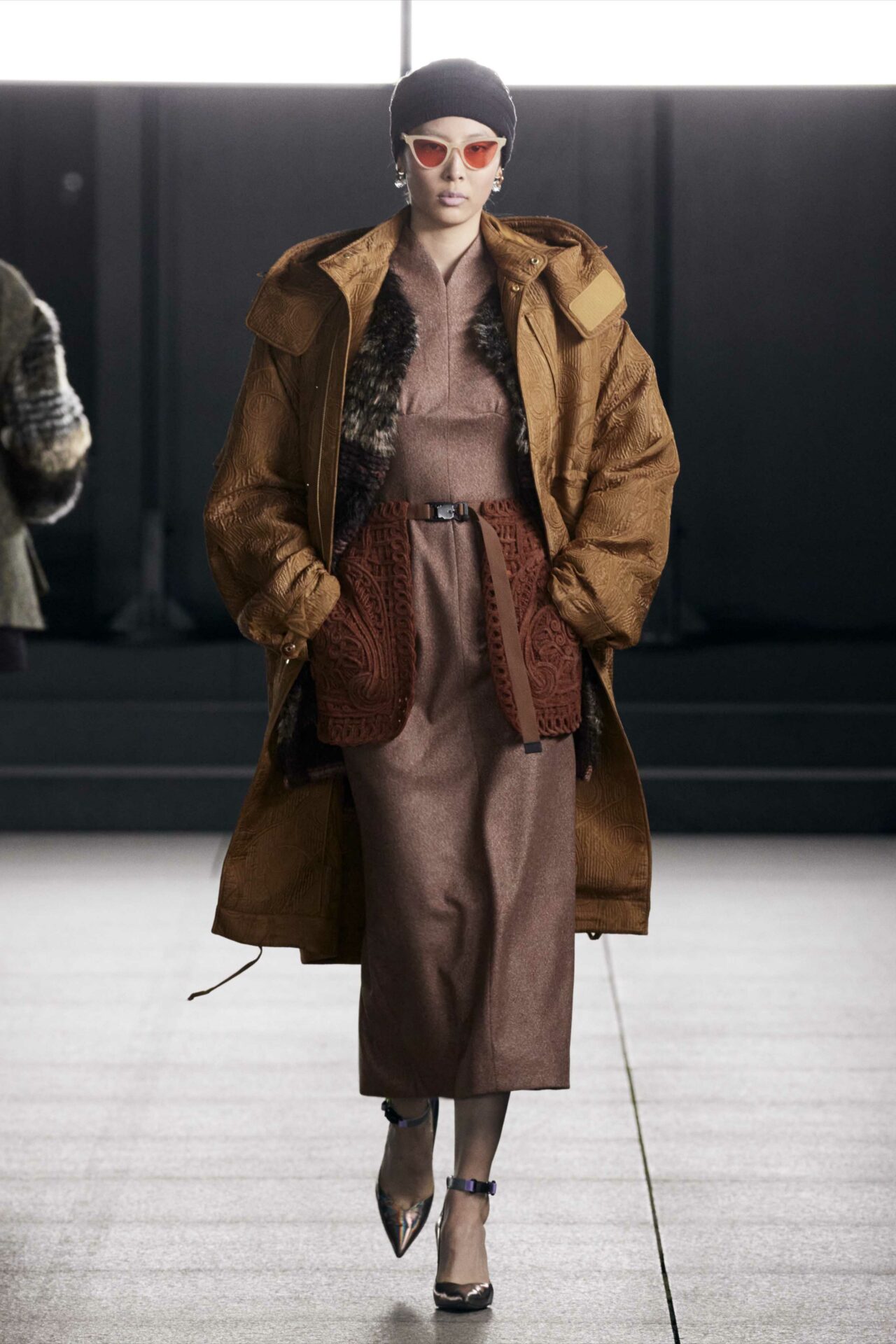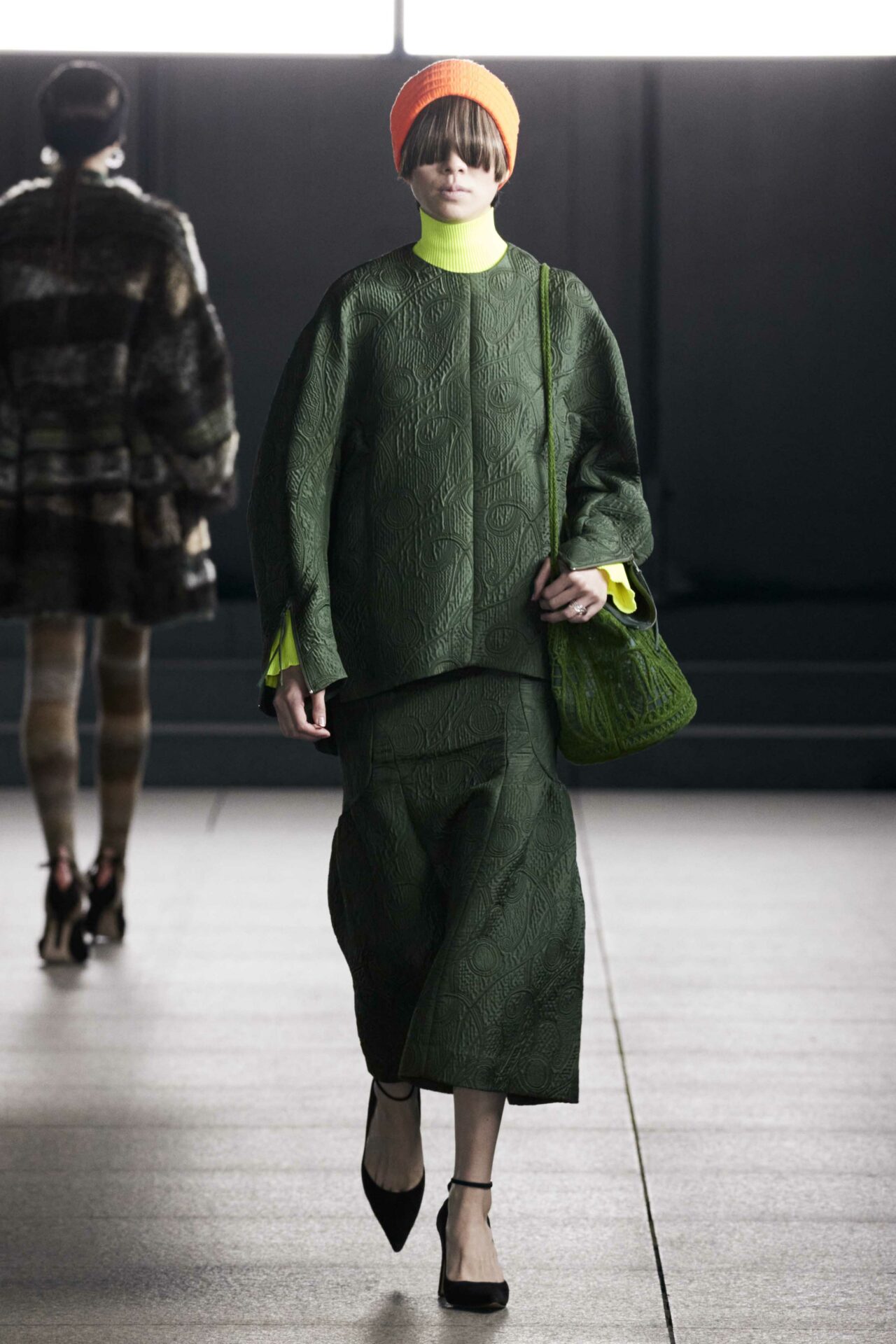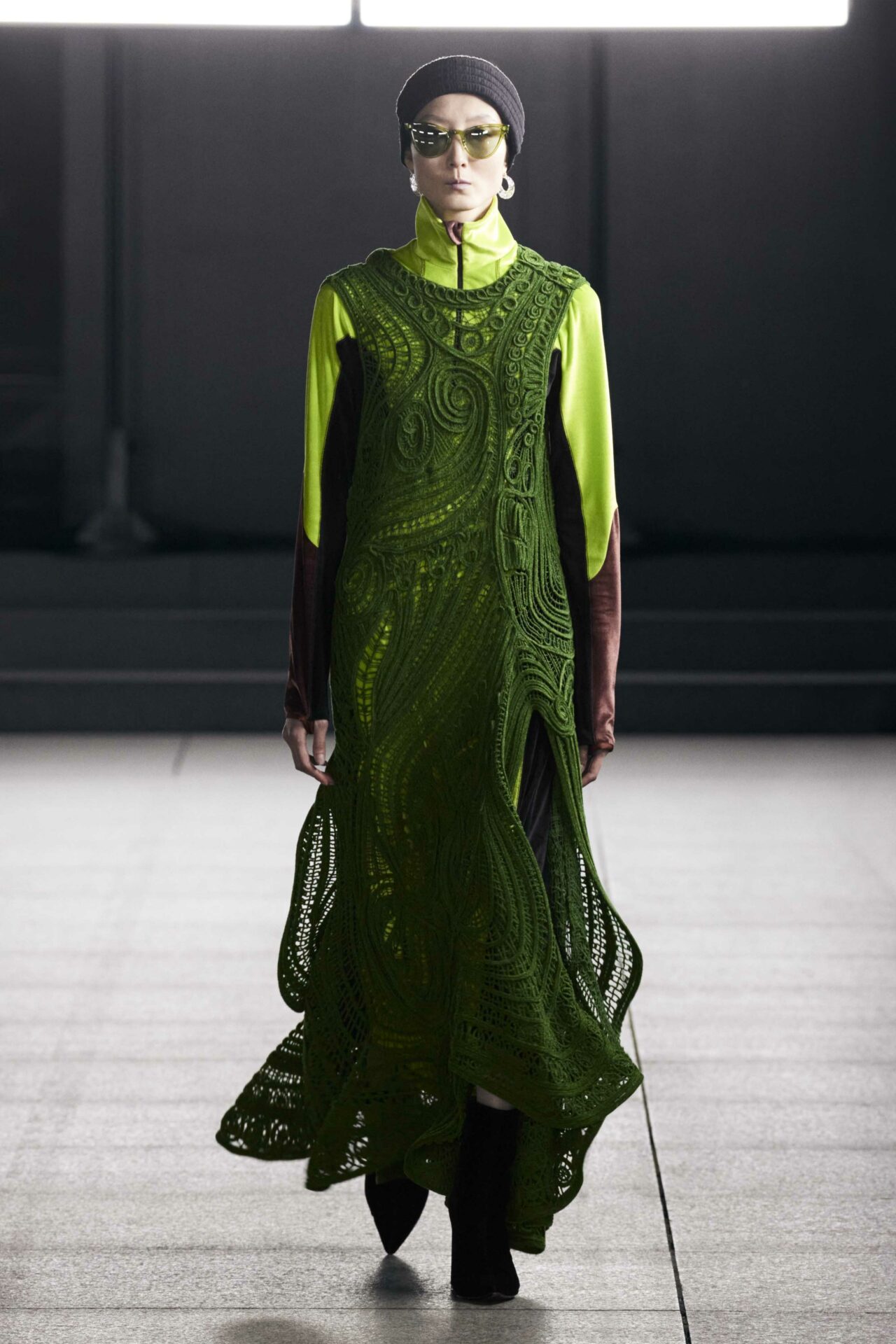 Words: Joanna Kawecki
Images Courtesy: Mame Kurogouchi