HIGHLIGHTS FROM FW22 MENS
Accentuated Waistlines To Bold Prints — A New Era Of Menswear Redefined
From new creative directorship appointments to the retaining of old guards bringing the new, MENS Fall/Winter 2022 did not disappoint.
Both digital and physical runway shows worked as platforms to communicate the new seasons collections, with the hybrid approach continuing to keep seasonal fashion weeks relevant. They serve a purpose, consumerism does not want to slow down, and neither do the people working passionately within its industries. Especially when, they create damn good work.
Junya Watanabe MAN was a hands down highlight, its fashion film blessed by none another than Jamiroquai himself, presented his 'Virtual Insanity' music video repurposed and re-envisioned. A joint lens on craftsmanship and Native American designs brought shared meaning, with the film's director, choreographer and dancers reflecting junya's meticulous love for detail.
Concise creative direction in physical runway shows by Prada and Louis Vuitton brought the designers' artistic visions to life. Louis Vuitton Mens FW22 was presented as the late Virgil Abloh's vision intended and specified it to be (before the creative director's death late last year). Set design by his long term collaborators PlayLab showcased why fashion, Fashion week and dreaming is so important. It reminded us again, that anything is possible. You can believe it into being.
Lastly, the self-explanatory appointment of Nigo as Creative Director of KENZO had everyone talking. Considered a bold move by the LVMH group, for those brought up in the rise of streetwear, know Nigo's influence goes beyond fashion. His taste is contemporary, his friendships genuine and influential, and his audience: greatly in Asia. At a time when fashion was questioning its purpose during the pandemic, to reigniting the excitement and carrying the torch designers pass on each season. We're here for it.
Through a 2001: A Space Odyssey-like chamber tunnel, models emerged following actor Kyle McLaughlin leading the show for Miuccia Prada and Raf Simon's FW22 collection. The illuminated concrete tunnel, designed by OMA's Rem Koolhaas, set the tone for classic minimalism meets futurism. The inspiration was the everyday — the working class — that is so often overlooked. Ms. Prada noted, "…through these clothes, we emphasise that everything a human being does is important. Every aspect of reality can be elegant and dignified. Elevated, and celebrated." A number of subversions took form in supersized leather trench coats that accentuated the upper torso, accompanied by shoulder-boldening turtleneck sweaters, to wool coats with hemline and armband-placed mohair detailing. But this wasn't about learning how to swim, it was about channeling your inner daily confidence through bold silhouettes and trousers so long they ruche at the base — cool for any individual at any age — and exactly how legend Jeff Goldblum showcased by closing the show. The new trend that's been here all along: wearing your importance. 
It was always about more than clothes for Virgil Abloh, who took storytelling beyond its greatest heights. For Louis Vuitton Menswear Fall/Winter 2022, a playful set design of the Louis Dreamhouse™ by New York-based studio Playlab set the tone for Abloh's ongoing ethos of bringing adults back to childlike wonder, featuring a kingsized bed and banquet table with a live orchestra providing the collection's score led by Tyler, the Creator and Benji B. Beyond the typical runway, performers directed by choreographer and artist Yoann Bourgeois bounced from trampolines amongst stairs leading to nowhere, whilst models walked in atypical fashion. The collection presented full-look suits in a varietal abundance of floral, velour, jacquard, tie-die, and graphic-heavy prints with interceptions of juxtaposed colour in caps and sneakers. The endless nonverbal cues of Abloh's genius in design were most heavily seen in the collections full white final looks with hybrid lace wings structured as kites. "There is no limit", as the designer previously noted, and certainly continues to be even after his passing. What was most fascinating and sincere about Abloh's work was his conceptual surrealism embedded in reality. Even as he was designing in the present, he was looking to the reality of the future of fashion. In his shows, its believable that his talent would wear and actually belong in the clothes — unlike other brands whose models' lives seem to far from what they're trying to sell. And that's the point right there — Abloh was only bringing to light the realness of what already exists.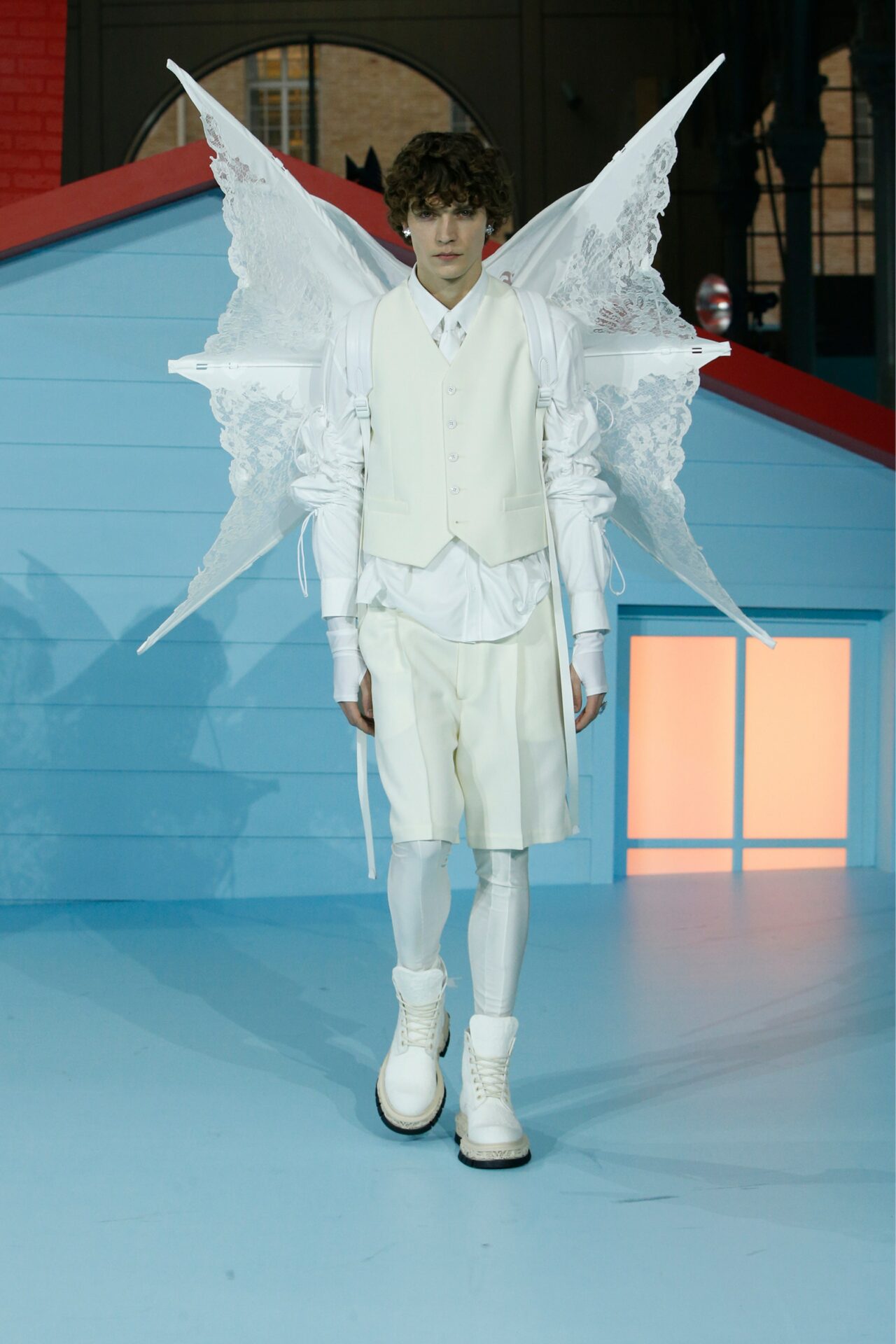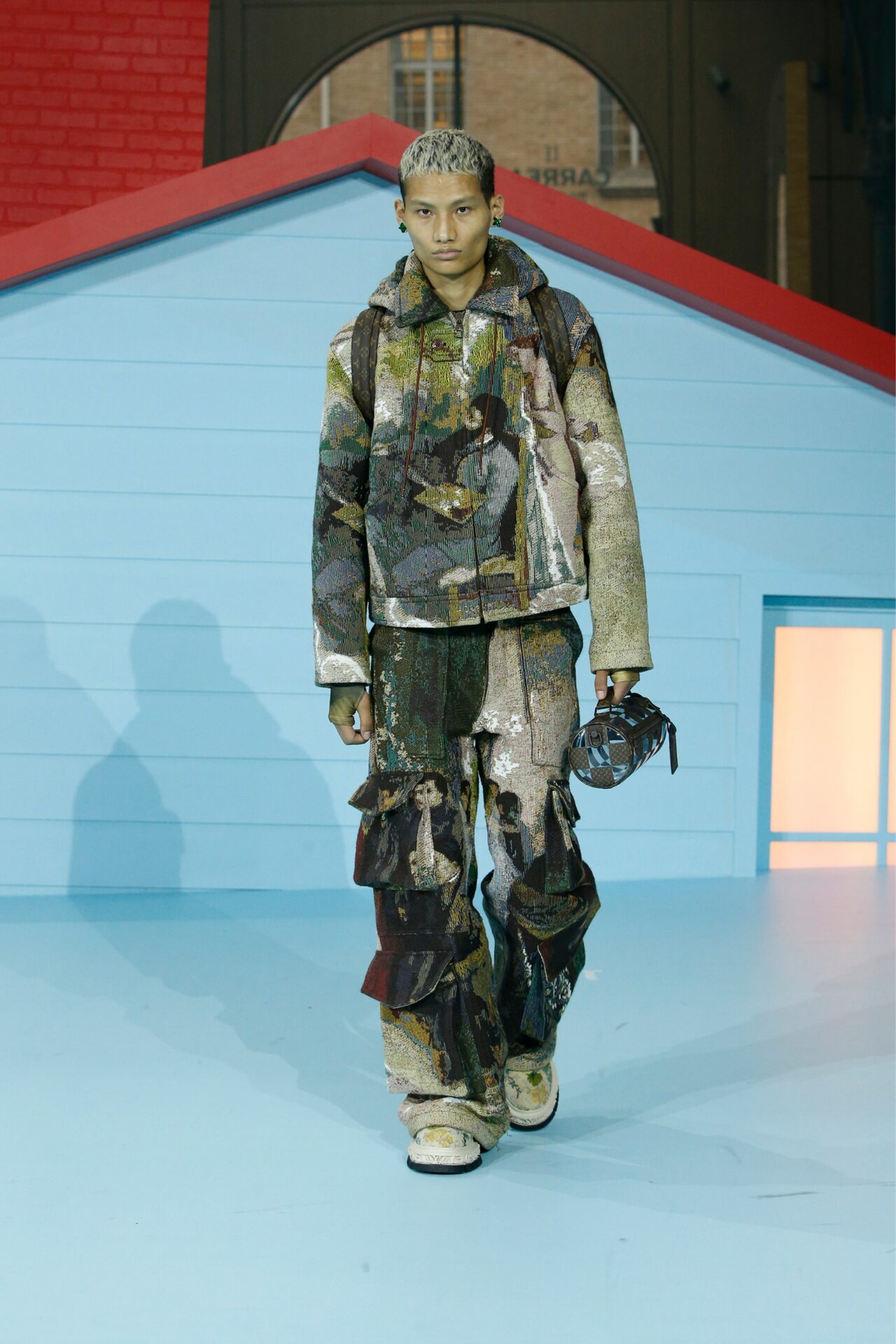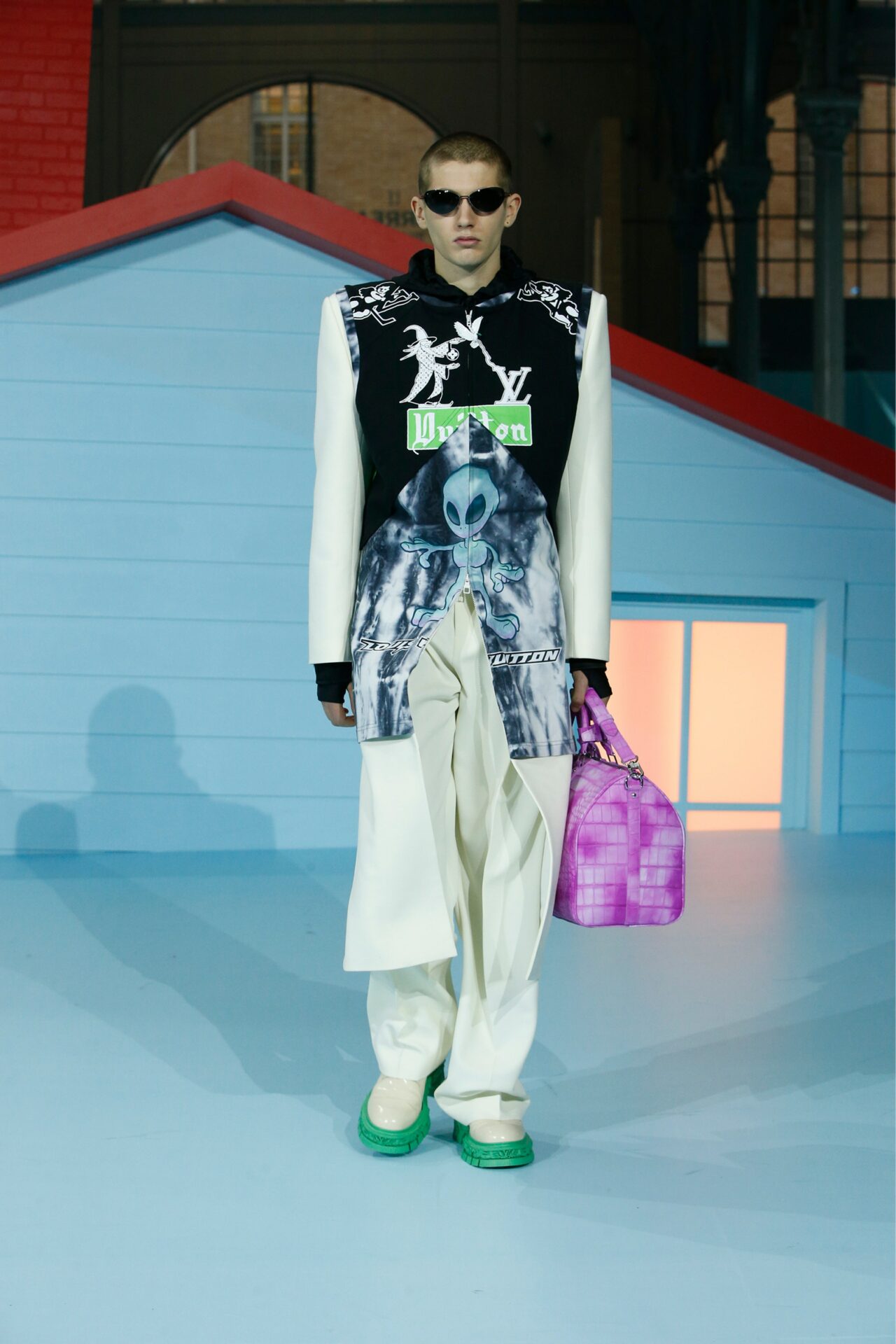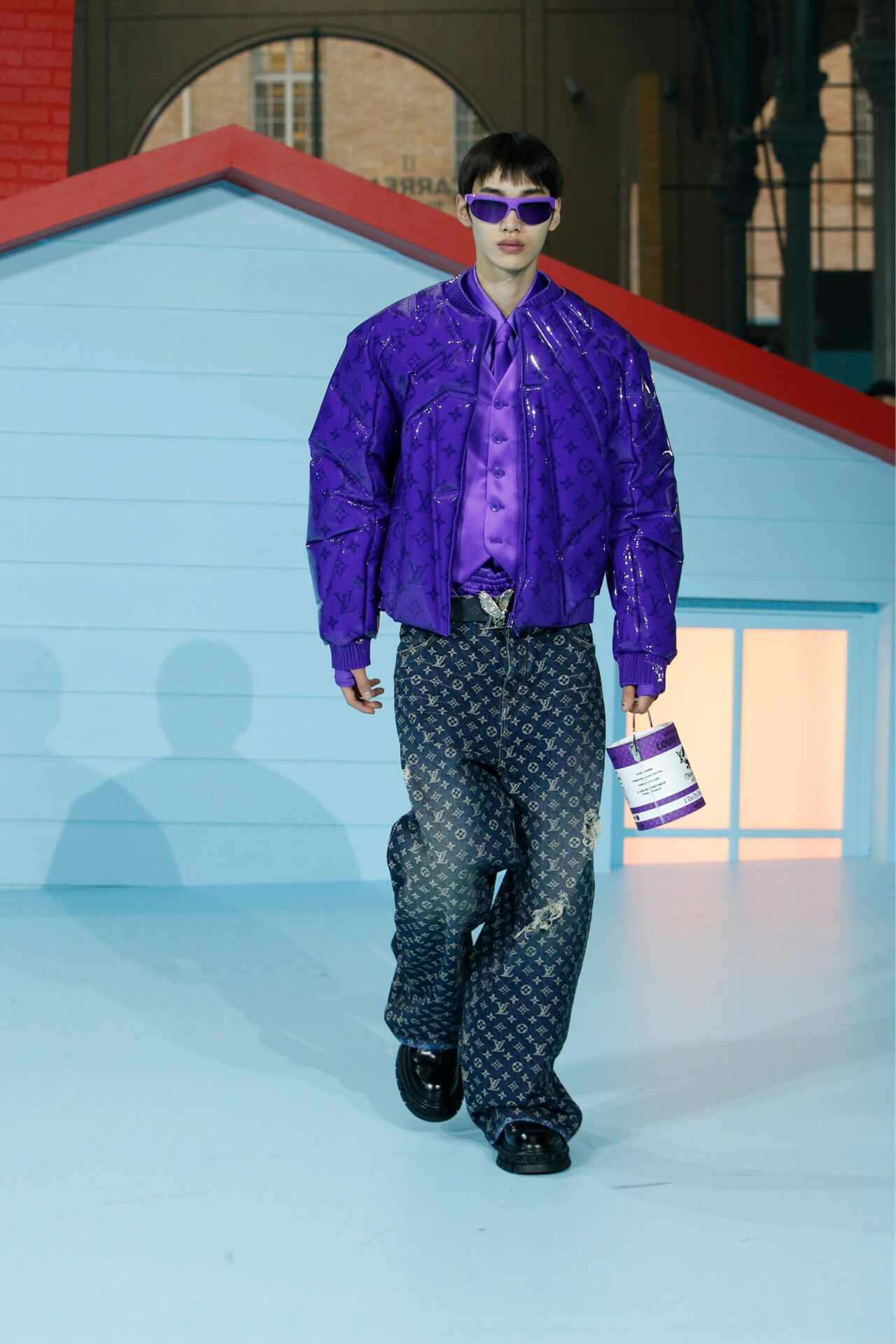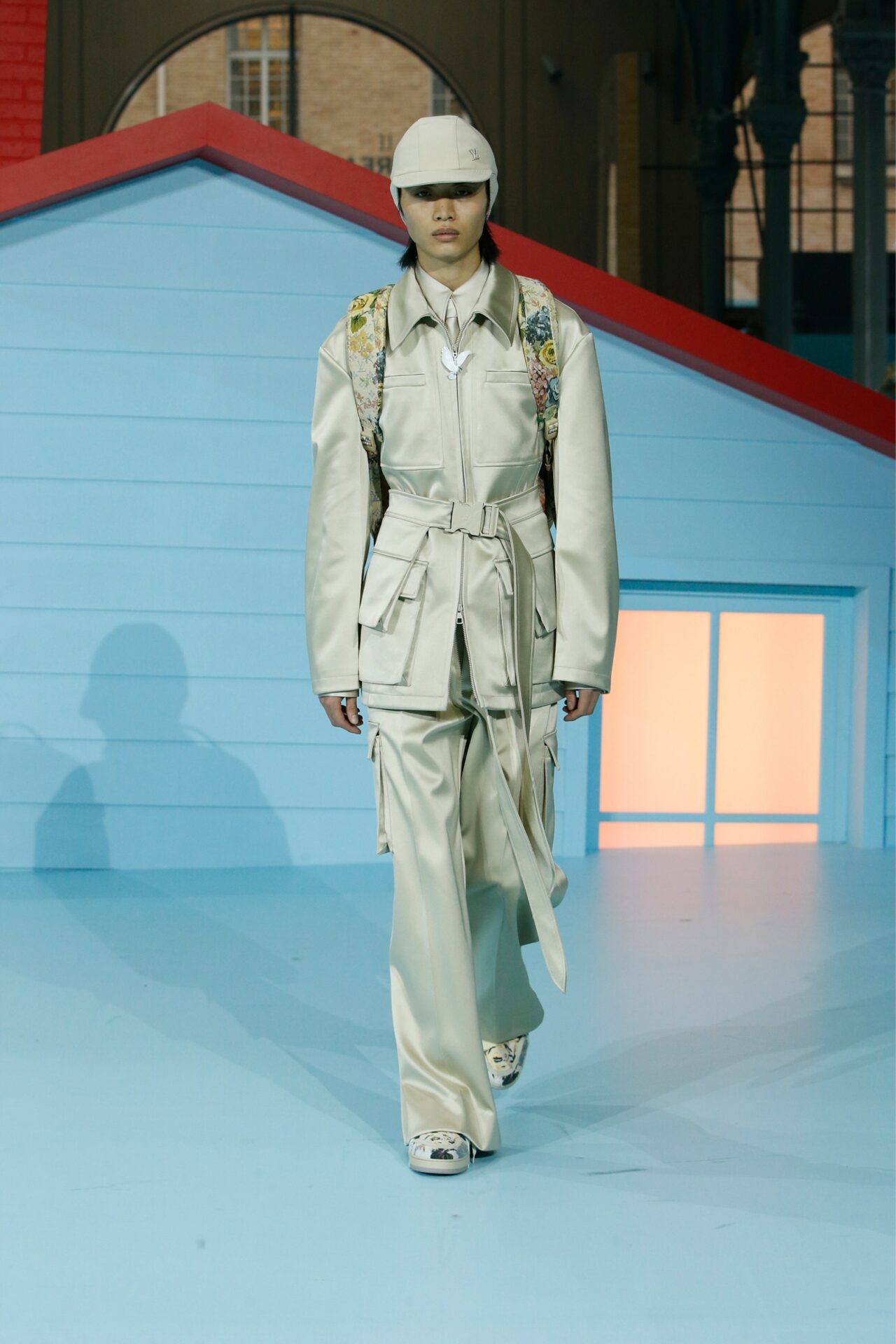 A surprising new twist begins — one where Jay Kay, the inimitable frontman of 90's acid-jazz ensemble Jamiroquai plays head inspiration for Japanese designer Junya Watanabe MAN's Fall/Winter 2022 collection. Set to the entire seven-minute remixed version of Virtual Insanity by Kenji Takimi and Gonno. Through recreating the same vortex-like tiled room, models wore Watanabe's familiar reconstructed patchwork denim or cotton trench coats, yet with the core of the collection being the vividly coloured prints and Native American-inspired tribal interwoven patterns. Woollen anoraks were paired with oversized faux fur headwear in prints courtesy from Jay himself and Pendleton. The collection showcased Watanabe's genius in redefining concepts and existing structures — and all whilst having fun by what inspires him most.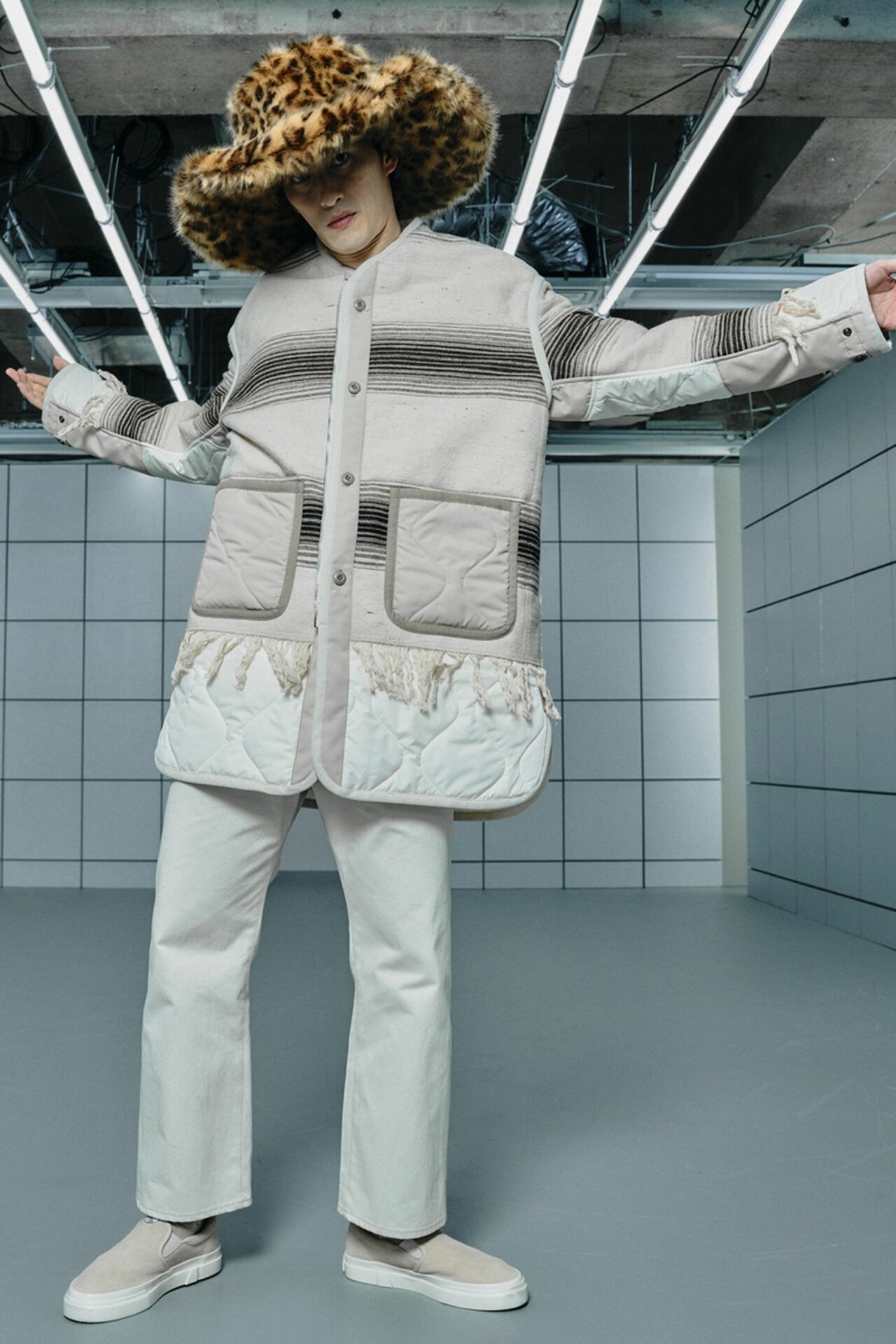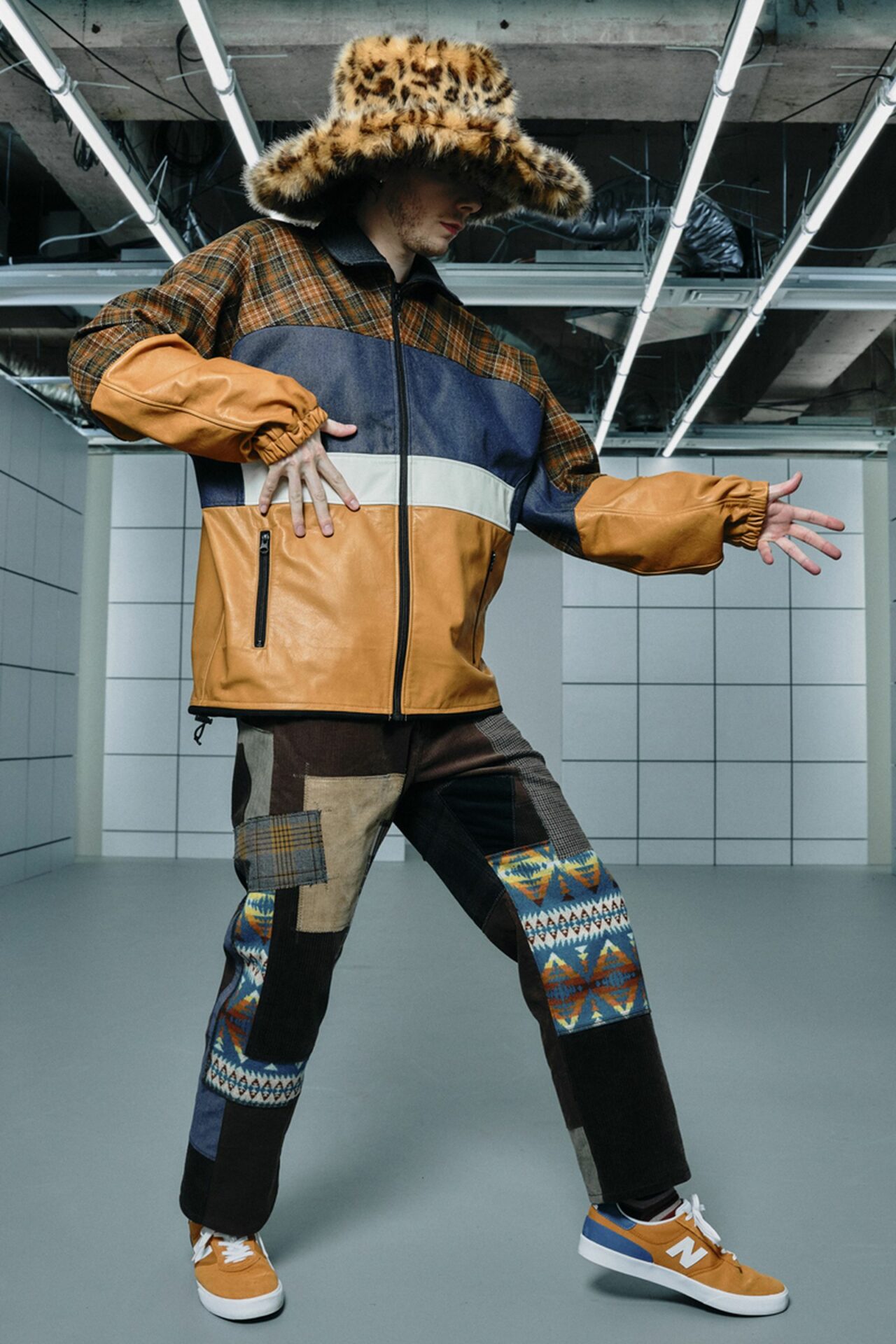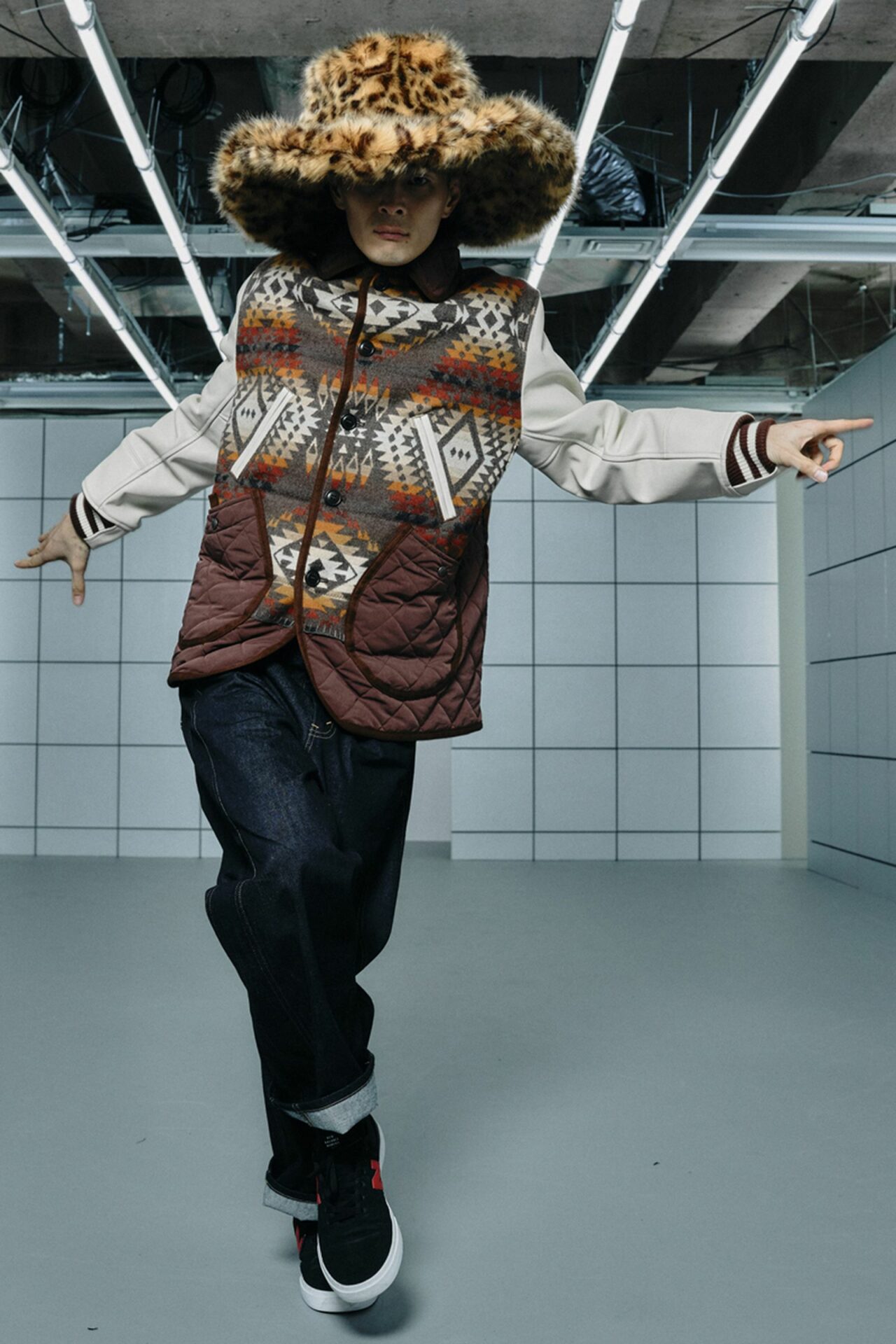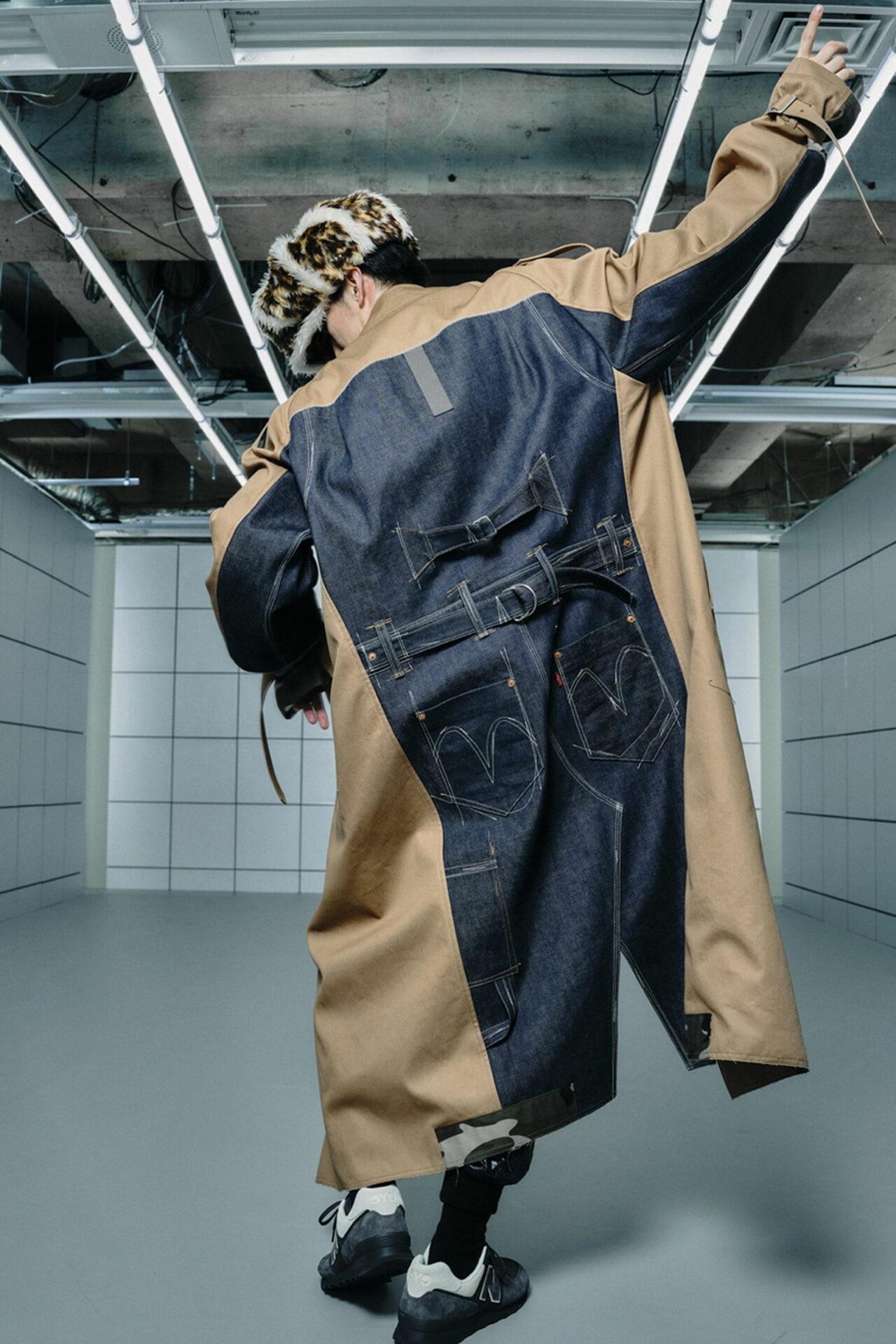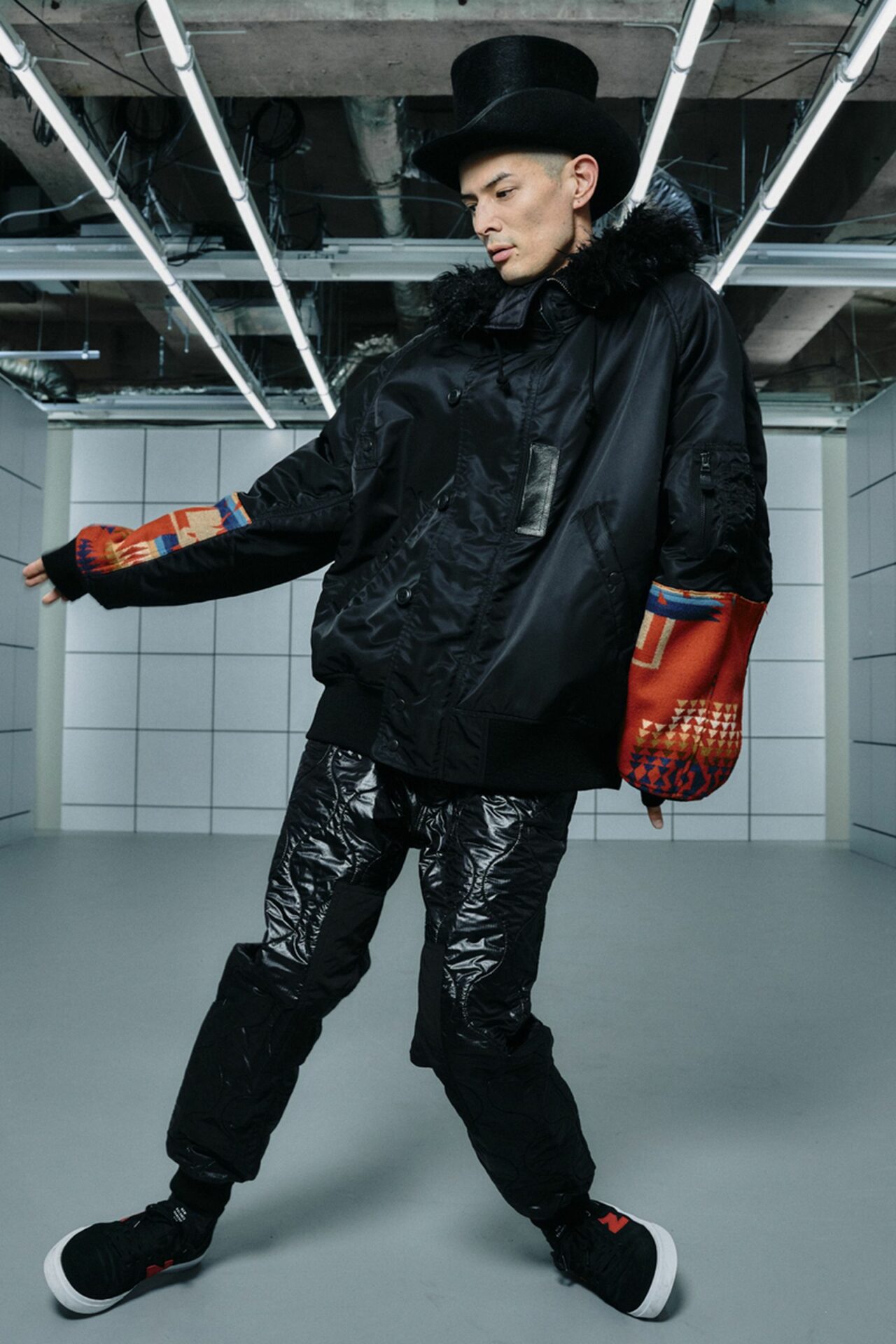 HOMME PLISSÉ ISSEY MIYAKE 
Premiering online to a soft jazz note building with budding anticipation in metronomic timing to a lively melody akin to Jun Miyake's Lillies of The Valley, viewers were drawn to a slow-motion zoomed-in view of pleat detailing paired with models slowly moving against a gravitational pull. Titled A Work Of Arc, the HOMME PLISSÉ ISSEY MIYAKE AUTUMN WINTER 2022/23 collection pares down the pleated garment to its foundational fabric and structural frame likened to the basics of a tent, reflected in each of the collection's series: ARC, BOW, FLIP COAT, FRAME COAT and LANTERN. Whilst ARC presents its pleated garments with exaggerated folds with more prominent and rounded corners in shoulders and elbows inspired by the tension of a pole holding up a tent, it is the LANTERN series that presents a visually-arresting print inspired by the shadow and light glowing through its cover. We all remember the ebullience of camping along with the function of providing shelter against external elements — in the same way in a sense it's the same role our clothes play — providing both joy and refuge.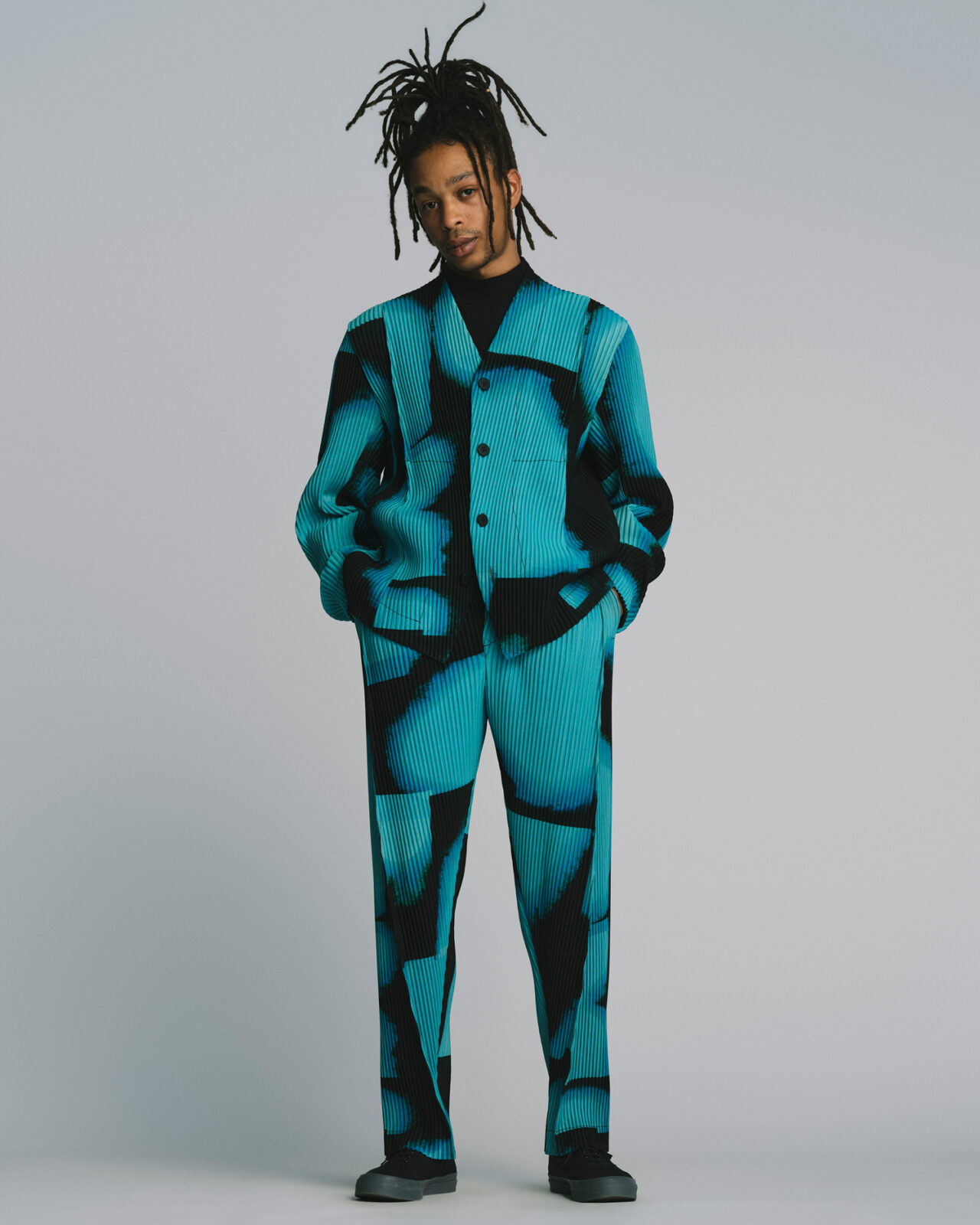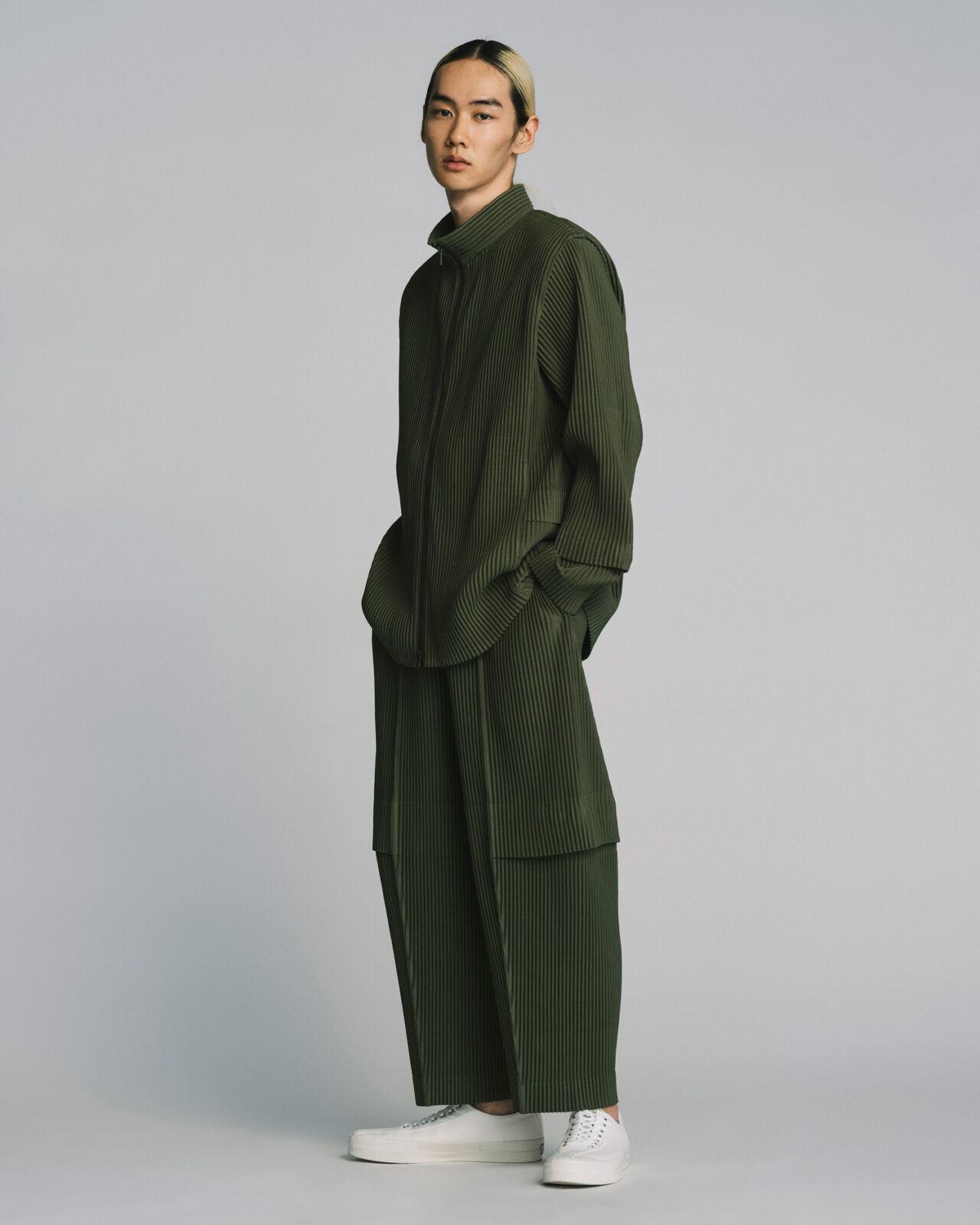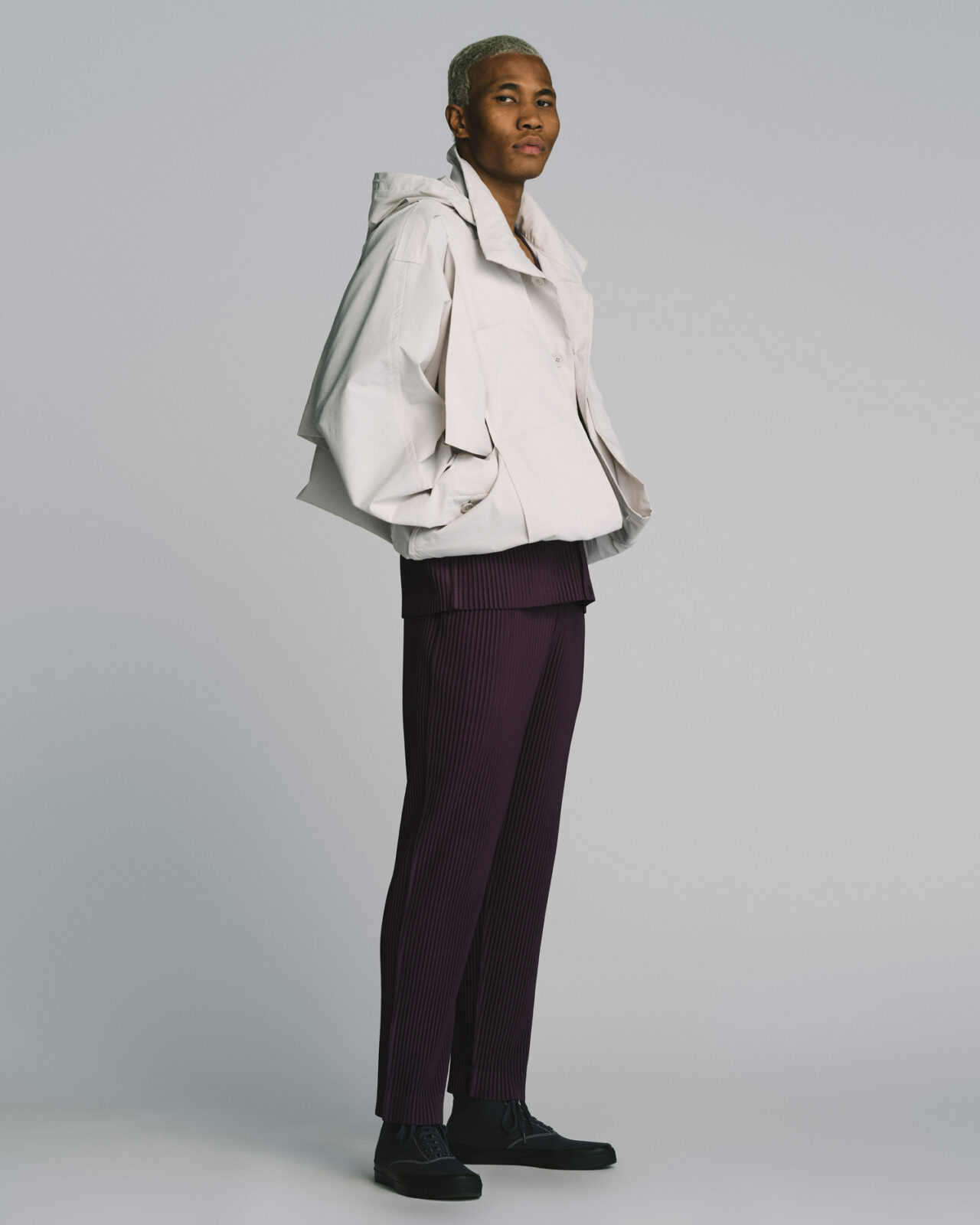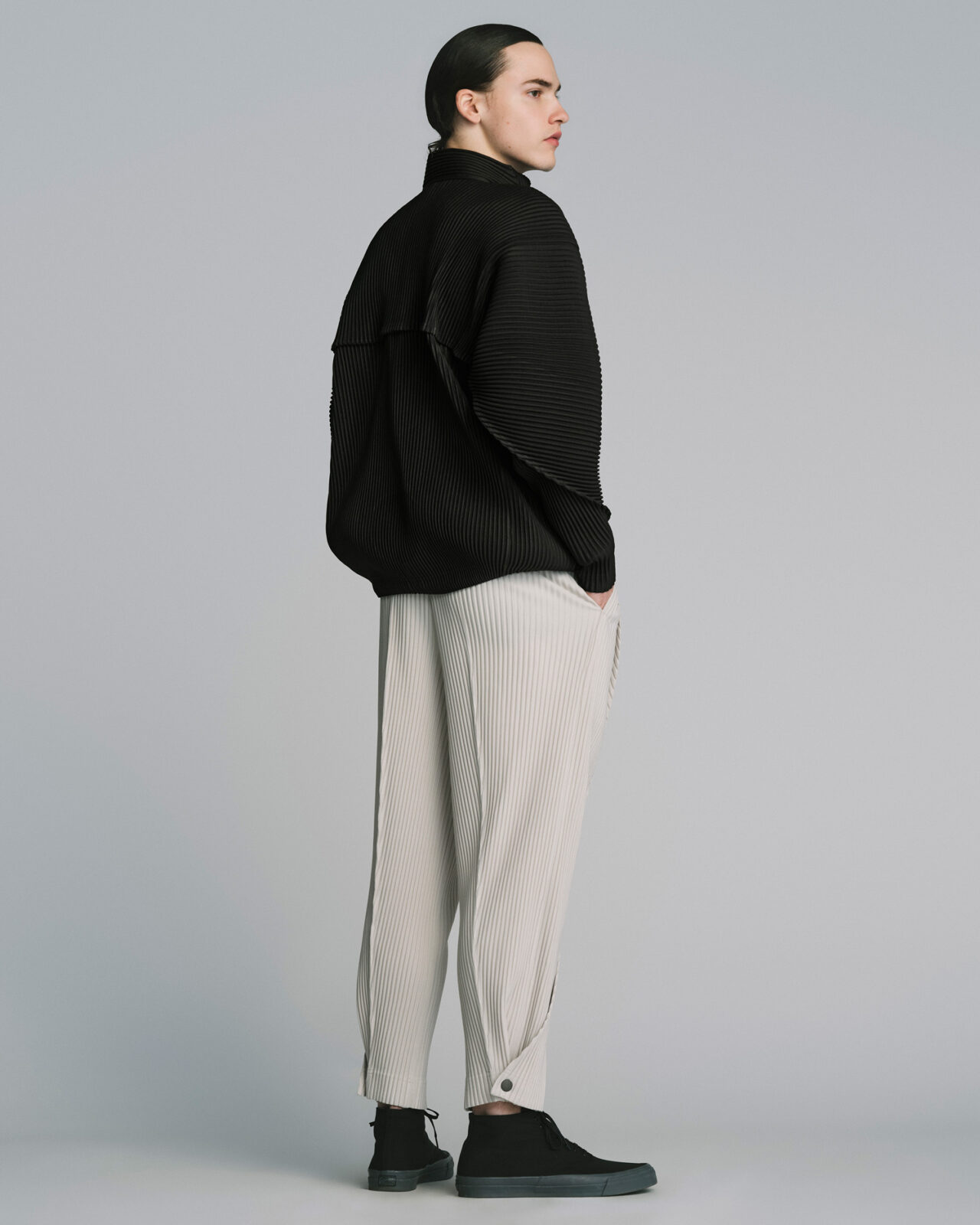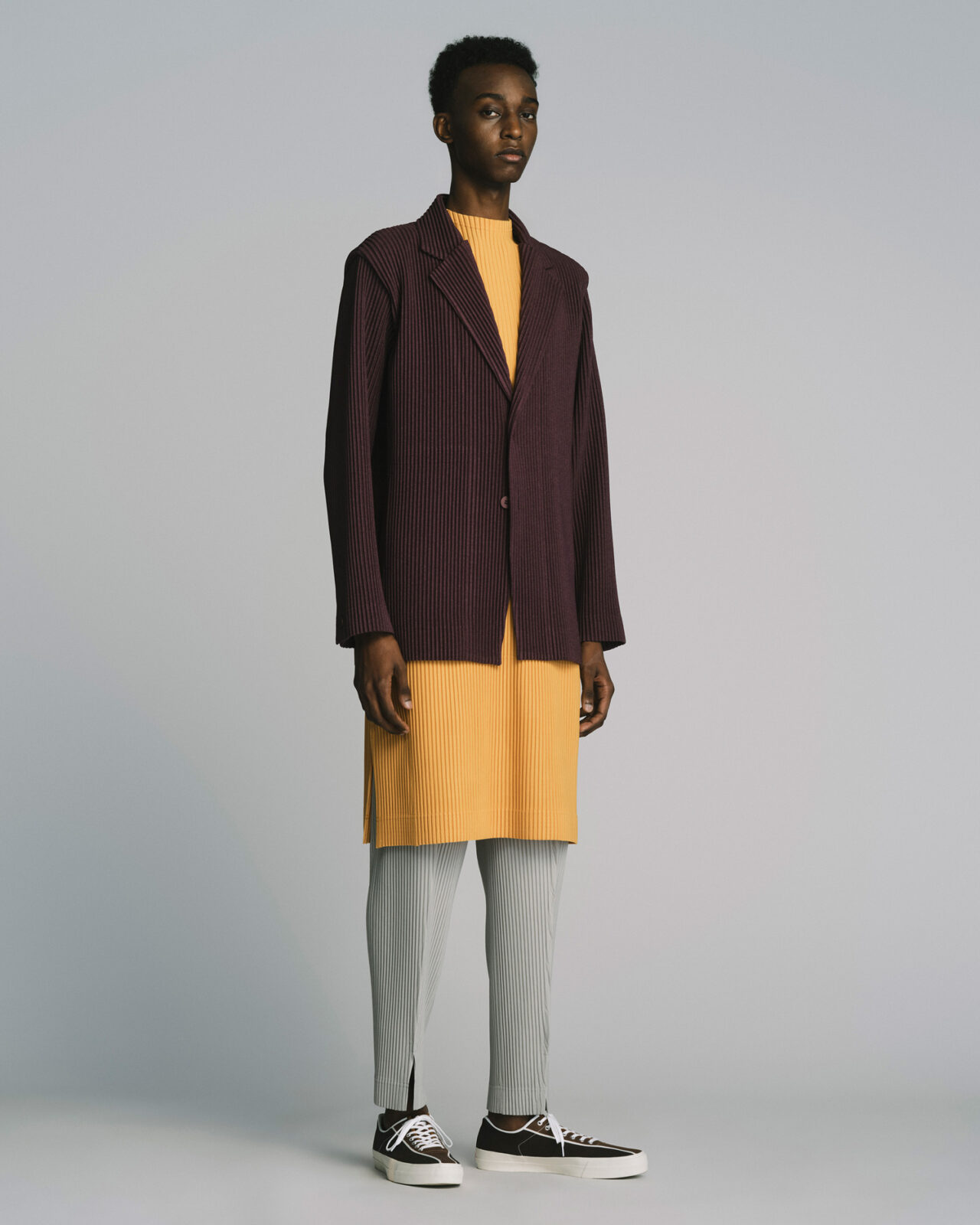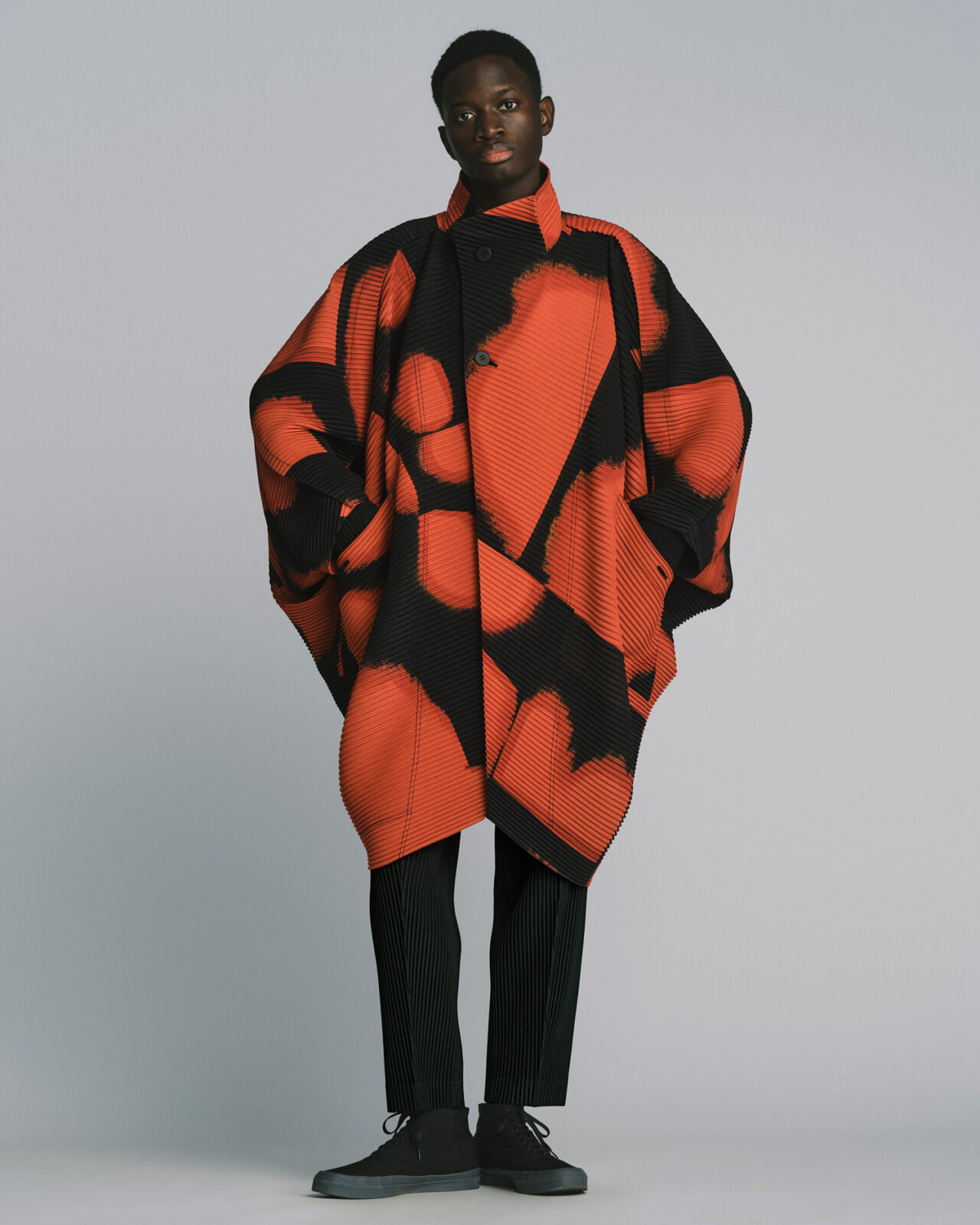 London-based menswear designer Bianca Saunders made her Paris Fashion Week debut for FW22 with A STRETCH, featuring sensual silhouettes and classic tailoring redefining any preconceptions of masculinity. Now this is speaking to the twenty-first century and beyond. With mind-bending prints to form-fitting turtlenecks and re-proportioned trousers and denim shirts — even trouser belt buckles were positioned on a side hip avoiding any typical symmetry. Saunders' has introduced her collection for the modern man — suavely unique yet revelling in subtle timelessness.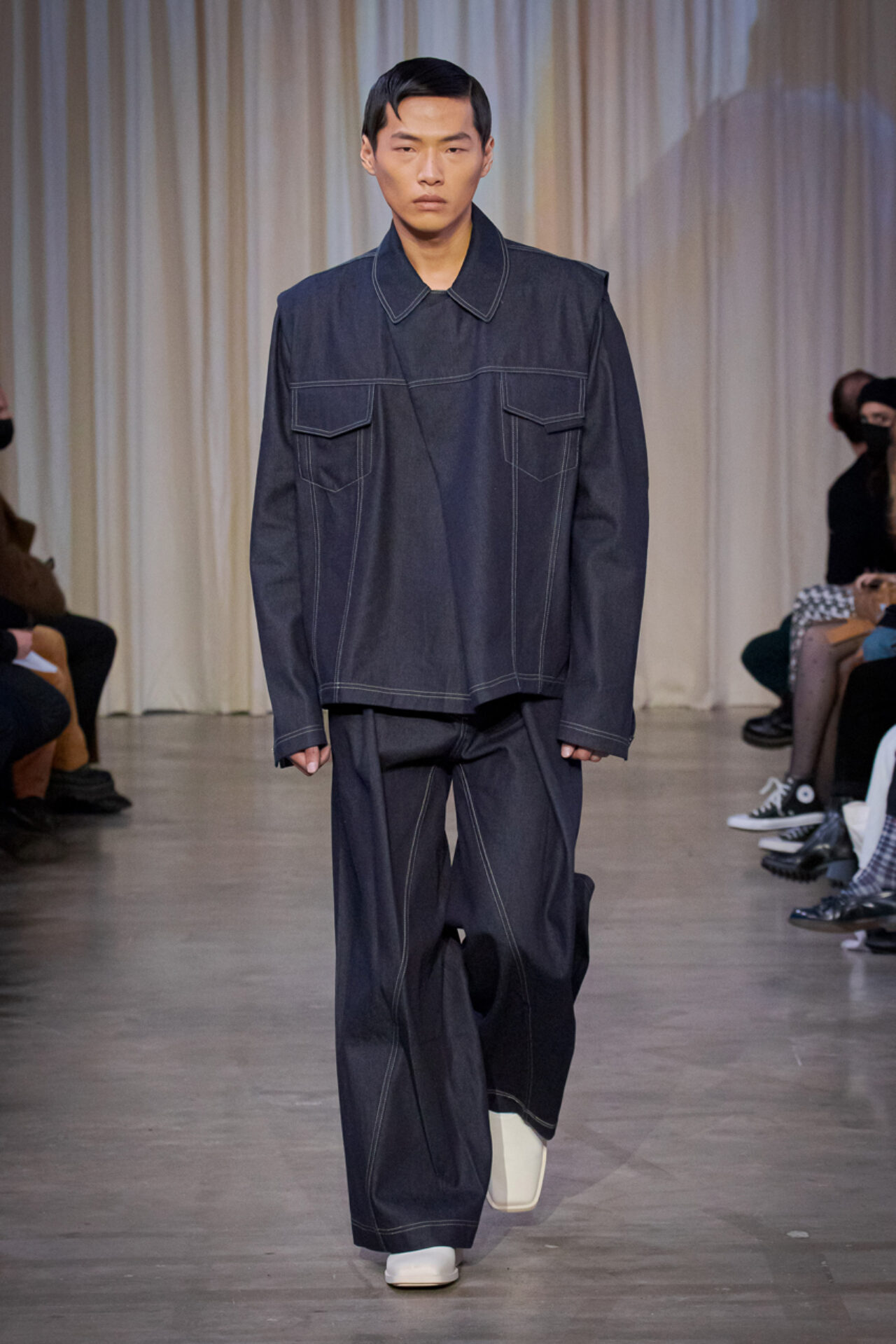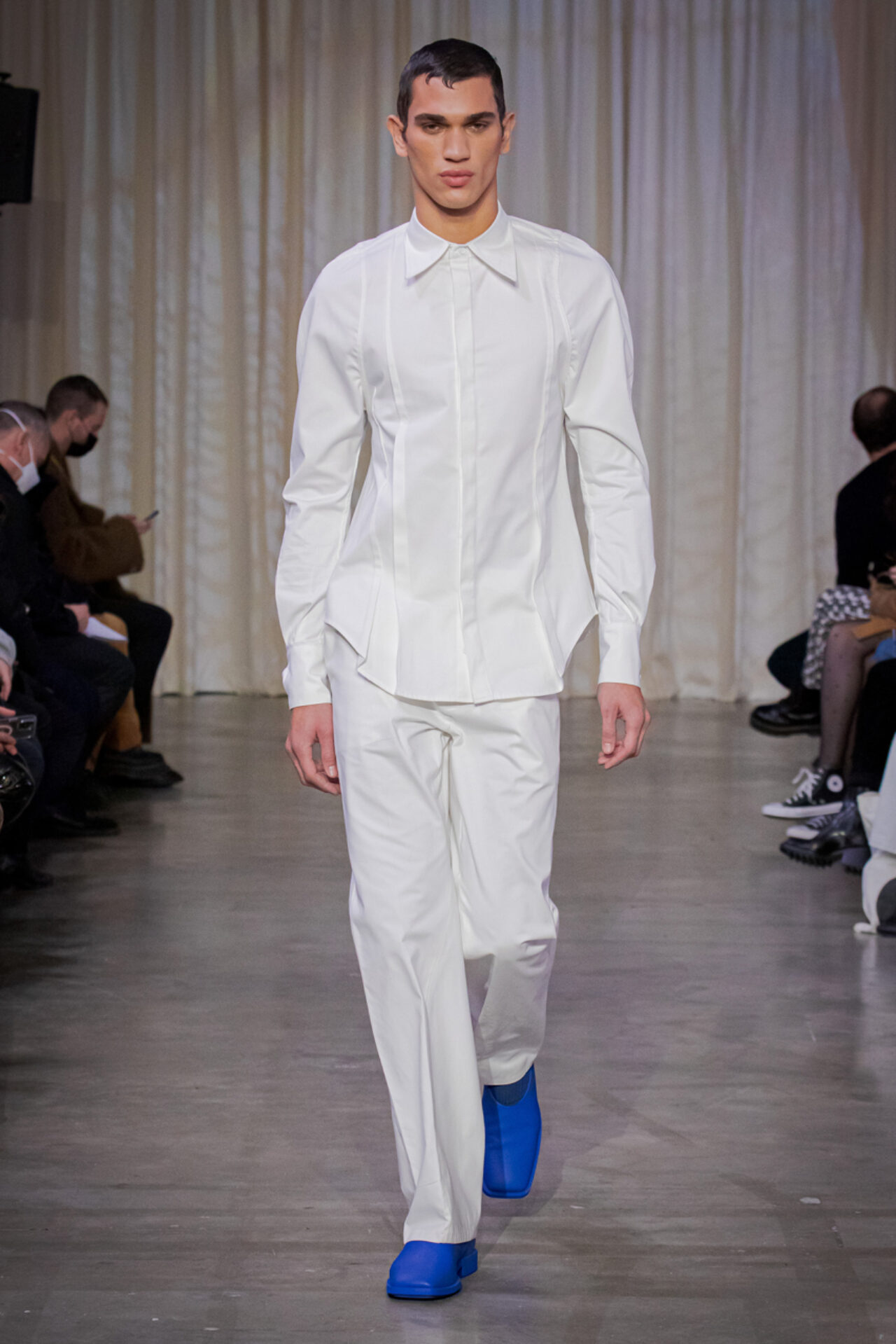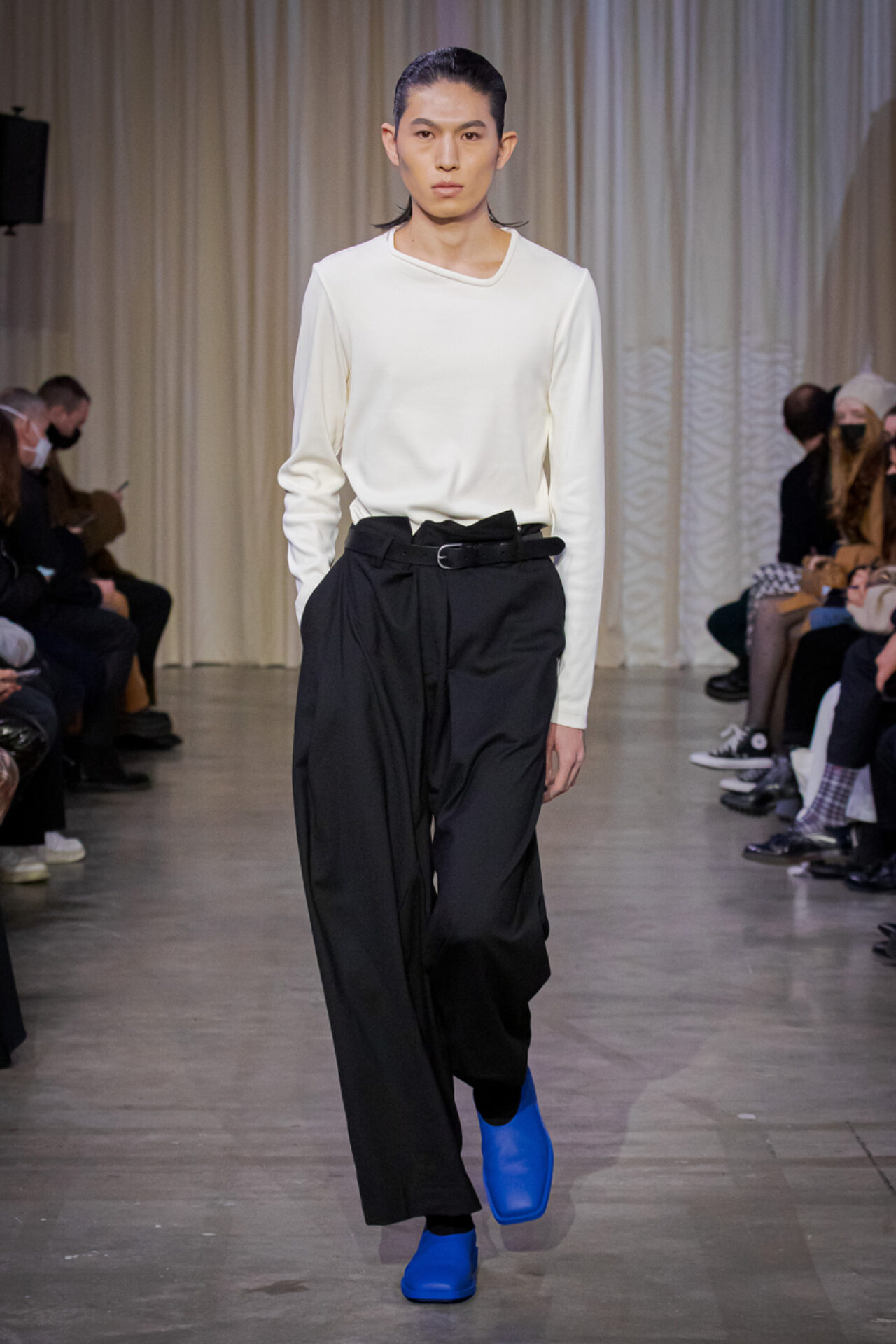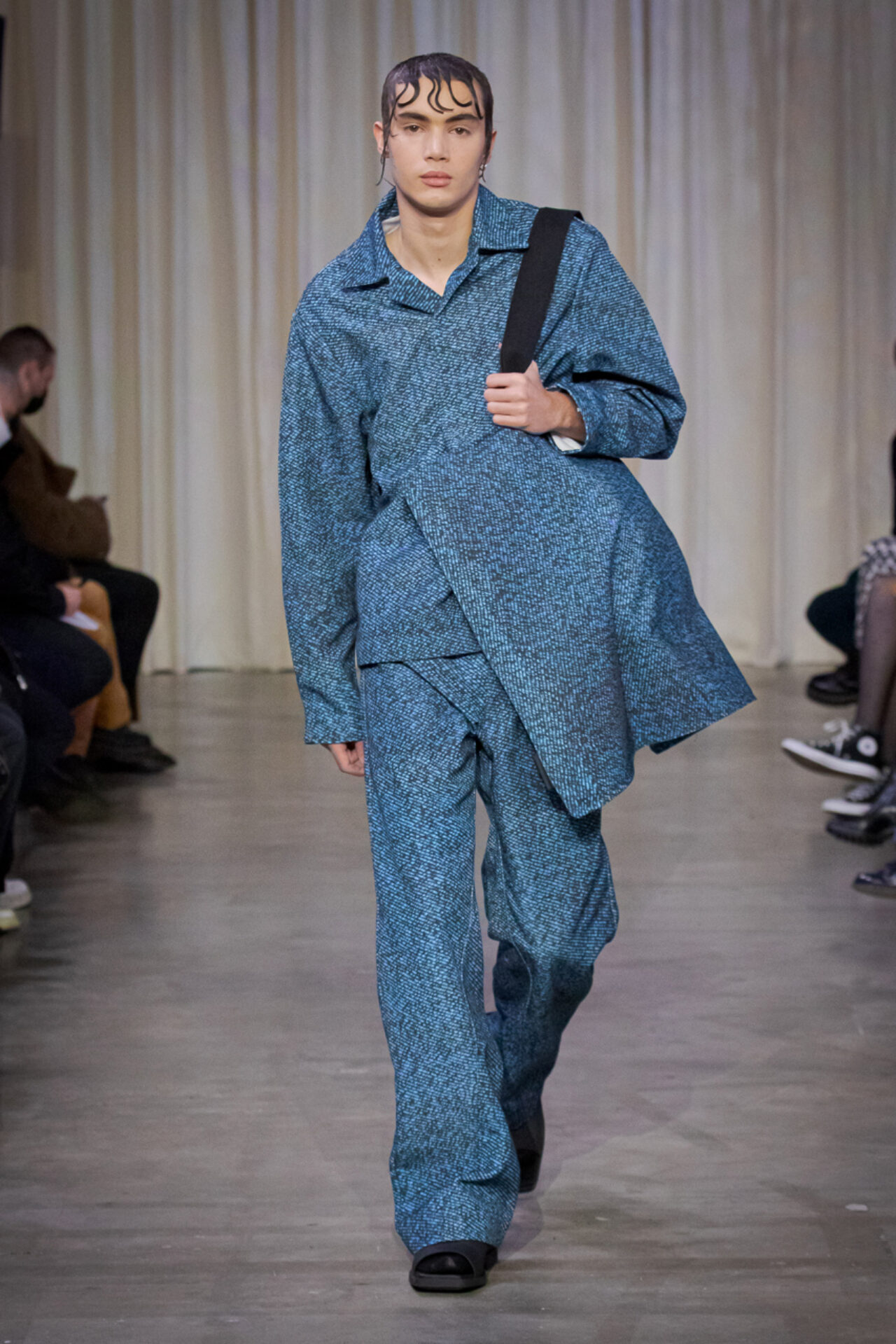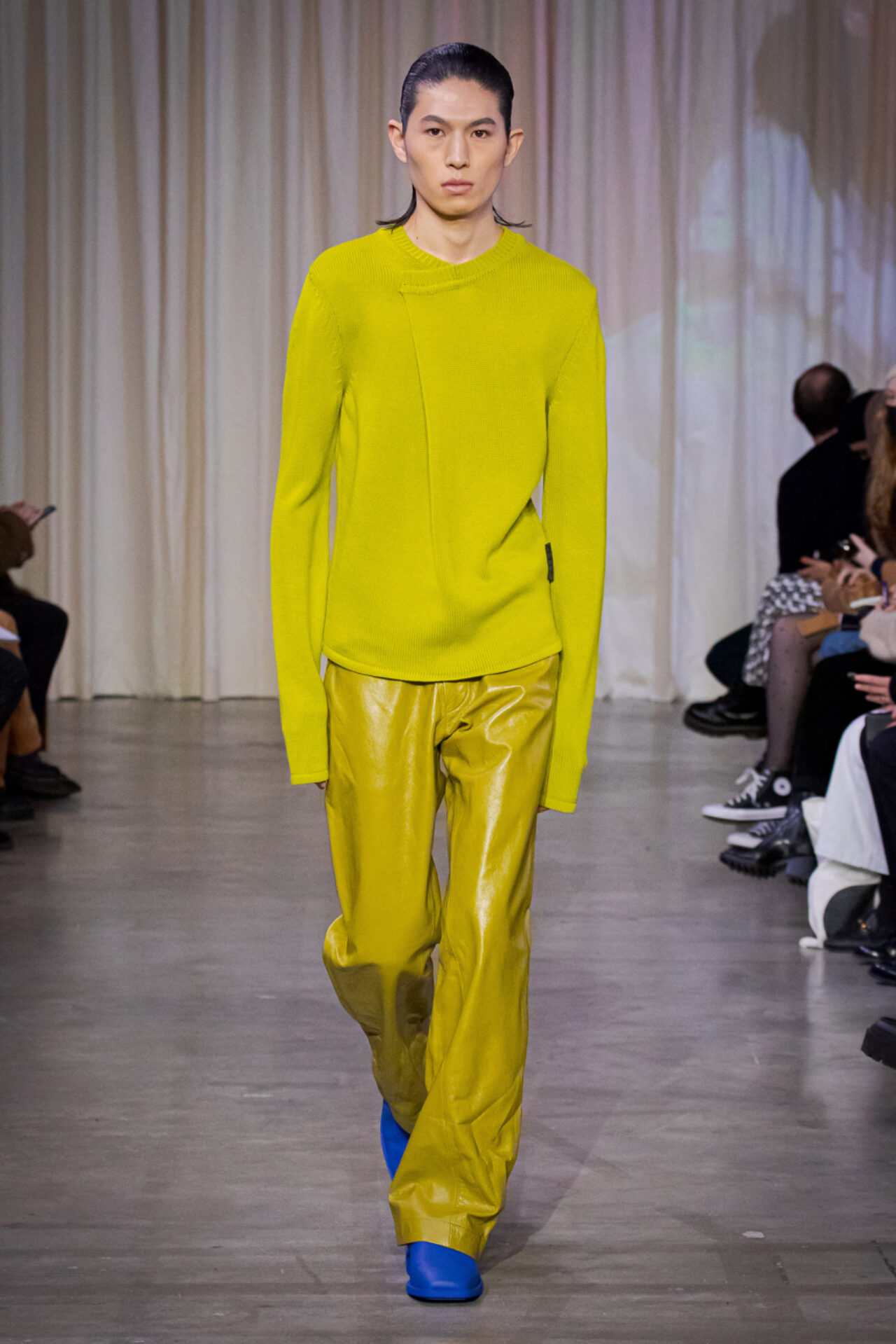 With the luxury fashion industry being completely redefined in the past decade, one thing remains the same — it has always been an extension and reflection of the times. With exclusivity being a notion of the past, it's all about creative inclusivity, collaboration and connecting with contemporary culture rather than a far away fantasy — and then, executed with utmost craftsmanship with luxurious textiles and design. Now with Japan's originator of streetwear NIGO at the helm of the famed luxury fashion house in his first season as Artistic Director since founding designer Kenzo Takada's death, he brings with him a wealth of knowledge in fashion, workwear, denim and vintage from his extensive personal collection and archive — as well as delving into the deep KENZO archives — paired with an intuitive understanding of simply what is cool for the next generation. Oversized styling, bold prints, matching sets… Rather than ready-to-wear, his collection has been dubbed real-to-wear. Yet it is his own connection to the late designer Kenzo that reveals many parallels between the two making him the perfect successor to reinvigorate the brand. Returning to Galerie Vivienne in Paris when Mr. Takada presented his very first runway show "Jungle Jap" back in 1970, as the same year of NIGO's birth. Opening the show with his own upcoming track I know NIGO, the mens and women's Fall/Winter 2022 collection featured mixed tailoring, aviation jackets and Ivy-inspired graduation jackets featuring Takada's own drawings. Find an abundance of floral prints and an ode to the brand's heritage with a featured tiger motif (also often found also in NIGO's HUMAN MADE) and a renowned iconic of KENZO, emblazoned on jackets and featured on bags. Honoring the past, but looking fast to the future. It's NIGO's own authenticity driving this exciting new change. Personally, this is a very exciting time for fashion and we cannot wait to see more.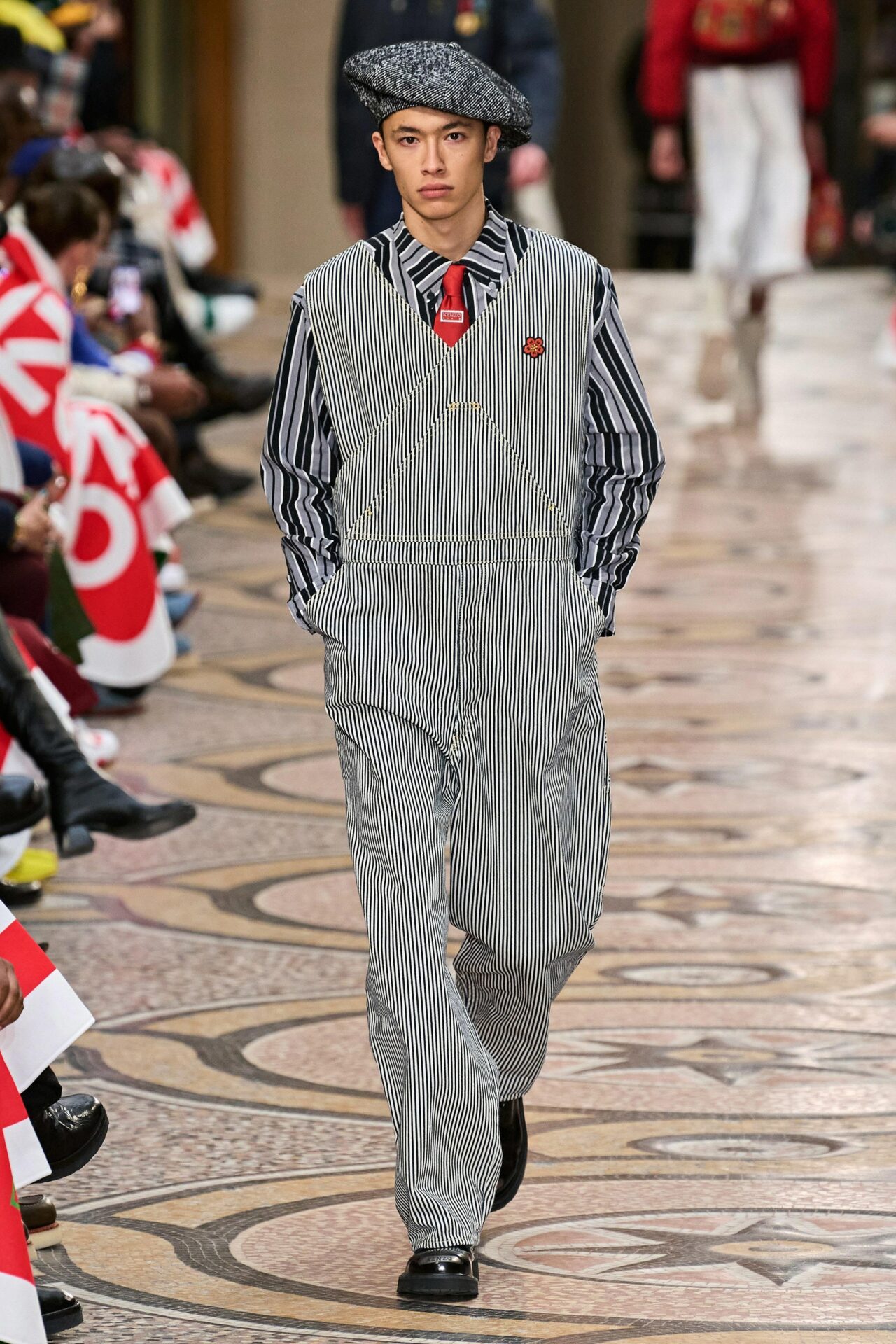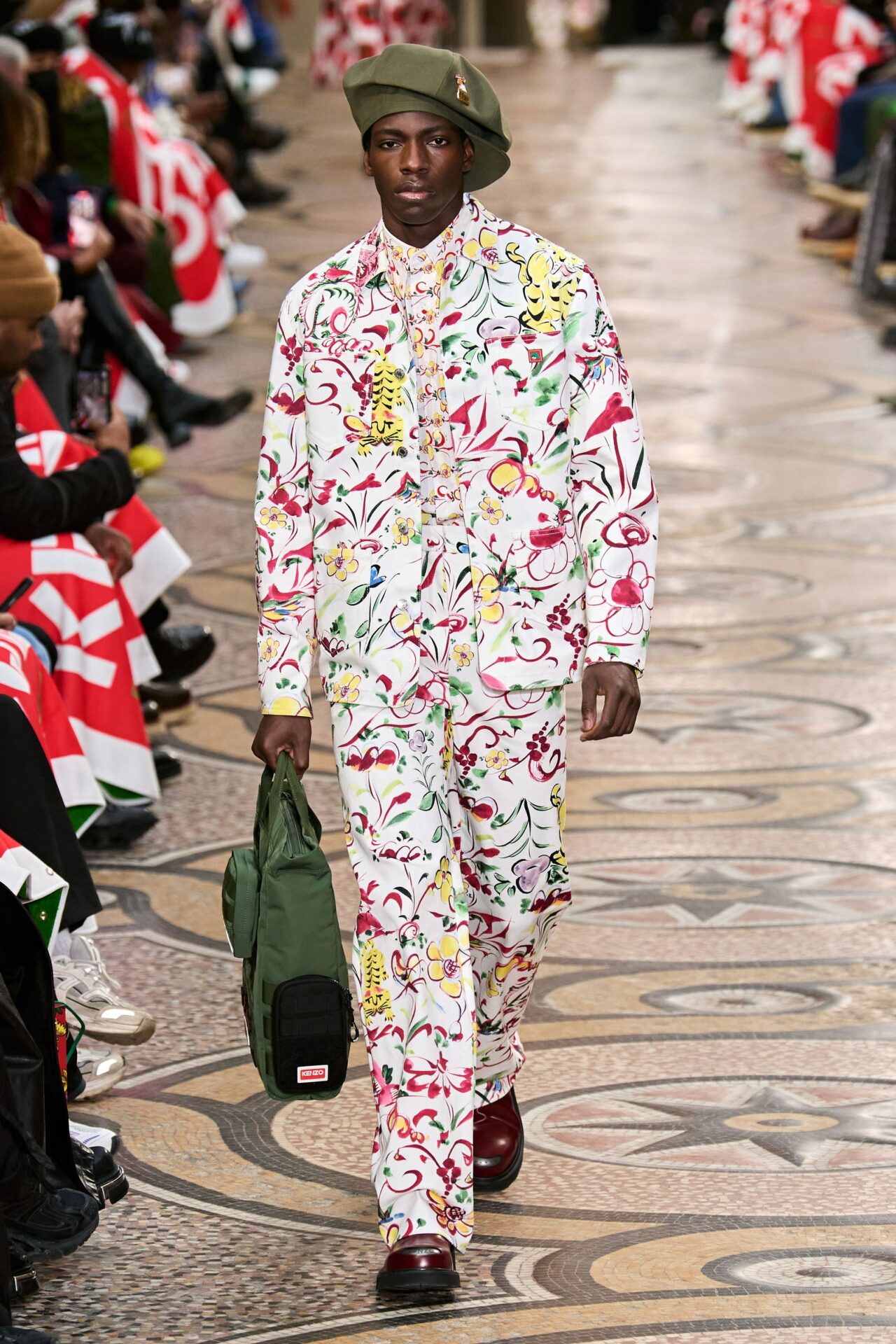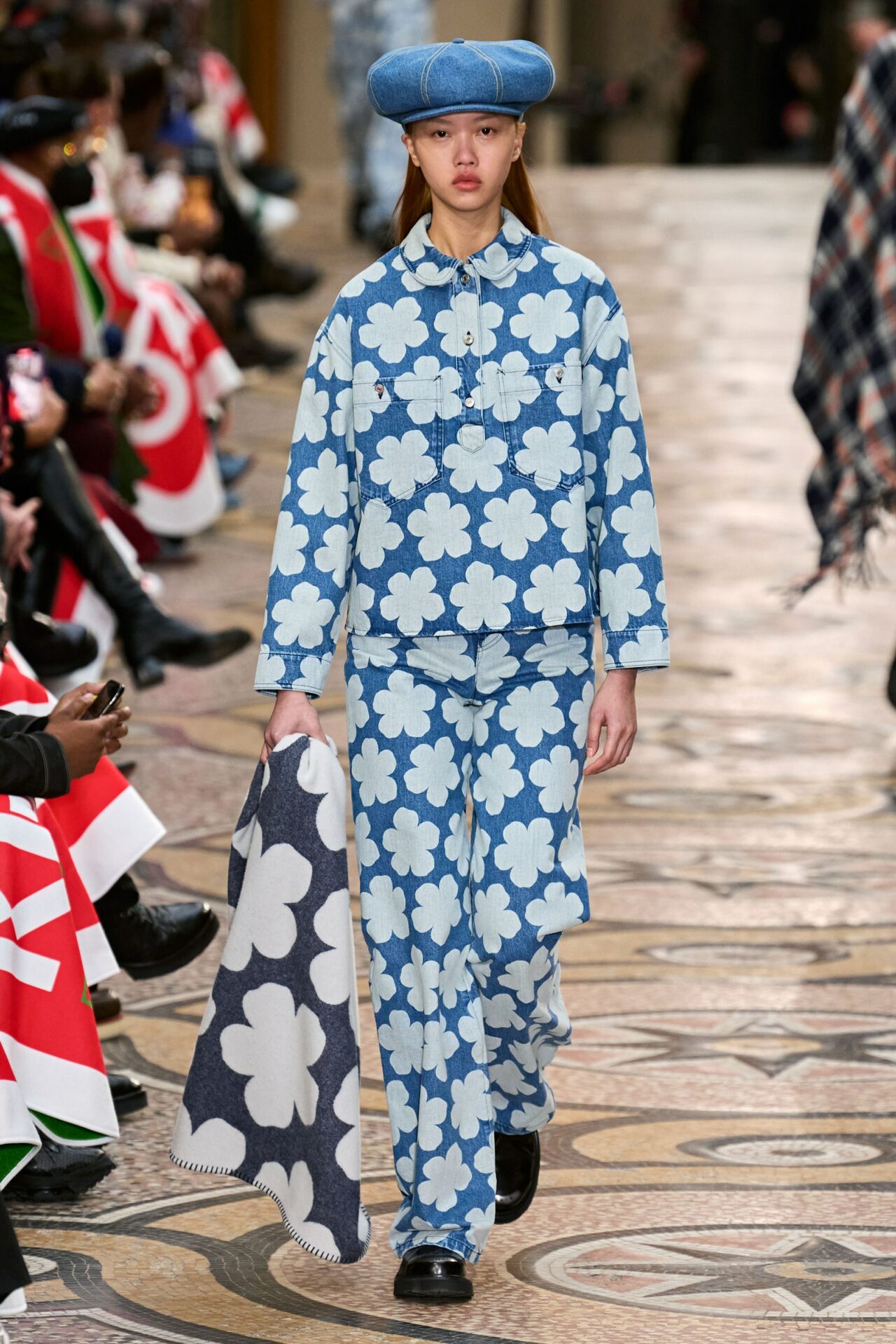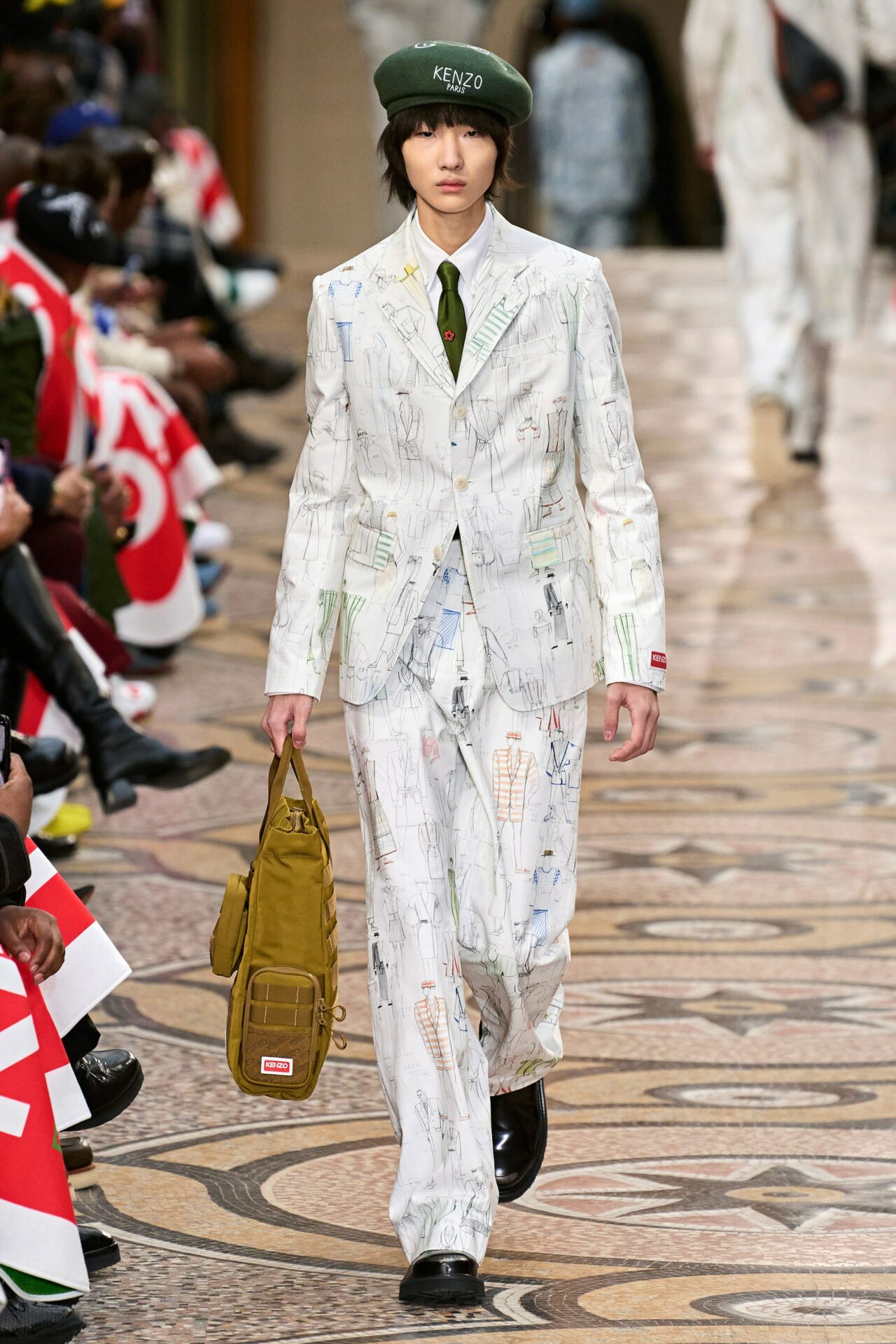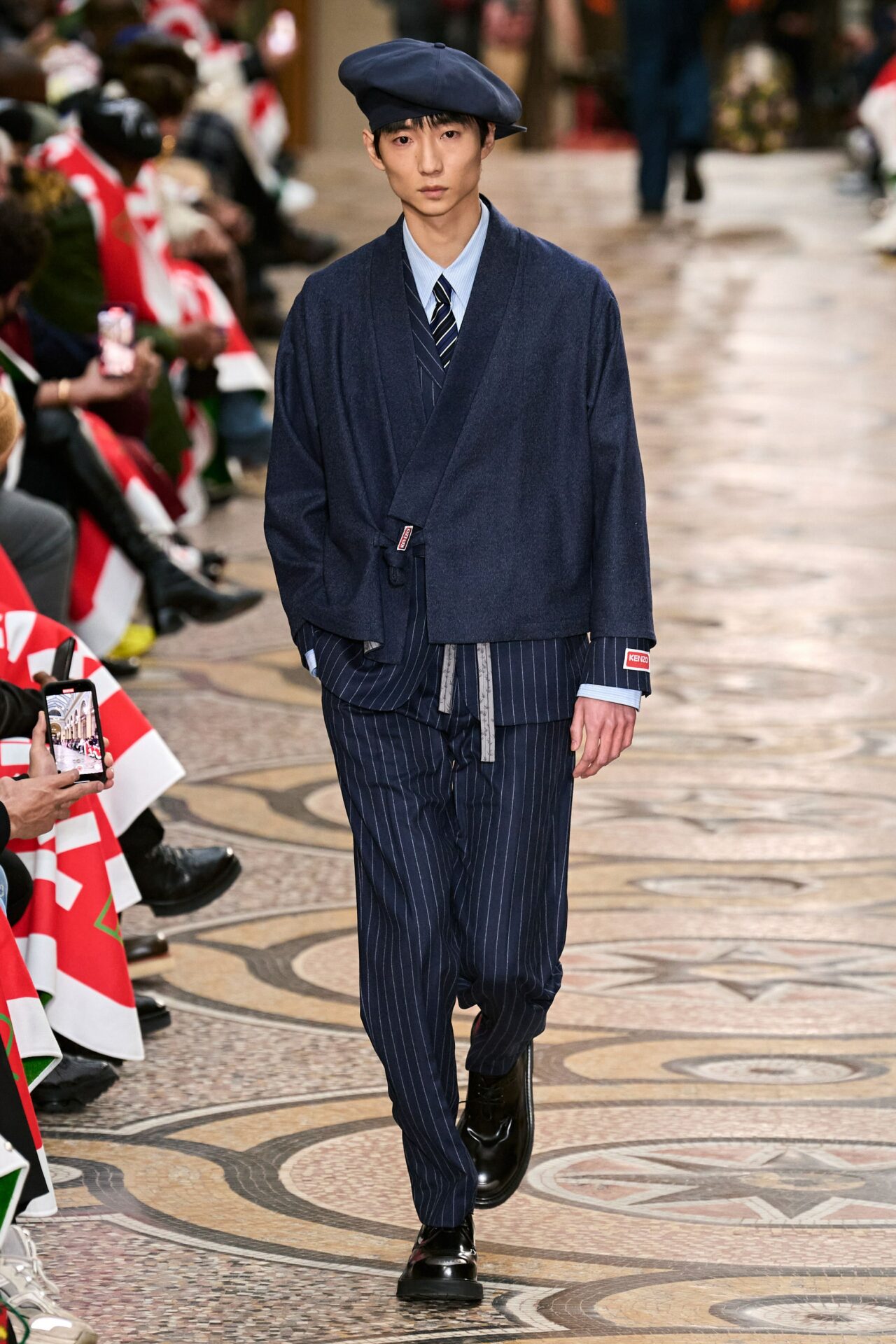 Presented alongside an expansive rugged cliffside landscape in Japan's Miura-ken, Japanese brand WHITE MOUNTAINEERING led by designer Yosuke Aizawa, channelled the crisp ocean breeze and sense of freedom for their Fall/Winter 2022 collection presentation film. Titled, "Sense Of Wonder", the collection featured subverted references to 80's and 90's utilitarian outdoor garments, adapting them for urban city and contemporary wear and blurring the lines between the function of a single garment. No longer defined by its environment, the emphasis is on a well-made and well-designed garments both functionally and aesthetically-striking intended for both urban and outdoor scenes. Yet with Aizawa, there is also always a technical intelligence in his garment construction and engineering. Find removable capes, six-pocket fishing vests, zipper-heavy coats, fire-resistant nylon jackets to Gore Tex-lined suit jackets. Opening with a red and grey check wool series, the collection extended to remixed utilitarian classics across both dark navy and charcoal tones extending to a warm palette from nature — beige, browns, stone greys… Timeless.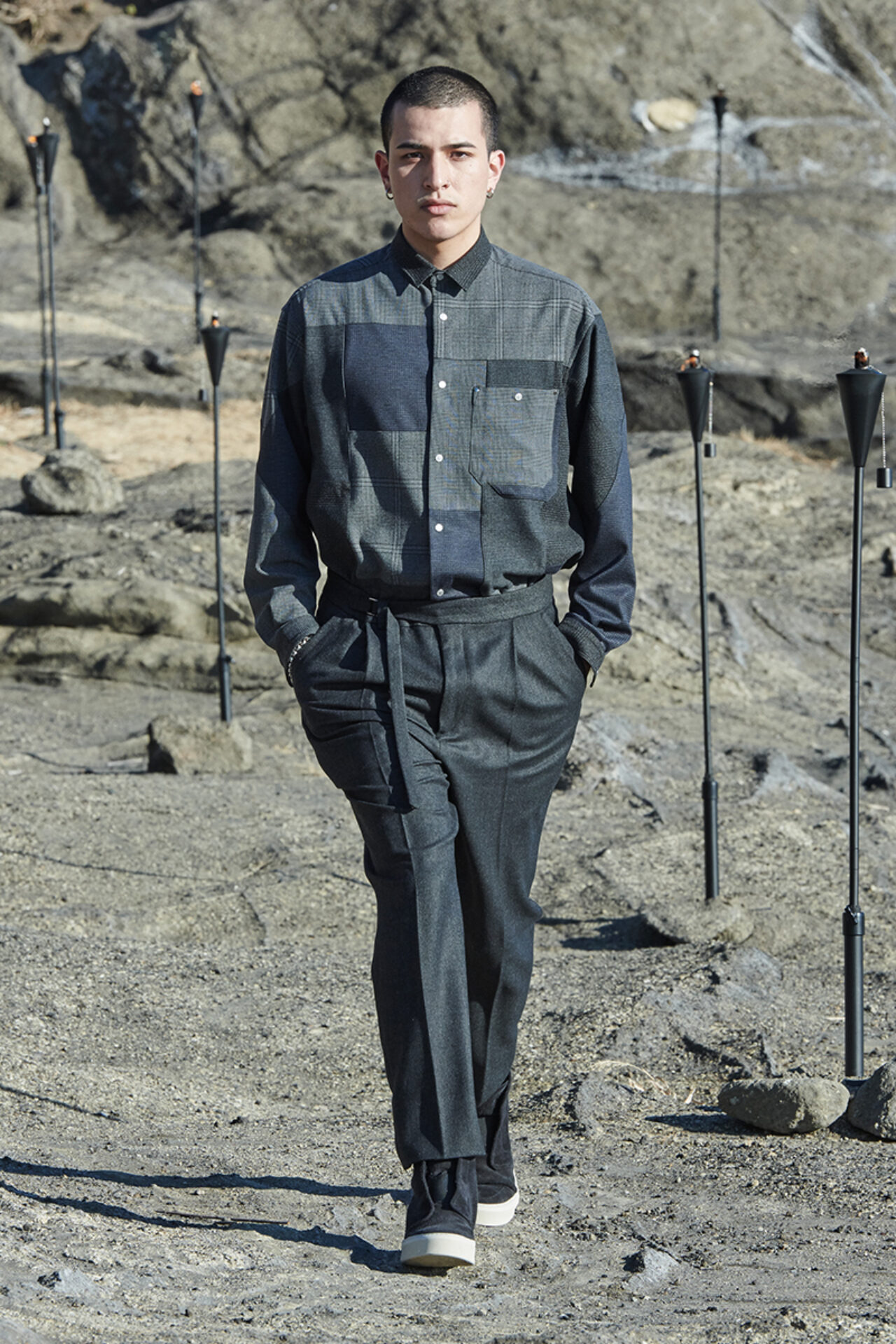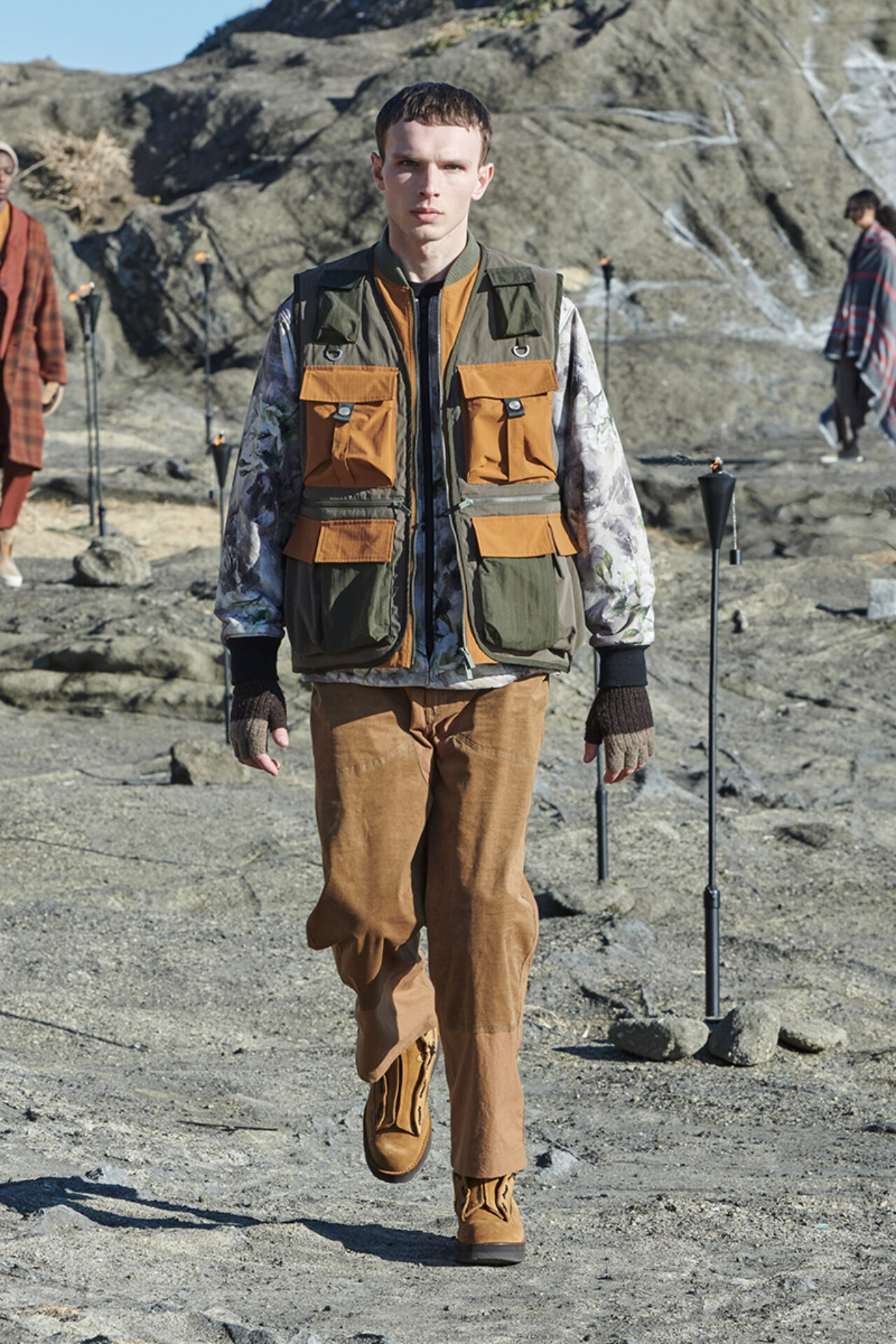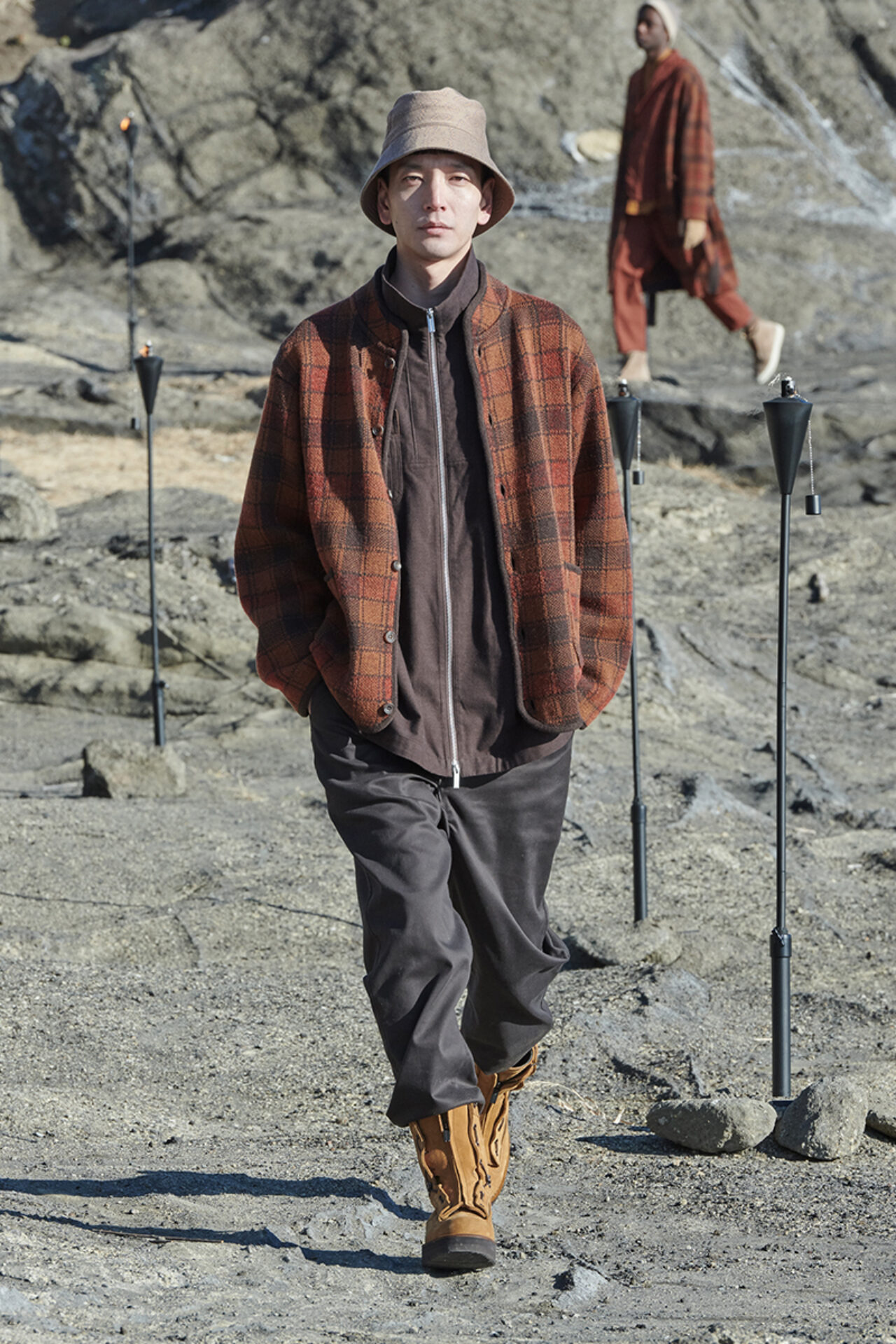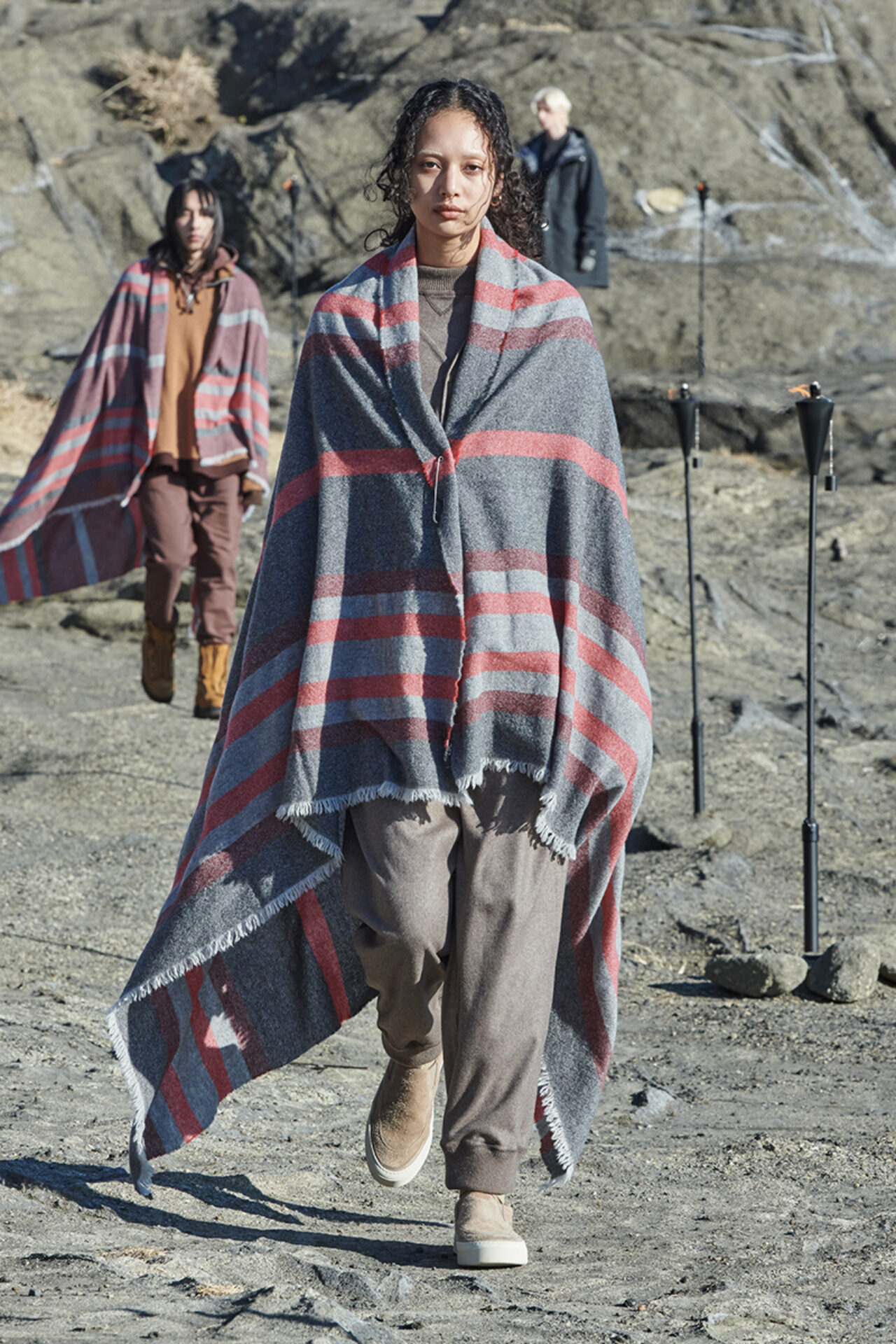 Don't be fooled by the effortless composition of any A-COLD-WALL* garment. Each piece has been carefully designed and constructed from a contemplation of its individual visual language. This collection's mood and tone is so conceptually concise it's akin to art. Designer Samuel Ross presented models with alternatively silver-painted ears, faces, hair and hands, creating ambiguous creatures as protagonists not simply models for his F/W22 collection. With the majority of faces obscured, the focus is on the clothes — an amalgamation of street and utility — find a ruched MA-1 to rave-like ruching also found in trousers, to layered hoody-and-sweatshirt styled combos, to sculptural padded vests. The monochromatic dark tones remaining a key signature for Ross, creating a whole atmosphere with his ongoing visual language.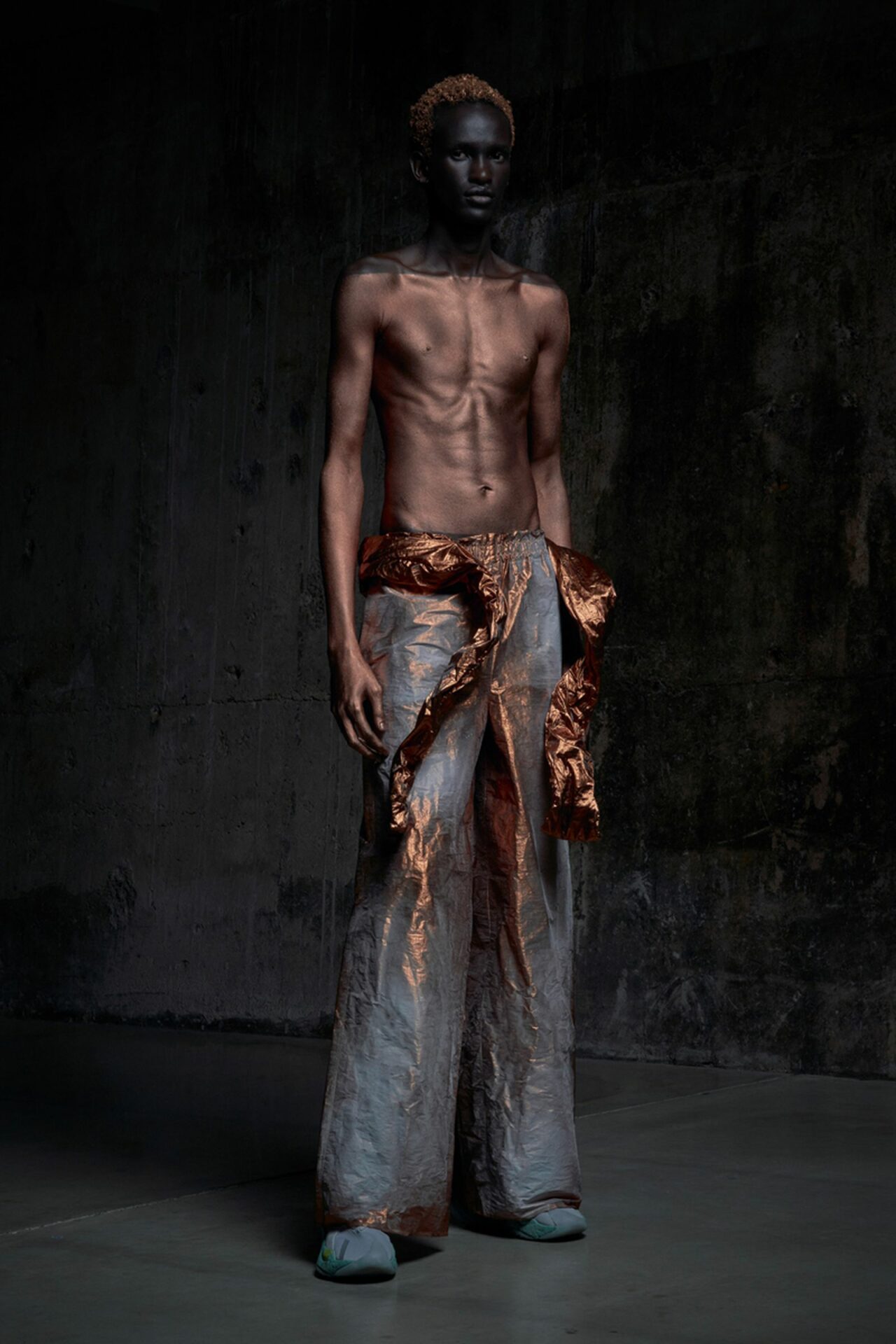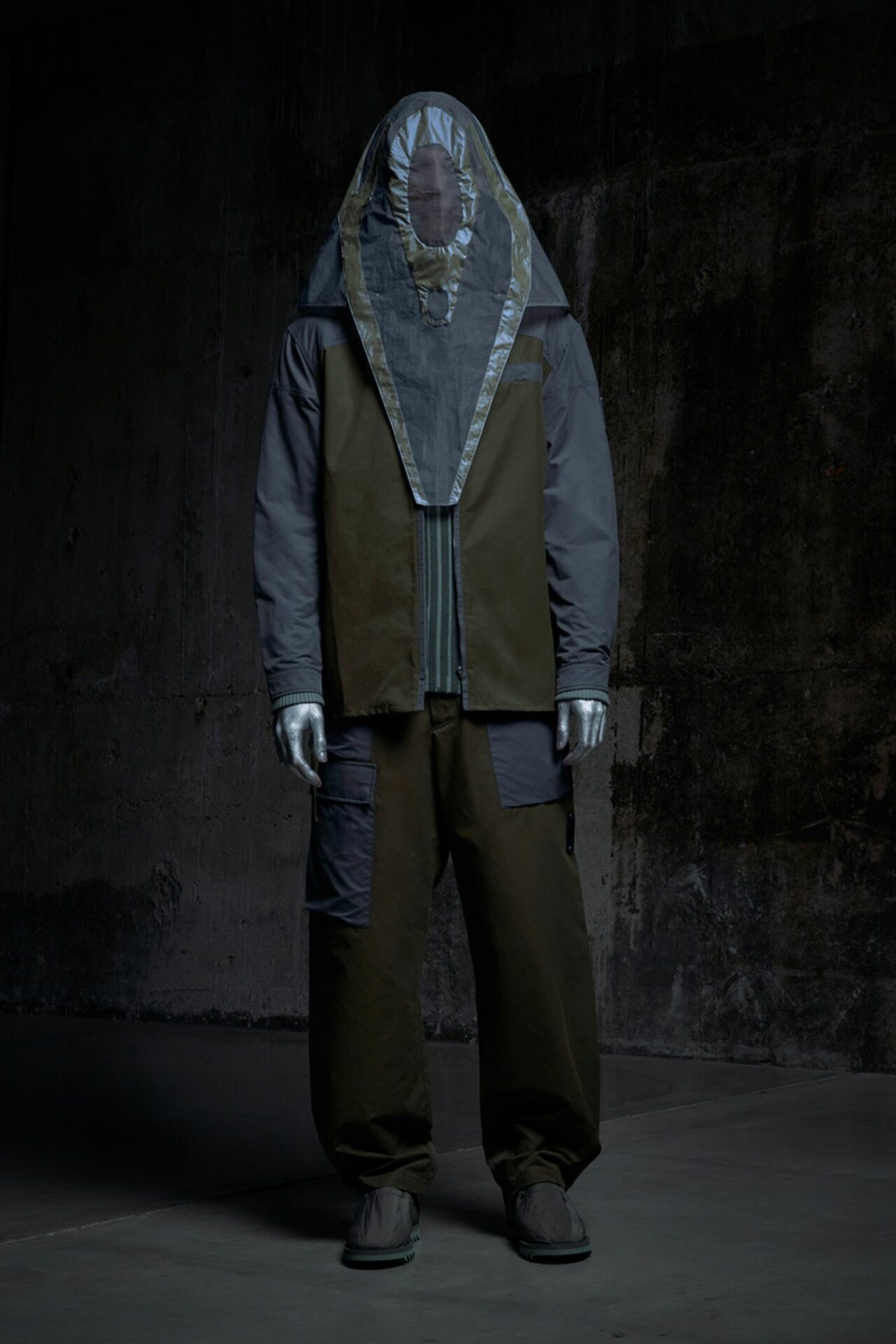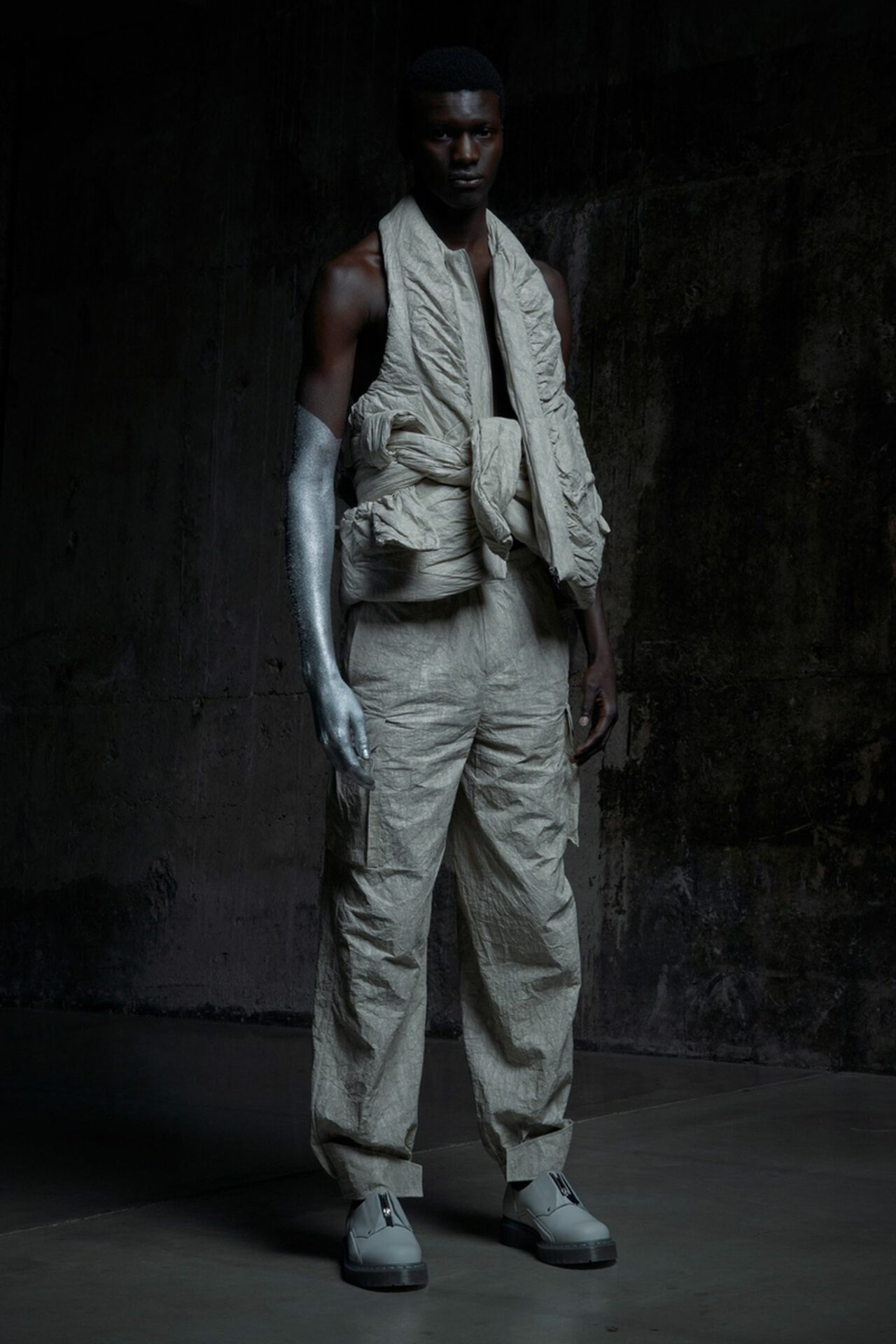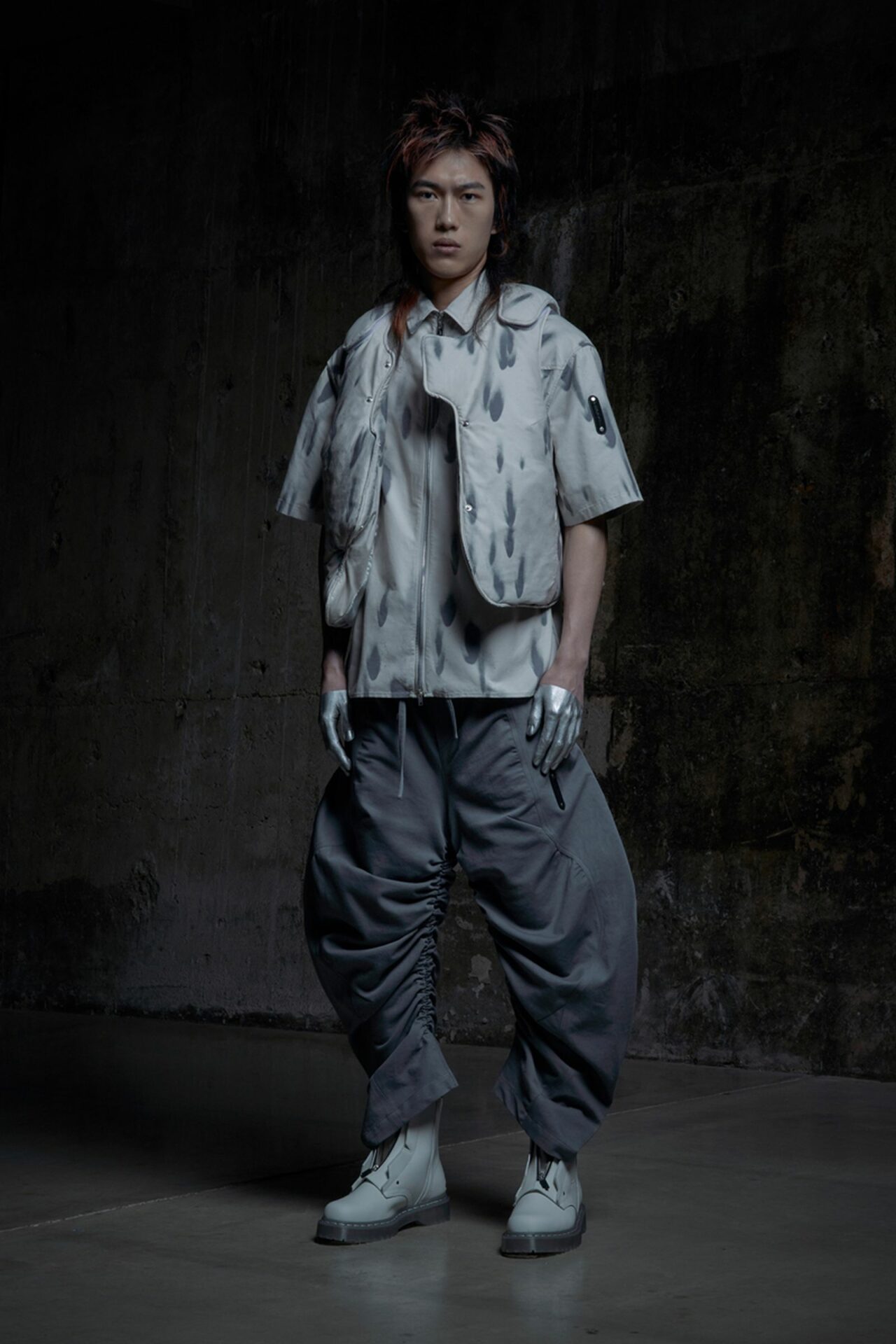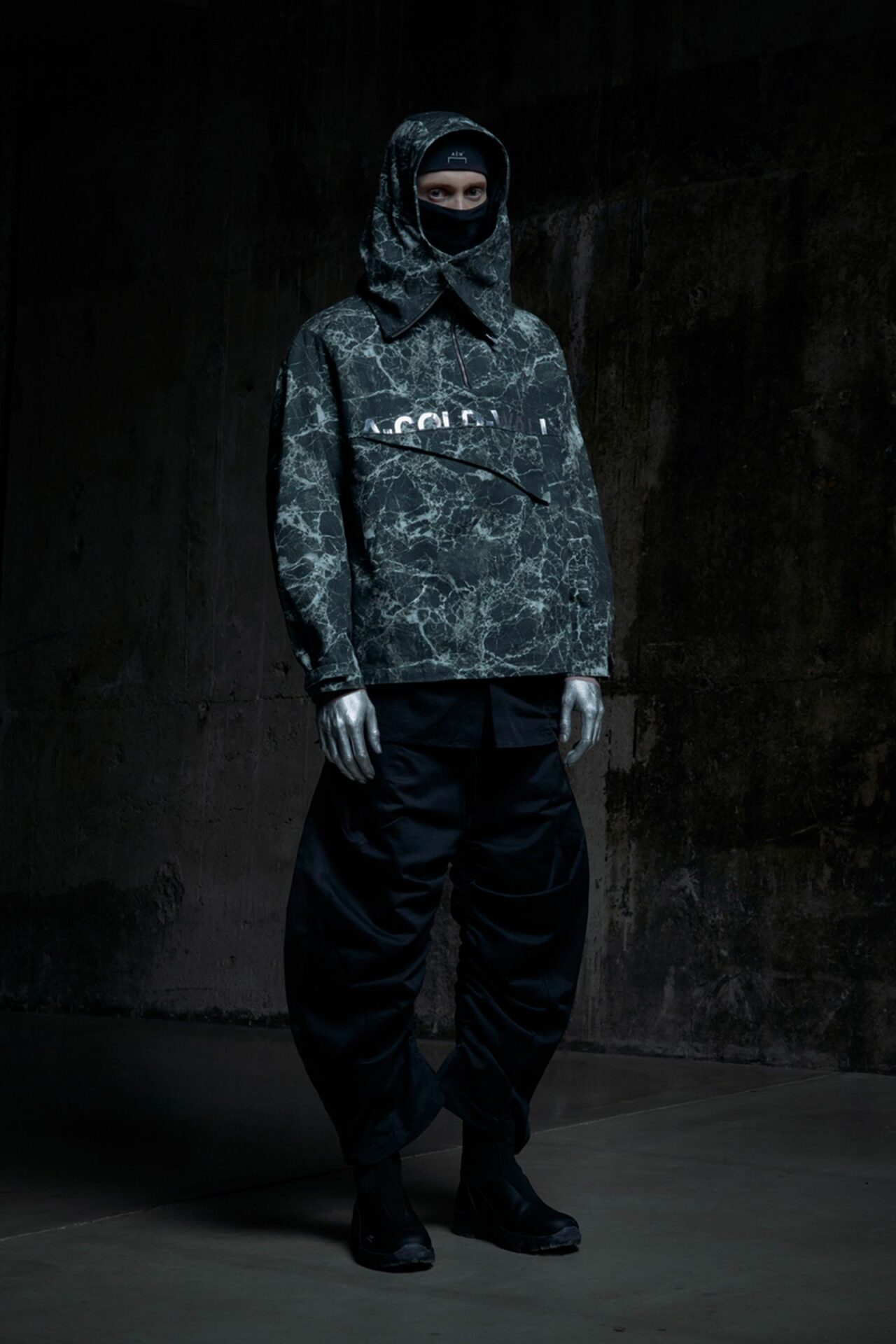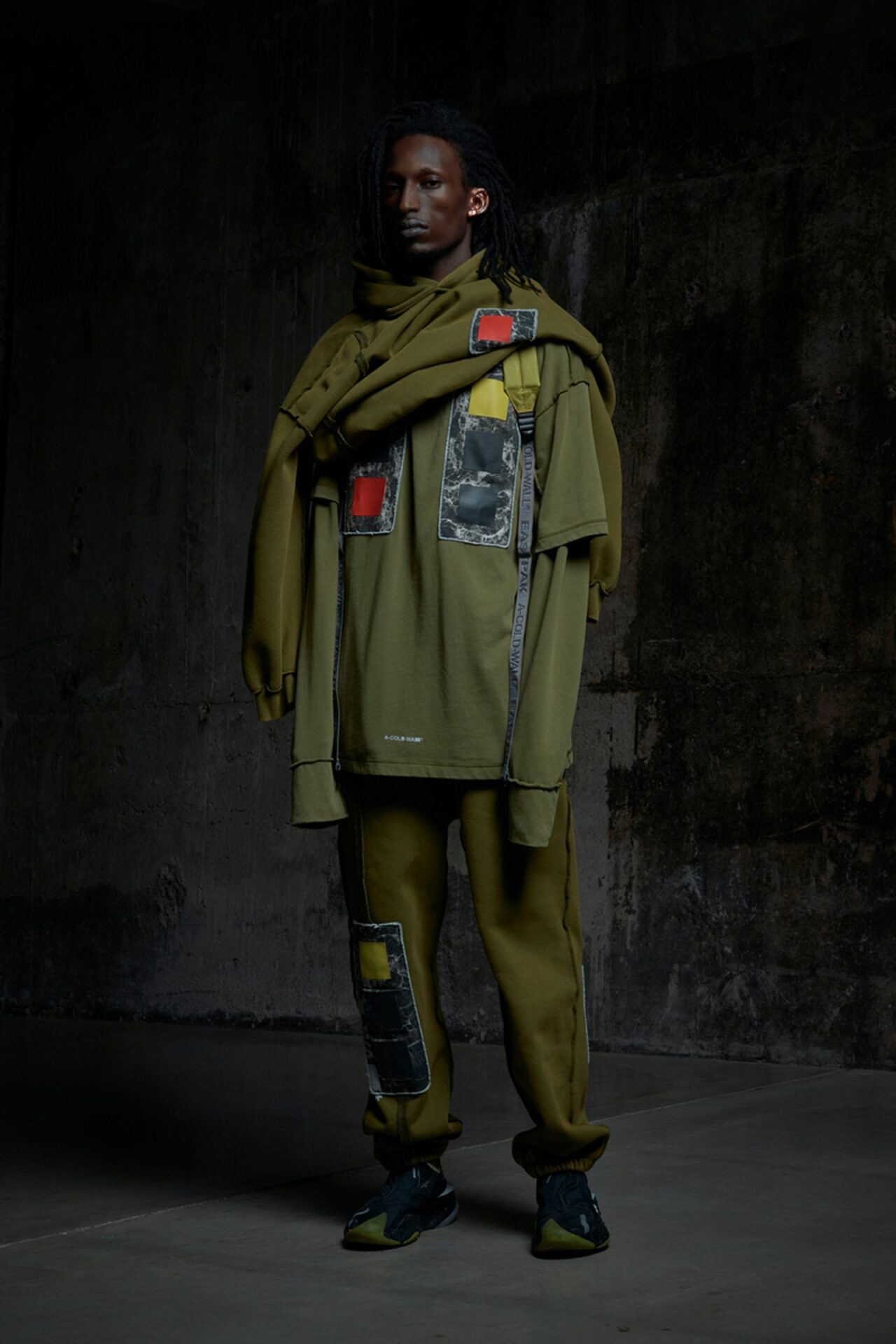 At ALYX, the Ferrara-founded brand by Matthew Williams, find a sophisticated balance of technical and luxury rigorously presented through its heavy layering, polished palette and concise styling. It presents an undeniably recognisable visual voice from Matthews, whose garments exude both sensuality and a defiant stoicism. For his Fall/Winter 22 Mens and Women's collection, find feather-collared sweaters styled under dark-toned suit jackets and coats to elongated trousers that effortlessly bunch at their base — including face-hugging balaclava-esque hooded sweaters. For the women — singlet tops, toe-covered moulded heels and firetruck red PVC dresses and bodysuits. Including details featuring the ALYX's iconic hardware found across garments and accessories. The collection presented both William's recognisable aesthetic — elevated — and growing, revealing the growing talent of the young designer. 
Words: Joanna Kawecki – Champ Editor-in-Chief