BEAUTY OF FASHION
More Than A Garment: SS22 Collections Expanding The Unlimited World of Personal Expression
Beyond the two-dimensional form of structured fabric, the garments of the following designers allow for a three-dimensional concept of clothes – from their emotive storytelling, to concept-driven designs that inspire you to a far away place. One that is part fantasy, part visionary, adding to a whole that allows you the art of expression. This is the beauty of fashion. As the fashion industry slowly resumes to its usual schedule, there is an undeniable optimism in the air. 
"Clothing is not just fabric to cover our bodies, clothing is communication, interpretation and expression," noted by Champ Fashion Editor-at-Large Ciana Mai. Here, Tokyo-based Champ Editor In Chief Joanna features seven stand-out collections from SS22 from Japan. Find ISSEY MIYAKE, COMME DES GARCONS, UNDERCOVER, TAKAHIROMIYASHITA, MAME KUROGOUCHI, AMBUSH and JOHN LAWRENCE SULLIVAN.
Rei Kawakubo's Comme des Garçons SS22 collection once again epitomised her renowned fearless of form, presenting bulbous silhouettes in varying patterns and prints in black and white, to surprising bursts of neon pink and green. Amongst the noise, then comes a deafening silence through pitch-black garments speaking volumes though their chiffon knots or embedded flowers and bows.
Kawakubo's voluminous structures are more akin to conceptual architectural pavilions for the body than familiar clothing. With a total of 21 looks, each is accompanied by a colourful, bubblegum-like double-layered wig by Gary Card, yet one look presents a veil — perhaps either as a symbol of protection or an exhausted marrying with our current new norm? Who knows, but one thing is for sure — Kawakubo's unrelenting resilience to innovate provides ultimate hope, both for the fashion industry, and the world.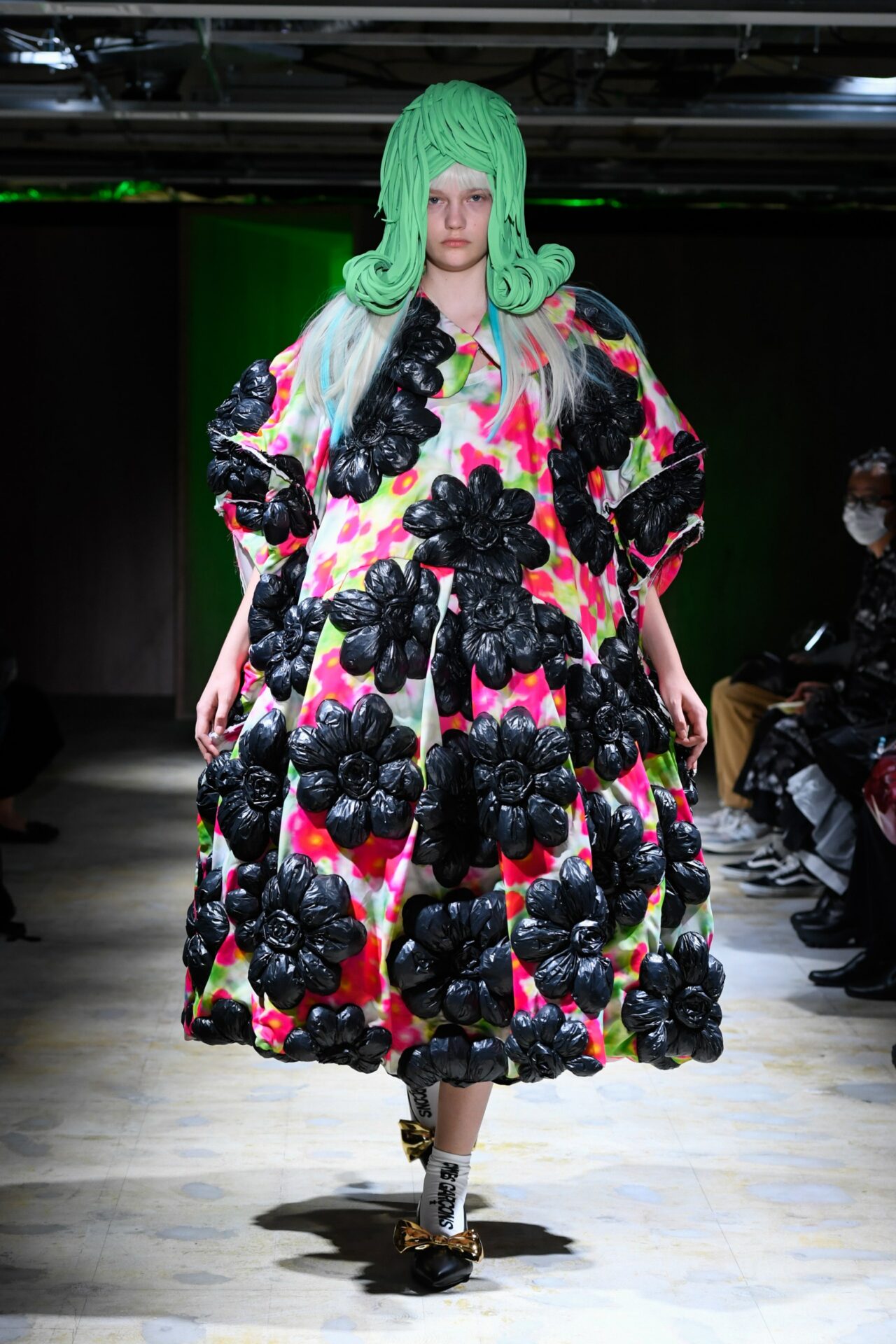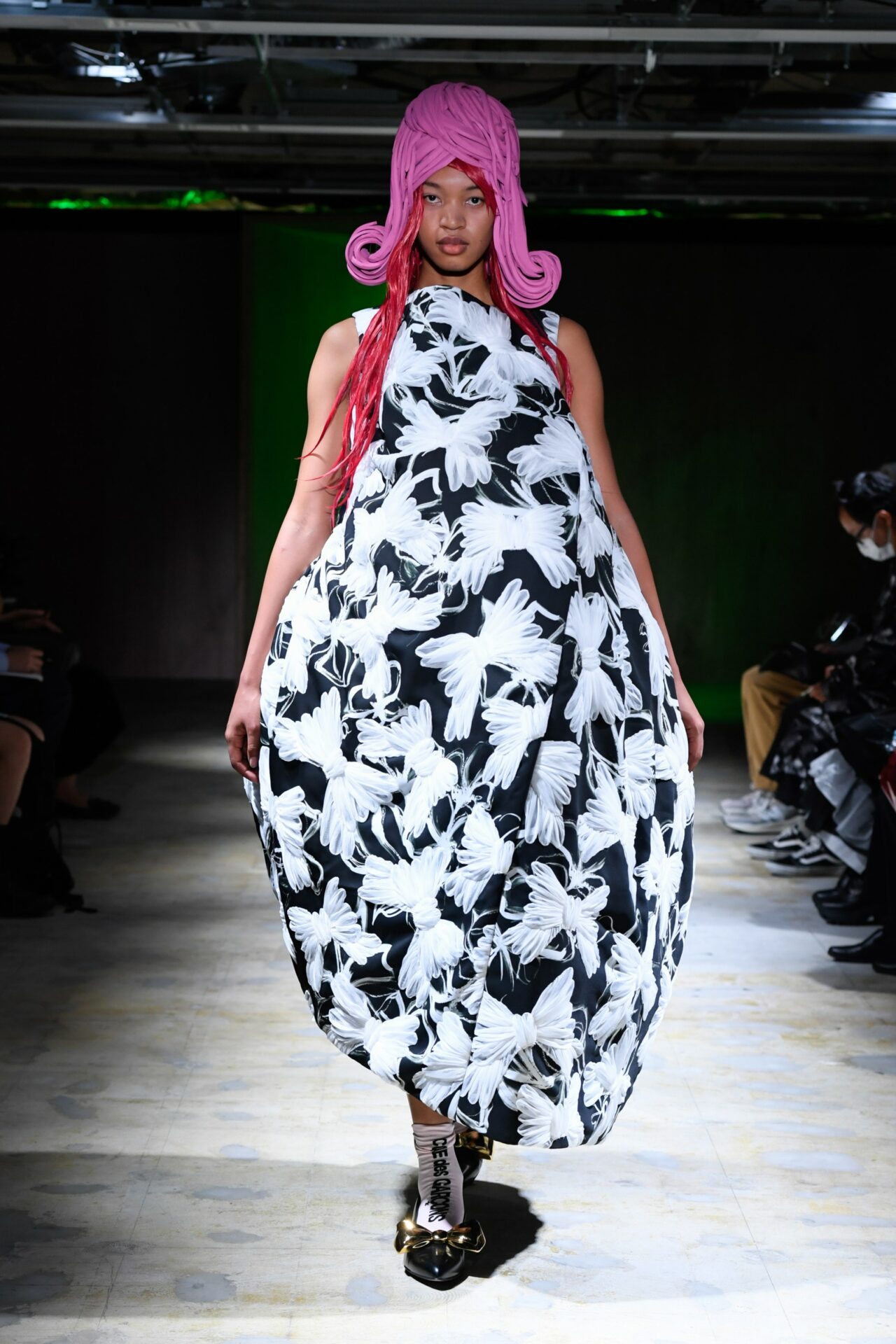 Undeniably, designer Jun Takahashi is one of the world's best at his craft, let alone in Japan, who irrepressibly envisions a powerful protagonist with each of his garments, re-designing the edge between elegance and punk. With a palette taken from Takahashi's own watercolour paintings, find gorgeous printed suit ensembles, dresses and tops with repetitioned [poison] green apples, and miniature castle landscapes depicting the ever-mystical Undercover world. This collection sees a dreamlike state with delicate mustard yellow and sky blue tights and matching gloves, to striped trousers and razorblade-emblazoned cardigans over gold bandeaus paired with chunky accessories. Where would a girl be without her razorblade leather clutch handbag? Or perhaps with her goggle-like sunglasses and a sculptural cherry handbag by her side — otherworldly and highly divine.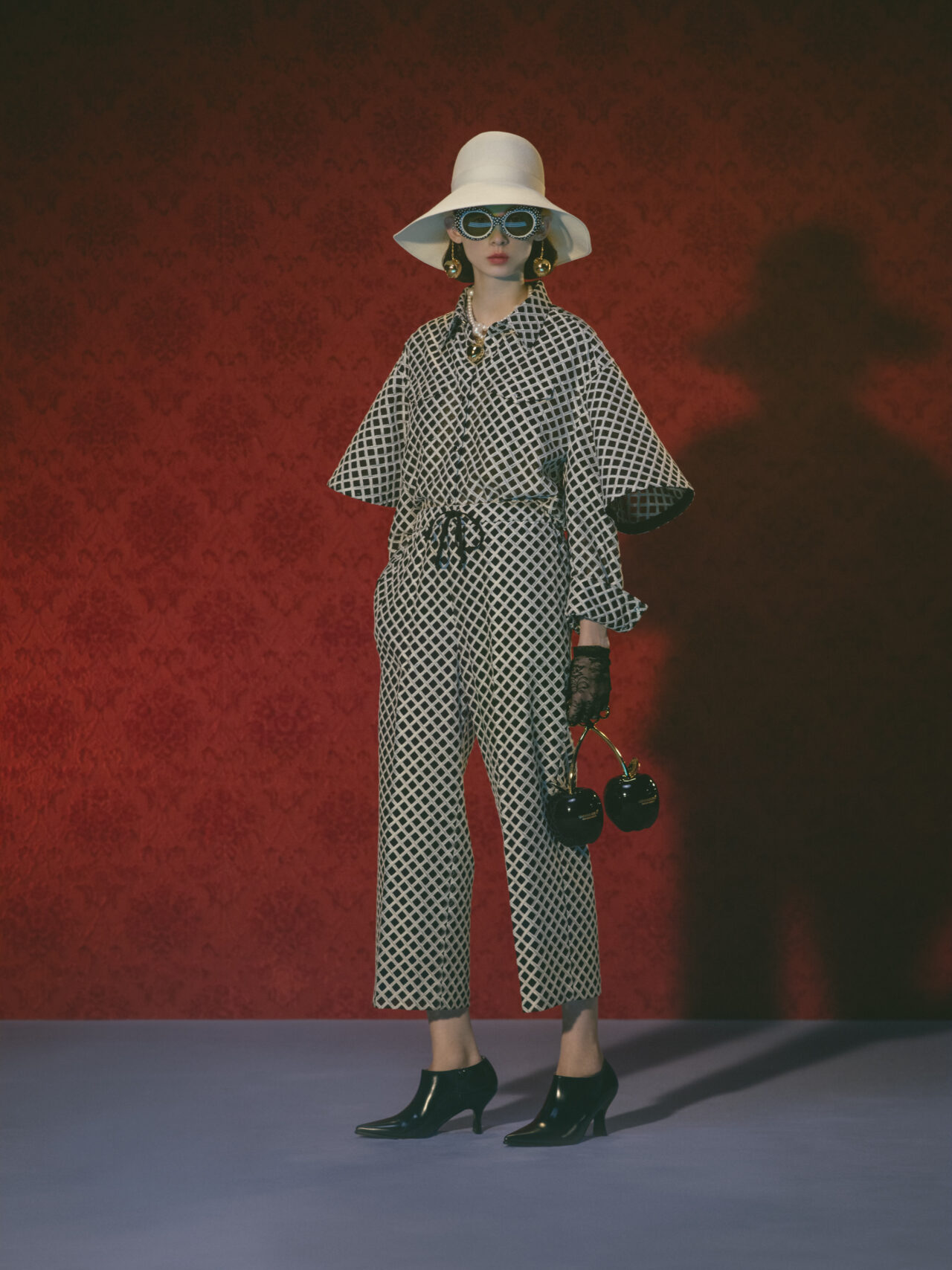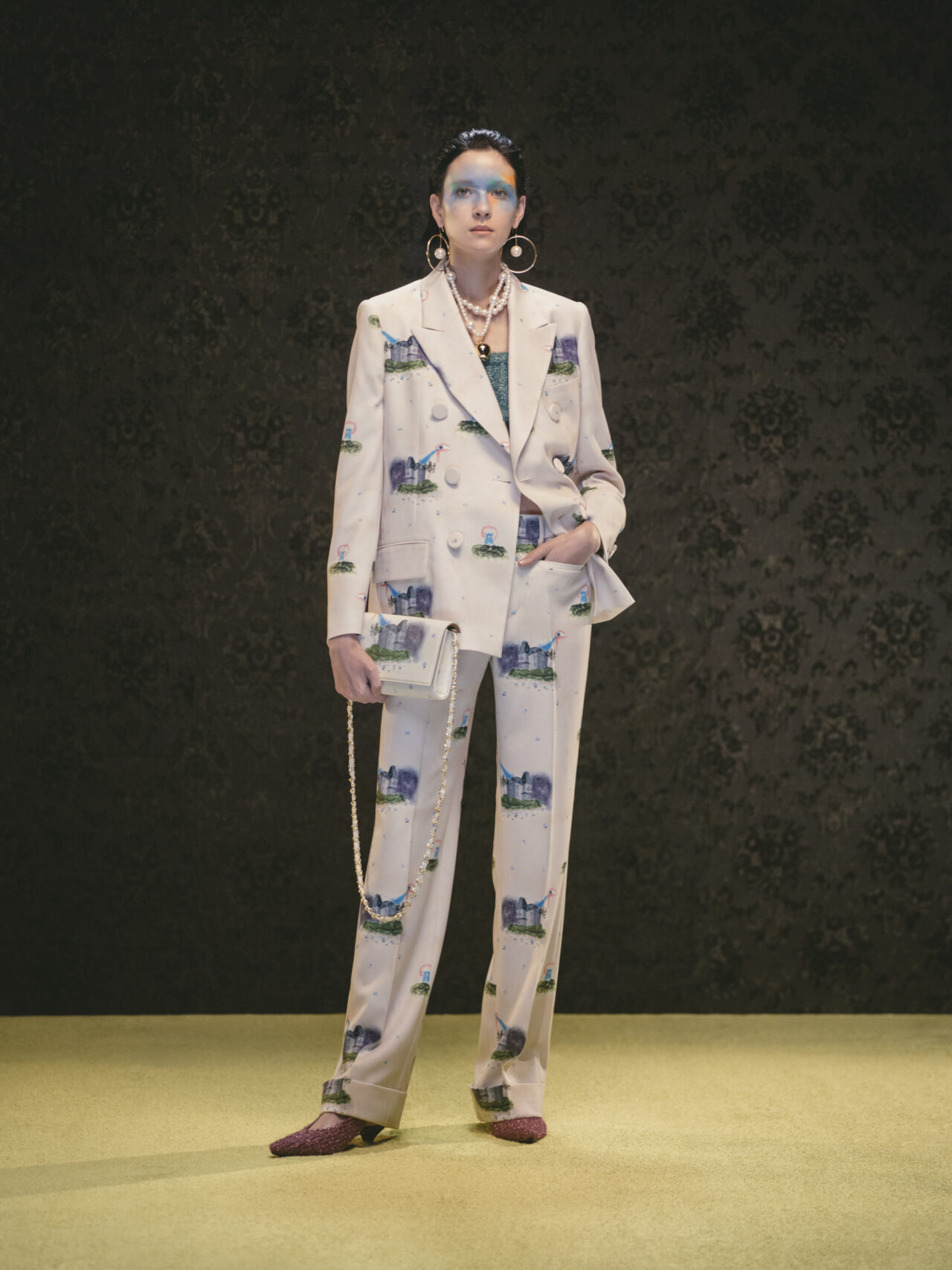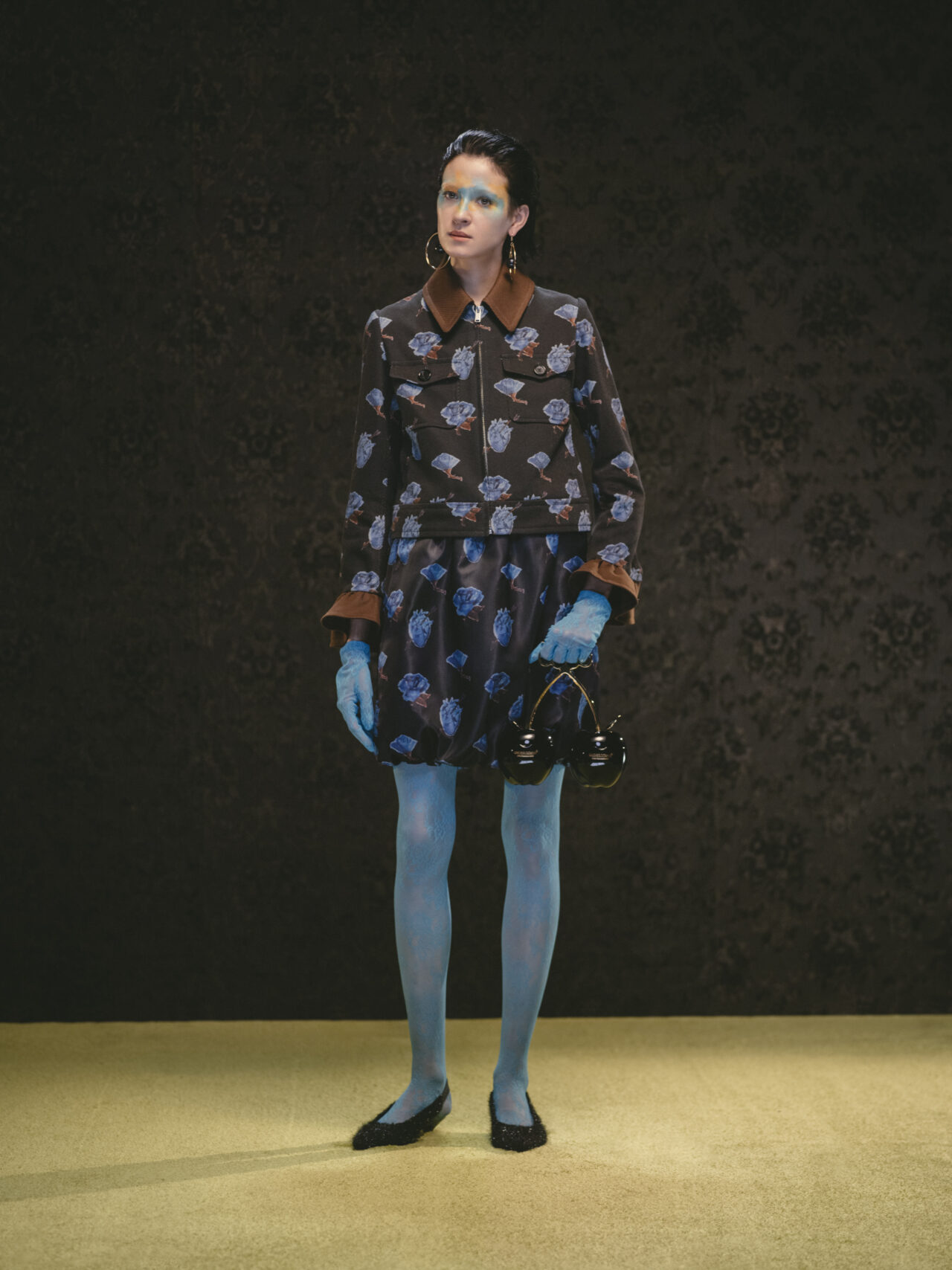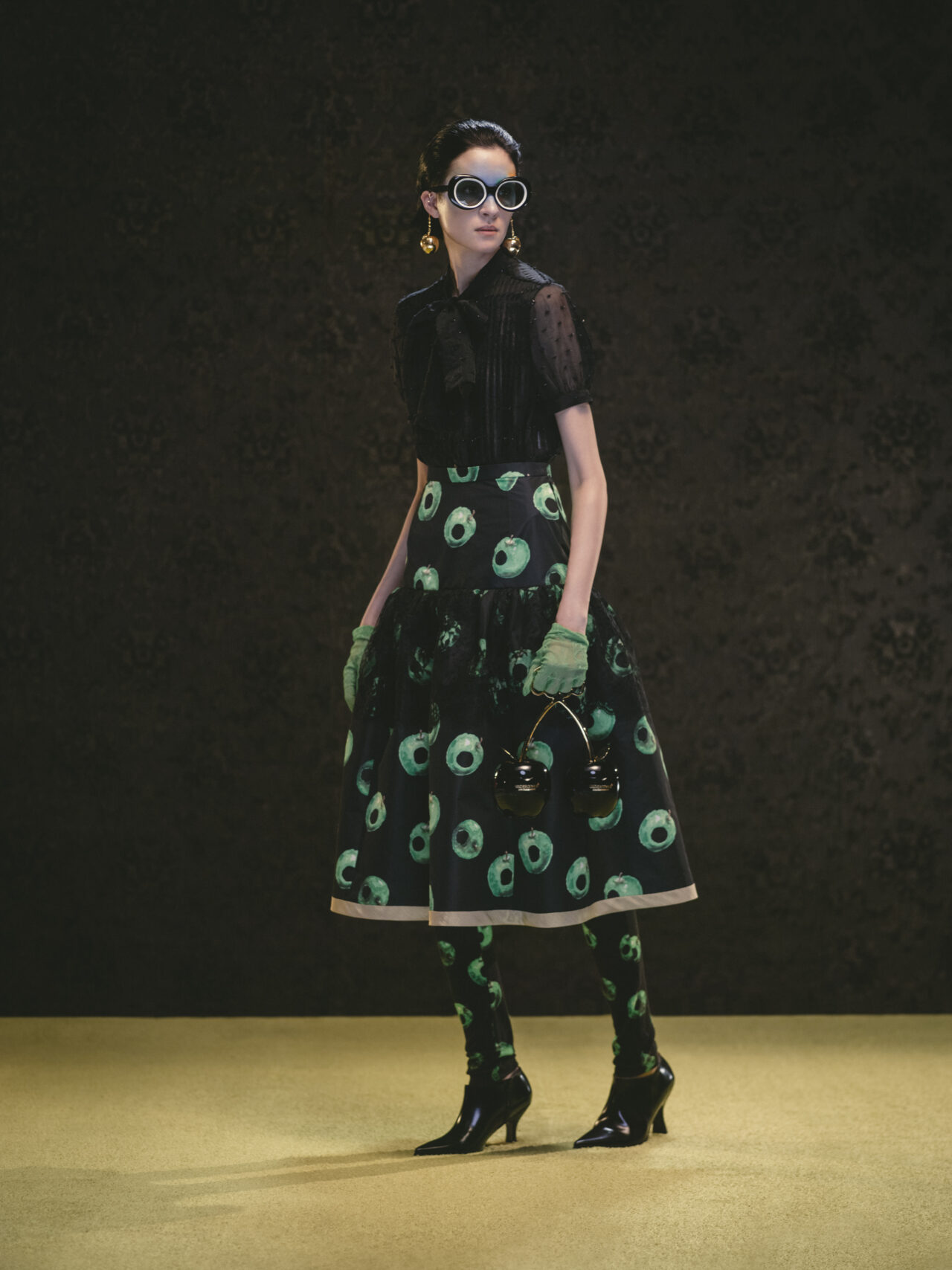 TAKAHIROMIYASHITATheSoloist.
Explaining that the collection was the result of designer Takahiro Miyashita's own self-reflection, TAKAHIROMIYASHITATheSoloist SS22 collection entitled "PAUSE≒PLAY" was nothing short of stellar deconstructed tailoring and unexpected design — exactly Miyashita's genius.
Presented in an unassuming, dimly lit warehouse on the outskirts of Tokyo, the collection's runway presented models with paper bag-covered heads, adding to the mystique and allure that the brand has held since inception. Key pieces included three-way trousers with a sliced opening at the knee that were worn half-exposed or simply trailing, to rolled-sleeve blazers and reconstructed outerwear and puffer vests. As always, the genius is in the details — marvellous reconstructed tailoring that is ever-original, in a sophisticated monochrome palette with bursts of complimentary color. A stellar collection.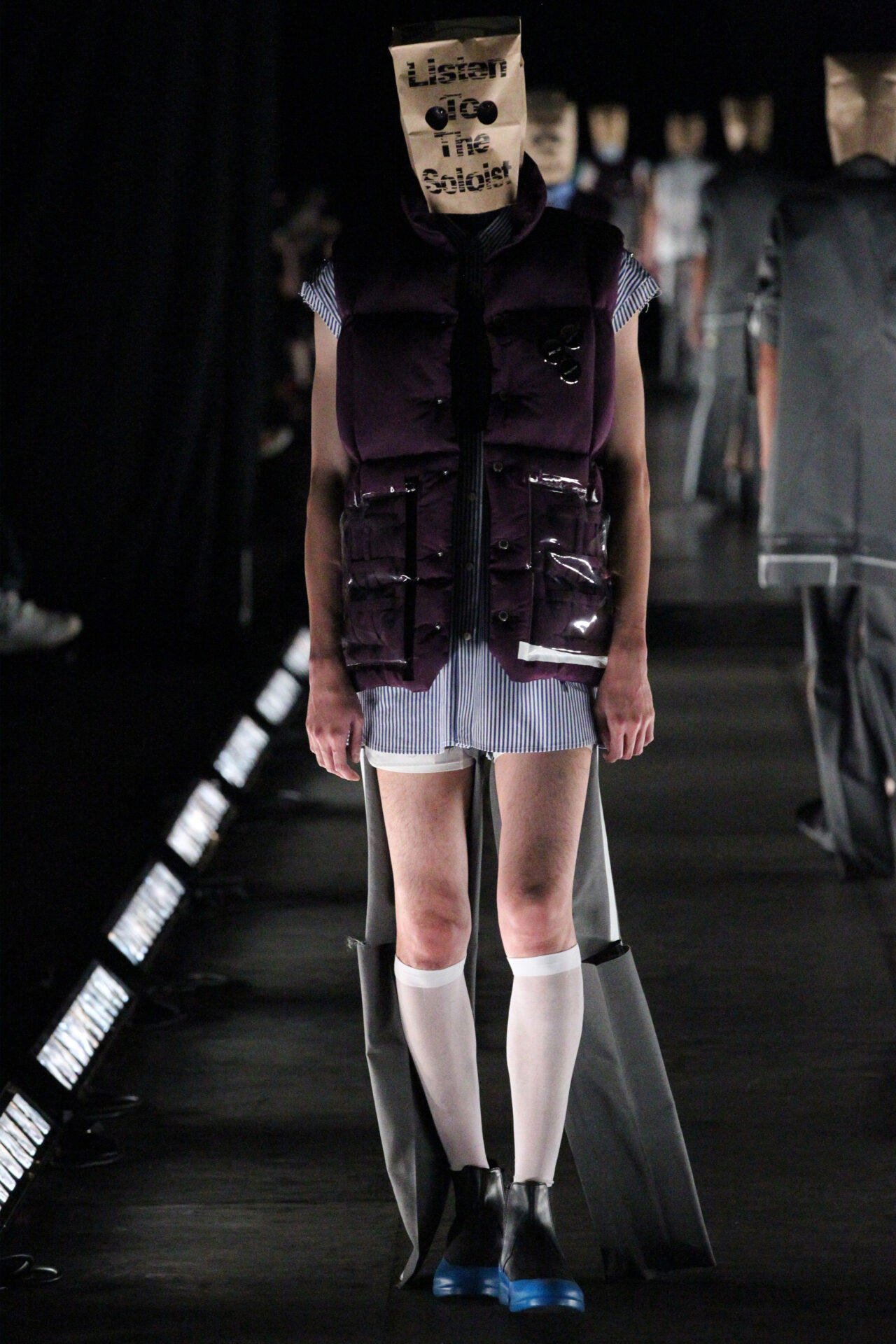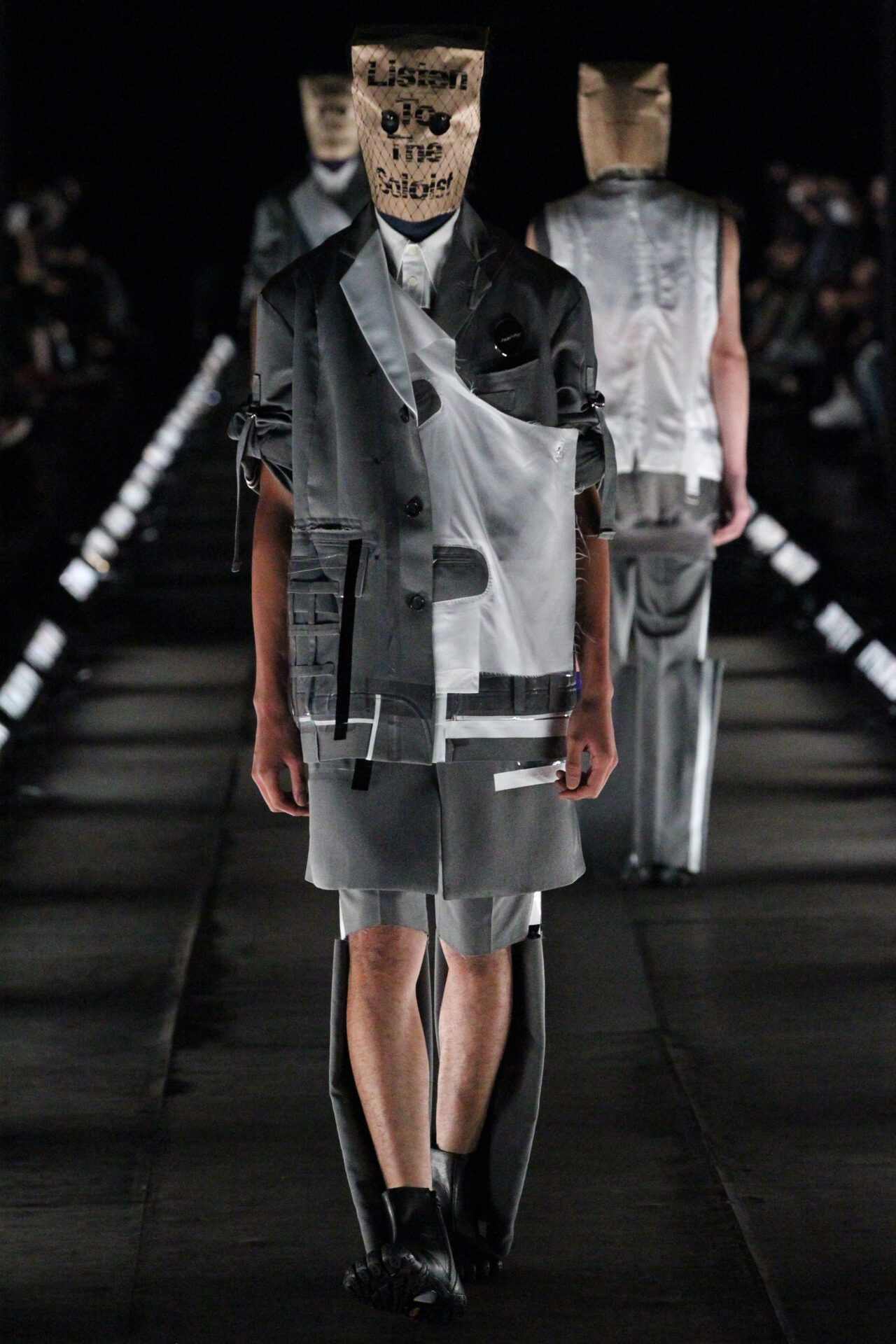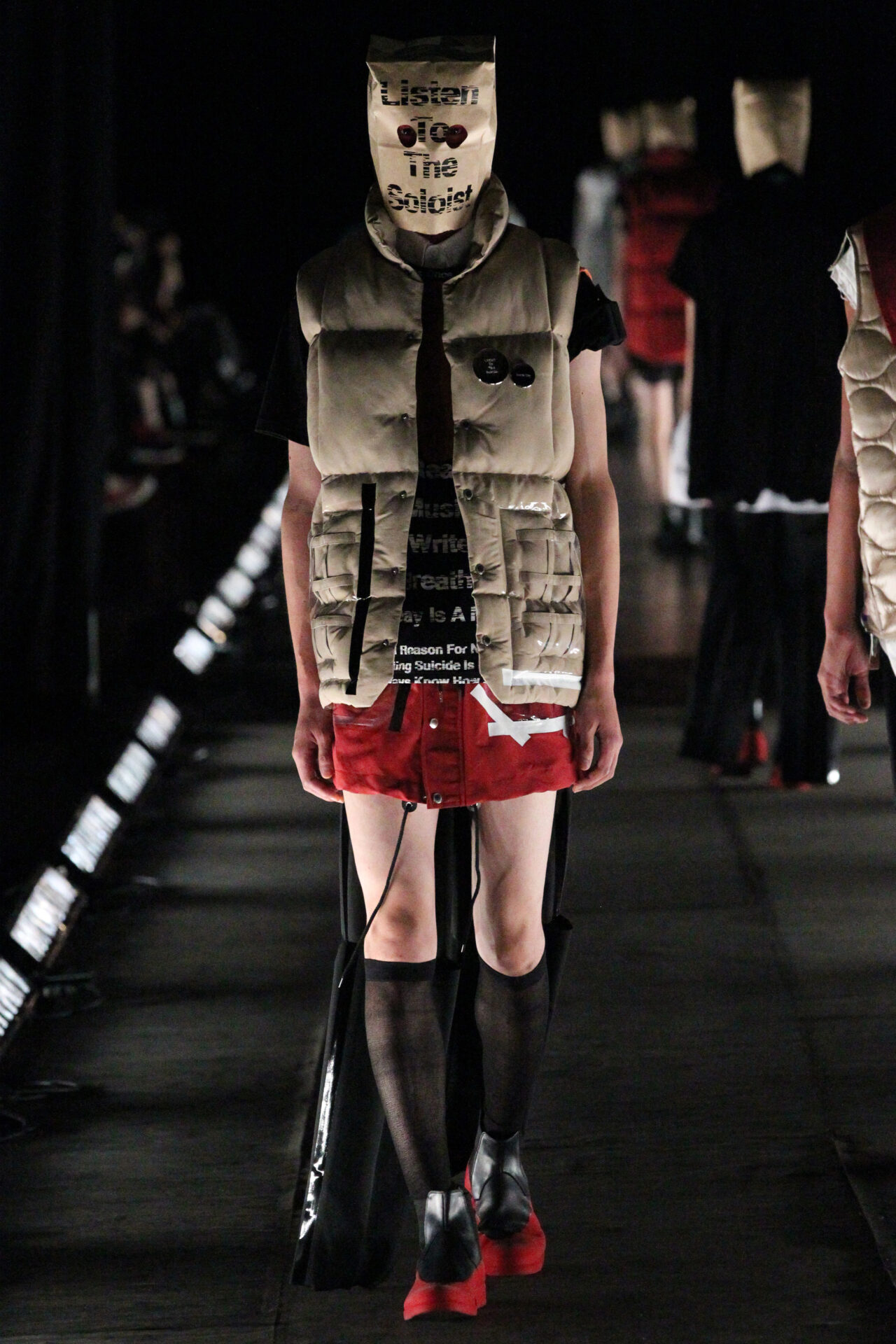 With sophisticated silhouettes that urge a sense of confident cool, Yoon Ahn's SS22 AMBUSH collection is nothing short of gorgeous, every day pieces. With Italian-crafted excellence on garments paired with Japan-made jewellery and accessories, AMBUSH continues to reflect — and set — current trends in fashion. The collection presents a euphoric utopia of diverse textures and bold colours, with stunning sequinned dresses and matching gloves, to chic, shearling-collared leather jackets. Also to note, the brand's first foray into a new sub-line title WKSP — their first collection of the functional wear line with graphic prints by Japanese artist Takuya Hagihara.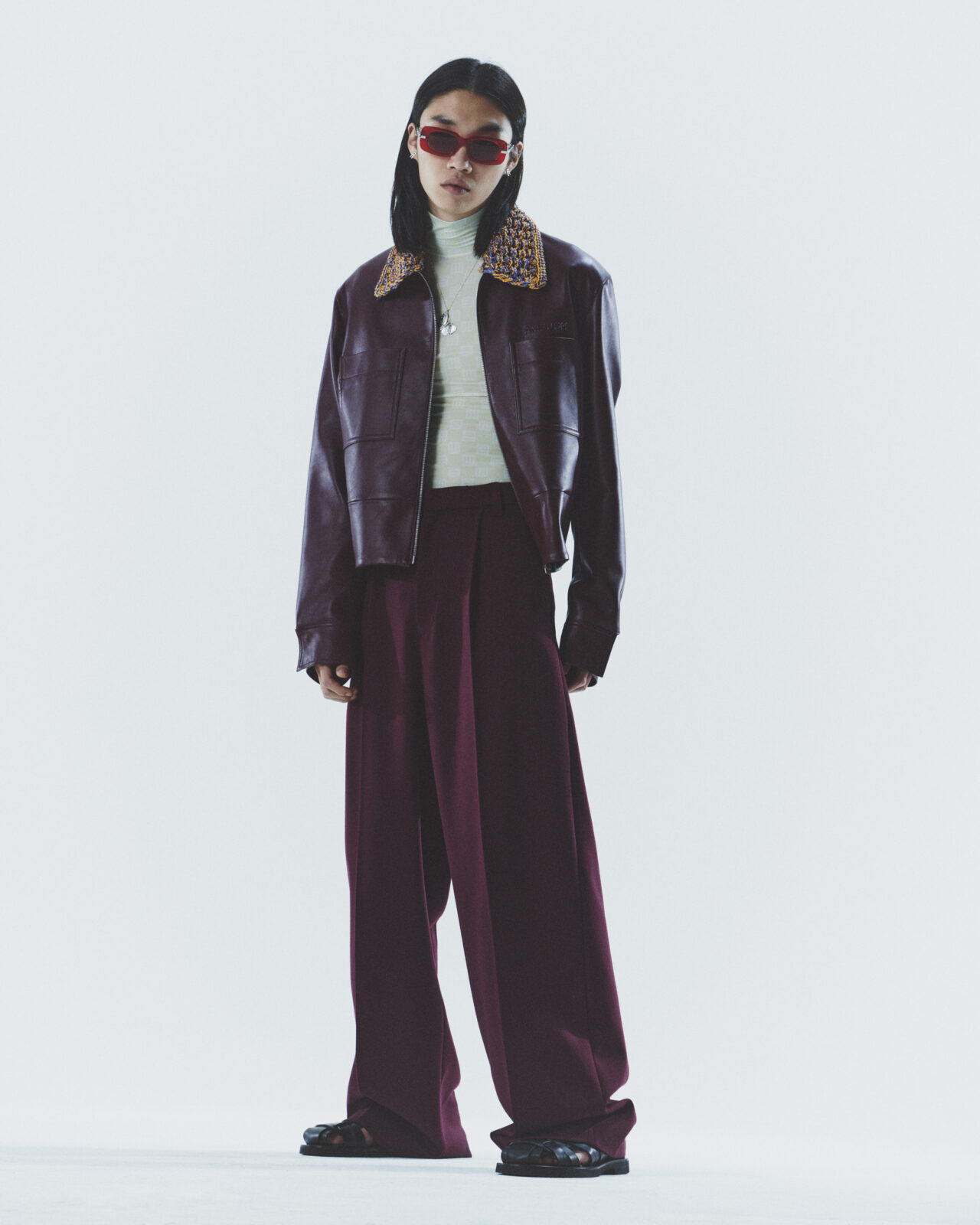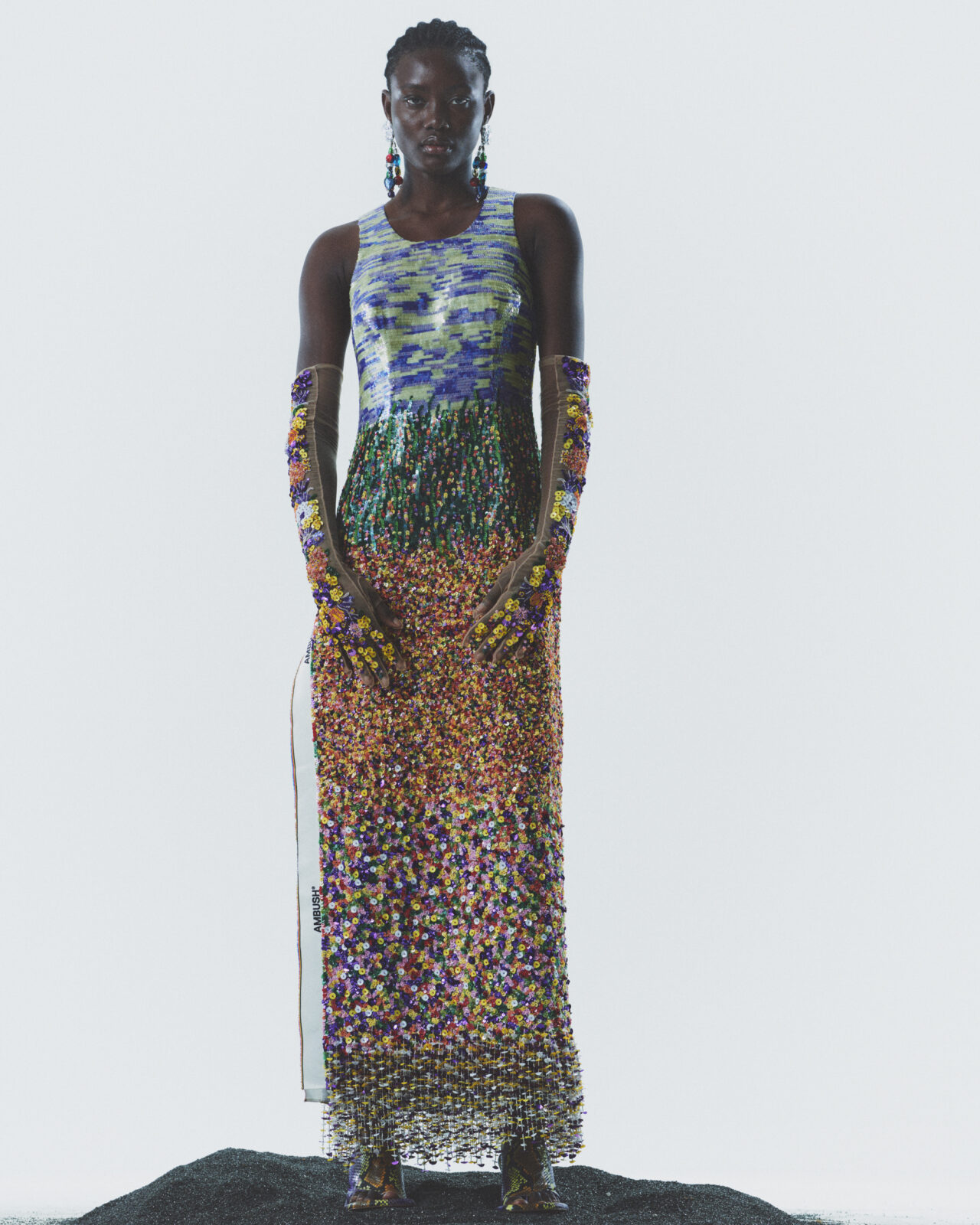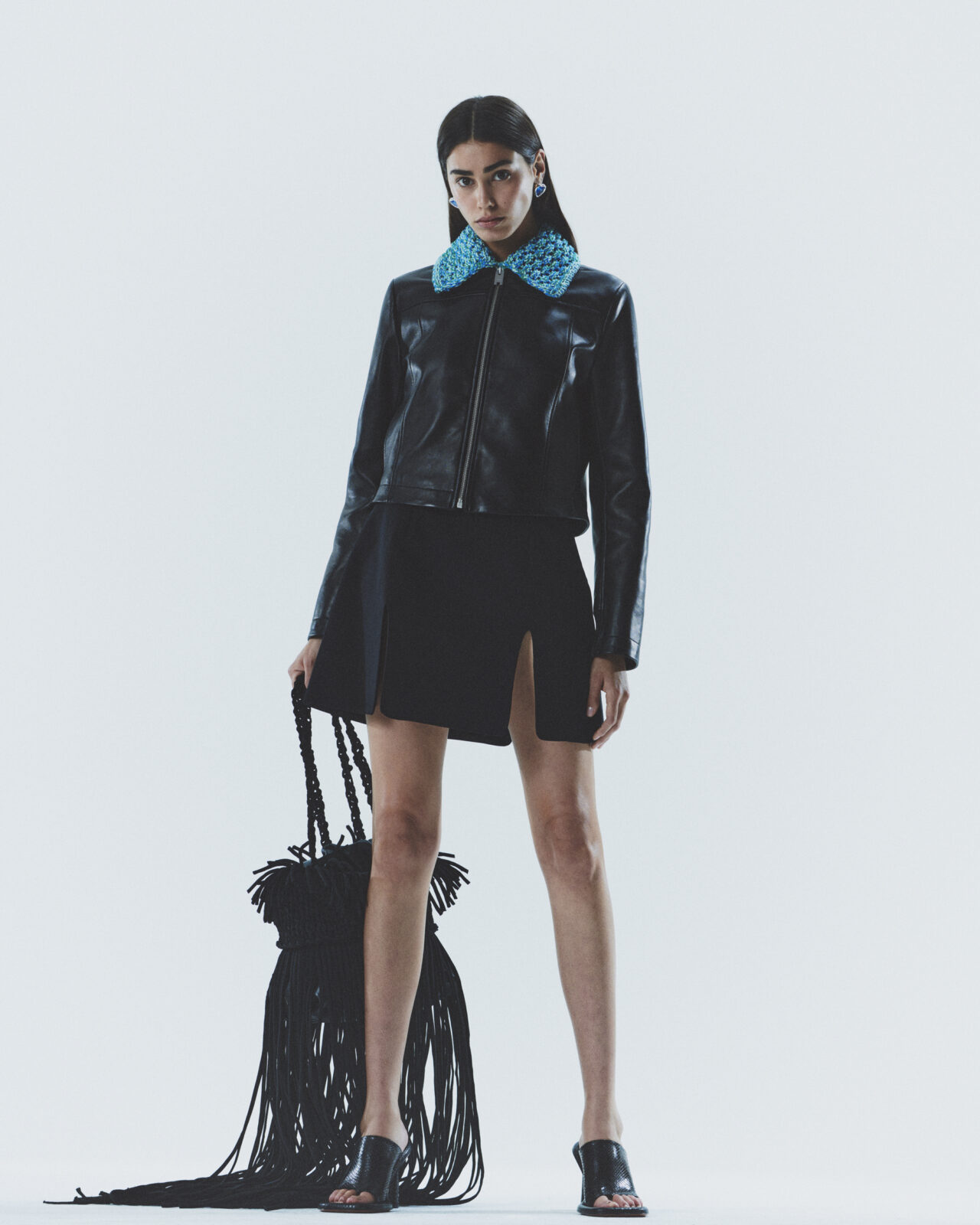 Set amongst the dream-like backdrop yet literal fog of Fujiko Nakaya's installation at the Nagano Prefectural Art Museum, designer Mame Kurogouchi's SS22 collection — notably inspired by her own paintings of spring cherry blossoms. From delicate, laced turtleneck tops to pink camouflaged-jacquard prep dresses, each garment took on a simply suave take. In collection notes, Kurogouchi noted, "Walking between my temporary studio and the museum, I thought about what makes the identity of the brand. As my mind wandered, my eyes roamed. One day, realisation struck: Raindrops on the grass. Petals fallen in a river. Sunshine playing through icicles. Flowers dotting a field. Seeing this scenery around me, I was struck by the speed of life, remembering the landscape near my grandparents' home. As snapshots of past and present superimposed in my mind, I realised that my work was all around me. Like a seed, Mame Kurogouchi – "mame" means bean in Japanese – had grown from this rich soil to become an entire world, nourrished by this beauty everlasting and every morning renewed."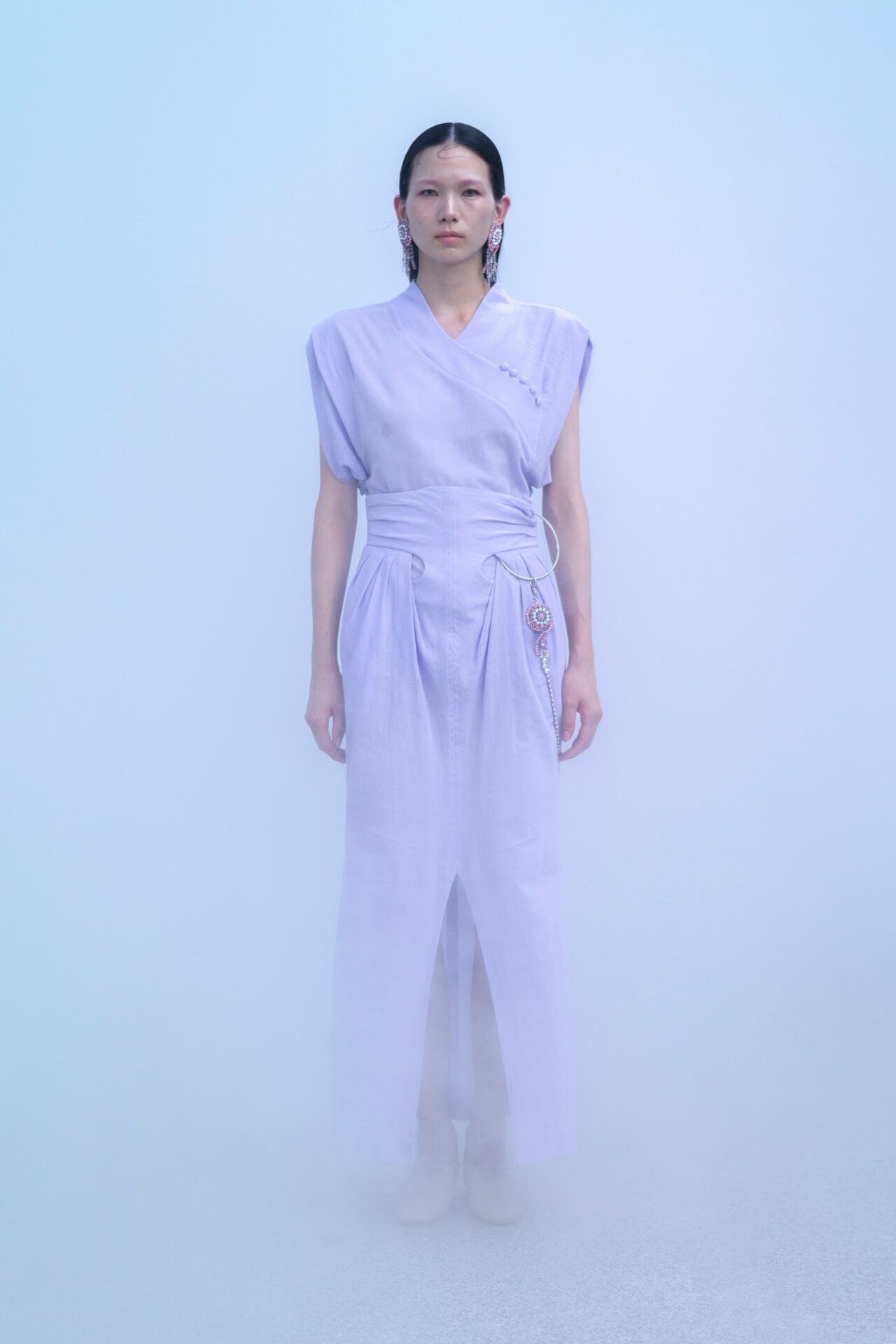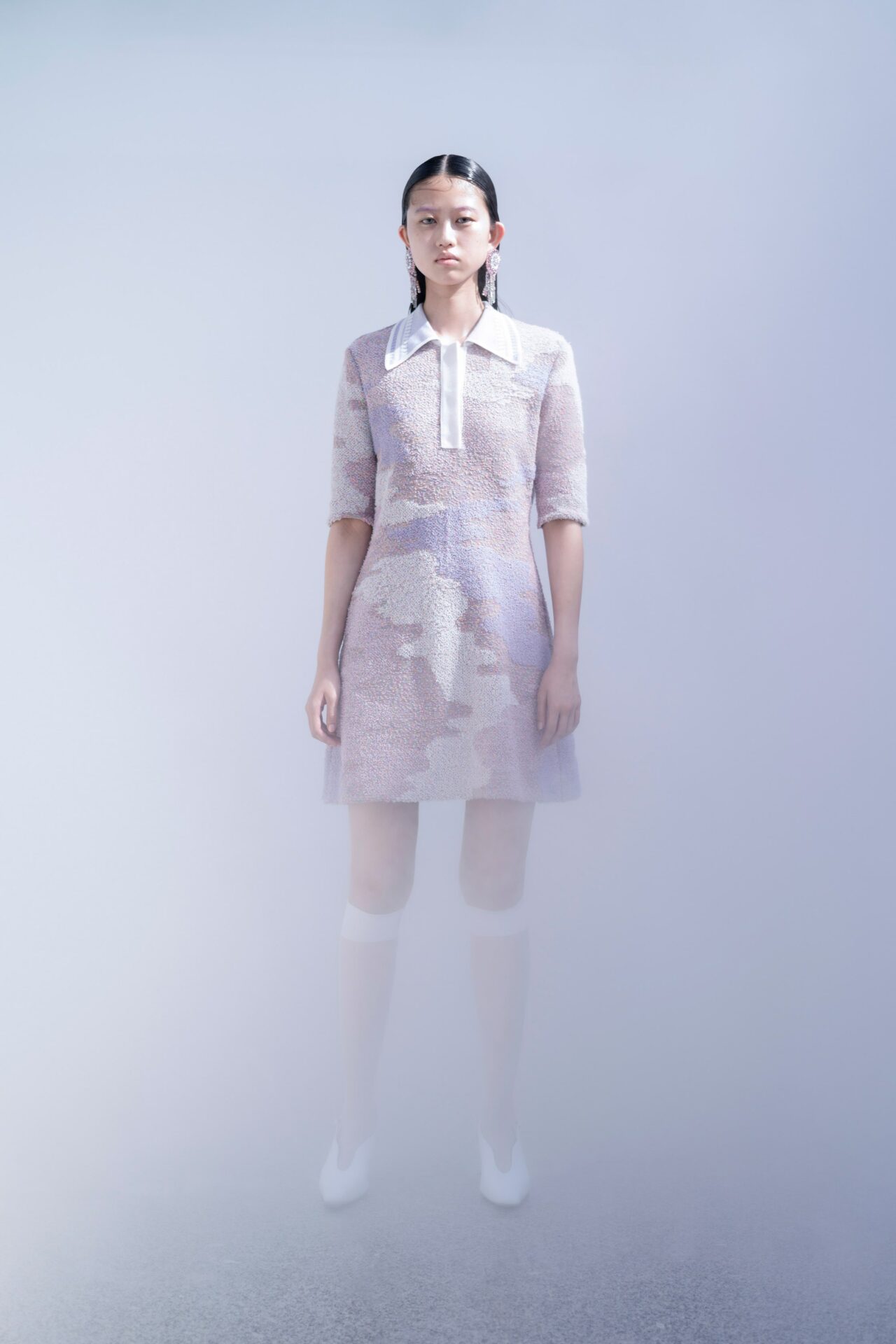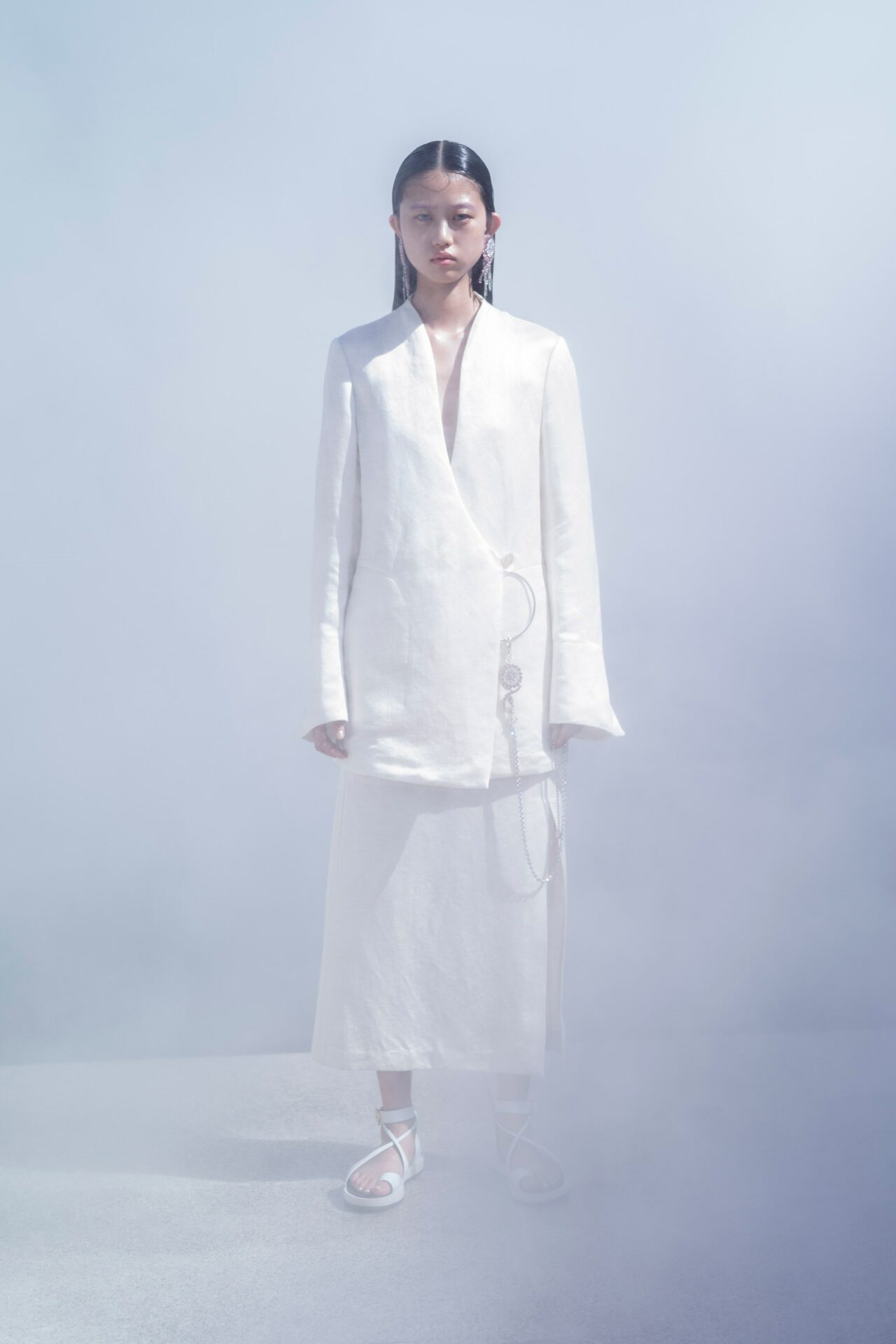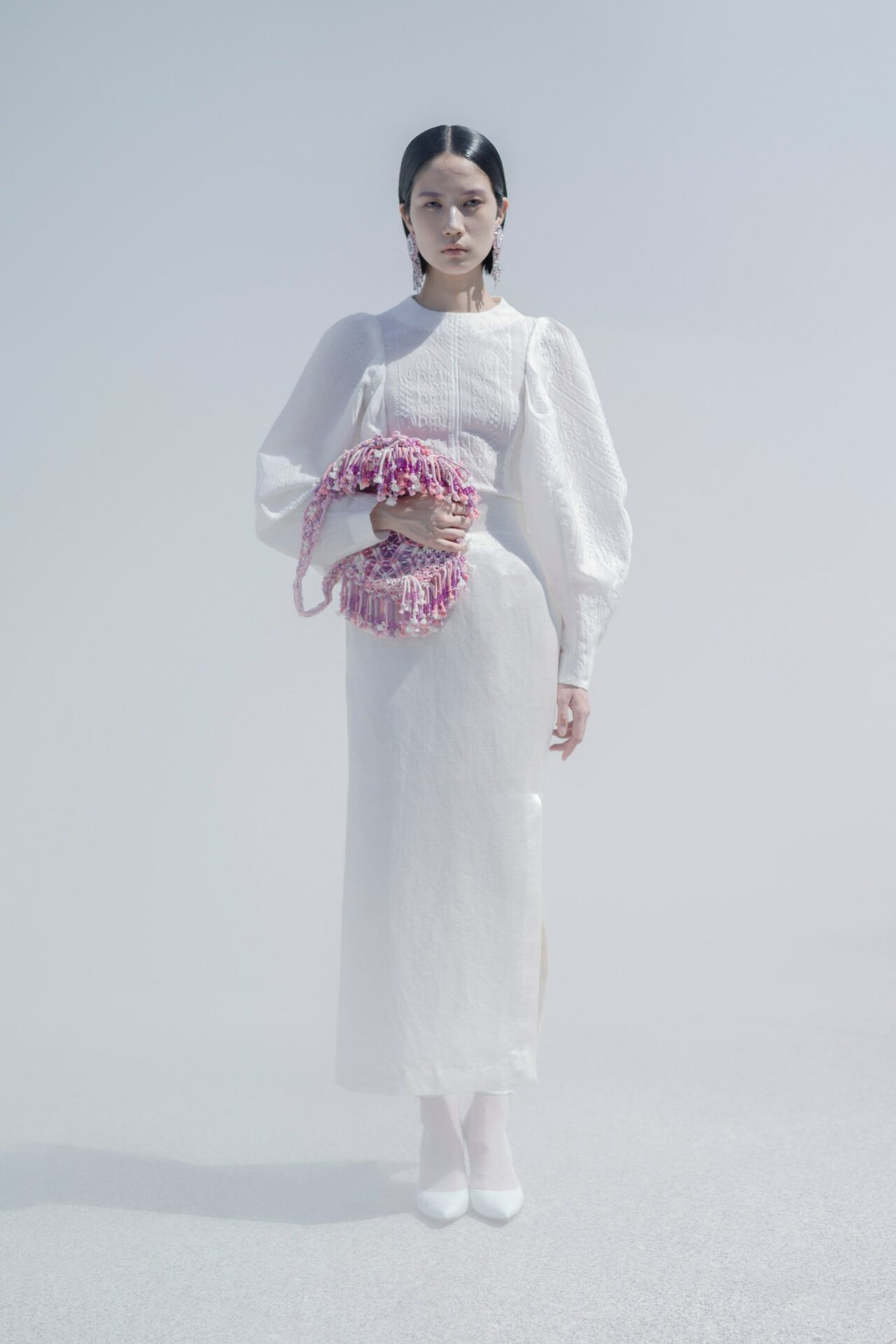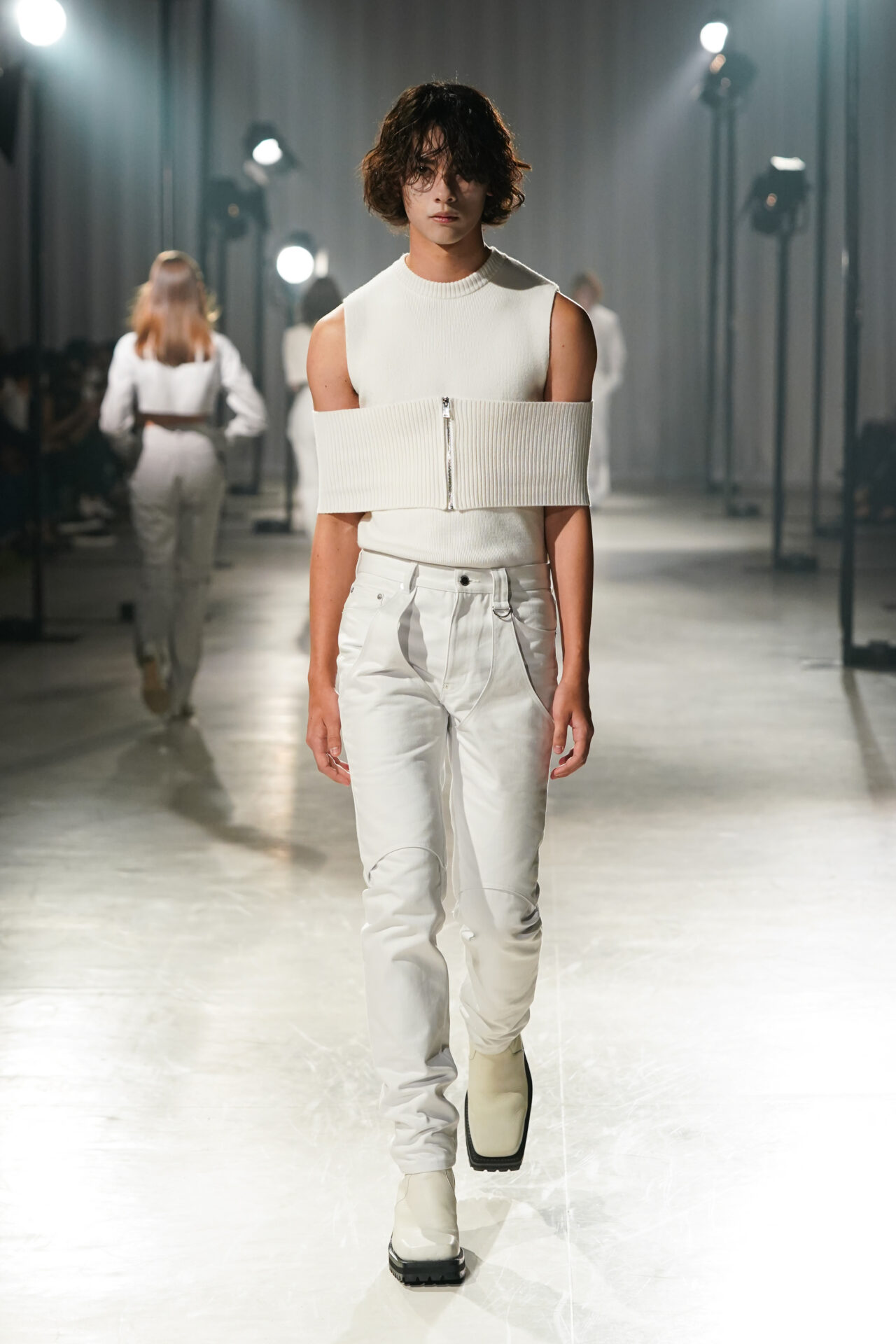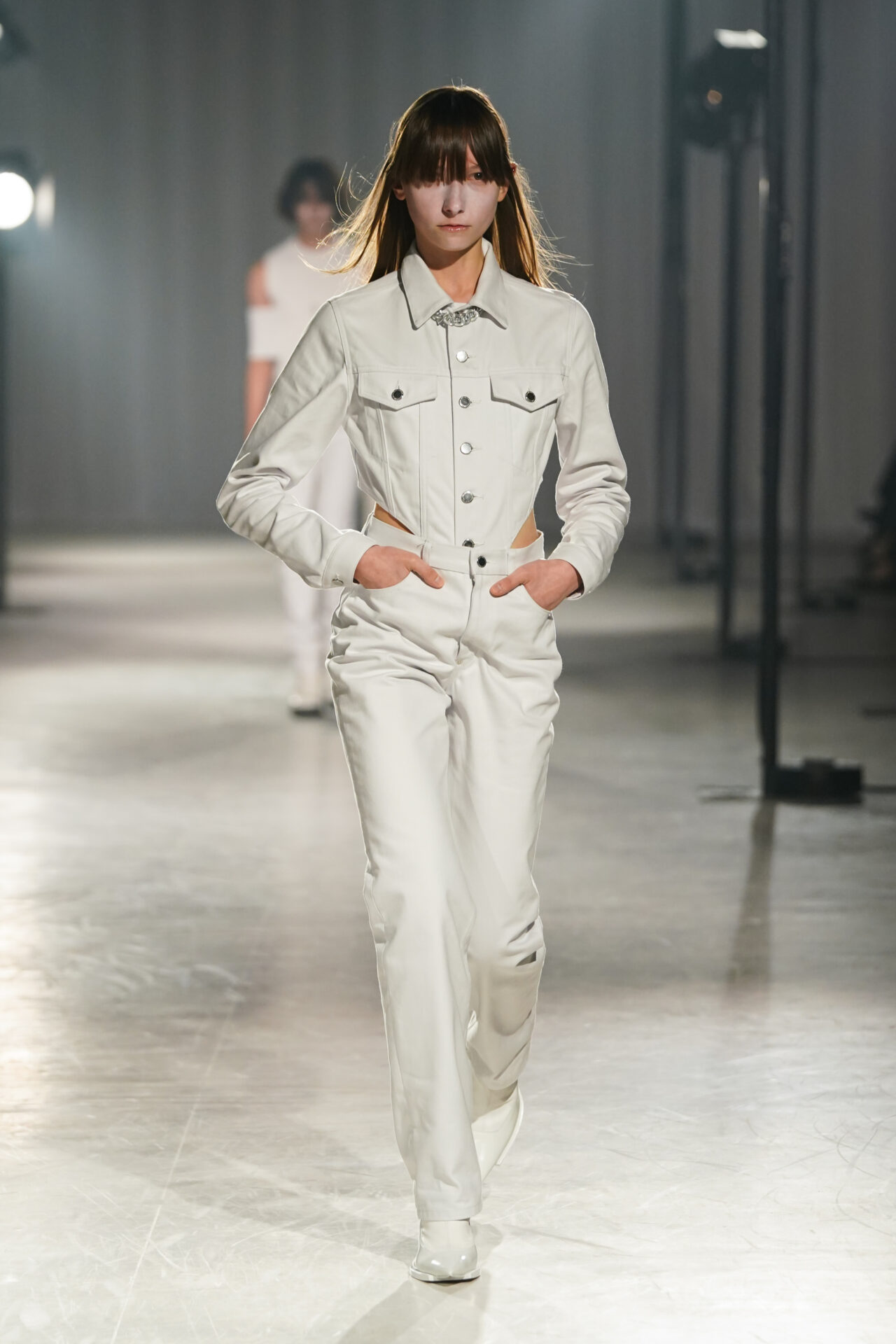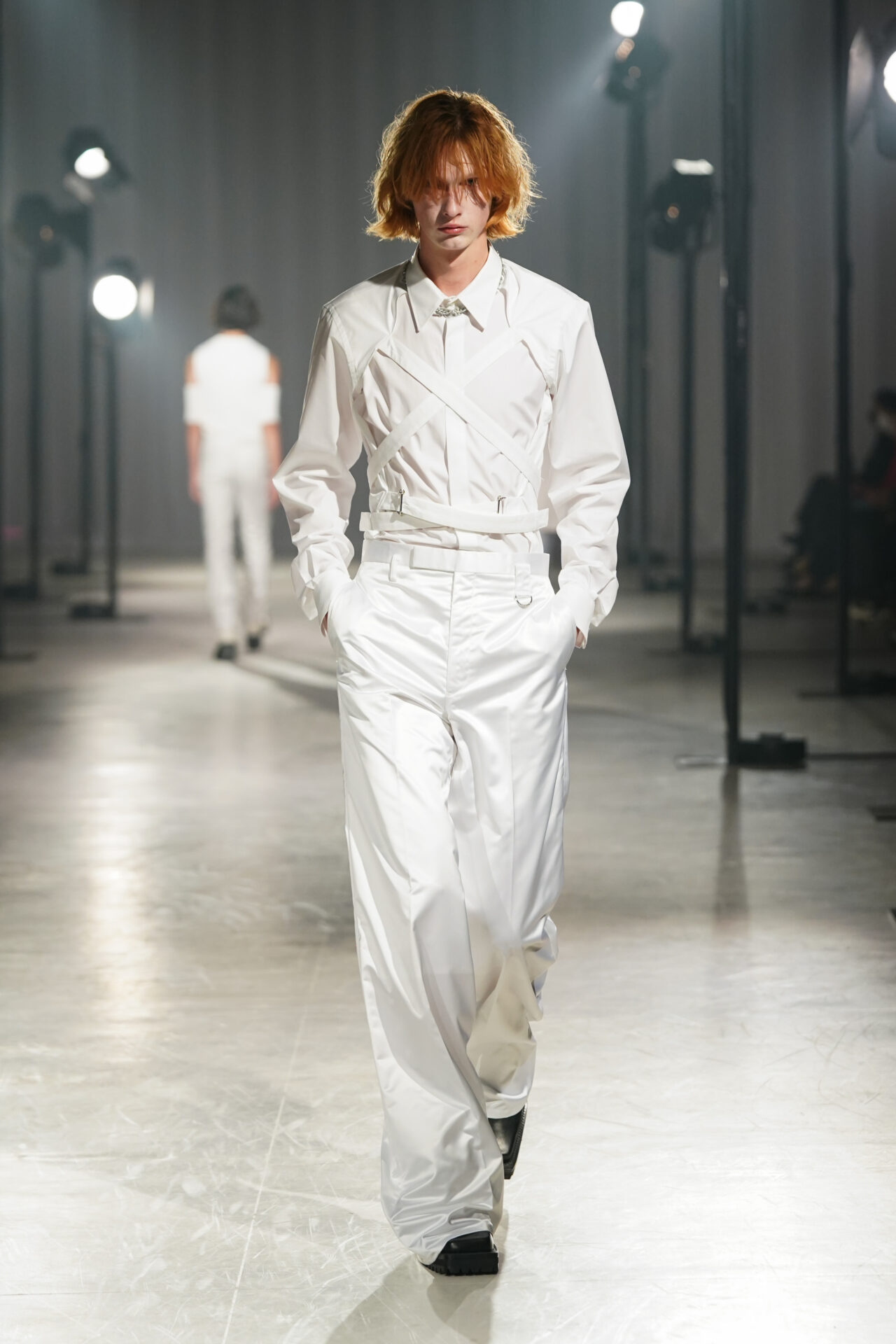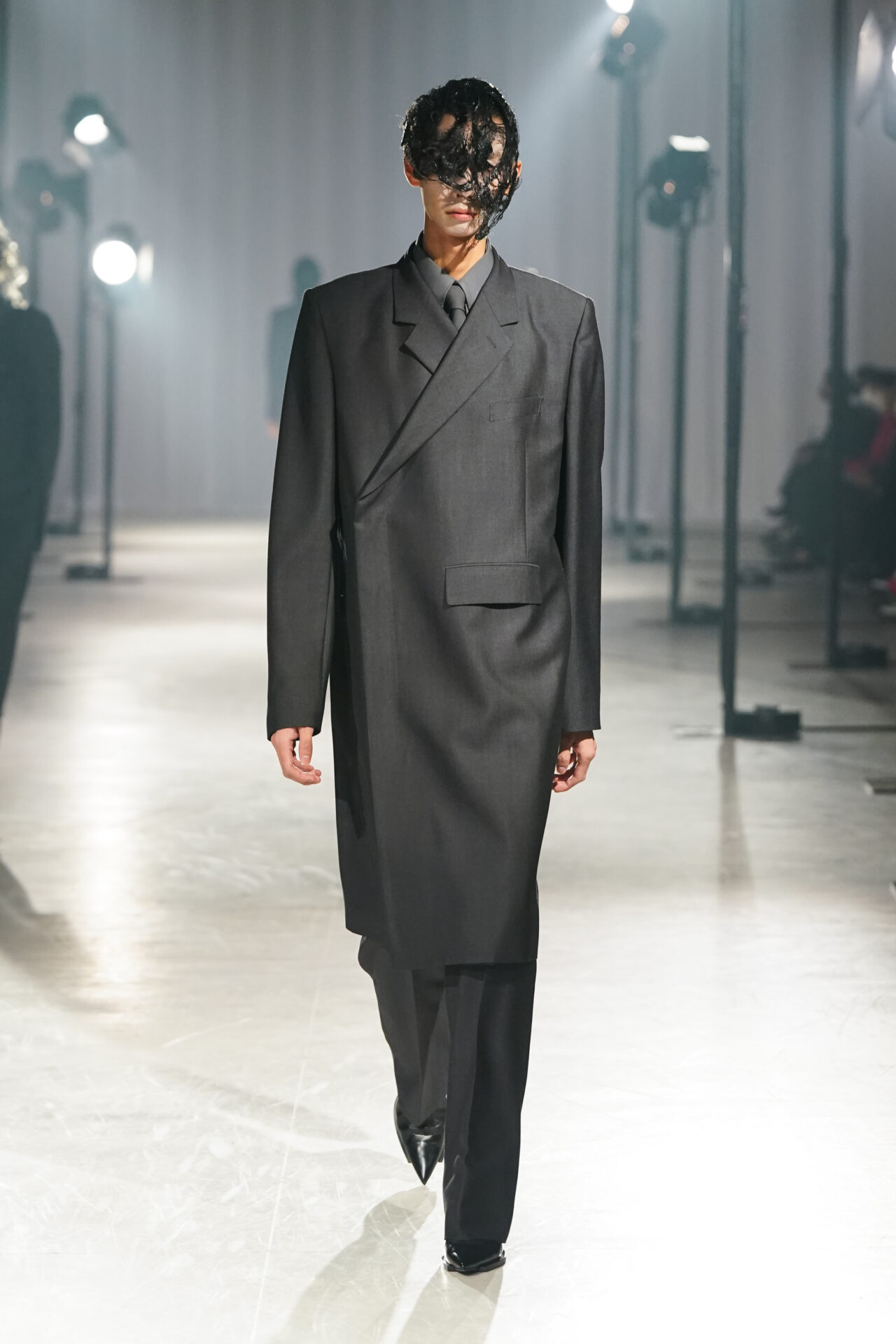 Spring/Summer 22 &
Spring/Summer 22 Ready-To-Wear